Across the nation, we are seeing a resurgence of oyster sales and of the local oyster bar. In Charlottesville alone, we find raw oyster bars, like Public Fish & Oyster. In addition, we can attend annual oyster roasts and festivals and we can go to dozens of other restaurants serving oysters that come from right here in Virginia. With the success of the farm-to-table movement in the state over the past decade, it's no surprise that residents are also becoming more and more interested in where their shellfish come from. In the same way that we have started to turn to local farms for our land-based foods, more and more, the demand for oysters has been met, and not by large companies, but by small farms often with just a few employees and much more open to receiving visitors. That is how I came to find myself standing on a small dock in Topping, Virginia. This is the home of Rappahannock Oyster Company, a business that not only produces some of the best oysters I've ever tasted but also is on the forefront of saving the nearly endangered Bay oyster, reviving Virginia's oyster industry, and helping to clean and revitalize the Chesapeake Bay.
With Virginia being a coastal state, oysters have been a part of Virginia's food culture since its earliest days. Native Americans dined on them before European settlers arrived on the shores. Governor George Percy, in his days of exploration with John Smith, wrote in his 1607 journal that "oysters … lay on the ground as thick as stones." The streets of Colonial Williamsburg are paved with crushed oyster shells and the mortar for the brick buildings of the day came from oyster shells as well. Even Thomas Jefferson couldn't get enough of them. According to author James Gabler, Jefferson once polished off 50 oysters himself in a single sitting.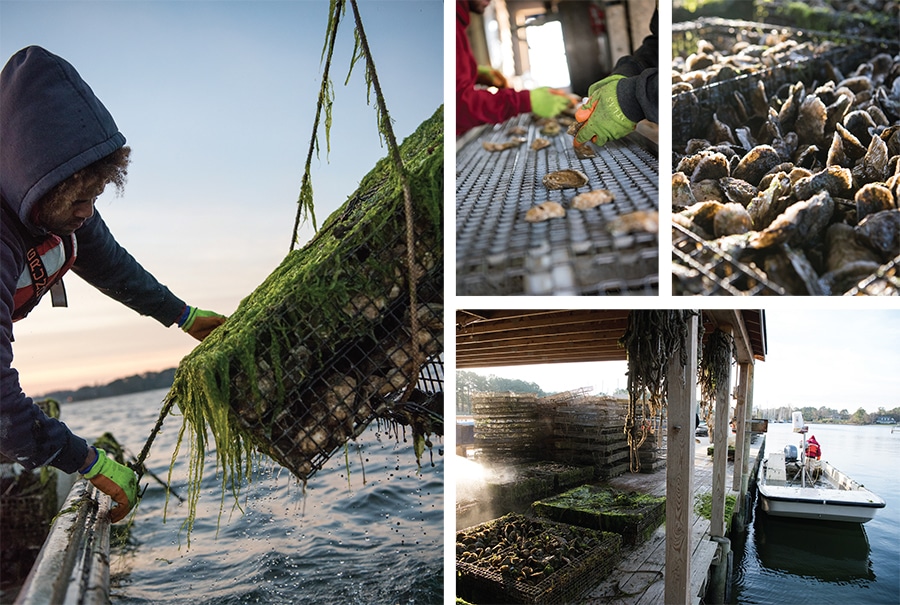 By the late 1800s, Virginia was supplying nearly half of the world demand for oysters, upwards of 20 million bushels of oysters each year. It was around this time that James Croxton laid claim to two acres of Rappahannock river bottom and founded the Rappahannock Oyster Company. By 2001, harvests of Bay oysters were down to less than 1 percent of their historic highs. Over-harvesting and dredging had destroyed not only the oyster population but also the oyster reefs, where spat attach and grow, and which protect shorelines and fish alike. Virginia's native oyster, Crassotrea virginica, was on the brink of being added to the endangered species list. This seemed like the most unlikely time for cousins Ryan and Travis Croxton to take over their great-grandfather's business, yet they saw it as a great opportunity to carry on the family legacy.
Over the past 10 years, Rappahannock Oysters has grown from harvesting 10,000 oysters a week to over 180,000 oysters each week, all while maintaining its commitment to help restore the wild oyster population and to clean up the Chesapeake Bay. They use practices from all over the world, information from the National Oceanic and Atmospheric Administration, and a lot of Google searches to produce the best, most sustainable product available. The cousins now ship oysters to restaurants around the country, including the famous Le Bernardin in New York City. They help to plan events at wineries and other locations across Central Virginia and run restaurants of their own.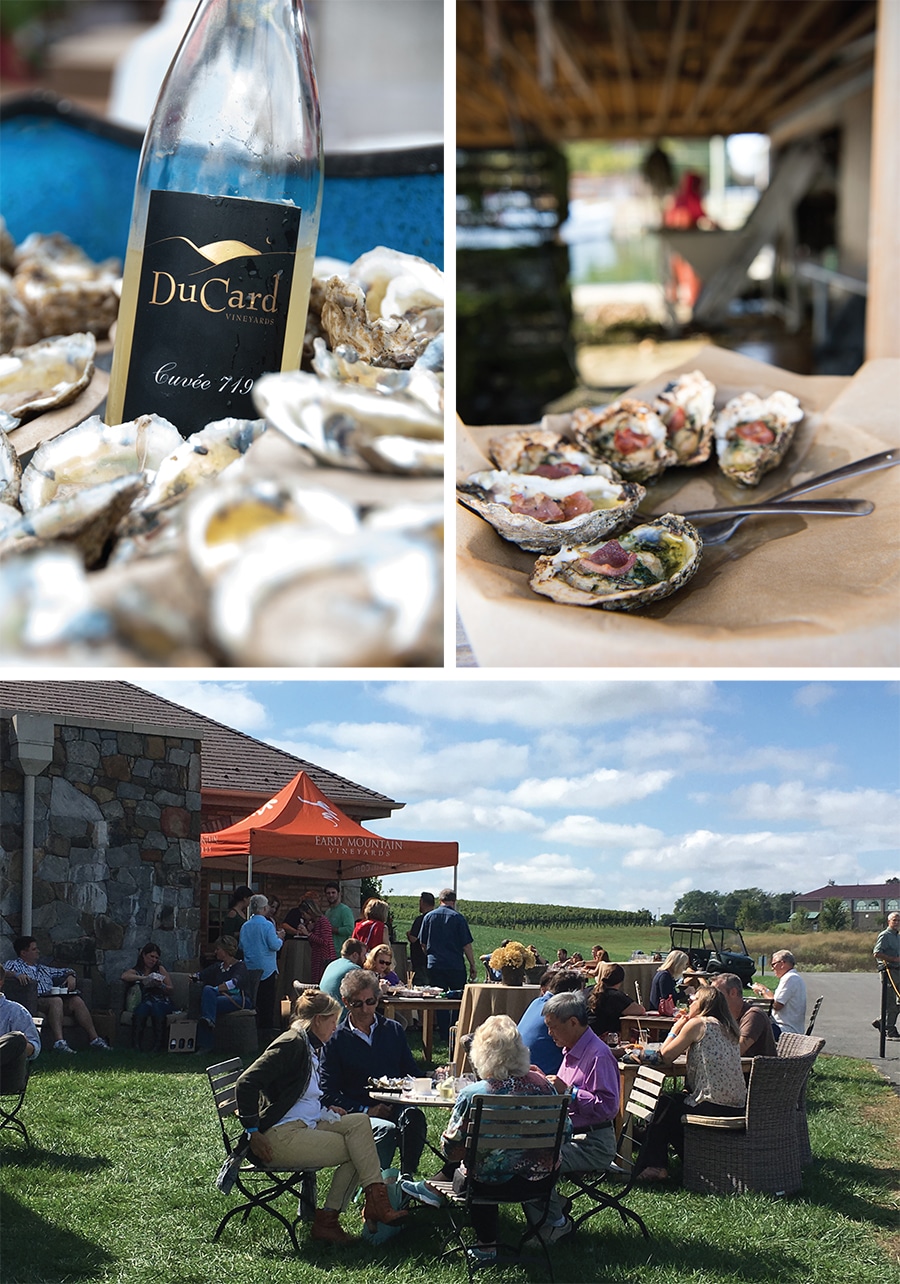 And what better way to enjoy such fresh cuisine than with amazing wine. The classic wine pairing for oysters is a French Muscadet. Its light, crisp acidity allows the oyster to shine. When eating Virginia oysters, though, pairing them with something from Virginia only seems fitting. In 2015, The Virginia Oyster Trail was established to celebrate not only the eight distinct regional flavors of Virginia's oysters but also the wineries, breweries, farmers markets and, especially, the oyster farmers, themselves, who help visitors truly "experience" the simple oyster.
Just as I learned so much that morning on the Chesapeake Bay, I couldn't help but be impressed by something so simple, yet so pure. And sitting at the Virginia shoreline eating a Virginia oyster (Angels on Horseback) topped with Virginia ham and drinking a Virginia wine, I couldn't have been more proud to be a Virginian.
Mellot's Oyster Pairing Recommendations:
Rappahannock's Olde Salts

Taste: A bold brininess due to its closeness to the sea; One of the saltiest oysters.
Pair With: A dry Viognier

Rappahannock River oysters

Taste: Sweet and buttery with a mild saltiness
Pair With: Buttery Chardonnays

Mobjack Bay's Stingrays

Taste: Sweet and mildly briny
Pair With: IPA Beer

York River's Rochambeaus

Taste: Mildly sweet and mildly briny
Pair With: IPA Beer
---
Ready to enjoy some oysters yourself? Autumn in Virginia means the beginning of oyster festival season which generally begins in September and continues through December, following the oyster harvest on Virginia's coast, which began on October 1 this year. Several Virginia vineyards celebrate harvest season with oyster-inspired festivals, like Early Mountain Vineyards' Fall Oyster Festival this weekend. Also this weekend, Breaux Vineyards is partnering with King Street Oyster Bar for a Harvest Celebration. Later this fall, Cardinal Point Vineyard & Winery will host their 16th Annual Oyster Roast on November 9 and 10.~
This article appears in Book 5 of Wine & Country Life. Start your subscription here or give a gift subscription here.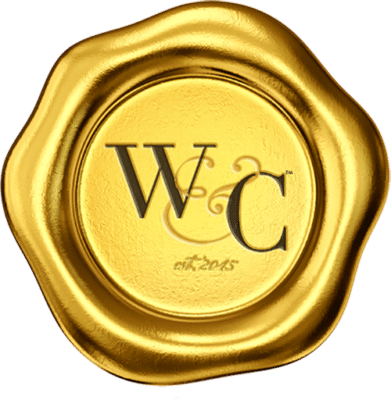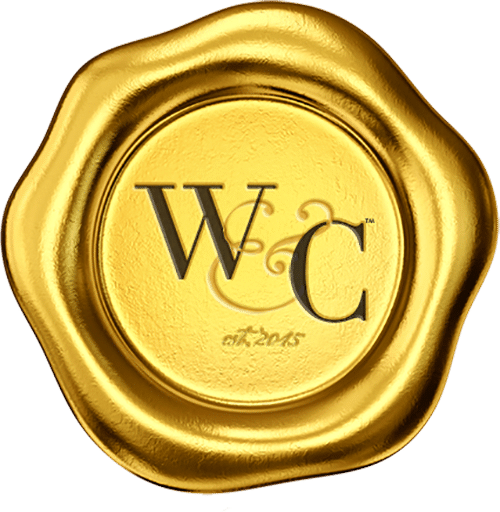 Wine & Country celebrates elevated living in Virginia Wine Country. Wine & Country Life, a semi-annual life & style magazine, and Wine & Country Weddings, an annual art book celebrating elegant Virginia weddings, are complemented by the Wine & Country Shop in Ivy, VA—a beautiful lifestyle boutique that brings the pages of the magazines to life. The Shop features over 40 Virginia artisans with everything from tailgating essentials and Dubarry attire to locally made foods and award-winning Virginia wines and craft beverages for your next event. Wine & Country covers the grape-growing foothills of the Blue Ridge Mountains from Lynchburg to Leesburg, including points in between like Charlottesville and Middleburg. Ivy Life & Style Media also creates other projects, including CharlottesvilleFamily.com, a collection of local resources including a popular calendar of events, family services guides and features on education, health and family day trips for parents and teachers in Charlottesville, as well as the CharlottesvilleWelcomeBook.com a guide to resources for Charlottesville tourists and newcomers.