Wine & Country Life attended the opening of Design House 2016 last night. Located this year in Keswick, we enjoyed the amazing party complete with food, wine and an all-star list of the area's top interior designers and professionals. Walking into the foyer, we were immediately impressed by the stunning black and white design of Heidi Brooks & Penny Crandall. This striking horse sculpture was offset by the dramatic black walls beneath the staircase, setting the stage for the amazing decor to come.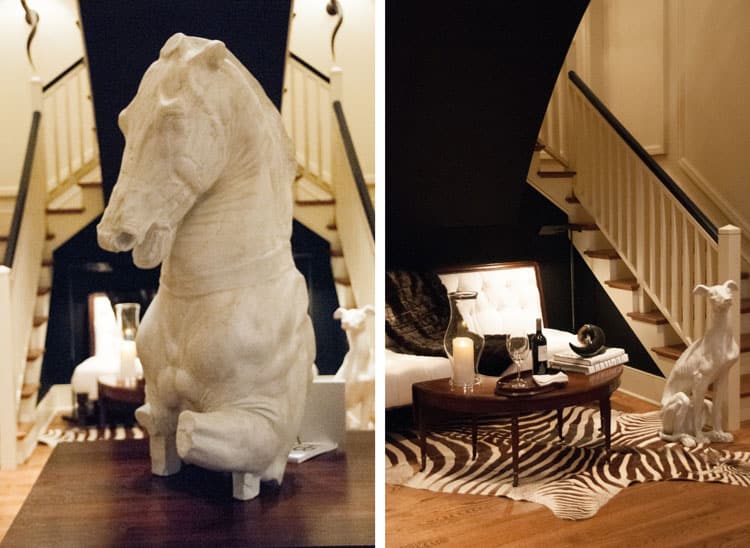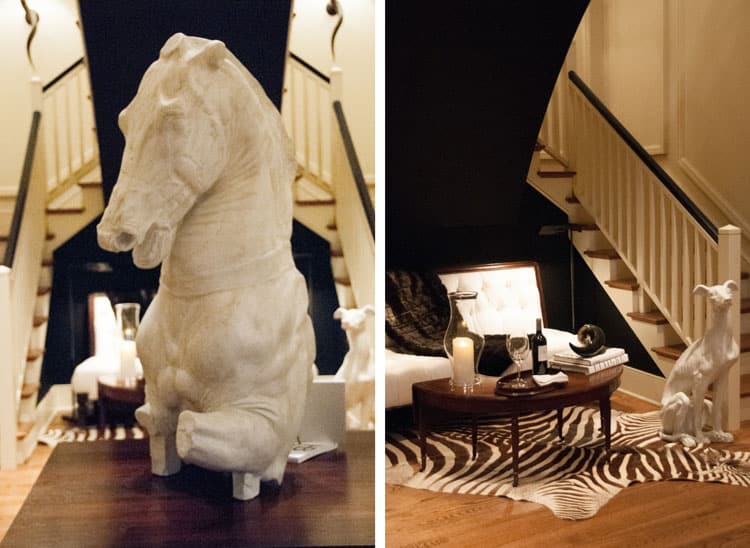 From the foyer we entered the dining room designed by Sheilah Michaels who brilliantly infused the traditional home with a touch of the exotic. Using a settee at the table in lieu of chairs added a cozy element to this otherwise formal space. When visiting, you'll find the same travel-savvy feel in the adjacent library designed by Stedman House, complete with wood-clad walls. Also inspiring a bit of wanderlust is the truly glamorous living room just beyond designed by Andrea Gibson. Both are a must-see when you tour.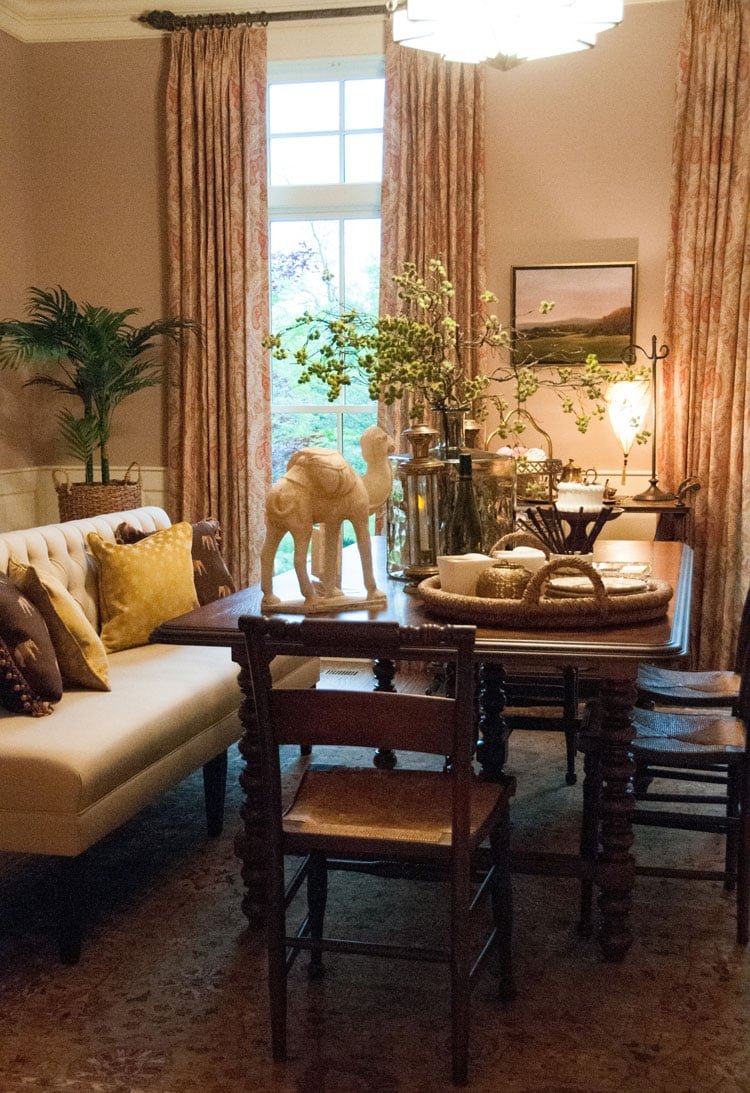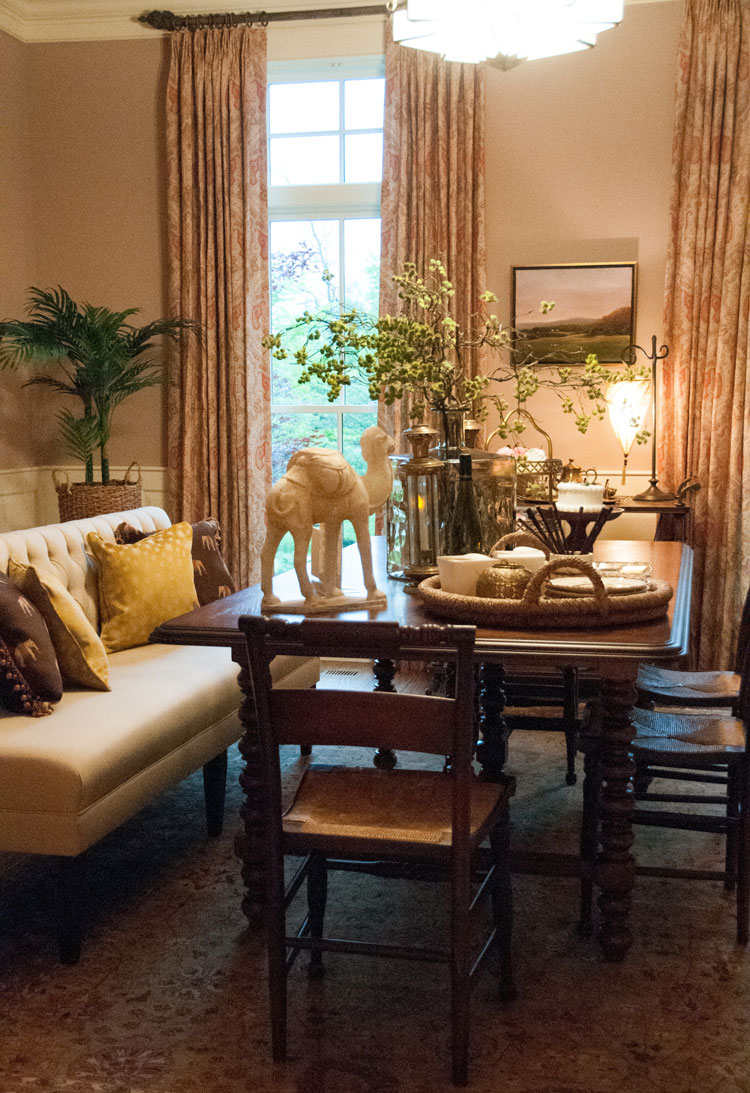 Entering the back of the home, we were struck by the warmth and elegance of the gorgeous kitchen and breakfast room designed by Victoria Pouncey & Beth Ann Kallen of Folly (seen below). We absolutely loved how this sophisticated room was touched by the whimsy of the adorable green leopard print bar stool cushions which matched the table's chandelier shade. When visiting for yourself, be sure to study the amazing map Victoria found in London and artfully arranged on the large wall.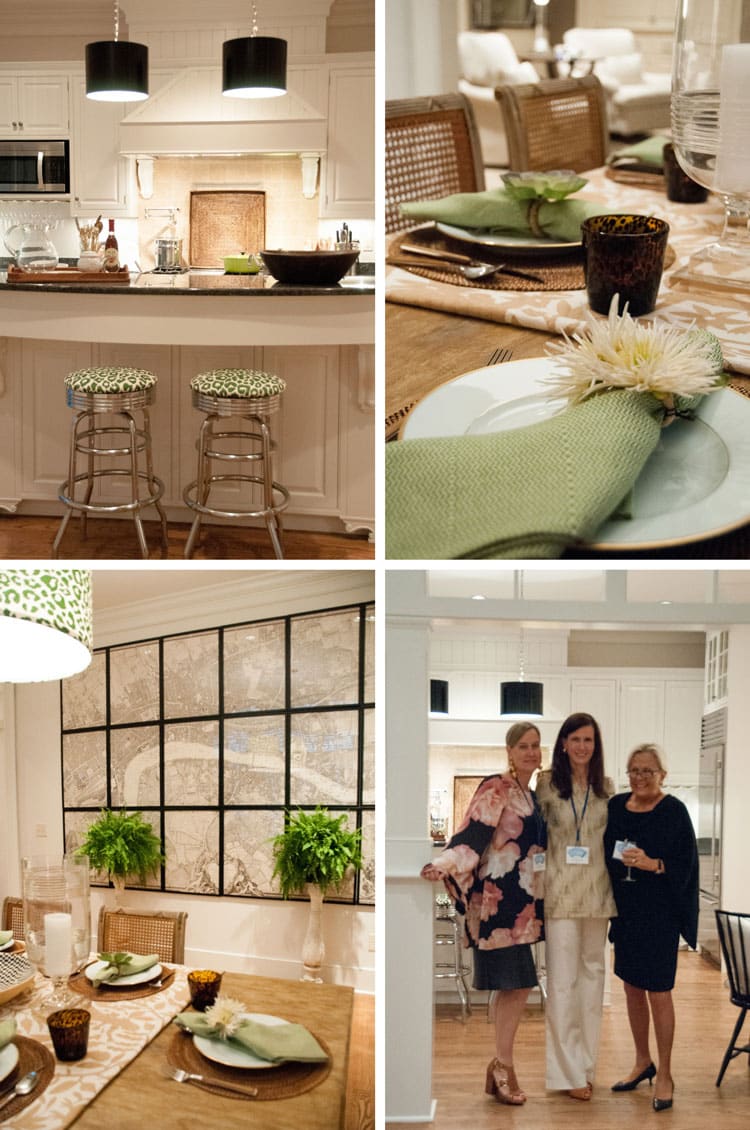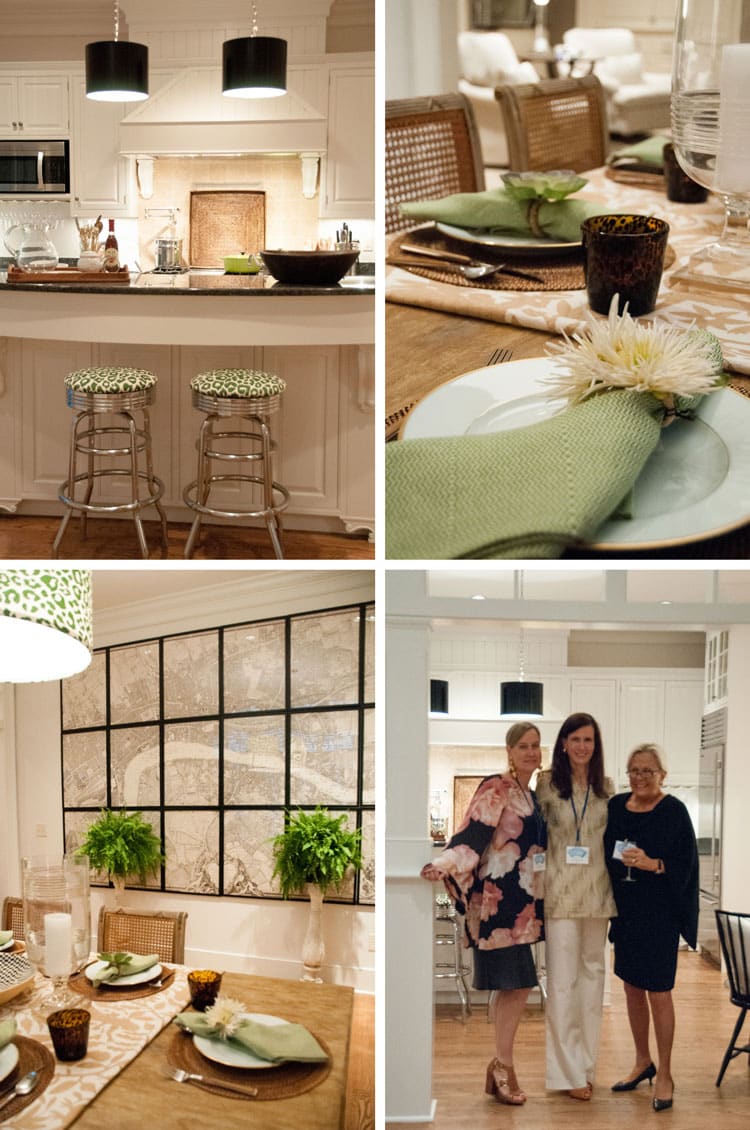 Just outside the breakfast room windows, the patio and garden were beautifully designed by the husband and wife team of Leslie Carter Gregg of the Market at Grelen and Dan Gregg of Grelen Nurseries. Wait until you see what fabulous work Leslie has done with the screened porch!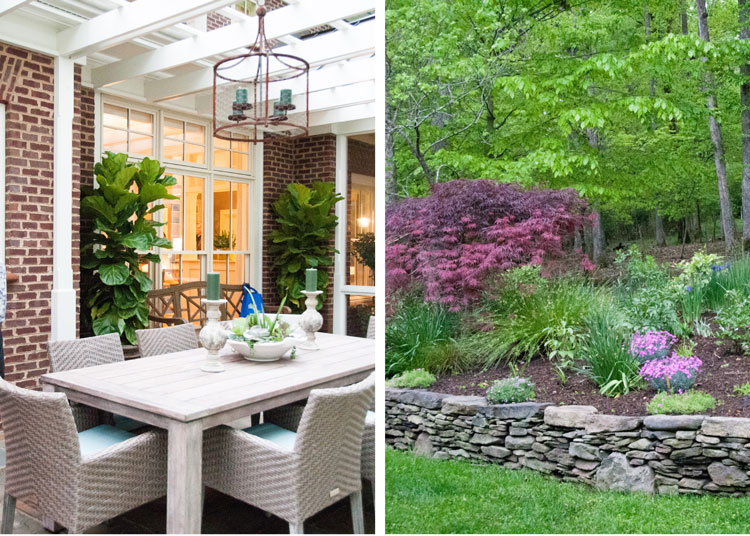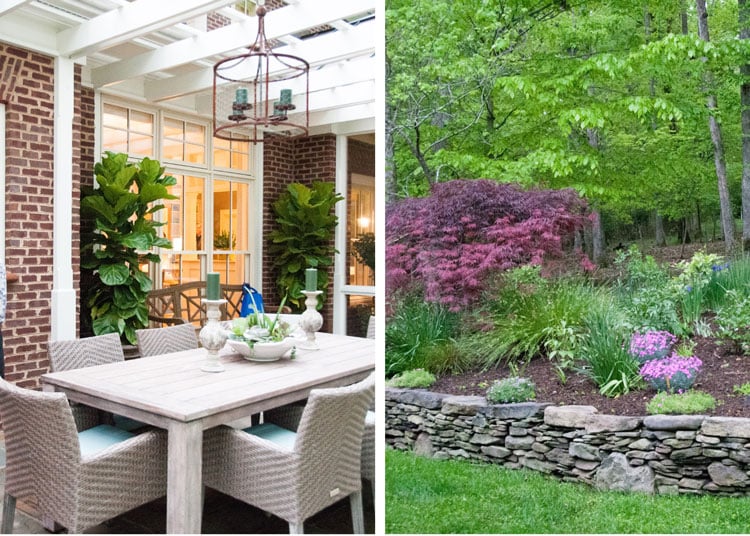 On the left side wing of the first floor don't miss the absolutely stunning master suite designed by Moyanne Harding. The bathroom and the closet are "must see to believe" features which will give you a true wow moment.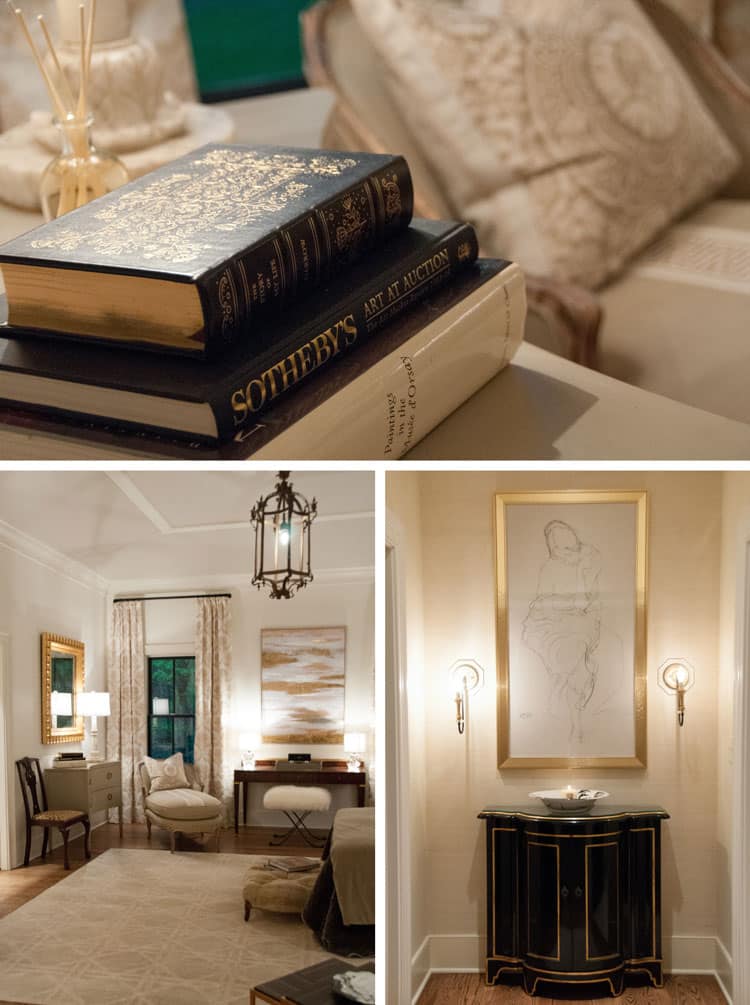 Upstairs, you'll find another master bedroom with a balcony patio both gorgeously designed in a Chinoiserie style by Michelle Willis Adams. We absolutely loved this bedside lamp (seen below right). Across the hall, the girl's adorably chic country-style bedroom was designed by Tatiana Yavorska-Antrobius. This beautiful mural sized artwork (seen below left) adorning the room was also painted by Yavorska-Antrobius herself . This truly stunning painting is a must-see in person! In the boy's room you'll enjoy the modern, playful decor of designer Jennifer Greenhalgh who brings a fresh perspective to this traditional home that really works.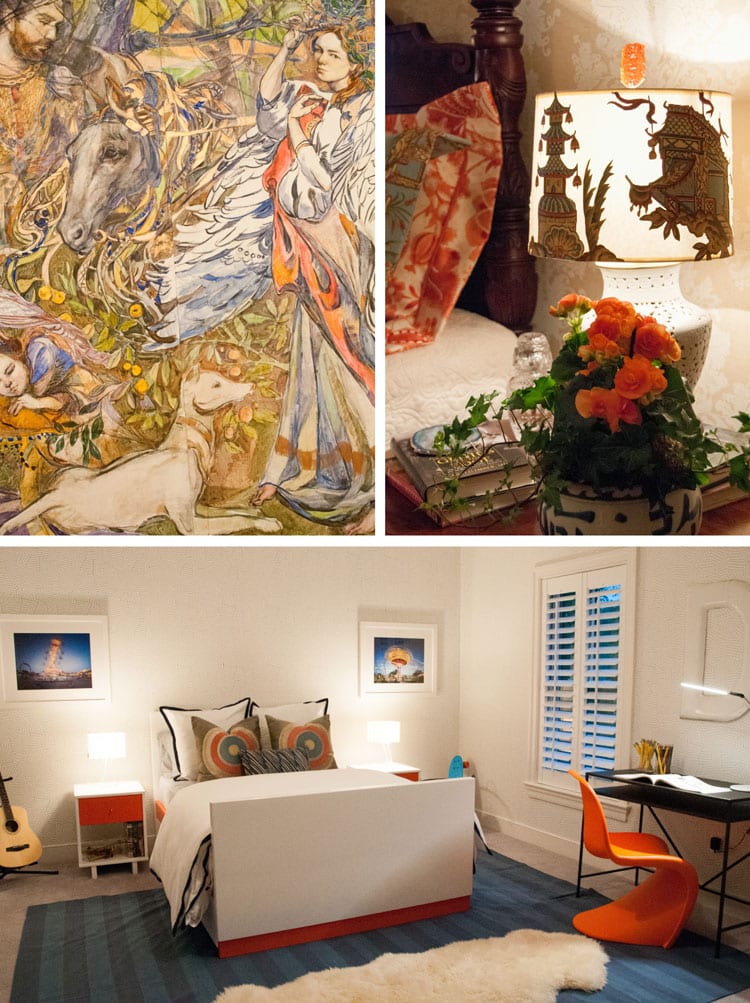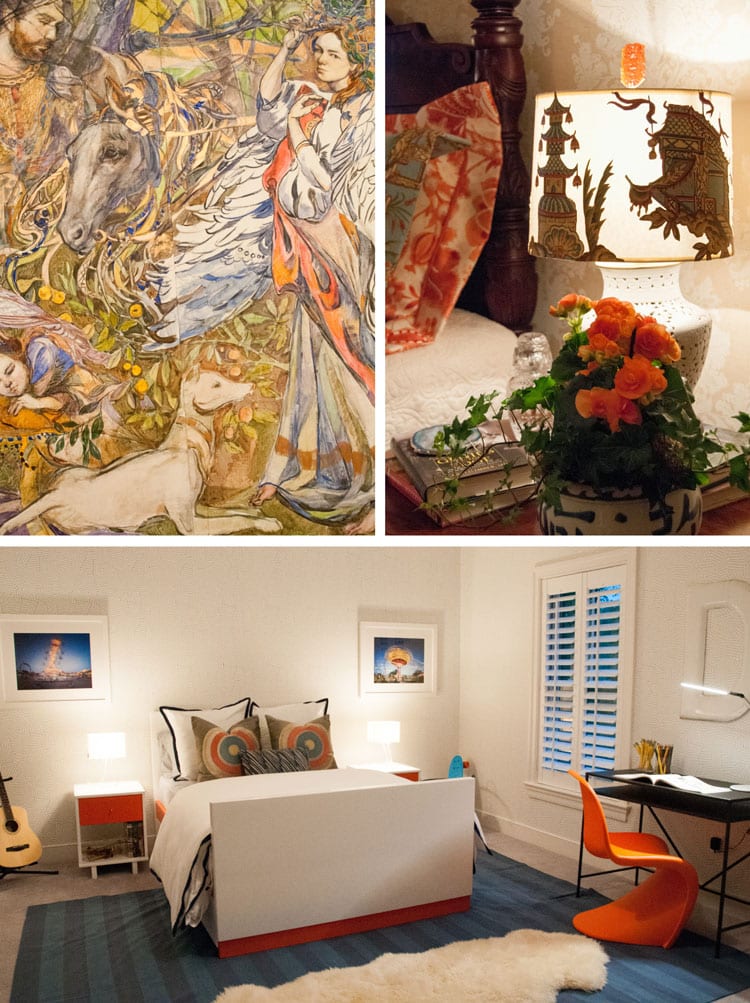 Not to be missed on your tour of Design House 2016 is the downstairs gallery. New this year, tour guests can view and shop nearly a dozen local artists and photographers featured among the multiple rooms and stunning marble-tiled hallway.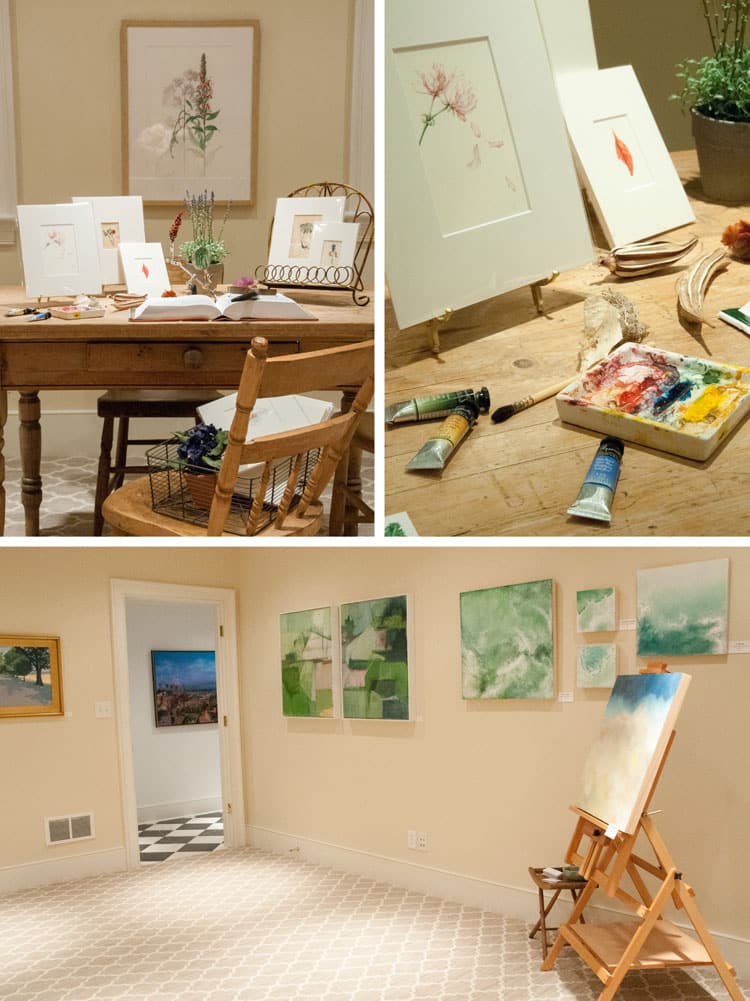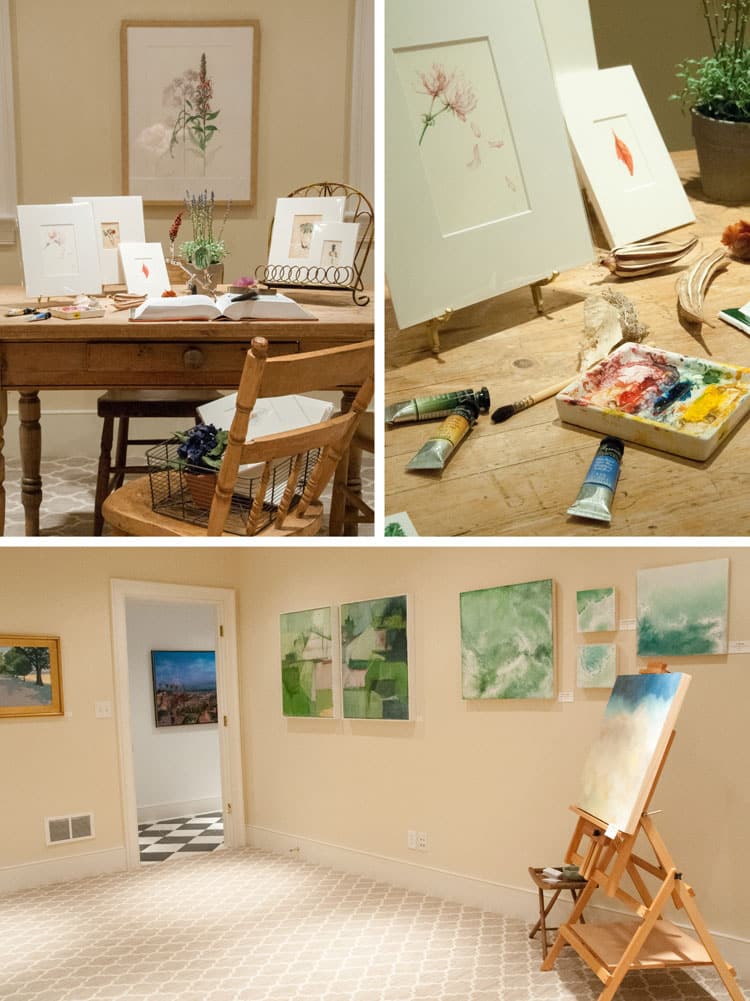 Of course visitors will also want to shop the on-site boutique located in the garage to find amazing decor items to inspire and freshen up your own home. Some of our favorites were the pillows we found! The best part is that 30% of the sales goes to support Shelter for Help in Emergency (SHE).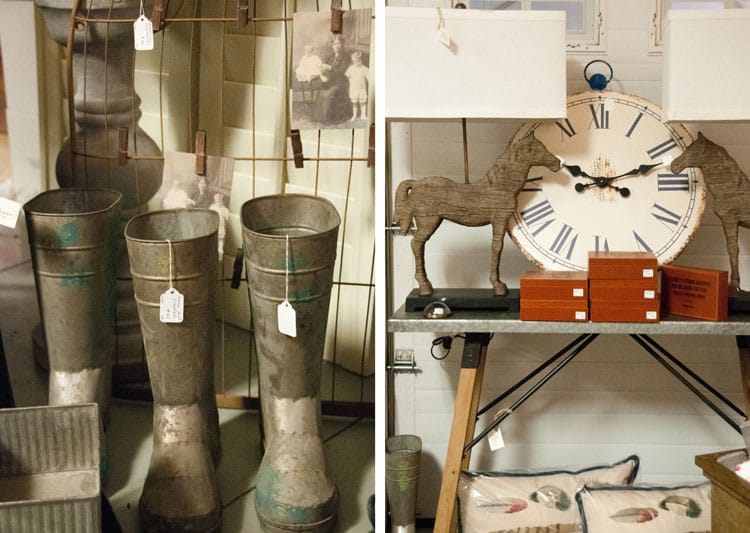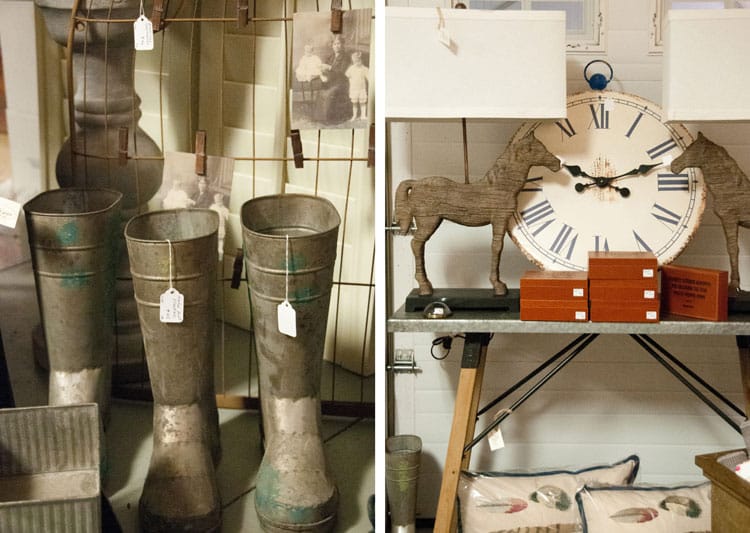 Design House 2016 is absolutely worth seeing, not only for the design ideas and inspiration you will surely find, but because you will help to support SHE, whose mission is to end domestic violence in our community. For over thirty years, SHE has committed to providing a safe, confidential, and respectful environment for survivors of domestic violence. The Shelter aims to empower survivors by providing knowledge as well as personal and community resources. These tools help survivors make informed decisions for themselves and for their families. This major fundraising event greatly helps sustain the Shelter's residential facilities operations and outreach programs and is a very worthy cause.
Gather your friends, have lunch at nearby Keswick Hall and definitely visit Design House 2016. Tours run daily May 7–22, 2016 from 10am–4pm with extended hours on Wednesdays and Thursdays to 7pm. Tickets are only $20. Events and talks are scheduled throughout the next two weeks. Watch next week for Wine & Country Life's blog post from designer Victoria Pouncey who will give us an inside designer's perspective. Bravo to everyone who contributed to the amazing Design House this year. Don't miss seeing it! ~
Designers featured:
Moyanne Harding, Interiors by Moyanne
Nicole Fagerli, ASID & Kori Messinger, ASID, Stedman House
Andrea Gibson, ASID, Gibson Design Group
Heidi Brooks & Penny Crandall, Heidi Brooks Interior Design & Steele, Sterling & Crandall Interiors LLC
Victoria Pouncey & Beth Ann Kallen, Folly
Sheilah Michaels , Sheilah Michaels Design Studio
Michelle Willis Adams LLC, Residential & Contract Interior Design
Jennifer Greenhalgh, Jackson + Park Design
Tatiana Yavorska-Antrobius, Les Fabriques, Inc.
Leslie Carter Gregg, The Market at Grelen
Peggy Woodall, The Closet Factory
Cheryl Jarvis Southworth, Designs by Cheryl
Nina Crawford , MSS Designs
Connie Norwood, Ethan Allen
Heather P. Williams
Dan Gregg, Grelen Nurseries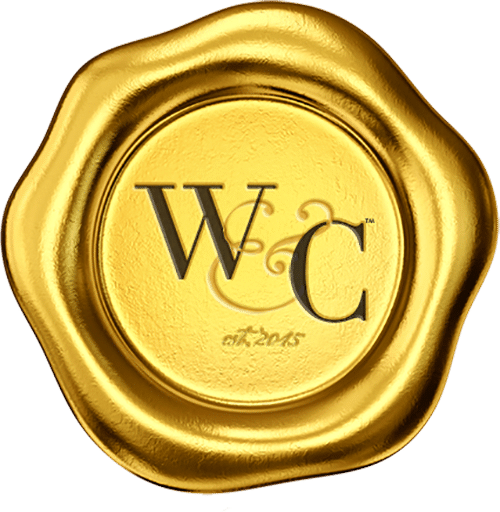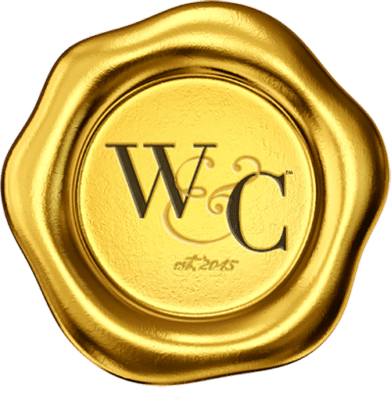 Wine & Country celebrates elevated living in Virginia Wine Country. Wine & Country Life, a semi-annual life & style magazine, and Wine & Country Weddings, an annual art book celebrating elegant Virginia weddings, are complemented by the Wine & Country Shop in Ivy, VA—a beautiful lifestyle boutique that brings the pages of the magazines to life. The Shop features over 40 Virginia artisans with everything from tailgating essentials and Dubarry attire to locally made foods and award-winning Virginia wines and craft beverages for your next event. Wine & Country covers the grape-growing foothills of the Blue Ridge Mountains from Lynchburg to Leesburg, including points in between like Charlottesville and Middleburg. Ivy Life & Style Media also creates other projects, including CharlottesvilleFamily.com, a collection of local resources including a popular calendar of events, family services guides and features on education, health and family day trips for parents and teachers in Charlottesville, as well as the CharlottesvilleWelcomeBook.com a guide to resources for Charlottesville tourists and newcomers.