photos: Hana Gonzalez

A specialty boutique for women who desire an unparalleled shopping experience.
Founded by design maven, Wendy Osborn, Chloe's of Middleburg opened in 2019 with a mission to bring fresh, forward and alive fashion to women of all seasons. The boutique offers tasteful, classic and trendy apparel, accessories and gifts at affordable prices. Chloe's believes in community, kindness, and warmly welcomes all visitors as it provides a unique shopping experience from the heart of Virginia's Hunt Country.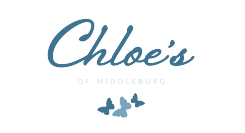 Did You Know?
Wendy, the owner, is a former buyer for Bergdorf Goodman
Favorite Wine, Beer or Cider
Virginia Wine
SERVING 
Middleburg
and beyond online
SERVICES
Designer Fashions & Accessories
Middleburg Blankets & Candles
Interested in learning more?
Please complete the form below to learn more about Chloe of Middleburg's services:
photos: Hana Gonzalez Interested in learning more? Please complete the form below to learn more about Chloe of Middleburg's services: