On Saturday, May 20, we were pleased to attend Forage's "A Garden Party at Estouteville." Hosted at the beautiful home of Beatrix Ost and Ludwig Kuttner, the garden party began in late afternoon. As ladies and gentlemen wandered the lush grounds in hats, sundresses and summer suits, they conversed with other guests and sipped cocktails made with foraged mulberries, and rosemary and roses from the Forage garden.
The evening's hostess was none other than Beatrix Ost, a noted artist, philosopher, author and paragon of style. Coordinated by the talented women of Forage, Megan Kiernan and Kate Lynn Nemett (pictured below, top left: Nemett, Ost and Kiernan), the evening affair was a splendid gathering. Forage Founder and Chef Megan Kiernan created a delicious seasonal menu with food foraged, as well as from local farms. Forage Designer Kate Lynn Nemett styled the garden party with charming tea cups, floral arrangements and seasonal decor.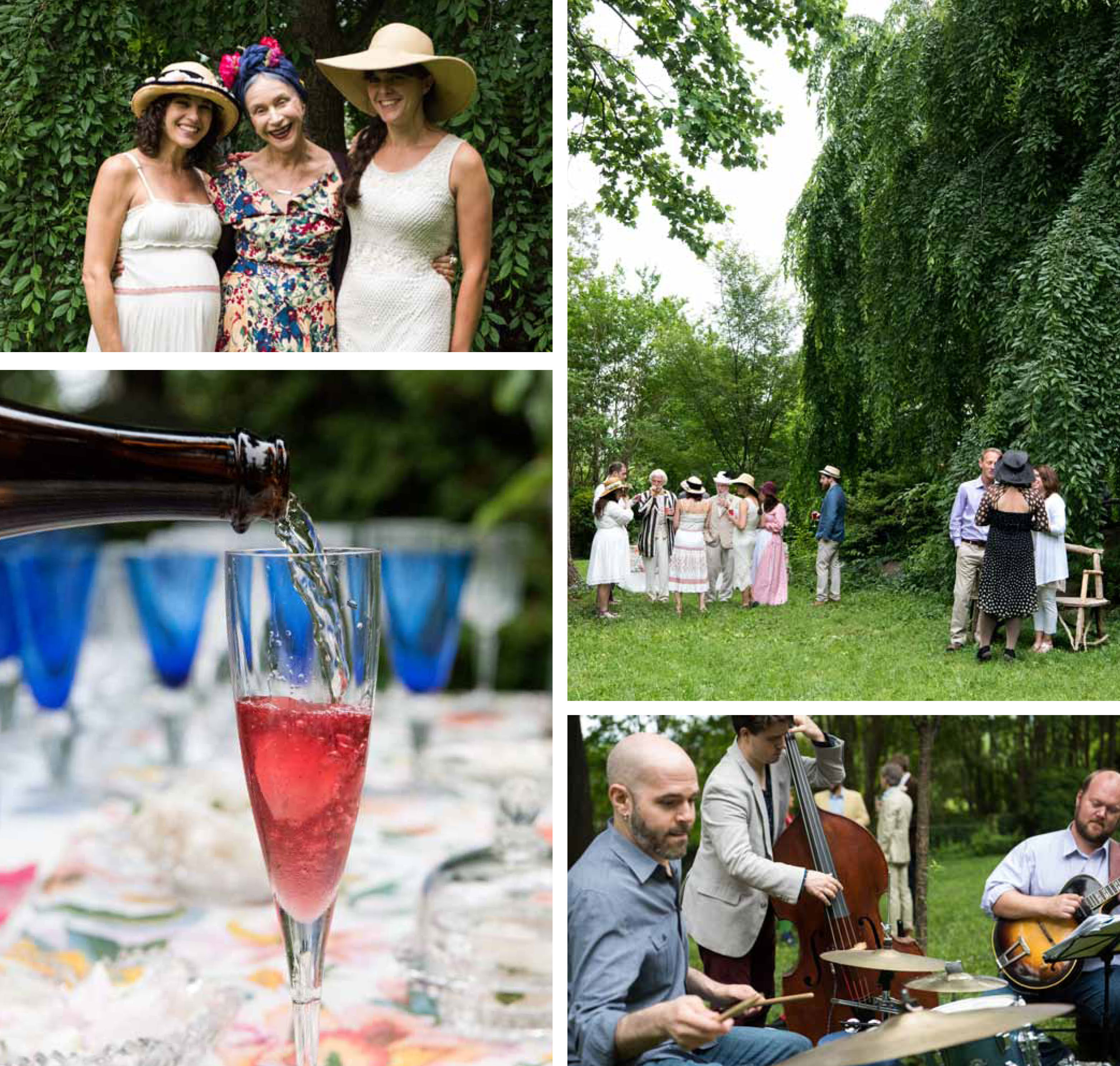 As twilight settled over the garden, Kiernan (below, bottom right) prepared wild nettle & feta tartlets from foraged nettles, tea sandwiches and beet cured trout for appetizers. Kiernan, having worked under both James Beard Award Winning Chef Suzanne Goin and James Beard Award Winning Pastry Chef Sherry Yard in California, embodies the farm-to-table movement with her love for local and quality fresh ingredients. She showcased expertise with her menu, from her foraged appetizer to her garden-fresh dessert.
During cocktail hour, host Ludwig Kuttner (below in the striped jacket) mingled with his guests. Kuttner, a venture capitalist who continues to be a leading figure in the development of Downtown Charlottesville, was also a developer and founder of IX Art Park.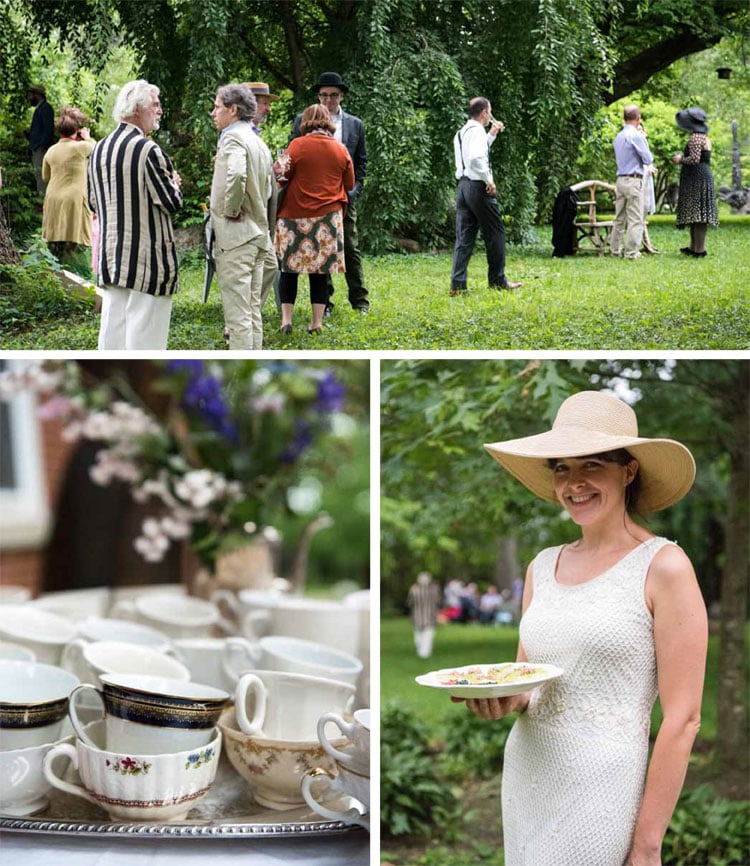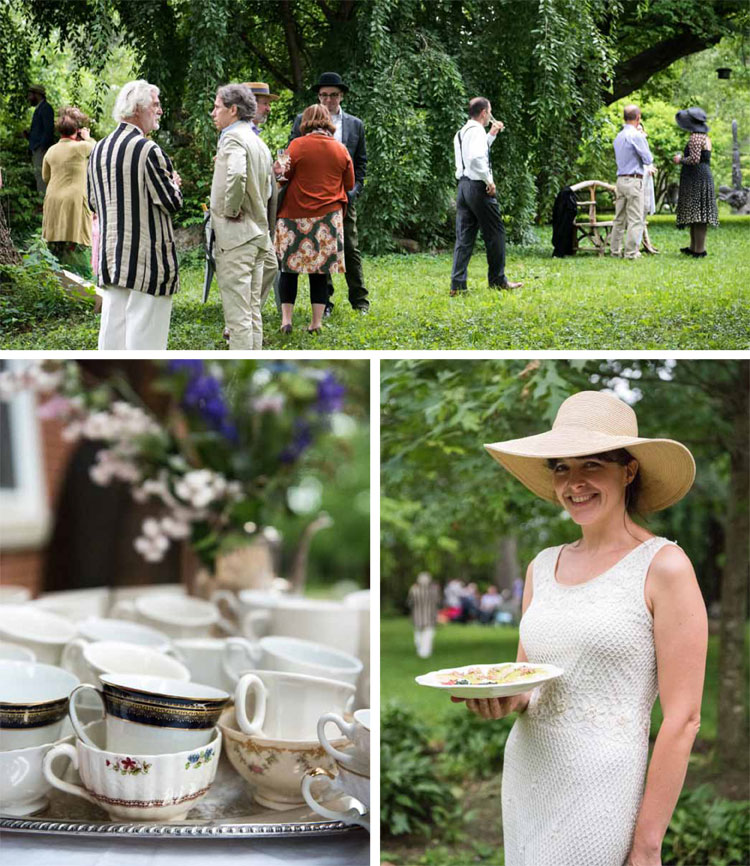 The venue, Beatrix and Ludwig's Estouteville, showcases the couple's love for the arts with historic charm. The home, built in 1827 by Thomas Jefferson's master builder James Dinsmore, is listed on the National Register of Historic Places. The beautiful home is not only surrounded by but also filled with striking sculptures and art, including many works by Ost.
Over the course of the evening at Estouteville, guests were able to wonder the unique grounds and enjoy dinner in the beautiful foyer.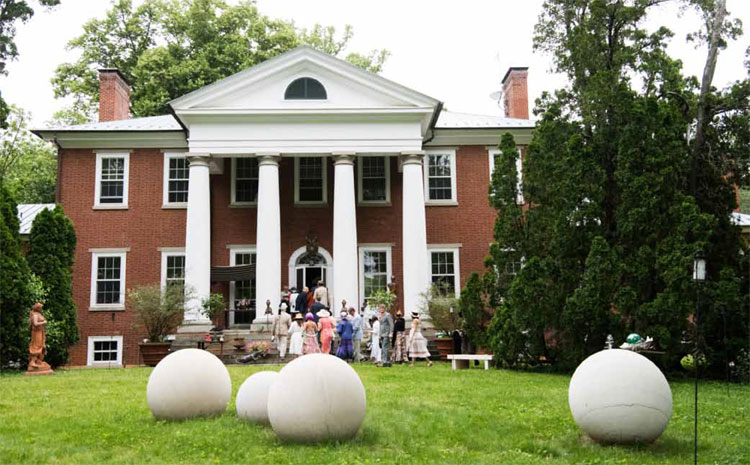 The table settings featured seed paper welcome cards that were handmade with wildflowers and overflowing bouquets of herbs and freshly picked flowers. An eclectic collection of vintage candle holders lit the tables as the sweet scents of the garden made their way to the guests through opened windows. The first course was a richly flavored beet and goat cheese amuse bouche with citrus tones.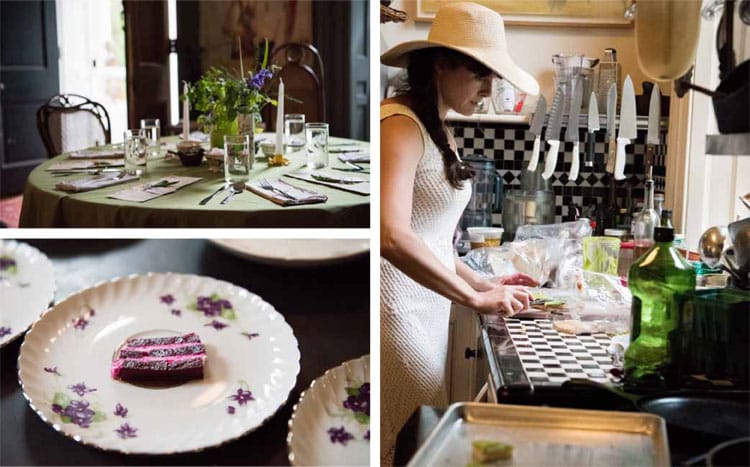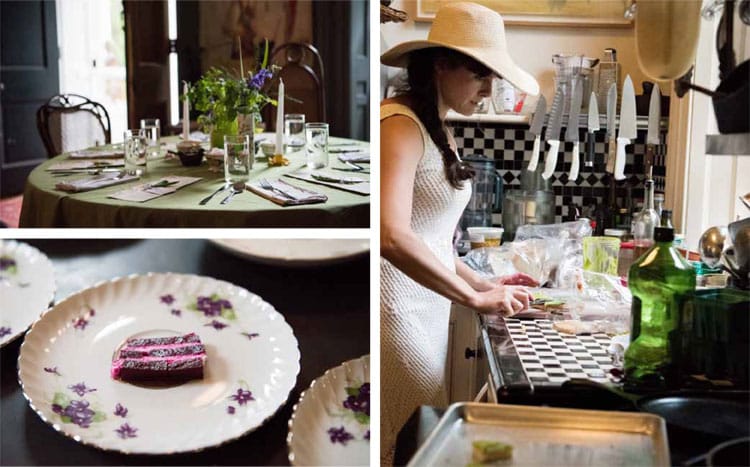 The guests chatted about the season, the venue and the food as they made new acquaintances amongst their table companions. Across the table from us, Beatrix struck up conversation with Donna Tartt, Pulitzer Prize Winner for her coming-of-age novel The Goldfinch.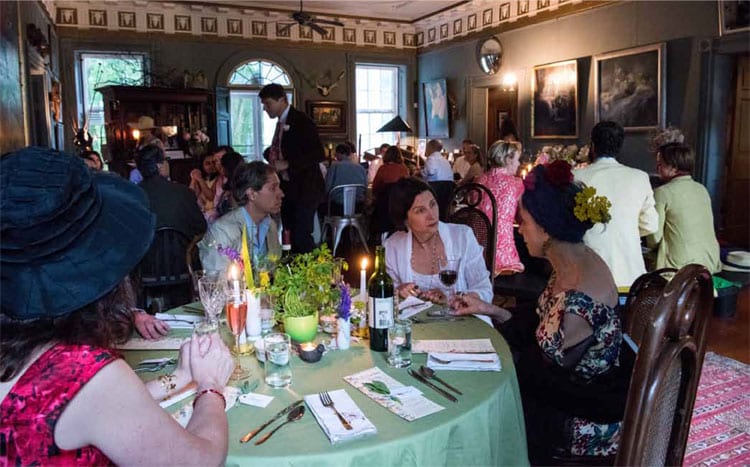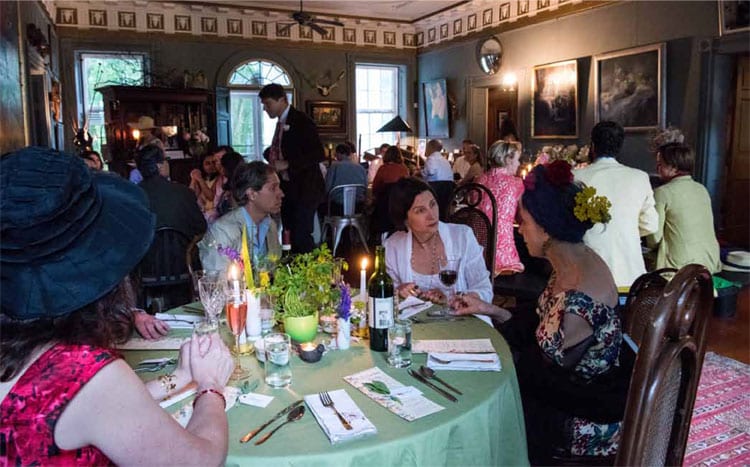 Just as in the tradition of the European salon, Ost (below, left) captivated guests by reading aloud an amusing selection of poetic prose about the changing seasons from her new book The Philosopher's Style before the party adjourned to the porch for dessert.
For dinner, guests enjoyed delicious Thai crab cakes with avocado, Thai chili aioli and garden greens, and bacon-wrapped trout with asparagus soubise, roasted asparagus and sorrel stuffing. The greens, cilantro flowers and nasturtiums for the crab cakes were all sourced from the Forage garden, while the sorrel for the trout was foraged.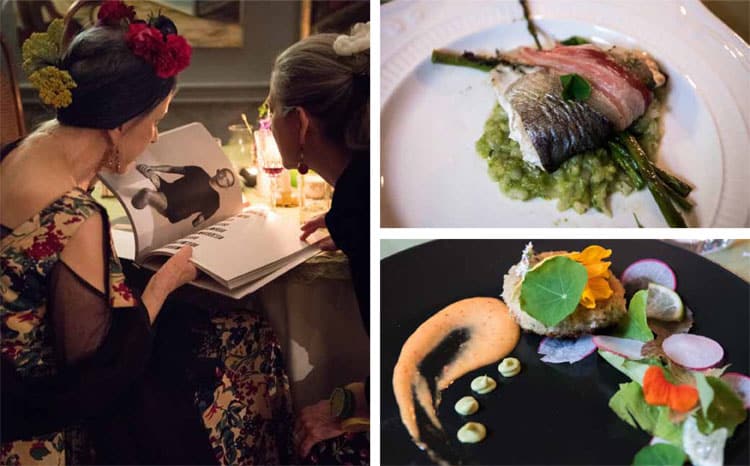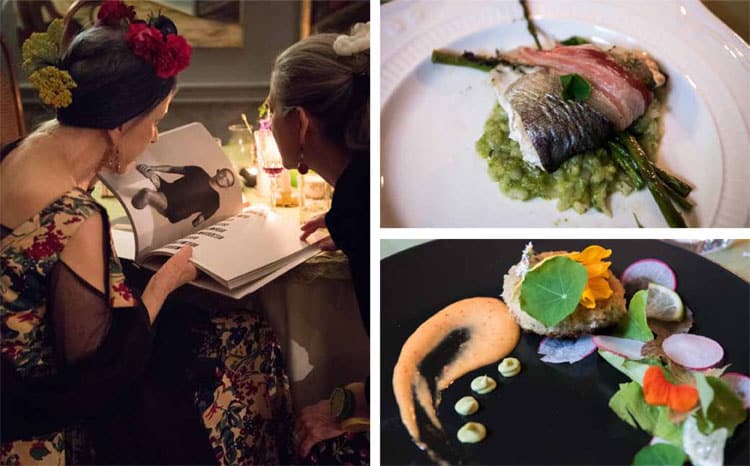 Known for their community involvement and arts-related gatherings, including regular salons and bringing together local artists and philosophers for discussion, Kuttner and Ost were the perfect pair to host this lovely garden party.
Conversations flowed at each table, as guests learned about the local origins of the ingredients in their dishes.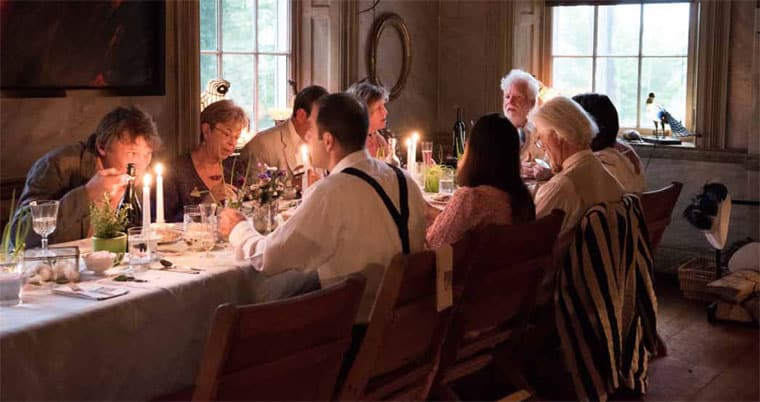 Following dinner, an array of desserts were served on endearing mismatched china on the front porch. Guests enjoyed financier, strawberry cream tartlet, lemon & wild mulberry tartlet, salted chocolate caramel truffle, chocolate hazelnut truffle and canele.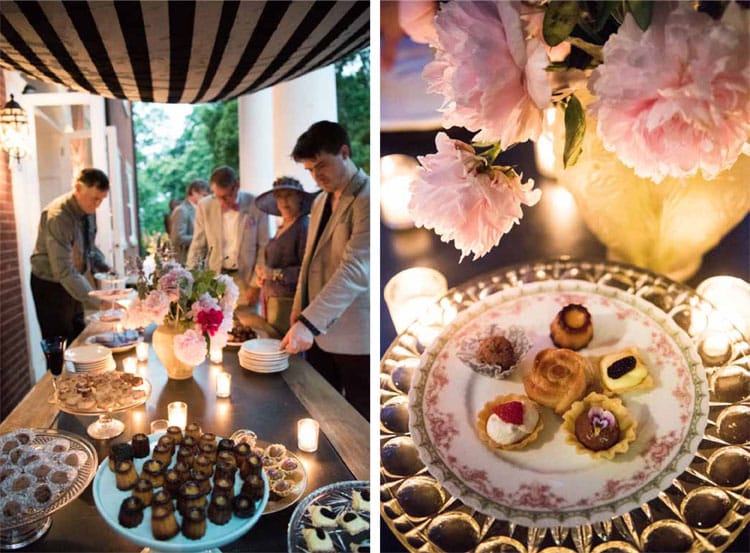 The evening concluded with conversations spilling into dusk and new friendships forming under the stars at Estouteville. ~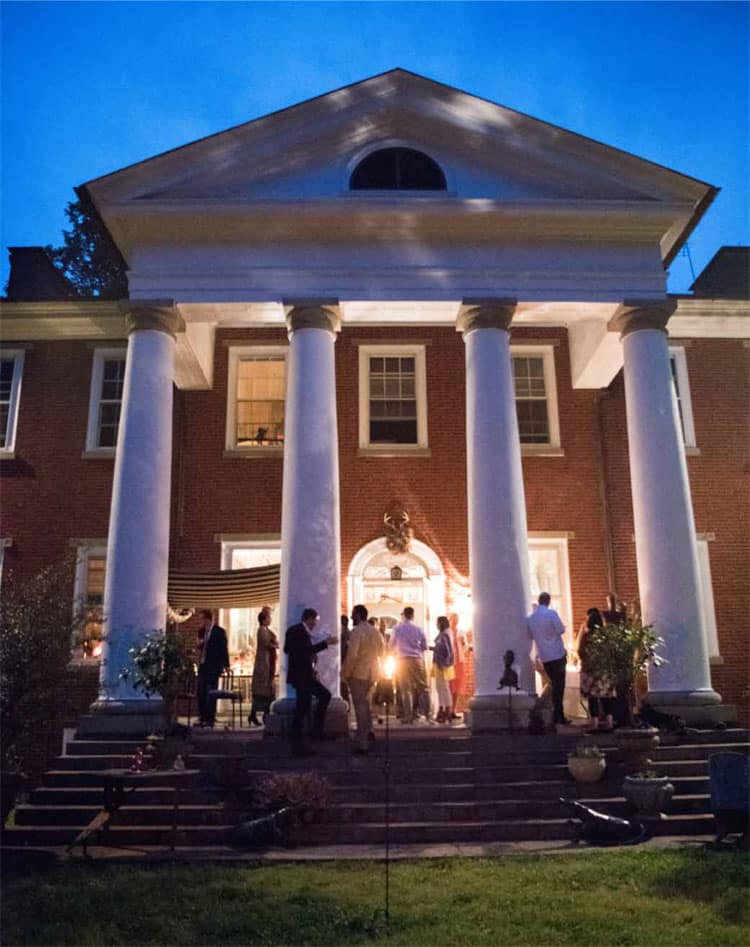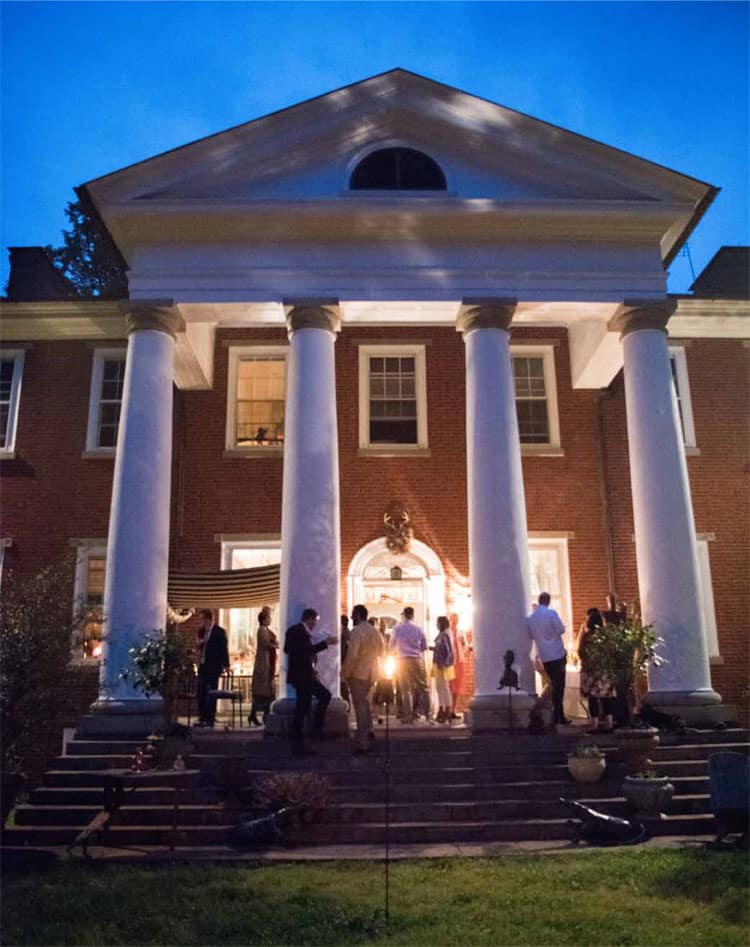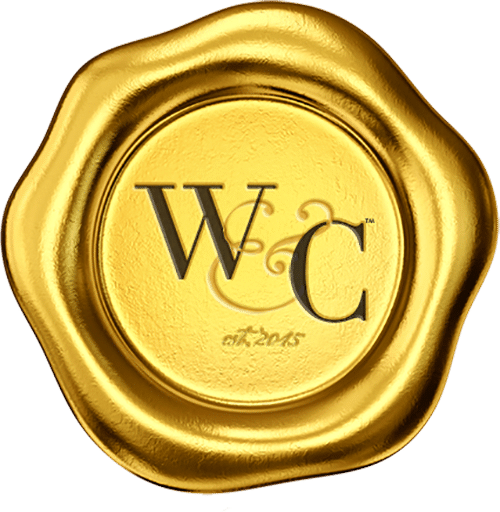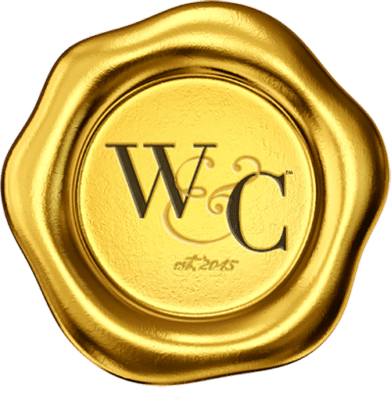 Wine & Country celebrates elevated living in Virginia Wine Country. Wine & Country Life, a semi-annual life & style magazine, and Wine & Country Weddings, an annual art book celebrating elegant Virginia weddings, are complemented by the Wine & Country Shop in Ivy, VA—a beautiful lifestyle boutique that brings the pages of the magazines to life. The Shop features over 40 Virginia artisans with everything from tailgating essentials and Dubarry attire to locally made foods and award-winning Virginia wines and craft beverages for your next event. Wine & Country covers the grape-growing foothills of the Blue Ridge Mountains from Lynchburg to Leesburg, including points in between like Charlottesville and Middleburg. Ivy Life & Style Media also creates other projects, including CharlottesvilleFamily.com, a collection of local resources including a popular calendar of events, family services guides and features on education, health and family day trips for parents and teachers in Charlottesville, as well as the CharlottesvilleWelcomeBook.com a guide to resources for Charlottesville tourists and newcomers.