As we say so long to spring and hello to summer this week, we want to share one of our favorite events from this Spring—Caspari's fabulous floral creations event during Historic Garden Week.
Over the past 13 years, Caspari, a local retailer of stylish paper products influenced by a variety of materials—fine art, textiles, ceramics and interior design—strives to showcase the works and patterns of established artists and museums around the world. In continuing their vision, Caspari hosted its annual "Floral Fashion" event, where local florists artistically highlighted everything spring and summer have to offer. Pulling inspiration from Caspari's stationery and accessories, each florist brought to life their own beautiful vision of artistic attire through unconventional ideas, styles and patterns.
As guests wandered from one display to the next, they snacked on delicious cheese and crackers, crostini and fruit and sipped on wine, fulfilling all of their senses at once.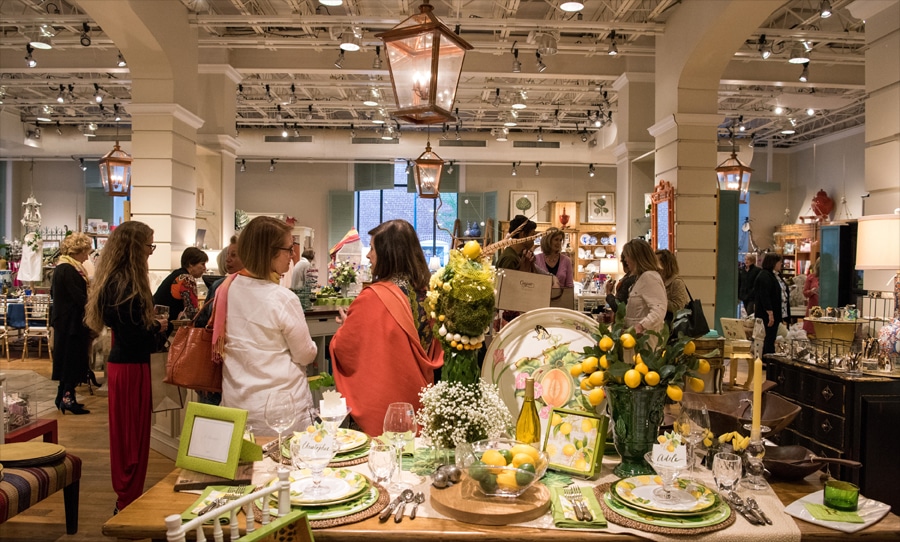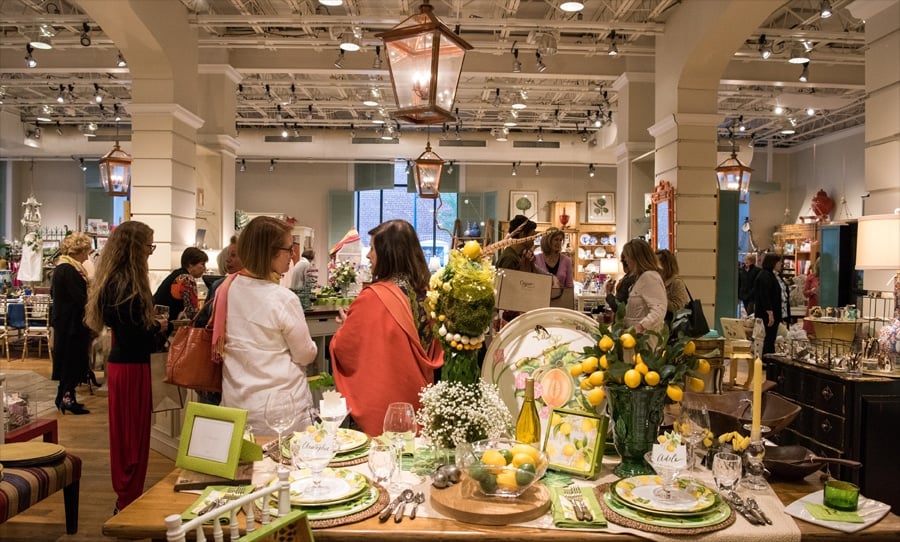 A Pimento Catering (photo above and at left below), inspired by Caspari's lemon-print items, combined different elements for their creative display. The cleaver fascinator topped with pheasant feathers was a charming feminine accessory pulled together with garlic bulbs and lemons, succulents, moss and feathers.
Stacy Torrence of Fresh (photo at right below) played off of Caspari's blue and white dinnerware to create a lovely setting. Inspired by spring's innocence before leading into summer, Fresh used jade plants on ballet slippers, greenery around a simplistic, yet classic, child's summer dress and other minimalist floral elements that are sometimes overlooked when other plants are in full bloom.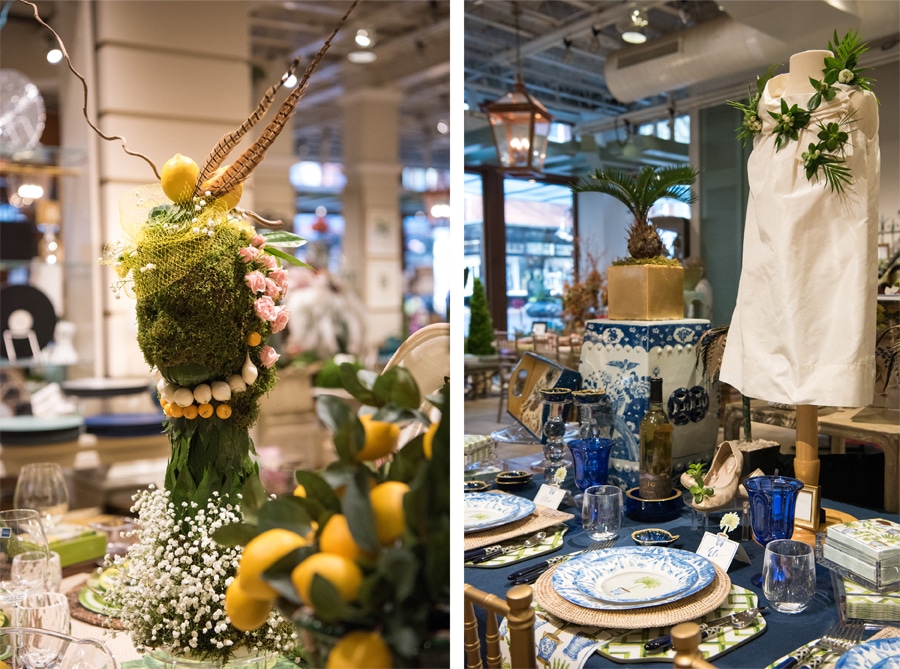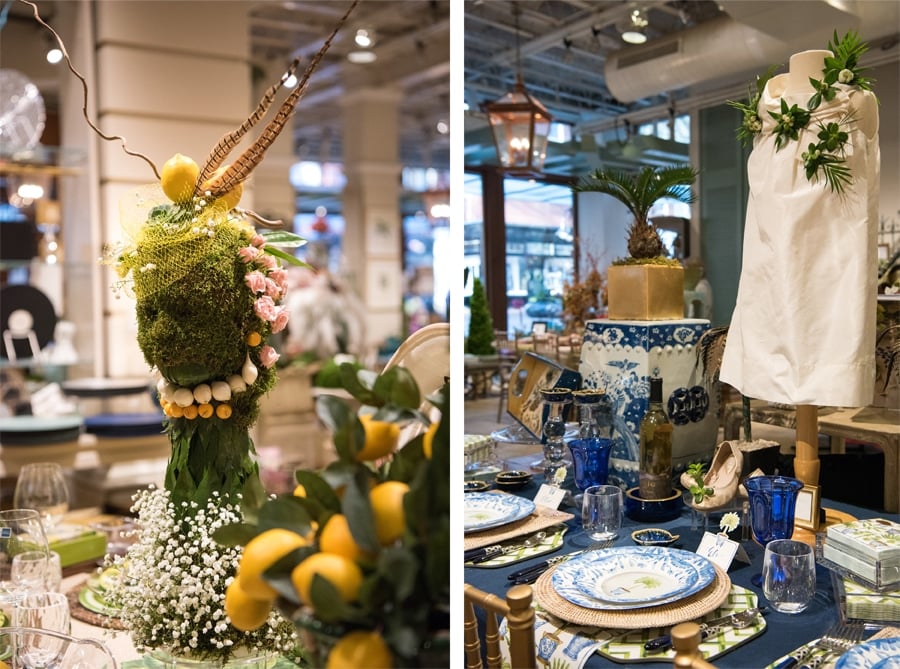 Floral Images Design Studio in Charlottesville (photos below) created a breathtaking display by using a variety of items. Their vision carries all the way from the rose hat to the moss-coated high heels topped with the same pink rose. Pearl earrings adorned the heels, complementing the stunning necklace. The bodice of this masterpiece, composed of Caspari napkins, leads into a rose festooned sash and white orchids before reaching its full-skirt, ball-gown style, crafted of white feathers. A spray of lilac was also added for a sweet spring scent.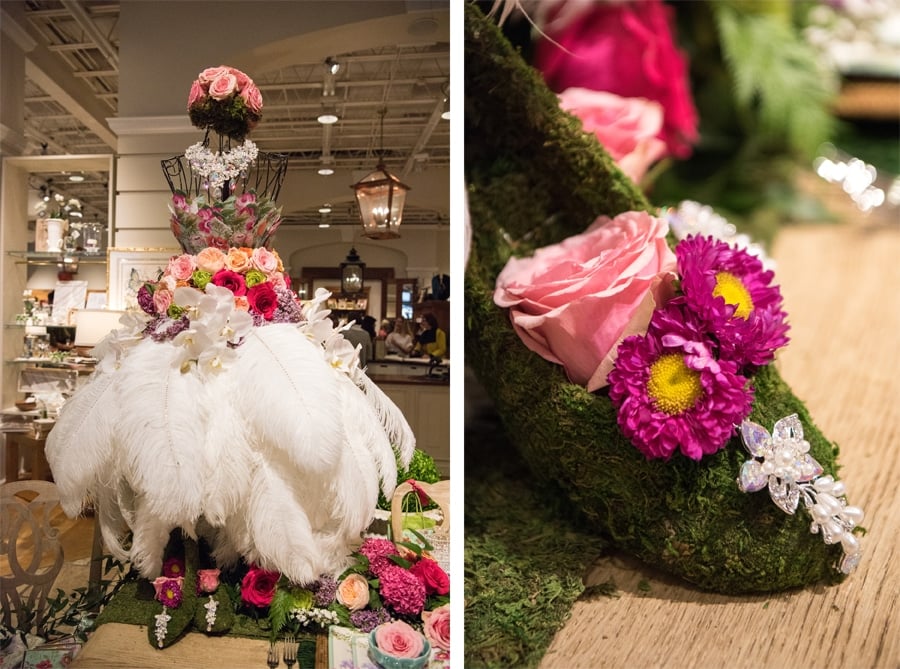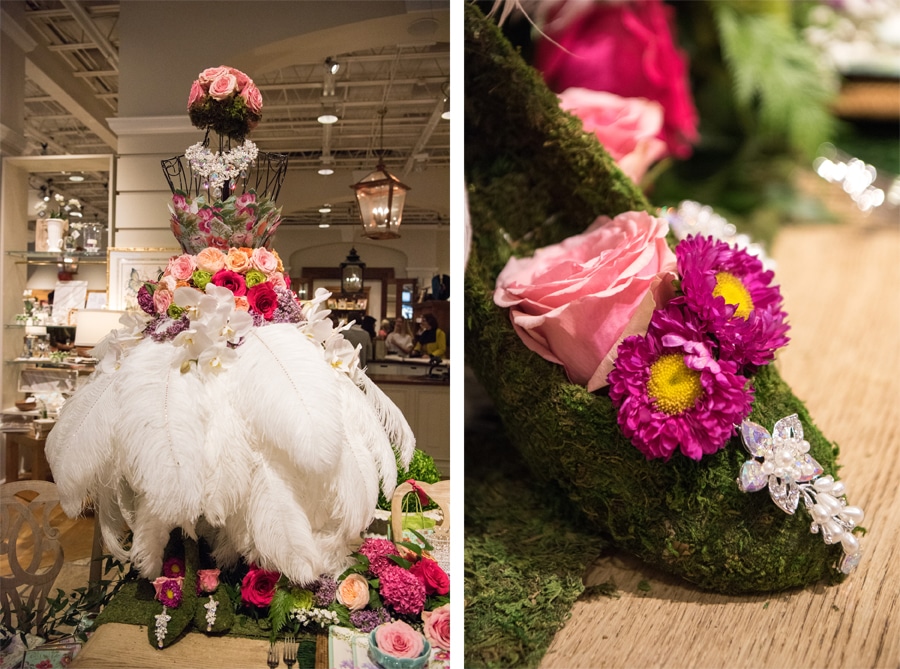 Gregory Britt with Tourterelle Floral Design (photos below) was festive with their garden-style arrangement. Stemming off of Caspari's pink floral napkins and tableware, Tourterelle added sprays of cherry blossom and a custom hand-crafted tulle to incorporate the pretty shades of summer. Eucalyptus, ivory trailing down the skirt, roses, candles and protea were also used to display the softness of the season.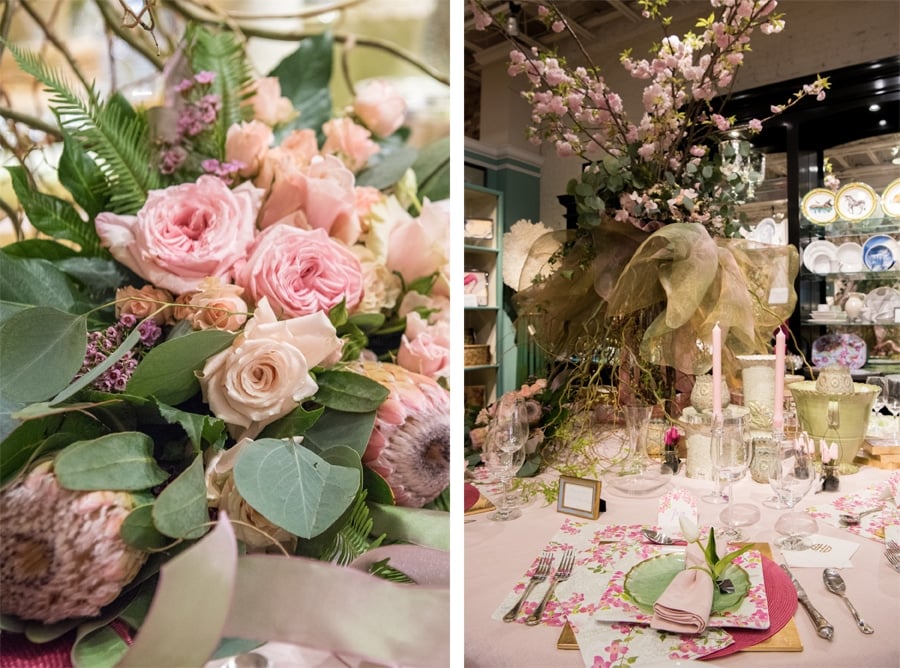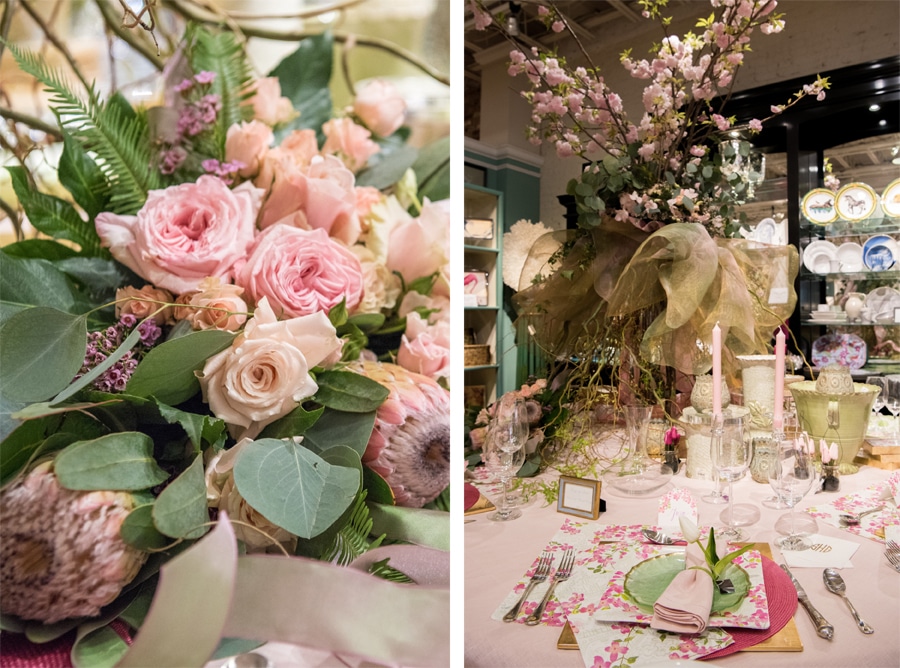 Southern Blooms (photos below) pulled in the bold, yet soft, style of Caspari's products to pair with this gorgeous securely fastened, floral collar necklace. By using grape hyacinth, delicate shades of lavender and purple, many hues of green and chartreuse, white roses and ranunculus, Southern Blooms brought to life an envy-worthy adornment.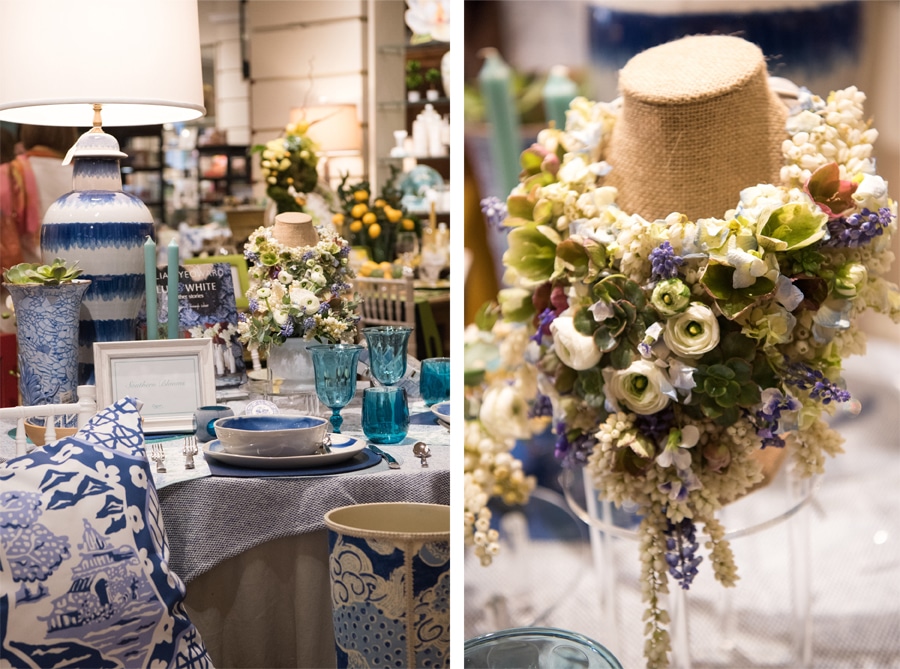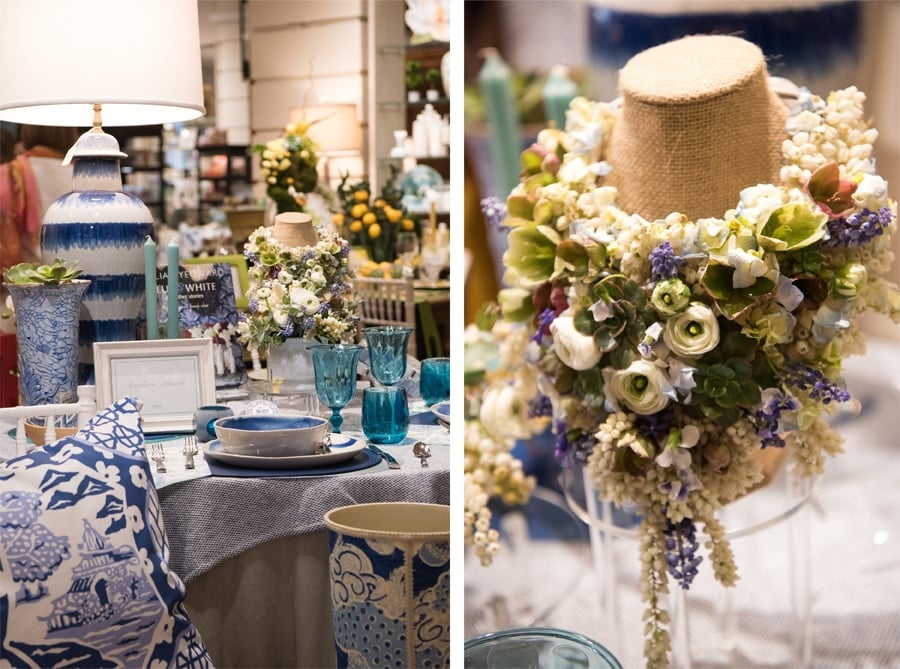 Hedge Fine Blooms (photos below) inspired all with their tropical-inspired hat and ballet flats. Using orange poppy, white roses, variegated and grape hyacinths with chartreuse flowers, Hedge created botanical accessories that speak to a heavenly oasis.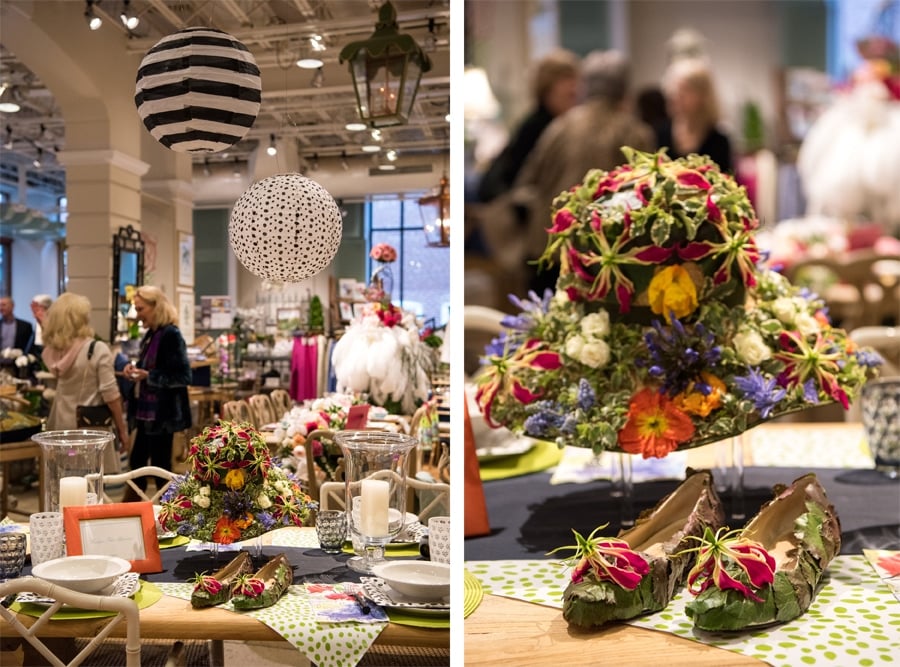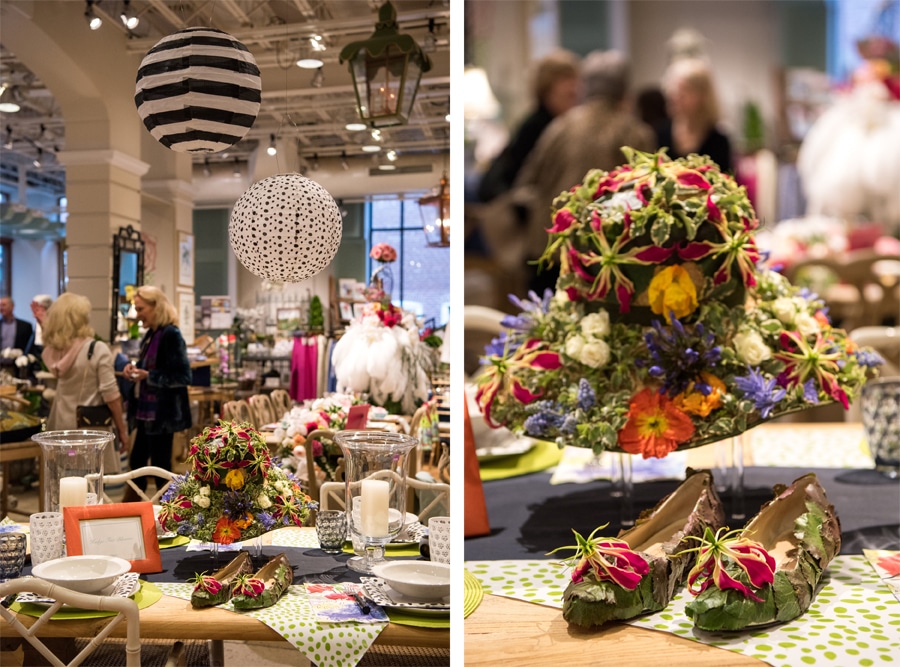 Pharsalia (photo at left below) gave guests a highly structured display comprised of blue and orange hues, reminding us that the garden is beautiful year-round. Designed to show the natural growth of the stems, this dramatic arrangement of greenery, bittersweet berries, dried hydrangea and seed pods paired well with seashells, dried flowers and moss.
Whereas, Blue Ridge Floral Design's display (photo at right below) grew from the inspiration of Caspari's pink and green-themed paper items. A sash of pink and a white rose belt cinched the waist of a bodice of large tropical leaves before dropping to a skirt decorated with bows that resembled delectable ribbon-candy.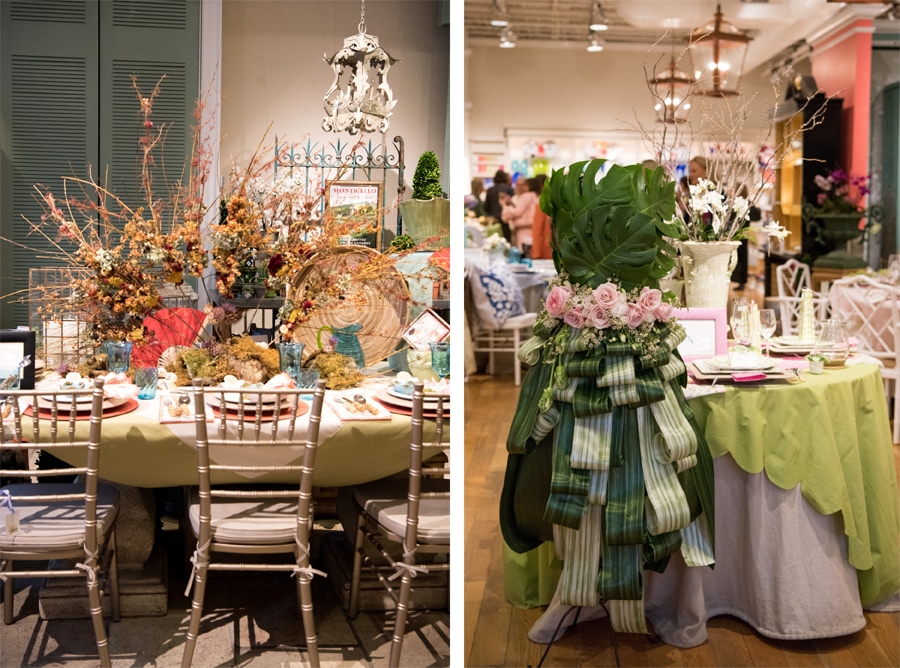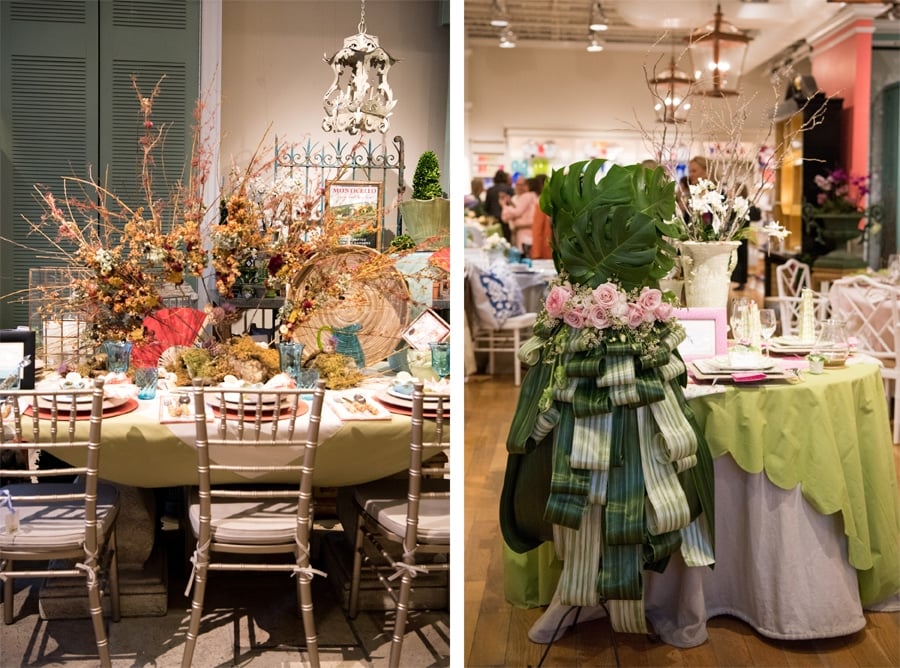 Once again, Caspari's "Floral Fashion" event was a successful affair, and we were grateful to be in attendance. Movers and shakers in the local garden industry came together to celebrate not only the local florists who help lead Charlottesville's identity in artistic fashion, but also Virginia's Historic Garden Week, known as "America's Largest Open House." We look forward to seeing the amazing creations at next year's event. ~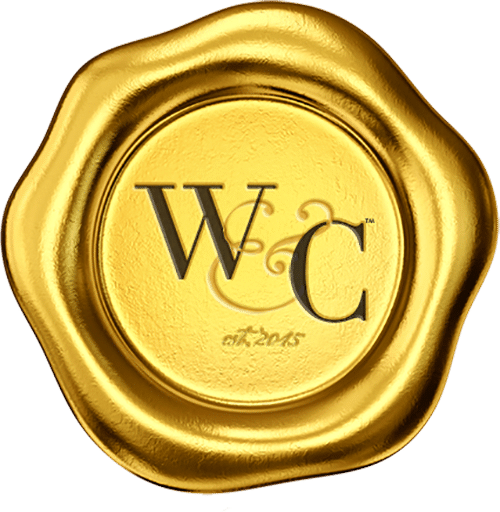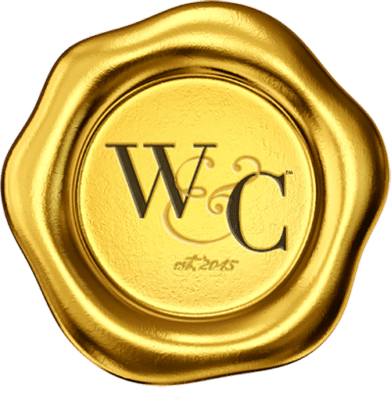 Wine & Country celebrates elevated living in Virginia Wine Country. Wine & Country Life, a semi-annual life & style magazine, and Wine & Country Weddings, an annual art book celebrating elegant Virginia weddings, are complemented by the Wine & Country Shop in Ivy, VA—a beautiful lifestyle boutique that brings the pages of the magazines to life. The Shop features over 40 Virginia artisans with everything from tailgating essentials and Dubarry attire to locally made foods and award-winning Virginia wines and craft beverages for your next event. Wine & Country covers the grape-growing foothills of the Blue Ridge Mountains from Lynchburg to Leesburg, including points in between like Charlottesville and Middleburg. Ivy Life & Style Media also creates other projects, including CharlottesvilleFamily.com, a collection of local resources including a popular calendar of events, family services guides and features on education, health and family day trips for parents and teachers in Charlottesville, as well as the CharlottesvilleWelcomeBook.com a guide to resources for Charlottesville tourists and newcomers.