On Thursday, April 20, Caspari hosted Floralscapes, an annual celebration of Historic Garden Week in Virginia with the Albemarle Garden Club, Charlottesville Garden Club and Rivanna Garden Club. For this unique event, 10 local designers were given a Caspari napkin as their inspiration for a centerpiece. A Pimento Catering, the Albemarle Garden Club, Blue Ridge Floral Design, Cakes by Rachel, Hedge Fine Blooms, Paradox Pastry, Pharsalia Events, Southern Blooms, The Hungry Fox and Tourterelle Floral Design created stunning cakes and floral arrangements showcasing the creativity and talent in our community.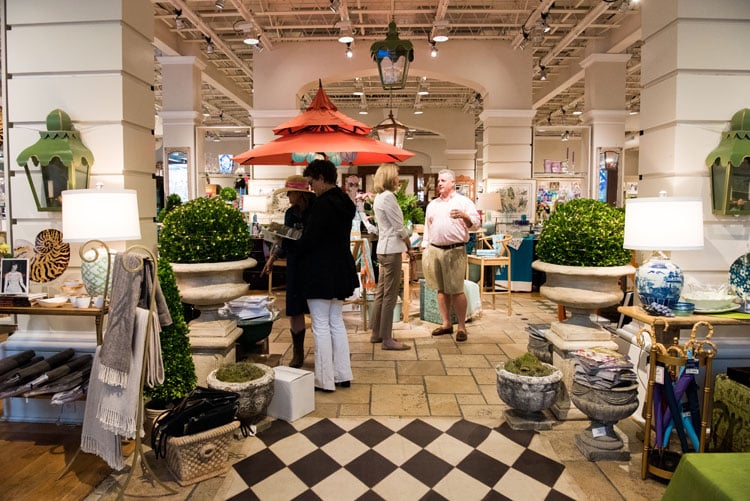 Guests sipped wine and enjoyed delicious food from Feast! while they browsed the colorful displays. Each table was decorated with a gorgeous custom centerpiece, and a full complement of Caspari table pieces, from linens and flatware to name cards and plates.
Below is Southern Bloom's delightful arrangement. After being assigned the "Secret Garden Ivory" napkin as their inspiration piece, Southern Blooms created a stunning centerpiece incorporating the napkin's colors and patterns with Scotch broom, hydrangea and heuchera, among other beautiful florals and greenery.
We were pleased to attend the event, showcasing the newest issue of Wine & Country Life. During the evening, guests could browse other items in Caspari's boutique, including fashion and home accessories.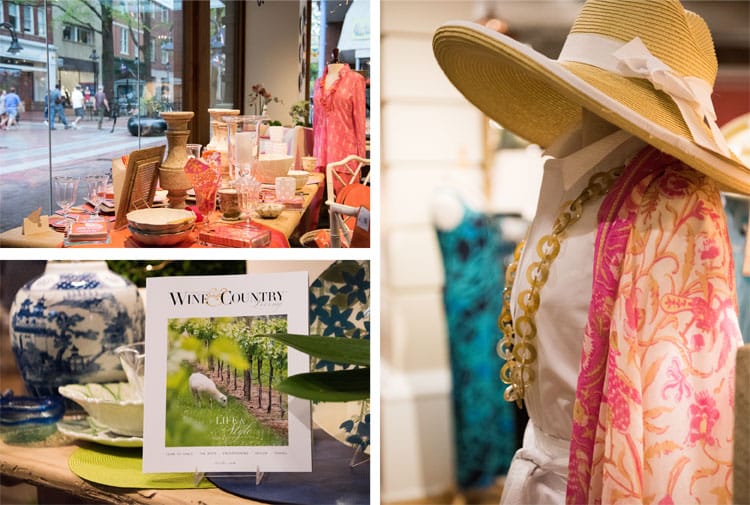 For Tourterelle Floral Design's table, "The Devonshire Ball" napkin from the Chatsworth napkin collection was assigned. This table also featured House Style: Five Centuries of Fashion at Chatsworth, a book released earlier this year that explores the history of fashion at Chatsworth. Tourterelle creatively played off the napkin's title, "The Devonshire Ball," by creating a grand display with elegant round floral arrangements.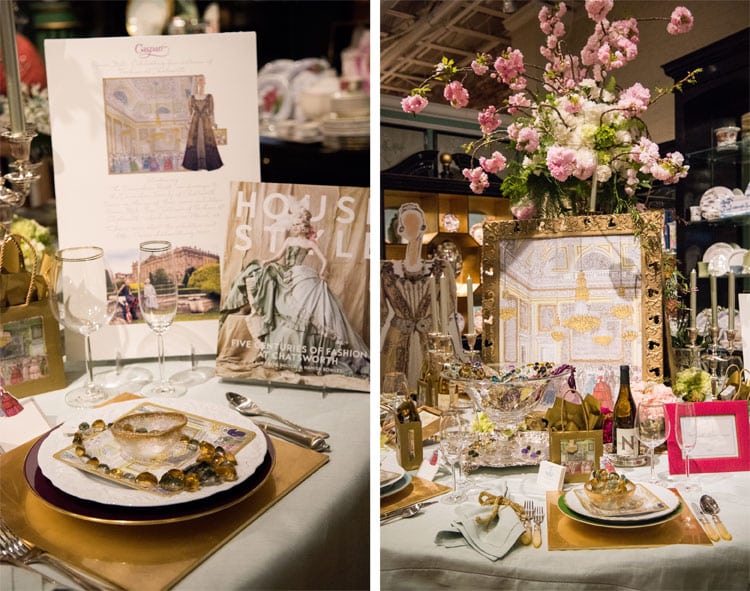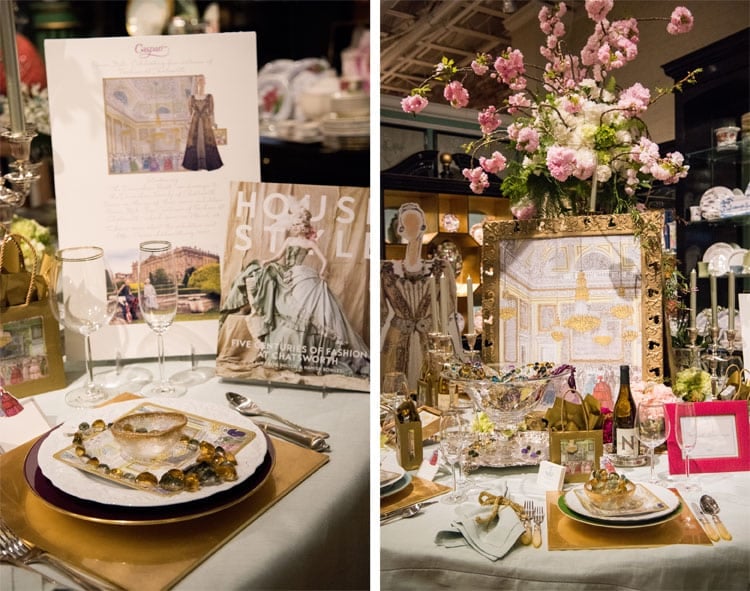 Below are the centerpiece cakes created by Paradox Pastry (left) and The Hungry Fox (right). Paradox Pastry was assigned the "Sail Away" napkin. The bakery used not only the napkin's red, white and blue colors, but also the napkin's shapes by cutting out individual pieces shaped like sails from rice paper and using them to decorate the middle layer as well as for the pinwheel atop the cake.
The Hungry Fox's cake was created to look like it's assigned napkin, "Brushstroke." The Hungry Fox highlighted the colors and pattern of the napkin, adding a delightful paint pallet and tube of paint to complete the theme.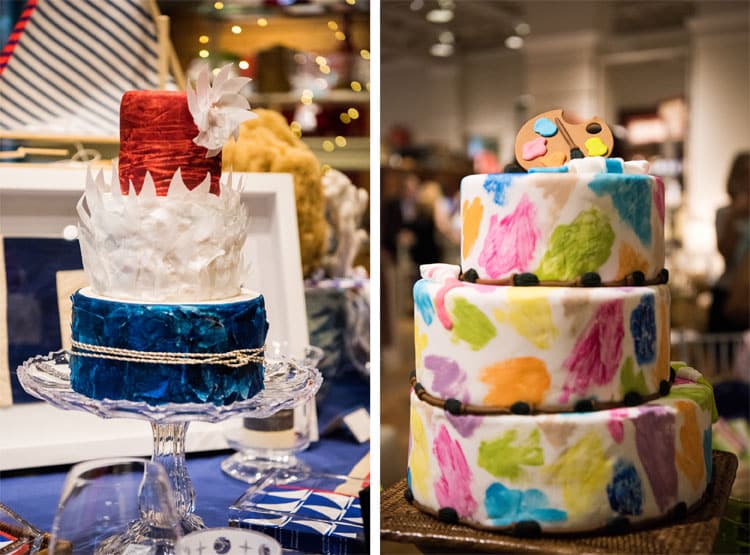 Below is the floral arrangement from Pharsalia Events. A colorful napkin featuring birds, "Papageno" was chosen for Pharsalia Events' muse. They not only included the colors and shapes from the napkin with flowers and greenery they grew—including lilac, peonies, scotch broom, hydrangea and solomon's seal—but also set their centerpiece in a vintage birdcage, from which the lavish florals protruded.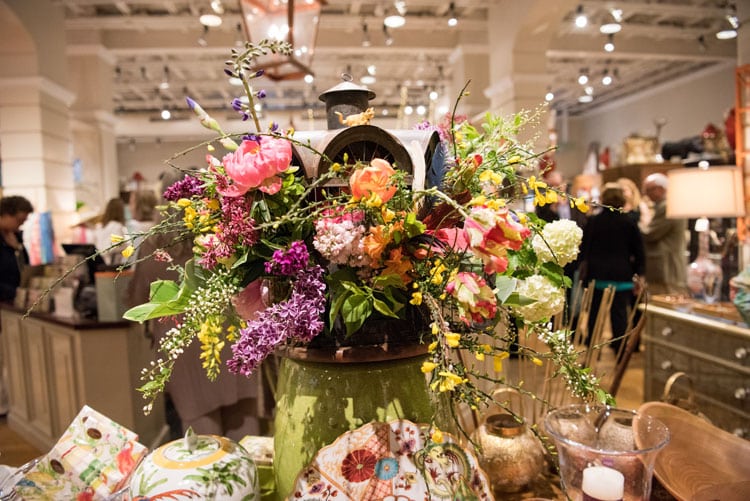 We had such a wonderful time spending the evening with the Albemarle Garden Club, Charlottesville Garden Club and Rivanna Garden Club at Caspari in celebration of the start of Historic Garden Week. Below is the Albemarle Garden Club's beautiful arrangement based on the "Botanical Studies" napkin and Susan Lankenau and Cindy Schutt, the Co-Chairmen of Historic Garden Week in Charlottesville & Albemarle.
We continue to be amazed by the immense talent in our community and were so pleased to celebrate both the start of Historic Garden Week in Virginia and the start of the Charlottesville-Albemarle Garden Week tours on April 22. ~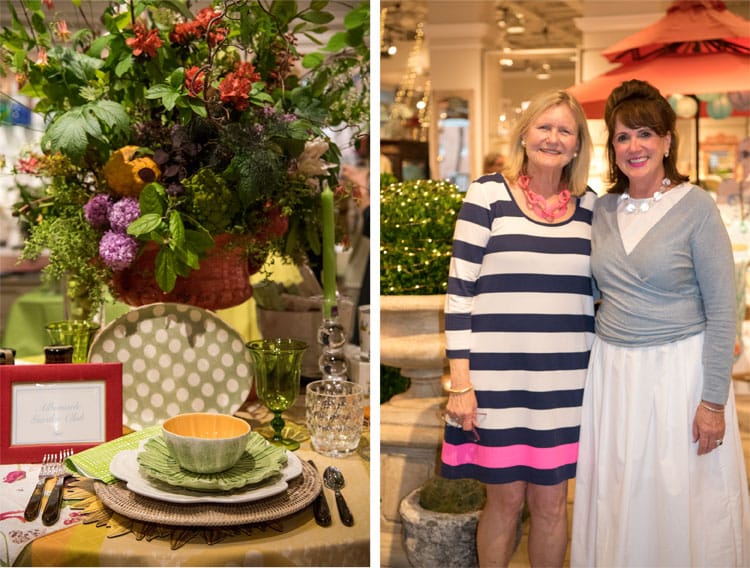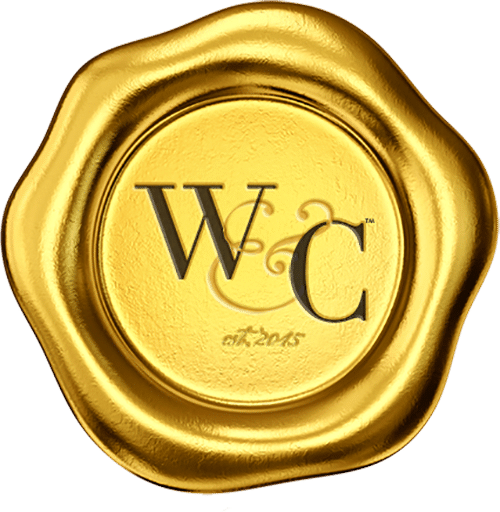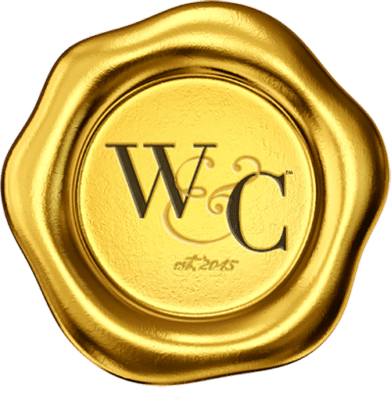 Wine & Country celebrates elevated living in Virginia Wine Country. Wine & Country Life, a semi-annual life & style magazine, and Wine & Country Weddings, an annual art book celebrating elegant Virginia weddings, are complemented by the Wine & Country Shop in Ivy, VA—a beautiful lifestyle boutique that brings the pages of the magazines to life. The Shop features over 40 Virginia artisans with everything from tailgating essentials and Dubarry attire to locally made foods and award-winning Virginia wines and craft beverages for your next event. Wine & Country covers the grape-growing foothills of the Blue Ridge Mountains from Lynchburg to Leesburg, including points in between like Charlottesville and Middleburg. Ivy Life & Style Media also creates other projects, including CharlottesvilleFamily.com, a collection of local resources including a popular calendar of events, family services guides and features on education, health and family day trips for parents and teachers in Charlottesville, as well as the CharlottesvilleWelcomeBook.com a guide to resources for Charlottesville tourists and newcomers.