Joy Jaynes of Mornings Like These gave us an inside look at the beautifully planned and executed Harvest Dinner this autumn at Early Mountain Vineyards.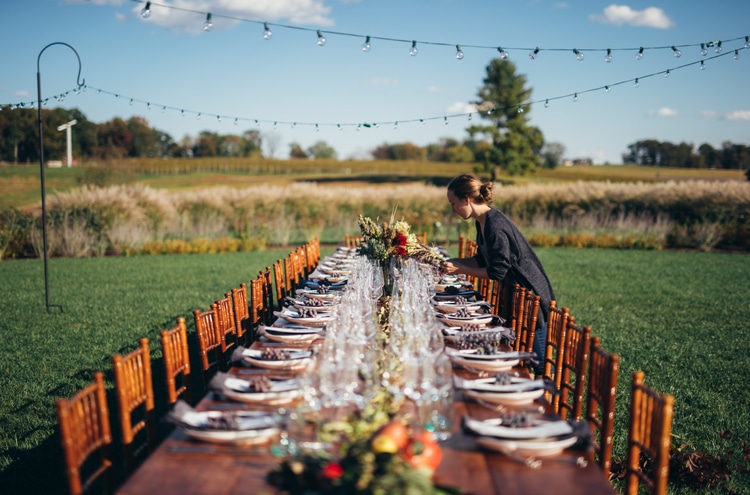 Set in the Blue Ridge foothills of Virginia, just under two hours from Washington, DC, Early Mountain is often frequented by wine enthusiasts and eager brides and grooms. "We wanted to introduce the local community to a side of Early Mountain that has never been seen before," says Jaynes. Their goal: to embrace the best of Virginia – the food, scenery, wine and company. By hosting a supper sourced by local farms, introducing exclusive wines made on the property and foraging for greens and flora that grew around the vineyard, Early Mountain aimed to inspire their guests to live locally.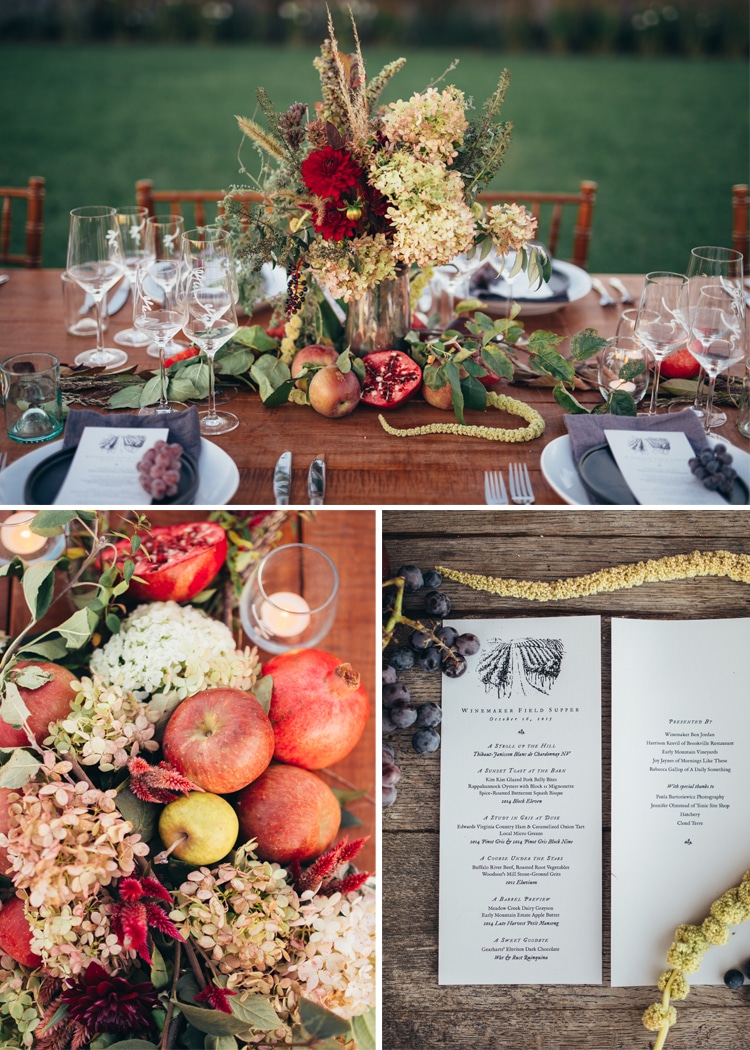 "I brought on Rebecca Gallop of A Daily Something to help style the event, as her aesthetic is exactly what we were looking for. In addition to utilizing her platters, plates and various other props for the dinner, she styled all of our tables and put together some deliciously textural floral arrangements." For menu design, Jen Olmstead delivered a beautiful and classic menu. "Her eye for detail gets me every time," Jaynes says. "On the menus, she added an ornament throughout the design that, unbeknownst to me, was a traditional vintage Victorian grapevine printer's ornament. It was the perfect little addition." Chef Harrison Keevil of Brookville Restaurant was the chef for the evening, working alongside Winemaker Ben Jordan of Early Mountain Vineyards. "Together, they planned the most delicious pairings. They introduced their menu selections to our guests, explained the pairings and educated everyone on the food and wine included in the dinner."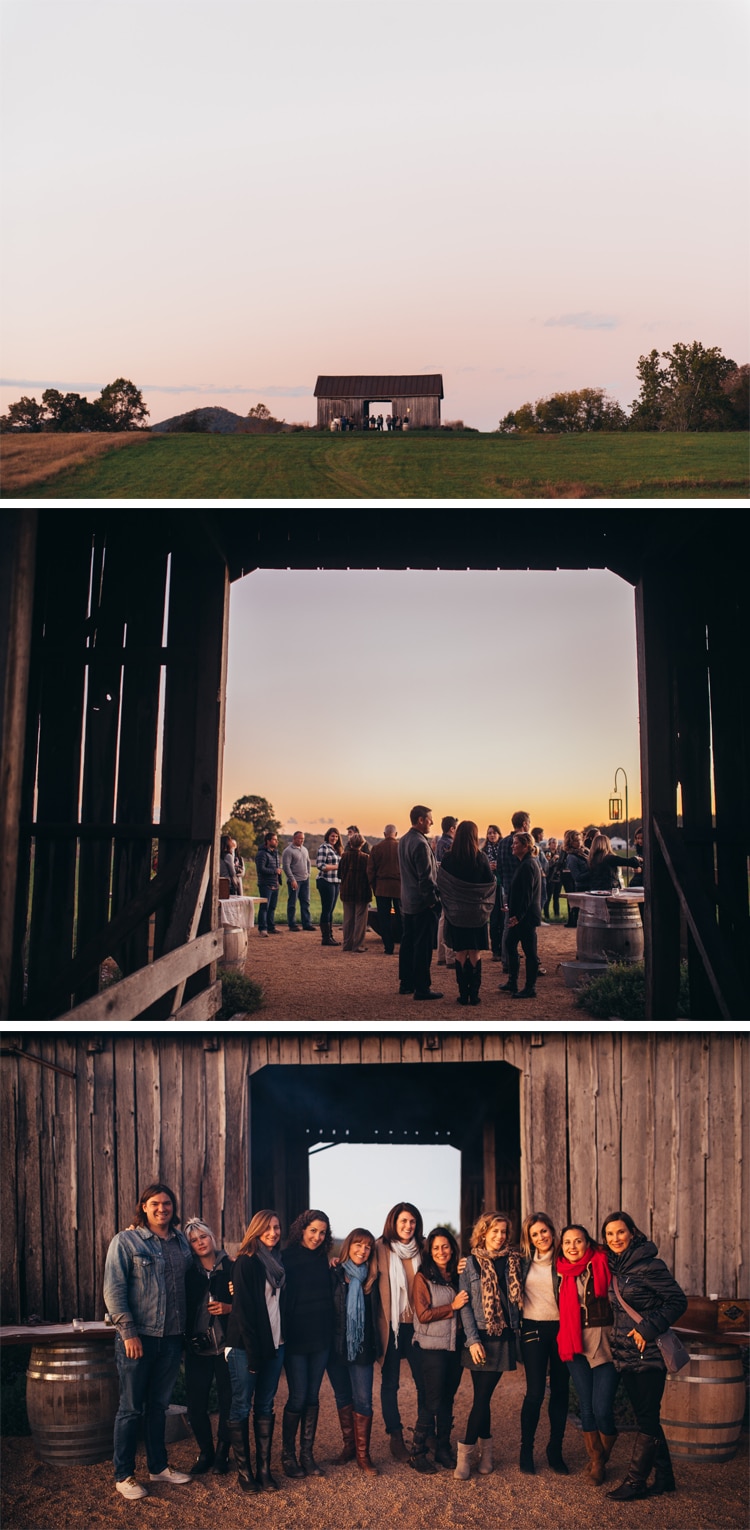 The evening began with guests being greeted with a glass of Thibaut-Janisson Blanc de Chardonnay before taking a stroll up to the historic barn overlooking the Blue Ridge Mountains. During cocktail hour, guests enjoyed their first course. "Chef Keevil prepared Kim Kim Glazed Pork Belly Bites, Rappahannock Oysters with Blog 11 Mignonette and Spice-Roasted Butternut Squash Bisque. As a complementing wine, Jordan chose a 2014 Block Eleven," Jaynes explains. At each place setting, guests were awaited with their next glass of wine for the first of the two main courses. "There were two wine pairings: a 2014 Pinot Gris and a 2014 Pinot Gris Block Nine along with Chef Keevil's Edwards Virginia Country Ham & Caramelized Tart served with local micro-greens. This dish was so simple and stunning that we chose to serve it on Cloud Terre's Obsidian black plates."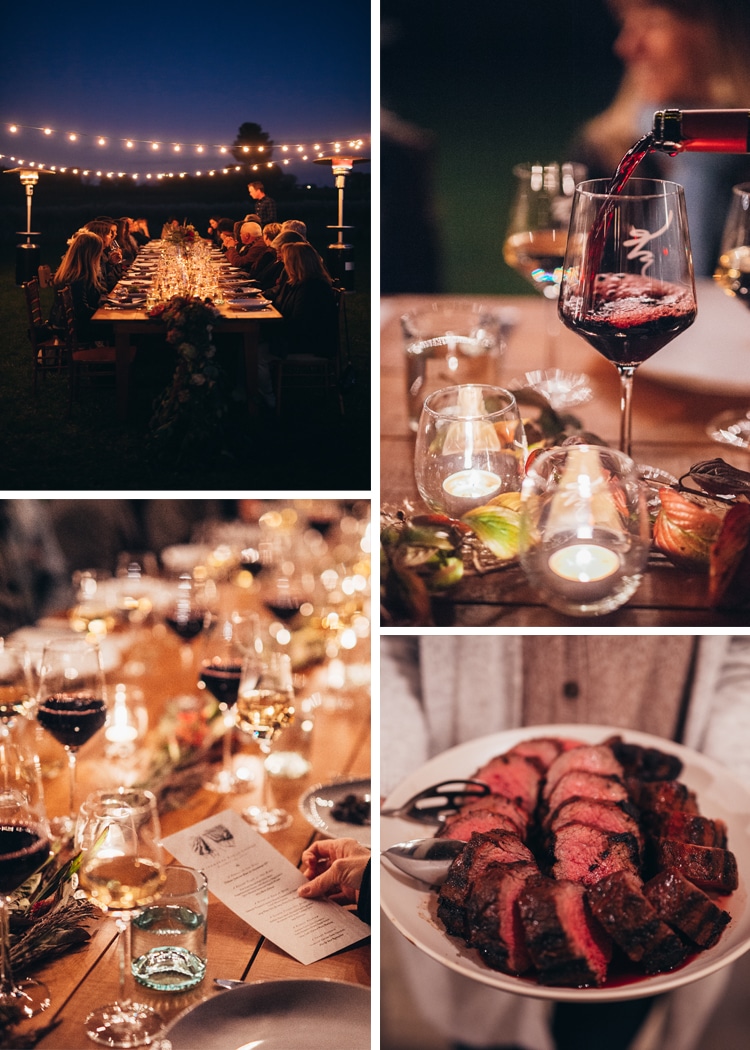 "For the main course, Keevil prepared Buffalo River Beef with Roasted Root Vegetables and Woodson's Mill Stone-Ground Grits, all family style," Jaynes says. "The 2012 Eluvium was the perfect pairing by Jordan, and many guests bought a bottle to take home." For the final courses, guests were introduced to a barrel preview: a 2014 Late Harvest Petit Manseng accompanying Meadow Creek Dairy Grayson topped with Apple Butter made from the vineyard's own apples. For our sweet goodbye, Jordan introduced his special War & Rust Quinquina with local Gearharts' Eluvium Dark Chocolate."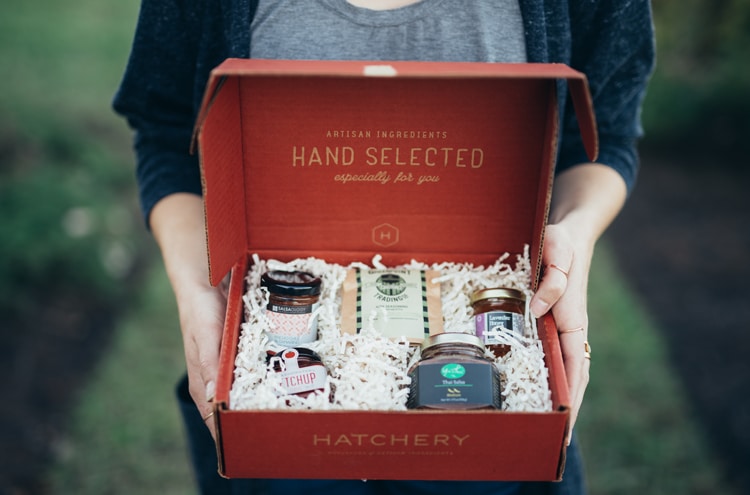 As the attendees departed, each was given a tasting box by the event's sponsors at Hatchery, including a three-month complimentary membership to their Tasting Box program. "We chose to partner with Hatchery because of their devotion to celebrating small, local makers. We had hoped to leave our guests with the feeling of community and inspiration," Jaynes says. ~
Photographer: Paula Bartosiewicz
Location: Early Mountain Vineyards
Chef: Harrison Keevil of Brookville Restaurant
Winemaker: Ben Jordan of Early Mountain Vineyards
Florist: Joy Jaynes from Mornings Like These & Rebecca Gallop of A Daily Something
Dahlias, amaranthus and celosia from Greenstone Fields
Rental Company: Flatware from Beggar's Banquet
Black Plates from Cloud Terre
Entree Plates from A Daily Something
Music: Pandora station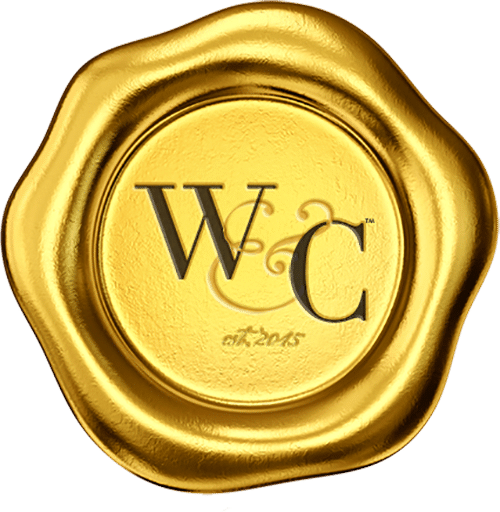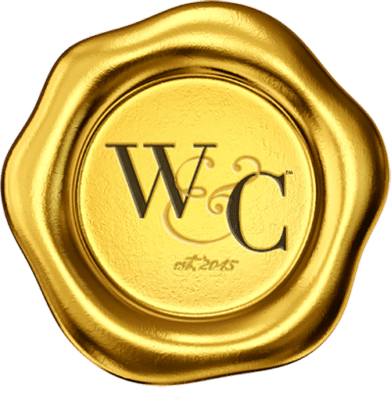 Virginia Wine & Country celebrates elevated living in Virginia Wine Country. Virginia Wine & Country Life is a semi-annual luxury print magazine with a full digital presence. The Virginia Wine & Country Gold Book is an annual guide to the top award-winning wines, wineries and experiences in Virginia Wine Country. The annual Virginia Wine & Country Wedding Planner is an art book of elegant Virginia weddings. The brand includes the Virginia Wine & Country Shop in Ivy, Va. It is a beautiful lifestyle boutique that brings the pages of the magazines to life. Virginia Wine & Country tells the stories of Virginia wineries, the farm-to-table movement, luxury travel, entertaining, art and the elegant country lifestyle. Ivy Life & Style Media also provides branding, web design and PR services for the wine industry.