Established in 1988, Horton Vineyards is one the regions most established wineries, producing thousands of cases of wines per year and dozens of award-winning varietals from Viognier to native grape Norton. Last week Wine & Country Life was there to join in the first of their new Cooking with Wine series of classes.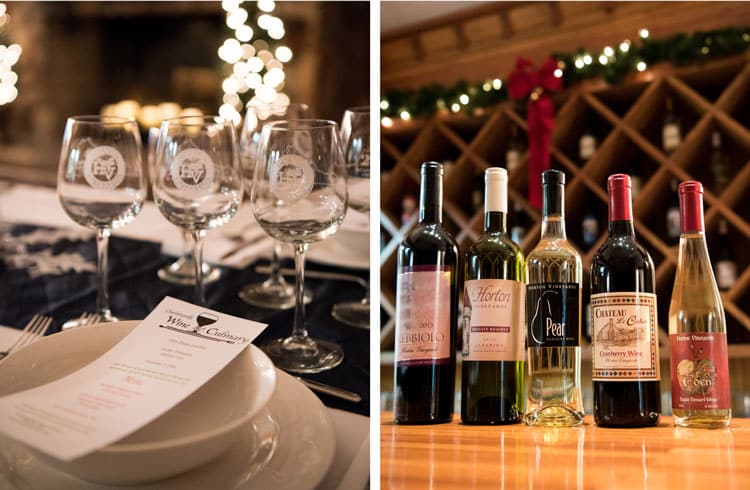 Held around the Holidays, guests were cheerfully greeted by Shannon Horton, daughter of founder and winemaker, Dennis Horton. Welcoming everyone into the festive tasting room where the dinner table was beautifully set in front of the magnificent stone fireplace, Shannon introduced Chef Terre Sisson, owner of Charlottesville Wine & Culinary.
Chef Sisson's menu
Spinach Apple Salad with Cinnamon Eden Vinaigrette
Nebbiolo Wine Bolognese Sauce with Fresh Local Pasta
Pear Cranberry Wine Pie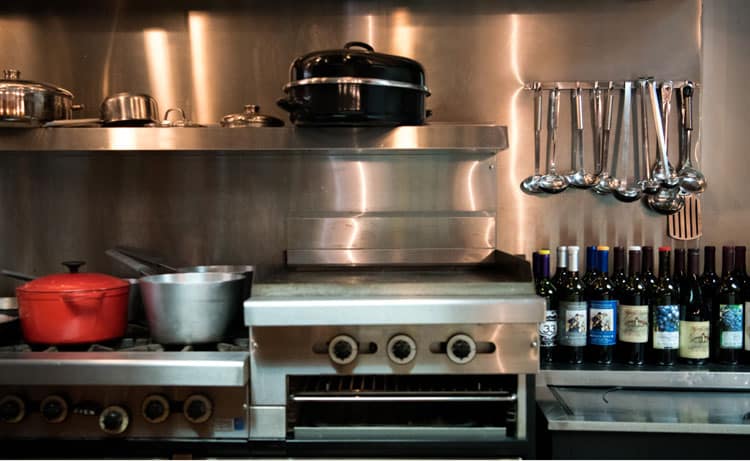 Chef Sisson began the class with preparing the crust for the Pear Cranberry Wine Pie, giving guests useful tips and inspiring cooking stories along the way. Guests were invited to Sous Chef and participate. Her easy-going, friendly style of teaching put everyone at ease right away, and soon laughter was a key component of the recipes.
The Pear Cranberry Pie filling was made from beautiful fresh ingredients with the addition of Horton's Cranberry Wine. One of eight fruit wines created by Dennis Horton, the Cranberry Wine is a lovely blend of the highest quality of Cranberry with Cabernet Franc. The Horton fruit wines are a result of, "my hobby gone wild and the long lost dream of Chateau Le Cabin," writes Winemaker Dennis Horton. "In the early 1980s the great Horton experiment began in my log cabin in Aroda, Virginia. The cabin's cellar was full of home wine-making gear and very small barrels full of the first tastes of Horton wine. That little cabin was the start of this endeavor, and these fruit wines celebrate that home wine-making spirit."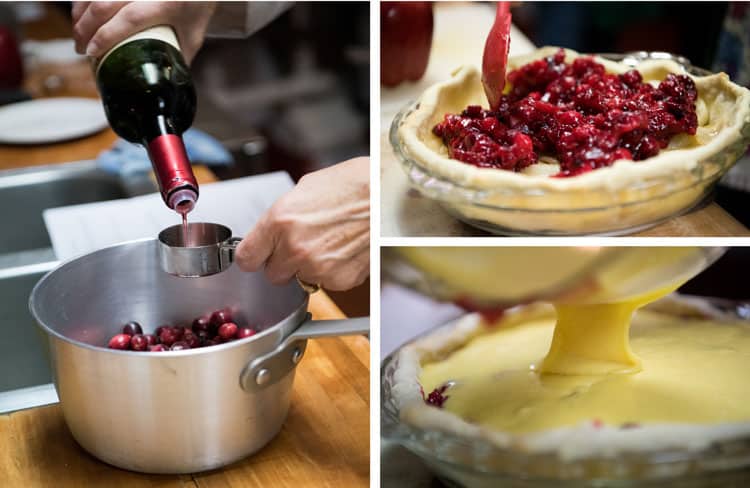 As the pie baked, Chef Sisson started the ingredients for the Spinach Apple Salad with Cinnamon Eden Vinaigrette. The salad was paired with the award-winning 2015 Albarino Private Reserve. This lovely white wine paired beautifully with the sweet and tangy salad.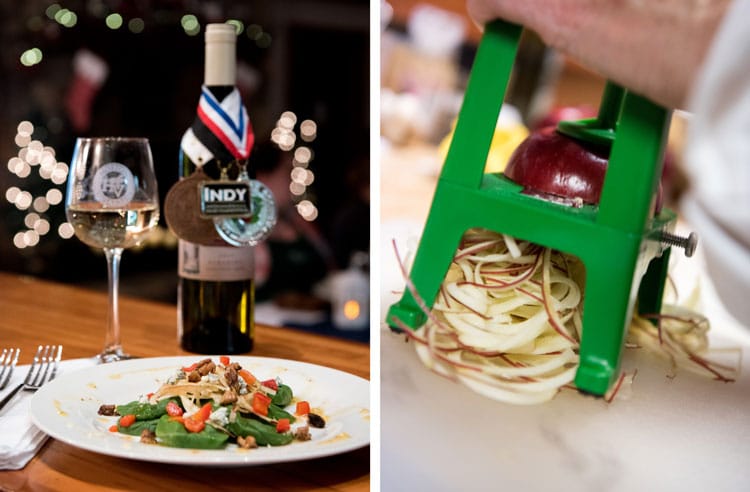 The main course was a hearty Nebbiolo Wine Bolognese pasta sauce that included blanched tomatoes from Chef Sisson's own vegetable garden with ingredients prepared by the guests on top of fresh locally made pasta from Mona Lisa Pasta. The dish was paired beautifully with Horton's 2013 Nebbiolo, which has rich wild herb and cherry aromas with sweet plum and smokey flavors and really enhanced the dish's terrific flavor.
As guests dined together with Chef Sisson, friendships were made around the bond of sharing good food and wine. The dinner ended on a sweet note with the wonderful Pear Cranberry Wine Pie that was served with one of three dessert wines that guests could choose from: the Chateau Le Cabin Cranberry Wine, the fortified Pear Wine, or the Eden Apple Dessert Wine. It was the perfect ending note to an enjoyable evening.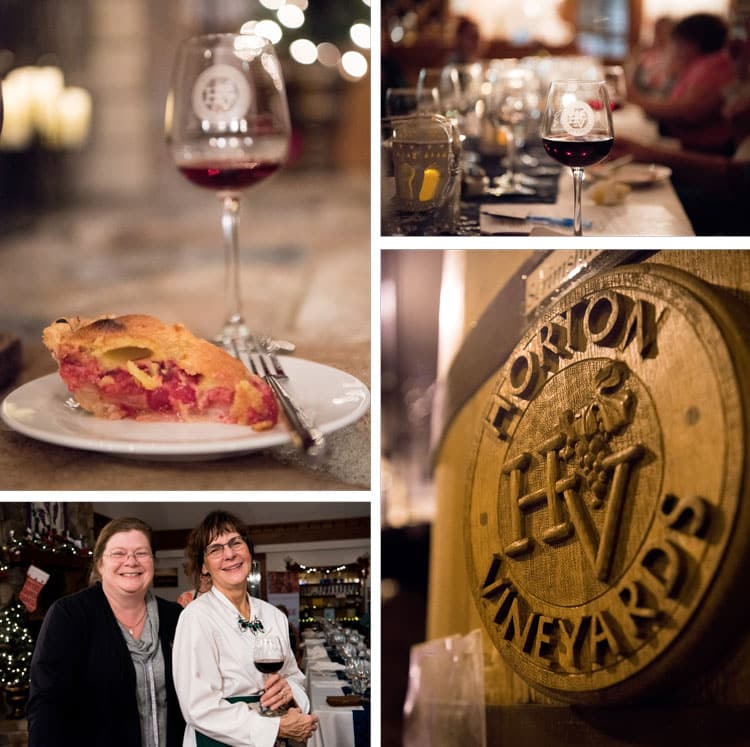 Seen above with Shannon Horton (at left), Chef Terre Sisson was trained at L'Academie de Cuisine in Bethesda, Maryland, and specializes in achieving gourmet results in a home kitchen. She believes that anyone can become a fine home chef, serving spectacular meals to family and friends and teaches several cooking classes at various locales throughout the area. Horton Vineyards is looking forward to hosting more classes in their new Cooking with Wine series. ~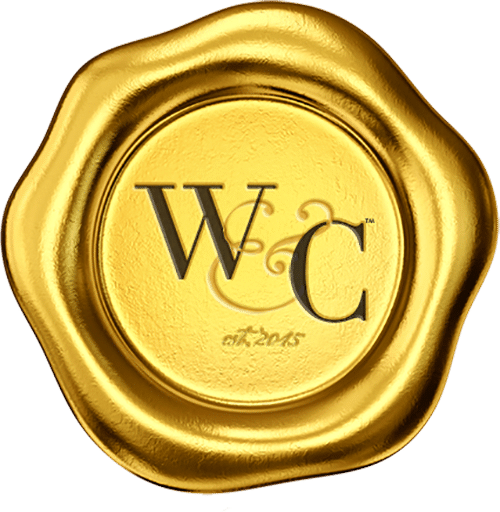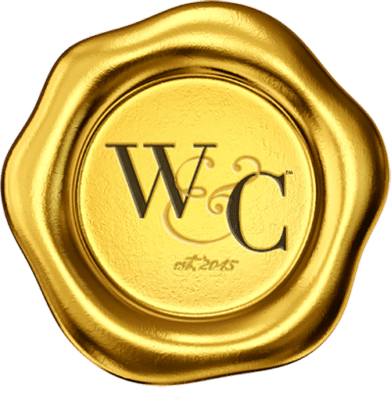 Virginia Wine & Country celebrates elevated living in Virginia Wine Country. Virginia Wine & Country Life is a semi-annual luxury print magazine with a full digital presence. The Virginia Wine & Country Gold Book is an annual guide to the top award-winning wines, wineries and experiences in Virginia Wine Country. The annual Virginia Wine & Country Wedding Planner is an art book of elegant Virginia weddings. The brand includes the Virginia Wine & Country Shop in Ivy, Va. It is a beautiful lifestyle boutique that brings the pages of the magazines to life. Virginia Wine & Country tells the stories of Virginia wineries, the farm-to-table movement, luxury travel, entertaining, art and the elegant country lifestyle. Ivy Life & Style Media also provides branding, web design and PR services for the wine industry.