Charlottesville's own rustic Italian restaurant, Tavola, released a cookbook with all of their favorite Italian recipes to celebrate their 10 year anniversary. The book contains 10 of Tavola's best Italian-inspired dishes and some of owner Michael Keaveny's tailored song selections. His playlist is the perfect complement to any Tavola meal, which can now be enjoyed at home by any enthusiastic home-chef.
The great thing about pasta-based recipes is that you can either buy dry pasta from the store to keep on your shelves for easy-access, or you can embrace the process and elect to make homemade pasta with the family. Whichever option you choose, Tavola's recipes are sure to please any palate.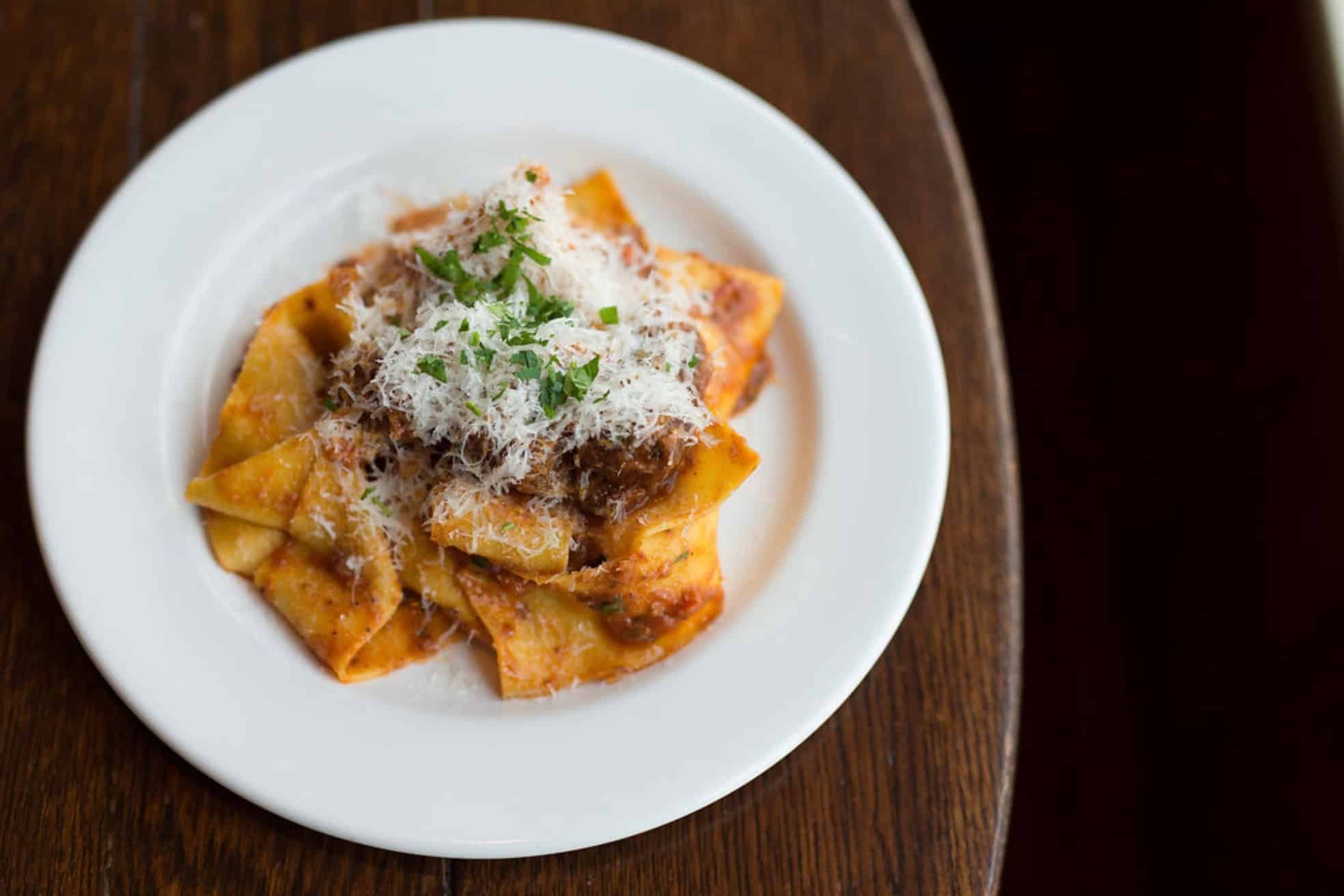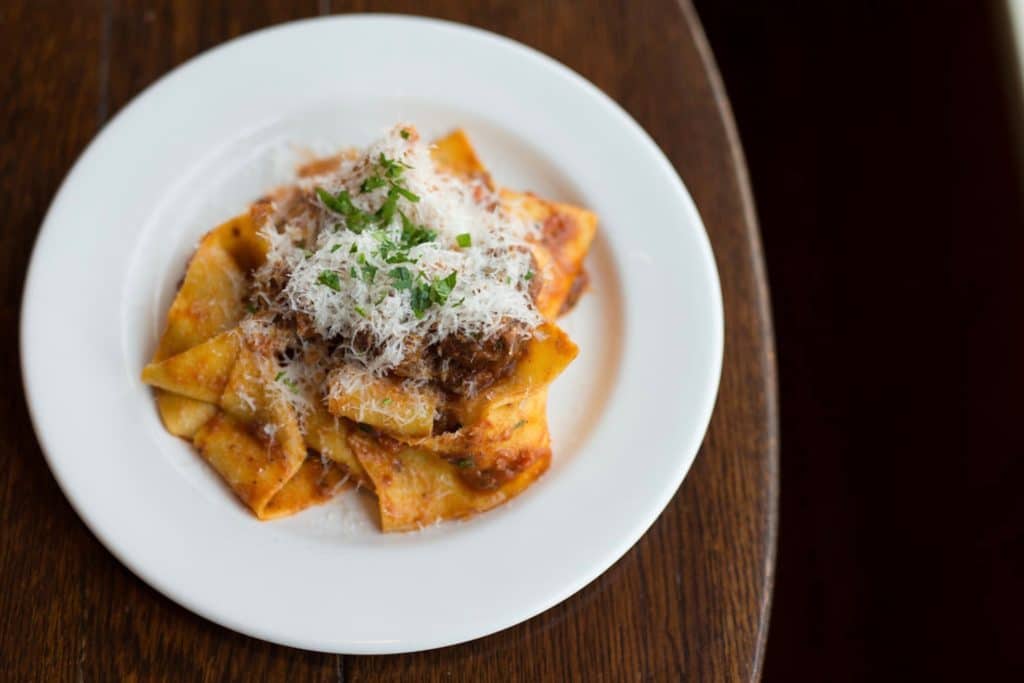 Making Pasta at Home
While making pasta from scratch may seem intimidating, it actually is a lot easier than it sounds. Ingredients-wise, all you need to make fresh pasta is flour and eggs, two pantry-staples that any home chef is sure to have on standby. The same goes for equipment, fresh pasta can either be made with a pasta machine, or with a few common kitchen and a clean work surface.
The key to making delicious homemade pasta is the mixing process. Be sure to form a solid well before adding your eggs and kneading your dough until smooth. While the process can be tiring, the result is elevated thanks to the chewy, bouncy texture and rich flavors of fresh pasta. Homemade pasta can be paired with a variety of sauces, including heartier sauces, meaty sauces or simple cream sauces. No matter the dish, any home chef making fresh pasta is in for a real treat.
How to Pair Pasta with Wine
Nothing compares to a delicious pasta dish accompanied by a glass of wine. To enhance the dining experience, pair your next pasta dish with a wine that best complements the flavors of the sauce. Between tomato-based sauces, creamy white sauces and pesto-based sauces, there are a wide variety of wines to choose from.
Since pasta dishes featuring tomato sauce are acidic, they are best paired with a medium-bodied red wine such as a Cabernet Sauvignon. For pesto pasha dishes, the earthiness of the pesto sauce is best complemented by white wines with a green quality, such as Sauvignon Blanc. Finally, meat sauces such as pappardelle alla ragu are best paired with full-bodied wines like Cabernet Sauvignon or Syrah as the sauce will help balance out the intensity of the wine's mouthfeel.
Pappardelle Alla Ragu
Fresh pappardelle pasta with braised pork, red wine and San Marzano tomatoes. (Serves four!)
Ingredients
16

oz

fresh pappardelle pasta (Keep scrolling to see how you can make it yourself!)

4

lbs.

pork shoulder

1

medium

onion

1

large

carrot

6

cloves

garlic

3

oz.

tomato paste

2

28 oz. cans

San Marzano tomatoes

3

sprigs

thyme

3

sprigs

sage

8

leaves

chopped basil

1/4

tsp

toasted, ground fennel seed

Extra-virgin olive oil

Salt and pepper

Grated Parmigiant-Reggiano cheese
Instructions
Cut pork shoulder into one-to-two-inch chunks. Season with salt and pepper, and brown in a sauté pan over medium to high heat. Remove the pork from the pan, and add two tablespoons of extra-virgin olive oil, onions, carrots and garlic. Cook until vegetables are soft.

4 lbs. pork shoulder,

1 medium onion,

1 large carrot,

6 cloves garlic,

Salt and pepper,

Extra-virgin olive oil

Pour the tomatoes from the can into a bowl and crush by hand, removing undesirable pieces. In the sauté pan, add tomato paste, cook for two minutes, then deglaze with red wine and add canned tomatoes. Season with salt and pepper, and add herbs.

3 oz. tomato paste,

2 28 oz. cans San Marzano tomatoes,

3 sprigs thyme,

3 sprigs sage,

1/4 tsp toasted, ground fennel seed,

Salt and pepper

Slow cook until the pork is tender, about three to four hours. Cook pasta al dente. Strain, add desired amount of pork ragu to noodles, and stir together to coat.

16 oz fresh pappardelle pasta (Keep scrolling to see how you can make it yourself!),

4 lbs. pork shoulder

Serve with Parmigiano-Reggiano and sprinkle with chopped basil.

Grated Parmigiant-Reggiano cheese,

8 leaves chopped basil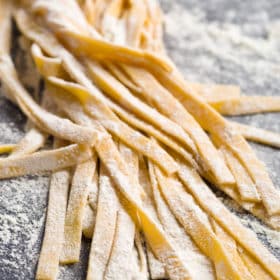 Fresh Homemade Pasta
Ingredients
6

egg yolks

3/4

cup

00 semolina flour

1/3

cup

No. 1 semolina flour

1/8

tsp

salt
Instructions
Sift flour onto the work surface and make a well in the center. Add the egg yolks into the well, then slowly incorporate them into the flour with a fork. Keep going until the dough is smooth.

When the dough comes together into a ball, knead it for about 10 minutes until it's a cohesive, smooth mass. Cover with a damp towel, and let it rest for half an hour.

Divide the dough into two balls. Flatten them slightly and dust with flour. Using a pasta machine on the widest setting, feed the dough through three times. Adjust to the lowest setting and put the dough through again. The sheet should be thin.

Fold the sheet over three or four times for cutting, then slice by hand to inch-wide noodles. Unroll to separate and loosen before cooking.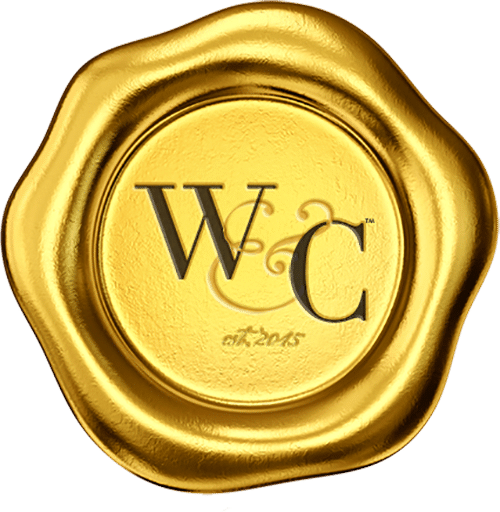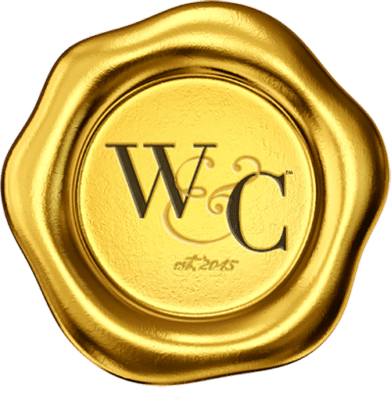 Virginia Wine & Country celebrates elevated living in Virginia Wine Country. Virginia Wine & Country Life is a semi-annual luxury print magazine with a full digital presence. The Virginia Wine & Country Gold Book is an annual guide to the top award-winning wines, wineries and experiences in Virginia Wine Country. The annual Virginia Wine & Country Wedding Planner is an art book of elegant Virginia weddings. The brand includes the Virginia Wine & Country Shop in Ivy, Va. It is a beautiful lifestyle boutique that brings the pages of the magazines to life. Virginia Wine & Country tells the stories of Virginia wineries, the farm-to-table movement, luxury travel, entertaining, art and the elegant country lifestyle. Ivy Life & Style Media also provides branding, web design and PR services for the wine industry.