When preparing a ham dinner for the holidays, the Virginia Ham is often the first choice for the festive table, with a history in America as old as the state itself. And while Virginia has become synonymous with quality aged ham, its origins span centuries. In 160 BC the Romans first documented the process of curing hams and led the way for modern day Spanish jamón ibérico and Italy's prosciutto di Parma.
History of Virginia Ham
The prominence of Virginia Ham in the US can be directly attributed to the settlers of Jamestown who brought razorback pigs to the colony in the early 1600s. Inspired by the Native American process—where the meat is dry cured, sent through a process of slow smoking, aging and heavy salting—the Virginia Ham rose in popularity across the colonies for its notably rich flavor and ability to travel well without refrigeration.
The Virginia Ham with the most name recognition is often the Smithfield Ham, named after the area of Virginia on the Isle of Wight where production thrived throughout the years. The most traditional hams come from pigs raised on a rich diet of acorns and peanuts—another notable Virginian crop—cited by some to be the source of the Ham's exceptional palatability, a perfect centerpiece for a holiday meal and a cheery table. For many families, part of the pleasure of a holiday feast is having lots of delicious leftover for the next day., Imagine your Virginia ham made into deliciously light and fluffy ham biscuits using a recipe by popular Chef Craig Hartman of Exchange Catering and the Barbecue Exchange.
Pairing Florals at the Holiday Dinner Table
While the countryside landscape has turned many stark shades of grey and brown, the Holidays are made more cheerful for bringing welcoming boughs of evergreens into our homes paired with splashes of bright Holiday reds. With a careful look outside most everyone has access to evergreen clippings right outside their door. Leland Cypress trees, a popular fast growing trees for landscapes is common, soft and perfect to adorn a Holiday table but any evergreen like cedar or pine with work well too.
With a quick trip to the florist or your local market for a small bunch of flowers and some clippings from your own garden landscape, you can make a wonderful and personal bouquet to pair with your Christmas dinner. For the busy Holiday hostess choose Alstroemeria (seen here in red) to make your dinner bouquets well in advance. These long lasting flowers can stay fresh looking in water for up to 2 weeks and come in many holiday colors. Add to them evergreen, boxwood or variegated holly, a striking branch like the red twig dogwood, grey cedar and something splashy and dramatic just before the party like a white hydrangea, and your Holiday ham dinner will be festive, stress-free and welcoming.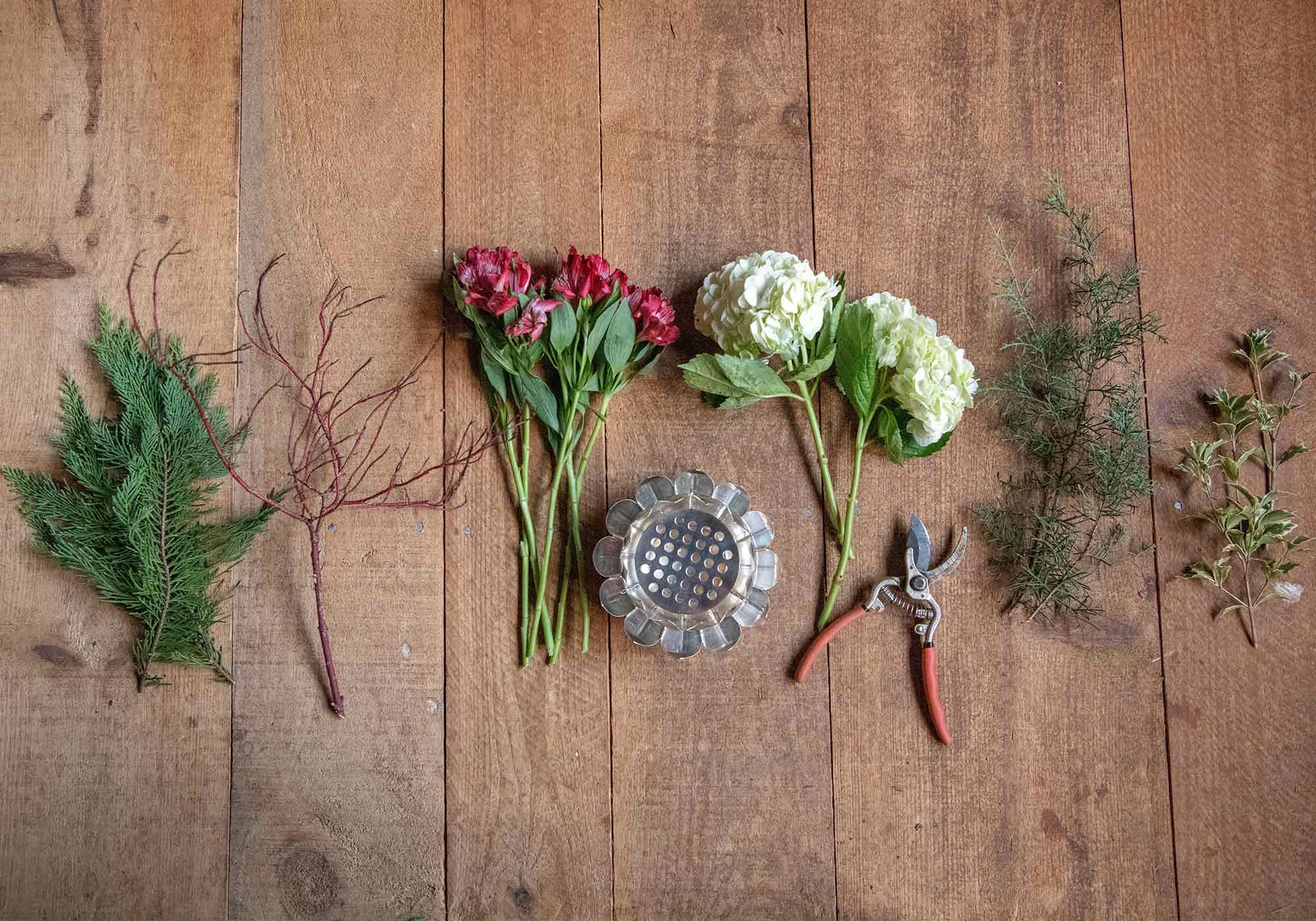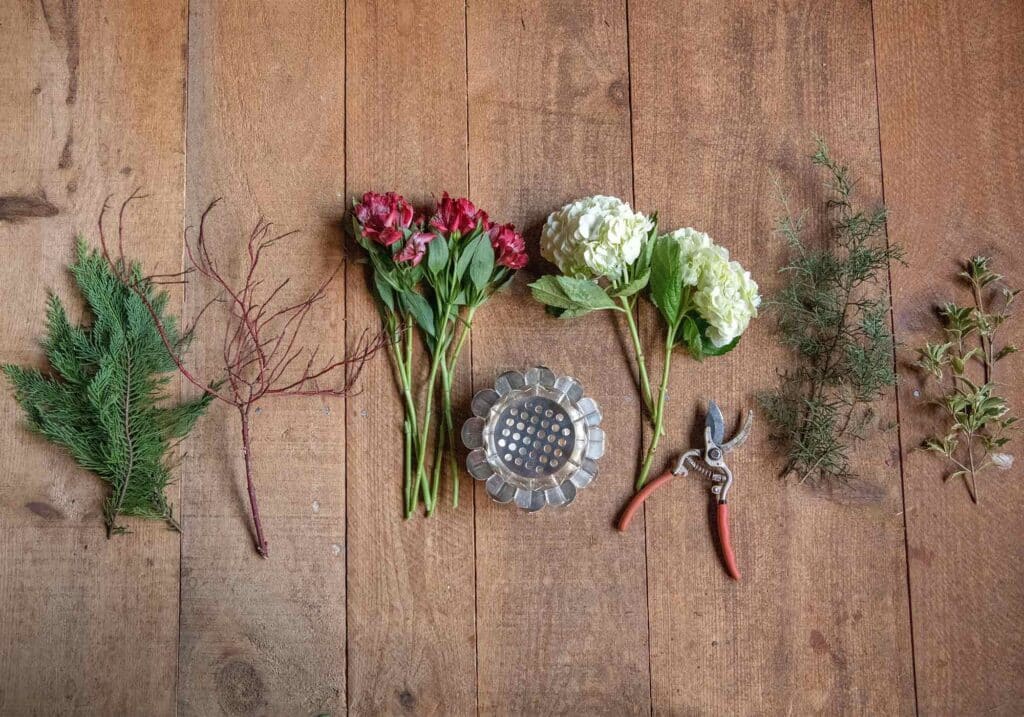 Always a warm and welcoming sight at Christmas time, we clad this holiday table in the classic Royal Stewart plaid, a homemade centerpiece, designed low to the table (so as not to obstruct conversation with guests across from one another), hand-painted gold chargers lined with greenery and pine cones with white painted edges to look like snow. Bring a small lite holiday tree, garland, or wreath into the dining as well to add festivity and your celebration will be full of cheer.
The Perfect Wine Pairings for Ham Dinners
Because of a cured and glazed ham's combined salty and sweet flavors the pairing of wines should also be on the sweeter side but only mildly so. Local light and floral Rosés or Viogniers are a perfect choices. These easy to drink wines will not only compliment the ham but also appeal to the many different palates at the table. If serving a prosciutto appetizer to guests, try pairing it with a sparkling rose! The high fat content of prosciutto will compliment a sparkling wonderfully and sparklings will always add a festive cheer to special holiday celebrations. As with any meal, including a glass of water when serving wine is an important and thoughtful component to the dinner. Doing so will aid in making sure friends and family don't over indulge, especially for those who are older or drink wines only on special occasions.
Tips for the Perfect Holiday Ham
Virginia hams are famous the world over, and they make a wonderful choice for dinner when you want to keep cooking complicated dishes to a minimum on Christmas day. Most Virginia hams are cured and glazed with sugar or maple syrup, are precooked and only require reheating. Both the Virginian Ham and Smithfield Ham work well for busy holiday meals. To keep your ham moist, gently cook the ham in a roasting pan with at least a half cup of liquid (water, stock, or white wine work well) and cover with tin foil tightly while baking. To avoid overcooking the ham, estimate time in the oven to be approximately 16-20 minutes per pound at 325 degrees F (or 10 minutes per pound for if the ham is spiralized).
As with all meats who are the centerpiece of the meal, add a few sprigs of rosemary from your garden. Every Virginia garden should have rosemary in it to compliment so many culinary dishes! The Arp rosemary variety grows particularly well in Virginia. Also, cut and add fresh fruit to garnish the ham for color and appeal.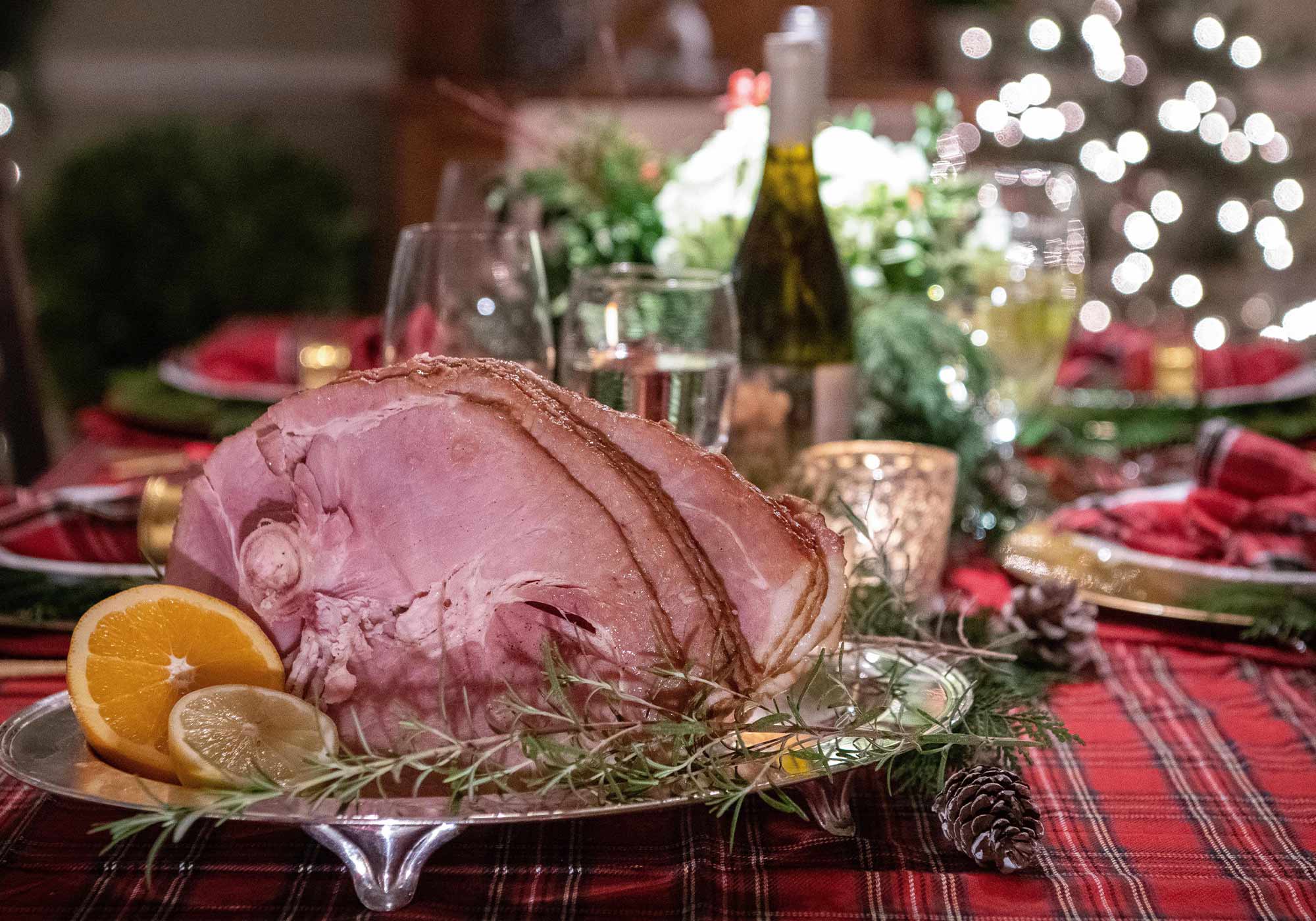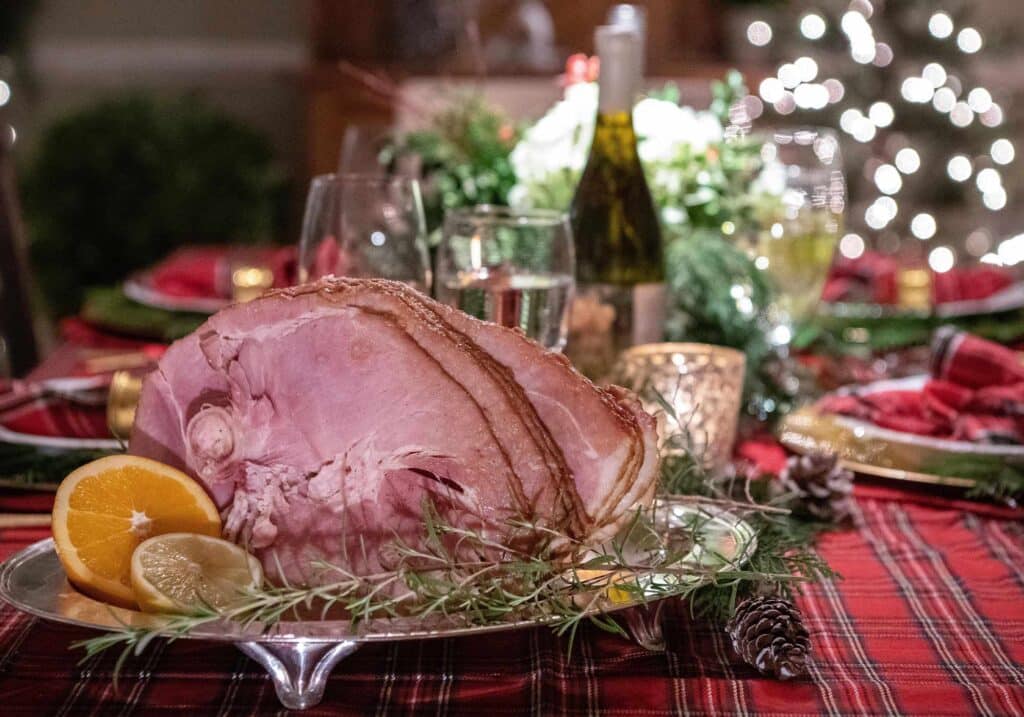 Wonderful Side Dishes for Holiday Ham Dinners
Christmas day is often a flurry of music, gifts, family and good cheer, leaving little time for cooking a complicated feast. Here we assembled beautiful gourmet sides that can be made in advance or with ease moments before your pre-cooked ham comes out of the oven.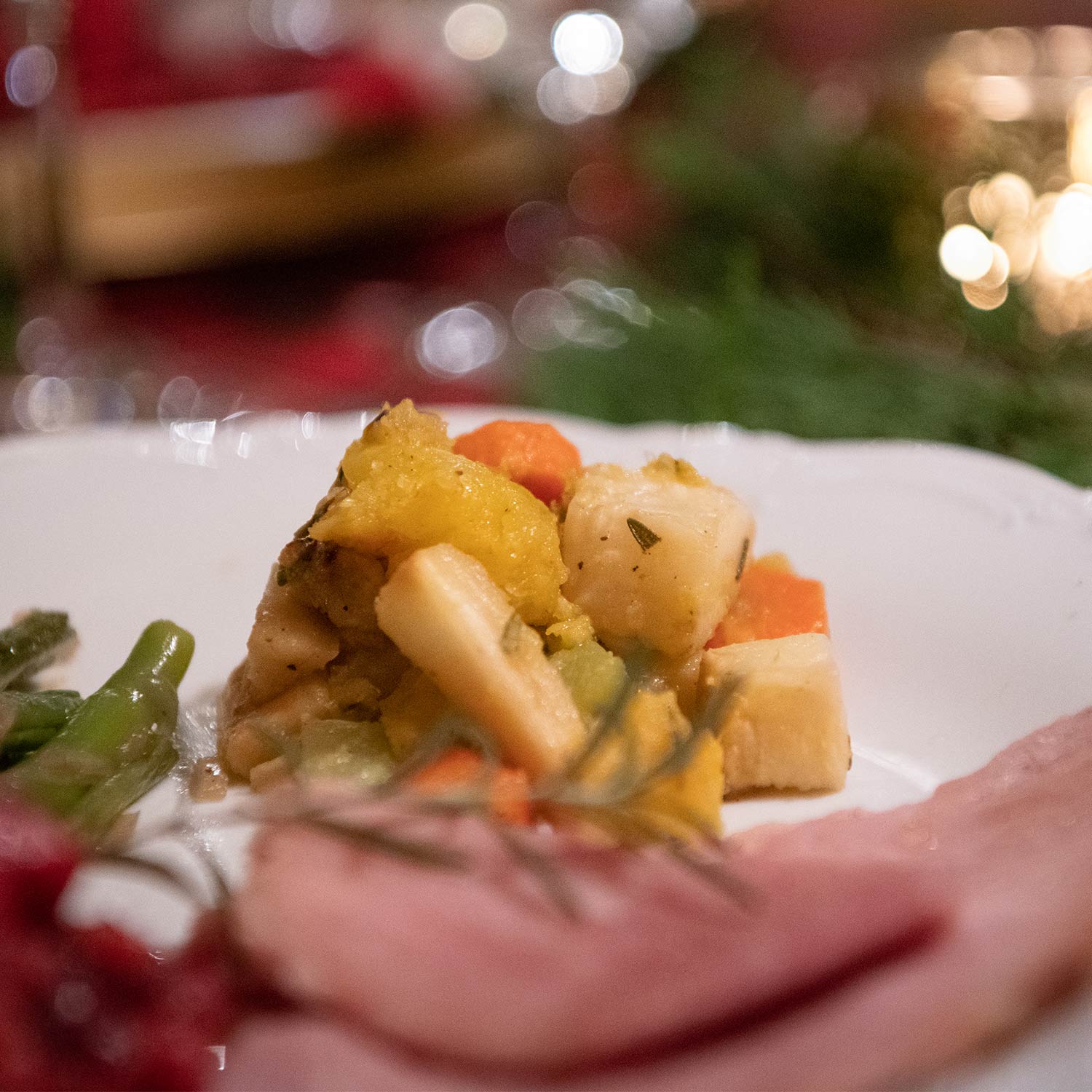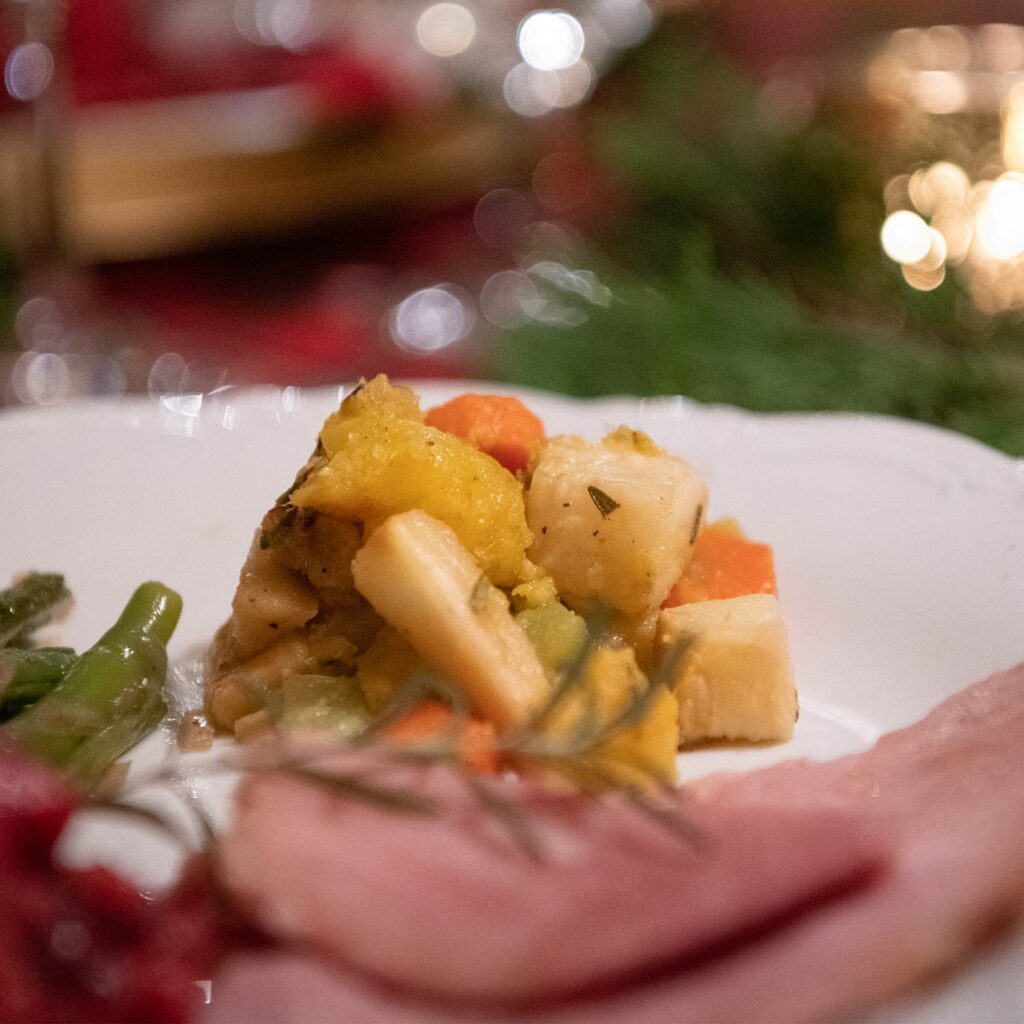 Winter Root Vegetable Medley
Winter root vegetables are the perfect choice for a warm-hearted Christmas dinner. Toss together any combination of the many varied root vegtables available at this time of year (even harder squashes like butternut or acorn squash) into a medley. Be sure to toss in a root veg you haven't tried—this is the perfect occasion to surprise yourself and guests with something they've never had. Many root vegetables, are warm and comforting but often surprisingly sweet, flavorful and often unfamiliar to many guests. Trying new ones making for terrific conversation.
Fresh Cranberry Sauce
Another easy to prepare dish days ahead of Christmas, a fresh cranberry sauce relish with fresh squeezed orange juice, cut oranges and walnuts is a must. This holiday classic is refreshing and not tart. Making this dish ahead isn't just for the busy. This sauce gets better with time! So, really, make it in advance!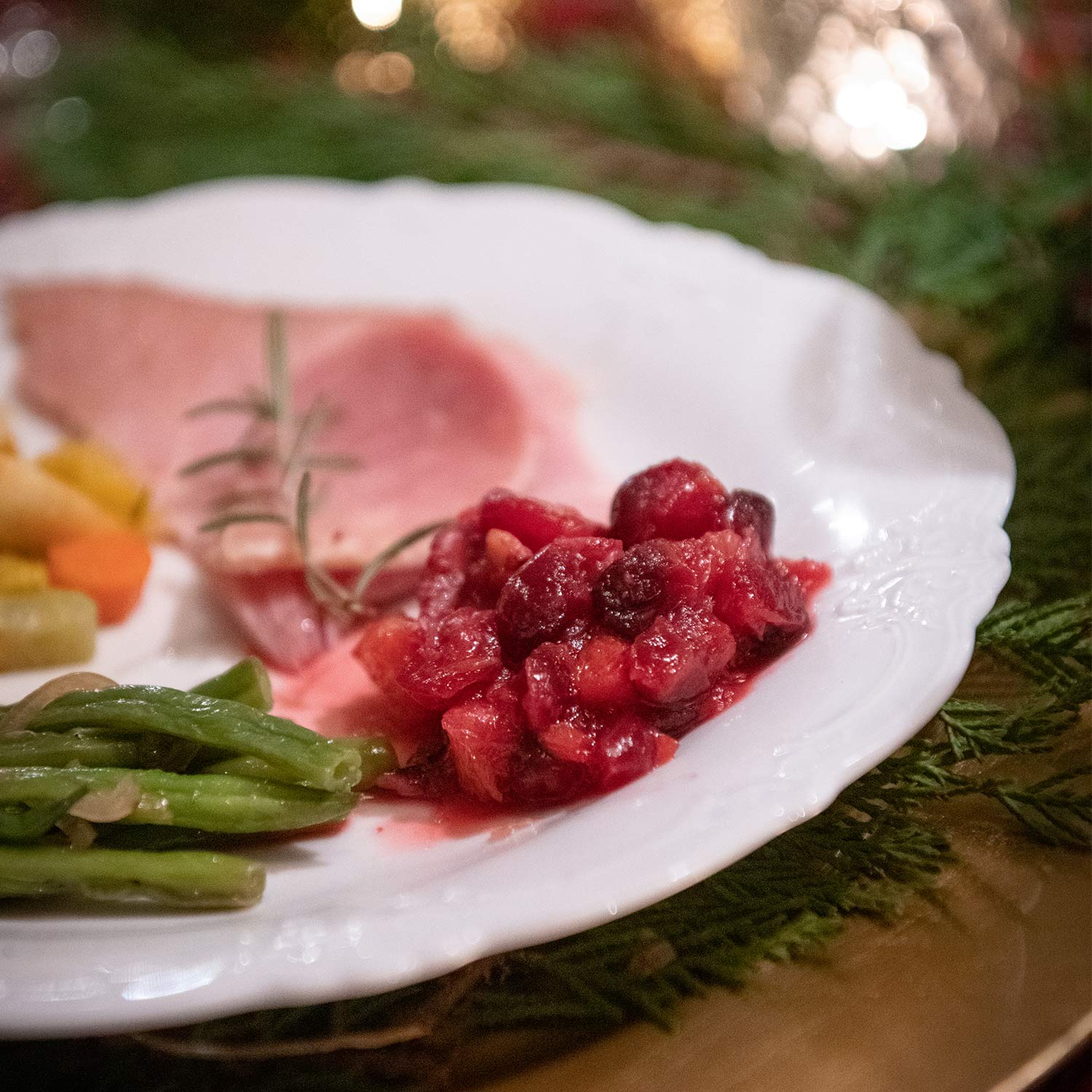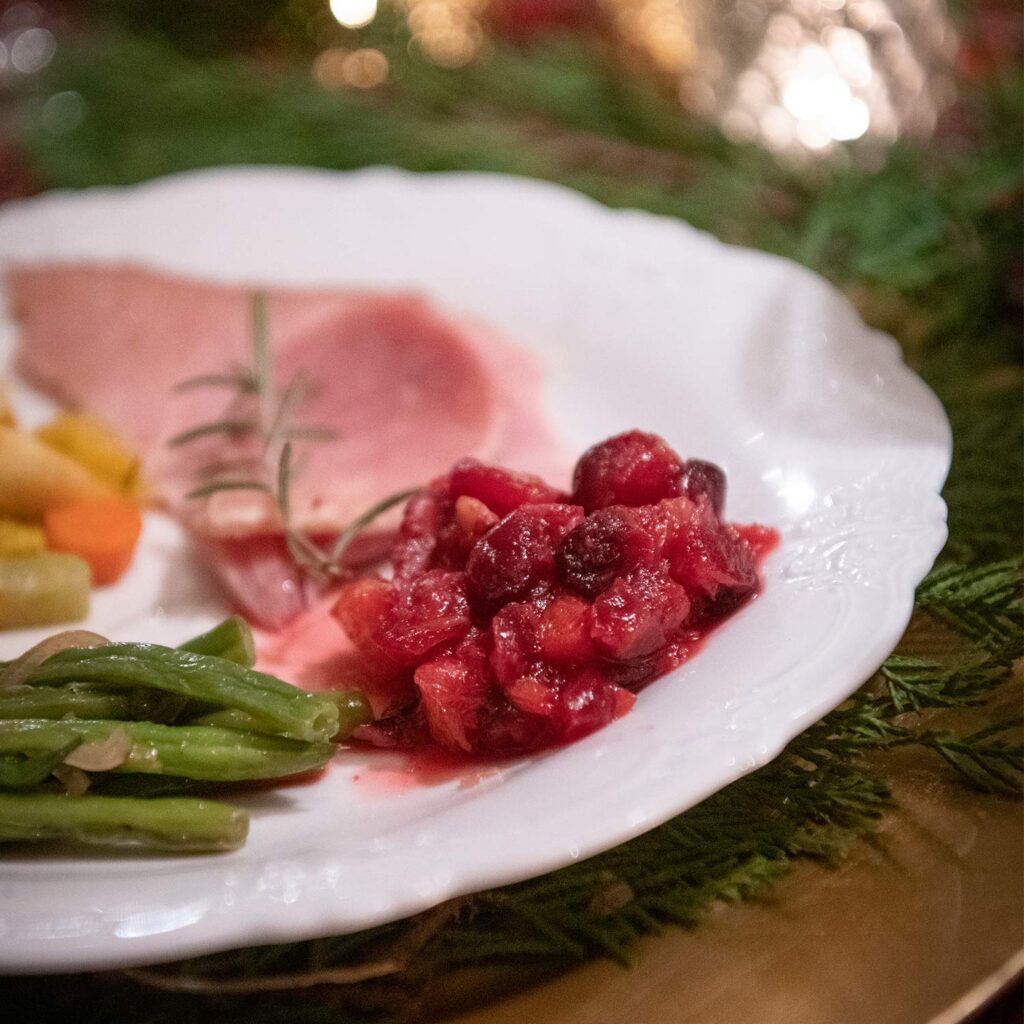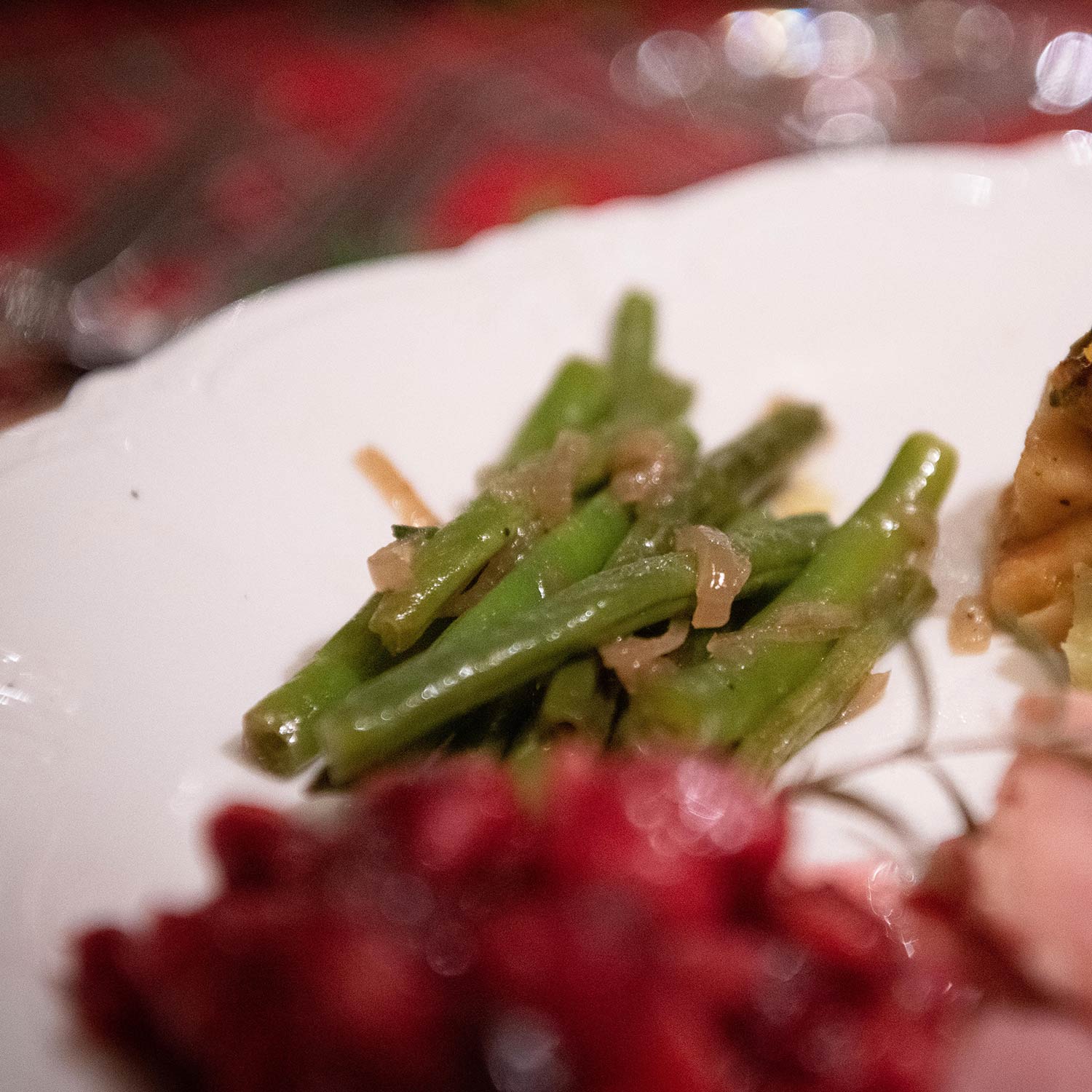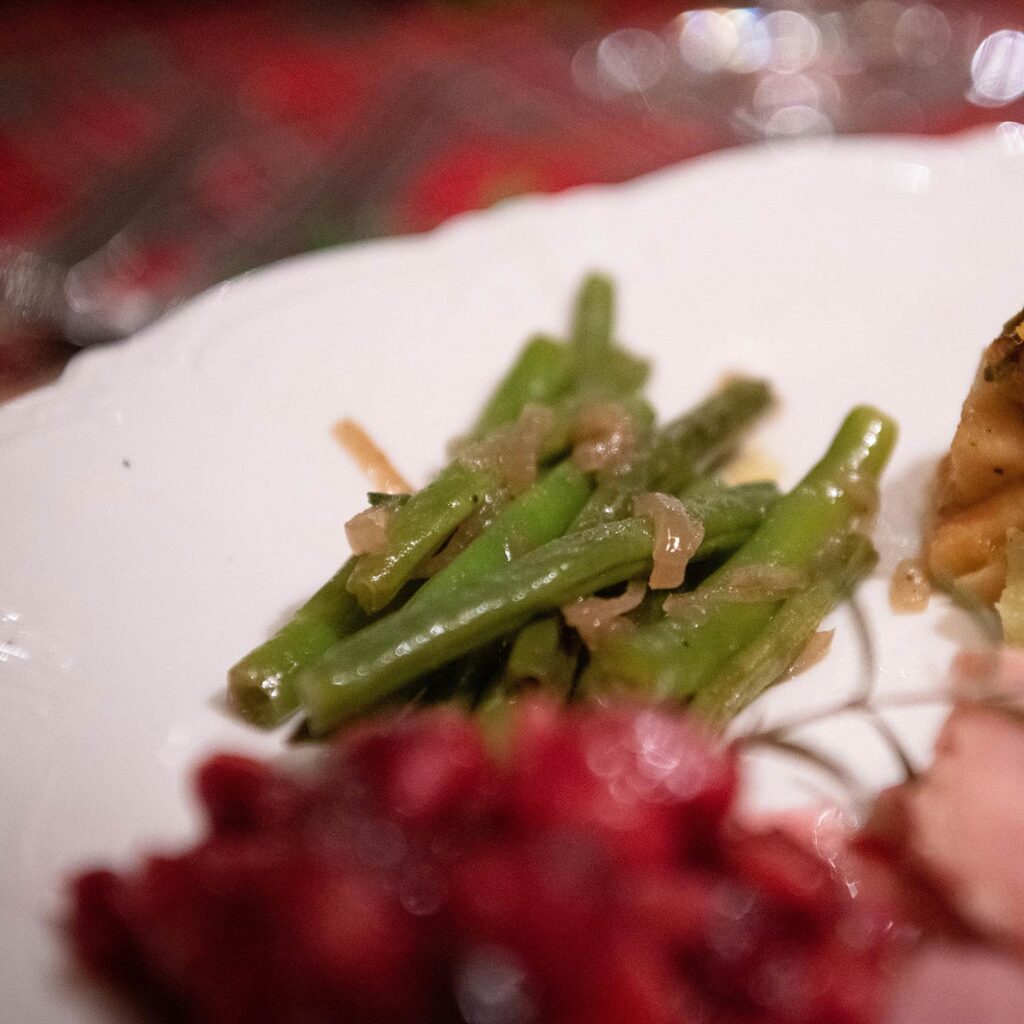 French Green Beans with Shallots
Green beans always add the festivity of green to the plate and with sweet shallots they pair perfectly with the other elements on the holiday menu. Another easy side dish for a busy Christmas day, green beans made with shallots, the highest quality olive oil, salt and pepper will shine on a holiday plate and can be prepared in a short amount of time as the ham is resting.
Enjoy Your Holiday Ham Dinner
Dinner with friends and family over the Holidays is a tradition celebrated for thousands of years. This year, enjoy your festivities by engaging with the country landscape around us. Take a walk in the countryside before dinner or grow your own root vegetables for one of these delicious sides. Make your own floral centerpiece, gather pine cones on a quiet morning to decorate with, or simply think of something fresh and engaging to do with family and friends that will enhance all your holiday traditions. Enjoy the Holidays!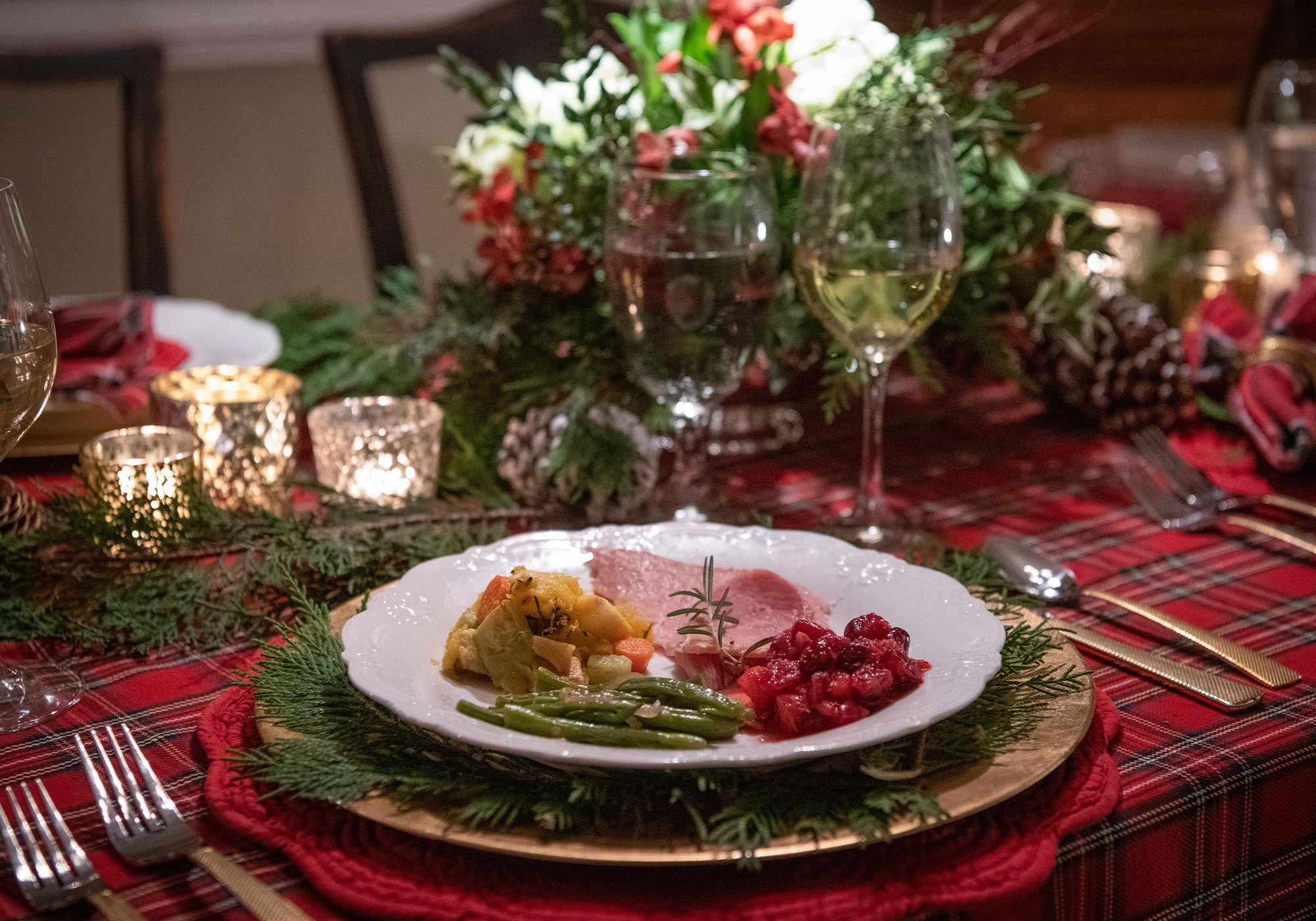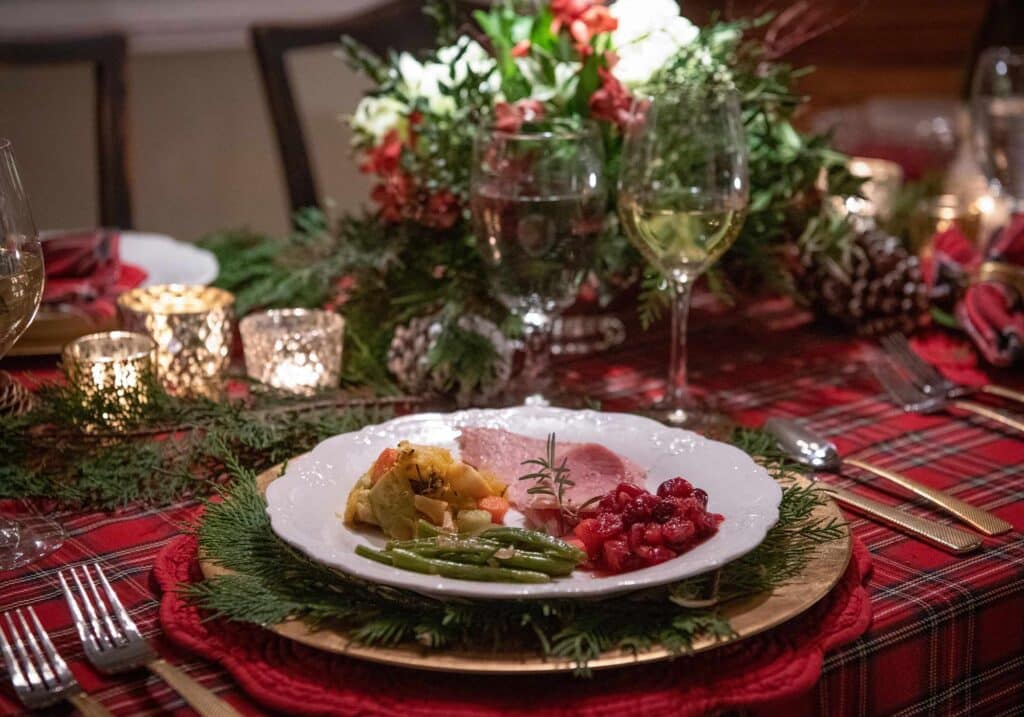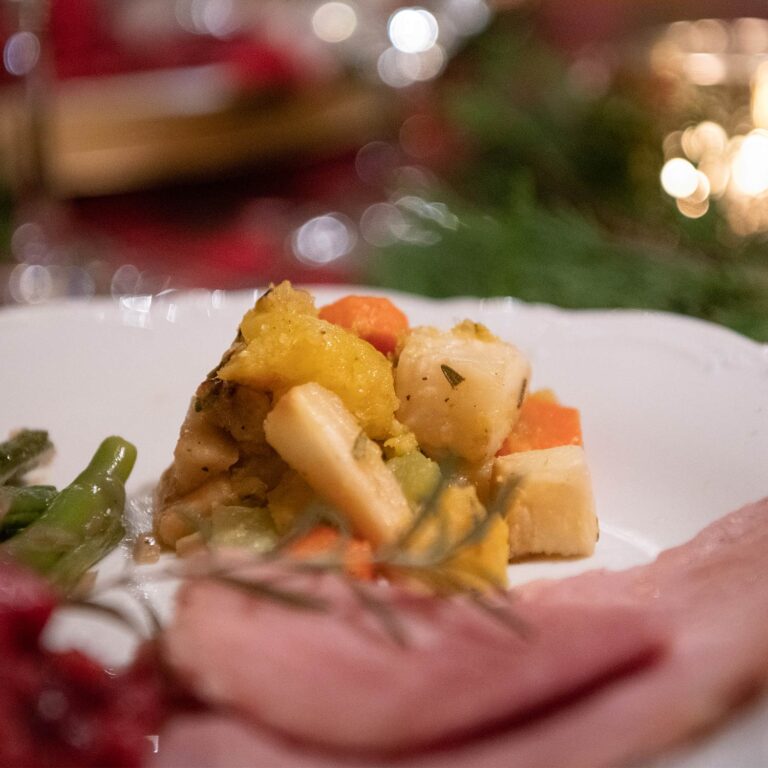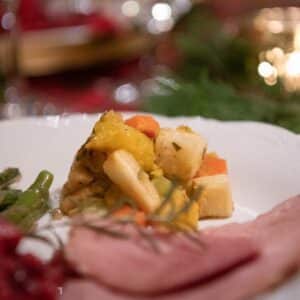 Roasted Winter Root Vegetable Medley
Delicious roasted winter root vegetables bring festive cheer to your holiday table.
Ingredients
2½-3

lb

root vegetables

example: sweet potato, celery, parsnip, carrot, chayote, nut squash, acorn squash

1

small red onion

¼

cup

high quality olive oil

1½

tsp

kosher salt

¼

tsp

freshly ground black pepper

2

tbsp

coarsely chopped fresh rosemary leaves
Instructions
Peel vegetables and onion and cut into bit sized chunks and mix in a large bowl with olive oil, salt and pepper, then spread onto a baking sheet and bake for 30 mins.

Sprinkle and mix the chopped rosemary onto the vegetables and cook for an additional 10-15 more until tender and carmelized.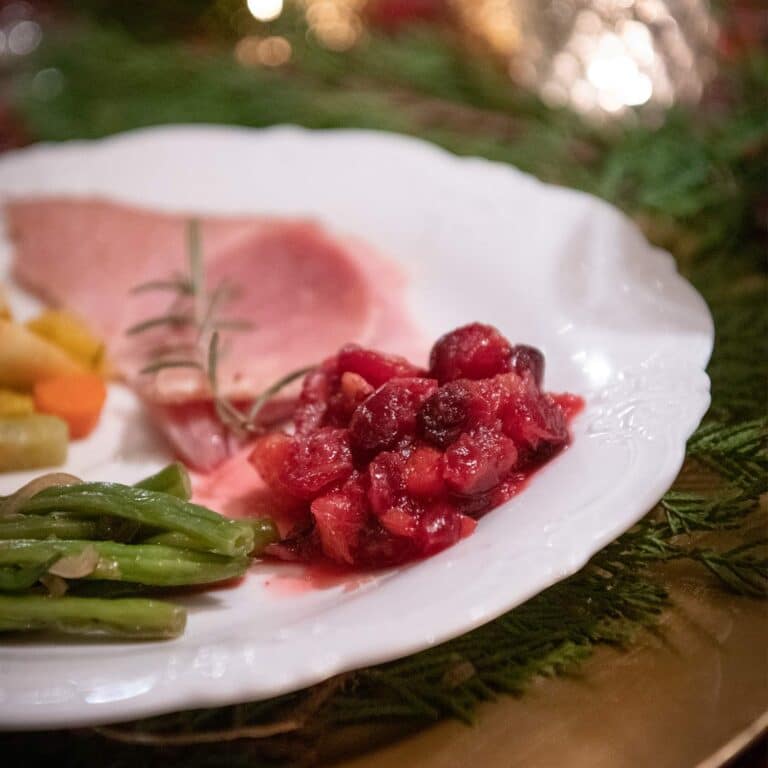 Fresh Cranberry Sauce
A traditional holiday cranberry sauce with a fresh twist of orange.
Ingredients
12

oz

fresh cranberries

1

cup

sugar

¾

cup

fresh squeezed orange juice

(roughly 2 oranges)

1

tsp

grated orange peel

1

medium peeled orange

(cut into tidbits)

¾

cup

toasted walnuts

(or untoasted black walnuts)
Instructions
Cook cranberries, orange juice, orange peel and sugar in a saucepan over medium heat and brought to a boil stirring until sugar dissolves, cranberries are tender and mixture thickened, 10-12 minutes.

Transfer to a bowl and add in orange tidbits and walnuts.

Chill for at least 2 hours before serving, but can be made up to a week in advance.

To create more chutney flavors, you can add cinnamon, fresh grated, ginger, ground cloves or raisons to taste.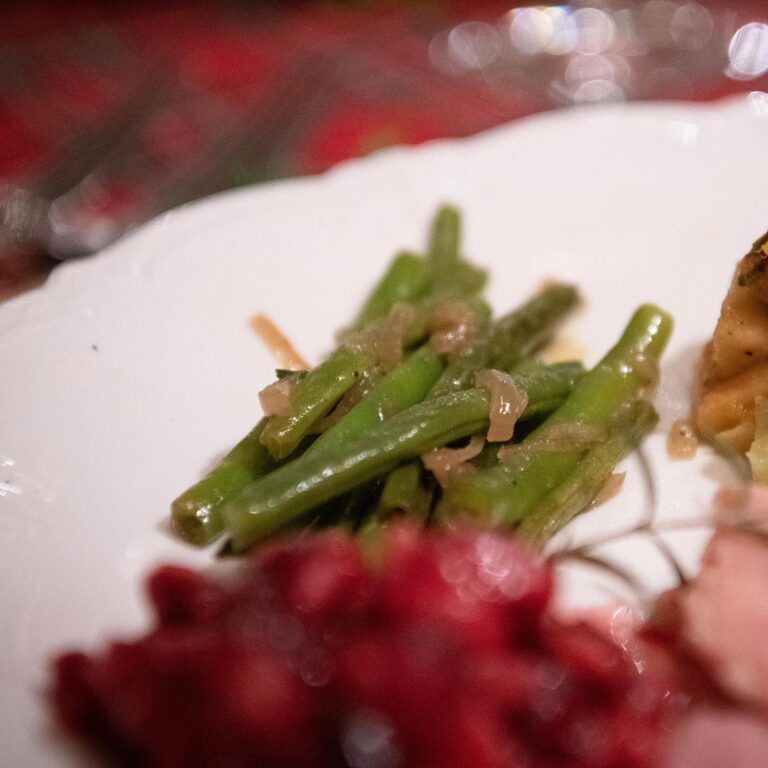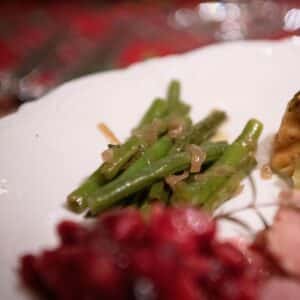 French Green Beans with Shallots
Ingredients
1

lb

green beans

trimmed

¾

cup

water

3

large shallots

thinly sliced

3

tbsp

high quality olive oil

¾

tsp

salt

½

tsp

freshly ground black pepper

1

pinch

sugar
Instructions
Cook the shallots in a skillet over medium heat until soft and translucent.

Add the beans, salt, pepper and water and bring to a boil.

Cover and cook for roughly 8 minutes on low.

Remove the lid, increase heat to high, and stir frequently until the water is evaporated and the beans tender.

Add additional seasoning to taste.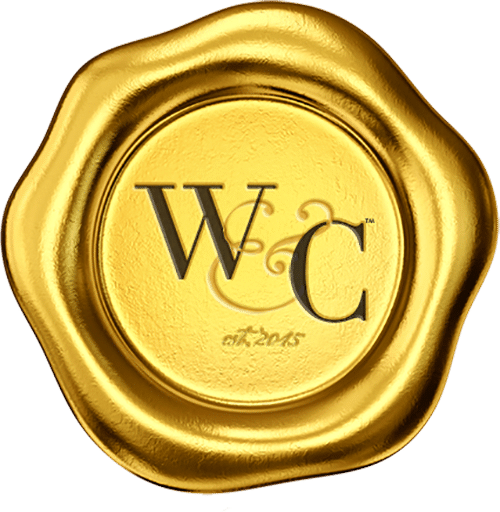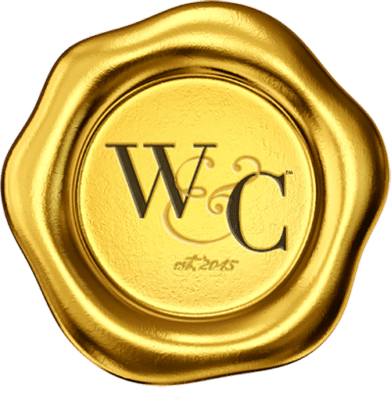 Wine & Country celebrates elevated living in Virginia Wine Country. Wine & Country Life is a semi-annual luxury print magazine with a full digital presence. The annual Wine & Country Wedding Planner is an art book of elegant Virginia weddings. The brand includes the Wine & Country Shop in Ivy, Va. It is a beautiful lifestyle boutique that brings the pages of the magazines to life. Wine & Country tells the stories of Virginia wineries, the farm-to-table movement, luxury travel, entertaining, art and the elegant country lifestyle. Ivy Life & Style Media also provides branding, web design and PR services for the wine industry.