Plant-based cuisine is one of the fastest growing trends in the country today. Whether or not you embrace meat-free meals full time as a vegan or more often (but not strictly) as a flexitarian, chances are, like most of us, your New Year resolutions involve getting healthier. Why not start off the year right away with healthy New Year dishes? We've created the familiar good luck dishes of the holiday—black-eyed peas, collard greens and a savory lentil "meatloaf"—using plant based recipes that pair elegantly with Virginia's finest bordeaux style blends from Barboursville Vineyards and RdV Vineyards that are perfect for the special celebration of New Year's.
Setting the Table for New Years
Tuxedos with paper top hats, and sequined dresses with feathered crowns amidst sparkling streamers and festive horns are the hallmarks of New Year's eve. For the New Year's dinner celebration the décor should reflect those elements in terrific fashion. Full of gold, silver, black and white, the table should sparkle and glow with the festivity of a sophisticated celebration. Here we rang in the new year with a collection of Reed and Barton's limited edition annual holly bells commemorating the years gone past. Sequined white and silver topiary trees lend a wintery magic, with evergreens on the gold painted chargers and pine cones painted with snow deliver natural elements from the countryside. Bring in a couple of small lite trees and the room will be transformed into a dazzling setting.
Uncork the Wine
"When preparing your holiday dinner, you cannot forget the wine. And while sparkling wines are hailed as the showpiece of New Year's Eve, a high quality red vintage to serve with your meal, such as a crowd pleasing Bordeaux varietal, will pair well with any dish you serve.
Bordeaux style blends refers to red blends that typically contain Merlot, Cabernet Sauvignon and Cabernet Franc. With all three of these varietals being popular in Virginia, it is not hard to find a high-quality local Bordeaux style wine to share with your guests this season. As with most red wines, it should be uncorked and allowed to breathe for a half hour to two hours before being served—with older wines needing less aeration and younger wines needing longer. Allowing a wine to breathe serves many purposes. Exposing young wines to air allows the complexity of the wine show through while mellowing the tannins and sharper aromas. With older wines, a little air time will reinvigorate the flavors and show the wines true potential. To discover the Virginia wines who won the coveted Gold Medals in this year's Virginia Governor's Cup competition, read our Wine & Country Gold Book for results.
For this New Year, try Barboursville Vineyard's award-winning Octagon. Crafted with estate-grown Bordeaux varietals of Merlot, Cabernet Franc, Cabernet Sauvignon and Petit Verdot, each Octagon vintage is an ovation to the quality of wine that Virginia has to offer. With aromas of blueberry, black currant, fresh flowers and dry herbs, this red stands on its own. With its drinkable silky tannins and refined finish, it will complement any dish you serve.
Rendezvous from RdV Vineyards is another excellent choice that blends Cabernet Sauvignon and Merlot grapes with what many say is Virginia's signature red varietal, Cabernet Franc. This take on the classic Bordeaux style not only preserves the essence of the blend, but gives it fresh perspective that celebrates Virginia's unique terroir. Crafted as a wine for all occasions, it is meant to be consumed with abundant food and conversation—perfect for any holiday celebration.
Traditional Healthy New Year Dishes to Bring You Good Luck
The tradition of eating certain dishes to bring luck in the New Year is not a new one, and is practiced among cultures around the world. In Japan, eating long soba noodles symbolizes a long and healthy life and dates back to the 13th or 14th century. King Cakes, now popular Louisiana desserts, are cakes baked with a small trinket inside and enjoyed on January 6th. The tradition states whoever finds the trinket receives luck for the year, and began in Old World Europe. In Scandinavia, herring can be found in abundance and has been a symbol of wealth in the coming year since the Middle Ages in many Northern European countries.
In Virginia, many of our traditionally "lucky" foods have long rooted origins. Some of these traditions are enjoyed throughout the country, while some are very regional. Below, discover the origin and our vegan-friendly takes on some of the most popular healthy new year dishes to bring you good luck this year.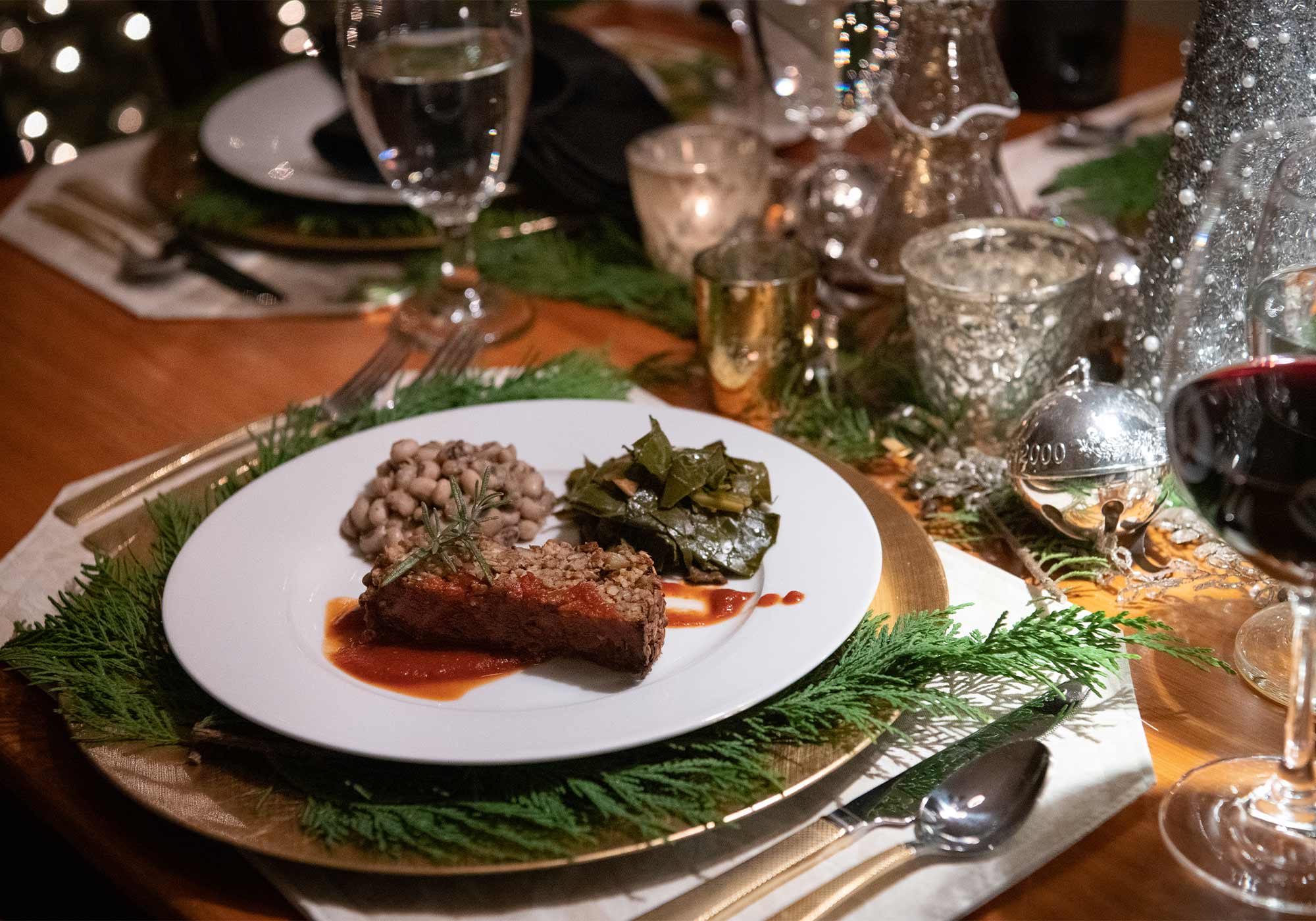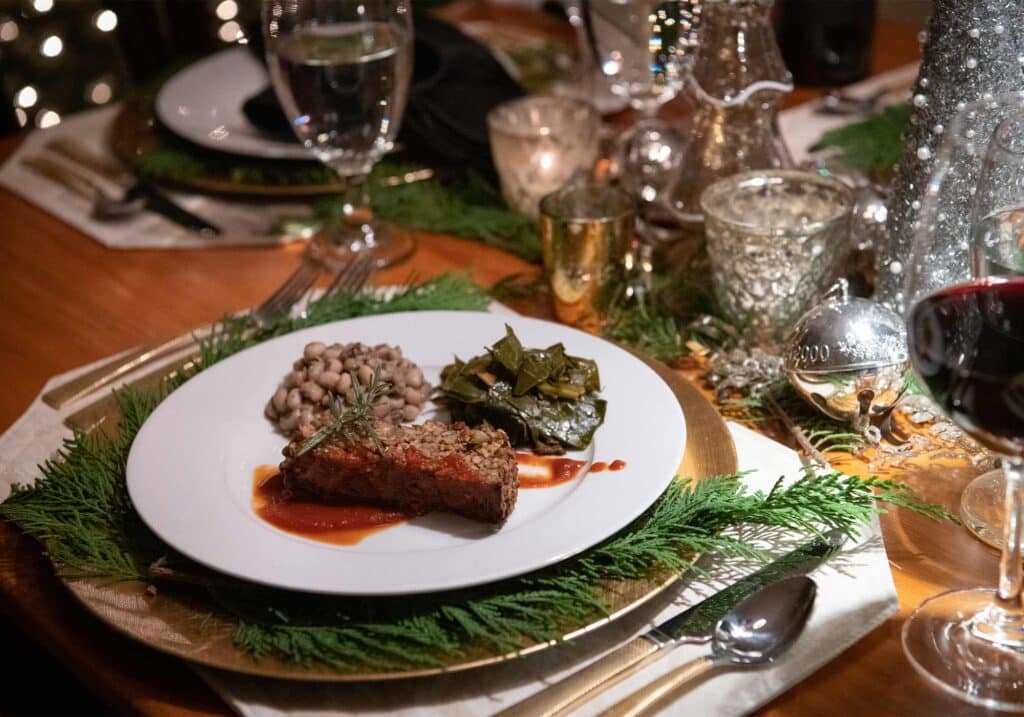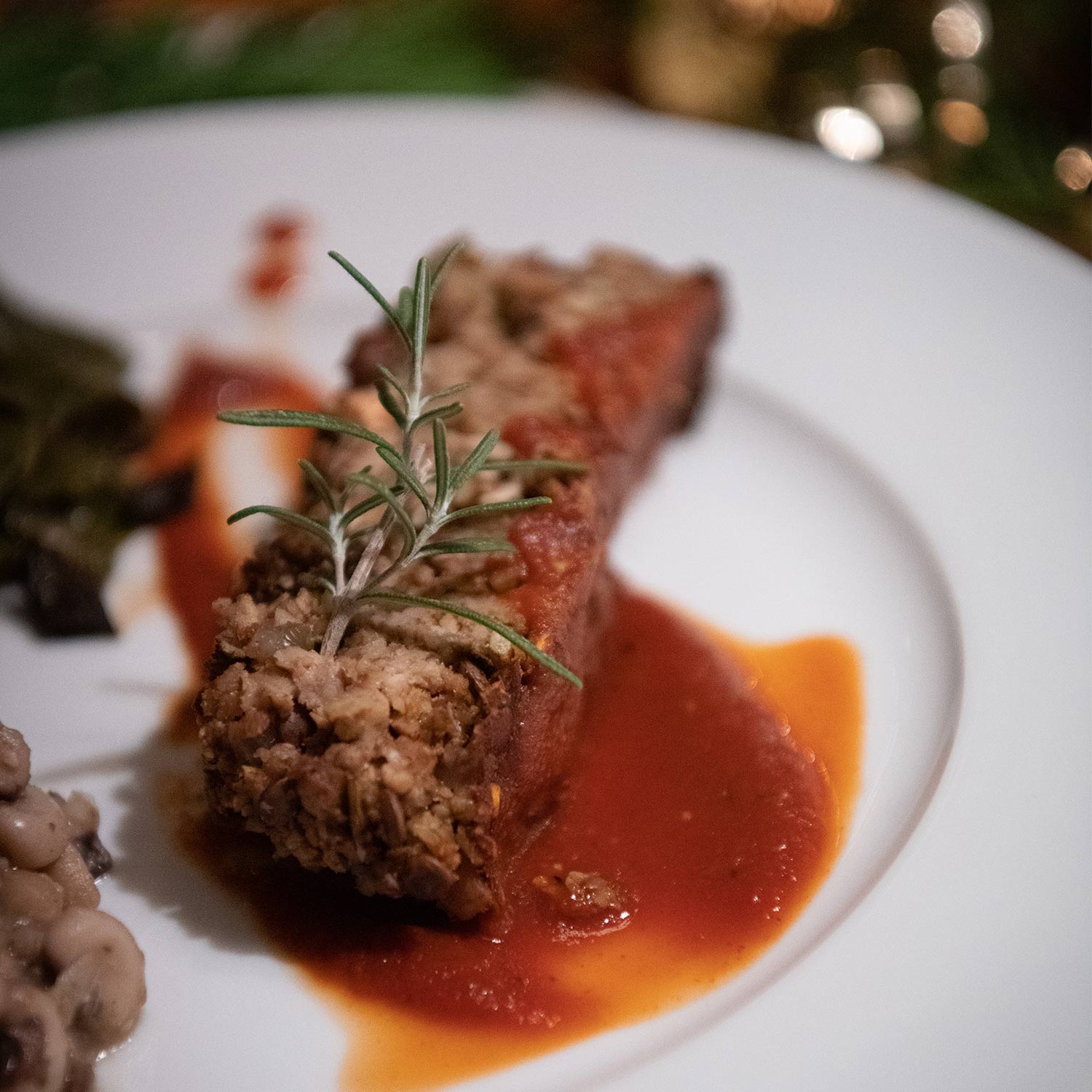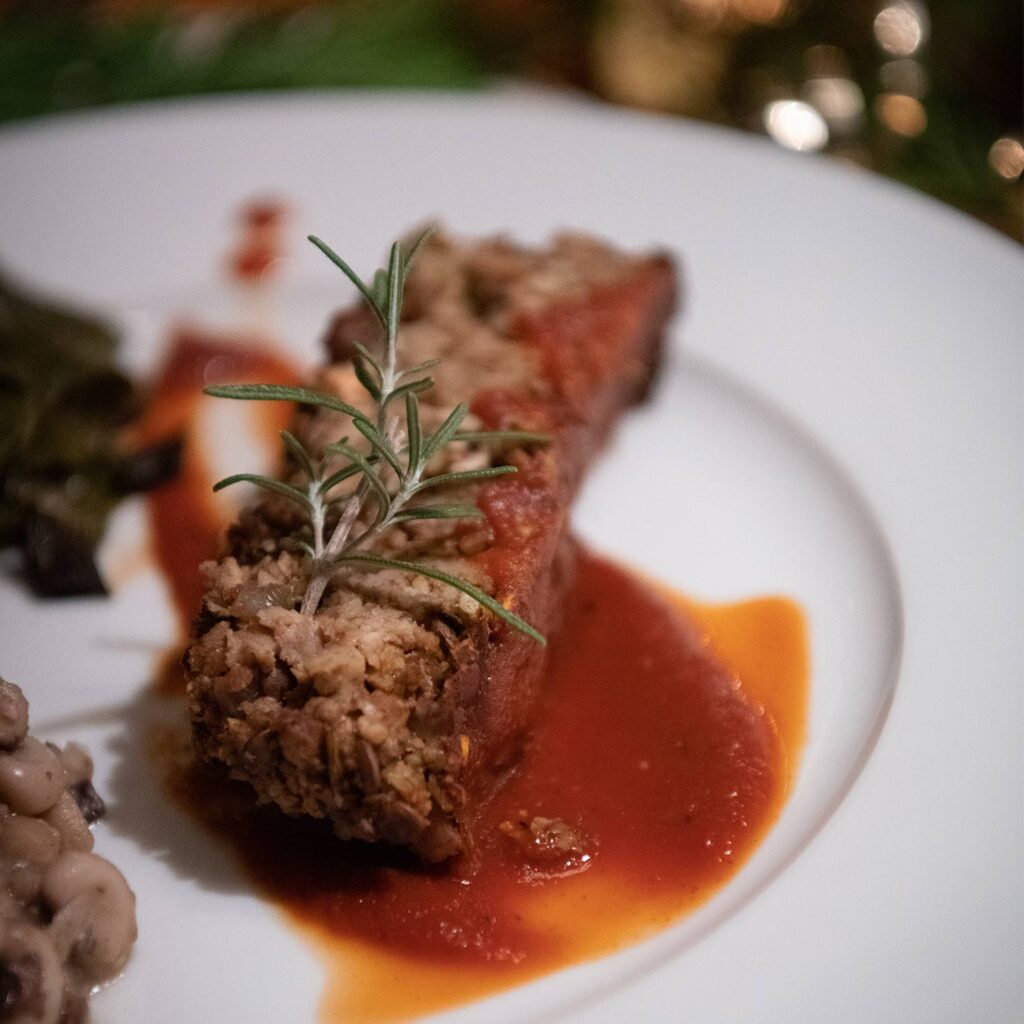 Lentil Oatloaf
Stemming from Italy, lentils have become a Southern staple of good luck. The round coin-like shape of the lentil is said to be a symbol of prosperity. Some sources say that the expansion of the lentil while it cooks is a sign of growing wealth. The legume has been a part of American cuisine since the 16th century, and is a great source of fiber, B vitamins and protein (making it an excellent for vegan diets).
Black Eyed Peas
Like the lentil, the relatively round shape of black-eyed peas symbolize coins and are said to bring monetary fortune. While it's not quite known exactly where the tradition of eating healthy New Year dishes with black-eyed peas stems from, it is generally agreed that in the South it has been an emblem of fortune since the 1800s, when other food sources were scarce, particularly to enslaved people. Originally from Northern Africa, the legumes were introduced to the US through the triangle slave trade. These legumes are nutrient dense in fiber, protein and iron.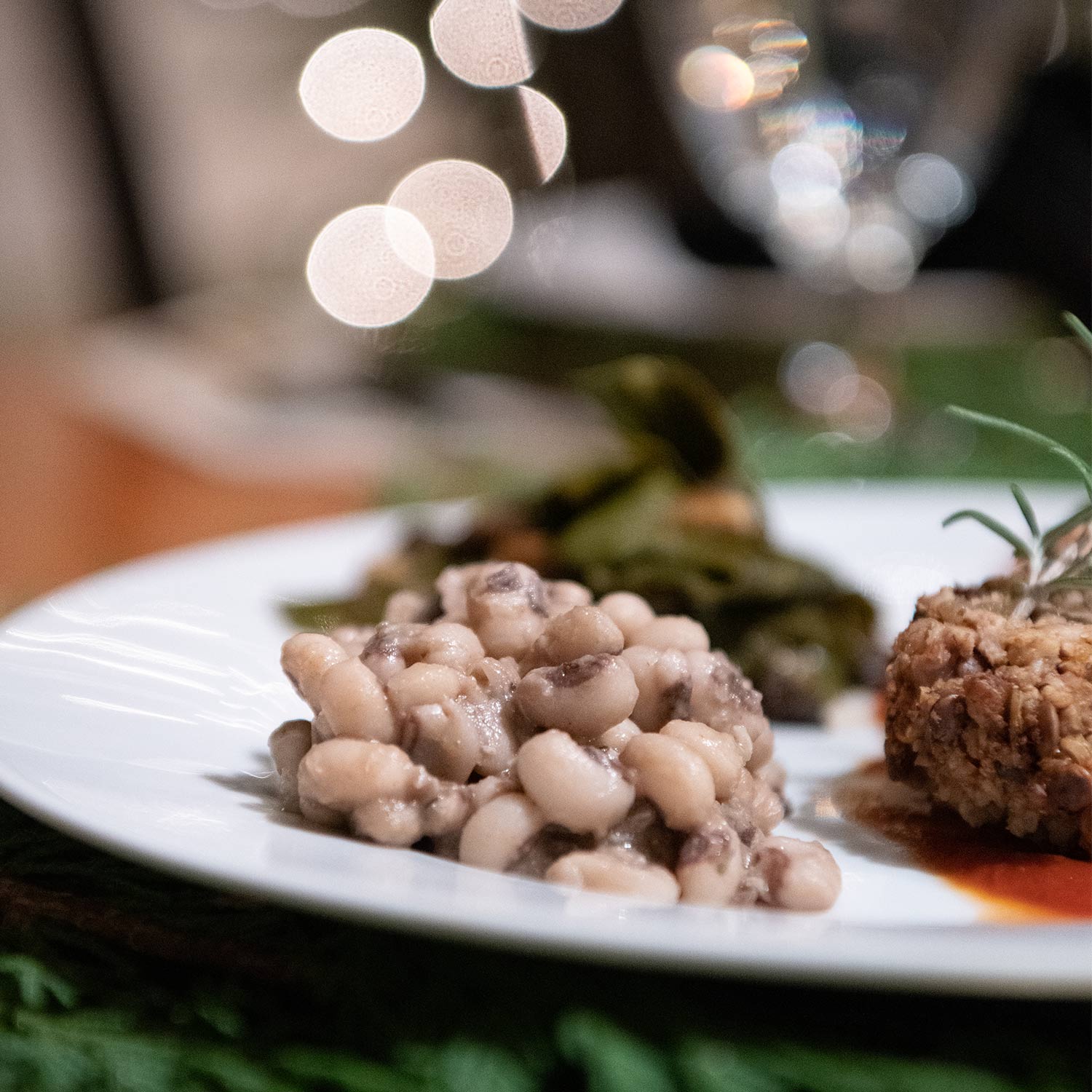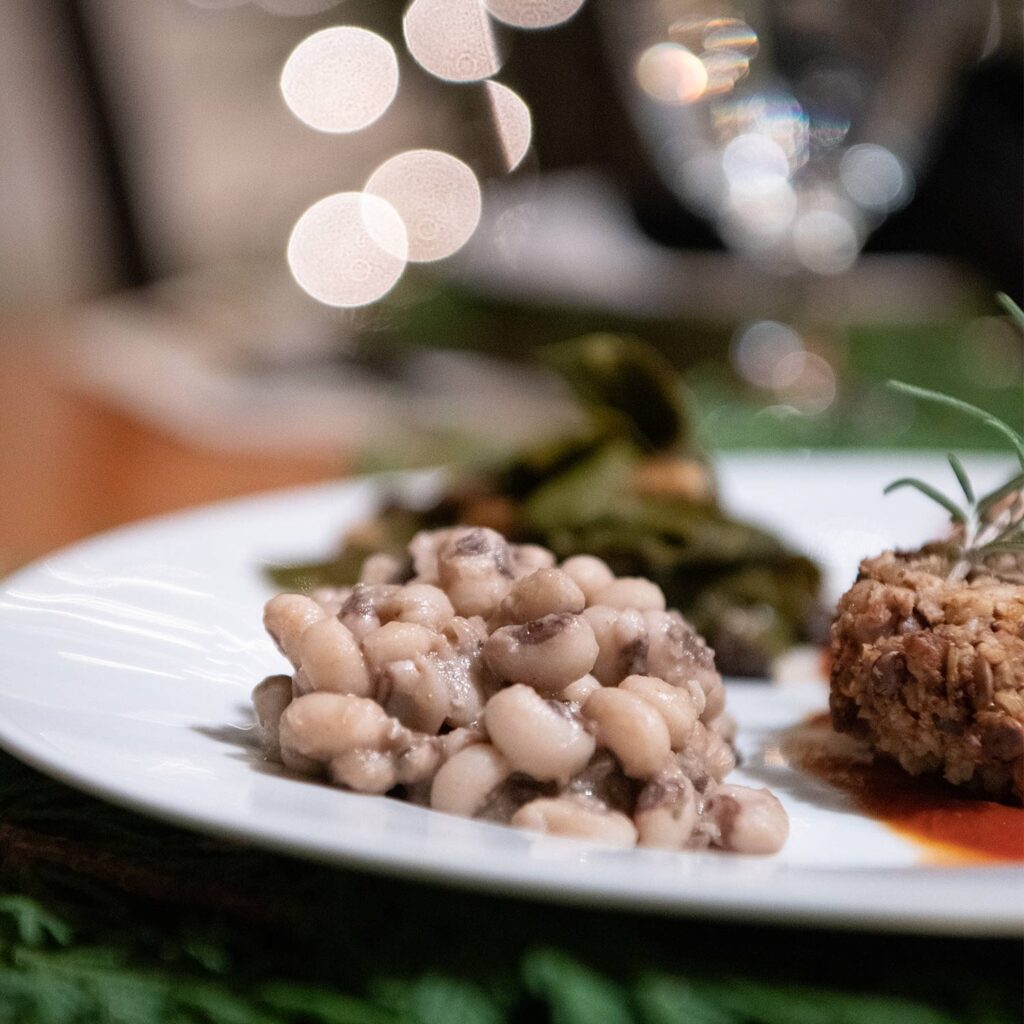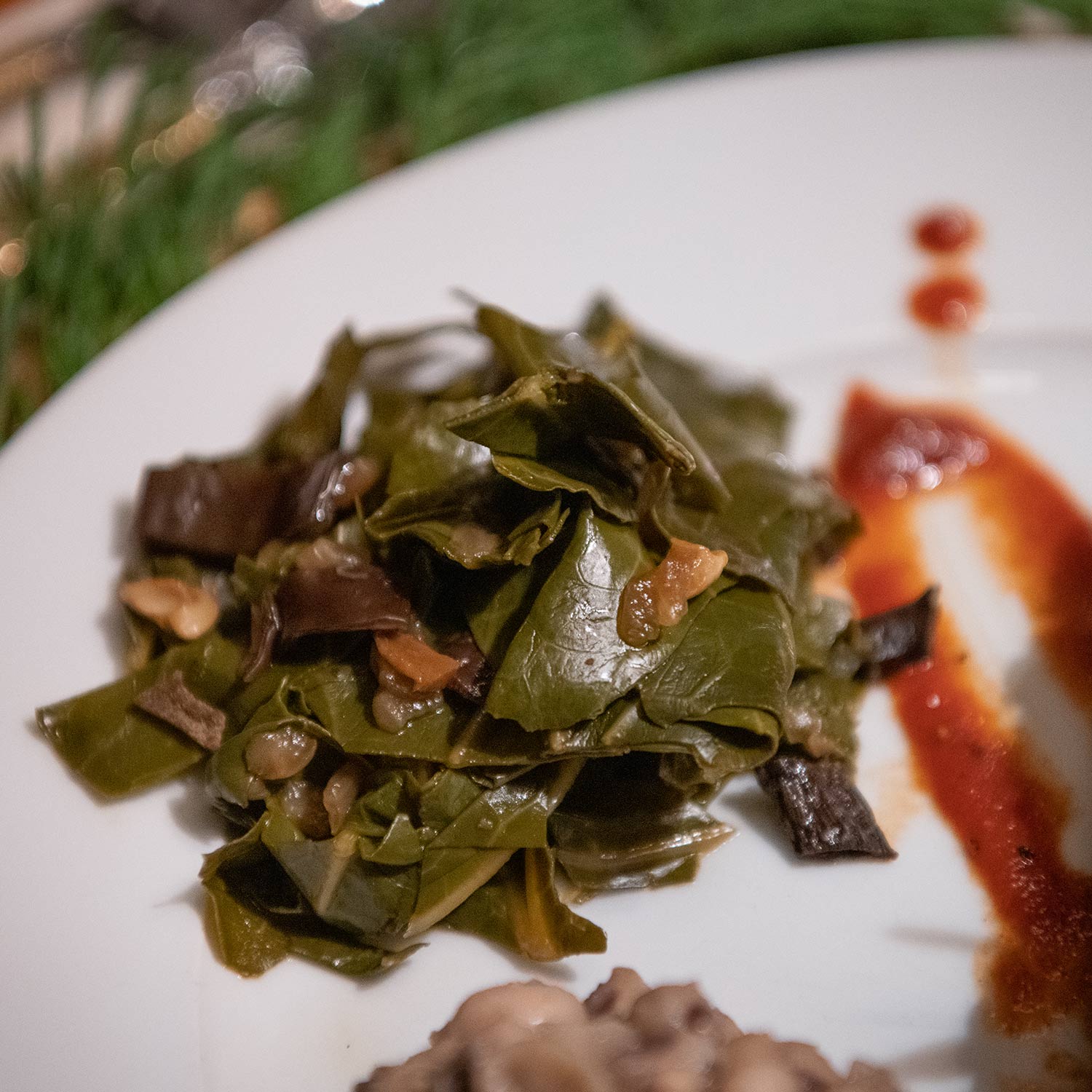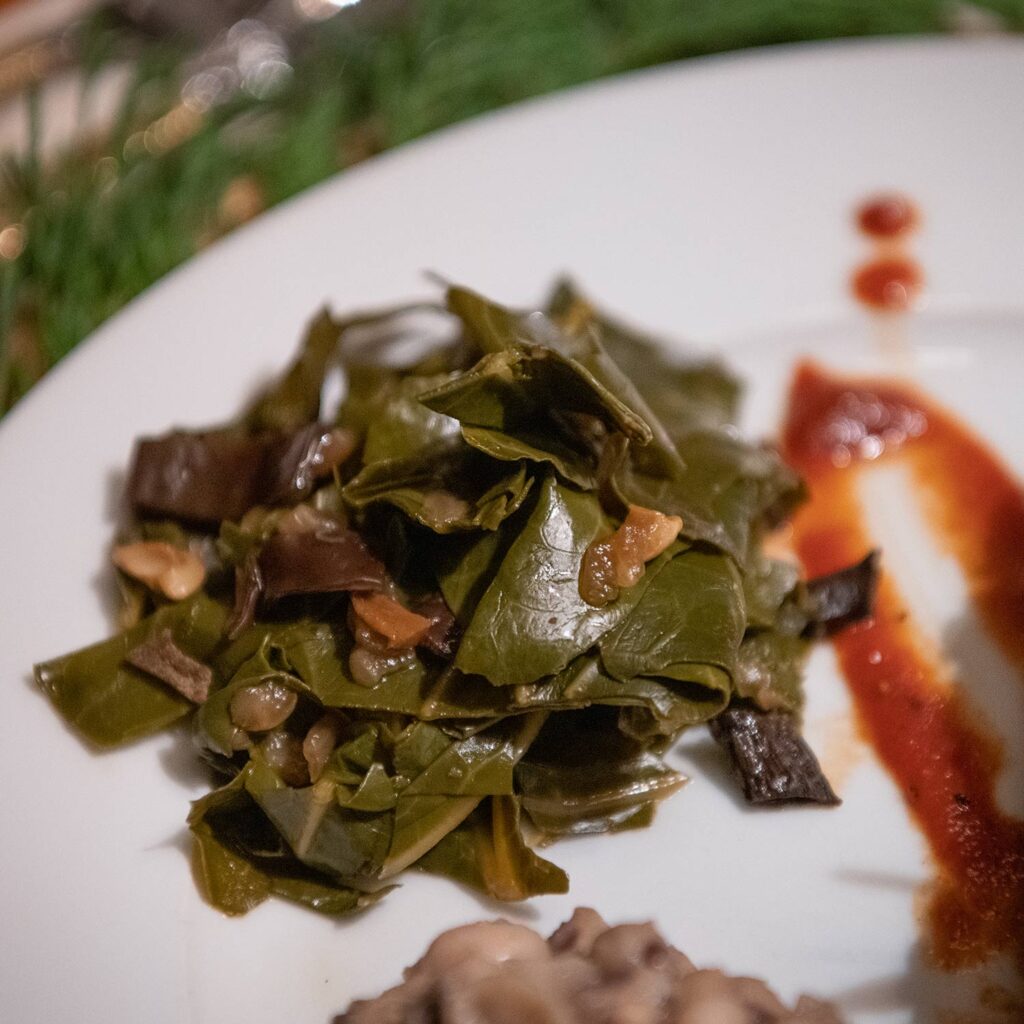 Collard Greens
Many Americans consider black-eyed peas and collard greens to be two parts of the same completed lucky dish, with the slow-cooked greens resembling dollar bills and promoting wealth in the New Year. Strongly associated with Southern cooking, collard greens also made their way into American culture through enslaved people. Low in calories and high in nutrients, these leafy vegetables contain a slew of essential vitamins and minerals. (Read more on Preserving Collards with Ira Wallace).
Bring Fresh Takes to Old Traditions with Our Healthy New Year Dishes
Dinner with friends and family over the Holidays is a tradition celebrated for thousands of years. This year, introduce something new to your festivities by engaging with the country landscape around us. Take a walk in the countryside before dinner, grow your own root vegetables for dinner, make your own floral centerpiece, or gather pine cones on a quiet morning to decorate with. Alternatively, simply think of something fresh and engaging to do with family and friends that will enhance all your Holiday traditions such as trying one of our vegan-friendly, healthy New Year dishes. Enjoy the Holidays!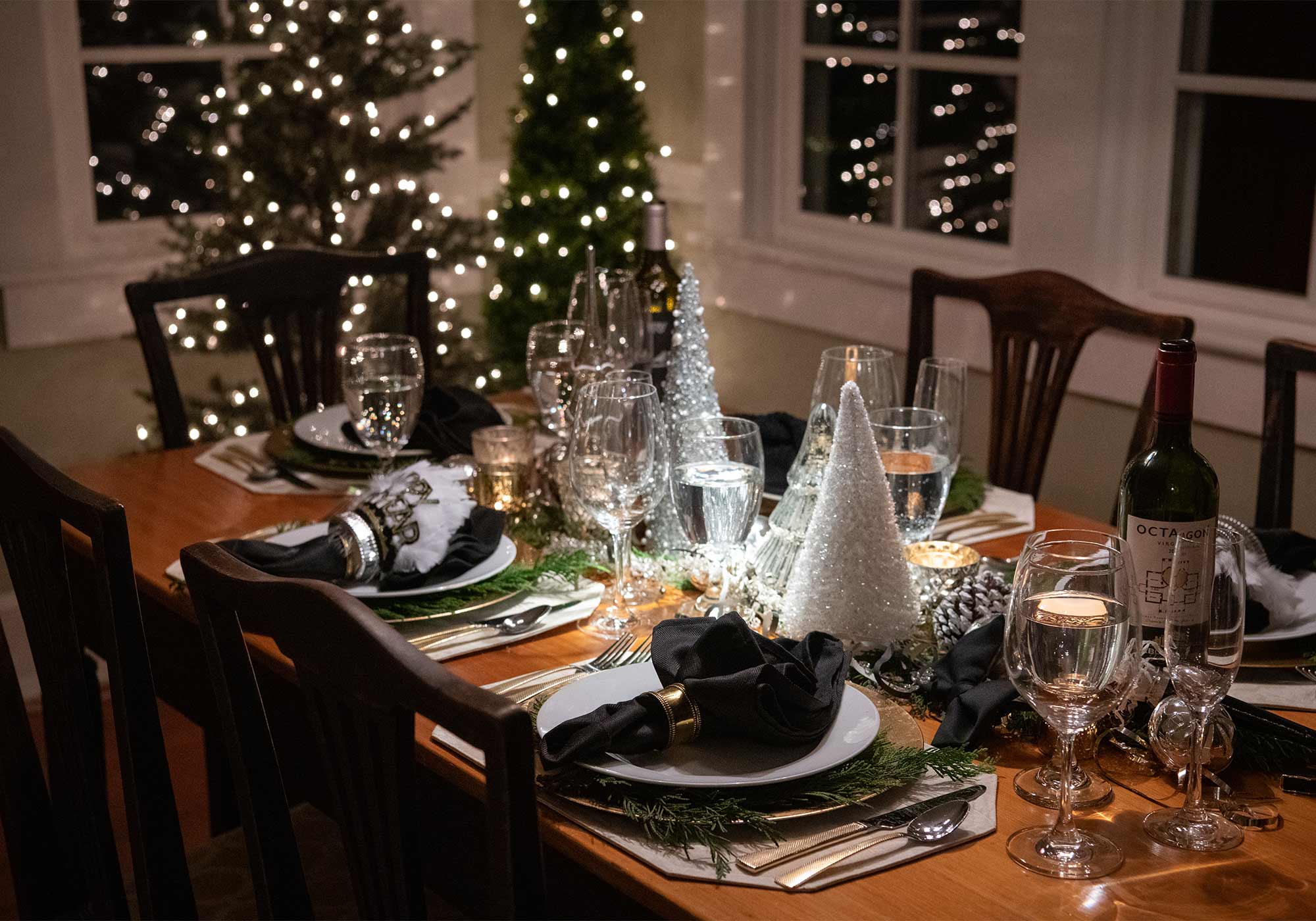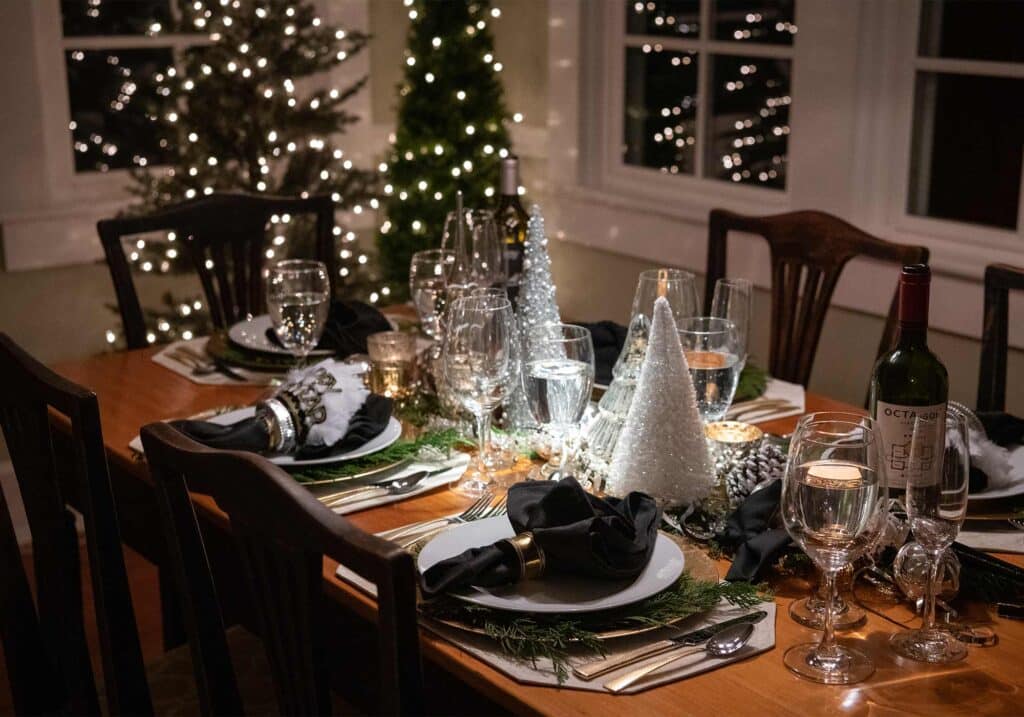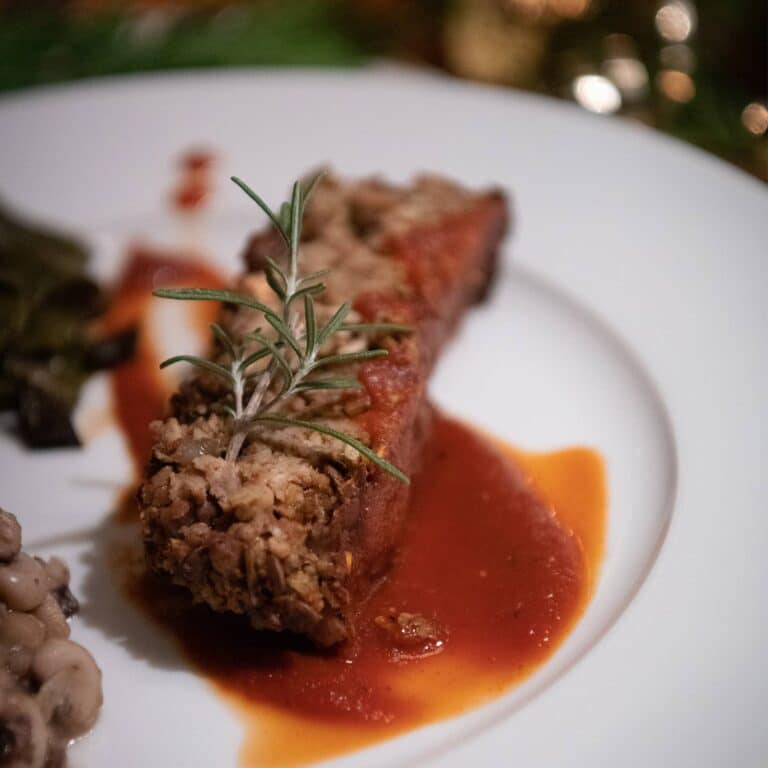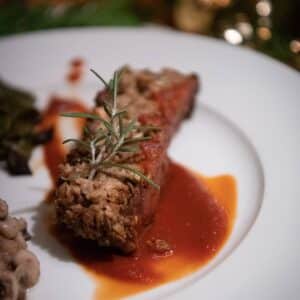 Lentil Oatloaf
Ingredients
2

stalks

celery

(chopped)

½

onion

(chopped)

2

cloves

garlice

(minced or pressed)

10

oz

firm tofu

(drained)

¼

cup

walnuts

(finely ground)

2

tbsp

BBQ sauce

(substitute A1 or ketchup instead: additional BBQ sauce for topping)

1

tbsp

Dijon musted

2

tsp

dried parsley

½

tsp

thyme

½

tsp

sage

½

tsp

rosemary

½

cup

cooked brown lentils

1¼

cup

quick-cooking oats

3

tbsp

soy sauce

wild or portabella mushrooms finely chopped

(optional)
Instructions
Preheat the oven to 375°F/190°C.

Sauté the celery, onion, and garlic (and mushroom if desired) on high heat in a skillet with a few drops of water for 5 minutes, until tender. Remove from heat and cool. (If adding mushroom make sure to drain off excess liquid.)

Mash the tofu in a large bowl. Stir in the cooked mixture and remaining ingredients, and combine well.

Spoon the mixture into a parchment-lined loaf pan. Top with a layer of BBQ sauce. Using a brightly-colored (but still "traditional") BBQ sauce can add a nice holiday flare.

Bake for 55 to 60 minutes, or until a toothpick inserted in the center comes out clean.

Serve and enjoy! Cover with mushroom pot likker gravy if prepared.

Note: If you use a brightly colored BBQ sauce for the topping, you don't need to use the same sauce for the "loaf mash". The one in the mash should be for flavor primarily and can be darker in color.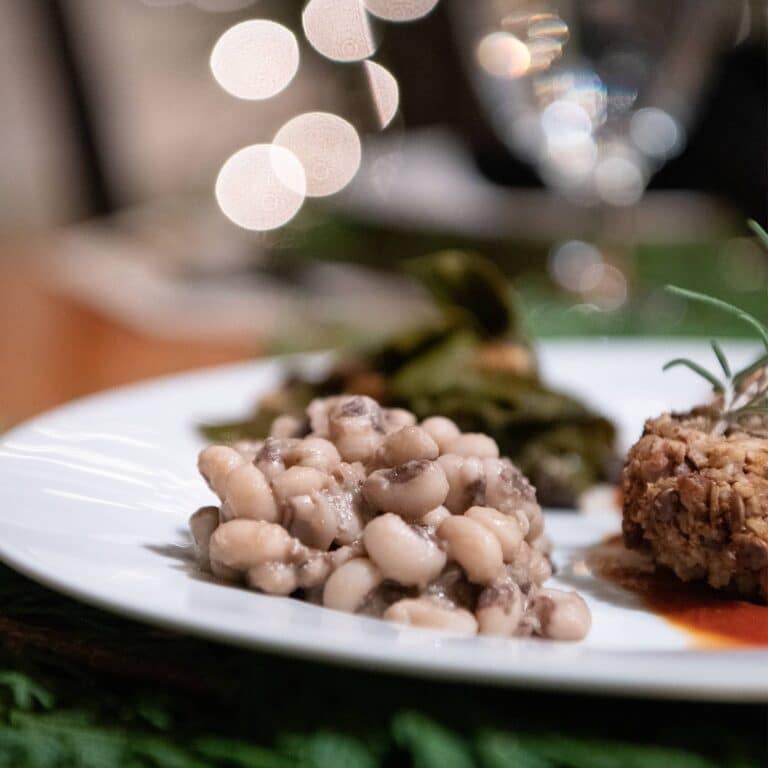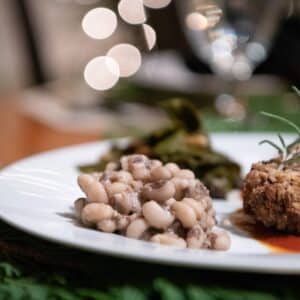 Healthy Black Eyed Peas
This vegan, southern classic is sure to please all your guests.
Ingredients
1

pound

dried black eyed peas

1

tbsp

unsalted vegetable broth

(plus enough to create a 2 inch depth in your Dutch oven or pot)

1

tsp

salt

(less for low sodium diet)

1

tsp

tabasco

(or mild hot sauce of choice)

1

tsp

dried parsley

¾

tsp

paprika

½

tsp

dried thyme

½

tsp

dried oregano

½

tsp

black pepper

⅛

tsp

liquid smoke

chives, fresh parsley or cilantro

(optional garnish)
Instructions
Preheat the oven to 300° F.

Put all of the ingredients in a Dutch oven or oven-proof cooking pot. Cover with two inches of vegetable broth. (If you don't have enough broth, just add water to create the depth.)

Bake, covered, in the preheated oven for 1 hour and 15 minutes, or until tender.

Carefully transfer the hot Dutch oven or pot to a stove-top burner set over medium heat. Cook uncovered, stirring frequently, until the remaining liquid is thick and saucy, about five minutes. (Optionally, add a simple flour roux made from water and white or wheat flour to create a thicker texture. Be sure not to over thicken.)

Serve hot and if desired, garnish with chives, fresh parsley or cilantro for a southwest vibe.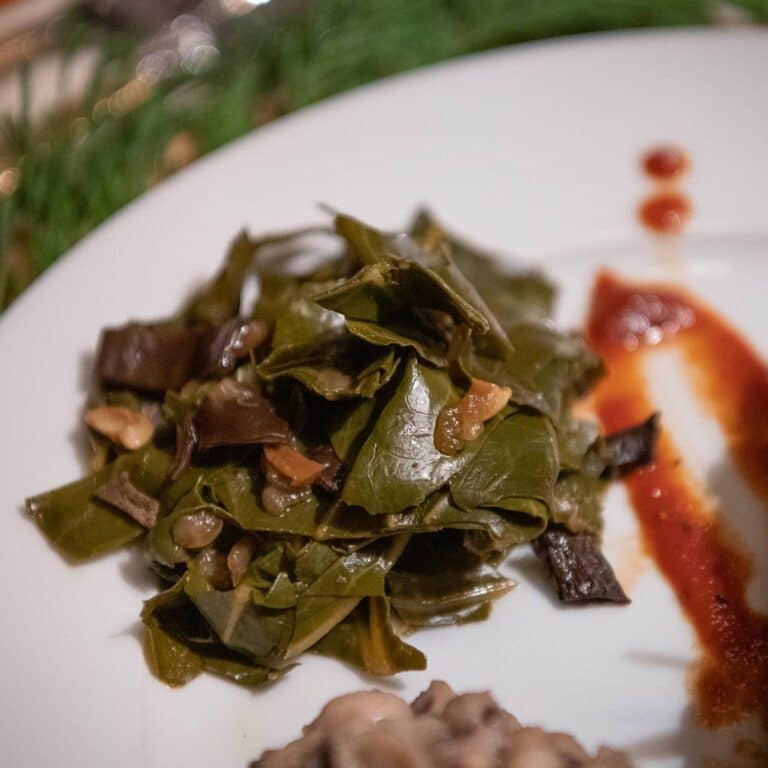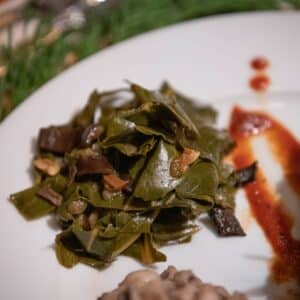 Healthy Collard Greens
Ingredients
2

bunches

collards

(ribs removed and chopped roughly)

1

yellow onion

(diced)

2

celery stalks

(chopped)

3

garlic cloves

(minced)

4

cups

unsalted vegetable broth

1

cup

wild or portabella mushrooms

(chopped)

½

tsp

salt

¼

tsp

fresh ground black pepper

¼-½

tsp

liquid smoke

(optional)

splash

apple cider vinegar to taste

(optional)
Instructions
Add 1 cup vegetable broth to large stock pot with onion, celery, garlic, chopped mushrooms, salt and pepper. Simmer on medium heat for about 10 minutes to allow flavor to develop.

Toss in chopped collards along with remaining 3 cups vegetable broth. Turn heat to medium-low and let simmer for at least ½ hour, keeping an eye on the level of broth. Stir occasionally to distribute onions and mushrooms and celery evenly.

(Optional) When collards have reached a soft consistency, but not mushy, add liquid smoke. Stir for 5 more minutes. Use 1/4 tsp is less smokey taste is preferred. Be careful not to add too much, a little goes a long way.

(Optional) For a traditional southern flare, splash apple cider vinegar on the greens just before serving, but not too much so as not to overpower. If saving "pot likker" (the cooking liquid of the greens), do this after pot likker is drained from greens.

Drain the greens, saving the pot likker if desired.

(Optional bonus) Use the pot likker to create a nice mushroom gravy. Create a simple roux from white flour and water, premixed in a cup to prevent clumping. Add this to the pot likker to desired consistency over low heat. Serve over the oat loaf.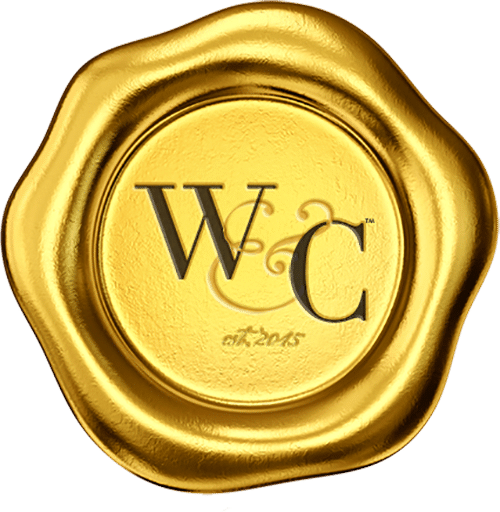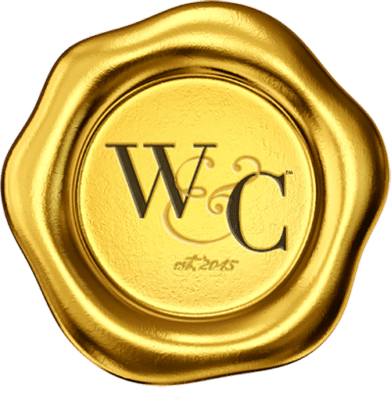 Virginia Wine & Country celebrates elevated living in Virginia Wine Country. Virginia Wine & Country Life is a semi-annual luxury print magazine with a full digital presence. The Virginia Wine & Country Gold Book is an annual guide to the top award-winning wines, wineries and experiences in Virginia Wine Country. The annual Virginia Wine & Country Wedding Planner is an art book of elegant Virginia weddings. The brand includes the Virginia Wine & Country Shop in Ivy, Va. It is a beautiful lifestyle boutique that brings the pages of the magazines to life. Virginia Wine & Country tells the stories of Virginia wineries, the farm-to-table movement, luxury travel, entertaining, art and the elegant country lifestyle. Ivy Life & Style Media also provides branding, web design and PR services for the wine industry.