The South is known for its many crave-worthy side dishes and snacks. And among these, the Virginia ham biscuit is one we will always crave. Nothing gets the party started like salty, Virginia ham sandwiched between a fluffy, buttery biscuit. The size and portability of a Virginia ham biscuit make it the perfect accompaniment to a delicious tailgate spread at an equestrian event. Between local Virginia artisans creating incredible versions of the classic dish and a variety of expert tips listed below, our Virginia Ham Biscuit Recipe will quickly become your new favorite dish. Try a platter of these ham biscuits served with our recommended spreads below for an exciting tailgating experience while you wait for the event to begin.
How to Bake the Best Buttermilk Biscuits
Biscuits from scratch can be intimidating for sure. But with the right tips, buttermilk biscuits can be your go-to side dish to impress for any occasion. Below we have some tips and tricks to create that perfectly flakey accessory to your Virginia Ham Biscuit.
Don't overwork or knead the dough. As with pie dough, this will create a tougher result.
Make sure everything is chilled beforehand – Some bakers even advise to chill the mixing bowl before starting your dough.
Don't twist the biscuit cutter or glass when you are cutting out the biscuits. This will allow for the impressive biscuits we love to see come out of the oven.
Create fluffy layers by folding over the dough several times, rolling out between folds.
Where Can I Find the Best Virginia Ham?
In Virginia, the land, its farmers, and local makers play a vital role in crafting the ham that has grown to be a cherished Virginia staple. The origins of Virginia ham go back to the colonial era when the English settlers of Jamestown started using a mixture of European and Indigenous techniques to cure their pork. Among many Virginia artisans, Edwards Virginia Smokehouse showcases this tradition in a big way. Their country ham uses local meat, classic ingredients, and traditional methods to bring the salty, smokey flavor we have come to ask for by name in Virginia.
Tom Calhoun, owner and operator of Calhoun's Ham House and Country Deli is another Virginia artisan dedicated to creating the perfect ham that we have grown to love in Virginia. Known by locals as the "Ham Man," Tom's hams have graced the tables of The Inn at Little Washington and The White House, as well as served as the centerpiece for thousands of family holiday dinners. His ham is cured with a signature recipe, a mixture of ingredients that he then rubs over the entire ham until the thickness equals about a quarter of an inch. After applying the homemade cure, the ham sits in a refrigerated room for two weeks, allowing for the spices and flavors to soak into the meat. After that two-week period, Tom rinses off the cure and subsequently re-applies the cure and lets the meat sit for an additional four weeks. This double cure process allows the salt to fully work its way through the meat and allows for maximum flavor. Finally, the hams are rinsed once more and hung for six months to a year, during that time, the hams release any remaining moisture, and a Calhoun country ham is ready to be served.
Keeping with the tradition of a salty and smokey flavor, JM Stock Provisions is Charlottesville's only whole-animal butcher shop, who utilize their house-made Tasso ham to create their incredible Cville Ham Biscuit. Appropriately named, sustainably produced, and glistening with butter, these ham biscuits are a perfect balance of traditional ham biscuit elements: fat, salt, sugar and spice. Calder Kegley, owner of JM Stock Provisions, states that the crew "handmakes biscuits every morning with buttermilk and lard, and our Cville Ham Biscuit is piled high with award winning Tasso ham and a generous helping of wildflower honey and hot sauce."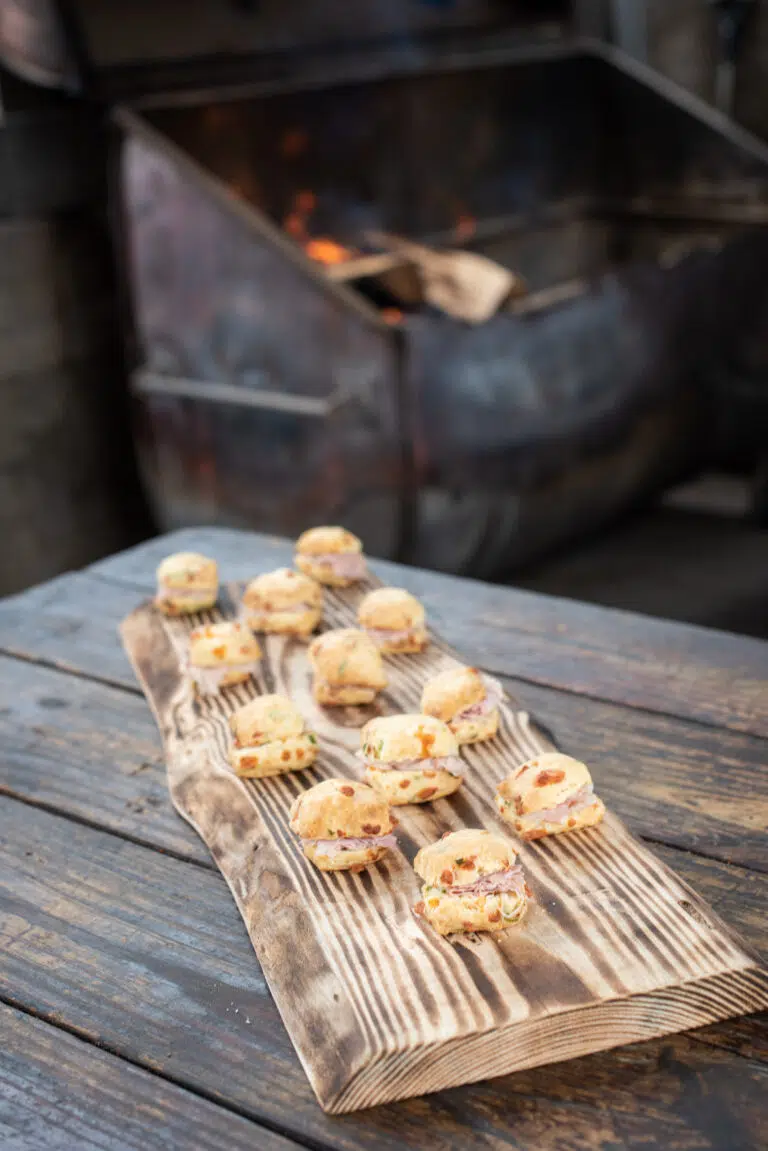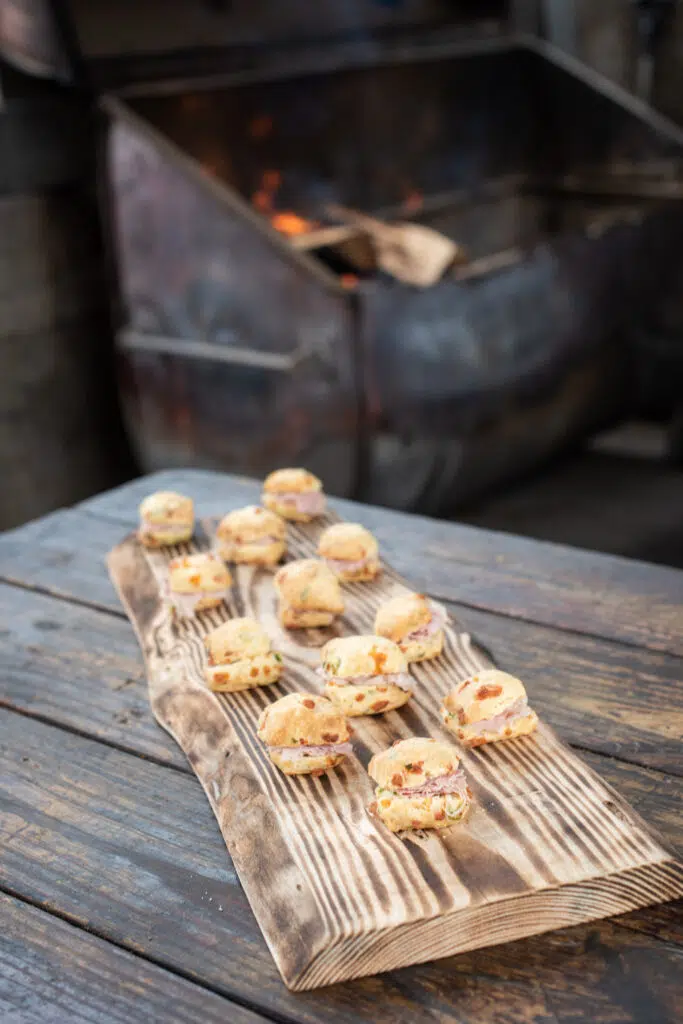 The origins of Virginia ham go back to the colonial era when the English settlers of Jamestown started using a mixture of European and Indigenous techniques to cure their pork.
Another Virginia artisan honoring traditional Virginia ham methods but combining them with modern flair is Paradox Pastry. Equally skilled in sweet and savory, Paradox Pastry has a variety of different takes on the classic ham biscuit that serve to modernize the traditional Virginia recipe. Jenny Peterson, Cordon Bleu Pastry chef and owner of Paradox describes her Ham Biscuit Two Ways as "combining a huge, flakey biscuit slathered with dijon butter with layers of off the bone Kite's Country Hams to create the perfect sweet and salty combo." Beyond the standard ham biscuit, ham quiches and ham croissants also populate the Paradox Pastry menu. Utilizing Virginia artisans like Kite's Country Hams, Paradox Pastry incorporates local ingredients, bringing an extra Virginia element to the southern classic.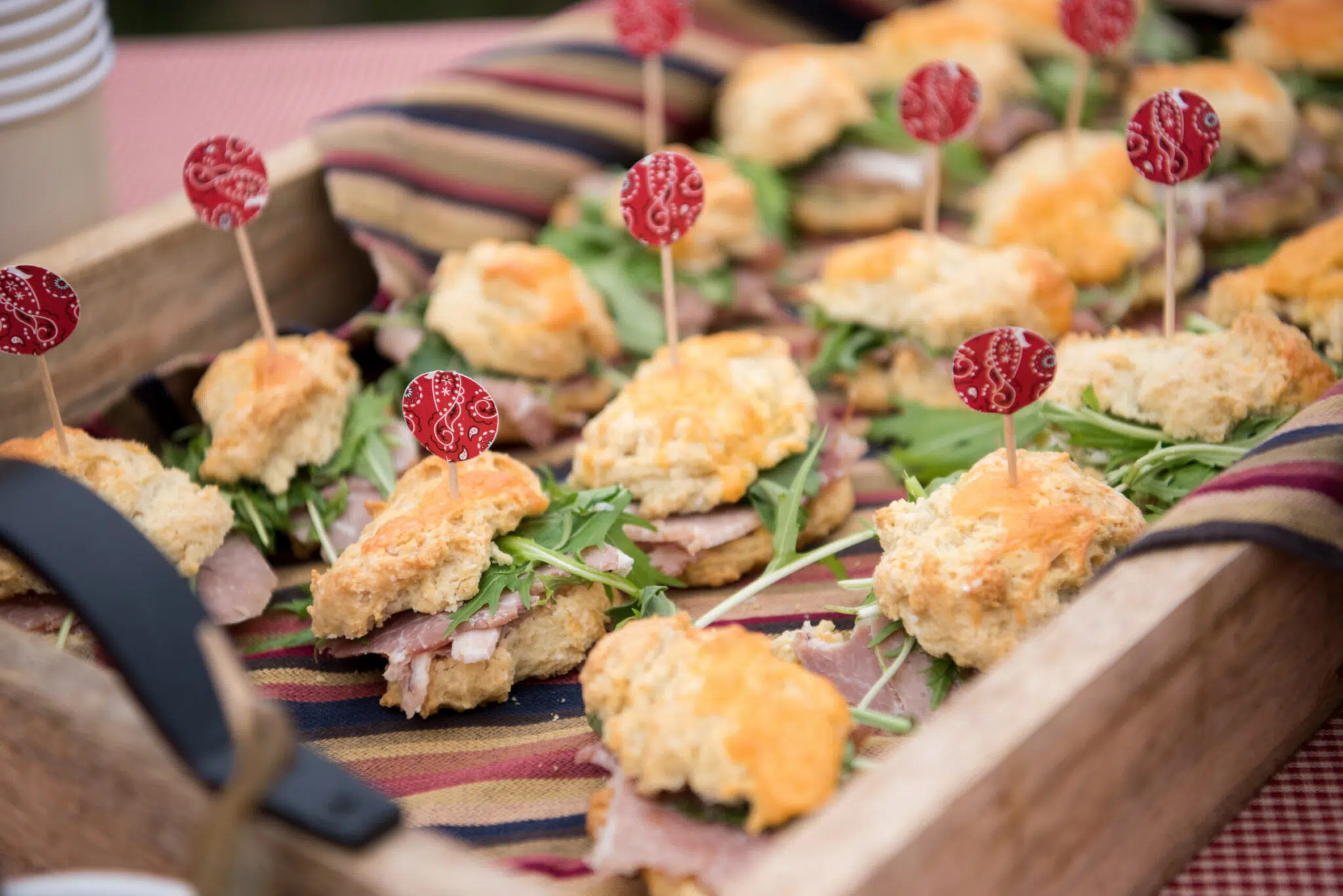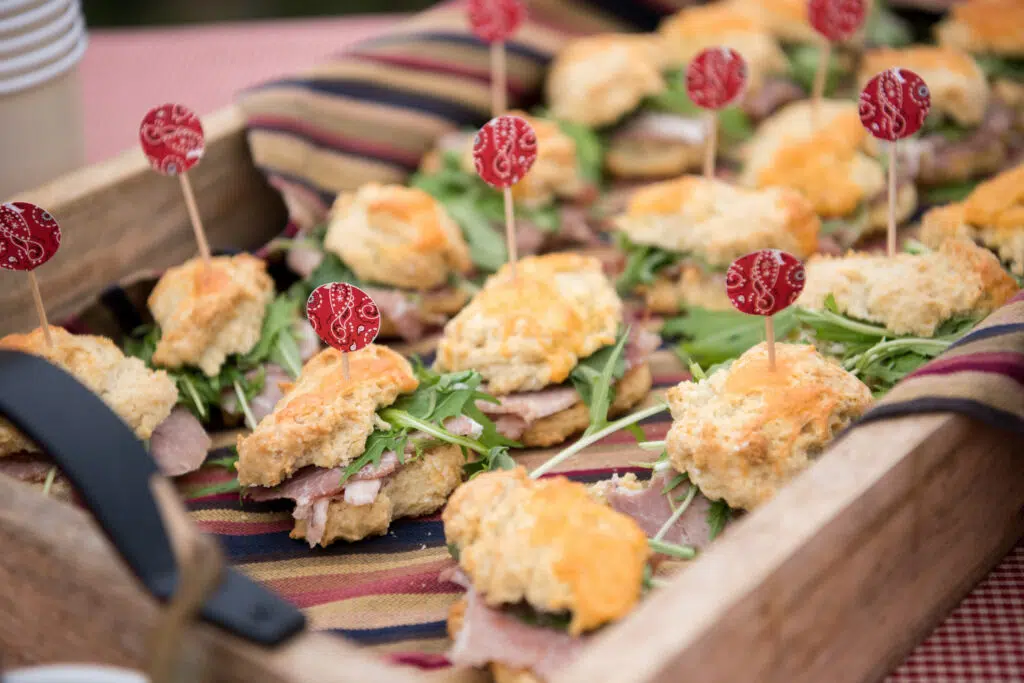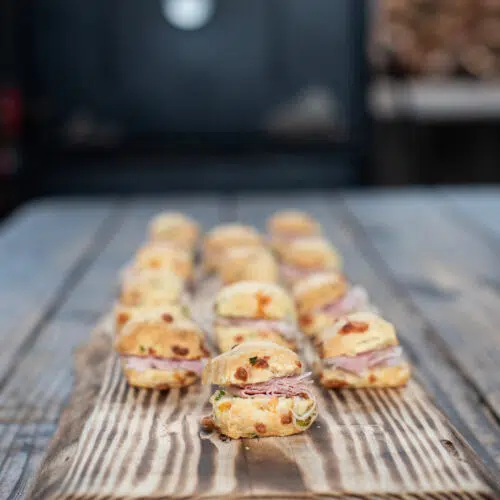 Cheddar-Chive Biscuits with Virginia Ham & Fig Mustard
Ingredients
2

cups

all-purpose flour

1

tbsp

baking powder

1/4

tsp

kosher salt

1/4

lb

un-salted butter

almost frozen

1

cup

buttermilk

cold

1

cup

cheddar

grated

1/2

cup

chives

thinly sliced

1 1/2

lbs

Virginia ham

thinly sliced

1/2

cup

fig mustard
Instructions
Place the dry ingredients (flour, baking powder, salt) in a large bowl.

Cut the super-cold butter into brunoise-size pieces and add to the dry ingredients. Using your hands mix the butter into the dry ingredients until the butter is evenly distributed, and make sure there are no large pieces.

Add the cheddar and chives, and again, evenly distribute by hand.

Pour the cold buttermilk over the dry ingredient mixture and mix by hand just until the buttermilk is incorporated. Do not over mix, as the dough should be very delicate and just coming together unlike bread dough.

Roll the biscuit dough out on a floured surface to one-inch thickness. Cut into two-inch squares.

Bake at 425 degrees until lightly brown.

Cut biscuits in half, lightly spread the mustard on one side and fill with 1 ½ ounces of ham. Serve warm or room temperature!
Tailgate Dips to Serve with Ham Biscuits
Tailgating in Virginia is a longstanding local tradition. Whether you're tailgating at equestrian events such as the Foxfield Races, Montpelier Hunt Races and the International Gold Cup, or cheering on your favorite team at a college football game, no tailgating table is complete without one of the most essential tailgating elements: dips and spreads. Below, we have three recipes for spreads to kick up your tailgating season and highlight the already delicious flavors of a classic Virginia ham biscuit recipe. The first recipe for a sweet onion jam will balance the saltiness of the ham and bring a fruity, sweet note to your biscuit. The second recipe is an herb butter, which plays on the less traditional Jambon-Beurre (ham and butter) sandwich that the French are accustomed to. Take this dish from Southern classic to Southern staple with our third recipe for a pimiento cheese spread. Feel free to double dip here as this recipe can either be served as a spread for biscuits or as a side dip for your favorite veggies.
Sweet Onion Jam Recipe
Ingredients
3

tbsp

grapeseed oil

2

whole

vidalia onions

sliced 1/4 of inch thick

2

whole

red onions

sliced 1/4 of inch thick

3

cloved

garlic

1

cup

sugar

1/2

cup

dry red wine

2/3

cup

golden balsamic vinegar

1

cup

water

thyme sprigs
Instructions
Heat oil in dutch oven over medium-low heat. Add all onions and sauté until onions are soft and starting to caramelize, about 25-30 minutes.

Add garlic and thyme sprigs and sauté for a minute or two.

Add red wine, scraping the bottom of the pot.

Sprinkle sugar over the simmering onions and mix in the vinegar. Bring to a boil. Reduce heat and simmer gently until onions are jammy and liquid is reduced, 35-40 minutes. Stir often and add more water by the tablespoon to prevent sticking.
Herb Butter Recipe
Ingredients
2

sticks

unsalted butter

1

handful

fresh, chopped herbs

such as basil, parsley, thyme and oregano

1

pinch

salt

kosher or sea salt

freshly ground black pepper

1

squeeze

fresh lemon or lime juice

(optional)
Instructions
Let butter soften at room temperature.

Mix or blend in herbs, salt, pepper and citrus juice until evenly combined.

Roll in parchment paper and chill in the fridge until hardened.

Assemble slices of butter on biscuits with ham.
Pimiento Cheese Recipe
Ingredients
1

cup

mayonnaise

preferably Duke's

8

oz

cream cheese

softened

2-3

scallions

roughly chopped

1

head

roasted garlic

1

small jar

chopped pimientos

with brine

1

tbsp

honey

1/2

tsp

smoked paprika

1/2

tsp

white pepper

1

splash

tabasco

add more if desired

1/2

tsp

kosher salt

freshly ground black pepper

chopped chives

for garnishing
Instructions
For the roasted garlic - Preheat the oven to 400 degrees. Cut ¼ of an inch off the top of a whole head of garlic. Wrap in foil and slather with 1-2 tablespoons olive oil. Roast for 35-40 minutes until fragrant and soft. Once cooled, squeeze out cloves. Set aside.

In a food processor or by hand, blend the mayo and cream cheese with the scallions and the roasted garlic until well mixed.

Fold in the rest of the ingredients until combined, tasting as you go. Add more salt or a splash more of tabasco if needed and garnish with chopped chives.
Other Drink Pairings for Ham Biscuits
If you're looking for a non-alcoholic option, look no further than a tried and true cup of coffee! Coffee and biscuits, what more can you ask for as you prepare for a full day of fun? If you're prepping for a Virginia steeplechase tailgate and looking for more pairing suggestions, read our Seafood & Wine Pairings and our Wine & Cheese Pairings articles to help you plan the perfect tailgate.
We hope you try replicating this traditional Virginia dish in your own home by following one of the recipes listed above. No matter what dip, spread or drink you plan to serve them with, this Virginia Ham Biscuit Recipe will quickly become a staple in your home. For more Wine Country Recipes utilizing the best local ingredients of the area, check out the Food & Drink section of our website. If preparing for tailgate season, read our Tailgate Like a Winner article for expert tips to perfecting your perfect tailgate spread. ~
A former chef, FRANCESCA BLACK is an avid culinarian and Wine & Country content creator. She's on a mission to create quality copy that helps to bring new perspectives to the food and culture of Virginia's farm-to-table scene.
JANINE AQUINO has 30 years of business consulting and entrepreneur experience. Her focus lies in Agritourism—the grower, the producer. Having grown up in the Hudson Valley region of New York, on a small family vineyard, she learned grape growing, winemaking and distribution and is the 4th generation in her family to continue in the wine industry. While in NY, she studied food and wine pairings at the CIA and worked for a couple of wineries lining the Hudson River. She then received an opportunity to buy a boutique winery in Ohio, which she did and ran for 10 years. Opportunities were presented to her in VA to take the reins of a couple startup vineyards and fully develop them. After working with the wineries, she started Aquino Baron Consulting, an agritourism consulting company focused on wineries and cideries. She is a member of the Virginia Wineries Association, Virginia Vineyards Association and Shenandoah Valley Wine Trail, and sits on the Waynesboro Tourism Advisory Board.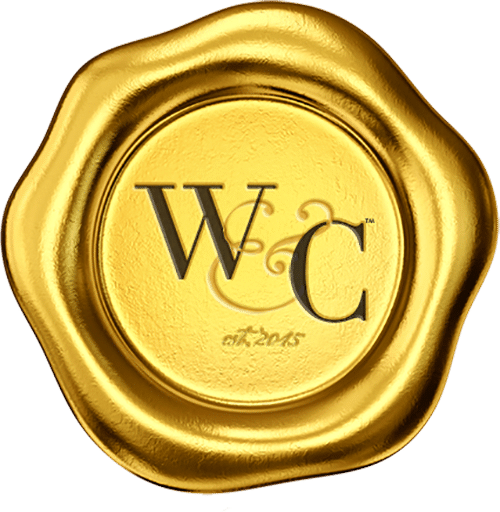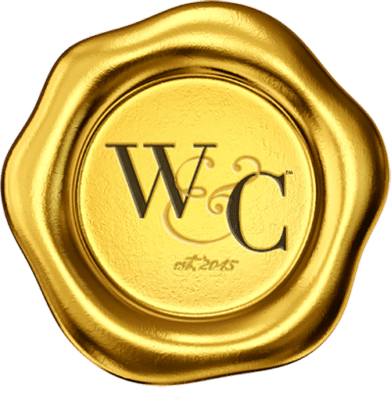 Virginia Wine & Country celebrates elevated living in Virginia Wine Country. Virginia Wine & Country Life is a semi-annual luxury print magazine with a full digital presence. The Virginia Wine & Country Gold Book is an annual guide to the top award-winning wines, wineries and experiences in Virginia Wine Country. The annual Virginia Wine & Country Wedding Planner is an art book of elegant Virginia weddings. The brand includes the Virginia Wine & Country Shop in Ivy, Va. It is a beautiful lifestyle boutique that brings the pages of the magazines to life. Virginia Wine & Country tells the stories of Virginia wineries, the farm-to-table movement, luxury travel, entertaining, art and the elegant country lifestyle. Ivy Life & Style Media also provides branding, web design and PR services for the wine industry.