There's an old saying that locals in the town of Gordonsville customarily abide by. It goes: "In Orange county, you might miss Christmas, but you won't miss the races." This sentiment leads the historic Montpelier Hunt Races to serve as a homecoming, an opportunity for native Orange county residents to return to their hometown year after year. Whether you're a horse racing aficionado or just stepping foot on the horse racing track as a first time attendee, the Races welcome everyone.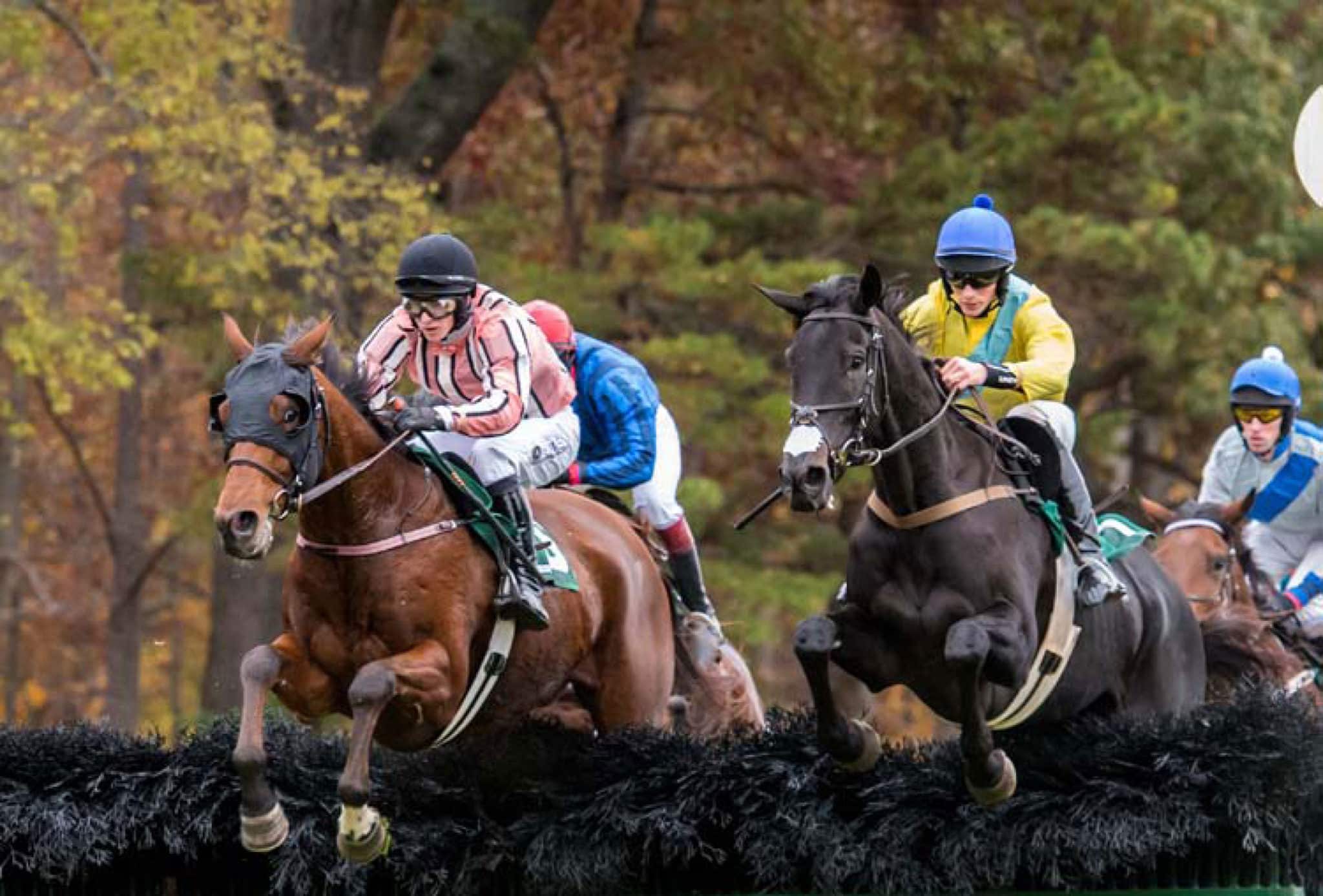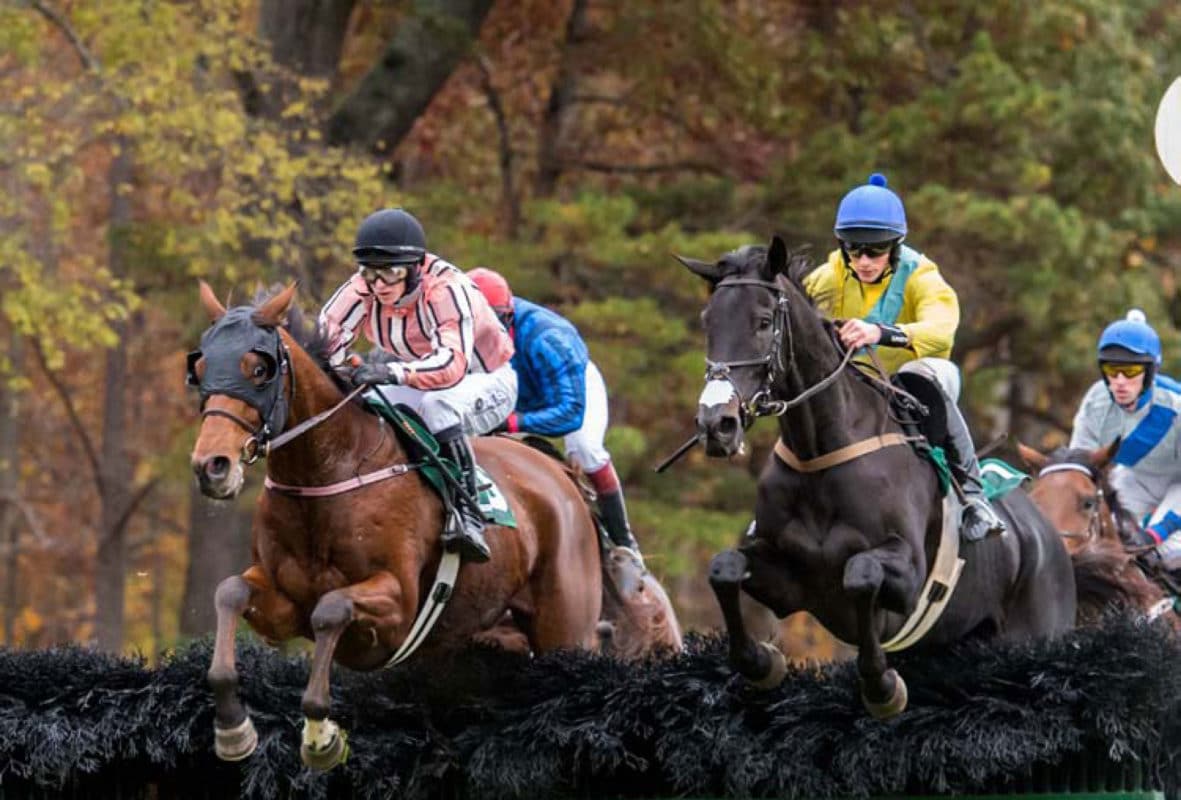 History of the Montpelier Races
For more than 80 years, Montpelier, the former home of James Madison, has housed premier steeplechase racing. The Montpelier Hunt Races showcase some of the most prized racehorses in the world. The last private owner of the former President's estate, Marion duPont Scott, founded the Montpelier Steeplechase Hunt Races with her brother in 1934. duPont Scott was an accomplished horsewoman who competed, bred and trained Thoroughbred horses on the property. Thoroughbreds are famous for speed and agility, making them the perfect horses for steeplechase racing. duPont Scott bequeathed the estate to the National Trust for Historic Preservation. It is now a National Historic Landmark, although the races live on.
Today, the Races continue as a popular event for the National Steeplechase Association. The races also showcase a full day of exciting races, opulent vendors, and lavish tailgating.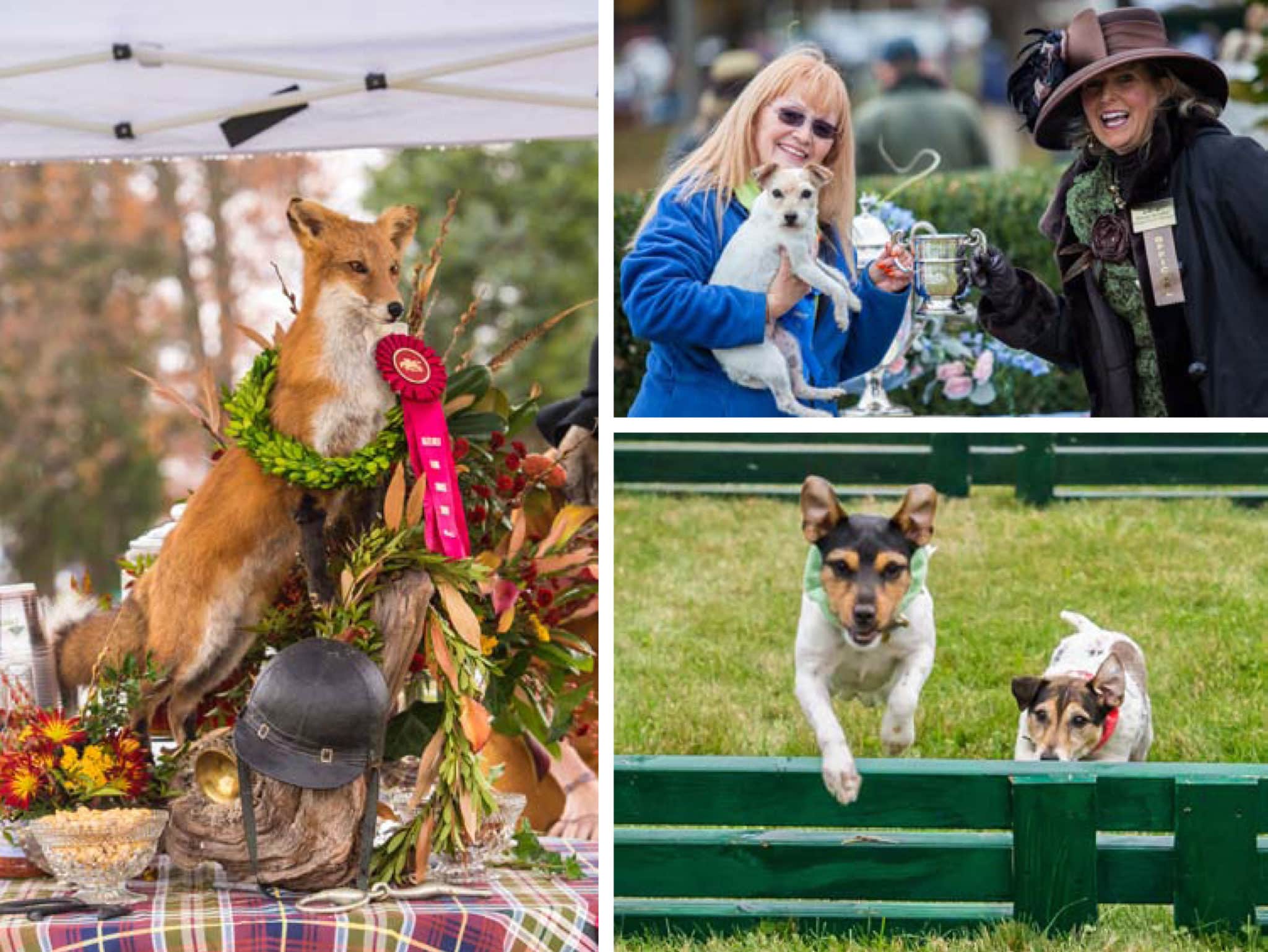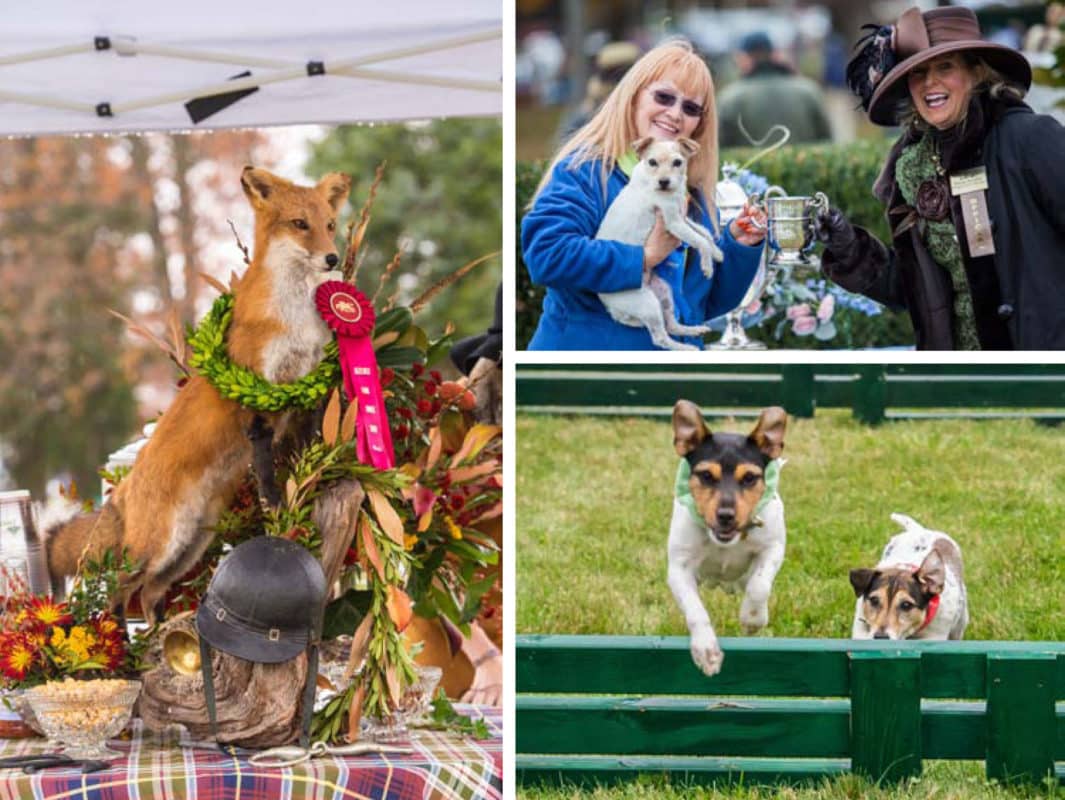 What to do at the Montpelier Hunt Races
The Montpelier Hunt Races not only showcase superior horse breeding but also highlight the grand race culture. From tailgating and stick races to the Jack Russell Terrier Races and the hat contest, there is plenty to experience throughout the day. There has also historically been a sidesaddle exhibition, an elegant equestrian tradition co-sponsored by the National Sporting Library and Museum. Ladies riding sidesaddle will come up to the rail and often guests will go up and pet the mares. Because these horses are trained for gentle riding and handled by ladies, they are often more calm and quiet. Racehorses, however, are intently focused on the race ahead.
Enjoy viewing the day's extravagant tailgate spreads, or design your own with the help of our tailgating experts! The tailgate contest is sponsored each year by Wine & Country Life and offers fabulous prizes for the tailgate spread that best showcases the year's theme. Learn How to Style the Ultimate Steeplechase Tailgate in our online article and take part in Montpelier's tailgate theme of the year. Dubarry of Ireland sponsors the popular hat contest. Prizes are awarded for elegance, best race theme and best group entry.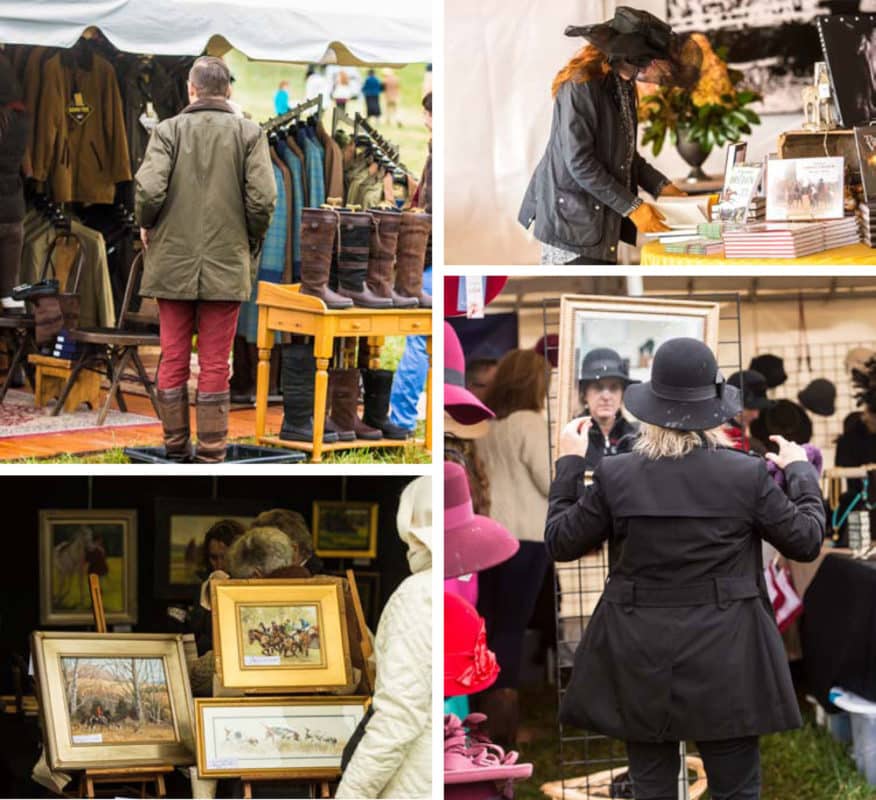 What to Expect at the Montpelier Races
The steeplechase races take place at 11407 Constitution Highway, Montpelier Station, Virginia. They are approximately half an hour northeast of Charlottesville near Somerset, Virginia. The gates open at 9:00 in the morning. The first event is a crowd favorite, the Terrier Races, where Jack Russell terriers compete over hurdles for the award of most prestigious pup. Children join in the festivities at 11:15 in the morning with the Stick Horse Races. They gallop along on their wooden stick horses, each child vying for a blue ribbon or just enjoying being a part of the festivities. Parents of children aged 2 to 11 wishing to take part should pre-enter their kiddos before the 11:15 start time.
The main event begins shortly after the commencement of the interactive terrier and stick horse races. The first horse race commences at 12:30 with the last race finishing around 4:30 in the afternoon. Below the Race Tower in the Winner's Circle, you can watch the presentation of the winning horse, jockey and trainer following the races. For more information about each jockey, who they represent and each horse's statistics, be sure to pick up one of Montpelier's Race Programs at the event. Onlookers can join in by betting on their favorite horses and riders as well. While there are no pari-mutuel wagering at the races, people get together and have pools to make wagers on each race. There is often even a bookie at the events.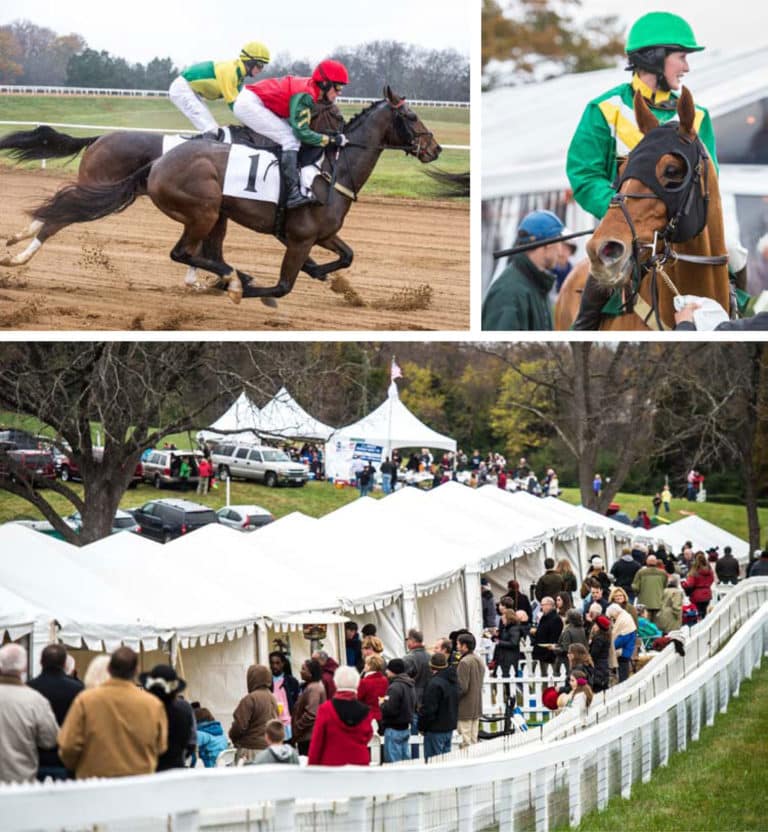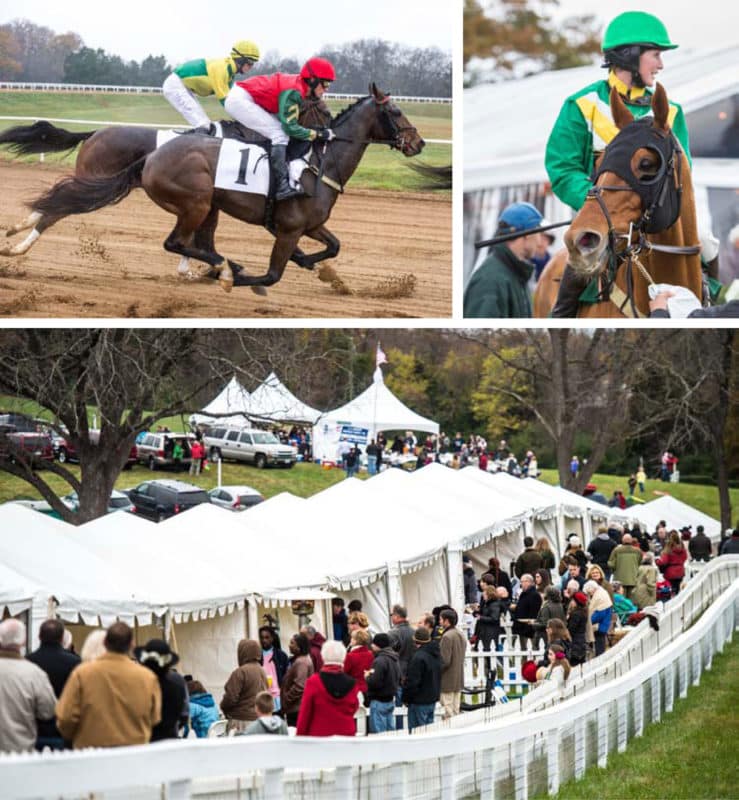 Tailgating at the Montpelier Hunt Races
Horse racing in Virginia is a special occasion. See the theme below for this year's Tailgate Contest.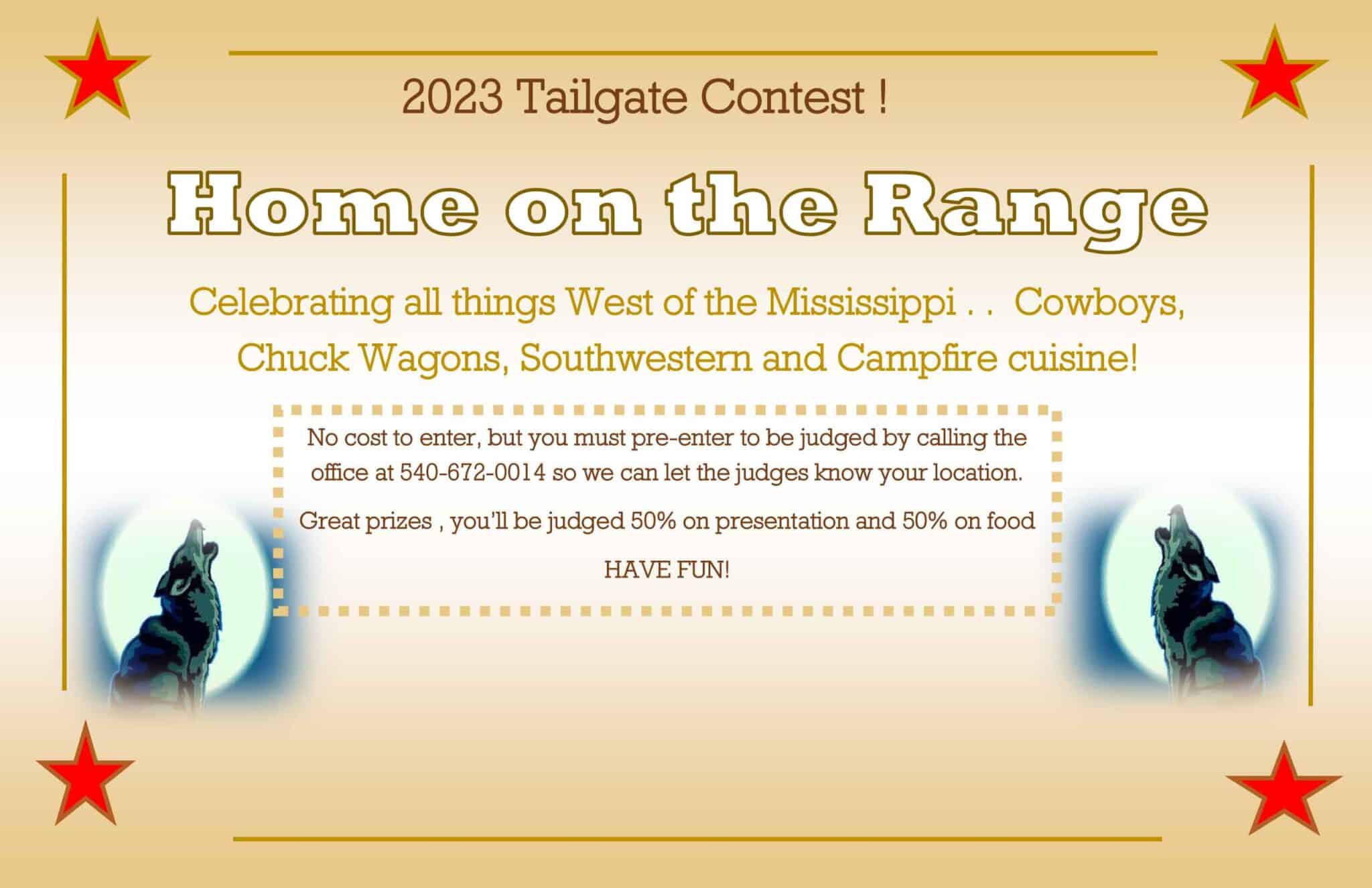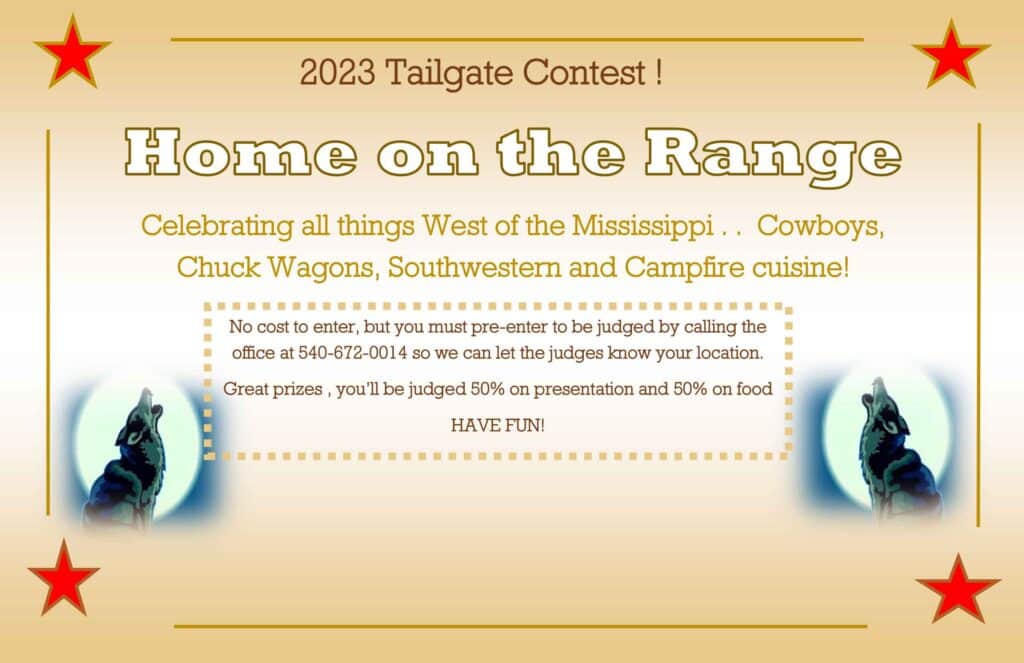 The theme can inspire your tailgate, your attire, or perhaps even a craft cocktail to share with your tailgating party. Each tailgate's spread provides for a spectacle almost as impressive as the horses racing along the track. Montpelier tailgate spreads range from simple sandwiches and decor to elaborate crystal candelabras and flower arrangements. The upscale picnic provisions brought in boast mouthwatering delicacies. Participants place charcuterie boards with local cheeses and cured meats, accompanied by jams and garnished with sprigs of seasonal herbs, atop colorful linens. Nestled within steaming pots, tailgate hosts ladle out hot chili to warm their guests up. Bottles of champagne rest in pewter coolers alongside tea sets.
How to Participate in the Montpelier Tailgate Contest
To take part in the Tailgate Contest, call the office at (540) 672-0014 or email [email protected]. For those who do not wish to bring their own food, a wide array of food vendors is available throughout the infield.
Entries are limited to 10 tailgates, so sign up early!
Entry sign up due by

November 1st, 2022

Judging will be from 10:30am to 12:30pm
Entries will be judged on:

The excellence of all homemade food & drink
The expression of the theme in the food, drink & decor

Exciting prizes for Top 4 Winners announced and awarded at the Winner's Circle by the Race Tower at 1pm
Besides the local fare, attendees should also bring fold-out chairs for a full day at the races. Montpelier recommends bringing paper or plastic instead of glass containers for food and beverages.
Be sure to leave your pets and your grills at home, as they are not permitted.
Tailgate Inspiration From Past Years
Jaunty Jockeys from Ireland
In honor of historical Irish steeplechase jockeys, Montpelier chose the theme of "Jaunty Irish Jockeys". Grass-green dècor, shamrocks and leprechauns abounded, and hearty Guinness stews paired with Jameson whiskey for a delicious Emerald Isle vibe.
Our Bond from Across the Pond
Inspired by ties to steeplechasing in England, Montpelier adopted the theme of "Bond from Across the Pond". Participants let their creativity run wild with British-themed tea sandwiches, Union Jack-inspired décor and outfits befitting royalty.
The Racing Colors of Marion duPont Scott
Tailgate Contestants honored Montpelier Hunt Races founder Marian duPont Scott by decorating their tailgate spreads with the colors of her personal racing silks. French Blue, Old Rose and Silver ruled the day. Tailgaters used vintage silver and equestrian-themed serving-ware to showcase their delicious foods. They also incorporated art and other décor in their perfectly arranged spreads.
Parking at the Montpelier Hunt Races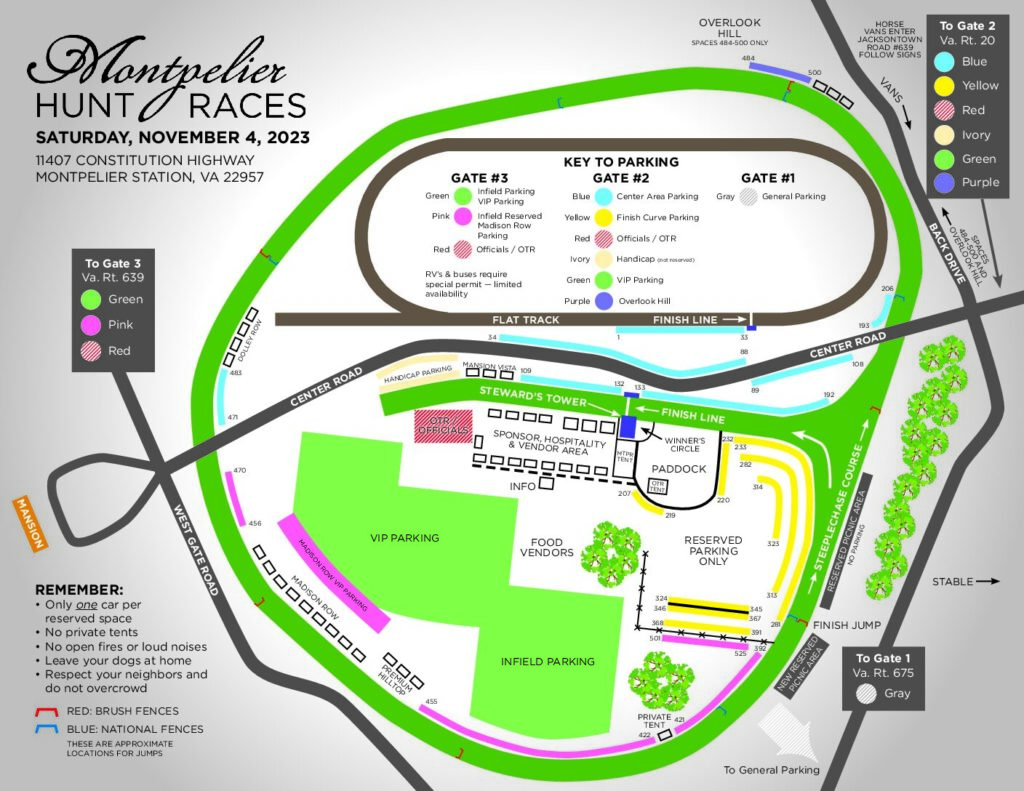 Each car will need a parking pass when arriving at the Montpelier Hunt Races. Attendees may buy a General Admission Parking Pass, allowing them to park in the general lot and walk to the infield racecourse. An Infield Parking Pass provides access to the infield of the racecourse. A Reserved Parking Pass allows patrons can park directly on the racecourse or other desirable locations.
What to Wear to the Montpelier Hunt Races
Don your best! Besides the fabulous stylized hats and fascinators vying for the prize of Best Hat, patrons embody English countryside chic during the chilly November races. Men's horse race fashion often sees gents sporting suspenders, bowties, and tweed or Dubarry jackets. Both men and women wear classic tall brown Dubarry country work boots. Custom leather chaps and accessories made by a Virginia artisan will be sported by the true equestrians.
Need help deciding what to wear to a Virginia steeplechase? Read our online article What To Wear to the Steeplechase to find suggested horse race outfits from seasoned steeplechase attendees.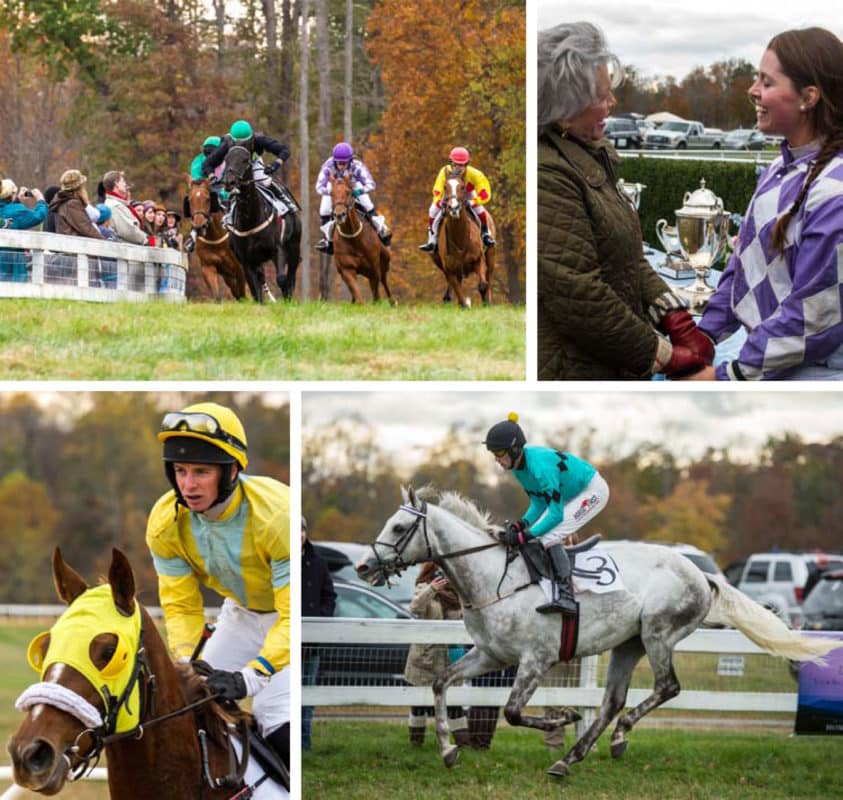 Tailgate Etiquette: Tips for Being a Great Guest
Want a cheatsheet for how to be the ultimate guest at your next tailgate? Download our Wine & Country Guest Guide to the Steeplechase Races by clicking the image below.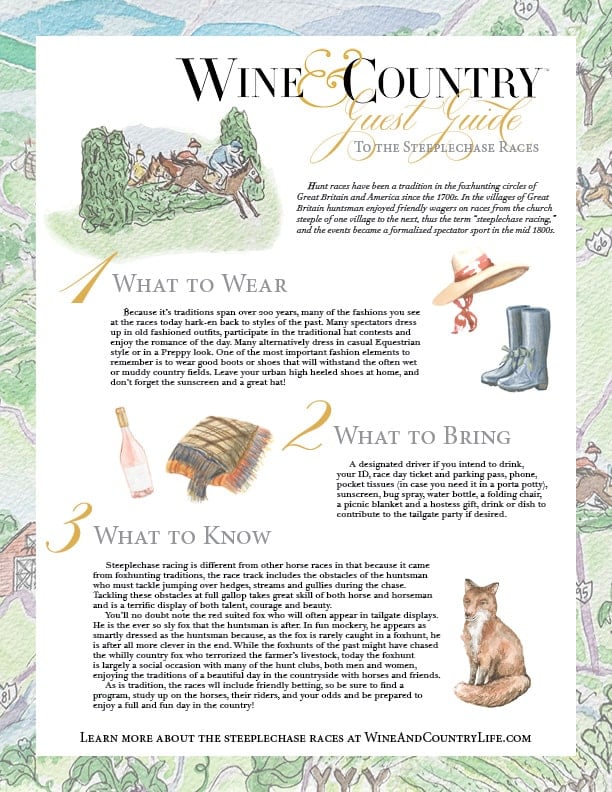 Visit Gordonsville
Where to Stay Near Montpelier, Va
The Inn at Willow Grove, set in pristine Virginia wine country, offers a peaceful garden setting with timeless Southern charm and décor. With no two rooms the same, each of the property's boutique rooms and premier suites are and decorated to offer a unique experience. The luxury stay includes the Inn's Mill House Spa, which resembles a charming red barn with a working water wheel in keeping with the Inn's "Village" concept. The 3,000-square-foot luxury oasis near Montpelier, Va features three tranquil treatment rooms, a relaxation room and a state-of-the-art fitness facility. Spa guests will also be able to enjoy a beautiful, heated saltwater pool.
Rest and relax in one of two accommodation options that Barboursville Vineyards has to offer near Montpelier. The three suites in the 1804 Inn overlook the governor's mansion. Each suite is named after one of the wines crafted on the property. The Vineyard Cottages offer the same amenities and overlook some of the vineyard's 185 acres of vines. Each comes with a complimentary full breakfast, bottle of wine and tastings at the Tuscan Tasting Room. All rooms were designed to evoke the rich history of the area with all the comforts of the 21st century.
Built in 1874, the quaint Nathaniel Inn has been restored to give off vibes from traditional Gordonsville in the 1700s. The suites are cozy and contain private bathrooms within the house. The Gordon cottage is perfect for families or groups with a fully-equipped kitchen and a front porch perfect for lounging and taking in the area. All rooms have access to laundry, too! The Inn has a shared yard for guests to relax and is only a short walk away from a bakery and restaurant. Be sure to contact the property about bringing your furry friend along, as pets are permitted.
Stop, Sip & Dine in the Orange County Region near Montpelier, Va
Orange County is deep within Virginia wine country, and it has no shortage of wineries to show for it. Horton Vineyards is nearby, and you can choose from over 40 wines in their tasting room, which is open daily. Make your way down the road to take in one of Virginia's oldest wineries, Barboursville Vineyards. Visit their tasting room, or the Library 1821, their wine "library," for the winery's reserve flight. While you're there, consider eating at their fine dining restaurant Palladio. Keswick Vineyards is 20 minutes down route 231, boasting award-winning wines and also open daily for tastings.
Next on your winery tour is Early Mountain Vineyards in Madison. Early Mountain's tasting room was voted best in America by USA Today in 2016. They offer both cozy indoor and outdoor seating with amazing mountain views. If wine doesn't suit your fancy or you want to change up your tasting tour, stop by Castle Hill Cider. Minutes away from Keswick Vineyards, Castle Hill offers many delicious types of alcoholic apple cider. Castle Hill Cider's tasting room is open year-round. It offers a comfortable place to enjoy a flight of heritage cider while looking upon the 6,500 trees in their beautiful orchard. You can bring both your kids and your dog to Castle Hill, and you can bring a blanket and picnic lunch to enjoy alongside your cider. As hard cider is a Virginia staple, you definitely won't regret stopping here.
From the culture to the sport itself, a day at the races will surely make for a grand time. Wine & Country Life is proud to be a sponsor, and we cannot wait to tailgate, shop, mingle and cheer on our favorite horses at The Montpelier Hunt Races. ~
ABBY MEREDITH is a Double Hoo who loves all things Charlottesville and equestrian. Abby grew up competing through the Arabian Horse Association where she found success as a four-time Youth National Champion. During college, Abby made the switch to Hunter Jumpers and competed throughout Virginia. Abby worked as an attorney in Washington, D.C. and now is a freelance writer living in Charlottesville, where she spends her weekends hiking with her dog in the Blue Ridge Mountains, frequenting the farmers market and reading any novel she can get her hands on.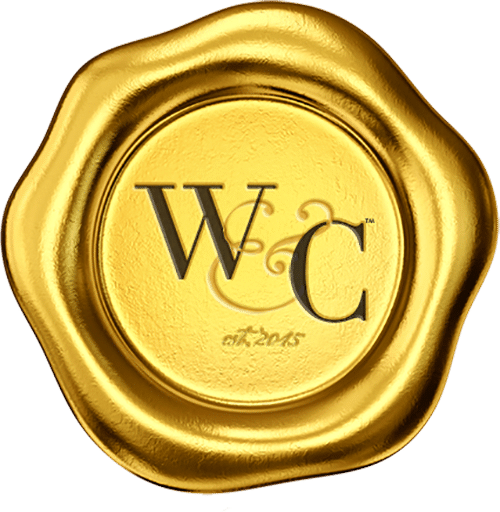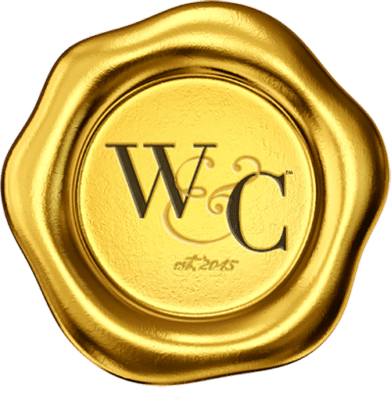 Virginia Wine & Country celebrates elevated living in Virginia Wine Country. Virginia Wine & Country Life is a semi-annual luxury print magazine with a full digital presence. The Virginia Wine & Country Gold Book is an annual guide to the top award-winning wines, wineries and experiences in Virginia Wine Country. The annual Virginia Wine & Country Wedding Planner is an art book of elegant Virginia weddings. The brand includes the Virginia Wine & Country Shop in Ivy, Va. It is a beautiful lifestyle boutique that brings the pages of the magazines to life. Virginia Wine & Country tells the stories of Virginia wineries, the farm-to-table movement, luxury travel, entertaining, art and the elegant country lifestyle. Ivy Life & Style Media also provides branding, web design and PR services for the wine industry.
Event Summary
Title
Location
​
Montpelier

,

11407 Constitution Highway

,

Montpelier Station, VA

,

Orange County

-

22957
Starting on
Ending on
Description
Enjoy a beautiful fall day in the field. Family-friendly activities include food trucks, Jack Russell terrier races, an antique car parade, and even a stick pony race! There will be seven horse races, , a sidesaddle exhibition, a Packard car parade, shopping, tours of the Mansion, tailgating, and more. A hat contest and tailgating contest ensure that the day is full of flair.