From Memorial Day to mid-October, spectators enjoy Roseland Polo on the field of King Family Vineyards. Each weekly match draws several hundred spectators, some of whom dress up in high-society fashion and others who enjoy the matches in jeans and shorts (no dress code is required). But all who come, encircle the field in festive tailgating fashion to watch this ancient sport, enjoy their picnics, the good company of friends and family, and the excellent King Family Vineyard wines.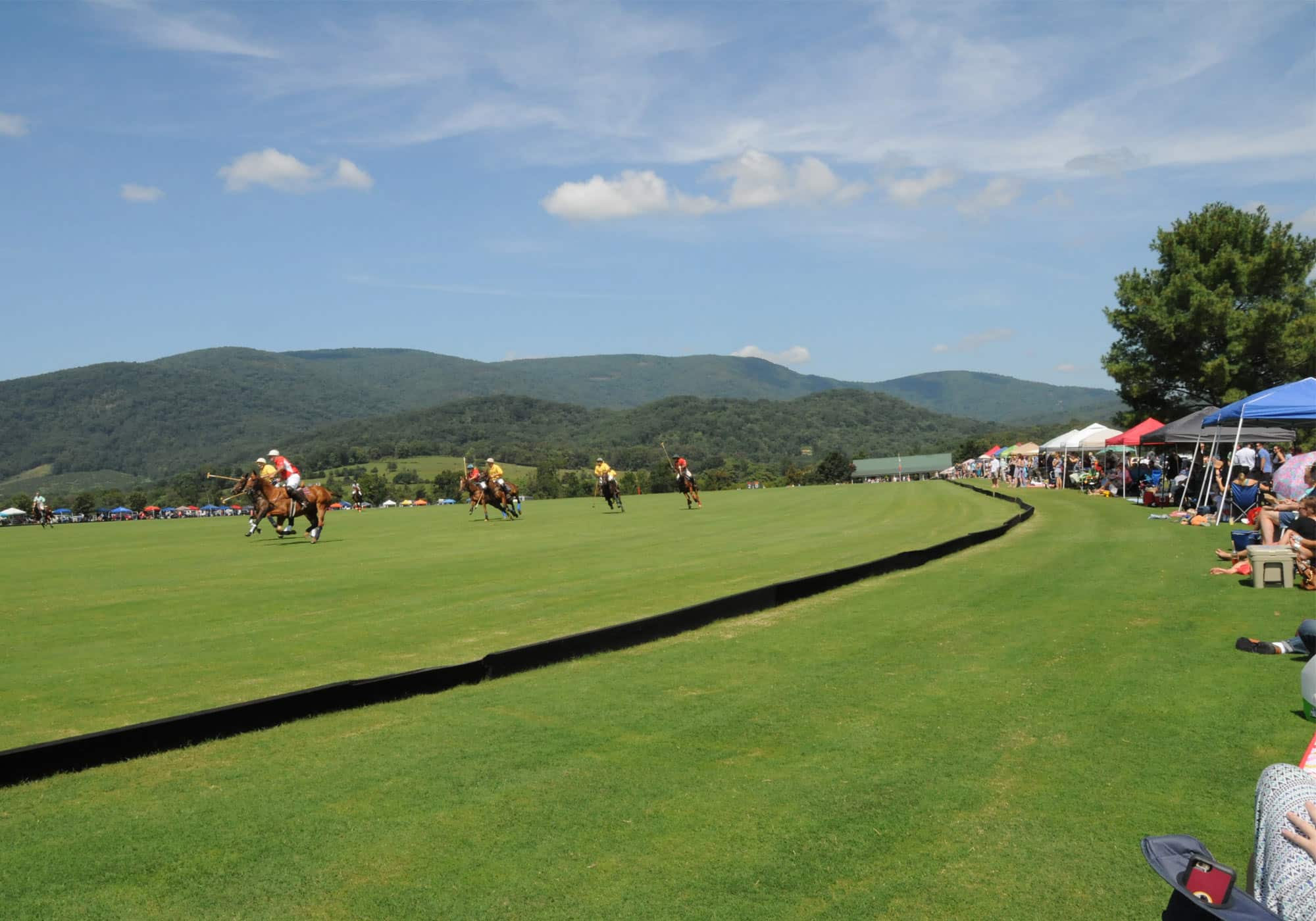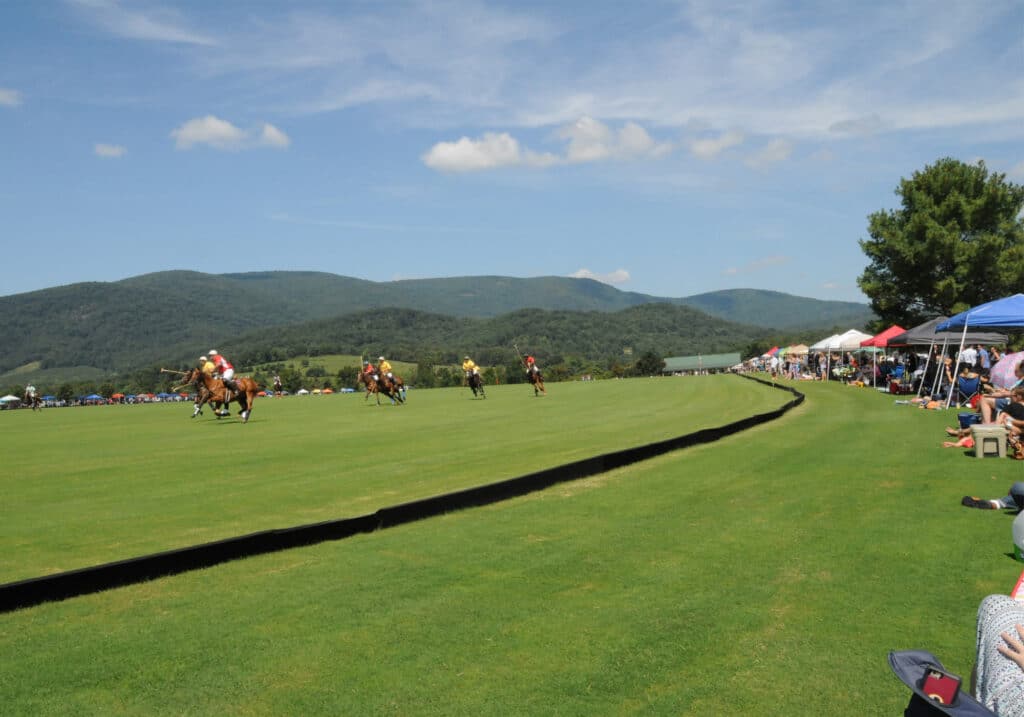 Setting Up a Beautiful Polo Picnic
The polo picnic is the summertime equivalent of the steeplechase tailgate, a meal that can be simple yet have great style and sophistication. When the gates open at 10am on match day, you'll have plenty of time to pick the perfect viewing spot—field and weather conditions permitting. When choosing a spot to picnic, and park, make sure to keep your distance from the field for your safety, but there is plenty of spacious, and shaded seating for everyone. Chairs and blankets are encouraged, and shady popup tents are allowed around the field (but not the Tasting Room lawn).
Be sure to remember the basics like a tablecloth, hamper, and chairs. Add some comfort for guests with cushions, and ice water. Decorate the tableau with fresh seasonal flowers and a wooden, yet practical, serving board. Get formal and bring out your china, vintage silver and sparkling glassware or opt for pretty and practical melamine that is unbreakable.
Here we chose our favorite picnic hamper full of chic Caspari paperware, pillows, a matching blanket, like this water resistant blanket tote, and some trays for balancing glassware. This Avignon Picnic Tote is a great place to start and includes a set of full cutlery, plates and wine glasses for two. We found that German-made glass Weck jars are the perfect fit for storing and serving salads, mixed olives and even iced tea. Serve your cuisine on rustic live edge cutting boards with this wooden handled sequoia spreader set.
Local Foods for a Day at Polo in Charlottesville
If you're preparing food for a larger gathering, or even just a couple for a day at a polo match, finger foods and easy summertime foods like charcuterie, fruits, crusty bread, marinated vegetables and salads will be sure to please picnickers during the warm days. 
We began by stopping at some local Charlottesville grocers and artisans for our picnic fare. Our favorite cheese is the amazing Gouda made with love by the nuns of Our Lady of the Angels Monastery located only a few miles away from Charlottesville.
With plenty of gourmet markets dotting the way along Route 250 (the road running from Charlottesville directly by King Family Vineyard), it should be no trouble to pick up food for a polo outing. Our sandwiches, made with freshly baked French bread, came from the always-popular Bellair Market. From Greenwood Grocery, we chose locally grown heirloom cherry tomatoes and cheeses to snack on.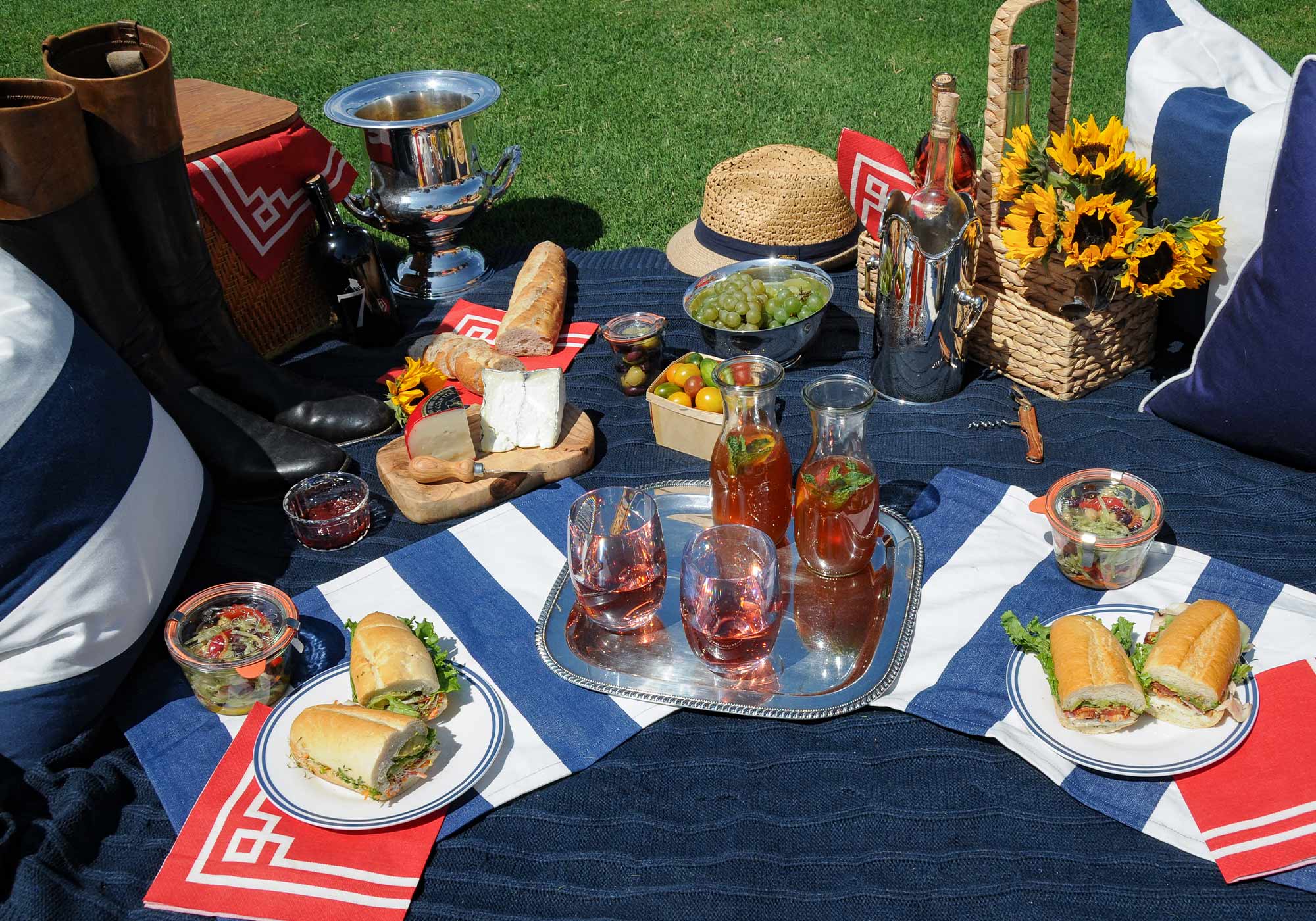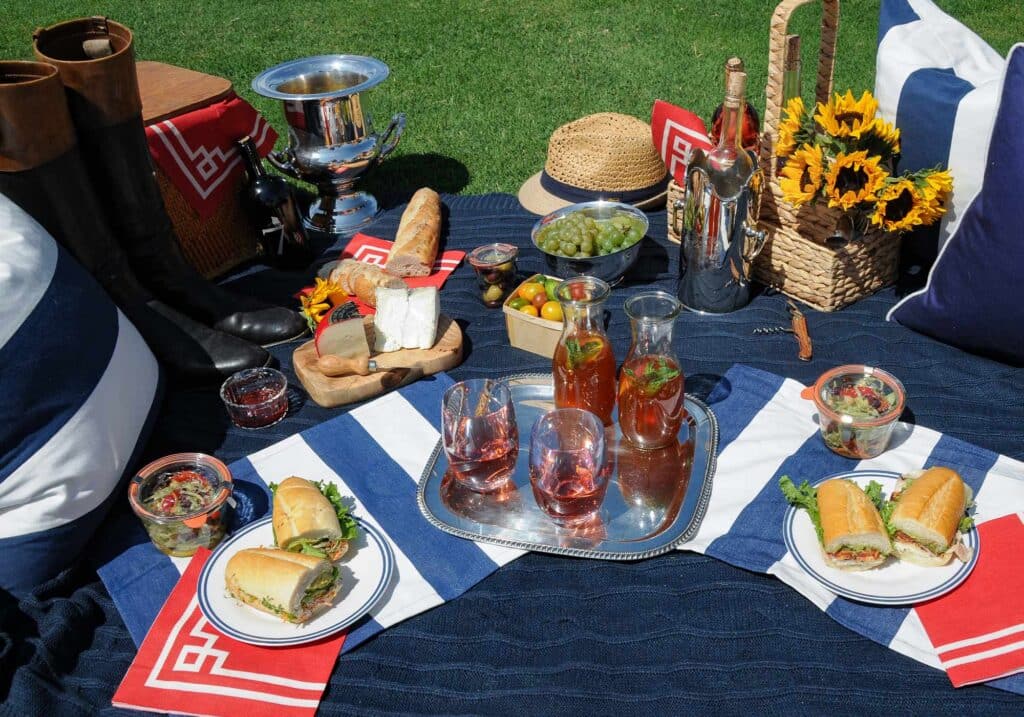 Also on Route 250, you can stop by Ivy Provisions to pick up a salad, sandwich, dips or sides. Try the deli at Foods of All Nations for a variety of sandwiches and burgers made fresh to order.
Along these stops you can also procure all the ingredients for some of the best traditional tailgate foods. Some of our favorites include a seasonal salad like our Italian Caprese Salad Recipe—perfect when paired with your favorite Virginia wine. If you're a biscuit fan, try our Virginia Ham Biscuit Recipe, sure to add some southern flair to your tailgate spread.
The closest town to King Family Vineyard is Crozet, where a 5 minute drive will take you to a variety of local restaurants to grab a bite from. Pick up a sandwich from Whistle Stop Grill, wings from Fardowners Resaurant, or a family package of slow smoked barbeque from Smoked Kitchen and Tap.
Great Picnic Desserts in Charlottesville
As far as summer desserts go, pies are incomparable. For our dessert, we stopped in at Chiles Orchard just down the road from King Family Vineyards (also in Crozet and just a 5 minute drive from the vineyard) and picked up their to-die-for peach pie made with freshly picked peaches.
For another great local pie option, stop by The Pie Chest, located at the heart of downtown Charlottesville. The beginning of polo season coincides perfectly with strawberry season, and a fresh strawberry rhubarb pie is hard to beat on a warm summer day.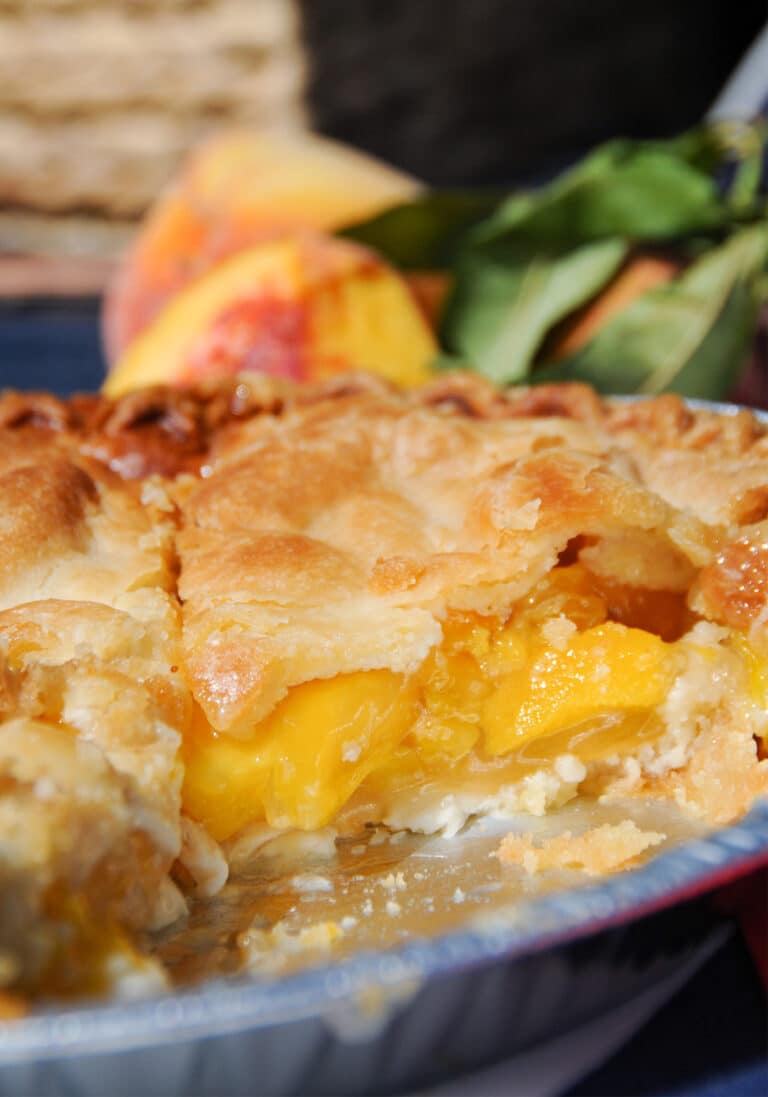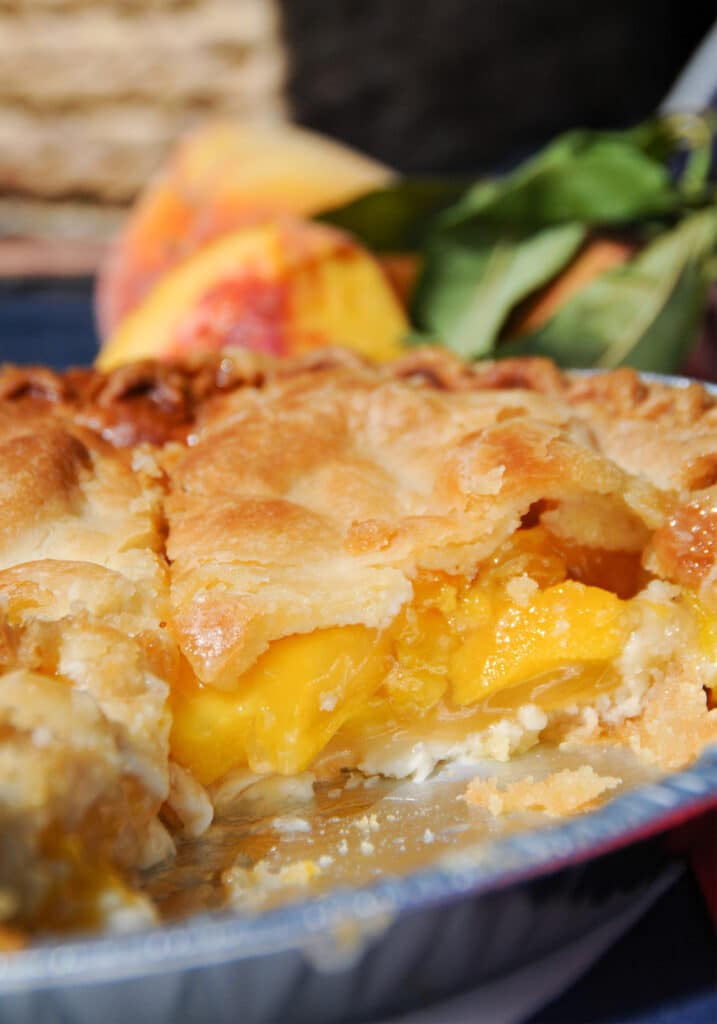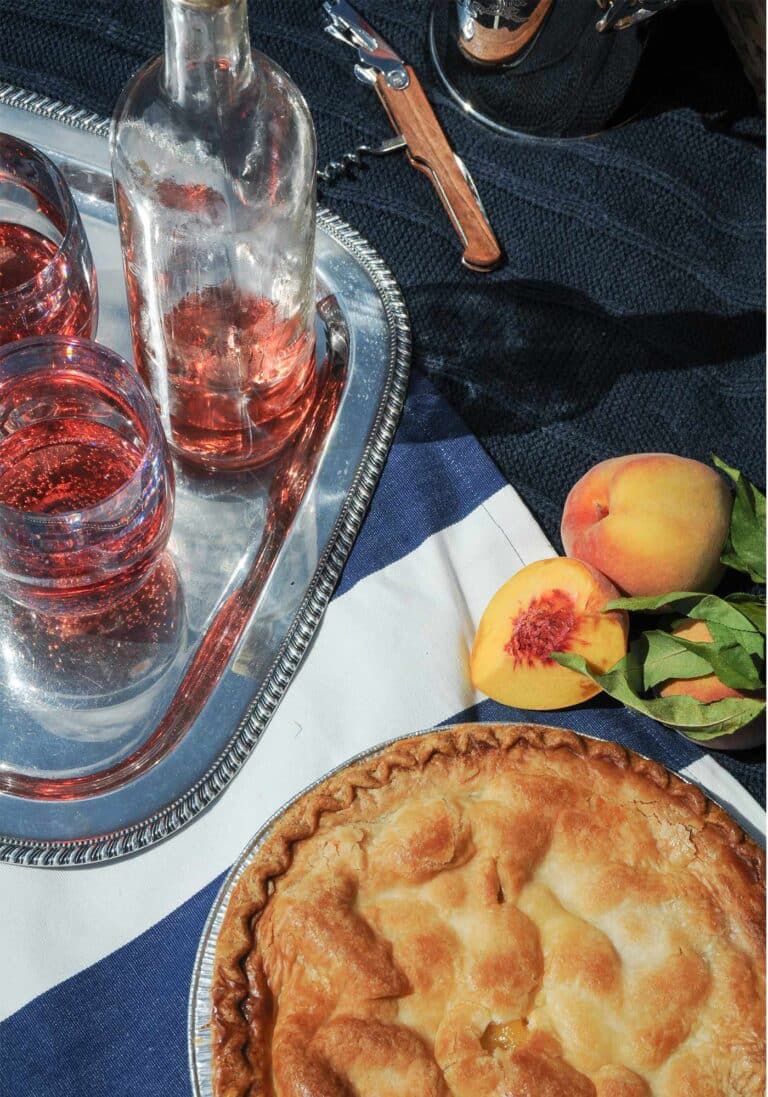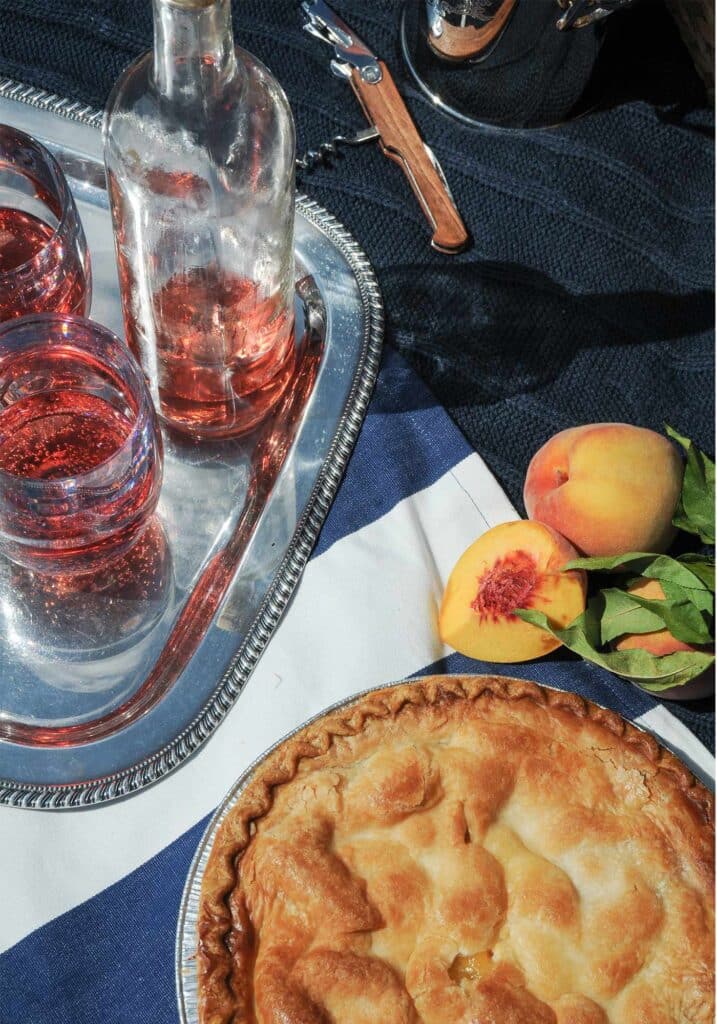 One of our favorite staples of the Charlottesville dessert scene is Gearharts Fine Chocolate. Stop by their cafe, a mere minute from the Charlottesville downtown mall, for freshly baked brownies and chocolate chip cookies. Or if you're looking for something less traditional, pick up an assortment of their delectable fine chocolates and prepare an elegant chocolate and wine pairing with King Family Vineyard wines.
Rules of the Game
To appreciate polo to its fullest as you enjoy a beautiful afternoon sipping vino and enjoying local nibbles, it is necessary to know the fundamentals of the game. Most of the rules of polo are for the safety of the polo players and their ponies. The basic concept is the line of the ball which creates a right-of-way established by the path of the traveling ball. Much like the yellow lines on a two-lane road that keep cars in their right of way, the ball creates an invisible right of way for the polo player.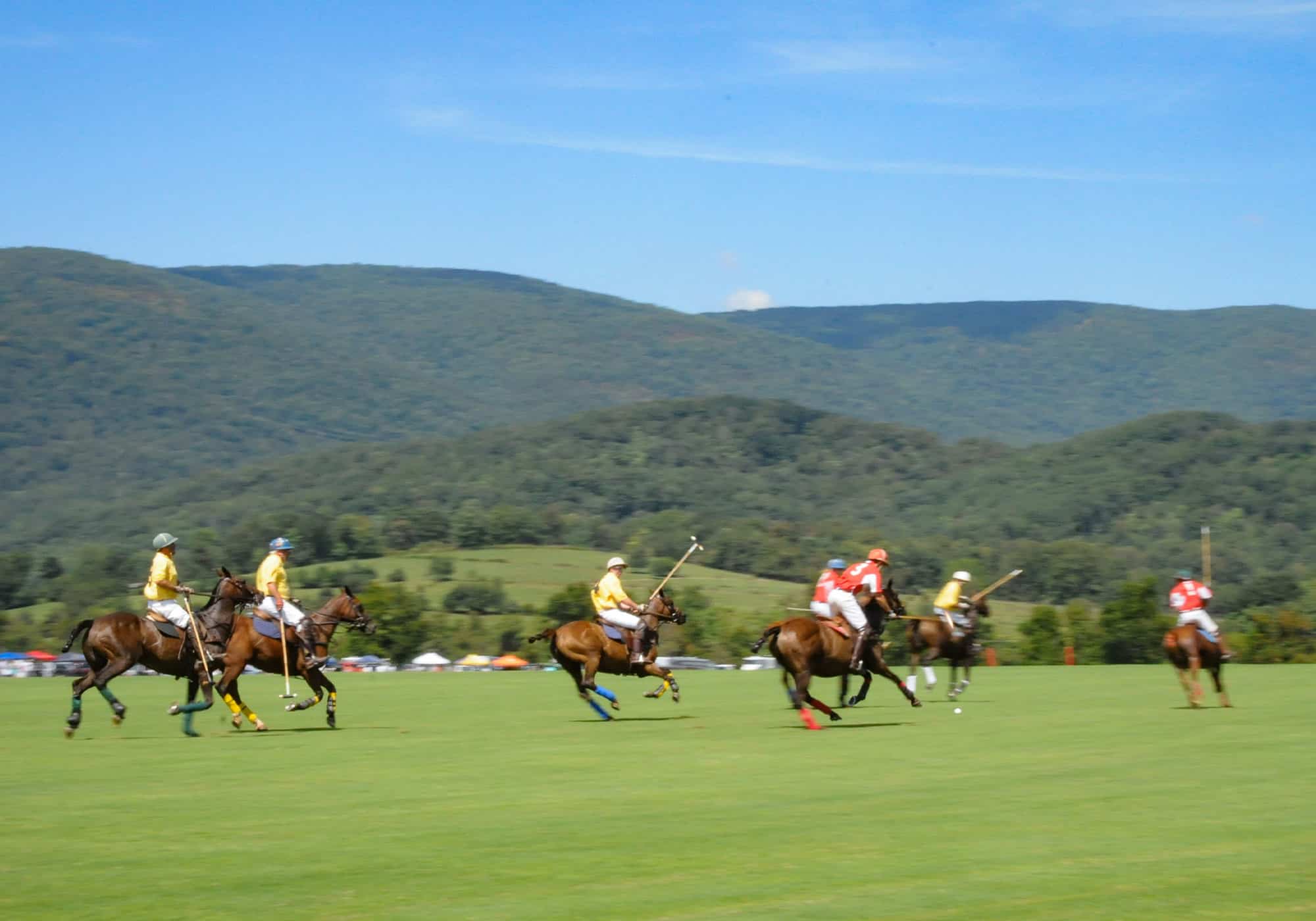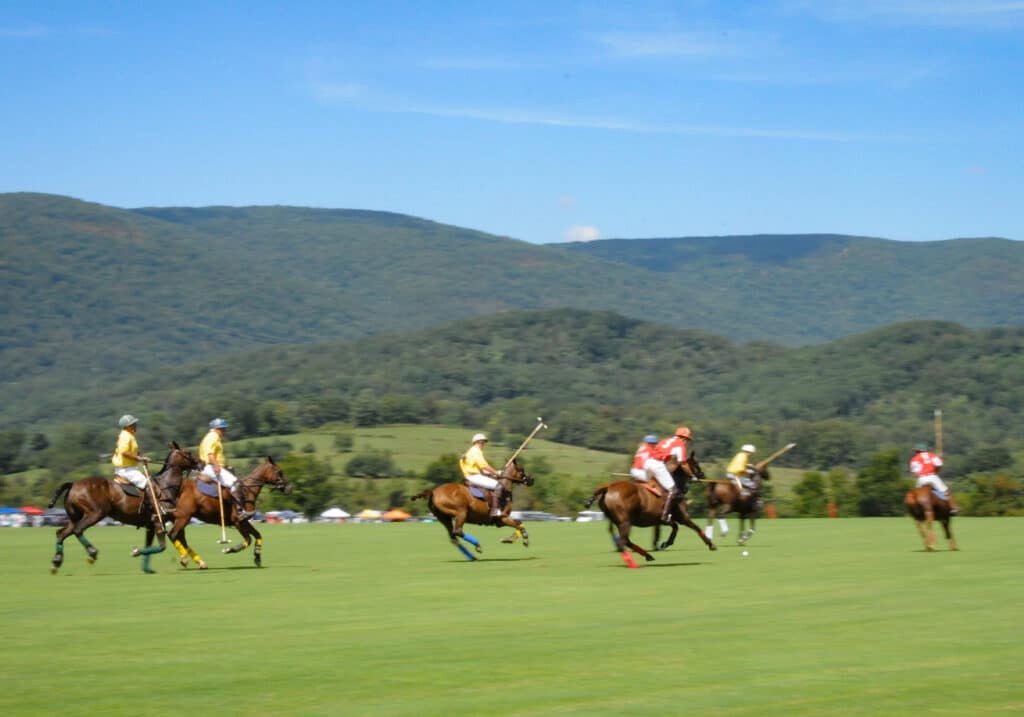 Each polo team is comprised of four players and play begins when the umpire throws the ball, or "bowls in", at the opening of the game. A polo field is traditionally 300 yards long and 200 yards wide, although this may be just 160 yards wide if it is a boarded pitch. The goalposts have a width of 8 yards and are open at the top.
The match lasts about one and a half to two hours long and is divided into timed periods called chukkers – each chukker is 7 ½ minutes long. Matches are either four or six chukkers with a half time. Players change horses after each chukker due to the extreme demands placed on the polo pony, using 60 horses each match.
During the game, there are a few common maneuvers used to gain control of the ball. Players may "ride off" opposing players, by riding their pony alongside their opponent's and attempting to move them away from the ball or even take them out of play. Players may also "bump" opponents, which is akin to the body check in hockey. Players may also hook an opponent's stick when they are attempting to hit the ball.
Fans of polo will also want to consider a visit to Great Meadow or another home field in Northern Virginia. This is where the Virginia United Polo League plays their matches and draws such celebrities as the Argentinian Nacho Figueras onto the field.
How Polo Scoring Works
At its core, the object of the game is to move the ball down the field and hit it through the goalposts to score. Each goal is worth one point and teams change direction after each goal in order to keep play fair based on weather conditions such as wind direction and sun glare. After each goal is scored, the umpire will resume play with another "bowl in" at the center of the field.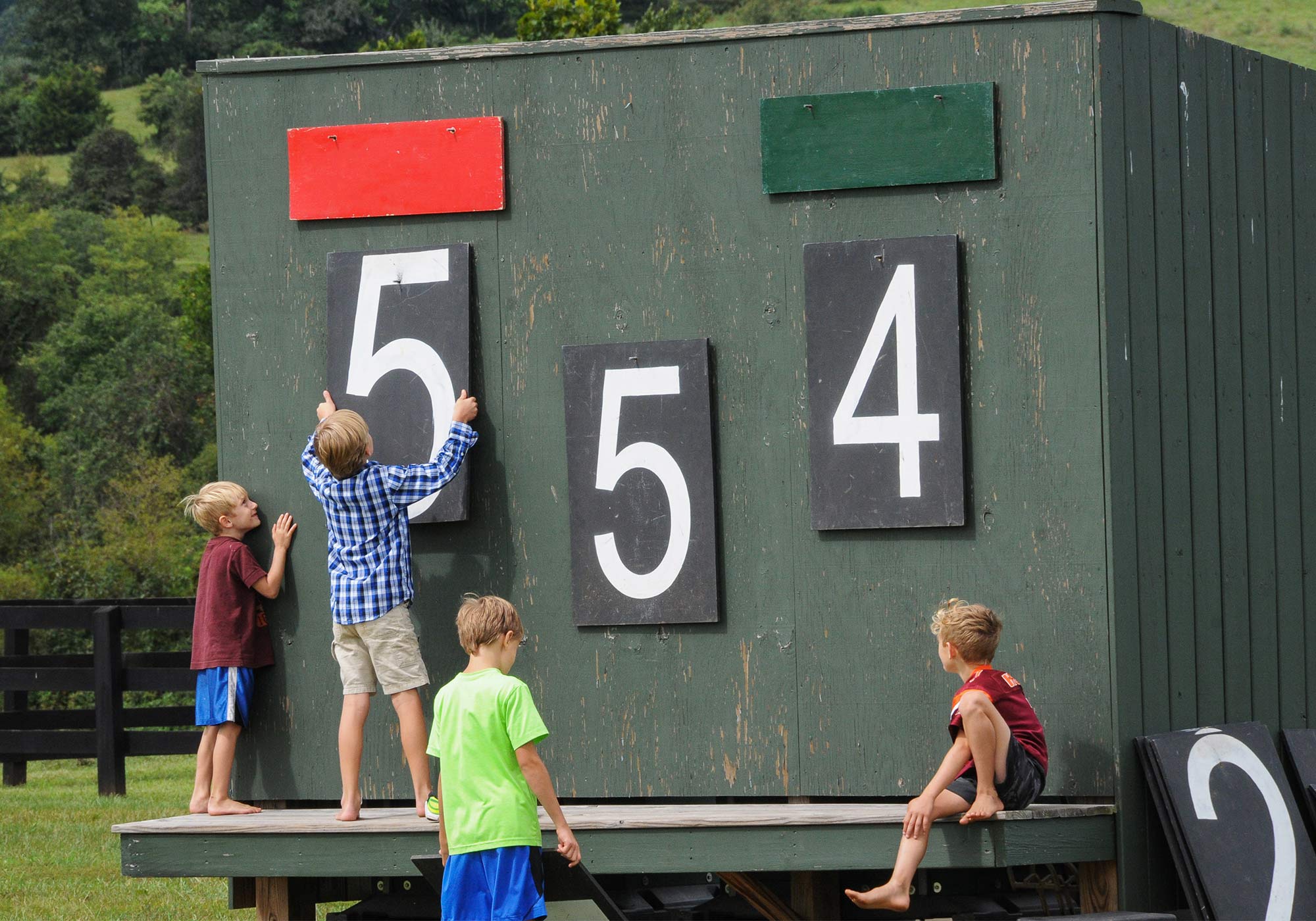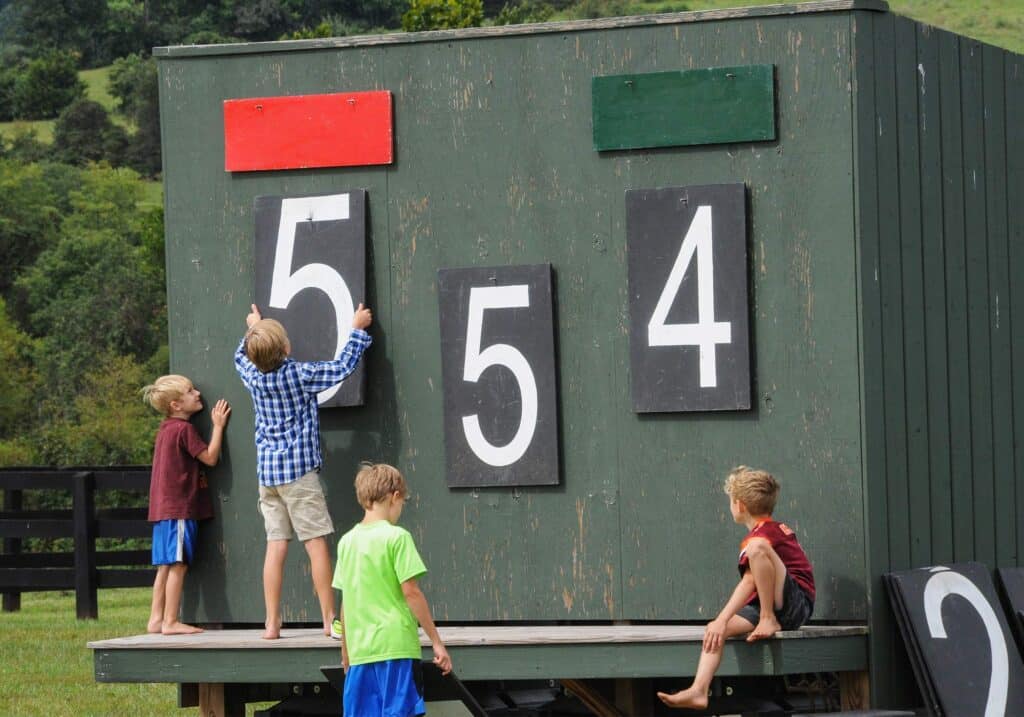 The team with the most goals wins. If there is a tie, another chukker is played and the first to score wins. Typical scores remain in high single digits or low double digits. The helpful scorekeepers here are adorable members of the third generation of Kings participating in Sunday polo at Roseland—proof that is it a game for everyone.
The Halftime Tradition
At halftime attendees are invited to take a break from their luncheon and participate in The Stomping of the Divots—a time-honored tradition in the sport of polo. The United States Polo Association describes it, "When the game breaks at halftime, spectators are invited to march onto the field to socialize and replace the mounds of earth (divots) that are torn up by the horses' hooves during the game. This serves as a great time to meet new people, move around after the first half, walk your dog, and help keep the field safe and beautiful."
This serves as a great time to meet new people, move around after the first half, walk your dog, and help keep the field safe and beautiful.
While it isn't clear who founded the tradition, divot stomping is recognized as one of the oldest and most widely continued practices of the game and is practiced world-wide. Attendees are encouraged to wear sturdy shoes and participate in this custom, as it's an efficient, and fun, way of keeping the field safe and intact for future game play.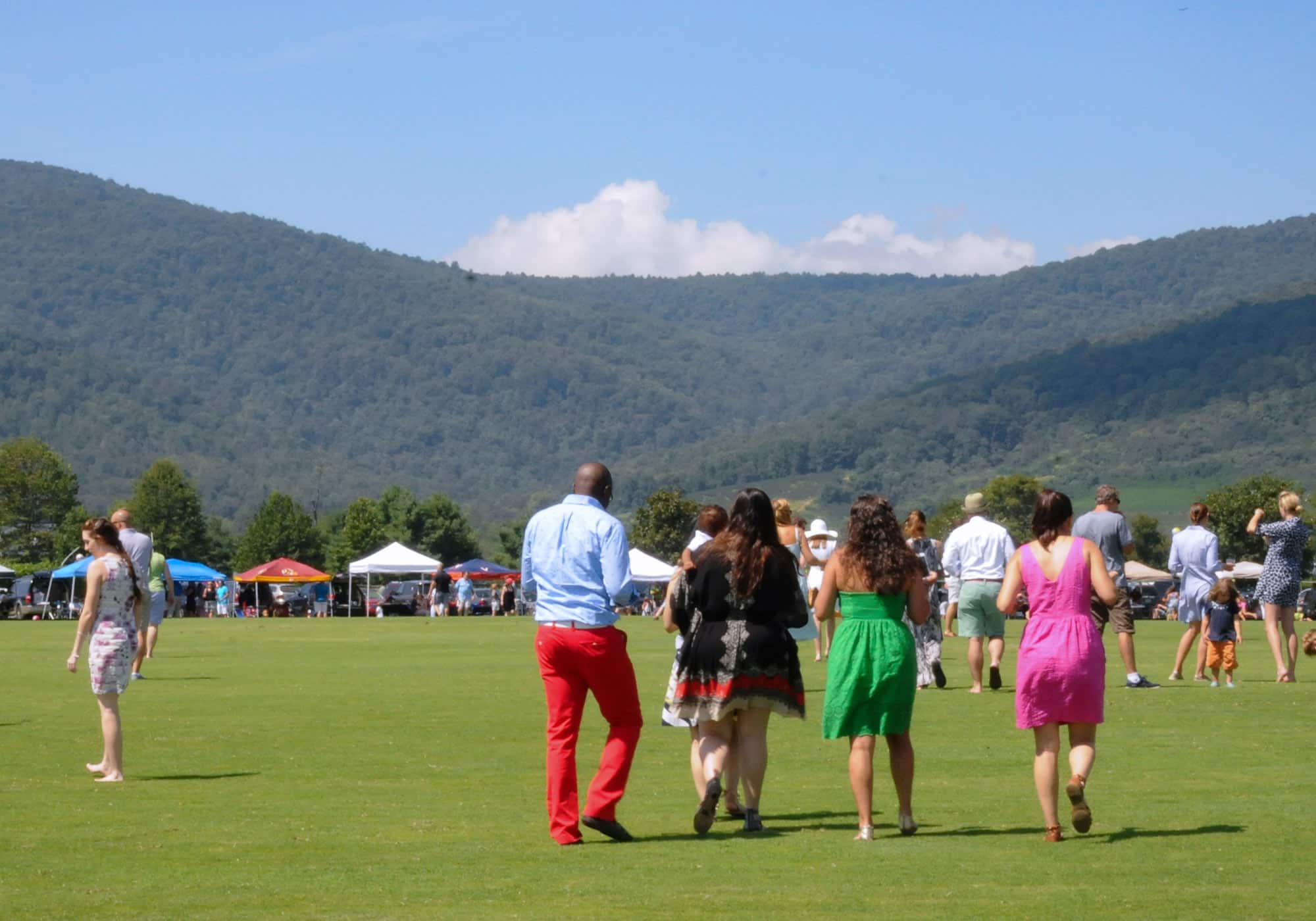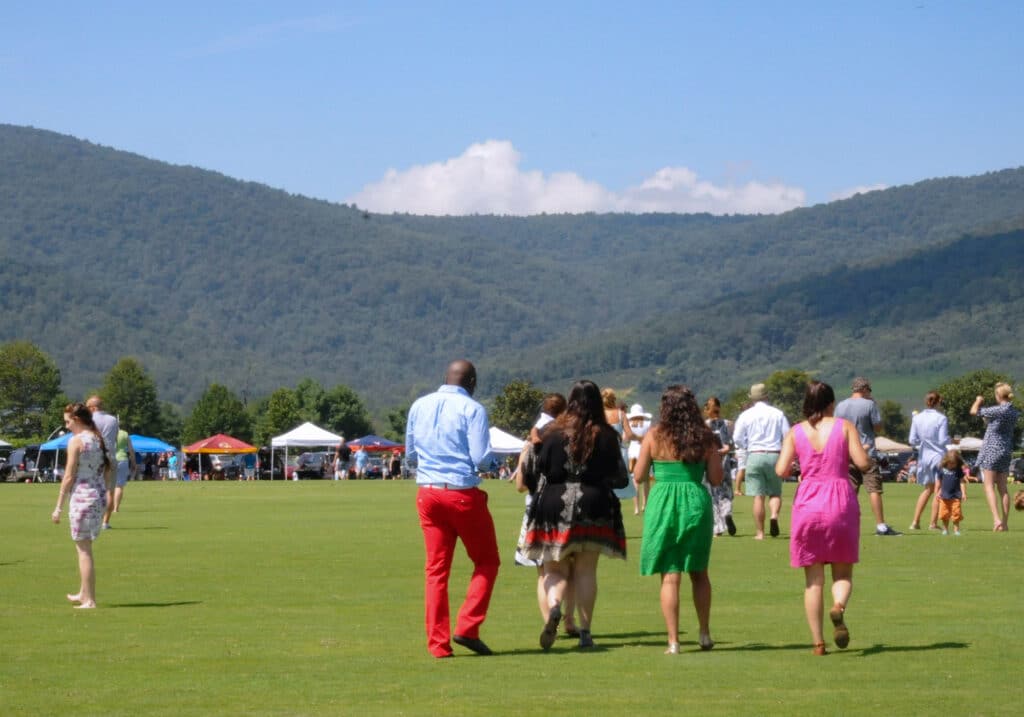 What to Wear to a Day at Polo
Don't let your picnic spread be the only stylish accessory to your day—embrace equestrian fashion for the afternoon. While not as flashy as the looks found at the races, but a bit dressier than a horse show, polo dress embodies the horse country spirit. A good rule of thumb is to start smart casual, with elements of fashion mixed with elements of practicality.
For the ladies, pastel and floral sundresses, crisp white jeans or a maxi-skirt with a summer top will keep you breezy and elegant. Looser, flowing clothes will keep you comfortable no matter the seating situation or temperature. Pair broad rimmed hats with a comfortable shoe or riding boot to exude classy comfort while protecting yourself from the sun and the unpredictable terrain (and prepare you for the half-time tradition of divot-stomping!)
For the gents, starting with a chino pant or short is a perfect beginning to a match-day ensemble. Pair a bold colored pant with a light colored button-up to reflect the summer sun's rays. And what could be more appropriate than a collared polo shirt, which are a staple among polo fans and have been connected to the sport since 1920. A loafer, boat shoe or dress sneaker will keep you comfortable all day long.
Polo Equipment
Polo Equipment is required for both riders and horses. The main pieces used in game play are the polo mallet and the polo ball. Polo mallets have heads made from wood and shafts made from flexible bamboo to allow bending when swung, and come in a variety of lengths to accommodate the size of the player's horse. The ball is likewise made of wood and is required to be 3.5 inches in diameter and weigh 4 ounces.
Along with their team jersey and traditional white polo jeans or "whites", riders are required to wear helmets for their protection. Horses wear protective bandages around their legs to shield them from ball contact, and sport braid tails to prevent interference with swinging mallets. Additionally, polo horses are ridden with double reins to enhance players' control and with gag bit to keep from pulling the horse straight back.
What Wines to Drink From King Family Vineyards at Your Polo Picnic
While ABC laws don't permit outside alcohol on the premises, guests can enjoy the refreshing wines of King Family Vineyards.
One of the most popular wines served at the polo matches is the Crosé, named after the nearby village of Crozet, but with a French spelling in homage to the winemaker Matthieu Finot who was born in the famed Crozes Hermitage wine appellation in the Rhône Valley of France. This dry Merlot-based Rosé is fresh and crisp with notes of grapefruit, lime, watermelon and a light grassiness that is perfect for this kind of festive afternoon. Available chilled from the wine cart that tours the perimeter of the seating area at the match for your convenience. 
Fans can now enjoy Crosé and Verde in cans during polo matches. The 3-packs cost and contain the same amount as one bottle of wine and can be purchased direclty from the Tasting Room.
Along with their delicious aforementioned Crosé, King Family Vineyards created an elegant wine inspired by the game of polo itself. Named for the seventh chukker in a polo match, the wine is called Seven and is produced from 100% Petit Verdot, aged for 22 months in bourbon barrels, and fortified with brandy. It has aromas of blackberry, dried fig, and crème brulee with rich notes of plum, leather, graphite, and cedar tree on the palate. A well balanced residual sweetness, acidity, alcohol, and tannin carry this wine through a long finish.
If you're looking for a variety of wines for multiple palates or planning on multiple pairings, you can always try one of their 5 exceptional VA Governor's Cup 2022 Gold winners—2019 Mountain Plains Red, 2019 Petit Verdot, 2019 Sauvignon Blanc, 2020 Chardonnay, & 2020 Viognier.
Enjoying the King Family Vineyards Tasting Room
Still can't decide on which vino to try? Head into the equestrian-themed tasting room adjacent to the field and try a wine flight to find your favorites. Browse the gift shop or relax on the stunning outdoor patio while you sip from a classic or seasonal self-guided tasting. If you want to know more about the wine or would like an expert recommendation, experience a flight hosted by a tasting room associate. No reservations are required, and the tasting room is open 7 days a week from 10am-5:30pm.
The Legacy of David King
Roseland Polo at King Family Vineyards dates back over 2 decades when it was first established in 1996 as a passion project of the late David King who had been playing since 1980 and is the founder of King Family Vineyards.
David's leadership and influence in the wine industry were significant both his local Monticello AVA wineries and further afield. In addition to serving locally to help guide the growing industry through standards, zoning hearings and more, he also served as chairman of the Virginia Wine Board. King played a prominent role at the state level and worked tirelessly as an advocate for vineyard agriculture and agritourism and with our state lawmakers in Richmond, shaping critical legislation including the Farm Winery Act and the Virginia Wholesale Distribution Company that have been instrumental to the success of Virginia winemaking. His influence will be long felt.
His impact extended beyond wine to the sport of polo. Today, the Roseland Polo Club strives to grow the sport of polo in the Charlottesville area. Fans can now take polo lessons at The Roseland Polo School, or gather at their famous Sunday polo matches throughout the summer.
Merging tailgating with the sport of polo only enriches the experience. The game of polo is a magnificent sight, one filled with finesse, strategy and athleticism. So pop open your tent, or spread out a few blankets covered with local samplings, and enjoy the match. ~
This article originally appeared in Book 6 of Wine & Country Life. Start your subscription here or give a gift subscription here.
SARAH PASTOREK SHORT, our Senior Editor, has degrees in English and journalism and a master's in HR, and her work can be seen in many of our publications.
R. L. JOHNSON is our co-publisher and creative director, Robin Johnson Bethke, who began her career as a professional photographer in Los Angeles before moving into graphic design and art direction when she relocated to Charlottesville in 1994. As our company's co-founder and visionary, she enjoys all aspects of the publishing process from story conception to graphic design to photography. Her work is often seen in many of our publications.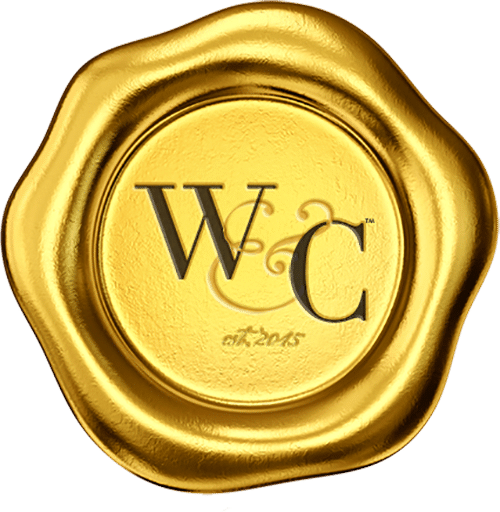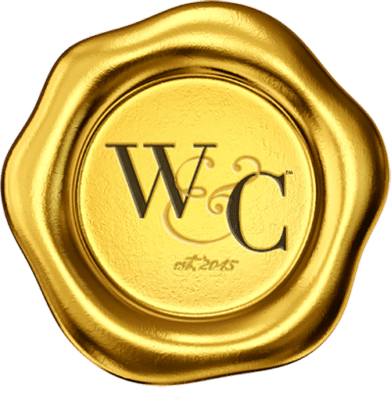 Virginia Wine & Country celebrates elevated living in Virginia Wine Country. Virginia Wine & Country Life is a semi-annual luxury print magazine with a full digital presence. The Virginia Wine & Country Gold Book is an annual guide to the top award-winning wines, wineries and experiences in Virginia Wine Country. The annual Virginia Wine & Country Wedding Planner is an art book of elegant Virginia weddings. The brand includes the Virginia Wine & Country Shop in Ivy, Va. It is a beautiful lifestyle boutique that brings the pages of the magazines to life. Virginia Wine & Country tells the stories of Virginia wineries, the farm-to-table movement, luxury travel, entertaining, art and the elegant country lifestyle. Ivy Life & Style Media also provides branding, web design and PR services for the wine industry.