Looking for a light and fresh side dish that will ignite your guests' taste buds this summer? Try this sweet and savory, versatile watermelon salad that is refreshing to your palate and pairs well with any menu. Using seasonal produce and exciting ingredients makes this recipe easy, convenient and delicious for everyone. Virginia farm-to-table ingredients are a sure-fire way to elevate this classic Watermelon Salad Recipe.
This was one of the signature dishes prepared at The 2022 Family Reunion at Salamander Resort & Spa by Market Salamander's Executive Chef Pete Smith in coordination with resort owner Sheila C. Johnson. Ms. Johnson (seen below right) is the owner of Salamander Hotels & Resorts and the first Black woman to gain a net worth of over a billion dollars. Johnson has achieved great success in her career as an entrepreneur, philanthropist and sports-entertainment professional. Following these achievements, Johnson moved into the field of hospitality. The Salamander Inn & Spa is the first Forbes-Five Star destination resort in the DC area and Johnson is the only African-American woman to wholly own a Five-Star resort in the country.
How to Pick the Perfect Watermelon
When it comes to watermelon, we all love when the fruit is sweet, juicy and refreshing. The key to selecting the perfect watermelon is to look for the signs that show the watermelon has ripened completely.
Look For:
A round-shaped melon,
A strong and consistent stripe pattern,
A deeply rich green color with light yellow throughout the fruit,
Lots of color variation on the melon,
A pale yellow large spot at the bottom of the melon, and
A stem that is a mix between yellow and brown.
Listen For:
A deep hollow sound when knocking.
Feel For:
A decent weight when you lift the watermelon (it should be heavy),
A little bit of give to the melon when you squeeze it lightly, and
Spots and texture around the melon.
Using seasonal produce and exciting ingredients makes this recipe easy, convenient and delicious for everyone.
What to Look for When Buying Feta
With so many options to choose from, it can be difficult to know what to look for when selecting feta cheese. There are a few key qualities that will ensure you are selecting cheese with the best quality and freshness.
First, good feta cheese will have simple ingredients on the label. You want to look for sheep's milk, rennet and salt, and generally avoid any additional ingredients like cow's milk, as it may develop a sour and unpleasant aftertaste.
It's also recommended to buy feta that says "made in Greece" to ensure the authenticity of the cheese. Finally, the best quality feta will be in whole blocks and preserved in a brine. This brine helps the cheese retain its moisture and keeps the feta fresh.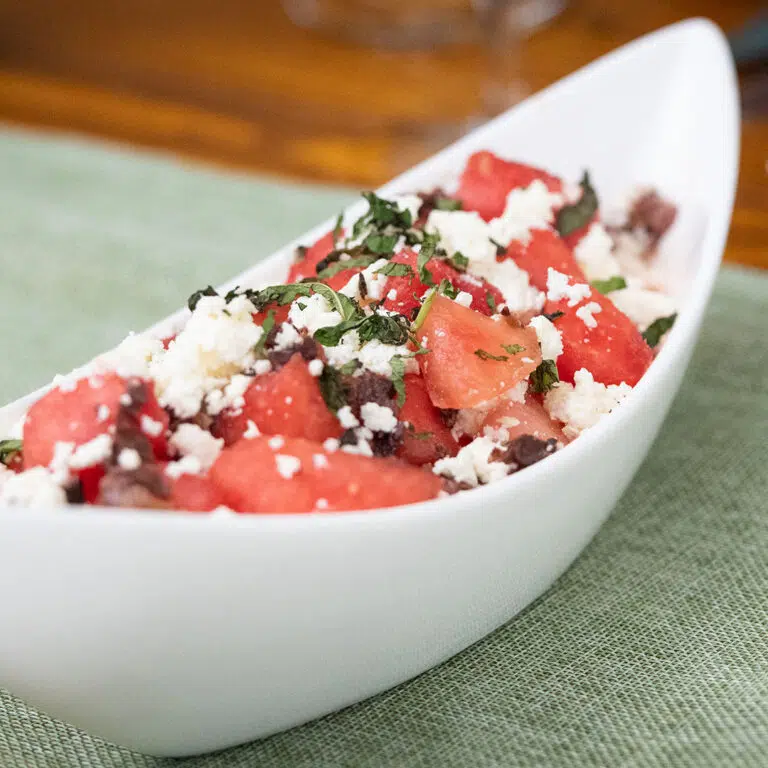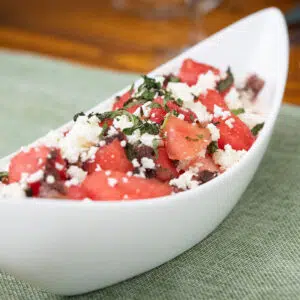 Watermelon Salad
Watermelon summer salad with vanilla, kalamata olives and feta cheese.
Ingredients
1

Local Watermelon

1

Tbsp

Vanilla Extract

¼

Cup

Sugar

½

Cup

Kalamata Olives

¼

Cup

Feta Cheese

10

sprigs

Mint

chiffonade

1

small Red Onion

thinly sliced
Instructions
Mix sugar and vanilla extract in a medium mixing bowl until evenly distributed.

1 Tbsp Vanilla Extract,

¼ Cup Sugar

Peel and dice watermelon and place into a large mixing bowl. Add vanilla and sugar mixture and gently toss with your hands untIl lightly coated. Let sit in refrigerator for at least 30 minutes or as long as possible, overnight is best.

Plate in your desired bowl and garnish with sliced Kalamata olives, mint, red onion, and feta cheese.

½ Cup Kalamata Olives,

¼ Cup Feta Cheese,

10 sprigs Mint,

1 small Red Onion
Pairing Suggestions
If you're searching for additional hors d'oeuvres or wine to pair with this Watermelon and Feta Salad with Watercress, try either a locally-made Rosé (dry) or a Sauvignon Blanc. The flavors of these two types of wine both complement the herbs of the recipe.
With a quick and simple dressing and fresh ingredients from a Virginia farmers market, this recipe is healthy, delicious and doesn't require too much time in the kitchen. Enjoy it by itself or paired served alongside other summer dishes at a dinner party, polo picnic or potluck. For more summer recipes, see the other two farm-to-table dishes in our 3 Summer Salad Recipes series, and for other local recipes, see our Food & Drink page. ~
NADIRAH MUHAMMAD is dedicated to exploring the world through writing and adding eloquence to everyday life.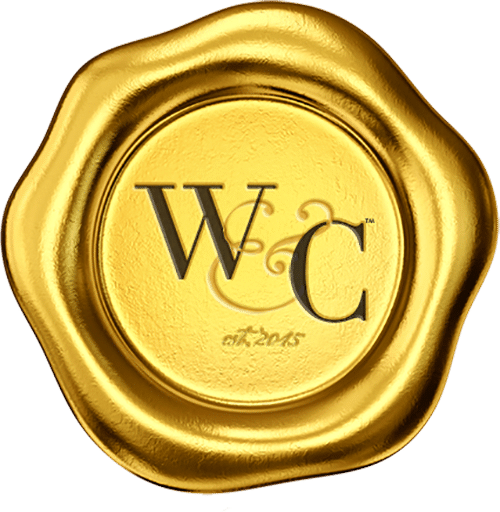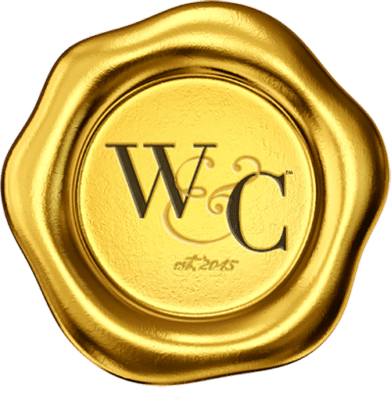 Virginia Wine & Country celebrates elevated living in Virginia Wine Country. Virginia Wine & Country Life is a semi-annual luxury print magazine with a full digital presence. The Virginia Wine & Country Gold Book is an annual guide to the top award-winning wines, wineries and experiences in Virginia Wine Country. The annual Virginia Wine & Country Wedding Planner is an art book of elegant Virginia weddings. The brand includes the Virginia Wine & Country Shop in Ivy, Va. It is a beautiful lifestyle boutique that brings the pages of the magazines to life. Virginia Wine & Country tells the stories of Virginia wineries, the farm-to-table movement, luxury travel, entertaining, art and the elegant country lifestyle. Ivy Life & Style Media also provides branding, web design and PR services for the wine industry.