The Kwame Onwuachi Family Reunion returned August 18-21, 2022 to Salamander Resort & Spa in Middleburg, VA, an ideal location for large corporate events and meetings. It brought four days of sumptuous meals, celebrity chef led cooking demonstrations, wine tastings, fascinating panel discussions and more to Virginia Wine Country. Praised for its energy, last year's inaugural event set a high standard. Chef Kwame Onwuachi (seen below) presented the event in collaboration with FOOD & WINE and Sheila Johnson's Salamander Hotels & Resorts. The result was another resounding success, with 18 James Beard Award honorees, 10 popular cookbook authors and numerous televised cooking show celebrities. In addition to Onwuachi, who was a popular contestant of Bravo's Top Chef series in season 2015, several other Top Chef favorites attended including Carla Hall, Eric Adjepong, Gregory Gourdet, Tiffany Derry, Nyesha Joyce Arrington and Alexander Bernard Smalls. Over 600 guests attended the event this year, tripling last year's attendance.
Kwame Onwuachi is a James Beard Award-winning chef, restaurateur, author and actor. Among many accolades, Esquire magazine named Onwuachi "Chef of the Year" in 2019. His acclaimed autobiography published that same year, "Notes from a Young Black Chef", is being adapted into a feature film. Since then he has received many critically acclaimed successes and landed on several "best of" lists. He has also just released a new cookbook, "My America: Recipes from a Young Black Chef". In February of 2021 Onwuachi accepted a position as an executive producer for FOOD & WINE where he created The Family Reunion. Stating that the goal of the event is to honor the achievements made by Black and Brown people to the food industry, Onwuachi has received terrific support for the event.
Kwame Onwuachi and a Star-Studded Lunch
Guests at The Family Reunion received a warm welcome from Onwuachi. He introduced each dish and chef as servers carried out gorgeous platters to serve family-style at the tables. The meal was set in a large tent on the stunning grounds of the elegant Salamander Resort & Spa where long tables were beautifully set with fresh florals. Guests enjoyed wonderful dishes, wines and most of all each other.
"This event is so important to the culture, to Black people, because it is finally a place where you can be your authentic self," Onwuachi said. "You can play Future in the lobby, you can electric slide. You can listen to Dr. Jessica B. Harris talk about her origins and how she put Afro-Caribbean food and diaspora cuisine on the map."
The social impact of The Family Reunion did not end there. The event was proud to support No Kid Hungry, a charity organized by the Share our Strength group dedicated to ending childhood hunger in the United States. Onwuachi and several other hosts of the event are personal sponsors of the movement. The commitment to addressing poverty and injustice across the country, especially in communities of color, is a cause that many attendees were proud to champion.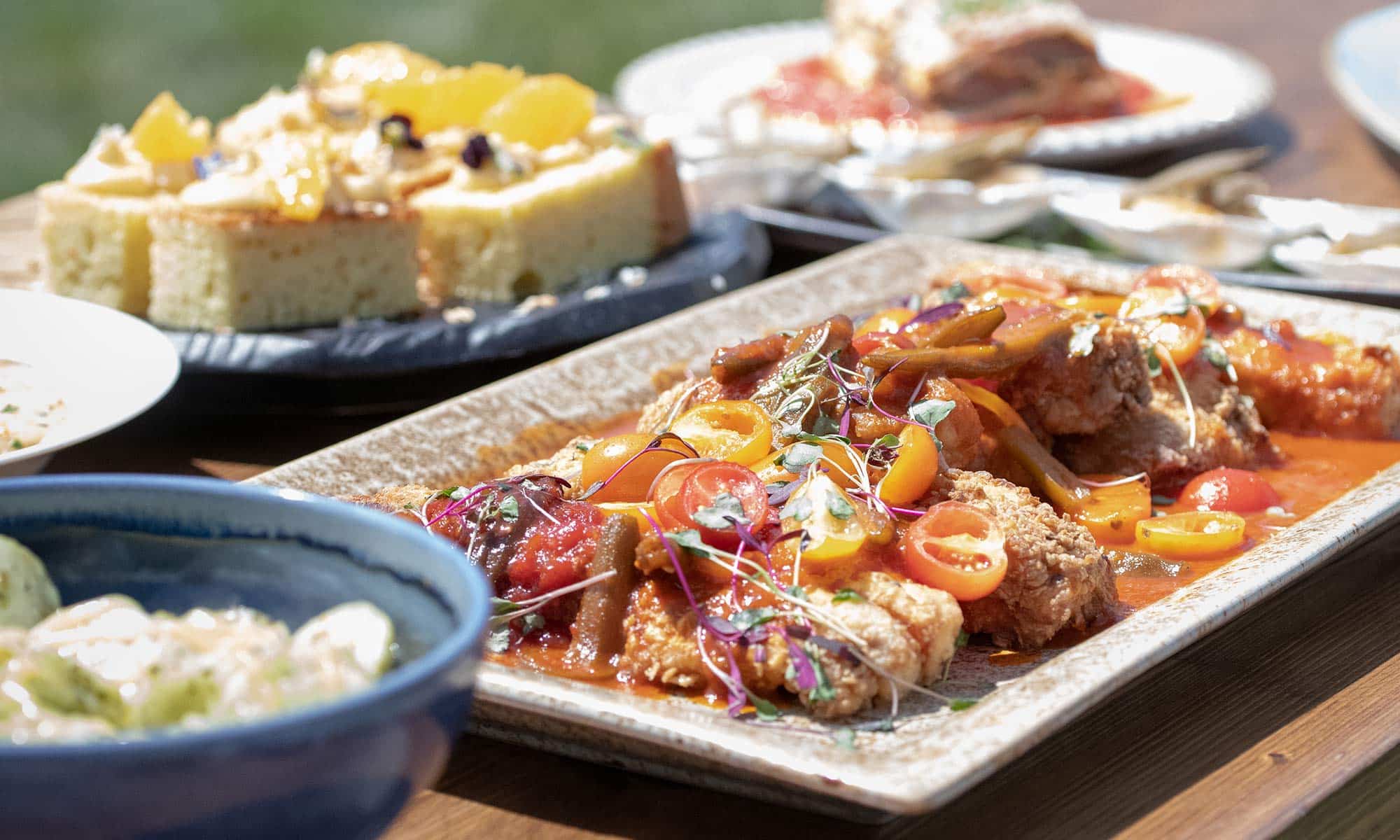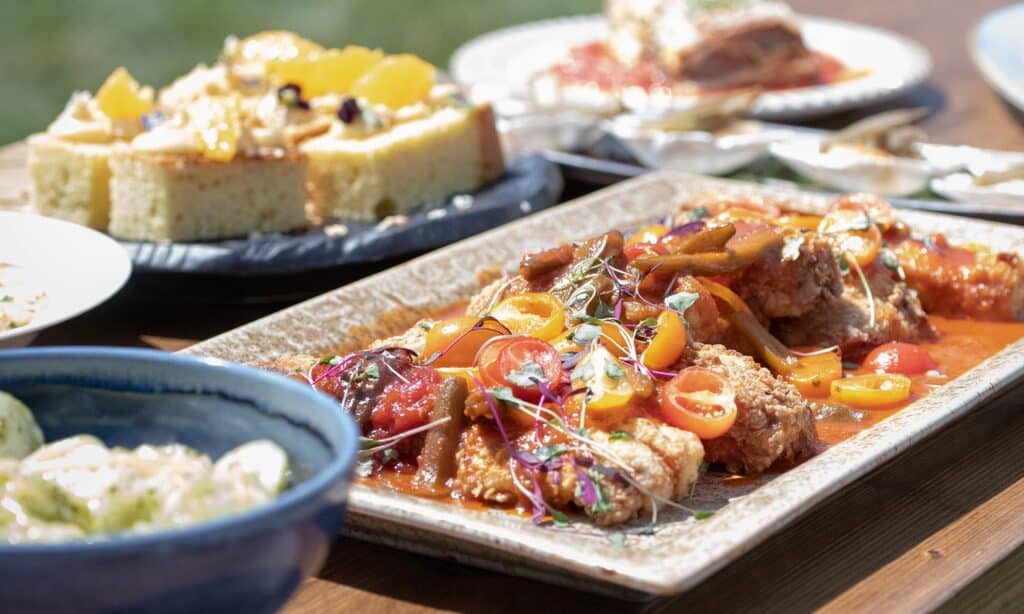 A Celebration of Food and an Impromptu Dance
Onwuachi concluded the chef introductions to enthusiastic applause from guests. He left the stage calling out, "DJ, drop that!" as he turned over the mic to music that set the festive vibe. As he greeted people around the room, a favorite song came on and he started dancing with celebrity chef Carla Hall. The two soon inspired others and Sheila Johnson, owner of Salamander Resort & Spa, joined in (seen below). They set the perfect tone for a joyful family atmosphere and got everyone caught up in the spirit of celebration as gorgeous dishes landed on the tables.
The mission of The Family Reunion is to foster, promote and celebrate racial and ethnic diversity within the upcoming workforce of hospitality professionals. To support this goal some of the biggest names in the industry joined The Family Reunion. They shared stories about their experiences and celebrated the Black dining traditions that have influenced American cuisine.
Acclaimed Chefs Prepared A Feast
The family-style lunch on Friday afternoon showcased five different chefs. Chef Douglass Williams (seen below, top right with restaurateur Keem Hughley) was a James Beard Foundation semi-finalist for Outstanding Chef in 2022. He owns and operates three acclaimed restaurants in Boston. Chef Jonathan "Jonny" Rhodes, the Executive Chef and owner of Indigo in Houston, is a former marine. He emphasizes the cultural roots of the food he cooks. Chef Osei "Picky" Blackett grew up in the Caribbean Islands and is the owner of two West Indian restaurants in New York. He also runs a thriving events & catering business and a series of events called "The Picky Experience". Chef Claudia Martínez is the Executive Pastry Chef at Miller Union and Atlanta-based pop-up cafe Café Claudia. She partners with local BIPOC chefs and social justice organizations.
Attendees served themselves, passing beautifully prepared dishes, plates and platters around the table. Chef Nyesha Arrington (below, bottom left) took the opportunity to relax and enjoy the food as she looked forward to cooking for and hosting the lunch the next day. There was much anticipation for her slow-cooked short ribs with collard green gremolata and brown butter sweet potato grits.
---
Top left: Chef Pete Smith's Stuffed Maine Scallops with Pimento Cheese Risotto and Pickled Okra. Bottom right: Chef "Picky" Blackett's Trinbagonian-Style Cassava Oil Down with Coconut Sauce and Fresh Herbs.
---
Inspiring the Next Generation of Hospitality Professionals
Sheila Johnson (seen below left) is the owner of Salamander Hotels & Resorts and the first Black woman to gain a net worth of over a billion dollars. Johnson has achieved great success in her career as an entrepreneur, philanthropist and sports-entertainment professional. Following these achievements, Johnson moved into the field of hospitality. The Salamander Inn & Spa is the first Forbes-Five Star destination resort in the DC area and Johnson is the only African-American woman to wholly own a Five-Star resort in the country. This made the Resort an ideal partner for The Family Reunion. The Resort offers guests sumptuous accommodations, dining and a vast selection of luxury experiences in Virginia's Wine Country. These include an award-winning spa, wine country bike tours, equestrian programs and more.
"This event is so important to the culture, to Black people, because it is finally a place where you can be your authentic self."

– Kwame Onwuachi



Virginia Ali (seen below right) was born in 1933 and grew up in segregated Virginia. She opened the restaurant called Ben's Chili Bowl in the 1950's with her late husband, Ben Ali, who grew up in Trinidad. Ben's Chili Bowl is still dishing up generous meals in Washington DC nearly 65 years later under their children's management. Ben's Chili Bowl has achieved landmark status and serves not only locals but also famous guests from Anthony Bourdain to Barack Obama. The restaurant was a hub and sanctuary for prominent members of the Civil Rights Movement in the 1960s. Ali (affectionately known as "Mom" to both her children and neighborhood locals) is active in charity work yet is still found at the restaurant most days. She founded Ben's Chili Bowl Foundation in 2010 with the mission to support the neighborhoods where they live. In 2021, Ali was honored with The Family Reunion Lifetime Achievement Award for her contributions and leadership. 
Ali turns 89 this year and attributes her health to how she grew up. "We walked to school and the food came from the garden to the table," she told us. "We used to make ice cream. When the strawberries were in season, peaches were in season, we made ice cream every day." She smiled at the memory. "A big old churn and you put the ice in and turn it and turn it…so wonderful."
Onwuachi spoke about how even sitting with Ali affected him. "The thing that I learn from people like her is to keep going," he said. "Just don't stop. The people that are successful are the people that didn't give up."
"Keep going. Just don't stop. The people that are successful are the people who didn't give up." -Kwame Onwuachi
Attending the lunch was the amazing and multitalented Alexander Bernard Smalls (below, top left). On Saturday evening, Onwuachi and Ms. Johnson awarded him a well-deserved Lifetime Achievement Award. Smalls is a James Beard Award winner and recurring host on Bravo's Top Chef. He is a Tony- and Grammy-winning opera singer and an accomplished chef, restaurateur and author. He co-owns The Cecil, NYC's first Afro-Asian American restaurant, along with several other acclaimed restaurants. He has cooked for the James Beard House and appeared in the Zagat guide as one of the "Top Restaurant Powers You Need to Know."
Market Salamander's Executive Chef Pete Smith (seen above, bottom right) made a marinated watermelon salad with kalamata olives, feta cheese and mint (above, bottom left). A graduate of the Southeast Institute of Culinary Arts, at age 22 Smith became the Chef de Cuisine at Medure in Ponte Verde Beach, Florida. This made him the youngest African-American chef to run a Forbes Four-Star, AAA Four Diamond restaurant. Chef Williams provided smoked short rib lasagna stuffed with ricotta, basil and Parmigiano Reggiano (seen above, top right) alongside golden fried polenta with shaved cheddar, roasted stone fruit, local honey and cracked pepper. The McBride Sisters and their wines were in evidence throughout the weekend as well. The official wine of the event was McBride Sisters Sauvignon Blanc (below, top left).
Chef Carla Hall (below, top right) seemed to be everywhere at once, laughing with friends, enjoying the food and embodying the joy of the occasion with her infectious smile. Hall has appeared on both Bravo's Top Chef and Top Chef: All Stars, where she won over audiences with her charm and incredible cooking skills. She has been featured as a host and judge on several televised cooking shows including 7 years with ABC's Emmy award winning, popular lifestyle series The Chew, contributor to Good Morning America and a long list of Food Network shows. She is a successful podcast host and has also authored several highly acclaimed cookbooks including her most recent, "Soul Food: Everyday and Celebration" which has landed on several "Best Cookbook" lists across the country.
Farm-to-Table and Grape-to-Glass
For his featured dish, Chef Picky passed out crispy snapper with stewed tomato and spiced okra (above, bottom right). Between bites, attendees took the opportunity to catch up with each other. They shared thoughts about the food and even snapped pictures of their favorite attending celebrities, including the brilliant actress and social activist Alfre Woodard.
Guests may have traveled the world to attend, but Virginia's farm-to-table movement was well represented. Michael Carter Jr. of The Carter Farms (below left) was in attendance (Read more about him and the African crops he grows on his farm in Orange, VA. in Book 14 of Wine & Country Life). Reggie Leonard was also there to pour wines on behalf of Charlottesville's Blenheim Vineyards owned by Dave Matthews and the Oenoverse Club, and lauded the food and programming.
For dessert, Chef Martínez served a citrus cornmeal cake (below, bottom left) with passion fruit ganache, toasted coconut and edible blooms. Maya-Camille Broussard (below, top right), author of the upcoming book "Justice of the Pies", and her new hearing service puppy-in-training were particularly interested in this, as she would be serving her own dessert at the next day's lunch event. Local Washingtonian Nina Oduro (below, top left), co-founder of Dine Diaspora, looked over her options as though she couldn't decide what to eat first.
Cuisine and Culture at The Family Reunion
The hosts packed the weekend with both thought-provoking discussions and celebrations. Family-style lunches featured multi-course meals on Saturday and Sunday, hosted by various groups of chefs. Each evening, Harriman's Bar and Grill hosted a "restaurant takeover" run by Chefs Angel Barreto, Martel Stone and Shenarri Freeman. Each chef put together a menu of their mouthwatering specialties for attendees to choose from. Throughout the day, hosts held breakout sessions of seminars and interactive culinary workshops with specialties in various fields.
Community building activities were offered on the beautiful Salamander Resort & Spa grounds during the day. Adventurous attendees could choose to go zip lining with Chef Williams or Gregory Gourdet, throw axes with Chefs Martínez or Arrington. Chefs Rhodes and Lamar Moore even offered a survival course for the most intrepid among them. Evenings ended with gorgeous signature cocktails in the sophisticated lobby bar or the elegantly tented terrace followed by dancing in the ballroom. For those too excited to sleep, Chef Smith held a quiet "afterglow" session through midnight.
At the end of the event, Saturday night culminated in an awards presentation. Congratulations went to the esteemed James Beard Award-Winning chef, restaurateur, singer and author Alexander Smalls upon being awarded the 2022 Lifetime Achievement Award for his inspiring and trailblazing contributions to the industry. This iconic chef can be enjoyed through his new cookbook where he put together both of his greatest passions―food and music―in "Meals, Music, and Muses."
Small Group Sessions at The Family Reunion
The breakout sessions ranged in topic, from cultural phenomena to culinary history. Several focused on the lives of Black and Brown people in the hospitality industry. They highlighted specific benchmarks achieved or struggles encountered in culinary careers. These were important topics that attendees could well relate to. Both the hosts and guests were unafraid of taking on these complex, and often difficult, topics in meaningful ways.
In the Library with Dr. Jessica B. Harris, Culinary Pioneer
The luxuriously appointed library at the Salamander Resort hosted afternoon breakout sessions on Friday and Saturday featuring such luminaries as Dr. Jessica B. Harris (below, top left). The food historian, award-winning author and journalist delighted listeners with her self-effacing humor. Journalist Jamila Robinson (below, bottom right with Dr. Harris) guided the thoughtful conversation with grace and skill. Robinson is the food editor of the Philadelphia Inquirer. Dr. Harris held guests enthralled by describing her own path as a pioneer in the African Diaspora movement and sharing family stories and travel tales from Paris. Among many other accomplishments, Dr. Harris is an inductee of the James Beard Cookbook Hall of Fame, has received the James Beard Lifetime Achievement Award and conceptualized the award-winning cafeteria at Smithsonian Museum of African American History and Culture in Washington D.C.
"You have such a sense of yourself," Ms. Robinson said to Dr. Harris at one point. "When did you discover who you were?"
"I'm hoping tomorrow!" Dr. Harris responded to general laughter from attendees. More seriously, she continued, "I am me. I'll be 75 and I still don't know who I am or how to hold it all together. Writing "My Soul Looks Back" helped me to figure that out."
BBQ 101 on the Lawn with Pitmaster and Author Rodney Scott
Rodney Scott (below, bottom right), Bryan Furman (below, top right) and Matt Horn tended their smokers throughout the day leading up to their BBQ 101 program. James Beard winner Rodney Scott has been cooking whole-hog barbecue since he was in middle school. Since those early days he has opened several restaurants, taking his Carolina-style barbeque across the South and written "World of BBQ: Every Day Is A Good Day: A Cookbook". Bryan Furman, named one of FOOD & WINE magazine's best new chefs, has set a high standard by using only heritage hogs for his meats and curating woods for creating his signature smoke flavors. Matt Horn brought the flavor of his Texas roots to the table with "West Coast Barbecue", a new food movement he is pioneering. Horn Barbecue is soon to launch in West Oakland as a cuisine that tells the story of the people of the great Black migration and their traditions.
The pitmasters created an incredible barbeque spread and shared their tips for delectable flavors and tender meats. The entrepreneurial chefs offered up advice for grilling and also on how to run a successful food business. Attendees, including Joanne Canady Brown (seen below) owner and head baker of the famed The Gingered Peach bakery, sampled perfectly prepared classics including slabs of ribs, pulled pork, coleslaw and beans slow cooked in cast iron. Everyone went home with a bottle of the newly-launched Bryan Furman 1432 BBQ Rub.
Wine Tasting in the Ballroom with Kwame Onwuachi and the McBride Sisters
The In Vino Veritas breakout session included a meaningful talk. Onwuachi moderated with Andréa McBride John and Robin McBride, owners of the largest Black-owned and second-largest women-owned wine company in the United States. Leaders in entrepreneurship, all three advocated for knowing your worth. The sisters shared their story. Raised continents apart, they got to know one another later in life and discovered that they grew up in similar winegrowing communities. Their shared experience and love of wine helped bring them together to forge a vision that has grown into the enormously popular McBride Sisters Wine Company. They have graced the cover of Wine Enthusiast magazine and founded the SHE CAN Professional Development Fund. SHE CAN has awarded over $3 million in scholarships, grants and technical training to 3,000 professional women in wine & spirits, hospitality and finance.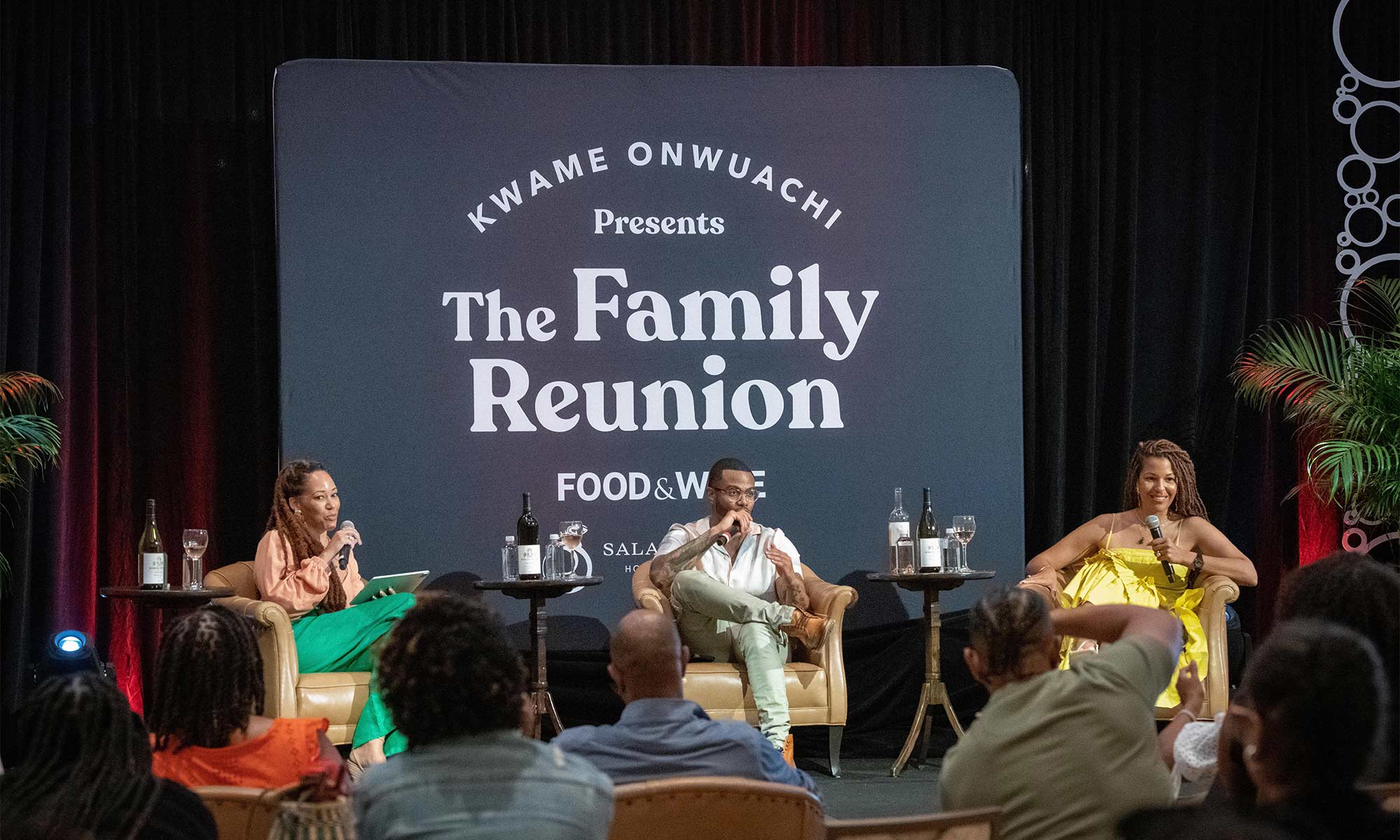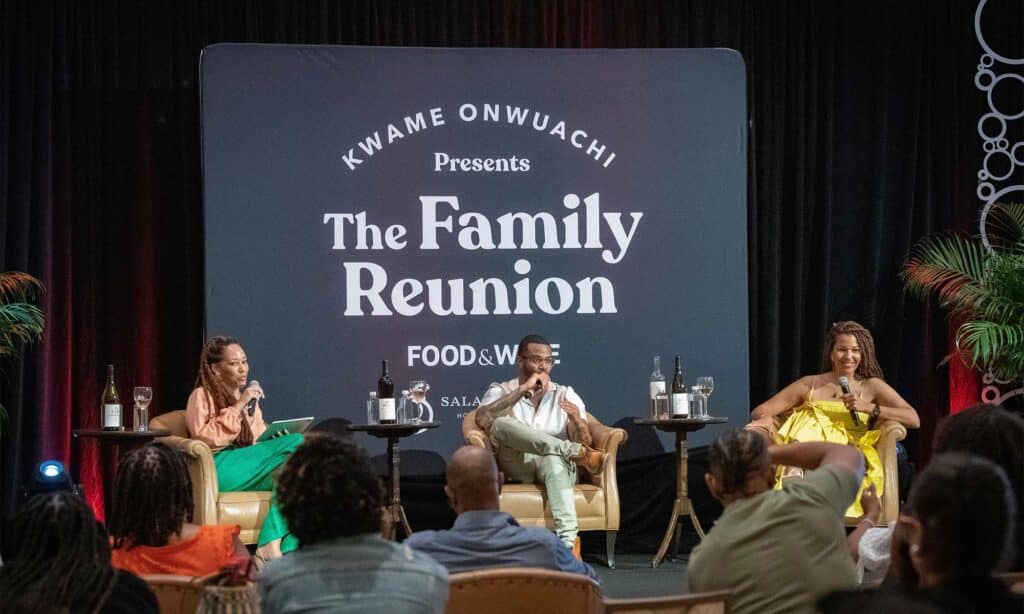 ---
From left to right: Robin McBride, Kwame Onwuachi, Andréa McBride John.
---
A tasting session followed the talk. Wines sampled included a South African wine poured by Julia Coney (below, bottom left). This award-winning journalist is also the wine consultant for American Airlines and the founder of Black Wine Professionals. Charlottesville's Reggie Leonard participated as well, pouring on behalf of Virginia Wine Country's Blenheim Vineyards and Oenoverse. Attendees mingled and compared tasting notes as music chosen to go with each wine played in the background. Nadine Brown (below, bottom right), DC-based Master Sommelier, founder of At Your Service, Virginia Governor's Cup wine judge and board member of the Veraison Project, shared what a wonderful time she was having reconnecting with friends and colleagues.
---
Bottom Left: Julia Coney and Kaitlyn Benner. Bottom Right: Nadine Brown with Wine & Country Life Co-Publisher Jennifer Bryerton.
---
Discussing African Food Traditions at the Culinary Garden
The beautiful culinary garden at The Salamander Resort hosted more sessions. Chef Eric Adjepong, a favorite on Bravo's Top Chef and just last year a full-time celebrity judge on OWN Network's The Great Soul Food Cook-off, led a talk on West African cuisine. Joining him was Zoe Adjonyoh, award winning British chef, owner of Zoe's Ghana Kitchen and author of an acclaimed cookbook of the same name. The third moderator was Pierre Thiam (below, bottom right). An executive chef based in New York City, Thiam is also the author of "Senegal: Modern Senegalese Recipes from the Source to the Bowl", a social entrepreneur and culinary ambassador. Guests dined on shrimp and couscous as Chef Thiam encouraged them to eat with their hands. "Experiencing food with all your senses, from the garden where you get the vegetables, in the kitchen, tasting, smelling, looking, touching-that is how you get the most joy from the dishes," Thiam enthused.
Chef Adjepong (below, bottom right) and Chef Adjonyoh (below, top left) laughed as they recorded Chef Thiam's talk on their phones. He spoke about the tradition of experiencing food with all the senses, including touch and eating with fingers as they do in West Africa. "After washing your hands—I see you washing your hands, great—it is important to have all your fingers together. Your fingers are for scooping," Chef Thiam instructed. West African tradition values patience when it comes to food. "You are patiently waiting for the food to come to you, you are patiently waiting to swallow your food. This is good for your health, your digestion, so you don't swallow too much." Eating with your fingers means you eat smaller amounts with each bite. It not only slows the process and gives your body time to digest and adjust but also allows you to savor every flavor and texture.
To the delight of all during the Q & A part, Chef Thiam turned over the mic to Chef Adjepong's mother. She shared how in Ghana women traditionally do the cooking, but even as a child he always wanted to be in the kitchen. "He was born one to create his own way," she said. "I am just so proud of him and all that he has accomplished. Look at him now!" At the end of her soliloquy, Chef Adjepong thanked her as guests smiled broadly. "I love you," he said, "and thank you, thank you so much."
At The Family Reunion, Come as Friends and Leave as Family
Throughout the weekend event, the spirit of family was evident and everywhere there was a feeling of celebration and togetherness. Everyone was happy to be hanging out with friends, enjoying amazing food and wine. "I enjoy coming here," Mrs. Ali said. "I meet people that I haven't met for some time. Everybody that was here last year you get to see again, that was fun. And it is relaxing."
Chef Barreto had been helping in the kitchen to prep lunch and also commented on the atmosphere. He said it was the best event he had ever participated in and he felt so honored. "Everyone is just so kind," he said. "It really does feel like a family reunion."
"My hope for the future of The Family Reunion is that it passes me and it goes on long after I am long gone," Chef Onwuachi concluded. "It is something that people can look forward to every single year, coming to The Family Reunion to celebrate their culture."
Virginia Wine Country was the perfect setting to host such a distinguished group of food and wine professionals and Wine & Country Life was honored to attend. For more information on The Family Reunion 2023 please visit our Wine & Country Life calendar, the Salamander Hotel's Family Reunion website or FOOD&WINE.com.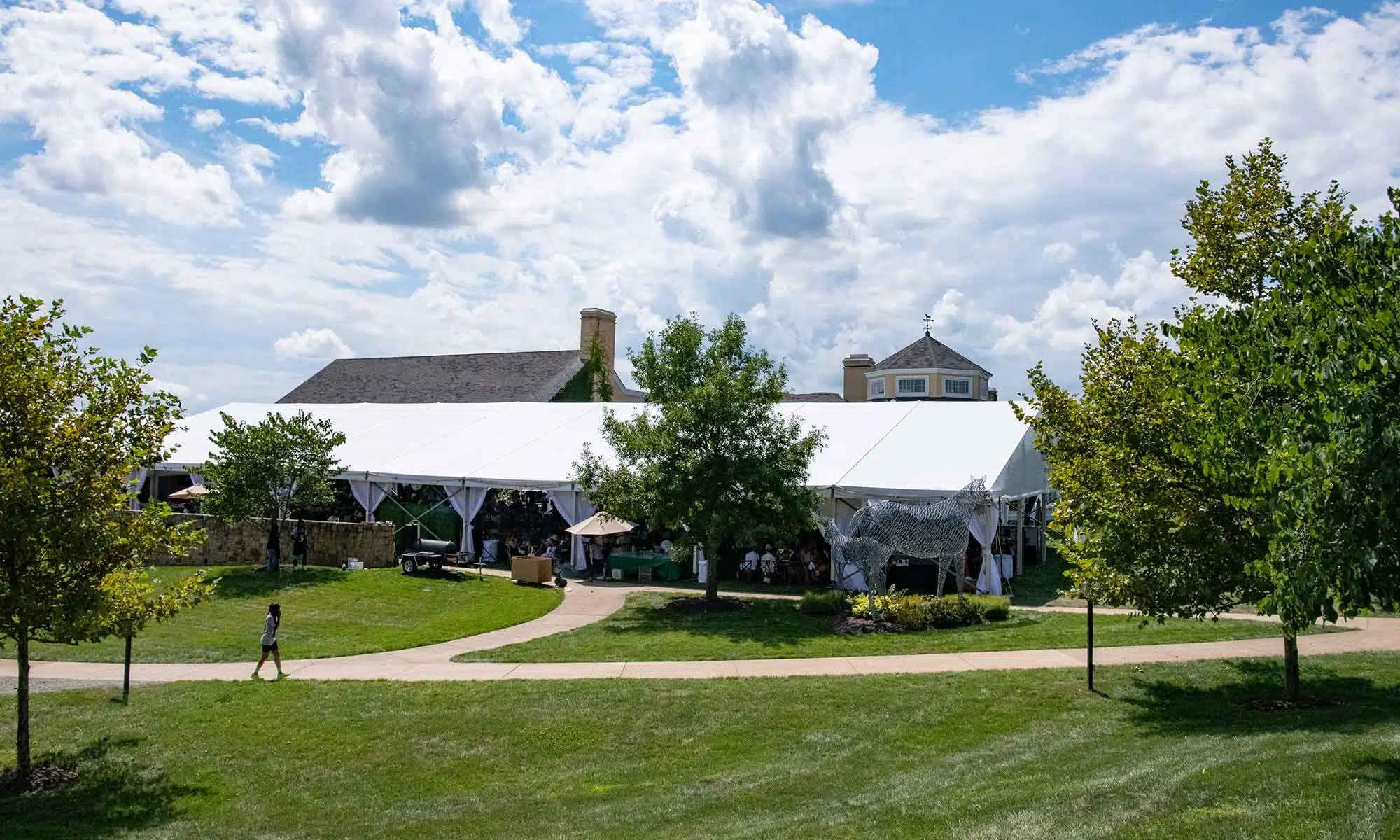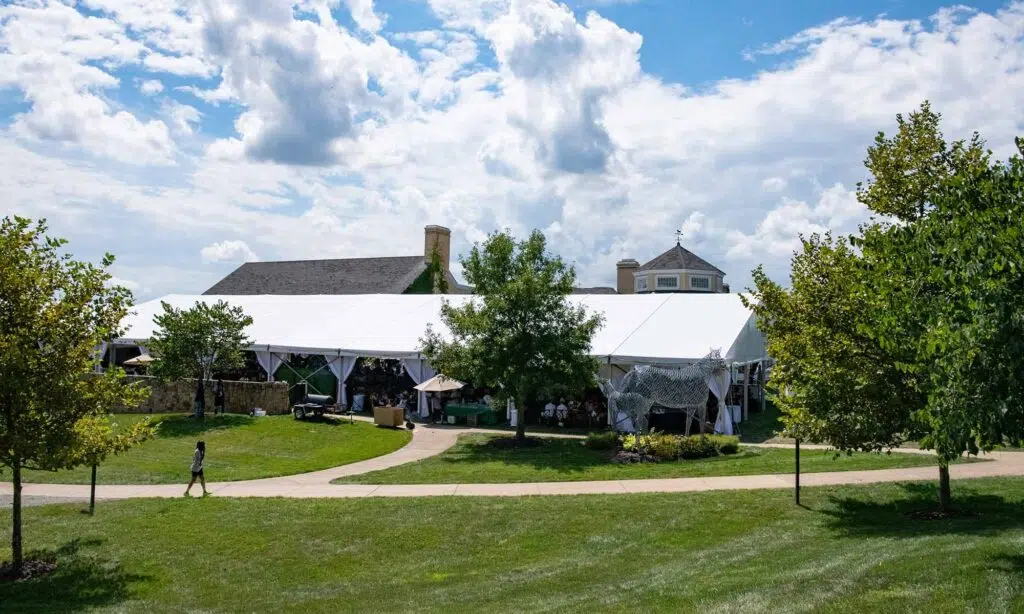 The 2023 Family Reunion
Comprehensive List of Talent
Adrienne Cheatham: Chef, Author
Alexander Smalls: James Beard Award-Winning Chef, Restaurateur, Author and The Family Reunion's 2022 Lifetime Achievement Award Recipient
Andre Fowles: Chef, 3X Food Network "Chopped" Champion and Miss Lily's
Brian Jupiter: Chef/Owner, Frontier, Ina Mae Tavern, Jup's Soup, Jup's Chicken Coop
Bryan Ford: Baker, Cookbook Author
Bryan Furman: Chef/Owner, Pit Master, Bryan Furman BBQ
Carla Hall: Chef, Restaurateur, Author
Damarr Brown: Chef de Cuisine, Virtue Restaurant & Bar, Top This Mac N' Cheese
David & Tonya Thomas: Co-Executive Chefs, H3irloom Food Group
Douglass Williams: Chef/Owner, MIDA South End, MIDA Newton, APIZZA Boston
Dr. Jessica B. Harris: Food Historian, Award-Winning Author, Journalist
Eric Adjepong: Founder, Chef Adjepong LLC and Public Health Nutrition Professional
Erick Williams: United Studio Ellen Culinary Partner, Chef/Owner, Virtue Restaurant and Bar, Mustard Seed Kitchen, Daisy's Po-Boy & Tavern, Top This Mac N' Cheese
Gregory Gourdet: Chef/Founder, Kann, Sousòl; Author, 2022 James Beard Award Winner, 2023 James Beard Award Semifinalist
Jamila Robinson: Food Media Leader and Food Editor, Philadelphia Inquirer
Jonathan "Jonny" Rhodes: James Beard Award Nominated Chef, Executive Chef and Owner, Indigo
JR Robinson: Chef and Owner, Kitchencray
Julia Coney: Wine Consultant for American Airlines, Wine and Travel Journalist, Wine Educator and Consultant at Julia Coney Enterprises, Founder, Black Wine Professionals
Justin Sutherland, Chef
Kwame Onwuachi: James Beard Award-Winning Chef, Author
Lamar Moore: Chef/Owner of River North Entertainment and Bar
Martel Stone: Chef Founder of "The Black Supper Collective"
Mashama Bailey: Co-Founder and Executive Chef, Grey Spaces]
Mawa McQueen: Chef/Owner McQueen Hospitality, Mawa's Kitchen, Mawita, The Crepe Shack, Mawa's GrainFreeNola
Maya-Camille Broussard: Chef and Owner, Justice of Pies, Author, James Beard Award Nominated Chef
Melba Wilson: Chef, Restaurateur and Author
Nadine Brown: Sommelier, Founder of At Your Service
Nina Oduro: Co-Founder, Dine Diaspora and Black Women in Food Initiative
Nyesha Joyce Arrington: Chef and TV Personality, Next Level Chef
Osei "Chef Picky" Blackett: Owner of Everything Oxtail, Picky Eaters Restaurant, Ariapita Restaurant and Chef Picky Events and Catering
Pete Smith: Executive Chef, L'Auberge Provencale
Peter Prime: Executive Chef and Partner at Bammy's
Preston Clark: Executive Chef and Culinary Director of Lure Fishbar
Rashida Holmes: Chef/Founder of Bridgetown Roti
Robin McBride: Cofounder and President, McBride Sisters Wine Company
Rodney Scott: James Beard Award-Winning Chef and Pitmaster, Founder and Owner, Rodney Scott's Whole Hog BBQ
Serigne Mbaye: Chef
Shorne Benjamin: Culinary Artist, Owner of Fat Fowl NYC
Tahiirah Habibi: Global Award Winning Sommelier, James Beard Board Member, Founder and CEO of The Hue Society
Tavel Bristol-Joseph: United Studio Ellen Culinary Partner, Pastry Chef and Partner at Emmer & Rye, Hestia, Kalimotxo, Henbit, TLV and Canje
Tiffany Derry: Entrepeneur, Chef and Owner of Roots Chicken Shak, Roots Southern Table
Tiana Gee: Chef, SoulPhil
Toni Tipton-Martin: Editor in Chief, Cook's Country
Vallery Lomas: Baker, Author, and Winner of Great American Baking Show
Virginia Ali: Chef and Founder, Ben's Chili Bowl
2023 Event Sponsors
No Kid Hungry
FOOD & WINE
Wells Fargo
Brown-Foreman
United Airlines
Virginia Tourism Corporation
Amazon
Coca-Cola
Inspire
Lexus
McBride Sisters Collection
Ama Waterways
McEarney Associates Realtors
New Belgium Brewing
Visit Loudoun
Zigma World
JENNIFER BRYERTON is Co-Publisher and Editor-in-Chief of Wine & Country Life. She is an avid gardener, home cook and wine-taster. She enjoys learning about Virginia viticulture and sharing the story of our local farm-to-table makers.
MAI LIONNI GUSS is the Editorial Assistant at Wine & Country Life. She holds multiple degrees in literature and Shakespeare, fosters countless dogs and has a boundless enthusiasm for exploring the life and style of Virginia's Wine Country.
R. L. JOHNSON is our Co-Publisher and Creative Director. She began her career after graduating ArtCenter College of Design as a professional photographer in Los Angeles before moving into graphic design and art direction when she relocated to Charlottesville in 1994. As our company's co-founder and visionary, she enjoys all aspects of the publishing process from story conception to graphic design to photography.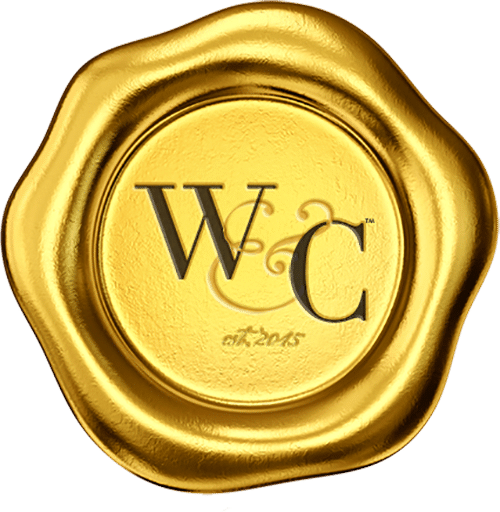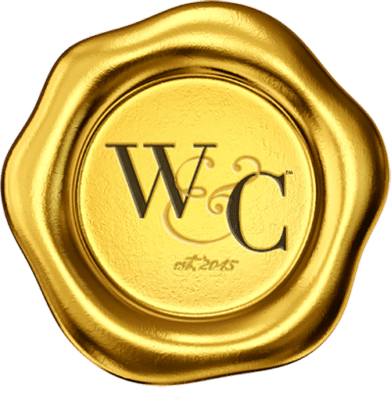 Virginia Wine & Country celebrates elevated living in Virginia Wine Country. Virginia Wine & Country Life is a semi-annual luxury print magazine with a full digital presence. The Virginia Wine & Country Gold Book is an annual guide to the top award-winning wines, wineries and experiences in Virginia Wine Country. The annual Virginia Wine & Country Wedding Planner is an art book of elegant Virginia weddings. The brand includes the Virginia Wine & Country Shop in Ivy, Va. It is a beautiful lifestyle boutique that brings the pages of the magazines to life. Virginia Wine & Country tells the stories of Virginia wineries, the farm-to-table movement, luxury travel, entertaining, art and the elegant country lifestyle. Ivy Life & Style Media also provides branding, web design and PR services for the wine industry.