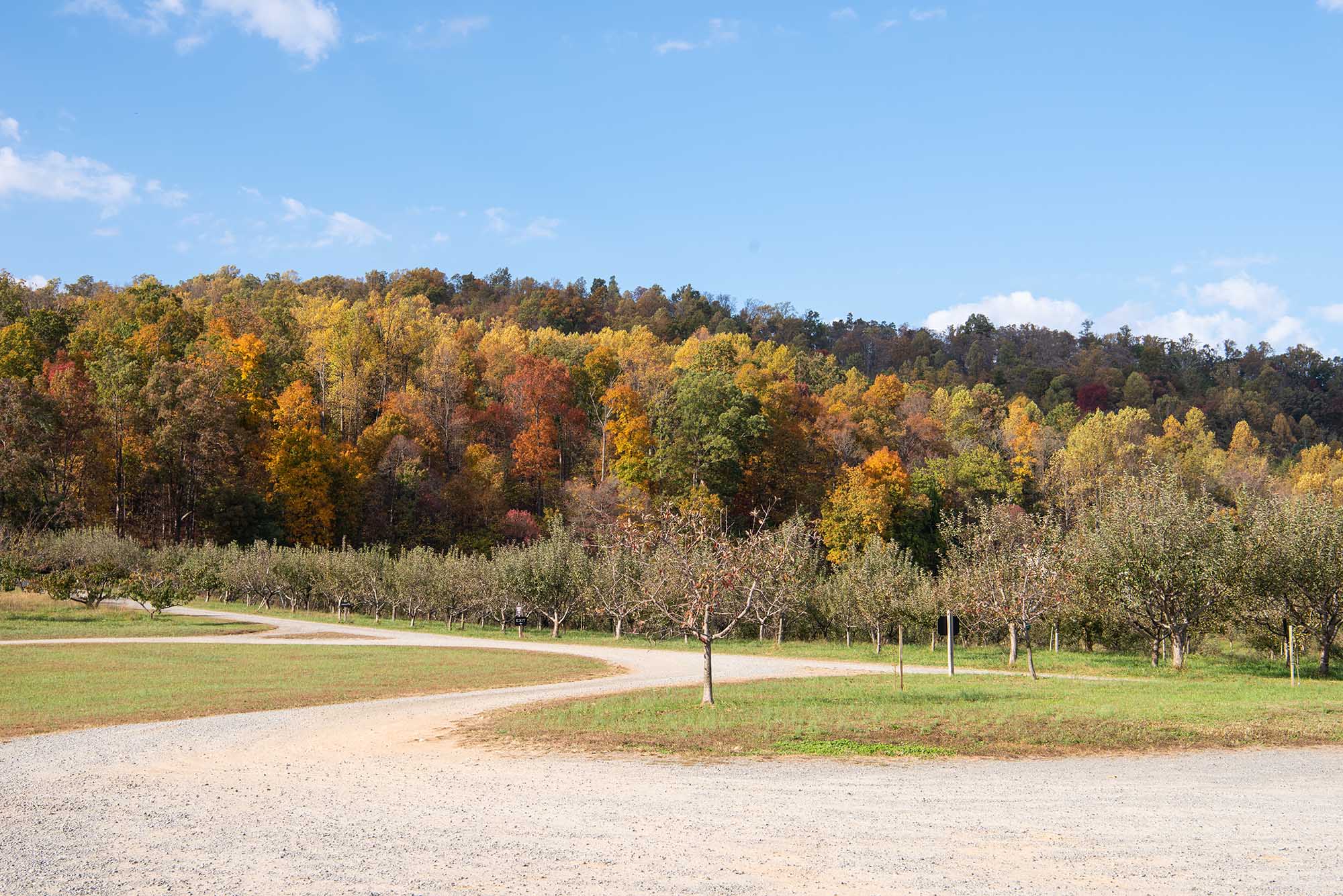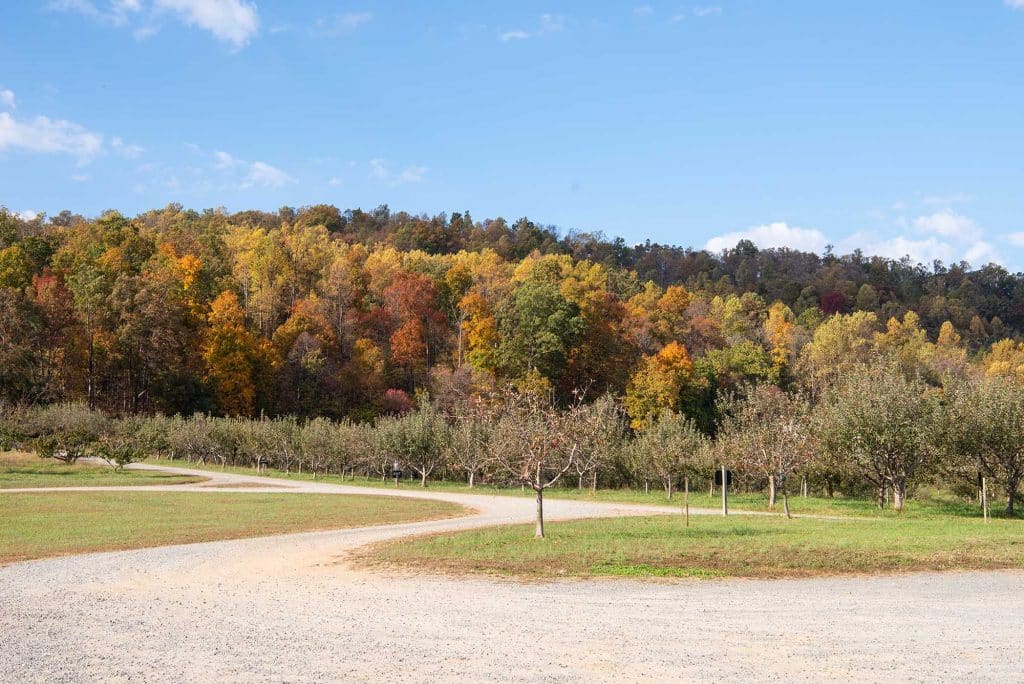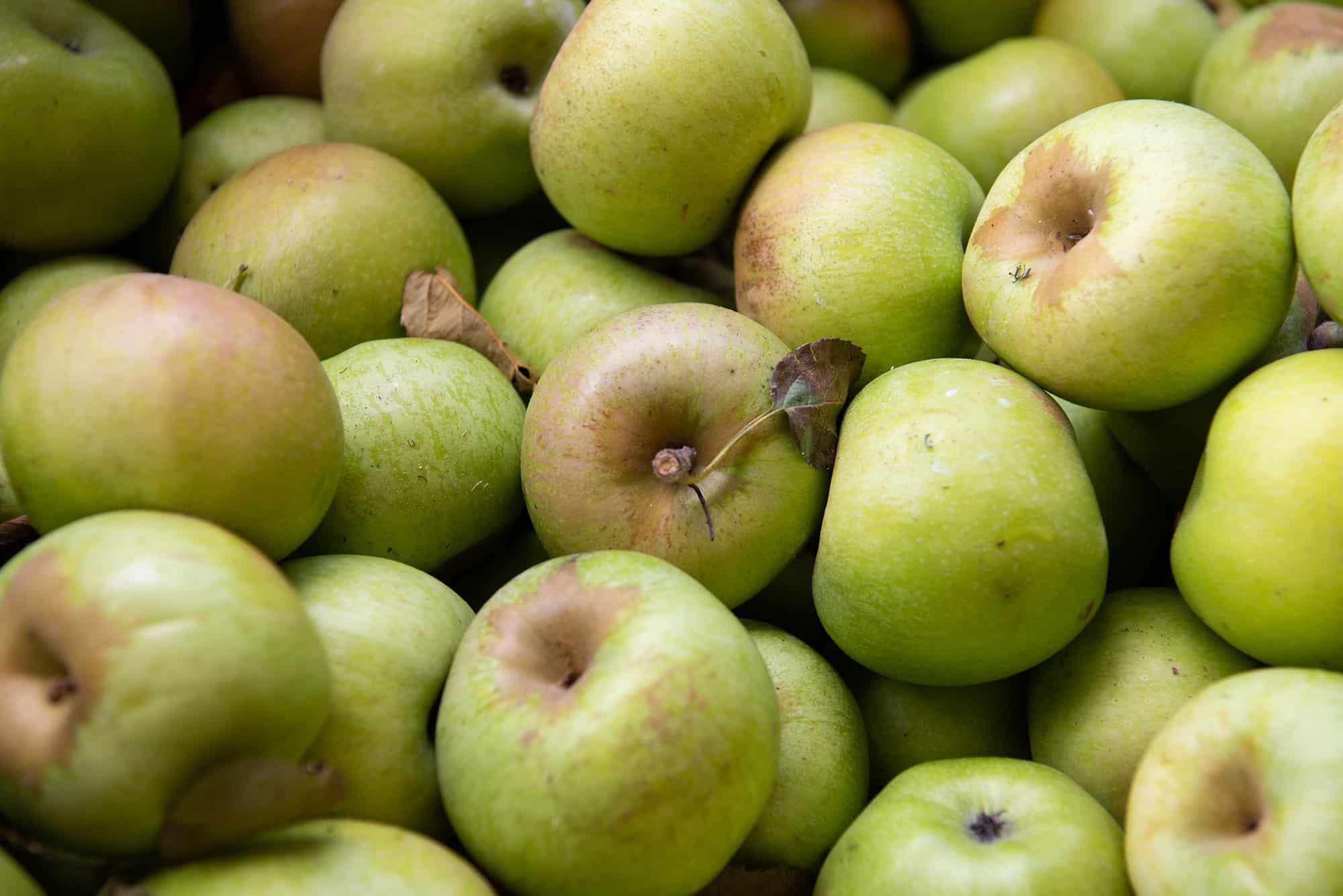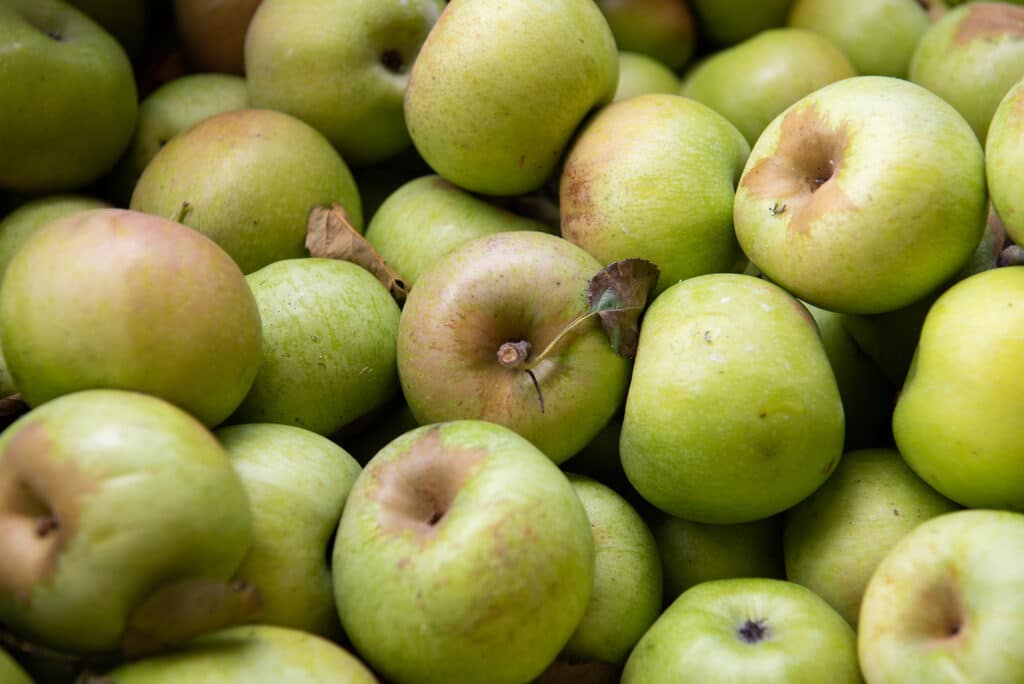 The history of hard cider in Virginia runs deep. Apple trees were among some of the first plants earliest settlers established here. In fact, Thomas Jefferson claimed the apples cultivated in Virginia were far superior to those grown in Europe, and he often served hard cider instead of beer or wine to his many guests visiting Monticello. This was the beginning of Charlottesville cideries.
Fast forward to the 21st century, and the cider business in the Commonwealth is booming. The Charlottesville area is home to the most cideries in the state, and no two glasses poured are the same. From unique ingredients to different brewing practices, hard cider in Virginia is an exceptional experience. These eight cideries are all located within one hour of downtown Charlottesville, and every single one is worth visiting. Tasting flights can be enjoyed at all of these Charlottesville cideries, and many feature regular live music and special events throughout the year.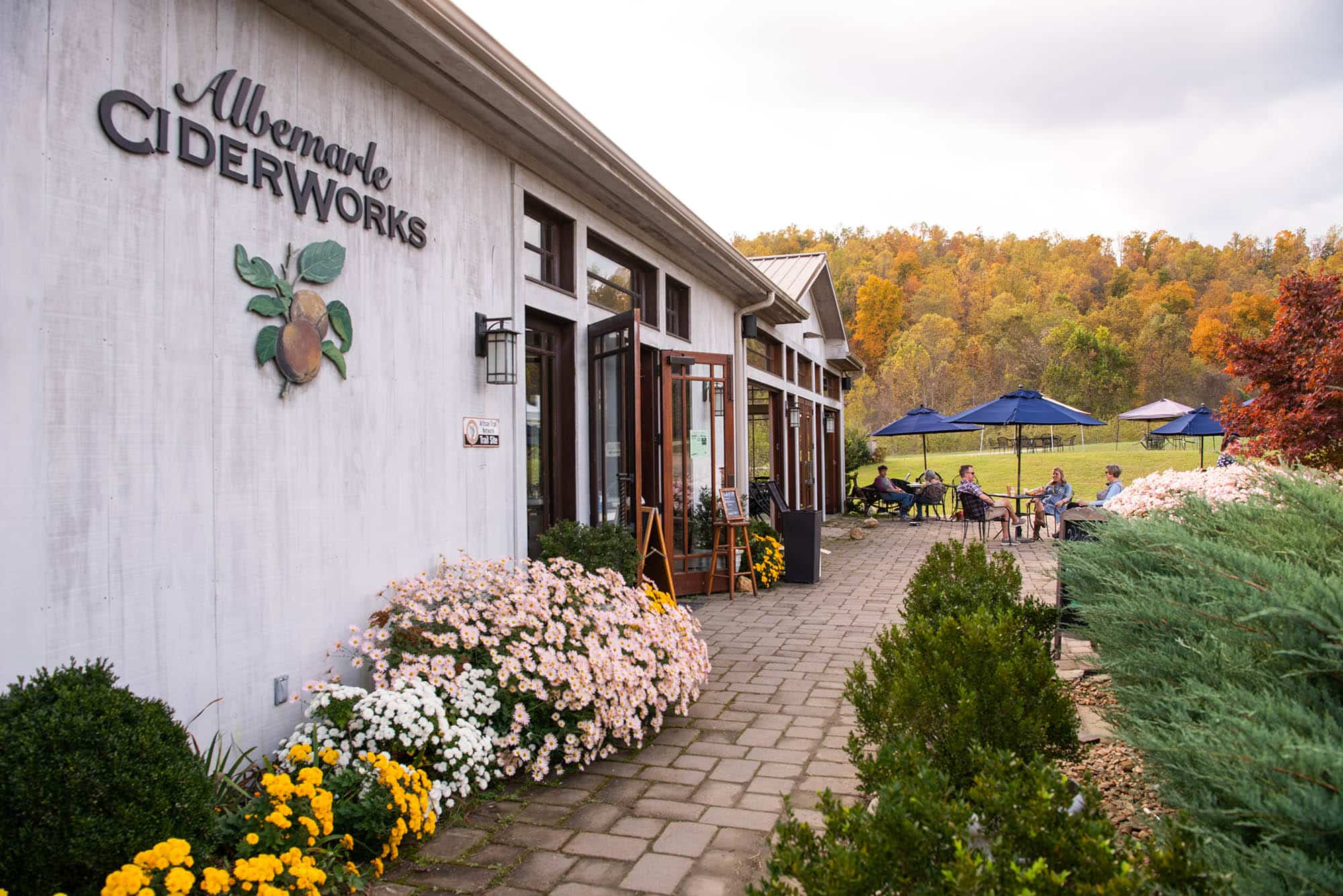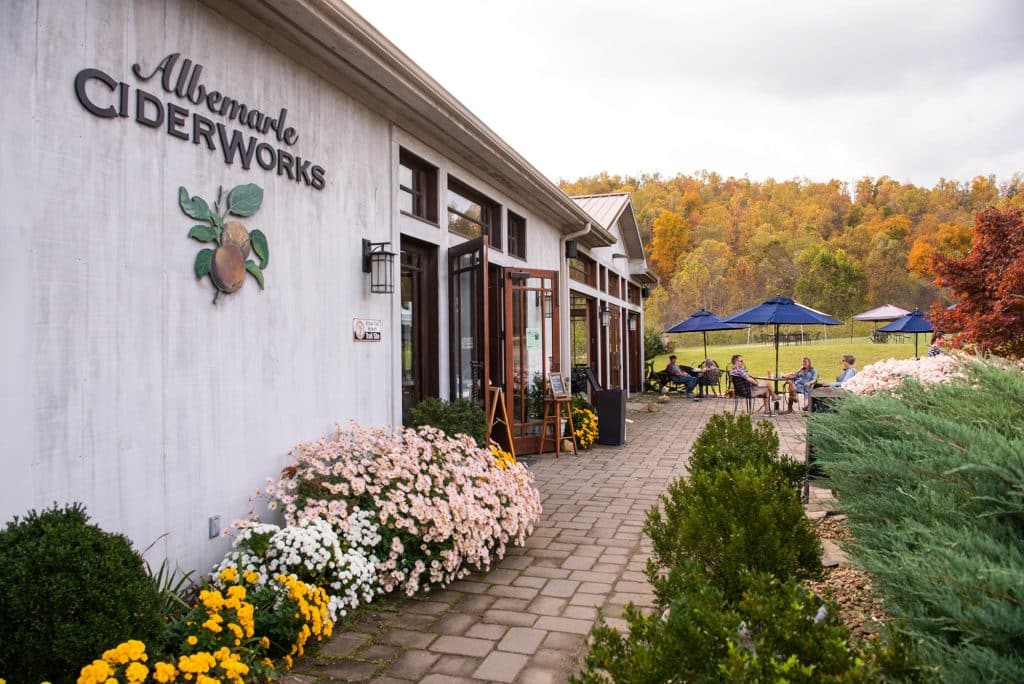 Albemarle CiderWorks (North Garden)
Just southwest of Charlottesville is Albemarle CiderWorks, which was born from Vintage Virginia Apples orchard. Decades after planting their first apple trees, the orchard now boasts over 200 different varieties. The team (and apple experts) at Albemarle CiderWorks plans to continue experimenting with and drawing inspiration from the 2,500 varieties of apples found in the United States. The annual Apple Harvest Festival every fall features live music, special tastings, cider-pressing demos and, best of all, the apple pie contest! Local foodsellers set up stalls on the property and nearby, and picnics are always welcome. Well-behaved, leashed dogs are welcome outside. Check out their award-winning Heritage cider, "1817," or the "Harrison," a robust dry cider full in color and flavor—according to Albemarle CiderWorks, the Harrison apple is "arguably the best cider variety America has ever produced."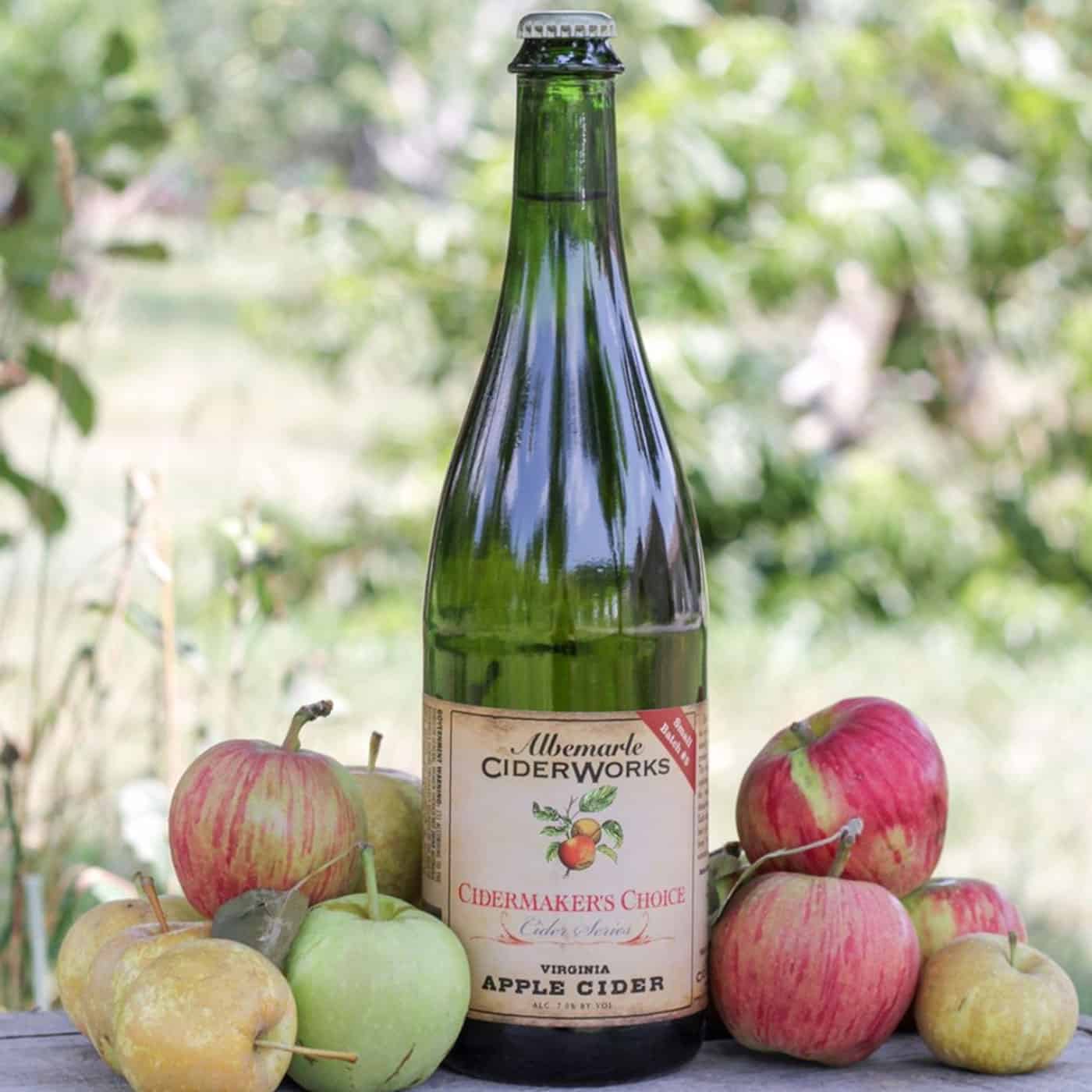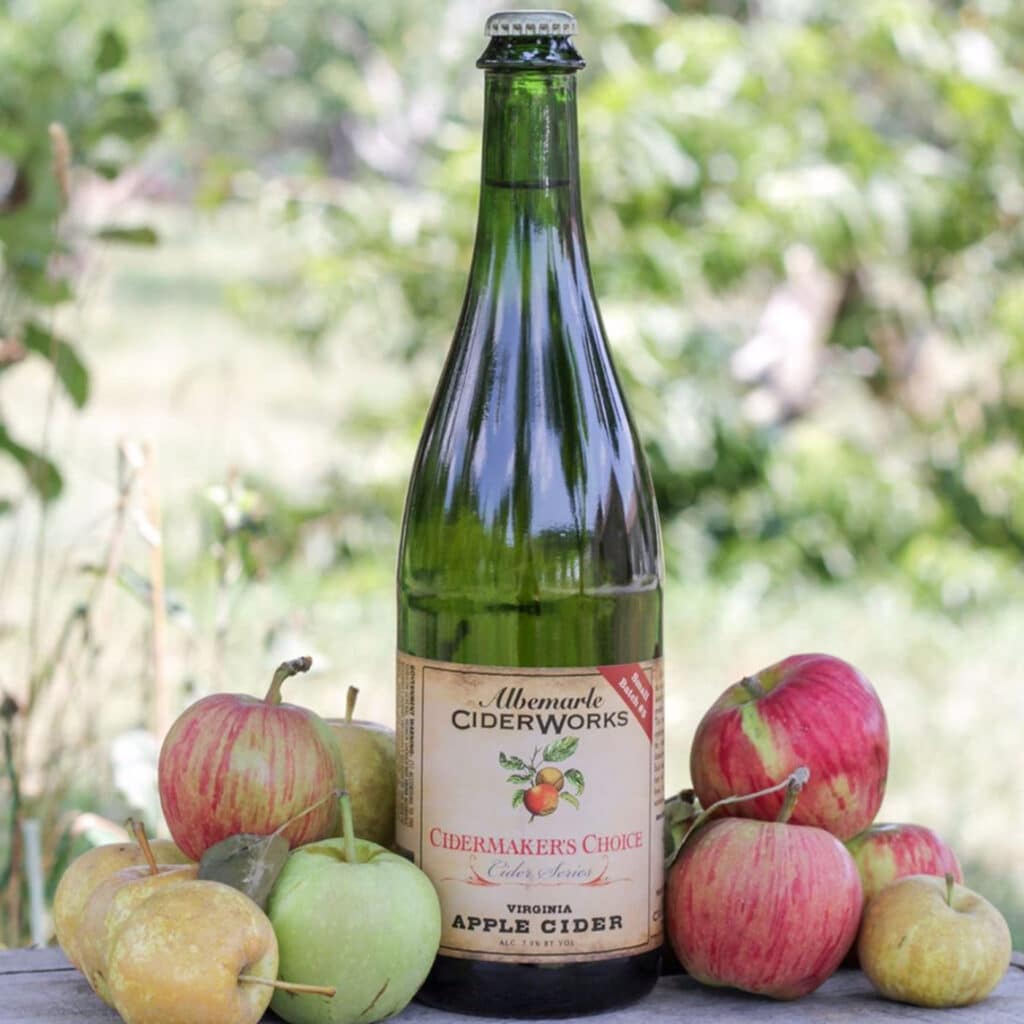 Photo: courtesy of Albemarle CiderWorks
Tasting Tip: Albemarle CiderWorks won the 2022 Virginia Governer's Cup "Best in Show Cider" with their 2019 Virginia Hewes Crab, a new vintage of a historic cider favored by George Washington and Thomas Jefferson. They also took gold medals for their 2019 Royal Pippin and 2020 Wickson. 2023 brought them a second "Best in Show" win for their Orchard Blush cider.
Blue Toad Hard Cider (Roseland)
Along Route 151, you'll find many tasting options, including Blue Toad Hard Cider, where they have focused on using three or four different local apple varieties since opening in 2015. Flavors abound in their many different offerings, and you can enjoy them yourself at their Cidery at High View Farm in Roseland. This cidery near Charlottesville is dog-friendly for well-behaved and leashed pets. Food trucks make regular appearances here, but you can also head down the road to Devil's Backbone Brewing Company for a meal.
Tasting Tip: You can't go wrong with the Blue Ridge Blonde—a crisp and clean cider made using a blend of local Golden Delicious, Red Delicious and Granny Smith apples. For something different, try the ToaDally Tea Hard Cider, a blend of three apples combined with tea leaves during the brewing process.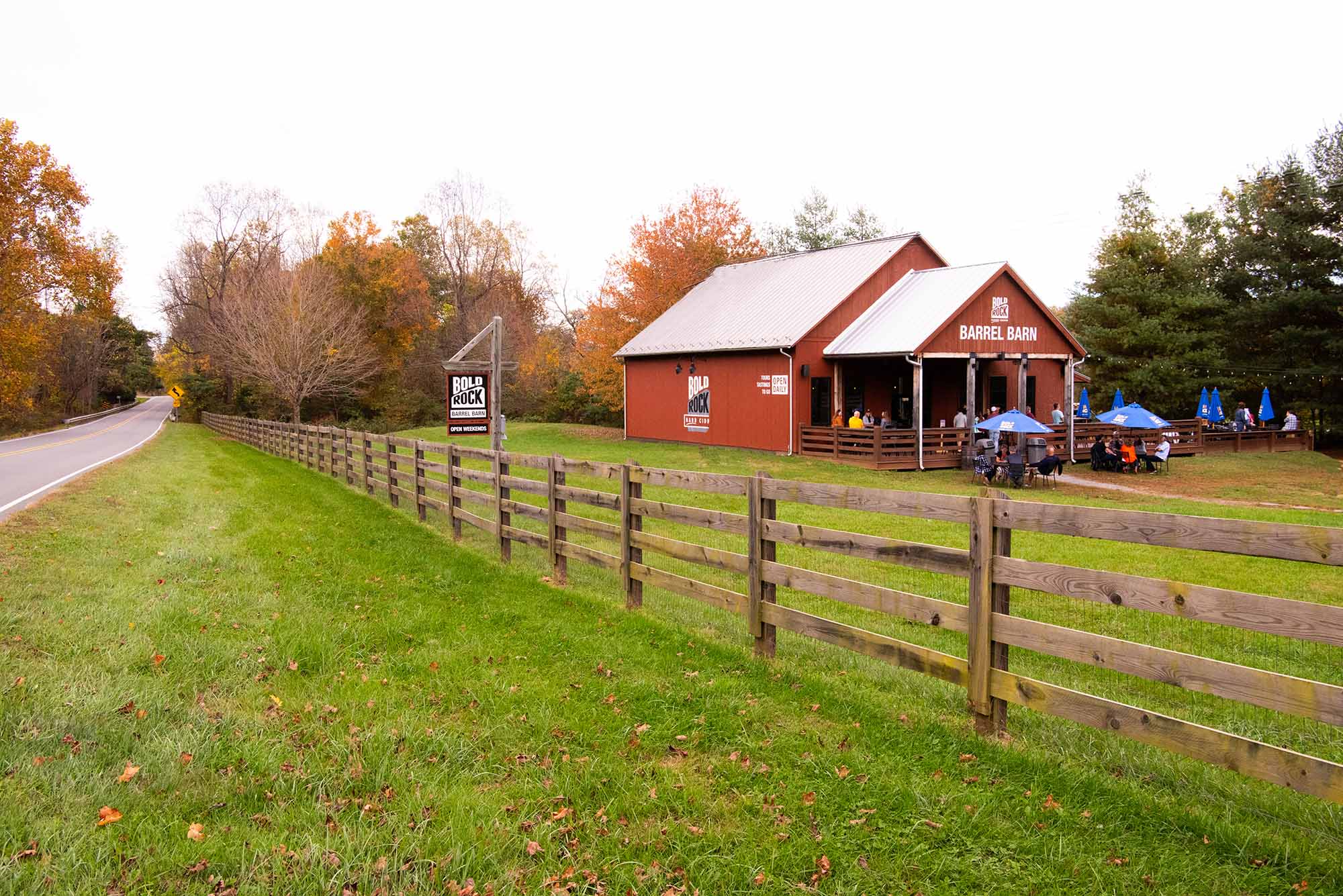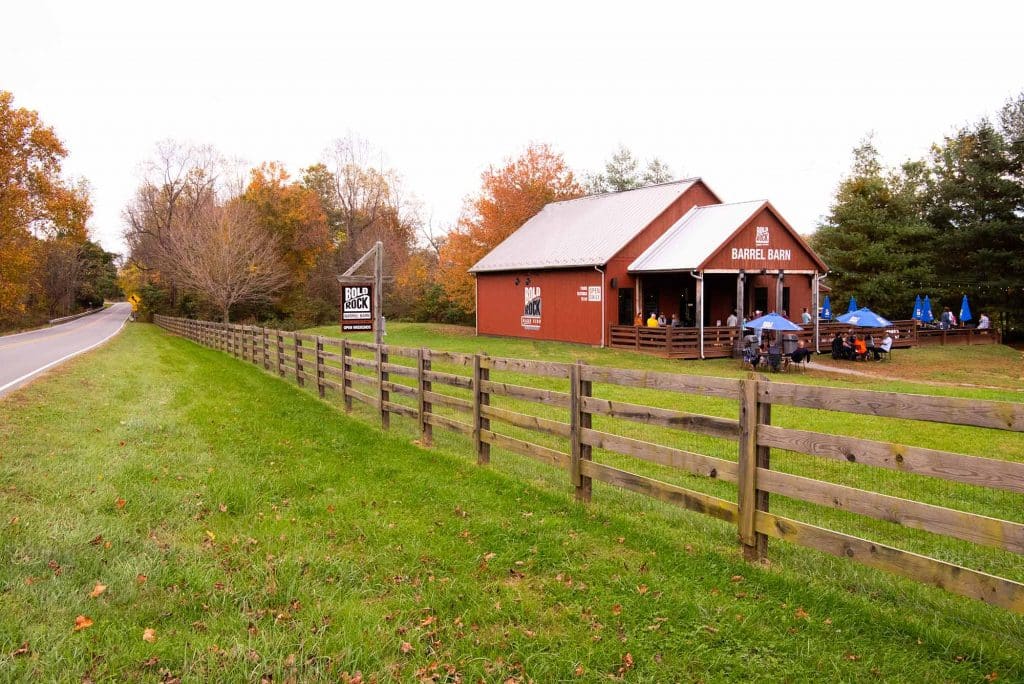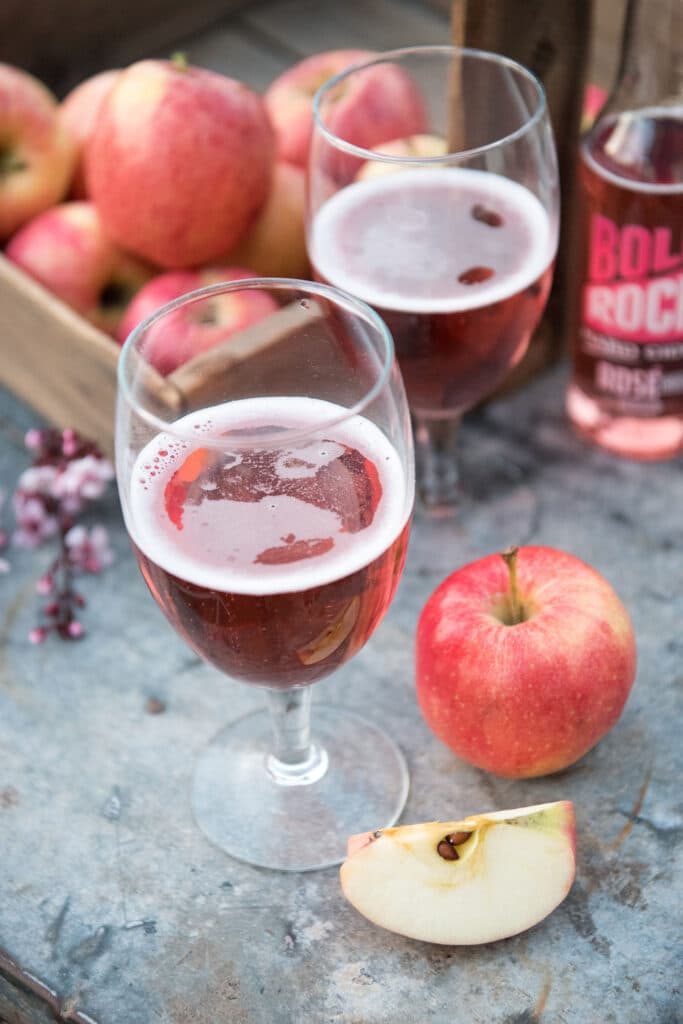 Bold Rock Hard Cider (Nellysford)
Also along Route 151 in neighboring Nelson County sits the Bold Rock Cidery and its Barrel Barn. "Crushed and crafted in the Blue Ridge Mountains," Bold Rock churns out hard ciders, seltzers and cocktails, and have won more than 100 awards for doing so. Bold Rock's Feed Room boosts a menu full of locally inspired delicious eats in a beautiful rustic setting. The property also features trails for visitors to enjoy while there. Also, keep an eye out for one of the many running events they host throughout the year as well as their Fall Foliage Festival held every November. Bold Rock beverages can be enjoyed at Carter Mountain Orchard and Chiles Peach Orchard, too, where Bold Rock has on-site tasting rooms. Leashed dogs are welcome outside.
Tasting Tip: Coffee lovers should try the Red Eye—a brut cider brewed with, you guessed it, coffee. Or, if you're a beer lover, check out the Sumthin Juicy, which is crafted using hops.
Bryant's Cider (Roseland)
This small-batch cidery near Charlottesville focuses on using only natural ingredients that result in 100% sugar-free ciders. Bryant's Cider prides itself on the "farm to bottle" approach, and for flavors, they like to think outside the apple crate by using ingredients like coffee, rose hips, rosemary, cucumbers and even habanero peppers. You can enjoy these unique ciders at their farm in Nelson County or at their location in downtown Richmond. If looking for nearby eats, head to nearby Wild Wolf Brewing Company, just down the road and also on Route 151. Dogs are welcome, but be warned: the cidery's resident cat, Monkey, is often seen roaming the farm.
Tasting Tip: After enjoying one of their many ciders, try a seltzer, which comes in berry, passionfruit, cucumber melon and grapefruit flavors.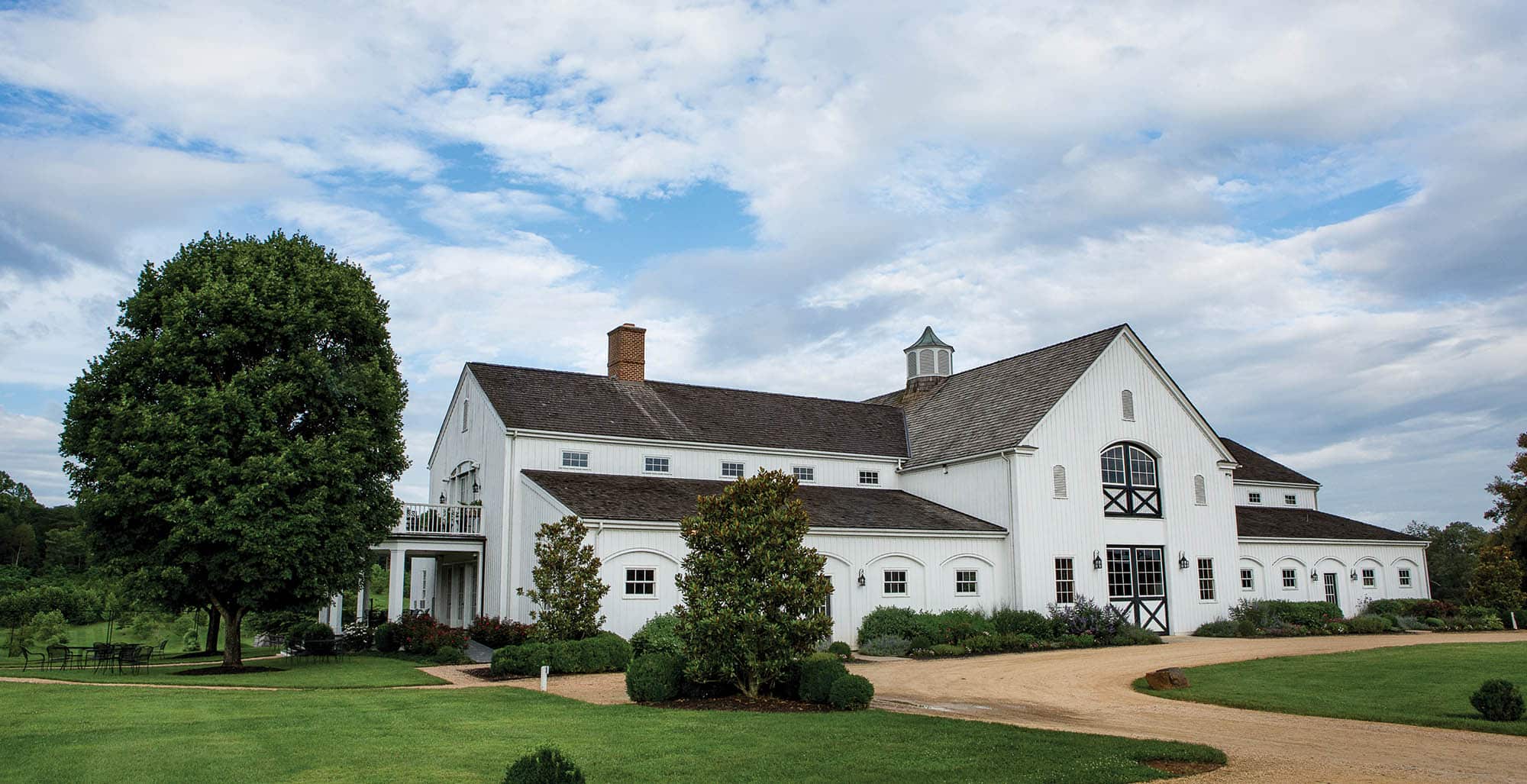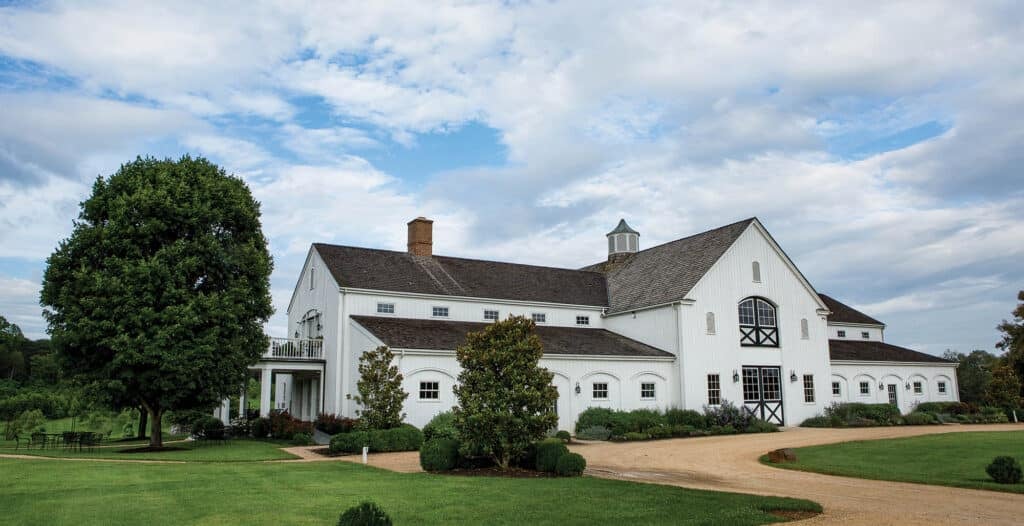 Photo: William Walker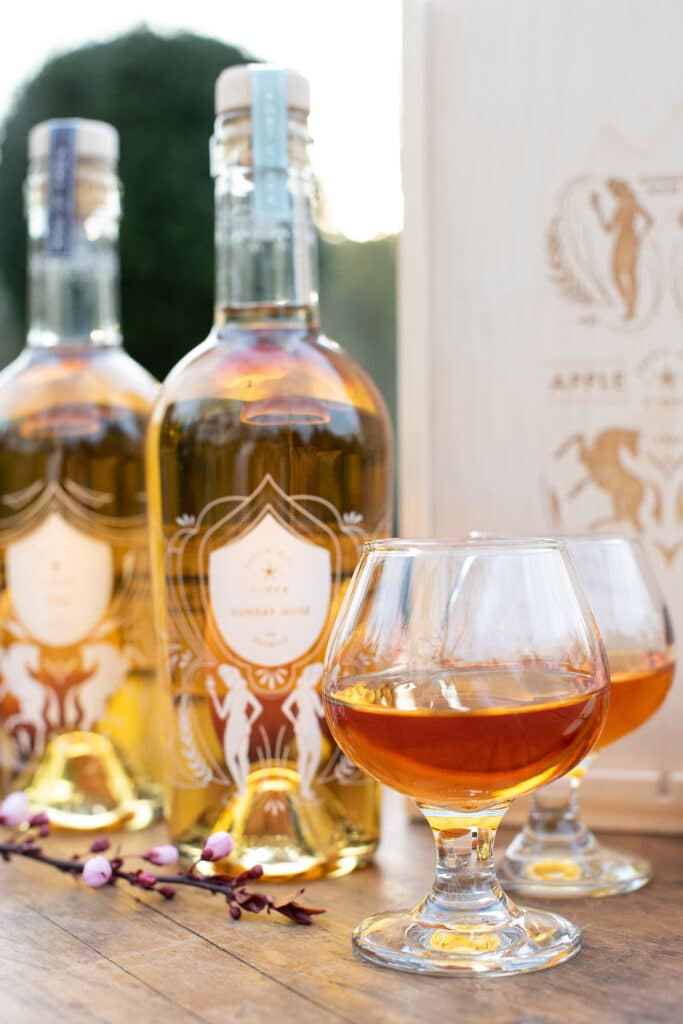 Castle Hill Cider (Keswick)
This cidery near Charlottesville has historic roots. The Castle Hill Estate was established in 1764 by Dr. Thomas Walker and his wife, Mildred Meriwether Walker. Dr. Walker was a close friend of Peter Jefferson (Thomas Jefferson's father) and George Washington, who was his wife's cousin. Following Peter Jefferson's death, Dr. Walker became Thomas Jefferson's guardian. Today, inspired by the first Albemarle Pippin apples grown on the property in the late 1700s, Castle Hill Cider now covers 600 acres and crafts a library of flavorful, artisanal ciders. The property was added to the U.S. National Register of Historic Places in 2008. Castle Hill also has bees on the property, which are kept to create honey that showcases the flavors of the terroir. Picnics are always welcome, as are dogs.
Tasting Tip: Try the 2020 Terrestrial, in which subtle notes of fig and raisin complement a tannic and grounding finish. This cider was the winner of a Virginia Governor's Cup Gold Award, among other prestigious recognitions.
Coyote Hole Ciderworks (Mineral)
East of Charlottesville in the heart of Lake Anna is Coyote Hole Ciderworks. Made from 100 percent Virginia apples and never from concentrate, Coyote Hole creates ciders ranging from sweet to dry using a variety of ingredients. The tasting room sits on 37 acres, with outdoor space for games like connect four, jenga, corn hole and more. They are dog lovers at Coyote Hole and always furry friends, who can sip from the collapsable water bowls in the tasting room. Various food trucks and their resident 191 Smokery BBQ eatery are available.
Tasting Tip: Got a sweet tooth? Try the cider Sangria, their flagship beverage featuring a blend of green apple cider, rosé wine, cranberries and mangos.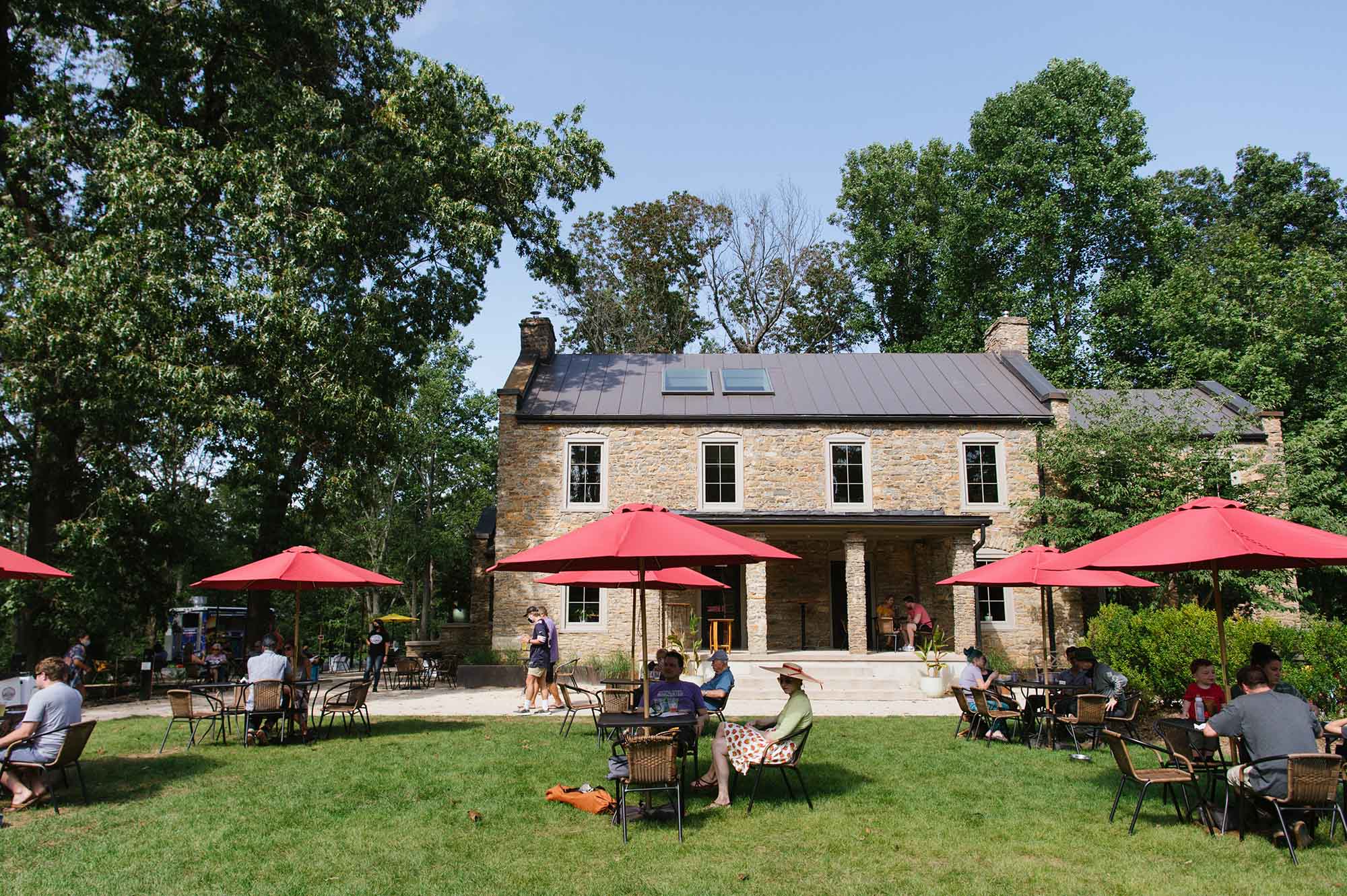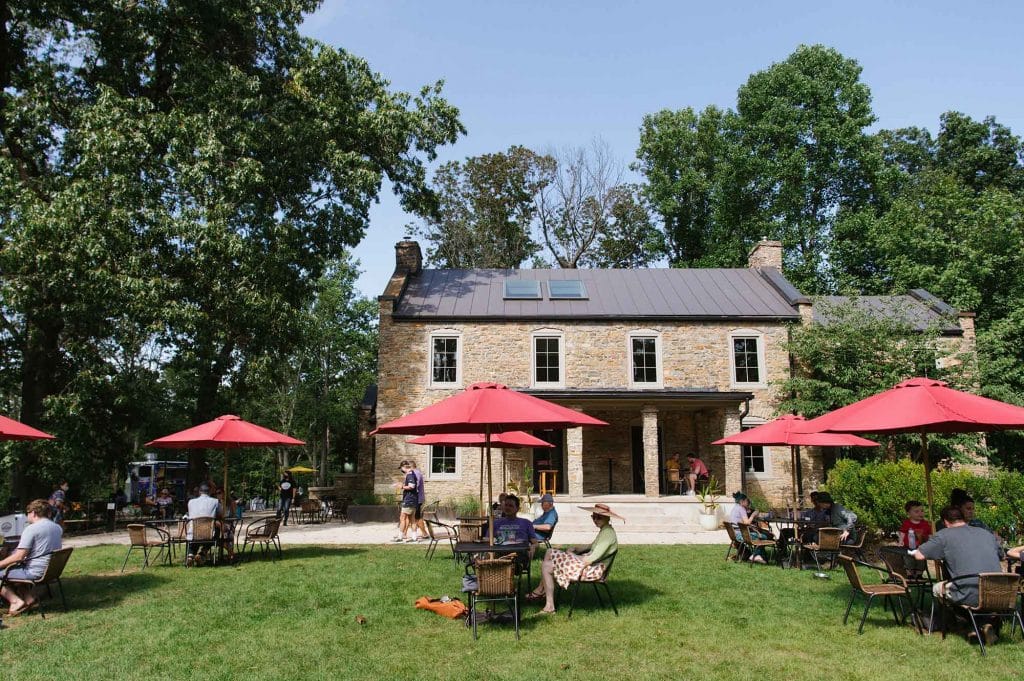 Photo: Jen Fariello Photography
Potter's Craft Cider (Charlottesville)
What started out as two college friends homebrewing beer has grown into a successful (and flavorful!) craft cider business. At Potter's Craft Cider, they focus on creating dry ciders using local ingredients with unique flavors like hibiscus, watermelon, ginger, orange blossom and more. These creations are often the result of collaborating with neighboring wineries, breweries, distilleries and farms. The tasting experience and space consists of a beautiful stone-filled tasting room that used to be a church just south of Charlottesville. Dogs are welcome, and local food trucks frequently post up.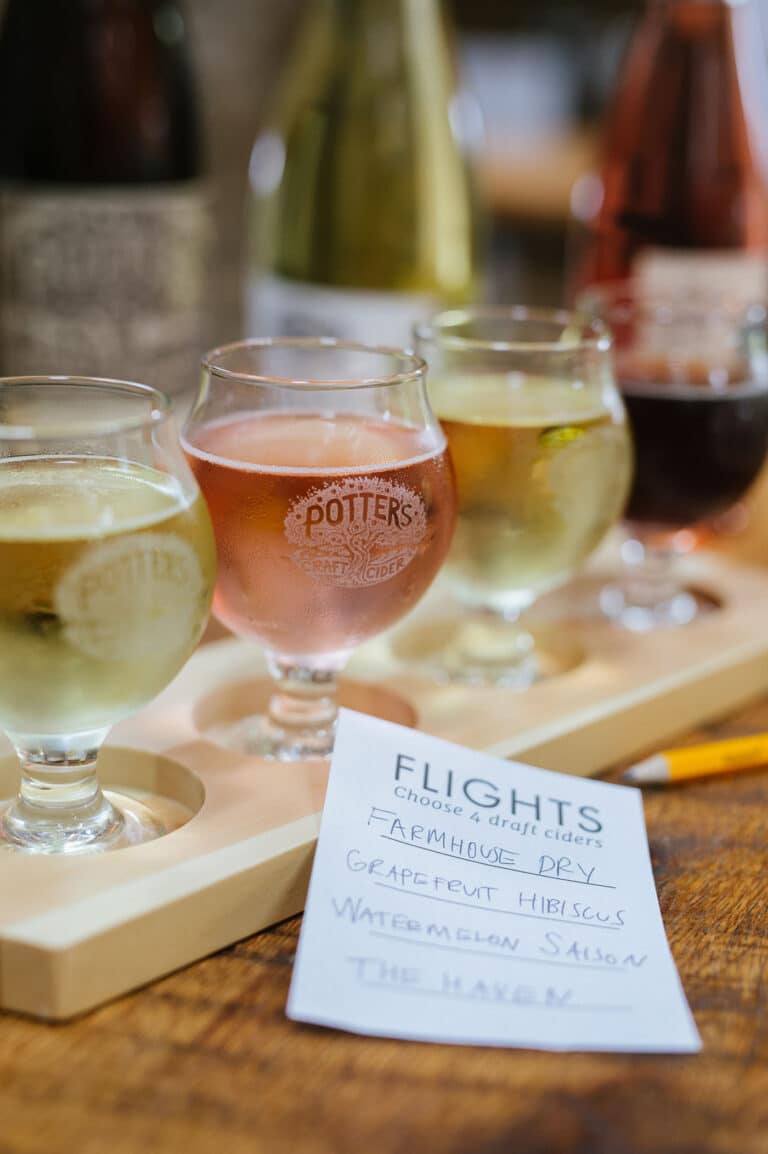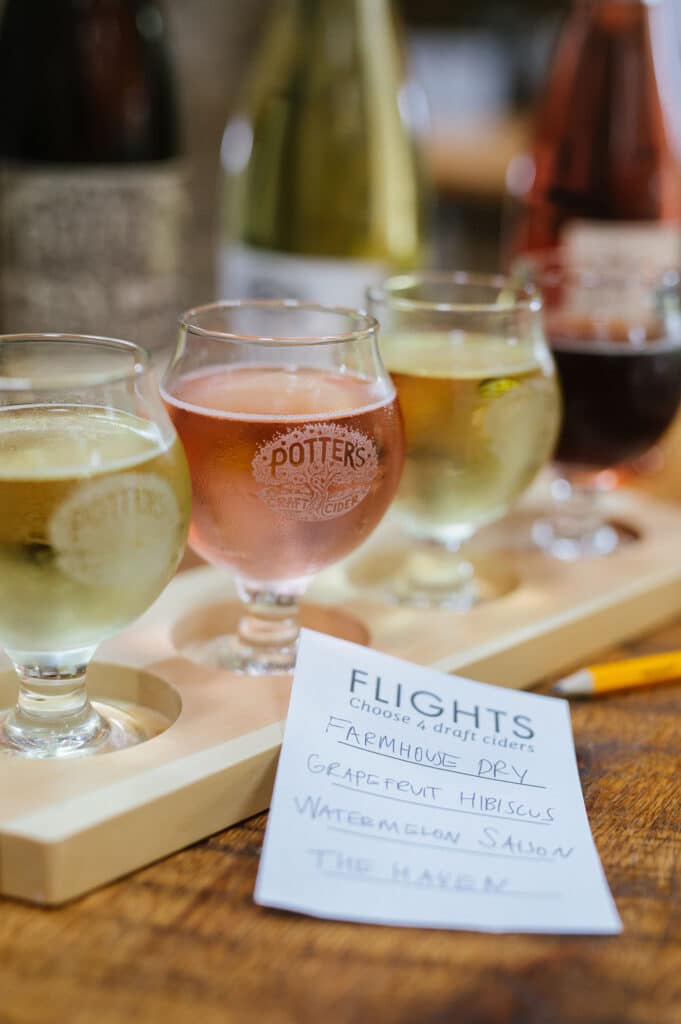 Photo: Jen Fariello Photography
Tasting Tip: Try the Grapefruit Hibiscus—a cider with notes of tropical fruits and infused with hibiscus, resulting in a floral aroma. Plus, it's pink.
Courthouse Creek Cider (Maidens)
Courthouse Creek Cider also has a farm location east of Charlottesville and a Richmond location in Scott's Addition. The cidery near Charlottesville was started by California natives Liza and Eric, who moved their blended family to Virginia with a dream of an ideal home that included creating a product from the land. Eric, a chef, had spent years working with California winemakers, and after tasting a dry Virginia cider in 2013, they found a new dream. Dry ciders and gluten-free beers are the specialities at Courthouse Creek. Dogs are welcome and the cidery serves small, prepared bites.
Tasting Tip: Try the Blackberry Lavender—a dry nuanced cider that pairs perfectly with light desserts.
Get back to the basics in a new way by exploring Central Virginia's emerging cider scene near Charloyyesville, and follow Virginia Wine & Country Life on Instagram for all things eating, drinking and exploring Virginia Tastings Country. ~
ELLEN SEWELL, our Associate Editor, has a degree in communications with an emphasis in journalism and PR and enjoys promoting all the Charlottesville area has to offer.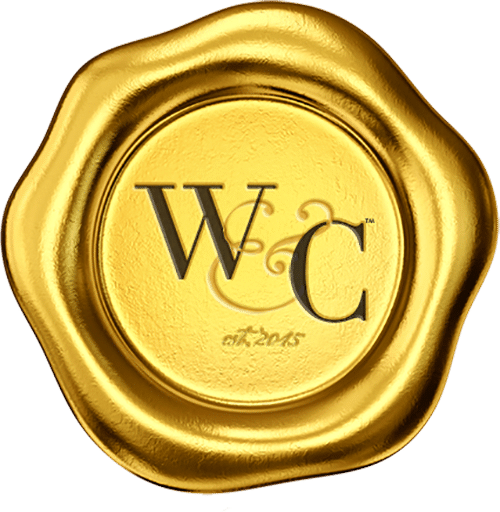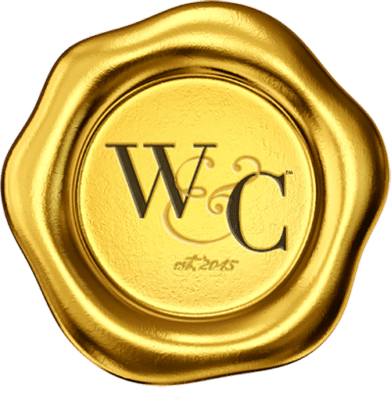 Virginia Wine & Country celebrates elevated living in Virginia Wine Country. Virginia Wine & Country Life is a semi-annual luxury print magazine with a full digital presence. The Virginia Wine & Country Gold Book is an annual guide to the top award-winning wines, wineries and experiences in Virginia Wine Country. The annual Virginia Wine & Country Wedding Planner is an art book of elegant Virginia weddings. The brand includes the Virginia Wine & Country Shop in Ivy, Va. It is a beautiful lifestyle boutique that brings the pages of the magazines to life. Virginia Wine & Country tells the stories of Virginia wineries, the farm-to-table movement, luxury travel, entertaining, art and the elegant country lifestyle. Ivy Life & Style Media also provides branding, web design and PR services for the wine industry.