The best thing about Fall in Virginia may just be the apples… and the apple cider donuts! This delicious apple cider donut recipe is a sweet sneak peek into the 2020 Heritage Harvest Festival headliner cooking class, "Finding Joy in a Farmhouse Kitchen," led by Chefs Joy Crump and Stacy Cogswell.
Apples, except for a few crabapple varieties, are not native to America. It was English settlers who brought with them cider-making knowledge and apple saplings to the new world. Simple cider is unfiltered apple juice and hard cider, the alcoholic version, is unfermented apple juice allowed to ferment. Thomas Jefferson was a fan of the fermented apple and planted 1,031 fruit trees in his Monticello South Orchard. Today, Virginia produces 5–6 million bushels of apples annually from more than 100 commercial orchards. This recipe uses simple cider for cooking and also pairs nicely with an effervescent hard cider. You can many fine choices at Charlottesville Cideries and throughout Virginia thanks to a thriving craft beverage movement.
Apple cider donuts are essentially a little bit of perfectly spiced fluffy cake and the most delicious taste of the season. This recipe is from Chef Cogswell's cookbook, The New New England Cookbook, and it's the perfect way to celebrate the Virginia Autumn in your kitchen. Crump and Cogswell will be teaching this recipe (and a full meal) in their Heritage Harvest Festival Cooking Class on October 23.
Donuts are all about comfort. I think it's safe to say that we all have a special place in our food hearts for fried dough—extra points if it's still warm and fresh off the fryer. These cider treats are extra comforting—they're rich, dense and spiced with cinnamon, nutmeg and ginger. They evoke brisk fall days and remind me of going to our local apple orchard to get cider donuts as a kid.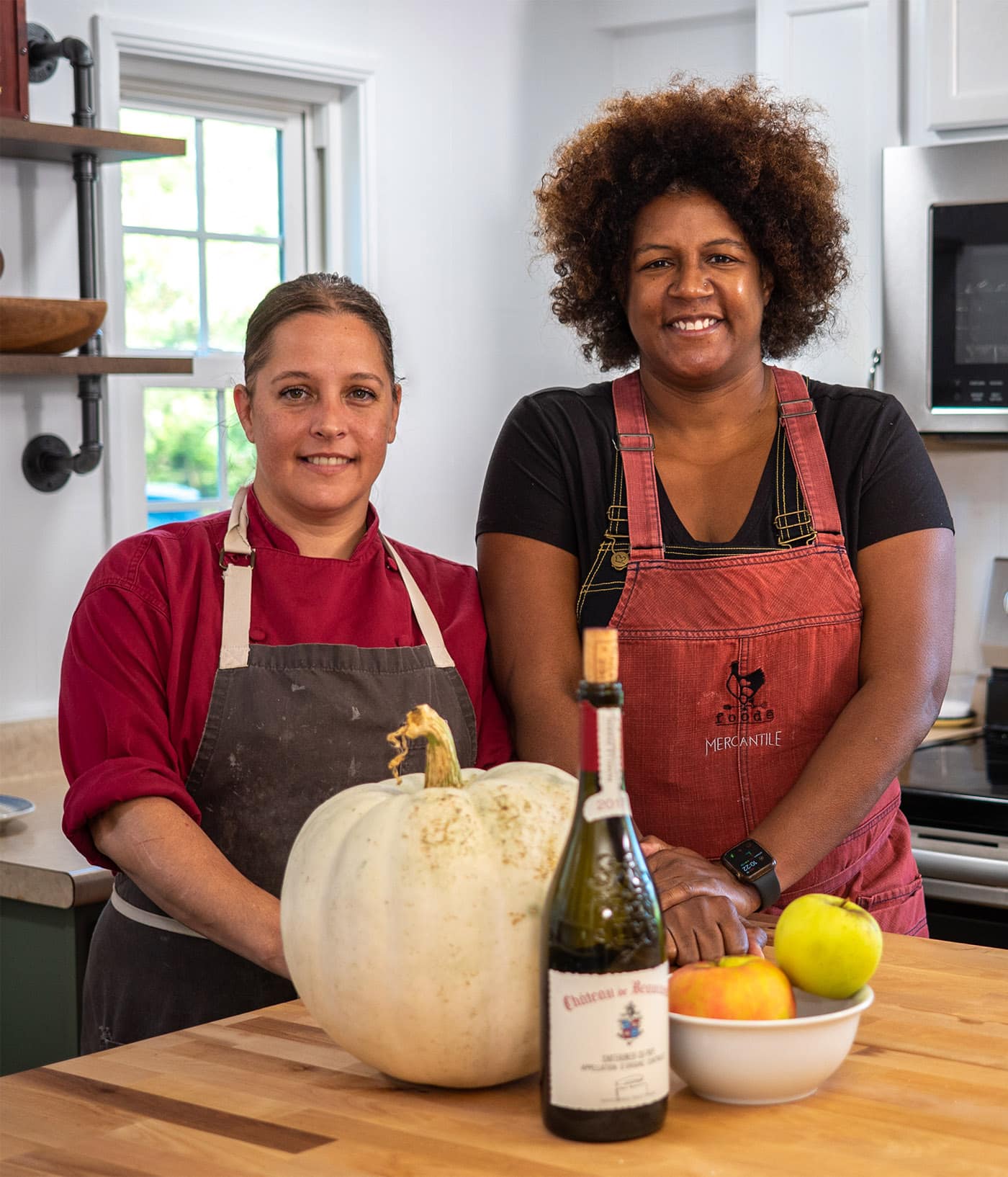 Photo: Ian Atkins
These cider treats are … rich, dense and spiced with cinnamon, nutmeg and ginger. They evoke brisk fall days and remind me of going to our local apple orchard to get cider donuts as a kid.
Chef Crump has had the honor of cooking as a featured chef at the James Beard House and is actively involved in the James Beard Foundation's Impact Programs for Food Policy, Chef Advocacy and Change. In September of 2018, Crump appeared in the James Beard Foundation's Cookbook, Waste Not: How to Get the Most From Your Food. She has also served on the Advisory Boards of the Monticello Heritage Harvest Festival and the Atlanta Food & Wine Festival. Most recently she joined the Advisory Board of the James Beard Foundation.
Chef Cogswell brings a rich background of global travel and extensive cooking knowledge to her kitchen paired with deep New England roots having grown up in Wareham, Massachusetts. "New England cooking is about a harmonious marriage between land, sea and history," Cogswell shares. "If you're from the area, there are dishes and flavors that invoke a sense of warmth and family. Almost every dish reminds me of my childhood." She began her epicurean career as a lead line cook at Mattapoisett Bay Club in April 2004, while still attending the renowned Johnson & Wales University. After graduation, she advanced through a series of high-caliber positions in the Boston restaurant scene, including Sous Chef at Market by Jean Georges, Executive Sous Chef at Atlantic Fish Company, Executive Sous Chef at Upstairs on the Square, Executive Chef at the Regal Beagle, and Chef de Cuisine at Liquid Art House.
Chefs Cogswell and Crump first met on the set of Top Chef Season 12 as contestants. Since that time, the friends have grown closer and Cogswell has joined the culinary team at Crump's restaurants.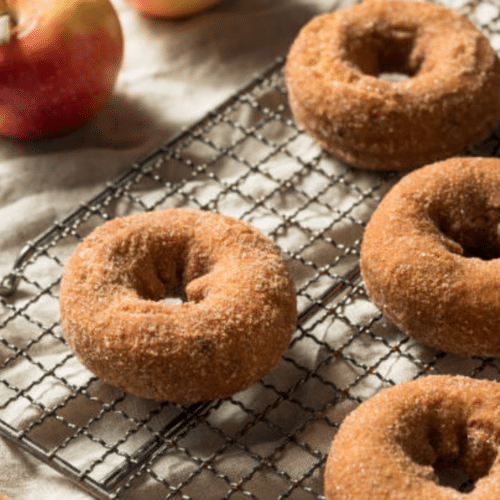 Apple Cider Doughnuts
These doughnuts are a guaranteed crowd pleaser. Make them for a brunch party, picnic or to enjoy with a cup of coffee and a good book. To take these to the next level, serve with a Cider Glaze that is packed with sweet apple cider flavor. It adds an extra punch of cider, and it can work both as a glaze or dipping sauce.
Ingredients
Cider Doughnuts
1

cup

granulated sugar

5

tbsps

unsalted butter,

room temperature

3 1/2

cups

all purpose flour

1 1/4

tsps

salt

2

tsps

baking powder

1

tsp

baking soda

1 1/2

tsps

ground cinnamon

1

tsp

ground ginger

1/2

tsp

freshly grated nutmeg

1/2

cup

buttermilk

1/3

cup

apple cider

1

tbsp

vanilla extract

confectioner's sugar and/or cinnamon sugar to coat doughnuts,

optional
Cider Glaze
4

cups

apple cider

1

cup

maple syrup

1

cup

powered sugar

2

tsps

salt
Instructions
Cider Doughnuts
Using the paddle attachment, beat the sugar and butter until pale and fluffy, about 4–6 minutes. Add the eggs, one at a time, beating a minute after each addition.

In a medium-size bowl, whisk together the flour, salt, baking powder, baking soda, cinnamon, ginger and nutmeg. Set aside.

Pour the buttermilk, cider and vanilla extract into the sugar/butter/egg mixture in the mixer. Thoroughly mix, and then add the flour mixture. Combine gently until fully moistened.

Line two baking sheets with parchment paper and dust generously with flour. Turn the dough out onto one baking sheet and pat gently into ¾-inch (2cm) thickness. Sprinkle the dough with additional flour, cover with plastic wrap and place in the refrigerator for 1 hour to firm up. You can piece together any leftover dough and roll out to cut more doughnuts.

Remove the dough from the refrigerator. Pick out two ring molds, and use them to cut the dough into desired sizes. Place the cut doughnuts on your second baking sheet as you go; then transfer to the refrigerator for 30 minutes to firm up again.

Line a plate with a few layers of paper towels and set it nearby. In a large pot, heat 3 inches (8cm) of oil to 350°F (188°C).

Drop 3 or 4 doughnuts into the oil, being careful not to crowd the pan. Cook until browned on one side, about 1 minute, then flip and cook until browned on the other side, about 1 minute longer.

Repeat with the remaining dough. If you find that it's getting too soft as you work your way through the batches, cool dough in the refrigerator. When the doughnuts are cool enough to handle but still warm, sprinkle all over with cinnamon sugar or confectioners' sugar. Serve immediately.
Cider Glaze
Reduce the apple cider and maple syrup in a sauce pan over medium heat until it's thick and can coat the back of a spoon, about 10 minutes.

Remove from heat and whisk in the powdered sugar and salt until fully incorporated.

Use to glaze the Cider Doughnuts while they're still warm.
Notes
Be careful when working with hot oil! Make sure to use a pot much larger than the amount of oil needed to avoid any spillovers and grease fires.
For more information on Cogswell and Crump's cooking class with the Festival, see our other online story Monticello's Virtual Heritage Harvest Festival.
Find even more delicious recipes here and get more recipe ideas on our Wine & Country Life Pinterest page. And, stop by our Wine & Country Shop's website for all of your baking needs. ~
JENNIFER BRYERTON loves baking, gardening, shopping at the Charlottesville City Market and cooking with fresh produce. This recipe reminds her of treasured childhood memories at the local orchards.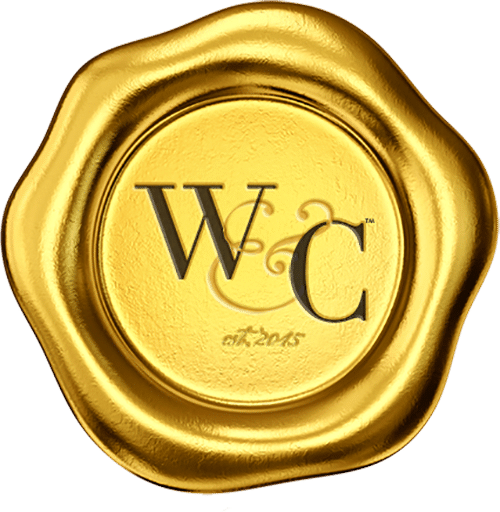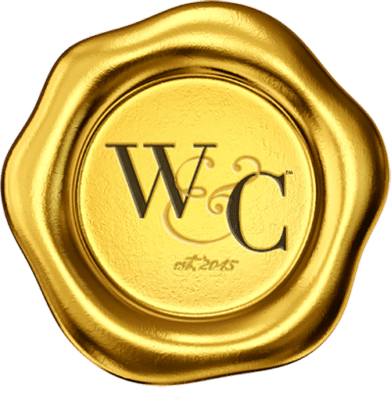 Virginia Wine & Country celebrates elevated living in Virginia Wine Country. Virginia Wine & Country Life is a semi-annual luxury print magazine with a full digital presence. The Virginia Wine & Country Gold Book is an annual guide to the top award-winning wines, wineries and experiences in Virginia Wine Country. The annual Virginia Wine & Country Wedding Planner is an art book of elegant Virginia weddings. The brand includes the Virginia Wine & Country Shop in Ivy, Va. It is a beautiful lifestyle boutique that brings the pages of the magazines to life. Virginia Wine & Country tells the stories of Virginia wineries, the farm-to-table movement, luxury travel, entertaining, art and the elegant country lifestyle. Ivy Life & Style Media also provides branding, web design and PR services for the wine industry.