If you've ever wanted to learn how to make the perfect French croissant, read on. One taste of Chef Godfrey McKenzie's croissants, pastries and bread and you'll understand why there's a line out the door of this thriving Leesburg bakery, Dolce & Ciabatta Bakery & Cafe. The gorgeous breads, pastries and gourmet desserts that come out of this bakery are divine. Upon walking into the bakery, guests marvel at the menu, complete with incredible baked novelties, such as pastries, specialty desserts and artisan breads. However, perhaps one of the bakery's most incredible feats is their perfect, flaky, buttery croissant. The popular bakery is now bringing its recipe, formally inspired by European patisseries then perfected in Northern Virginia, right into your home. Read along as Master Baker Godfrey McKenzie shares his recipe for making perfect French croissants at home.
Croissants & Pastries by Internationally Acclaimed Baker Godfrey McKenzie
To create something that sings in a universal language and cultivates widespread appreciation takes rare talent. In the case of McKenzie, it also includes reverence for history's faint simmer. When he slides piping loaves out of his bakery's German stone oven, he relishes in "listen[ing] to them crackle, as if they are talking." A renowned culinary artist, McKenzie is the co-owner of Dolce & Ciabatta, a bakery café—and local favorite—in Leesburg. With its European flair and carefully curated goods, the establishment pays homage to culinary practices of a bygone era, and it's clear that Chef McKenzie is passionate about everything he creates.
As a child in Jamaica, he often lent a hand in his family's kitchen, and after relocating to Miami, McKenzie snagged his first job in a bakery before working his way up to bread-making. Eventually, he secured the attention of acclaimed Baker Keith Rinaldi and scored years of mentorship, which led to centuries-old European techniques being infused into McKenzie's process.
In years since, he has baked on national and international stages, including a stint as a cruise line chef, leaving his mark on 30-plus countries. But in 2012, a gig for a major pastry company lured him to Northern Virginia, where he met Russia native Tatiana, now his wife and the mother of their two children. When a space in Catoctin Circle opened up in 2018, the couple decided to open their own place.
Making Perfect Croissants and Bread at Dolce & Ciabatta
At Dolce & Ciabatta, sleek metal butts up against hardwood and white-painted brick, while bulging breads and pastries dot the scene. To McKenzie, baking is a lifestyle, one that involved gathering "the finest ingredients" like specially prepped liquid levain, unbleached and unbromated flour, and, of course, salt and water. To them, "each levain recipe reflects the soul [and] style…of the baker."
Midnight shifts start the 18- to 24-hour periods of dough fermentation. The couple credit this step with producing "deep, rich [and] remarkable flavor and texture." And at Dolce & Ciabatta, "good" comes in a wide range of flavors, like a sundried tomato-basil cheddar loaf, cinnamon raisin bread and cranberry whole wheat boule, to name a few. Pastries, from croissants and cookies to twists and tarts, also line the menu.
To McKenzie, the bakery's mission extends beyond providing joy and sustenance to the community, serving also "to restore the time-honored tradition of artisan bread making."
Chef Tips for Making Perfect Croissants at Home
Chef McKenzie shared some of his best baking tips with us to help home cooks accomplish this recipe in their own kitchens.
Make sure your yeast is fresh. Once opened, yeast should be stored in the refrigerator for no more than 4 months.
Use the best European butter you can find. Your taste buds will thank you.
Use cold butter to laminate the dough. Lamination is the process of folding in the butter, creating layers of butter and dough that, when baked, will melt and create the fluffy layers.
Don't be tempted to skip or shorten the resting phases – this is important for the chemistry happening in the dough. You can even let them rest longer if you need to. Your croissants will be worth the wait!
Use parchment paper or a silicone mat on your baking sheet.
A pizza cutter is the perfect way to cut the final pieces for folding.
Pairing Wine With a Croissant Brunch
What are some yummy brunch beverages that pair perfectly with scratch-made, buttery croissants along with their savory and sweet accompaniments, such as fruit jams, butter, and fresh cheeses? One word comes to mind: sparkling. Janine Aquino, seasoned vineyard grower and agritourism advisor with Aquino Baron Consulting gave us two lovely cocktail recipes, both using Virginia sparkling wine: a Peach Bellini and a Raspberry Sparkler. Sparkling wine is the perfect pairing for buttery, creamy foods, and fruit forward sparkling cocktails are the perfect pairing for this light European brunch served with fruit jams.
Peach Bellini
Janine's favorite Peach Bellini starts with Veritas Vineyards' Scintilla NV.
Add frozen peaches, a few dashes of simple syrup and peach nectar and blend together.
Serve in a tulip style glass, and garnish with a fresh peach slice.
Scintilla NV is 100% Chardonnay, extremely crisp and fresh.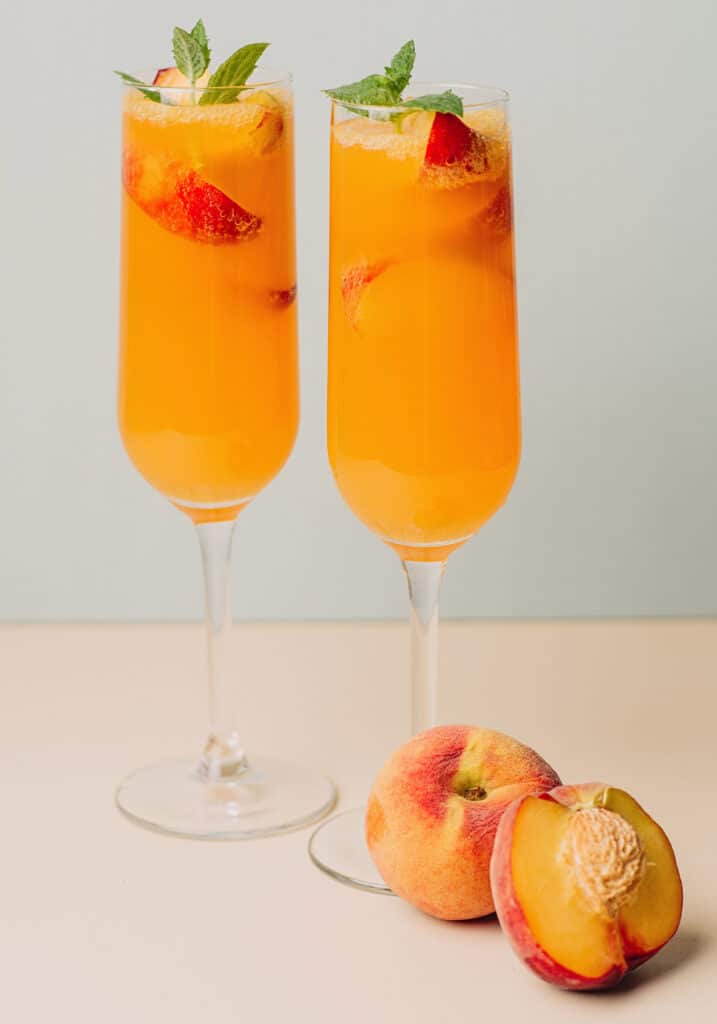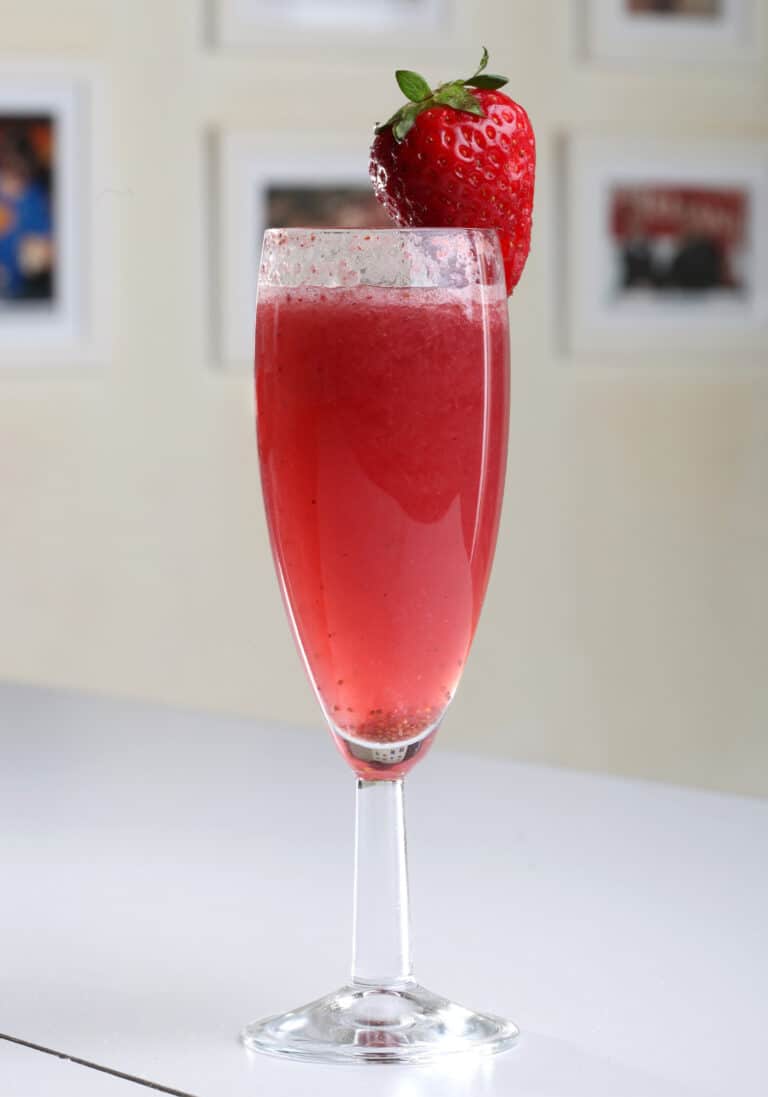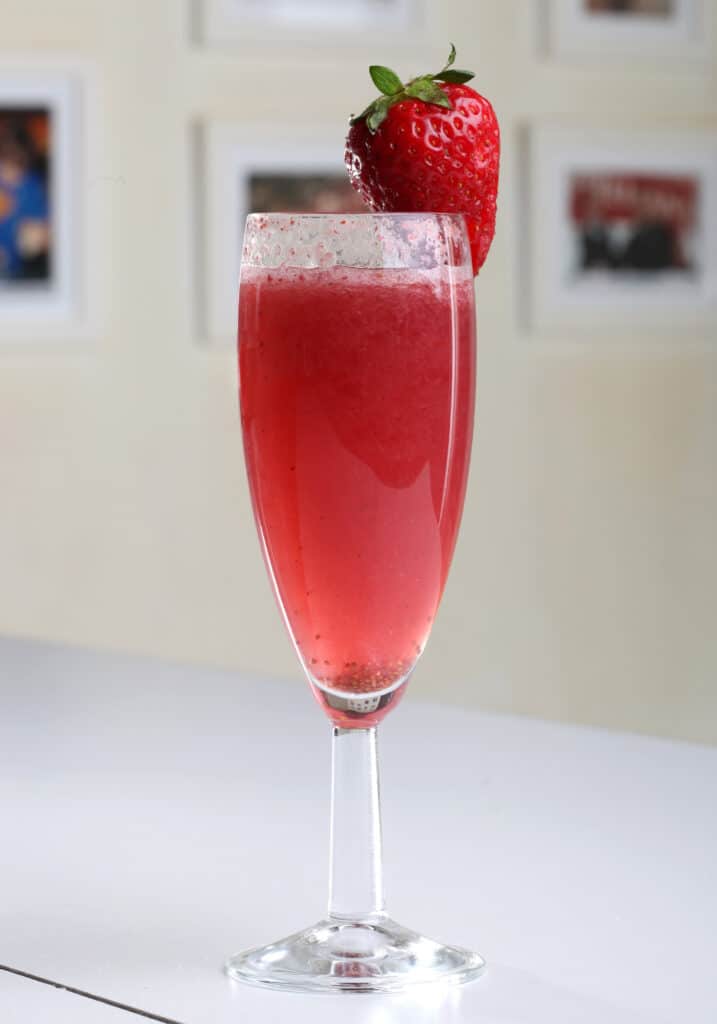 Raspberry Sparkler
This original recipe from Janine's vinting archives is sure to leave your taste buds fizzing.
Start with CrossKeys Vineyards' Blanc de Noir.
Add a couple dashes of simple syrup, then stir in a handful of frozen red raspberries and muddled mint.
Serve in a flute, and garnish with a fresh mint leaf.
Blanc de Noir is 100% Pinot Noir, bursting with raspberry on the palate.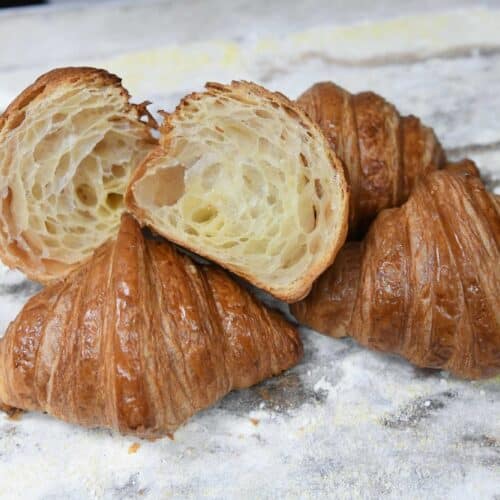 Butter Croissant Recipe
Ingredients
.5

oz

Active Dry Yeast

1/2

cup

Water

100F

3 1/2

cups

Bread Flour

1/4

cup

Granulated Sugar

2

tsp

Granulated Sea Salt

1/2

cup

Milk

1

Egg

2

tbsp

Unsalted Butter
Instructions
Whisk dry yeast and water; let sit for 10 minutes until foamy on top.

In a mixer with a dough hook, place the flour, sugar, salt, milk, egg, butter, and yeast mixture and mix for 2 minutes until a soft moist dough forms on the hook. If most of the flour isn't moistened with this quantity of milk, add a tablespoon at a time until it is moistened and smooth. Turn mixer on high and mix for another 3- 4 minutes until very smooth.

Turn the dough out of the bowl onto a lightly floured work surface, cover with a clear plastic and allow it to rest for 15 minutes to relax the gluten. Remove the plastic and, using a French rolling pin, roll the dough into a 10 by 9-inch rectangle 5/8-inch thick. Wrap in plastic, then chill in the refrigerator for 1 hour and up to overnight.

Ten minutes before the dough is done resting in the refrigerator, prepare the butter. Beat it lightly with your rolling pin on a floured surface to soften it and form a rectangle 6 by 8 1/2 inches. Place it between 2 parchment paper and set aside. ( The butter temperature should be 62-65°F)

Remove the dough from the refrigerator and roll it on a floured work surface into a 10 by 15-inch and 1/4-inch thick rectangle. Brush any excess flour off the dough. Place the shorter side of the dough parallel to the front of your body on the work surface. Place the butter in the middle, long-ways. Fold the bottom up over the butter and brush off any excess flour and then fold the top down over the butter to overlap and encase the butter. Press down lightly with the rolling pin to push all the layers together and make sure they have contact.

Continue rolling the laminated (layered) dough to form a new 10 by15-inch rectangle. Fold into thirds, like a letter, brush off any excess flour and mark it with an indentation made by poking your finger once at the corner of the dough meaning you have completed the first "turn".

Wrap well in plastic and chill 1 hour.  Repeat step #5 a second time and chill for 1- 2 hours or freeze dough overnight. If dough is frozen, remove from freezer 1 ½ -2 hours before shaping.

Roll croissant dough out to a 13 by 24-inch square that is a little less than 1/4-inch thick and cut out your croissants and shape them.

I roll out my dough and cut it with a sharp large knife or pizza cutter into 6-inch strips then cut them into triangles; 4 inches wide at the base of the triangle Stretch these triangles again 9 inches long, and then place on the work surface. Roll the triangles up towards you starting at the wide end and place them 4 inches apart on a parchment lined sheet pan. At Dolce & Ciabatta Bakery our croissants are straight instead of curved. You may freeze the unbaked croissants at this point for up to 2 weeks.

To proof the croissants, place them in an oven that is slightly warm but not turned on, (75-85°F) with a pan of hot water in the bottom to create a moist environment like a proof box. If the oven is too hot then the butter between the croissant layers will melt and you will end up with a croissant that is not flaky. Set aside to proof for 1 1/2 to 2 1/2 hours until puffed up and spongy to the touch, very gassy and more than doubled in size (they should slowly spring back when poked with your fingertip and jiggle slightly like gelatin when the tray is shaken.

Preheat the oven to 400°F and set the racks at least 4 inches apart.

In a small bowl, beat 2 eggs and brush the risen croissants evenly and gently with the egg wash. Reduce oven temperature to 350°F and bake without opening the oven, until the croissants begin to color, 15–20 minutes. Rotate the pans and continue baking until evenly golden, 6–8 minutes more. Let cool slightly before serving.

Enjoy!
Learn more about the renowned food and drink makers paving the way for greatness in Virginia Wine Country with Virginia Wine & Country's Meet the Maker series. From award-winning winemakers, gardeners and Michelin Star chefs, Virginia is home to a robust farm-to-table movement defined by culinary delights, artisan pastries and craft beverages such as heritage hard cider and award-winning craft beer. This article originally appeared in Book 14 of Virginia Wine & Country Life. Start your subscription here or give a gift subscription. ~
CAROLINE HOCKENBURY, a UVA grad, is a nonprofit communicator, multimedia journalist and poet. Her work has been featured in Virginia Quarterly Review, Virginia's Best Emerging Poets and more. She was formerly sound engineer of the Probable Causation podcast.
JANINE AQUINO has been a business consultant and entrepreneur with 30 years of experience. Her focus lies in Agritourism, the grower, the producer. She grew up in the Hudson Valley region of New York, on a small family vineyard where she learned grape growing, making wine and distribution. While in NY, she studied food and wine pairings at the CIA and worked for a couple of wineries lining the Hudson River. She then received an opportunity to buy a boutique winery in Ohio, which she did, and ran it for 10 years successfully. Opportunities were presented to her in VA to take the reins of a couple of startup vineyards and fully develop them. After working with the wineries, she started Aquino Baron Consulting, an agritourism consulting company focused on wineries and cideries. She is a member of the Virginia Wineries Association, Virginia Vineyards Association, Shenandoah Valley Wine Trail and sits on the Waynesboro Tourism Advisory Board.
R. L. JOHNSON is our co-publisher and creative director, Robin Johnson Bethke, who began her career as a professional photographer in Los Angeles before moving into graphic design and art direction when she relocated to Charlottesville in 1994. As our company's co-founder and visionary, she enjoys all aspects of the publishing process from story conception to graphic design to photography. Her work is often seen in many of our publications.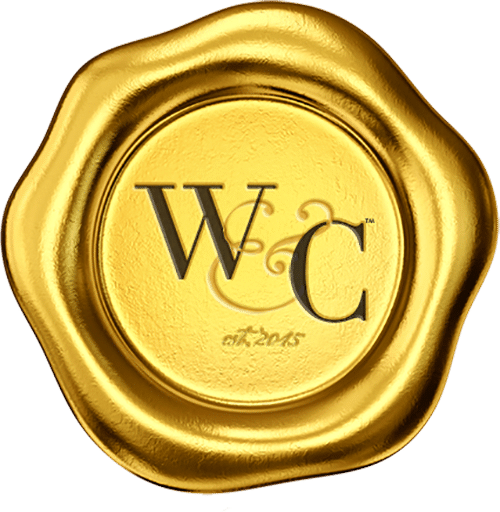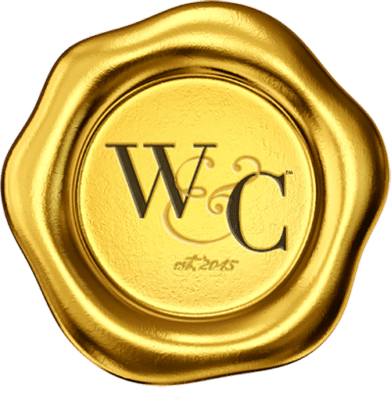 Virginia Wine & Country celebrates elevated living in Virginia Wine Country. Virginia Wine & Country Life is a semi-annual luxury print magazine with a full digital presence. The Virginia Wine & Country Gold Book is an annual guide to the top award-winning wines, wineries and experiences in Virginia Wine Country. The annual Virginia Wine & Country Wedding Planner is an art book of elegant Virginia weddings. The brand includes the Virginia Wine & Country Shop in Ivy, Va. It is a beautiful lifestyle boutique that brings the pages of the magazines to life. Virginia Wine & Country tells the stories of Virginia wineries, the farm-to-table movement, luxury travel, entertaining, art and the elegant country lifestyle. Ivy Life & Style Media also provides branding, web design and PR services for the wine industry.