Chef Patrick O'Connell of the famed The Inn at Little Washington restaurant debuts a new café and bakery, adding it to his collection of world-class dining and lodging experiences in the little village of Washington, Virginia. Housed in a charming corner gas station building circa 1950, the new Patty O's Café & Bakery sits across from his highly esteemed Inn at Little Washington restaurant. As many know, The Inn at Little Washington earned the prestigious 3 Star Michelin rating in 2018, making it one of only 14 in the United States and the only one on the East Coast outside of New York City. The new café and bakery fulfills O'Connell's lifelong dream to offer classic American dishes in a relaxed atmosphere and to have a Parisian-style bakery. 
Arriving at the invitation-only, unveiling event, guests were greeted by charming Western-dressed staff and sophisticated décor by Mariana Cuevas and Lamarr Reid from Pierre-Yves Rochon. Complementing the décor was a roaring stone fireplace, fresh oysters served in a chuck wagon, folk music and signature cocktails like the elevated whiskey sour seen here.
Luca Paschina of Barboursville Vineyards Presents an Exclusive Paxxito Wine to Chef O'Connell
Honoring a longtime friendship with Chef O'Connell, Winemaker Luca Paschina of Barboursville Vineyards congratulated O'Connell on the restaurant by presenting him with an exclusive private label dessert wine made by the Zonin family.
"This is a special limited edition passito wine I've made," shared Paschina. "There are only 250 bottles created, and I choose the number 007 from the case because I think of Patrick as the '007 Chef' of our time." Graciously flattered, O'Connell accepted the gift with gratitude. Barboursville Vineyards' passito wines are the regions very best, and have long found a place in the cellar at The Inn at Little Washington. Paschina's 2015 Paxxito dessert wine won the highly coveted Governor's Cup award in 2021 and countless gold medals over the years.
The Food of Patty O's Cafe Takes Center Stage
Throughout the evening, guests were treated to beautifully delectable bite-sized samples from the café's farm-to-table menu. Samplings included a delicious champagne-brined ham sandwich, perfectly pulled pork with vinegar slaw and a sweet onion roll, charcoal grilled mustard-crusted salmon filled with flavor and a melt-in-your-mouth grilled Berkshire pork chop topped with Riesling-braised sauerkraut, Sauce Robert and apple purée.
Throughout the evening, guests were treated to beautifully delectable bite-sized samples from the café's farm-to-table menu.
The most talked about dish might have been the utterly perfect bite-sized hamburgers seen below. These samplings of burgers on the cafés menu are made with fresh Ovaka Farms beef, locally made tomato jam, crispy onions and Comte cheese. The other raved-about tasting was the pan-roasted citrus lobster with grapefruit butter (also seen below). It was an explosion of divine flavor!
Back in the kitchen, the café's head chef, Devin Bozkaya, was busy creating no dish short of perfection. Each guest undoubtedly sampled numerous dishes that left them wanting to come back for more. In addition to working at The Inn at Little Washington years prior to his recent return, Bozkaya's experience working in the hospitality industry spans over 20 years at some top-level restaurants in New York, Washington, DC and Rhode Island.
Patty O's Cafe & Its Sumptuous Décor
Famously known as the "Pope of American Cuisine," O'Connell entered the room after a grand, but light-hearted, introduction flanked by his own Pontifical Swiss Guard, which the guests always adore. He gave a gracious speech, thanking the many artisans (some having worked on the Inn's property for generations) who helped create the restaurant and bakery. From the murals to the masonry, O'Connell acknowledged the great "village" it took to launch the project. Among them was Lisa Vella, who we found chatting with Chef O'Connell in one of the sumptuous leather booths.
Vella of Baileywyck Antiques and O'Connell have developed a wonderful relationship over the years curating stunning antiques for The Inn and restaurants. So well known for it's luxurious décor, the new café and bakery do not disappoint. Every impeccable detail is to the highest standard. Vella said, "It's a privilege to work with Patrick. We have such great fun together."
Patty O's Parisian-Style Bakery
Stepping through the velvet curtains, guests were transported to Paris. Entering the bakery, visitors are treated to an elegant café clad in Carrara marble and showcasing delectable desserts and artisan bread (yes, you can purchase the amazing bread you enjoyed with your meal!) complemented with tea and coffee brewed to perfection.
The desserts that day were a lemon tart with pistachio frangipane that melted in your mouth with beautifully complex flavors, a yummy bittersweet chocolate mousse, the best carrot cake you'll ever taste (not too sweet!) and their famous butter pecan ice cream that is homemade at the Inn every week. We also caught Head Baker Christian Capo with his staff rolling the handmade croissants. Requiring an intensively involved four-day process to create, the croissants are made only from scratch with the highest in exacting standards here at the new Patty O's Bakery. Capo, an alum of Fiola, previously worked at New York's Dominique Ansel Bakery & Kitchen and is so pleased to head up the new bakery.
Getting in to Patty O's Cafe & Bakery
Returning the next day, it was no surprise to find the café filled with excited guests wanting to partake in Chef O'Connell's vision of casual American cuisine done to perfection. A native of Washington, DC, O'Connell opened the now world famous The Inn at Little Washington restaurant across the road in 1978. A local who made it big as America's most highly decorated chef, including a National Humanities Medal from the President of the United States and a Lifetime Achievement Award from the James Beard Foundation, O'Connell has done it again with this transformation of casual cuisine to elevated heights.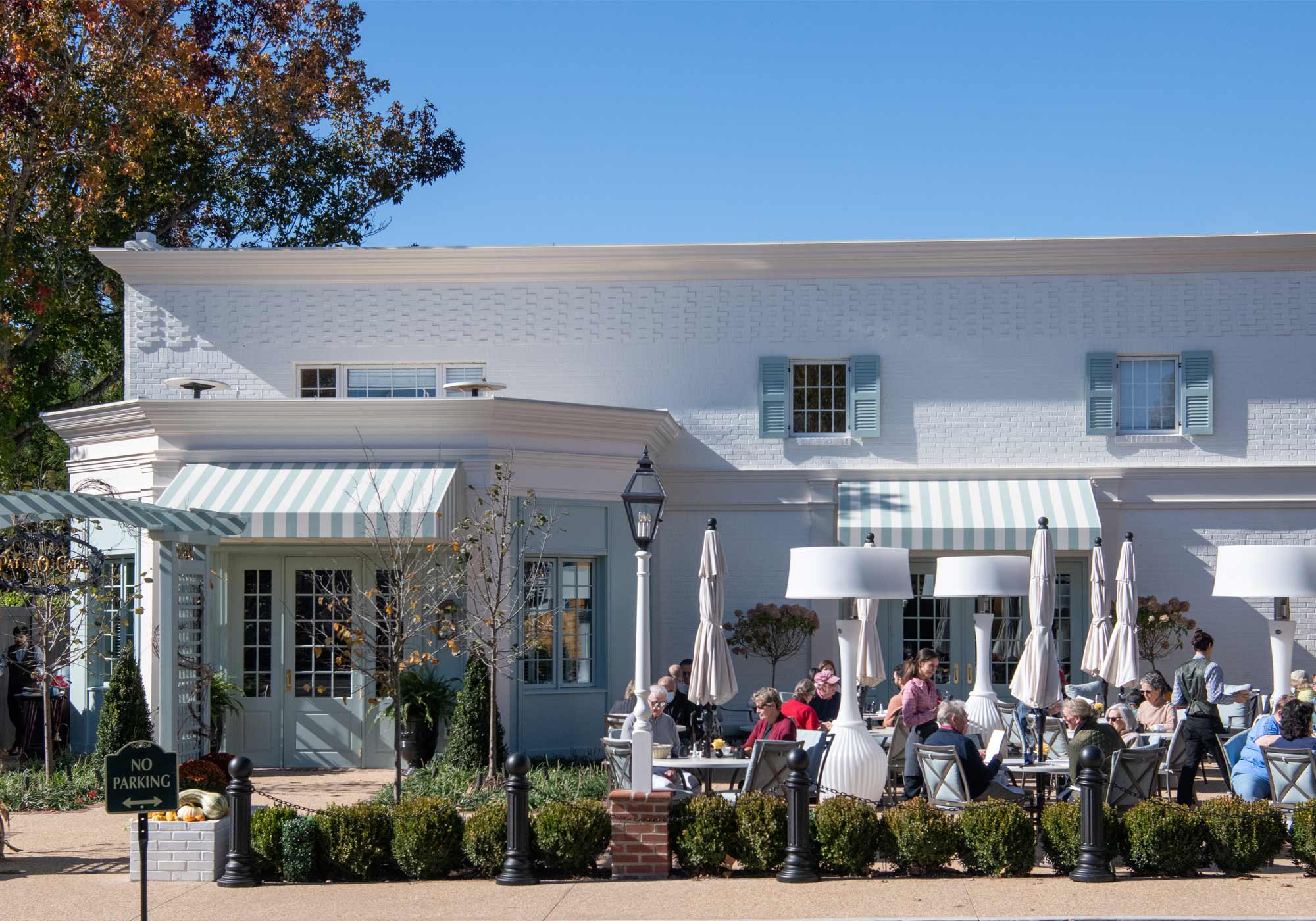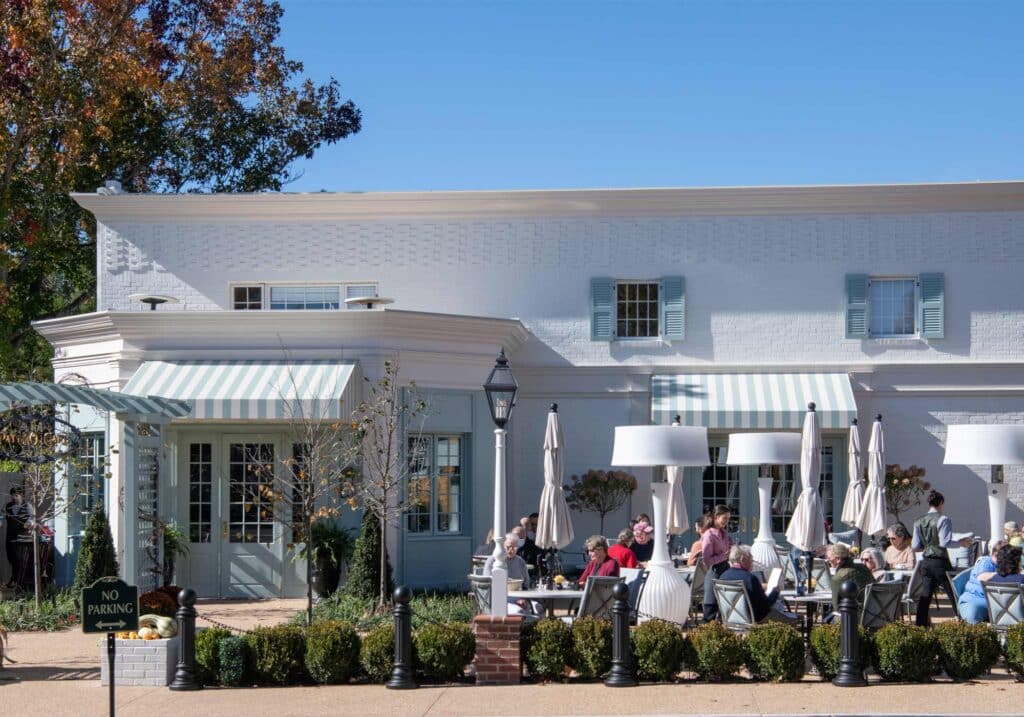 It is O'Connell's intent to keep the Patty O's Café informal and available daily to guests at The Inn as well as day-trippers. For that reason, the restaurant does not currently take reservations, but rather welcomes walk-ins or the option to join a day-of waitlist, both of which are offered only on a day-of basis.
And, those made-from-scratch croissants Capo was making? They were gone within the first hour the bakery was open! If there was any fault to be found in Patty O's Café & Bakery, it might be that O'Connell has underestimated the popularity of his talent and the number of diners who will clamor to get in.
What's New at The Inn at Little Washington
During 2020 and 2021, Chef O'Connell and his dedicated staff of over 200 at The Inn at Little Washington have been busy. For those of you who so enjoy the dining experience of The Inn but haven't been able to visit over the last couple of years, you'll be excited to learn that the lovely inner patio courtyard that the dining rooms encircle has been transformed to include a stunning conservatory room. The Inn has officially become the longest tenured AAA 5 Diamond restaurant in history.
All About Chef Patrick O'Connell
Patrick O'Connell is a self-taught chef, restaurateur and proprietor who pioneered refined, regional American cuisine in the Virginia countryside by forming alliances with local farmers and artisanal producers. O'Connell has also authored two of his own cookbooks, The Inn at Little Washington Cookbook, A Consuming Passion and Patrick O'Connell's Refined American Cuisine.
At The Inn, O'Connell has evolved and refined many dishes from his childhood. His commitment as an Ambassador of American Cuisine has fueled his involvement in the international association, Relais & Chateaux, where he currently serves as President of Relais & Chateaux North America. On the occasion of The Inn at Little Washington's 40th Anniversary, O'Connell commissioned a documentary film celebrating the evolution of American cuisine over the last four decades and honored 30 American culinary pioneers who helped make this transformation possible. The documentary, which premiered on PBS National on March 27, 2020, goes behind the scenes of The Inn and can now be watched on Amazon Prime Video. It explores the ornate world of O'Connell and his transformation of The Inn. With glimpses into the front and the back of house, the film follows O'Connell and his 150-employee team as they chase, and triumphantly attain, the ultimate accolade—a third Michelin star.
For more articles on Virginia makers, chefs and award-winning restaurants, see our Food & Drink page, where you will also find farm-to-table recipes from local Virginia chefs, cookbooks and foodies. ~
R. L. JOHNSON is our co-publisher and creative director, Robin Johnson Bethke, who began her career as a professional photographer in Los Angeles before moving into graphic design and art direction when she relocated to Charlottesville in 1994. As our company's co-founder and visionary, she enjoys all aspects of the publishing process from story conception to graphic design to photography. Her work is often seen in many of our publications.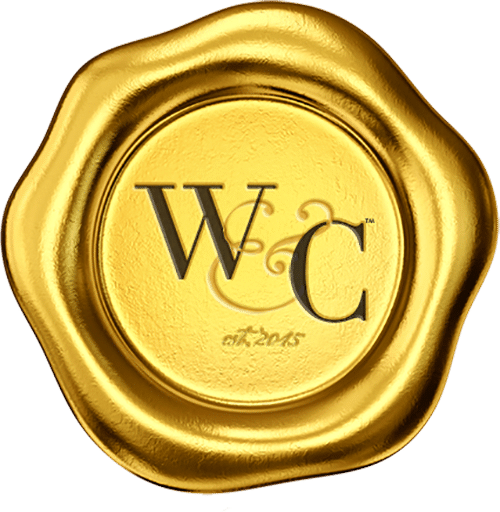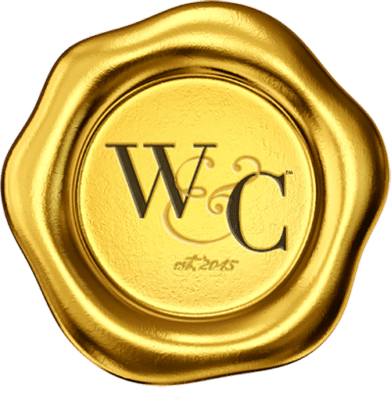 Virginia Wine & Country celebrates elevated living in Virginia Wine Country. Virginia Wine & Country Life is a semi-annual luxury print magazine with a full digital presence. The Virginia Wine & Country Gold Book is an annual guide to the top award-winning wines, wineries and experiences in Virginia Wine Country. The annual Virginia Wine & Country Wedding Planner is an art book of elegant Virginia weddings. The brand includes the Virginia Wine & Country Shop in Ivy, Va. It is a beautiful lifestyle boutique that brings the pages of the magazines to life. Virginia Wine & Country tells the stories of Virginia wineries, the farm-to-table movement, luxury travel, entertaining, art and the elegant country lifestyle. Ivy Life & Style Media also provides branding, web design and PR services for the wine industry.