Nestled in the idyllic Blue Ridge Mountains in an historic renovated chapel lies Potter's Craft Cider, one of Central Virginia's newest brewing scene additions. The passion project of Dan Potter and Tim Edmond, Potter's Craft Cider is the ultimate culmination of years of brewing experimentation.
Sharing an interest in brewing beer, Potter and Edmond have cultivated that passion for the perfect pint into crafting creative ciders in the Charlottesville area. With their talents, drive and the ability to tap into the undiscovered, the team at Potter's Craft Cider incorporates these elements into production, and continues to explore what combinations of apple varieties and styles of ciders will create.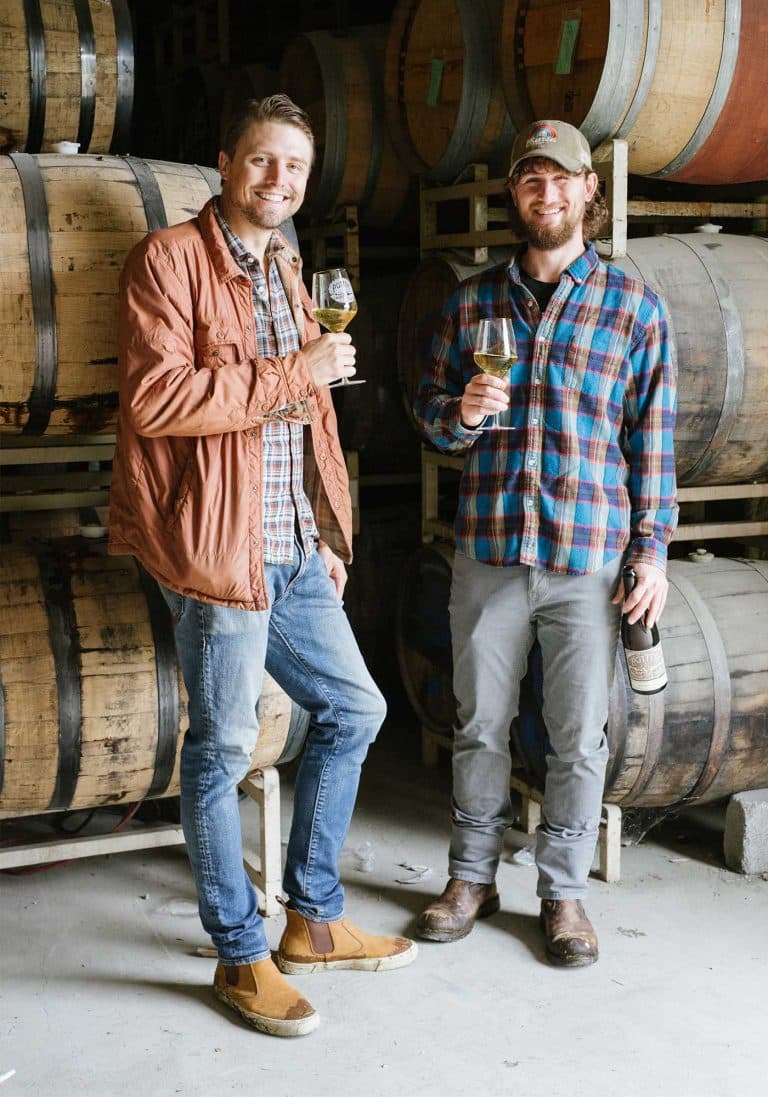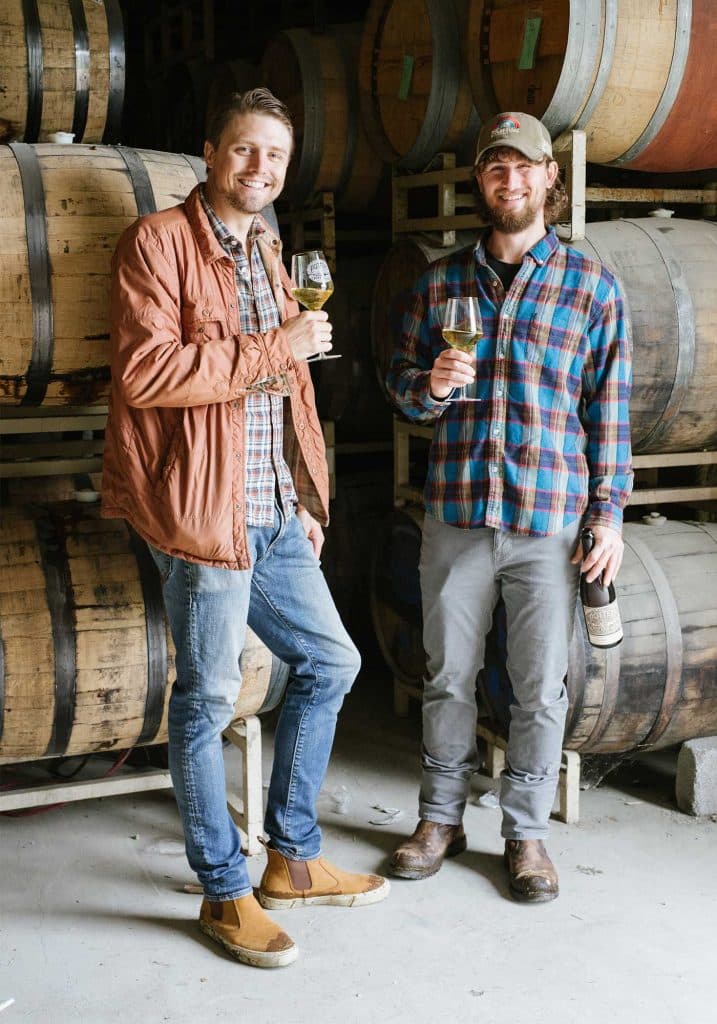 Potter's Craft Cider, one of many popular Charlottesville cideries, abides by three core beliefs when it comes to creating that perfect can of cider. They prioritize sourcing locally, collecting cider apples from orchards and farms around the Shenandoah Valley. Through collaborations with local wineries and breweries, Potter's Craft Cider gathers inspiration and establishes a sense of community with those partnerships that enhances their cider making possibilities. A local collaboration with King Family Vineyards brings to life a rose-style cider, the Cider Nouveau, which is fermented on Petit Verdot and Merlot grape skins. The grapes bring "beautiful color, complex tannins and a light fruitiness to the dry, crisp cider." By aging the cider in French oak barrels, they allow the separate components to blend together in a harmonious way.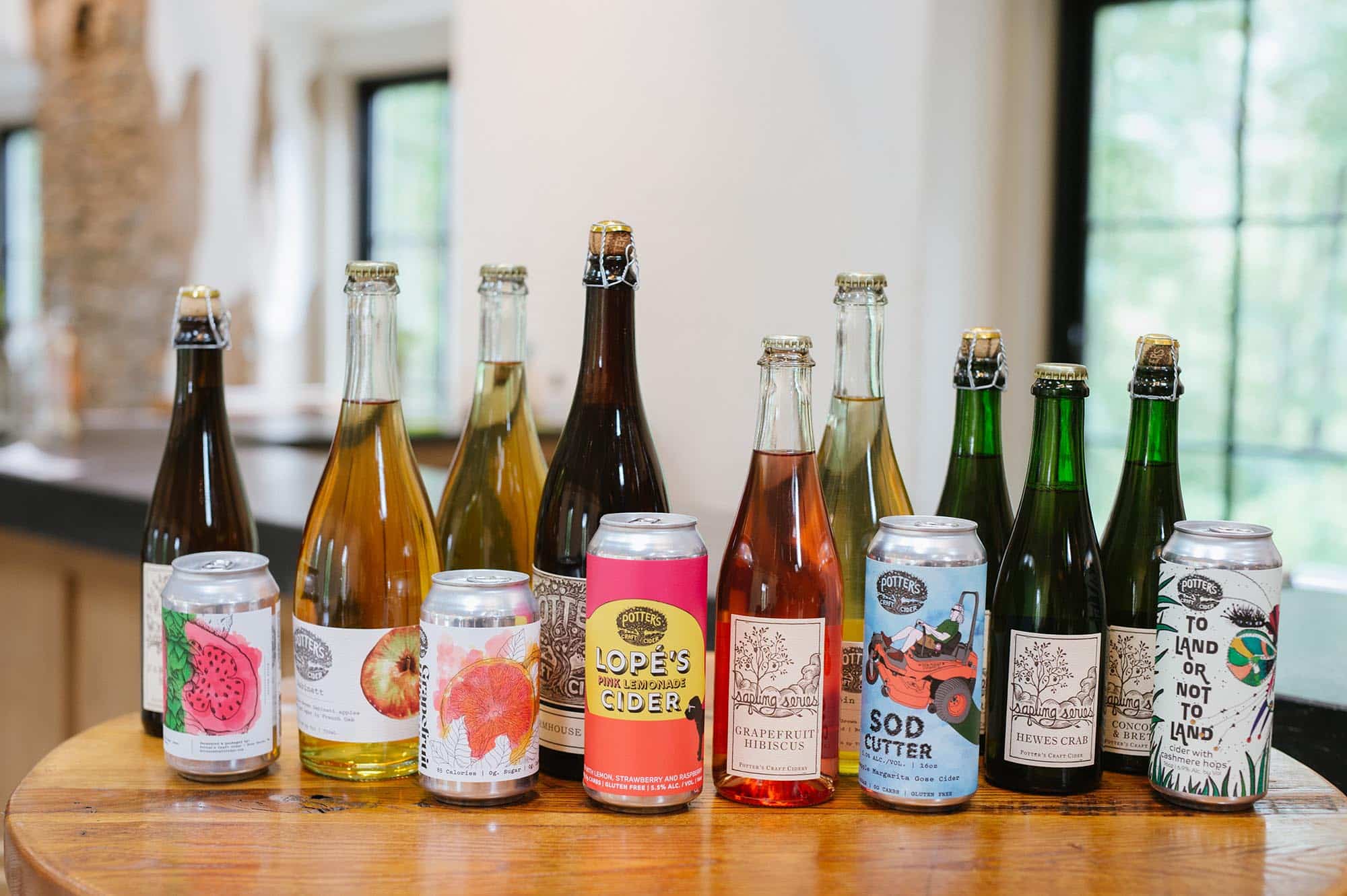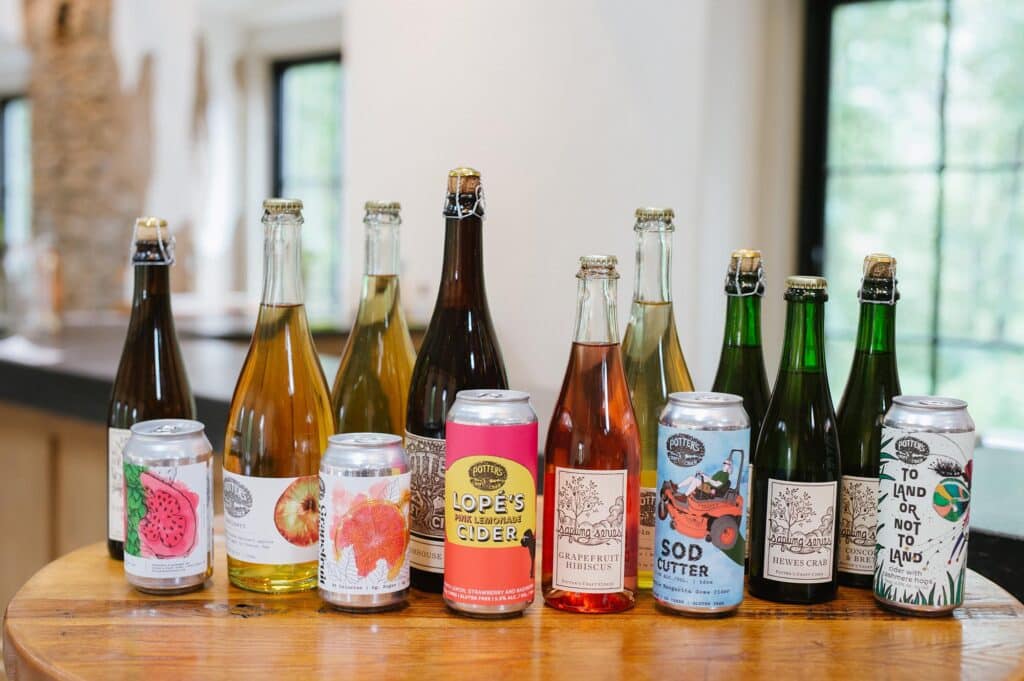 The second principle Potter's Craft Cider follows is to consistently tweak and test their process and product. With elements of creativity and invention being pivotal to the cider-making process, they incorporate new techniques, flavors and yeasts and continually push the boundaries to keep cider exciting.
Lastly, the team at Potter's Craft Cider embraces the community they've come to love through building relationships and supporting events and nonprofits. They do all of this while also establishing a loyal fanbase of cider lovers in Virginia and beyond along the way.
The History of Potter's Craft Cider
Meeting at Princeton in 2005, Potter and Edmond bonded over their love of home brewing and would make small batches of beer in their dorm room. After graduating and entering the corporate world, they continued to connect, especially over styles of beer that were not commercially available on the East Coast.
"We just kept it up with the mindset that this is our real passion. It was the way we would stay in touch … by giving each other updates of whatever project, beer-wise, we were working on," Edmond says of the early days.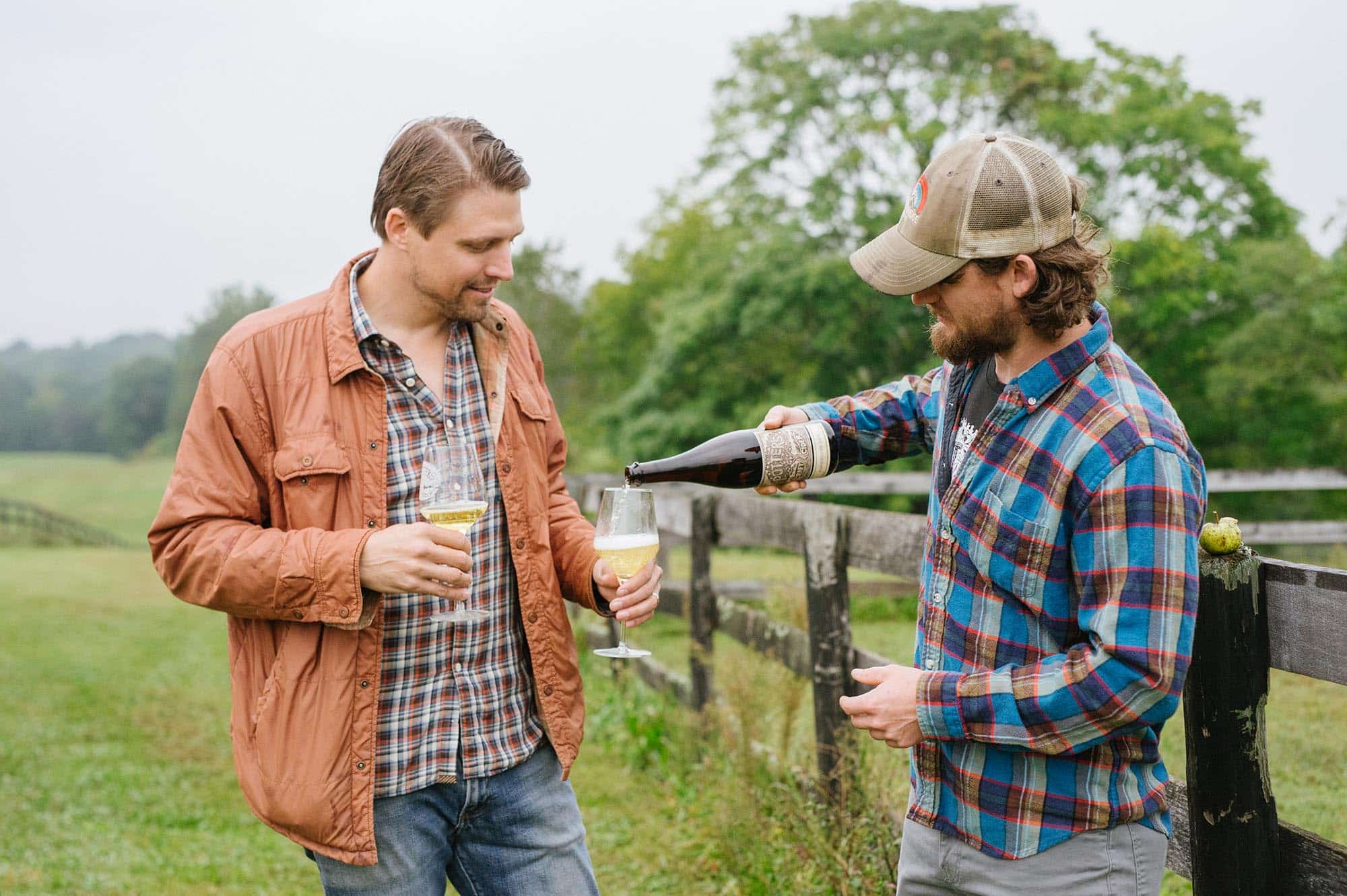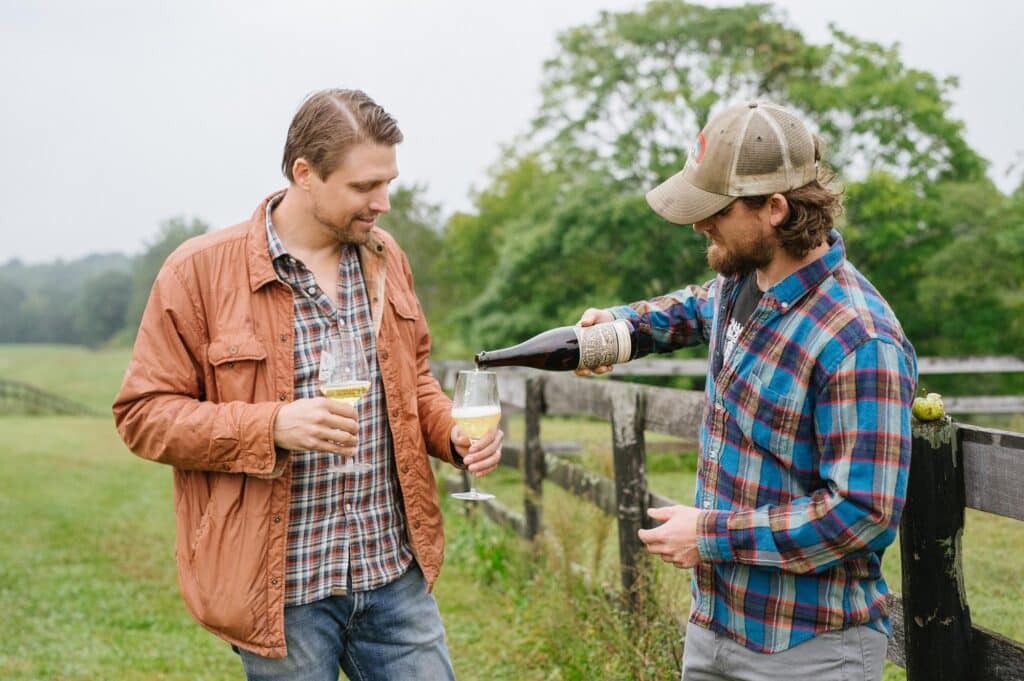 After leaving his job, Potter moved to a farm in Richmond. There, he started a farming project and ended up planting a bunch of barley and hops, which led him to starting a sort of farmhouse brewery. Mother Nature had other plans though; the James River flooded and washed up all the barley.
"It was just like one of these realizations. Farming is really hard; running a business is really hard. The idea that we were going to grow all the ingredients is very hard," Edmond admits.
While the washed out crop was an initial setback, it was also a catalyst for inspiration. Edmond explains, "We kind of kicked the can down the road a little bit and then Dan made a batch of cider. It worked really well, but it was also really dry. I'd never had a dry cider before—cider with zero sugar, with real cider apples. In Virginia, we're really blessed with the apple varieties that grow here."
How to Make the Perfect Cider
The initial excitement that Potter and Edmond had for beer experimentation transferred seamlessly into cider brewing. In 2010, they began exploring with different kinds of apples to make aromatic, dry ciders. Starting with small batches, the two tried different combinations of flavor and aroma profiles with the unifying feature of zero sugar in the final product—a characteristic that prevails to this day.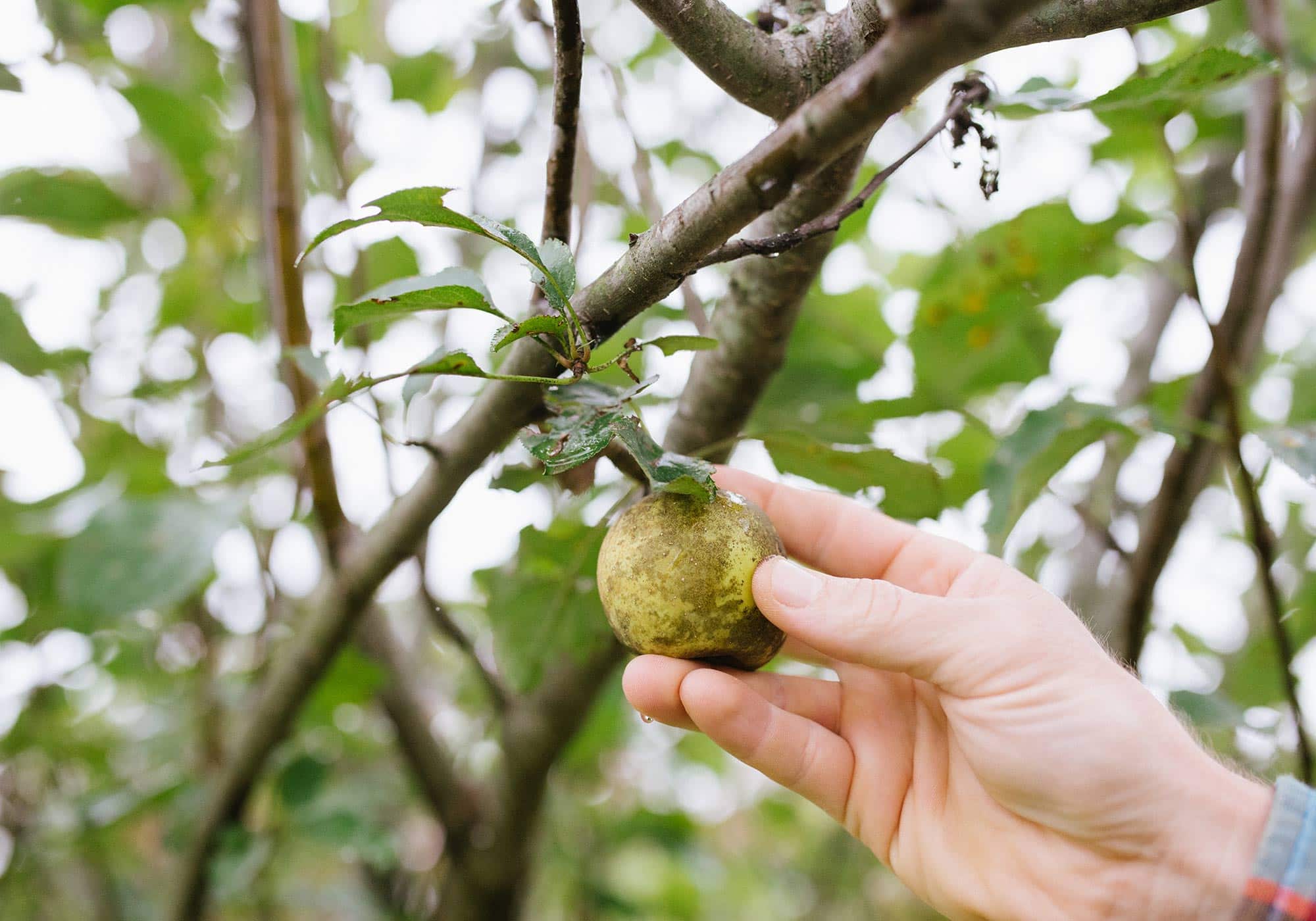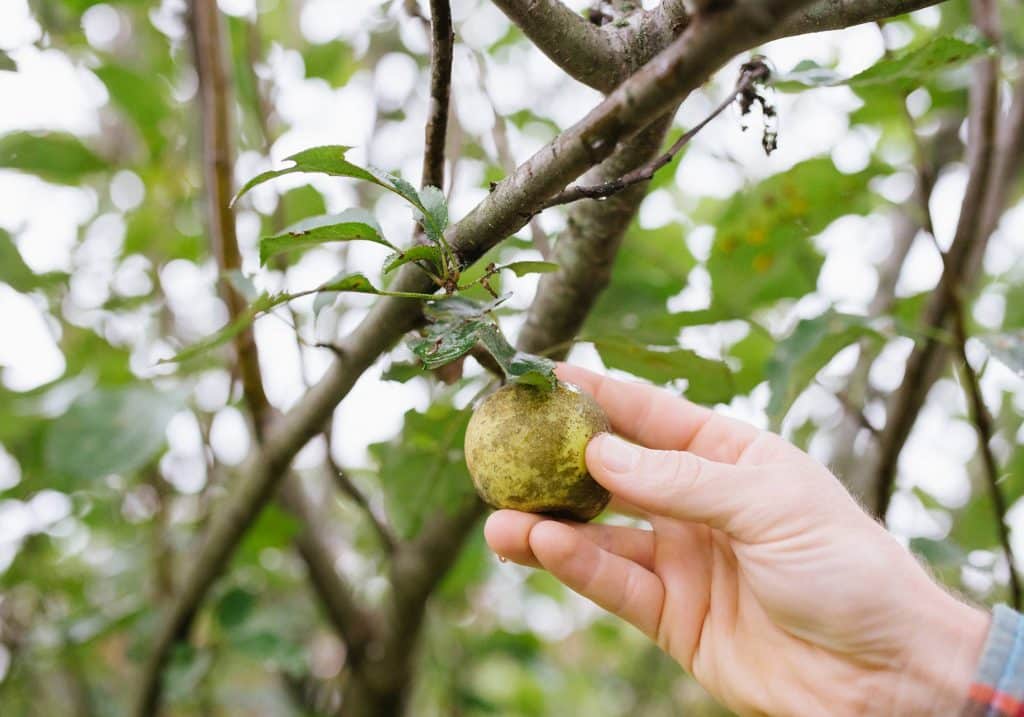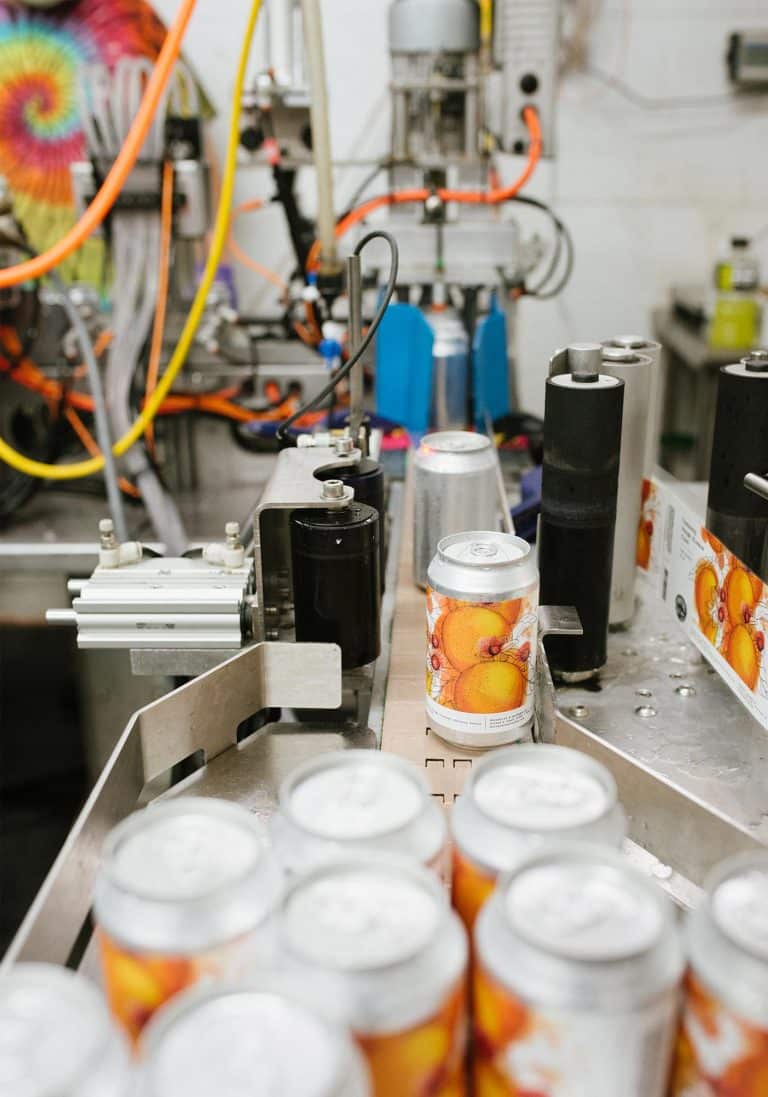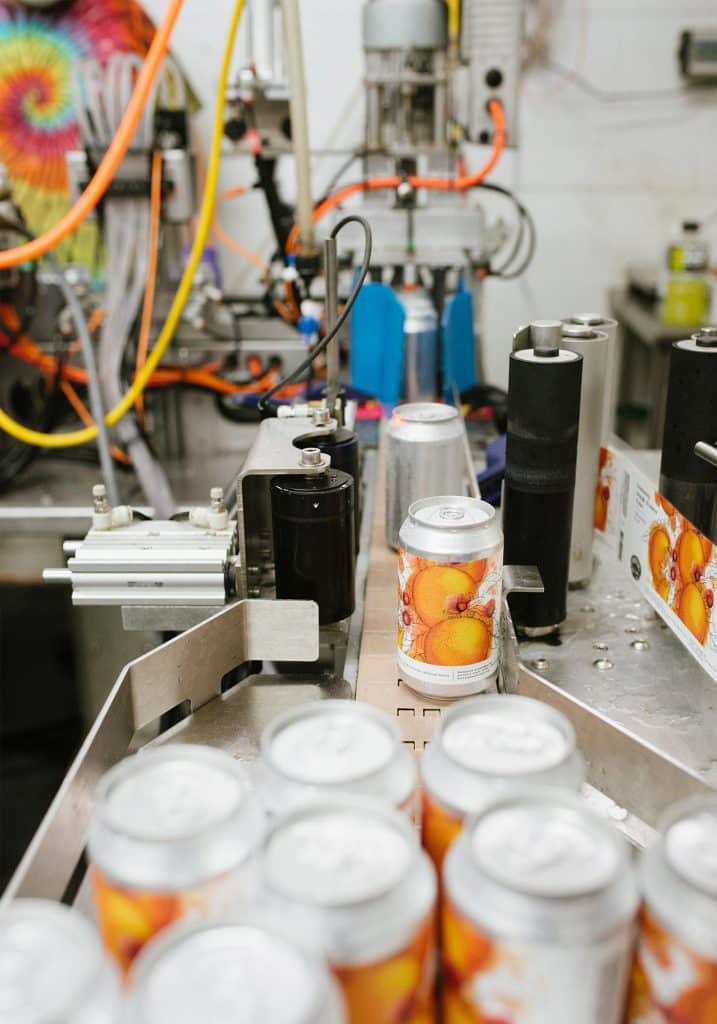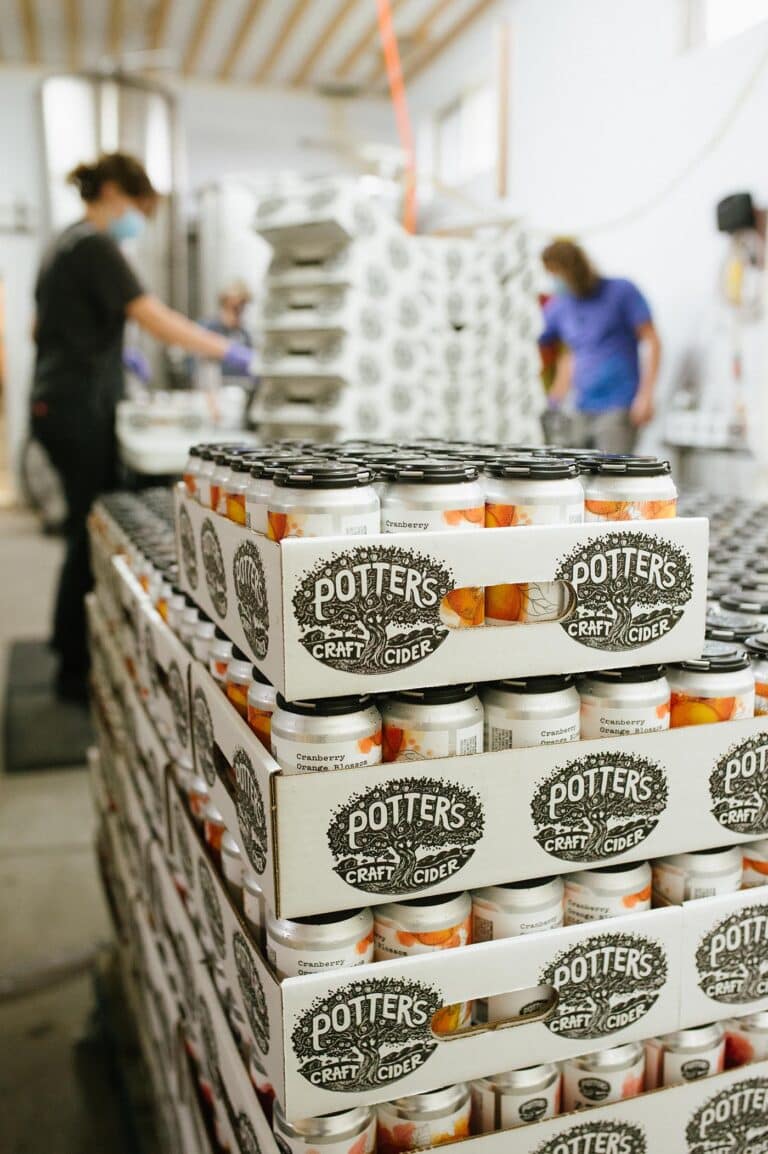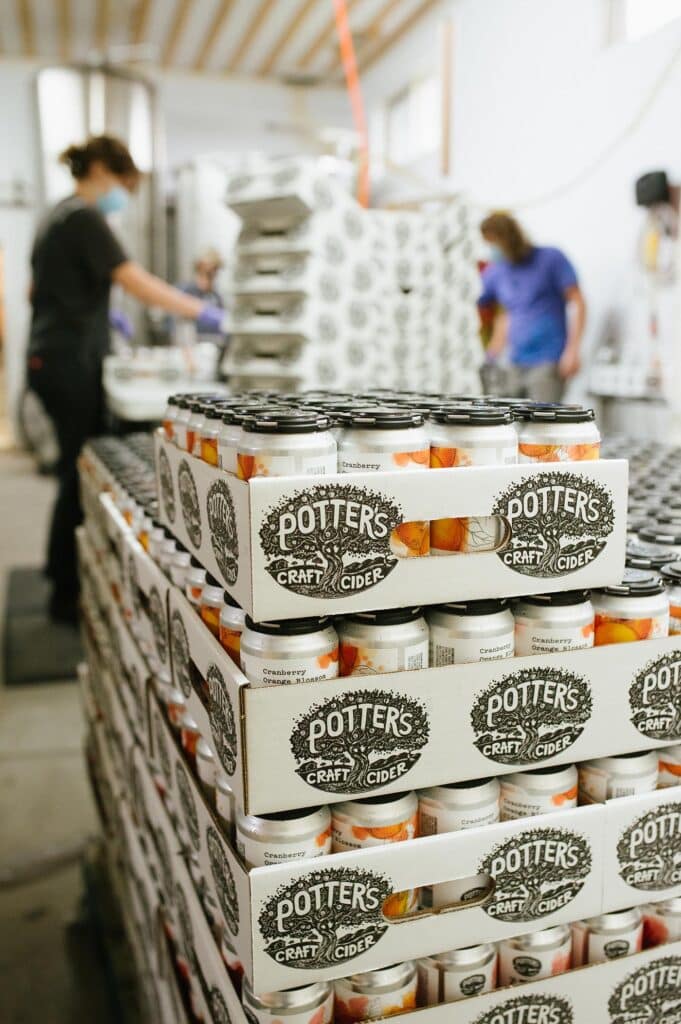 "In that environment, you really get a palate to showcase the sensitive flavor aroma available in these really exceptional Virginia apples. That became our baseline in the cider world. As we were coming up, there wasn't really a style book or guide to cider experimentation," Edmond says.
Since the beginning, their projects have included making sour ciders, like their gose-style Sod Cutter Pineapple Margarita, which offers a sour taste from a warm fermented process. At the helm of some recent projects is Head Cider Maker Andy Hannas. As their first employee, Hannas came to the team with a culinary background in Richmond and an exceptional palate.
…the history, art, landscape and, of course, delicious cider, make Potter's Craft Cider a great place to make memories.
Edmond says, "Andy just has this imagination for flavor and flavor combinations that's really guided a lot of new development of our portfolio."
Yet, Hannas isn't the only one in the recently-expanded team to have an impact on projects. "The whole team has a creative voice in that process. We'll take someone's idea, whether it's a fruit and a hops combination or a fruit and yeast combination, and put it on a running ideas board in the employee area. When we're looking for inspiration, we'll come back to the board and see what speaks to us," Edmond shares.
One of the most recent outcomes of this collective process is a Watermelon Saison. Whole watermelons are sent through the apple processing equipment, rind and all. The resulting watermelon juice then gets blended with apple juice and fermented with the Belgian saison yeast.
The canned Cranberry Orange Blossom was also developed through this cellar team collaboration. As for things on the horizon, there seem to be no limits. "We just received a batch of foeders, which are big wooden casks standing about 10 feet tall," Edmond explains. "They're going to house some creative developments that are on the wilder side. We're excited to use such a traditional piece of equipment to experiment with all our ideas."
The Expansion of Potter's Craft Cider
Fresh ciders aren't the only new things for these precocious cider makers. While they've been distributing ciders for the past 10+ years, the pair was anxious to have a physical space to call their own. So, they set their sights on an old stone church resting in the foothills of Albemarle County. The almost 100-year-old 20th-century church eventually became home to artist Jim Hagan, whose sculptures have been gracing the Charlottesville Downtown Mall since the 80s. Visitors exploring the site can still see his works and sculptures dotted through the cidery's premises.
"The tasting room has been a project we feel passionate about," says Edmond. "We want to be able to give our ciders a home we feel confident in, where we can talk about them with customers face-to-face." With the opening of their tasting room in November 2019, located just three miles outside of Charlottesville, Edmond and Potter had the chance to expand and offer more to patrons than ever before. The new space was only open for four months before the coronavirus pandemic hit. Instead of seeing this as a hindrance, the duo got to work, reimagining the venue to make it as picturesque and practical as possible. "We wanted to figure out how to do this right," Edmond adds.
The Terraced Lawn at Potter's Craft Cider
The pair came up with a one-directional flow model and renovated the outdoor space to create a terraced lawn. "And, we're really glad we did," they admit, "because it's allowed us to really spread people. This is not a short-term problem, so we pivoted and made sure that we're delivering an awesome experience that is safe and sustainable even after coronavirus ends."
Part of the renovations involved creating a permanent platform for live music acts on the tasting room lawn. The 20 x 20 bandstand houses local ensembles that patrons can enjoy on weekends from pre-set socially-distanced plots.
Thanks to the renovations to the property, the cidery is now able to also host weddings and other private gatherings. Whether enjoying a charming afternoon with Fido listening to tunes on the terrace or celebrating a milestone with a gathering of loved ones, the history, art, landscape and, of course, delicious cider, make Potter's Craft Cider a great place to make memories.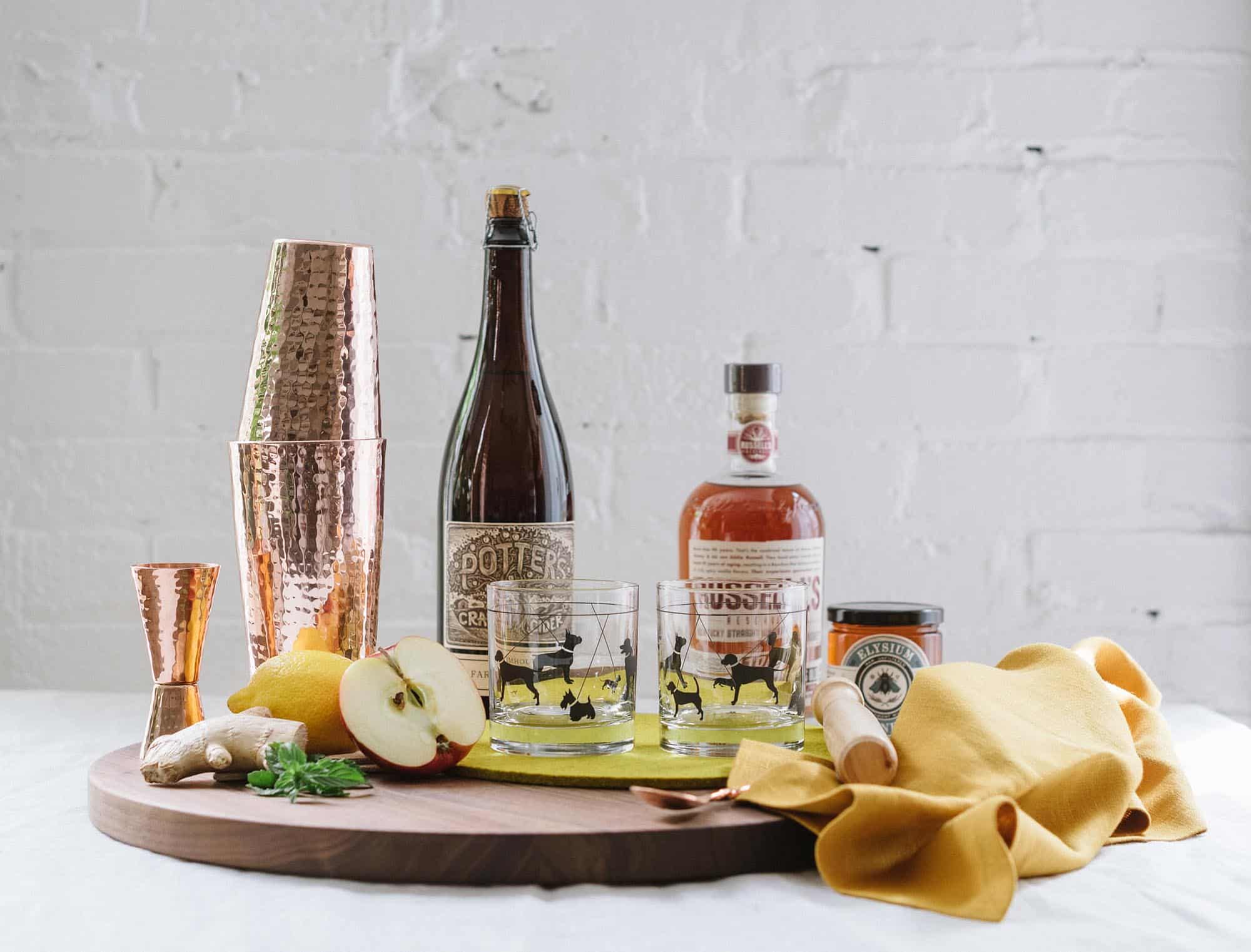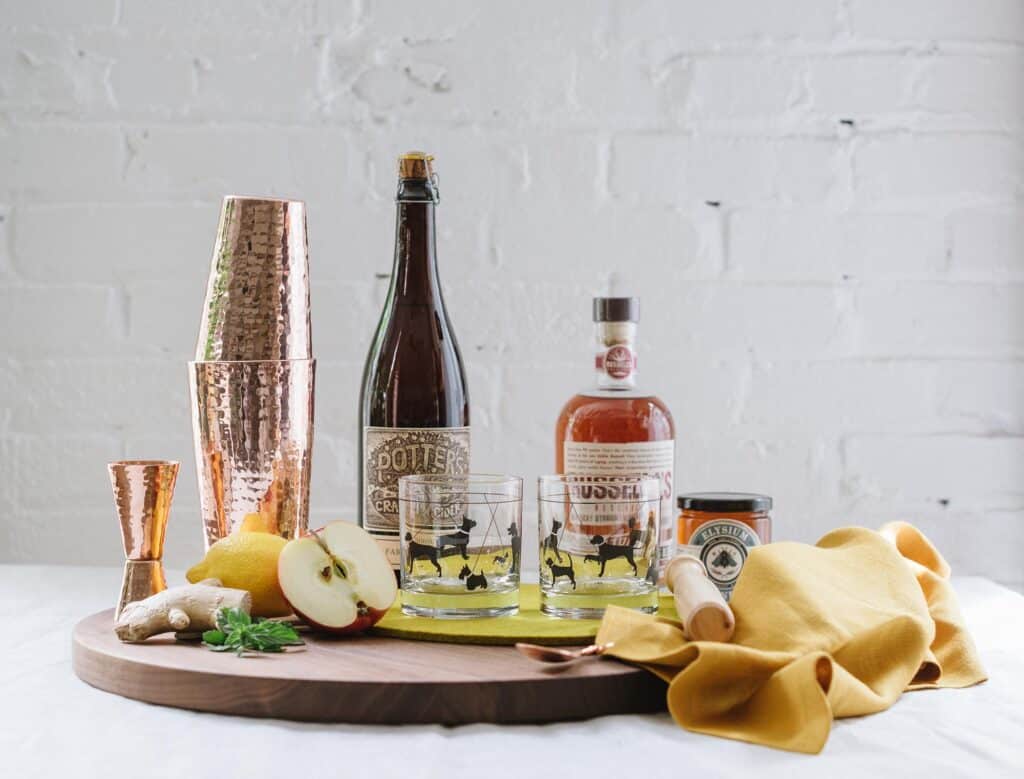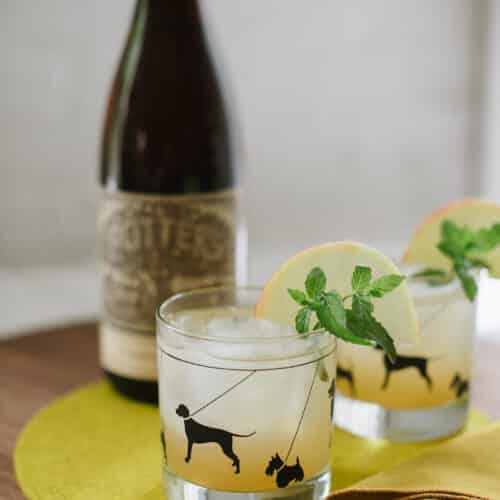 Honey Bourbon Cider
As winter approaches and the weather gets colder, it is important to have a couple of delicious cocktail recipes ready to warm you up and to share with friends. This Honey Bourbon Cider cocktail is the perfect drink to enjoy by the fire or at a dinner party. What makes this drink special is that the cider is locally sourced from Potter's Craft Cider, using their most popular cider, the Farmhouse Dry. The crisp apple tanginess from the cider mixes perfectly with a smooth bourbon, giving you a warm and joyful feeling with every sip.
Ingredients
2

tbsps

freshly chopped ginger

10

fresh mint leaves

1

oz

honey

1.5

oz

fresh lemon juice

3

oz

bourbon

7

oz

Potter's Craft Cider's Farmhouse Dry

Apple wedges
Instructions
Combine the ginger, mint and honey in a cocktail shaker. Middle the mixture until the ginger and mint leaves are broken down and become fragrant. Add lemon juice, bourbon and some ice and shake.

Add ice to two rocks glasses and divide the mixture between the glasses. Top off each glass with Potter's Craft Cider's Farmhouse Dry, and garnish with a couple of local apple wedges.
Discover even more Cideries in Central Virginia on our Food & Drink page, as well as other cider recipes like Apple Cider Donuts and Bold Rock Cider Clams. This article originally appeared in Book 11 of Wine and Country Life. Start your subscription here or give a gift subscription here. ~
MANDY REYNOLDS, a former press liaison for the Edinburgh International Festival, has a master's in art and history and enjoys local culture, especially our delicious farm-to-table cuisine.
JEN FARIELLO has been taking beautiful photographs since 1996, specializing in journalistic, fine art wedding and portrait photography. Jen's work has been featured in many regional and national publications like Time, People, Rolling Stone, Southern Weddings, The Knot, Weddings Unveiled, Southern Living and Wine & Country Weddings.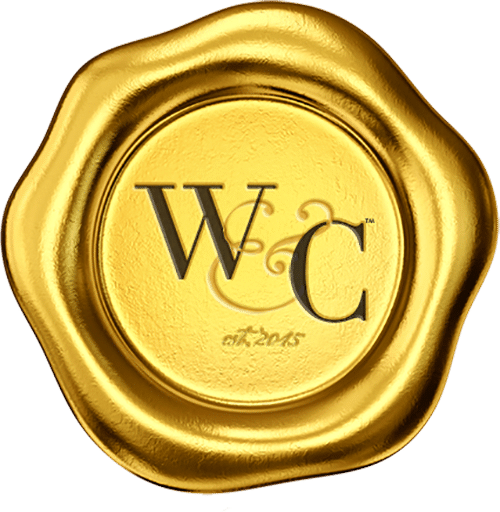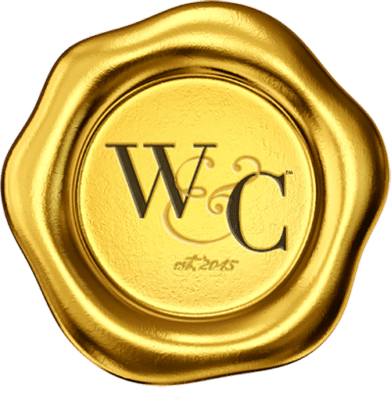 Virginia Wine & Country celebrates elevated living in Virginia Wine Country. Virginia Wine & Country Life is a semi-annual luxury print magazine with a full digital presence. The Virginia Wine & Country Gold Book is an annual guide to the top award-winning wines, wineries and experiences in Virginia Wine Country. The annual Virginia Wine & Country Wedding Planner is an art book of elegant Virginia weddings. The brand includes the Virginia Wine & Country Shop in Ivy, Va. It is a beautiful lifestyle boutique that brings the pages of the magazines to life. Virginia Wine & Country tells the stories of Virginia wineries, the farm-to-table movement, luxury travel, entertaining, art and the elegant country lifestyle. Ivy Life & Style Media also provides branding, web design and PR services for the wine industry.