No matter whether you're a whiskey enthusiast or perhaps a casual whiskey sipper, learn how that caramel-colored drink went from the field to your bar cart. You'll maybe even garner a newfound appreciation for the spirit whose history is a lot closer to home than you may think.
Becky Harris, head distiller and co-founder of Catoctin Creek Distillery in Purcellville, Virginia, remarked on this historical proximity, saying: "so many people think of only Kentucky, and secondarily Tennessee, as being where whiskey heritage is in the United States. It started in the colonies, and when they started distilleries in Kentucky, it wasn't Kentucky. It was Virginia."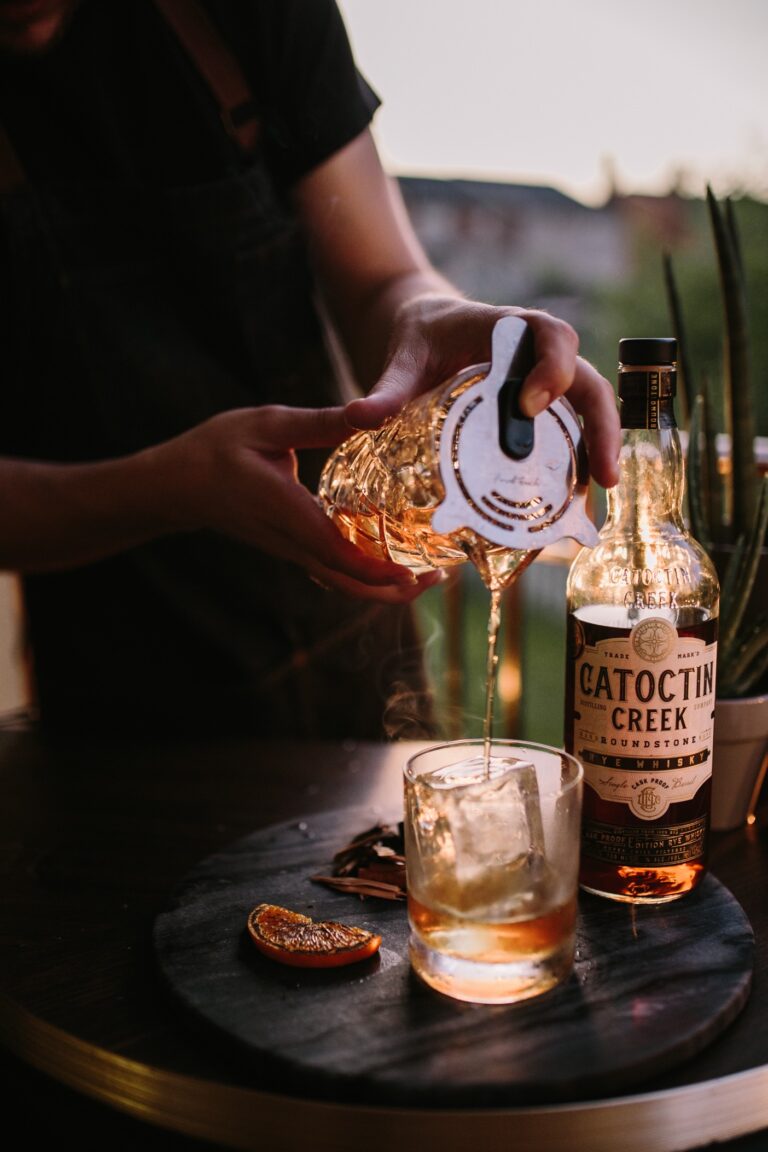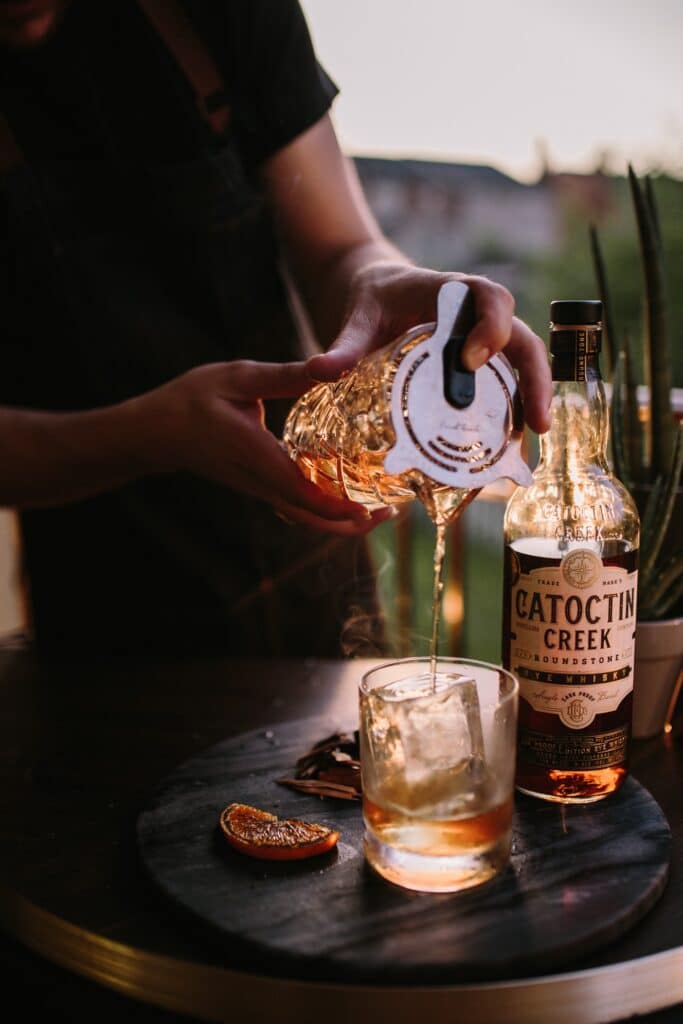 photo: Catoctin Creek Distillery
THE HISTORY OF WHISKEY IN VIRGINIA
George Thorpe, a Jamestown colonist, traded with the native Powhatan people in exchange for corn. He then used corn in place of the traditional barley used in European spirits and found that it worked to produce the mash required to make whiskey. George finished the first batch of Virginia-made whiskey in 1620. Soon after, colonists realized that whiskey could be kept longer than beer and began to opt for its indefinite freshness and flavor.
Another George is a part of whiskey's story here in Virginia, and his name you will recognize: George Washington. Yes, the first president played a major role in the Virginia distilling movement. His distillery at Mount Vernon bottled 11,000 gallons of whiskey a year. Just as Washington's legacy has proved its staying power, so has his distillery. You can dive into Virginia's whiskey history at Mount Vernon, where the historical distillery has been meticulously reconstructed.
While whiskey has remained the same, save some experimentation here and there, the size and scope of its production has changed. Harris noted in an interview that at the time of whiskey's introduction "there were a lot more distilleries, and they were considerably smaller [than they are today]. They were more based in their communities." She went on to say that "in Virginia there is a little more experimentation, with different distilleries doing different things." With the birthplace of whiskey being so close to home, local distillery Catoctin Creek pays homage to this heritage with their small-by-design and differentiated approach to whiskey making.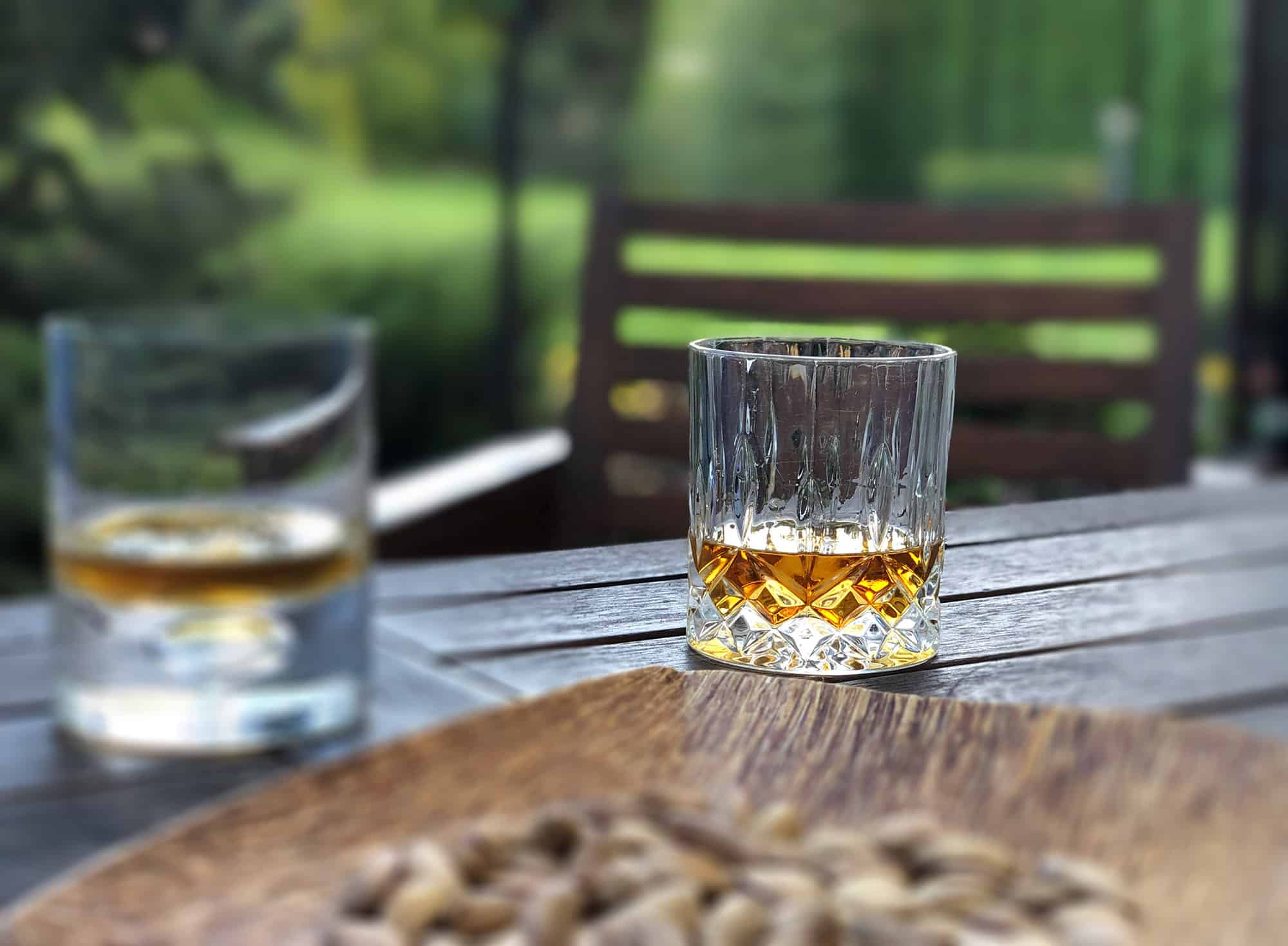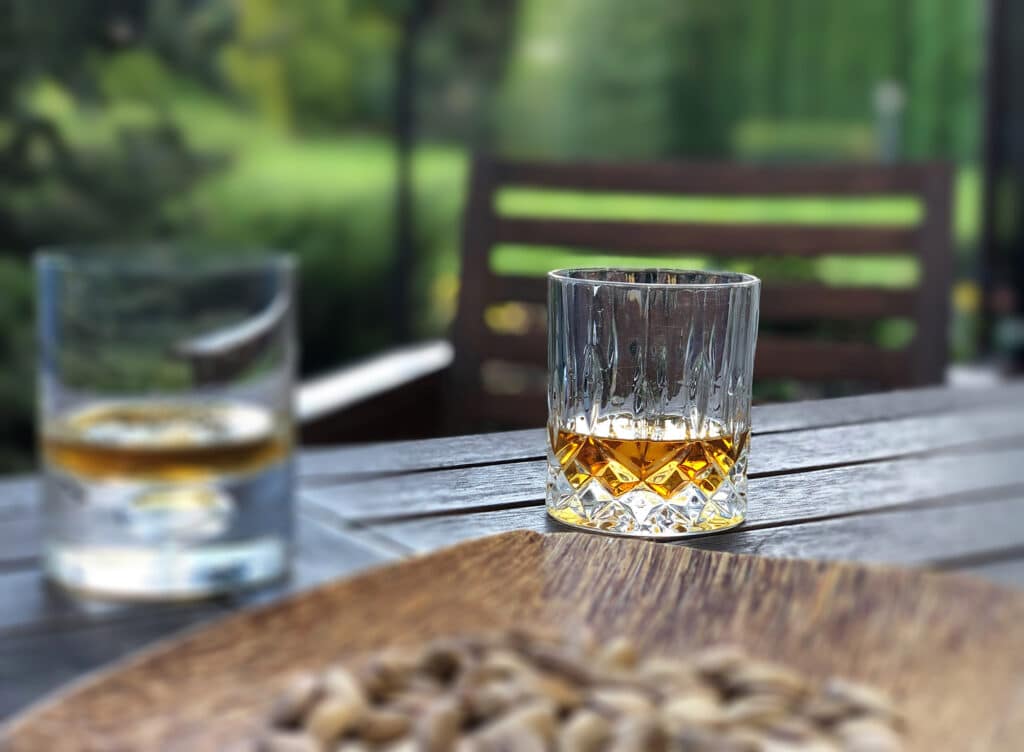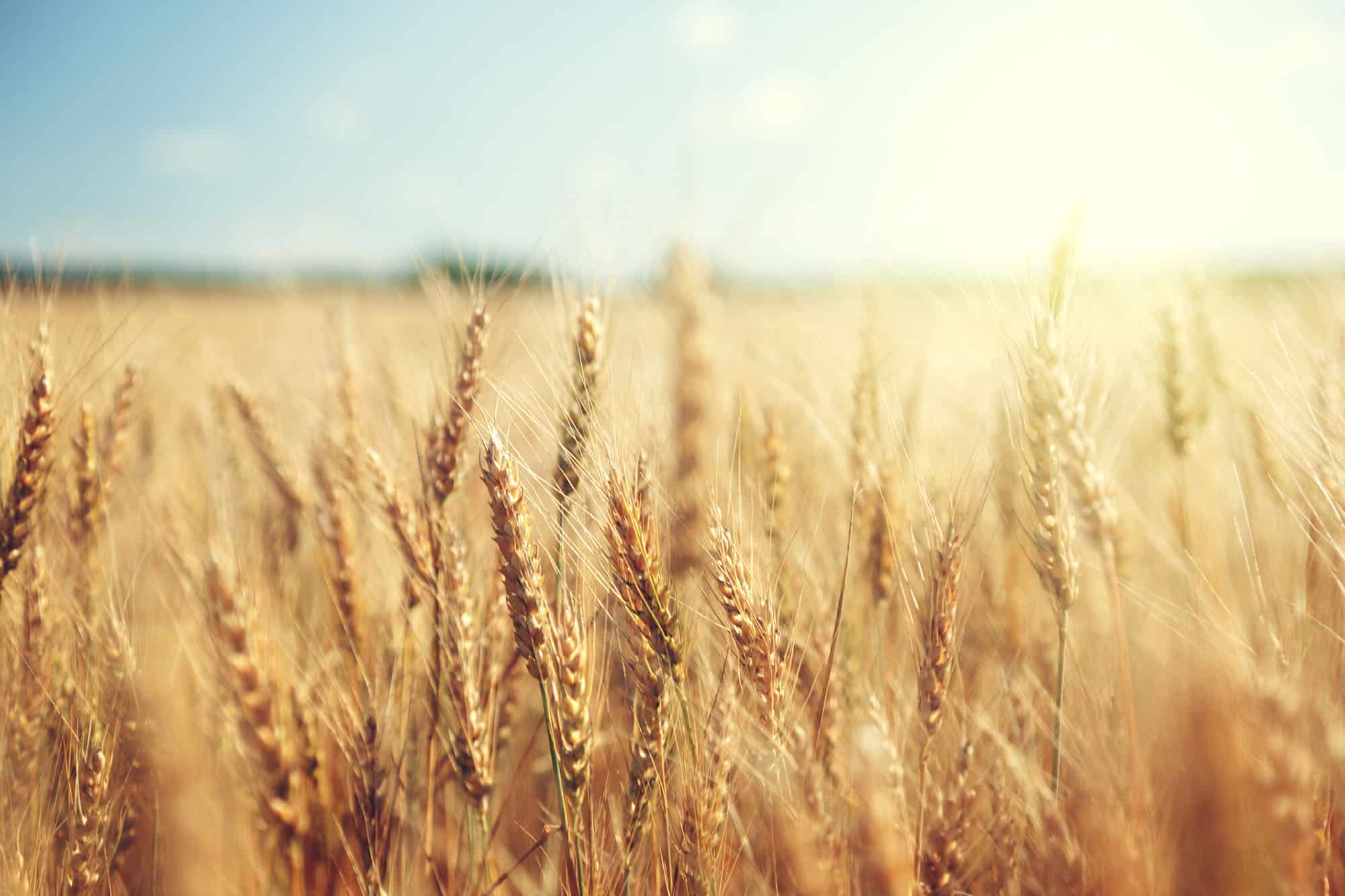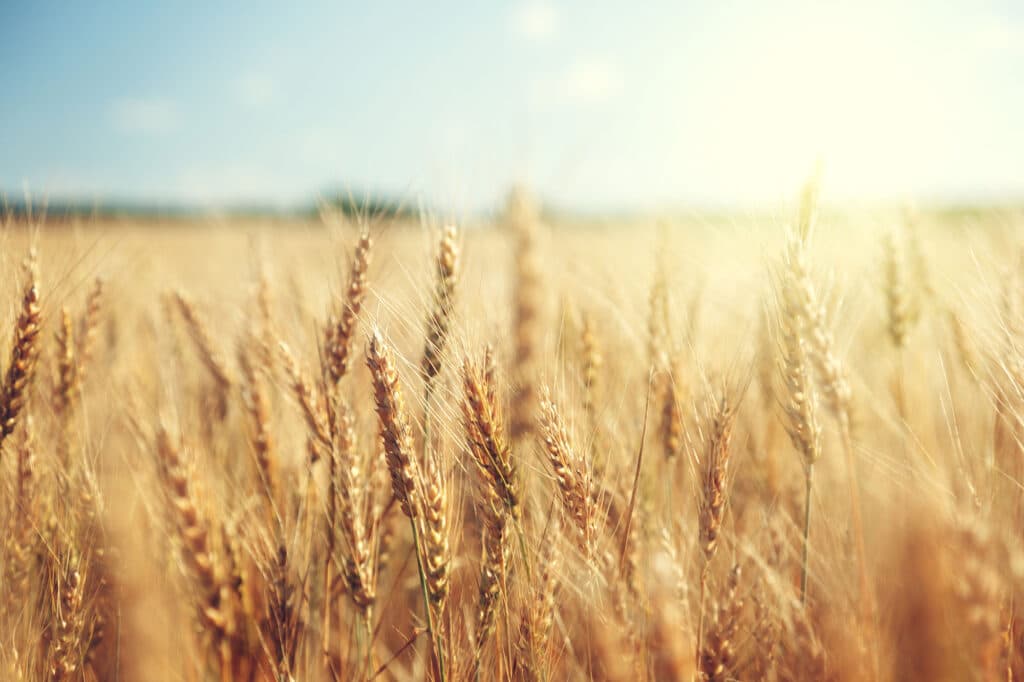 photos: Getty Images
Whiskey is defined as a spirit distilled from malted grains, like rye, barley, corn or any combination thereof. The spirit's flavor comes from multiple choices made throughout the production process, beginning with the kind of grain used. Different types of grain, and even where it is grown, can impact the whiskey's flavor. For instance, Catoctin Creek uses 100 percent rye sourced from a variety of regions to create a specific flavor blend. Harris explained that, "everywhere that we get our grains from has a slightly different flavor, and that's what we're trying to highlight and bring together." A farm along the Rappahannock River grows three types of rye for Catoctin Creek's award-winning Roundstone Rye. Becky Harris explained that when preparing her grains for whiskey she puts "together a pallet of different flavors from the different regions that grow the grain."
photos: Getty Images
Malting & Mashing
Once the selected grains have been finely ground, they are malted, which is basically forced germination. The malt is then dried in a hot kiln with flavor-influencing peat. Next, the dried malt is mixed with a high quality water source and cooked until all the starch has turned into sugars. The resulting liquid is called wort and is ready to be fermented.
Fermentation
Fermentation is a well understood chemical process in which yeast consumes sugar from the wort and produces alcohol. What is wort? It is the sweet, malty liquid that begins by converting the starches of malted grains into sugar (the process of mashing). The kind of yeast used for fermentation also has an impact on the whiskey's final flavor. Most distilleries use distiller's yeast, which has a very high alcohol tolerance, meaning it can consume all of the sugars from the wort. This high tolerance is crucial. Harris explained that "at distilleries, we don't want any residual sugars. Those [sugars] can sour the final flavor." After five to seven days, the fermentation process is complete. The fermented liquid is basically beer at this stage, and adding hops would finish it up. But, when making whiskey, along with any other spirit, it must be distilled to achieve its signature high alcohol proof.
Harris says, "We're cooking it, changing it, and the flavor gets deeper and richer as the distillation process goes on."
Distillation
Next, the beer is pumped into a still and heated up. At this point, evaporation and steam condensation separate the alcohol from the water and grain waste. The type of still that is used to distill the malted grain also affects the whiskey's final flavor. For example, a pot-column hybrid, which is used at Catoctin Creek, still allows for heightened flexibility with the flavor. Distillation can take as little as a half-hour, but at Catoctin Creek, the distilling process lasts six to nine hours. Harris says, "This allows [them] to make decisions about which flavors are going to be in the final spirit, and which flavors go into the barrel. We're cooking it, changing it, and the flavor gets deeper and richer as the distillation process goes on." This extended timeline allows their distillers greater flexibility and specificity with the flavor of their whiskey.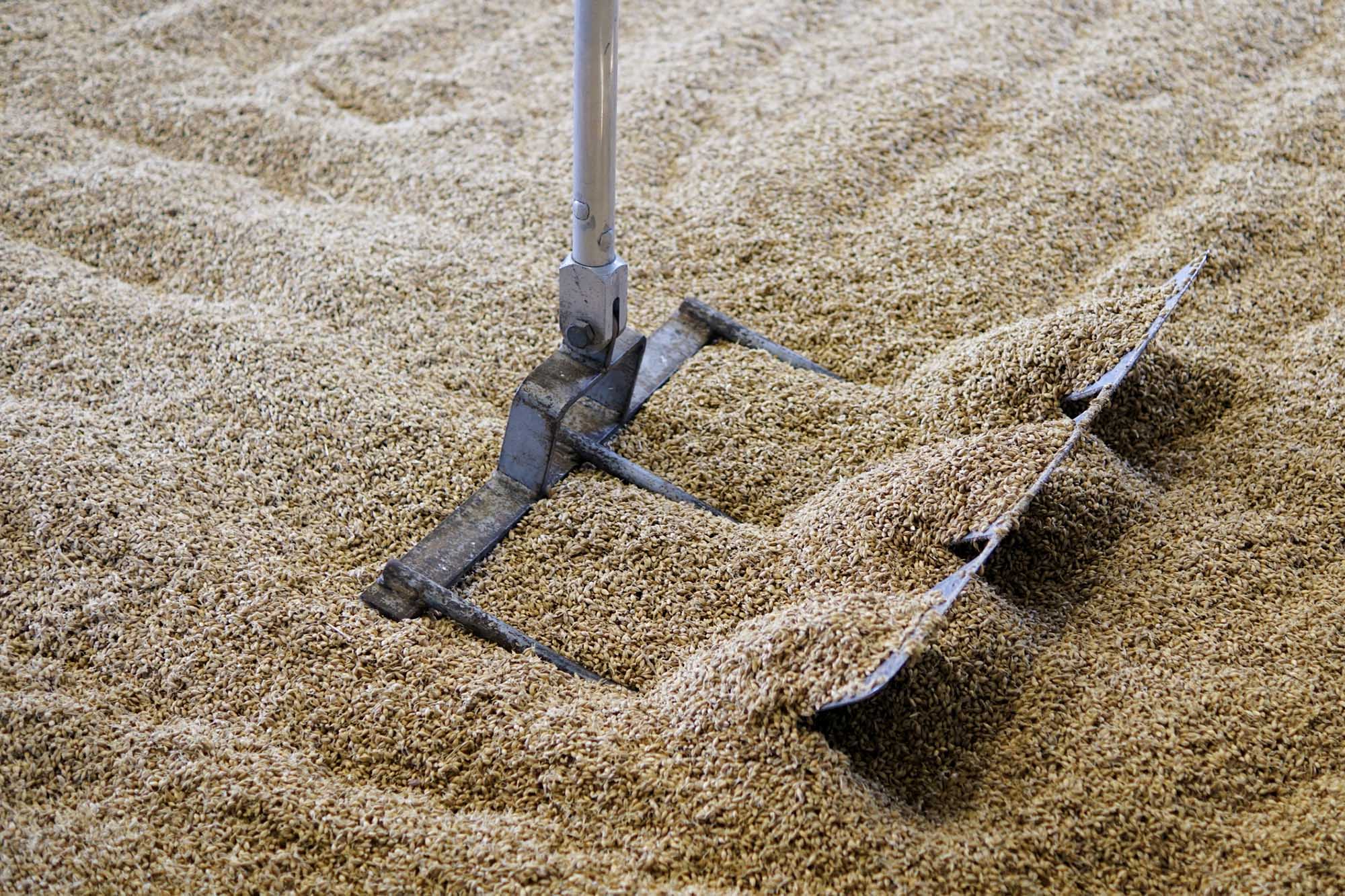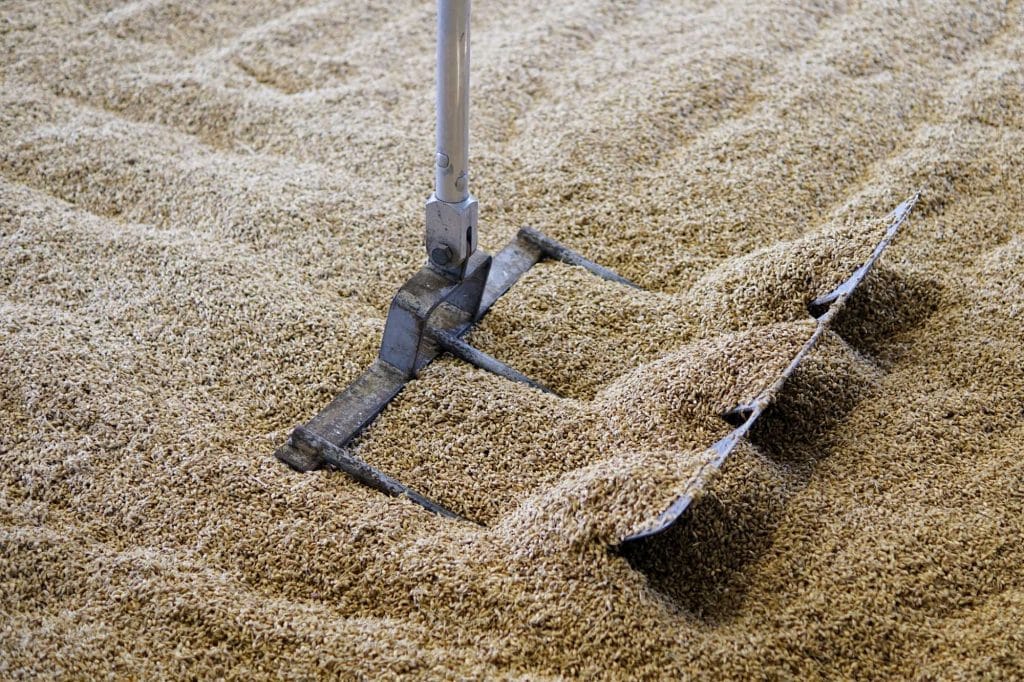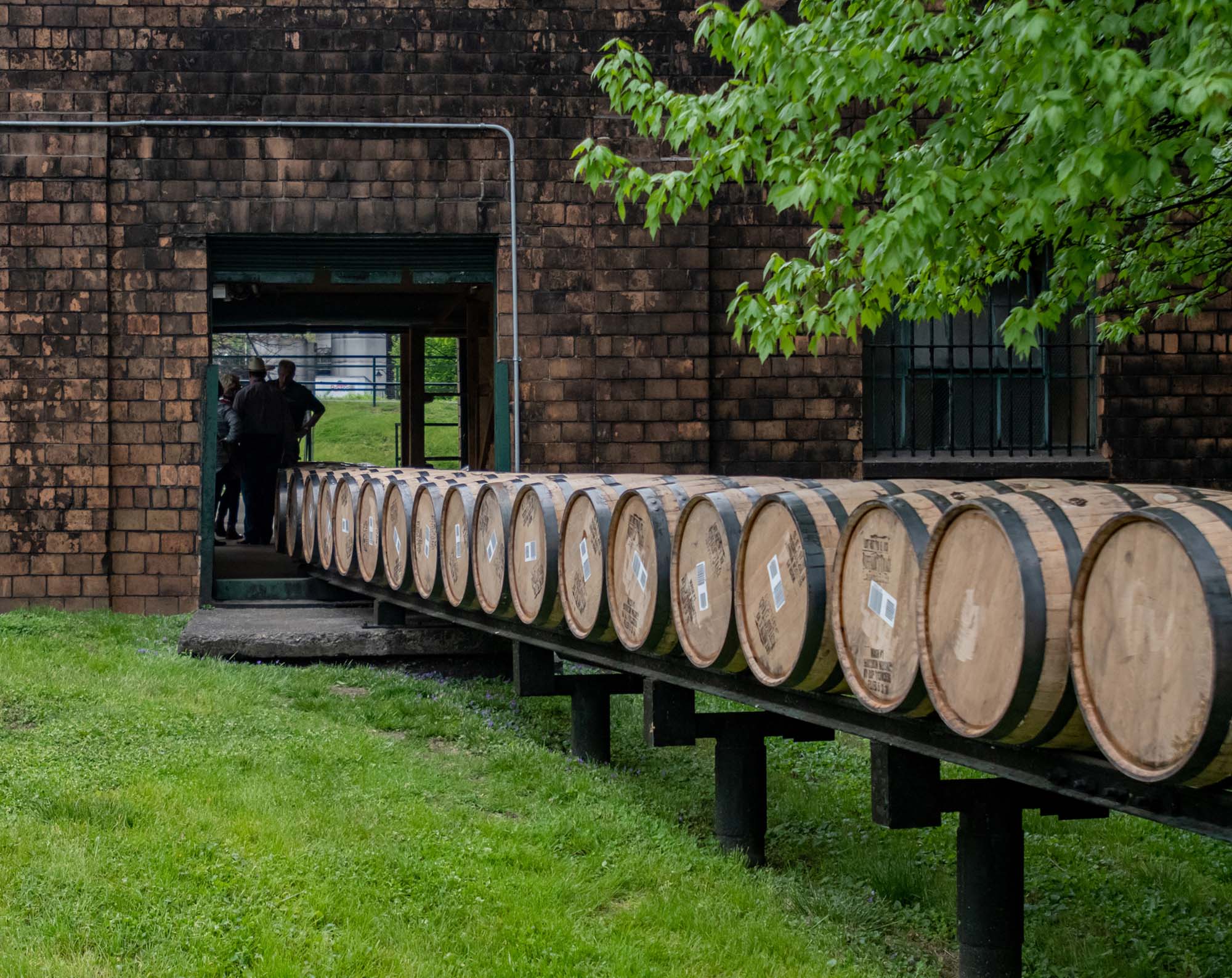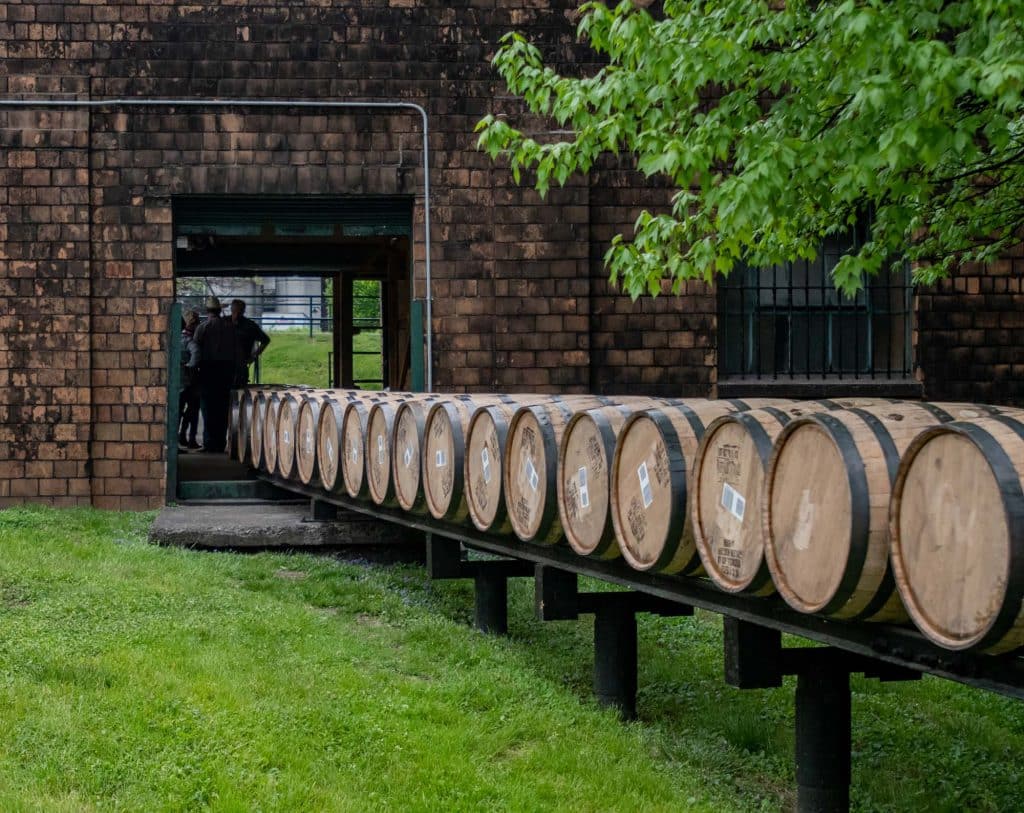 photos: Getty Images
Maturation & Bottling
Once the distillation process is complete, the spirit is put into barrels to mature. The whiskey also picks up flavor and color from the barrel. For Harris, she shares the results from varying barrels, saying, "Over the past couple of years, we've been trying to figure out what makes Virginia oak taste different than Minnesota oak. The initial feeling is there is a real softness in the middle proof range, around 92 proof. We found that there's this lovely coconut softness that comes out with the Virginia oak, which is a lot of fun. We've been featuring that in our distiller's edition range."
The distilled whiskey is kept in charred white oak barrels and left to age for around three years. Some barrels are aged for longer or shorter periods of time depending on the distiller's vision and taste tests. Catoctin Creek's award-winning Roundstone Rye is aged just under two years, which is enough time for the whiskey to pick up rich flavors and a beautiful amber color.
Bottling the whiskey can take on many different paths, as it depends on the distiller's vision for the final spirit. Multiple barrels could be combined to create a specific blended flavor, or multiple bottles could come from one barrel. Water can be added to dilute the flavor, and caramel may be added for color. It all depends on the distiller's discretion.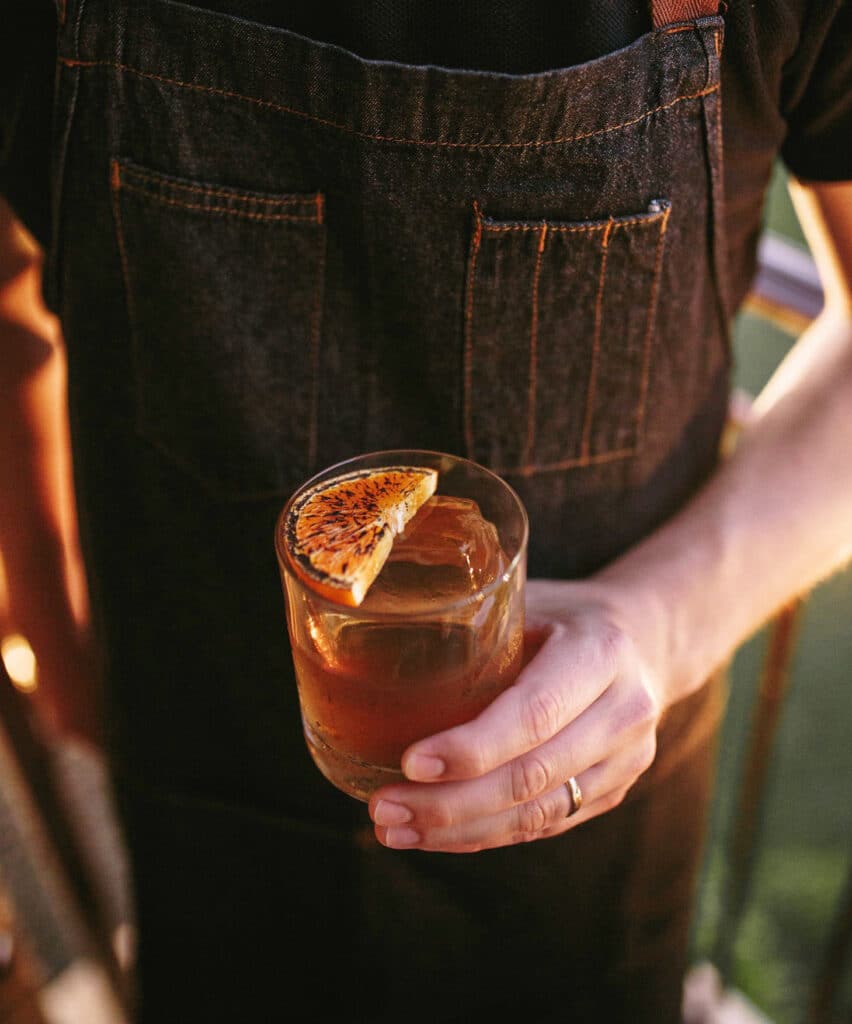 photo: Catoctin Creek Distillery
Tasting
The tasting process is comprehensive and occurs at each step throughout the process. The whiskey is tasted before it's put into the barrel and before it's bottled. Harris outlined her tasting process, saying, "We do a single barrel whiskey, so we let each barrel decide what kind of whiskey it wants to become. Some [barrels] are best at cask proof. Don't even touch it with water. It's rich, dense, and the oils are really nicely balanced on the pallet. Some are best as a front porch sipper. Super easy drinking and great on a hot day." Catoctin Creek really focuses on exploring the subtle differences from one barrel to the next because no two are exactly the same.
Now that you are more well versed in the whiskey-making process, you'll be better equipped and knowledgeable to enjoy a variety of flavors and makers throughout Virginia. So, go on, sniff, sip and enjoy that meticulously crafted local drink.
The Virginia Distillers Association's Spirits Trail Map will help guide you in finding some Virginia distilleries and whiskey makers across the state. For some of other Virginia whiskey makers, see our list below. ~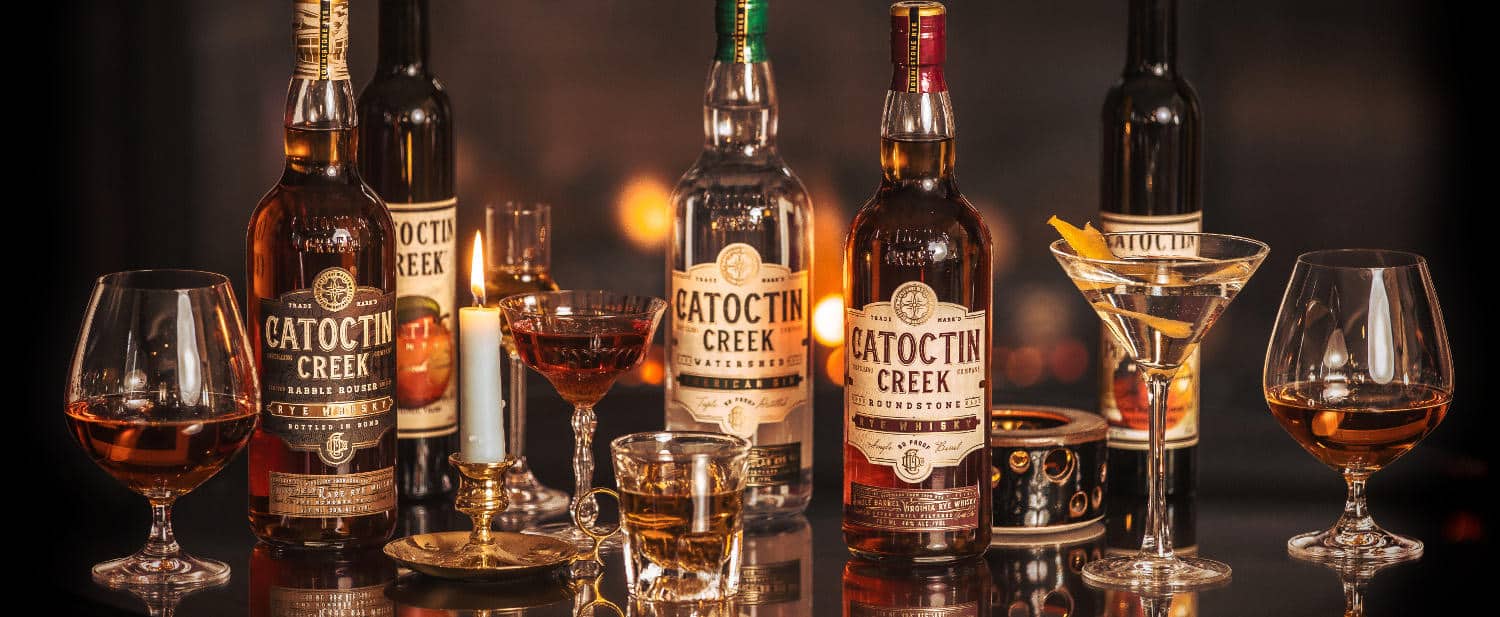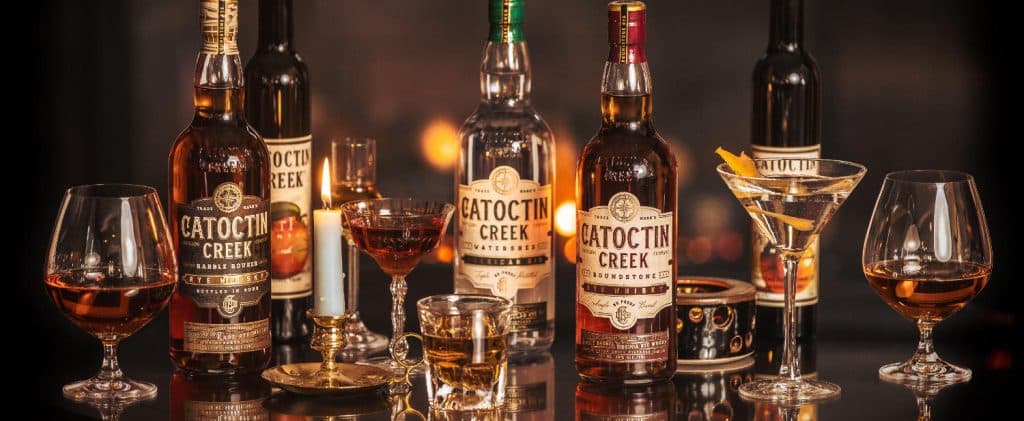 photos: Catoctin Creek Distillery | Virginia Distillery Company
A FEW VIRGINIA WHISKEY MAKERS YOU MIGHT LIKE TO TRY
5 Mile Mountain Distillery (Floyd, VA)
Belmont Farms (Culpepper, VA)
Copper Fox Distillery (Sperryville, VA)
Franklin County Distilleries (Boones Mill, VA)
George Washington's Distillery (Alexandria, VA)
Mt. Defiance Cidery & Distillery (Middleburg, VA)
MurLarkey Distilled Spirits (Bristow, VA)
Ragged Branch Distillery (Charlottesville, VA)
Reservoir Distillery (Richmond, VA)
River Hill Distillery (Luray, VA)
Silverback Distillery (Nelson, VA)
Springfield Distillery (Halifax, VA)
Twin Creeks Distillery (Rocky Mount, VA)
Virginia Distillery Company (Lovingston, VA)
Vitae Spirits Distillery (Charlottesville, VA)
HANNAH SCHINDLER interned at Ivy Life & Style Media while finishing a degree in English at the University of Virginia.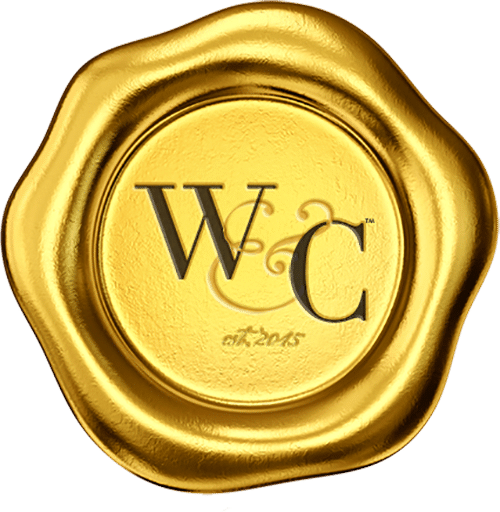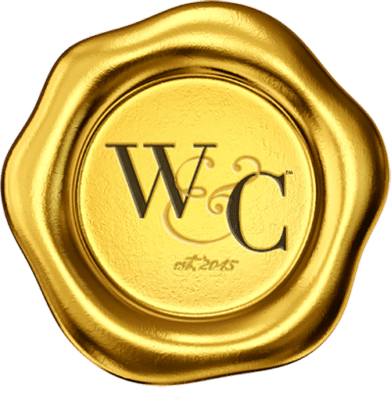 Virginia Wine & Country celebrates elevated living in Virginia Wine Country. Virginia Wine & Country Life is a semi-annual luxury print magazine with a full digital presence. The Virginia Wine & Country Gold Book is an annual guide to the top award-winning wines, wineries and experiences in Virginia Wine Country. The annual Virginia Wine & Country Wedding Planner is an art book of elegant Virginia weddings. The brand includes the Virginia Wine & Country Shop in Ivy, Va. It is a beautiful lifestyle boutique that brings the pages of the magazines to life. Virginia Wine & Country tells the stories of Virginia wineries, the farm-to-table movement, luxury travel, entertaining, art and the elegant country lifestyle. Ivy Life & Style Media also provides branding, web design and PR services for the wine industry.