One taste of Chef Godfrey McKenzie's pastries and bread and you'll understand why there's a line out the door of this thriving Leesburg bakery, Dolce & Ciabatta Bakery & Cafe. The gorgeous breads, pastries and gourmet desserts that come out of this bakery are divine. Upon walking into the bakery, guests marvel at the menu, complete with incredible baked novelties, such as pastries, specialty desserts and artisan breads. However, perhaps one of the bakery's most incredible feats is their impressive and diversified cookie collection. Each specifically curated with a unique recipe, Dolce & Ciabatta's cookie selection is a work of art. Hoping to spread some holiday cheer, the popular bakery is now bringing its recipe, formally inspired by European patisseries then perfected in Northern Virginia, right into your home. Read along as Master Baker Godfrey McKenzie shares his recipe for Dolce Chocolate Crinkle Cookies, a classic holiday favorite perfectly suited to bring the flavors and fragrances of the season to your kitchen.
Dolce & Ciabatta's Head Baker Godfrey McKenzie
To create something that sings in a universal language and cultivates widespread appreciation takes rare talent. In the case of McKenzie, it also includes reverence for history's faint simmer. When he slides piping loaves out of his bakery's German stone oven, he relishes in "listen[ing] to them crackle, as if they are talking." A renowned culinary artist, McKenzie is the co-owner of Dolce & Ciabatta, a bakery café—and local favorite—in Leesburg. With its European flair and carefully curated goods, the establishment pays homage to culinary practices of a bygone era, and it's clear that Chef McKenzie is passionate about everything he creates.
As a child in Jamaica, he often lent a hand in his family's kitchen, and after relocating to Miami, McKenzie snagged his first job in a bakery before working his way up to bread-making. Eventually, he secured the attention of acclaimed Baker Keith Rinaldi and scored years of mentorship, which led to centuries-old European techniques being infused into McKenzie's process.
In years since, he has baked on national and international stages, including a stint as a cruise line chef, leaving his mark on 30-plus countries. But in 2012, a gig for a major pastry company lured him to Northern Virginia, where he met Russia native Tatiana, now his wife and the mother of their two children. When a space in Catoctin Circle opened up in 2018, the couple decided to open their own place.
Bread Making at Dolce & Ciabatta
At Dolce & Ciabatta, sleek metal butts up against hardwood and white-painted brick, while bulging breads and pastries dot the scene. To McKenzie, baking is a lifestyle, one that involved teeing up "the finest ingredients" like specially prepped liquid levain, unbleached and unbromated flour, and, of course, salt and water. To them, "each levain recipe reflects the soul [and] style…of the baker."
Midnight shifts start the 18- to 24-hour periods of dough fermentation. The couple credit this step with producing "deep, rich [and] remarkable flavor and texture." And at Dolce & Ciabatta, "good" comes in a wide range of flavors like a sundried tomato-basil cheddar loaf, cinnamon raisin bread and cranberry whole wheat boule, to name a few. Pastries, from croissants and cookies to twists and tarts, also pad the menu.
To McKenzie, the bakery's mission extends beyond providing joy and sustenance to the community, serving "to restore the time-honored tradition of artisan bread making."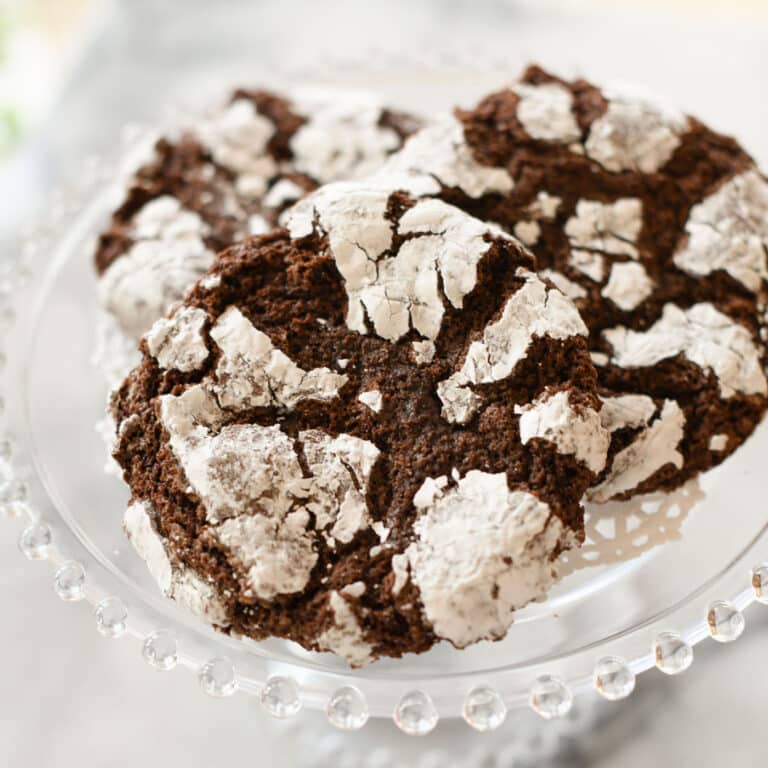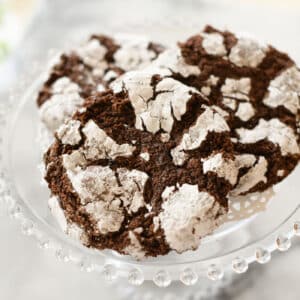 Dolce Chocolate Crinkle Cookies Recipe
Ingredients
6

tbsp

unsalted butter

2

oz

unsweetened chocolate

1

cup

granulated sugar

1

egg

1

tsp

vanilla extract

¾

cup

all-purpose flour

¼

unsweetened pressed cocoa powder

½

tsp

baking soda

¼

tsp

salt

½

cup

powdered sugar
Instructions
Lightly grease 2 baking sheets or line with parchment paper. Set aside.

In a small saucepan over low heat, combine the butter and chocolate. Cook, stir occasionally, until they are melted and the mixture is smooth.

Pour the chocolate mixture into a large bowl and let cool slightly. Stir in the granulated sugar until evenly moistened. Add the egg and vanilla, beat until light and fluffy.

Sift the flour, cocoa, baking soda, and salt together onto a sheet of waxed paper. Gradually add the flour mixture to the chocolate mixture and stir to combine. Cover and refrigerate until firm, about 1 hour.

Preheat the oven to 375 degrees. Remove the cookie dough from the refrigerator. Shape the dough into ¾" balls and roll in the powdered sugar to coat completely. Place the balls about 1 1/2" apart on the prepared sheets. Bake the cookies until puffed and cracked on top (10-12 minutes). They may appear underdone in the center but will turn crisp as they cool. Let cool on the sheets for 2-3 minutes, then transfer the cookies to a wire rack to cool completely.
Tips on Making the Perfect Crinkle Cookies
You know what they say, it's what's on the inside that counts—and that certainly rings true when it comes to crinkle cookies! Though appearance is certainly important, as we are all striving for that perfectly cracked outer shell, getting that ooey-gooey, fudgy consistency should be the number one priority. Nevertheless, we have some tips and tricks on how to perfect that desired look.
Be sure to chill the dough. Because of the consistency, the dough is more like batter and will need a bit of time to chill out before rolling in powdered sugar.
Don't be shy with the powdered sugar! You want to pack the sugar on extra thick to ensure the dough doesn't absorb the sugar.
Bake for less time than standard chocolate chip cookies. For that perfect gooey texture, take the cookies out around 10–12 minutes, they will continue to bake and firm up as they cool.
You can freeze them! If you want to keep a batch in the freezer for deliciousness all winter long, roll the dough into balls without putting them in powdered sugar and store them in a freezer-safe bag. The frozen dough will keep for up to three months.
When it comes to holiday traditions, few compare to the simple joy of baking cookies and the scents and tastes of the holiday season in your home. This Chocolate Crinkle Cookies Recipe from Dolce & Ciabatta will remind you of a cozy winter morning with the ground freshly dusted in snow. The powdered sugar exterior reveals its soft and chewy interior through delicate cracks and crinkles, providing a delightful display. Rich in chocolate flavor with a fudge brownie consistency, this holiday classic cookie will quickly become a year-round treat.
For more Delicious Recipes, visit our Food & Drink section. Find events in and around Virginia Wine Country on our Events Calendar.  Learn more about the renowned food and drink makers paving the way for greatness in Virginia Wine Country with Virginia Wine & Country's Meet the Maker series. From award-winning winemakers, gardeners and Michelin Star chefs, Virginia is home to a robust farm-to-table movement defined by culinary delights, artisan pastries and craft beverages such as heritage hard cider and award-winning craft beer. ~
CAROLINE HOCKENBURY, a UVA grad, is a nonprofit communicator, multimedia journalist and poet. Her work has been featured in Virginia Quarterly Review, Virginia's Best Emerging Poets and more. She was formerly sound engineer of the Probable Causation podcast.
R. L. JOHNSON is our co-publisher and creative director, Robin Johnson Bethke, who began her career as a professional photographer in Los Angeles before moving into graphic design and art direction when she relocated to Charlottesville in 1994. As our company's co-founder and visionary, she enjoys all aspects of the publishing process from story conception to graphic design to photography. Her work is often seen in many of our publications.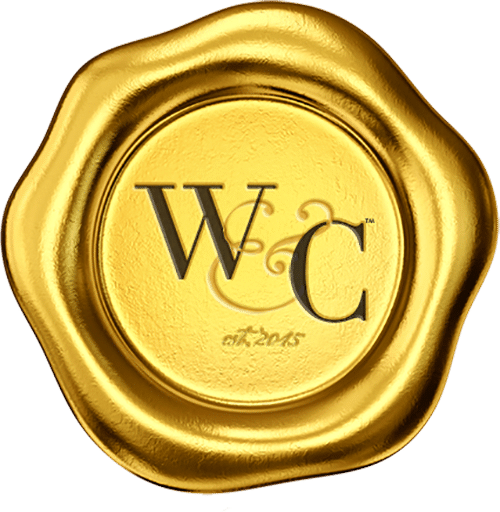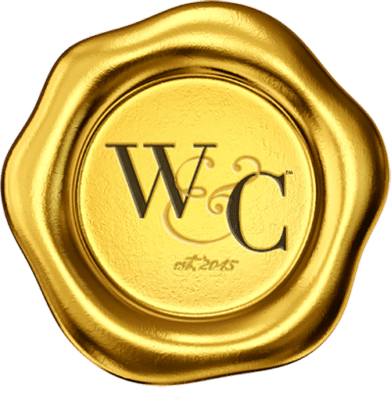 Virginia Wine & Country celebrates elevated living in Virginia Wine Country. Virginia Wine & Country Life is a semi-annual luxury print magazine with a full digital presence. The Virginia Wine & Country Gold Book is an annual guide to the top award-winning wines, wineries and experiences in Virginia Wine Country. The annual Virginia Wine & Country Wedding Planner is an art book of elegant Virginia weddings. The brand includes the Virginia Wine & Country Shop in Ivy, Va. It is a beautiful lifestyle boutique that brings the pages of the magazines to life. Virginia Wine & Country tells the stories of Virginia wineries, the farm-to-table movement, luxury travel, entertaining, art and the elegant country lifestyle. Ivy Life & Style Media also provides branding, web design and PR services for the wine industry.