When it comes to dessert, the most hotly debated topic in our household is which pie to set on the holiday table. Growing up in Richmond, Virginia, with its plethora of great bakeries and, at home, with some Southern baking know-hows, the table always ended up overflowing with all the decidedly necessary options—apple pie, German kuchen, classic pumpkin pie with vanilla ice cream, at least one good fruit pie, chocolate mud pie, sweet potato pie and so on. The one pie no one ever second-guessed or left out was undoubtedly the pecan pie.
While my family primarily ate pecan pie around the holidays, it is no wonder that it's a go-to option for many families year round. It's without a doubt a genuine American creation.
All About Pecans
The only indigenous tree nut to the American South, the pecan is a versatile ingredient that lends itself to many preparations all around the U.S. Back in the day, it was first prized by Native Americans for nutrition and trade in North America, before being passed on and cultivated by early colonists. Pecan trees also offered other benefits, such as the versatile uses of their wood.
Even though the first recipes for the pecan pie appeared in the 1870s, it would not be until the 1920s that the veritable Southern jewel that we now know and love would truly become popular in America. With its gooey center, crispy crust and buttery pecan topping, this traditional dessert's appeal could not go unnoticed for long.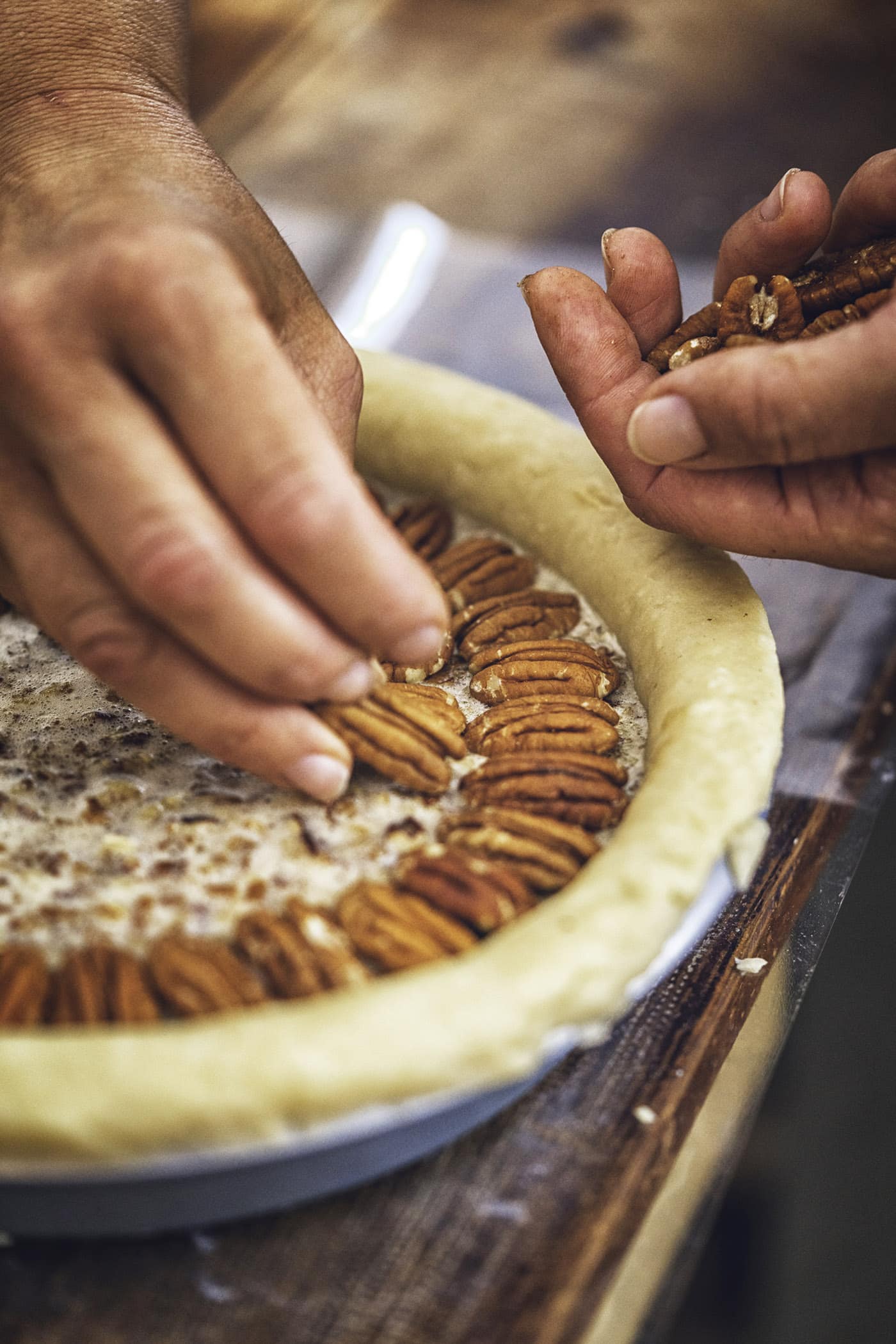 Peak harvesting season for pecans is between October and December, and they are good to freeze for use all year long.
The recipe has evolved again into a decadent Chocolate Pecan Pie! The addition of melted chocolate elevates an already mouth-watering pie to a new level. No matter whether you choose to use a nice store bought crust or want to make it entirely from scratch, be sure to spring for good chocolate chips, preferably at least 60% cacao, to ensure the best flavor as well as creaminess in the filling.
How to Choose & Prep Pecans for Baking
When choosing pecans, go for plump, raw pecans. If you can, locally grown and shelled or whole pecans shelled taste best, but good quality, store-bought ones will work just as well. Peak harvesting season for pecans is between October and December, and they are good to freeze for use all year long. When selecting, check for color. Darker pecans usually mean they are older, and therefore less flavorful. Also, remember to refrigerate your nuts before use as the oils can spoil, causing a rancid flavor and an overly chewy texture.
While it may seem unnecessary to toast your pecans before baking, this step guarantees that roasty, toasty, soul-warming aspect of this dessert. Toasting crisps your pecans while coaxing out the buttery, caramel notes that lie largely dormant in the raw nut. However, don't forget to leave out the most aesthetically pleasing pecans that will decorate the top of your pie, and since these will be exposed to the heat while baking, there is no need to toast beforehand.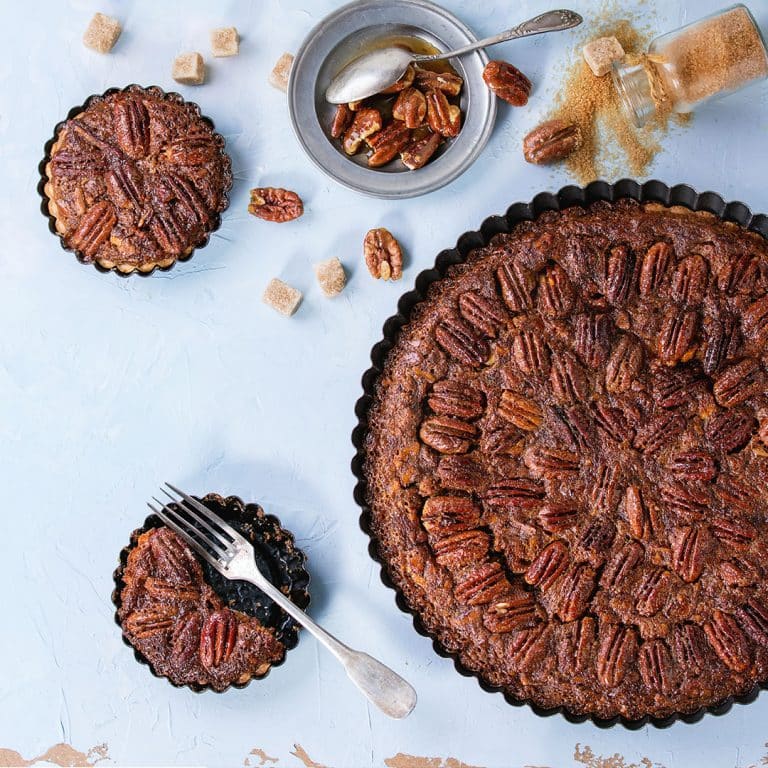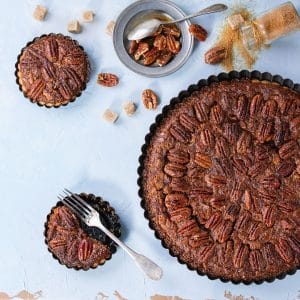 Chocolate Pecan Pie
The classic pecan pie gets an indulgent dose of chocolate to make it more delicious than ever! Perfect for celebrations of all kinds, learn how to make this beloved southern dessert.
Ingredients
1 ½

cup

Pecans

1

cup

Dark brown sugar

¼

cup

Sugar (raw or white)

6

Tbsp

Butter, melted

2

eggs, beaten

1

tsp

Vanilla extract

1

cup

Chocolate chips

1

9" or 10" pie shell
Instructions
Tip: Pull eggs & butter out about an hour before you begin to allow them to come to room temperature. This will help them combine much better.

Preheat oven to 400°

Place pecans on a parchment-lined cookie sheet and place in the oven for approximately 5 minutes or until nuts are lightly toasted. Watch carefully as they can go from perfect to burned very quickly. Once toasted, remove the pan from oven and lift the parchment paper (with nuts on it) off of the pan and place onto a cooling rack to fully cool.

Once nuts have cooled, reserve about ¾ of the pecan halves whole and chop the rest. Set aside.

Reduce oven temperature to 375°

In a large mixing bowl, combine sugars, butter, eggs, and vanilla. *Make sure your butter is not hot when you mix it in - we don't want to start cooking the eggs.

Add chopped nuts and chocolate chips to the mix.

Pour chocolate-nut mix into un-baked pie shell. Top with remaining pecan halves.

Bake at 375° for 35 - 40 minutes or until the filling is set. Keep an eye on it so that you don't over bake.
Wine to Pair with Chocolate Pecan Pie
When pairing a wine with a decadent pie filled with chocolate and pecans, a sparkling wine makes the pie extra special. Since this type of pie is so rich, it needs something to cut through the richness that also adds a slight fruitiness to round out the flavors. A sparkling Rosé makes a great pairing. Shenandoah Vineyards' Sparkling Rosé is a blend of six varietals, both red and white, making it both dry and crisp with slight residual sugar.
All and all, this relatively easy, homemade gem of a pie is sure to impress your guests at a cozy dinner party or will get the family excited for a festive weeknight dessert. If you want to go all out, serve with your favorite vanilla ice cream and sprinkle with flakey sea salt. From our kitchen to yours, don't wait until the holidays to treat yourself to this decadent Chocolate Pecan Pie! For other local recipes, see our Food & Drink page. ~
FRANCESCA BLACK is an avid culinarian and W&C Life content creator. She's on a mission to create quality copy that helps bring new perspectives to the food and culture of Virginia.
JENNIFER CARROLL, a Southern gal with an unquenchable thirst for all things creative, wears many hats—a photographer, blogger, designer and home entertainer. From cooking to decorating, no matter what she is doing, she is committed to celebrating everyday life. Visit celebratingeverydaylife.com.
JANINE AQUINO has 30 years of business consulting and entrepreneur experience. Her focus lies in Agritourism—the grower, the producer. Having grown up in the Hudson Valley region of New York, on a small family vineyard, she learned grape growing, winemaking and distribution and is the 4th generation in her family to continue in the wine industry. While in NY, she studied food and wine pairings at the CIA and worked for a couple of wineries lining the Hudson River. She then received an opportunity to buy a boutique winery in Ohio, which she did and ran for 10 years. Opportunities were presented to her in VA to take the reins of a couple startup vineyards and fully develop them. After working with the wineries, she started Aquino Baron Consulting, an agritourism consulting company focused on wineries and cideries. She is a member of the Virginia Wineries Association, Virginia Vineyards Association and Shenandoah Valley Wine Trail, and sits on the Waynesboro Tourism Advisory Board.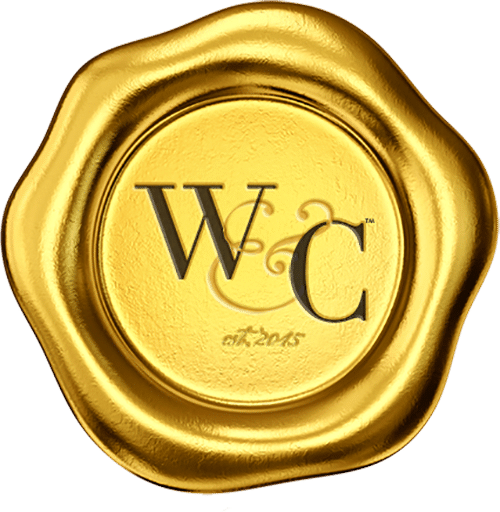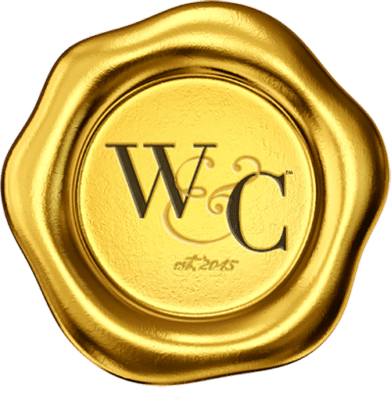 Virginia Wine & Country celebrates elevated living in Virginia Wine Country. Virginia Wine & Country Life is a semi-annual luxury print magazine with a full digital presence. The Virginia Wine & Country Gold Book is an annual guide to the top award-winning wines, wineries and experiences in Virginia Wine Country. The annual Virginia Wine & Country Wedding Planner is an art book of elegant Virginia weddings. The brand includes the Virginia Wine & Country Shop in Ivy, Va. It is a beautiful lifestyle boutique that brings the pages of the magazines to life. Virginia Wine & Country tells the stories of Virginia wineries, the farm-to-table movement, luxury travel, entertaining, art and the elegant country lifestyle. Ivy Life & Style Media also provides branding, web design and PR services for the wine industry.