Oysters are a kind of contradiction. They look so crusty and coarse on the outside (as well as being devilishly hard to split open); but on the inside, their flavor and texture are sensual and subtle—a natural culinary triumph balancing salt with a buttery creaminess. Still, both open and shut, they look quite gross. As Jonathan Swift noted, "He was a bold man who first ate an oyster." But once he did, he didn't look back, and neither should you when it comes to Pairing Virginia Wine and Oysters.
Merroir: The Terroir of Oysters
The French word "terroir" is how a wine expresses the character of the land where it is grown. In the world of Virginia oysters "merroir" refers to how different parts of the sea or coastal estuaries and rivers influence the taste of stationary seafood like oysters. Between our unique terroir and historic merroir, Virginia is the perfect marriage of pairings for wine and oysters.
The Virginia Oyster Trail has tours, restaurants, wineries and other theme-related activities around which people can build oyster-related trips. Most of the trail is on the west side of the Chesapeake Bay, from the Northern Neck across the Middle Peninsula to the Virginia Peninsula, with a large cluster of restaurants in Williamsburg, Newport News and Virginia Beach and up Virginia's Eastern Shore. There are participating members as far north as Leesburg and as west as Harrisonburg, including Rappahannock in Richmond, the restaurant of the Rappahannock Oyster Co., one of Virginia's top oyster suppliers from our Eastern shore.
Virginia Wine and Oysters
Depending on where the oysters are from, their taste can range from boldly salty to a mix of salt, savory and butter/cream, and that's just the raw oysters. When you cook or fry them and add seasoning, you need a range of wines to complement oysters. Let's look at the ideal grape varieties and wine styles—sparkling Blanc de Blancs, Chardonnay, Sauvignon Blanc and Albariño.
Virginia Sparkling Wines
With oysters being fresh, a bit salty but with a touch of creaminess, dry sparkling wine is an ideal match. One top-scoring Virginia sparkling is Trump Winery's Brut Reserve. This often-awarded Blanc de Blancs (all Chardonnay) champagne-method sparkler is the exceptional creation of Winemaker Jonathan Wheeler who has led the winery since 2006 (prior to it becoming a Trump property in 2011). Additional sparkling wines that would also be well-paired with oysters would be Thibaut-Janisson Blanc de Chardonnay, a Blanc de Blancs brut made by a native of the Champagne region; King Family Vineyards's Brut 2017, a Chardonnay Blanc de Blancs made in the champagne method, and Horton Vineyards's Suil, an early-picked, no dosage brut, also made in the champagne method from Viognier.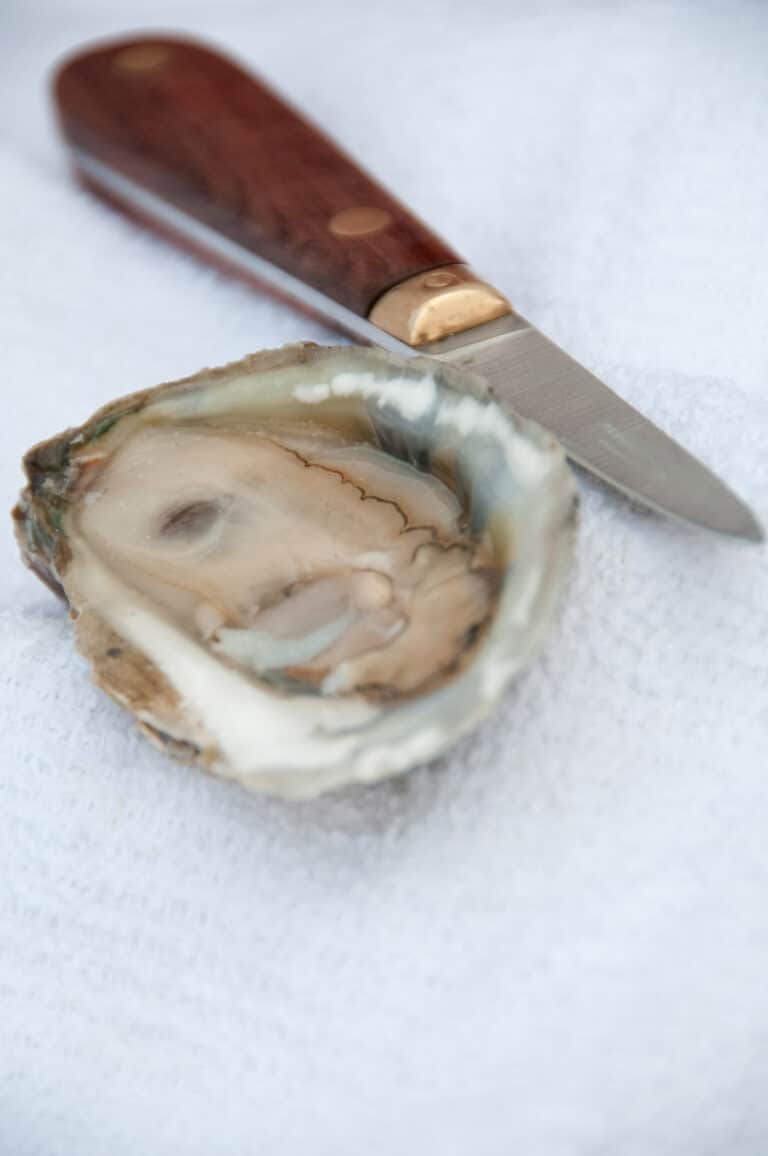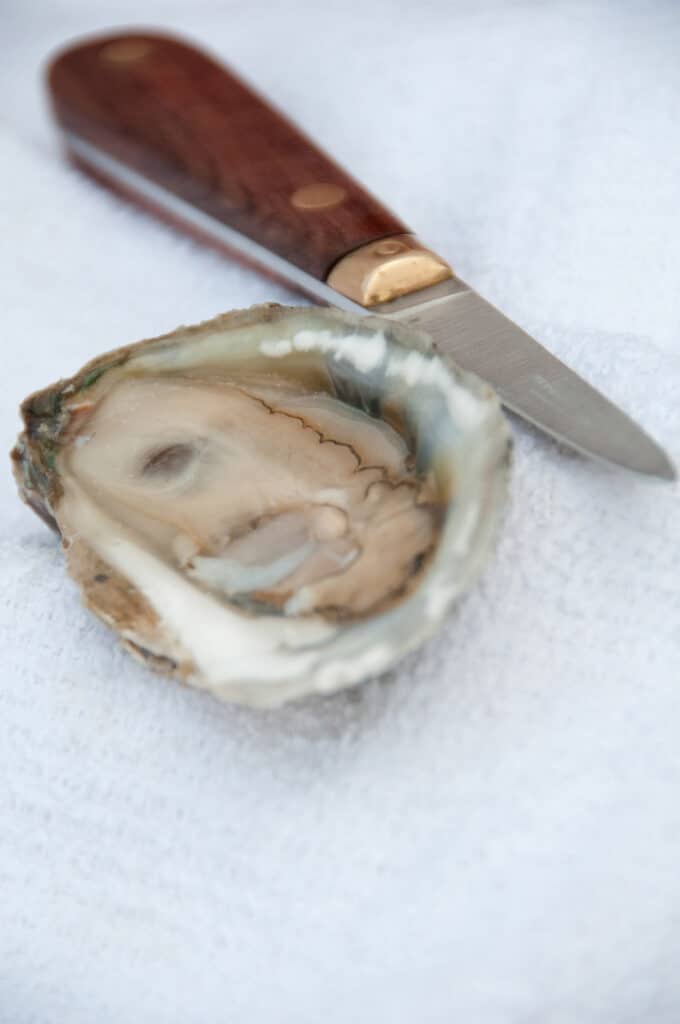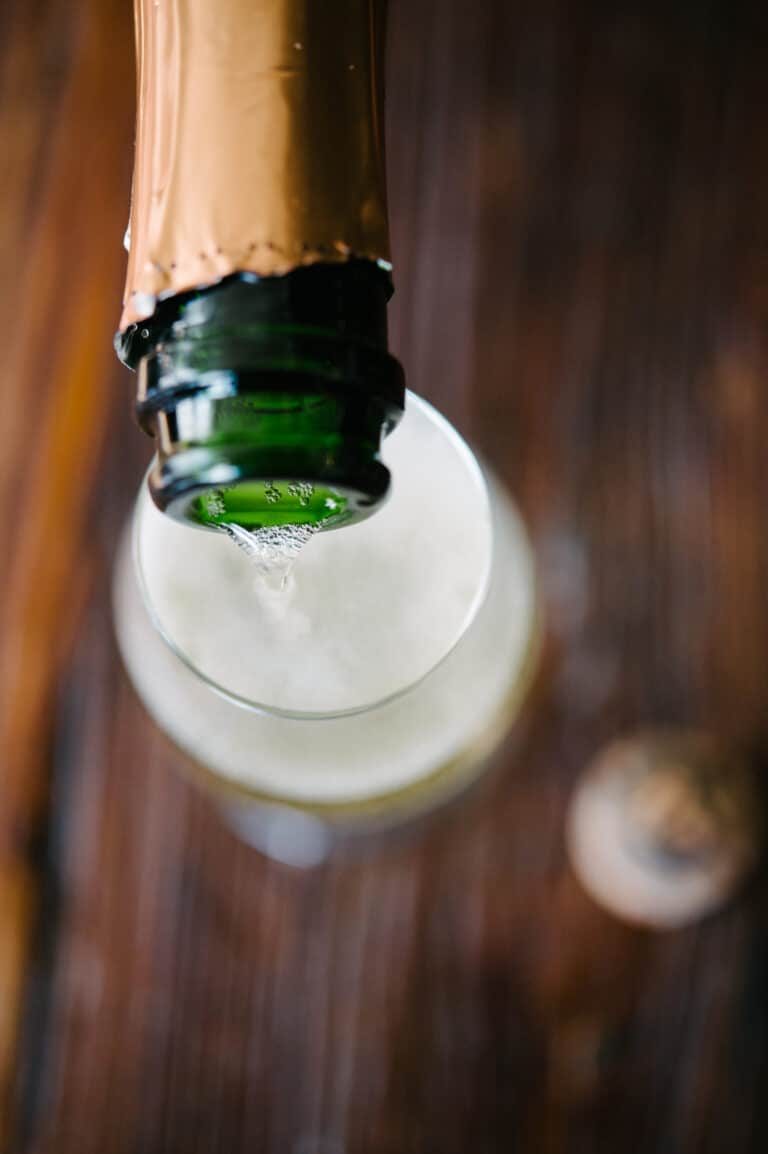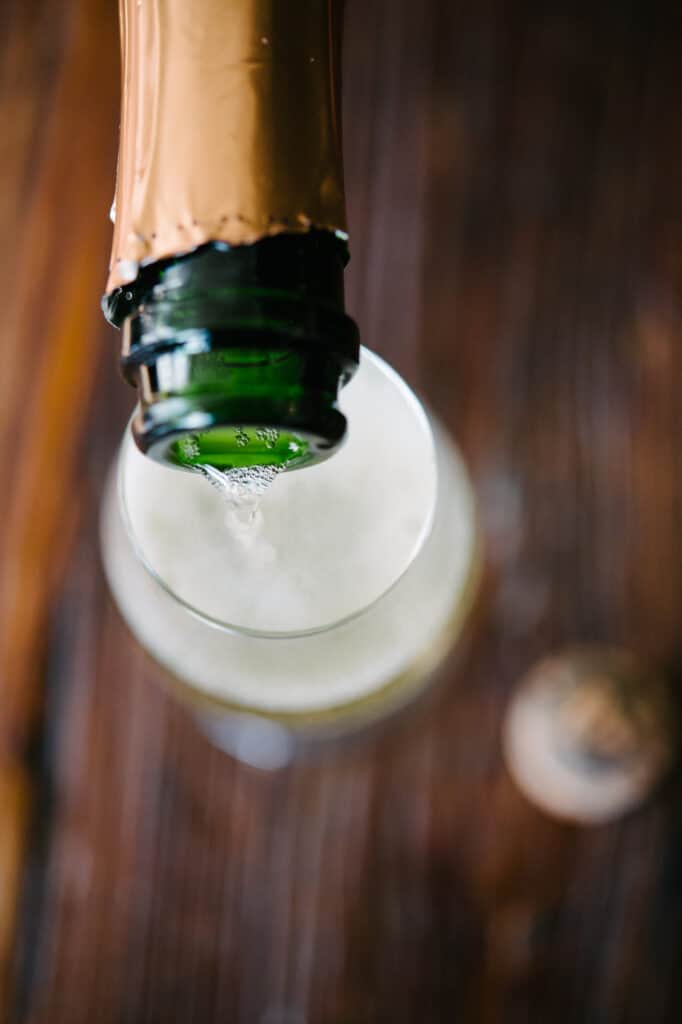 For Raw or Lightly Seasoned Oysters
For the high acid steely style, I prefer raw or gently steamed oysters (not overcooked!) without cream, but instead with just some lemon and either dill or cilantro on the side, and sauteed green onions. Here are some good Virginia Chardonnays in a Burgundian style (with very little new oak or malolactic fermentation).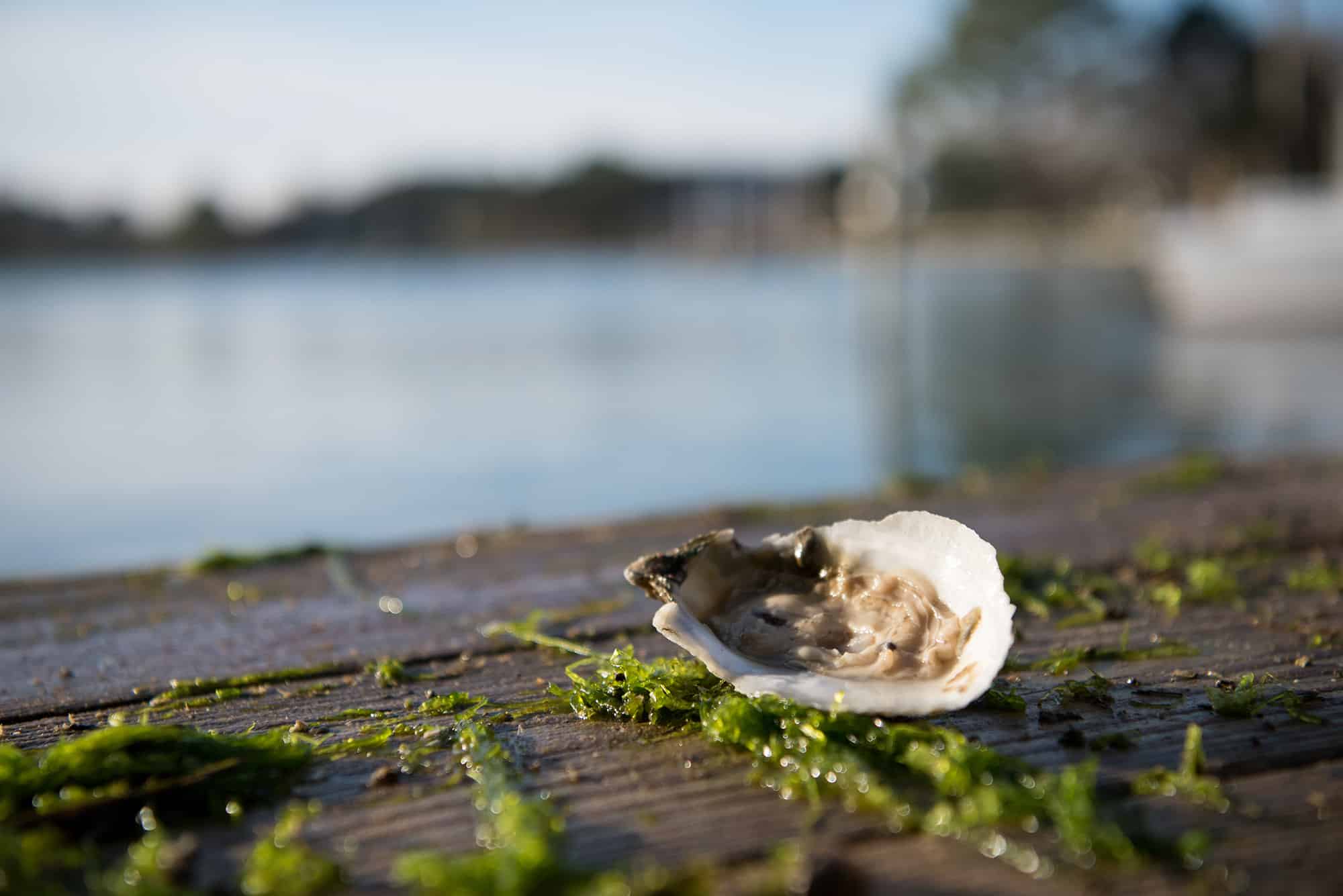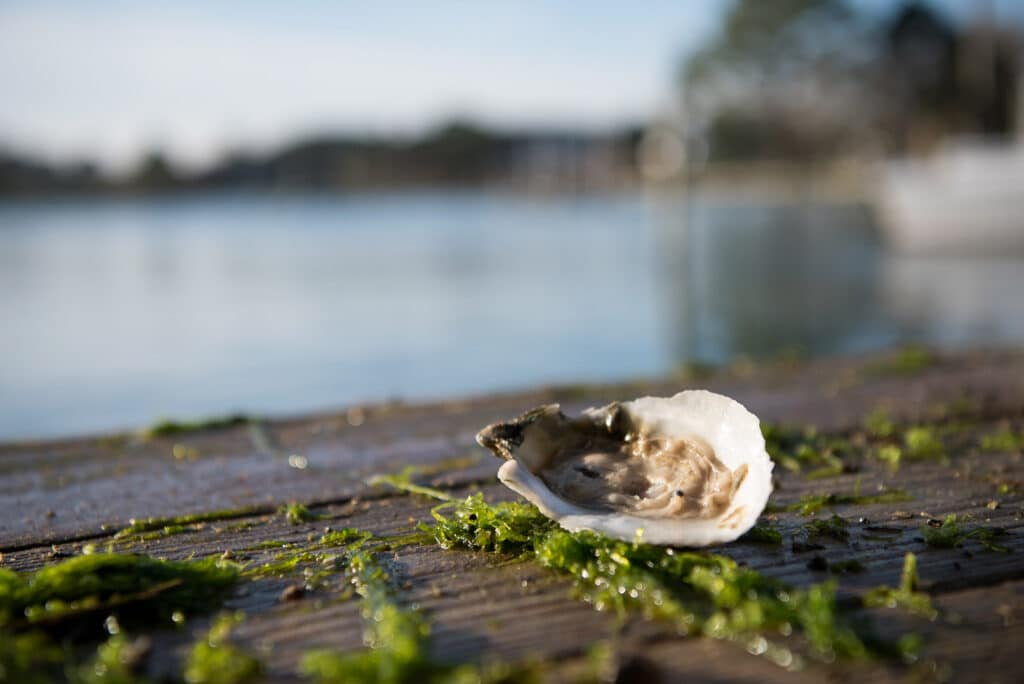 This is a low-alcohol (8.5%) fresh, easy-to-quaff Chardonnay for a summer's afternoon or for enjoying with raw oysters. A little added C02 makes it very refreshing. It tastes of green apples, has firm acidity, but is not coarse and is easy to drink.
This is a very Chablis-like firm, steely dry Chardonnay. After a stainless steel fermentation, the wine was aged half in stainless steel and half in one-third new, two-thirds neutral DAMY French oak barrels. No malolactic fermentation took place. Subtle hints of mineral and lemon on the nose yield to high, bright, fresh acidity with a hint of lemon, followed by just a touch of roundness on the finish. A classically dry, fresh non-malolactic style, this wine will be more integrated by next summer.
Estate grown, whole-cluster pressed, all stainless steel aged, this vintage features loads of grapefruit and passion fruit on the nose and palate, and is assertive with lots of acidity.
Matthieu Finot, the winemaker, is French, so it's natural he uses a French style with this grape. It's kind of a blend of the Bordeaux model (wine aged in puncheons or large oak vessels), but the aroma and flavor are Loire Valley-like. On the nose, you'll find wet gravel and lemon notes with a hint of sage. The palate is mellow but complex, with fruit, oak and acidity in fine balance. It's very elegant and restrained but true to the grape.
As Jonathan Swift noted, "He was a BOLD MAN who first ATE AN OYSTER." But once he did, he DIDN'T LOOK BACK.
This is Virginia's only certified organic vineyard and winery. This wine is based on Cayuga blanc—a hybrid from Cornell in New York—and is disease-resistant. Despite the bad reputation of the vintage, this wine is very fresh, clean and ideal for oysters, with flavors of pear, white peach and lemon zest.
Normally, I wouldn't recommend a Viognier for raw or steamed oysters, as it's a low acid grape with oral notes and a bit thick on the palate. This one is very different, though, and is driven by acidity. It was made from only four selected barrels and is the most complex, multi-dimensional Virginia Viognier I've tasted. It is much more like a white Burgundy with mineral notes and bright acidity. On the palate, the wine coats your tongue, typical of good Viognier. The finish on this wine is long and impressive. It is best experienced decanted, since it's young and tight and would be best starting next spring, but it will reward patient cellaring for up to five years. It's a very classy food wine.
This dry, fruity wine with notes of grapefruit, roses and lychee nut is based on Traminette grapes fermented to dryness in stainless steel. Traminette is a hybrid with Gewurztraminer as a parent but that has better disease resistance in the vineyard and also better acidity than Gewurztraminer. Traminette is commonly used for sweet/dessert wines, making this an unusual dry table wine that more closely resembles a Sauvignon Blanc.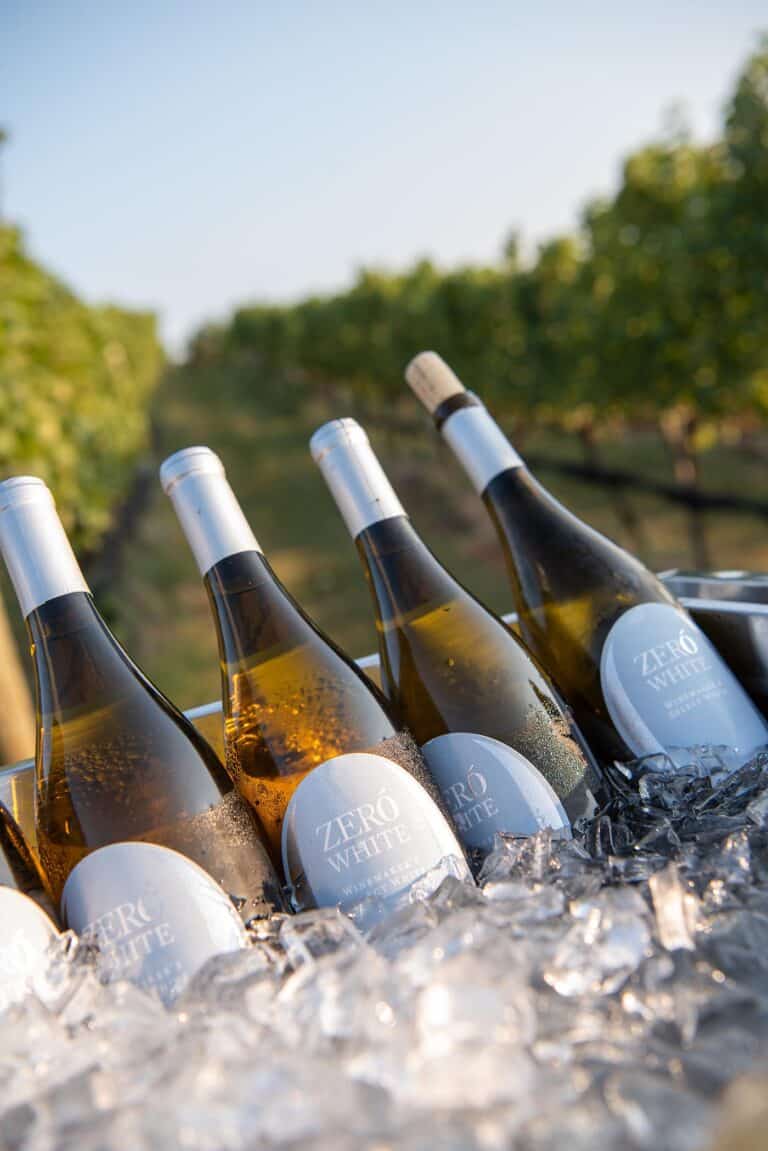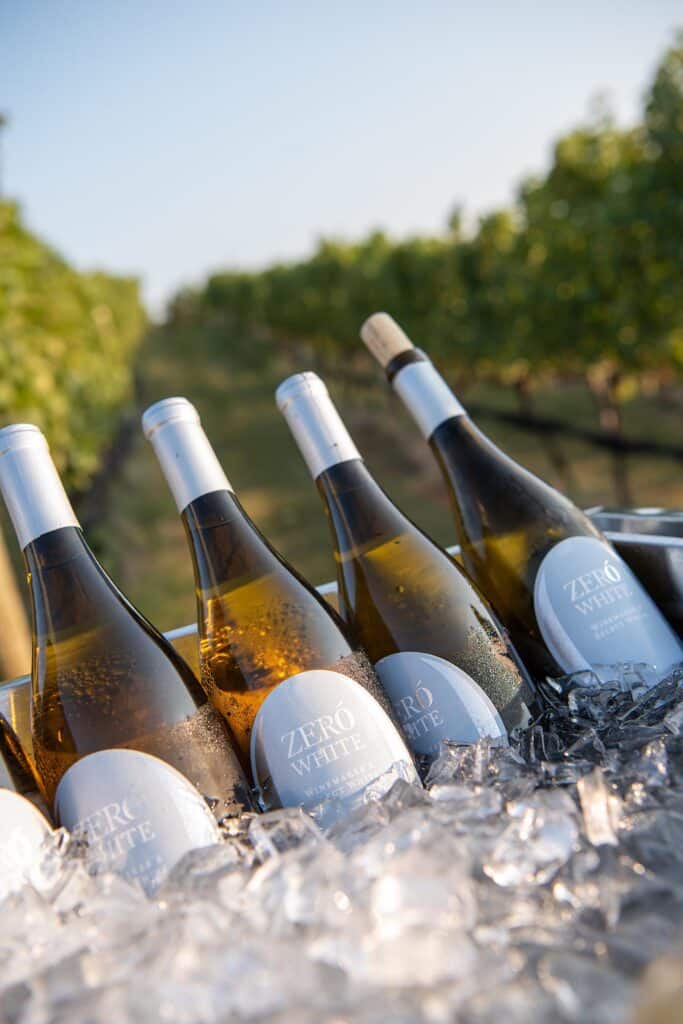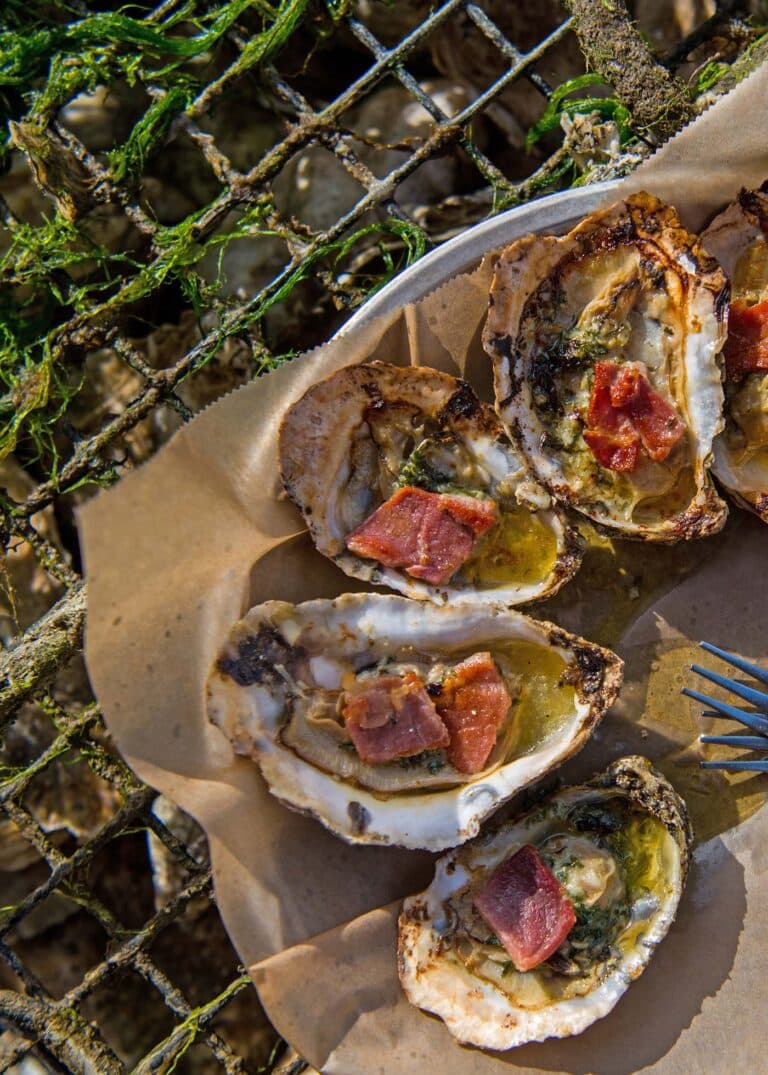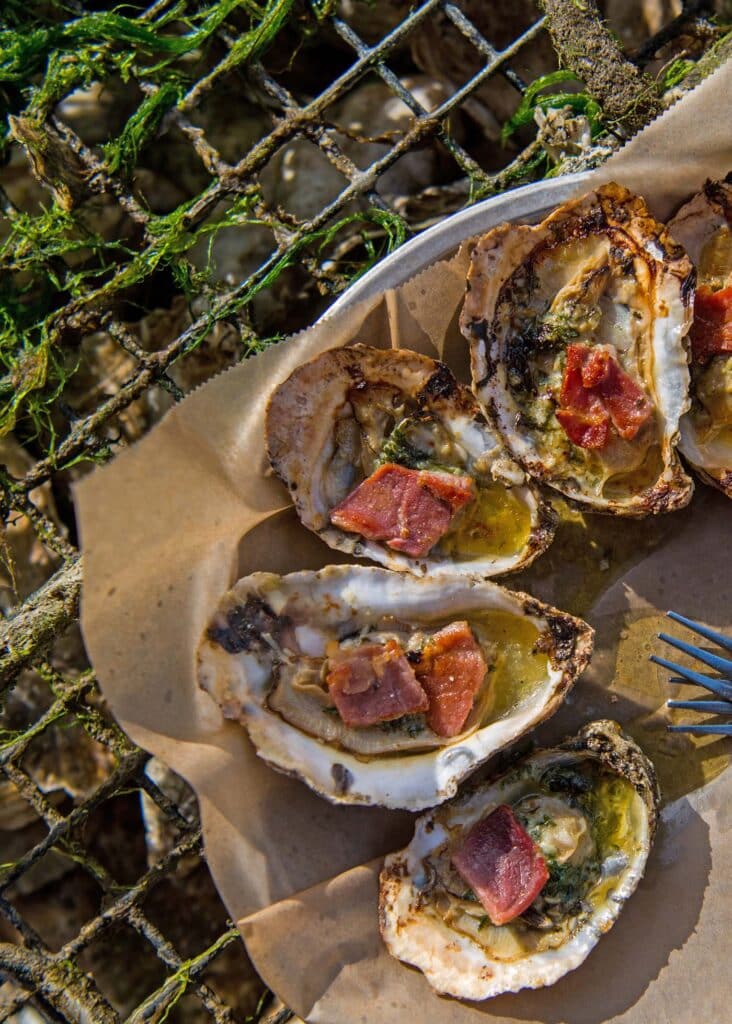 Wines to Match Seasoned, Fried Oysters or with a Cream Sauce
Moving from raw and steamed oysters to those that are fried, seasoned or served with a cream sauce, let's look at a different set of white wines that are richer and have the substance to match the seasoning.
Most industry insiders agree that Linden's estate Chardonnay (Hardscrabble) is the most classically Burgundian-style Chardonnay in Virginia. The fruit is from old vines on the estate, 23 to 32 years old. According to Linden's website, the Chardonnay came in balanced with great extract, acidity and concentration under slow ripening, cool conditions. Fermentation starts in tank, then racked to French oak after a week. It's then aged in barrel, on lees for 10 months with little stirring to preserve freshness, with only 20 percent new oak. Then, it's aged an additional four months on lees in tank. This estate Chardonnay is austere with high acid when young and needs five or more years to develop. The palate is rich and viscous but with firm acidity to match. Fine integration of oak and fruit with firm acidity balancing the richness. This style of Chardonnay is reminiscent of Puligny-Montrachet in Burgundy.
This vintage is barrel fermented in four ages of French oak, from new to three-year-old barrels, then aged for nine months. On the nose is just a hint of oak, with nice apple, lees (yeast) notes. Although this wine underwent 100 percent malolactic fermentation and has a rich texture, it is not "buttery" and retains a core of ripe apple fruit with balancing acidity. This Chardonnay is complex but wonderfully balanced and elegant, and versatile with many foods, including seasoned oysters.
This is a very full-bodied and fruity wine but has firm acidity and mellowing from lees contact. If you like spicy seasoning with oysters, this is your ticket. On the nose is subtle tropical fruit. The palate is a great combination of ripe tropical fruit, firm acidity and a hint of oak all mellowed by lees contact to tie it all together. Stylish and versatile, it's ideal for oysters with remoulade sauce.
This vintage is barrel fermented and aged but with only 20 percent new barrels, using both puncheons and barriques, all French, no malolactic fermentation. On the nose is a rich Meursault style with clean ripe Chardonnay fruit and French oak but no "buttery popcorn." The palate offers firm, fresh acidity plus rich texture. Full-bodied, without oak flavors, this is a well-executed Burgundian-style Virginia Chardonnay.
Virginia's Annual Oyster Festivals & Events
In celebration and homage to our state's coast delicacy, vineyards across Virginia look forward to hosting their annual dinner events, cooking classes and festivals that pair local oysters with their wines. These Virginia oysters capture the essence of the region (the minerals, the grasses, the plankton), so pairing with Virginia wines that showcase the local terroir gives wine and oyster lovers the ultimate experience. Here are a few vineyards to keep an eye on this year for a range of oyster and wine events.
Pippin Hill Farm & Vineyards – February
Ducard Vineyards – April & October
Early Mountain Vineyards – October
Cardinal Point Vineyard & Winery – November
Learn more about the Rappahannock Oyster Co. and Virginia-grown oysters in Book 13 of Wine & Country Life. And just like this Pairing Wine with Virginia Oysters article, learn about other food and Virginia wine pairings in our Food & Drink section, such as Port Pairings, Wine & Cheese Pairings, What Wines Pair Best with Turkey, Pairings for Easy Tailgate Dishes, How to Pair Wine & Chocolate and so much more. For more oyster dinners and events, keep an eye on our Wine & Country Events Calendar. ~
RICHARD LEAHY Richard Leahy is an author and wine professional based in Charlottesville. His book "Beyond Jefferson's Vines", the definitive book on Virginia wine, is available on Amazon in a revised third edition (2020). He started Adventure Wine Tours in September 2022, offering custom, curated tours of Virginia wineries, at adventurewine.tours.
R. L. JOHNSON is our co-publisher and creative director. Bethke studied at the prestigious ArtCenter College of Design and began her career as a professional photographer in Los Angeles. She moved into graphic design and art direction when she relocated to Charlottesville in 1994. As our company's co-founder and visionary, she enjoys all aspects of storytelling.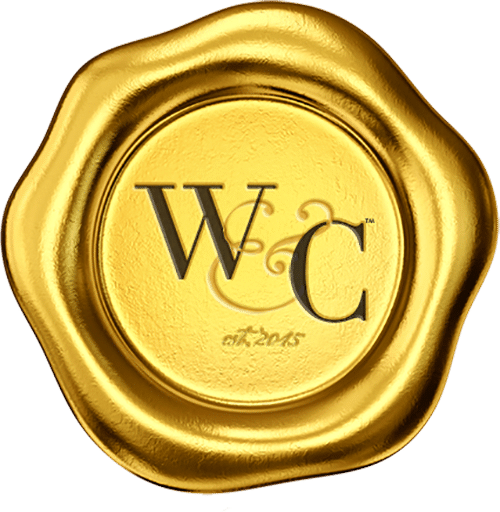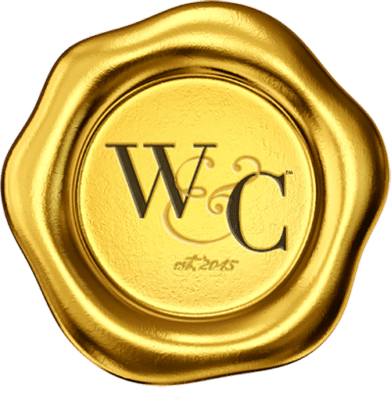 Virginia Wine & Country celebrates elevated living in Virginia Wine Country. Virginia Wine & Country Life is a semi-annual luxury print magazine with a full digital presence. The Virginia Wine & Country Gold Book is an annual guide to the top award-winning wines, wineries and experiences in Virginia Wine Country. The annual Virginia Wine & Country Wedding Planner is an art book of elegant Virginia weddings. The brand includes the Virginia Wine & Country Shop in Ivy, Va. It is a beautiful lifestyle boutique that brings the pages of the magazines to life. Virginia Wine & Country tells the stories of Virginia wineries, the farm-to-table movement, luxury travel, entertaining, art and the elegant country lifestyle. Ivy Life & Style Media also provides branding, web design and PR services for the wine industry.