With more than 300 wineries in the state, it's almost impossible to visit all of them in just one year. However, our many annual wine festivals offer visitors a chance to sample many of Virginia's best vintages, meet the winemakers and also enjoy live music and great food. Visit historic venues, sip seaside, support diversity or make your sipping count at gatherings that support a worthy charity. Spring and fall are filled with festival choices, but surprisingly, the biggest wine event of the year—the Virginia Wine Expo—brightens up the dreary days of winter.
Castle Hill 231 Fest
(Keswick, VA)
Start off the summer season in June on the gorgeous grounds of Castle Hill Cider in Keswick with the Castle Hill 231 Fest benefitting the Blue Ridge Area Food Bank. Both family friendly and pet friendly, this festival not only offers wine tastings, but also a variety of craft beverages, live music, food trucks and merchandise from local vendors. Train rides, arts and crafts and face painting will keep the kids entertained and designated drivers get a huge ticket discount, as well as a free non-alcoholic beverage. As their website says, "Sip, Sip, Hooray!" To learn more about this craft beverage festival and other winery events visit our Wine & Country Calendar.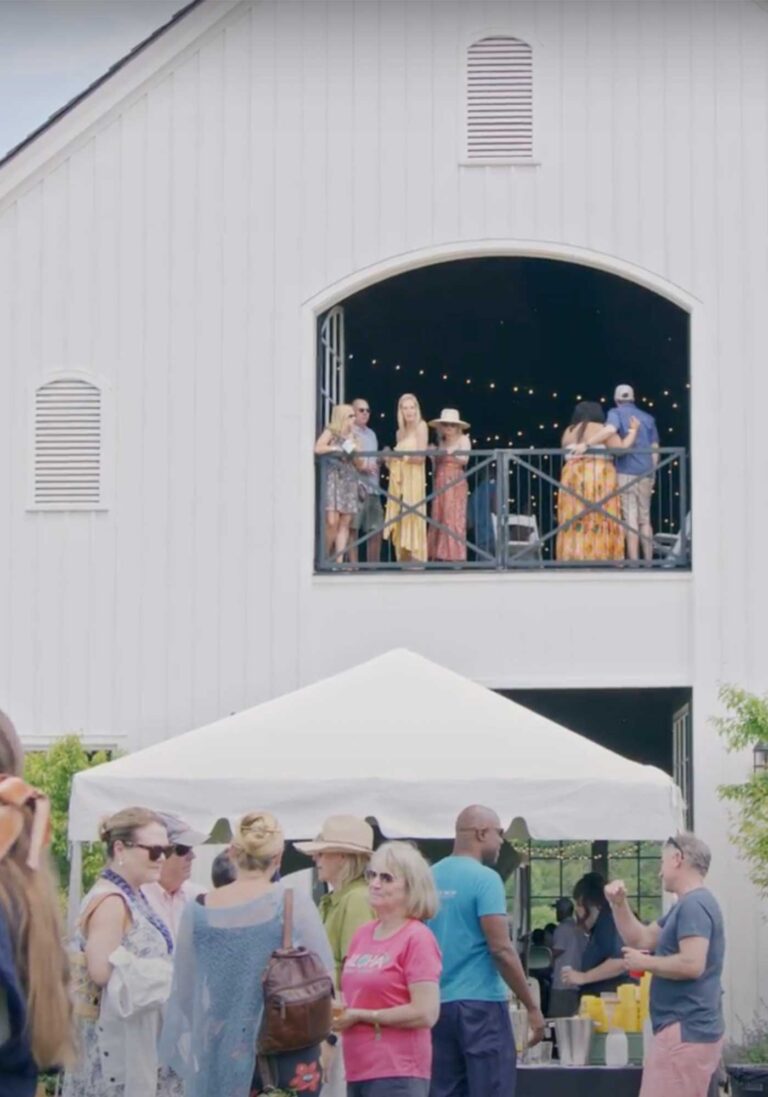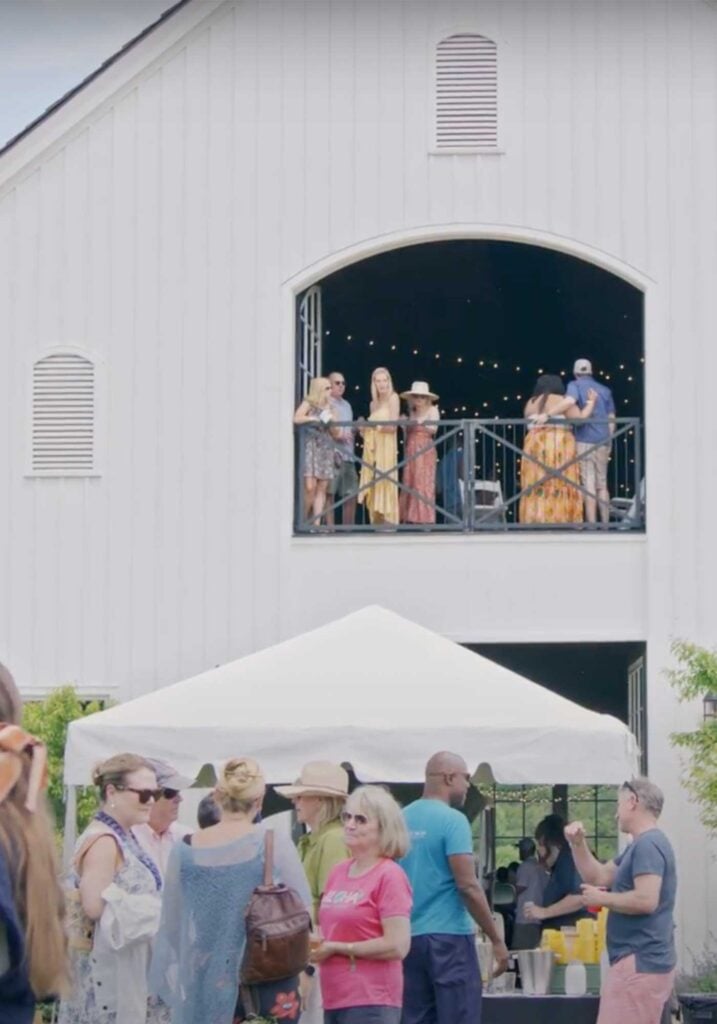 Timeframe: June
Va Wine Festival Locations: Castle Hill Cider, 6065 Turkey Sag Rd, Keswick, VA 22947
Virginia Wine Festival Trivia: Virginia's Albemarle Pippin apples were grown here before the Revolutionary War.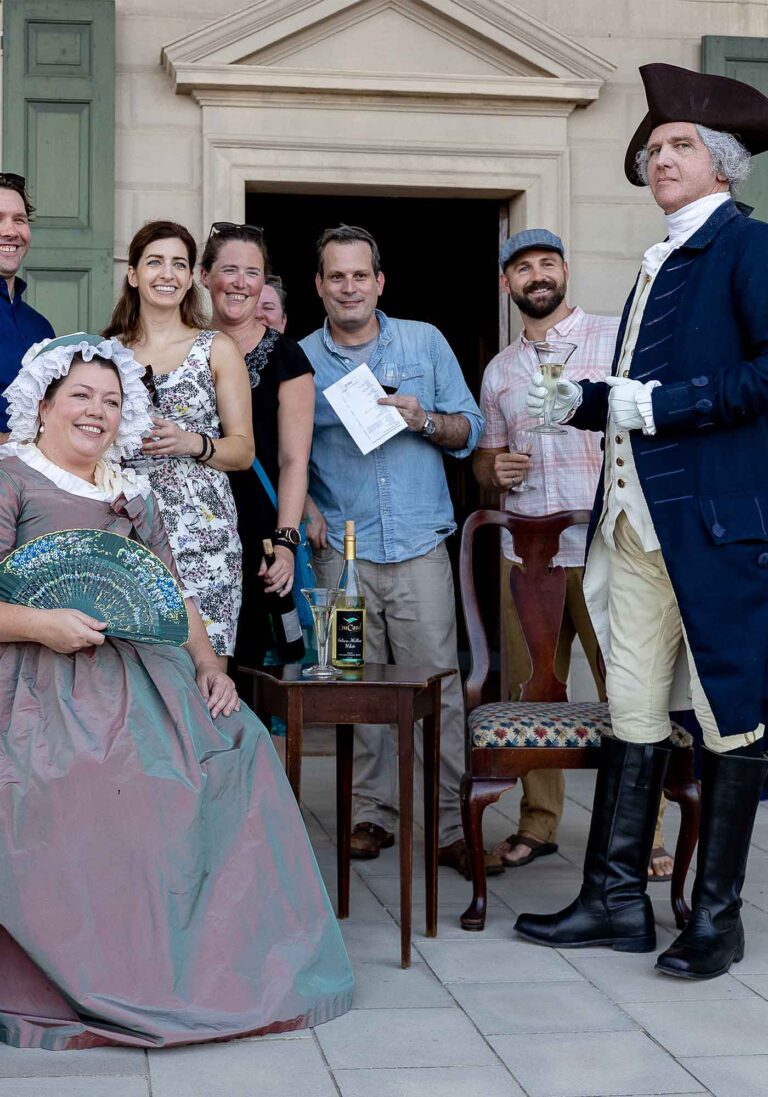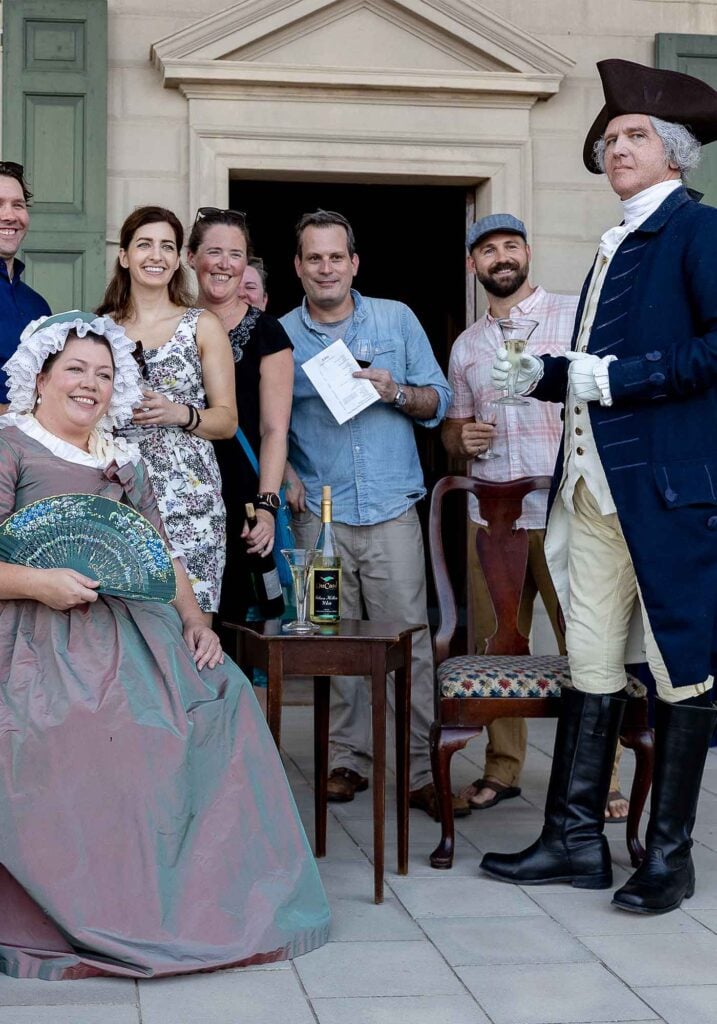 Double the Fun on Two Riverfronts
(Mount Vernon and Norfolk, VA)
Both Mount Vernon and Norfolk Town Point hold spring and fall festivals in May and October. The evening wine festivals at Mount Vernon include sunset tours of the mansion. Explore the grounds or bring a blanket to kick back on the East Lawn overlooking the Potomac River while sipping some of Virginia's most award-winning wines and listening to live music. The Norfolk festivals are held on the downtown waterfront on the Elizabeth River in Town Point Park, showcasing some of the state's best wines, as well as featuring gourmet foods, live music and specialty merchants. Get more information about these events and other Virginia wine festivals at our Wine & Country Calendar.
Timeframe: May/October
Va Wine Festival Locations: Historic Mount Vernon, Alexandria, VA
Town Point Park, Norfolk, VA
Virginia Wine Festival Trivia: George Washington had his own distillery which has been reconstructed and is fully functioning and offers whiskey tastings.
The Neptune Wine Festival
(Virginia Beach, VA)
If you're craving that first trip to the beach, you won't want to miss the Neptune Wine Festival in Virginia Beach each May. Overlooking the Atlantic Ocean, 31st Street Park goes international with tasting stations featuring more than 70 wines from several countries, including many of Virginia's finest vintages. And of course, there's live music and great food along with that quintessential scent of sea air at this Virginia wine festival. For more winery events and festivals visit our Wine & Country Calendar.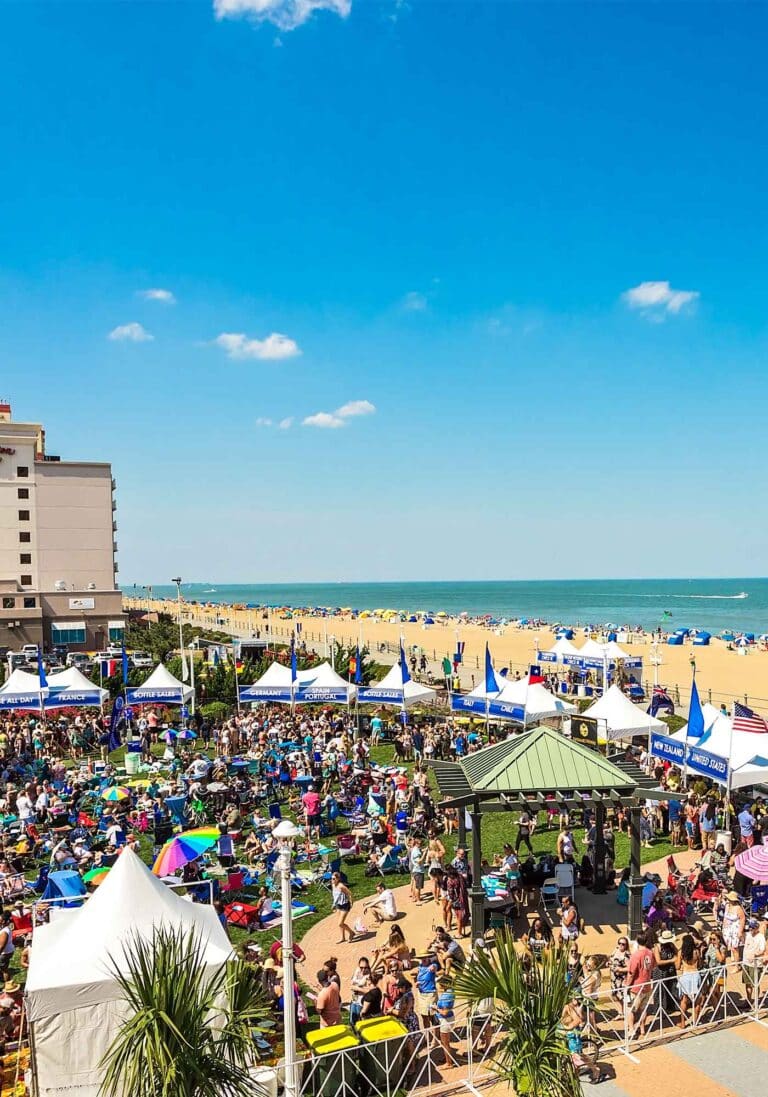 Timeframe: May
Va Wine Festival Location: 31st Street Park Oceanfront
Virginia Wine Festival Trivia: The bronze statue of Neptune overlooking the park is 34 feet tall.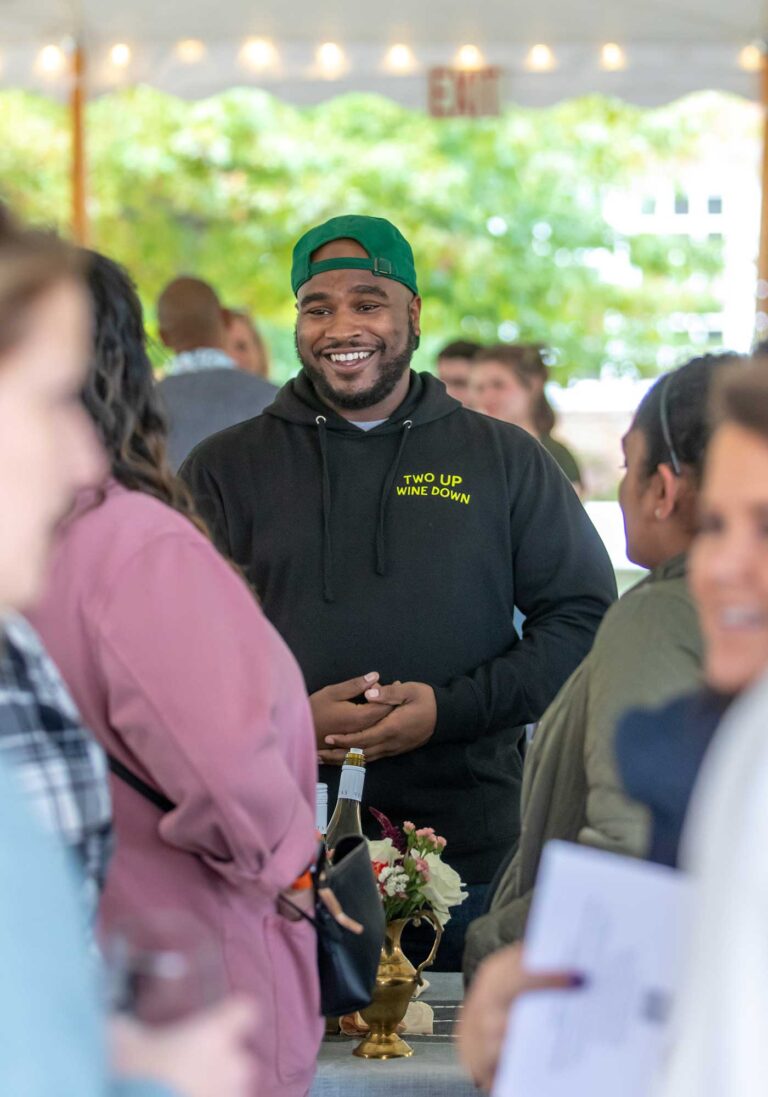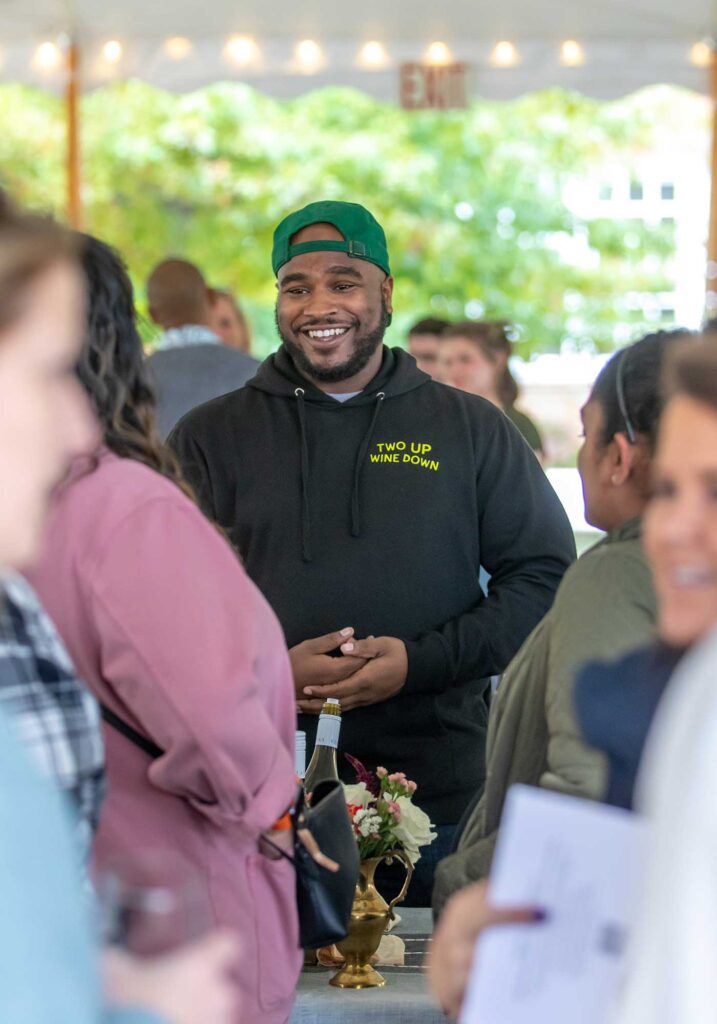 Oenoverse Two Up, Wine Down Festival
(Albemarle, VA)
One of the most socially significant events during October Wine Month is the Oenoverse Two Up, Wine Down Festival spearheaded by Blenheim Vineyards. This event—an outgrowth of Blenheim's Oenoverse Wine Club—highlights diversity and inclusivity in the wine community to shine a spotlight on BIPOC (Black, Indigenous and people of color) wine professionals, consumers and allies, especially those that have historically been excluded or underrepresented. Guest hosts at the festival have included BIPOC leaders like LaTasha Durrett, founder of Black Women Who Wine. Discover more Virginia winery events and festivals at our Wine & Country Calendar.
Timeframe: October
Va Wine Festival Location: TBD
Virginia Wine Festival Trivia: Blenheim is owned by rock star Dave Matthews, who purchased the land to preserve its history.
United Bank Bloomin' Wine Fest
(Winchester, VA)
The Shenandoah Apple Blossom Festival kicks off spring with gorgeous trees and an outdoor wine festival in historic downtown Winchester on the state's first pedestrian mall. Admission includes a souvenir wine glass and the festival features several of Virginia's finest wineries and cideries, as well as live music and great local food. Read our Wine & Country calendar to discover more Virginia wine festivals and events.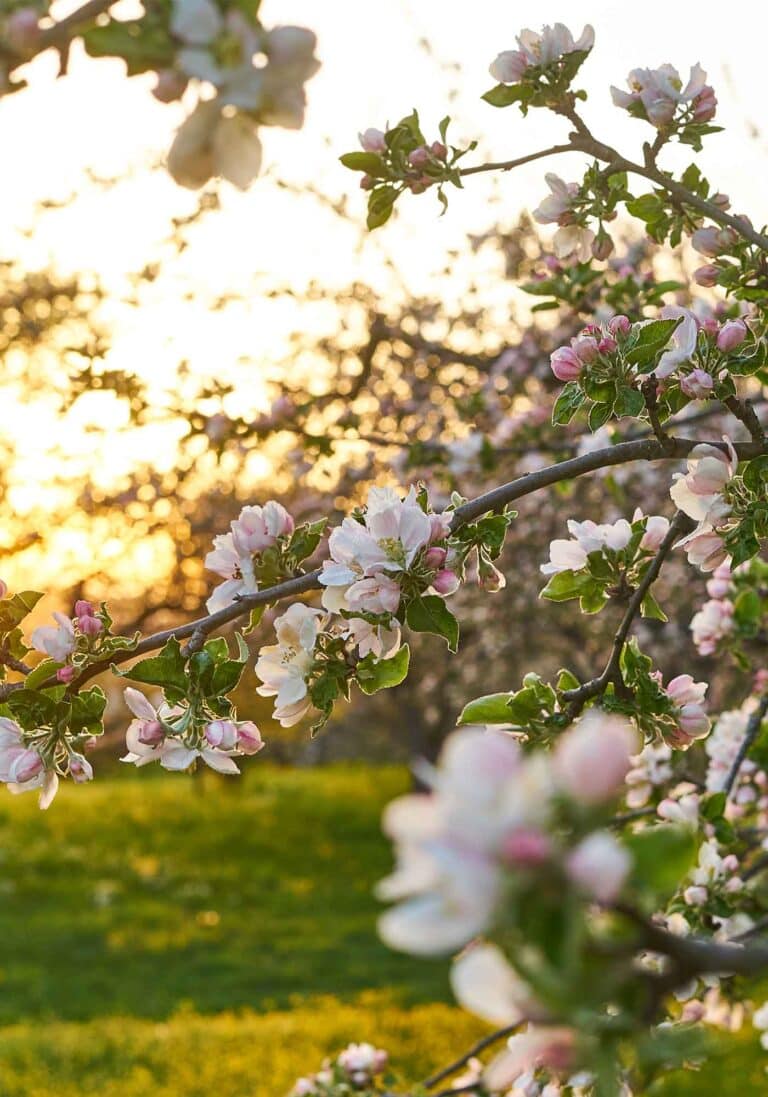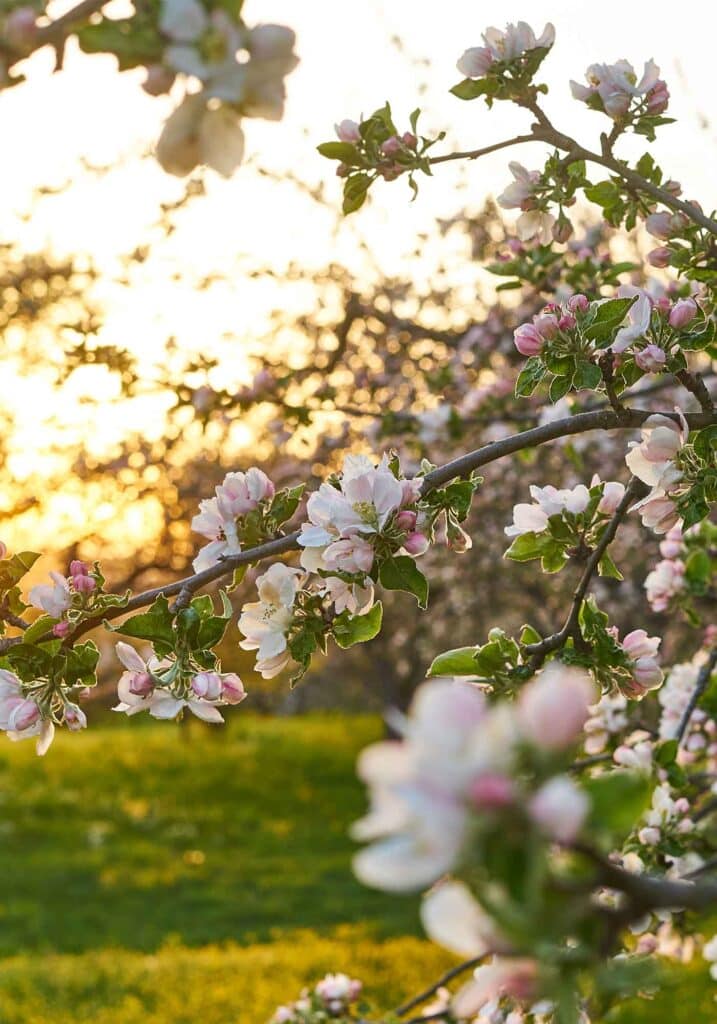 Timeframe: April
Va Wine Festival Location: Downtown Winchester Pedestrian Mall
Virginia Wine Festival Trivia: Winchester is called the "Apple Capital" and is one of the largest apple export areas in the nation and the largest in Virginia.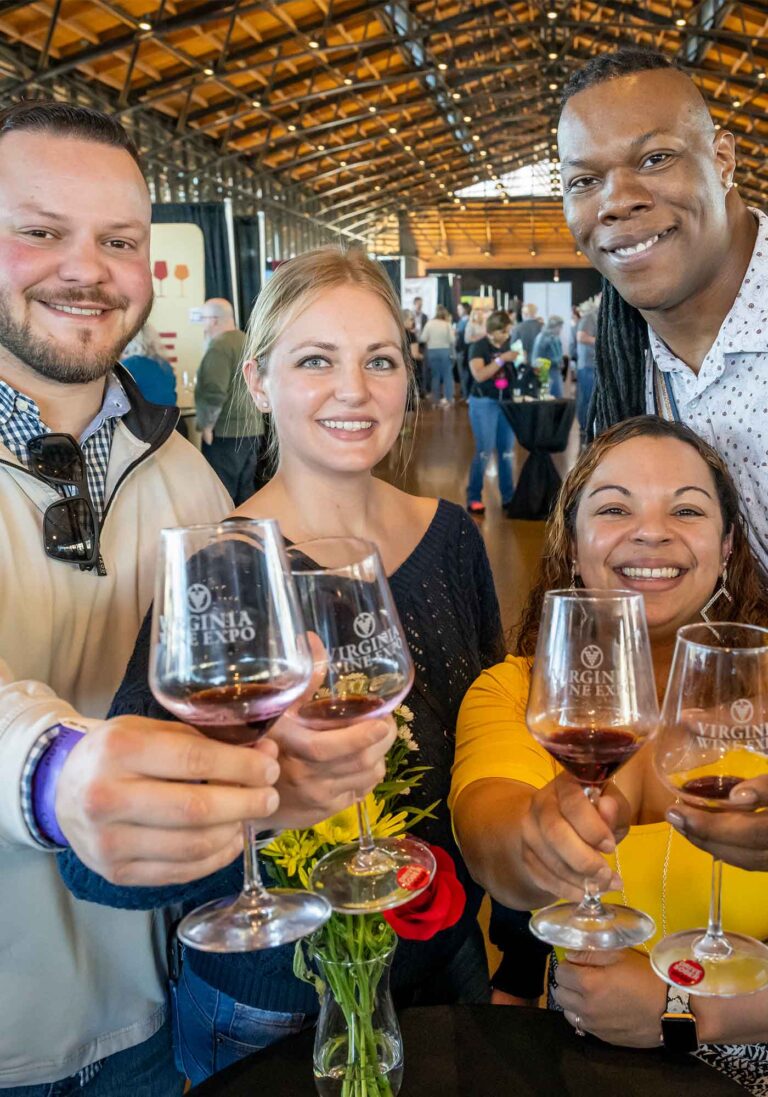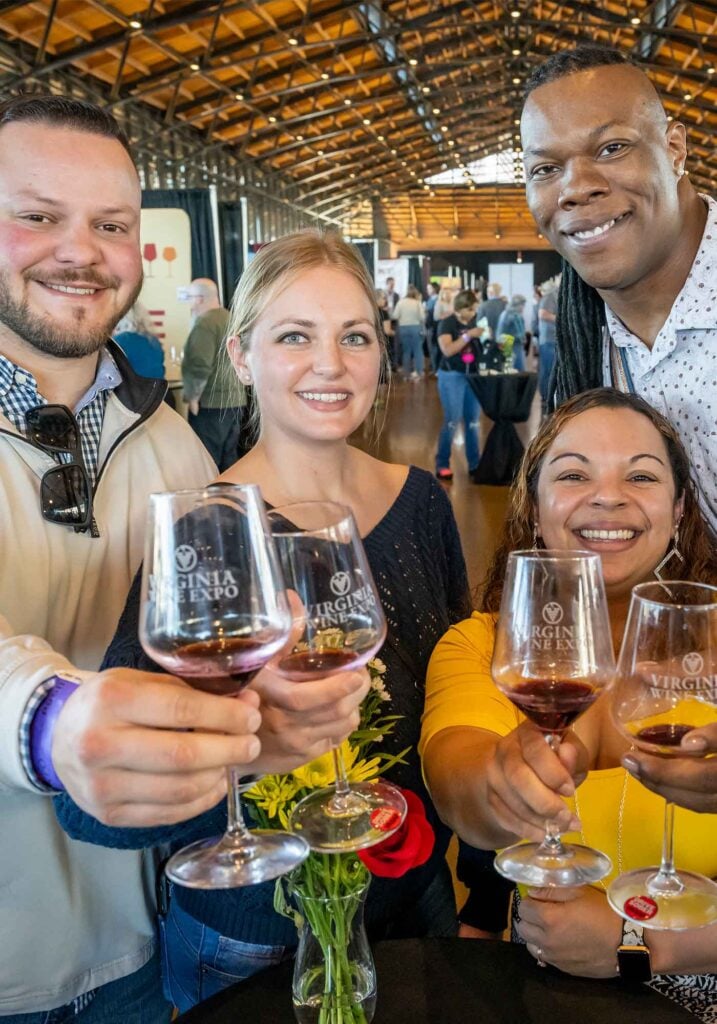 The Virginia Wine Expo
(Richmond, VA)
The multi-day Virginia Wine Expo and its many events brighten up the gloomy days of late February and early March. A premier wine and culinary event that has become a destination for oenophiles and foodies alike, the Expo's curated events range from signature wine dinners, lunches and brunches to the walk-around grand tasting that features literally hundreds of Virginia's wines, ciders and spirits, along with some of Richmond's nationally acclaimed culinary offerings. Each year, a different national and international wine region are also featured. Get more details on the Virginia Wine Expo at our calendar.
Timeframe: Feb/March
Va Wine Festival Location: Main Street Station, Richmond, VA
Virginia Wine Festival Trivia: In addition to being the most prestigious wine event of the year, the Expo also raises money for the Richmond Metropolitan Habitat for Humanity.
The Virginia Wine and Garlic Festival
(Amherst, VA)
October is Virginia Wine Month so it's not surprising that it's packed with wine festivals. One of the biggest—and quirkiest—is the Virginia Wine & Garlic Festival whose motto is "It's Chic to Reek." Enjoy all things garlic from burgers to baked garlic braids paired with your favorite Virginia wines and shop for handcrafted items from more than 100 local artists. Hosted by Rebec Vineyards in Amherst, the festival also has plenty of kid-friendly activities including a bounce house, petting zoo and kids' FunZone. But don't forget to pack your breath mints! Visit our calendar for more Va Wine Festivals.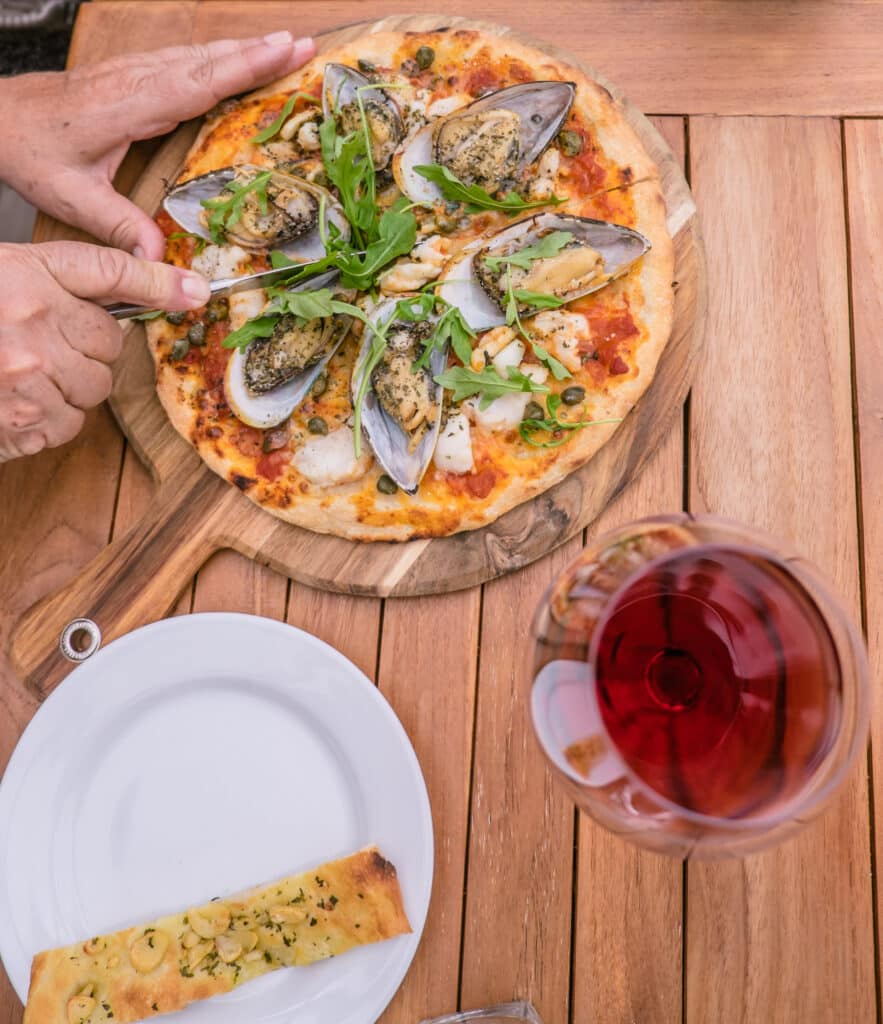 Timeframe: October
Va Wine Festival Location: Rebec Vineyards, 2229 N. Amherst Hwy, Amherst, Virginia 24521
Virginia Wine Festival Trivia: One nickname for garlic is the "stinking rose."
Wine Festival Tips: Dos and Don'ts
Every festival has its own set of rules on what you can and can't bring to the event so be sure to check each festival's website for what's allowed. Most do not permit any outside food and drink, including personal water bottles. And as most festivals include a souvenir wine glass in the admission price, they also don't allow you to bring in additional glasses or cups. Some allow blankets or low-backed camp chairs, while others offer table seating and VIP packages with reserved seating and additional amenities.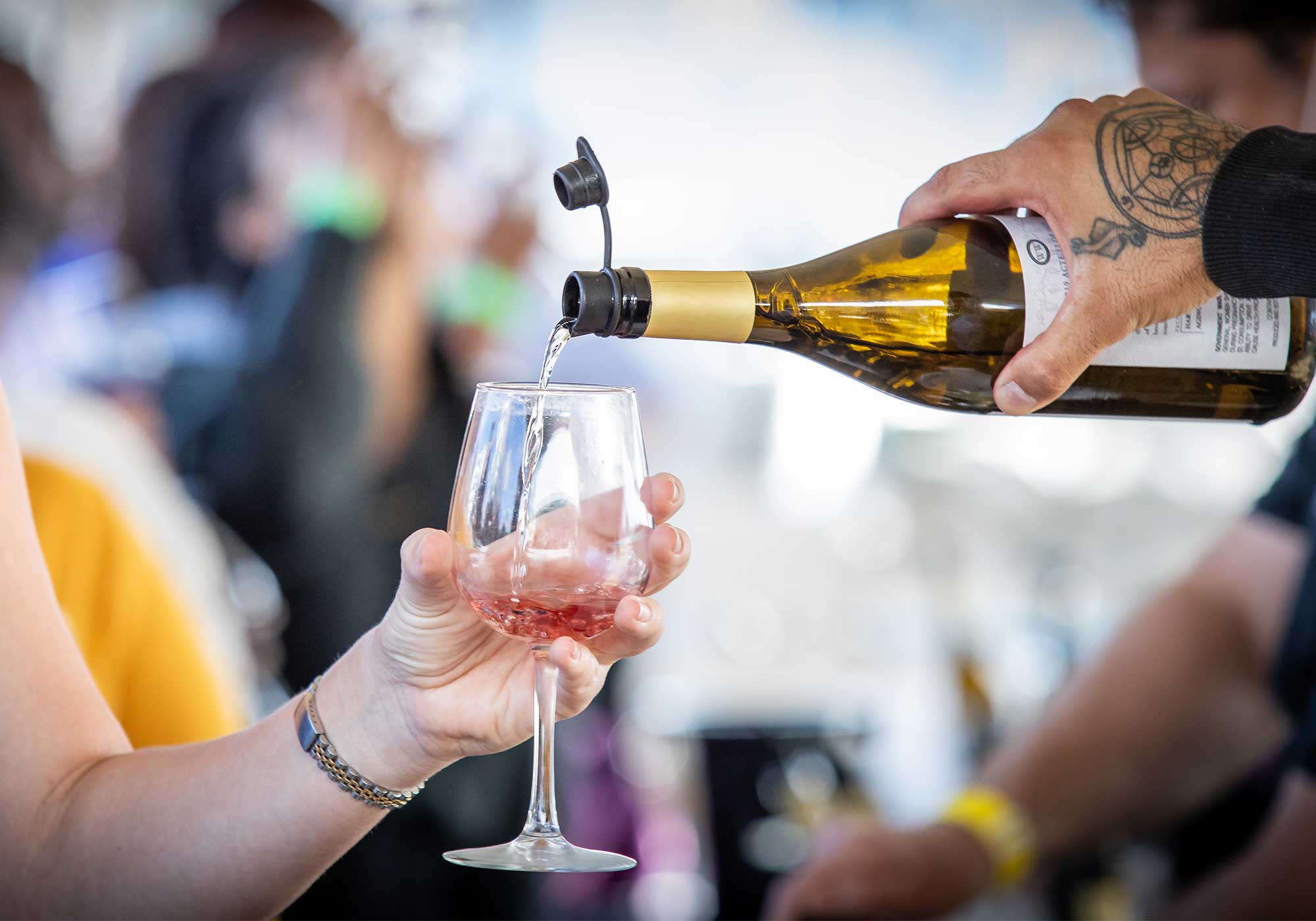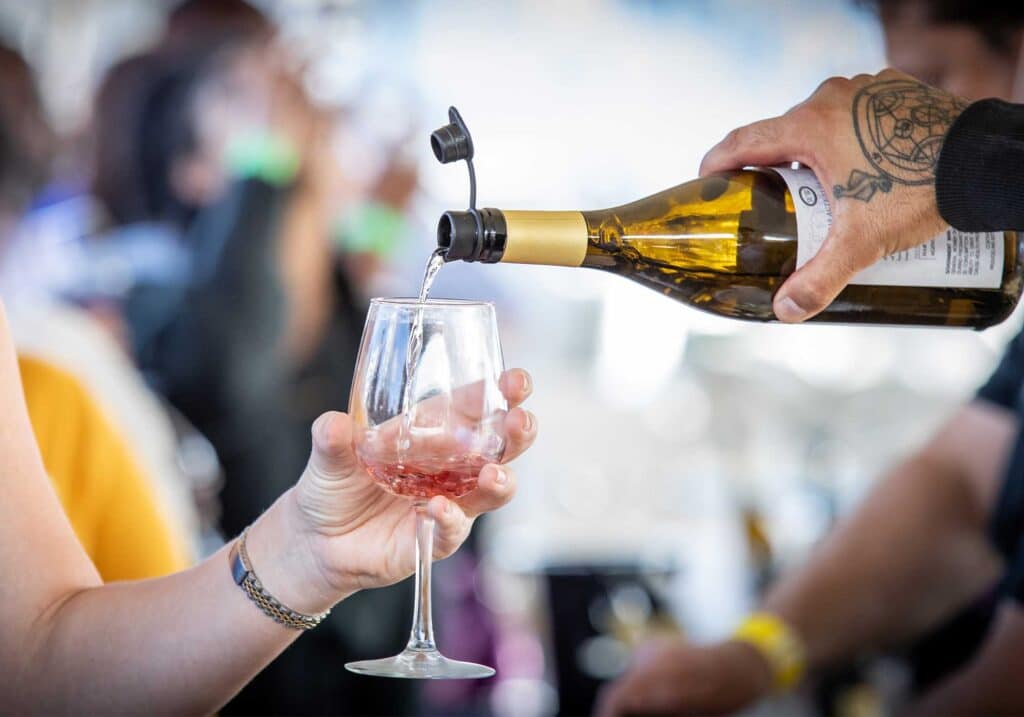 You're going to be on your feet all day, so wear comfortable shoes and clothing. And, except for the Virginia Wine Expo, wine festivals are outdoor events so be sure to pack sunscreen, hats and a portable umbrella or rain jacket. If backpacks are allowed, that's a great way to carry your personal items that won't interfere with wine tastings at crowded booths by accidentally swinging into the table or other guests. If you can't wear a back pack, a cross-body bag or clothing with ample pockets may be the way to go.
If you have long hair, you should tie it back to make spitting easier. You may not need to spit at every tasting booth—and although it's a recognized part of professional wine tasting, it's not required—if you're sampling 20 wines, you will want to do so occasionally to pace yourself. Since smell is a major part of a tasting, refrain from wearing heavy fragrances and start your circuit with lighter wines like sparkling varieties and fresh whites before moving on to richer white wines and tannic red wines.
Be sure to drink plenty of water throughout the day and either eat something before the event or enjoy some of the festivals culinary offerings during the day, especially those featuring some of Virginia's flavorful oyster options which pair wonderfully with a glass of wine. One of the most enjoyable and educational benefits of wine festivals is the opportunity to speak to the actual winemakers at each booth, but be considerate of other guests and don't monopolize the experts or hold up the line with a long conversation.
Virginia's many annual wine festivals provide an opportunity to dive "nose-in" to our wonderful wine industry and taste some of the best vintages the state has to offer, from our signature Viognier to our acclaimed Bordeaux-inspired red varietals. ~
GINGER WARDER is a freelance writer specializing in arts, entertainment, travel with pets, and European destinations. Author of Fido's Virginia and Fido's Florida (both Countryman), she is a member of the Society of American Travel Writers and lives in Richmond, Virginia with her German Shepherd, Lola, and her cat, Gizmo.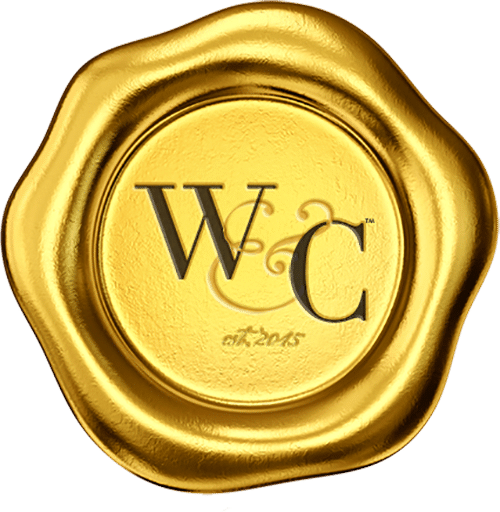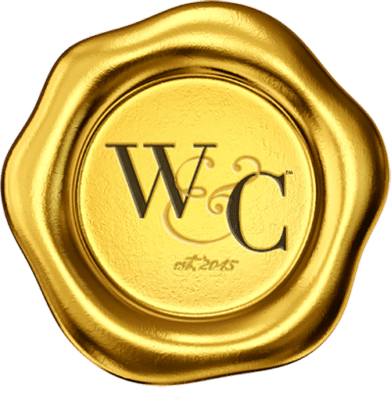 Virginia Wine & Country celebrates elevated living in Virginia Wine Country. Virginia Wine & Country Life is a semi-annual luxury print magazine with a full digital presence. The Virginia Wine & Country Gold Book is an annual guide to the top award-winning wines, wineries and experiences in Virginia Wine Country. The annual Virginia Wine & Country Wedding Planner is an art book of elegant Virginia weddings. The brand includes the Virginia Wine & Country Shop in Ivy, Va. It is a beautiful lifestyle boutique that brings the pages of the magazines to life. Virginia Wine & Country tells the stories of Virginia wineries, the farm-to-table movement, luxury travel, entertaining, art and the elegant country lifestyle. Ivy Life & Style Media also provides branding, web design and PR services for the wine industry.