Hosting a fall equinox wine dinner focused on the farm-to-table movement was the ideal way for the founders of Pippin Hill Farm & Vineyards, Dean Andrews and Lynn Easton, to celebrate the harvest. Passionate about sourcing local foods, the couple created A Farm-to-Table Dinner at Pippin Hill Farm & Vineyards, an evening of tours and demonstrations that concluded with a sumptuous meal outdoors. The equinox, the day when daylight is equal to nighttime all over the planet, signals the change in season and made for an exciting celebration with the community. Known for its workshops In Expert Flower Arranging and Featured Farmer Fridays, Pippin Hill near Charlottesville has won numerous awards for its wine and is well known for its beautiful property.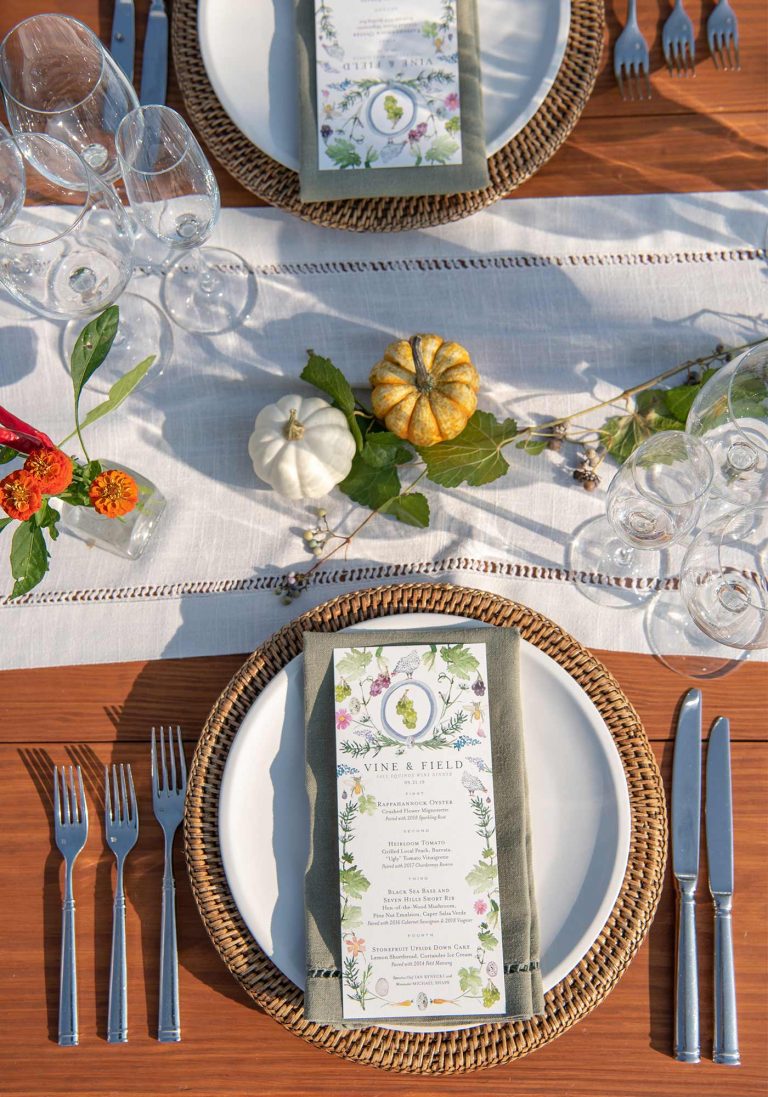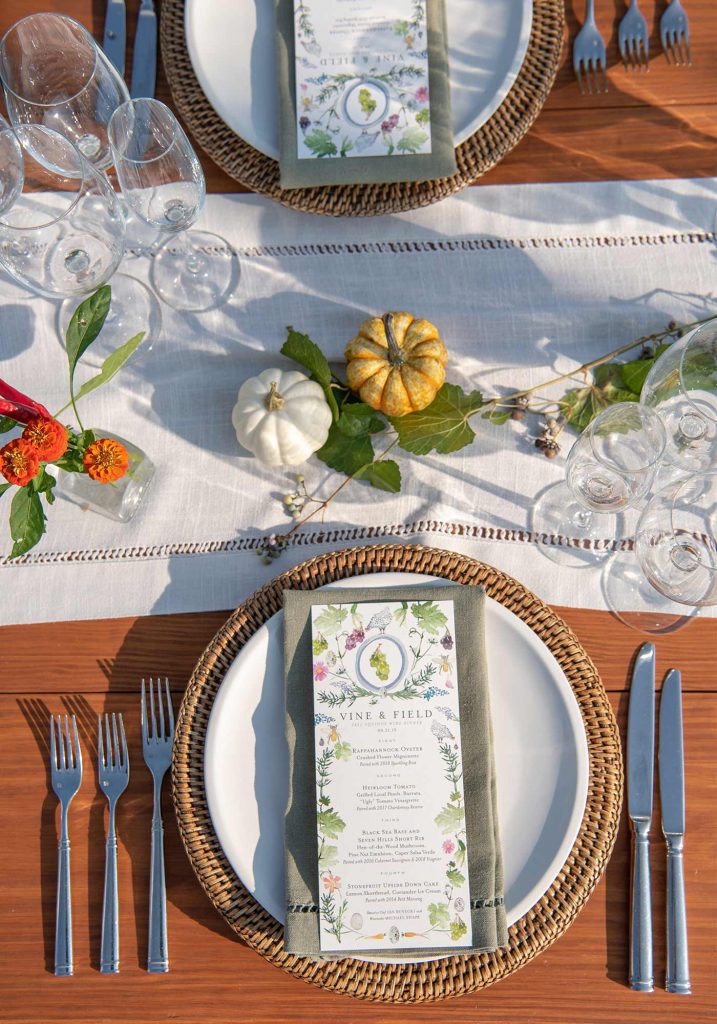 On this warm fall evening, guests at the Pippin Hill dinner were greeted with a refreshing glass of 2018 Sparking Rosé redolent of fresh raspberry, strawberry, lilac and violet. From there, everyone took turns visiting four food stations—the gardens, the apiary, the grill and the vineyard. As they toured the beautiful property, there was a bounty of wine tastings and harvest canapés. From vineyard-to-table, fresh, local, sustainable and delicious is always the goal at this culinary winery.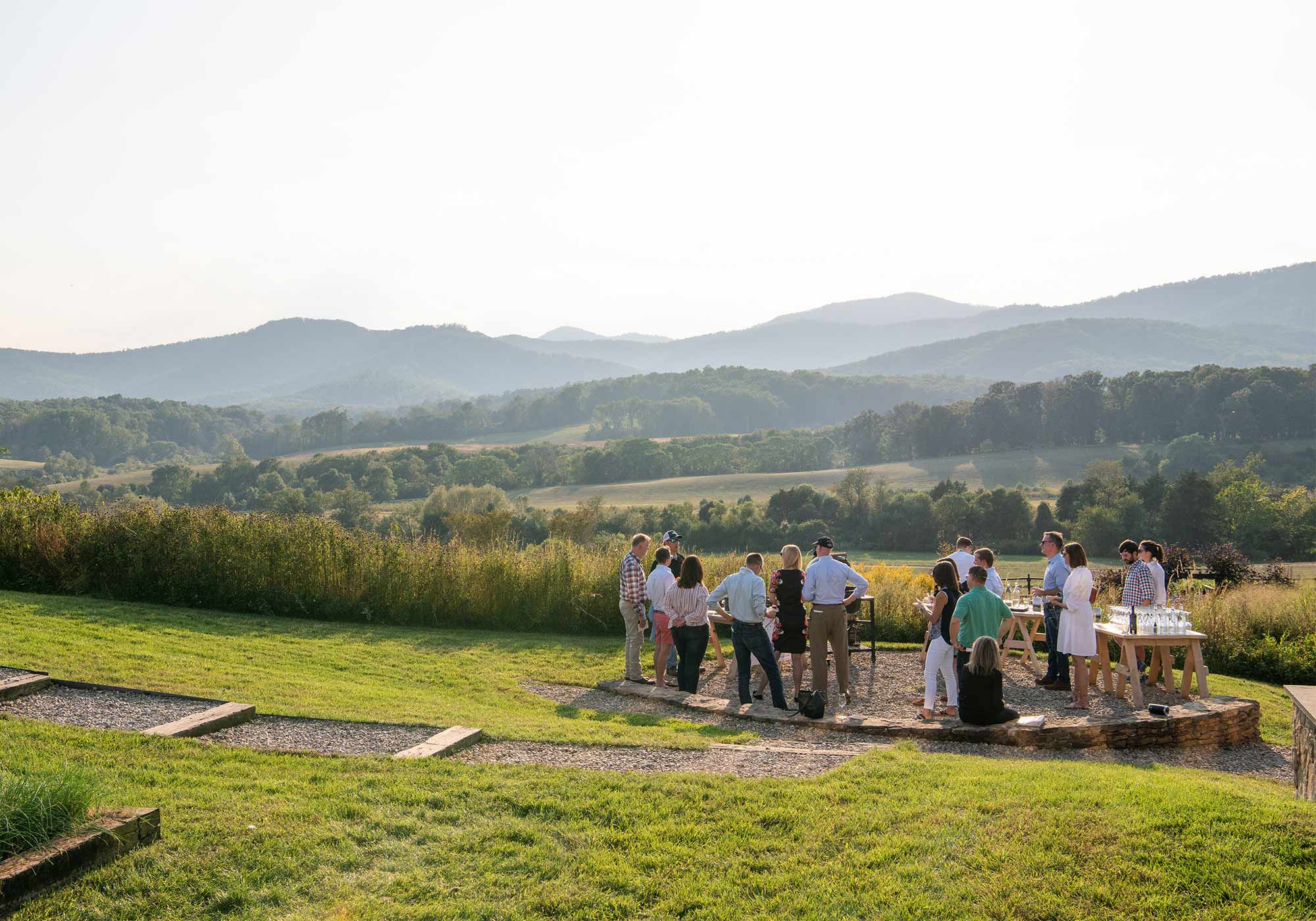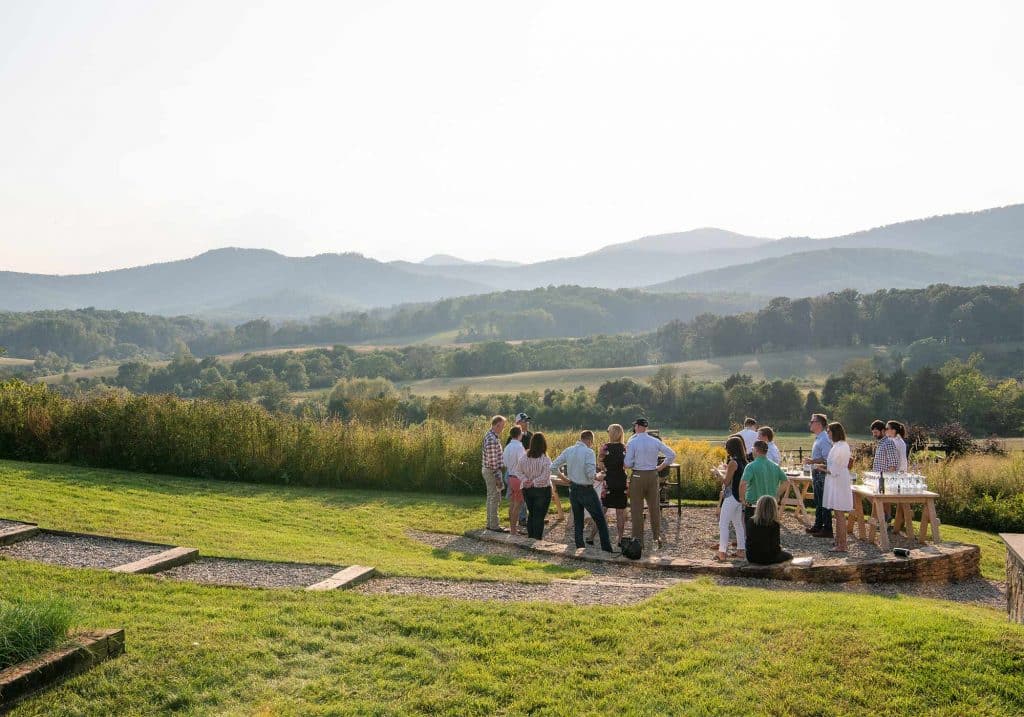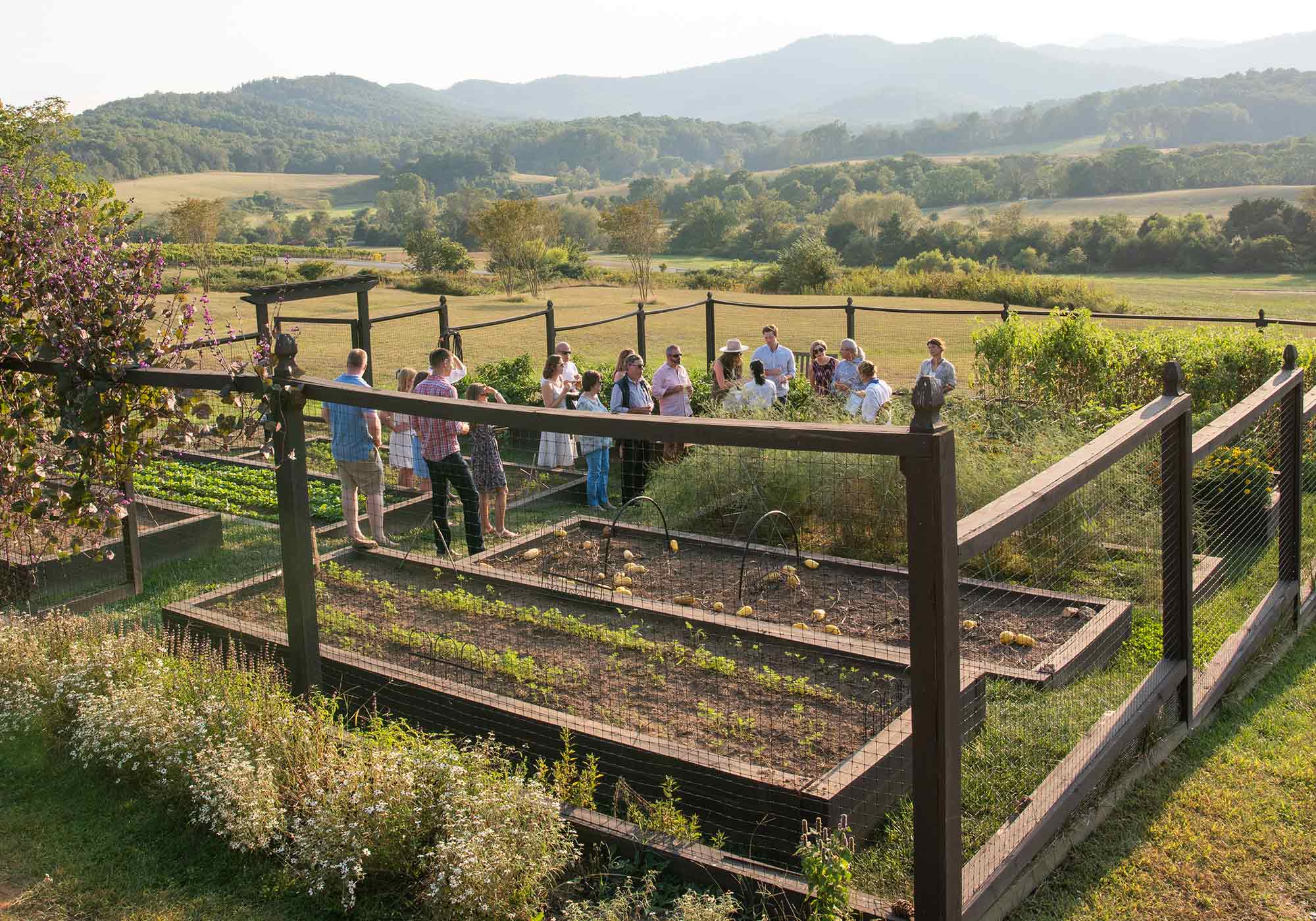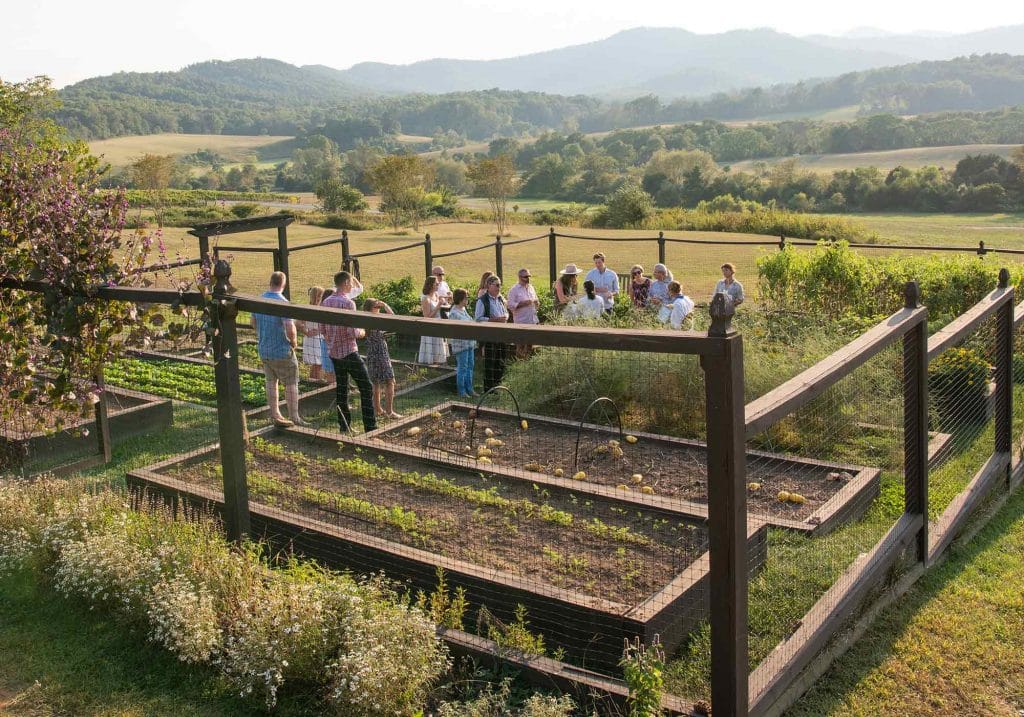 Farm-To-Table Food at Pippin Hill Farm & Vineyards
At the abundant vegetable garden, certified horticulturist Diane Burns shared stories of growing greens and tomatoes, squash and sweet potatoes, and how the produce, including eggs from their chickens, all goes directly to plates at their height of freshness. The menu at pippin Hill is always changing to reflect what produce is at its height of flavor. Guests were treated to a canapé while she shared tips on seed starting and seasonal tasks that are currently underway in the Pippin garden. Burns manages the extensive gardens that include an herb garden, espaliered fruit trees and flower beds as well as many other plantings.
Working closely with the gardeners, the beekeepers, Diego DeCorte, Brook Savage and Carrie Hodgkins were on hand to share their knowledge of beekeeping. Because grape reduction is self-fruitful, bees are not necessarily for fertilization, but the bees are able to use the pollen created by grapes. And, of course, bees are essential to the health of the overall ecosystem. With bees in mind, Pippin Hill has allowed meadows to grow a little bit wild and adjusted some of their vineyard husbandry to support the bees' habits and life cycle. This relationship between Pippin Hill and honeybee hives results in wonderful collaborative recipes such as this Honey Vinaigrette & Heirloom Tomato Salad. Using local ingredients and sustainable practices, Monticello Wine Trail vineyards such as Pippin Hill support the honey bee efforts and contribute to our environment. While in the gardens, guests were invited to sample different types of honey and marveled at the variety of flavors.
DeCorte, who learned beekeeping as a young man growing up in Italy, enthused, "Honey, like wine, expresses terror—the soil, the plants and the weather all combine to make the honey. You can see it in the color, the smell and the taste of the unique flavors of each region. Everywhere you travel, you should seek our real, local honey…you will love it!"
Sustainable Farming Practices at Pippin Hill
At the cooking station, Executive Chef Ian Rynecki emphasized freshness as he ground herbs with his mortar and pestle for a sauce to season the steak he prepared. His menu is inspired by what is coming in from the garden and farm. The beef, cooked in a Big Green Egg ceramic grill, was done to perfection then allowed to rest for five minutes to lock in the flavorful juices. Try making one of Chef Ian Rynecki's signature dishes at home by following these Farm-to-Table Brunch Recipes inspired by the Virginia vineyard bounty.
Guests strolled from station to station chatting comfortably with the founders, vineyard staff and one another, creating a sense of community that could be felt at this celebration of land and the harvest.
Guests sampled a piece of the meat while meeting farmer Matt McCaskill of nearby Seven Oaks Farm in Charlottesville, who talked about sustainable practices and pasturing—a respectful way to raise animals that improves their health as well as the flavors and nutrients of the meats. Learn how to Host Your Own Virginia Wine Dinner by taking inspiration from a farm-to-table dinner at Septenary Winery and Seven Oaks Farm.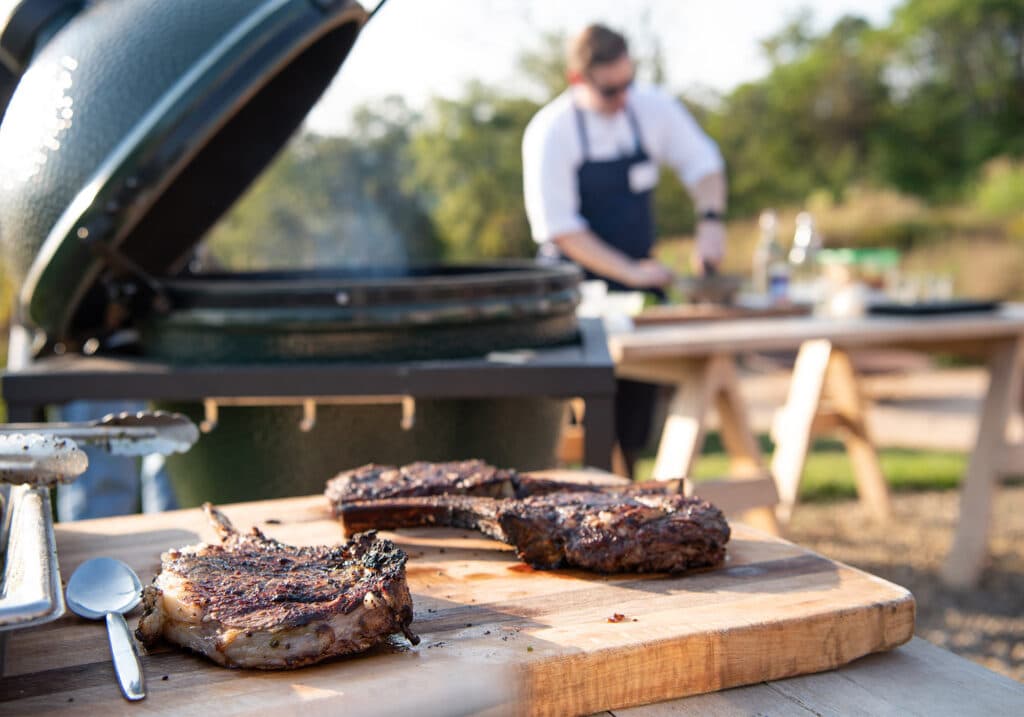 Pippin Hill Farm-to-Table Dinner Menu
Viticulturist Chris Hill has been part of the Pippin Hill team since the very beginning when he helped to select the land for its unique properties and southern exposure. The vineyard manager, Brooks Hoover, shared details on how they sited different grape varietals in blocks that best suited their growing needs. At the wine station, guests sampled grapes freshly clipped from the vine and enjoyed a tasting of the fresh crush as well as a few finished wines while discussing the balance of acidity and sugars as the grapes move from veraison—the onset of ripening and color change—through the harvest.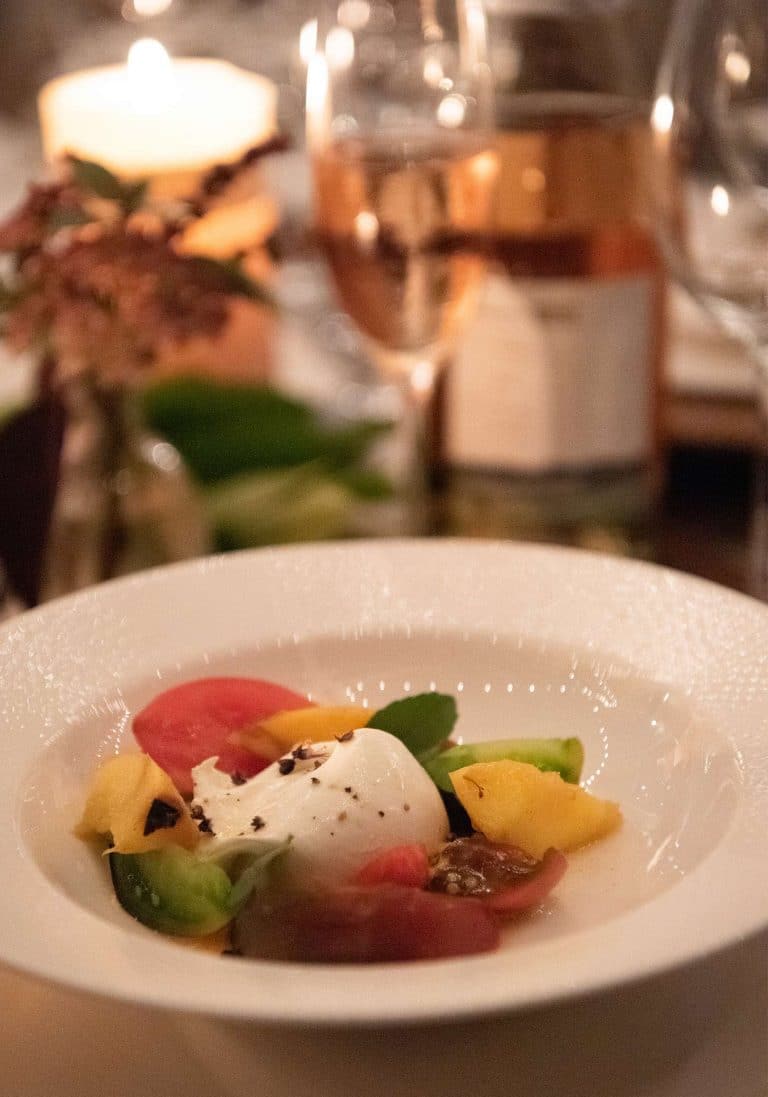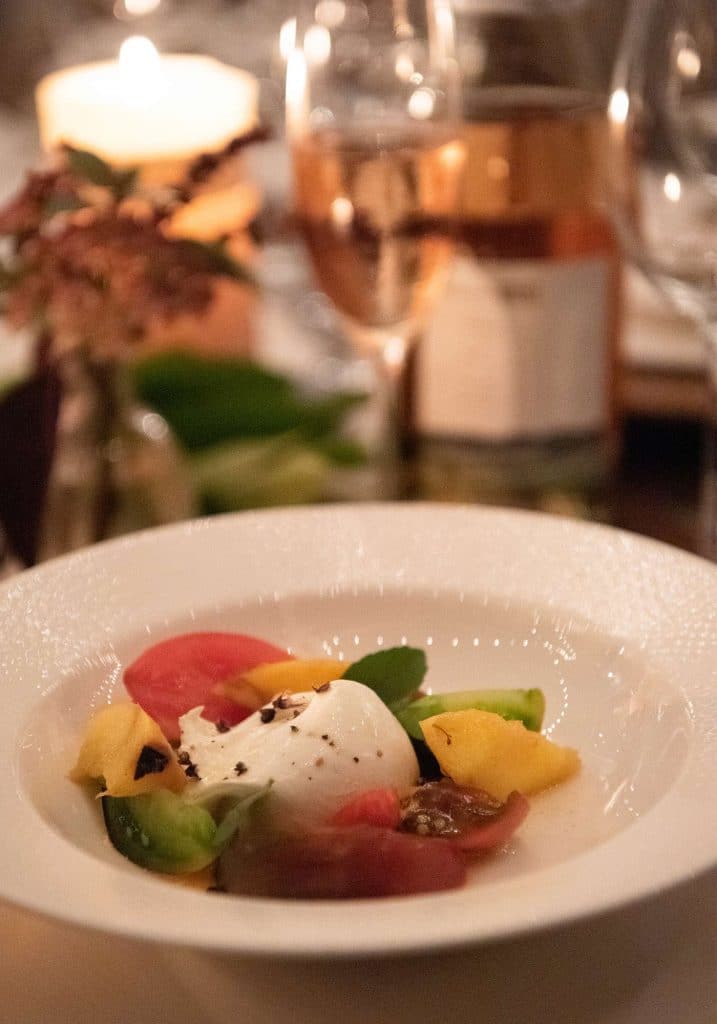 Guests strolled from station to station chatting comfortably with the founders, vineyard staff and one another, creating a sense of community that could be felt at this celebration of land and the harvest. "The people behind our wines and the food menu are farmers. It's a miracle how it all comes together, and it's lovely to encounter especially during the harvest. We love tending and growing exceptional vines and vegetables that, in turn, enhance flavors in food and life," shares Andrews. As the sun dipped low behind the Blue Ridge Mountains, the meal began with the first oyster harvest of the season from Rappahannock Oysters. Guests enjoyed oysters in a crushed flower mignonette paired with the 2018 Sparkling Rose. It was followed by a salad of heirloom tomato, grilled local peach and a house made burrata, seasoned with the "Ugly" tomato vinaigrette and paired with a 2017 Chardonnay Reserve.
The 2016 Cabernet Sauvignon and 2018 Viognier were then served with Black Sea Bass and Seven Hills short rib, hen-of-the-wood mushroom, pine nut emulsion and a flavorful caper salsa verde. Guests were delighted by the surprise of an exquisite coriander ice cream served with stonefruit upside down cake and lemon shortbread paired with 2014 Petit Manseng that hints of apricot, honey, melon and white peach on the palate.
It was a delightful conclusion to this Farm-to-Table Dinner at Pippin Hill Farm & Vineyards. Even once the meal had concluded and Chef Rynecki had been applauded, guests lingered, chatting under the starry skies at tables beautifully decorated with flowers fresh from the garden, grape vines, romantic candles and petite squash. On the way out, guests were treated to a gift box with two petite jars of Elysium honey. The breathtaking views, intriguing demonstrations and delicious foods all combined for a memorable celebration of this special place.
To be inspired by other farm-to-table wine dinners in the region, we invite you to explore our other Virginia vineyard dinner celebrations. Marvel at the beautifully planned and executed harvest dinner hosted at Early Mountain Vineyards to Celebrate Virginia's Bounty. For more Pippin Hill Farm & Vineyards inspiration, read our Summer Entertaining article where you'll find tips on creating a stylish outdoor soiree in Virginia's Wine Country or enjoy a lavish wine country wedding celebration at the beautiful Pippin Hill Farm & Vineyard. . ~
This article appears in Book 9 of Wine & Country Life. Start your subscription here or give a gift subscription here.
JENNIFER BRYERTON, our co-publisher, grew up in a family of farmers and gardeners and enjoys traveling. She carries on the farm-to-table tradition at her home in Ivy, where beehives and a chicken coop dot the lawn, and borders are filled with roses, peonies, hydrangeas and more with herbs tucked amongst them for the kitchen.
R. L. JOHNSON is our co-publisher and creative director, Robin Johnson Bethke, who began her career as a professional photographer in Los Angeles before moving into graphic design and art direction when she relocated to Charlottesville in 1994. As our company's co-founder and visionary, she enjoys all aspects of the publishing process from story conception to graphic design to photography. Her work is often seen in many of our publications.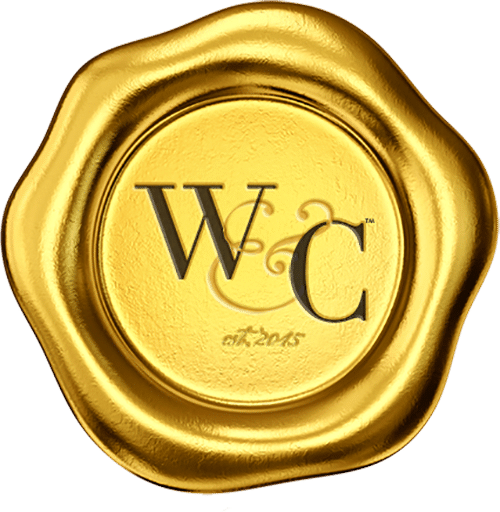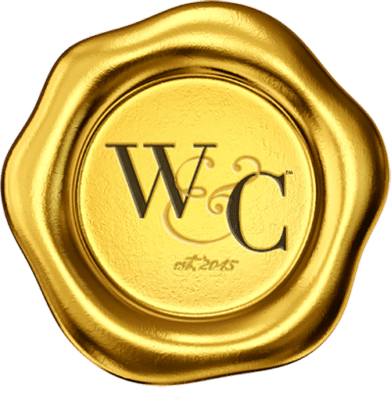 Virginia Wine & Country celebrates elevated living in Virginia Wine Country. Virginia Wine & Country Life is a semi-annual luxury print magazine with a full digital presence. The Virginia Wine & Country Gold Book is an annual guide to the top award-winning wines, wineries and experiences in Virginia Wine Country. The annual Virginia Wine & Country Wedding Planner is an art book of elegant Virginia weddings. The brand includes the Virginia Wine & Country Shop in Ivy, Va. It is a beautiful lifestyle boutique that brings the pages of the magazines to life. Virginia Wine & Country tells the stories of Virginia wineries, the farm-to-table movement, luxury travel, entertaining, art and the elegant country lifestyle. Ivy Life & Style Media also provides branding, web design and PR services for the wine industry.