'Tis the season of entertaining outdoors and enjoying all the luxuries of open-air spaces while dining al fresco. From table settings and floral arrangements to picking the perfect dishes and drinks for your guests, your space can reflect elegance and set the tone for an enjoyable celebration.
No matter the location of your dinner party or the occasion, your personal touches will bring any space together in a cohesive manner. Augusta and Brandon held their own farm-to-table celebration under the stunning veranda at Pippin Hill Farm & Vineyards. To see more lovely outdoor celebrations at Pippin Hill Farm & Vineyards, visit our Wine & Country Weddings magazine.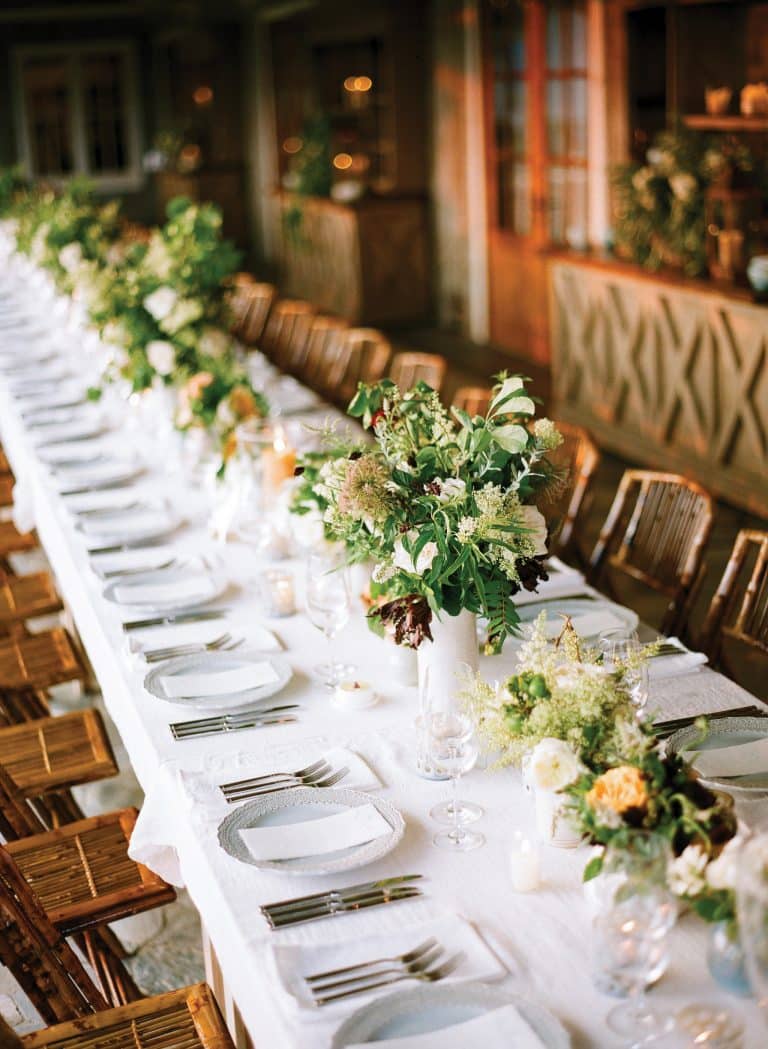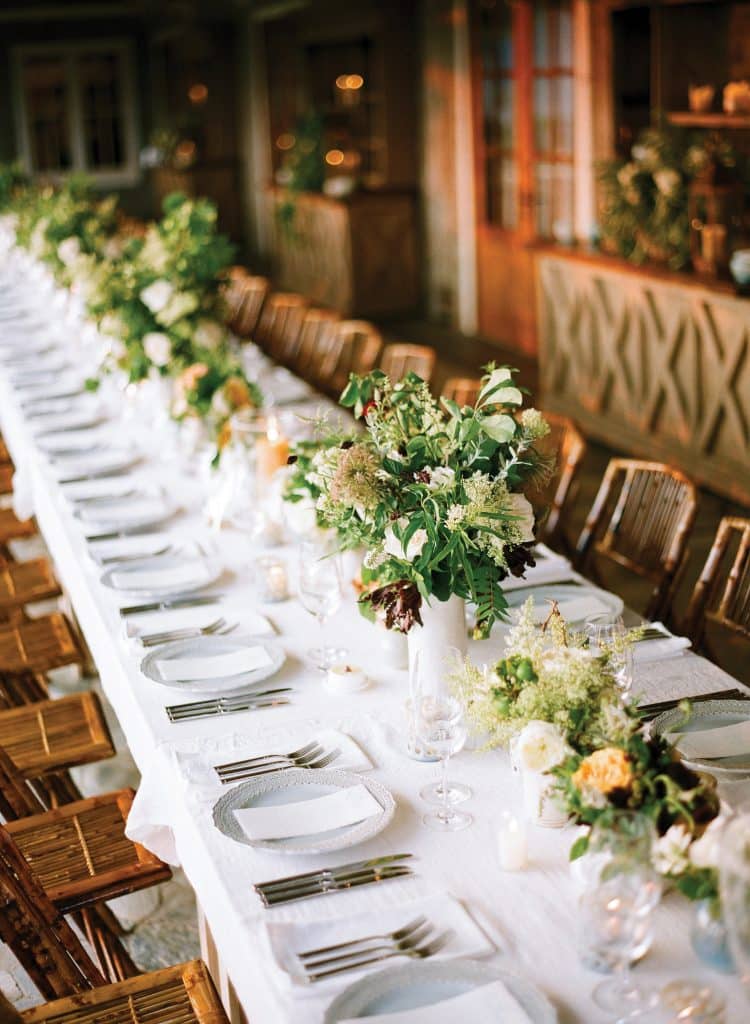 So, just as the couple decorated this space, you, too, can create a simplistic yet stylish décor, exuding grace and sophistication right at home. They wanted the feel of a summer garden party with old-world style, mixing the rustic charm from a Jane Austen novel with the elegance and sophistication of the late Grace Kelly.
On the outdoor patio, a long table dressed in a whitewashed linen tablecloth filled the length of the space. Bamboo folding chairs added a unique touch to the overall style that blended beautifully with the feel of the veranda. The roof provided just enough shelter to its guests, bringing together the best of an indoor and outdoor experience. Add, the breathtaking panoramic views only added to the relaxed setting.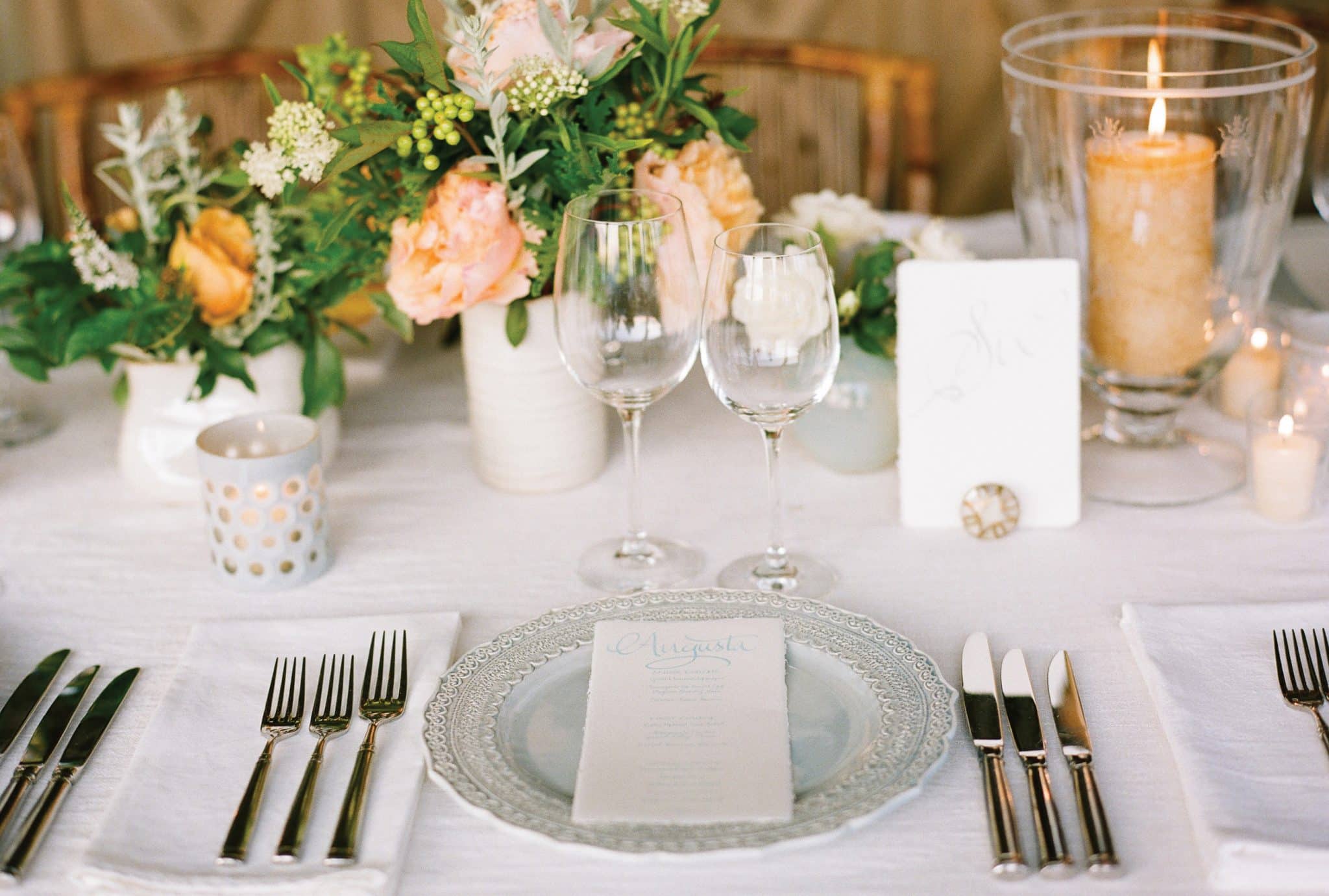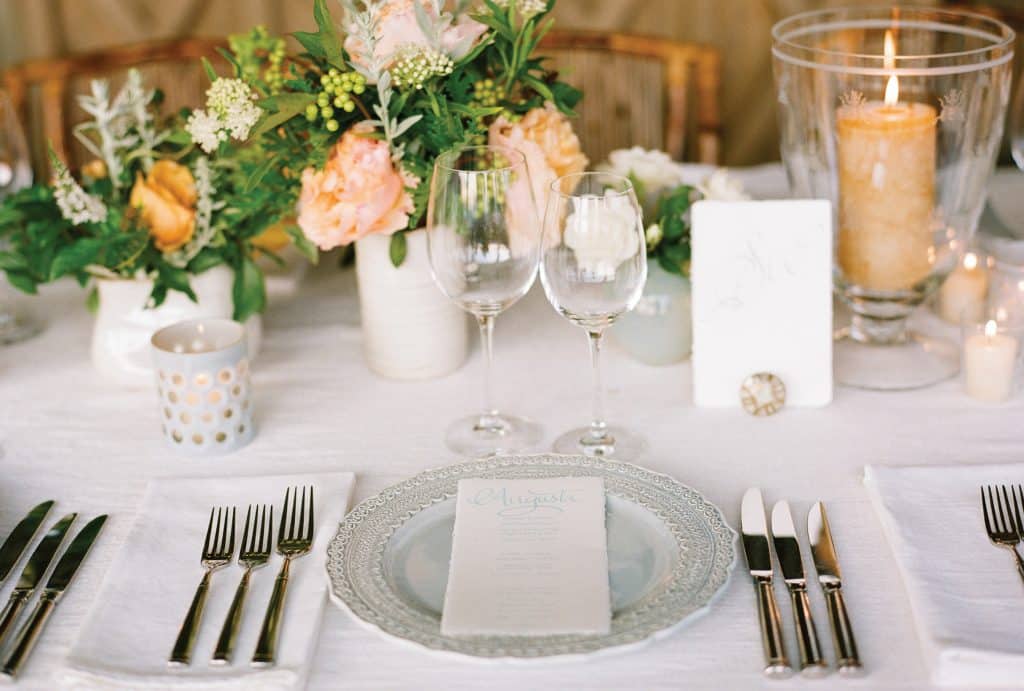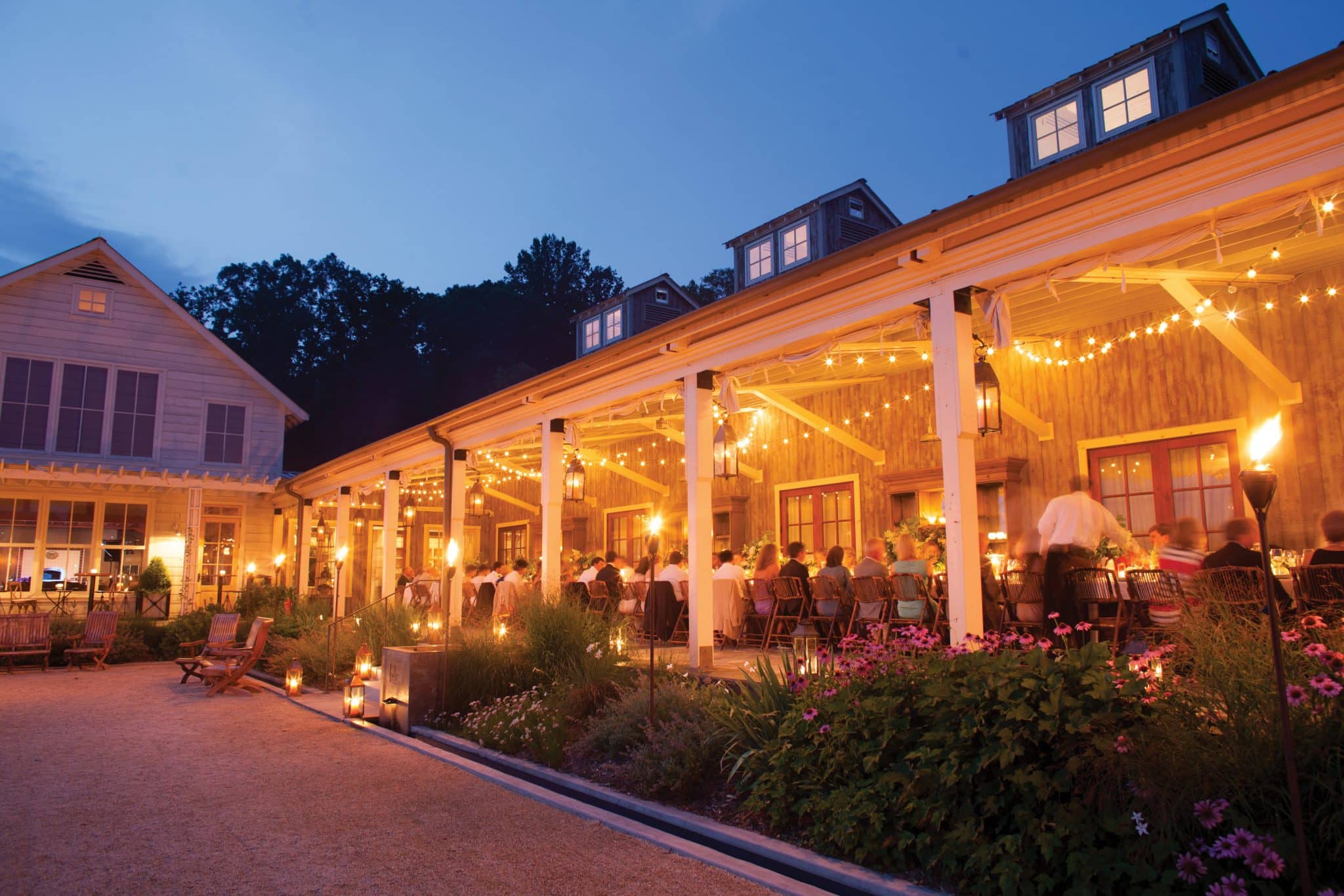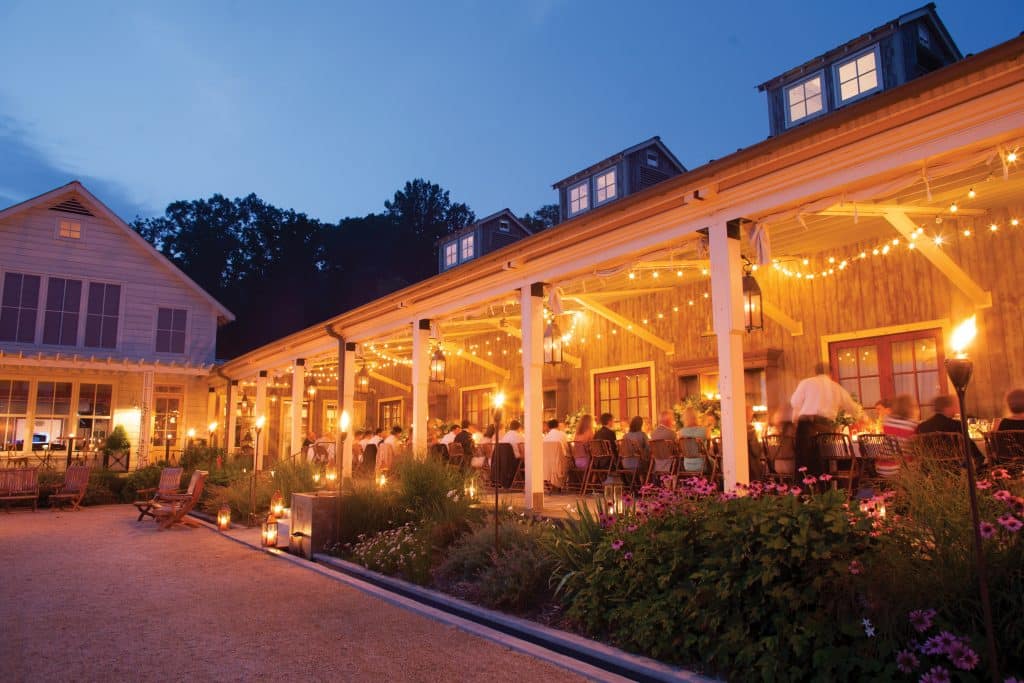 Ways to Personalize Your Get-Together
With a hot and humid summer climate, outdoor gatherings wouldn't be enjoyable without cool, refreshing beverages. Augusta and Brandon made sure their guests stayed comfortable with Belvoir fruit farm drinks. These seasonal drinks, nestled in ice in concrete patio buckets, offered tastes of elderflower and rose. Throughout the course of the celebration, guests were also spoiled with signature cocktails and wine.
For another seasonal touch, little baskets of local treats were prepared for the guests to take home, filled with samplings of Caromont cheese, honeycomb and apricots.
Tips For Creating A Stunning Table Setting
To set a spectacular table, begin with a selected color scheme and incorporate it into the dining ware. Providing guests with a menu of what will be served is a creative way to add character to your setting. Augusta's aunt created lovely watercolor menus with handwritten calligraphy for the place settings, which gave a light and airy feel to this party.
Breathtaking panoramic views create a relaxed setting perfect for spending time with friends and family.
When choosing a pastel color palette, you can balance it with eclectic summer greenery to create a fresh welcoming appeal. Add blackberries, donut peaches and scabious to the bar, mix some in with the delectable dish being served, or scatter it with other plants around the exterior of the dining space. For tabletop bouquets, stick with hues that are more natural, as the space flows seamlessly from indoors out.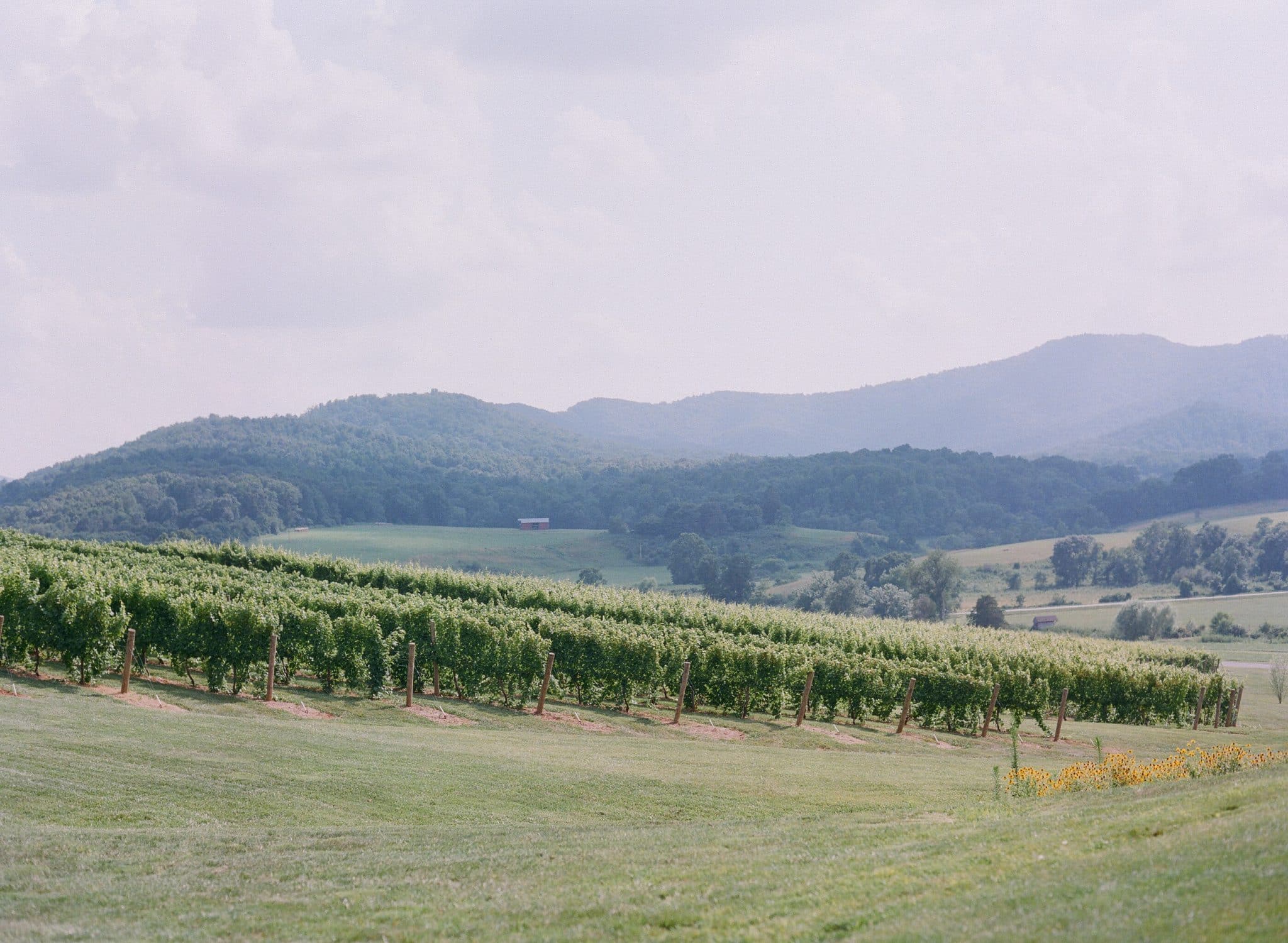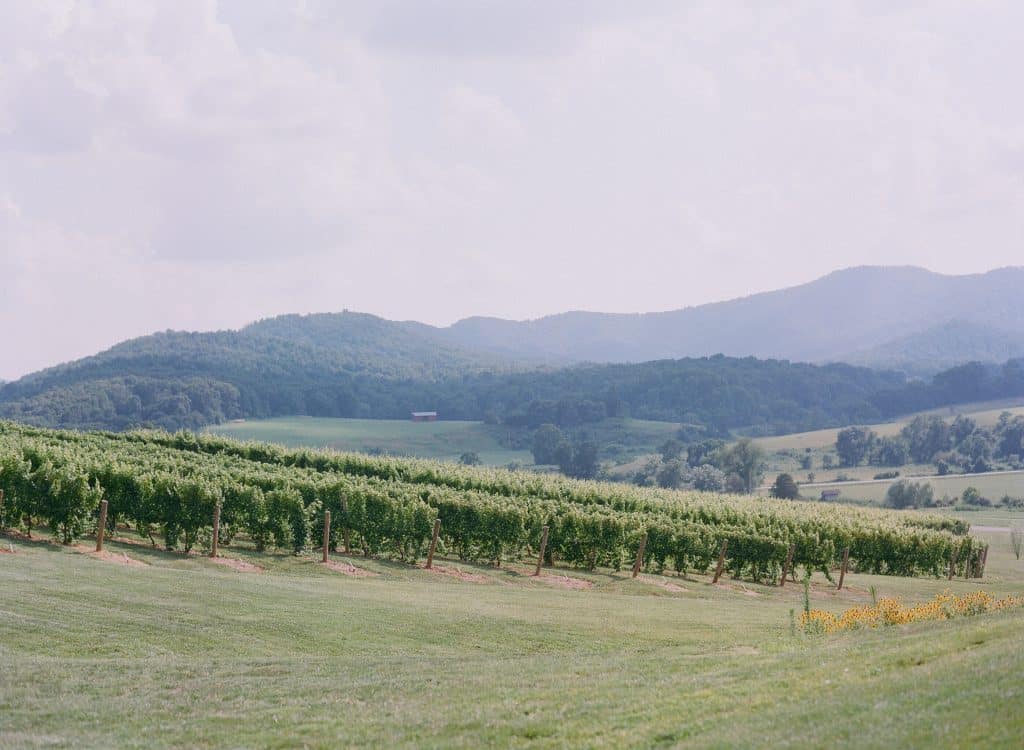 The floral décor included an array of pretty pastels and apricot-colored roses, mint, herbs and summer wildflowers, while the dainty pale-blue accents in the plates and votive candleholders added a subtle masculine flare. For other small touches that created a comfortable seating area, throw pillows, fans for the heat and cashminas for shoulder wraps when the night became chillier made guests feel right at home.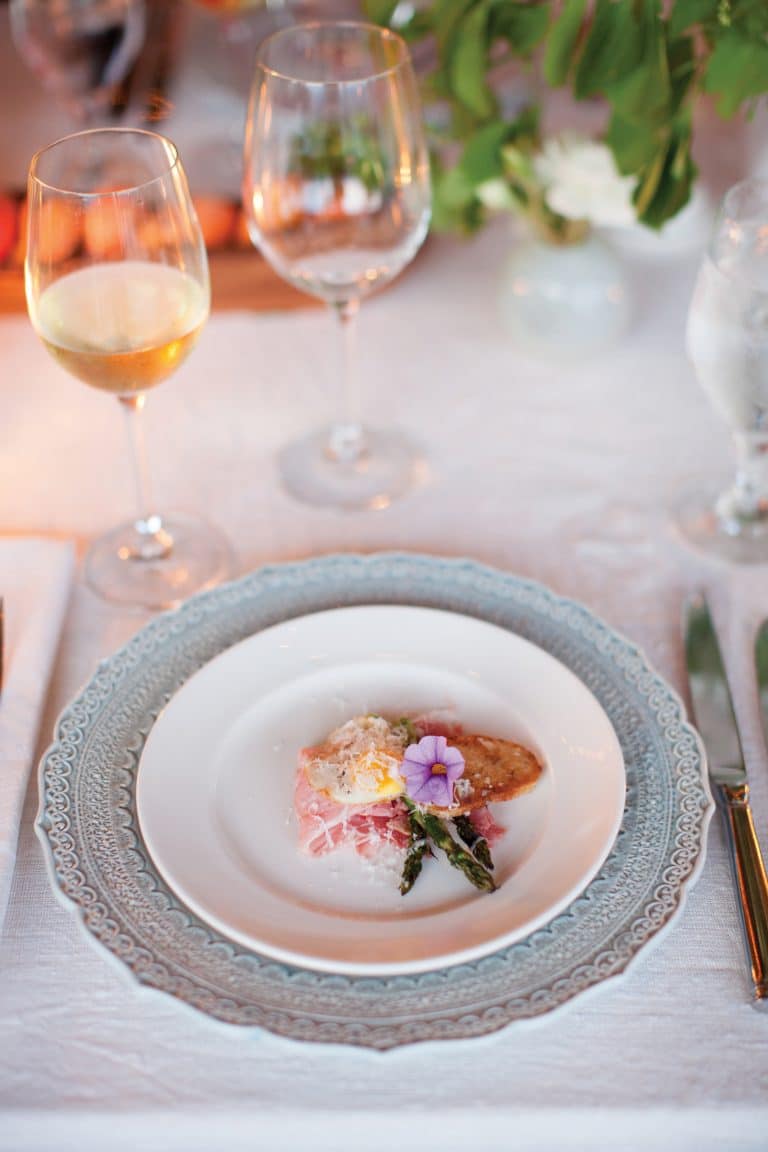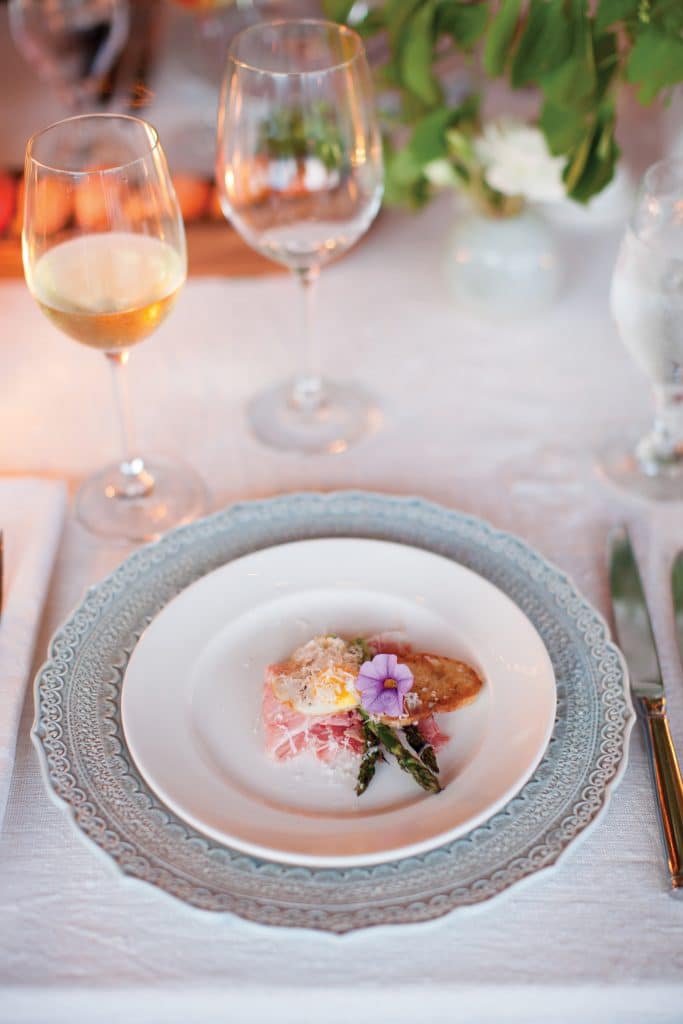 Tapered candles and delicate votives will cast a glow on guests' place settings when the sun sets on the horizon. Arranging the candles and desired floral elements throughout the space will be key in tying in seasonal aspects to the outdoor mood. It will also make it easier to choose just the right lighting pieces for your theme.
In addition to the votive candles on the table, Augusta and Brandon used lanterns and torchieres around the veranda for some natural candlelight, as well as hanging lanterns and mini fogs to set the ambiance.
When it comes to the food, this couple selected grilled summer asparagus, a sunny-side-up quail egg and Virginia country ham, and delicious tempura green beans with a horasa aioli dip, all of which were favorites of the guests. The ingredients used by former Chef Amalia Scatena were not only locally sourced but also grown in the chef's garden on Pippin Hill's property.
Most importantly, once the décor is in place and the food is being served, you will have plenty of time to relax and enjoy the company of your guests. For more ideas for beautiful entertaining in Virginia wine country, explore this farm-to-table dinner at Septenary Vineyard and a romantic meal for two at Mount Pleasant.  ~
Photography: Eric Kelley | Venue & Catering: Pippin Hill Farm & Vineyards | Florist Design: Beehive Events | Stationaire: Valorie Cole (Augusta's aunt) | Hosts: Augusta & Brandon Davis | Event Planner: Easton Events | Beauty & Hair Stylist: Lora Kelley | Rentals: Beehive Events and Festive Fare
This article appears in Book 2 of Wine & Country Life. Start your subscription here or give a gift subscription here.
SARAH PASTOREK SHORT, our senior editor, has degrees in English and journalism and a master's in HR. Her work can be seen in many of our publications.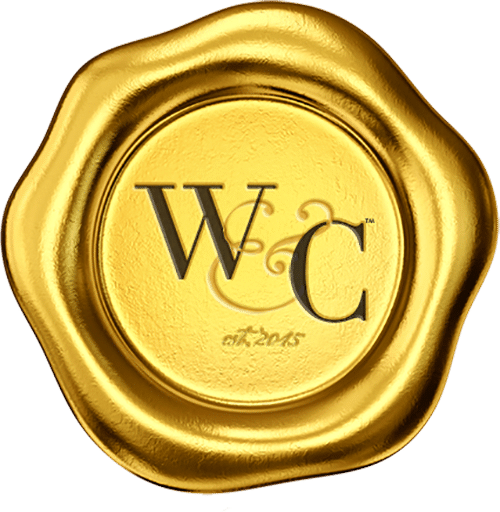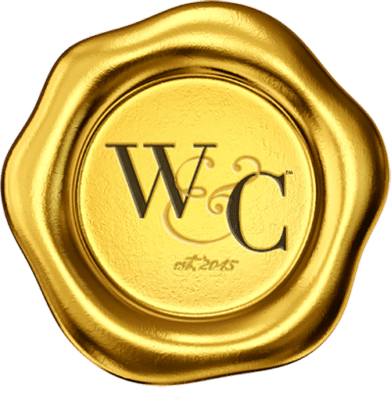 Wine & Country celebrates elevated living in Virginia Wine Country. Wine & Country Life, a semi-annual life & style magazine, and Wine & Country Weddings, an annual art book celebrating elegant Virginia weddings, are complemented by the Wine & Country Shop in Ivy, VA—a beautiful lifestyle boutique that brings the pages of the magazines to life. The Shop features over 40 Virginia artisans with everything from tailgating essentials and Dubarry attire to locally made foods and award-winning Virginia wines and craft beverages for your next event. Wine & Country covers the grape-growing foothills of the Blue Ridge Mountains from Lynchburg to Leesburg, including points in between like Charlottesville and Middleburg. Ivy Life & Style Media also creates other projects, including CharlottesvilleFamily.com, a collection of local resources including a popular calendar of events, family services guides and features on education, health and family day trips for parents and teachers in Charlottesville, as well as the CharlottesvilleWelcomeBook.com a guide to resources for Charlottesville tourists and newcomers.