Beautiful and bold, rich gold is fashionable and can be the perfect touch to add romance to your home and holiday celebrations. From attire to table settings, the shimmer brings forth elegance and sets the tone for a memorable experience. One of the most popular approaches to hosting a small get-together this season is holding it in a space equally beautiful. In seasons past, we were able to host holiday parties at Virginia wine country venues just as this hostess did at the home at Mount Pleasant. But, we can use this as inspiration for creating an intimate, holiday-inspired celebration that reminds us of all the good in the world.
This hostess dressed up in a classic pearl white gown by Aidan Mattox embellished with a glittering starburst pattern. Incorporating the dazzling wintry theme, the Gold Pearl Antler Earrings and Frond Cuff by local jewelry artist Suz Somersall added stunning touches of class. Somersall's impressive jewelry can be seen on the likes of Olivia Munn, Demi Lovato, Molly Simms, Rachel Bilson, Katharine McPhee and many others in the entertainment world. While she wore soft whites and ivories, her fiancé contrasted in a deep blue suit. For him, an intricate handmade belt and watch by La Matera gave just the right amount of dash.
Winter offers ample opportunities to create an entertaining atmosphere exuding rustic glamour. Authentic natural elements like antlers give décor an amazing sculptural quality that can be incorporated from the stationery to the centerpieces. A special surprise for your guests could be including small gifts on dinner place cards—cuff links for the men and Gold Pave Venezia Stud earrings by Suz Somersall for the ladies.
In setting a spectacular table, begin with choosing gold pieces to feature, such as the flecked goblets and gold-rimmed plates this hostess hand selected. Tapered candles and delicate votives cast a glow on guests' place settings, dancing gracefully over the glittering touches. Adding greenery plucked right from your garden adds homey accents. Arrange a variety of winter greens for the foundation of your floral display and add some berries, pinecones, late blooms and seed heads in a decorative manner. Find more tablescape ideas here.
Here, the hostess created a beautiful modern arrangement on the mantel and at each place setting that appears effortless and relaxed. Linens in popular colors like this blush pink give your table a fresh welcoming appeal and coordinate well. When choosing a pastel color palette, you can balance it with beautiful red tones. Stick with hues that are found in nature to maintain a seasonal ambiance. Small personal touches like traditional British party crackers made in gleaming gold add a layer of fun and individuality to your gathering as well. Handfuls of chestnuts or berries scattered amongst the décor are simple inclusions.
The combination of coarse-base materials and polished, chic accents are truly an ideal setting for farm-to-table style.
Your guests will be delighted by the attention to detail as they find feathers interspersed throughout the flora, or arranged in centerpieces, complementing the warmth of the gold. Party gifts wrapped in gold also become lovely additions to your scene. Luxurious wide ribbons with feathers and a sprig of fragrant rosemary tucked thoughtfully into each package will enchant your guests. Gilding your party décor with touches of romantic gold and bringing in the rustic charm of natural elements is the perfect way to create an elegant tablescape for entertaining your guests this season. Most importantly, once the décor is set, you can relax and enjoy the celebration.
How to Make A Wreath With Fresh Greens
To make this beautiful wreath, start with fresh greenery, feathers and flowers from your garden or favorite florist, and form handsome bundles of three to five sprigs with floral wire.
Make most of the bundles from the same materials but every so often, use sprigs of different materials as accent pieces. Take a plain double-wire frame, and use the floral wire to affix the bundles to the frame, working clockwise and overlapping the bundles to ensure the stems are not seen. After covering the entire frame, knot the floral wire and hide the ends.
Lastly, attach a gold bow for that extra bit of sparkle. You might also give ordinary garden greens glamour by spray painting some of the sprigs gold prior to bundling, which will not only extend the wreath's life but further the trend of romance.~
This article originally appeared in Book 1 of Wine & Country Life. To get a copy of Book 1 or any other issue, see our Wine & Country Shop site. To read more about other Virginia food and drink makers, recipes and local eateries, see our Food & Drink section.
MANDY REYNOLDS, a former press liaison for the Edinburgh International Festival, has a master's in art and history and enjoys local culture especially our delicious farm-to-table cuisine.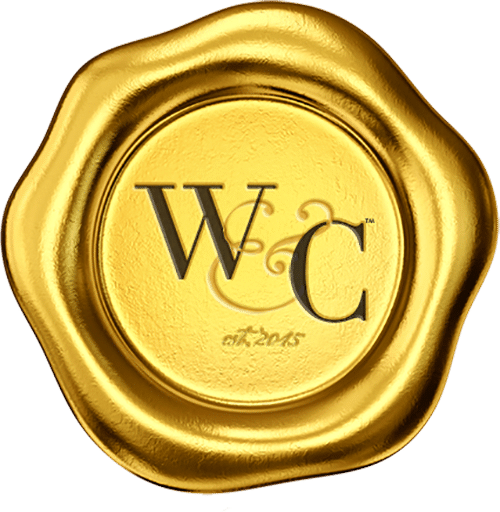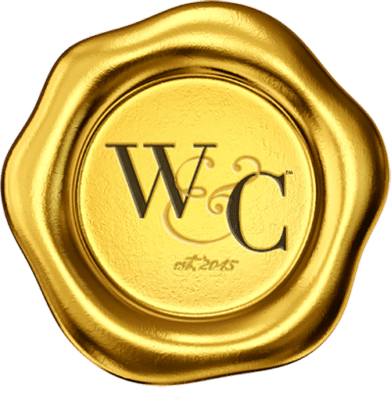 Virginia Wine & Country celebrates elevated living in Virginia Wine Country. Virginia Wine & Country Life is a semi-annual luxury print magazine with a full digital presence. The Virginia Wine & Country Gold Book is an annual guide to the top award-winning wines, wineries and experiences in Virginia Wine Country. The annual Virginia Wine & Country Wedding Planner is an art book of elegant Virginia weddings. The brand includes the Virginia Wine & Country Shop in Ivy, Va. It is a beautiful lifestyle boutique that brings the pages of the magazines to life. Virginia Wine & Country tells the stories of Virginia wineries, the farm-to-table movement, luxury travel, entertaining, art and the elegant country lifestyle. Ivy Life & Style Media also provides branding, web design and PR services for the wine industry.