Pippin Hill Farm & Vineyards is an award-winning culinary vineyard near Charlottesville, Virginia. In the 2022 Virginia Governor's Cup Awards, Pippin Hill was honored with Gold Medals for three of their exceptional wines: 2019 Bundoran Blue, 2019 Petit Verdot, 2020 Petit Manseng. As one of the most popular Virginia wineries, they have gained recognition for their wines and also for providing exceptional experiences to winery guests. Besides a full service restaurant, wedding venue, gardens and the vineyard with Blue Ridge Mountain views, they also offer high-demand garden-to-table classes. The workshop series includes everything from wine-pairing and cooking to holiday wreath making and flower arranging. Wine & Country attended the debut cut flower workshop in their luxurious new custom Alitex greenhouse.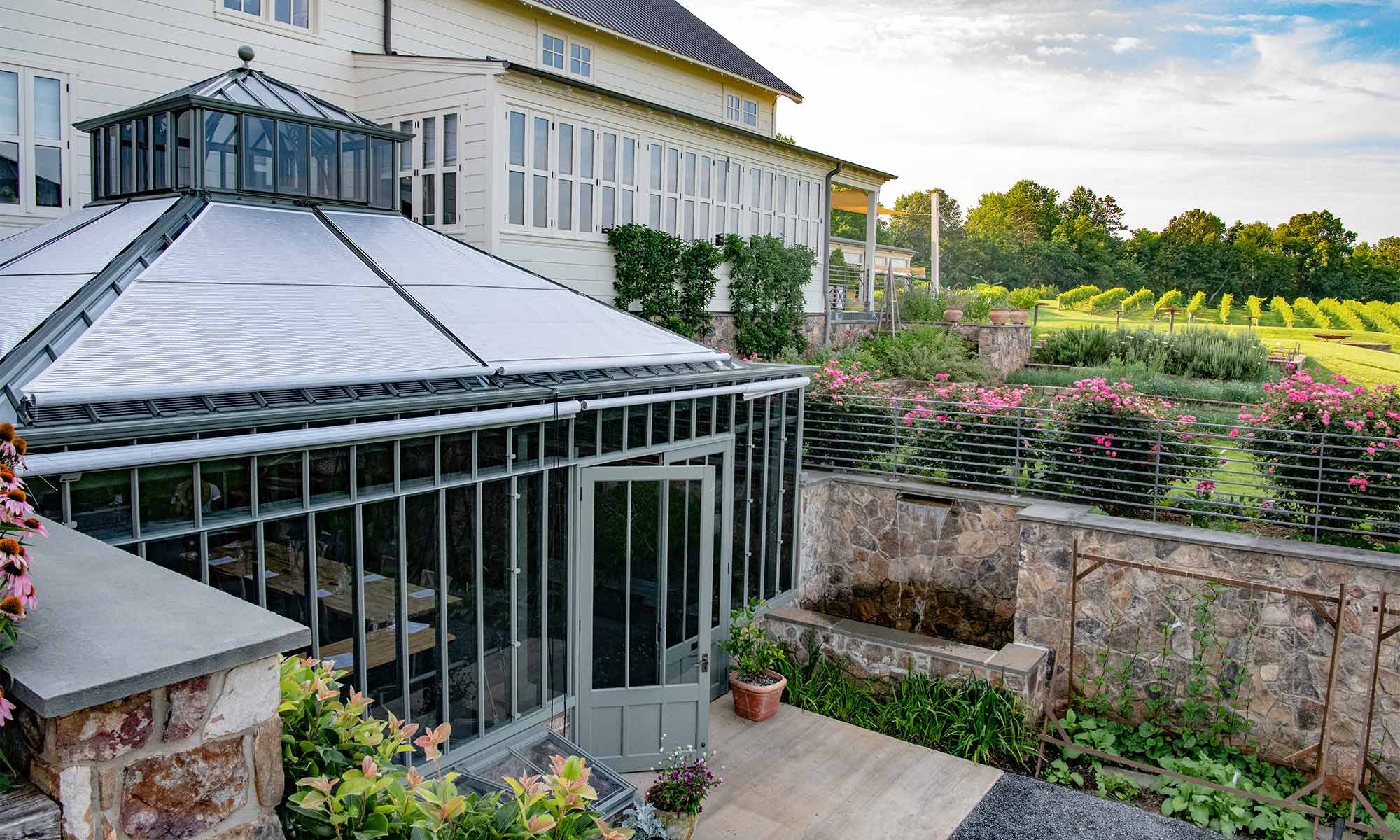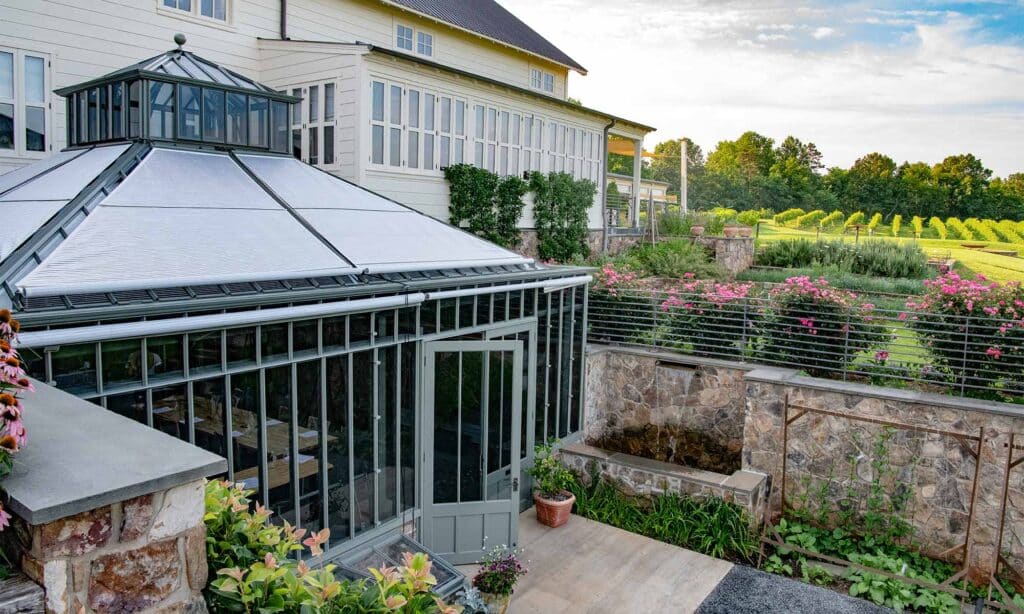 The Garden at Pippin Hill Farm & Vineyards
Pippin Hill Farm & Vineyards is the dream accomplishment of owners and hospitality experts Dean Andrews and Lynn Easton. The dynamic married duo founded Easton Porter Group to combine their talents and passions for luxury hospitality. Before launching EPG, Andrews served as senior operating officer for Orient-Express Hotels, Ltd., overseeing some of the world's most exclusive properties. Easton is a globe-trotting luxury wedding and event planner for an exclusive clientele. In Charleston, SC, EPG has created Costa and The Jasper (a restaurant and a gourmet market), Zero George (a boutique inn and restaurant) and the popular eateries Wild Common and Cannon Green. In Charlottesville, Virginia, the Red Pump Kitchen is a popular restaurant on the Downtown Mall and a wonderful complement to the nearby vineyard.
Pippin Hill Farm & Vineyard prides itself on cultivating the perfect menu and experiences to go along with their award-winning wines. This philosophy of impeccable hospitality and a warm welcome is felt from the moment you set foot on the grounds at Pippin Hill and at all of the amazing Easton Porter Group properties.
The work of Head Gardener and Certified Horticulturist Diane Burns and her team provide a gorgeous series of gardens at Pippin Hill. Guests enjoy the sweeping views of the property from the hydrangeas lining the entrance walk to the wildflower meadow. With their popular tasting room and restaurant as well as their gorgeous wedding venue, Pippin Hill Farm & Vineyard's property is perhaps one of the most photographed destinations in Virginia. The new Alitex Victorian greenhouse is tucked into a protected area. The stone walls help to naturally insulate the lovely growing space from temperature extremes. The English greenhouse helps the horticultural team grow seedlings for staggered plantings into the gardens and overwinter tender plants like Meyer's Lemon trees. It also provides a wonderful education space for winery guests. The classic, old-world European charm of the Alitex greenhouse is a wonderful asset to the property in so many ways.
Pippin Hill's New Alitex Greenhouse
Pippin Hill unveiled their beautiful custom-built greenhouse by Alitex in 2022. This new addition is the product of a collaboration between the Pippin Hill team and the expert Alitex team including craftsmen flown in from England to erect the structure. Alitex, which specializes in custom Victorian greenhouses, was founded in 1952 and has earned many noteworthy accolades, including Gold Medals and Director General Awards at the famed RHS Chelsea Flower Show in London. There are a number of Alitex greenhouses adorning Virginia gardens. You can find one at neighboring Bundoran estate Brady Farms and also at the spectacular Waterperry Farm in Free Union. Both homes were chosen to participate in Virginia Historic Garden Week, one of the most prestigious tours in the country.
Pippin Hill's lovely greenhouse is built into an existing nook at the ground level of the main building. This clever design uses the preexisting stone walls to provide three sides of the structure and act as thermal insulation. The gorgeous glass building enables year-round growing as well as year-round use as a classroom. Fans, shades and vents all contribute to managing the temperatures with minimal impact on the environment. The project was a labor of love for Burns, who is proud of her part in the design. She specifically pointed out the light fixtures, which she chose personally from Maddux in Charlottesville.
"My favorite thing about the greenhouse is the growing space," Burns commented. "I mean, I went from about 9 linear feet to 75 feet of wall space." Then, looking around, she added, "I love having such a bright, open, happy place to work."
Alitex is not only well-established as a British greenhouse building company but boasts a U.S. representative as well. Notable accomplishments for the talented team include a collaboration with the Royal Botanic Gardens, Kew – both organizations share a passion for plants and protecting the history of gardening much like the staff at Pippin Hill Farm & Vineyards. Learn more about greenhouse growing with Alitex's luxury greenhouses. With a history of excellence in custom design, onsite project management and personal collaboration to accommodate their client's individual needs, Alitex created a perfect addition for the wine estate.
How to Grow Your Own Cut Flower Garden
"Learn what type of soil you have and what flowers grow well in your climate zone," advises guest host Jenny Hopkins of Big Arms Farm. Visit with the staff at your local nursery or city market to find out what blooms prosper in your specific area and the best times to plant and harvest. She and Burns both recommend studying Johnny's Seed Catalog and Floret Farm's "Cut Flower Garden." Hopkins was eager to share the inspiration she draws from Floret Farm's incredible vision and execution of their flower farm enterprise. She enthusiastically describes the recent volume by Floret founder Erin Benzakein as, "My absolutely favorite book because they really address how and why each type of flower can be used. It is total eye-candy!" In addition to two gorgeous best-selling garden books, you can also see the four-part Emmy nominated documentary series about the growing of Floret from just a dream and a few planting beds to a full-fledged flower farm on the Magnolia Network.
Choosing a site for your cutting garden is important. Ideally, you should have full sun–at least 6 hours per day. Pippin Hill's cutting garden is planted on a slope and gets full sun. The incline can make working in the garden challenging at times, but grassy paths help manage the risk of erosion. Choose a diversity of plants for continuous visual interest. Select plants with different blooming times, add multiples of one-time bloomers or those with rebloom capacity and look for flowers with long, sturdy stems, and fragrant blossoms. This will ensure flowers through the seasons for your arrangements and keep the garden looking full too.
Once you have prepared the soil and seeds are growing, the fun part is watching for the sweet little buds to form. You may want to leave some blooms in the garden to enjoy there, but cutting the flowers will actually encourage more blossoms. Trim off, or deadhead, spent blossoms to get a better yield. "If you can't grow your own, buy local," Hopkins advised. "They're going to be fresher, last longer and be more sustainable." Flowers found at larger stores are often flown in or driven long distances, which adds up in terms of both longevity and fuel consumption.
"If you can't grow your own, buy local. They're going to be fresher, last longer and be more sustainable."



Flower varieties you'll find at Pippin Hill's cutting garden include foliage plants, a key element for floral arrangements. Some of the favorites are Mountain Mint, Spearmint and poke berry (phytolacca). Structural plants like the rattlesnake plant (Eryngium), pincushion flower (Scabiosa atropurpurea), celosia (Celosia cristata) and oversized sunflower (Helianthus) are grown to create drama. Echinacea (Echinacea purprea), zinnia (Zinnia elegans), sunflowers and shasta daisies (Leucanthum superbum) with their large open blooms add critical volume and color.
As you build a bouquet, you are adding layers and that concept can help you in planning out your cutting garden at planting time too. For movement in a floral arrangement, look for something light and airy. Some good examples include cosmos (Cosmos bipinnatus), Queen Anne's lace (Dacus carota) and old-fashioned perennial sweet peas (Lathyrus latifolius) that add natural character. It is also fun when creating floral arrangements to add an element of surprise like fruits–at Pippin you may find a stem of red berries from the Winterberry shrub, black berries from 'Blue Muffin' Viburnum or red berry clusters from Chokeberry in a vase. Branches, cattails, stalks of grain, or even a bunch of grapes can add a fresh element to your floral display.
---
Top left: Head Gardener and Certified Horticulturalist Diane Burns. Bottom right: Gardener Celina Debrito
---
Popular Cut Flowers to Grow in Virginia
Spring Blooms: Columbine, Daffodil, Flowering Quince, Iris, Peony, Tulip
Early to Mid-Summer Blooms: Amaranth, Bee Balm, Butterfly Weed, Celosia, Coneflower, Coreopsis, Cosmos, Daisy, Hydrangea, Lavender, Marigold, Ox-Eye, Rose, Scabiosa, Snapdragon, Sweet Peas, Zinnia
Late Summer to Autumn Blooms: Anemone, Aster, Black-Eyed Susan, Chrysanthemum, Dahlia, Garden Phlox, Goldenrod, Sunflower, Sedum, Yarrow
Winter Blooms: Hellebore, Mahonia and bulbs for forcing indoors like Amaryllis, Daffodil, Paper White Narcissus and Tulip
Foliage & Filler Plants: Basil, Bells of Ireland, Coleus, Dill, Dusty Miller, Eucalyptus, Goosefoot, Grasses, Grains, Mint (container plant to avoid invasive spread), Ninebark, Oregano, Queen Anne's Lace, Raspberry stems, Scented Geranium
A Tour of Pippin Hill's Garden
Pippin Hill Farm & Vineyards' beautiful property boasts abundant borders of classic blooms including roses, lilies, geraniums, daisies and lavender as well as many more unusual varieties. Near the tasting room, guests can meander the terraced culinary herb garden and a field of wildflowers. Beyond, discover a large cut flower garden, a fig grove, espaliered pear trees and a fenced vegetable garden for the kitchen's use.
"My favorite thing about the greenhouse is the growing space. I love having such a bright, open, happy place to work."



To honor their principle of local first, Pippin Hill hosts "Pippin Pop Ups", a guest series to highlight local artisans and farms, an apiary and a pretty chicken coop. Honeybees on the property help pollinate fruits, vegetables and flowers and the honey is a delicious by-product. Their primary goal is to be good stewards of the land and raising healthy honeybees is a way to help with the decline of the bee population nationwide. The flowers found both in the formal gardens and in the wild borders edging the estate provide a natural pollinator garden. The coop is home to their resident hens who charm guests with their funny antics and help with natural pest control. Pippin Hill embraces environmentally sound viticulture practices, minimizing chemical repellents and optimizing natural sprays to keep the vines productive and the land healthy.
At the cut flower workshop Gardener Celina Debrito (seen below) led the tour of the Pippin Hill cut flower garden. This is one of Burns' most notable imprints on the farm—a 215-foot-wide section of flowering plants she planted for the sole purpose of being harvested for displays and arrangements at the winery.
---
Bottom left and right: Gardener Celina Debrito guides the workshop tour through Pippin Hill's cut flower garden.
---
During the tour, Debrito provided guests with helpful tips for flower cutting. She also pointed out some of her favorite blooms: fleabane (Erigeron philadeliphacus), a seasonal alternative to feverfew (Tanacetum), decorative grasses to add height and volume, bee balm (Monarda citriodora) and echinacea. "Even when the echinacea flower loses its petals, the cone in the center makes a really interesting focal point for an arrangement," she added, pointing out the spiky golden cones left behind. She also showed plants like celosia, which grows easily from seed, yarrow (Achillea millefolium) which has a great shelf life for a cut flower arrangement and safflower (Carthamus) an edible flower new to Pippin Hill as of 2022.
How to Arrange Flowers with Jenny Hopkins of Big Arms Farm
Jenny Hopkins (seen below) horticulture expert and founder of Big Arms Farm, is an extraordinary flower enthusiast. She named her business after its mission statement: "it takes Big Arms to hug our world." Big Arms Farm advocates sustainability and education in all things. Hopkins delights in introducing new fruits and vegetables to consumers and contributing to the community in tangible ways. For example, Big Arms Farm donates 10% of their sales to Women for Women International.
---
Top left: Jenny Hopkins demonstrates how to hold a cut flower arrangement in your hand as you work on it.
---
The gardening team at Pippin Hill holds Hopkins in high esteem as a farmer, a florist and a colleague. She has co-hosted the cut flower workshop since its inception and brings buckets of blossoms from her own farm to complement what Burns and her team have grown at the vineyard.
"The flowers came from both our gardens," Burns said. "It was almost an even split. Because she is a flower farmer, she can provide a lot more variety than us. I love the joint effort!"
How to Make Flower Food
Jenny Hopkins' Flower Preservative Recipe
Per 1 quart of water:
2 tbsp vinegar or lemon juice
Flower sap is low in pH, while tap water is high. The vinegar or lemon juice will lower the pH of the water to help the flowers avoid shock.
2 tbsp sugar to act as plant food

A few drops of bleach to inhibit microbial growth
Hopkins advocates bringing a bucket of this water and preservative mixture with you when harvesting. Then, make a fresh batch for the container water for your floral arrangement.
Charcuterie and Rosé at Pippin Hill Farm & Vineyards
Executive Chefs Victoria Cosner (seen below, bottom right) and Ian Rynecki provided a delectable charcuterie spread from Pippin Hill Farm & Vineyards' kitchen for the event. Attendees enjoyed a curated selection of crostini, dried cherries and nuts, olives, sliced meats, Vat 17 Wisconsin Cheddar and Drunken Goat cheese. Fig and strawberry jam made from garden produce made a sweet addition. Alongside this bounty were flutes of Pippin Hill's signature sparkling Rosé wine.
---
Bottom right: Executive Chef Victoria Cosner of Pippin Hill Farm & Vineyards
---
How to Arrange Cut Flowers
How to Harvest Flowers for Cut Flower Arrangements
Harvest in the early morning when the plants are fully hydrated.
Use a "wiggle test" to determine if a flower is ready for cutting—flowers are ready to harvest when their stems are firm and will stand straight.
Cut low to leave a long stem. Typical flower arrangements are about 1.5-2 times the height of their vase or container.
Always use well-maintained, sharp gardening shears to avoid crushing the stem.
How to Preserve Flowers for Cut Flower Arrangements
When harvesting, you can protect your plants from Japanese beetles by shaking them off from stems into a cup of soapy water.
Place freshly cut flowers into a flower food solution immediately after cutting–bring a bucket with you–and then in a fridge if possible for further cooling.
Some flowers like daffodils release milky sap when cut which harms other flowers. Separate from other flowers while the sap drains out.
Cut flowers at an angle so they can take up more water in the vase.
Change water in your vase every 1 to 3 days and trim the stems a little bit to help extend the life of your flowers. Make sure your arrangement is not near heat or a fan.
Going away for a few days? Store your floral arrangement in the fridge.
How to Arrange Flowers for a Country Style Bouquet
Keep your hand relaxed. When your hand is too warm, it can cause flowers to wilt.
Think about where you're placing the arrangement and what colors and structures would complement the area.
Choose a focal flower. Two of Hopkins' top choices are dahlias and zinnias.
Use fillers such as ageratum for background and contrast, or you can use something light and airy like cosmos to create a sense of movement. Darker, leafy plants such as purple basil will help other elements appear brighter. Work these around the focal flowers.
Build height in the center of the arrangement and then surround it with mid-size and drooping blooms and foliage.
Add contrast with white blooms, such as cosmos, to brighten the arrangements up. Unusually structured flowers such as perennial sweet peas add interest and movement.
Move things around as you see things you may like better.
Advice from Hopkins: "Never be afraid to modify stuff. You've got a little bit sticking up, just snip it."
Once you're happy with the look of your arrangement, cut all stems to the same height.
The Gardeners of Pippin Hill Farm & Vineyards
The horticulture team is thrilled to be able to grow in their wonderful new Victorian greenhouse. Sharing the space with winery guests who are touring the Monticello Wine Trail is an important part of that. During the cut flower workshop, Burns (seen below, far left) and Hopkins (far right) oversaw the arrangements and answered questions while Debrito (center left) and gardening assistant Carolyn Springett (center right) showed attendees where they could find the different flowers. They all contributed suggestions for stylistic options and interesting ways to use the foliage and blooms. At the end of the flower workshop, the 12 guests brought home their own piece of floral artistry and an encyclopedia's worth of gardening and harvesting tips.
2022 was a momentous year for both Pippin and Alitex. For Alitex, the year marked their 70 year anniversary in business as well as the 60-year anniversary of their collaboration with the world-famous RHS Chelsea Flower Show. In recognition of their achievements, the Chelsea Flower Show awarded Alitex the prestigeous Five Star Trade Stand Award. Thanks to the hard work and dedication that the Alitex team and the Pippin Hill gardeners put into the incredible grounds at Pippin Hill Farm & Vineyards, the gorgeous new English greenhouse by Alitex will be appreciated by staff and visitors alike for years to come. ~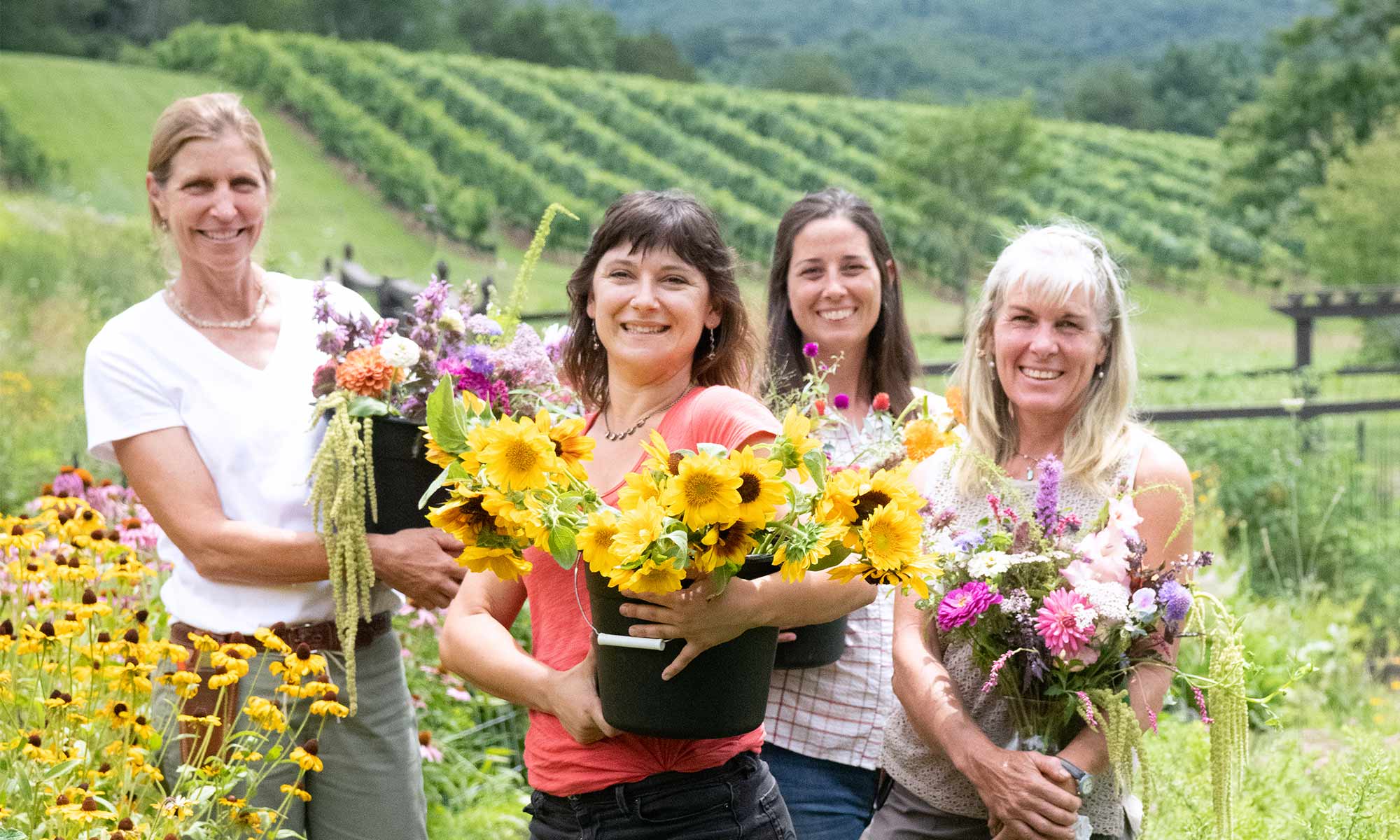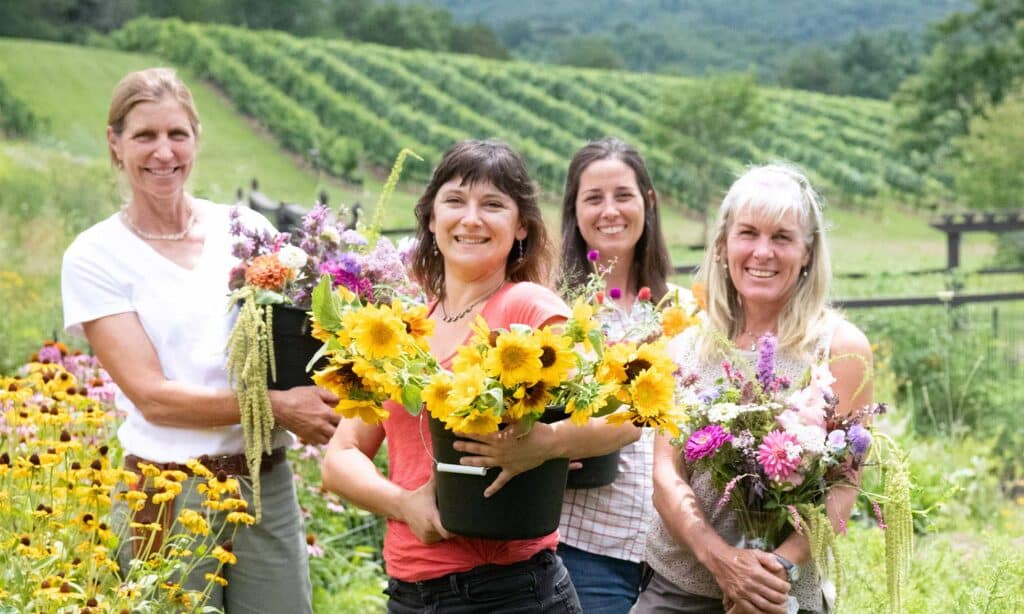 ---
From left to right: Head Gardener and Certified Horticulturalist Diane Burns, Gardener Celina Debrito, Gardening Assistant Carolyn Springett, and Guest Host Jenny Hopkins
---
JENNIFER BRYERTON is Co-Publisher and Editor-in-Chief of Wine & Country Life. She is an avid gardener, home cook and wine-taster. She enjoys learning about Virginia viticulture and sharing the story of our local farm-to-table makers.
R. L. JOHNSON is our co-publisher and creative director. Bethke studied at the prestigious ArtCenter College of Design and began her career as a professional photographer in Los Angeles. She moved into graphic design and art direction when she relocated to Charlottesville in 1994. As our company's co-founder and visionary, she enjoys all aspects of storytelling.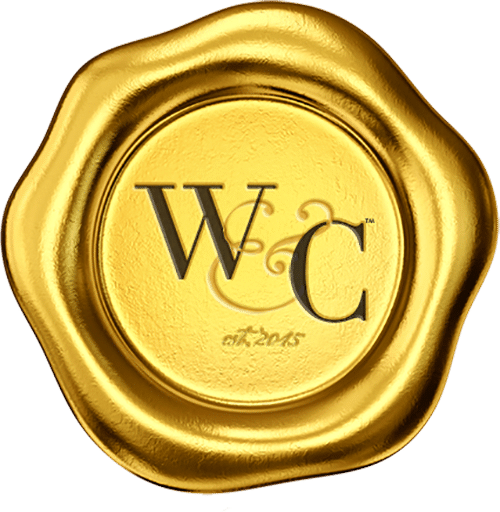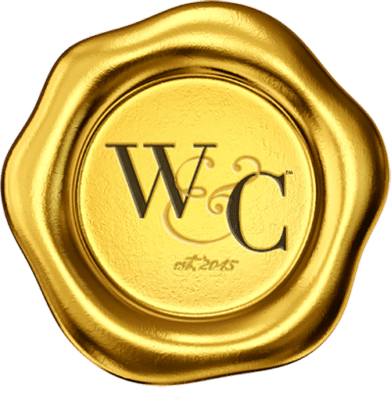 Wine & Country celebrates elevated living in Virginia Wine Country. Wine & Country Life is a semi-annual luxury print magazine with a full digital presence. The annual Wine & Country Wedding Planner is an art book of elegant Virginia weddings. The brand includes the Wine & Country Shop in Ivy, Va. It is a beautiful lifestyle boutique that brings the pages of the magazines to life. Wine & Country tells the stories of Virginia wineries, the farm-to-table movement, luxury travel, entertaining, art and the elegant country lifestyle. Ivy Life & Style Media also provides branding, web design and PR services for the wine industry.