When Katherine Kane and her husband, Olin West, first viewed the property that is now Waterperry Farm, Kane's creative side took the lead. "I knew I would make a garden here. We loved the mountains and the age of the house, but there was only pasture in all directions, hardly any trees," she shares. Like many artists and designers, Kane found the "empty canvas" of the land to be inspiring. She decded to build her own English inspired garden oasis on the property.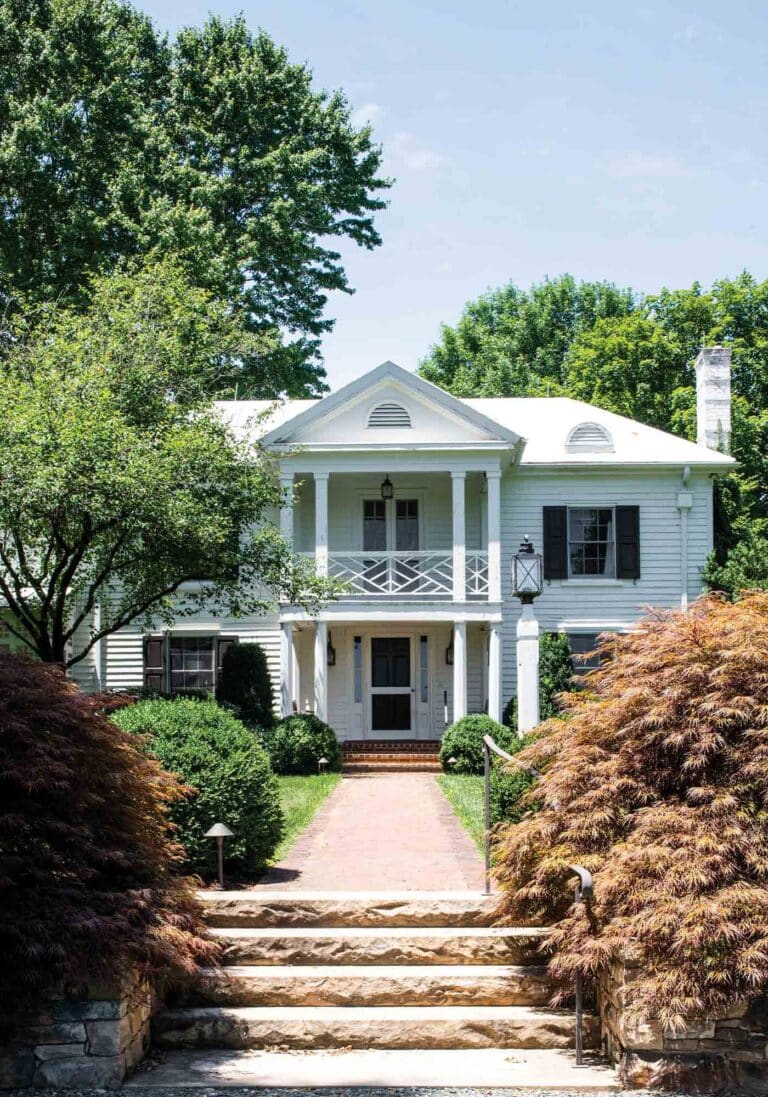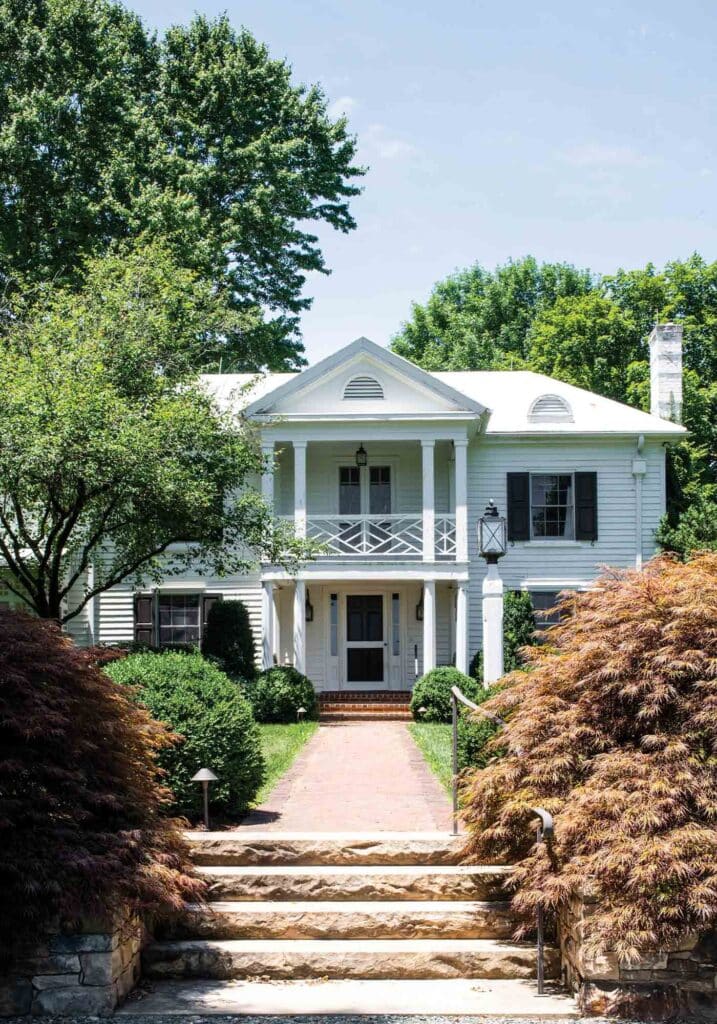 The couple moved from Katonah, New York, where lush landscapes are common. Kane saw the opportunity to transform a somewhat tired working farm into her dream country home, complete with a winding drive and pond, garden rooms and borders and hundreds of trees. With that vision in mind, the couple purchased the 65 acres near Charlottesville in 1990. Over three decades and 30 additional acres later, they have succeeded beyond their wildest dreams. Kane and West now welcome guests to stay at the beautiful property in two luxurious cottages. The experience of staying at Waterperry Farm includes not only beautiful lodging but also access to the gardens and relaxing at the pool.
The History of Waterperry Farm
Waterperry Farm, formerly called Braeburn, is a verdant Virginia property with a history that dates back to the early 1800s. Kane named it for Waterperry Gardens in Oxfordshire, England. From 1932–1971, the Waterperry School of Horticulture served as a residential horticulture college for women. Today, the world-class English garden, museum and nursery welcomes thousands of visitors every year. "I just loved the sound of it, and the fact that women by the hundreds back then were getting to enter the field. Plus, it felt apt. I've pretty much been making a life-long study of horticulture, haven't I?" Kane adds.
Visitors to this jewel of Virginia's countryside are always amazed by the lush variety that welcomes them. What was originally a working farm with a milk house and bullpen is now home to well over 500 different plant species, two ponds and stunning gardens with year-round interest. Amidst all the additions and updates, Kane's team embraces every change. Trey Kent, the farm manager, Ben Kent, the assistant farm manager, and Ray Brooks, Kane's full-time arborist, work side-by-side with gardeners Bianca Riehn-Kent and Beth Shoemaker. "None of this could happen without them," Kane says shaking her head.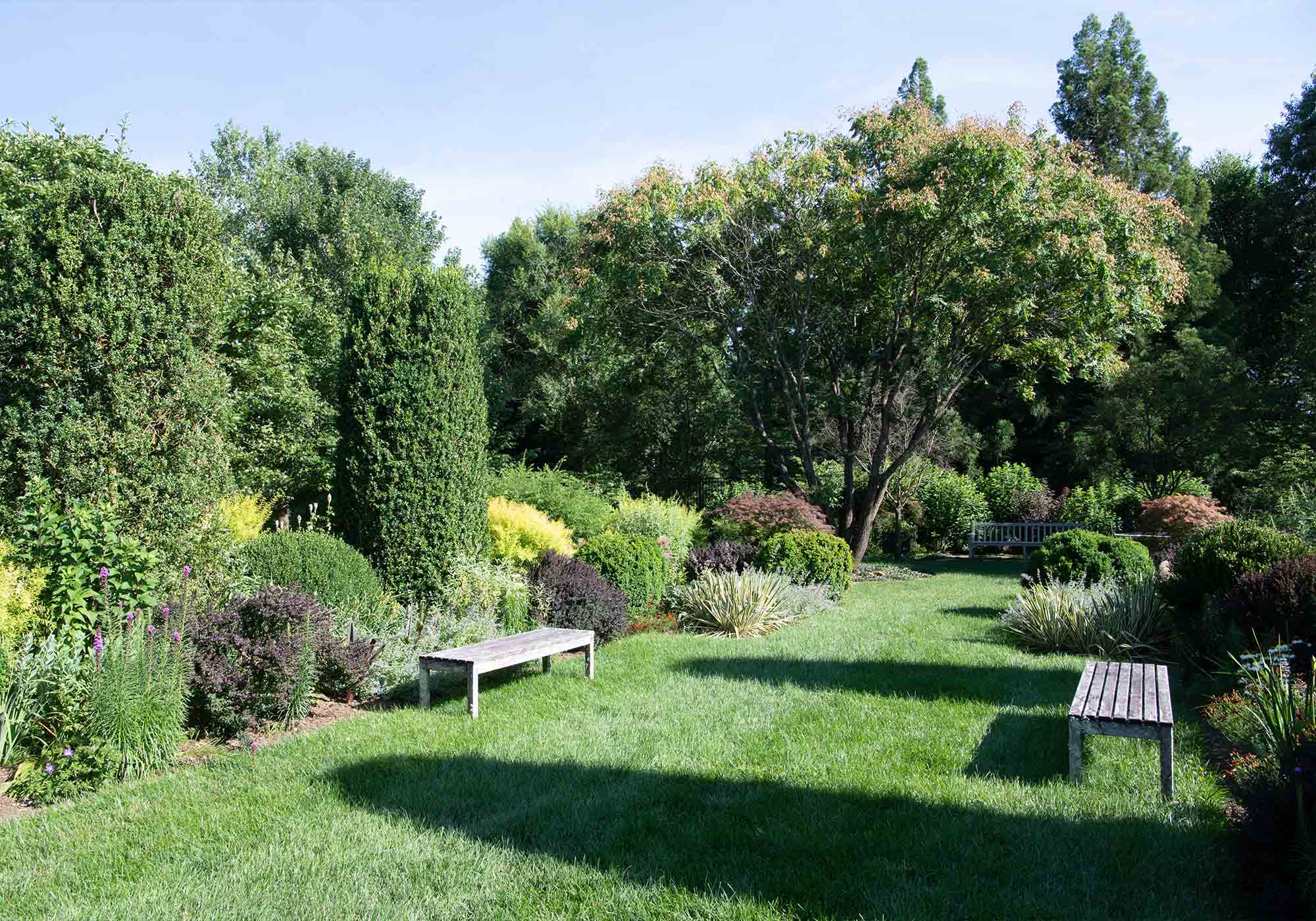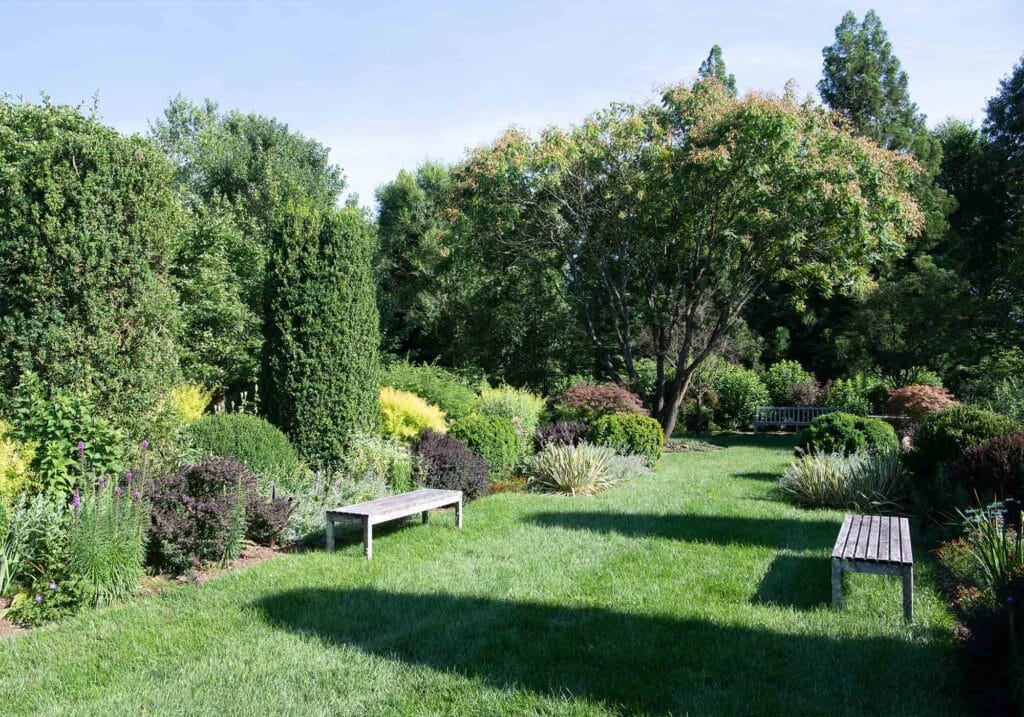 English Inspired Home Design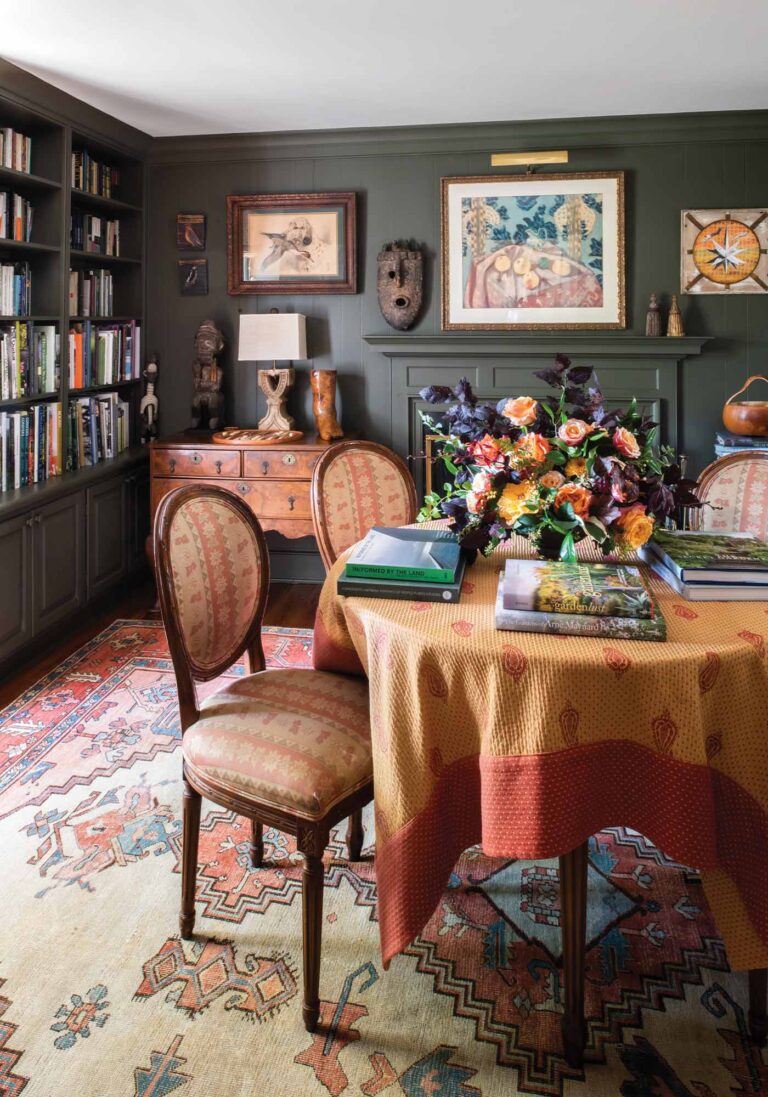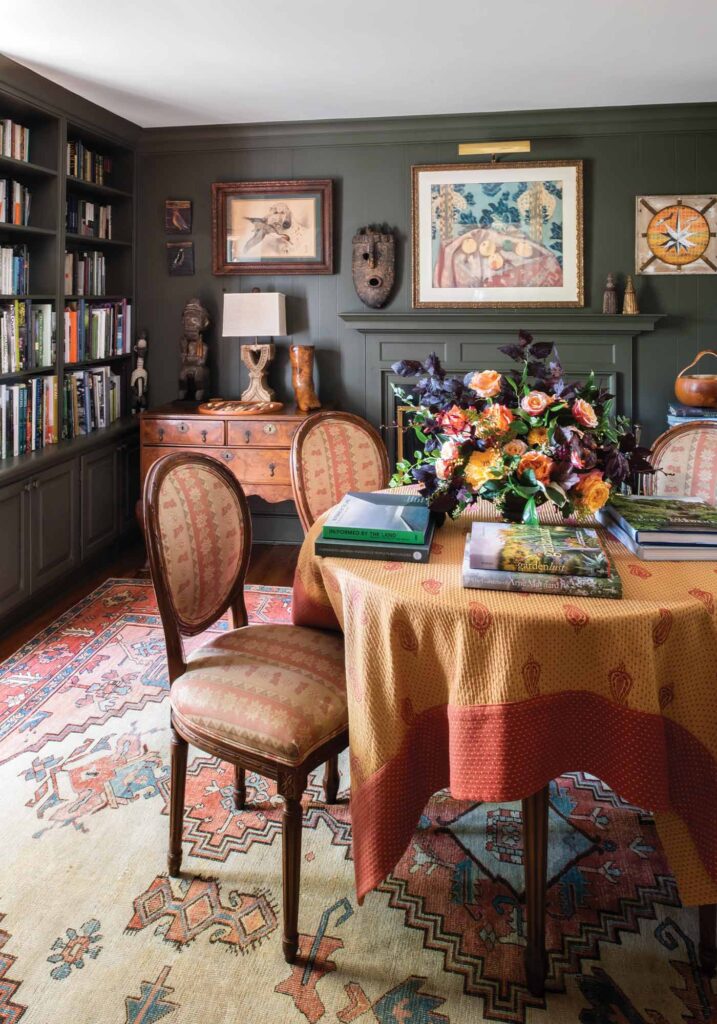 Entering the East-facing main house, antiques and artwork immediately draw the eye. This is the family's private home and not open to the public. It boasts the stylistic touches of elegance, bold color and botanical décor that are the hallmarks of Kane's aesthetic brilliance. Off the foyer sits the private library. Here an antique Serapi rug complements the rich green walls lined with novels and treasures as well as an extensive collection of garden and home décor books. Many eclectic art pieces, a few of which are by Charlottesville collagist Shelby Fisher and painter Cynthia Burke, fill the room. The custom wall color is officially named "Waterperry Green" by a Charlottesville paint store and provides the perfect setting to cocoon yourself while reading.
Moving into the family room—a light-filled room with two sets of French doors—Fortuny fabrics and English antiques decorate the space. A balafon, a Malian gourd-resonated xylophone, sits in one corner while masks and paintings fill the walls. Global decor touches and vintage rugs give the room a worldly calm. What's really telling about this couple's passion lies through the far set of French doors. A welcome improvement the year they moved in, Kane added a conservatory onto the main house to bring the garden indoors. The full-glass structure is a sunny reprieve in the winter and gives Kane a year-round place to raise orchids and tropical plants like Plectranthus mona lavender.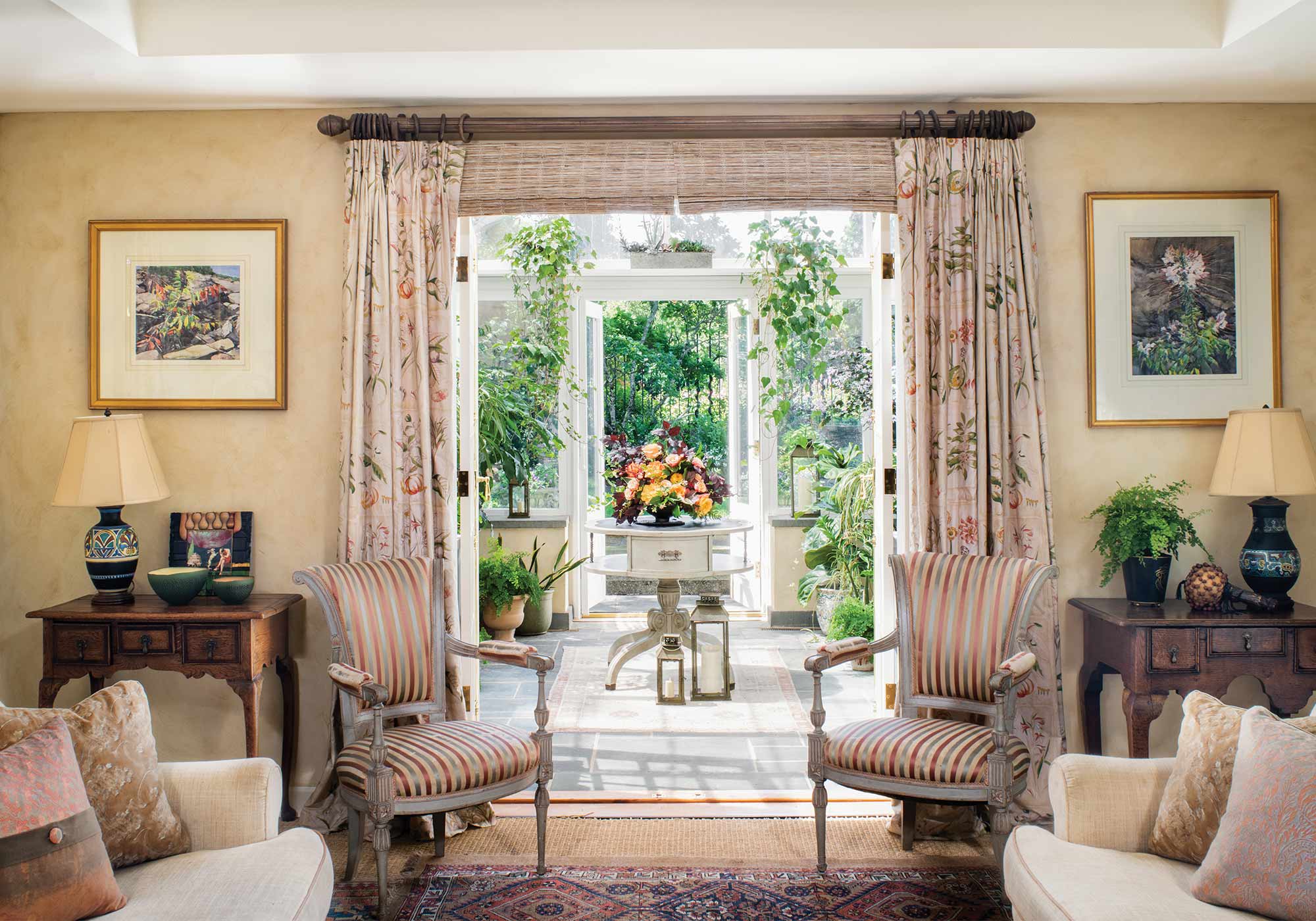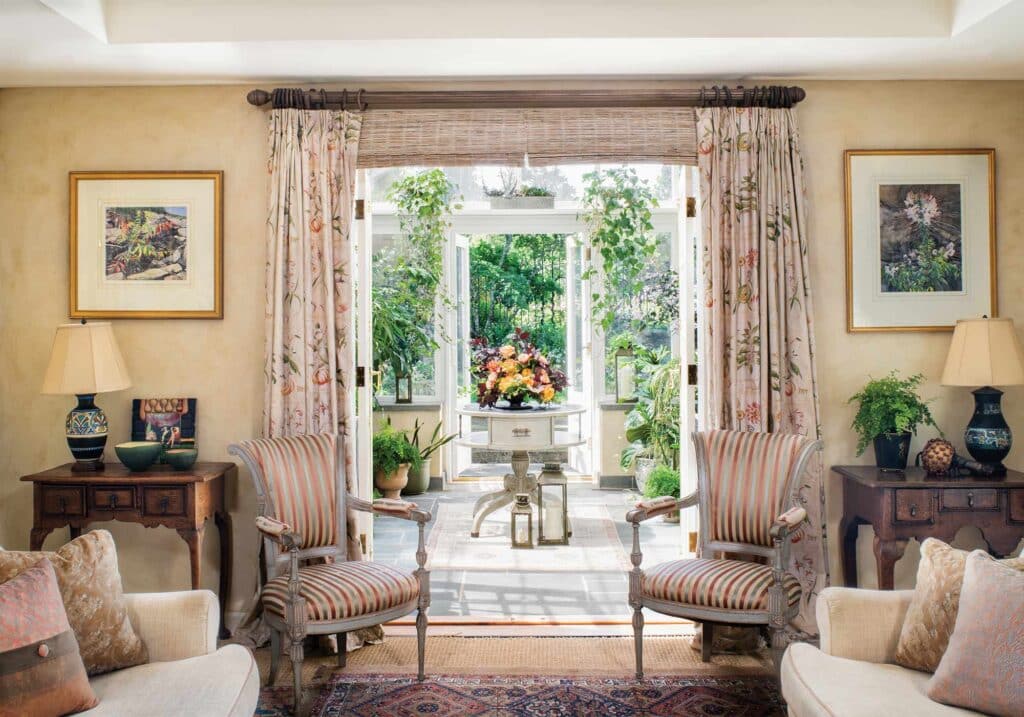 Art in the Garden at Waterperry Farm
Today, Waterperry Farm is open to garden lovers and photographers, but in the first year or two when the couple's two sons were still very young, the only outdoor project was the rose garden. This hallmark of the property is to the south of the main house and visible from both the conservatory and kitchen. "The soil there was dark and fertile," Kane shares, "as that was where the bull had lived. It was a good place to start." The boxwoods enclosing the space are now tall, and the sandstone wall (one of many on the property built by Chuck Metz) has aged well with moss and lichen. Metalsmith Dale Morse fabricated a vine-embellished iron fence and gate, adding grace to the entrance. Guests can enjoy a variety of climbing fences and a plethora of archways draped with flowers, from Zepherine drouhin and Clematis huldine to roses throughout the property.
Today, Waterperry Farm is open to garden lovers and photographers, but in the first year or two when the couple's two sons were still very young, the only outdoor project was the rose garden. This hallmark of the property is to the south of the main house and visible from both the conservatory and kitchen.
The rose garden is the closest thing at Waterperry Farm to a traditional formal garden. Composed of beds of many rose varieties such as Fantin latour and Perdita, it is complemented by other perennials like the lavender shades of Walker's Low nepeta and the small, grouped blooms of Dianthus 'Bath's Pink'. Guests can peruse the splendidly planned beds from paths of crushed white quartzite, also found throughout the grounds at Monticello.
English Garden Rooms and Borders
Since the rose garden's planting in 1991, the overall English inspired garden is now over 10 acres in size, growing out as the pasture once had in all directions. In the contemplative yew garden sits an amazing central fountain, a collaborative project between Kane, Architect Jeff Bushman and Fabricator Steve Brownell. Additionally, the property welcomes a 21-square-foot reflecting pool, a long shrub border, a pollinator garden, a Japanese-inspired stream and water garden and a conifer hill.
Kane's inspirations come from many sources, both visited and read about, especially the great European and Persian gardens. Her love of combining rectilinear and curved shapes, even within a single formal planting, is a welcome sight, as are the many arches and inviting places to sit. As visitors tour the grounds, they travel across grass lawns and down gravel paths, enjoying the plants and trees casting ample shade everywhere. Kane's collection of Japanese maples alone numbers more than a hundred. "It is on my list to one day label all our specimens," Kane shares. "People are always asking, 'What is this plant?'"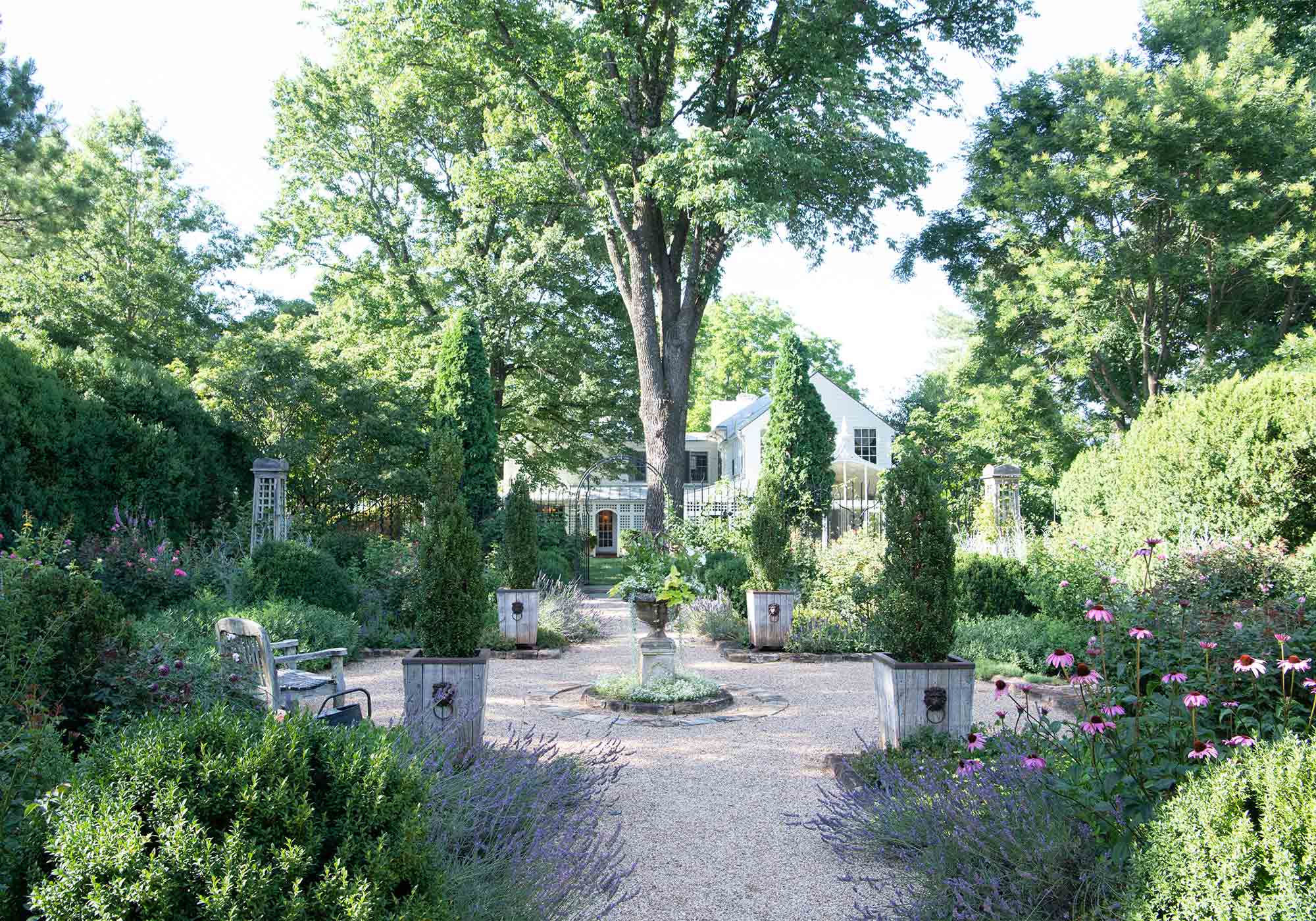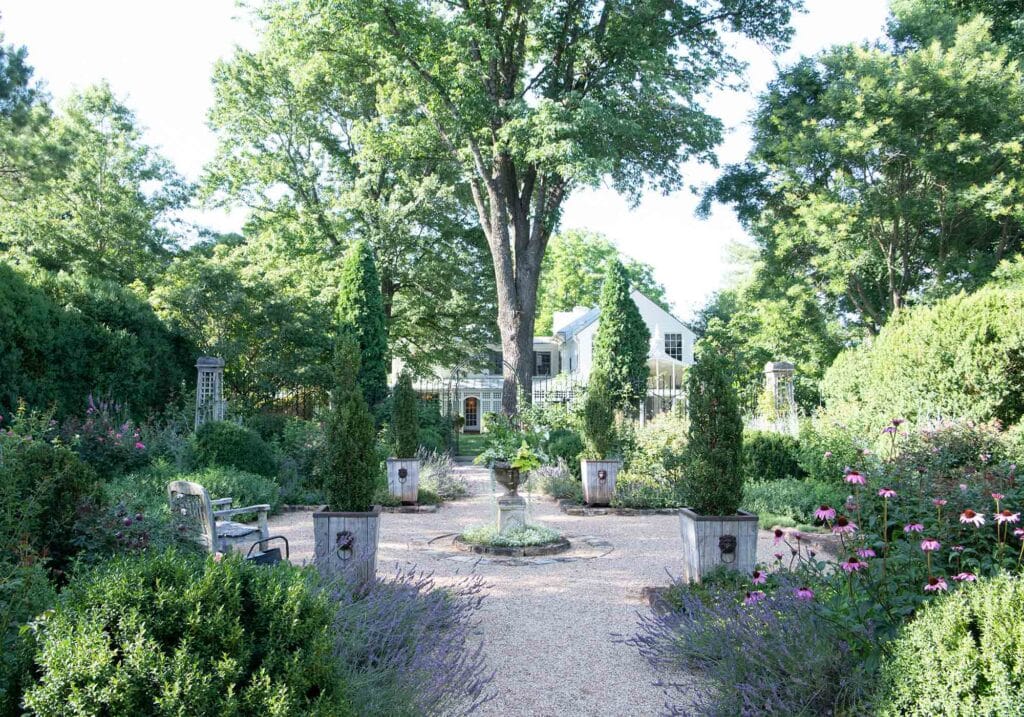 Historic Waterperry Farm's Stunning English Greenhouse
The long-awaited addition of the sparkling greenhouse makes it possible for Kane and her team to propagate annuals and edibles to plant in the spring when the historic property is at its most enchanting. The sleek lines, angled glass panes and slender aluminum framing of the building add an architectural element to the lush gardens and provide a structural counterpart to the flora surrounding it.
Guests can also enjoy festivities in the greenhouse, which serves both practical and aesthetic purposes. Events such as special occasion cocktail hours, champagne garden tours and birthday and anniversary dinners take place in the classical Victorian greenhouse. Fashioned from clear panes of glass, the greenhouse shields guests and plants alike from the Virginian winter frosts while allowing for a seamless visual experience inside and out.
Water Features in the Gardens at Waterperry Farm
Perhaps the most lingered-over features, though, are those of water. "It is pure magic, especially in a garden. Water brings half of the world down to us," Kane reflects.
The variety of fountains and pools found throughout the gardens serenely combine art with nature. The water in the large metallic bowl fountain cascades around the circumference in a criss-crossed sheet that plays with the natural sunlight. In front of the greenhouse, a bubbling brick-lined ground-level fountain invites guests to enjoy not only the sights but also the sounds of the gardens. The large pond on the property is home to geese and wildlife and features a miniature cascading waterfall and circular wooden deck from which guests can take in the day.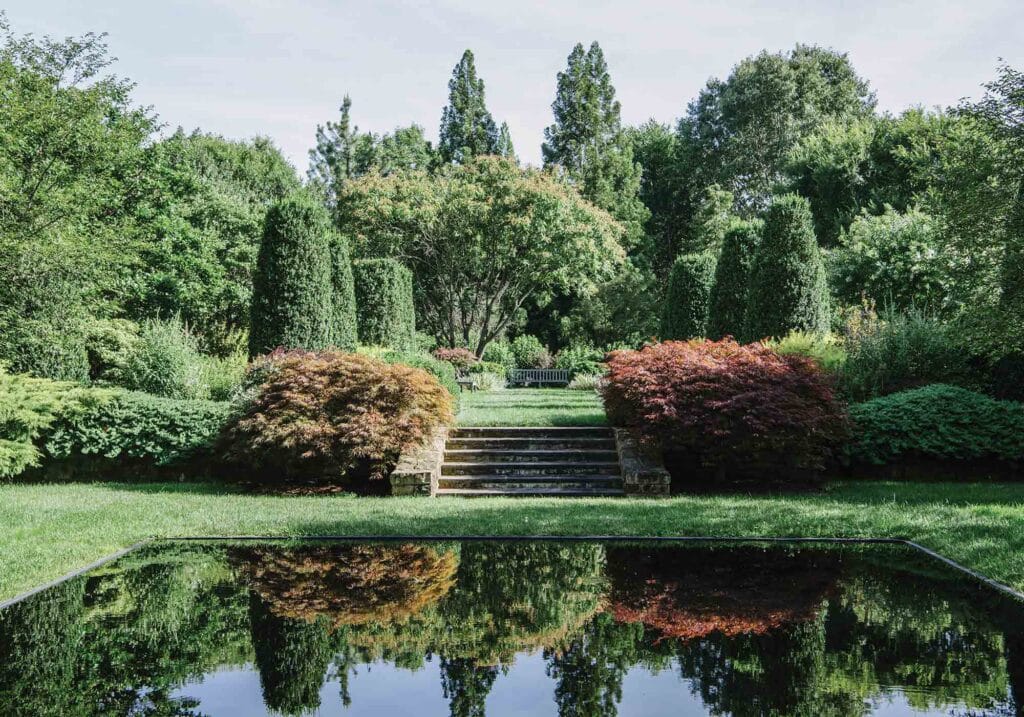 Even the swimming pool's dark gunite floor reflects the sky and gives visitors a chance to enjoy perspectives and angles otherwise missed. Instead of chlorine, the owners have chosen to use a copper and silver ionization system that tints the pool tiles gorgeously, without harsh chemical effects on guests' hair.
A pool house with an open-air design and screened-in walls adjoins the pool. The epitome of comfort, it houses a full-size kitchen, gas fireplace, bath and outdoor shower, and offers plenty of room to lounge and dine. Kane, who assisted architect Bahlmann Abbot in designing the building, also decorated the outdoor room using Farrow & Ball colors and natural materials, such as pecky cypress for the ceiling and a Pennsylvania bluestone floor. Above the fireplace hangs a piece by Sandra Lawrence, another Charlottesville artist and dear friend.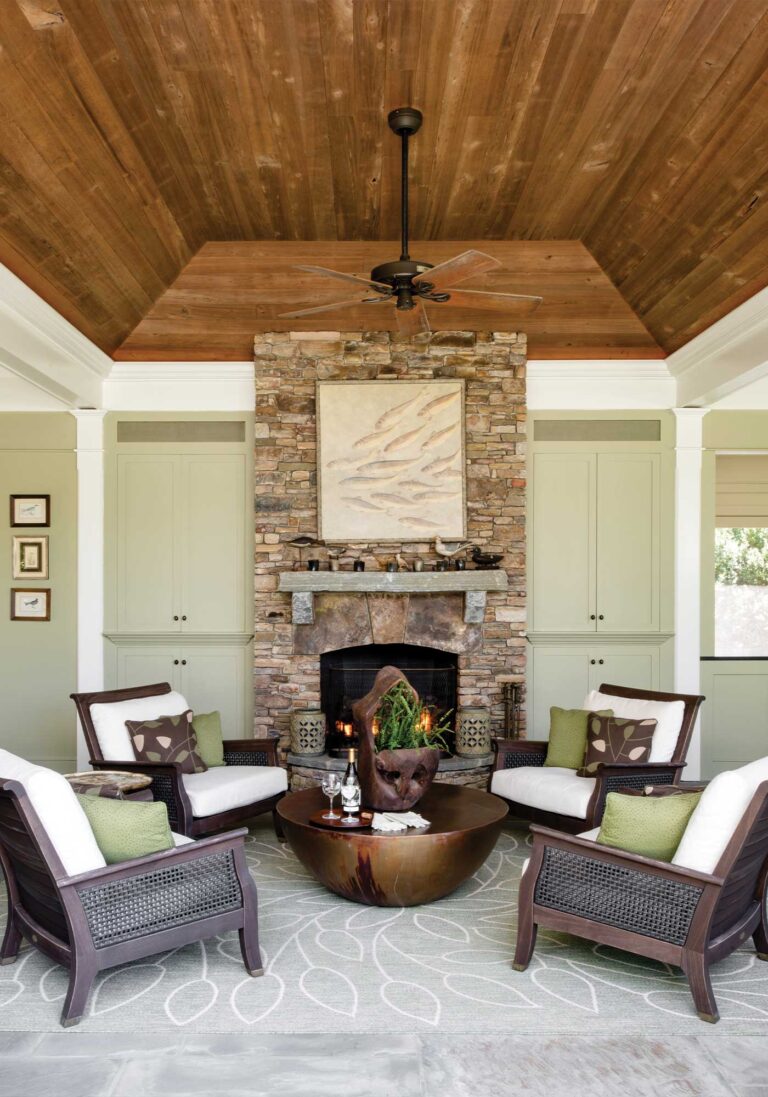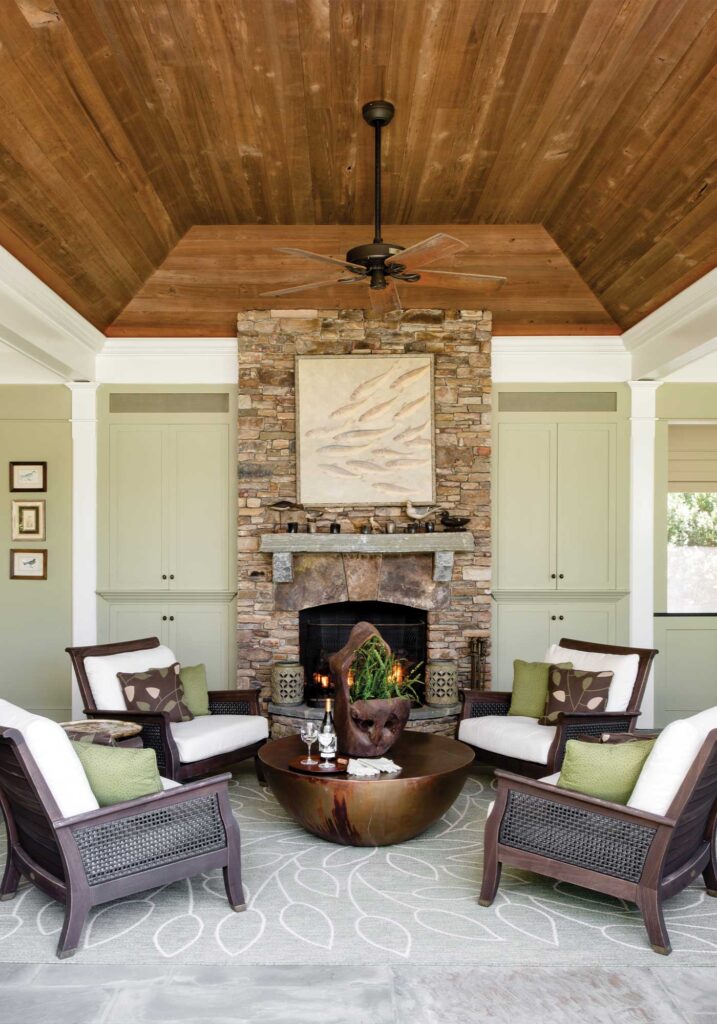 Visitors to the historic property are often stunned to learn that Kane was not formally trained in either landscaping or interior design. "I came to Virginia as a writer, so I love a blank page. Much of design is one art. It's about space and how it makes you feel. And, living with gardens or anything beautiful has a healing power," she says.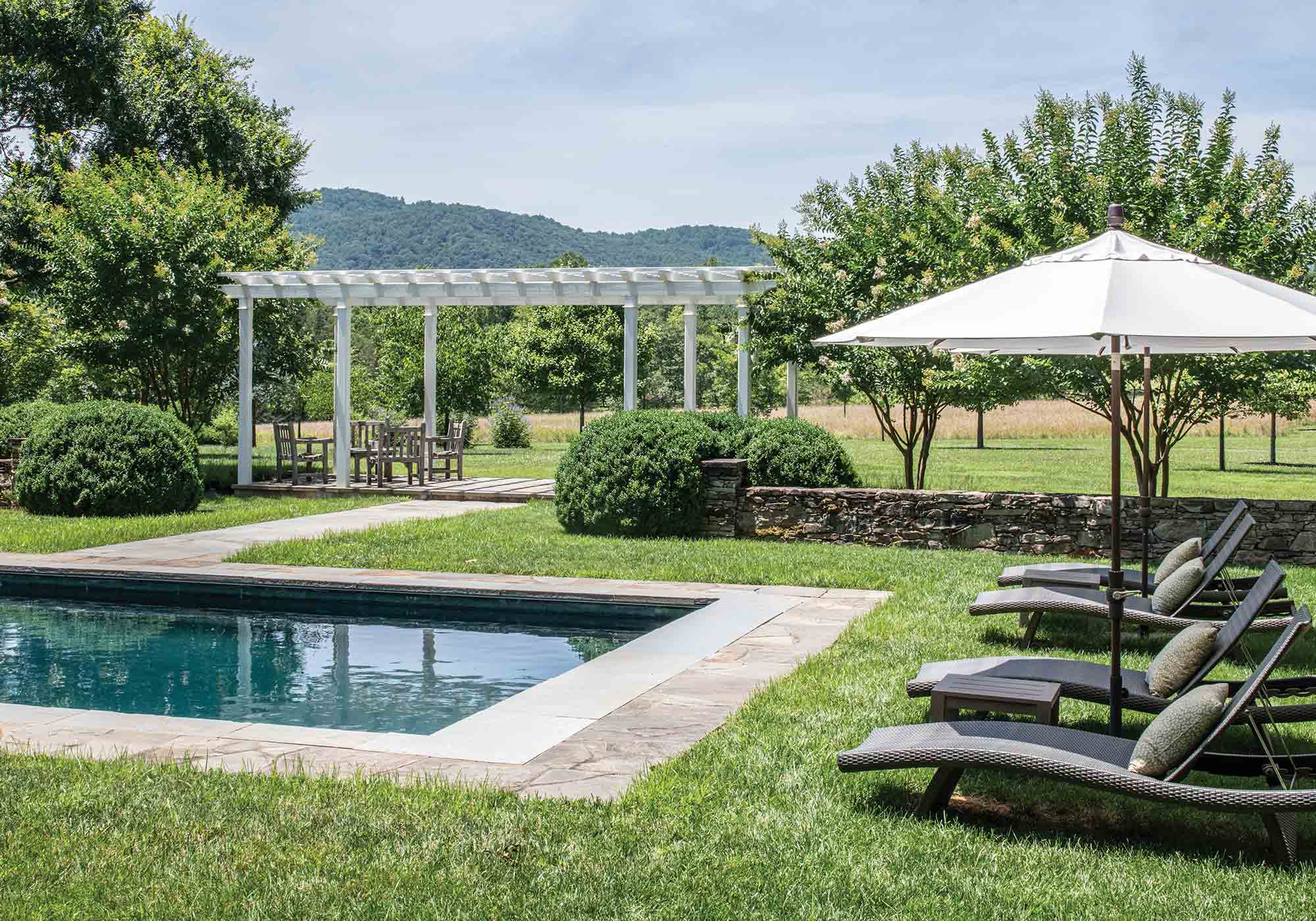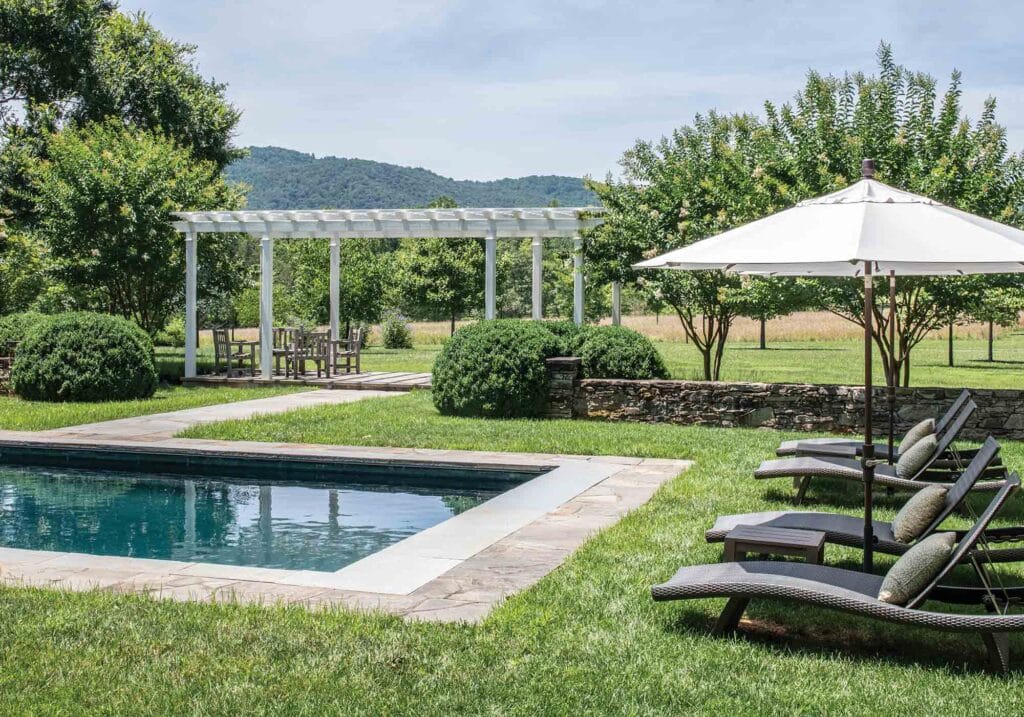 Staying at Waterperry Farm Near Charlottesville
To better share this healing power, Kane and her husband began to offer luxury accommodations to visitors. Besides the English-inspired garden landscapes and upscale rooms, guests can enjoy use of the tennis court, pool and pool house.
A short distance from these amenities sits the Carriage House, one of the two buildings available to rent. Originally designed in 1990 by architect Henry Browne as a guest space and writing studio for Kane, the house has recently undergone renovations and additions with the help of Jeff Bushman of Bushman Dreyfus Architects. Kane decorated the two-bedroom space with antiques and luxury furnishings from all over the world as well as with many original artworks, including four oil paintings by Charlottesville artist and teacher Dean Dass.
Kane and her team enclosed the original center of the building—an open-arched breezeway where a car or carriage could pull in—with Euroline glass and steel doors, and added heated brick flooring. Sitting in the middle of the space is a custom-made walnut ping-pong table with a leather net, doubling for dining. The bronze door handles were fabricated by Edward Pelton of Pelton Metalworks. Kane has even lined an outer archway with New Dawn and Zephirine drouhin roses.
To one side of the breezeway in the Carriage House sits an English-style library painted in the forenamed Waterperry Green. On the other side sits a sleek urban kitchenette with modern design elements of live oak shelves, limestone flooring and everything necessary to escape the chaos of everyday life. Down the hall from the kitchenette, guests are welcomed with the luxe downstairs suite and full bath—an oasis with heated floors, a sculptural tub and a stunning framed wallpaper panel from Gracie in New York City.
Luxury Stays at Waterperry Farm
The bedroom has two wide glass walls and opens onto a shaded deck overlooking the one-acre pond, a significant addition to an already beautiful place. After installing the pond, Kane worked with Ron Bush of Virginia Pond and Irrigation to shape a rock-edged stream from a small spring at the top of the hill. A cascade of re-circulated water courses through a series of pools and falls, then gathers into a bog before spilling to the pond below. With the bedroom sliders open, the sound is wonderful and serene. It's an envious escape, spacious and modern with a sumptuous Savoir bed that was originally made for the Savoy Hotel in London. Above it hangs a striking curly-willow chandelier, created by Charlottesville artisan Rebekah Graves. Window treatments throughout the building are the work of talented designer Alana Woerpel, and the Michael Keith pickled the white oak ceiling in English wax fashion.
Upstairs, the second bedroom suite includes a full bath with skylight, another Savoir bed and a screened-in balcony overlooking the pond. Perched up an additional flight of stairs is a sunroom reading nook that any book lover would envy. With plush daybeds and 360-degree windows that let in natural light and gorgeous mountain views, this "tower room" also offers a small deck.
Across the property from the Carriage House is another, larger abode available to guests called the Farmhouse. With its five bedrooms, the Farmhouse, too, is chic and upscale and offers the farm's best views and a 60-inch copper fire pit.
Where to Eat in Charlottesville
To ensure guests have the most relaxing and restorative stay possible, Waterperry Farm offers special services, available by pre-arrangement. Work with their staff to get help with travel plans including their car service to and from the airport. You can book your own personal chef, or arrange to arrive to a fully-stocked fridge with your choice of items.
If you're looking to explore local eatery options, you can either head out on your own or use the exclusive car service for hassle-free transport into town and back again. There are a myriad of high-quality dining options to suit palates for any meal. Head to the brick-paved pedestrian Downtown Mall, a scenic 25-minute drive from Waterperry Farm, to enjoy the French-inspired cuisine of The Petit Pois or Bizou. A mere five-minute walk away you can dine at the upscale Italian Orzo Kitchen and Wine Bar. For a more casual atmosphere serving breakfast and lunch, try MarieBette Cafe and Bakery.
Visiting Charlottesville-Area Wineries
While staying at Waterperry Farm, be sure to take advantage of their special tour services as well. Enjoy a private tour of Monticello, Thomas Jefferson's historic home, or a customized tour of Charlottesville area wineries.
If you plan on venturing out alone, there are many wineries within a short distance from the gardens. If you're looking to stay closer to your accommodations, you can visit Glass House Winery, Grace Estate Winery, White Hall Vineyards, or Stinson Vineyards—all within a 15-minute drive of Waterperry Farm.
For those guests that don't mind roaming a bit further, King Family Vineyards, Flying Fox Vineyard and Pollak Vineyards are within a 25-to-35-minute drive and grouped closely together. A bit further, guests can travel to the storied Barboursville Vineyards, Early Mountain Vineyards or Horton Vineyards—each about a 45-minute drive and well worth the trip.
Looking forward, Kane and her team are excited about their current project: a new kitchen garden that will overflow with vegetables, fruits and herbs. It will be the perfect addition to an already poetic property, one that has the power to inspire. ~
SARAH SHORT is an editor and writer whose work can be seen in many publications on topics like food, wine, home decor, sporting life, travel and more.
ROBERT RADIFERA has been creatively photographing weddings, interiors and portraits for over two decades. His interior work has been published in Southern Living, Southern Home, The Cottage Journal, HGTV Magazine, Virginia Wine & Country Weddings and Home and Design, as well as many other local and national publications.
R. L. JOHNSON is our Co-Publisher and Creative Director. Johnson studied at the prestigious ArtCenter College of Design and began her career as a professional photographer in Los Angeles. She moved into graphic design and art direction when she relocated to Charlottesville in 1994. As our company's co-founder and visionary, she enjoys all aspects of storytelling.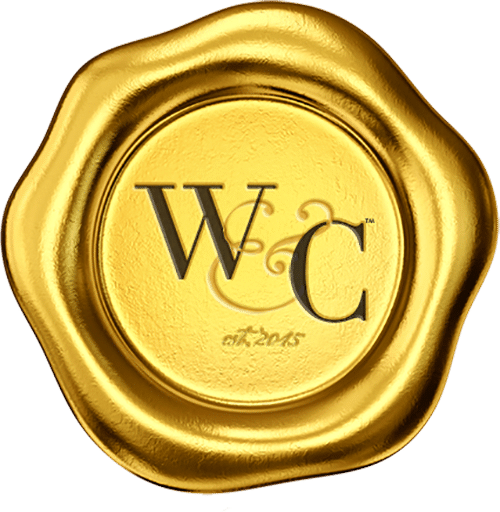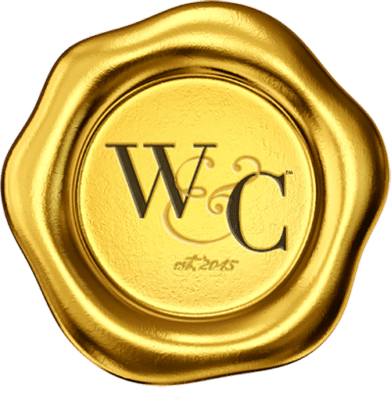 Virginia Wine & Country celebrates elevated living in Virginia Wine Country. Virginia Wine & Country Life is a semi-annual luxury print magazine with a full digital presence. The Virginia Wine & Country Gold Book is an annual guide to the top award-winning wines, wineries and experiences in Virginia Wine Country. The annual Virginia Wine & Country Wedding Planner is an art book of elegant Virginia weddings. The brand includes the Virginia Wine & Country Shop in Ivy, Va. It is a beautiful lifestyle boutique that brings the pages of the magazines to life. Virginia Wine & Country tells the stories of Virginia wineries, the farm-to-table movement, luxury travel, entertaining, art and the elegant country lifestyle. Ivy Life & Style Media also provides branding, web design and PR services for the wine industry.