Boela Gerber is an internationally renowned winemaker from South Africa who recently made the move to Virginia. He now heads the winery at Southwest Mountains Vineyards (SMV), an exciting new winery near Charlottesville in Keswick, Virginia. Our cofounder, Jen Bryerton, had the privilege of visiting his previous place of employment—Groot Constantia, the oldest farm winery in South Africa. Watch for that story coming to our luxury print publication in 2024. Gerber enjoyed over two decades of international recognition making award-winning wines as Groot Constantia's head winemaker.
Virginia Wine & Country Life caught up with the talented winemaker when Gerber first arrived in the Monticello wine region to ask him about his career as well as his hopes for his exciting new venture here in the Commonwealth. Gerber has a Bachelor's of Science in Agriculture with majors in Oenology and Viticulture, not to mention his official designation of Cape Wine Master and experience working in vineyards and cellars around the world. We can't wait to see what he brings to the Monticello wine region at this brilliant new winery in Keswick.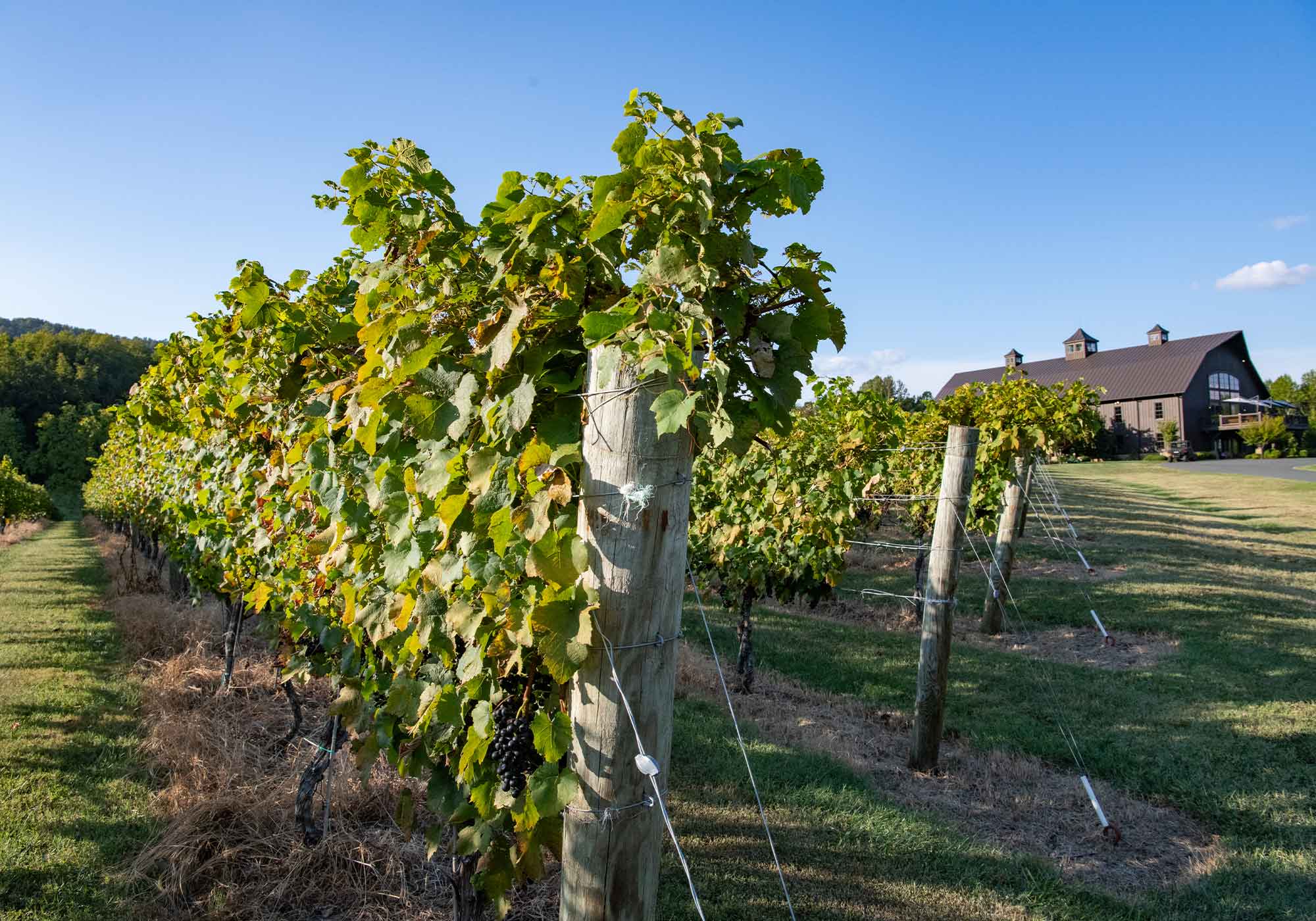 Southwest Mountains Vineyards in Keswick is officially open to the public. Make sure to make your reservations through Tock for tasting room access, delicious wines and gorgeous views of the Southwest Mountain corridor. The full opening and press releases will be delayed until January, so early visitors will have a chance to spend time exploring this exciting new Charlottesville winery before the official signage and media are even in the works.
An International Winemaker at Southwest Mountains Vineyards
What led you into winemaking and how did you train?
I stumbled upon winemaking by chance. A friend in my dormitory at University of Stellenbosch (close to Cape Town) convinced me to change from science to winemaking. It did not take much to convince a freshman to change career to winemaking. I started working in the wine industry shortly after I finished my studies but took regular sabbaticals during the cool southern hemisphere winters to gain international experience further north where the vineyards were in their growing season. This includes Bordeaux (France), Chianti (Italy), Rioja (Spain), and Sonoma (California).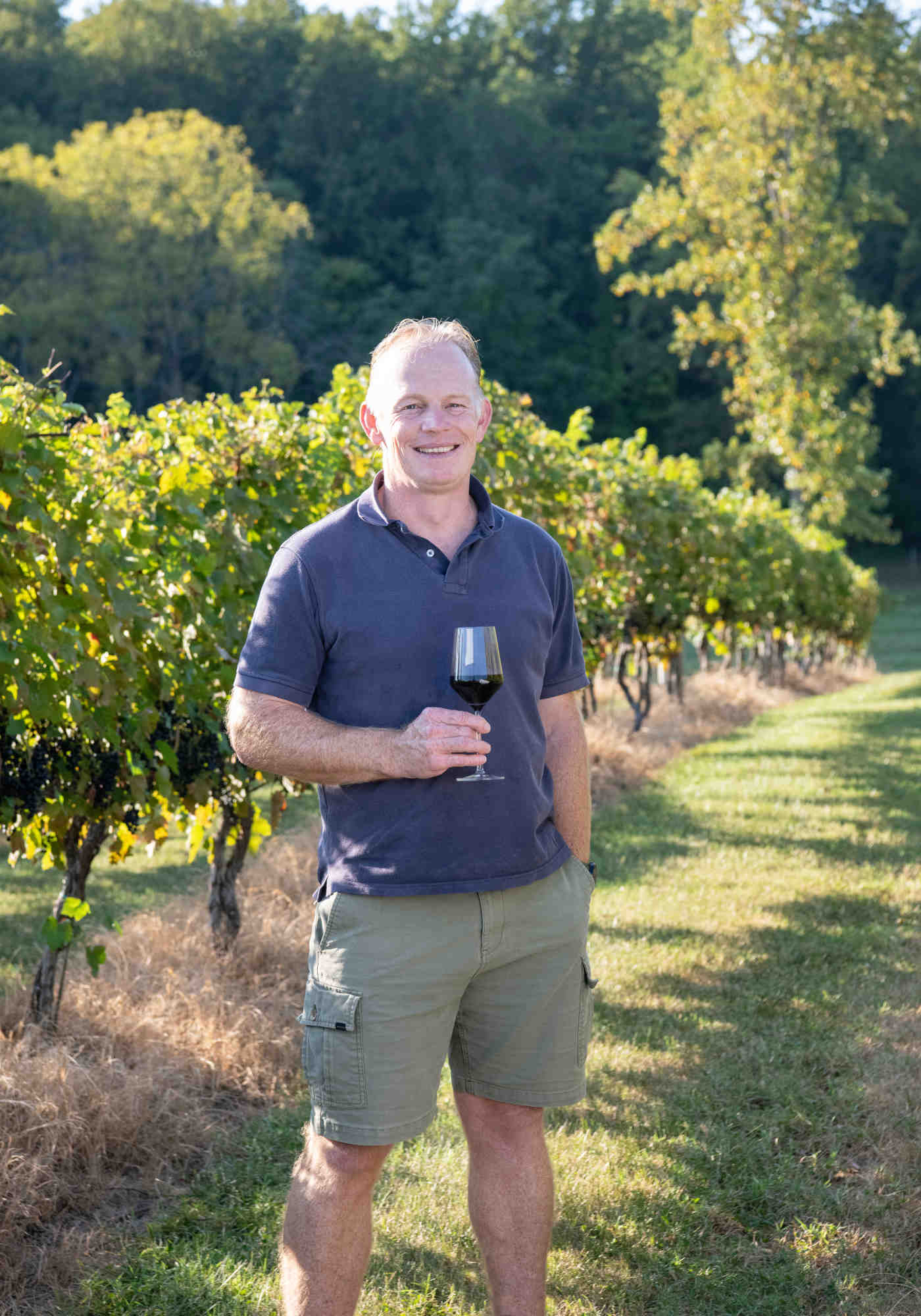 Can you please describe the impact of particular mentors or experiences?
Mentorship is very important in the South African wine industry. We have formalized programs to transfer knowledge, especially to previously disadvantaged communities through institutions like the Cape Winemakers' Guild Protégé Program. There are numerous winemakers that had an impact on my career, offering technical advice and shaping my wine philosophy. I recognize today that so much of the success I have achieved is because of those mentors. Two of the mentors that stand out are André van Rensburg and Hubert de Bouard.
My first position as assistant winemaker was at Stellenzicht Vineyards under the mentorship of a very talented and bright winemaker André van Rensburg. He is a close friend today and we still have regular contact where I continue to bounce ideas off him.
My first harvest in Europe was at the famous Chateau Angelus in St Emilion, France. Owner/winemaker Hubert de Bouard was really inspirational. He shared his vast wine experience, but more importantly, helped me shape my winemaking philosophy.
Your career also includes being a wine judge. What is that like?
Not as much fun as one would imagine. I've judged at a few competitions where 80-120 wines are assessed in a day. Your decisions have an impact on the wine companies' well-being and gold medals may help to sell wine in tough economic times. Equally, you want to be fair and consistent throughout the competition. Judging has been a great experience and a critical learning curve for me as a winemaker. It is important to understand what makes a wine stand out in a lineup of 100 wines and if those characteristics really are what you are looking for in your own wine.
You've worked, studied and traveled the world. What are your favorite wine regions? What are some of your most memorable experiences?
My favourite international wine region has to be Bordeaux. I've worked four harvests there, visited the region numerous times, and made good friends. My first harvest in St Emilion is probably the most memorable. Centuries of winemaking history, cobblestone streets, cathedrals and an ingrained wine culture that is way of life for the average French person, together with the language and music and European lifestyle made a big impression on a young winemaker from South Africa.
You were winemaker at Groot Constantia in South Africa for more than 20 years. What industry changes did you see?
Technology and research gave winemakers better tools to make better wine, or at least limit risks and reduce faulty wines. Increasingly accurate climatical data via various websites and apps, drones and satellites images and data provide information for precision viticulture to maximise quality in the vineyard.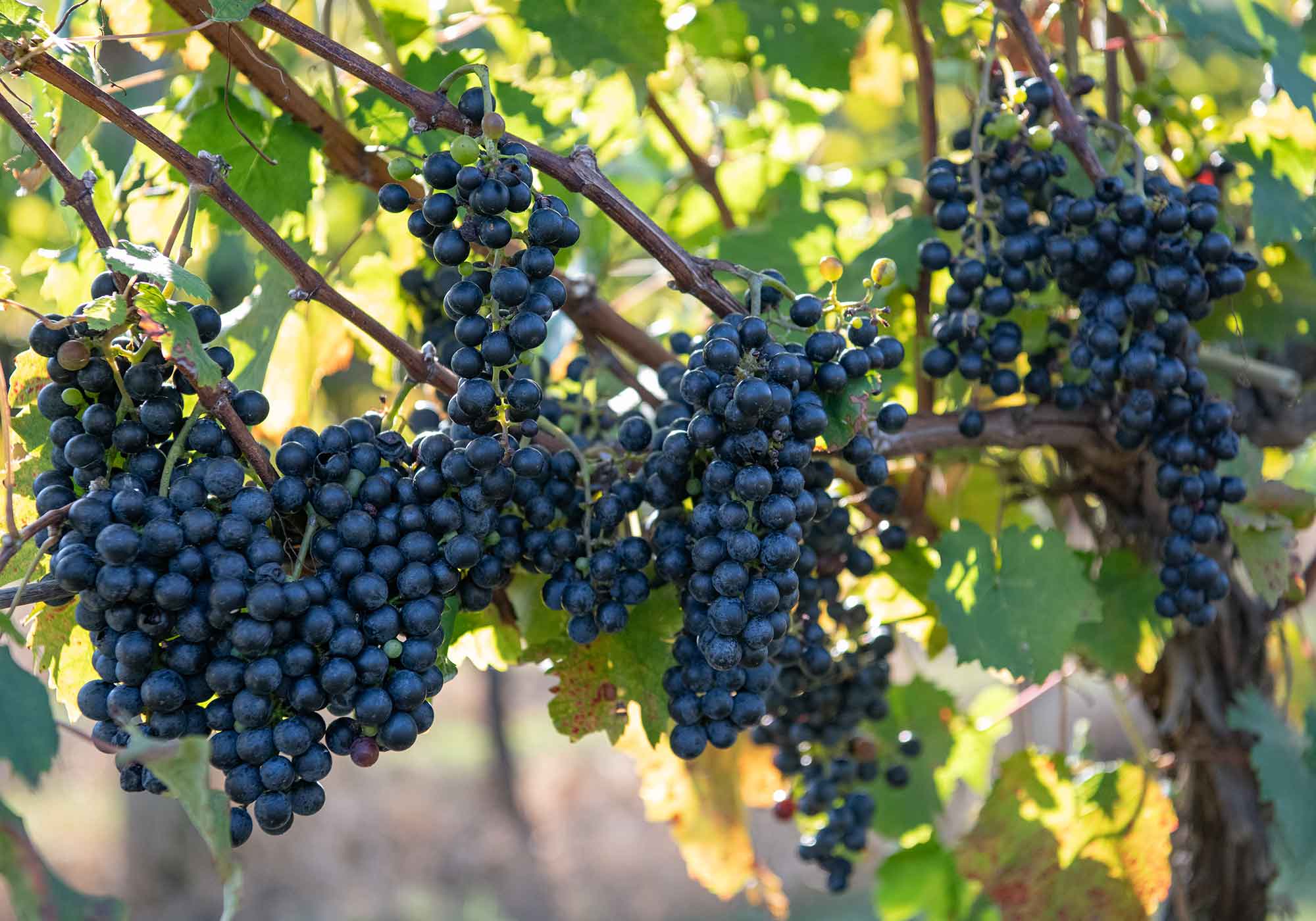 Climate change has forced producers to review more drought resistant varieties. The very traditional region of Bordeaux in France has allowed drought resistant Portuguese varieties including Touriga Nacional and Albariño on a trial basis since 2021.
Wine marketing has also changed significantly. The influence of wine critics has increased, and that has also shaped the wine world. Social media is becoming more important in wine marketing. Winemakers are facing stronger competition from different sectors in the alcoholic beverage market, like craft beer, cider and gin. Sommeliers have become very influential in the wine world, closing the loop between food and wine.
Boela Gerber Discusses Virginia Wine Near Charlottesville
Describe your decision to relocate with your family and the move to Virginia and Southwest Mountains Vineyards.
I worked at my previous position in Cape Town at Groot Constantia Wine Farm for more than 20 years. It was a great privilege to be part of a team that produced world class wine for over two decades, but I needed a new challenge. The emerging region of Monticello provides just that. I have been fortunate to gain experience in five countries on three continents, and I am eager to apply and share my knowledge in this beautiful, exciting wine region.
Virginia terroir, weather and so much are different than South Africa. What have been your observations at Southwest Mountains Vineyards?
Virginia is different to any other region I've made wine. The humidity and untimely summer rain pose real challenges to the viticulture team. I've seen pests here, for example Japanese beetles, that I've never heard of. I believe that they also experienced a hurricane during harvest a few years ago. Virginia certainly has its unique challenges.
What about Virginia winemaking has you excited?
The white wines are very aromatic, and I have tasted a few beautiful Viogniers and Petit Mansengs from the region. The reds, particularly Cabernet Franc and Petit Verdot (seen above and below right), are very expressive and distinctly Monticello. The winemakers in Virginia are keen to try new things in the vineyards and the wineries and are very happy to share this information with the wine community. I appreciate the collaborative relationship between the winemakers in the region.
What is your favorite wine to make? Do you think that may change in Virginia?
I've always enjoyed making Chardonnay and Bordeaux-style reds. Since arriving in Virginia, I've been intrigued by the Petit Manseng and Grüner Veltliner from Southwest Mountains Vineyards. The single varietal Cabernet Franc and Petit Verdot (seen above, bottom right) are distinct wines.
What are your ambitions for Southwest Mountains Vineyards?
The Southwest Mountains corridor is a special place in Monticello and Virginia wine context. As a brand-new outfit in Virginia, I want Southwest Mountains Vineyards to earn the respect of the local industry first and foremost. Virginia wine continues to gain recognition internationally. Ultimately, I want SMV to be recognized and celebrated internationally for its uniqueness and quality.
What research or organizations have been instrumental in your professional growth?
I have always worked closely with the Department of Enology and Viticulture at Stellenbosch University. Numerous experiments with the university and their students over the years contributed to improving our wine quality and very importantly keeping the team updated with the latest research. The Virginia Winemakers Research Exchange has been very helpful since arriving in Virginia.
I joined the Cape Winemakers' Guild (CWG) in 2009. The CWG is a by-invitation-only organization of 50 of the leading winemakers in South Africa. Monthly tastings of international benchmarks and lively discussions provided invaluable inspiration, while we also discussed and shared our knowledge on wine technical issues.
What are your thoughts on where Virginia wine quality is in relation to the global wine market and what do you predict for the future?
Winemaking in Virginia has come a long way over the last 20 years, and I've tasted a few world class Virginia wines the last few months. I think there is still an enormous amount of work to be done, in the vineyards and the cellars, to improve the quality of the wine across the board. Cabernet Franc seems to produce Virginia's signature red wine, but more work is needed to find other varieties which work well with our unique soils and climate.
Get to Know South African Winemaker Boela Gerber
Professionally, what accomplishments are you most proud of?
I pride myself in consistently producing ultra-premium quality wine over a broad spectrum of varieties and wine styles. We were fortunate to have received great international accolades for individual wines, but I think it all comes back to consistency across the board. I believe it is this consistency that ultimately won us awards like Best Chardonnay in the World in France and Best Sauvignon Blanc in the World in London, as well as Best South African Producer at three wine competitions in South Africa over the last 10 years.
What is a perfect day at work for you?
The beauty of winemaking is that the average day at work changes with the seasons. Fall is harvest time, the most exciting time in the wine calendar. This is our one chance every year to make our magic. We spend so much of our time in the vineyard in order to make critical decisions on when to pick the grapes. Once the grapes arrive at the winery, we spend long hours in the winery to turn the grapes into something special. In winter we get to wind down, put the red wine of the new vintage in barrel and start to take the previous vintage red out of barrel.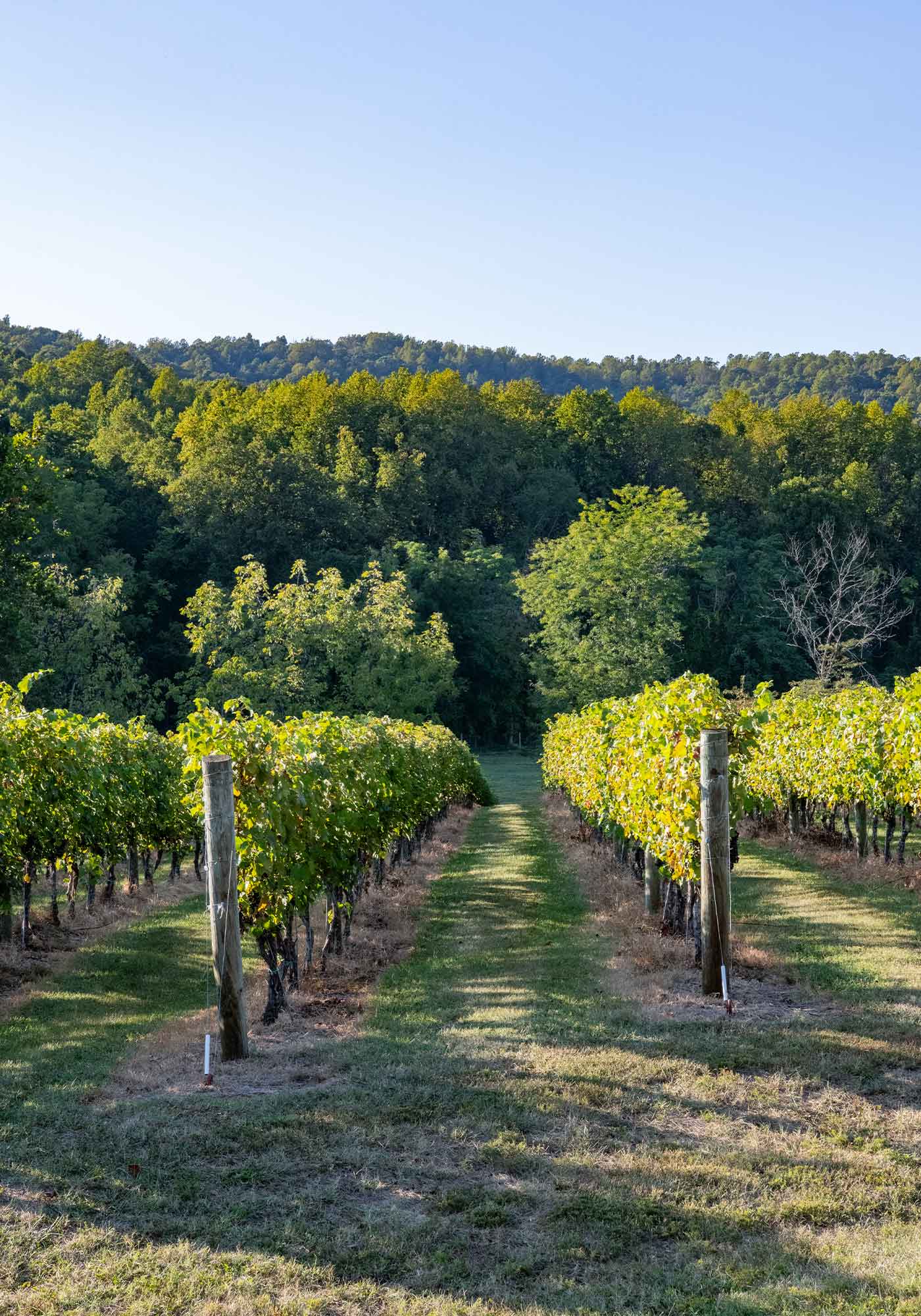 In spring we bottle the first white wines from the latest vintage and also blend the red wines from the previous vintage and get it ready for bottling. Blending the red wines is one of my favorite things to do in the winery. It gives us the opportunity to get creative, select the best components and put together the finest blend to express our property. Summer, we continue with bottling. We spend more time in the vineyard and keep a watchful eye on the new crop while we get the cellar ready for the next harvest.
What is a perfect day at home?
For me the perfect day "at home" is spent exploring with my family. The natural beauty and incredible outdoor options of Charlottesville, and Virginia, are endless. The vegetation is so lush here that our 6-year-old son decided that green is his new favorite color. Most of these outdoor adventures start and end at home. The best way to start the day is with a good cup of coffee, and no perfect day is complete without a braai (a barbeque with wood fire) with friends.
What Virginia wine is currently open in your kitchen? What will you eat with it?
The Southwest Mountains Vineyards 2021 Cabernet Franc—it is pretty awesome. The wine is complex and layered, it calls for red meat. I like rump steak on the braai with bearnaise and a simple garden salad.
Who in your family is the cook and what are your favorite foods?
My wife Michaela does most of the cooking. My food preference changes with the seasons. I like lighter salads and wraps in summer, and hearty stews and roasts in winter.
What advice do you have for an aspiring winemaker?
Study, travel, never stop learning.
Learn more about the life and work of winemakers in Virginia Wine Country. In the Shenandoah Valley, Bluestone Vineyard is breaking boundaries under the leadership of winemaker Lee Hartman. Another Shenandoah Valley winery, CrossKeys Vineyards, produces award-winning wine and serves it alongside internationally-inspired cuisine at their Bistro restaurant. Emily Hodson is an award-winning winemaker at Veritas Vineyards & Winery and Flying Fox Vineyards. Maya Hood White is the winemaker at Early Mountain Vineyards. Gabrielle Rausse has made wine at many Virginia wineries and is considered the father of the modern wine movement. Get to know Nathan Vrooman of Ankida Ridge Vineyards, Doug Fabbioli of Fabbioli Cellars, Caitlin Horton of Horton Vineyards and one of the most awarded winemakers, Luca Paschina of Barboursville Vineyards. Plan your own trip around Virginia Wine Country with our tasting tips for visiting tasting rooms and the different beautiful winery tours available throughout the state. ~
JENNIFER BRYERTON is Co-Publisher and Editor-in-Chief of Wine & Country Life. She is an avid gardener, home cook and wine-taster. She enjoys learning about Virginia viticulture and sharing the story of our local farm-to-table makers.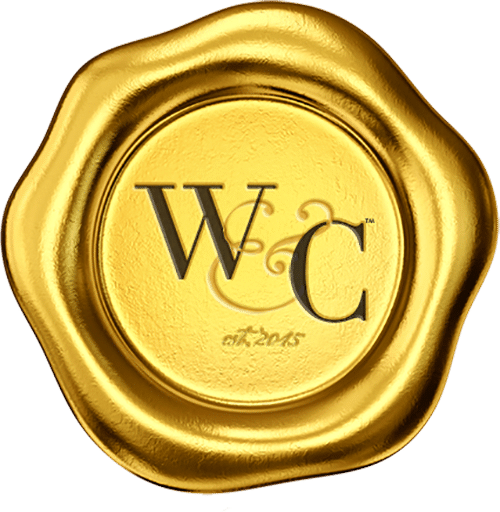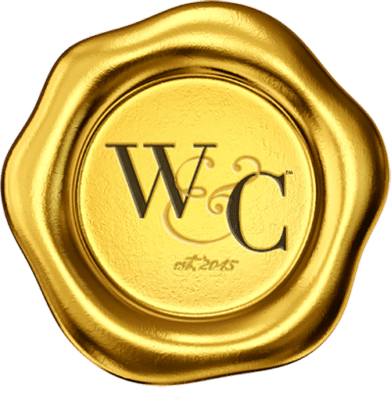 Virginia Wine & Country celebrates elevated living in Virginia Wine Country. Virginia Wine & Country Life is a semi-annual luxury print magazine with a full digital presence. The Virginia Wine & Country Gold Book is an annual guide to the top award-winning wines, wineries and experiences in Virginia Wine Country. The annual Virginia Wine & Country Wedding Planner is an art book of elegant Virginia weddings. The brand includes the Virginia Wine & Country Shop in Ivy, Va. It is a beautiful lifestyle boutique that brings the pages of the magazines to life. Virginia Wine & Country tells the stories of Virginia wineries, the farm-to-table movement, luxury travel, entertaining, art and the elegant country lifestyle. Ivy Life & Style Media also provides branding, web design and PR services for the wine industry.