While Virginia wine is generating buzz amongst critics, it's easy to forget how young the modern wine movement is or how far it's come in a short time. As early as the 1970s Virginia only had a dozen wineries. Today, there are over 300 in the state.
One of the drivers behind this growth is the remarkable range that Virginia has to offer in both wines and venues. Visitors can find everything from kid-friendly wineries based in rustic barns to tasting rooms that seem to have come straight from a Tuscan hillside.
For the past decade at least a dozen new Virginia wineries open every year. Here are a few of the most recent outstanding additions we visited. Read on while we share about each new Virginia winery and their mission, grape plantings, hospitality plans, their winemaker and so much more to help you plan your winery tour.
Crimson Lane Vineyards
A New Virginia Winery in Linden
In both wineries and real estate, it's all about location, location, location. That's why it's no wonder Crimson Lane Vineyards' opening in March 2023 generated so much excitement. Owners Tom and Deanna Herrity bought the property in 2014 and planted the vineyard several years later. Tom explained, "We looked all over Northern Virginia for a place, and when this listing came out we just fell in love with it."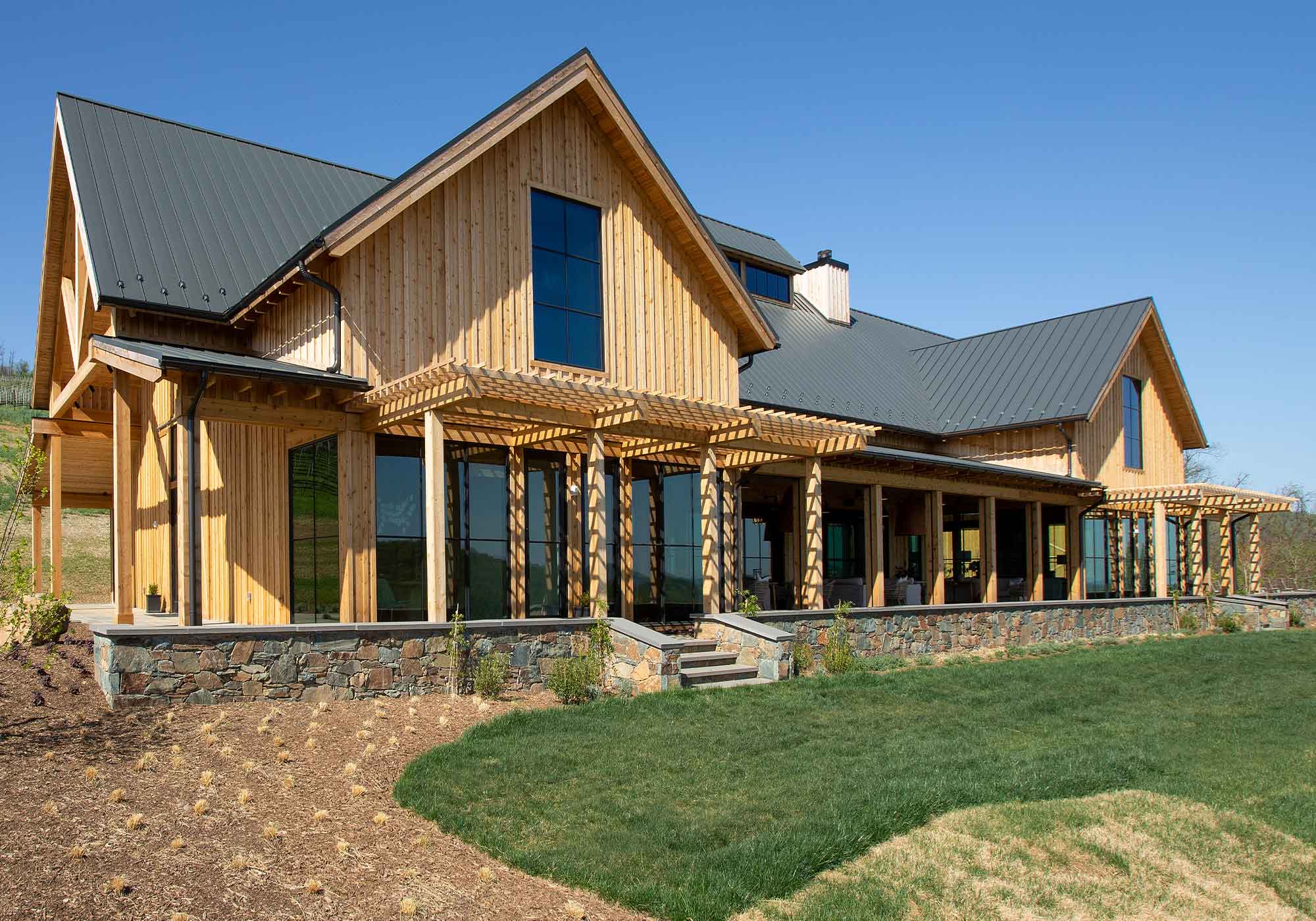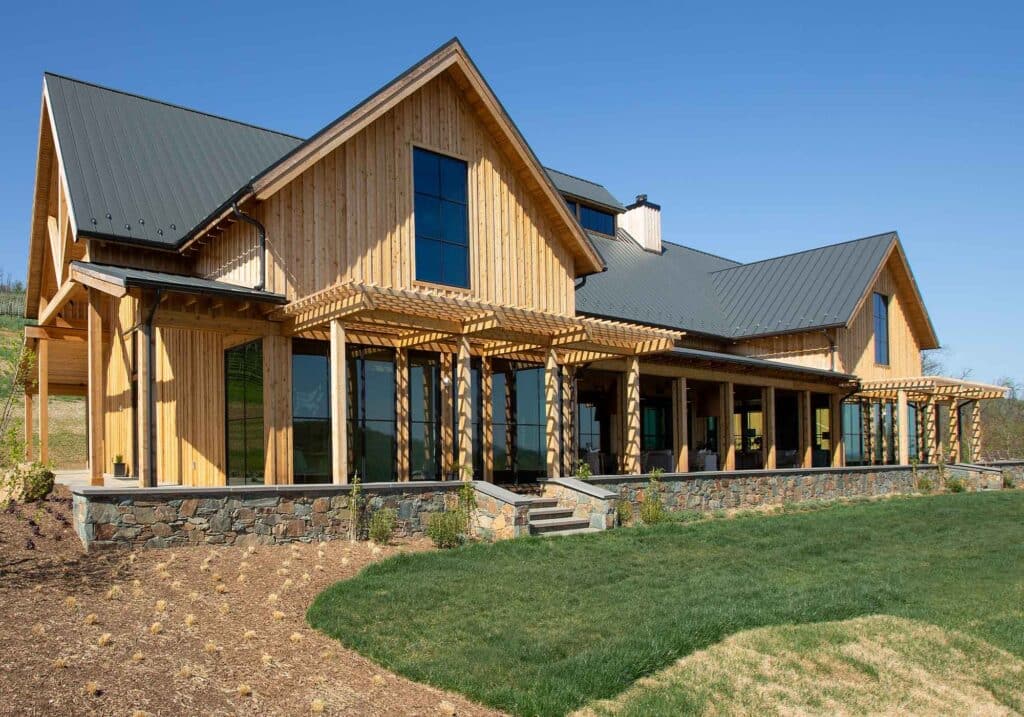 Visitors to the vineyard may think the Herritys picked this site on aesthetics alone. Built on one of the lower slopes of a 1,400 foot ridge line, the tasting room's many windows and long outdoor patio allow guests to soak in the view wherever they sit. Landscape designer, Jennifer Horn of Jennifer Horn Landscape Architecture, collaborated with the Crimson Lane Vineyards team to create a welcoming space that is both inviting and elegant, Named a "Woman to Watch" in Washingtonian's list of powerful women, Horn has had a hand in fabulous high commercial and residential designs throughout the Commonwealth and the United States. With an unshakeable belief that sustainability is at the core of great design, her planning for the vineyard's landscaping is designed to respect and restore the environment, creating an oasis for winery guests.
However, the location of Crimson Lane Vineyards is as practical as it is stunning. The high elevation gives its almost 24 acres of grapes protection from frost. This is a critical feature given Virginia's increasingly erratic spring weather. Famed viticulturist and ampelographer Lucie Morton gave high praise for its airflow and multiple soil types, which allow Crimson Lane Vineyards to plant their array of grapes in just the right spots.
Crimson Lane Vineyards' current releases include an Albariño, two Chardonnays and several red blends. Their vineyard has been producing grapes since 2018, allowing Crimson to serve 100% estate wine from the day they opened. While single-varietal red wines may still be in their future, Crimson is taking a page from Bordeaux's playbook by focusing on blends. The winemaker, Deanna's brother, is tapping into the Italian family's history of winemaking.
The names of their two main red wines, Collina and Parral, reference the key factors behind their success. Collina means 'hill', a reference to the terroir which gives their wines a sense of place. Parral is named after the Mexican hometown of their seasonal vineyard crew, nearly all members of an extended family who return year after year.
Plan your visit to Crimson Lane Vineyards: Crimson Lane Vineyards is open Friday through Sunday and is an adults-only experience. The location is also only 4 miles away from the award-winning Linden Vineyards, where their winemaker trained under the esteemed Jim Law.
7 Lady Vineyards at Dover Hall
A New Virginia Winery in Richmond
Co-Owner Chad Hornik knows he has the ideal spot for his newest venture in 7 Lady Vineyards at Dover Hall. Located on the grounds of his luxury wedding and event venue Dover Hall just outside Richmond, the vineyards combine Virginia wine with the best of the world.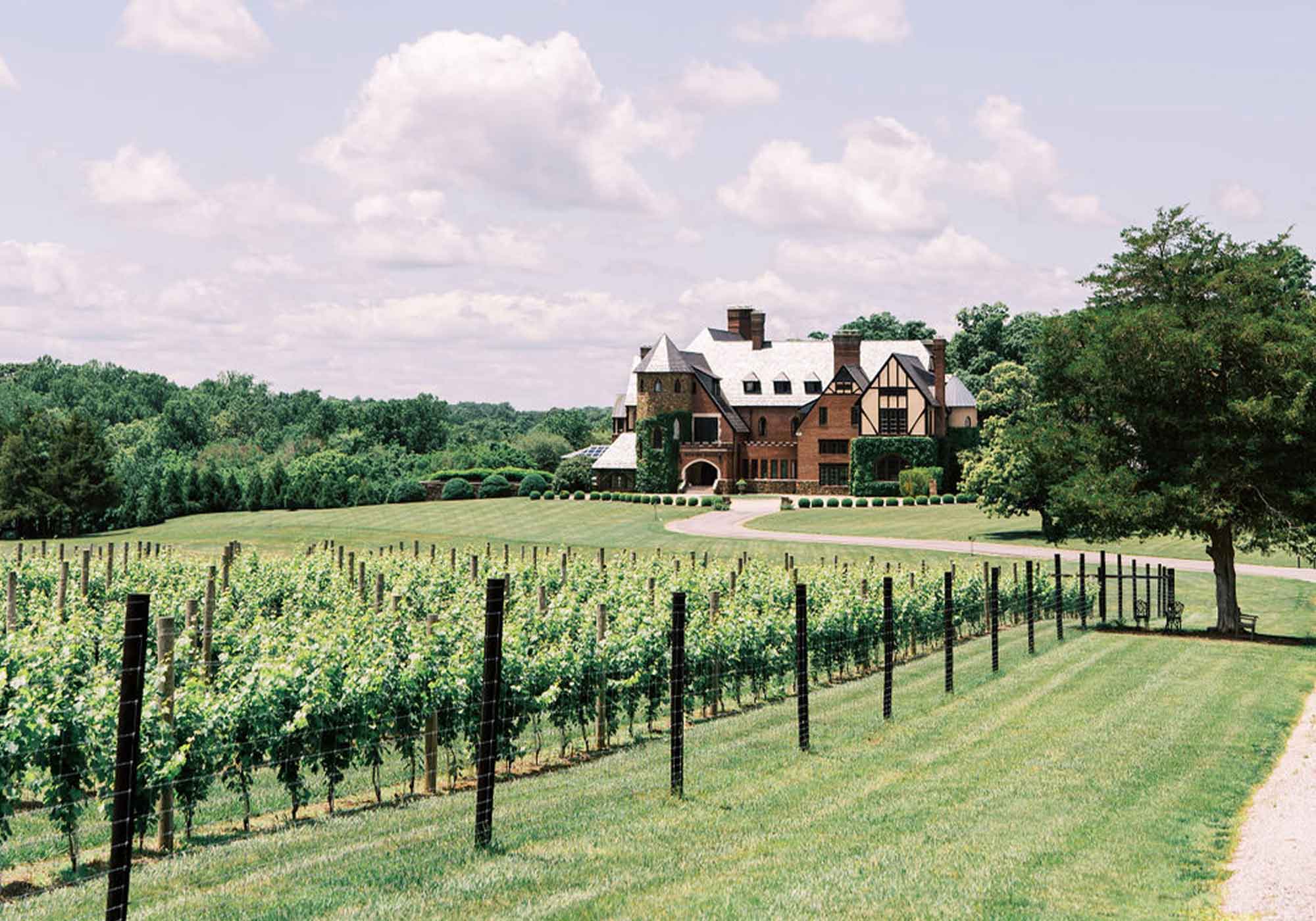 The estate features 55 acres of rolling hills with Dover Hall as the centerpiece. Originally a private residence, the house was designed to resemble an English style Tudor castle with Gothic influences. The vineyard is a more recent addition.
As a former Governor's Cup wine judge and owner of a restaurant once recognized as the Virginia Wine Restaurant of the Year, Hornik has a long history with Virginia wine. "We have 4 acres of vines planted and another 4 on the way. We've also leased land in the Shenandoah Valley," Hornik explained in a recent interview. Ben Jordan, who leads the Common Wealth Crush Co. in Waynesboro, is their winemaker.
7 Lady Vineyards at Dover Hall will offer up to 26 wines, half from Virginia and the remainder from famous wine-producing regions around the world.
"We're making a Napa Valley Cabernet, a Willamette Valley Pinot and Chardonnay, a Malbec from Mendoza, a Rioja from Spain, a Super Tuscan and Chianti from Italy," Hornik continued. "We want to offer guests a varietally-correct wine from the region it's known for, as well as Virginia wine. We'll have wine from our estate vineyard, but most of our Virginia wine will be sourced from the Shenandoah Valley, which is one of the best wine producing regions in the state."
Visitors can sample 7 Lady wine at one of Dover Hall's private tastings or wine dinners. The main tasting room is estimated to open in 2024 and their official wine club is now open, offering diverse, high-quality global wines.
Everleigh Vineyards & Brewing Company
A New Virginia Winery in Mineral
Co-owner Joe Evers started as a wine collector and home winemaker. In 2012 Joe and his wife Barbara purchased land not far from Lake Anna, VA, planning on using it for personal recreation. Upon advice from their friend Jeff Cooper, then owner of nearby Cooper Vineyards—now Fifty-Third Winery & Vineyard—they decided to plant a four-acre vineyard there instead.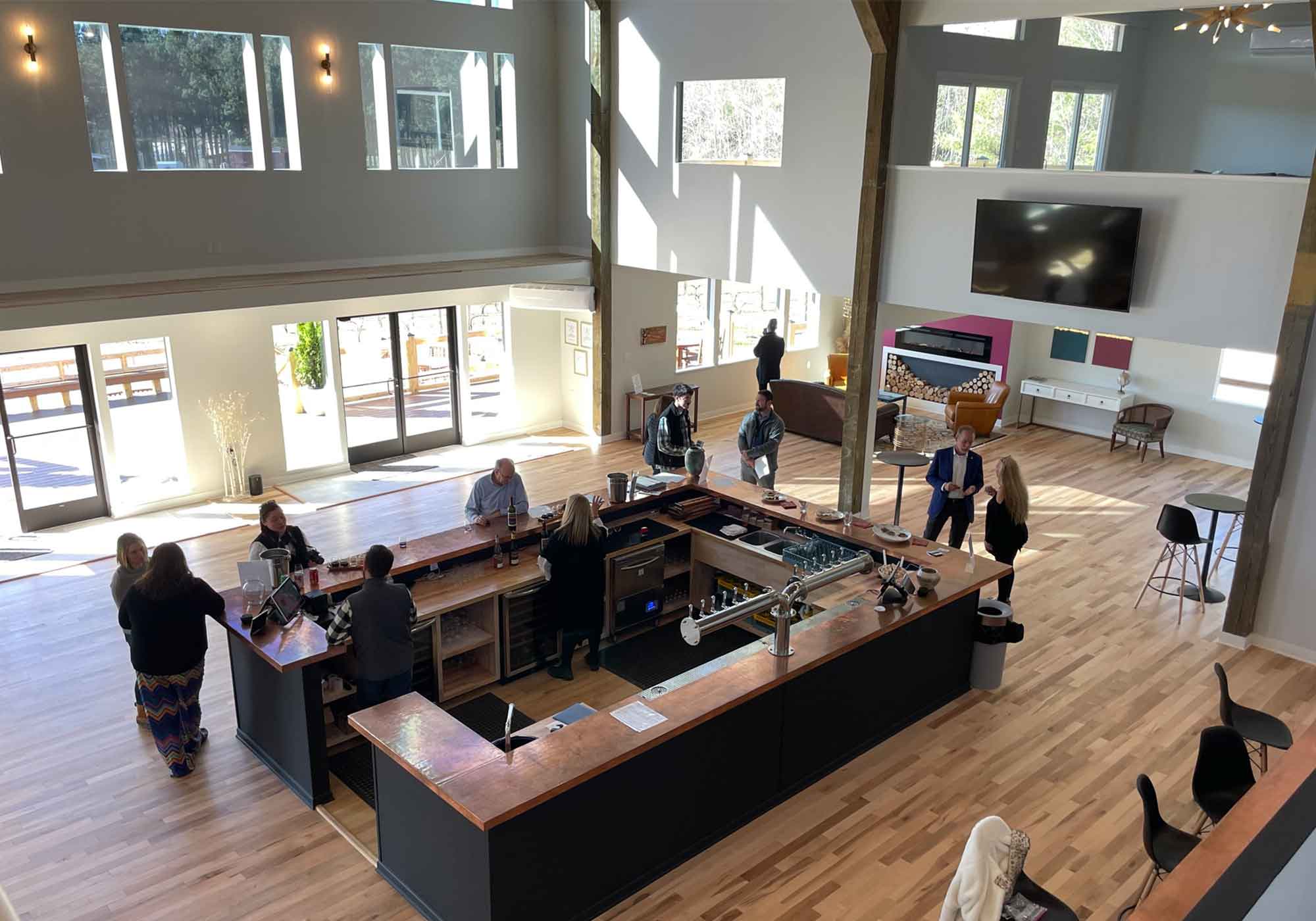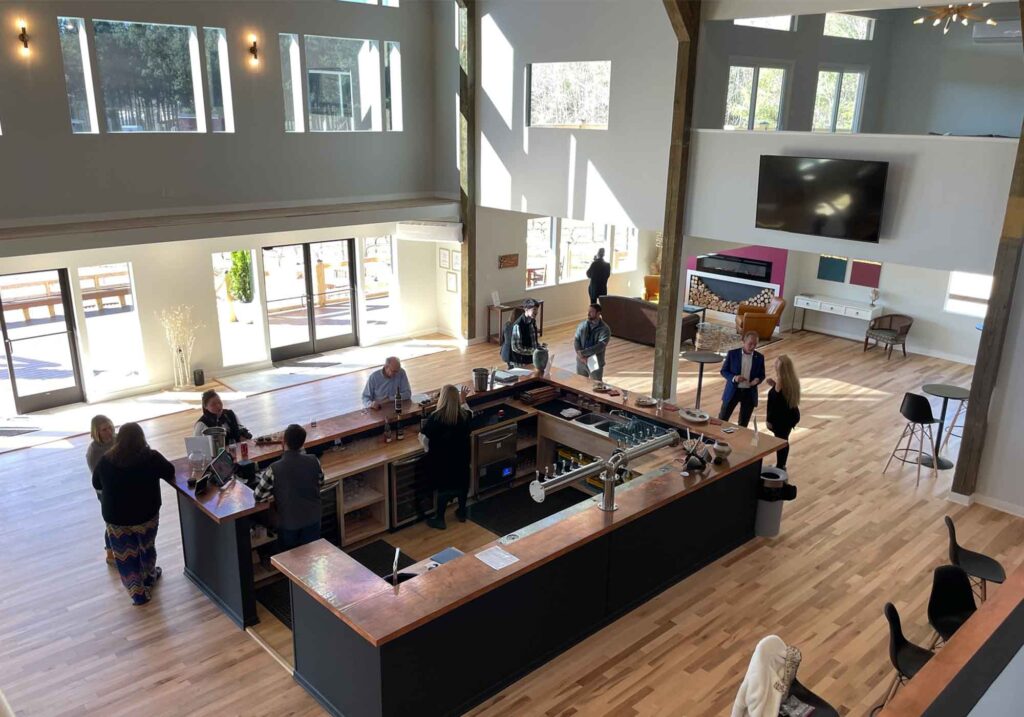 While the initial plan was to only sell grapes, the Evers shifted gears and decided to make their own wine. Since their son Ryan was a cider maker, Barbara and Joe added cider to the business plan. As brewing uses much of the same equipment as cider making, they later added beer to their growing roster. With each change the floor plan got bigger and bigger, with Everleigh Vineyards & Brewing Company finally opening in October 2022.
Plan your visit to Everleigh Vineyards & Brewing Company. The tasting room now spans three stories with a large patio. The first thing guests notice as they walk inside is the beautiful wooden bar topped with copper. Huge windows flood the interior with natural light. A baby grand piano awaits guests.
"Let's do something big and fun and showcase the vineyard," Barbara explained when giving a tour of the Everleigh Vineyards & Brewing Company tasting room. "We love a soaring ceiling and grandeur but we also wanted separate spaces for guests, so we have several distinct sitting areas."
Ryan has recently finished his second batch of ciders, including a dry champagne-like cider currently on tap. Peach and blueberry-lemon ciders are coming soon. The wine they produce includes Chardonel, Cabernet Franc, Petit Verdot, Merlot and a traditional-method sparkling Chardonel all made from estate grapes. Several beers are on tap.
Everleigh Vineyards & Brewing Company is open Friday through Sunday and allows children, as well as leashed pets outside.
Kalero Vineyard
A New Virginia Winery in Purcellville
It's easy for visitors to notice Kalero Vineyard. Wine lovers driving west past the town of Hillsboro, VA can see the 19th-century vineyard and barn on the hills above them. For years it lacked an opening sign, but this changed in 2022 when owner Ann Fortin made her wedding venue/tasting room available for limited events.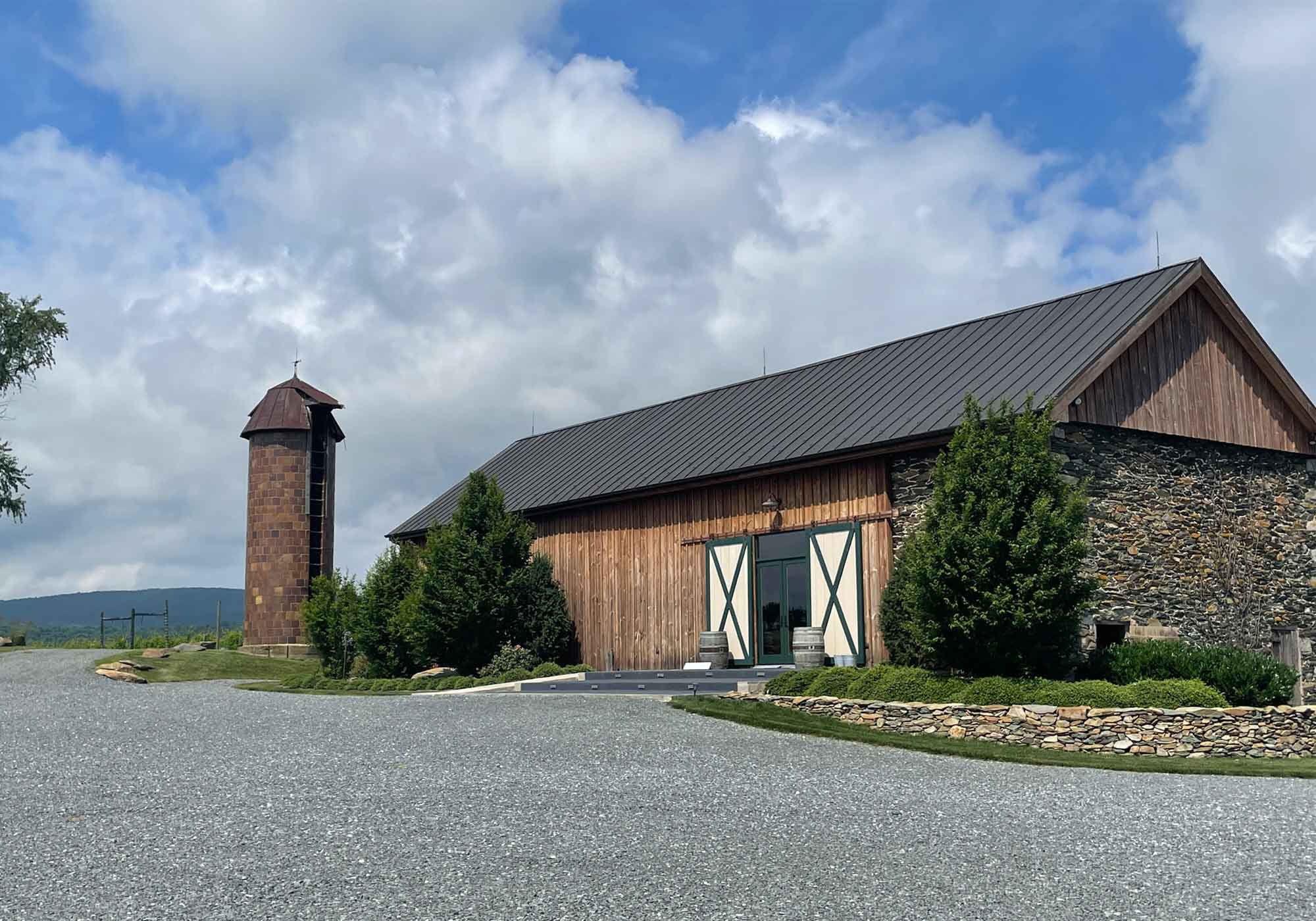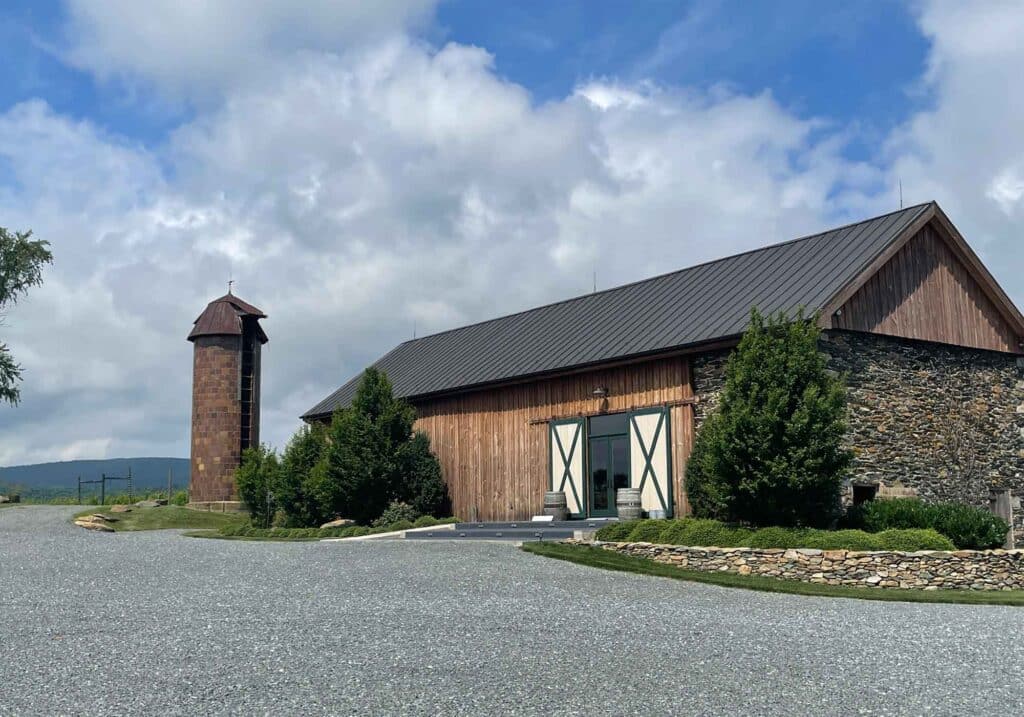 The main focus of the 130-acre farm is the historic barn, the cornerstone of which was set in 1834. The building is now called the Hearthstone Barn in honor of a heart-shaped stone discovered on the property by the owner's daughters. It houses Kalero Vineyard's tasting room, which has since gone through extensive renovations to become a blend of the historic and modern.
While showing the venue Fortin explained, "I want to keep the bones the same." But her interest in preservation go beyond architecture. "We are passionate about farming. It's a hard thing, but wineries are helping keep these old farms from development."
Plan your visit to Kalero Vineyard. Kalero Vineyard has 14 acres of vines including Viognier, Sauvignon Blanc, and several Bordeaux reds. These form the basis of their wines, almost all of which is estate-grown. Nate Walsh of Walsh Family Wine is now their winemaker.
While opportunities for wine tastings are growing, for now weddings remain their focus at Kalero Vineyard. Fortin is happy with this direction. "I love the hospitality aspect of the business since you get to be part of people's celebrations. I want people to have a good experience."
Kalero Vineyard is open on Fridays by appointment and also hosts periodic events.
Nicewonder Farm & Vineyards
A New Virginia Winery in Bristol
Nicewonder Farm & Vineyards may be the best Virginia wine and dining experience people don't know about. That's likely because it's located in Bristol, VA, a town literally divided between Virginia and Tennessee. Bristol is better known for its Appalachian scenery and coal-mining history than its vineyards, but times are changing. In the words of Culinary Director Travis Milton, Nicewonder Farm & Vineyards' mission is "to change the cultural perception of Southwestern Virginia."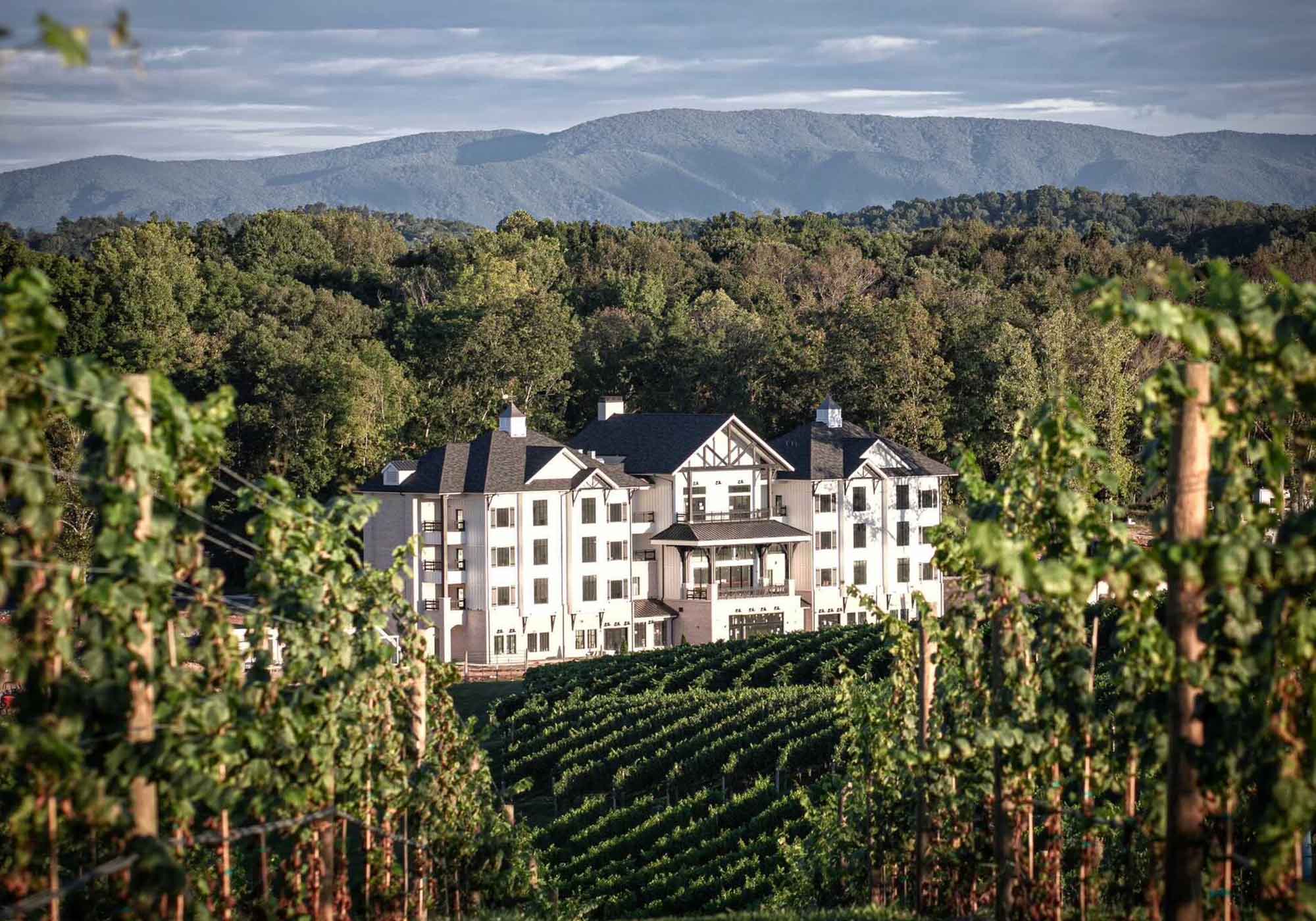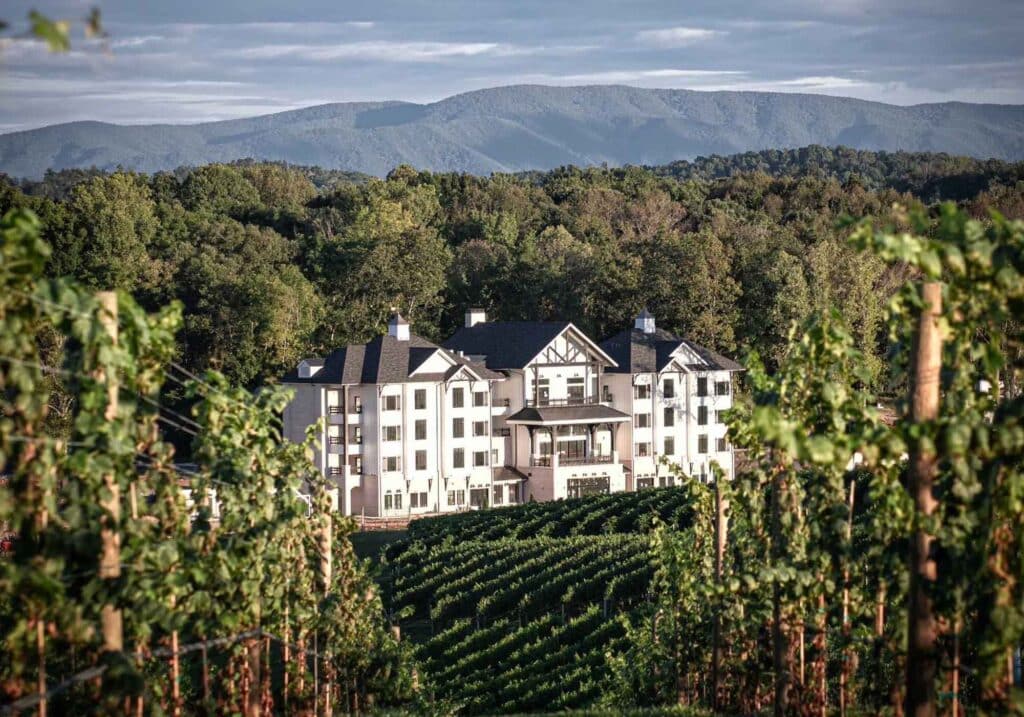 This mission is very personal for Milton. Born in the nearby town of Castlewood, VA, he developed a love of Appalachian cuisine from an early age. Travis traveled between kitchens around the country before joining the Richmond restaurant scene. It was here Milton was able to return to the dishes of his youth, or rather, an elevated version of it. He specializes in combining Appalachian tradition with a modern flair.
In 2019 Milton joined Nicewonder Farm & Vineyards, attracted to the idea of creating the dishes he loved at the cuisine's birthplace, local heirloom varietals and all.
Get to know the The Hickory Restaurant at Nicewonder Farm & Vineyards. Nicewonder Farm & Vineyards is just one part of a larger guest experience. Its sister property is The Virginian, an 18-hole golf course designed by world-renowned course designer Tom Fazio. While it has a 1,700 bottle wine cellar, guests can sample Viognier, Chardonnay, Merlot and Petit Verdot sourced from their 13-acre vineyard. Chef Milton and The Hickory Restaurant are getting lots of attention as they were recently featured on "Taste the Nation with Padma Lakshmi" on Hulu.
The most recent addition to the property may be their grandest—a 28-room hotel overlooking the vines, complemented by nine luxury yurts and Hickory, the hotel's fine dining restaurant. Guests can enjoy options ranging from golf and wine tours to poolside service.
Nicewonder Farm & Vineyards' tasting room is open Tuesday through Sunday. Hickory restaurant is open for dining seven days a week.
Oakencroft Vineyards
A Newly Reopened Winery near Charlottesville, VA
Albemarle County is home to a modern winery taking a sustainable approach to viticulture. Oakencroft Vineyards was the pioneer of commercial vineyards in Albemarle County. Felicia and John Rogan founded Oakencroft Vineyards, and Felicia worked passionately to get the modern Virginia Wine movement started, earning her the nickname "the First Lady of Virginia Wine." The winery closed when Mrs. Rogan retired, yet the farm continued to operate and the original grape vines were maintained. In 2018, Dorothy Batten purchased the farm with a particular mission in mind. In tandem with the tagline "Reawaken our connection to nature," Batten's goal is to transform the 250-acre farm into a working model of a carbon sink, where she aims to sequester more carbon than is emitted.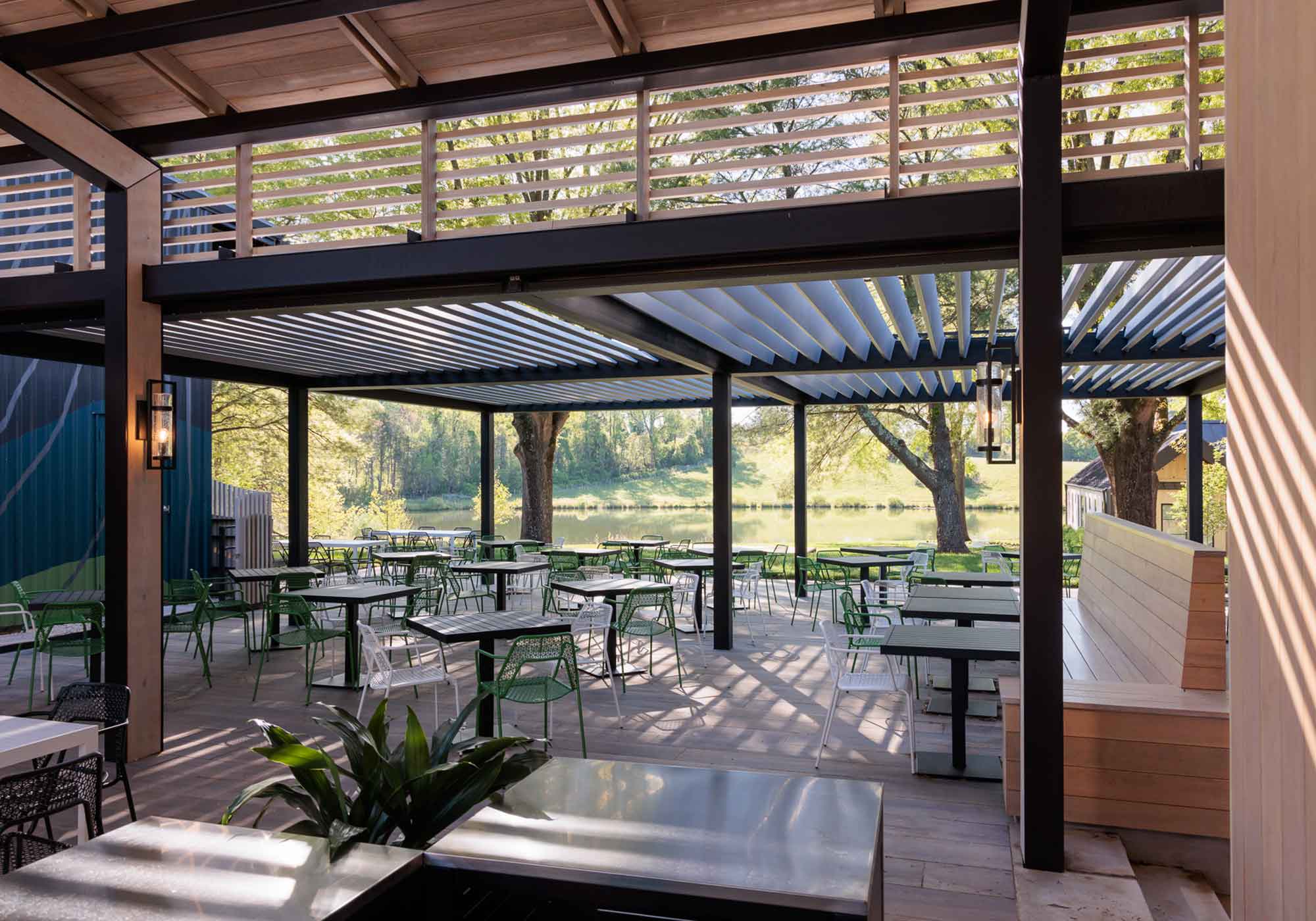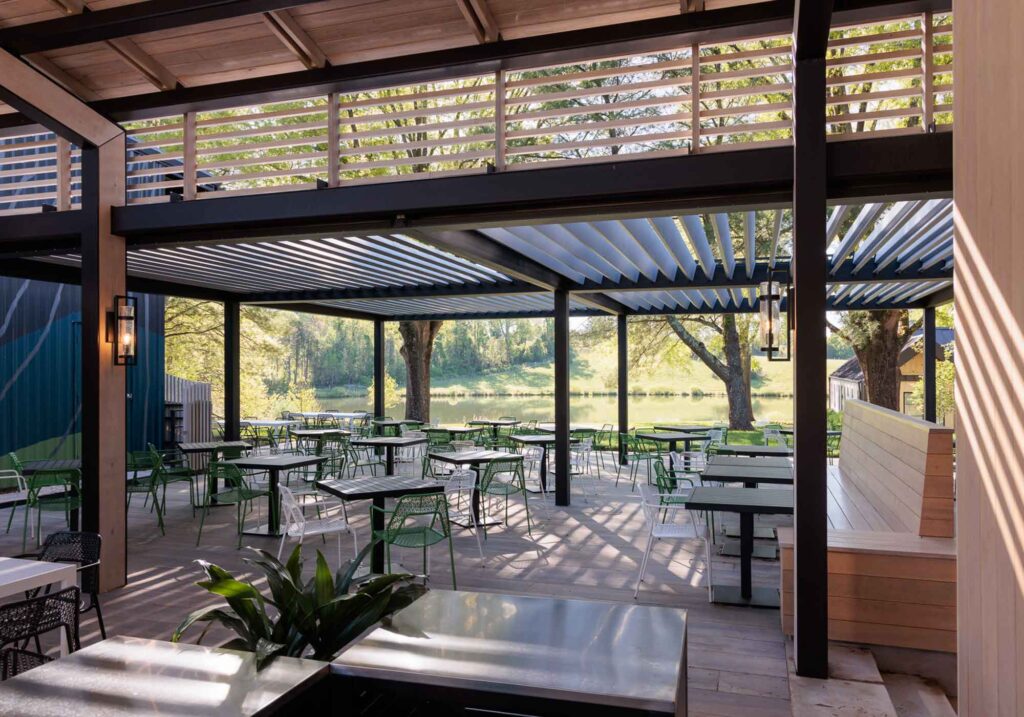 The 5-acre vineyard is surrounded by hundreds of acres of woodland, farmland and livestock pasture. All these areas are maintained with sustainable practices. The farm uses renewable energy, silvopasture, intensive rotational grazing, progressive vineyard management, composting, tree planting, rainwater collection, recycling, and hybrid winemaking to be eco-friendly. The sustainability practices extend to their guest facilities as well. Their Meeting Center will offer programming on Climate and environmental solutions, launching later this year. The Oakencroft Vineyards' Tasting Room is open to the public and is a joyful place to taste sustainably-made wine from both their vineyard and across the globe, while enjoying beautiful lake-side scenery on the covered patio. Oakencroft Vineyards' facilities run off of two solar arrays which offset all electrical usage, geothermal wells for heating and cooling, and rain water collected from roofs, which is used for the gray water system. The winery crushes all glass bottles used in the Oakencroft Tasting Room on site and table scraps are composted. To further its sustainability goals, the farm operates along the guidelines of regenerative agriculture and carbon sequestration.
Oakencroft Vineyard is a sustainable winery. One of the winery's adaptive techniques in sustainable agriculture that differs from the traditional viticulture process is its focus on wine from hybrid grapes. The classic trend is to cultivate genetically homogenous vines. Instead of following this pattern, Oakencroft Vineyard sources genetic material from a variety of vine hybrids. The hybrids' broader genetic diversity allows for the grapes to be stronger against disease and Virginia's variable climate and pests. Oakencroft grows five hybrid vines: Seyval Blanc, Vidal Blanc, Chambourcin, De Chaunac, and Merlot Kanthus. The triumph of Hybrid winemaking is setting the stage for the future of viticulture in Virginia.
The land and soil where the hybrid vines grow is important to Oakencroft Vineyards. They use methods that both improve the health of the soil and increase its ability to manage and store water during droughts and flooding. To combat pests, Oakencroft Vineyards uses an integrated pest management system. The farm manager uses beneficial plants, animals and insects, and compost to reduce chemical sprays and inputs. These tactics help the true beauty of nature to shine at Oakencroft Vineyard
Plan your visit to Oakencroft Vineyards. Oakencroft Vineyards is open to the public Thursday through Saturday for tastings, flights and light bites. Batten's adventure in sustainable viticulture is just the beginning. She hopes that regenerative agriculture practices will become the norm for all Virginia's farms and wineries.
Southwest Mountains Vineyards
A New Virginia Winery near Charlottesville, VA
Southwest Mountains Vineyards is a brand-new Virginia vineyard opening in Keswick at the end of September, 2023. The mission of the winery is to highlight the extraordinary terroir of Central Virginia's Monticello American Viticultural Area (AVA) with a team helmed by internationally recognized South African winemaker Boela Gerber.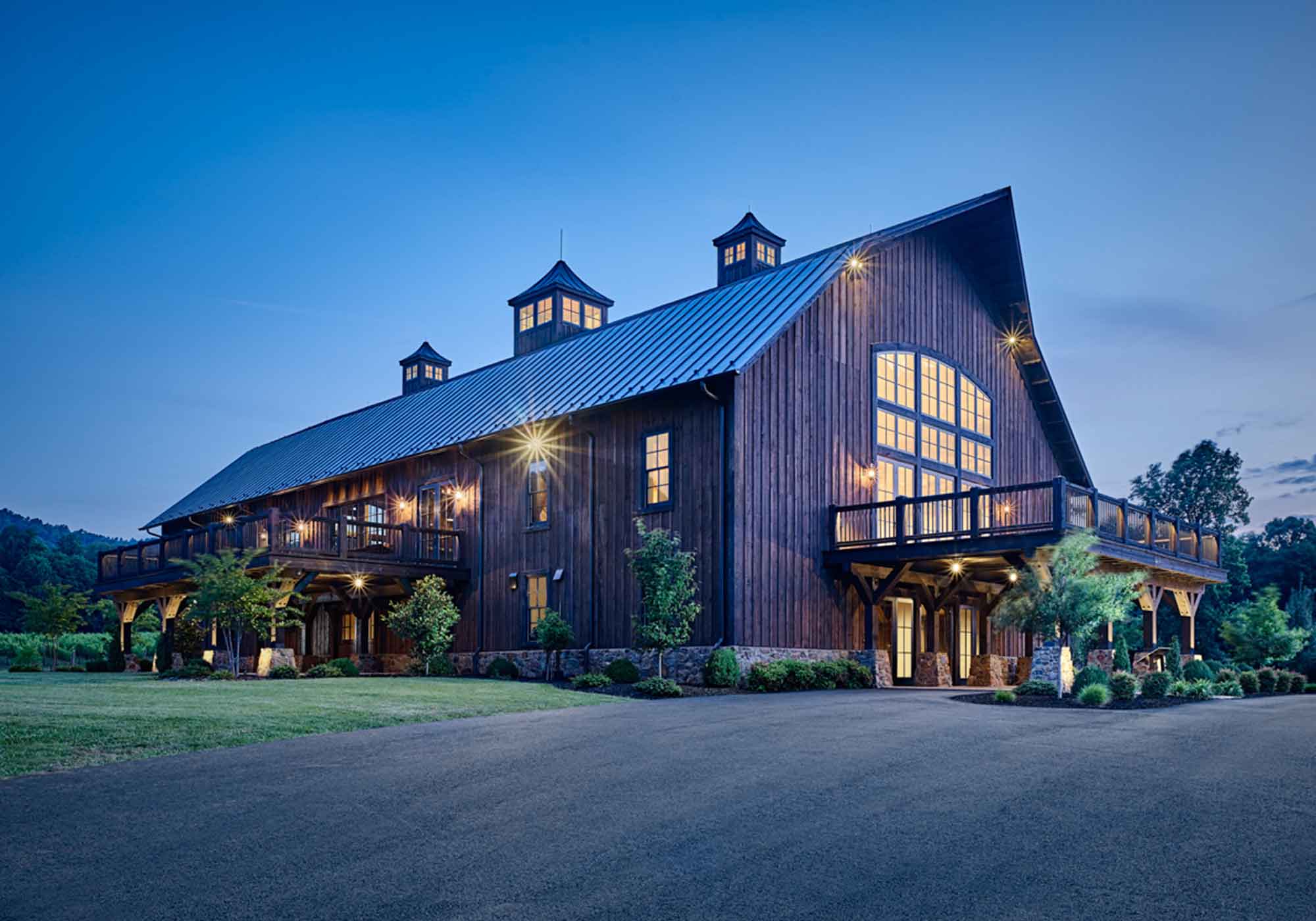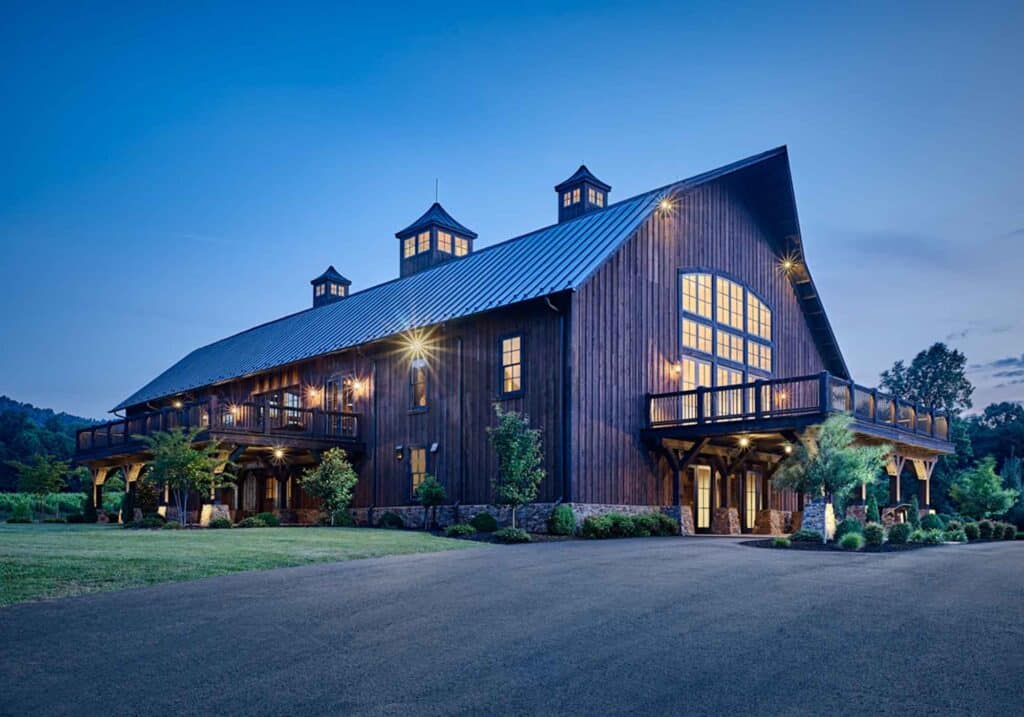 The expansive tasting room and state-of-the-art production facility were finished in the summer of 2023. In the tasting room, live-edge wood tables top wine barrel bases, and warm rough-hewn timber walls frame glass doors and picture windows with gorgeous views of the mountains the vineyard is named for. The team behind the winery has been cultivating vinifera grapevines on estate property since 2016 with plans to start additional acreage for a line of sparkling Chardonnay, something Gerber is uniquely suited for.
Boela Gerber moved from Cape Town to join the Southwest Mountains Vineyards' team. Gerber is an internationally renowned winemaker, formerly of Groot Constantia—the oldest wine estate in South Africa—where he worked for over twenty years building an elite, award-winning winery team. Gerber, who holds the coveted title of Cape Wine Master, told Virginia Wine & Country that his time working at Groot Constantia was a great privilege, but that he is looking forward to the challenges of working in an emerging wine region like the Monticello AVA.
Gerber also shared his appreciation of the South African wine industry's commitment to a mentorship system, something that Cape Town and South Africa have in common. Gerber's position at Southwest Mountains Vineyards will allow him to mentor generations of Virginia winemakers yet to come. It will be exciting to see his work at Southwest Mountains Vineyard and how he collaborates with other Virginia wine organizations, such as the Winemaker's Research Exchange, in order to further the mission to create terroir-specific Virginia wine.
Plan your visit to Southwest Mountains Vineyards. The vineyard's tasting room will officially open to the public on September 30th, 2023. Reservation options include their a traditional tasting flight accompanied by a seasonal food menu prepared by their in-house chef, seating at a reserved custom wine barrel high-top table or seating outdoors on their deck framed by the beautiful Blue Ridge Mountains. Make sure to make your reservations on Tock, and try to get them early: they have an official media opening planned for January, but visitors "in the know" can go immediately and experience the beauty and tranquility of this exciting vineyard before the true crowds begin to show up. Try the SMV 2021 Cabernet Franc, which Gerber describes as complex and layered, perfect for pairing with red meat.
Virginia Wineries & Vineyards That Opened in 2021
2021 was a great year for Virginia wine. Late summer rains faded into a dry spell that allowed most vineyards to harvest what promises to be a strong vintage. Business boomed due to record numbers of wine lovers visiting the countryside in search of scenic outdoor spaces. But perhaps most tellingly, a number of new tasting rooms opened their doors, bringing Virginia to over 300 wineries across the state.
MATTHEW FITZSIMMONS is a Virginia-based wine writer and blogger who has visited nearly every winery in the DMV – most of them twice.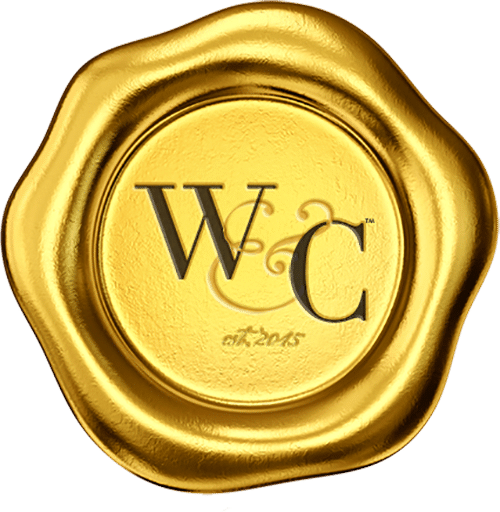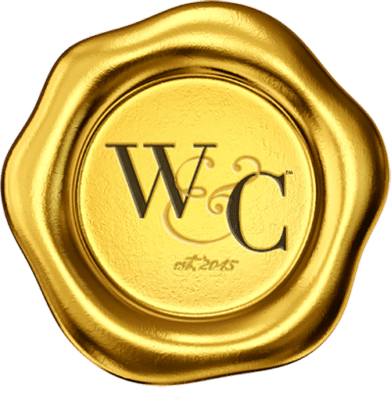 Virginia Wine & Country celebrates elevated living in Virginia Wine Country. Virginia Wine & Country Life is a semi-annual luxury print magazine with a full digital presence. The Virginia Wine & Country Gold Book is an annual guide to the top award-winning wines, wineries and experiences in Virginia Wine Country. The annual Virginia Wine & Country Wedding Planner is an art book of elegant Virginia weddings. The brand includes the Virginia Wine & Country Shop in Ivy, Va. It is a beautiful lifestyle boutique that brings the pages of the magazines to life. Virginia Wine & Country tells the stories of Virginia wineries, the farm-to-table movement, luxury travel, entertaining, art and the elegant country lifestyle. Ivy Life & Style Media also provides branding, web design and PR services for the wine industry.