The Palladio Restaurant at Barboursville Vineyards is known for its Italian-inspired cuisine, prepared using locally sourced ingredients. The award-winning vineyard is famed for their wine-paired meals and for special themed dinner events held throughout the year, an opportunity even available to those looking to host private business events and dinners at the picturesque vineyards. They took their exquisite culinary experience to an entirely new level this spring with their Tuscan Dinner Event. This collaboration with their sister vineyard Castello di Albola in the Chianti region of Tuscany explored culture, cuisine and viticulture — a taste of Italian wine dinner traditions served up in the heart of Virginia Wine Country.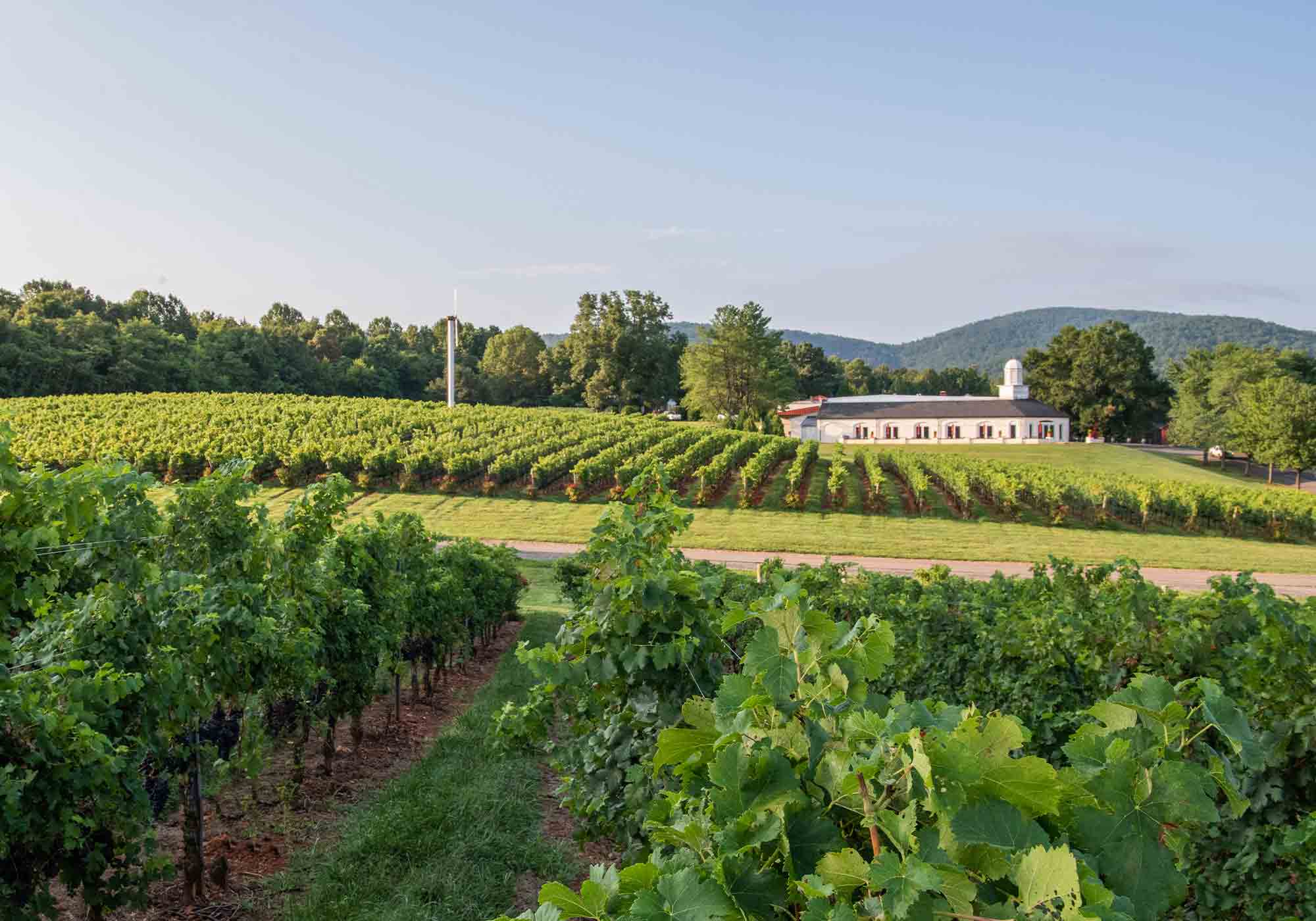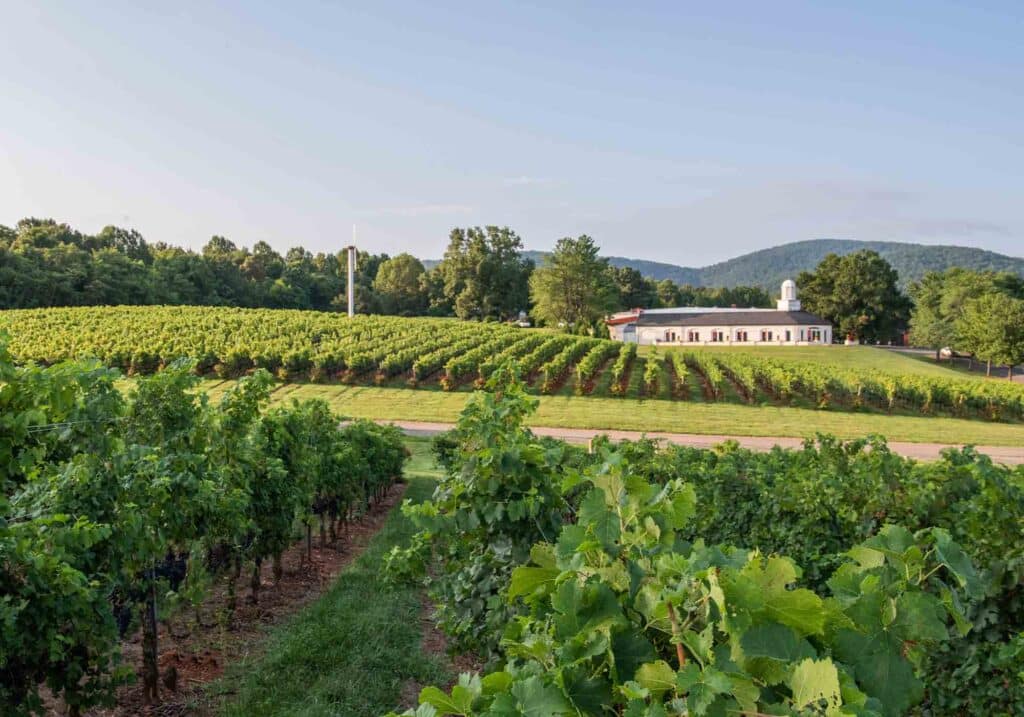 The world-renowned Zonin wine family of Italy had a vision for Virginia when they established Barboursville Vineyards in 1976
. The groundbreaking efforts of founder Gianni Zonin
are still felt
nearly
50 years later
. Barboursville Vineyards is Virginia's leading wine estate.
With an over 200-year history of winemaking in Italy and beyond, the Zonin family continues to manage both their Italian wine estates and the Virginia Wine Country property with an eye toward perfection
.
For the Tuscan Dinner Event, Chef Alessandro Chiesa flew in from Europe to team up with Palladio's Executive Chef Michael Clough to prepare a five-course feast of traditional Tuscan dishes
.
Each course
was paired
with Italian wines from Castello di Albola that complemented the rich and savory flavors, creating an unforgettable experience for guests.
Palladio Restaurant
Palladio Restaurant
is an experience in and of itself, not
just
a showcase for
Barboursville Vineyards' excellent wines.
Established in 1999 under the leadership of native Italians Luca Paschina (winemaker) and Gianni Zonin, Palladio
is regarded
as one of Virginia's finest restaurants
.
Paschina, who also serves as the Vineyards' general manager, is one of the most decorated winemakers in Virginia Wine Country
.
Both he and Palladio's Maître d' Alessandro Medici have earned the impressive title of Sommelier Professionista from the Associazone Italiana Sommeliers
.
Earning the Sommelier Professionista title is a remarkable achievement requiring considerable skill and intensive study
.
Medici and Paschina both grew up in Northern Italy and now work in close concert with Palladio's Executive Chef Michael Clough
.
Although the only of the three not born and raised in Italy, Chef Clough creates and serves exceptional classic Italian cuisine
.
The chef's dishes pair with wines from either their own vineyard or imported from Castello di Albola
.
Although continents apart, Barboursville Vineyards staff
regularly
visit the Tuscan estate and the relationship between the wineries stays strong
.
The wines selected for pairings throughout the Tuscan dinner event were brought in from the Tuscan estate, except for the dessert wine, Barboursville Vineyards' award-winning, Virginia-grown Paxxito. Sommelier Medici, who began his career at the Castello di Albola estate, is very familiar with the beautiful Tuscan wines. He was invited by the Zonins to work at Palladio in 1998 when the restaurant was still in its planning stages. His longstanding history of excellence at Barboursville Vineyards as well as his intimacy with the wines of both properties was evident throughout the meal. Medici and his staff worked with chefs and winemakers to finalize the Italian wine dinner menu and to make sure that guests enjoyed the elevated and exquisite dining experience the Palladio team is renowned for.
Francesco Zonin Attends the Barboursville Vineyards' Tuscan Feast
To add yet more caché to the event, both Castello di Albola's winemaker Alessandro Gallo (seen below at right) and President of Barboursville Vineyards, Francesco Zonin (seen below at center), accompanied Chef Chiesa to Virginia. Francesco is the second son of the founder of Barboursville Vineyards, Gianni Zonin, who ran the family's 200 year old company — Zonin 1821, the largest privately held wine company in Italy — for 47 years. Now Francesco works alongside his older brother Domenico and younger brother Michele to run the Zonin family's wine empire as the Executive Vice President of the family company and the chairman of their US subsidiary, 1821 Fine Wines & Spirits, a Zonin Family Company.
Before joining dinner guests to participate in the even, Francesco, who took over as President of Barboursville Vineyards in 2017, joined Paschina and Gallo in the cellar to sample some of the property's latest vintages. The Italian team played two roles at the dinner, as both representatives of the Italy-based business and as cherished guests.
Virginia Wine Country owes a good deal to the Zonin Family. Gianni Zonin's decision to found Barboursville Vineyards on the ruins of the home of Governor James Barbour – a contemporary of Thomas Jefferson – marked the state's first steps into what has become a winemaking renaissance. Barboursville Vineyards, helmed by the highly decorated Paschina, has continued to be both an industry standard and an inspiration to young up-and-coming winemakers. The expertise and oversight of Francesco Zonin and his family, along with the unmatchable teams they have put together to run the vineyards, have earned them a warm welcome whenever they visit their estate here in Virginia.
Crossing Boundaries with Cuisine
The Tuscan dinner event wasn't the first time Chefs Clough and Chiesa have worked together, but it was still incredible to see the cohesive effort put forth by these two culinary artists who live worlds and languages apart. Wine and food flowed, blending and enriching flavors, cultures and people. The chefs and staff learned from one another and enjoyed each other's company while creating something magnificent for the guests in attendance. The chefs' and winemakers' shared knowledge and insights provided guests with a deeper understanding of the flavors, techniques, and cultural significance behind each dish and wine pairing.
The Tuscan dinner at Barboursville Vineyards, inspired by traditional Tuscan cuisine and expertly prepared by Chef Chiesa (above top left, left) alongside Palladio's Executive Chef Michael Clough (above top left, right, and above right), left guests in awe of the flavors and culinary craftsmanship. Chiesa's and Clough'a cross-cultural collaboration was a testament to the power of culinary fusion. By combining their expertise and passion for Tuscan cuisine, they successfully crafted a menu that paid homage to traditional flavors while incorporating local and seasonal ingredients from Virginia.
Starting a Tuscan Feast
The evening commenced with a tantalizing dish called Zuppetta Etrusca. This Tuscan soup of black kale and baccalà offered a harmonious blend of flavors and textures. The accompanying crispy farm-raised guanciale added a delightful crunch. To enhance the culinary journey, the Rocca di Montemassi Vermentino 2021 was elegantly paired, accentuating the delicate nuances of the soup.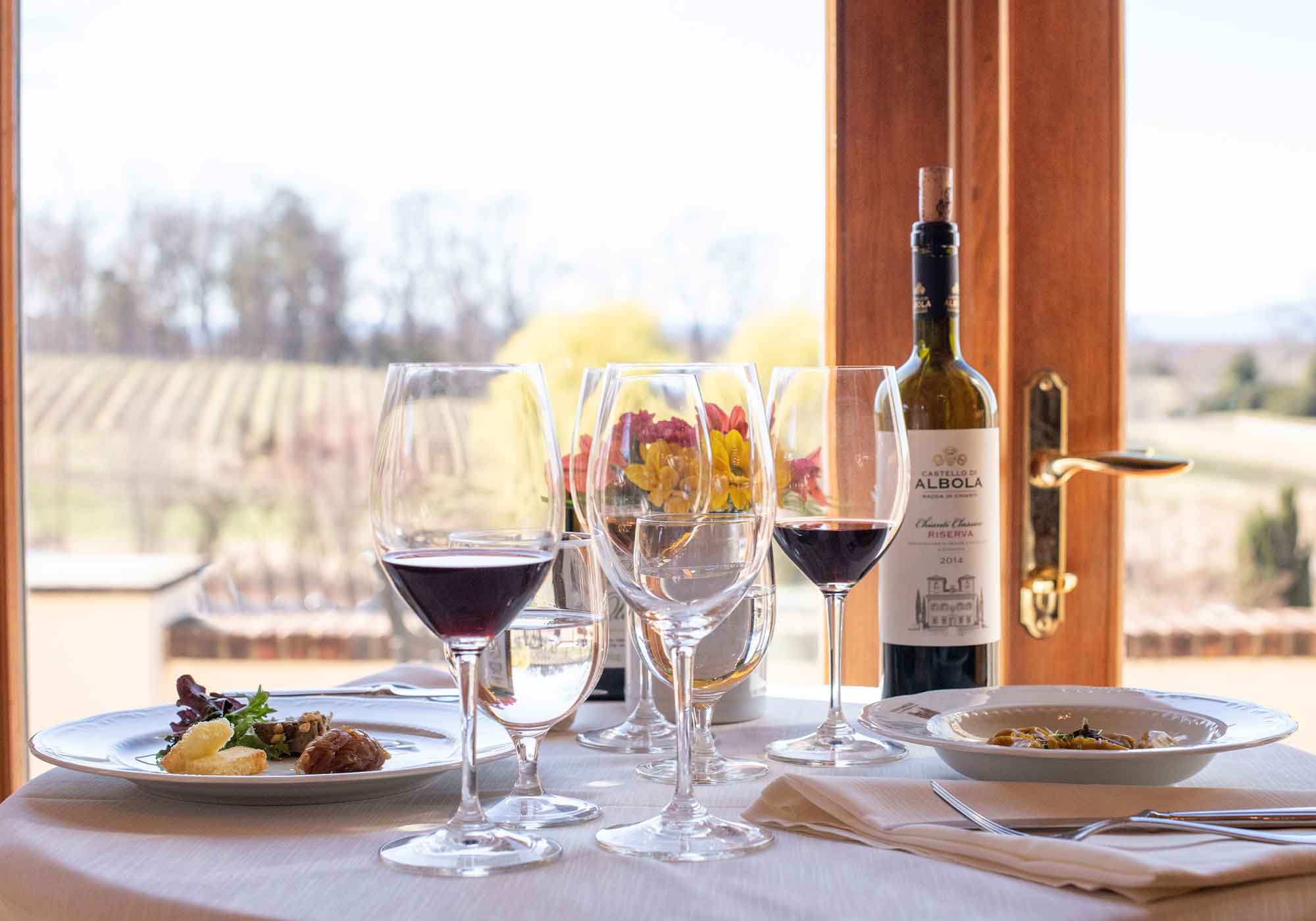 For the next course, guests were treated to a Terrina di Fegatini. This organic chicken liver terrine, infused with dry figs and accompanied by red onion jam, delighted the palate with its complex flavors. The dish was thoughtfully served with Castello di Albola extra virgin olive oil brioche, perfectly complementing the richness of the terrine. The Malvaxia Passito 2001, a luscious dessert wine, provided a delightful contrast to the savory course.
Chef Chiesa had prepared a list of ingredients needed for the dinner and repeatedly commented on the outstanding caliber of the local ingredients available for the culinary experience. This is a high compliment coming from a well-respected chef who works in a country that wholly embraces the "slow food" movement. Paschino (seen below) discussed the wine pairing at the serving of each course.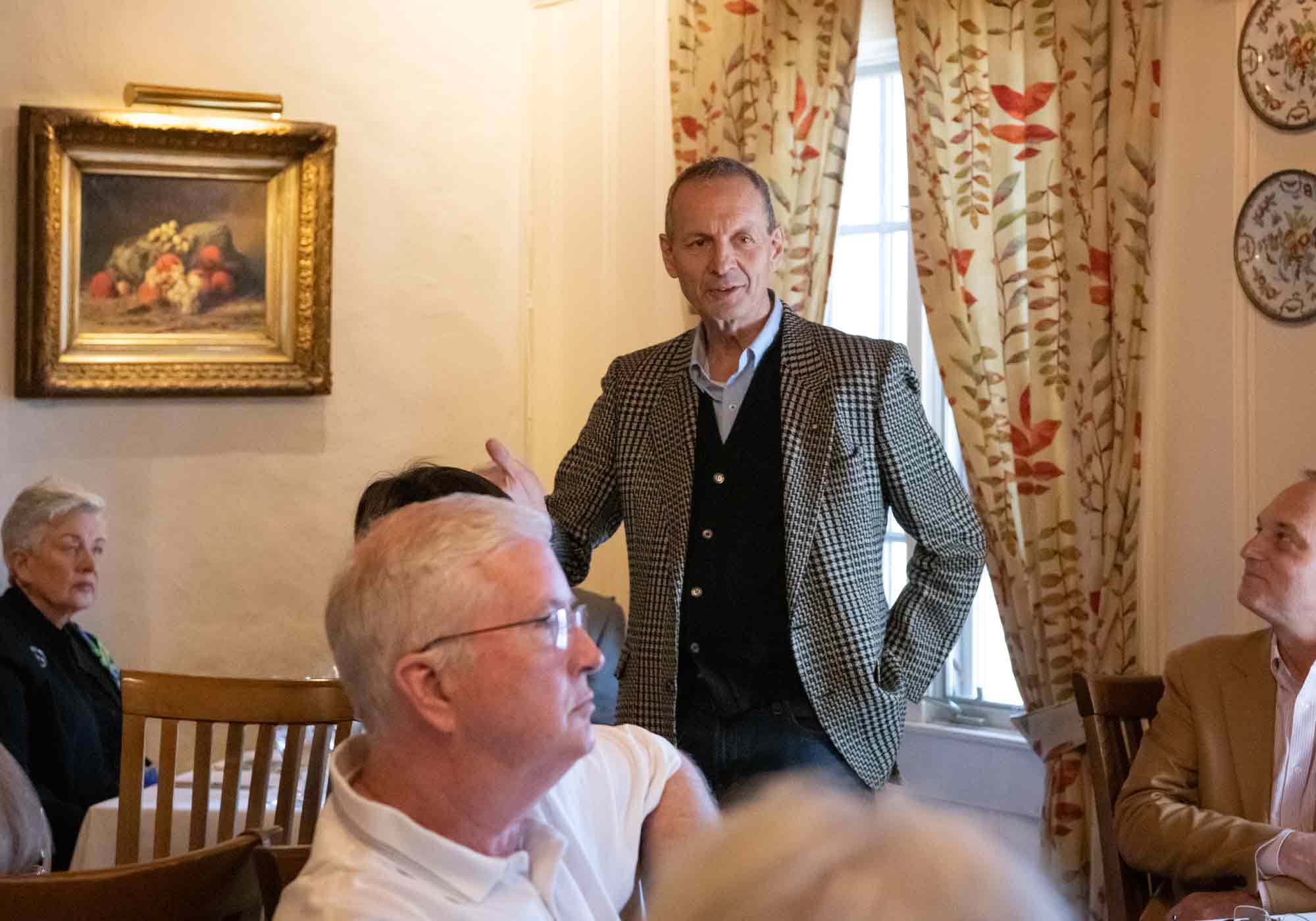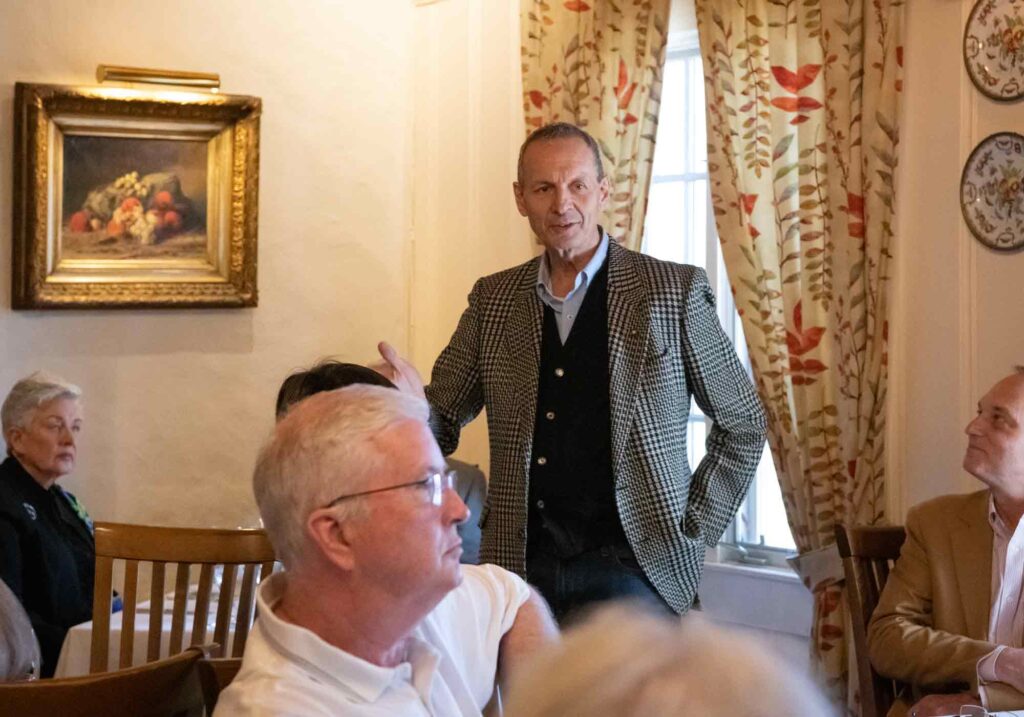 Main Courses at a Tuscan Dinner
Next, the culinary journey reached new heights with Roasted Squab Tortelli. The handmade pasta enveloped a delectable filling of roasted squab, while the Chianti Classico squab reduction and candied lemon provided a vibrant and tangy accompaniment. The rich flavors of Castello di Albola Chianti Classico Riserva 2014 created a synergy with the elegant pasta.
The main course featured a true Tuscan classic: Peposo di Cinghiale, a succulent wild boar stew. Slow-cooked to perfection, the tender meat was served with a delicate winesap apple puree and a mille-feuille of golden Yukon potatoes. The Castello di Albola Solatio 2015, a single vineyard Sangiovese, elevated the dish with its robust character and balanced tannins.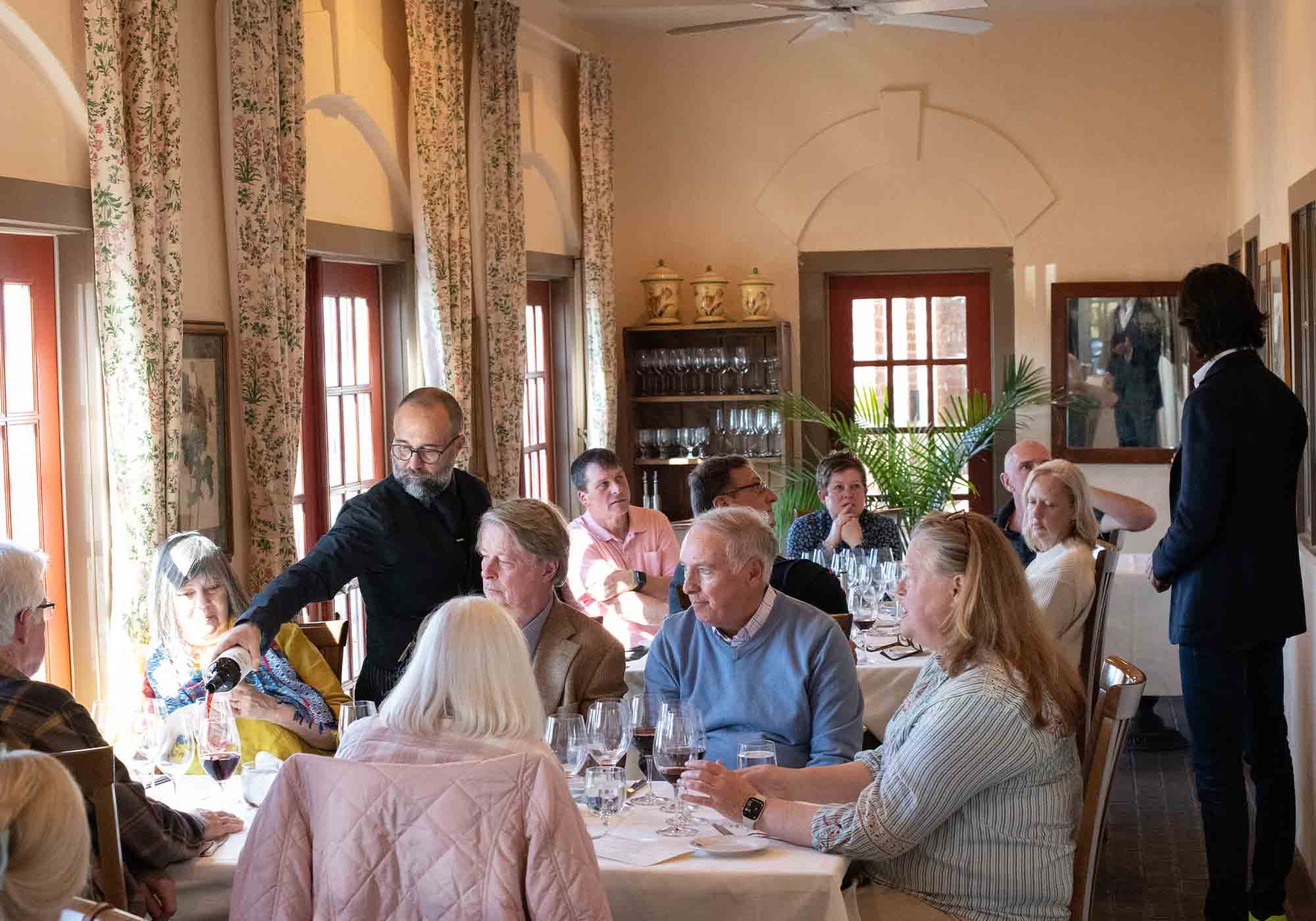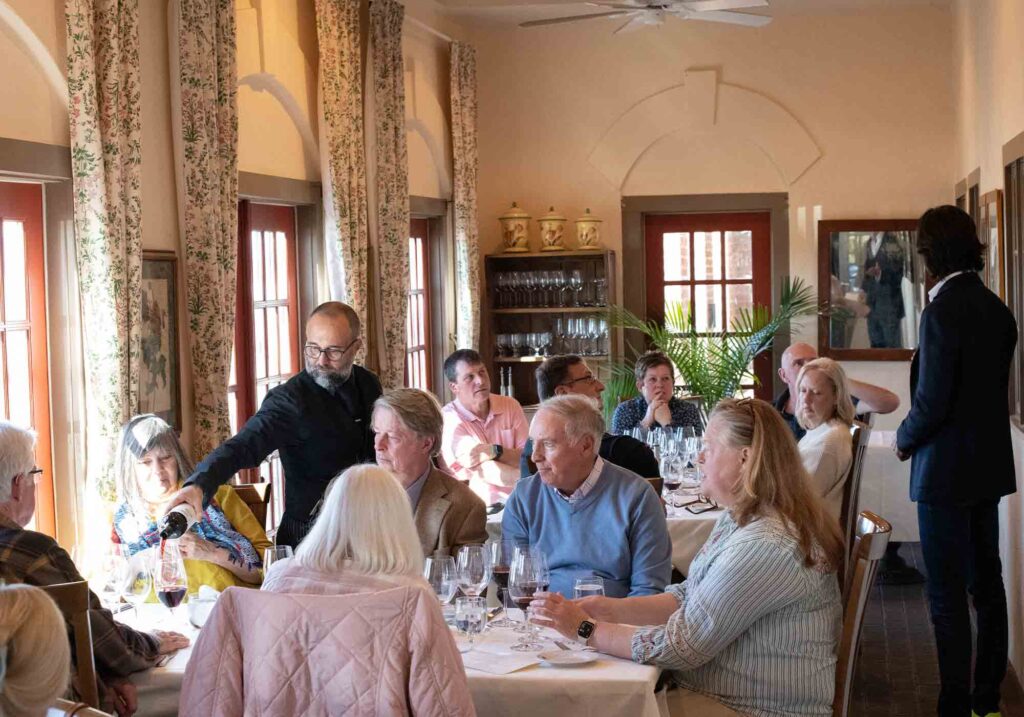 While Medici poured the selected wines for each course, Francesco addressed the guests, giving insights into the wine pairing and into the culture of Tuscany in specific and Italy as a whole. Guests' high expectations were met and exceeded. To have the Chianti region brought to guests in such a relaxed and gorgeous atmosphere was a recipe for a truly delectable evening.
A Classic Italian Dessert Course
Capping off the magnificent culinary experience was the Budino de Medici. Guests savored this luscious local egg custard dessert, which was adorned with caramel, almonds and raisins soaked in Barboursville Vineyards' estate grown Paxxito dessert wine.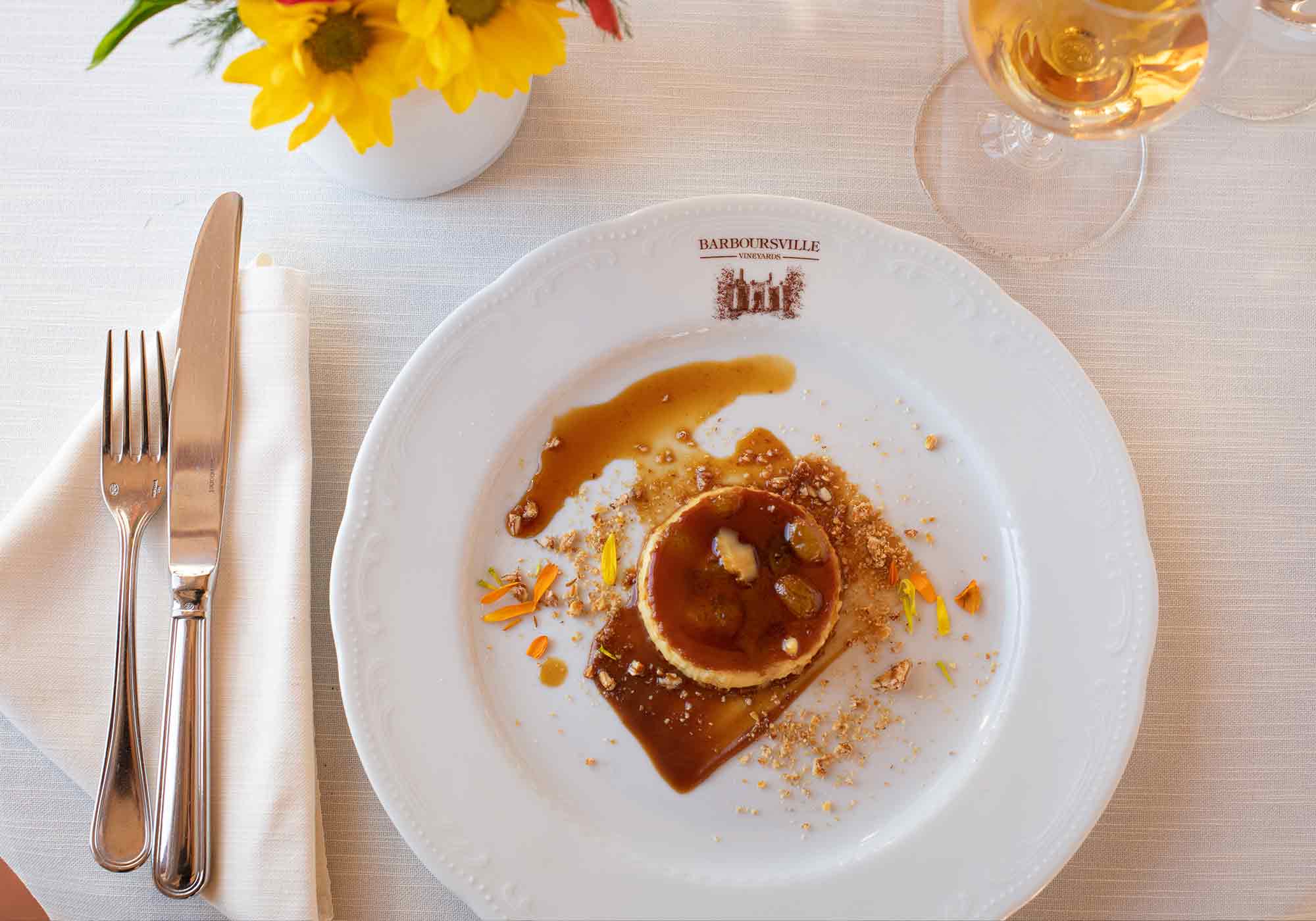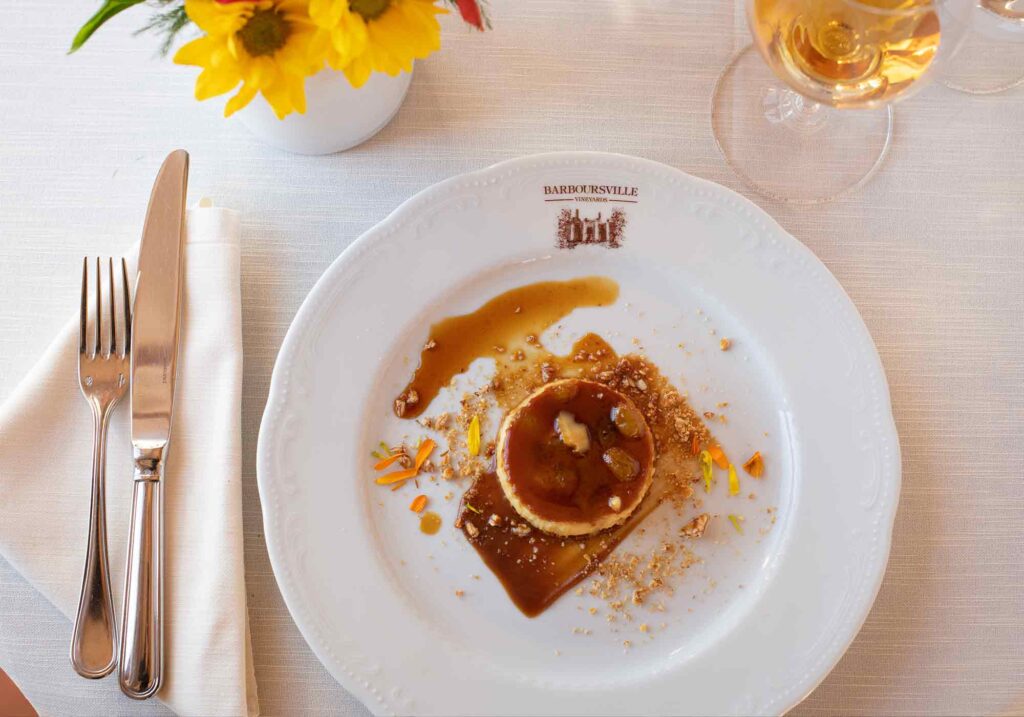 The Barboursville Vineyards Paxxito 2004, with notes of honey and dried fruits, provided the perfect accompaniment to this decadent finale. The indulgent treat provided a sweet farewell to the unforgettable evening.
The Annual Barboursville Vineyards Truffle Feast
"I grew up eating truffles in Northern Italy. They're really very special," says Paschina. Truffles are as much a way of life for Paschina as winemaking. The son of a winegrower, Paschina knows both wine and food well and has an extraordinary palate. "Wine and food are to always be enjoyed together," he notes. For the Palladio Restaurant, finding reasons to celebrate both within the company of friends and family are what drive the staff to creating these uniquely special feasts.
Truffles are an exceptional delicacy that locals might crave, but they are rare in Virginia and can't quite compare to the subtle delicacy of the exceptional European varieties. Knowing this, Paschina enjoys bringing them to Virginia Wine Country each year to share with guests at the vineyard's popular annual Truffle Feast. Every fall, Chef Michael creates a four course dinner with the exquisite truffles and Sommelier Medici then pairs them with Barboursville wines that complement the earth tones and flavors. This special event gives locals a unique opportunity to experience the prized truffle right here in Virginia Wine Country.
The Truffle Feast, a popular annual tradition for many years now, brings in guests who have attended one or more the winery and restaurant feasts for many years and enjoy the tremendously welcoming nature of Medici, Clough and Paschina.
Palladio Picnics
A perfect winery day near Charlottesville can be spent at Barboursville Vineyards, enjoying their wine and the food from their acclaimed Palladio Restaurant. You may bring your own picnic to enjoy on the Barboursville Vineyard grounds and purchase wine on site, or order an ever-changing "Trattoria-style" menu created by Palladio's Chef Michael Clough. Curated charcuterie and cheese boards may be enjoyed in Library 1821, alongside a flight of their best wines. The menu is offered from 11am-4pm every day.
Barboursville does not permit guests to bring their own food into the tasting room, but they are more than welcome to do so outside on the grounds. The outside seating is pet friendly as well as long as all dogs are kept on a leash. Palladio additionally offers delicious to-go picnics that include their wine and curated food pairings from the restaurant menu. Shakespeare at the Ruins, an outdoor summer performance of rotating Shakespeare plays by local Four troupe County Players, is performed every other summer at the ruins of the Governor's mansion. Palladio curates special baskets for the shows, inviting guests to picnic before the open air production begins. This Shakespeare collaboration between Four County Players and Barboursville Vineyards began in 1990, but the summer tradition had to take a hiatus after 2006 in order for the historic building to undergo repairs. The COVID-19 pandemic lengthened the hiatus yet again, but the Players returned in triumph for their 2022 season and plan to continue the biennial show, with the next season slated for summer of 2024.
Palladio Restaurant's 20th Anniversary
Palladio Restaurant celebrated its 20th anniversary in October of 2022. As the premier vineyard restaurant in Virginia Wine Country, their attention to terroir for both food and wine has set a high bar for excellence. Palladio welcomed members of the Charlottesville viticulture community to commemorate 20 years of leadership in hospitality, dining and winemaking. The Zonin family showed up as guests of honor, including founder Gianni Zonin (seen below left) and Francesco Zonin (seen below right, with Paschina at center.) Gabriele Rausse, who helped found the original acreage at Barboursville Vineyards, was also in attendance. Famed Michelin-starred chef Patrick O'Connell of the Inn at Little Washington was also there to offer his congratulations.
At the anniversary celebration three stunning courses were served. Winemaker Sommelier Alessandro Medici paired a 2006 Viognier Reserve with North Carolina yellowfin tuna. Medici followed that with three awarded wines from the Vineyard's cellar: the Cabernet Sauvignon Reserve 1998 from Double Magnums, the Octagon Fourth Edition 1999—the year Palladio opened—and the Octagon 200th Anniversary Edition 2010. The main course of licorice-glazed Retreat Farm lamb chops, supernova sunchoke puree, roasted Bella di Napoli squash and fairytail eggplant was partnered delicately with the two Octagon wines. The celebration rounded out with the dessert course, which was paired with Malvaxia Reserve 2003. The dessert course was a medley of traditional tiramisu, a chocolate and Piedmontese hazelnut bunet and a Feudo Principi di Butera extra virgin olive oil cake with candied orange and Elysium citrus honey whipped cream. The honors continued on throughout the night, with dedications to the executive chef Spencer Crawford and the Zonin family. A beautiful night with exquisite food alongside fantastic wine was the perfect way to celebrate the Palladio Restaurant.
Dinner Events at Barboursville Vineyards
The "Dinner in Tuscany" event is one of many dinner events the restaurant and winery host. Some of their most popular annual events include their Italian Harvest Feast, the Annual Truffle Feast and various holiday events around Thanksgiving, Christmas and New Years. The Tuscan Dinner event was be followed by another regional Italian dinner event, "an Evening in Sicily," where Barboursville Vineyards' wines will be paired with Chef Clough's four-course feast of traditional Sicilian dishes.
Barboursville Vineyards continues to be a destination for culinary enthusiasts and wine connoisseurs seeking unique and memorable experiences. With their commitment to excellence and innovation, the vineyard's events, such as this Tuscan-inspired dinner, demonstrate their dedication to providing guests with extraordinary culinary journeys. ~
ABBY MEREDITH ARMISTEAD is a lifelong equestrian, an artist, and a Double Hoo. Abby spends her time freelance writing and running her stationery company.
R. L. JOHNSON is our Co-Publisher and Creative Director. She studied at the prestigious ArtCenter College of Design and began her career as a professional photographer in Los Angeles. She moved into graphic design and art direction when she relocated to Charlottesville in 1994. As our company's co-founder and visionary, she enjoys all aspects of storytelling.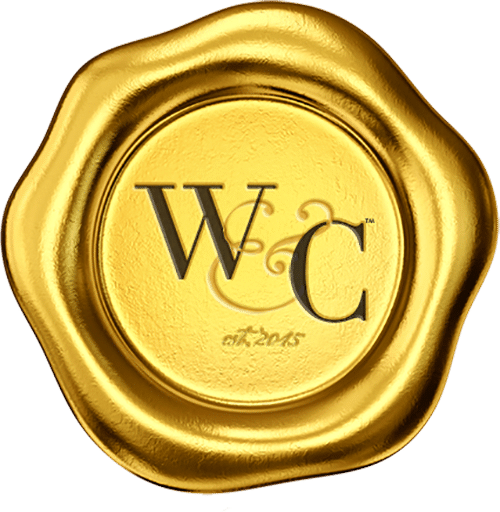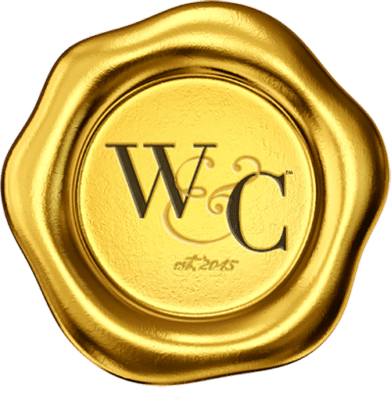 Virginia Wine & Country celebrates elevated living in Virginia Wine Country. Virginia Wine & Country Life is a semi-annual luxury print magazine with a full digital presence. The Virginia Wine & Country Gold Book is an annual guide to the top award-winning wines, wineries and experiences in Virginia Wine Country. The annual Virginia Wine & Country Wedding Planner is an art book of elegant Virginia weddings. The brand includes the Virginia Wine & Country Shop in Ivy, Va. It is a beautiful lifestyle boutique that brings the pages of the magazines to life. Virginia Wine & Country tells the stories of Virginia wineries, the farm-to-table movement, luxury travel, entertaining, art and the elegant country lifestyle. Ivy Life & Style Media also provides branding, web design and PR services for the wine industry.