Getting tired of your decor? Need some inspiration? Step inside a local, artistic home that is brimming with style and flair, perfect for spring. Go ahead, steal an idea or two to give your space a floral refresh today!
A Sophisticated Colonial Home
Nestled within a woodland setting of poplars and oaks in Ivy lies this homeowner's gracious colonial home. The front path, lined with herringbone brick, leads to a lovely portico framed with stately pillars. The red door, accented with evergreen planters, adds to its all-around welcoming appeal.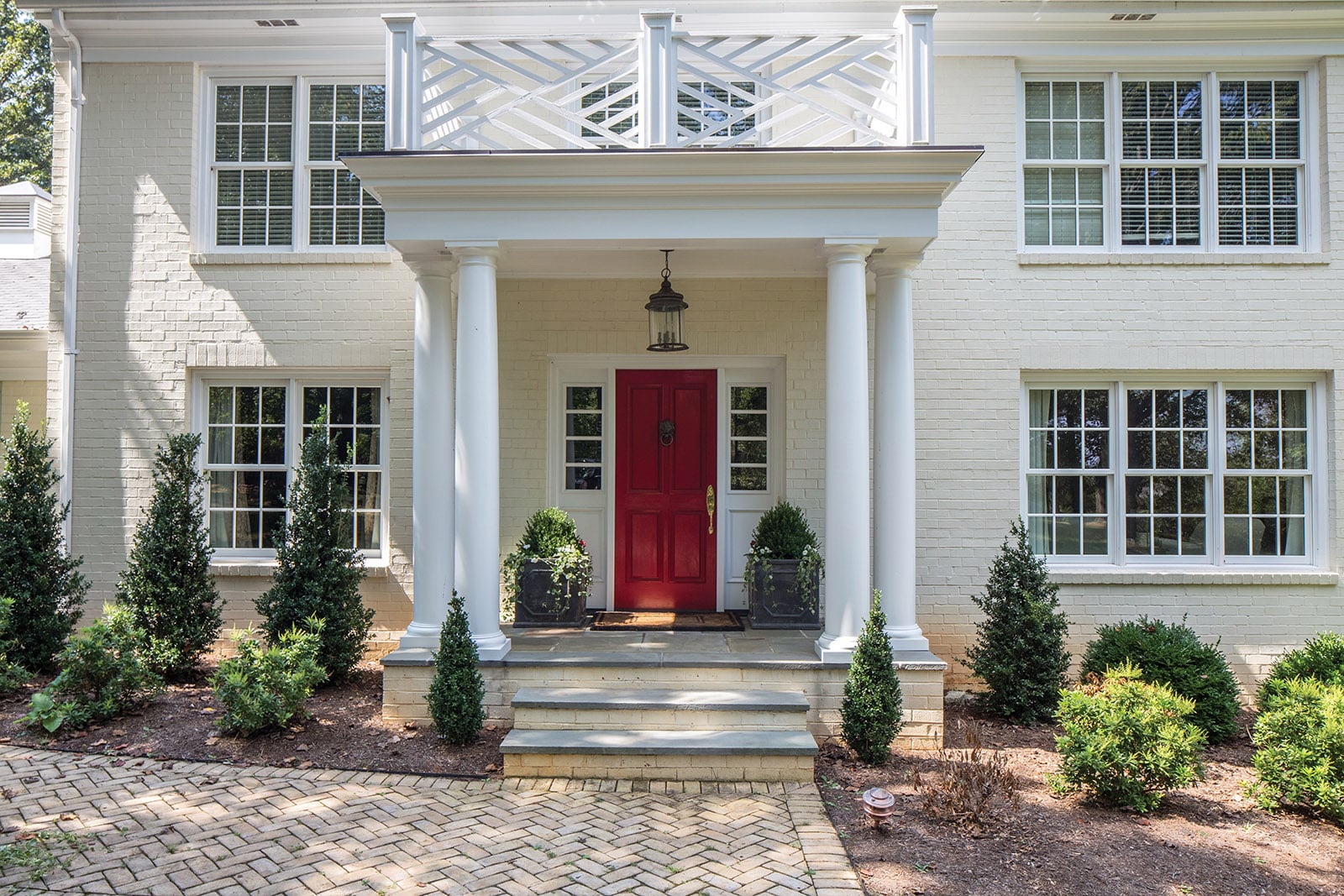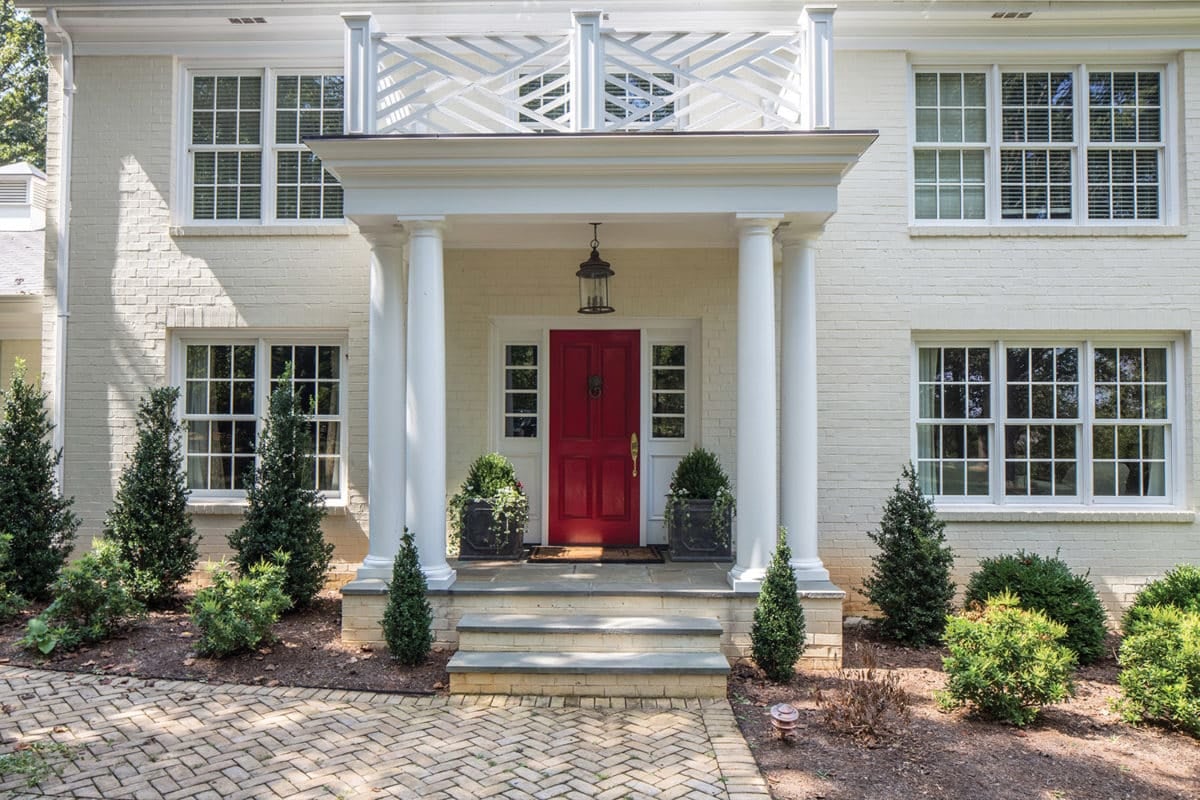 Originally from North Carolina, the owner first came to Charlottesville as an undergraduate student at the University of Virginia, returning to the area with her husband and young family for graduate school to study landscape architecture.
Upon entering this artistic home, one is instantly put at ease by its peaceful feeling, and its organic sensibilities. The neutral, blue and green-gray hues are noticeably the influence behind the color palette throughout the home.
Complement a Neutral Palette with Artistic Accents
An open floor plan with a light-filled kitchen and family room serve as the central hub for this family of five and Coco, their beloved Springer spaniel. A stunning handcrafted gold and beaded Ro Sham Beaux chandelier creates a dramatic focal point in the family room. Soft whites and gentle blue-gray ceilings envelop the space, while organic and natural elements are sprinkled throughout. From the on-trend brass fixtures to fresh flowers, a shadow box of butterfly wings (found by the family), to branches arranged on the mantel, nature is always a focus.
This family's appreciation for beauty in nature has also inspired their collection of art, chosen for the joy it brings or the special memories it evokes. A favorite piece is local artist Fleming Lunsford's photograph "The Nest" for its simplicity. Discover other local artists for decorating your home by visiting local galleries to discover talents like Darrell Rose.
The homeowner notes that it was important that their home be welcoming, comfortable and accessible for their children and their active lifestyle. No room is "off limits" for exploring one's creative passions. All three of her children are budding artists.
Using Colorful Art to Brighten a Home
In order to display some of their artwork, she created a gallery wall in their breakfast room (seen above), where the children's work is arranged alongside the works of other local artists. Each child's personality also shines through in their artwork. Technical, detailed drawings of places and automobiles demonstrate their oldest child's memory for details and pursuit of perfection, while another loves to draw animals with sweet expressions and the third fancies drawing cartoons with great flair and hilarious, dramatic narratives.
Two of Ellen Hathaway's paintings, a local artist, are also displayed featuring sunflowers and daylilies. "I love the color and abstracted notion of flowers," she says. "You can feel the painting captures mid- to late-summer blooms, and the messiness of meadows and heat around that time where we live." Perhaps this observation resonates for her in the midst of the family's daily life–"it does not take very long for things to get messy here"–but it is also the place where beauty unfolds.
Artistic Decor for an Elegant Home
Gold accents throughout this artistic home add an elegant, unifying touch to the décor. A stunning wallpaper weaves its way from the cocktail room along the hallway and stairwell, influencing the selection for several furnishings. The gray-green tone in the leaves is repeated in the color of the chest behind the loveseat as well as in the pillows. The loveseat was reupholstered in a soft pink-colored velvet, complementing the pink tones in the wallpaper and further unifying the space. Adding a sophisticated touch, a French bench with gold and pink accents, above, graces the front hall. Other decorative details such as the ginger jar and tasseled pillow create a warm, relaxing atmosphere that even Coco loves to enjoy while lounging on a chair.
The home offers multiple spaces to read, play games, create and do homework. Whether it is painting animals on the Taj Mahal marble countertops, or sketching cartoons while curled up on the sofa, this couple wants their children to "do what they love around the house." The treasured sketches leading upstairs to the private rooms of the home are touching drawings drawn by their mother.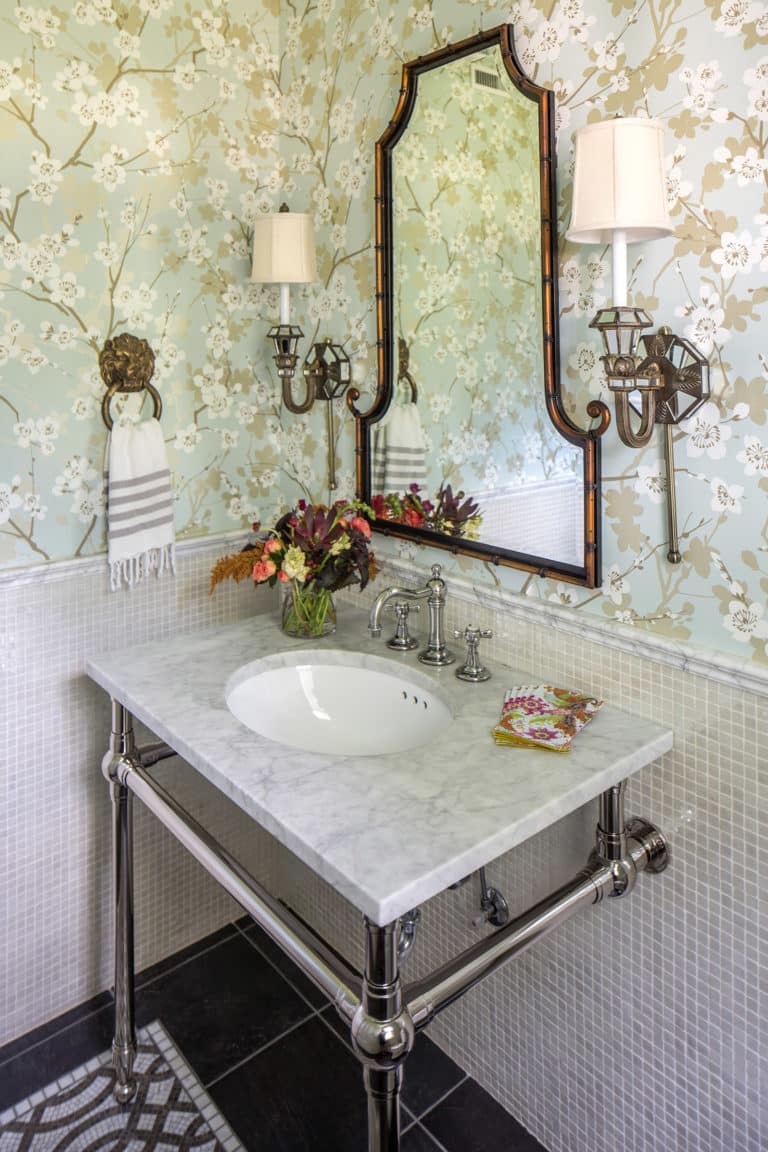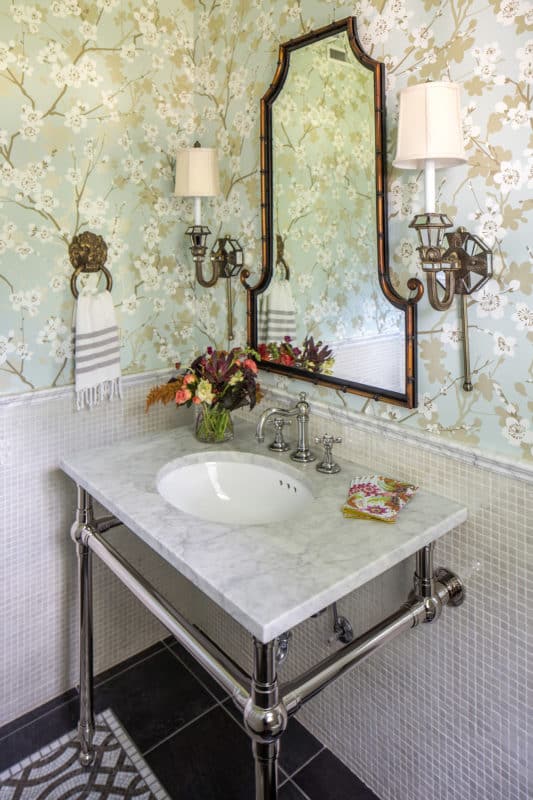 The family's first-floor powder room is highlighted by a lovely chinoiserie mirror and wallpaper, a gorgeous mosaic floor all perfectly accented with an inlaid tile wall and marble sink. Its peaceful aesthetic further reflects the unique beauty of this elegant and welcoming home.
Elegant accents, works of art and an organic ambiance perfectly showcase this homeowner's creativity and passion for beauty in nature. ~
This article appears in Book 3 of Wine & Country Life. Start your subscription here or give a gift subscription here.
BETH WHITEHEAD RAWLING has been part owner and director of development of an architectural firm and is passionate about beautiful interior and garden design.
ANDREA HUBBELL specializes in interior and culinary photography, drawing on her background and education in architectural design to focus on form, space, composition and color in each image she creates. She is best known as co-creator of the popular Our Local Commons book series, highlighting the best of Charlottesville's farm-to-table movement. Her work can also be seen in Virginia Wine & Country Weddings among many other publications.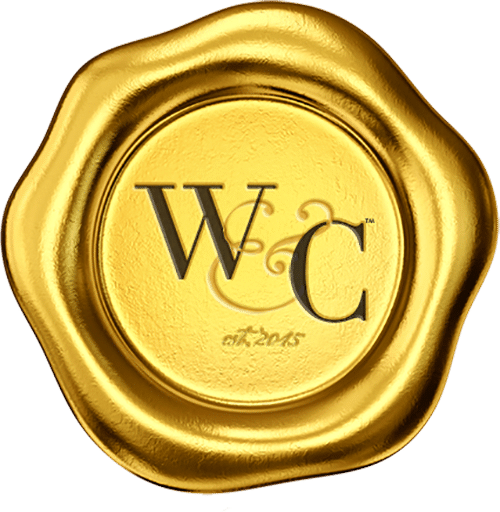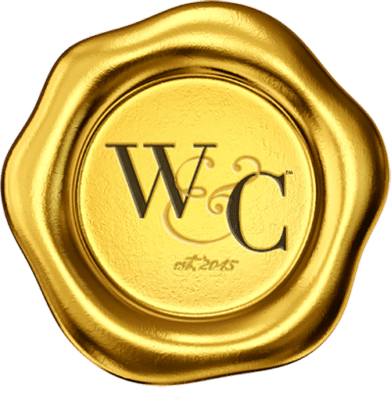 Virginia Wine & Country celebrates elevated living in Virginia Wine Country. Virginia Wine & Country Life is a semi-annual luxury print magazine with a full digital presence. The Virginia Wine & Country Gold Book is an annual guide to the top award-winning wines, wineries and experiences in Virginia Wine Country. The annual Virginia Wine & Country Wedding Planner is an art book of elegant Virginia weddings. The brand includes the Virginia Wine & Country Shop in Ivy, Va. It is a beautiful lifestyle boutique that brings the pages of the magazines to life. Virginia Wine & Country tells the stories of Virginia wineries, the farm-to-table movement, luxury travel, entertaining, art and the elegant country lifestyle. Ivy Life & Style Media also provides branding, web design and PR services for the wine industry.