For thousands of years, the ancient herb lavender has been growing wild throughout the magnificent rolling hills of Provence, France. It is native to the Mediterranean. Much like the beloved wine grapes dotting the foothills of our Blue Ridge Mountains, lavender is a delightful addition to grow in Virginia Wine Country too. Discover here the history of lavender, travel ideas in Provence and then learn how to grow lavender with our Guide to Growing Lavender in Virginia.
Known for its strong, aromatic fragrance and soothing qualities, lavender is also breathtakingly beautiful. If you weave through Provence's tiny countryside roads between June and August, you are guaranteed to see the purple hills dotted between the vineyards and quaint towns. Open your windows to breath in air saturated with the sweet-smelling essential oil. Nestled among one of these bucolic valleys is the historic Sénanque Abbey, known lovingly as the Lavender Abbey.
Renowned author Jean Giono, who lived most of his life in Provence, once said, "Lavender is the soul of Provence." The area has become known as the world's largest producer and supplier of the herb. However, lavender has connections to more than just the region. It is the culture and custom of the Cistercian monks of Abbaye Notre Dame de Sénanque to tend to the fields.
Visiting the Lavender Gem of Provence
Tucked away in an isolated valley north of Gordes, the Lavender Abbey's austere beauty is amplified by the gorgeous fields that set it apart from other abbeys. The structure is a gem of medieval Romanesque architecture. It is characterized by semi-circular arches, thick walls, sturdy pillars, large towers and decorative arcading. The Abbey was built from stone that has weathered over the years into a lovely heather-gray color that complements the vibrant purple of the lavender fields.
History of the Lavender Abbey
Each summer, people from all over come to see the iconic lavender fields. After 60 years of construction, Sénanque was founded in 1148. Prior, the monks lived in simple huts nearby. However, life here has not always been easy. Religious wars that began in 1544 devastated the once flourishing grounds and expelled the monks from their home.
The monks work the land as their predecessors once did, growing and cultivating the lavender as a way to honor and preserve their heritage.
It was not until 1926 that the Senaque Abbey was purchased by the state. Work was soon begun to restore it to its former glory. By 1988, the Cistercian community had been reestablished, and the monks could once again live and work in peace at the Abbey. Since its reestablishment, the monks work the land as their predecessors once did, growing and cultivating the lavender as a way to honor and preserve their heritage.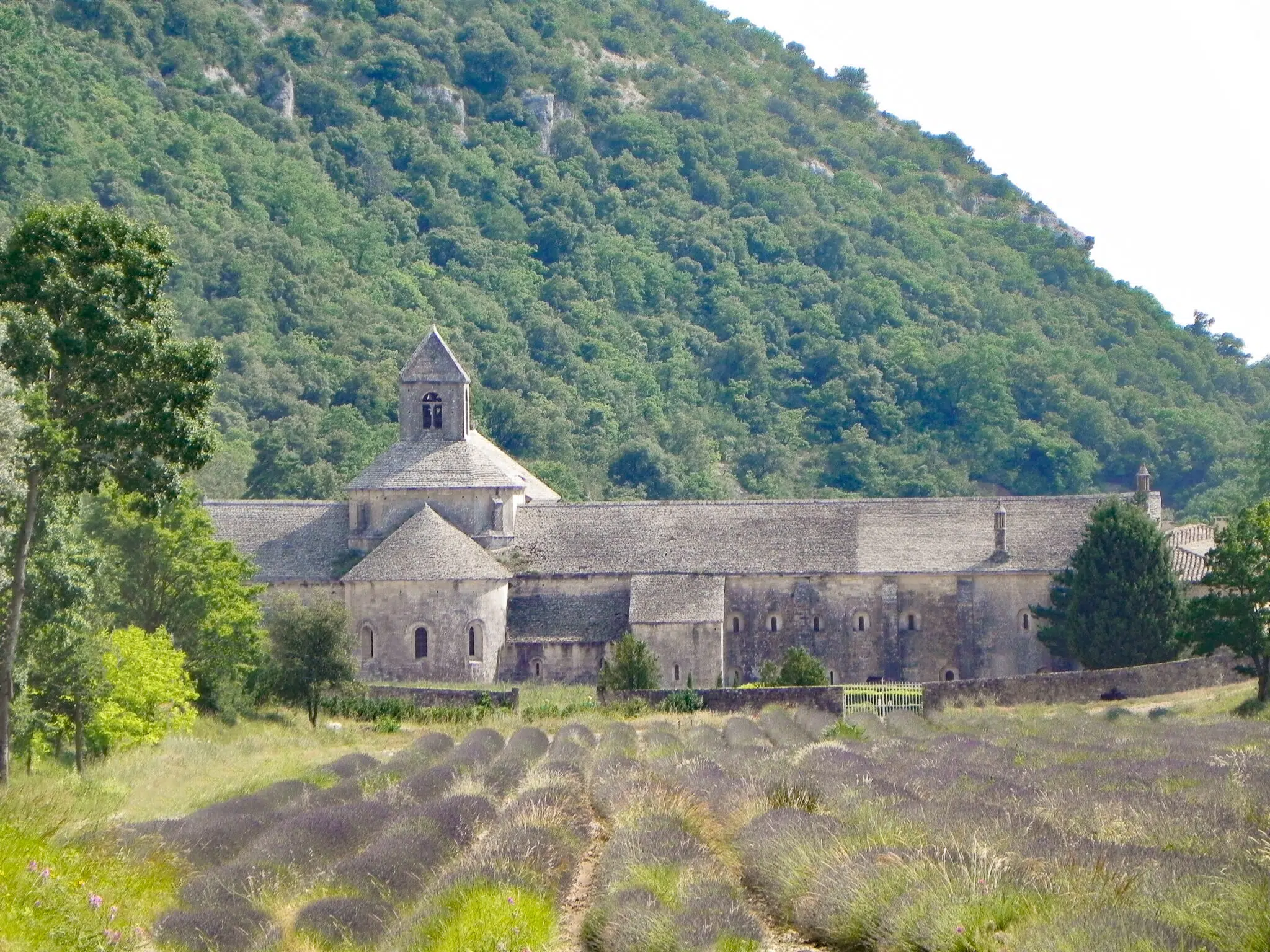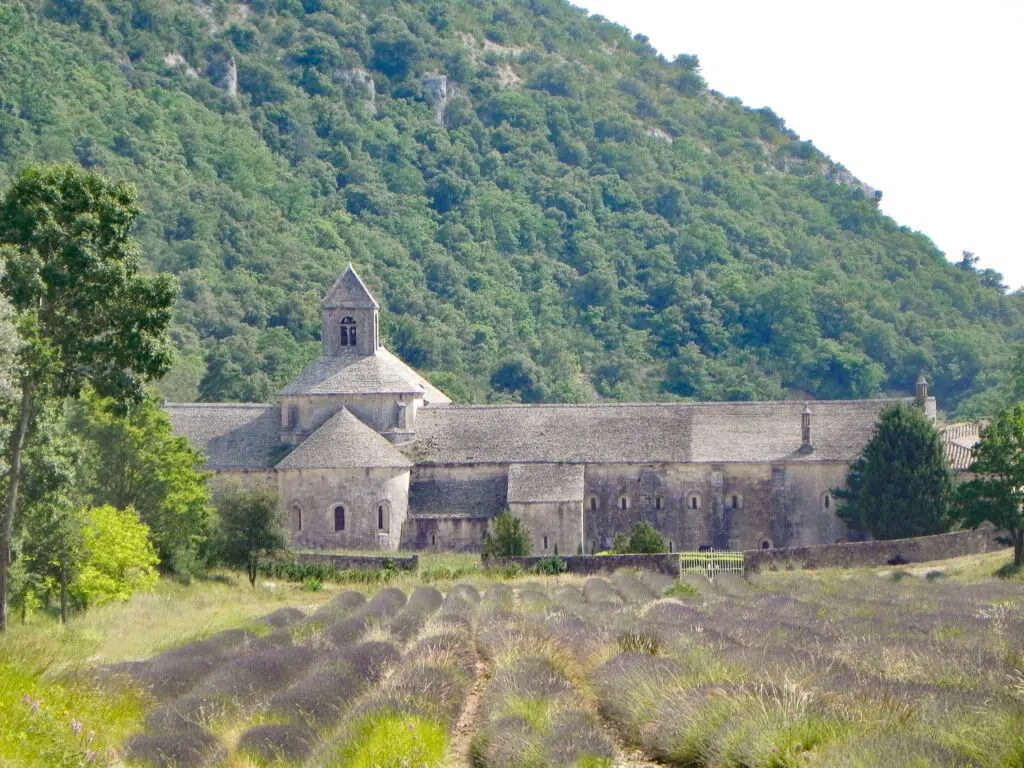 The Best Time of Year to Visit Provence, France
Provence is beautiful year round, and with more than 300 days of sunshine per year, Provence and the French Riviera enjoy the sunniest weather in France. The best time to visit and see the lavender fields in bloom is from the last week of June to the beginning of August. Peak bloom is around mid-July—although this may vary year to year depending on the rainfall. In Provence, you can also find gorgeous fields of sunflowers which are blooming in July and August, so if you want the best of both worlds, that's when to go. Visit in May to see the poppies bud. April and May, and then September and October, are the ideal for milder weather—you can avoid the heavy summer heat and crowds are lighter. July and August are the best months for visiting the coast and enjoying the glamour of the beach. For wine travelers, every month is a good month in France. The only thing to avoid might be September's harvest season, when smaller wineries may be closed for tastings as they need every hand available to bring in the grapes.
Keepsakes from the Lavender Abbey Garden
For centuries, lavender has been known to have significance in health, beauty and even cooking. Much to the delight of their visitors, the monks at Sénanque make various products from the lavender each year. The goods are then sold in the Lavender Abbey gift shop. The lavender plants flower at the end of June and stay full-bloom until harvesting season in late July. At harvest, the monks cut and distill the lavender to extract its essential oils. They then use the oils to make honey and soap.
Thomas Jefferson on Lavender from France to Virginia
During Thomas Jefferson's travels to Provence, France from his Monticello home near Charlottesville, he likely appreciated the lavender fields. Jefferson, being a modest farmer himself, included lavender in a 1794 list of "objects for the garden this year." In fact, lavender was known to have been in Jefferson's garden. Monticello has records of it being grown there for years. He was once quoted as saying, "No occupation is so delightful to me as the culture of the earth, and no culture comparable to that of the garden…But though an old man, I am but a young gardener."
Jefferson and the monks at Sénanque Abbey surely agreed that cultivating nature's gifts had many benefits. The work the monks is meaningful in many ways. Each year visitors get to revel in the beauty of the Abbey's special lavender, perhaps inspiring their home gardens too.
Lavender Farms to Visit in Virginia Wine Country
Virginia's wine country has its own share of lavender fields. Much like Virginia today, Provence is known for both vineyards and lavender. The regions share a similar temperature and seasons even though we're an ocean apart. Several lavender farms can be found in the surrounding areas and offer a glimpse into a Sénanque summer. Blooming Hill Lavender Farm in Loudoun County's Purcellville brings the charm of Provence to Virginia. You can tour their beautifully designed gardens and indulge in a full lavender tea experience complete with freshly-made scones. An hour west of DC an incredible mother-daughter have created an oasis of beauty at their Seven Oaks Lavender Farm. Having lived in France, it is easy to see how their historic farm was inspired by the French masters. Today guests can pick lavender, enjoy a peaceful picnic and bring home lavender products. There is even a picturesque small wedding venue. The Lavender Fields at Tantivity Farm is another charming farm for a visit. Located in Fairfield, this beautiful destination offers lovely special events including brunches. A few other incredible flower and lavender farms are scattered throughout Virginia for breathtaking pick-your-own experiences including White Oak Lavender Farm in the Shenandoah Valley, Evergreen Lavender Farm near Appomatox, 48 Fields Lavender Farm in Loudoun, Sweethaven Lavender in Williamsburg, and Fields of Flowers near Middleburg.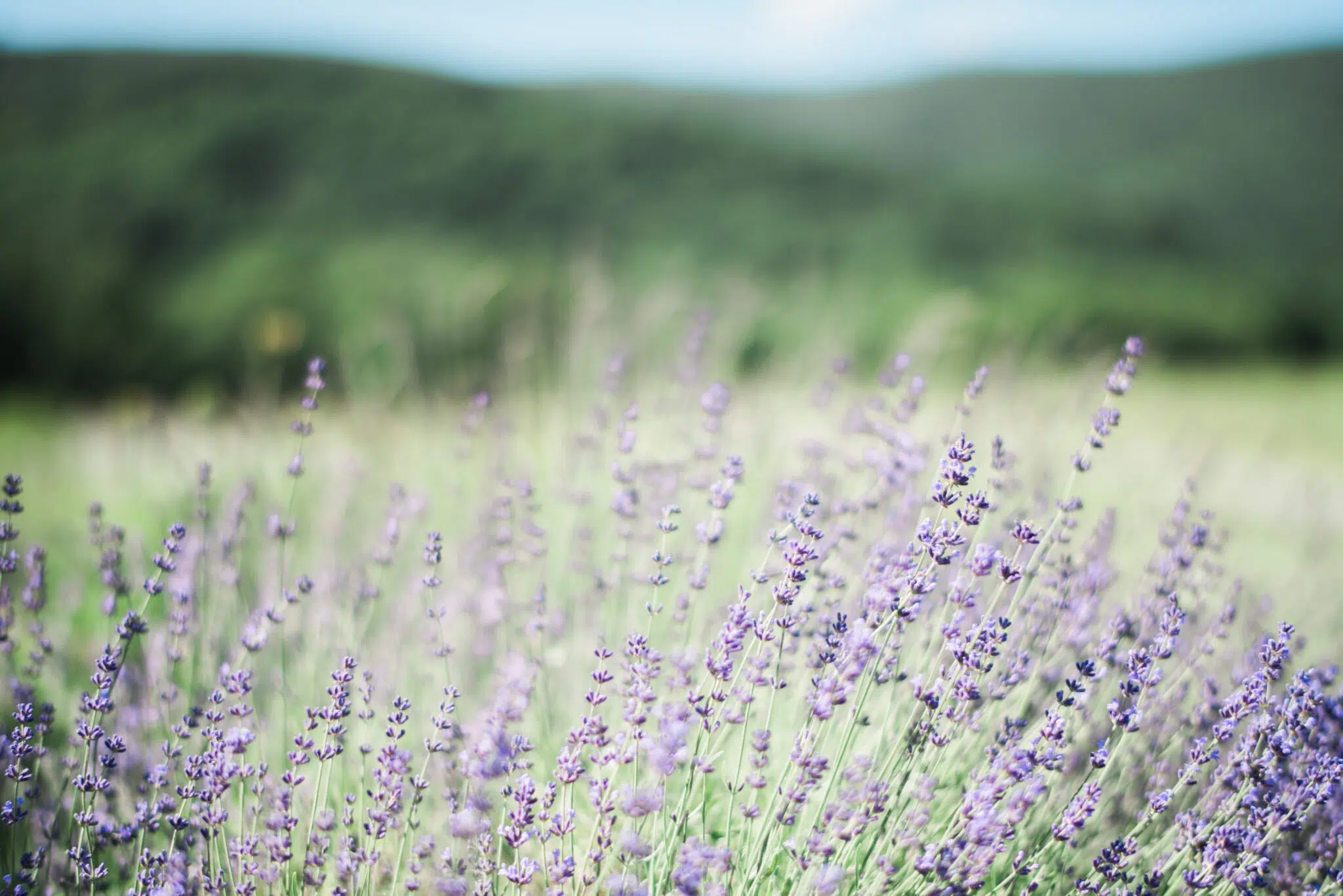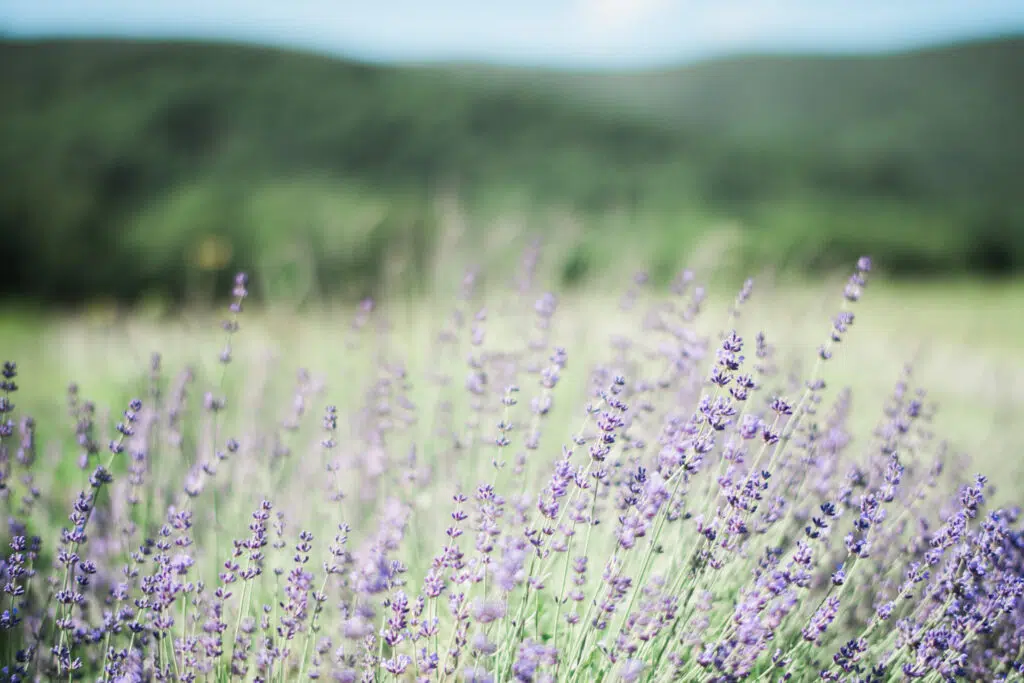 A Guide to Growing Lavender in Virginia
Lavender is a gorgeous, fragrant addition to any garden. Not only can you enjoy its classic gray-green to silver foliage year-round, its abundant flowers have many culinary and home uses. Lavender is also an amazing gift to nature as it is well loved by pollinators and beneficial insects. A few bees buzzing lazily around a sweet-scented lavender on a summer day is a delight. Lavender is native to Southern Europe and the Mediterranean, where the soil is rocky and lean and the climate dry and hot. Much like wine grapes in our region, growing lavender in Virginia requires a little bit of extra preparation. Then, it will be a hardy and easy-care performer in your garden for years to come.
There are over 450 varieties and cultivars of lavender to choose from. (Variety is a group of plants within a species that share a distinguishing trait and usually produces true to seed. Cultivar is a plant grown by horticulturists that does not produce true to seed.) Being part of the mint family (Lamiaceae), lavender comes in many sizes, foliage colors and flowers. There are shades of pinks, purples, blues and white blooms and even variegated foliage. Best of all for Virginia gardeners, like mint, lavender is not attractive to deer or rabbits. You can propagate lavender by seeds or cutting, but seeds may not come true if the plant has cross-hybridized. It is much easier for the average gardener to start with a rooted plant from a nursery. You'll see blooms the first year without much effort.
The two most popular types of lavender likely to be found in Mid-Atlantic gardens are Lavandula Augustifolia — commonly called English lavender and Lavandula x Intermedia, commonly known as "lavandin." The lavandins are a hybrid cross of the English species and the spike-like Portuguese lavender (L. latifolia). While the lavenders and lavandins are similar, the lavenders have a sweeter aroma.
Any cultivars within Lavenddin will be hardy, but among the types of augustifolia, 'Buena Vista,' 'Folgate,' 'Imperial Gem,' 'Maillette,' and "Royal Velvet" are especially able to withstand cold and return consistently. They also have a sweet floral scent, while Lavandula x intermedia is more woodsy.
The Best Varieties of Lavender to Grow in Virginia
Lavenders
The cultivar Hidcote (Lavandula angustifolia) is a good one to try in a smaller space. Its stems are shorter — about 6-8 inches, the plant height is 12-20 inches, and the flowers are a lovely dark blue color. This is a beautiful lavender to try in recipes, lavender lemonade or as decoration on a frosted cake.
There is a charming dwarf variety called Wee One (Lavandula angustifolia 'Wee One' ), that only grows to 10 inches tall and has short blue flower spikes that looks lovely in the front of borders or in rock gardens.
Lavandins
Grosso or 'fat lavender' as it is commonly named (Lavandula x Intermedia 'Grosso') does well in Virginia. It will grow quite large, 32-36 inches in height, with stems of 20-24 inches and 3 inches of bloom. Grosso has a rich dark purple color close to eggplant and is hardy in our 4- season zones.
Provence is evergreen in warm climates and grows to 3 feet tall. It is popular for creating hedges and has one of the strongest fragrances.
The pink lavender, Melissa, in the Lavendin group is a wonderful choice. Popular for recipes, it is a medium sized plant at 30' tall with stem length of 8-10 inches.
Lavandula x Intermedia Phenomenal has been noted by The Central Virginia Piedmont Master Gardeners as a new cultivar that is getting rave reviews — a lavandin which reportedly stands up to our Virginia humidity and weather conditions better than others.
How to Prepare Soil for Growing Lavender in Virginia
The Best Soil pH. Like most herbs, lavender does not care for a rich soil. It is recommended that gardeners get a soil test done. Your goal is a neutral pH of 6.5 to 7.5 for the garden area where you plant lavender. Likely, you'll need to add a bit of lime to our typically acidic Virginia soil. If you send your soil sample for testing to Virginia Tech you can let them know that you are planning to grow lavender. They can send you specific directions about how much lime to add. It is wise that if you are planting lavender in a mixed bed that you choose neighboring plants that have a similar requirement for soil.
Soil Drainage. Perhaps even more important than proper pH is having well drained soil. Virginia clay needs amendments for your lavender plants to thrive. Some advise planting lavender on a hill or mound of soil but this makes erosion an issue and can leave the lavender's roots exposed. Better, to dig a good sized hole and amend the heavily clay soil with compost, sand or small gravel to create drainage for there is nothing worse for a lavender plant than "soggy feet". Fairfax County Master Gardeners also suggest amendments like perma-Till or Vole-Bloc, mixed with compost.
Where to Plant Lavender. Think best how you can replicate the dry rolling hills of Provence, France for growing lavender in Virginia. Choose a site that is in full sun, 6-8 hours a day, and opt for reflective white stone mulch rather than the typical wood mulch. The stone mulch won't hold in moisture and will also reflect back sunlight onto the lavender. Be sure to space out the lavender well with plants 12-15″ apart. Air circulation is extra important in our wet region. Lavenders can take 5 years to reach their full size so be sure to plan for that growth.
Design Ideas. Planted as a border along a walkway or garden path, the lavender will be perfectly positioned for you to enjoy its scent. The lavender will also appreciate the extra heat reflected off of the stones or sidewalk. Create a romantic hedge and soften the hard lines of a fence or garden wall by planting a border. Lavender thrives in the herb garden where the cool gray-green foliage sets off the other green herbs and plants. You can also use lavender as a natural pest repellent near patios and porches. The scent deters mosquitoes, flies, fleas, and other problem insects while attracting butterflies and bees. Grown easily in well-drained pots you could move plants around depending on the season too.
When to Plant Lavender in Virginia
The best time for planting lavender in Virginia is after the frost date. In Virginia, our zones run from 6a to 8a depending on elevation and proximity to the Atlantic according to the Virginia Cooperative Extension. This means the dates of the last frost date can range from mid-April to late May. It is always a good idea to wait two weeks after the last frost date to be extra sure. If you are only putting out a few plants, you could take a chance on putting them in the ground and be prepared to cover them at night should a cold snap arrive.
Pruning and Caring for Your Lavender Plants in Virginia
Expect your lavender in Virginia to bloom May-July. An early flush of blooms can be cut back once spent. You may even get a second lighter bloom later in the growing season. This pruning is also important to keep the lavender plant from becoming woody or leggy. After the bloom, prune off the spent stems and trim the plant up too into a tight symmetrical mound. You want it to look a bit like a shallow bowl turned upside down. Pruning will also help protect from breakage due to the weight of any winter snowfall.
The first two years it is a good idea to prune vigorously. In year three and onwards, trim flowers and stems in the fall, cutting the plant back by at least one-third. Make sure to leave at least three sets of leaf nodes on each stem, advises Fairfax County Master Gardeners. Once established, lavender will require no extra watering. It doesn't need fertilizer either as that will quickly create a bushy plant with little bloom. You may want to add a bit of lime and the compost in the fall but your lavender should be low maintenance.
Using Lavender in the Kitchen
if you want to enjoy your lavender beyond the garden, you can easily add it into your culinary repertoire. Chopping fresh buds into a cake, shortbread or sweet pastry dough will add fresh flavor before baking. Lavender also makes a lovely decoration. It can be combined with other edible blooms like pansies, nasturtium and honeysuckle too. Add flower buds to preserves or fruit compotes for subtle spicy notes, sprinkle fresh lavender onto a salad as garnish, use fresh buds and leaves chopped on savory dishes like roast lamb or chicken. Lavender is also delicious infused into cocktails, lemonades and teas and makes a pretty addition to ice cubes for cold drinks. Farm-to-table is not only delicious with this fragrant herb but beautiful too.
Enjoying the Beauty of Lavender In Provence, France and in Virginia Wine Country
Now that you have learnt about the beautiful historic Lavender Abbey of Provence, France you can pack your bags for a holiday in Provence. And, if you are feeling inspired, come back to Virginia and add lavender to your own garden to enjoy the year-round.
Plant some romantic lavender this year, pour yourself a glass of Virginia wine, sit back and enjoy the beauty and sweet scents of your garden. A stunning addition to borders and perennial beds, lavender provides sweeping drifts of color throughout the seasons.
Read more home & garden articles here and follow our Garden Ideas board on Pinterest for even more inspiration. ~
AMANDA CHRISTENSEN has a degree in media studies from UVA. She enjoys opportunities that allow her to explore and combine her passions for writing.
JENNIFER BRYERTON, our co-publisher, holds a masters degree in education and grew up in a family of farmers and storytellers. She enjoys visiting exquisite gardens and vineyards, cooking, travel, decor and time at home, where beehives and a chicken coop dot the lawn, and borders overflow with roses, peonies and lavender.
R. L. JOHNSON is our co-publisher and creative director, Robin Johnson Bethke, who began her career as a professional photographer in Los Angeles before moving into graphic design and art direction when she relocated to Charlottesville in 1994. As our company's co-founder and visionary, she enjoys all aspects of the publishing process from story conception to graphic design to photography. Her work is often seen in many of our publications.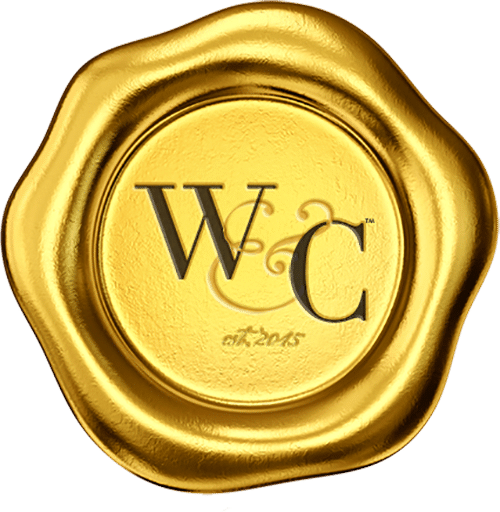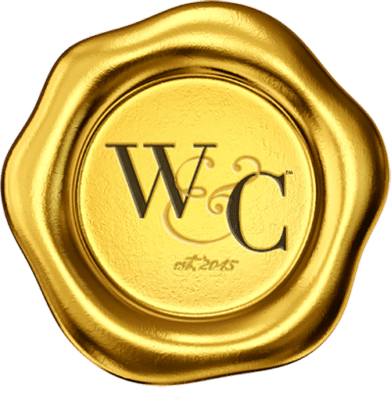 Virginia Wine & Country celebrates elevated living in Virginia Wine Country. Virginia Wine & Country Life is a semi-annual luxury print magazine with a full digital presence. The Virginia Wine & Country Gold Book is an annual guide to the top award-winning wines, wineries and experiences in Virginia Wine Country. The annual Virginia Wine & Country Wedding Planner is an art book of elegant Virginia weddings. The brand includes the Virginia Wine & Country Shop in Ivy, Va. It is a beautiful lifestyle boutique that brings the pages of the magazines to life. Virginia Wine & Country tells the stories of Virginia wineries, the farm-to-table movement, luxury travel, entertaining, art and the elegant country lifestyle. Ivy Life & Style Media also provides branding, web design and PR services for the wine industry.