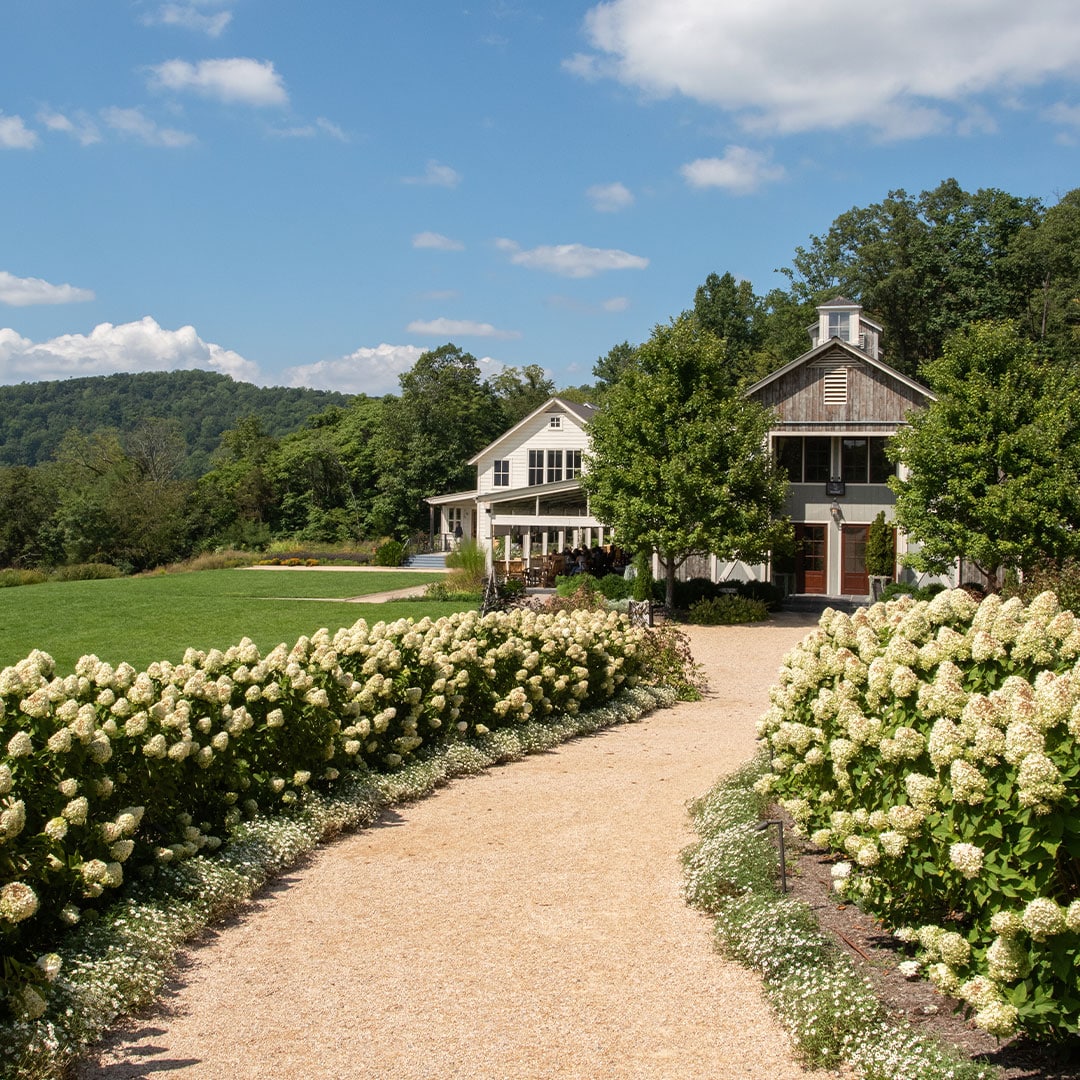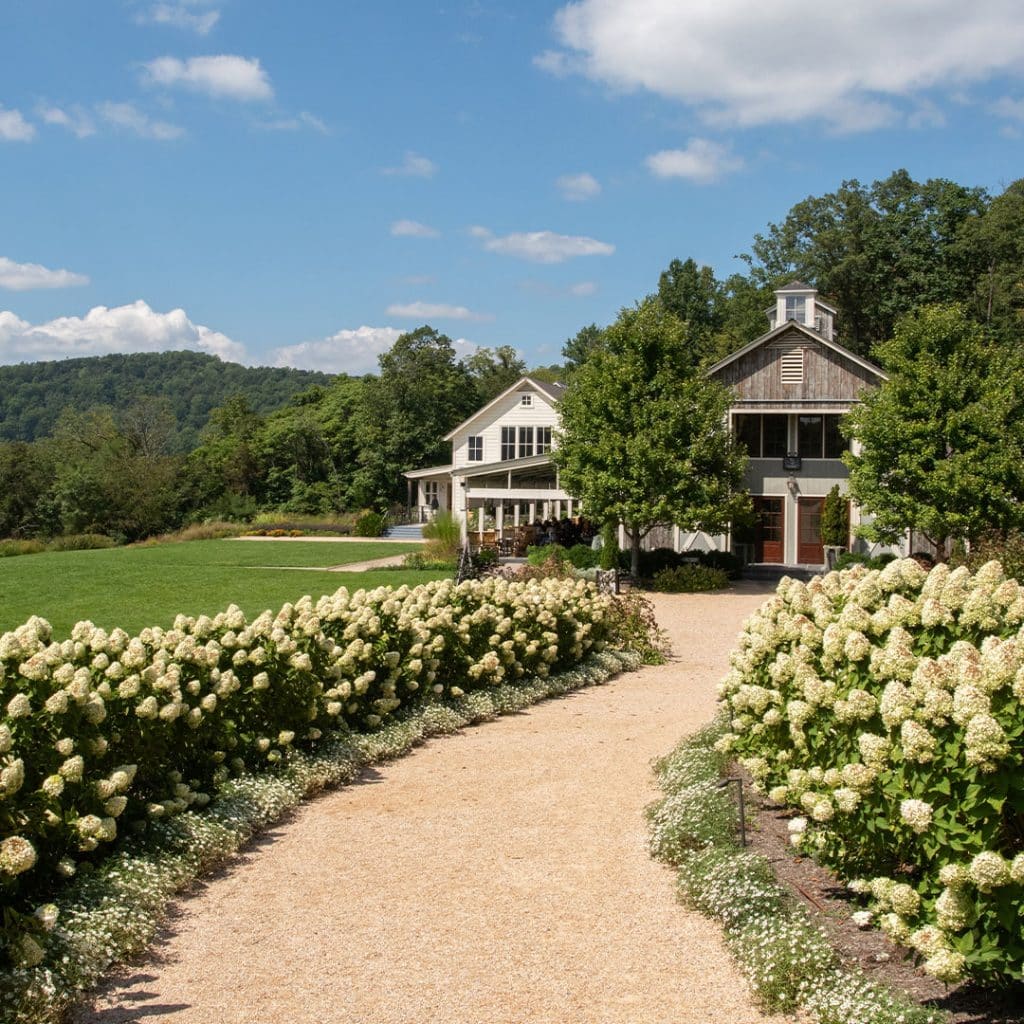 Photo: R.L. Johnson | Pippin Hill Farm & Vineyards
Residents of Virginia are lucky enough to live in a climate that is forgiving to many ornamental species, including the showy hydrangea. Growing Hydrangeas in Virginia is easy and rewarding. Virginia even has its own native species, the old-fashioned snowball, or 'Annabelle' hydrangea which is a naturally occurring variant of the Wild or Smooth Hydrangea, which is found in moist woodlands across the state in nearly every county, thriving in conditions from shade to full sun as long as its soil is adequately moist. These show-stopping shrubs are covered in large blossoms for a long bloom period summer into fall—all perfect for gorgeous bouquets, too.
Few wedding or vineyard enthusiasts aren't familiar with the spectacular display of hydrangeas that line the front walk of Pippin Hill Farm & Vineyards, shown above. These beauties are the "Lime Light" Hydrangea Paniculata variety. They have become the hallmark of countless wedding portraits and welcome thousands of guests to the tasting room every year, making them possibly the most photographed hydrangeas in the country.
What is the Best Hydrangea to Grow in Virginia?
It's a cliché answer, but it depends. There are six main types of lovely hydrangeas grown ornamentally, but this is our selection of the four that do the best in our Virginia growing zones and that are commonly available. It's important to take into account each type's sun and moisture preferences. Typically, hydrangeas prefer morning sun and prefer to avoid the direct heat of the afternoon, so think about the north and east sides of your home.
Bigleaf Hydrangea
Moderately sized with a height of anywhere from 6 to 10 feet, the bigleaf varietal, or Hydrangea macrophylla, thrives in part to full shade but can tolerate full sun as long as they are kept moist. This can be a struggle in Virginia where hot afternoons will often make them a little droopy but they recover quickly and are easy to propagate. Blooms can vary immensely with whites, pinks, blues, purples and reds all depending on soil pH.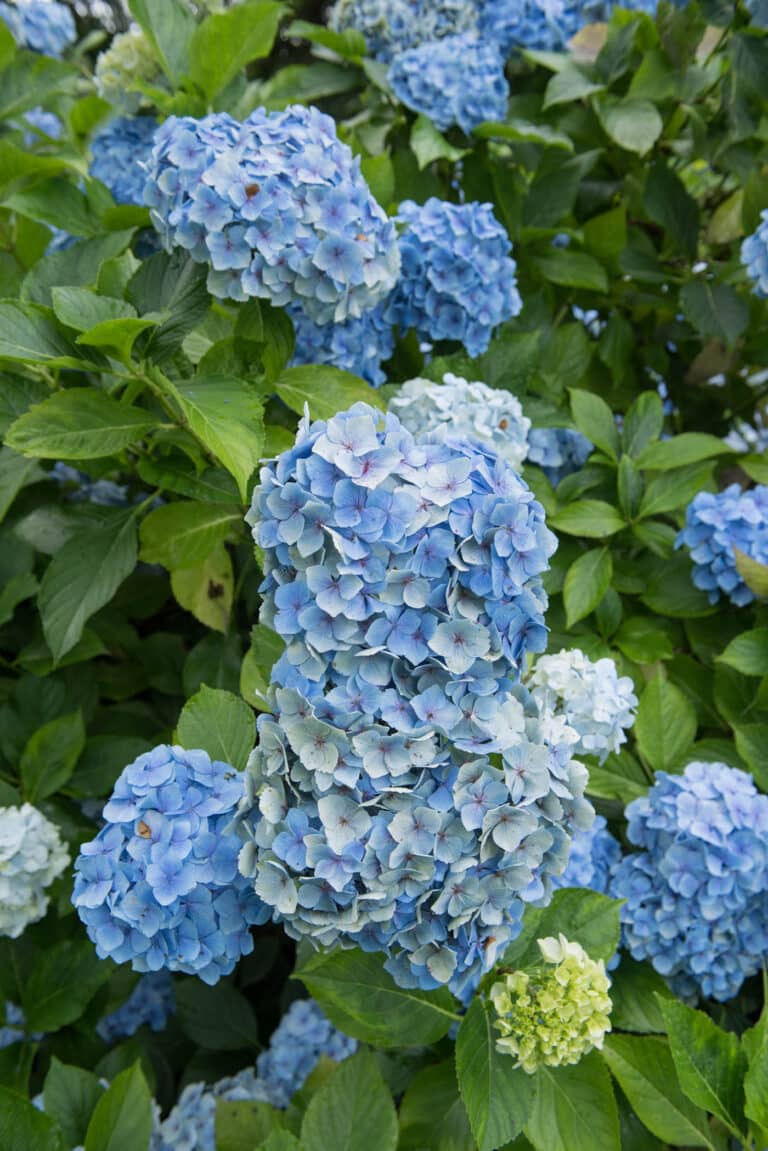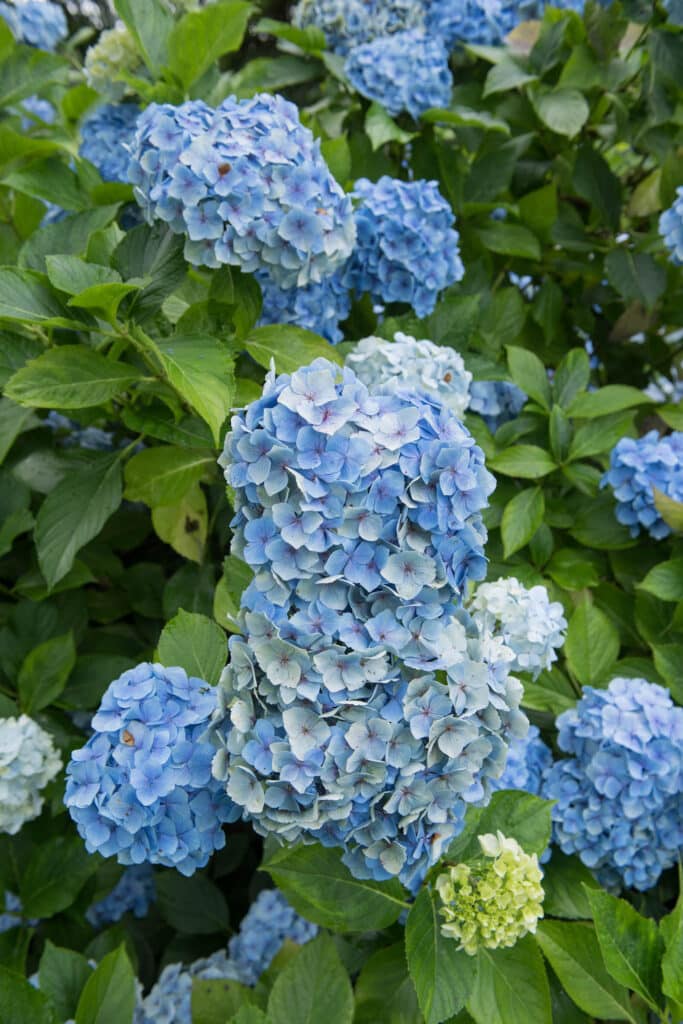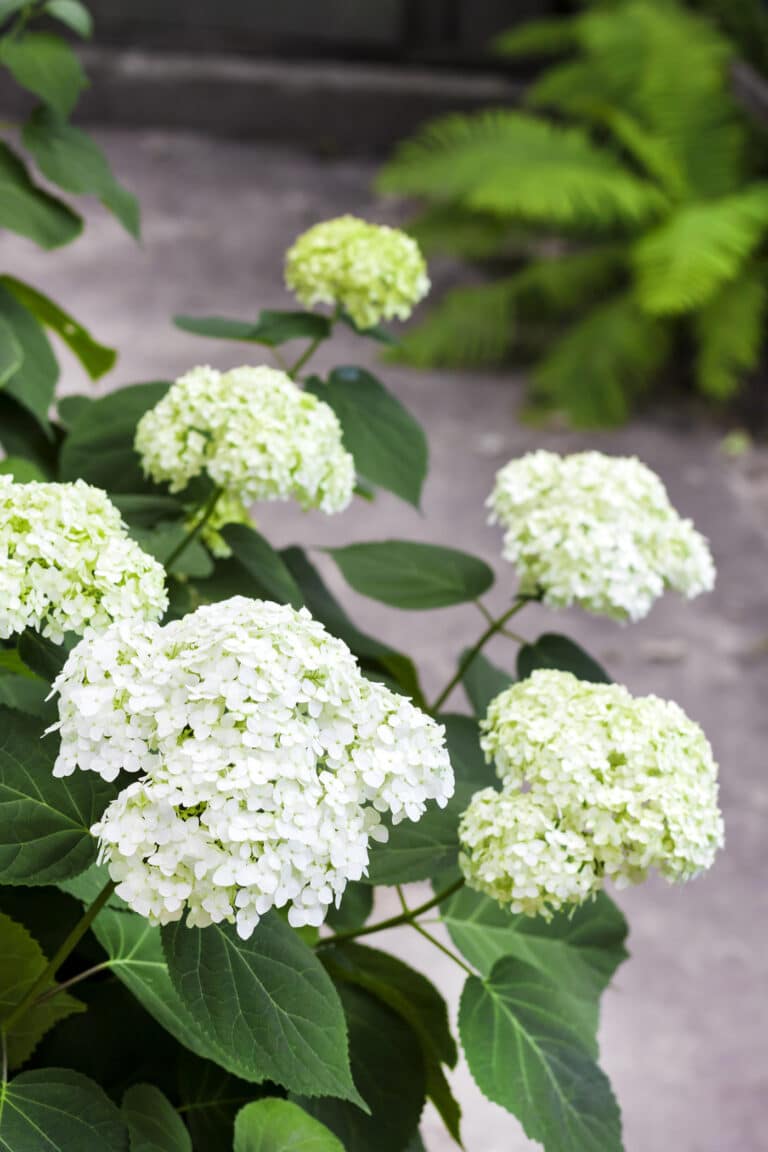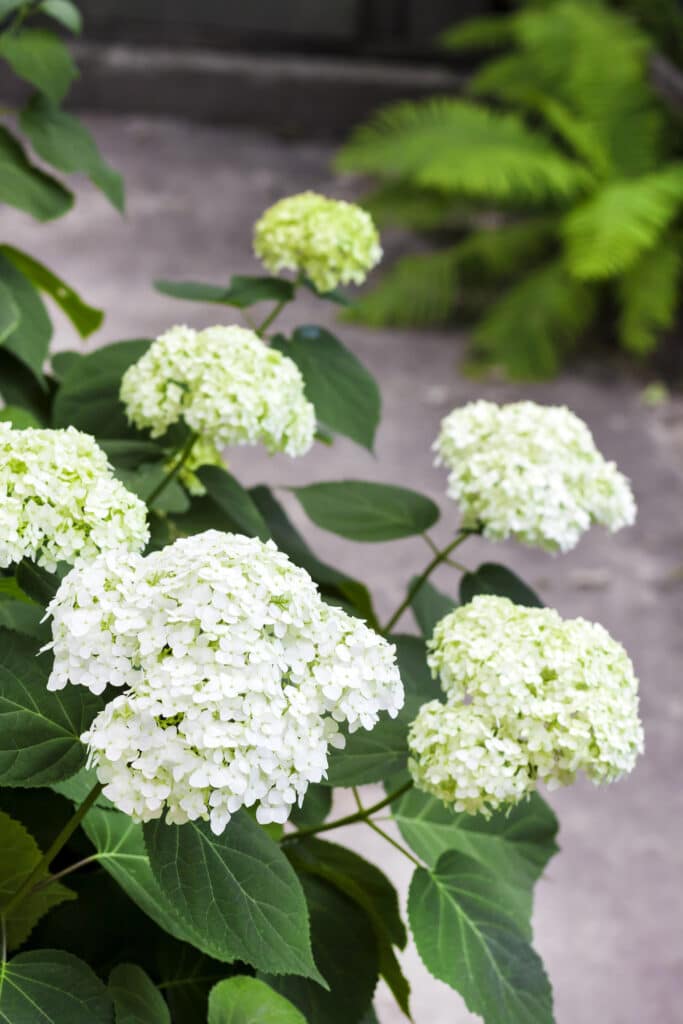 Smooth Hydrangea
Formally known as Hydrangea arborescens, this is a smaller variety at only 3 to 5 feet that prefers at least part shade and full sun only in consistently moist soil. Blooms can be either white or pink. Native to the US and Virginia (Learn more at the Virginia Native Plant Society)
Panicled Hydrangea
Hydrangea paniculata is one of the largest hydrangea plants commonly grown with a height of 8 to 15 feet and a spread of 6 to 12 feet. Blooms are white, and this plant thrives in full to partial shade. This species is also especially winter hardy.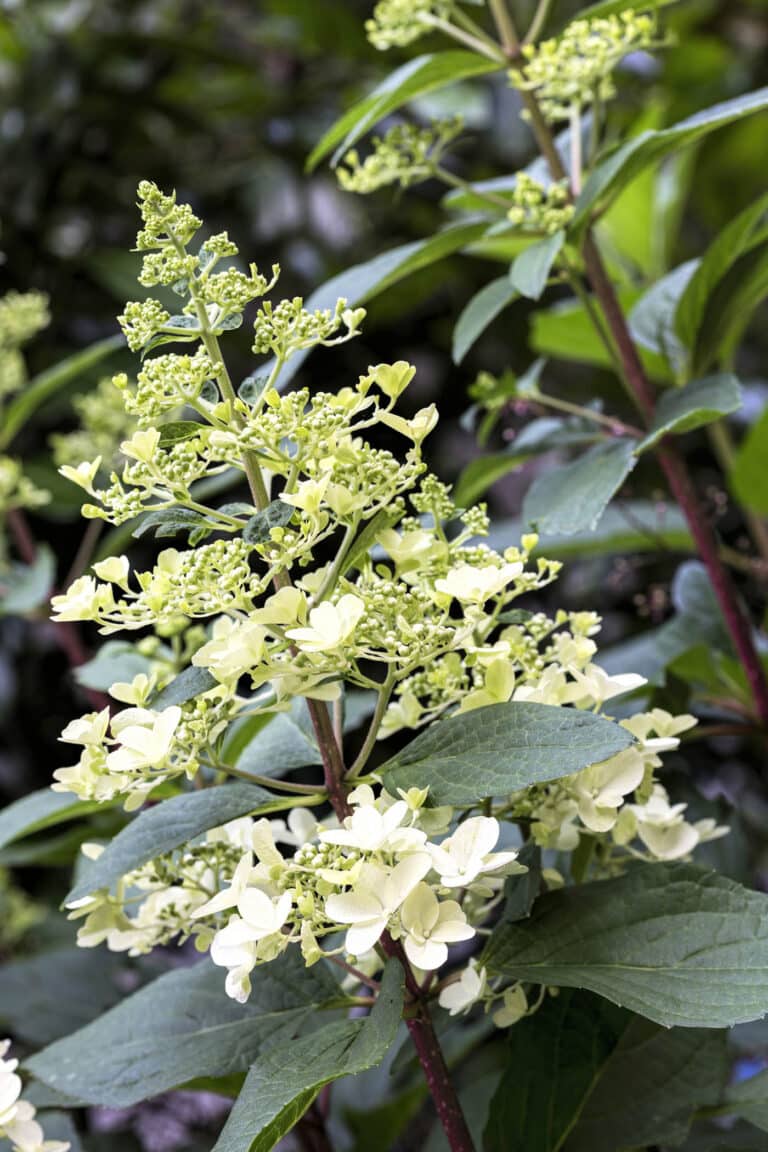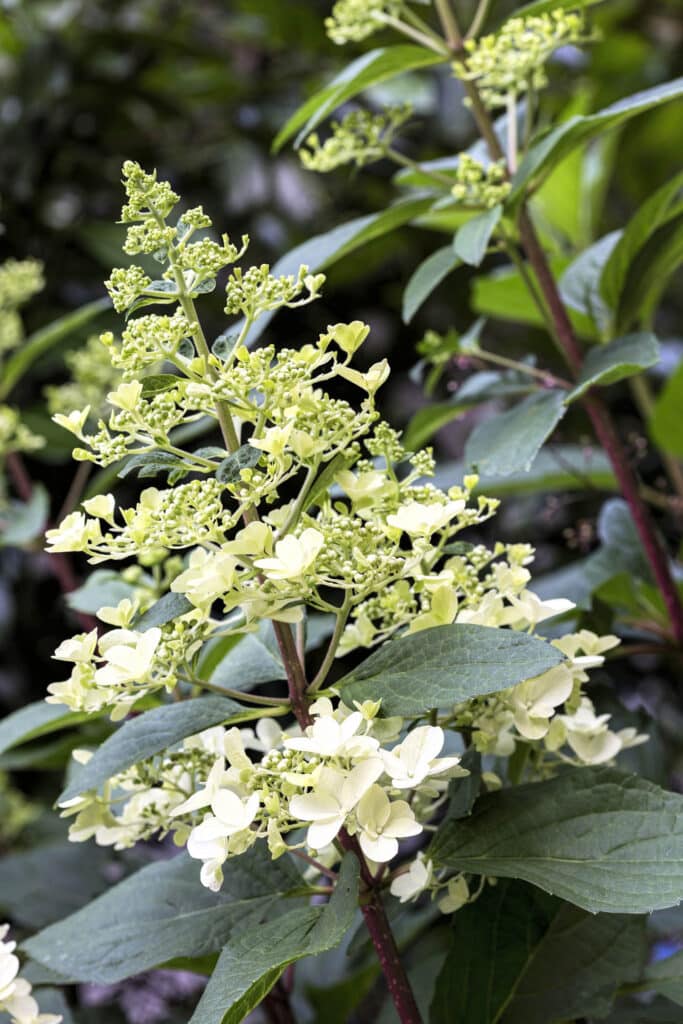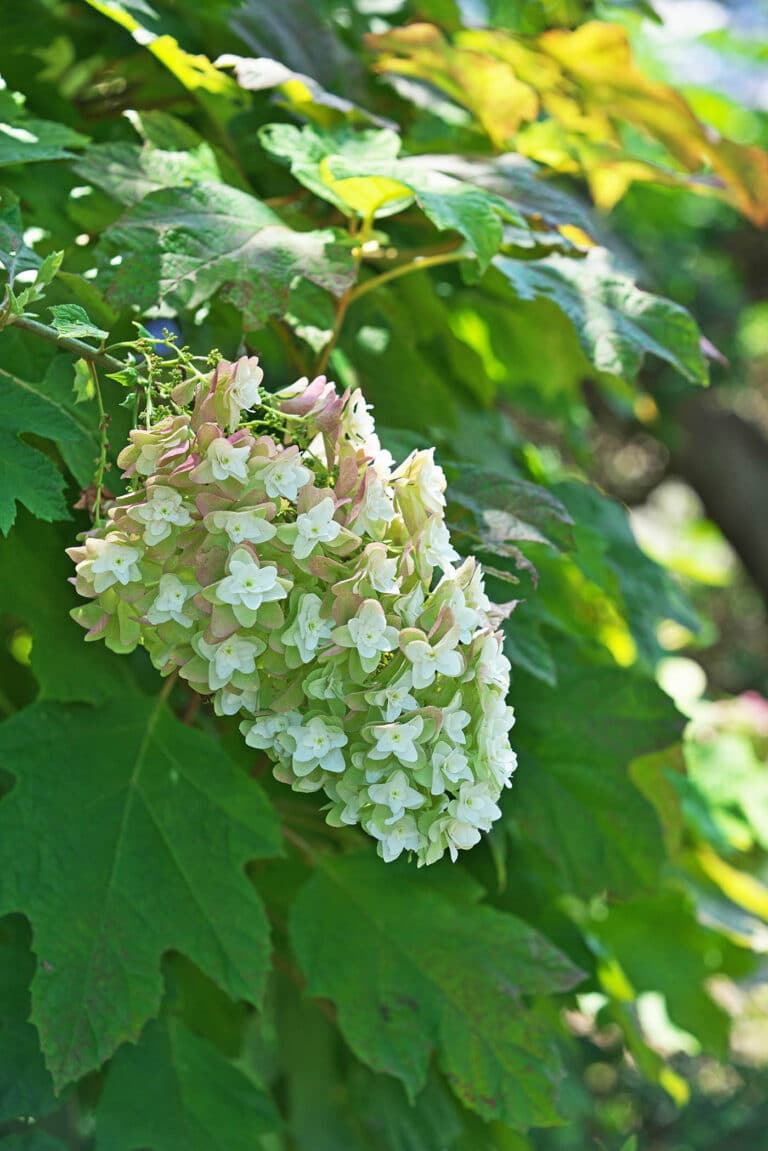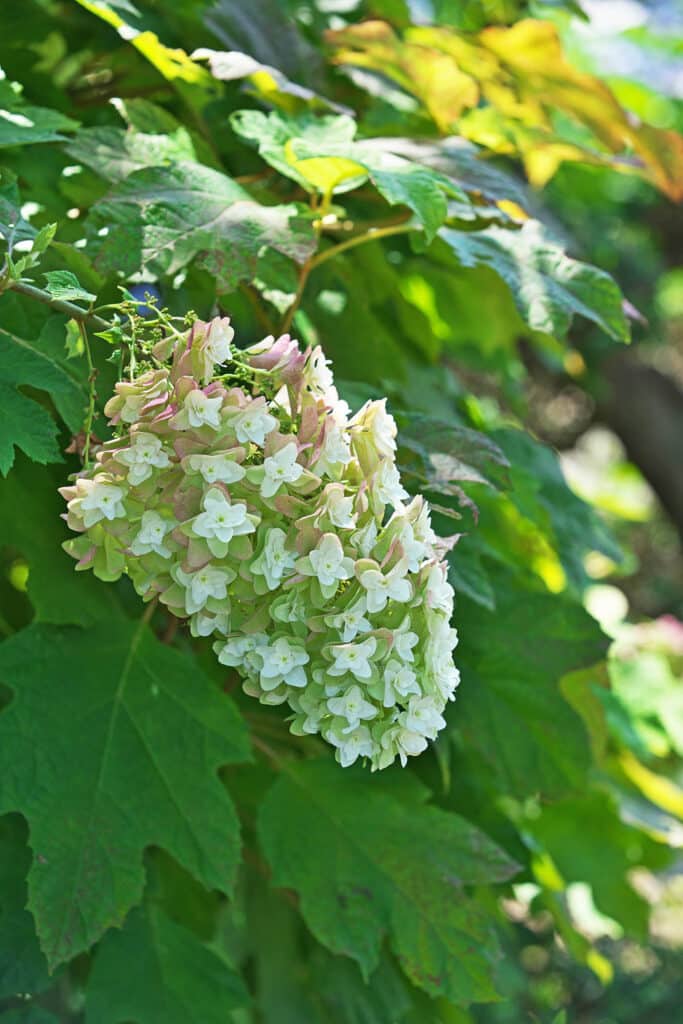 Oakleaf Hydrangea
This plant is a moderately-sized bush at 6 to 8 feet both for height and spread. The Hydrangea quercifolia blooms range from a white to gentle purple/pink, and the plant prefers full sun to part shade. Native to the Southeast, this variety can do well in Virginia and is not particularly appealing to deer.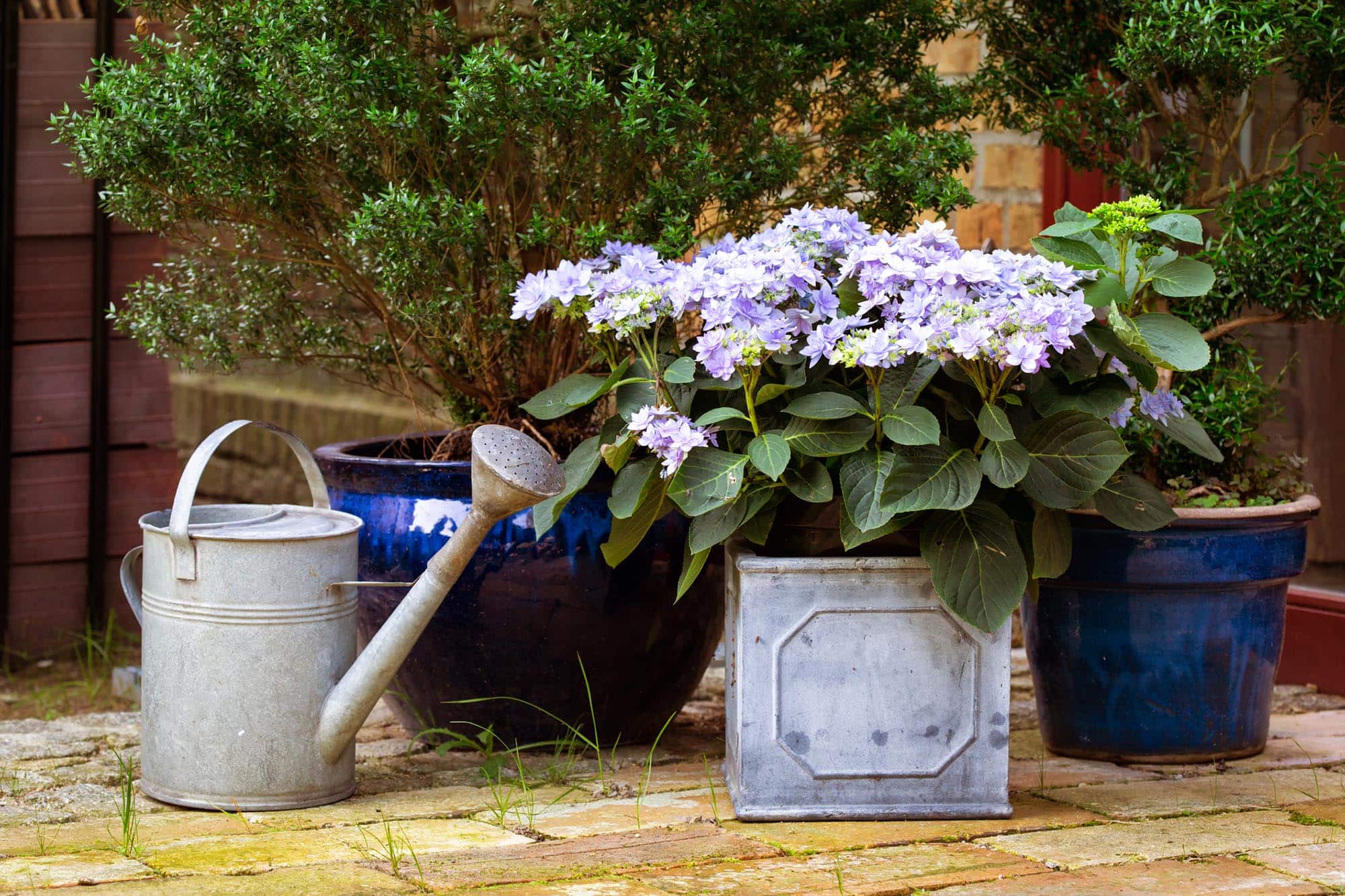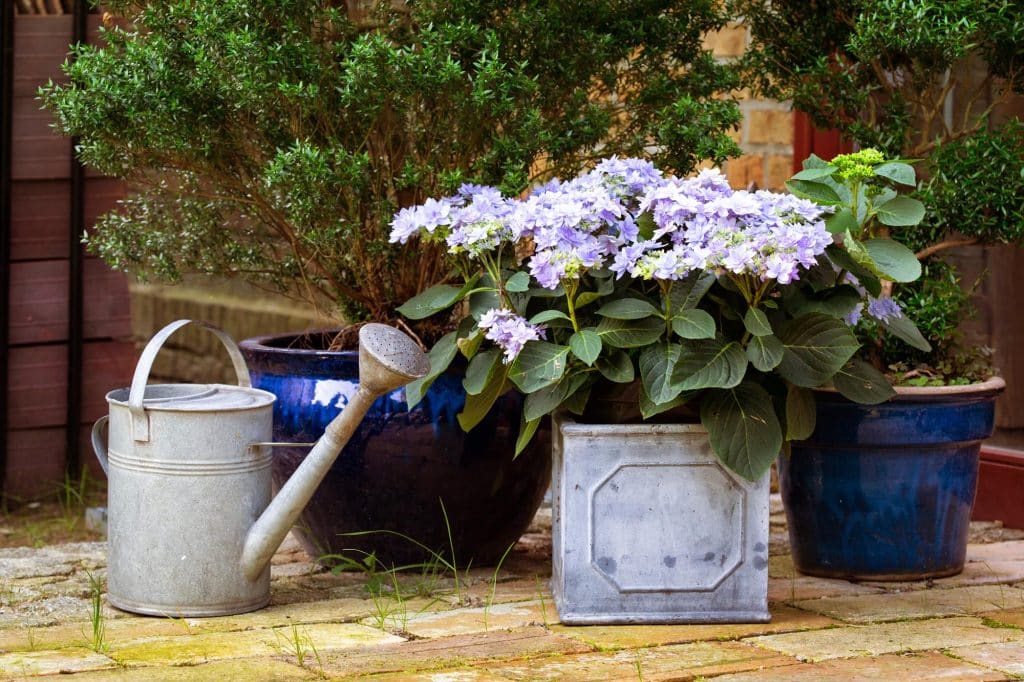 Tips to Keeping Hydrangeas Happy
If it wasn't too obvious by now, hydrangeas love moisture and lots of organic matter in their soil. In summer heat, they will tell you when they're feeling a little thirsty by drooping their blooms and foliage. When watering hydrangeas, it's useful to know that they prefer to be watered deeply and thoroughly on occasion versus watering shallowly every day. Water can be retained better and the plant will be protected by mulching in the summer heat as well as prior to going into winter. Not uncommon to ornamental plants, hydrangeas also enjoy a balanced, slow-release fertilizer from April through August.
How to Control Hydrangea Color
One of the most fascinating things about hydrangeas is our ability to influence the color of their blooms! Blooms are heavily dependent on the pH of the surrounding soil.
Acidic soil with a pH of less than 6.0 promotes blue and lavender-blue blooms.
Alkaline soil with a pH above 7.0 promotes pinks and reds.
Soil with a pH between 6.0 and 7.0 promotes purple to bluish-pink hues.
There are hydrangea-specific soil additives that take the guesswork out of manipulating pH, but you can also choose to do it yourself by using lime to raise the pH, or garden sulfur to lower it. When deciding if you want to try and experiment with bloom colors, take your species of hydrangea into consideration. You could have the most acidic soil on the street, but a species that blooms only white will not turn blue. So, choose a species that is known to have the ability to have different colors.
When Should I Prune My Hydrangeas?
There is an essential blooming characteristic that you do want to be aware of when you want to get the maximum blooms from your plant. Does your variety bloom on new wood or old wood?
New wood is from stems that grow in this current growing season, while old wood relates to stems that were on your plant before the current summer season.
Common old wood hydrangeas include Mophead, Big Leaf, Lacecap types (Hydrangea macrophylla) and the Oakleaf hydrangea (H. quercifolia).
New wood varieties inlclude PeeGee types (H. paniculata) and the Annabelle types (H. arborescence).
Tips for Pruning Old Wood Hydrangeas
While pruning of old wood varieties isn't necessary to do all the time, periodic pruning can help increase the health and revitalize the blooming of the plant, especially if the plant is 5 years or older.
Prune Old Wood varieties in the summer, after blooming, and not in the Fall. They start producing buds for next year in August and September and you don't want to mess up next year's show.
What should you prune on old wood types? Look for thin, dead or crossing branches. Just remember not to thin out too much of your old wood.
Tips for Pruning New Wood Hydrangeas
These hydrangeas can be cut to the ground in the fall and will return in the spring with a glorious show. Be warned though that this drastic degree of pruning can gradually weaken the plant over time, so we don't encourage this every year. When pruning, look for thin, dead or crossing branches and trim away as needed in the fall and winter.
Tips for Pruning "Endless" Hydrangeas
There is an exception to both of these and that is the new "Endless Summer" varieties. It produces on both new and old wood, which is how it keeps giving showy blooms. We recommend you prune these for height and shaping in the fall after the last blooms.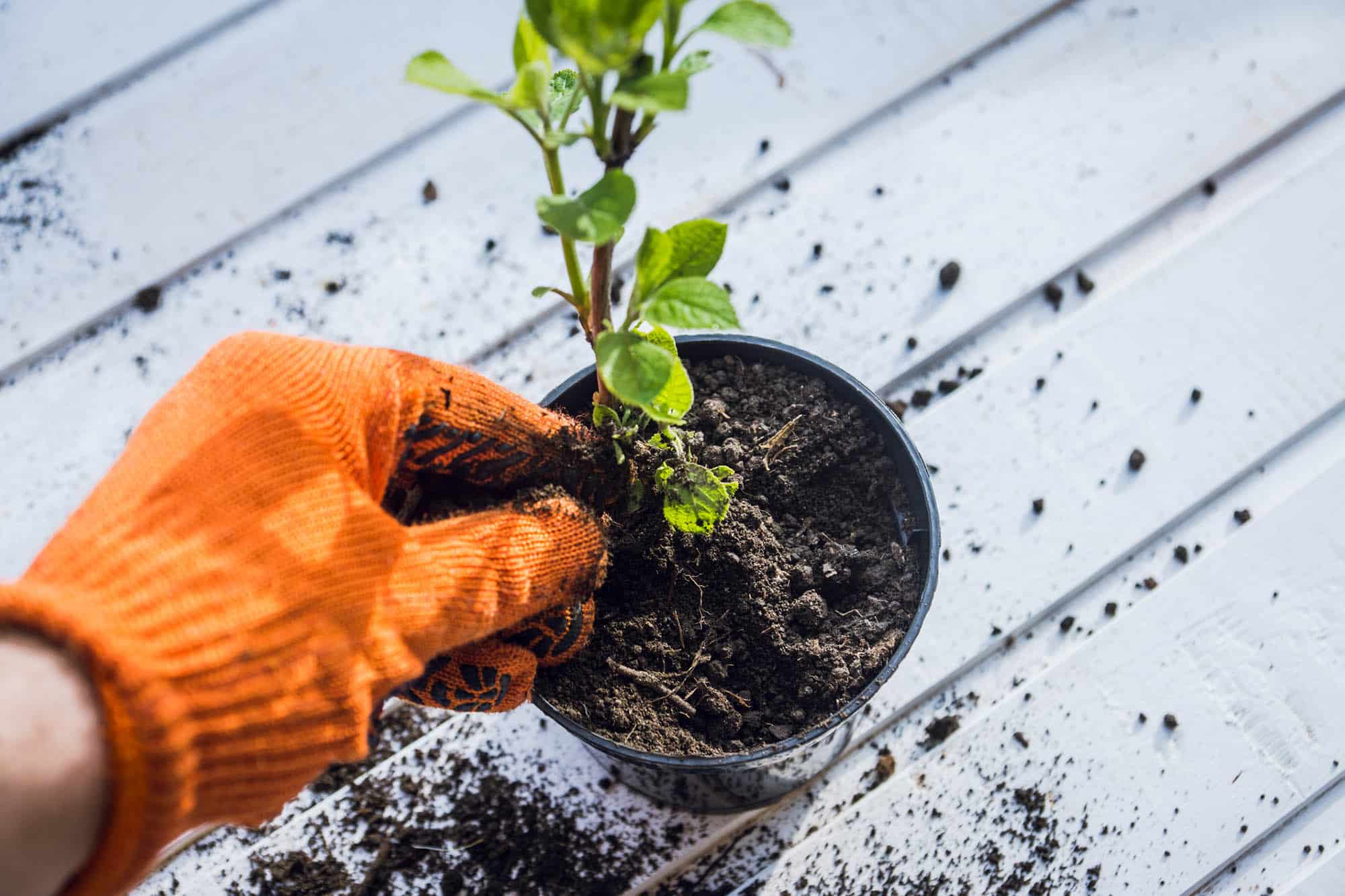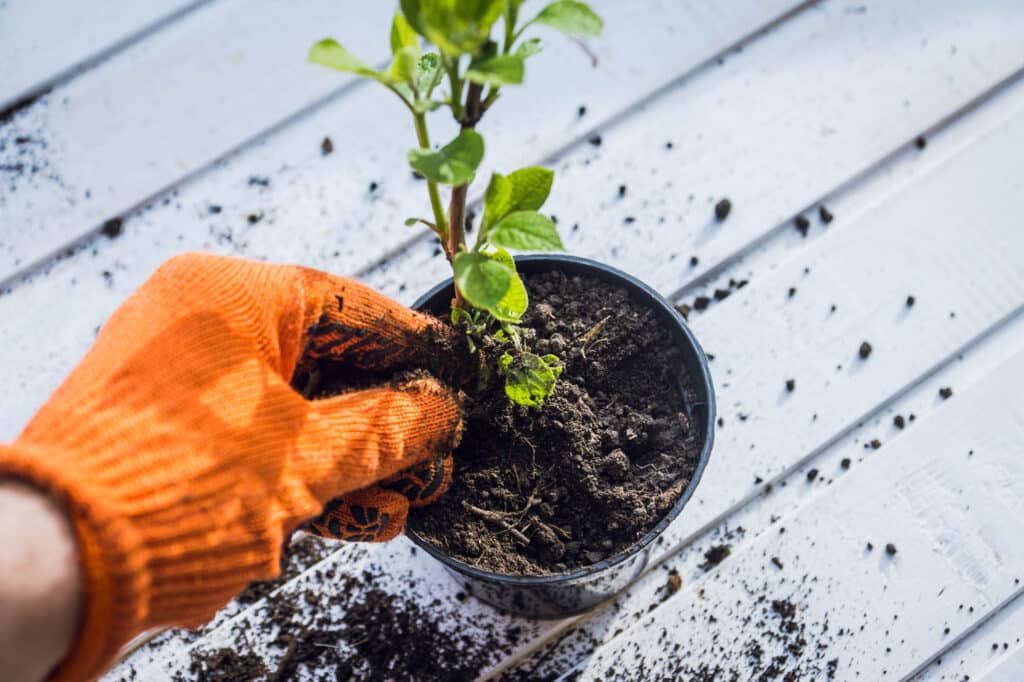 How to Propagate Hydrangeas From Cuttings
One of the only downsides to hydrangeas can be the initial price tag. Luckily, they propagate easily from cuttings as long as you have the patience. This is also when having gardening friends who don't mind sharing comes in handy. The best success rate for propagating cuttings comes from those taken in spring to late summer, you want the plant to be able to develop roots before winter dormancy.
Take a 3- to 5-inch long green stem cutting with at least three leaf nodes and trim all but the top two leaves. This helps the plant put most of its energy into growing roots.
Then, coat the stem in rooting powder, and place it in well-draining soil. You don't want the stem to dry out, so work quickly and in the early morning or late evening. A humidity tent is a great tool to create a micro greenhouse and can be as simple as a Ziplock bag around the pot.
Keep in a warm place out of direct sunlight, and check the plant every week, or more often if uncovered, to prevent drying out.
In about 4 to 6 weeks, your cutting should have a strong root system and may be repotted in a bigger container or in the garden.
Hydrangeas are a spectacular addition to your garden and make lovely foundation plants as well as dramatic focal points. Dwarf varieties are lovely in large pots as the "thriller" surrounded by "filler" and "spiller" plants. They can also serve as mounding filler plants in the back of your mixed flower border.
However you plan your design, you'll love growing hydrangeas in Virginia. They truly are one of the most lovely shrubs in Virginia gardens and are easy to care for, too. Find our Tips for Growing Lavender in Virginia here. Another favorite plant to grow in Virginia is the popular colorful Dahlia. Read here about Elizabeth Locke's beautiful jewelry designs and her spectacular dahlia garden. For spectacular virtual tours of Virginia's most amazing gardens, visit our story on Bunny Mellon's Garden at Oak Spring Estate or discover cottage-style charm in a shaded Albemarle garden.
Read more home & garden articles here and follow our Garden Ideas board on Pinterest for even more inspiration. ~
JENNIFER BRYERTON, our co-publisher, holds a masters degree in education and grew up in a family of farmers and storytellers. She enjoys visiting exquisite gardens and vineyards, cooking, travel, decor and time at home, where beehives and a chicken coop dot the lawn, and borders overflow with roses, peonies and lavender.
R. L. JOHNSON is our co-publisher and creative director. Bethke studied at the prestigious ArtCenter College of Design and began her career as a professional photographer in Los Angeles. She moved into graphic design and art direction when she relocated to Charlottesville in 1994. As our company's co-founder and visionary, she enjoys all aspects of storytelling.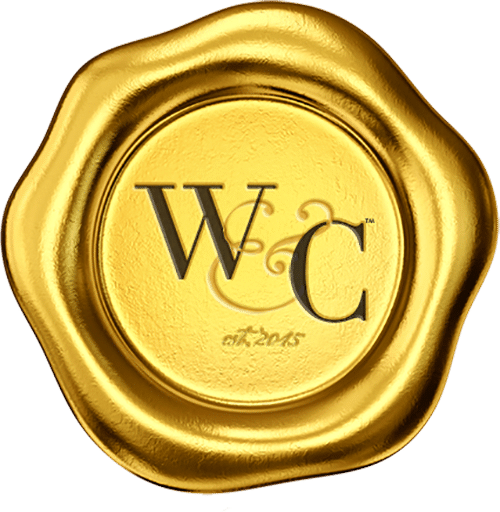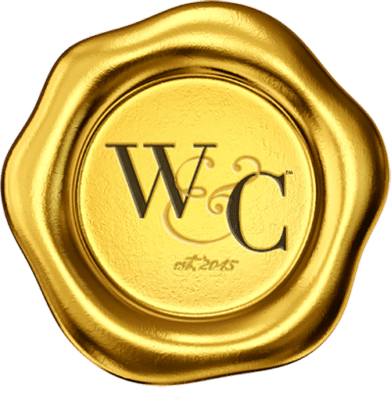 Virginia Wine & Country celebrates elevated living in Virginia Wine Country. Virginia Wine & Country Life is a semi-annual luxury print magazine with a full digital presence. The Virginia Wine & Country Gold Book is an annual guide to the top award-winning wines, wineries and experiences in Virginia Wine Country. The annual Virginia Wine & Country Wedding Planner is an art book of elegant Virginia weddings. The brand includes the Virginia Wine & Country Shop in Ivy, Va. It is a beautiful lifestyle boutique that brings the pages of the magazines to life. Virginia Wine & Country tells the stories of Virginia wineries, the farm-to-table movement, luxury travel, entertaining, art and the elegant country lifestyle. Ivy Life & Style Media also provides branding, web design and PR services for the wine industry.