The delightful Boninti Home is a charming cottage on this year's Albemarle-Charlottesville Historic Garden Week Tour. Be sure to pick up a copy of the newly released magazine for a special inside look at the cozy home and its' lush gardens before the April 28 tour. In the meantime, enjoy this sneak peek!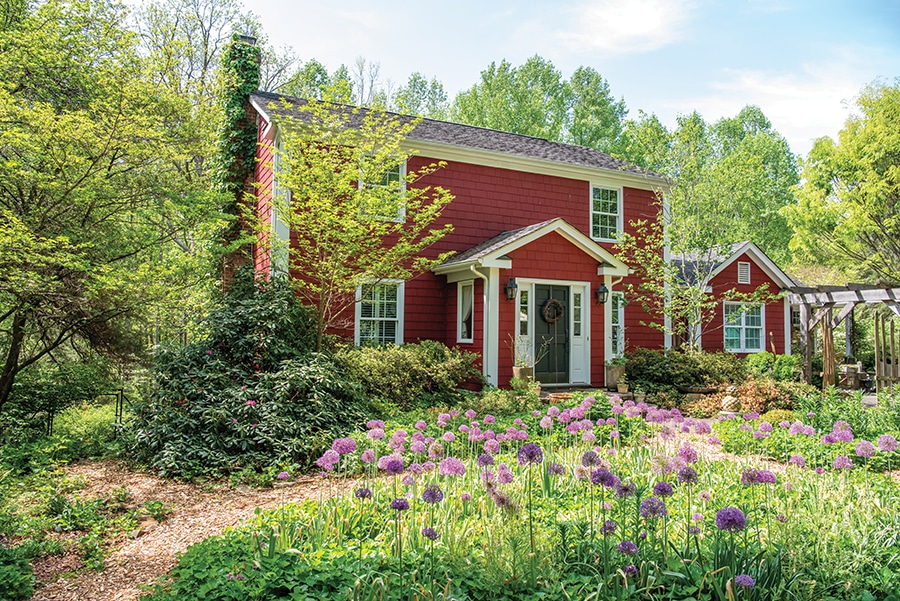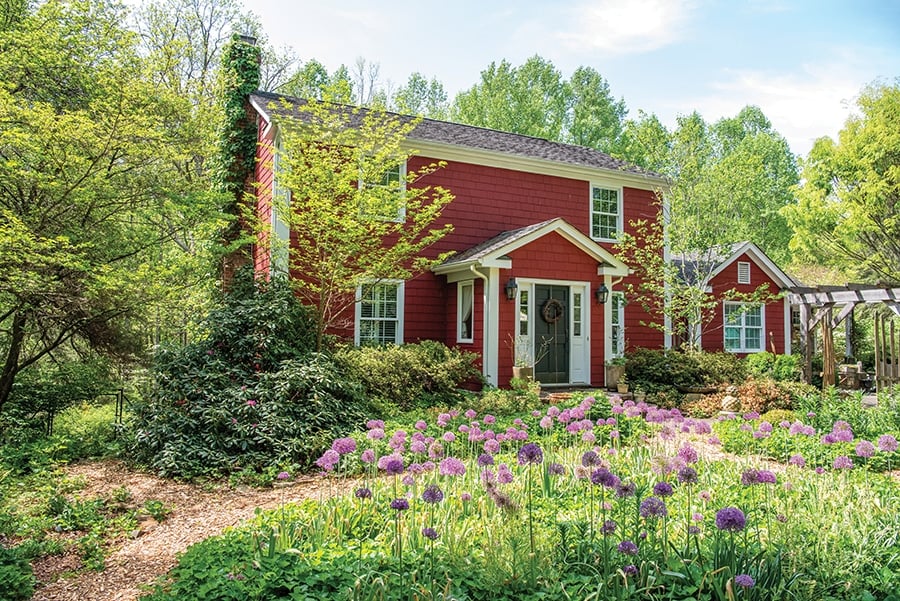 Nestled at the bottom of a hill, the home exudes the "hygge" lifestyle before you even enter the residence. Surrounded by lush greens and vegetation, the home feels supported and welcomed by the landscape. Purchased in 1981, the naturalized gardens have been a passion project of owners Fran and Andrew for over four decades.
Upon entering the home, the cottage charm greets guests with warm colors, sweet antiques and homey spaces. The decor is a fusion between the owners' love of 19th century collectibles and cottage charm, like the antique stationery cabinet below which houses a colorful assortment of tea cups and servers, pitchers, framed photos and collected treasures.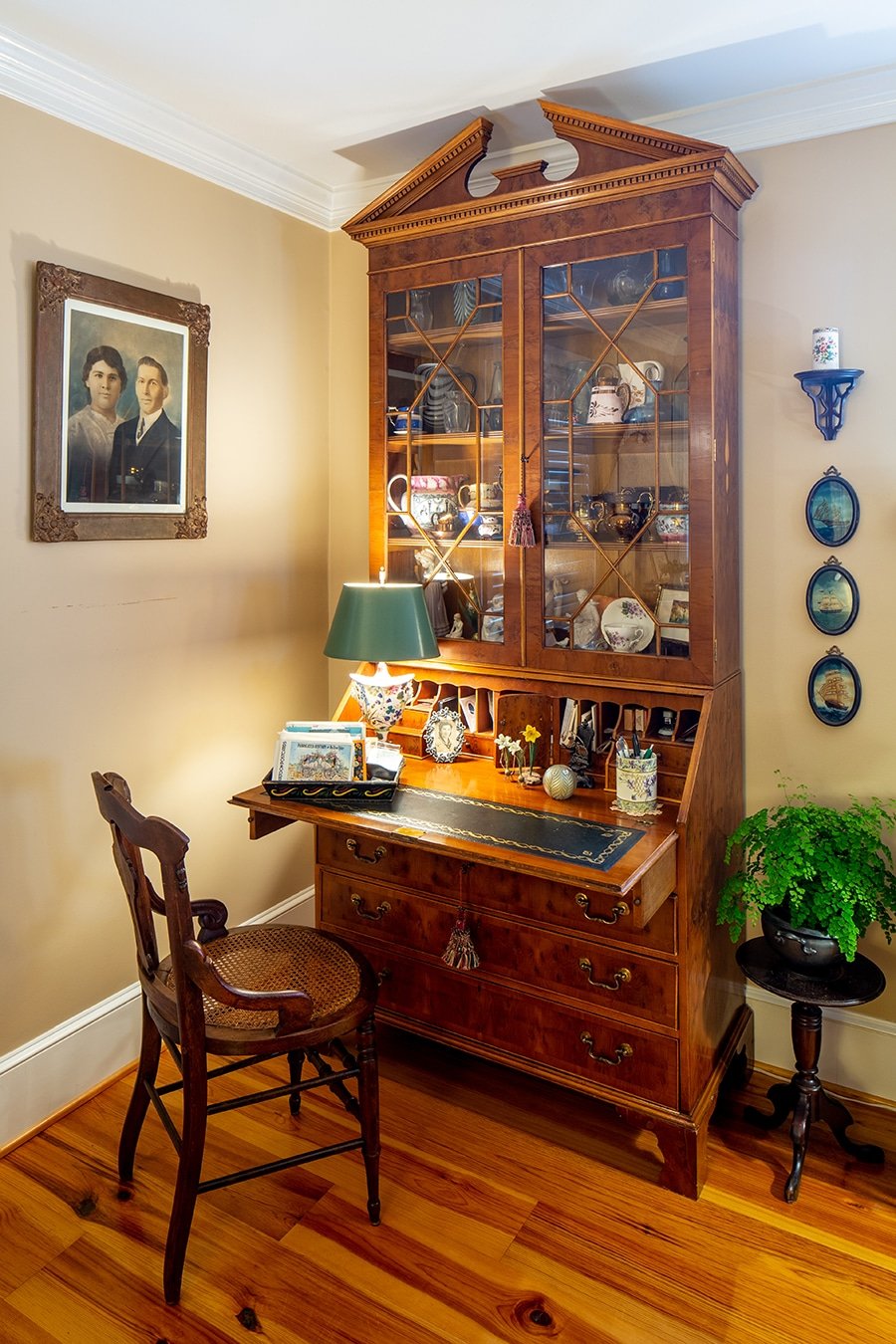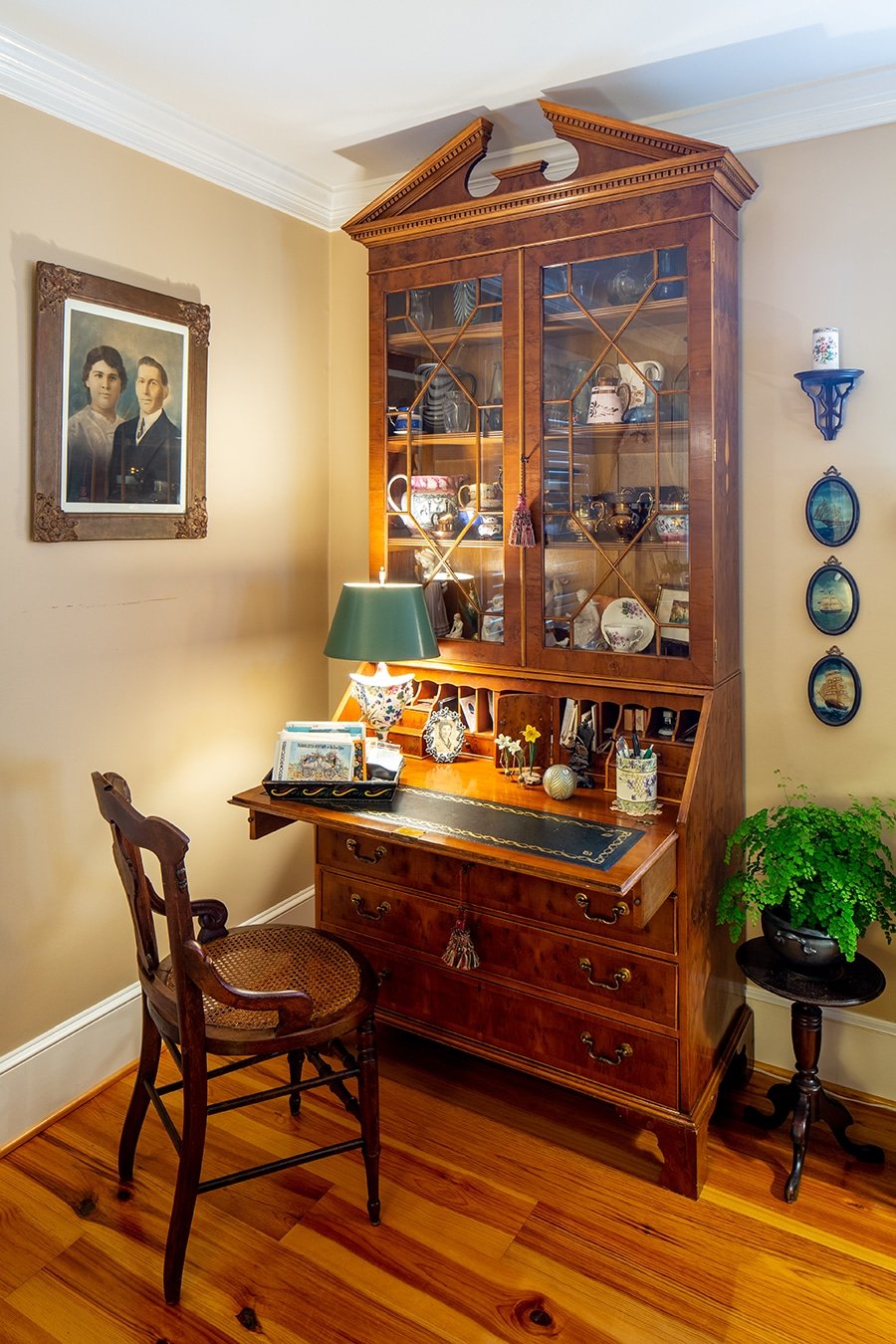 With a large wooden island, wooden cabinets and a gas fireplace, the kitchen embraces the home's "hygge" theme. One could easily imagine a pleasant afternoon enjoying a cup of tea with a friend.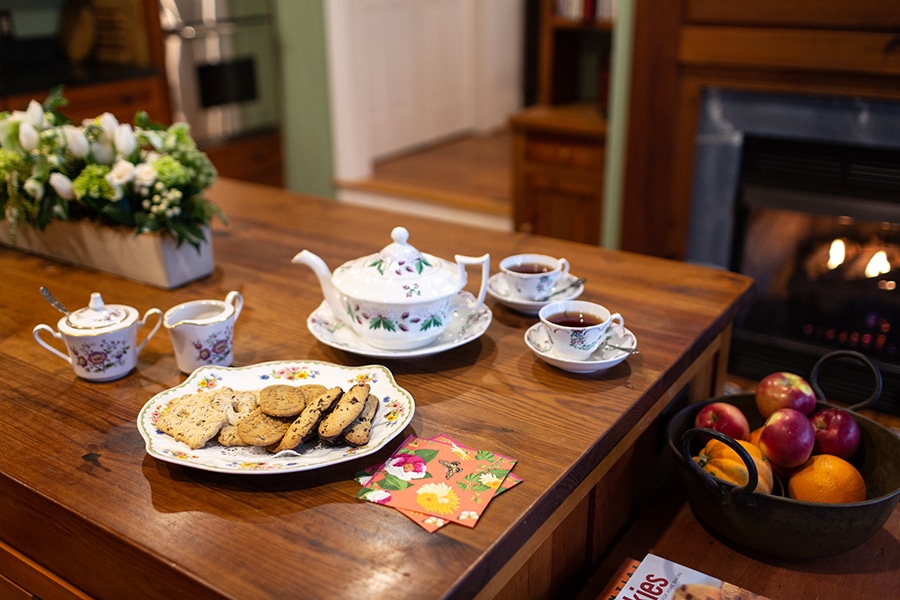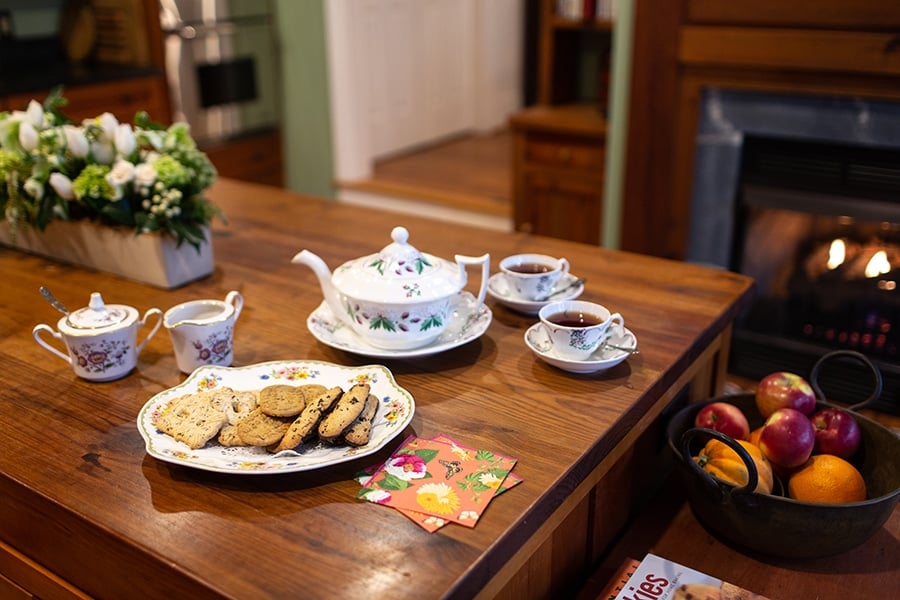 Outside, exploring the expansive garden's stone paths, there are many scents, colors and textures to enjoy. A charter member of the Jefferson Chapter of the Native Plant Society, Fran's master gardening and passion for nature are showcased in the landscape. One feels as though they have stumbled upon a beautiful secret garden.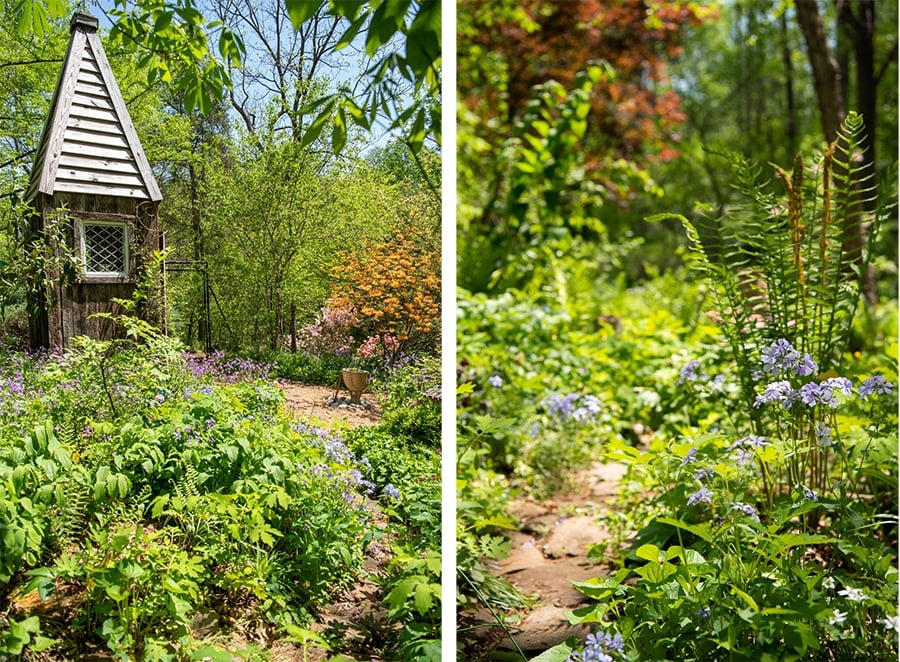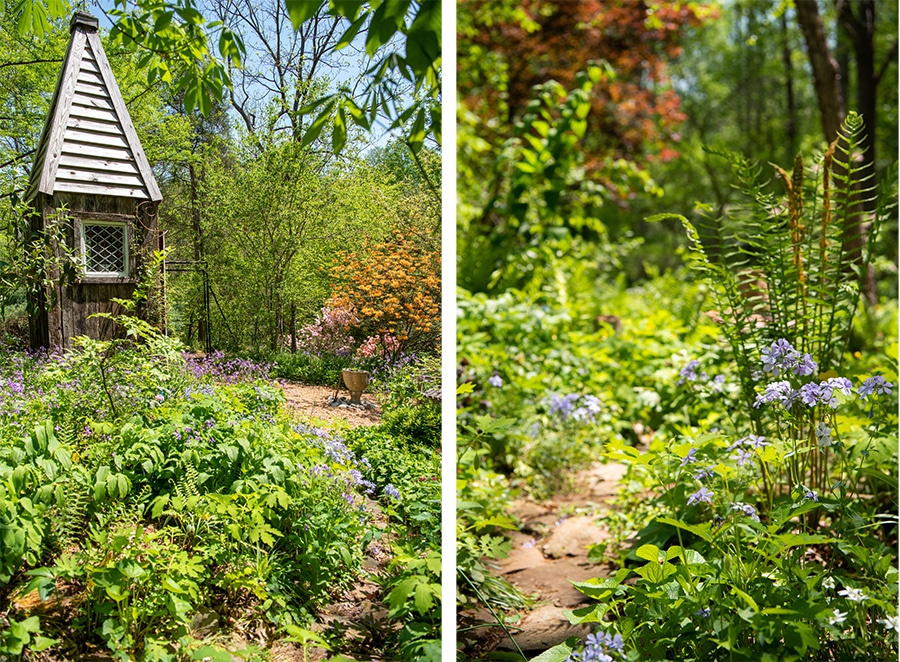 You do not want to miss this enchanting home on the 2019 Historic Garden Week Tour from April 27–May 4 throughout Virginia. Homes and gardens in our local Albemarle County and Charlottesville will be showcased on Sunday, April 28, from 10am–4pm. This tour is only accessible via shuttle, which will be picking up and dropping off visitors at the tour headquarters at the Greencroft Club.
If you plan on attending our local tour, be sure to also stop by our new Wine & Country Shop—just a two-minute drive from Greencroft! We will be open all day with local wines, foods, artisan-made goods and all your favorite garden/botanical pieces, like garden statuary, Maria Pace designs and home goods from our brand new Lara Gastinger Collection. We hope to see you soon! ~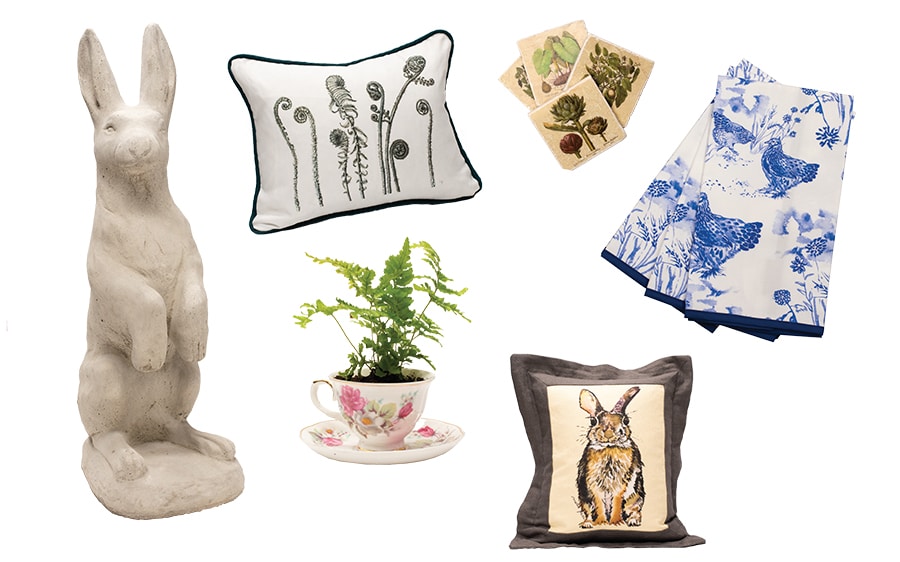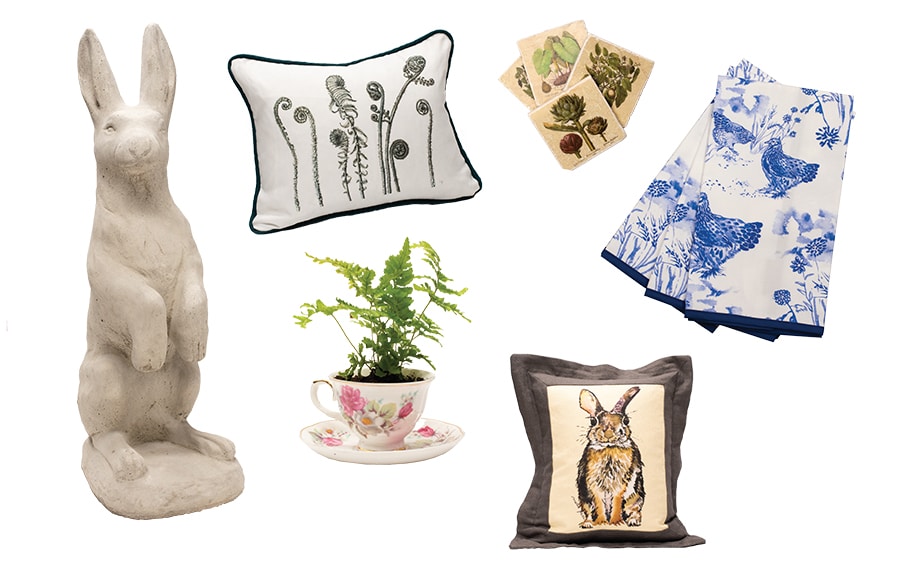 This article appears in Book 8 of Wine & Country Life. Start your subscription here or give a gift subscription here.
Interior Photos by Andrea Hubbell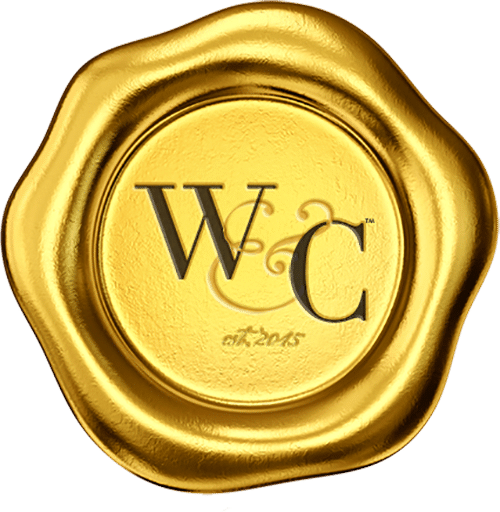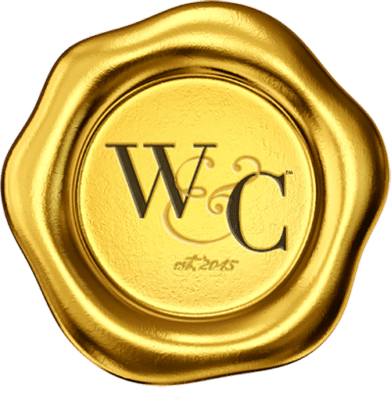 Wine & Country celebrates elevated living in Virginia Wine Country. Wine & Country Life, a semi-annual life & style magazine, and Wine & Country Weddings, an annual art book celebrating elegant Virginia weddings, are complemented by the Wine & Country Shop in Ivy, VA—a beautiful lifestyle boutique that brings the pages of the magazines to life. The Shop features over 40 Virginia artisans with everything from tailgating essentials and Dubarry attire to locally made foods and award-winning Virginia wines and craft beverages for your next event. Wine & Country covers the grape-growing foothills of the Blue Ridge Mountains from Lynchburg to Leesburg, including points in between like Charlottesville and Middleburg. Ivy Life & Style Media also creates other projects, including CharlottesvilleFamily.com, a collection of local resources including a popular calendar of events, family services guides and features on education, health and family day trips for parents and teachers in Charlottesville, as well as the CharlottesvilleWelcomeBook.com a guide to resources for Charlottesville tourists and newcomers.