Look back at one of our Historic Garden Week favorites, the charming English-style cottage garden known as the Boninti home. Complete with a cat curled up by the fireplace and a kettle always on the stove for a cup of tea and biscuits this home exudes cottage garden decor charm. With its red façade framed by lush green vegetation, it exists in its own quaint woodland paradise. When the homeowners, Fran and Andrew, purchased the property in 1981, they fell in love with the landscape and all of its quirks. From the hilly grade and partly riparian surface, the streams and the oak trees left from its earlier days as a dairy farm, the very garden itself whispers of bucolic fairytales. On the three acres, they built the home where their family grew and where the cottage gardens have far surpassed their original intentions, creating their own slice of heaven.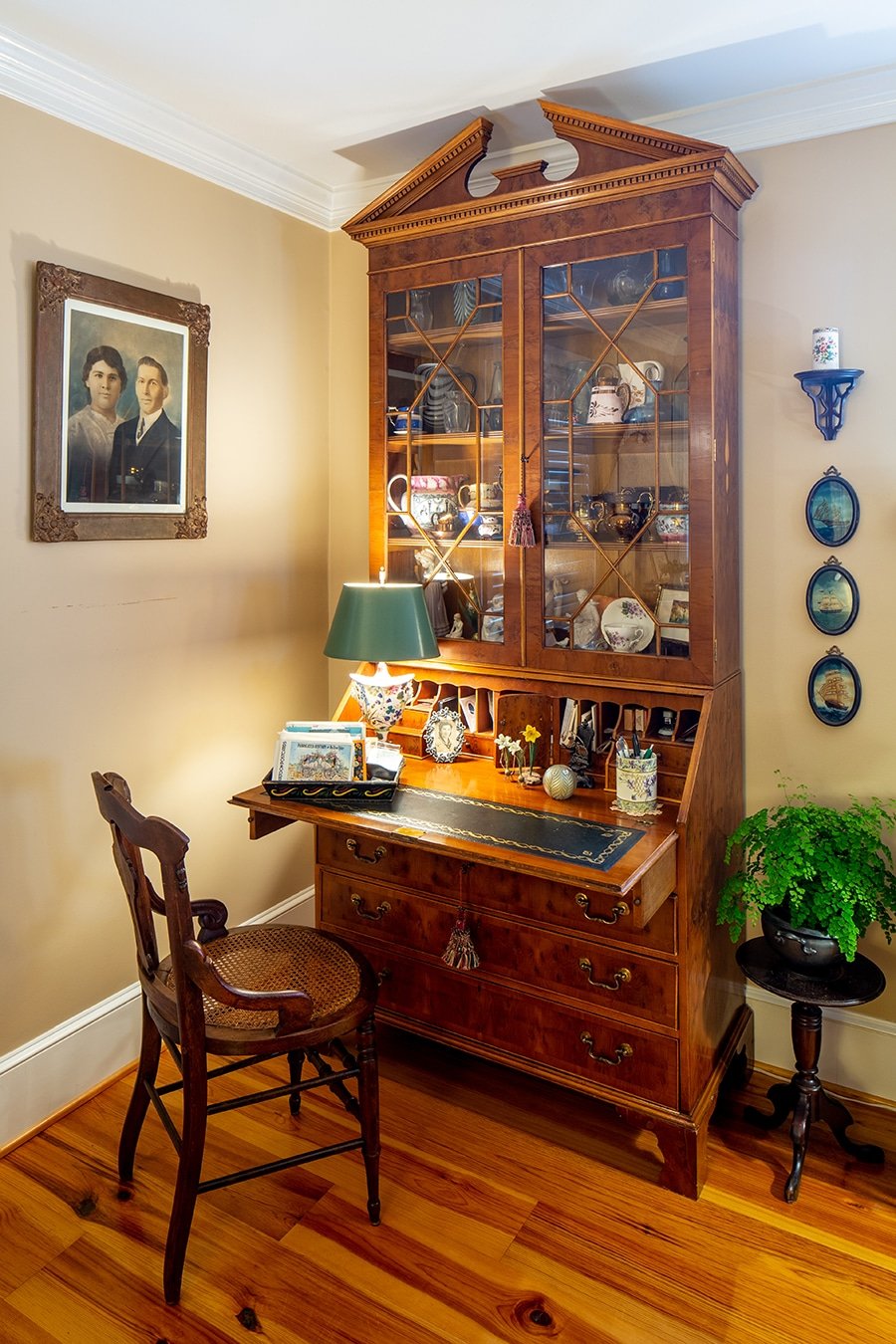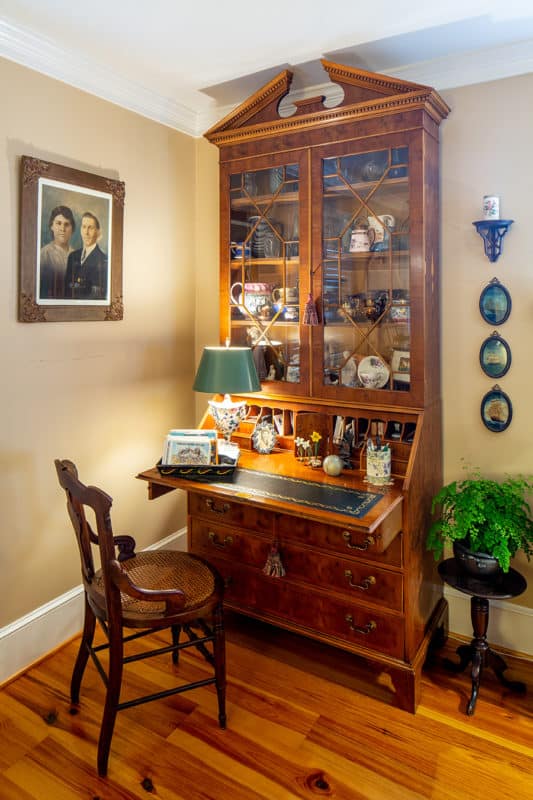 In 2005, the home underwent a major renovation, nearly doubling in size. Since then, the only major project was seven years ago when they had the front lawn removed and redesigned by Susan Viemeister to incorporate paths and garden beds—the only area not designed and added by the homeowners.
As you enter through what the family calls the "Friendship Door," you immediately feel at home. The interior's fresh interpretation of cottage garden style shines with inspiration from the couple's New England upbringing. Born on the east end of North Fork of Long Island, a fishing and farming community, Fran grew up on a potato and Brussels' sprout farm on Long Island, New York. Both sets of her grandparents, as well as her parents, were avid gardeners. Thinking back to those early days, she can recall learning the names of many European plants by their Croatian names from her grandmother Frances. It seems to have been preordained that she would create this lush English cottage garden.
Just as is the style in English cottages, the mixing and matching of fabrics and decorations makes this family's home welcoming and interesting. The small thru library is home to hundreds of gardening books and an extensive historic collection that speak to the passions of the homeowners.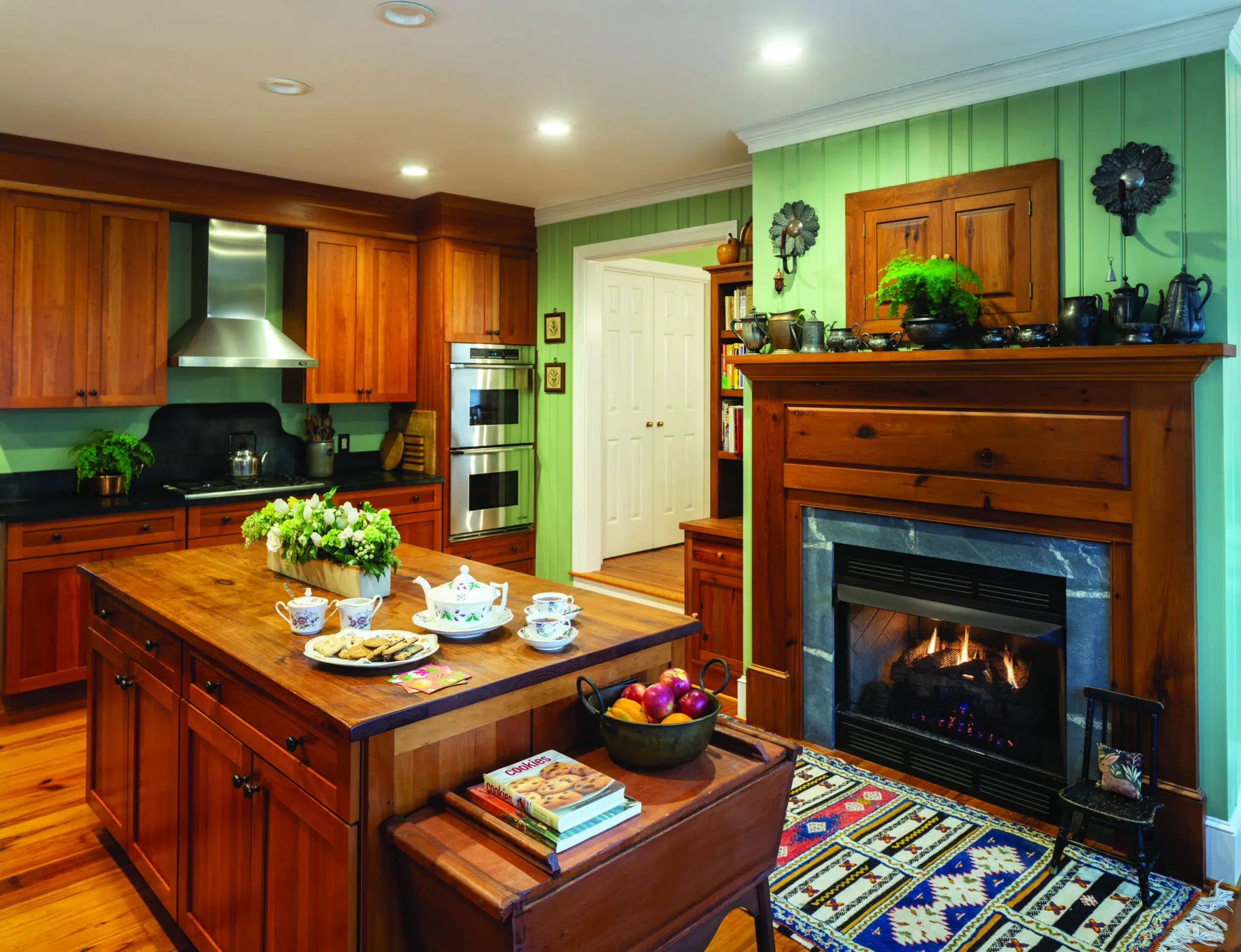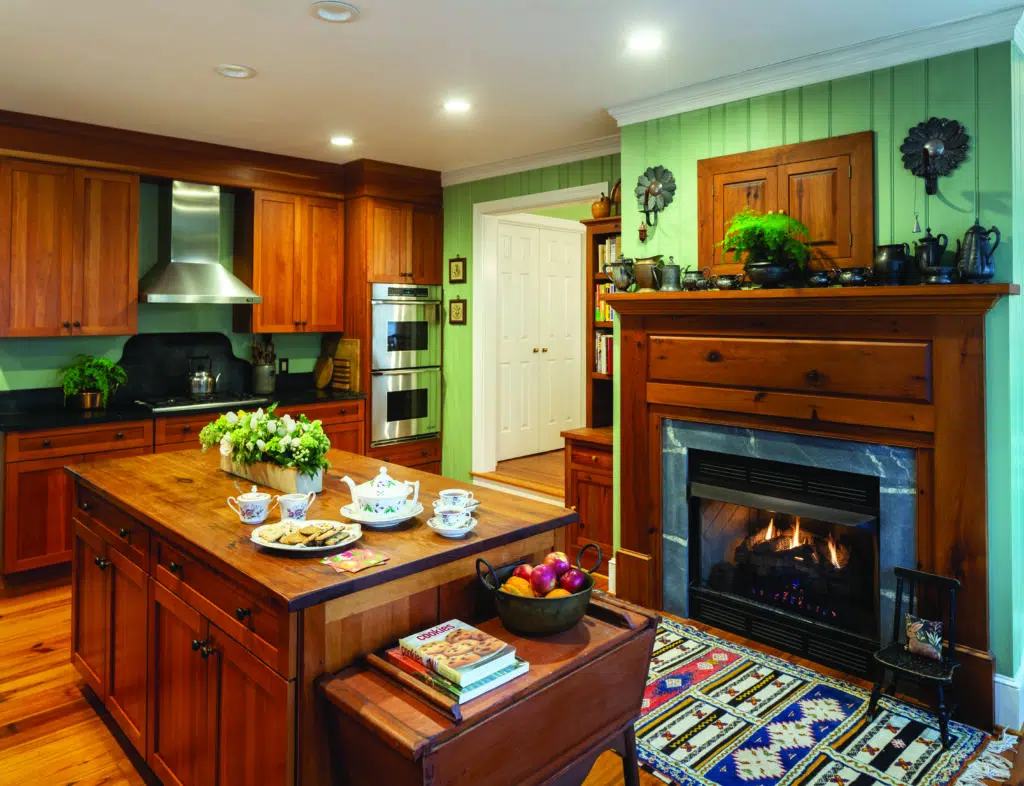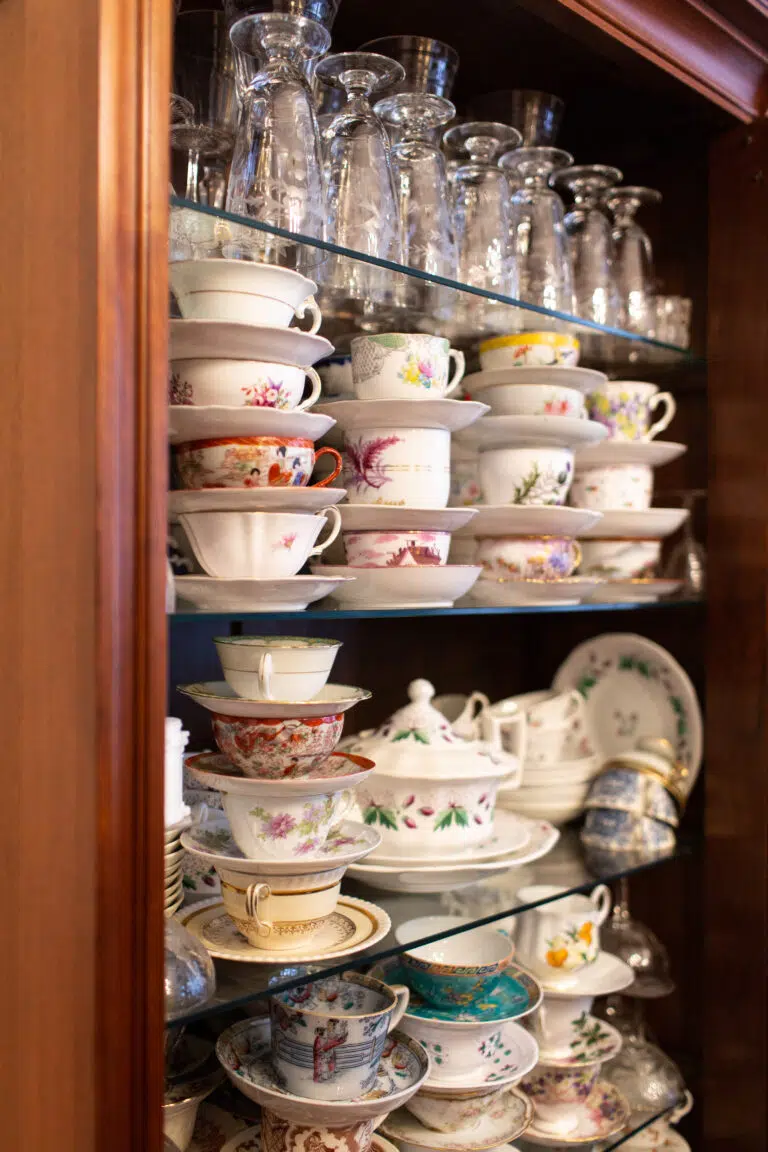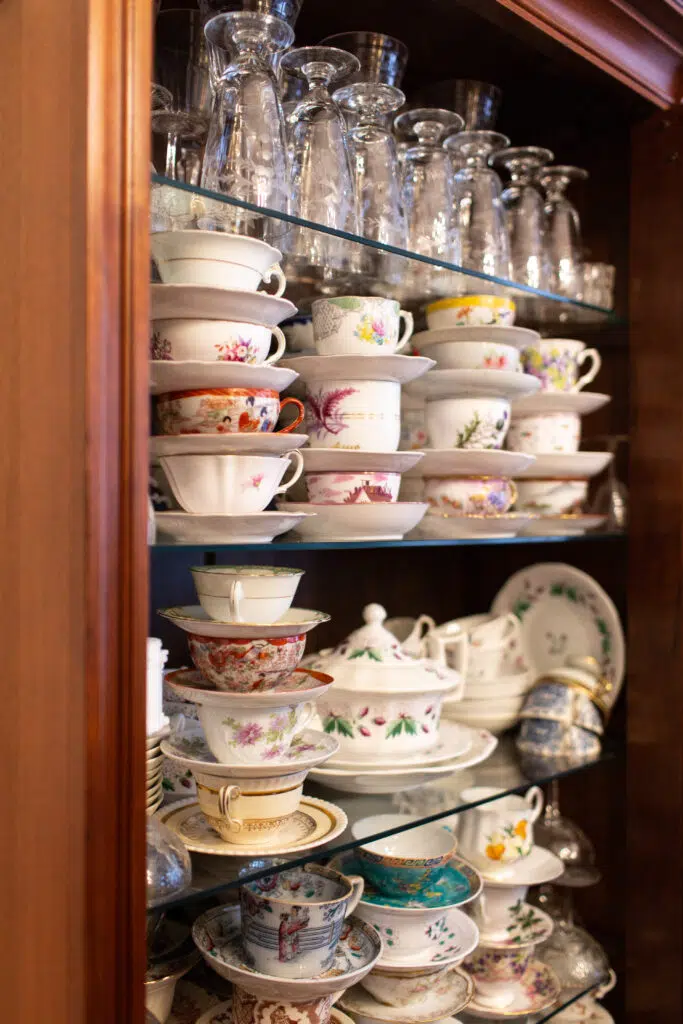 Cozy English Cottage Garden Interiors
The living room is decorated with family heirlooms, including the secretary in the front corner and a hand-stitched pillow from Fran's Croatian relatives, unique antique store finds and collectibles like a rare New England Sailor's Art Shell Basket. Chalk drawings of her grandparents, botanical cross stitch art from her sister and other works of art with their own personal story decorate the room.
Unlike more modern decorating styles, this cottage is personal and forgiving—there's always room for one more found treasure. It's a mixture of old and new, rare and inexpensive, simple and ornate pieces, and personal memorabilia.
The kitchen, a few steps down from the dining area, has gorgeous features that would appeal to any aspiring chef. With its large island, Alberene Soapstone countertops, double ovens, natural wood elements and gas fireplace, it's a popular gathering space for entertaining company.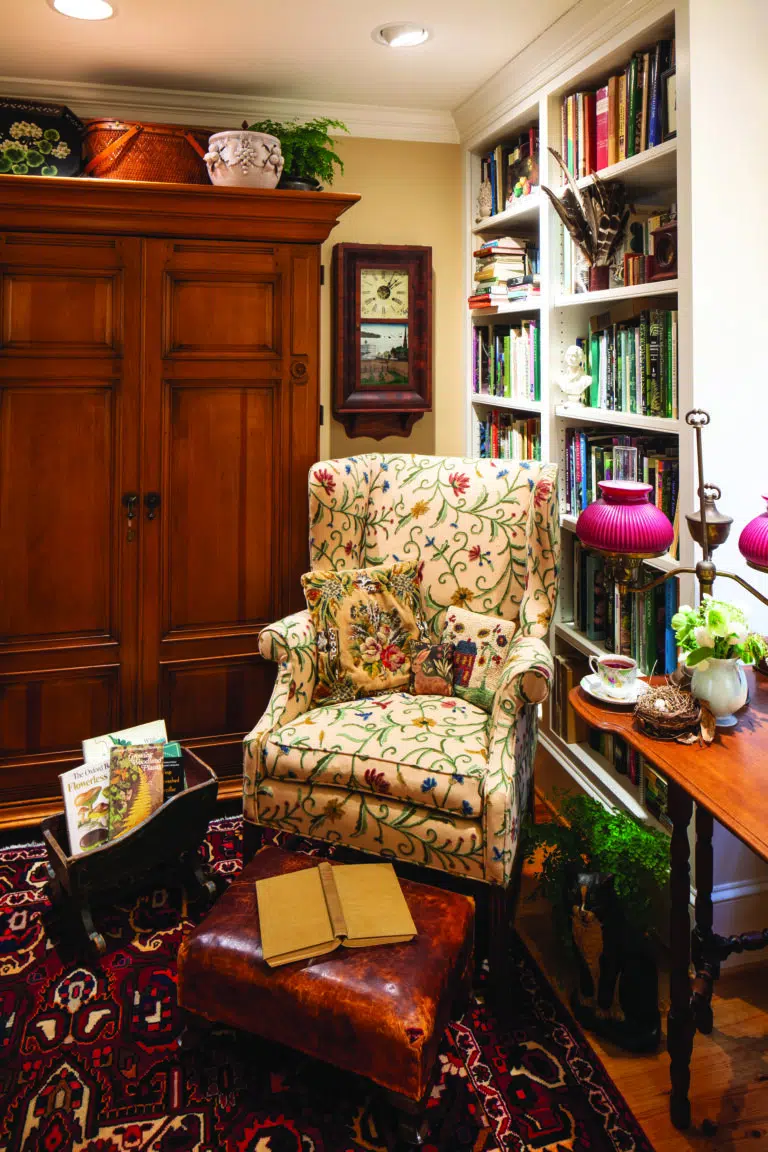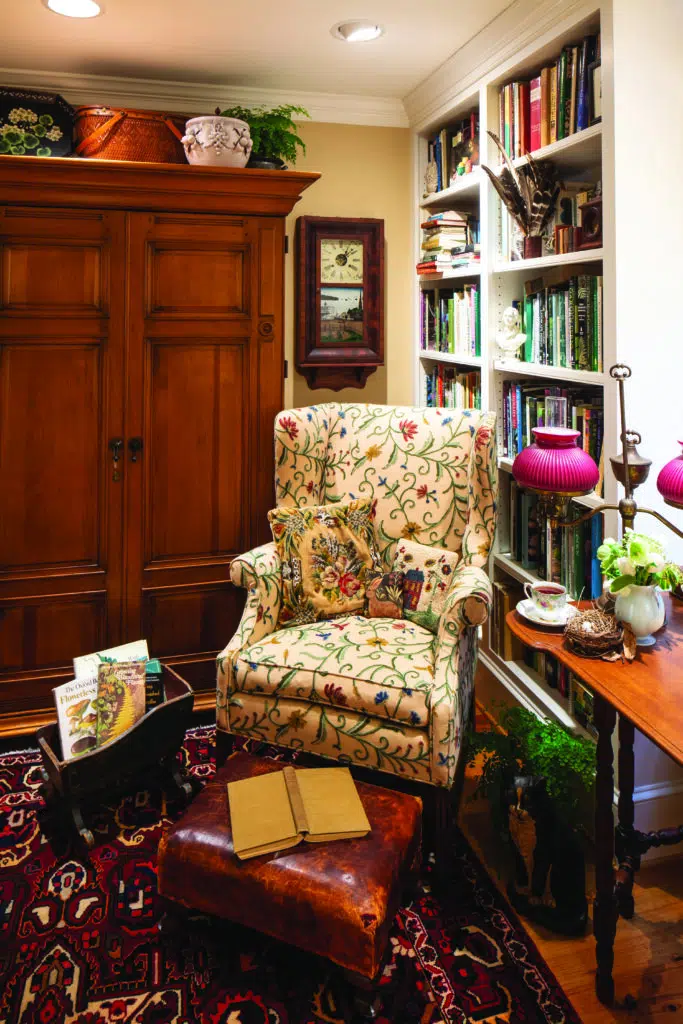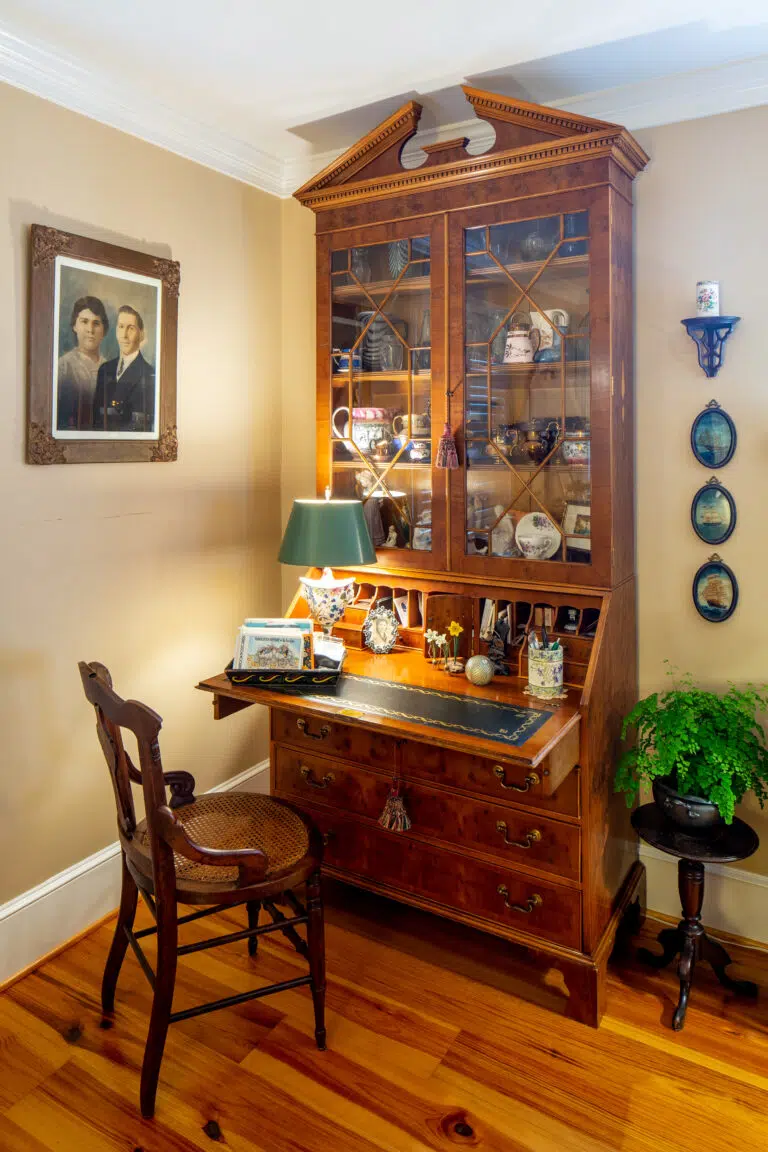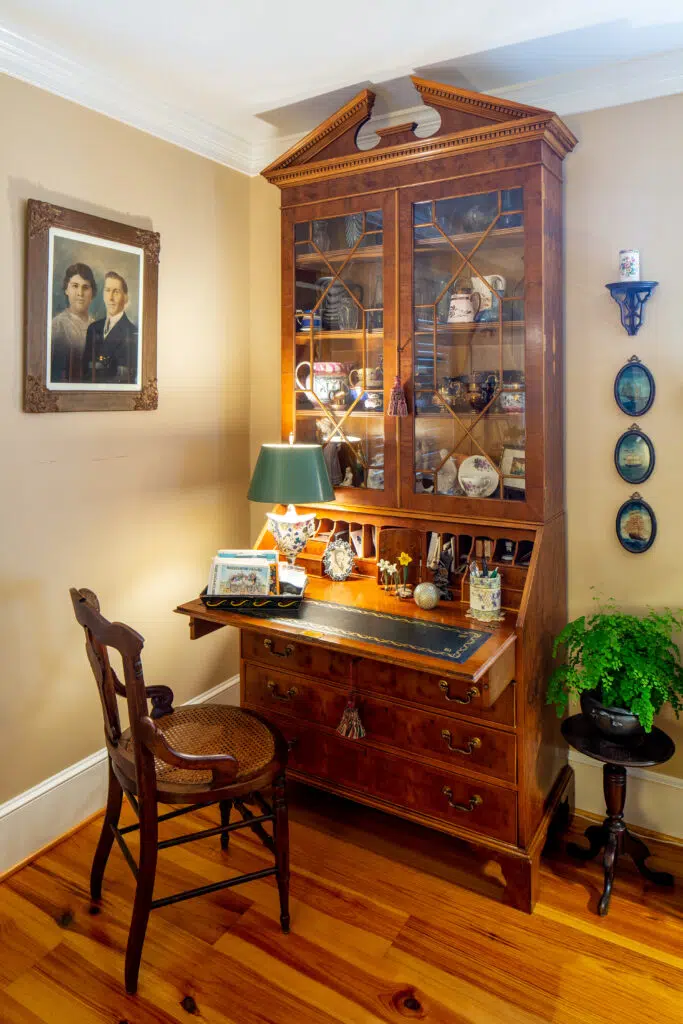 Extending Cottage-Style Throughout the Property
In the dining room, your eyes are drawn to the intricately beautiful antique floral china collection that fills a tall cabinet, decorates the walls and sits atop a childhood sideboard. The mixture is a combination of pieces passed down through the Boninti families and others they have collected over the years. It's safe to say that the couple's sentimentality for these delicate pieces started when they bought their first antique together back in high school. Fran's love of the Paste Era in the early 1800s is evident in their continually growing collection.
Running along the back wall of the house from the dining room and into the connecting kitchen is a wall of windows, bringing their love of nature into the home and trying together the cottage garden decor. Visitors can observe the busy activities at their 10 bird feeders around the patio, where a variety of bird species feed on everything from safflower to thistle.
The appeal of an English cottage garden lies in its friendly intimacy. There are no empty spaces, lawns or vistas, and everything is near and at-hand, rich with the scents of the flowers.
When it comes to preserving the environment around them, the Bonintis take many steps to ensure they are doing their part. All of the lights are CFLs and only plugged in and turned on via power strips and they utilize three compost piles. When the addition was added, they installed a geothermal system, which also heats their water.
Cottage Garden Design for Shade
The appeal of English cottage garden decor lies in its friendly intimacy. There are no empty spaces, lawns or vistas, and everything is near and at-hand, rich with the scents of the flowers. Walking around the house visitors encounter the large iron gate that was custom-made by Daniel Coyle with Blue & Gray Metalworks. Through the gates there is an array of unusual trees as well as a large red buckeye shading the patio. Below the wall of windows that spans the entire backside of the house, sits an outdoor living area. This quaint space is ideal for dining on warm evenings and enjoying lemonade in the shade. Merging the authentic and the recreated, the couple built the terracing by using recycled concrete and salvaged stones to build the walls and steps. The hill is planted with native trees, azaleas and wildflowers underplanted with thousands of spring bulbs.
Creating Shady Cottage Garden Rooms
Although their garden speaks to the free-and-easy style of English cottage style, it is actually well organized. With an emphasis on native Virginia plantings, many rare trees and shrubs abound, often grown from cuttings. Over the years, the owners have undertaken the construction of numerous paths and rock walls, collecting each rock from various sites or friends' properties. Stones from a river in Greene County were used to build the fishpond, which includes two small artificial streams. A small organic vegetable garden sits behind the shed.
Wandering along the grass paths, visitors can explore five different groves of rhododendrons and azaleas, along with other herbaceous and woody plants. Benches and gliders are placed throughout the paths for sitting and enjoying the cool shade. 
Each section, or room, in the garden has its own character while remaining in tune with the harmony of the entire property. One of the most notable outdoor "rooms" and paths is the "Steps to Know Where" with many exceptional native plantings. At the top is the "Secret Garden" with peonies underplanted by a collection of over 250 varieties of daffodils in a four square garden.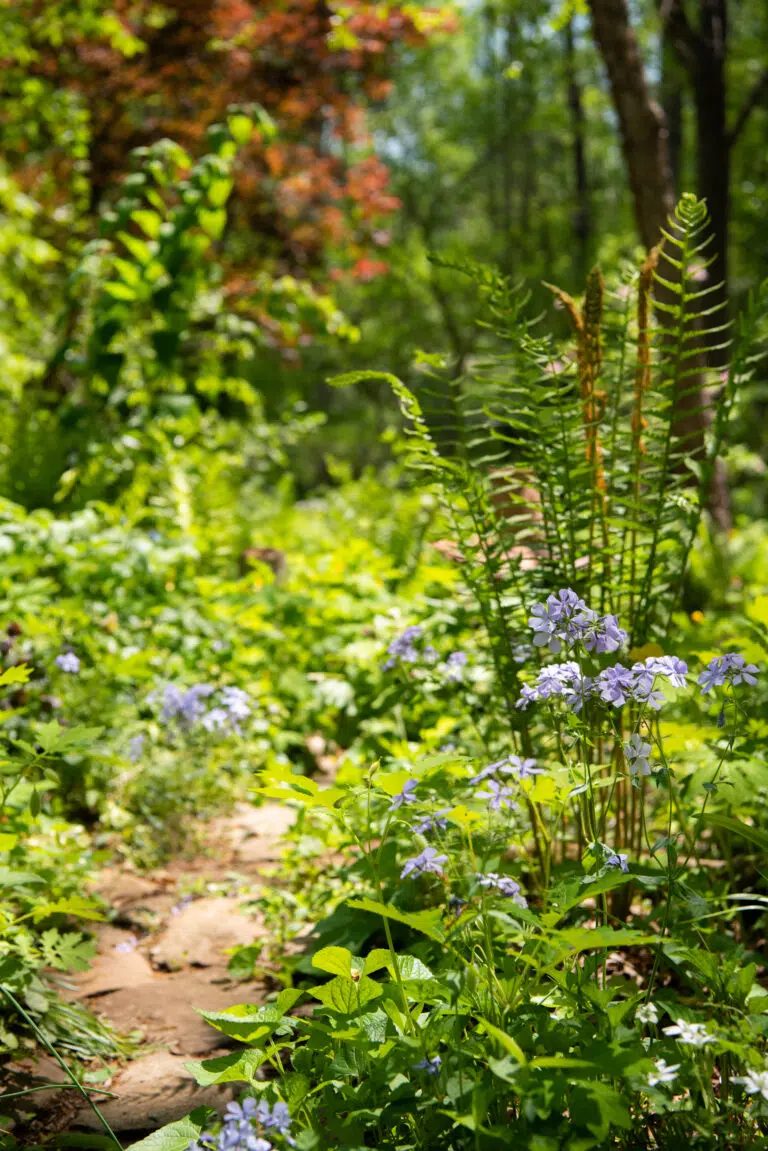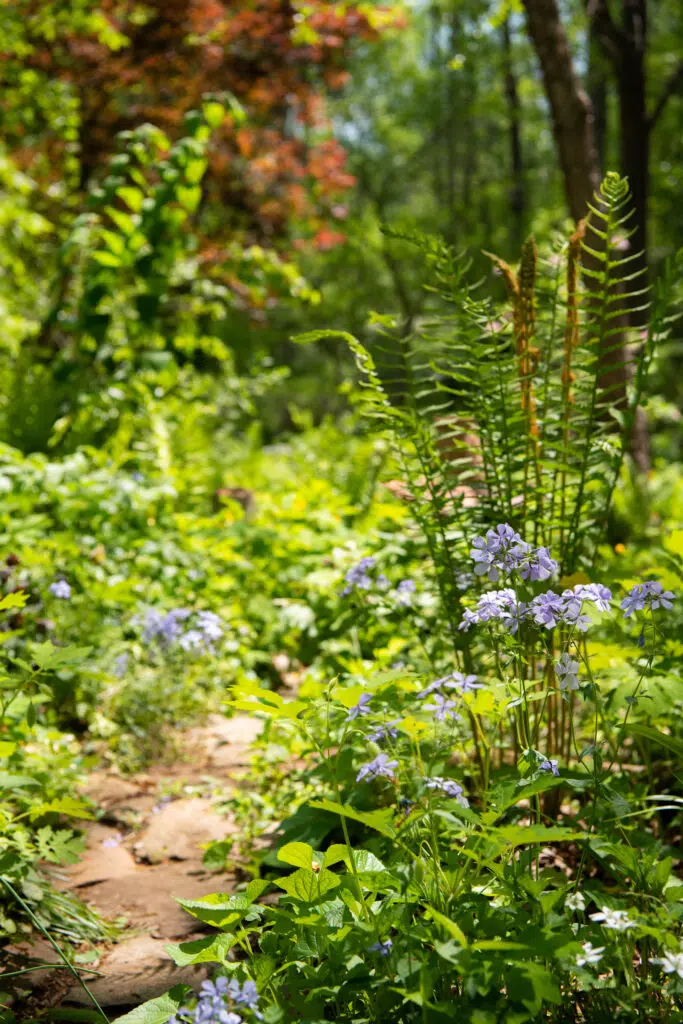 Native Plants for a Virginia Woodland Garden
Although deer fencing surrounds two of the acres, the other acre is the wilder garden filled with trees and ferns that deer do not favor. Just as with any gardener, there is always a learning curve. Ted Scott became Fran's local mentor and taught the couple many beneficial tips—one of which was that "leaves are for the garden, mulch is for the paths." 
The many unusual plantings, woodland areas, enchanting garden "rooms" and terraced spaces of this English cottage garden provide surprise and interest at every turn. "If you build it, they will come," Fran says about plants growing that they have not planted themselves. Volunteer plants like this are a sign of a healthy soil and happy environment.
From the native azaleas to cinnamon fern, peonies, daffodils and more, garden enthusiasts will undoubtedly find something they will fall in love. The couple advises young gardeners to "plant trees and shrubs first and worry about the little stuff later." 
Also on the property is the "nursery" with a lattice house as well as a potting bench and "stick" boxes where many of the cuttings that are later planted on the property, are made.
At the far side of the property is "Peter's Path," a mulched trail that takes you through the woodland underplanted with native ferns and bulbs.
Such a project can be tiresome and demanding, but by working in tandem daily, this couple has created their own cottage garden decor oasis. "Andrew is instrumental in planting and through his hard labor, and none of this would be possible without him," Fran shares about her husband and partner. "The garden is ours, and we couldn't be more proud of it."
Virtual Home & Garden Tours
Virginia Wine & Country Life is honored to have the opportunity to photograph and write about some of the most beautiful homes and gardens in the state. The well respected architectural photographer Robert Radifera has created many of the images. Enjoy the art of of a French Country home and small farmette complete with multiple gardens, mini-donkeys and a tortoise. A mountainside retreat in the Blue Ridge can be the perfect place to recharge. The famed jeweler, Elizabeth Locke, shared her elegant farmhouse with us as well as her spectacular greenhouse, dahlia garden and more. There are also many equestrian estates that also include incredible home and barn architecture. From modern design to historical brilliance like the Bunny Mellon Estate, you are sure to be inspired.
Horticulture in the Charlottesville-Albemarle Community
In addition to being a master gardener, Fran is a charter member of the Jefferson Chapter of the Native Plant Society, a member of the Monticello Bird Club and a member of the Rivanna Garden Club. She also serves as the Emeritus Garden Club of Virginia (GCV) State Horticulture Chair and was on the GCV State Horticulture Board for eight years. But, her experiences don't stop there. Her knowledge and passion for the outdoors have been strengthened from many other roles. She has been a natural history guide for the Ivy Creek Nature Preserve for 24 years and been serving as a garden guide for Thomas Jefferson's Monticello for 17 years.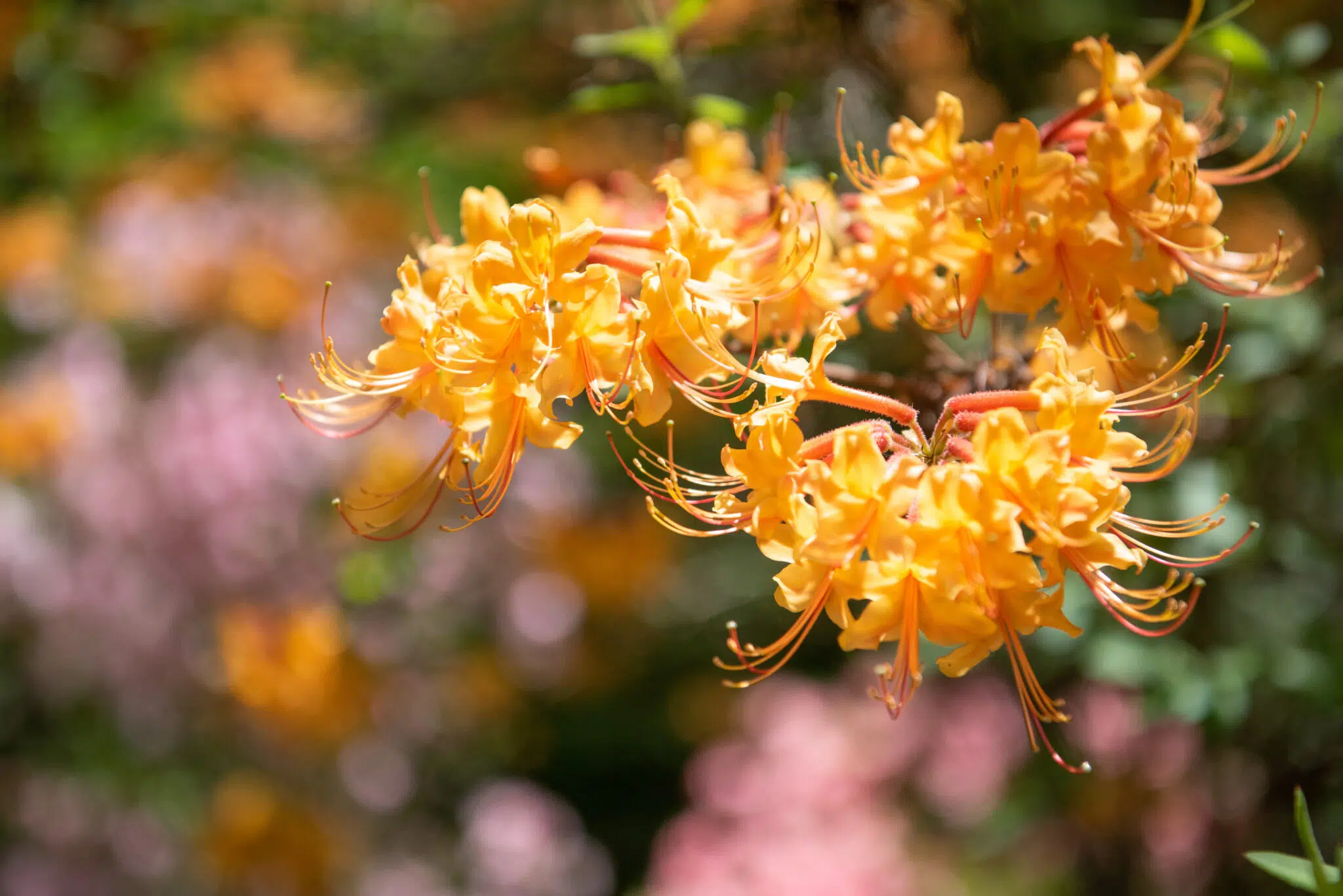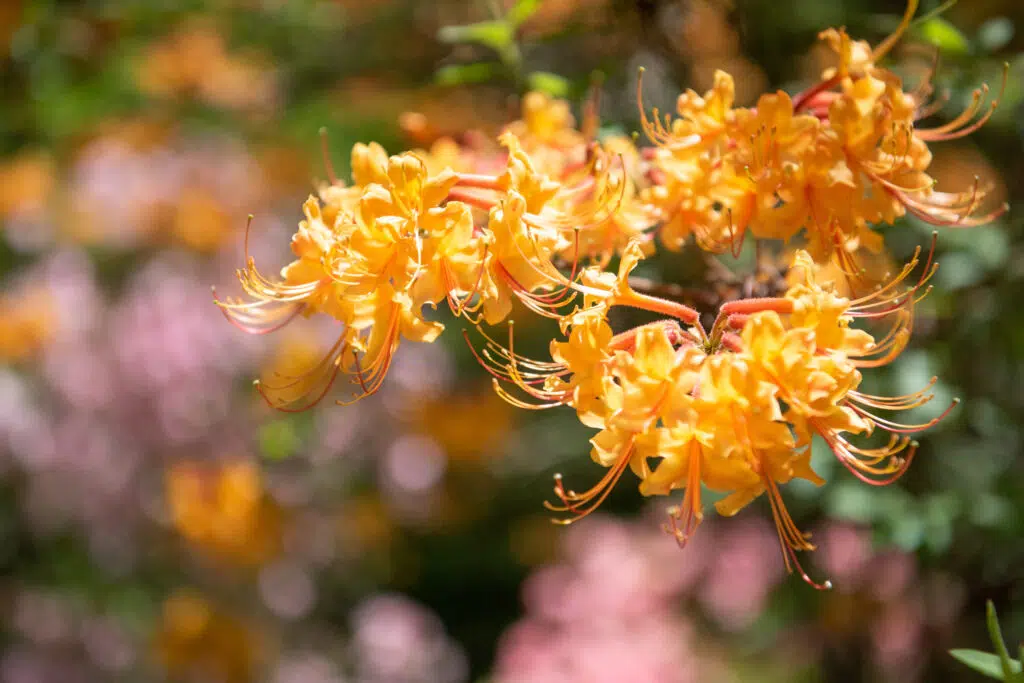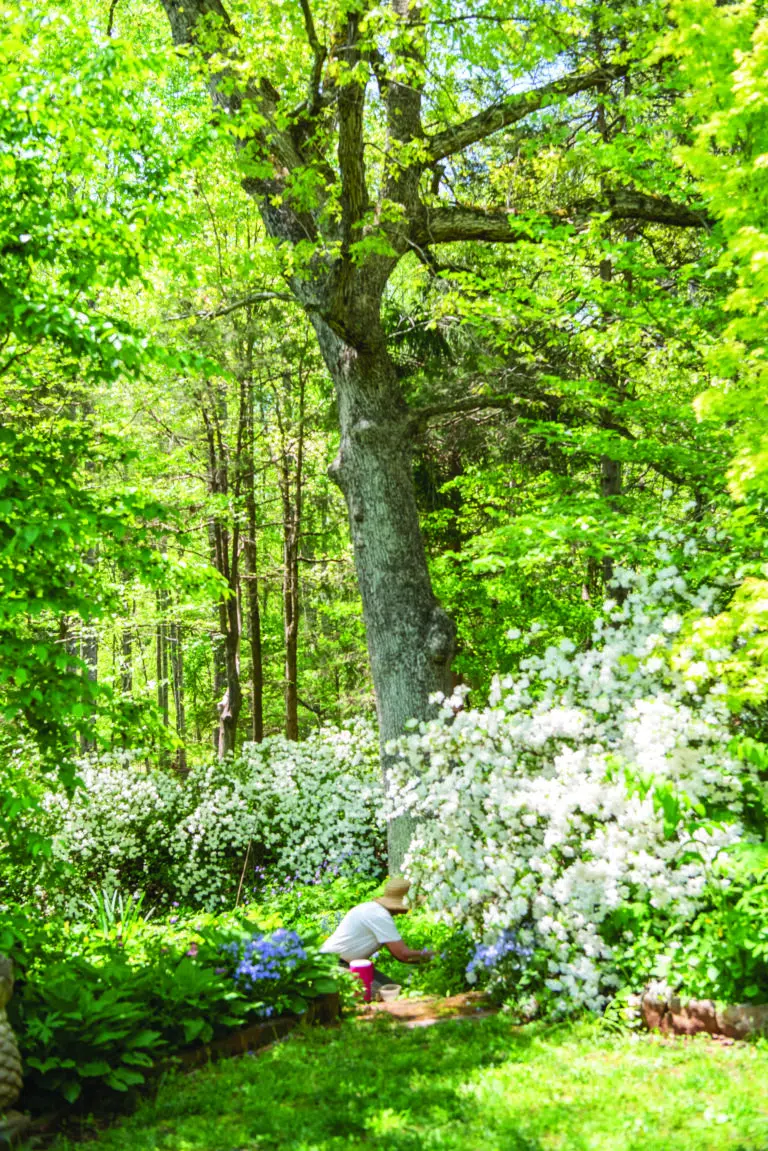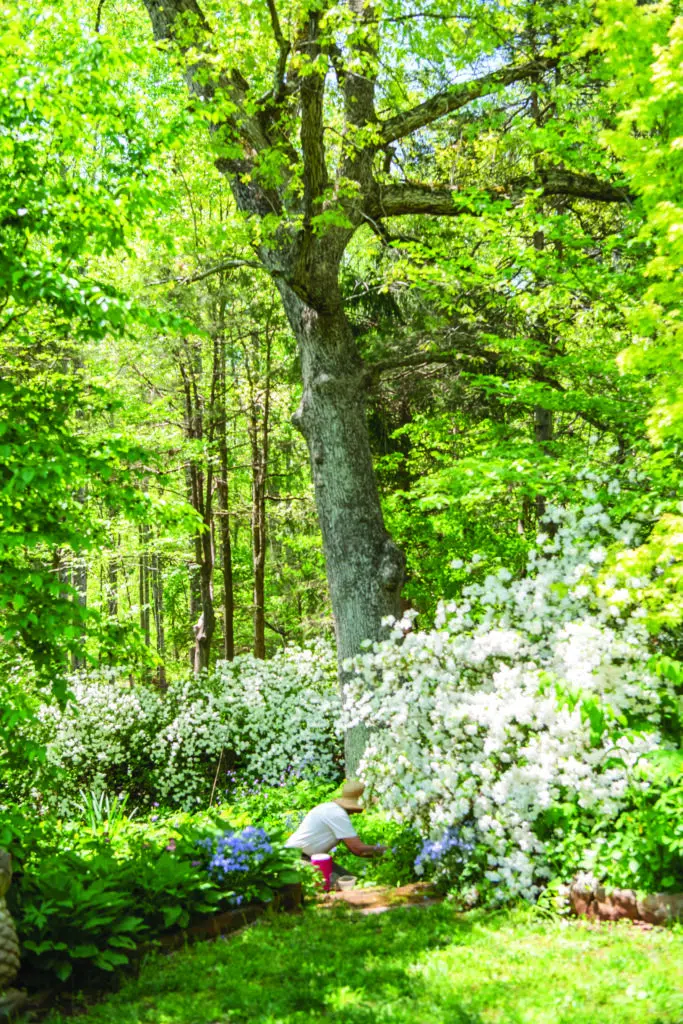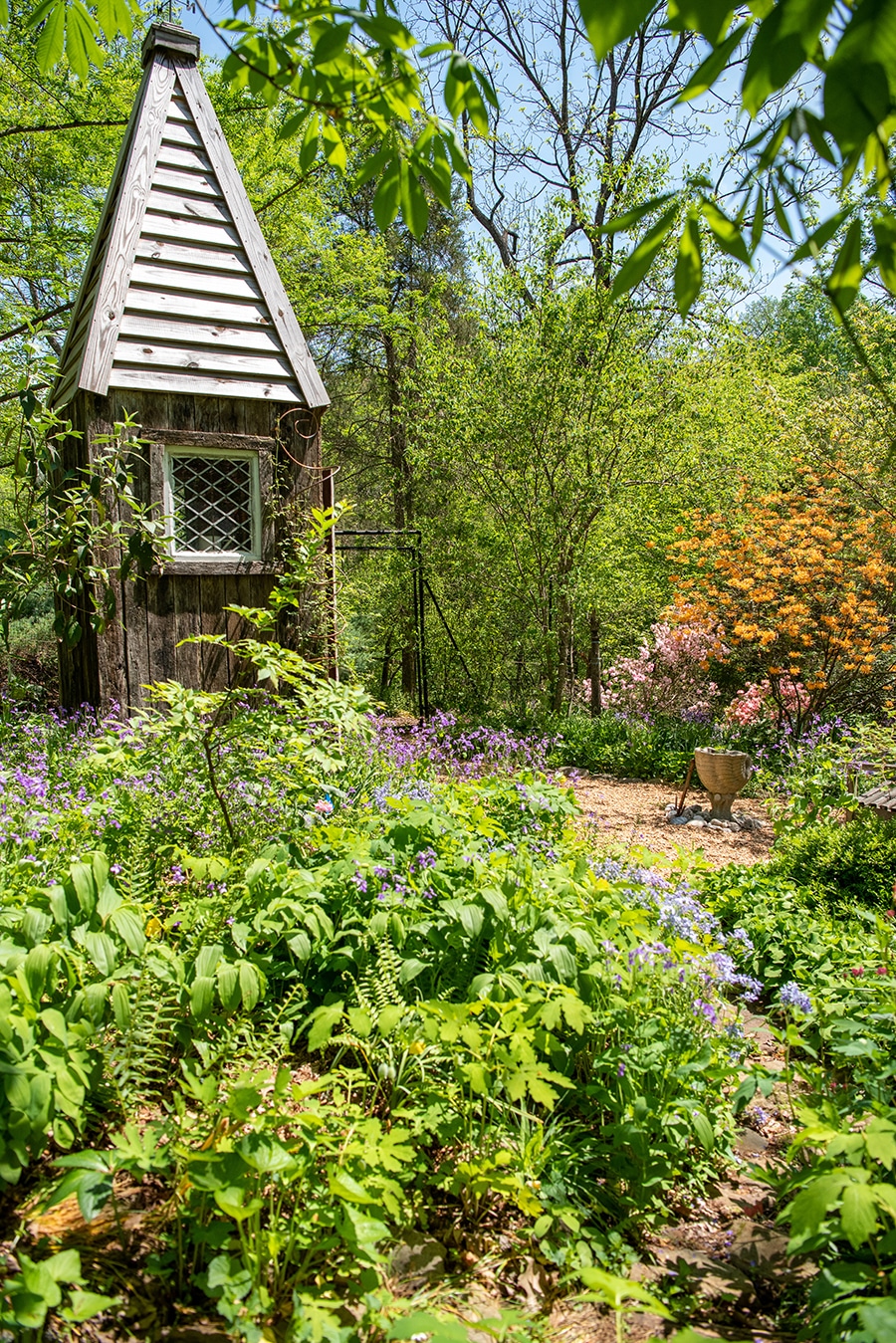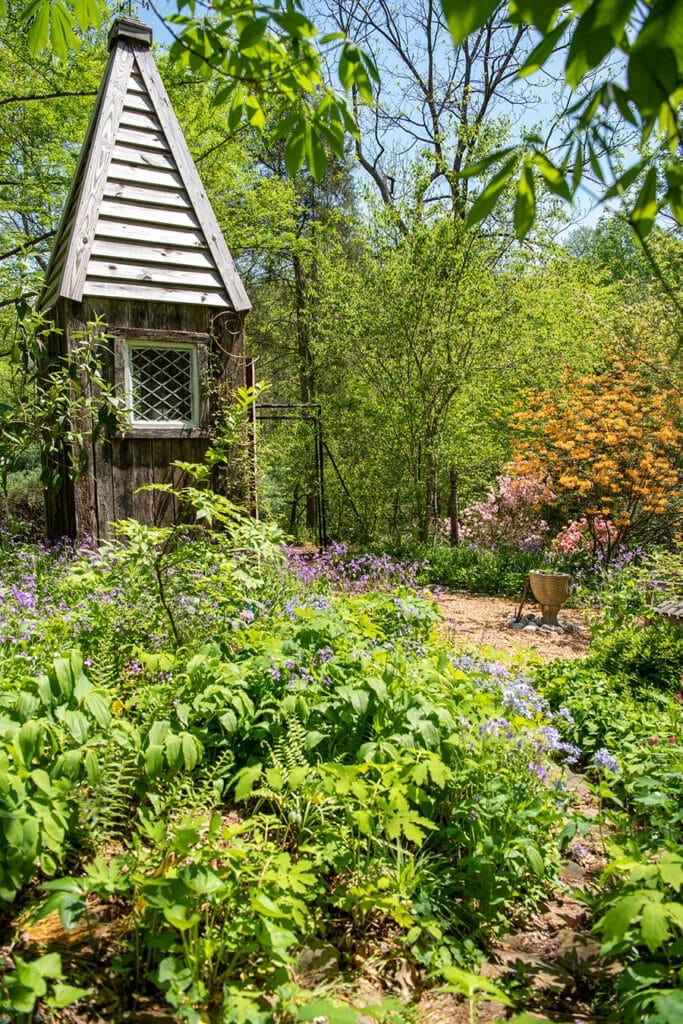 In an effort to give back to others the knowledge and experience she has collected over the years, she has also taught a Beginner's Guide to Native Plants Gardening class for Olli and hosts many tours around their property.
Virginia Gardening Clubs and Resources
Gardening Clubs & Agriculture
Garden Club of Virginia. The GCV celebrates the beauty of the land and works to conserve the gifts of nature. Hosts of the popular annual Historic Garden Week Tour.
Virginia Federation of Garden Clubs. Founded in 1933 and now hosts over 200 garden clubs state-wide with education, community beautification projects and conservation.
Virginia Master Gardeners. The outreach arm of the Virginia Cooperative Extension to provide agricultural and horticultural support and environmental education to residents. Regular classes, talks and tours as well as robust newsletters for home gardeners.
Virginia Tech Soil Testing Lab. Submit your samples for affordable analysis and recommendations on how to make economical and eco-conscious land use decisions. 
Gardens & Trails
Lewis Ginter Botanical Garden. Extensive ornamental gardens to explore as well as greenhouses, special exhibits, talks, tours and more.
State Arboretum of Virginia. The Blandy Experimental Farm in Boyce is a research facility run by UVa. Open dawn to dusk 365 days a year. Many programs and events are offered or visitors may explore the walking trails, self-guided tours, native plant trail and gardens. Dogs on leash welcome and there is also a bridle trail for equestrians.
Botanical Education
Olli at UVA. Short courses, virtual classes, lectures, travel and events for active adults. Variety of topics include gardening.
Wildlife and Native Plants
Piedmont Virginia Bird Club. Celebrating 35 years of bird identification, meetings, field trips and monthly educational meetings and socializing with other nature lovers.
Virginia Native Plant Society. Plant sales, talks, plant walks and tours for community education. 
Virginia State Beekeepers Association. Offers classes, workshops, mentoring and community outreach and regular meetings for local groups.
Each year, the Virginia Historic Garden Week Tours are held in the end of April and will give visitors a truly unique view of some of Virginia's quintessential gardens and properties. This year's tour highlights include beautiful Federal-style homes in Leesburg and Brown's Cove of Albemarle County for the first time ever. For more information, visit the Garden Club of Virginia. ~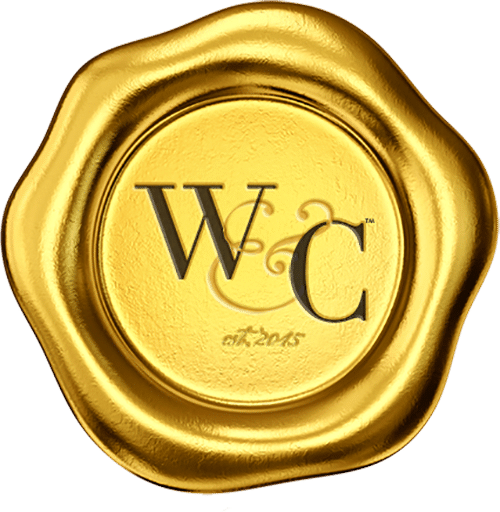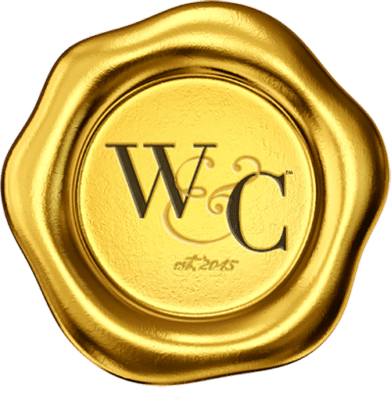 Virginia Wine & Country celebrates elevated living in Virginia Wine Country. Virginia Wine & Country Life is a semi-annual luxury print magazine with a full digital presence. The Virginia Wine & Country Gold Book is an annual guide to the top award-winning wines, wineries and experiences in Virginia Wine Country. The annual Virginia Wine & Country Wedding Planner is an art book of elegant Virginia weddings. The brand includes the Virginia Wine & Country Shop in Ivy, Va. It is a beautiful lifestyle boutique that brings the pages of the magazines to life. Virginia Wine & Country tells the stories of Virginia wineries, the farm-to-table movement, luxury travel, entertaining, art and the elegant country lifestyle. Ivy Life & Style Media also provides branding, web design and PR services for the wine industry.