Elizabeth Locke is known for her elegant, bold and one-of-a-kind neoclassical jewelry designs, but she embodies style and grace in all that she does. Her handmade 19K jewelry sparkles in storefront windows from independent boutiques to Neiman Marcus, and an afternoon with Locke at her home reveals how everything she touches turns to gold.
On a 100-acre property in the heart of Virginia hunt country, known as Clay Hill, sits an elegant Federal-style home that has been renovated and refurbished under Locke's guidance. When not traveling, in her studio creating, or nestled in at home with her husband John Staelin and their feline companion Violetta, Locke is an active supporter of the Virginia Museum of Fine Arts, Virginia Historic Garden Week and the Garden Conservancy.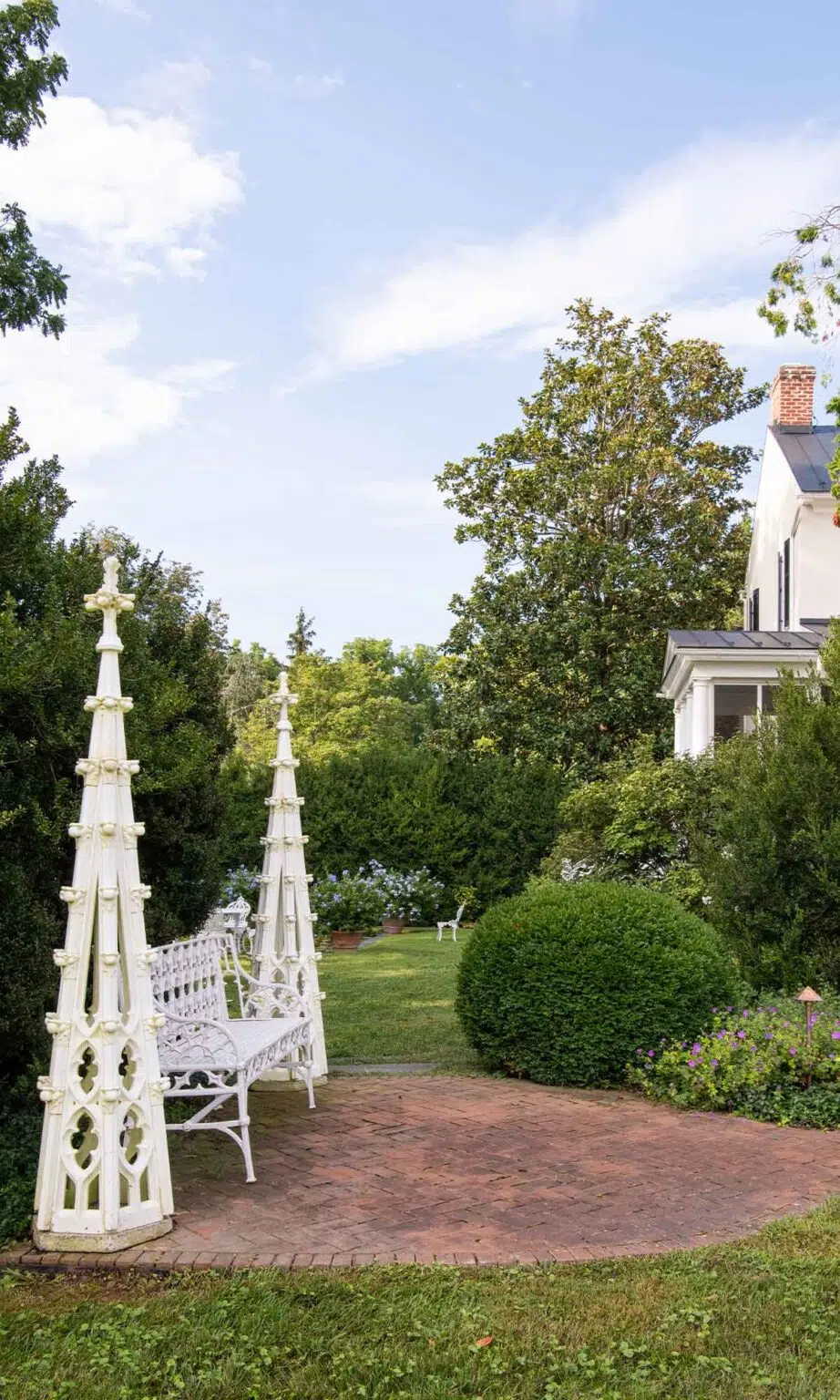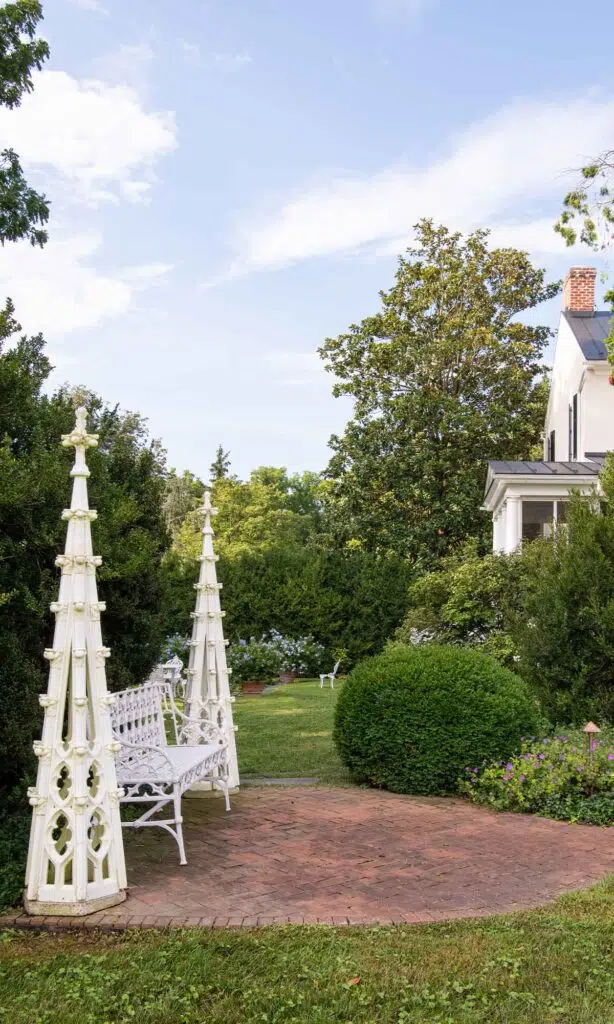 A Jade Library Inspired by Travel
Elizabeth Locke begins and ends each day by sketching out her jewelry design inspirations in the library. The striking room also serves as the home to the couple's collection of leather-bound books, many of which are antiques from her grandfather-in-law.
An ardent gardener and patron of the arts, her passions are evident throughout her life and home, and the library's rich jade walls are the perfect example of Locke's passions pairing with her life's work. Bringing the garden's palette indoors, the deep green color is drawn from a well-remembered library she discovered years ago in Venice and serves as a wonderful foil for both her Turkish Revival slipper chair and the 19th-century library table. The addition of luxurious gold trim in this space adds just the right amount of glamour.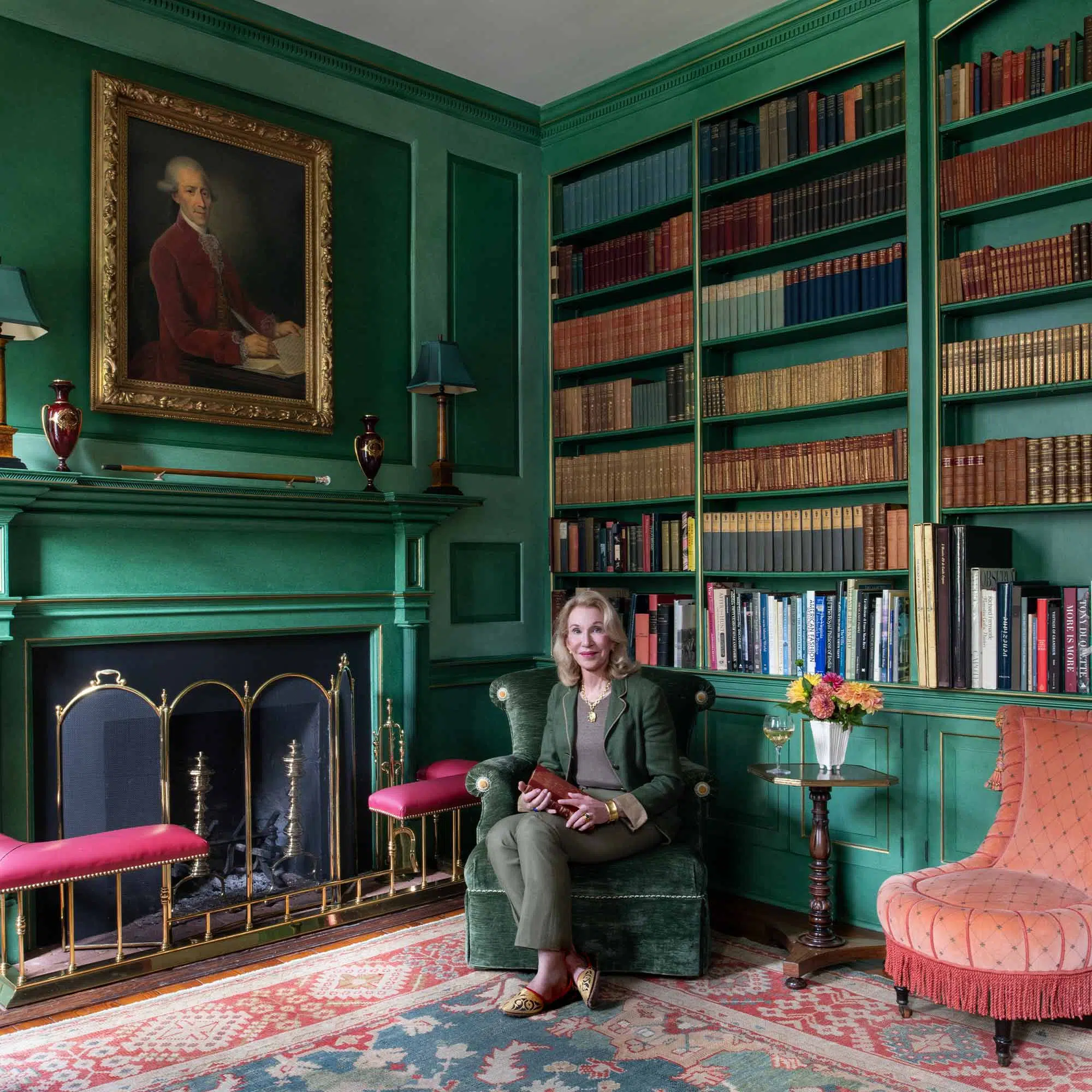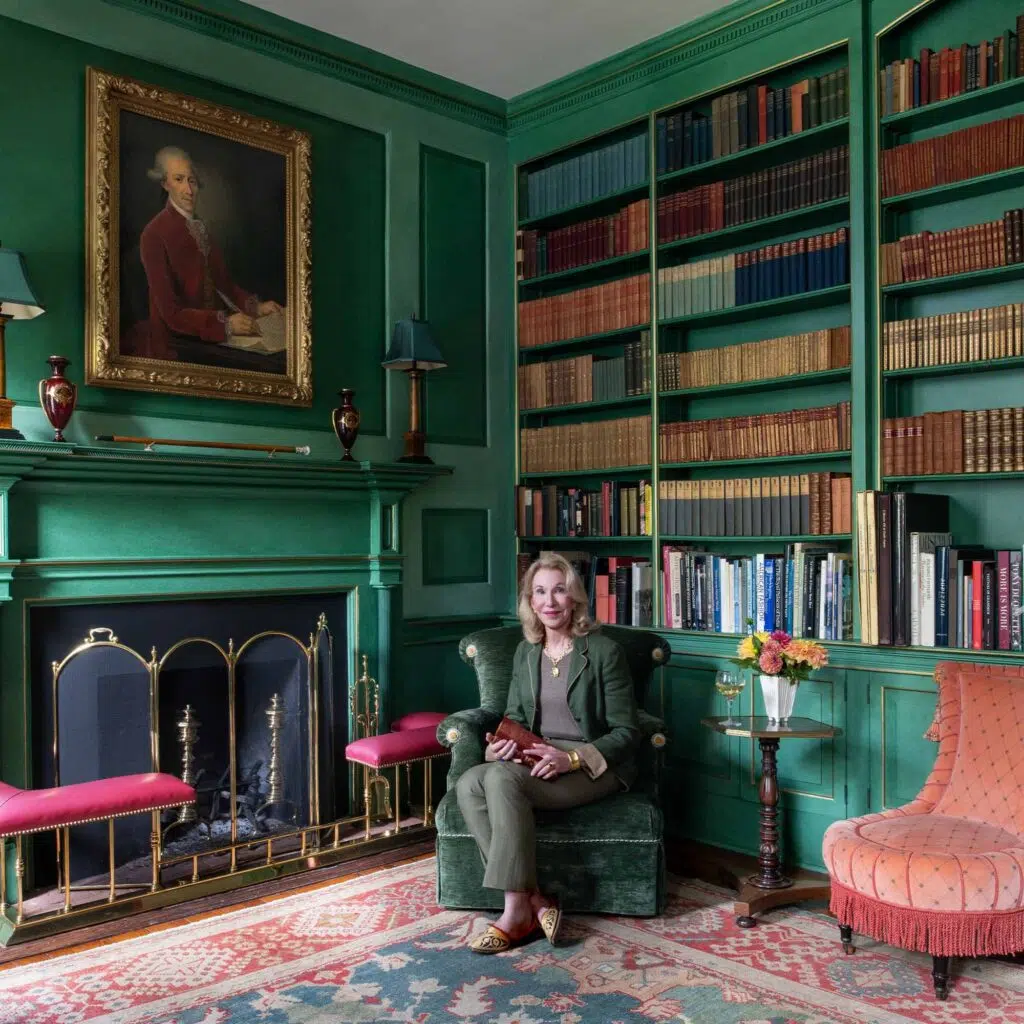 In Elizabeth Locke's Virginia country home, not far from where she grew up in Staunton, Italian elements effuse from the botanical dream that is her garden. She has created an ephemeral work of art that comes to life in full bloom. Her love for Italy began at age 11 during her first trip abroad with her family to Tuscany. It was then that her dream of living there took root, only to be later fulfilled when she enrolled at the University of Florence to study Italian literature, art and the romance language. She spent years living in Italy, building her business, and falling in love with the antiquities and art of the Etruscans, Greeks and Romans. All continue to inspire her gorgeous luxury jewelry designs, which are often made with unique tokens from history, such as micro mosaics, antique gaming pieces, coins, miniature paintings or antique Japanese porcelain buttons.
Locke's glamorous Persian cat Violetta meanders the hallways and leads us into the kitchen where Locke has placed fresh cuttings in delicate vases on the antique table that dates to roughly 1900.
Jewelry Designer's Kitchen & Family Room Snug
It is the picture of domestic comfort. In their European-style kitchen—a 10-year-old addition that perfectly blends with the over 200-year-old home's historic details and proportions—Elizabeth Locke enjoys cooking with ingredients grown in her gardens. Now the heart of the home, the kitchen draws people in, making them feel welcomed and at ease.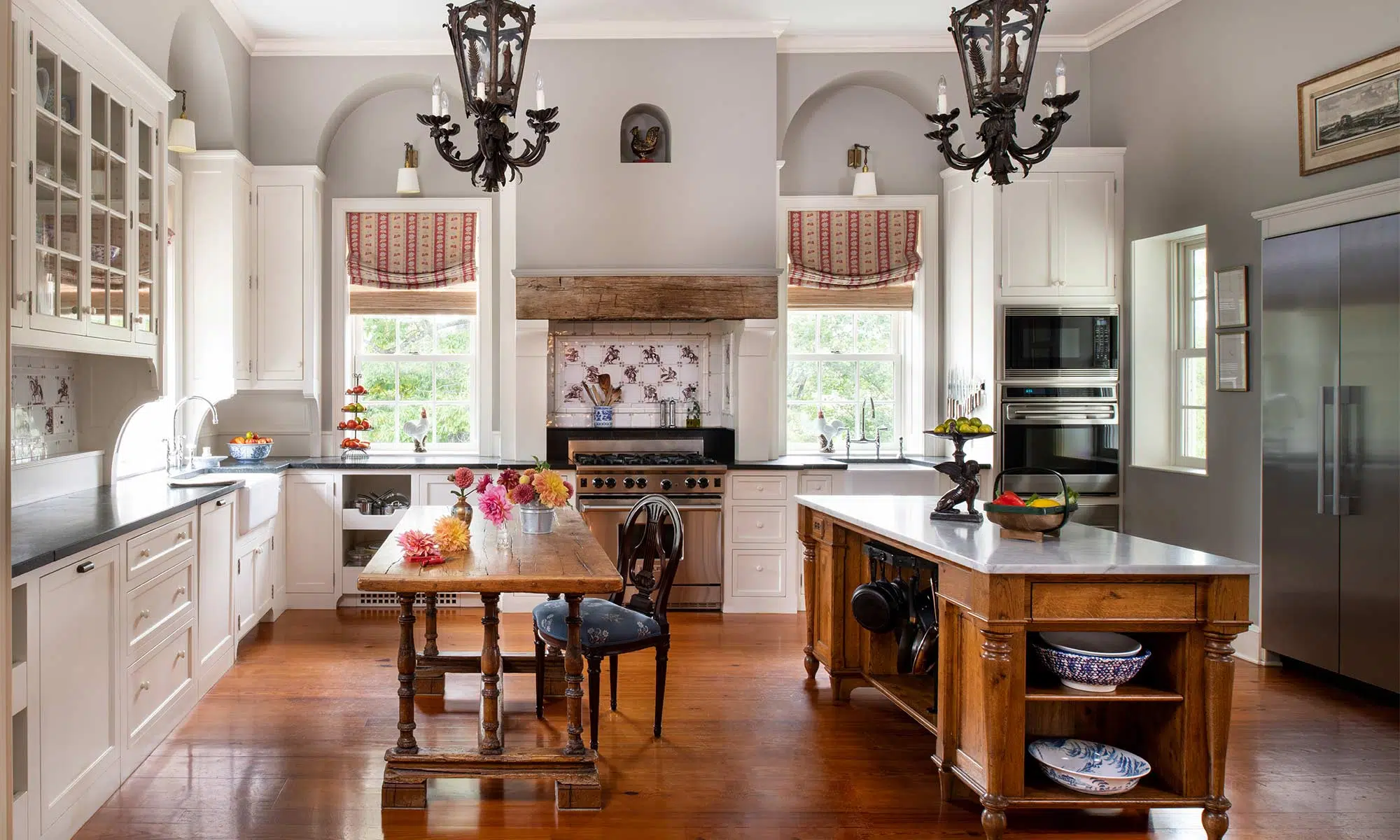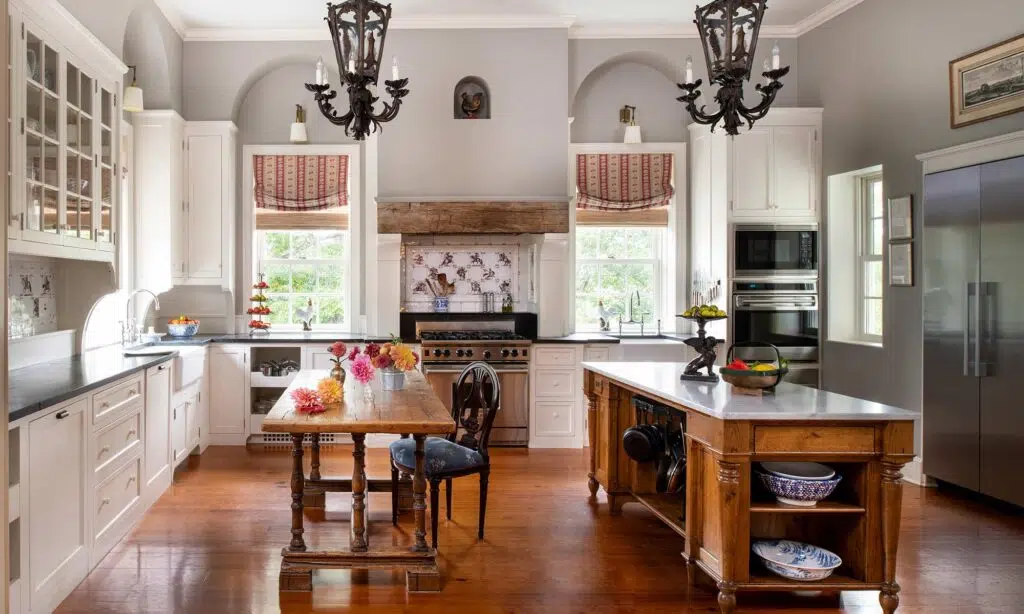 Locke worked closely with Andy Lewis of Neumann Lewis Buchanan Architects to design the 1,350-square-foot wing that consists of the kitchen and an adjacent charming snug perfect for relaxing (below, left). Locke selected the historically-minded architecture firm to help maintain the integrity and ambiance of the home, something they succeeded in doing with every detail.
Throughout the garden and home, Locke arranges her collections in artistic fashion, from the boxwoods of the formal parterre garden and the hats in the grand kitchen hallway to the guest room adorned with butterfly art. Each room, designed with thoughtfulness and elegance, is filled with vibrant colors and is rich in stories. Many of the light fixtures and trinkets are connected with engaging tales of how Locke and her husband discovered it at an auction or on one of their frequent trips abroad.
A Custom Italian Mural for Elizabeth Locke
In their bedroom, the garden is evident in the décor, particularly in the custom Italian mural Locke commissioned and loves waking up to. The luxurious ceiling mural was painted by Florentine Artists Stegano Sieni and Maurizio Palma in Italy before being delivered in panels to Clay Hill for careful installation. In it, the twisting vines alongside the delicately painted floral blooms give Locke the opportunity to wake up "in the garden." Paired with sunny yellow walls, the room is a beautiful place to rest. In Locke's nearby dressing room, you'll find glamorous jewelry and outfits hanging on charming antique clothes racks ready to be packed for their next adventure.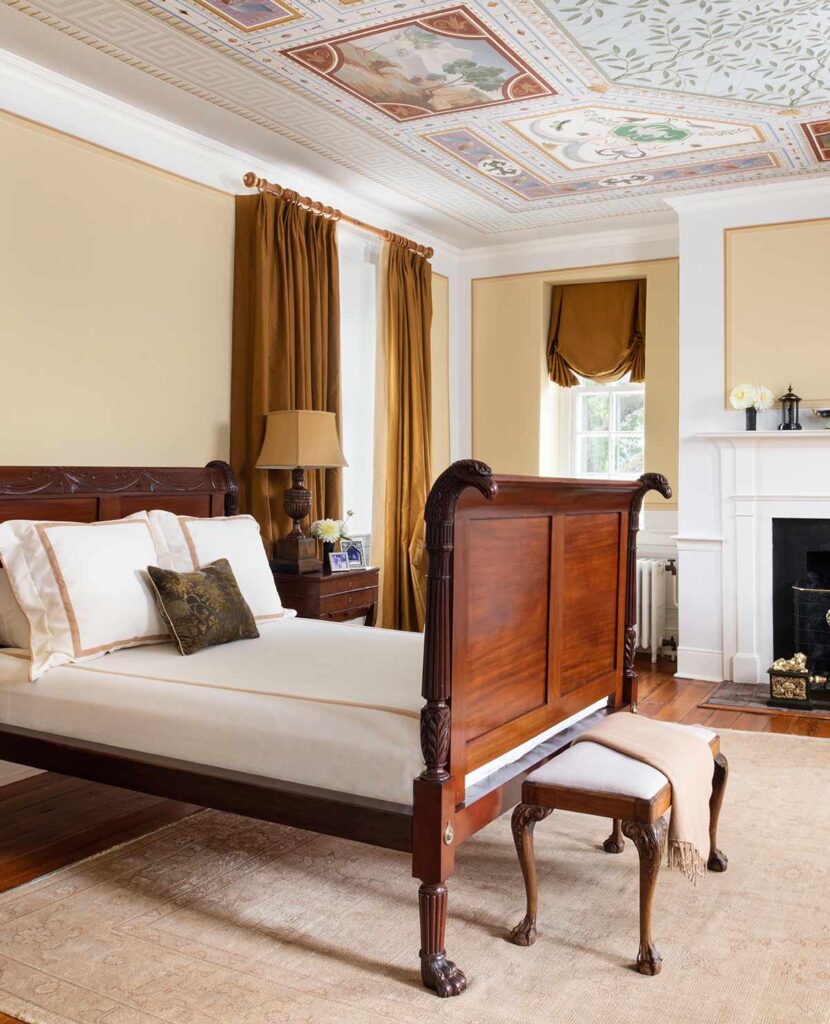 A Welcoming Luxury Guest Room
This bedroom is the perfect space to make guests feel comfortable. The warm wall color combined with the floral rug and butterfly art makes it feel like you are almost in the garden itself. The views from this beautiful butterfly-themed bedroom (below, left) are of the Italian gardens and the conservatory. What a peaceful place to relax. 
In addition to preserving historical architectural elements like original windows, heating radiators and push button electrical switches, Locke and her husband have also curated antiques belonging to some of the home's earlier owners, who lived there in the 20s and 30s. It is details such as these that add undeniable character to Clay Hill.
Elizabeth Locke's Reflection Pool and Garden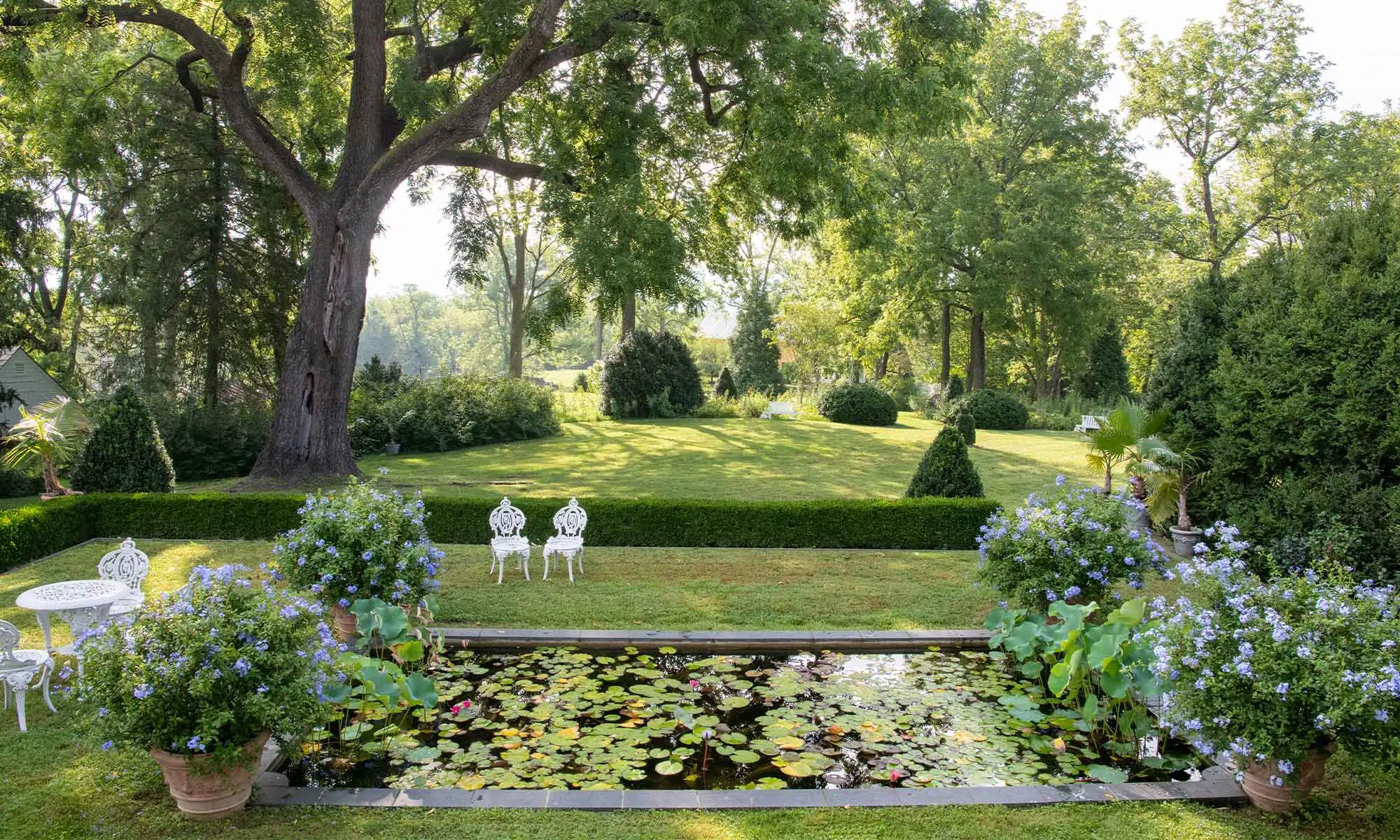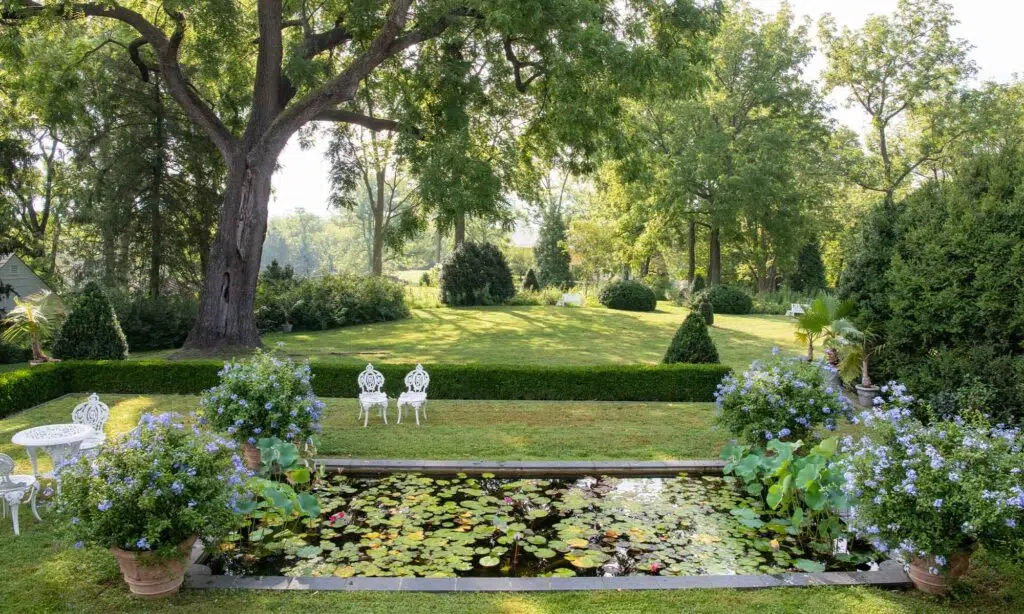 The formal reflection pool at the Locke home is gently tucked beneath a stunning aged tree and framed beautifully by pots. The graceful rams' head containers are overflowing with spectacular plumbago that overwinters in the poolhouse. The movement of water and the colorful koi adds a grace to the garden. The water lilies give a focal point to a space clearly envisioned by an artist. One of Locke's favorite views is from the screened porch that overlooks the reflecting pool and off into the distance where a glimpse of horses in the pasture can sometimes be seen. 
Glamorous Spa & Indoor Pool
During the construction of the lovely pool house many years ago, the architect jokingly referred to it as the orangery. Years later, it really did turn into the limonaia because this is where the Lockes bring their potted lemon trees that require protection during the months of fall and winter. Every year, the lemon trees produce two large harvests of fruit, and when they are in blossom, the scent that fills the space is absolutely irresistible. The classic Virginia creeper is the charming vine on the exterior and windows are flanked by crepe myrtle.
In her pool house, jewelry designer Elizabeth Locke has created a gem of a lap pool. Weru windows, banquette cushions in Brunschwig & Fils with silk pillows look amazing against the limestone flooring.
Elizabeth Locke's Parterre and Greenhouse
Harkening back to her love of Italy and her years spent living in Tuscany, walking into Locke's backyard is like strolling through the formal gardens behind an Italian villa. The pristinely cut boxwoods are laid out in stunning geometrical shapes, and the crushed rock pathways are interspersed with potted citrus trees. The elegant gothic-style greenhouse with its towering glass French doors serves as the garden's focal point and is the perfect place for her orchid collection to thrive.
The Vegetable Garden & Hens
Mirroring the seasonal bounty of her garden, the kitchen comes to life with its harvest. Fresh produce spills over from fruit baskets, the countertops are adorned with pottery from around the world and miniature boxwoods line the windowsills. It's commonplace to find baskets of fresh eggs, just-cut flowers and colorful preserves here, all of which serve to inspire Locke's talents as an accomplished home chef who enjoys entertaining.
Horses and chickens roam the sprawling fields surrounding the grounds, creating an idyllic pastoral ambiance perfect for a stroll. One of the heritage breed chickens that she purchased at a charity fundraiser went to four digits during the bidding. "That is one special hen," she said with a laugh as she shared the story. In the garden, you will often find Locke cutting blooms for fresh floral arrangements or gathering vegetables for cooking.
Elizabeth Locke's Famous Dahlia Party
Just behind the tall boxwood hedges and the greenhouse is the jewel of Elizabeth Locke's garden: her dahlias. The dahlia garden is a delightful surprise with a spectacular collection of more than 60 colorful varieties flowering profusely every fall. Each towering stem of blooms is a perfect juxtaposition of drama and constraint. One of Locke's dahlias was honored a few years back at the local county fair as "Best in Show."
Rich colors, antiques, collections and art are intrinsic to Locke's home, and you can see these passions reflected in her luxury jewelry design. Antique and jewelry lovers travel from all over to her flagship store and studio The Other Elizabeth, which is located just down the lane from their rambling farm estate in the village of Boyce. On weekends or by appointment, you can peruse her jewelry designs in this inspiring space, or in her additional flagship store in Manhattan.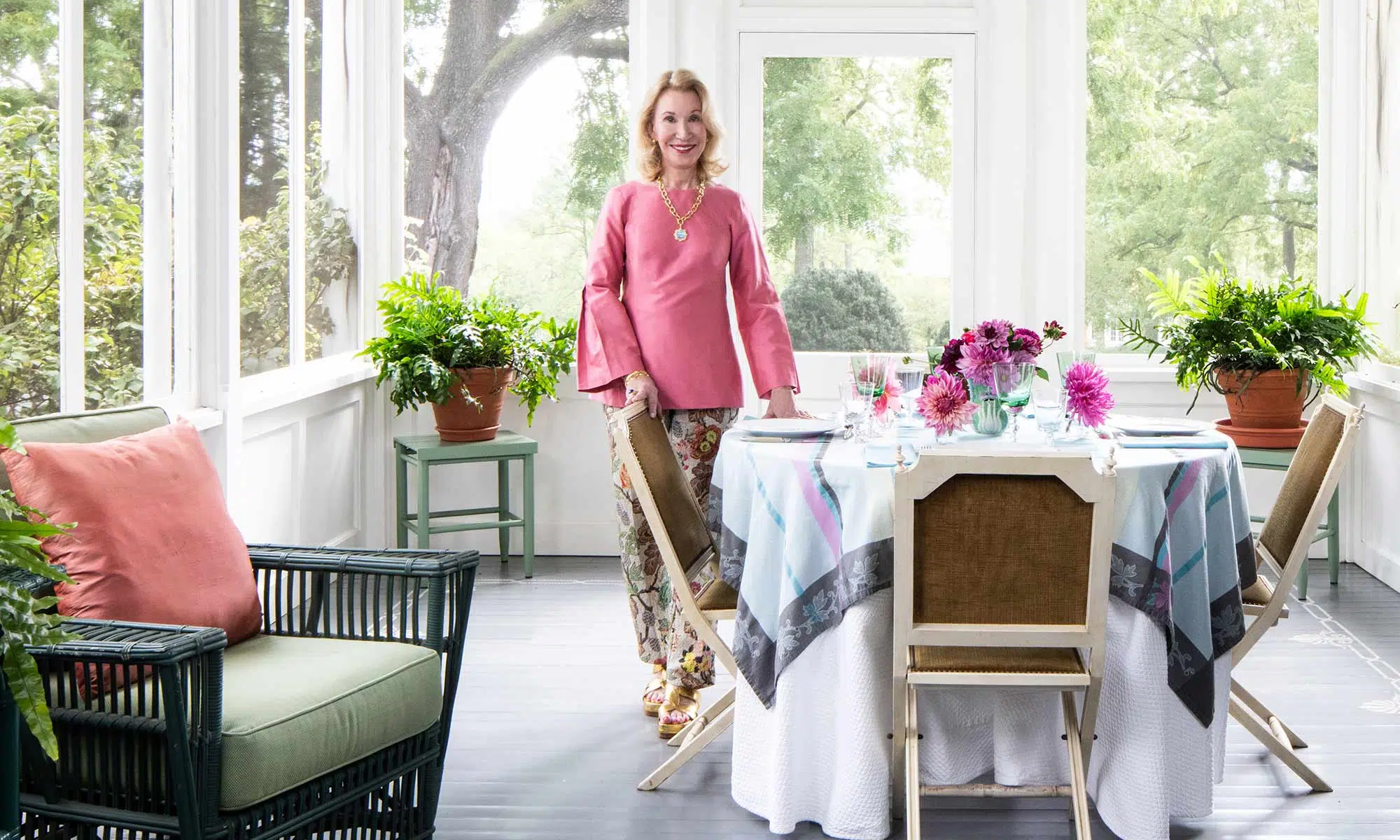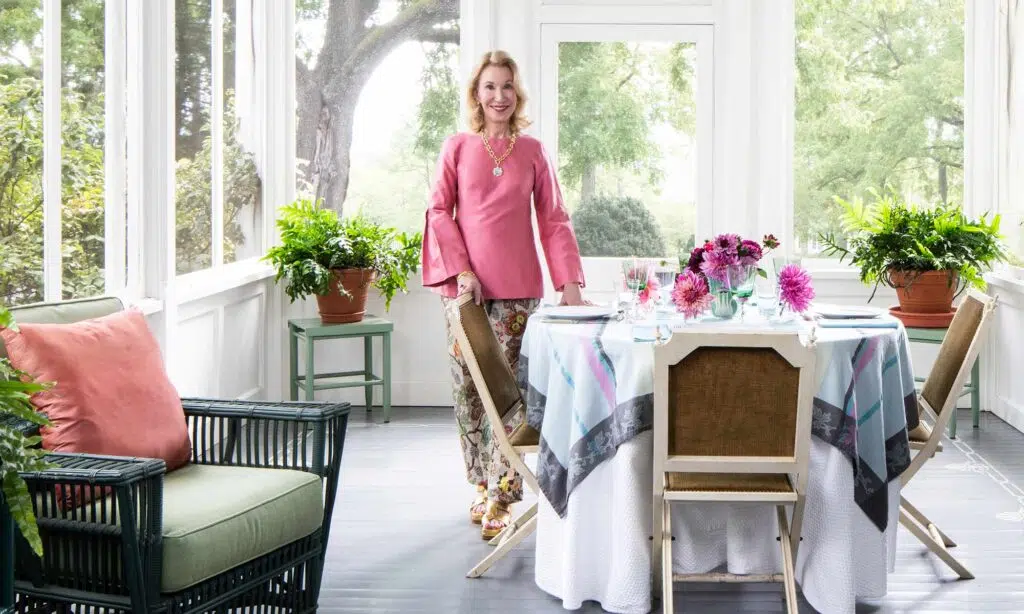 Clay Hill and the Virginia countryside is a home too good to leave behind. So, it is with each adventure abroad that Locke finds new energy and inspiration for all her passions.
For an in-depth discovery of the dahlia garden at Clay Hill and Virginia gardening tips, visit the Wine & Country Life website for "Elizabeth Locke's Secret Dahlia Garden." ~
JENNIFER BRYERTON is Co-Publisher and Editor-in-Chief of Wine & Country Life. She is an avid gardener, home cook and wine-taster. She enjoys learning about Virginia viticulture and sharing the story of our local farm-to-table makers.
R. L. JOHNSON is our co-publisher and creative director. Bethke studied at the prestigious ArtCenter College of Design and began her career as a professional photographer in Los Angeles. She moved into graphic design and art direction when she relocated to Charlottesville in 1994. As our company's co-founder and visionary, she enjoys all aspects of storytelling.
ROBERT RADIFERA has been creatively photographing weddings, interiors and portraits for over two decades. His interior work has been published in Southern Living, Southern Home, The Cottage Journal, HGTV Magazine, Wine & Country Weddings and Home and Design, as well as many other local and national publications.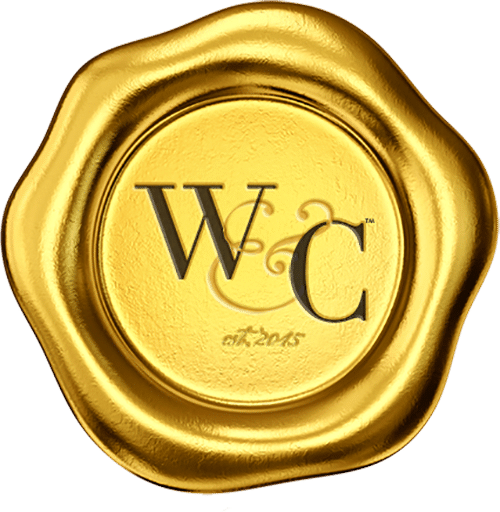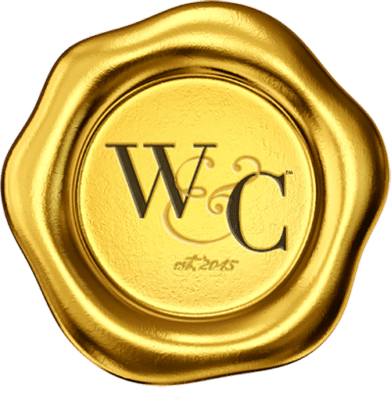 Virginia Wine & Country celebrates elevated living in Virginia Wine Country. Virginia Wine & Country Life is a semi-annual luxury print magazine with a full digital presence. The Virginia Wine & Country Gold Book is an annual guide to the top award-winning wines, wineries and experiences in Virginia Wine Country. The annual Virginia Wine & Country Wedding Planner is an art book of elegant Virginia weddings. The brand includes the Virginia Wine & Country Shop in Ivy, Va. It is a beautiful lifestyle boutique that brings the pages of the magazines to life. Virginia Wine & Country tells the stories of Virginia wineries, the farm-to-table movement, luxury travel, entertaining, art and the elegant country lifestyle. Ivy Life & Style Media also provides branding, web design and PR services for the wine industry.