Virginia native Elizabeth Locke has built a life inspired by travel and artistry. She is well known for her one-of-a-kind bold jewelry designs, each a handmade wonder destined to be a treasured heirloom. After hand-selecting each stone or antique, Locke designs every stunning piece herself before talented artisans craft the exquisite goldwork. Growing up in Staunton, her childhood summers were spent trekking with her family through Europe's ancient ruins, where her imagination was captivated and her lifelong passion for collecting began. Fluent in Italian and an inveterate world traveler, Locke also has degrees in gemology and Italian literature and is well versed in the arts and the classics, all of which are visible in her exquisite jewelry, home and Secret Dahlia Garden.
Elizabeth Locke's Parterre Garden
While Locke's gorgeous neoclassical jewelry has found fame far and wide, her talent as a gardener is equally apparent at her lovely Virginia country estate. Clay Hill, an 1816 Federal-style farmhouse, comes to life in full bloom each season like an ephemeral work of art. She and her husband, John Staelin, generously opened their home for the 2021 Virginia Historic Garden Week, allowing tour-goers to explore the breathtaking property, including the orangerie for her citrus plants and indoor pool, a chicken coop, edible gardens (Locke is an accomplished home chef and preserver), a formal lily pool and a stunning black walnut tree that is the fourth largest in the Commonwealth.
Harkening back to her years spent living in Tuscany, Locke's backyard resembles exceptional gardens found at an Italian villa. The pristinely cut boxwoods in the formal parterre garden are the perfect foil for her potted citrus trees. The elegant and airy 19th century-style glass conservatory with its towering French doors draws the eye in as the focal point of the garden, but just behind the tall boxwood hedges, the jewel of the garden is tucked into a sunken secret garden: her prized dahlias.
Elizabeth Locke's Favorite Dahlia Varieties
Ever the collector, Locke raises over 60 different varieties of the popular dahlia, each a perfect juxtaposition of drama and constraint. Originally from Mexico and South America, these perennials come in a dazzling variety of hues that help attract pollinators, as they are most often unscented. Some have longer stems, making them easier to use for bouquets, and others are rare in color or unusual, such as the petite two-inch pompons and the dramatic 10-inch "dinner plate" dahlias. Others, still, are vibrant pinwheels, mopheads, fringed, pincushions and or with centers that mimic their sunflower and aster cousins. The different groups of dahlias are identifiable and described based on their distinct patterns of florets—a small flower making up part of the composite flower, or a flower within a flower if you will. The American Dahlia Society recognizes an amazing 19 variety of forms and 42 different species of dahlia.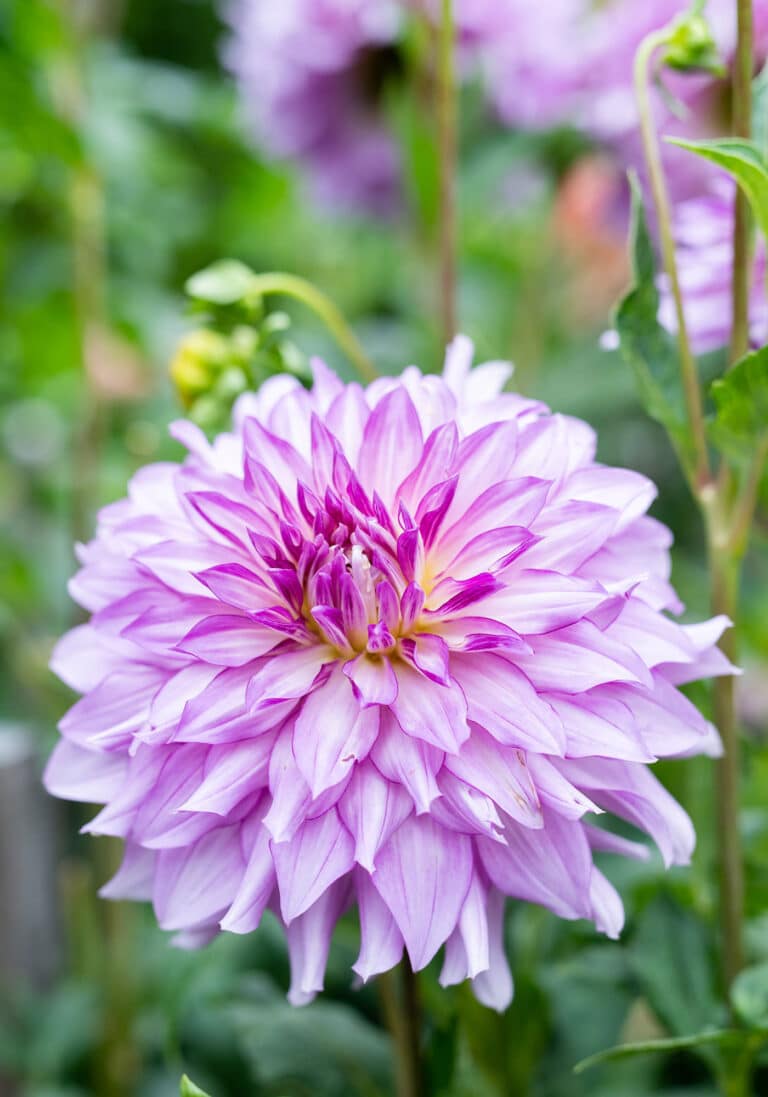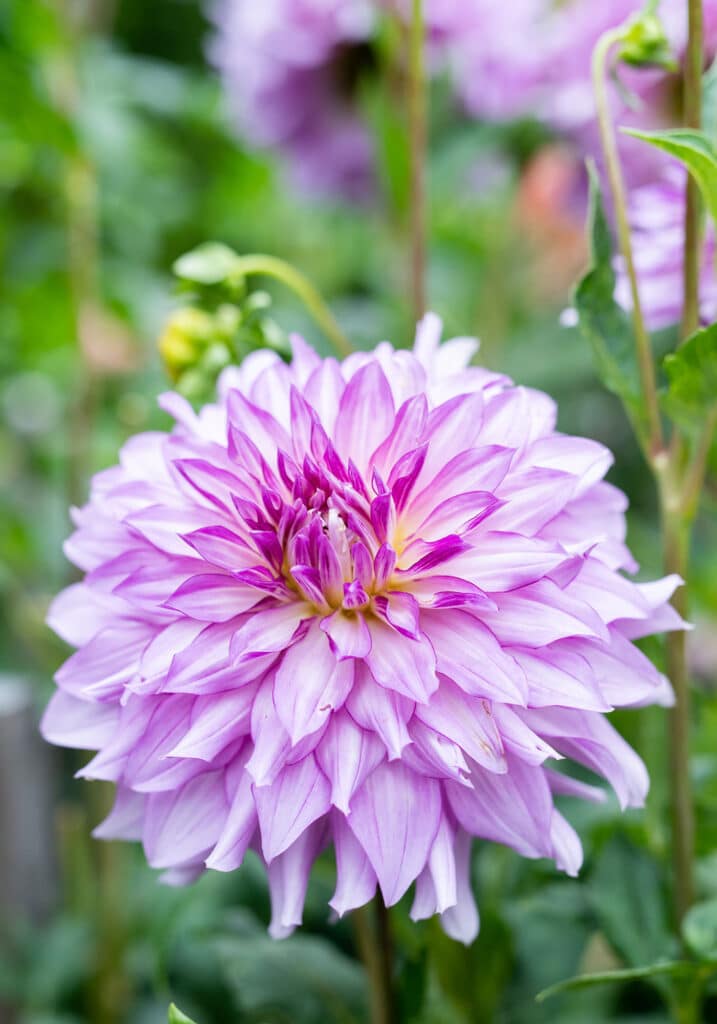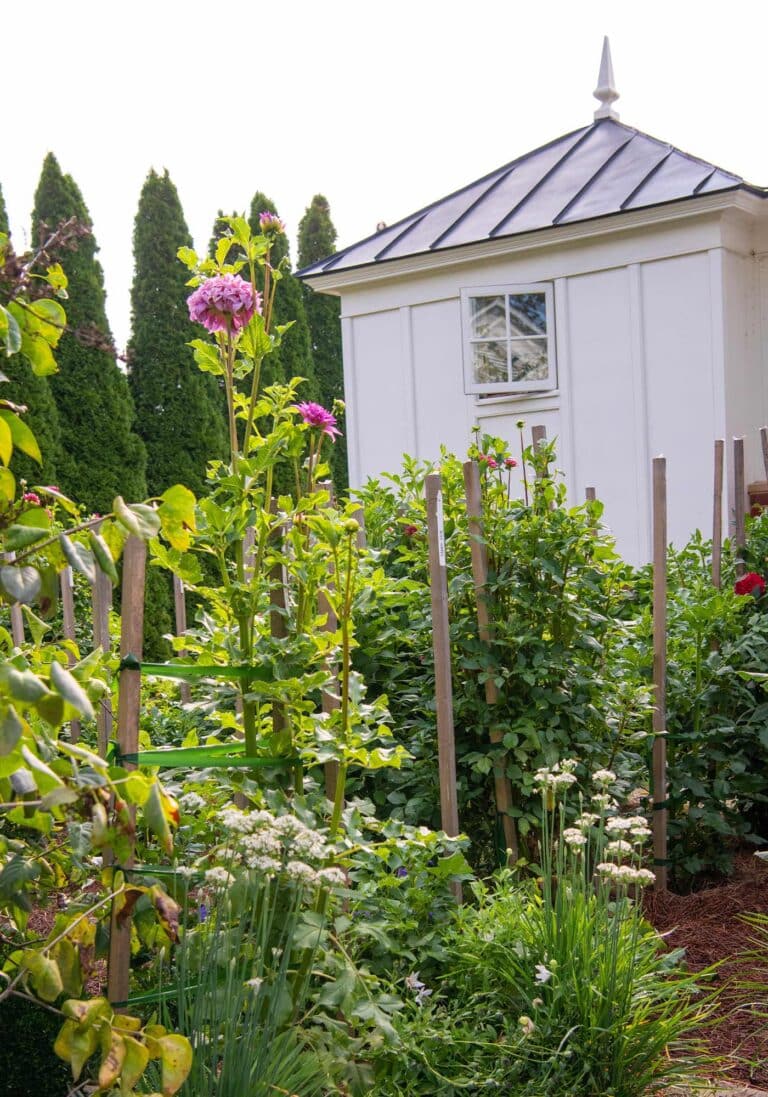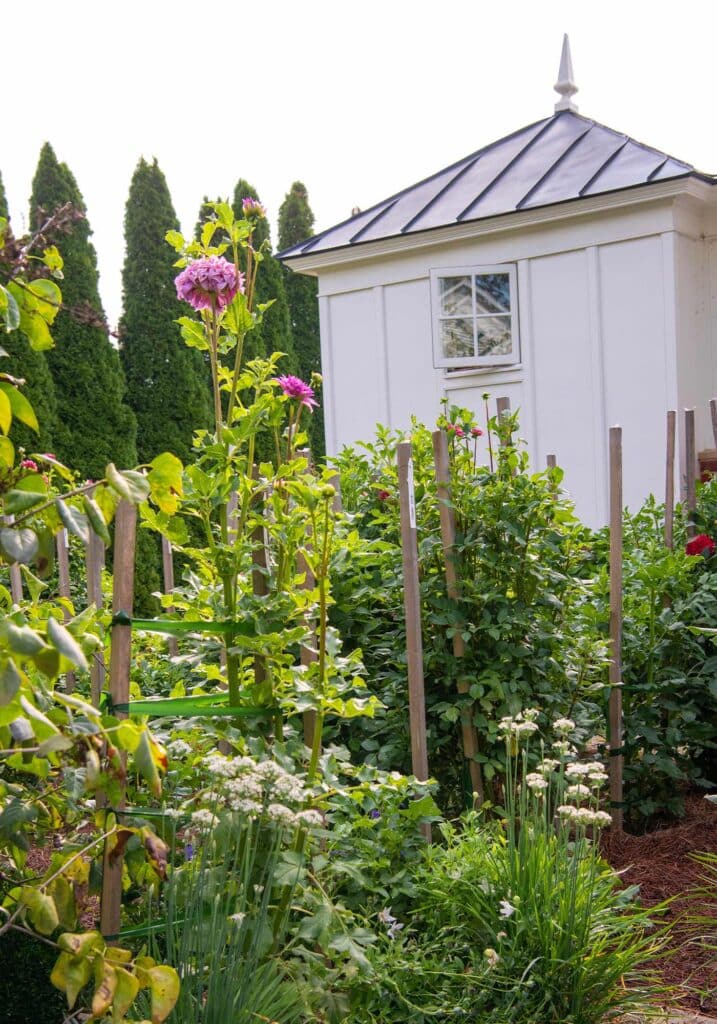 In this beautiful autumn season, Locke's dahlias are at their peak in tidy staked rows in a rainbow of colors, every bloom in perfect shape for her much-anticipated annual Dahlia Party. This year, a Saturday night fête in a beautifully appointed tent at their Boyce estate was followed by a Sunday brunch. Delicious local foods, exquisite table settings, garden walks, romantic lighting and, of course, the beautiful dahlia arrangements were loved by all.
To help inspire you for your own garden or next floral arrangement, Locke has shared some of her favorite dahlia varieties with us below.
Cornel Bronze
The contrast of the soft bronze-peach petals against the surrounding dark-green foliage make the Cornel Bronze dahlia a magnificent sight to behold. The delicate ball shape and loop-like petals remind us of an heirloom pumpkin ready to be picked. A darling silvery undertone and its perfect form allow this dahlia to age gracefully throughout its long vase life.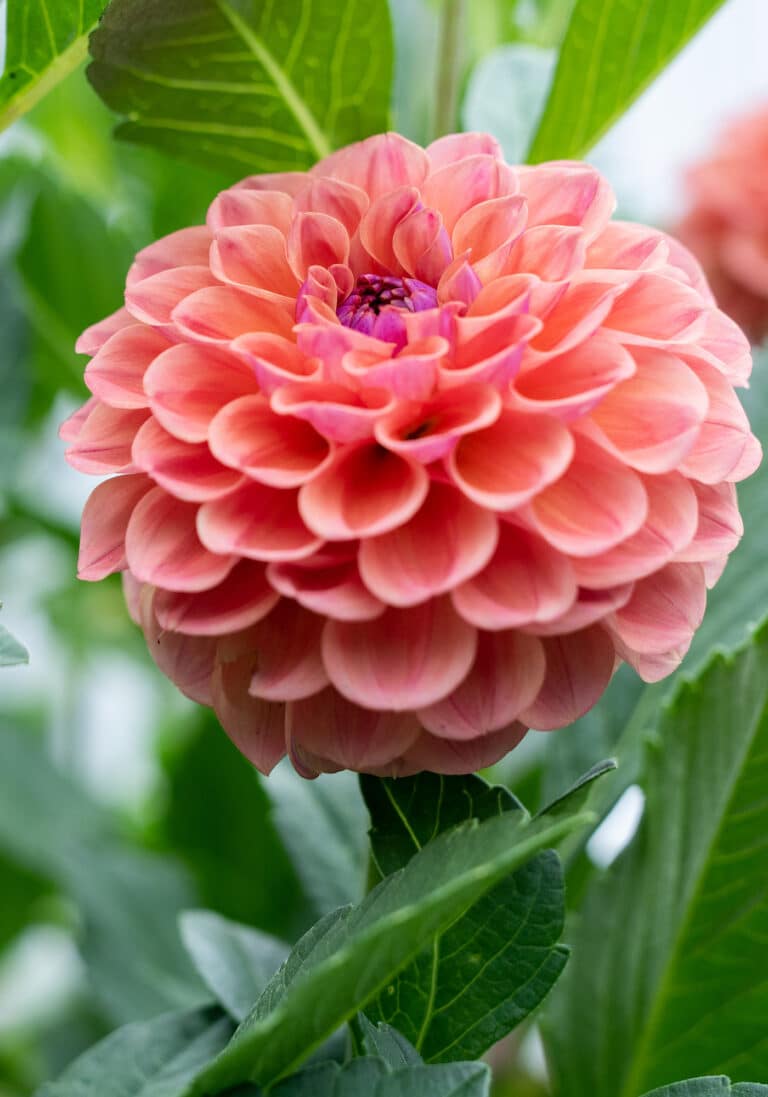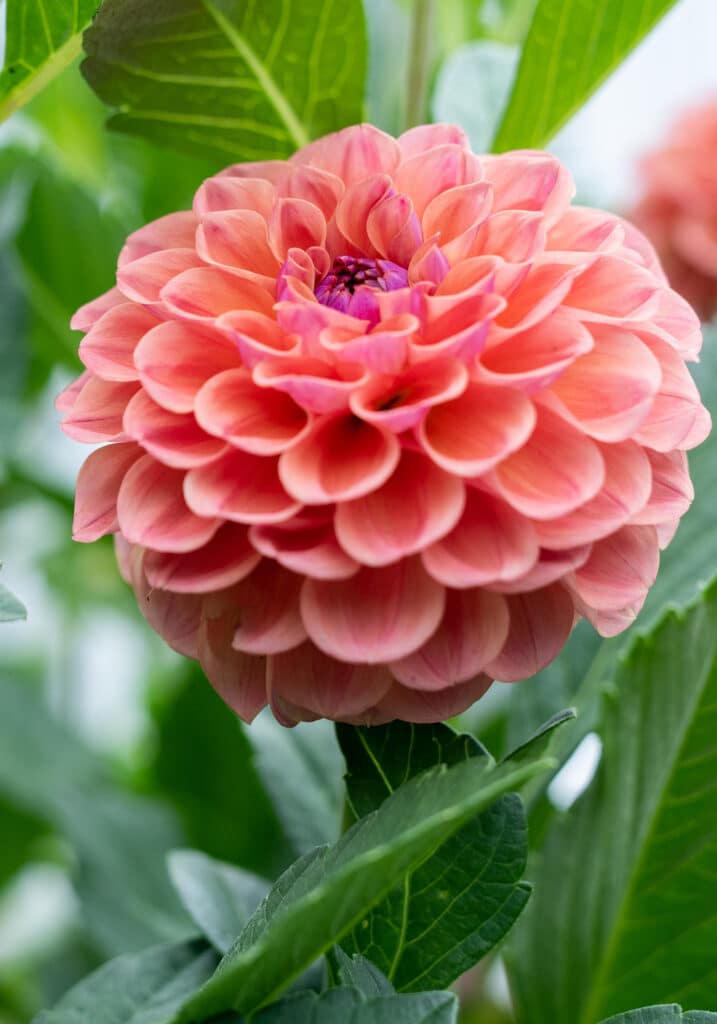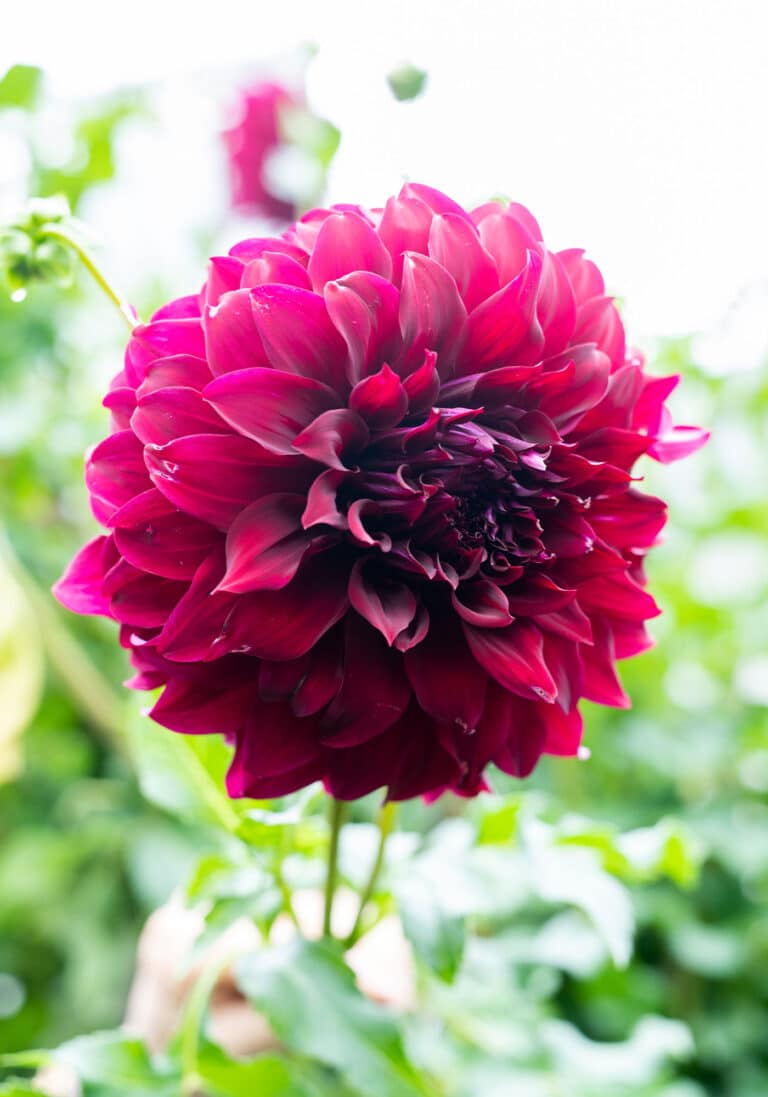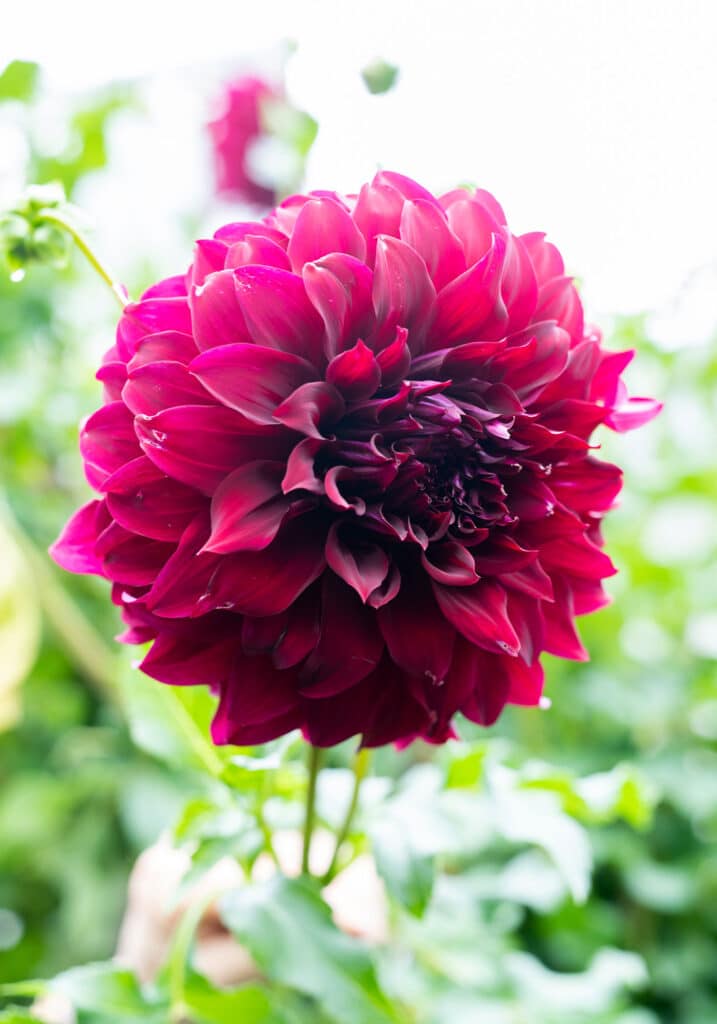 Spartacus
Spartacus dahlias add dazzling drama to any garden! The petals range from a rich burgundy to a deep crimson color, deepening to a chocolate or black color in the center. The large, velvety florals are often wavy at the ends of the petals and exude an effortless aura of luxury and sophistication. Showstopping and eye-catching, Spartacus dahlias are one of Locke's favorites.
La Luna
Translating to "the moon," the striking white petals and pale yellow center of the La Luna dahlia stand out amongst the rest with its cosmic blooms that produce a somewhat garden bed glow. Its celestial beauty and shape liken it to gazing at a full moon in the night sky. Being one of the largest dahlia varieties, the blooms of a La Luna dahlia are out of this world and make a gleaming addition to any garden.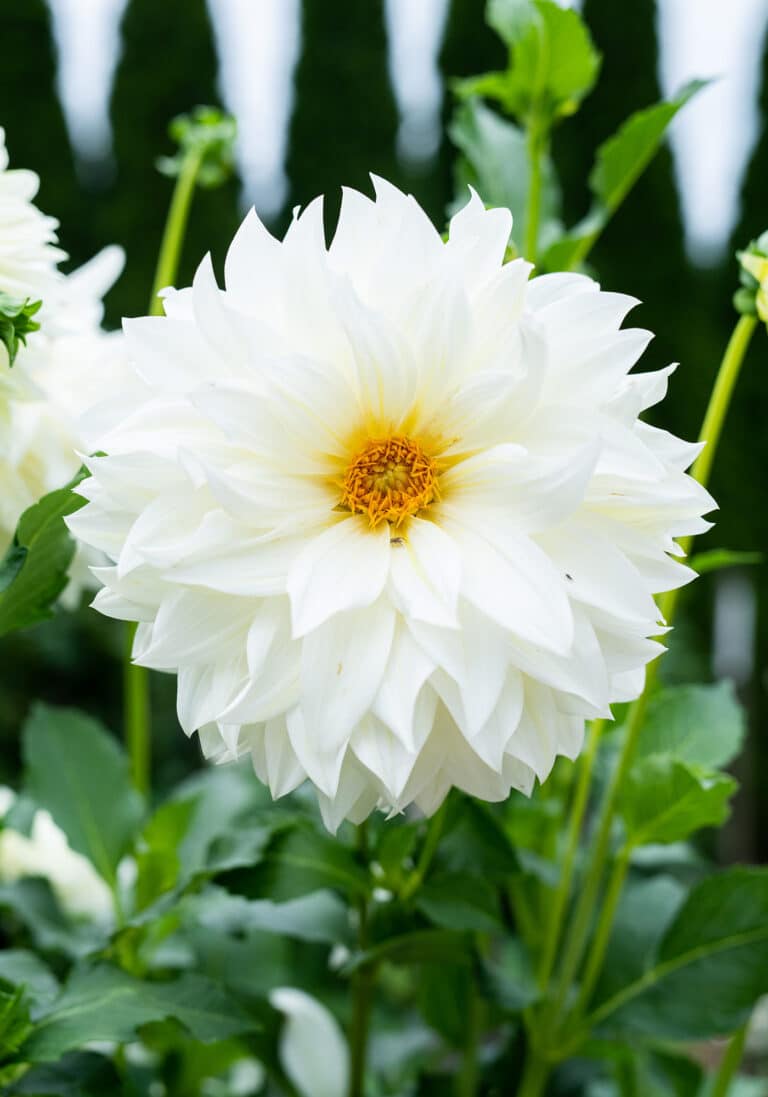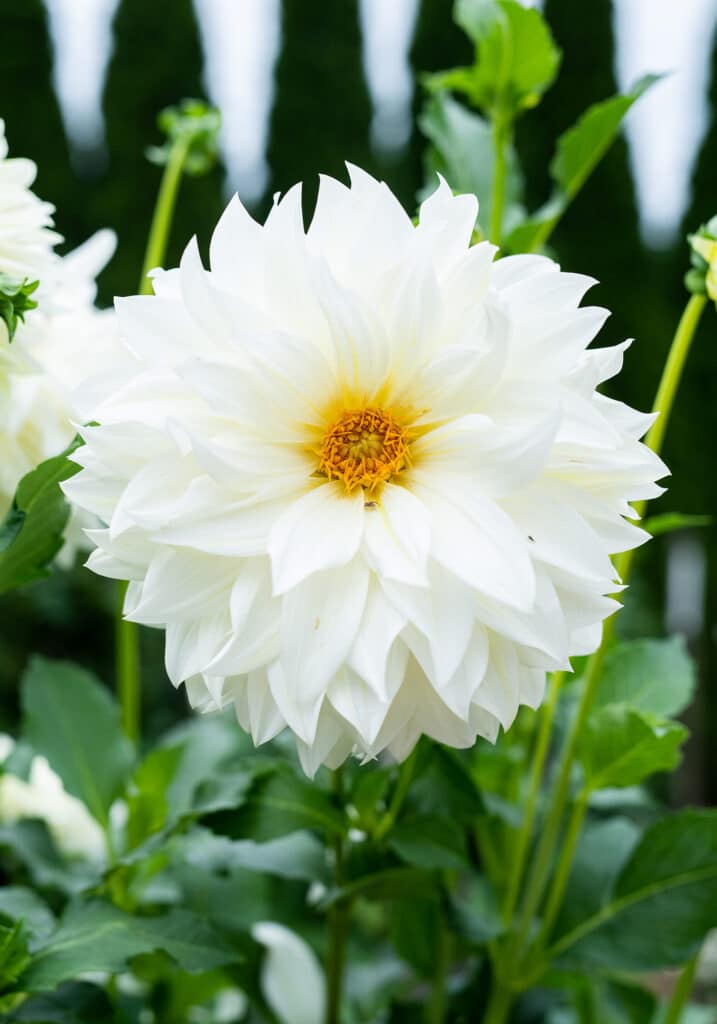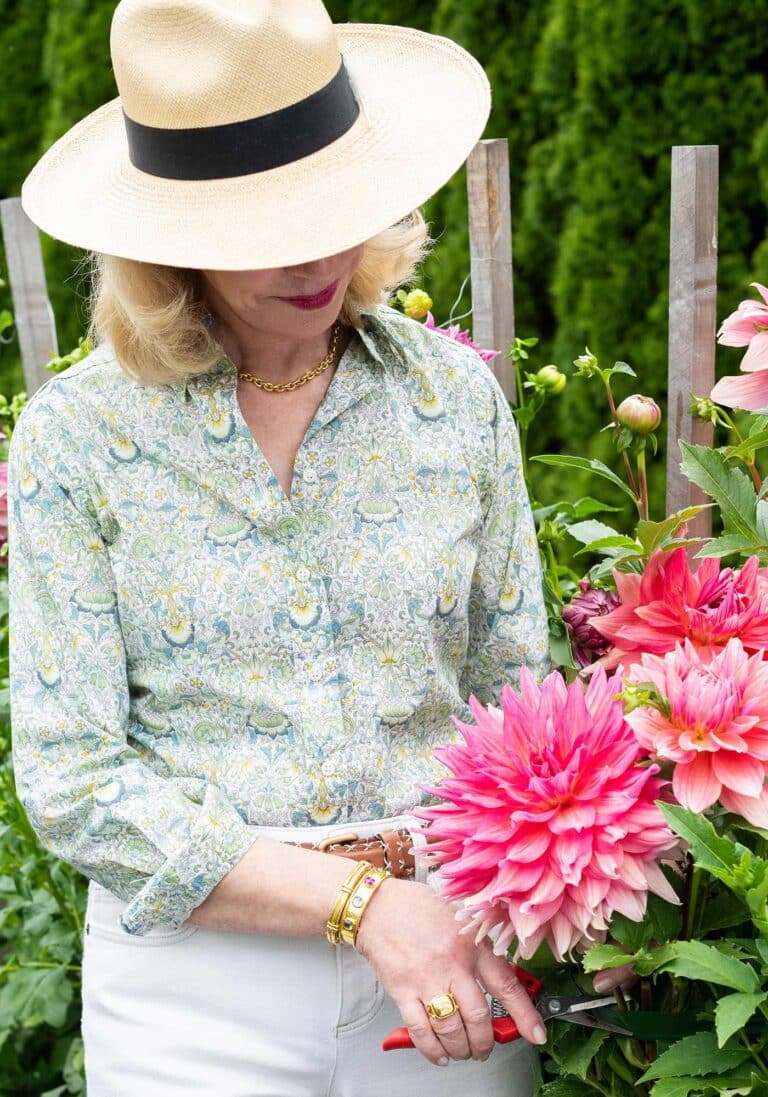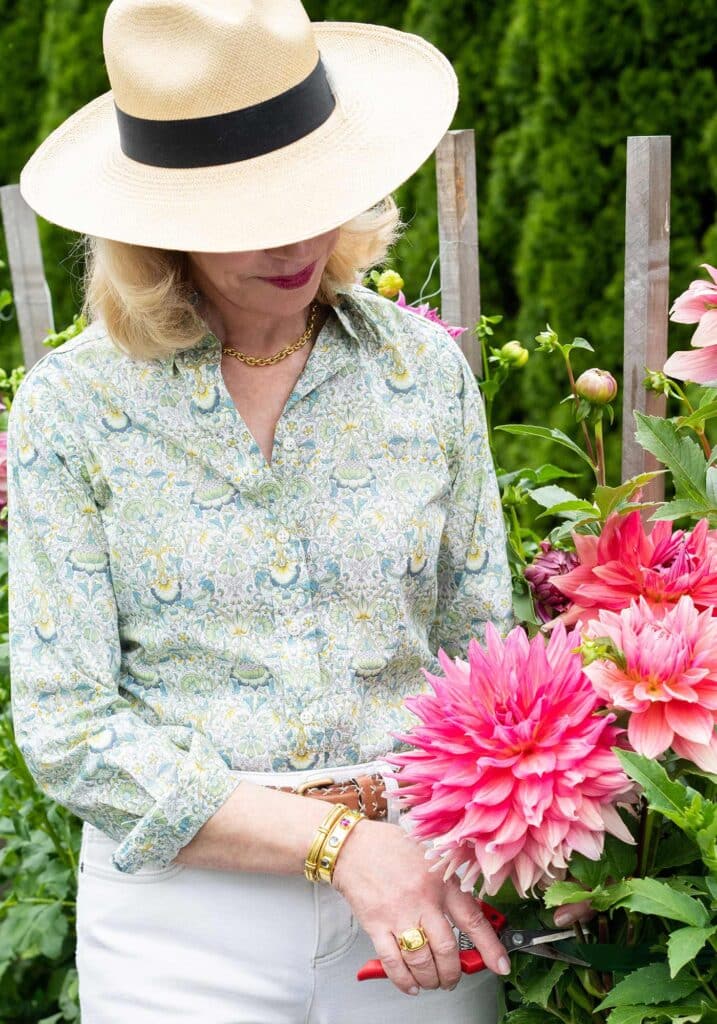 Belle of Barmera
Exuberant petals bursting out into a wonderful display of warm, sunset hues bring a vibrant touch to any budding garden. Various shades of pink ranging from raspberry and rose to apricot and coral make Belle of Barmera dahlias reminiscent of a tropical paradise. Silken petals that are loosely rolled and twisted bring movement and texture to the island-inspired blooms.
Dazzle Me
The flow from an electric raspberry color at the top of the petals into a deeper violet color at the base awards this dahlia with the name Dazzle Me. Hardly a difficult task, this beautiful and luminous dahlia dazzles any viewer with its magnificent color and vibrancy. When patient, the Dazzle Me dahlia holds a surprise only revealed once its flowers are fully bloomed—a hint of yellow deep in the center of the cheerful blooms.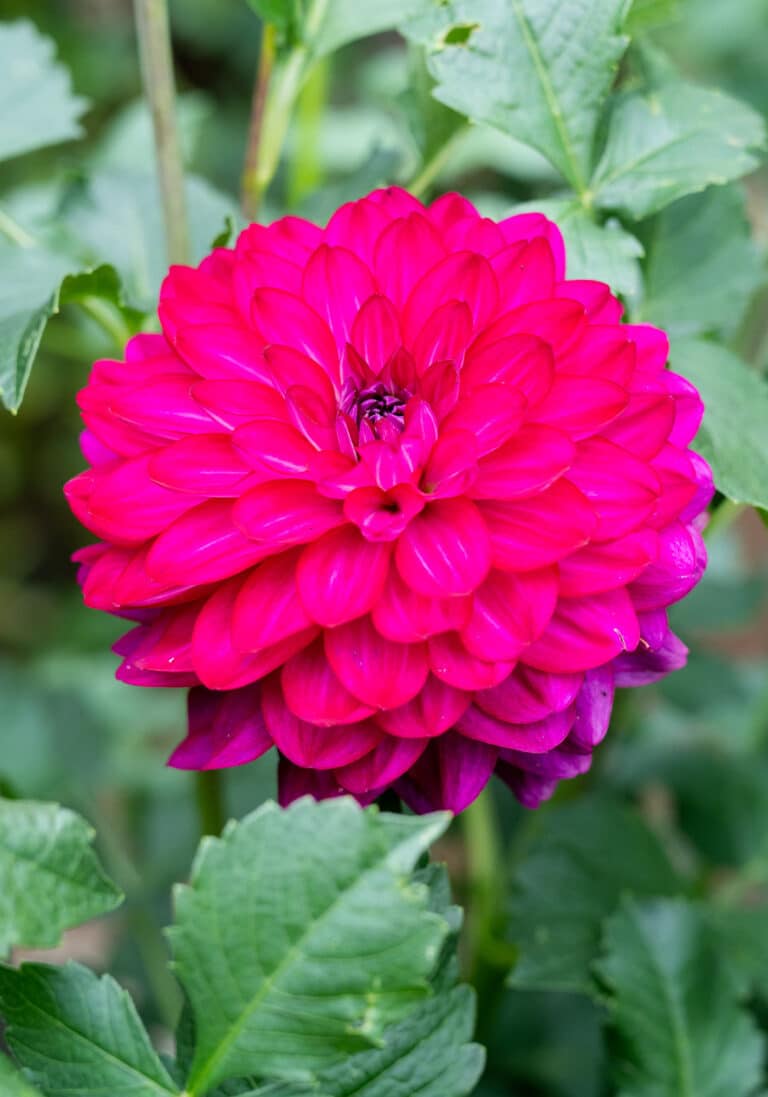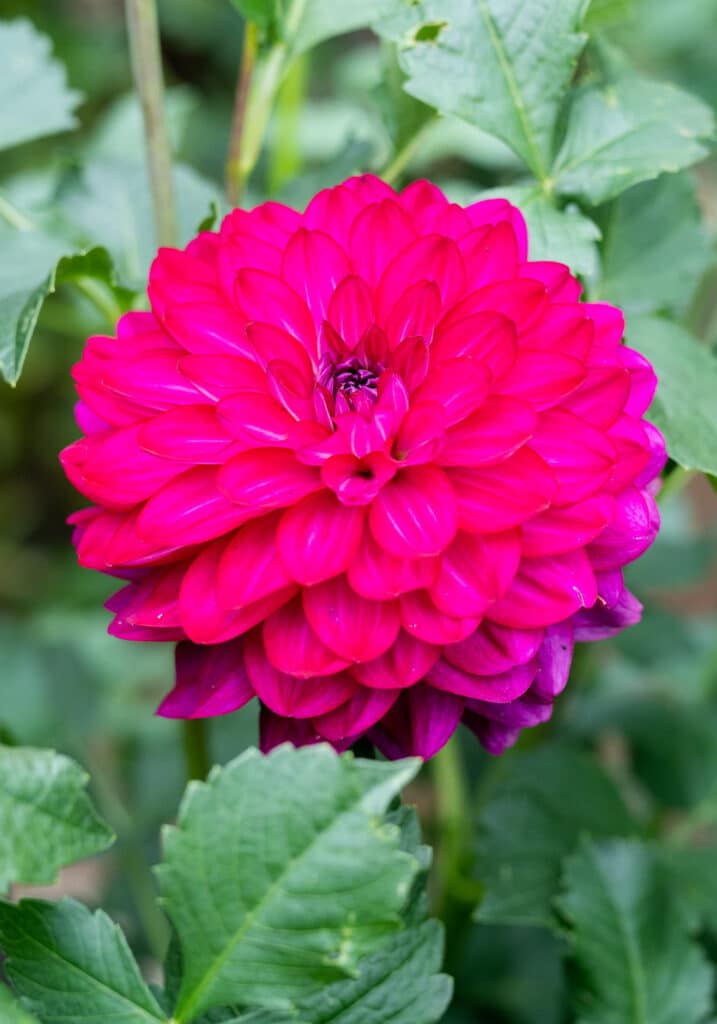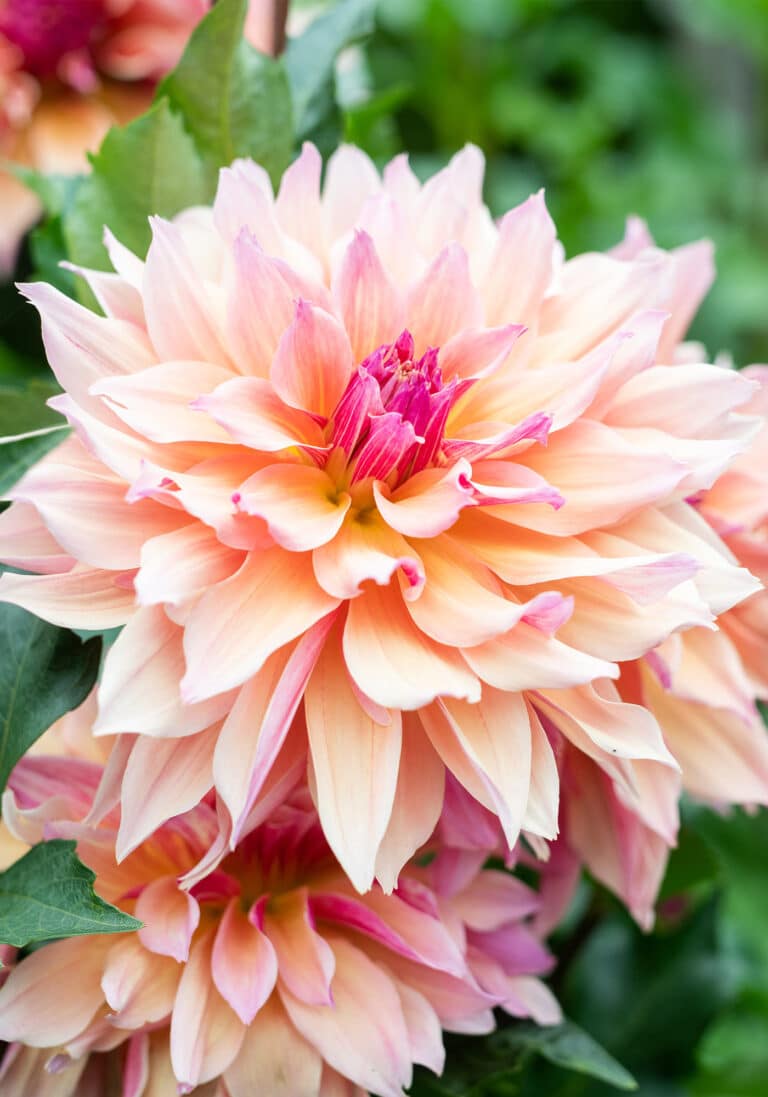 Sherwood's Peach
Soft pink tips fade into the dreamy peach and coral blossoms of a Sherwood's Peach dahlia. When the light hits the blossoms, viewers are in for a surprise of shimmering brilliance as the incurving petals, backed by a soft purple haze, flair out and wriggle in delight. Exceptional when bloomed and a beautiful color palette make this dahlia a must-have element to any display.
Helen Richmond
Fill your garden with Helen Richmond dahlias for an abundance of feathery fuchsia petals blooming from mid-summer to fall. The ruffled and fluffy flowers bring beautiful texture and variety to any garden bed or bouquet. Get ready to welcome some curious visitors into your garden as Helen Richmond dahlias are popular amongst pollinators like bees, butterflies and birds. The warm color from this dahlia will bring a brilliant energy and light to any indoor or outdoor space.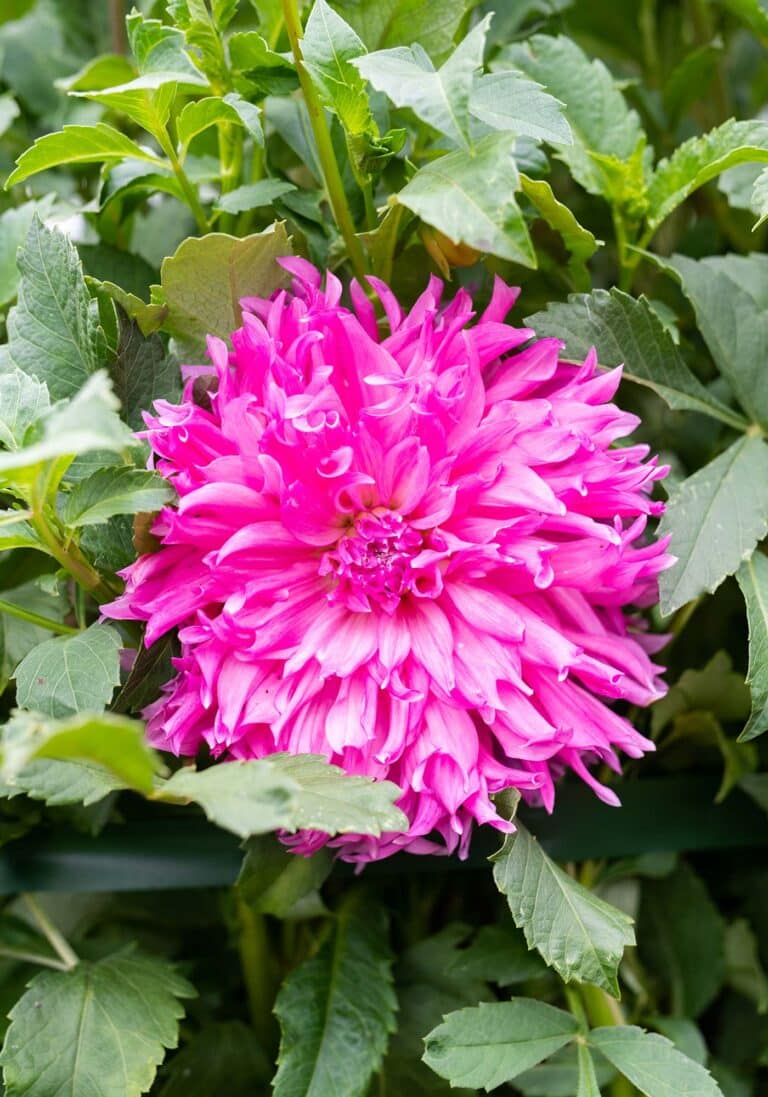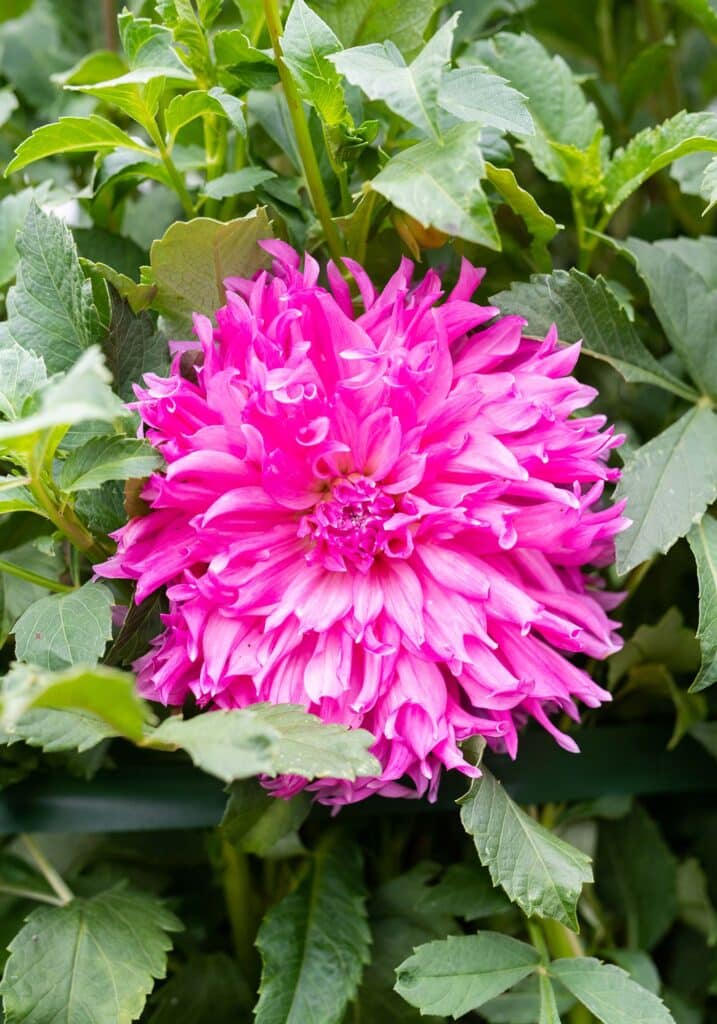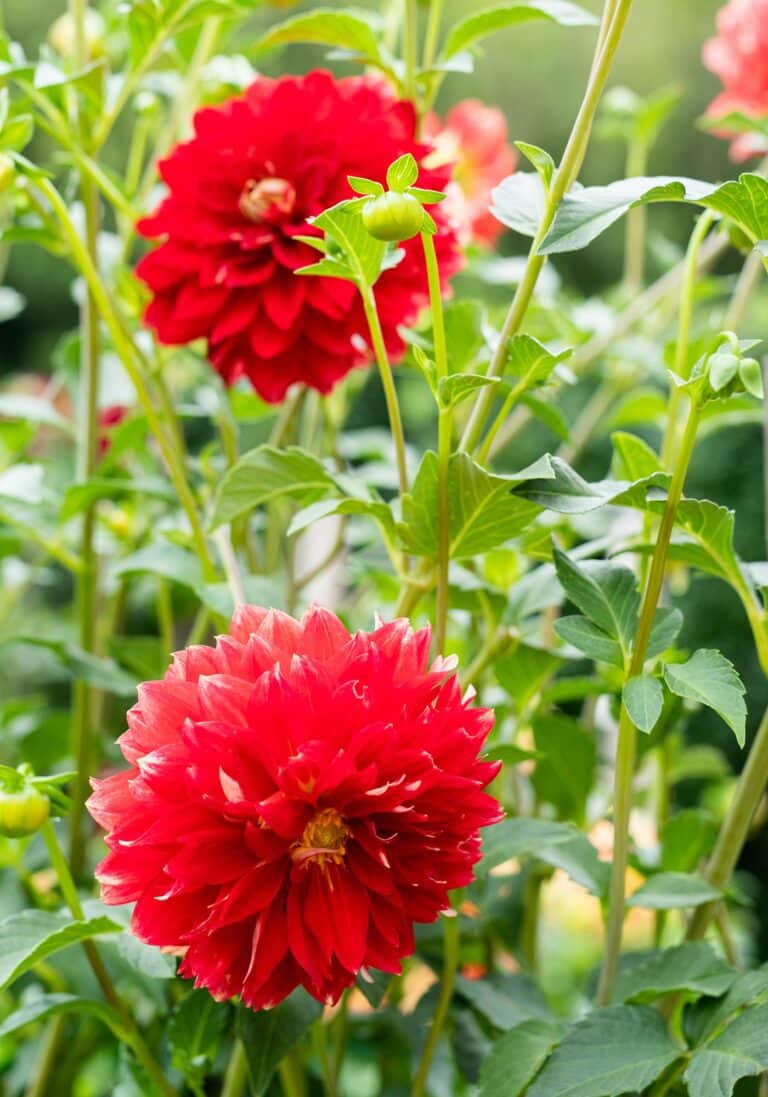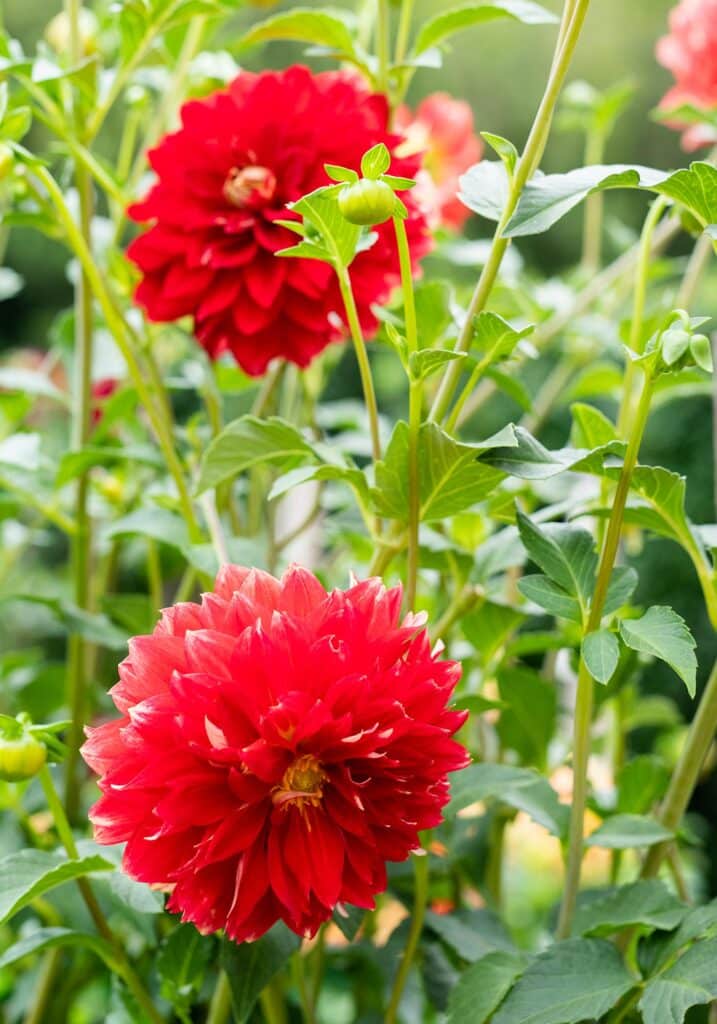 Caliente
Perfectly named Caliente, this fire engine-red variety certainly brings the heat! Making up for its smaller size with petals that resemble spicy red peppers, Caliente dahlias add a pop of color and work well against any luscious green foliage. The large flowers and strong stems allow them to standout in a bouquet and will draw the eye in any garden.
Oregon Reign
The Oregon Reign dahlia is a lovely blue-toned lilac color with ruffled flowers, dark green stems and a hint of yellow in the center. The flowers of an Oregon Reign dahlia grow full and lush, creating a showstopping display for all its viewers to behold. Delicate streaks of white create a brightening and almost ombré effect on the flower, and in turn, emanate a soft glow.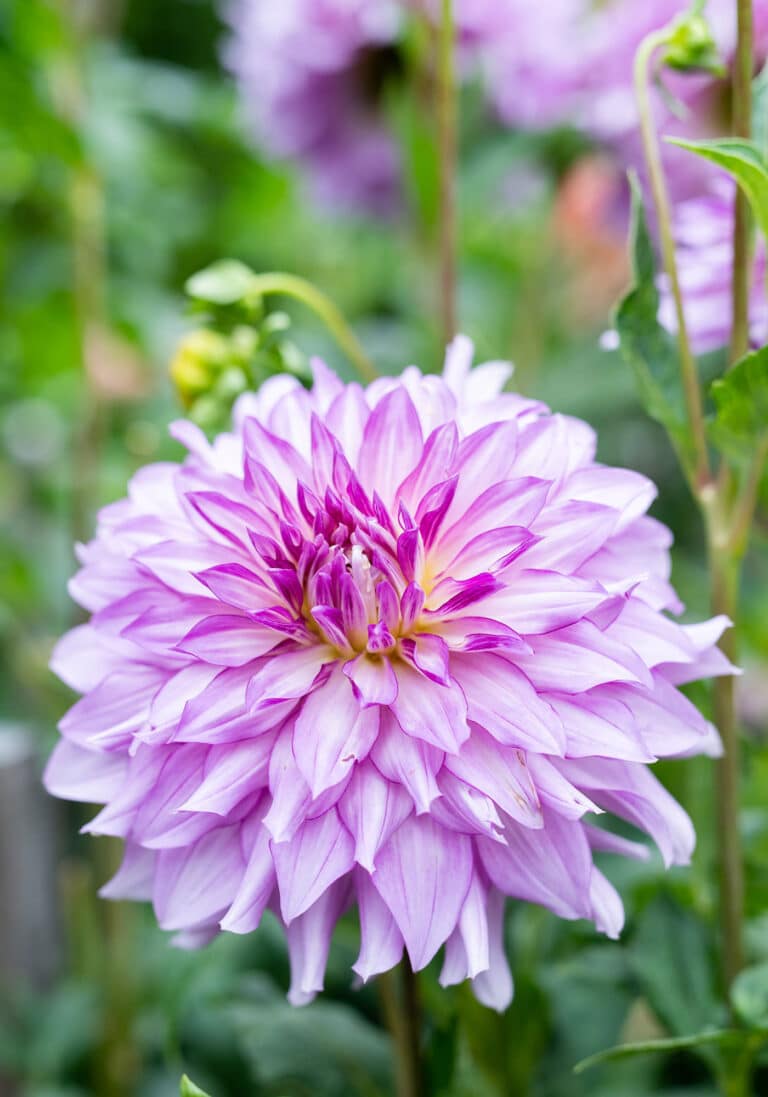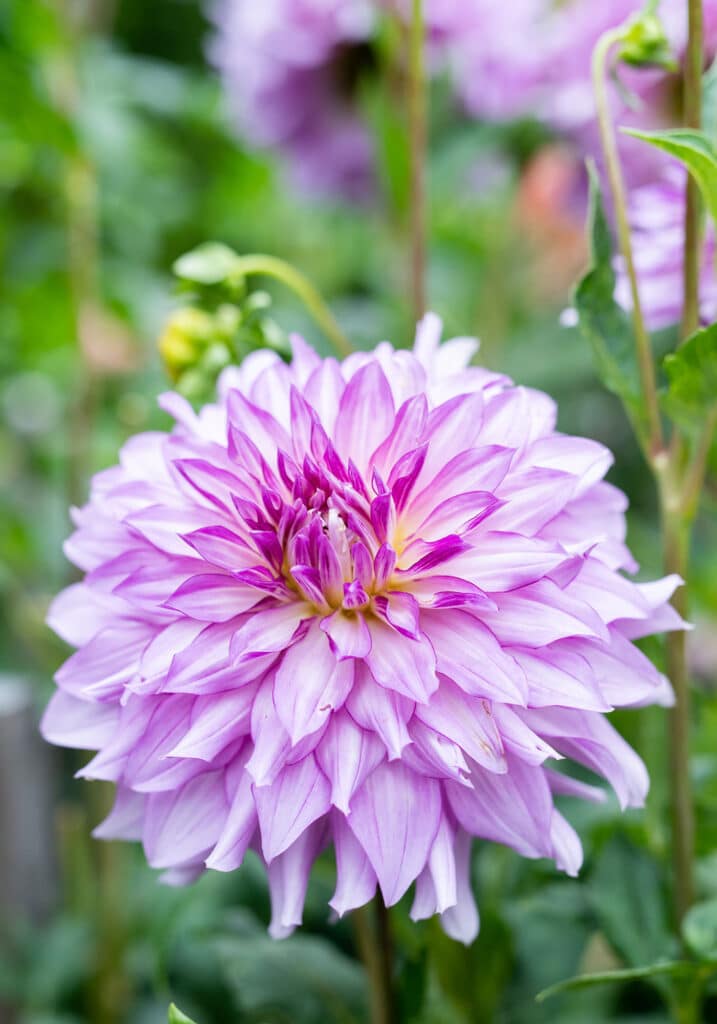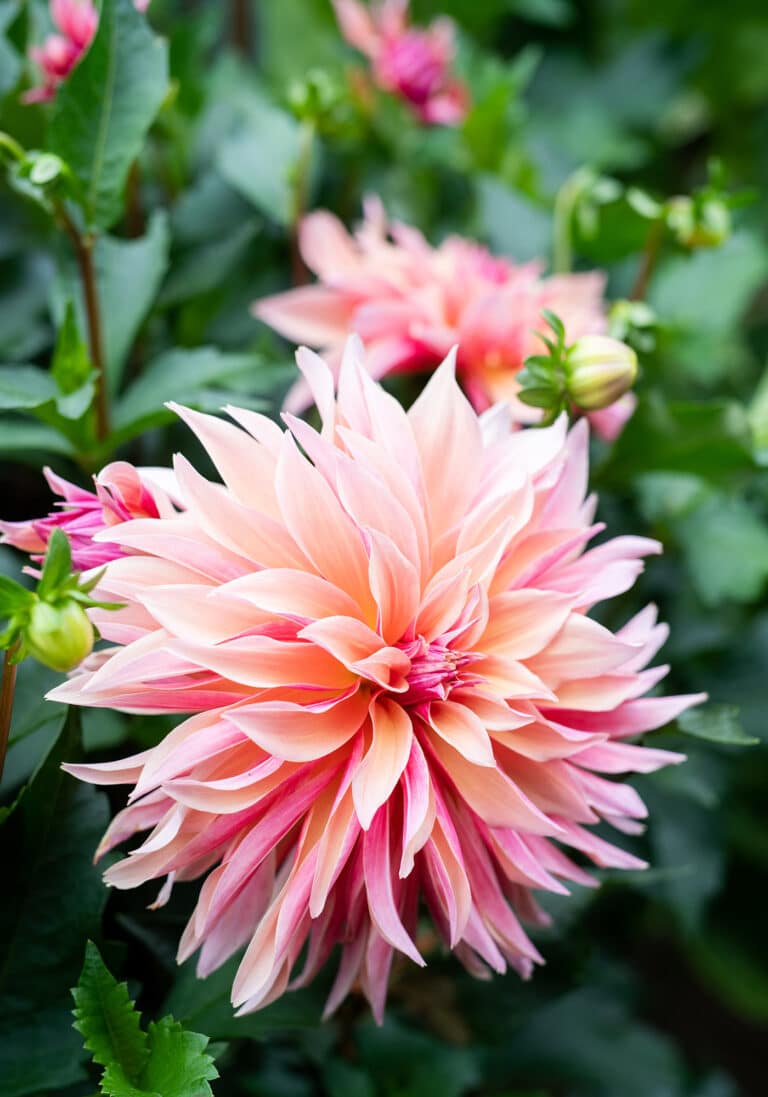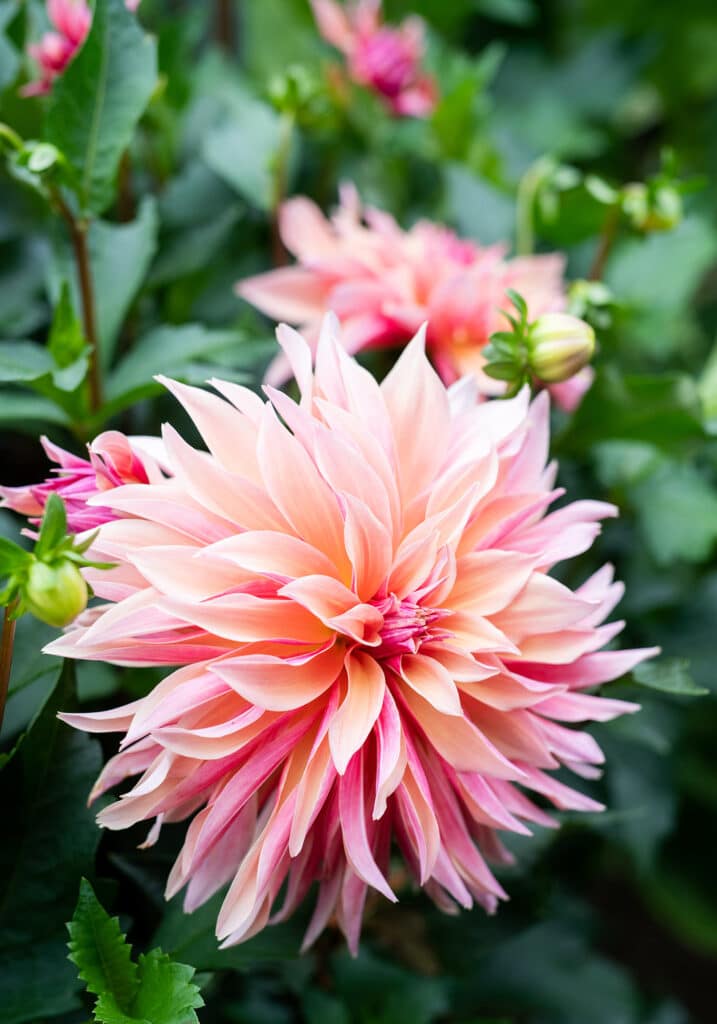 Labyrinth
A watercolor blend of shades of peach, apricot and salmon on the dahlia reminds us of a summer sunset. Though its name may be full of mystique, it's no wonder why the beautiful blooms of the Labyrinth dahlia are one of Locke's favorites. Wispy petals that curl and twist in alternating directions create a sense of romance and timeless elegance, and can be an absolutely breathtaking statement flower in any garden.
Elizabeth Locke on Flower Arranging
In her gardens, you will often find Locke strolling amongst the blooms or taking cuttings for bouquets into the house. In her kitchen, she creates warm, vibrant arrangements with her beautiful dahlias, giving them a second life while also bringing her love of the outdoors inside. With an artistic focus, Locke enjoys mix and matching dahlias with different stem heights, textures and colors to create unique, eye-catching arrangements. She shares that with dahlias, "The more you cut, the more they grow."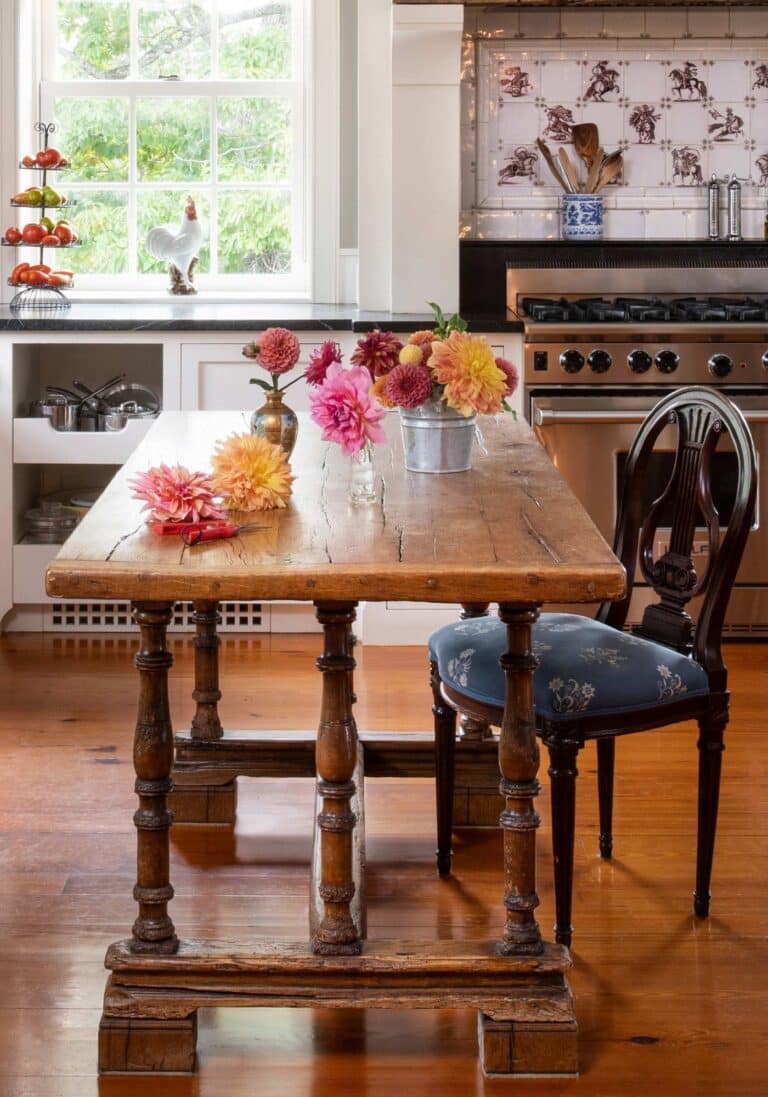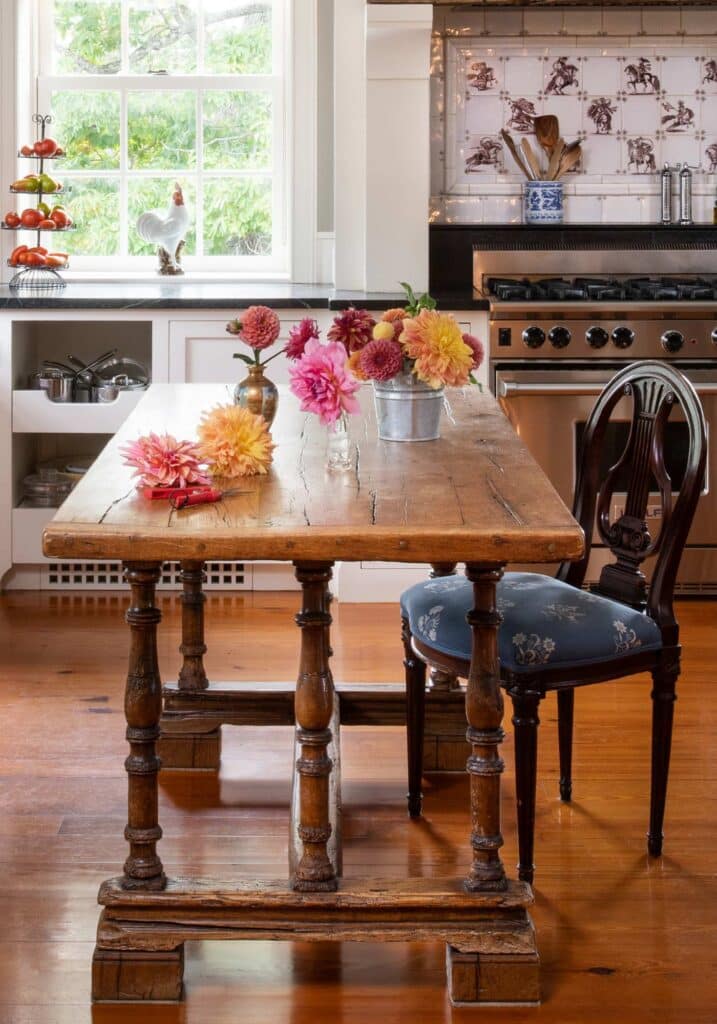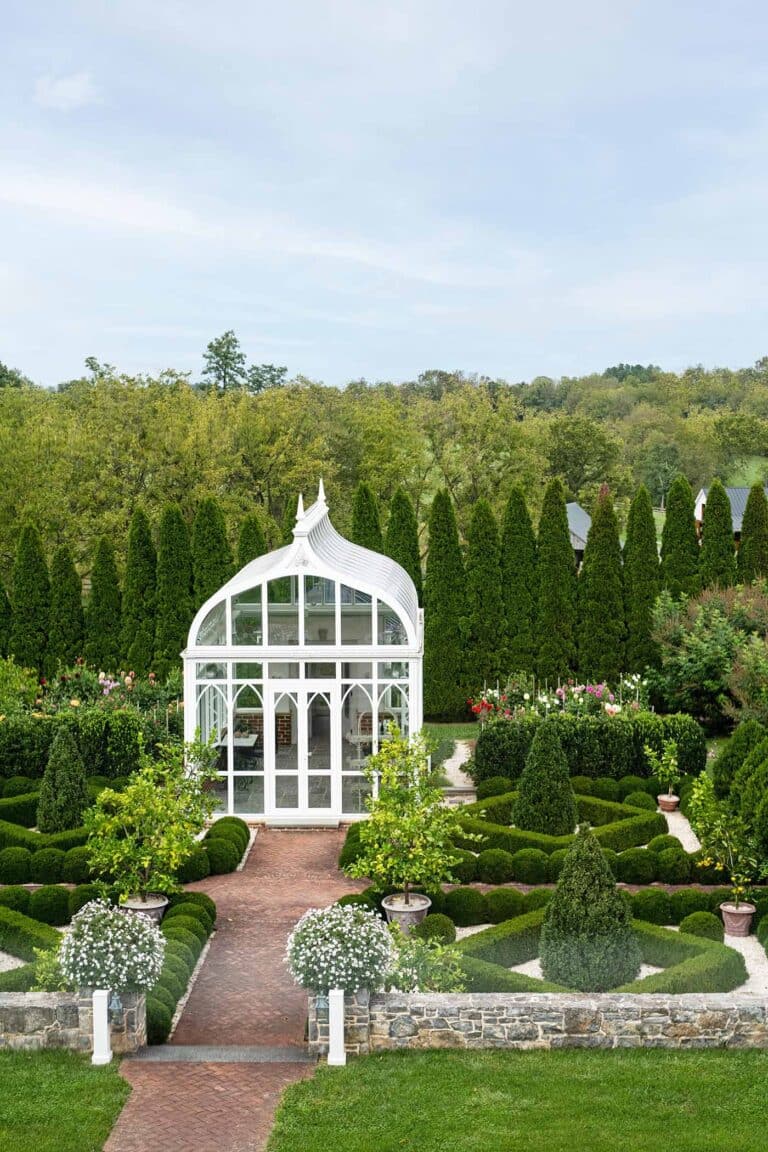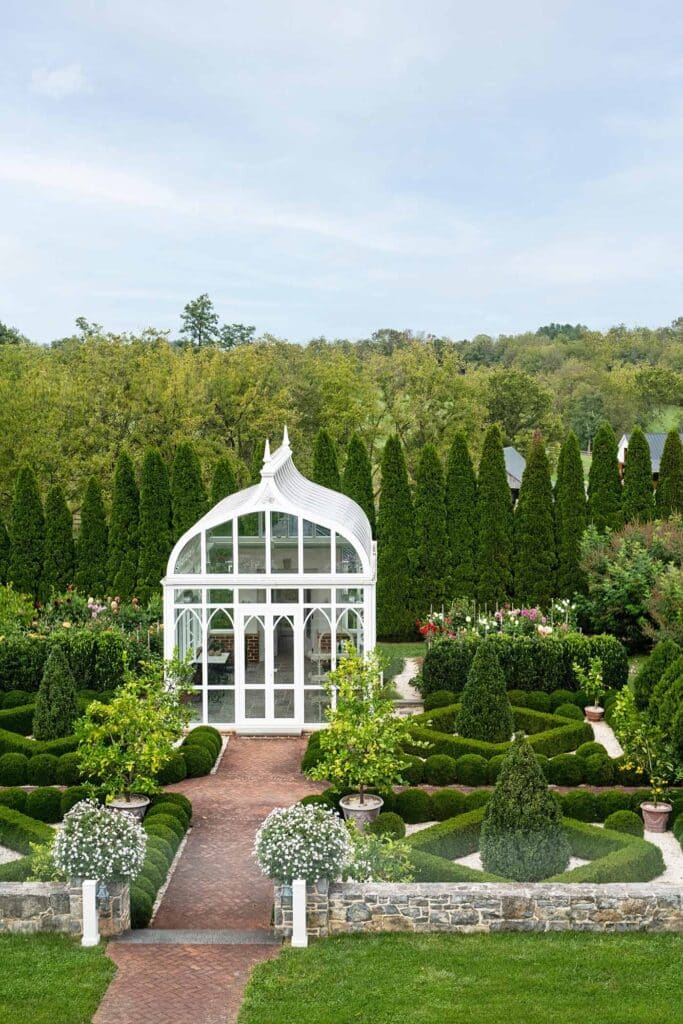 Tips on Growing Dahlias in Virginia
Dahlias range from the elegant and simplistic varieties belonging to the single dahlia family—a flower with a single ray of petals—to the complex cactus dahlia. Within each grouping of dahlia there are a myriad of varieties with unique, charming and personal names. Dahlias have been popularized by Erin and Chris Benzakein, creators of Floret Flower Farm and authors of three best-selling books on cut flowers and dahlias (see their charming story "Growing Floret" in a new four-part documentary on Magnolia Network).
This trending bloom can easily be found as a perennial tuber, and it thrives in our beautiful Virginia. Locke advises that these sumptuous flowers are more than worth the effort to grow, as dahlias in our zone do need a little care, such as protection from deer, lots of sun and staking in the late season to support the enormous blooms. At the first frost, the bulbs need to be dried and stored in a cool place for the winter. Blooming mid-summer through to frost, they provide big rewards for gardeners for they produce both prolific showy blooms and tiny tubers, essentially baby dahlias that can be grown into new plants to expand your garden in the coming spring season.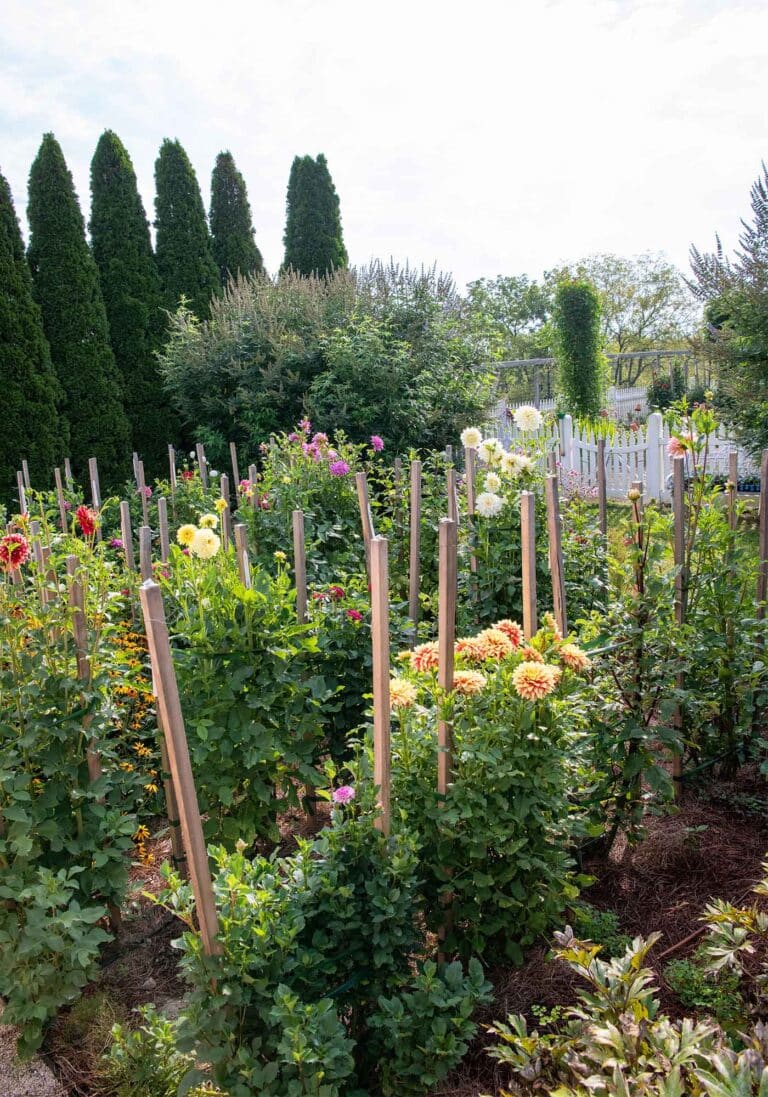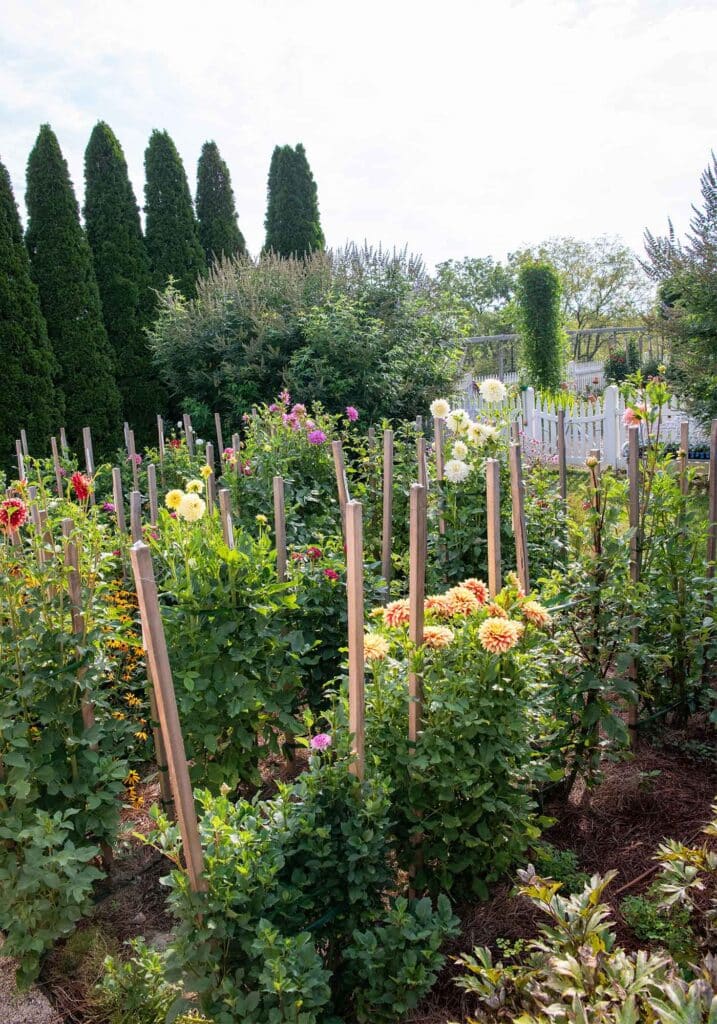 Beyond creating beauty in her gardens and with her jewelry designs, Locke, with her husband, John, is also an exceptional patron of the arts in her private life. Their longtime support of the Virginia Museum of Fine Arts has included serving on boards and sharing an exhibition of Locke's personal collection of stunning micromosaics—"A Return to the Grand Tour: Micromosaic Jewels from the Collection of Elizabeth Locke." Locke also shares her love of growing through her role as a board member for the Garden Conservancy, among other benevolent works. The mission of the Garden Conservancy is to preserve, share and celebrate America's gardens and diverse gardening traditions for the education and inspiration of the public. Her gift to all of us is her passion for beauty, travel and art that she has imbued throughout her life and generously shares with all. ~
For even more Virginia garden inspiration, tours and tips like Elizabeth Locke's Secret Dahlia Garden, see our Garden section of the website. Be sure to also keep an eye out for Book 13 of Wine & Country Life, where we will share an inside look at Locke's stunning home. You can also find artisanal hand-crafted home décor, lotions, soaps, candles, gardening tools and accessories to accent your elegant Virginia home and garden at WineandCountryShop.com or at our Shop in Ivy.
JENNIFER BRYERTON, our co-publisher, grew up in a family of farmers and gardeners, and enjoys traveling. She carries on the farm-to-table tradition at her home in Ivy, where beehives and a chicken coop dot the lawn, and borders are filled with varieties like roses, peonies and hydrangeas with herbs tucked amongst them for the kitchen.
R. L. JOHNSON is our co-publisher and creative director, Robin Johnson Bethke, who began her career as a professional photographer in Los Angeles before moving into graphic design and art direction when she relocated to Charlottesville in 1994. As our company's co-founder and visionary, she enjoys all aspects of the publishing process from story conception to graphic design to photography. Her work is often seen in many of our publications.
ROBERT RADIFERA has been creatively photographing weddings, interiors and portraits for over two decades. His interior work has been published in Southern Living, Southern Home, The Cottage Journal, HGTV Magazine, Wine & Country Weddings and Home and Design, as well as many other local and national publications.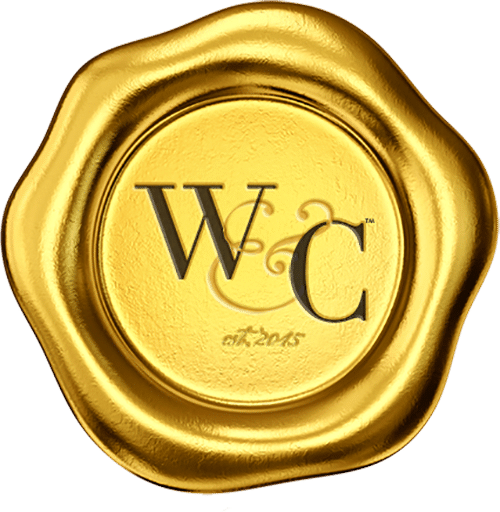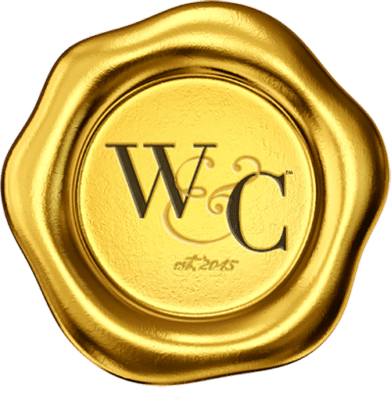 Virginia Wine & Country celebrates elevated living in Virginia Wine Country. Virginia Wine & Country Life is a semi-annual luxury print magazine with a full digital presence. The Virginia Wine & Country Gold Book is an annual guide to the top award-winning wines, wineries and experiences in Virginia Wine Country. The annual Virginia Wine & Country Wedding Planner is an art book of elegant Virginia weddings. The brand includes the Virginia Wine & Country Shop in Ivy, Va. It is a beautiful lifestyle boutique that brings the pages of the magazines to life. Virginia Wine & Country tells the stories of Virginia wineries, the farm-to-table movement, luxury travel, entertaining, art and the elegant country lifestyle. Ivy Life & Style Media also provides branding, web design and PR services for the wine industry.