The annual Virginia Historic Garden Week Celebration, known as America's largest open house, is also Virginia's oldest volunteer tourism project. In 2020, the Garden Club of Virginia (GCV) celebrated its 100th anniversary of supporting historic and conservation projects throughout the Commonwealth. This year, Historic Garden Week reopens to feature 100 spectacular properties on 32 tours organized and hosted by member clubs, and all for a good cause.
For the first time ever, visitors have the opportunity this year to tour the Upperville estate of late billionaire philanthropists Paul Mellon and his wife Rachel "Bunny" Lambert Mellon. From horticulture and the arts to education and equestrian sports, the Mellons have left a lasting legacy.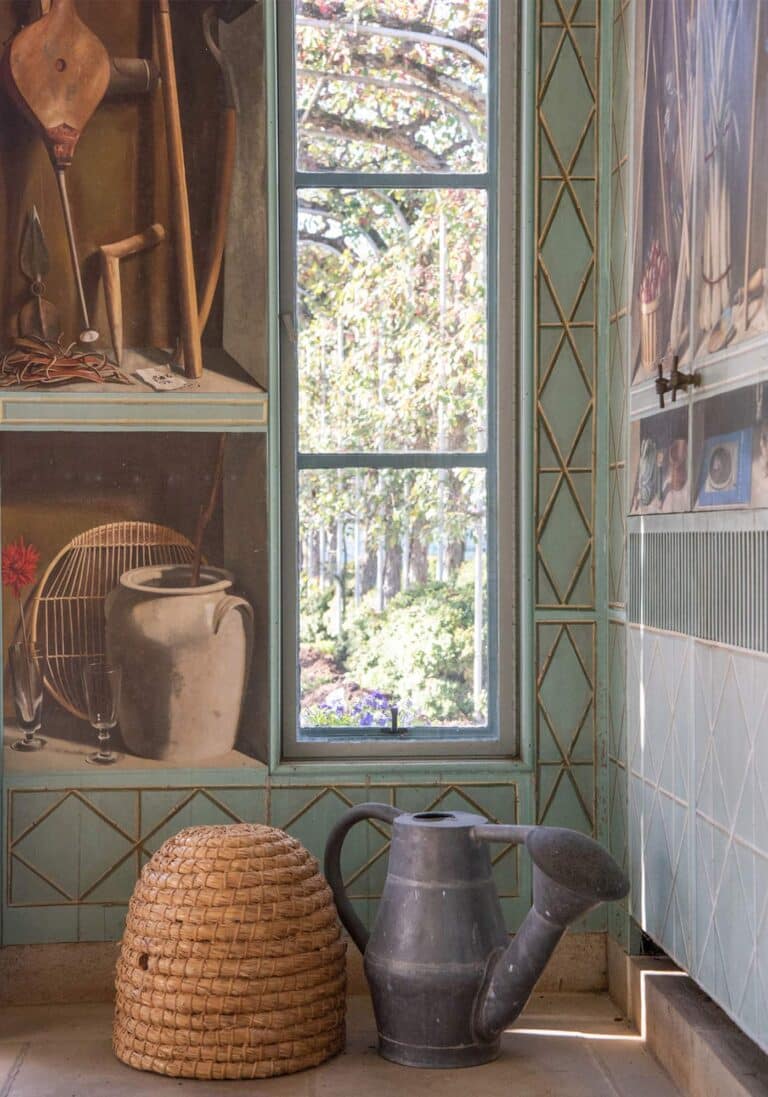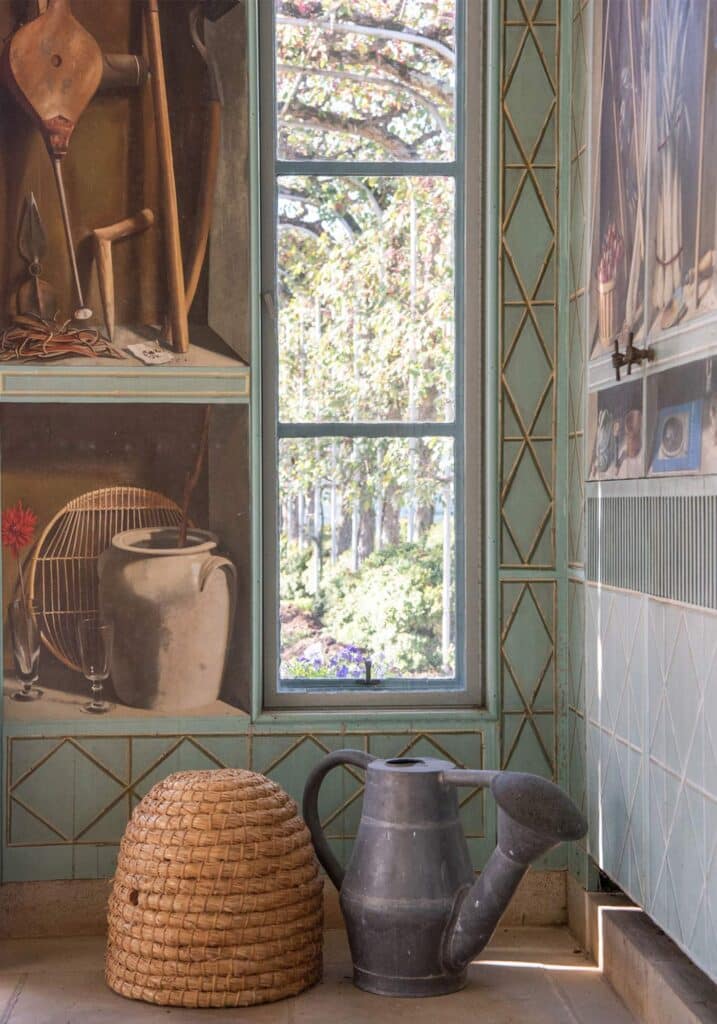 A Culturally Rich Home & Garden Tour
Located near Washington D.C. in Fauquier County, Upperville is a quaint, equestrian town with a long history of distinguished guests. Prince Phillip, Queen Elizabeth, Prince Charles and Princess Diana have all traveled down Upperville's bucolic country roads to visit the Mellons, as did John and Jackie Kennedy who grew to be their close friends. 
After Bunny's passing in 2014 at the age of 103 (Paul, a financier, art collector, philanthropist and racehorse breeder passed away in 1999), the couple's astonishing collection of over 19,000 objects sold for a staggering $200+ million at auction with Sotheby's in 2014. Garden enthusiasts the world over who've been wondering what was to become of the famous gardens and home are excited to learn that the Mellons left the property in good hands with their Oak Spring Garden Foundation. The property has been lovingly refurbished in the likeness of its original condition when the Mellons were in residency. Many of the Foundation's team involved in the renovation and on-going care are long-time staff members who knew the couple well. 


Wine & Country was welcomed to photograph the home's new interior décor and the glorious gardens as they have been maintained under the watchful direction of Horticulturist Judy Zasnick. Wine & Country readers and tour-goers alike will not be disappointed by the outstanding work of the Foundation.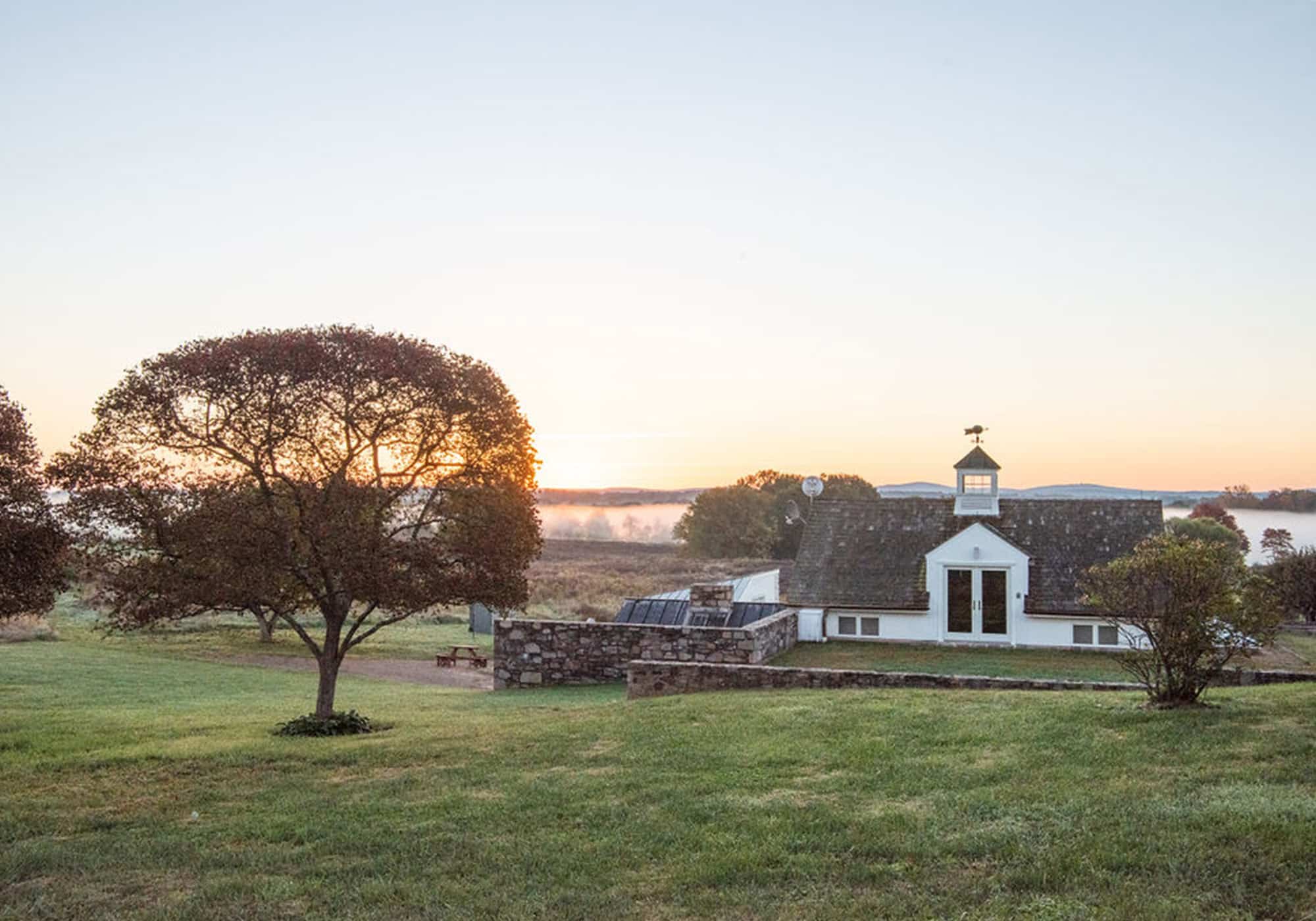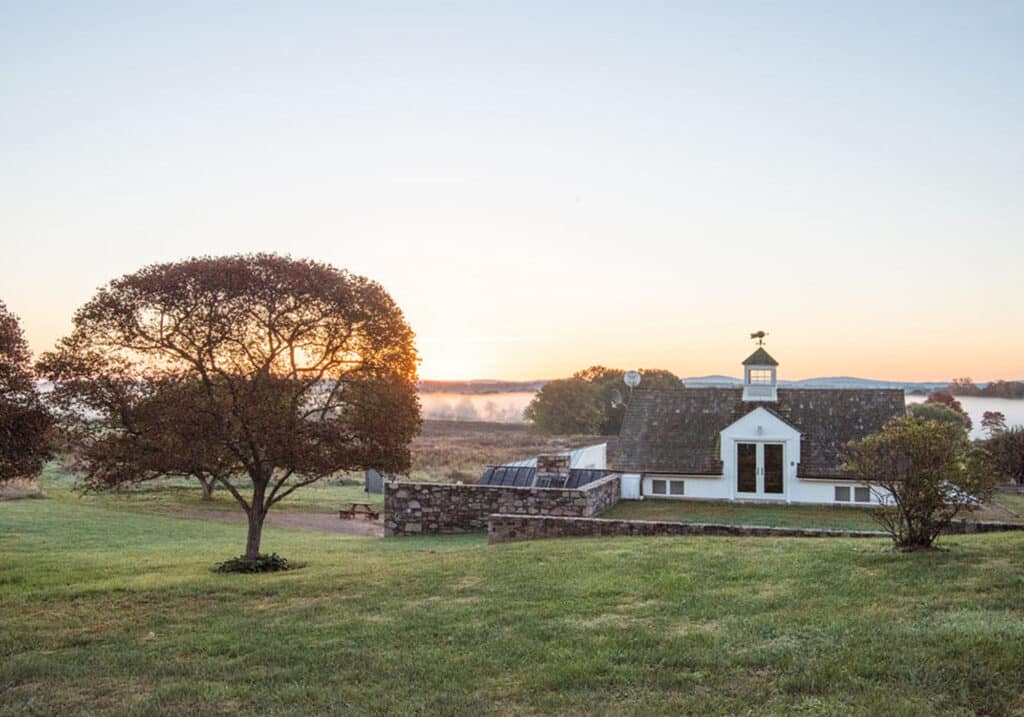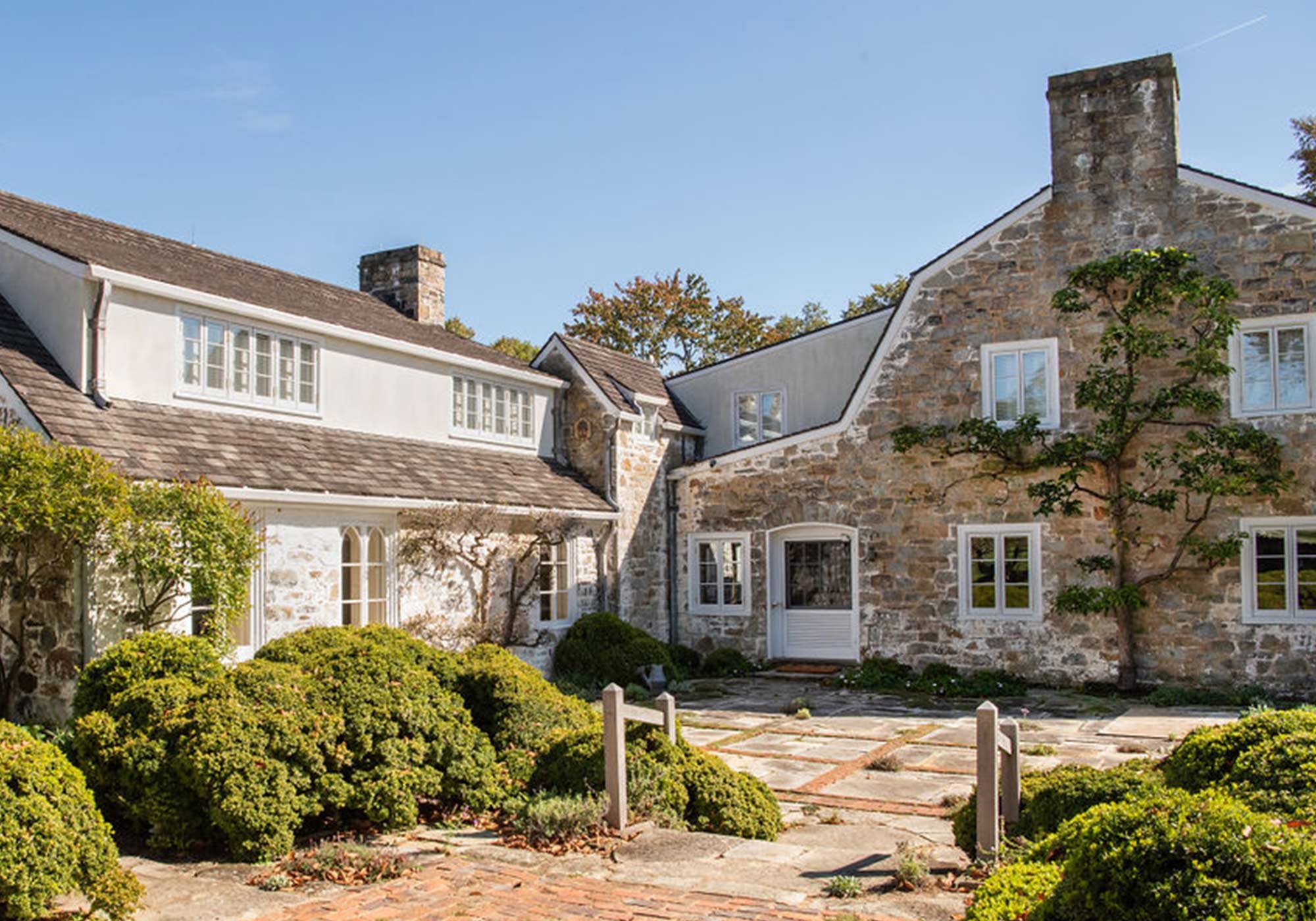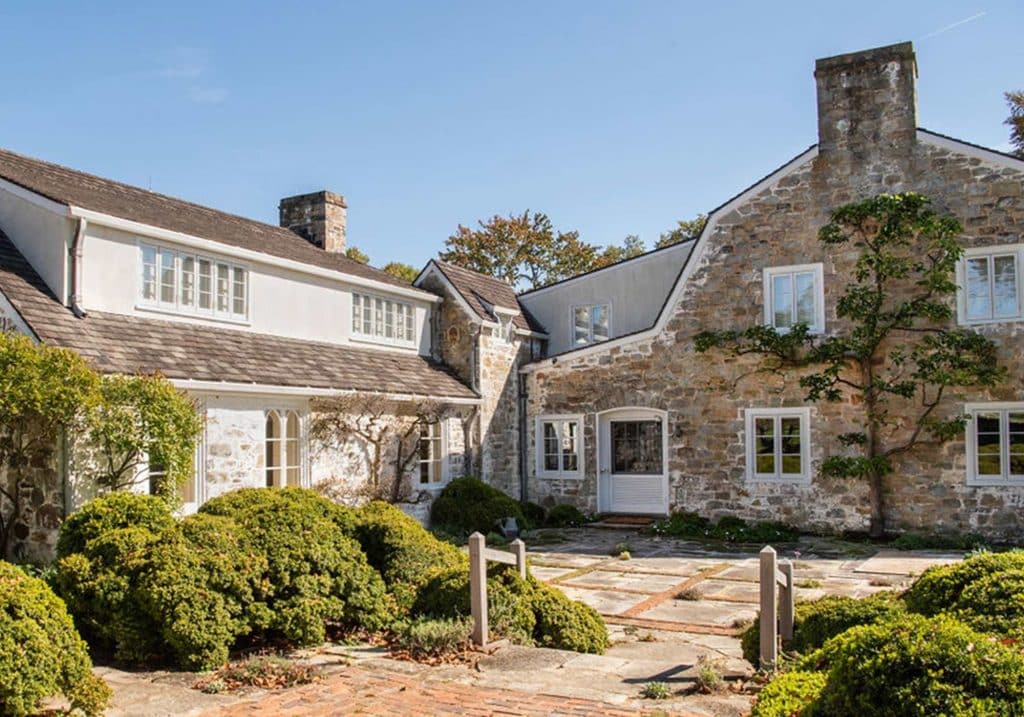 What You'll See on the Oak Spring Tour
Bunny's famous garden is part of a 700-acre estate, the much larger Rokeby Farms. Sited in prime Virginia horse country, the property has Blue Ridge Mountain views to the west and Bull Run Mountain views to the east. The Mellon's Oak Spring estate is a collection of stone cottages connected together by a whitewashed wall all surrounding a central formal garden that lends a sense of a French village of yesteryear. Bunny's love of French gardening styles is seen in her passion for topiaries, espaliers and her world-famous crabapple allée that leads to her fabulous greenhouse with its trompe l'oeil mural room.
Included on the 2021 Historic Garden Week Tours are small parts of the main Mellon residence and all of its extensive gardens that overflow with gorgeous flowers collected over decades, as well as the formal greenhouse, the Oak Spring Gallery featuring an exhibit on the Mellon's remarkable lives, and the Broodmare Barn, where Paul raised his championship horses, including Sea Hero, the winner of the 1993 Kentucky Derby. For an exclusive look at rooms not included on the tour, such as Bunny's private bedroom suite where she cherished the Van Gogh that hung above the bathtub. Seen below is the desk where Paul would work in the living room as well as the hallway leading into the dining room that famously displayed Bunny's China collection.
Paul's father, Andrew M. Mellon, a financier and art collector who served as secretary of the treasury under four presidents from 1921–1932, also had a passion for rare items and went on to found the National Gallery of Art. Bunny herself was an avid collector, and spotted early on the genius of Mark Rothko, and one of his Yellow Expanse series hangs in the National Gallery of Art. Bunny has said it was one of 13 works by Rothko that she purchased in the 1950s when she wandered by chance into the artist's New York studio.
French-Inspired Gardens at Oak Spring
Bunny Mellon was a self-taught horticulturist and cherished her 4,000-acre Oak Spring estate that she shared with her husband. Her exquisite design of the landscape near and far as well as her home interiors were quite purposeful, based upon extensive reading and contemplation. She was regarded as an authority on American horticulture and a visionary of landscape design. Her work was strongly influenced by French gardeners André Le Nôtre and Jean-Baptiste de La Quintinie. She was honored by the American Horticultural Society with a Landscape Design Award and The Veitch Memorial Medal presented by The Royal Horticultural Society.
Garden rooms, comfortable seating and a beautiful selection of vignettes were planned to delight the senses and encourage an enjoyment of nature's beauty.
The trees dotting the landscape on the long country lane approach are all sculpted with careful attention to detail, showing each to its best advantage and creating an idyllic view from various points. The play of light and horizon were paid careful attention to by Bunny. The viewshed was carefully managed with intense pruning, and it was not uncommon that she'd perch with a walkie talkie in a favorite window seat to direct the arborist a mile down the lane on how to trim a bit more here and there so that the view would be perfect. The local hunt often passes through the property on a crisp late fall morning, and you can just imagine the scarlet-clad riders in full pursuit atop their gorgeous horses as the sun rises.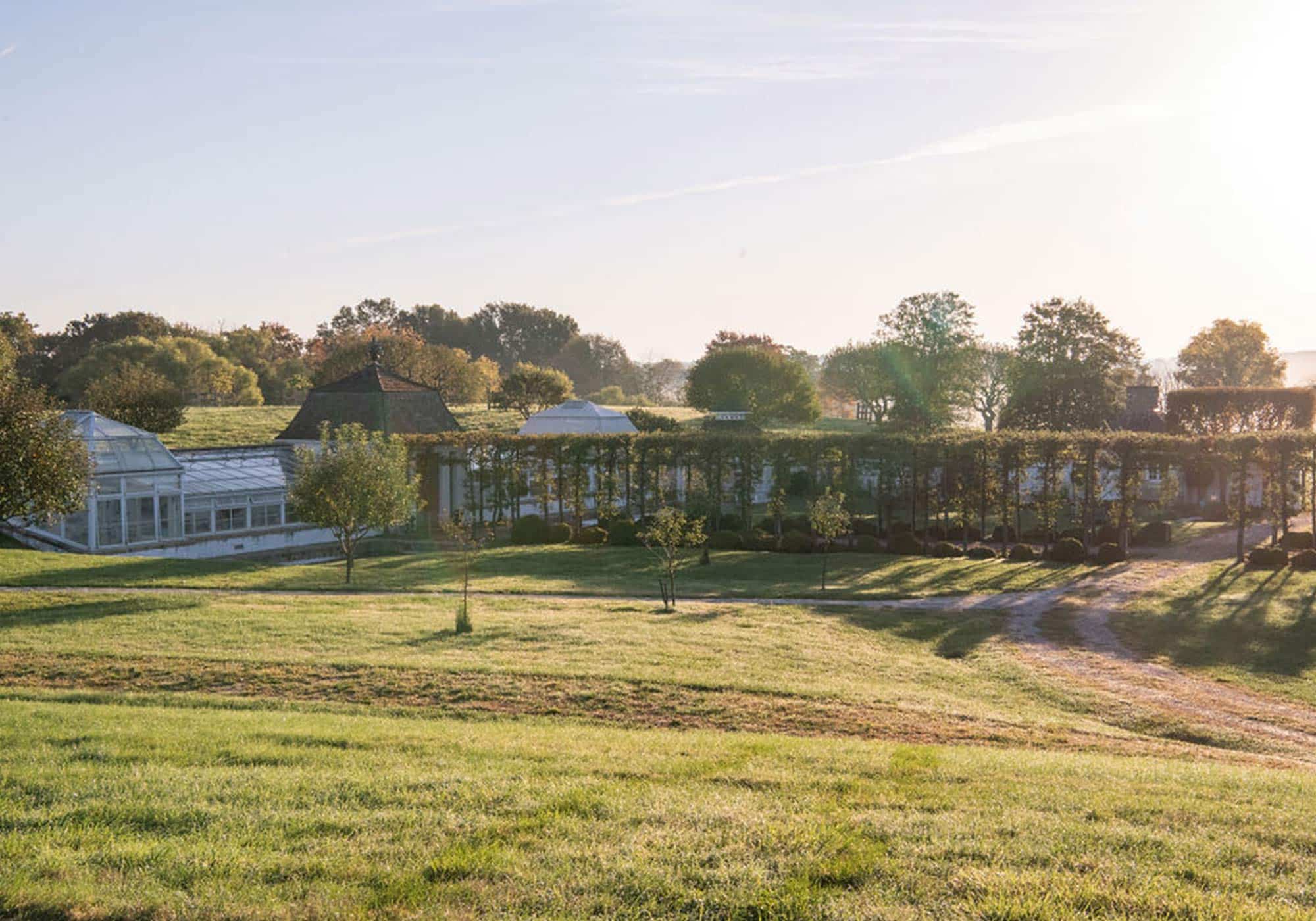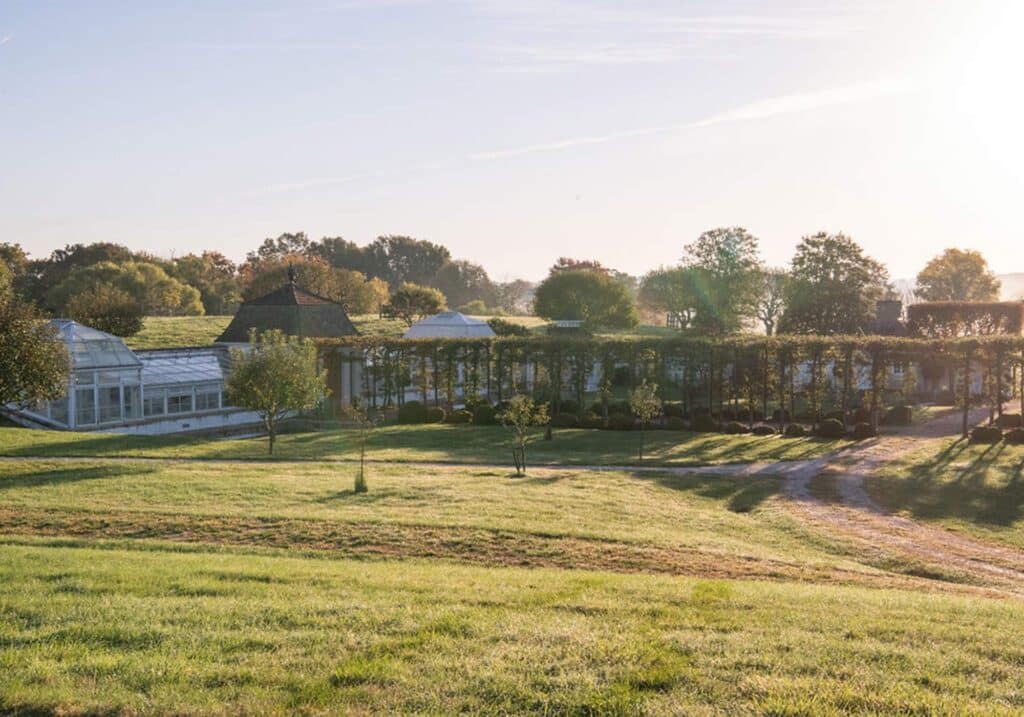 The view from a large stone terrace at the rear of the home overlooks the three-tiered formal garden towards the greenhouse. As you explore, you'll see that the garden was designed for living in. Garden rooms, comfortable seating and a beautiful selection of vignettes were planned to delight the senses and encourage an enjoyment of nature's beauty. A croquet lawn was designed originally for their children while crepe myrtles bloomed alongside. While it was their favorite, Oak Spring Farm was only one of a dozen plus homes that the family maintained. The Mellons followed the sun to their various homes throughout the year, from the U.S. and France to the Caribbean.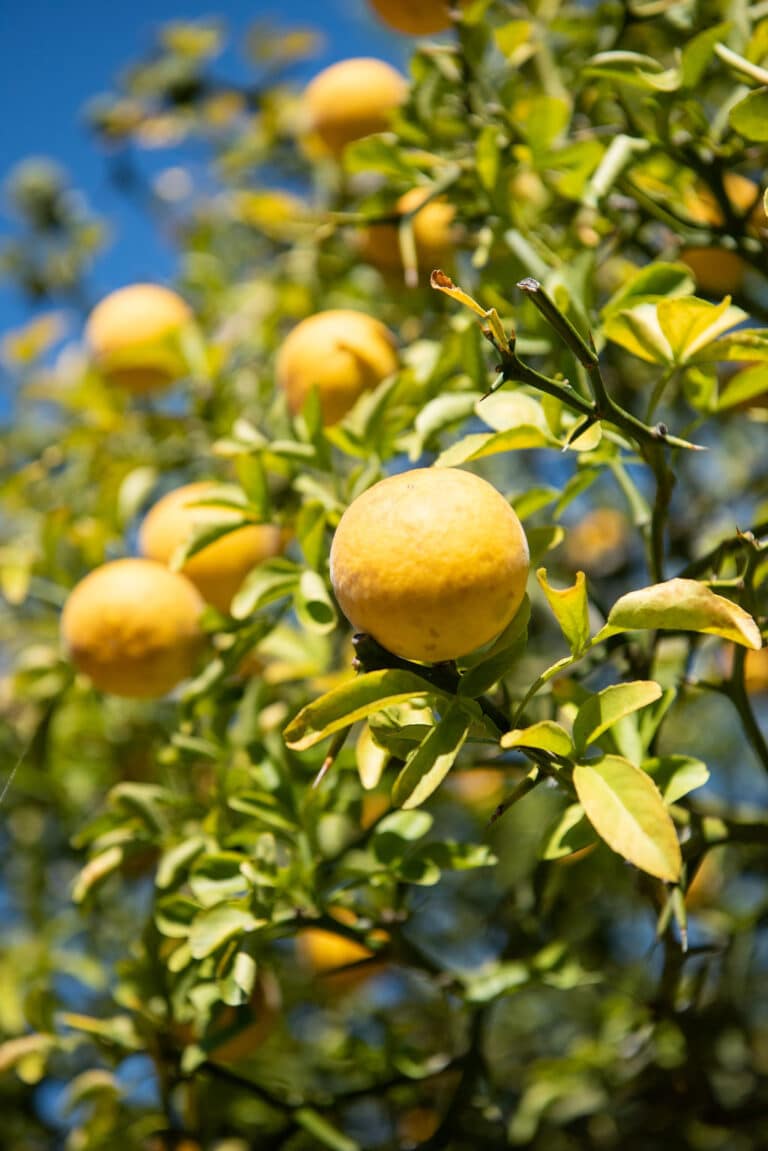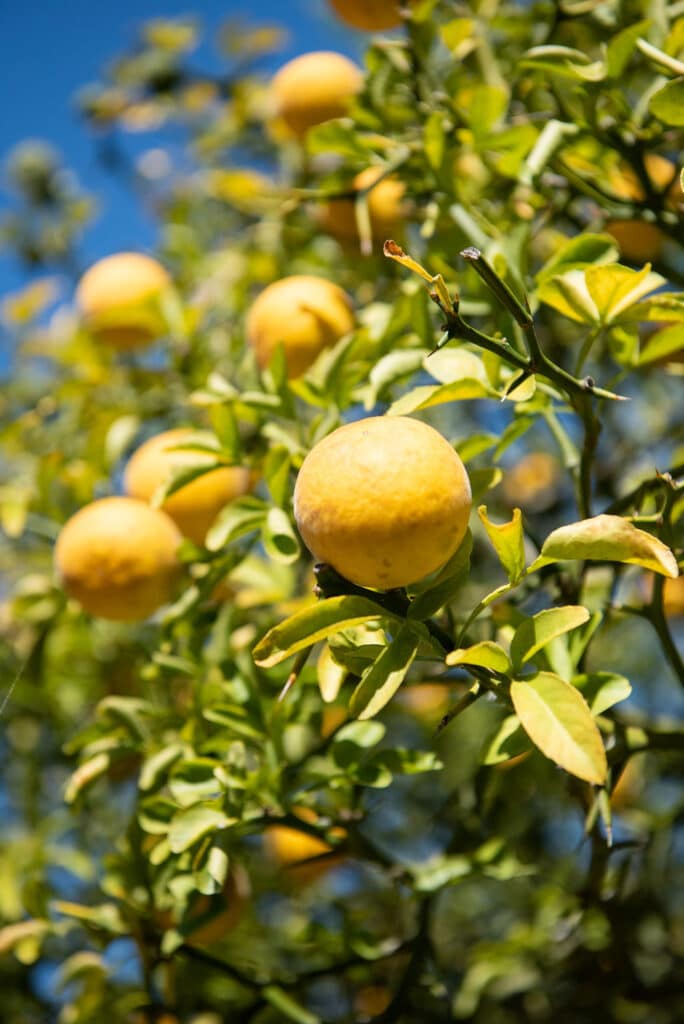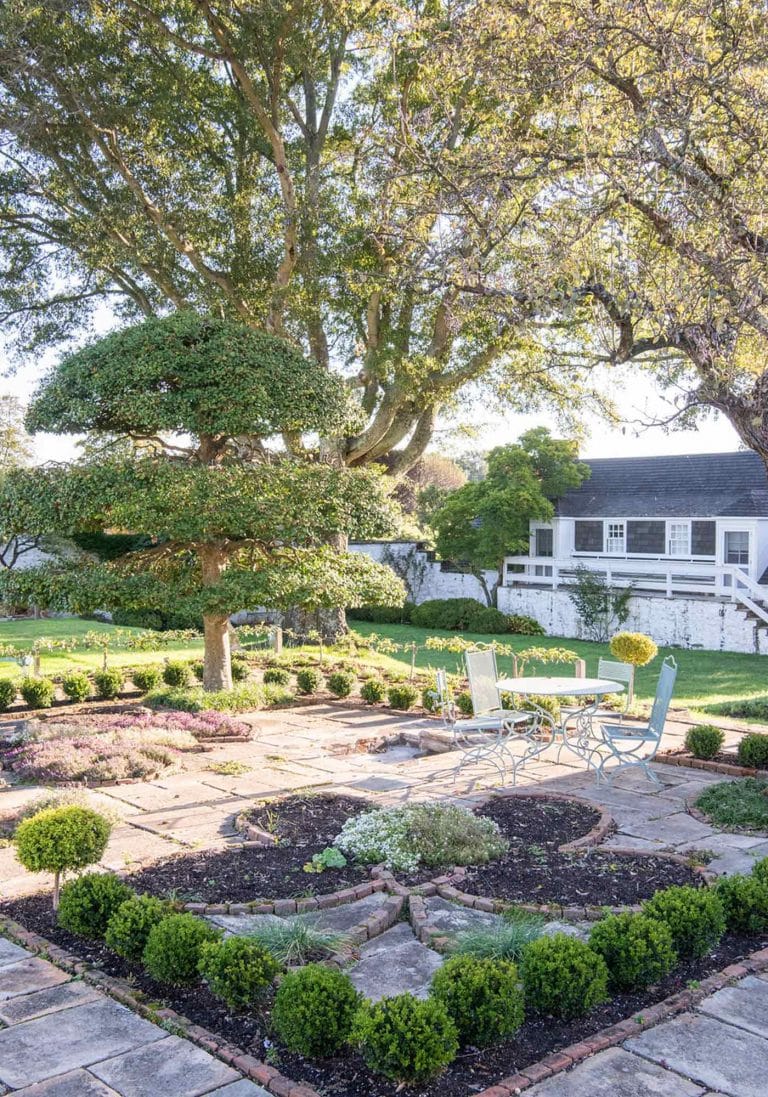 Bunny has often been quoted as saying "nothing should be noticed," encouraging the perfectly imperfect like the volunteer thyme, Johnny-jump-ups, fleabane and wild strawberries growing in the cracks between fieldstones on the terrace creating a loose casual feeling. "Wild flowers grow where they will," she remarked, but she still upheld her clean, French style and ignored no detail however small. She was never without her secateurs in her pocket.
Two charming beds each in the shape of a butterfly are seen on the patio beneath the carefully pruned Trifoliate or Hardy Orange, creating one of the key focal points in the garden. The gardeners didn't appreciate the massive thorns of the hardy orange tree, but she insisted upon them, for their beauty, their citrus scent and the protection they afforded the birds who adore them.
In her vegetable potager, the lettuces, Brussels sprouts, sorrel, beets, kale and more are laid out on the diagonal, spaced widely to create a mosaic of giant vegetables. Nearby, the aromas of the herb garden perfume the air and an antique English wishing well creates a melody of water. One of her favorite garden projects was working with her friend Hubert de Givenchy to oversee the restoration of Louis XIV's kitchen garden (Portager du Roi) at Versailles. The late fashion icon designed much of her wardrobe, from her maids uniforms and her own gowns to her gardening hats and smocks.
The parterres throughout Bunny's garden brim with roses, lavender, fritillary, daisies, sedum, Russian sage, poppies, mint (a key ingredient in her favorite iced tea), columbine, fleabane and verbascums, and bachelor's button. All easy to grow and self-seeding, she combined simplicity with charm.
Pictured below is one of her many fabulous antique French watering cans. Dotted throughout the garden, you'll find touches of whimsy like this bunny faucet on the antique wishing well. She even has an entire room dedicated to her basket collection. Beautiful statues, musical water features and even casually-placed tools create focal points and invite you to stroll the many paths.
Bunny Mellon & Jackie Kennedy's Friendship
In 1958, a mutual friend seeing the potential of a kinship between the two, introduced the fox hunting senator's wife to the older outdoors-loving Bunny. The two connected immediately and became fast friends, even traveling together. After the election, Bunny helped Jackie redecorate the White House, driving north in her car filled with pots of greenery and bundles of blooms to freshen up spaces and to advise on entertaining. The First Lady "pours flowers into deep straw baskets or enormous copper containers or little silver mugs," said the Globe. "She likes to put them on tables at the eye-level… Wild flowers like Queen Anne's lace are combined with anemones and garden flowers, such as tulips, lilacs and roses." Inspired by her friend's exquisite taste, the White House began to take on a fresher, more fashionable face.
Bunny helped Jackie redecorate the White House, driving north in her car filled with pots of greenery and bundles of blooms to freshen up spaces and to advise on entertaining.
Early in John F. Kennedy's presidency, he visited the Gardens of Versailles with French President de Gaulle and was so impressed by the beauty and the ease it gave to diplomacy he began thinking of how the White House might benefit from the right kind of garden. He sought advice from Bunny over a family lunch at the Mellon's estate, just a short boat ride from Kennedy's Hyannis Port. She designed the White House Rose Garden with him and redesigned the White House East Garden that was later dedicated to and renamed the Jacqueline Kennedy Garden.
When Kennedy was assassinated, Bunny flew home immediately from her Antigua home to do the flowers for the service (all chosen from the White House Gardens) and to support Jackie. The two had a lifelong friendship. Bunny even renovated a 2,000-square-foot, 19th-century log cabin, situated on what had been Oak Spring's working dairy in the 1980s for one singular purpose: to be a guest house for Jackie.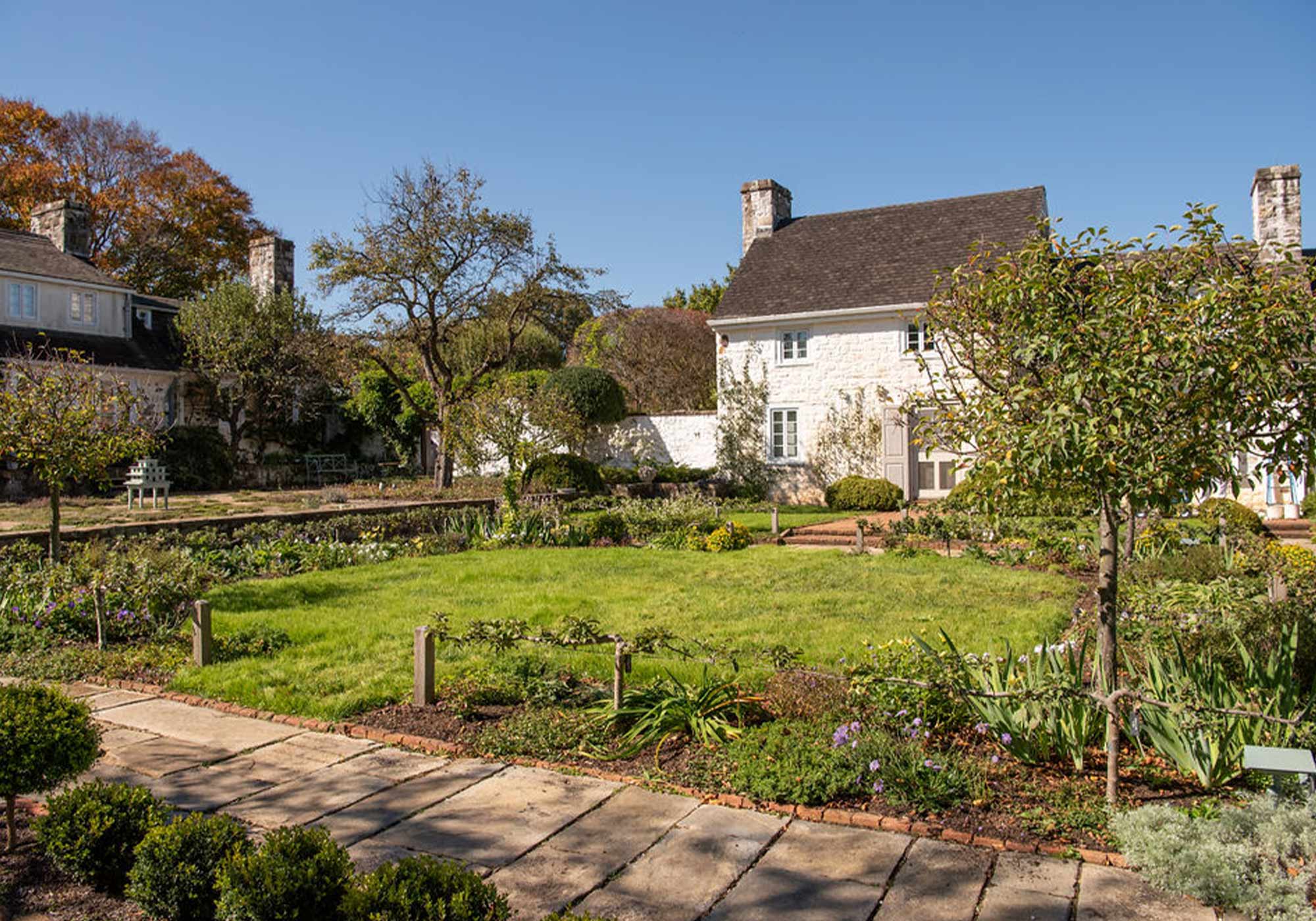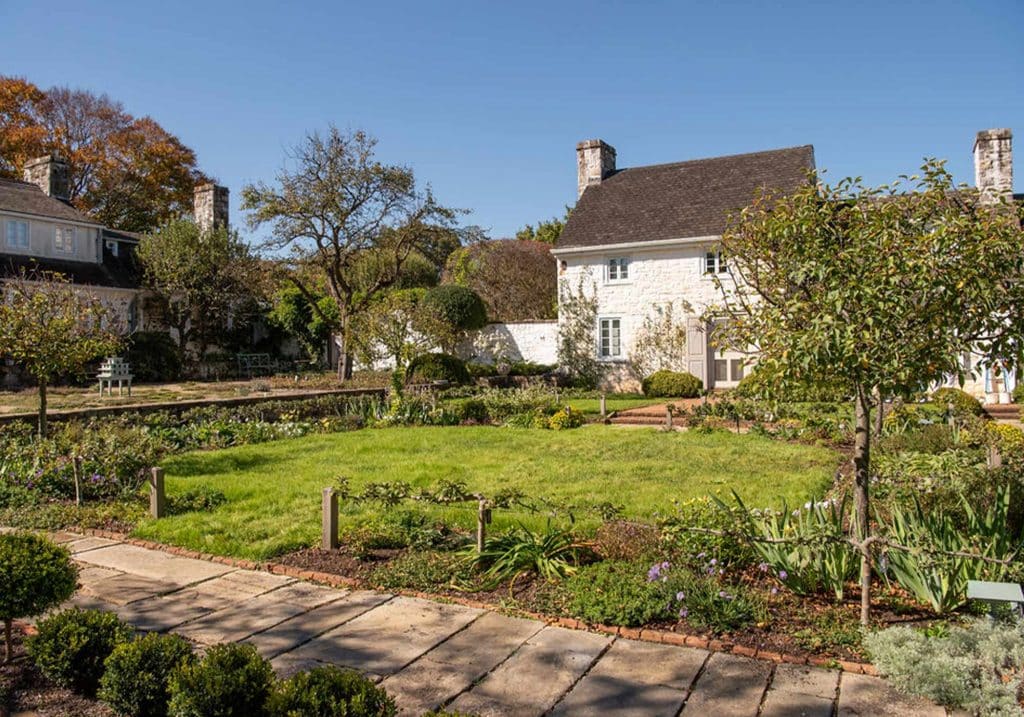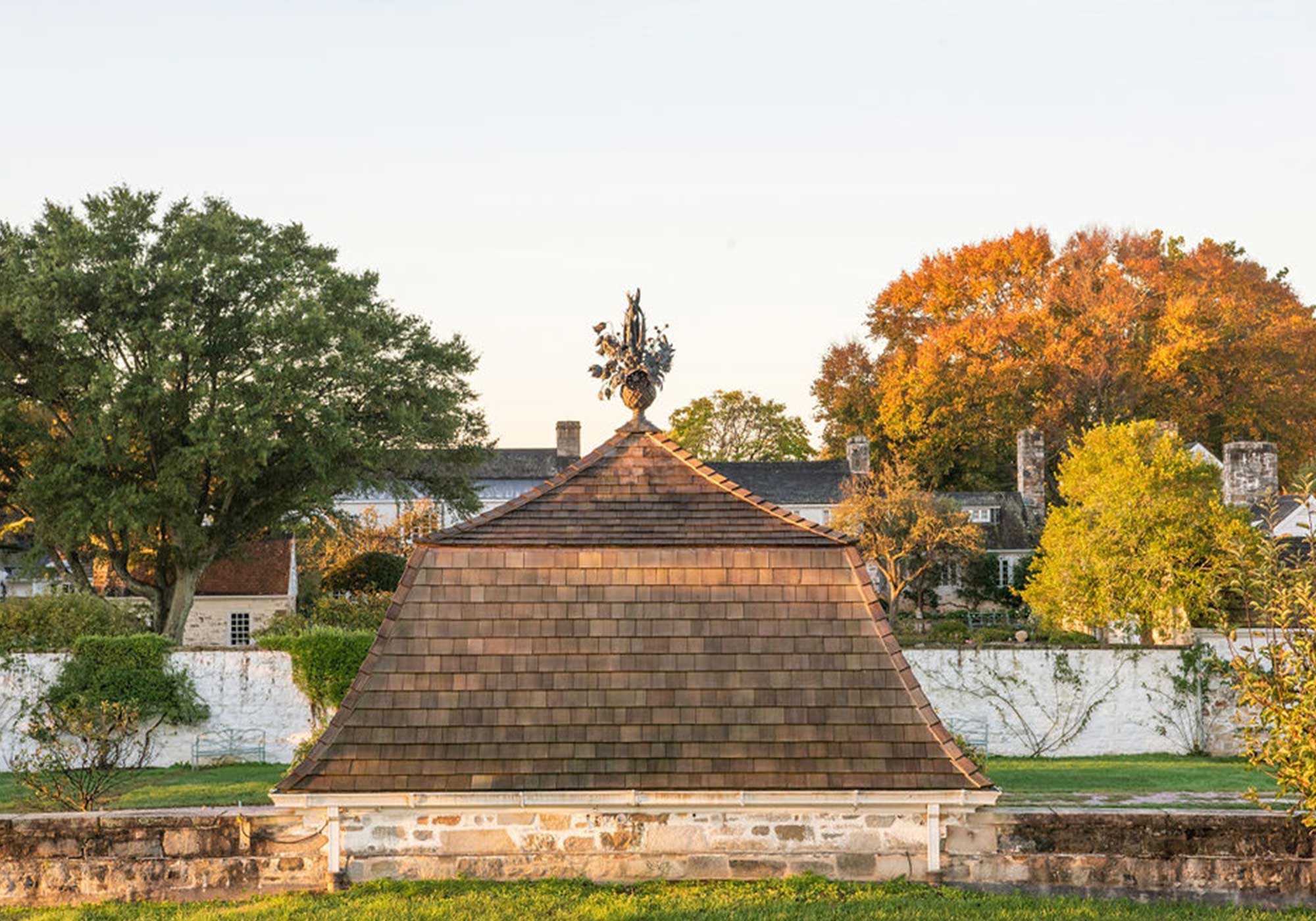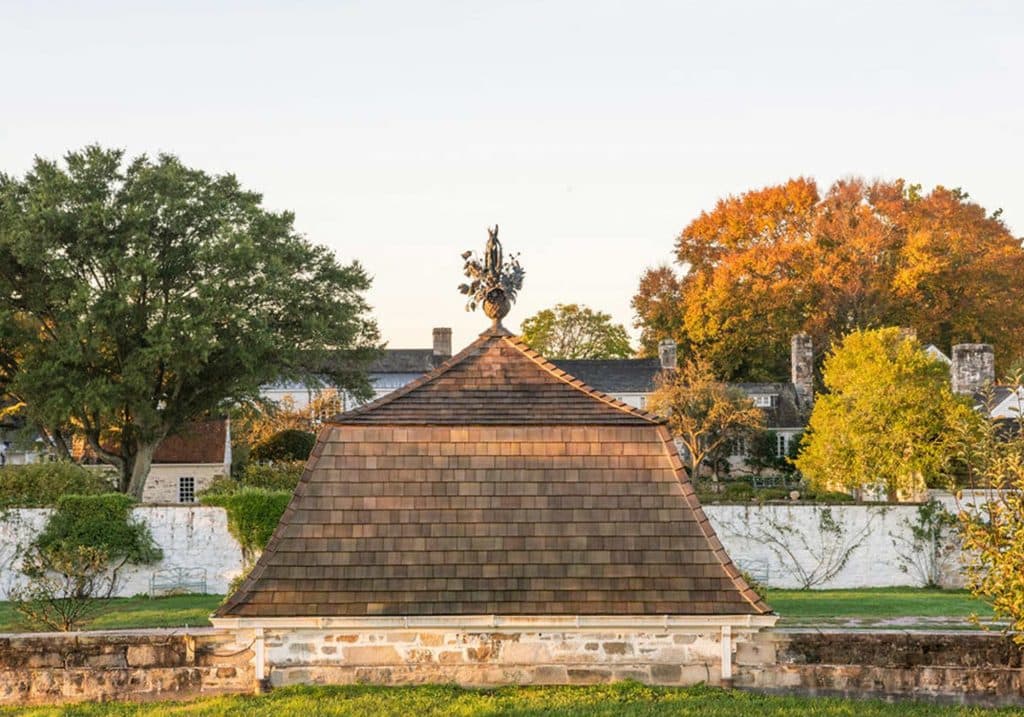 Bunny Mellon's Famous Allée & Greenhouse
Also open on the Historic Garden Week Tour is her fabulous greenhouse that one approaches via a pleached crab-apple allée that has become famous the world over. In spring, the blooms on the espalier create a pink and white arbor that makes visitors catch their breath in awe. Throughout the other months, the branches woven overhead like basketry cast intriguing shadows throughout the day from the sun overhead.
The allée leads to the stunning conclusion of the main garden path, Bunny's Victorian-style Lord & Burnham greenhouse. In the central room, floor-to-ceiling trompe l'oeil murals by the French Artist Fernand Renard create a restful spot for a cup of iced tea and to relax from gardening. The greenhouse is where Bunny grew tender plants like figs, citrus, cyclamen and, of course, perfected her famed topiaries—her signature design element. True to Bunny's aesthetic, it is made to feel as if it all just naturally fell into this perfectly comfortable state. And, also true to Bunny, you can see no practical or decorative detail was overlooked. The crowning touch of the greenhouse—an airy bouquet with some blooms just past their peak as would be a true floral arrangement—is a spectacular finial seen from many points throughout the property. The lead finial was designed by her friend, famed French Jewelry Designer Jean Michel Schlumberger.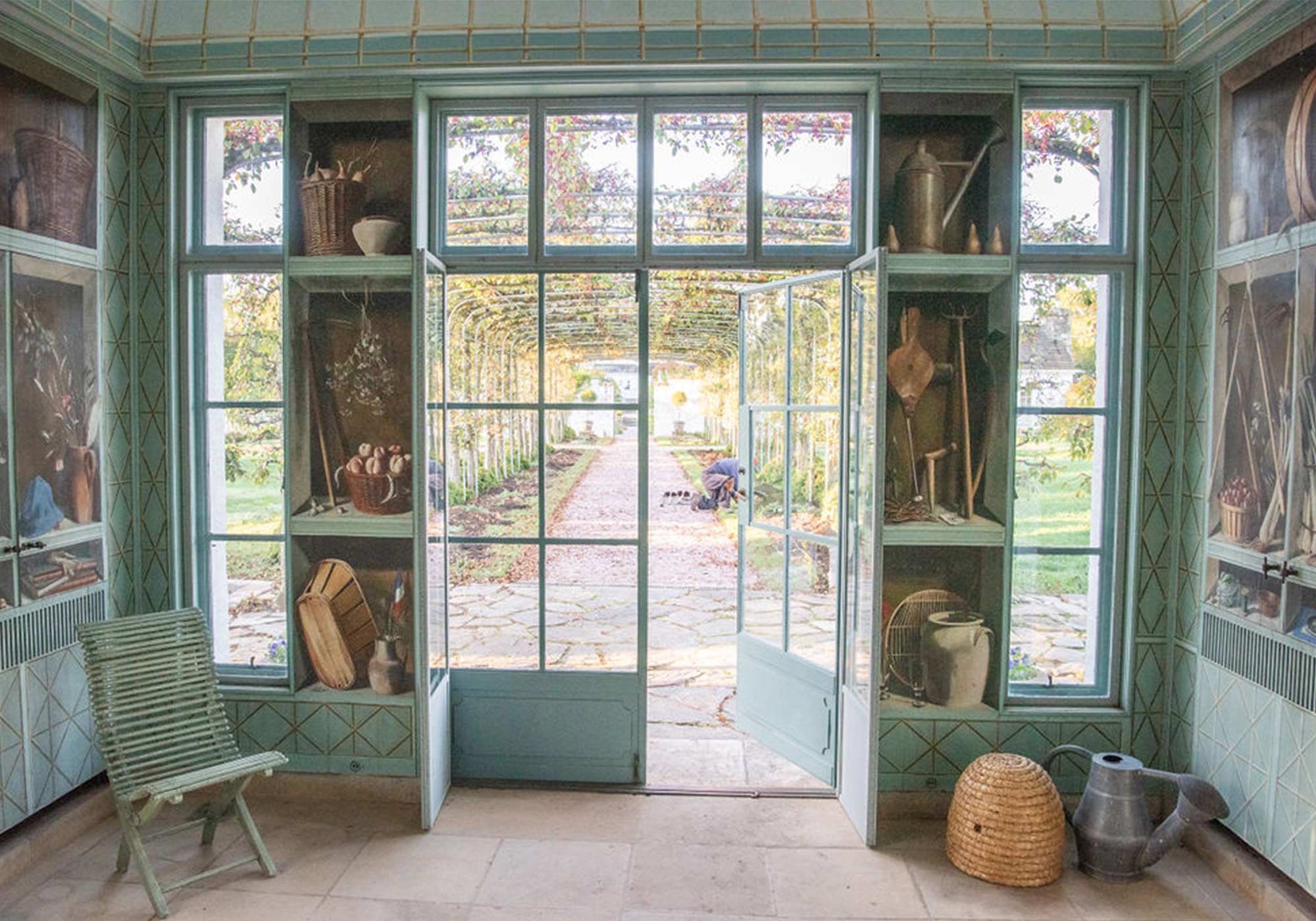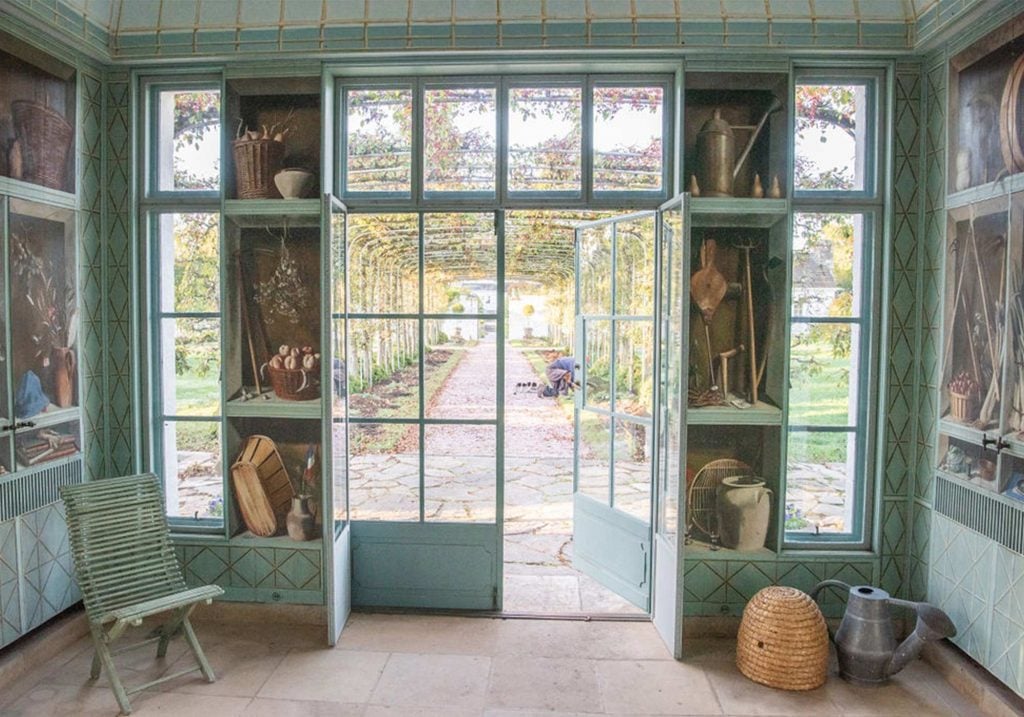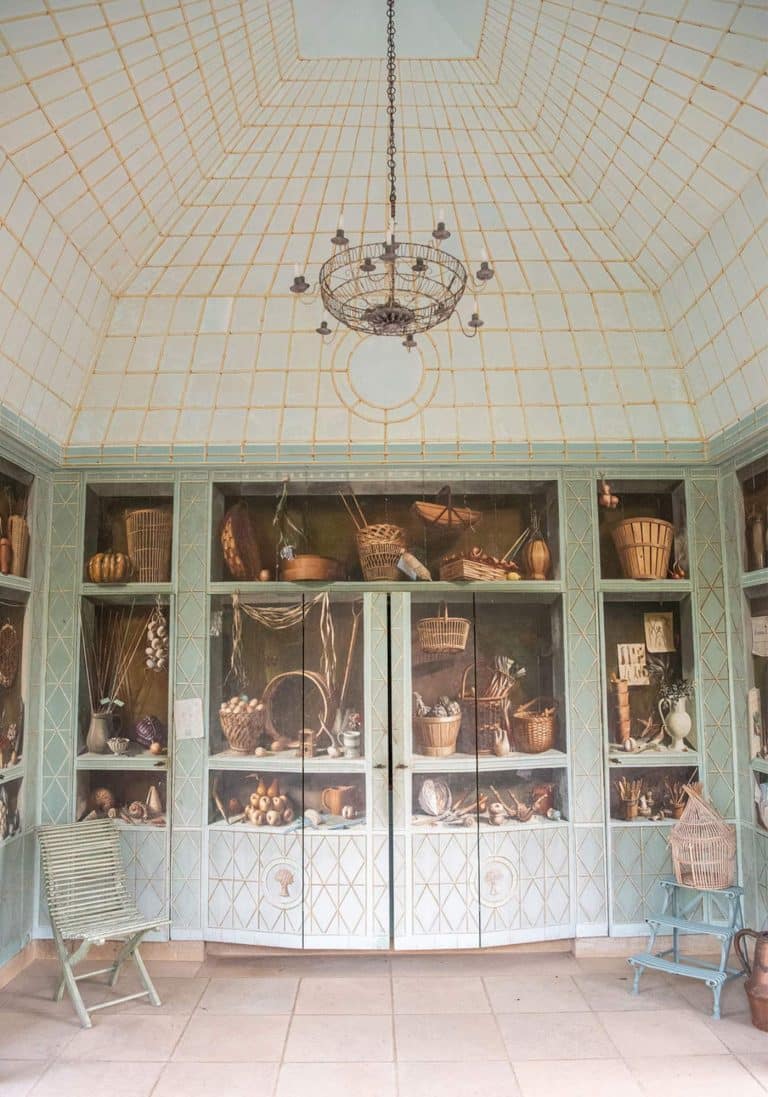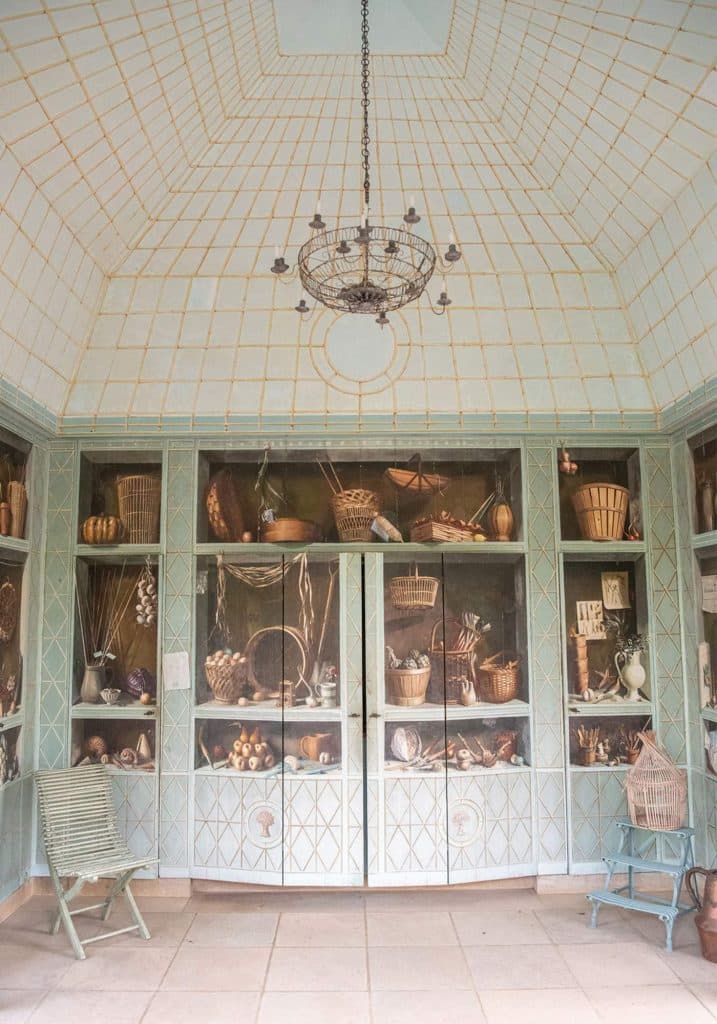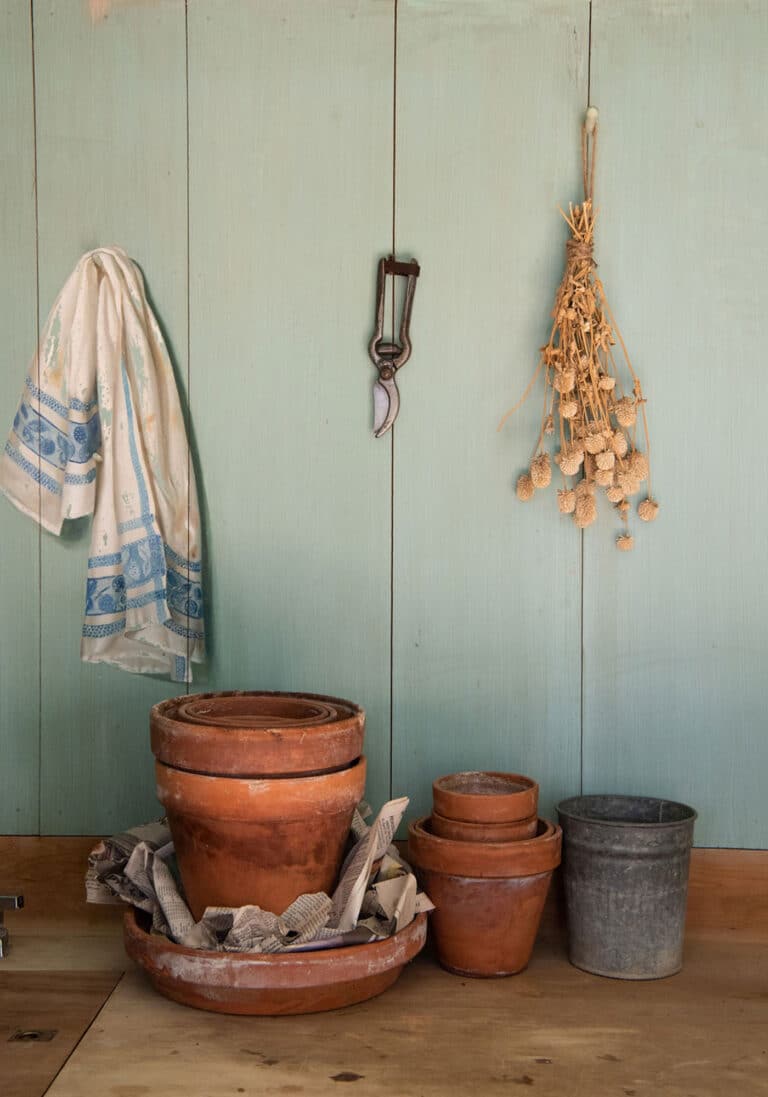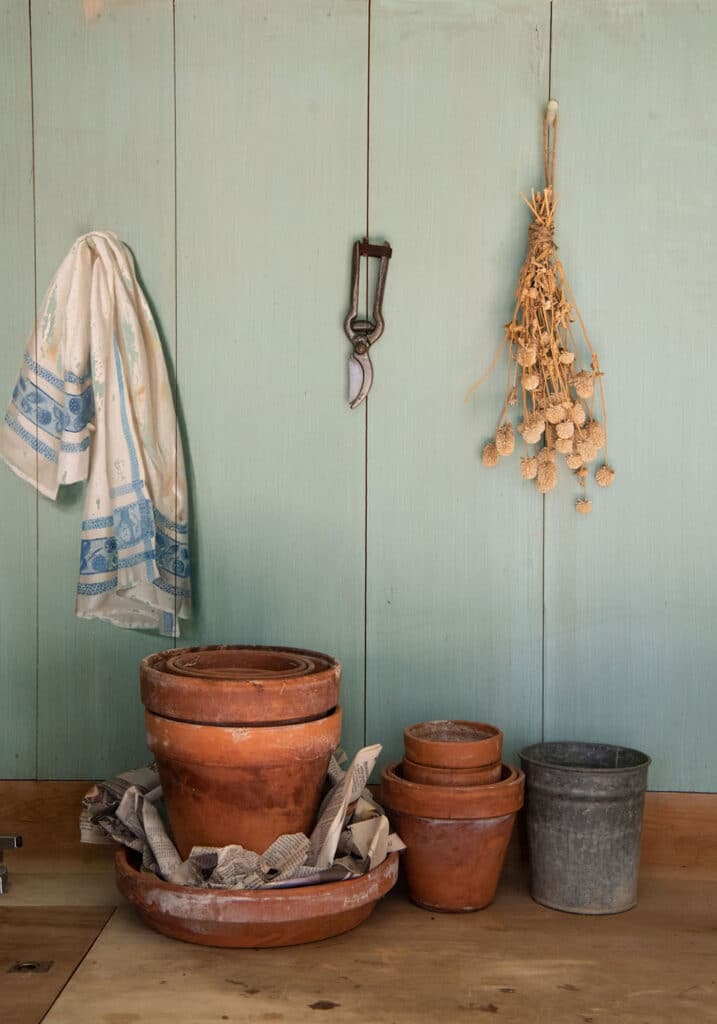 The Oak Spring Garden Foundation of Upperville
Bunny Mellon began the Oak Spring Garden Foundation in 1993 in order to maintain and share her substantial growing collection of books, manuscripts, and art on plants, gardens and landscapes. After her passing in 2014, many items in her house, from paintings to gardening tools, were auctioned off by Sotheby's for hundreds of millions of dollars, and the foundation began to restore her estate.
Sir Peter Crane, the president of the Foundation, is a renowned botanical researcher and evolutionary plant scientist, whose work focuses on the diversity of plant life, such as the origin, fossil history, current status, conservation and use of each. He previously served as Director of the Field Museum in Chicago, Director of the Royal Botanic Gardens, Kew, in the U.K. and Dean of the Yale School of Forestry and Environmental Studies.
The 2021 visiting scholars, artists and scientists who were selected for the Residency program with the Oak Spring Garden Foundation, and who receive a house to themselves as well as studio access include: Beshouy Botros, a transnational scholar; Clio Doyle, a PhD candidate at Yale University with a focus on English and Renaissance studies; Carson Ellis, a plant conservation biologist, horticulturist and current Masters of Science in Biology candidate at Western Carolina University; Florida Artist Evan Galbicka; Benjamin Heller, a cross-disciplinary New York artist; New York Artist and Landscape Architect Cecil Howell; Sarah Jones, an artist and garden designer from Seattle; Kate Klingbeil, a solo-motion exhibitionist; and Quynh Lam, an MFA candidate in Studio Art at the University of Tennessee, Knoxville.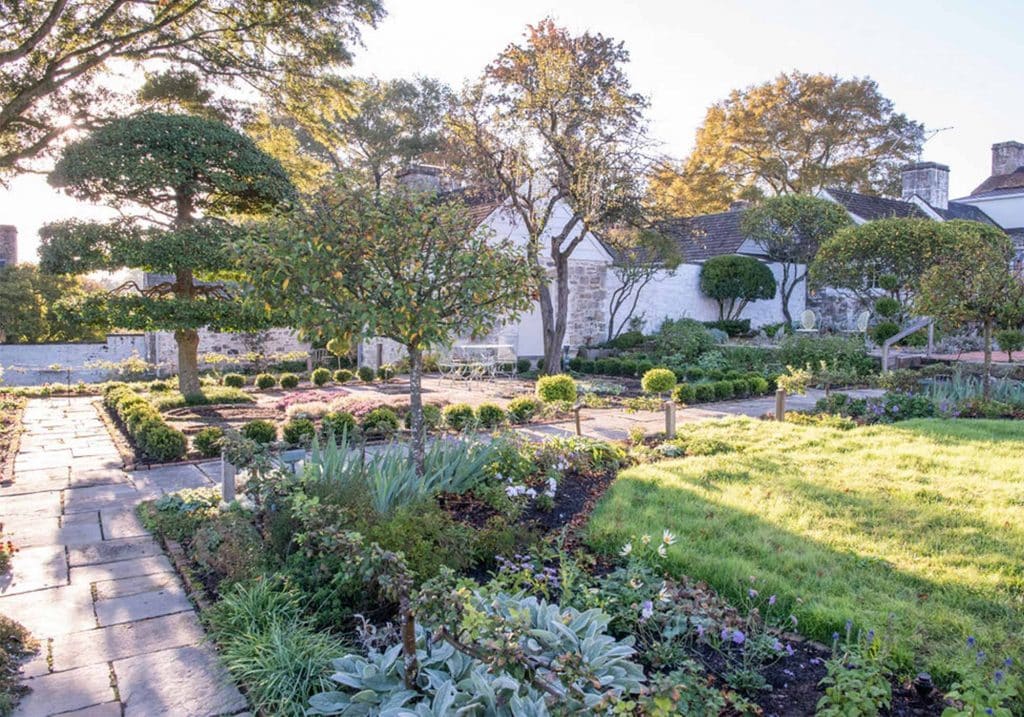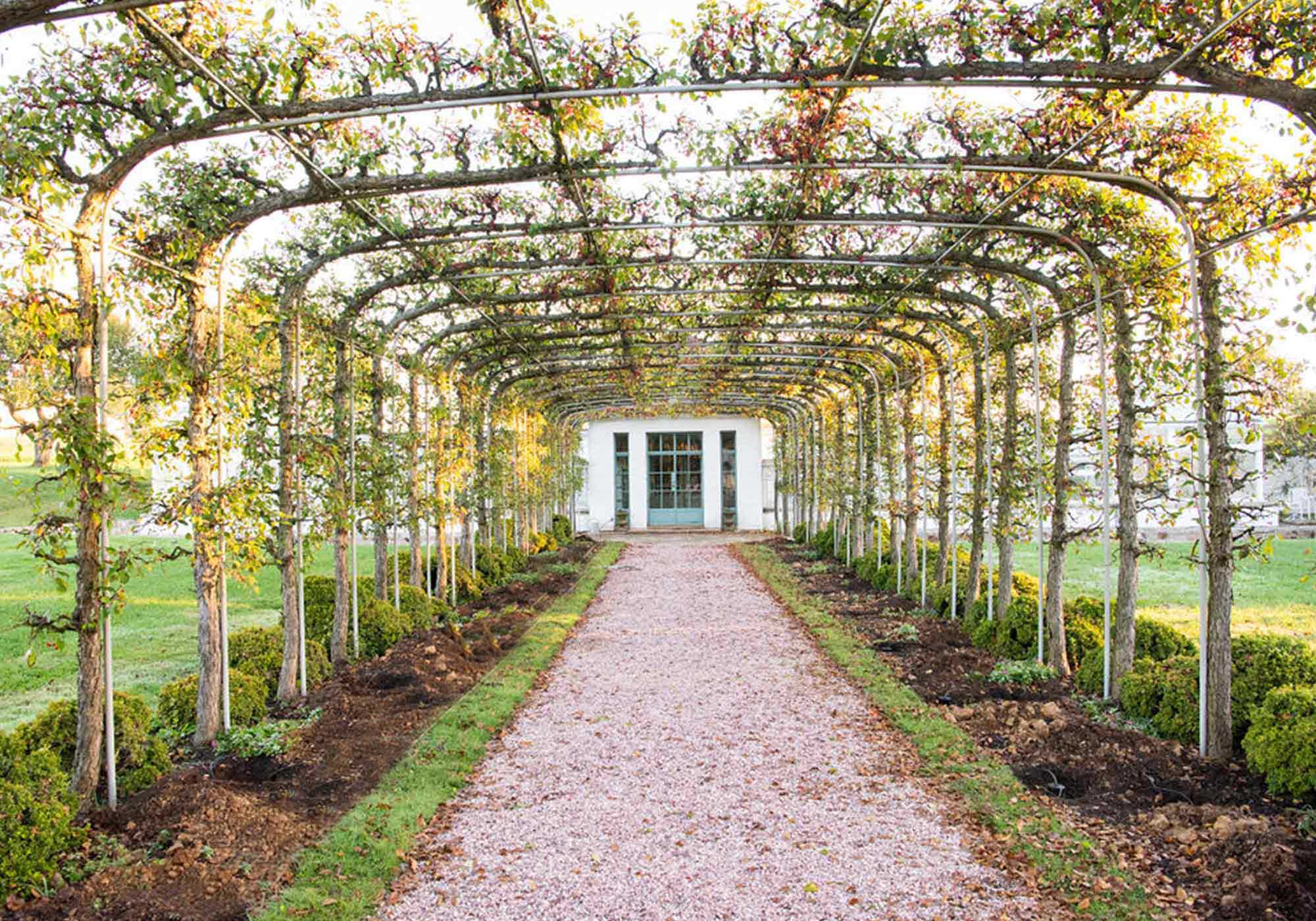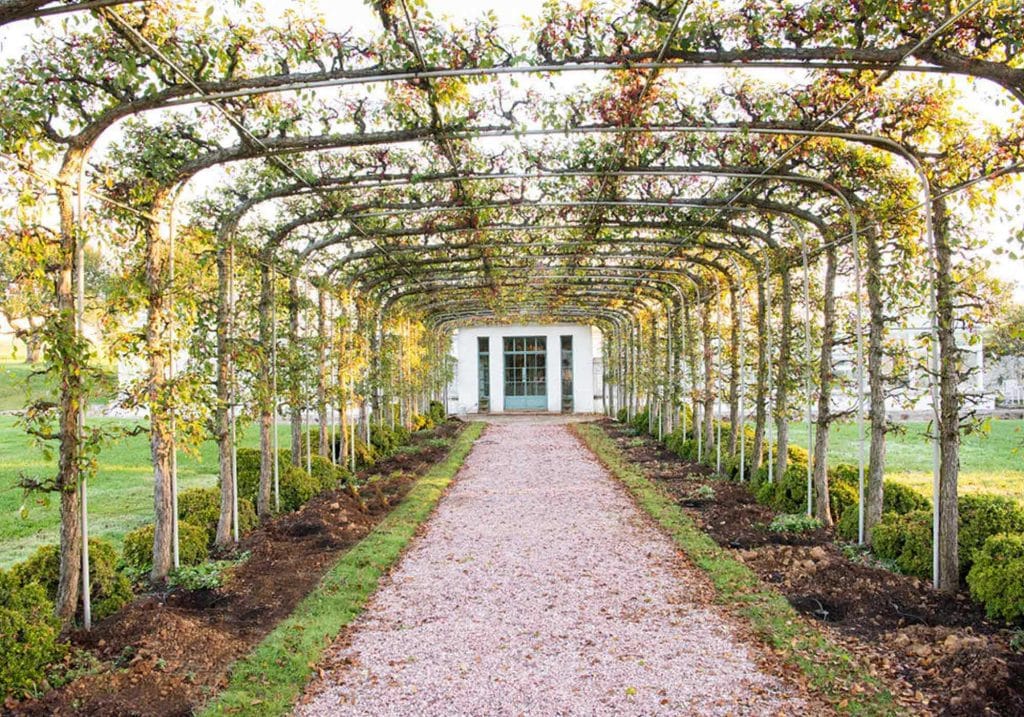 The History of the Fauquier and Loudoun Garden Club
The Middleburg Tour of Historic Garden Week in Virginia is hosted by the wonderful members of the Fauquier and Loudoun Garden Club. Their original mission at their founding in 1915 was to increase the pleasure of country life by the exchange of ideas and information on a wide range of garden topics. When they began, the Club members hosted a public flower show, the first flower show in Virginia, and went on to tackle highway beautification. These influential women not only installed roadside plantings but also pushed back on roadside advertising. In 1930, the members removed some unsightly billboards in Loudoun County.
Today, they are continuing to achieve their goals with amazingly impactful projects, such as the Sky Meadows State Park Trail Experience Partnership that will provide over 22 miles of sustainable trails for walking, biking and horseback riding, the Roundabout Meadows Project with the Piedmont Environmental Council that is making the local history of Native Americans, colonists and African Americans accessible, and their ongoing flower shows, garden tours and symposiums.
As members of The Garden Club of America and charter members of the Garden Club of Virginia (GCV), commitment to conservation and education are paramount. With considerable effort, money and expertise, the Club members restored the land around the popular Goose Creek Bridge, showcasing its native beauty and educating visitors on the benefits of land conservation. The four-arch bridge dates back to Thomas Jefferson and is the oldest surviving turnpike bridge in Virginia. Extensive wildflower plantings along with trees and shrubs to protect the waterway, and hedgerows were designed to create a habitat rich in diversity. In 2017, after nearly half a century of stewardship by the Garden Club, ownership of the bridge was transferred to the Civil War Trust and Northern Virginia Park Authority to ensure its protection in the future.
As a member of GCV, Fauquier and Loudoun Garden Club partakes in the annual Historic Garden Week that opens up gardens throughout Virginia to visitors from all across the country and globe. Tickets to tour Oak Spring sold out quickly, as did tickets to the other properties on the Middleburg Tour—White Hall and Ashleigh. Both spectacular Greek Revival homes that sit on grand private estates with extensive landscapes have never before been featured on the tour. White Hall is tucked into the sweet village of The Plains, welcoming guests with a large neoclassical portico and a grand foyer that spans the length of the house. After being a family-owned property for more than 100 years, White Hall's current owners began loving restorations in 2018 that include extensive plantings of specimen trees and lovely beds to complement the existing mature landscape.
In nearby Delaplane, tour-goers will have the opportunity to hear a short talk about Chief Justice John Marshall as this land was once part of his estate. The formal gardens are given structure with carefully-trimmed boxwoods and tall hollies and is supported by overflowing beds of perennials accentuating sculptures. Allées and arbors are dazzling in their spring blooms. Recent additions to the garden include a reflecting pool and fountain design by landscape Architect Barry Starke. Guests on the tour will be near the charming town of historic Middleburg in Loudoun County, where they will find many lovely boutiques and antique shops to browse, coffee shops and restaurants for refreshment, charming places to stay, and nearby award-winning vineyards and breweries for other weekend adventures.
This year, over 100 gardens are open throughout the state, and as guests tour the homes and properties, they will also get to view roughly 2,300 arrangements. To keep everyone safe, tours are welcoming smaller groups, but there are still many opportunities to get out and see beautiful gardens and natural spaces. To see the line up on the 2021 Historic Garden Week tours, visit VaGardenWeek.org. For more on the Oak Spring estate, see our article The Allée, Greenhouse & Topiaries at Oak Spring Farm, and for other stunning properties on previous Garden Week Tours, see our Home & Garden section, where you will also find decorating inspiration and garden trends. ~
A special thanks to Sir Peter Crane, Max Smith and Judy Zatsick of the Oak Spring Garden Foundation for sharing their wealth of knowledge and resources.
JENNIFER BRYERTON, our co-publisher, grew up in a family of farmers and gardeners and enjoys traveling to exquisite gardens all over Europe. She carries on the tradition at her home in Ivy, where beehives and a chicken coop dot the lawn, and borders are filled with roses, peonies, lavender, hydrangea, clematis and more with herbs tucked amongst them for the kitchen.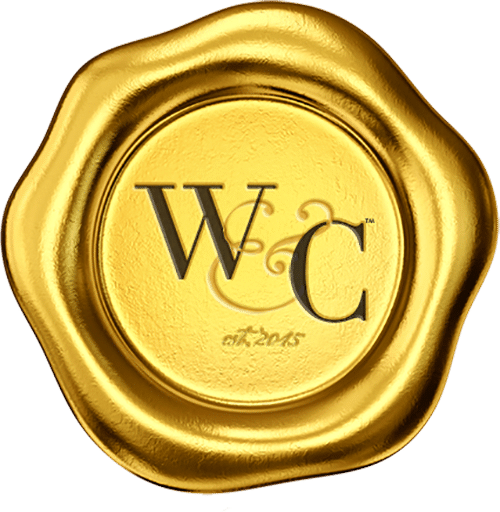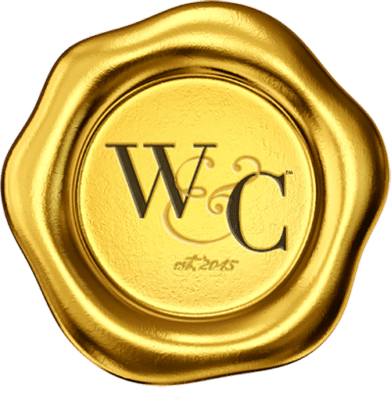 Virginia Wine & Country celebrates elevated living in Virginia Wine Country. Virginia Wine & Country Life is a semi-annual luxury print magazine with a full digital presence. The Virginia Wine & Country Gold Book is an annual guide to the top award-winning wines, wineries and experiences in Virginia Wine Country. The annual Virginia Wine & Country Wedding Planner is an art book of elegant Virginia weddings. The brand includes the Virginia Wine & Country Shop in Ivy, Va. It is a beautiful lifestyle boutique that brings the pages of the magazines to life. Virginia Wine & Country tells the stories of Virginia wineries, the farm-to-table movement, luxury travel, entertaining, art and the elegant country lifestyle. Ivy Life & Style Media also provides branding, web design and PR services for the wine industry.