As part of the beautiful Historic Garden Week, the Garden Club of Virginia (GCV) invites the public to explore the iconic homes and gardens in the Brown's Cove area on a tour through Albemarle County. Settled over 275 years ago, three of the property's family homes will be open for guests to explore and experience their splendor firsthand.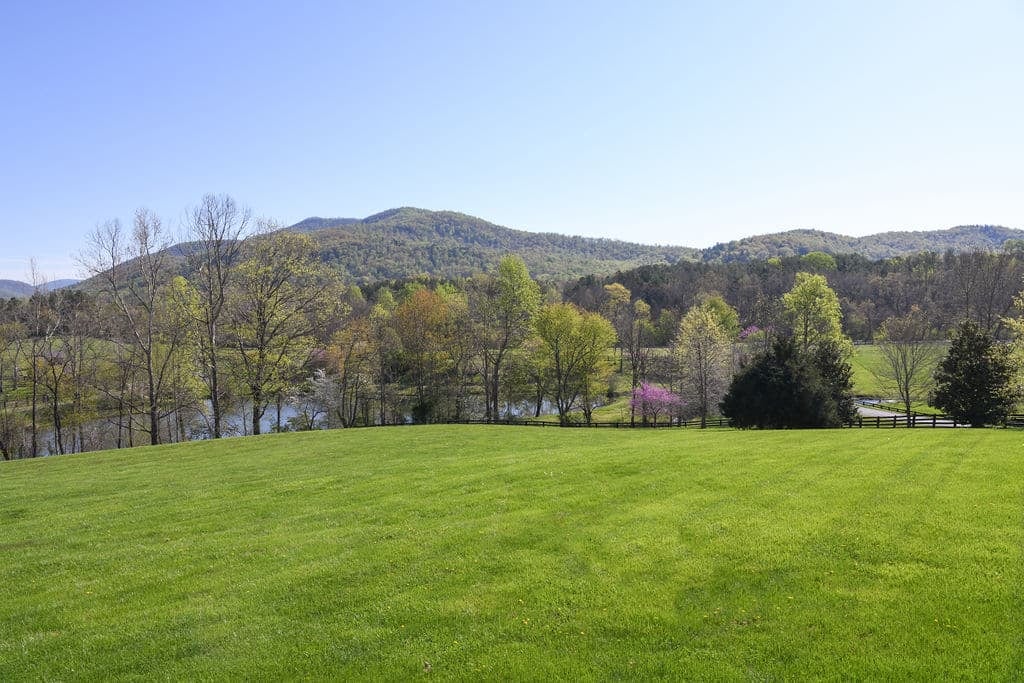 For over a century, the GCV has sought to preserve and protect the natural beauty and environment of Virginia. Dating back to the 1920s, the women behind the GCV have defined our landscapes with their commitment to the Virginia countryside and to historic homes. From their work helping to establish the Virginia State Park System to their historic preservation efforts on the grounds of Monticello, the women of the GCV have been instrumental in the conservation of native beauty in Virginia.
Historic Garden Week Equestrian Highlight
Mount Fair Farm is one of the oldest and best-preserved historic homes in Albemarle County, tracing its lineage back so far that it pre-dates the formation of our nation. What would one day be known as Mount Fair Farm was first established in 1743 by the Brown Family when Mr. Benjamin Brown acquired nearly 3,000 acres along Doyle's River. Almost exactly one century later, William T. Brown, Benjamin Brown's grandson, built the breathtaking home that still serves as a private residence today, accompanied by a private vineyard and equestrian grounds, with positions of honor on both the Virginia and the National Register of Historic Places.
A Stunning Historic Albemarle Home
The Albemarle-Charlottesville Tour of historic Brown's Cove hosted by the Albemarle Garden Club, Charlottesville Garden Club and Rivanna Garden Club will take guests into the halls of the stunningly renovated Greek Revival and Jeffersonian-detailed home at Mount Fair Farm. Stroll along the white picket fences and step inside a beautifully preserved piece of the past that has been expertly renovated to keep the authentic feel of the historic home alive today. In addition to the breathtaking home, guests of the Historic Garden Week Tour will be able to walk through the family-owned and operated vineyard, admire the equestrian facilities, and breathe in the fresh mountain air while seated by the reflection pool or touring the glass greenhouse.
The homeowners purchased the property in 2003 and began the painstaking job of salvaging and preserving the home as well as updating it with contemporary conveniences. As a registered National Historic Place and Virginia Historic Place, the renovation process for the Home at Mount Fair forbade new plans from meaningfully altering the historic details of the house and required that the façade look exactly as it has for the last 175 years.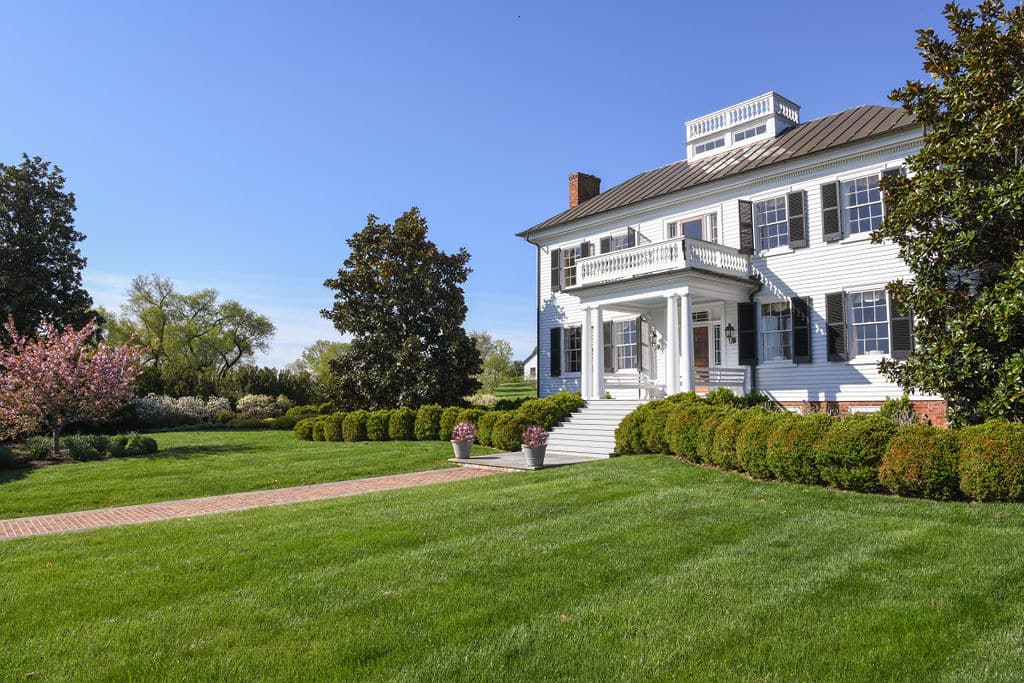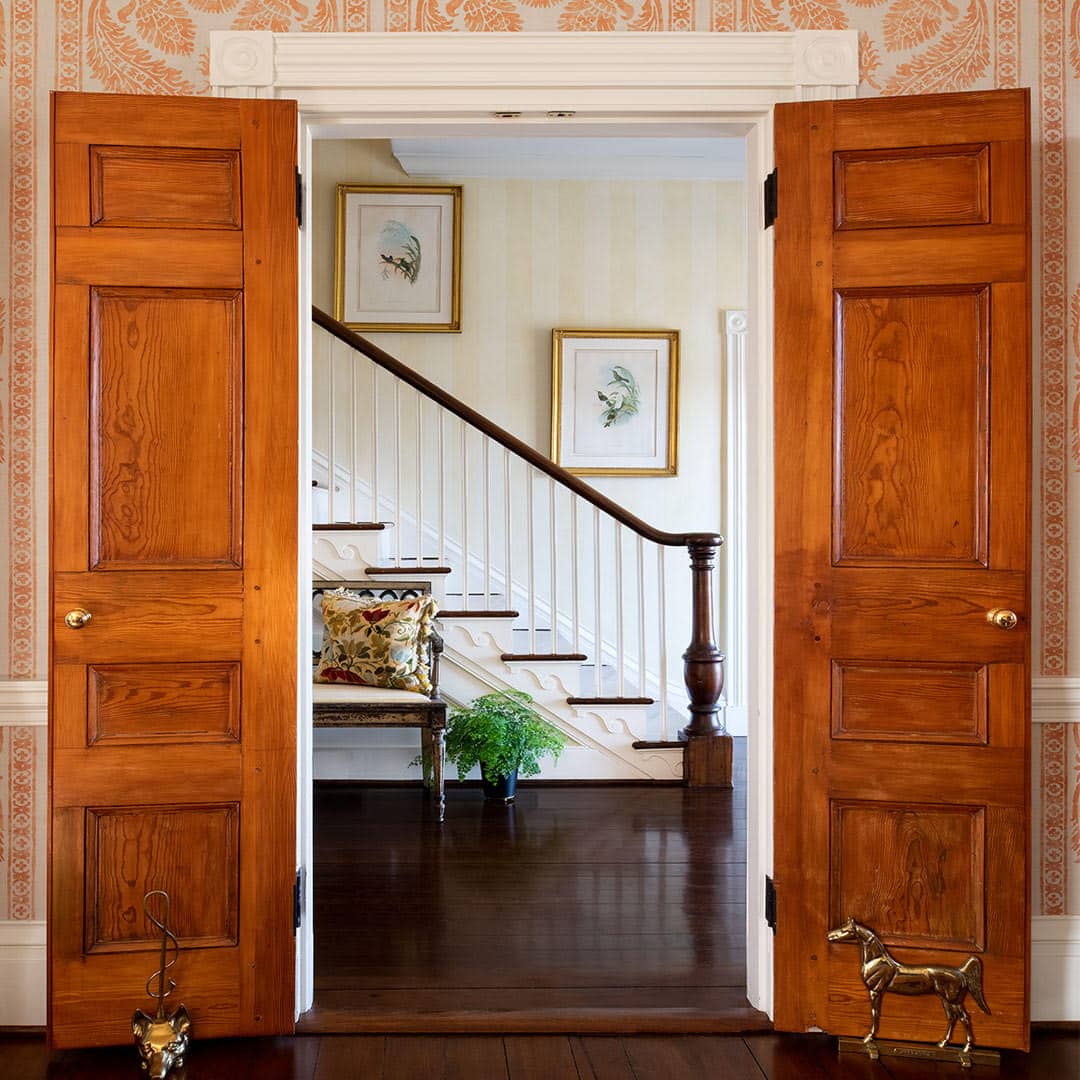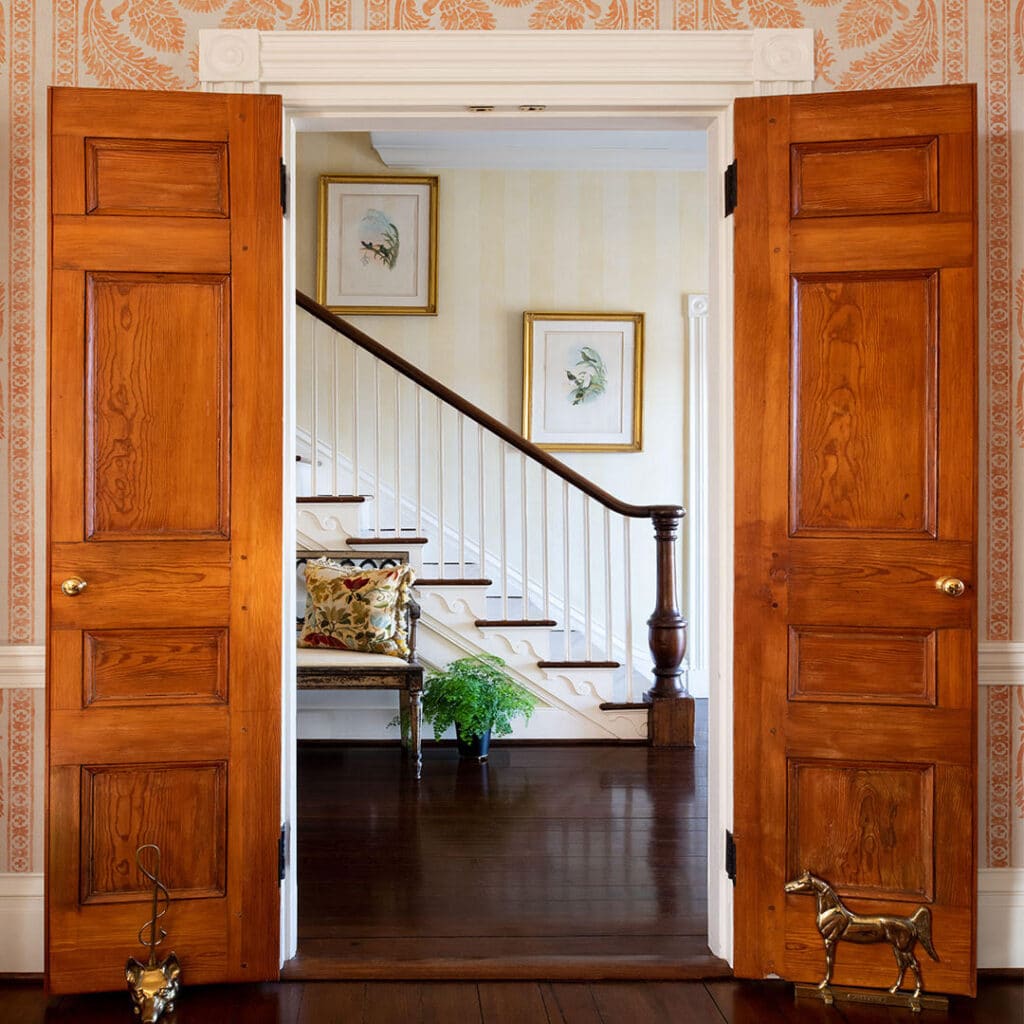 Restoring and Reimagining Historic Design
The current owners worked with Brian McCarthy, an interior designer based in New York and fellow equestrian, to incorporate handcrafted molding typical of Greek Revival homes into the original living and dining rooms. To add color and brighten the historic rooms, they installed wallpaper made from fabric in the living room and commissioned a hand-painted wallpaper for the dining room. To see images of these gorgeously appointed rooms, watch for our upcoming 2022 Spring/Summer print publication of Wine & Country Life.
When the hand-painted, completely custom wallpaper arrived in Crozet, Brian McCarthy collaborated with professionals at Monticello to install it. The new interior design in the original living and dining rooms created an inviting and bright ambiance that retained the traditional feel of a historic home.
Mount Fair Farm's Inspiring Architecture
Kitchens in 18th- and 19th-century homes were often dark, cramped and closed off. To facilitate a more modern lifestyle, the owners had new designs approved that allowed them to expand the kitchen to create an open and cheerful room where people would gather and cook together. The on-trend light green finishing on the cabinets blends beautifully with the equally stylish copper pots hanging from the potholder over the island and brings a cozy charm into the kitchen each morning.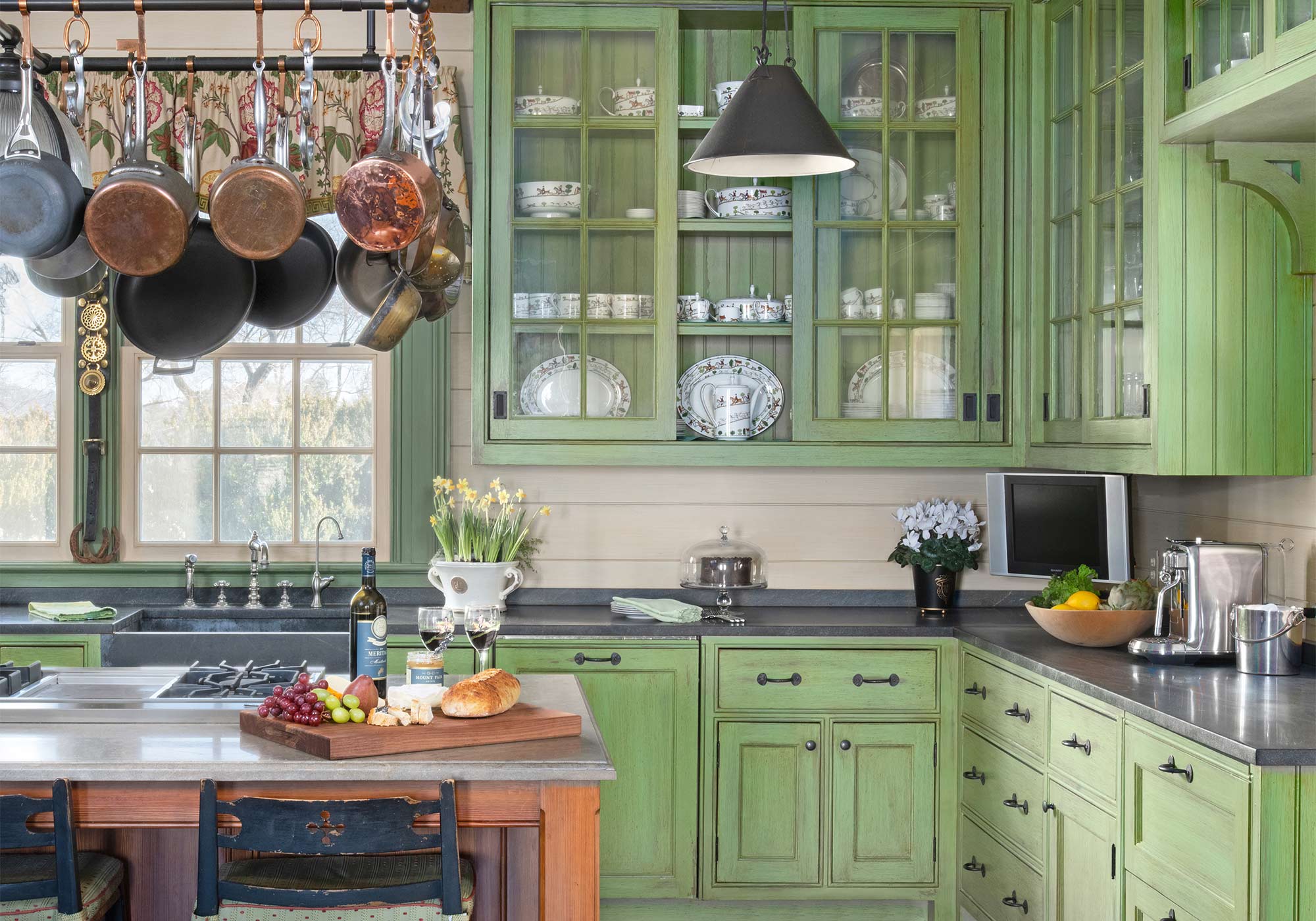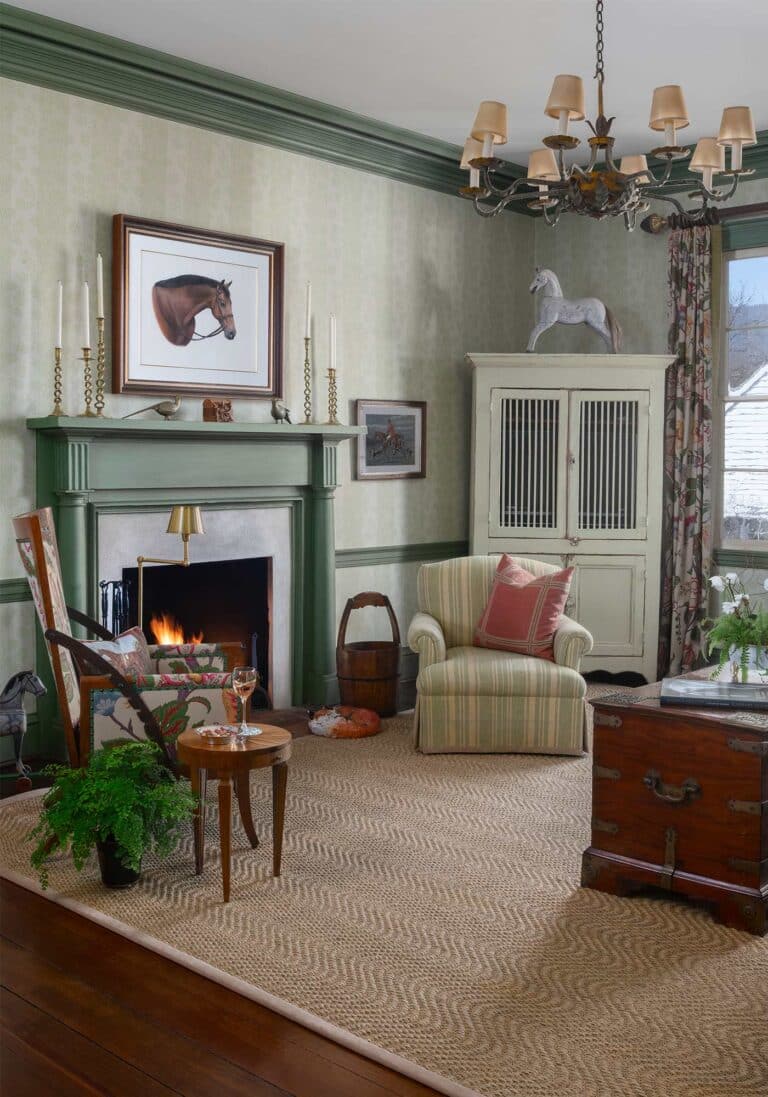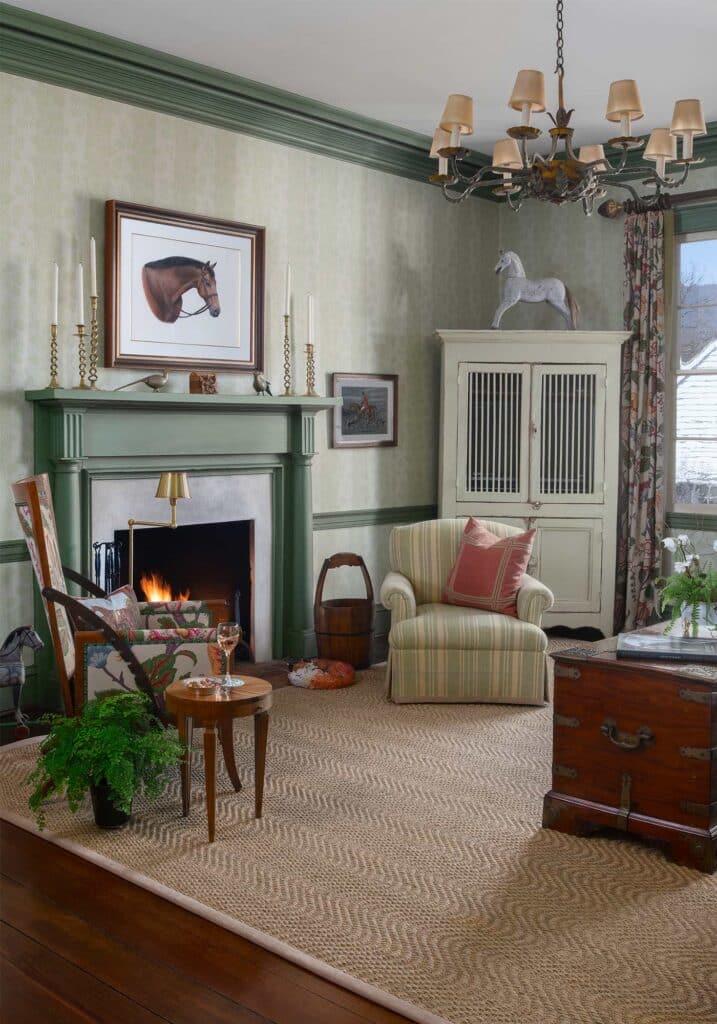 Another spectacular addition during the renovation was the light and airy breezeway that leads to the Hunt Room, also affectionately referred to as the Dog's Room. The breezeway's stunning light fixtures are antique Parisian lanterns flown over from Europe. The heavy metals beautifully juxtapose the whimsical French doors that overlook the picket-fenced flower and vegetable garden.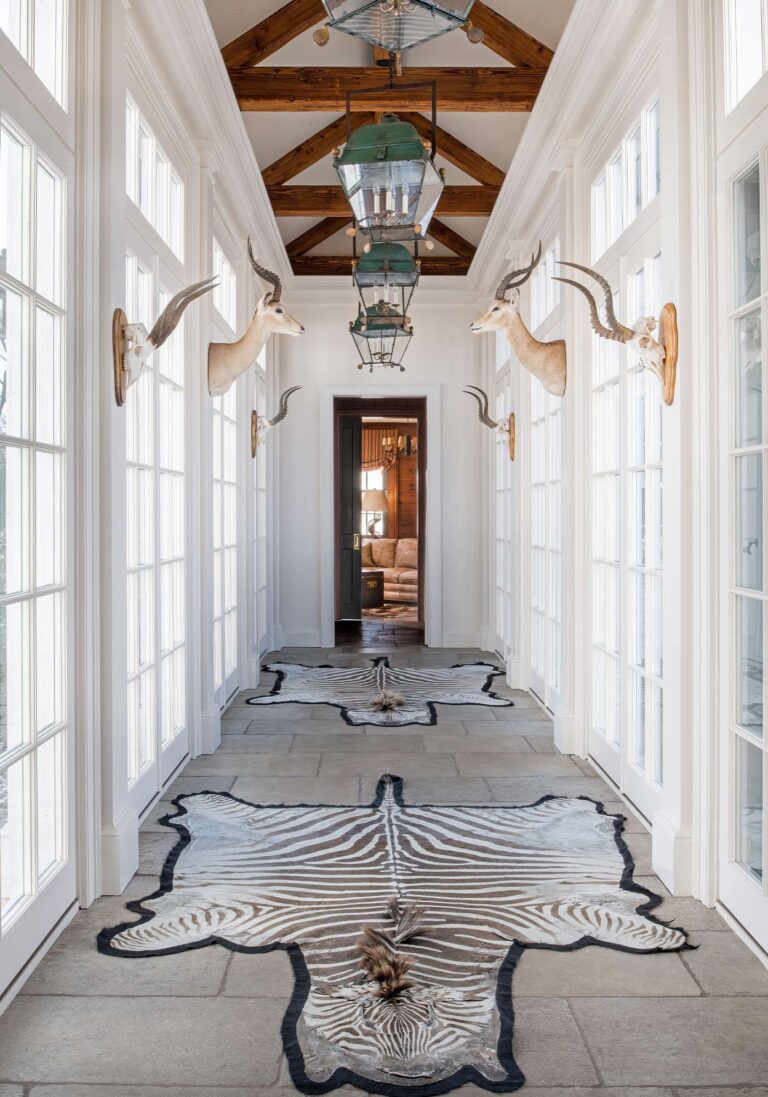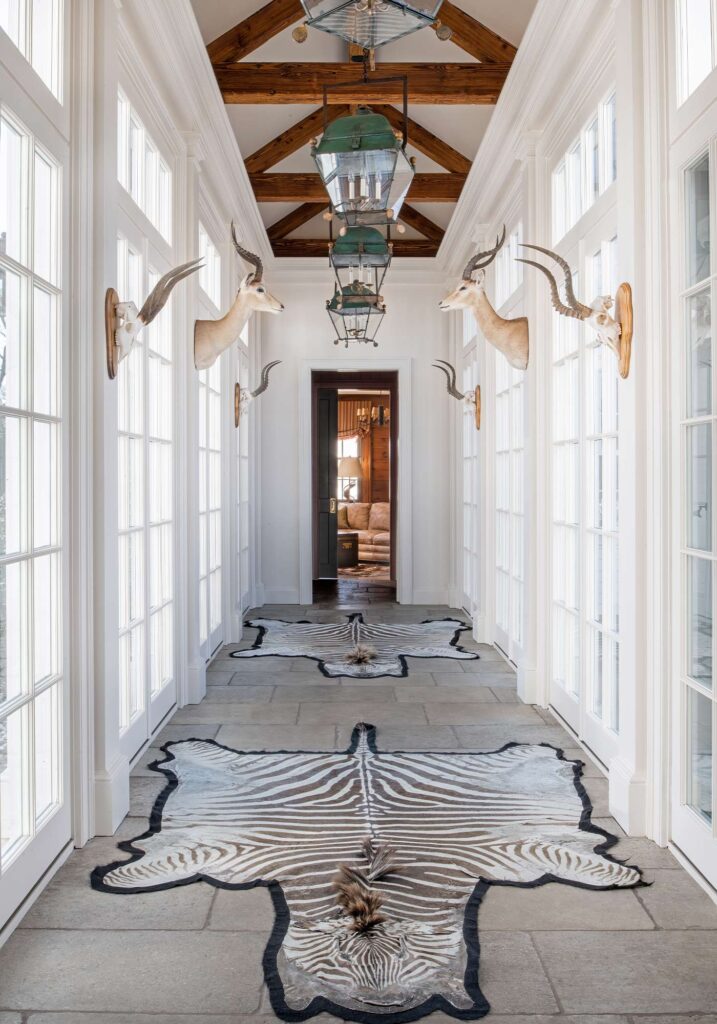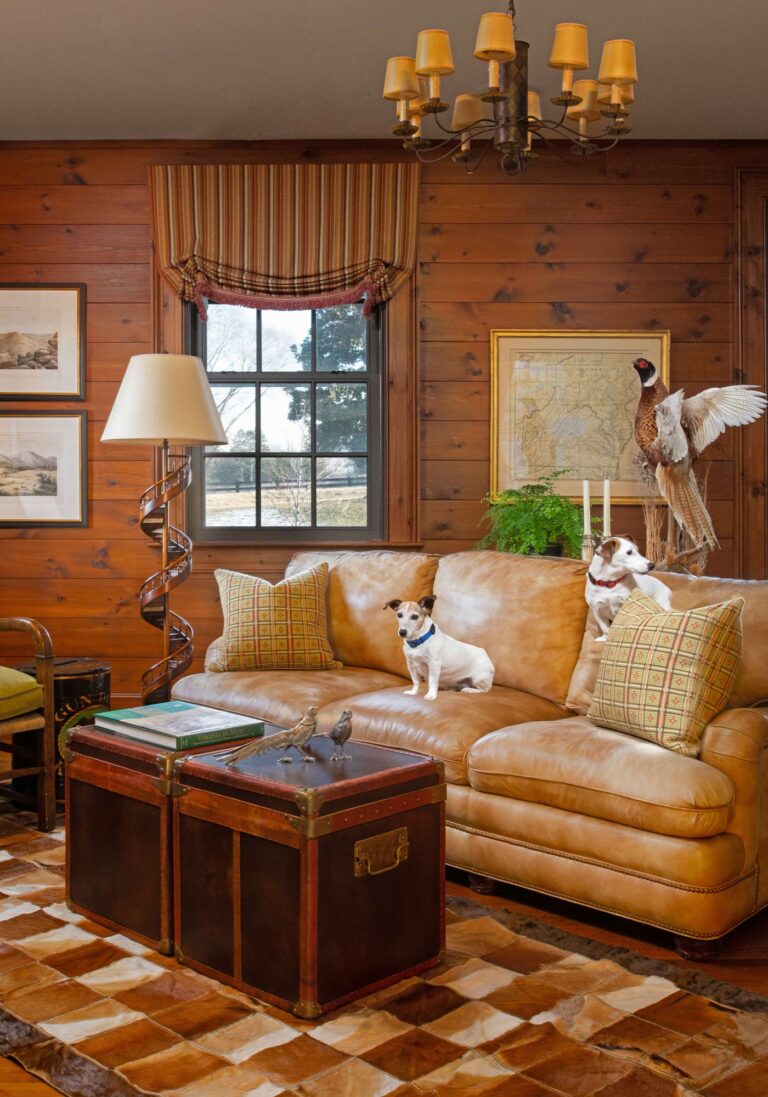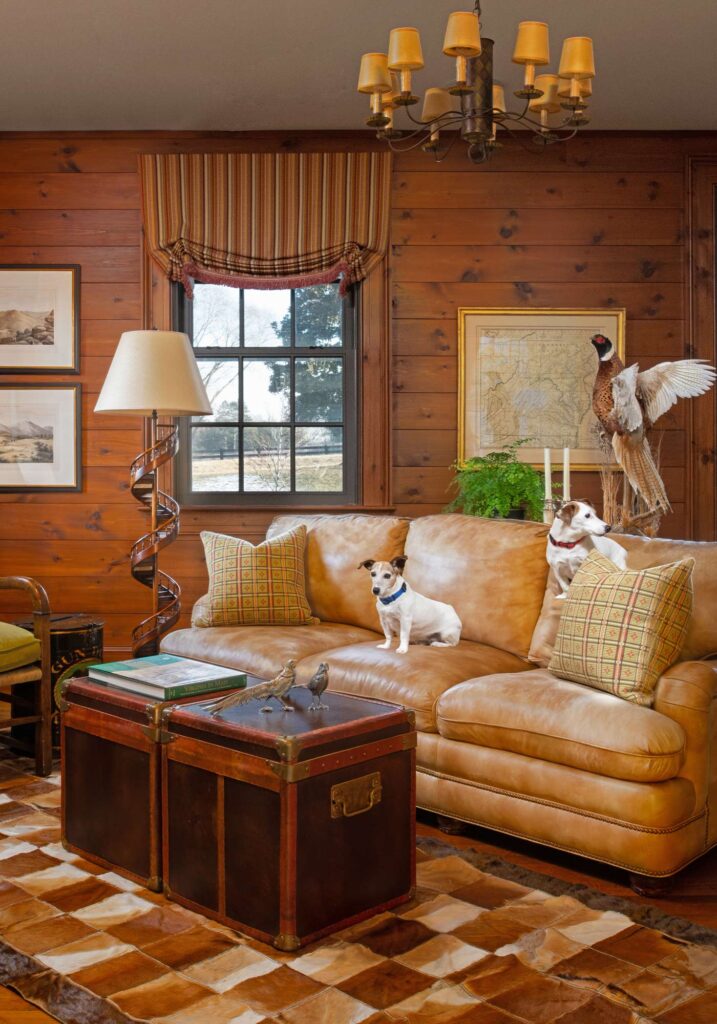 Equestrian Elegance at a Virginia Vineyard
The state-of-the-art equestrian facilities are a classic combination of functionality and elegance. Wood-beam stalls and brick barn aisles are outfitted with lantern lights, tying in the authentic historic ambiance with modern comfort and style.
With both indoor and outdoor arenas, horse and rider are able to train together year-round for Hunter/Jumper shows up and down the east coast. The seven-stall barn has a one-bedroom apartment, above which the caretaker of the horses lives, and the most recent renovation project included the construction of an eight-stall barn with two-bedroom apartment. After training in the arena for the next competition, equestrians trail ride along meandering pathways throughout the property and enjoy the surrounding beauty of the estate.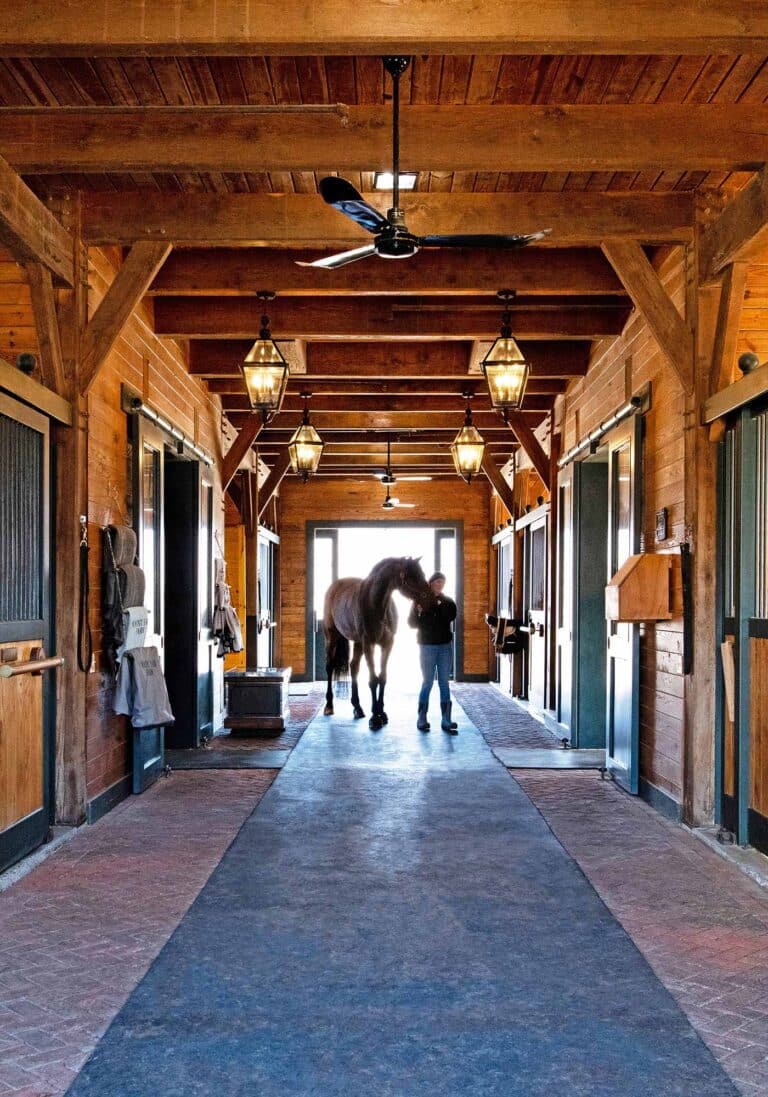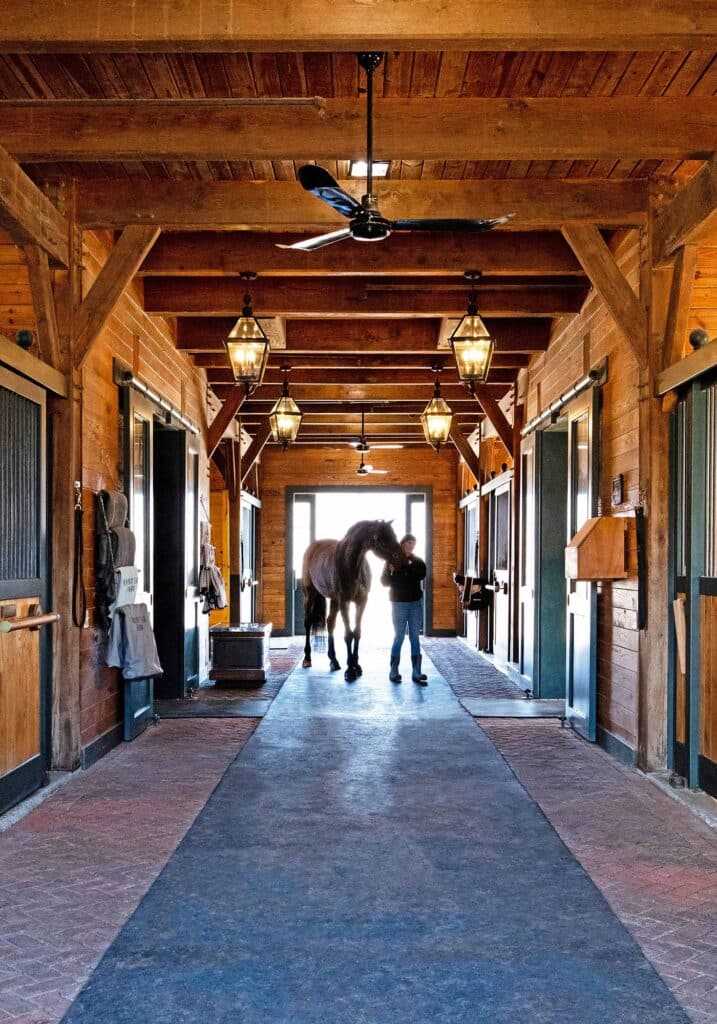 A Small-Scale Vineyard with an International Wine Collection
The wine cellar holds a treasure trove of wines collected from the family's travels to California, Italy, South Africa, and beyond, in addition to the numerous bottles of wine made from grapes grown on the property. In many ways, the wine cellar holds the heart of the home as it is lined with family photo albums and lovingly decorated with treasured antiques and fresh flowers. This beautiful floral arrangement was created by the talented team at Tourterelle Floral Design. It has become a tradition for the family to gather in the wine cellar each Christmas Eve to reminisce while poring through the albums and tasting wine together.
Mount Fair Vineyard Near Charlottesville
In addition to the idyllic home, Mount Fair Farm is a family-owned and operated vineyard and equestrian facility. Seven acres of the estate are dedicated to growing grapes to produce wines that showcase the terroir of the region. The sloping hills and morning sunlight where the vines grow have enabled the family to produce excellent Merlot, Petit Verdot and Cabernet Franc. The inviting and rustic environment at Mount Fair is perfect for wine tasting and private events, and it is open to the public by appointment only.
In its viticulture endeavors along with its small-scale farming activities, Mount Fair Farm is committed to sustainable practices an organic as much as the climate allows. In addition to 2-3 acres of apples and peaches, Mount Fair Farm is also a home for an apiary managed by Elysium Honey. As well as tending extensive wildflower meadows the farm team maintains a large garden that provides many meals for the family from specialty greens and asparagus to berries, zuchini and tomatoes. Electrical power for the premises is provided by a 160-kW grid-tied solar energy system was designed to provide 100 percent of the farm's power consumption.
Mount Fair Vineyard's Bordeaux Style Wines
Like neighboring vineyards in the Monticello American Viticultural Area (AVA), the land and climate at Mount Fair Vineyard is well suited to Bordeaux-style varieties. The small batch winery is currently growing merlot, cabernet franc, petit verdot and also producing a lovely meritage, a long time favorite of those who enjoy Virginia wines. Read on for descriptions of their classically Virginia wines with food pairing suggestions. Like all red wines, experts recommend opening it at least an hour before drinking and possibly decanting to best show the wine's full potential and complexity.
Merlot
One of the world's most popular wines. Mount Fair Vineyard is creating single varietal merlot. It features notes of rich red fruits including wild strawberry and black cherry, chocolate, tomato paste, menthe and lavender. The full-bodied merlot is aging well, optimal at 3 to 5 years, and has a soft finish with silky tannins. Pairs beautifully with many rich foods including pate, charcuterie and other meats and cheeses, maybe a pork tenderloin or fresh-grilled cheeseburger.
Petit Verdot
The Petit Verdot at Mount Fair Vineyard has notes of chocolate, roasted chestnut, graphite, rose, violet, coconut and vanilla. The complex wine has a long round finish with an aging potential of 5-10 years. Rich red meats, well aged cheeses, and dishes with mushrooms all pair well with the intense flavors of petit verdot.
Meritage
Aromas of tobacco, black pepper, cherry, raspberry, almond, black pepper and lavender are evident in the glass. Elegant and round bodied with a balanced structure, the meritage of Mount Fair Vineyard gives a very delicate finish. Aging potential for this wine is their greatest at 3-5 years and potentially as much as 10 for the deepest flavors. This blend of merlot, petit verdot and cabernet franc by Mount Fair Vineyard is a delicious homage to the Monticello AVA. pairs well with savory meats grilled or roasted, rich pasta dishes and stronger cheeses.
Picturesque Glass Greenhouse
A visit to the greenhouse is a must, with its iconic glass and steel frame, pristine boxwoods, and Jeffersonian red brick pathways. Nestled behind the greenhouse are a reflection pool and fountain, a serene oasis to sit and take in the breathtaking views of the Blue Ridge Mountains.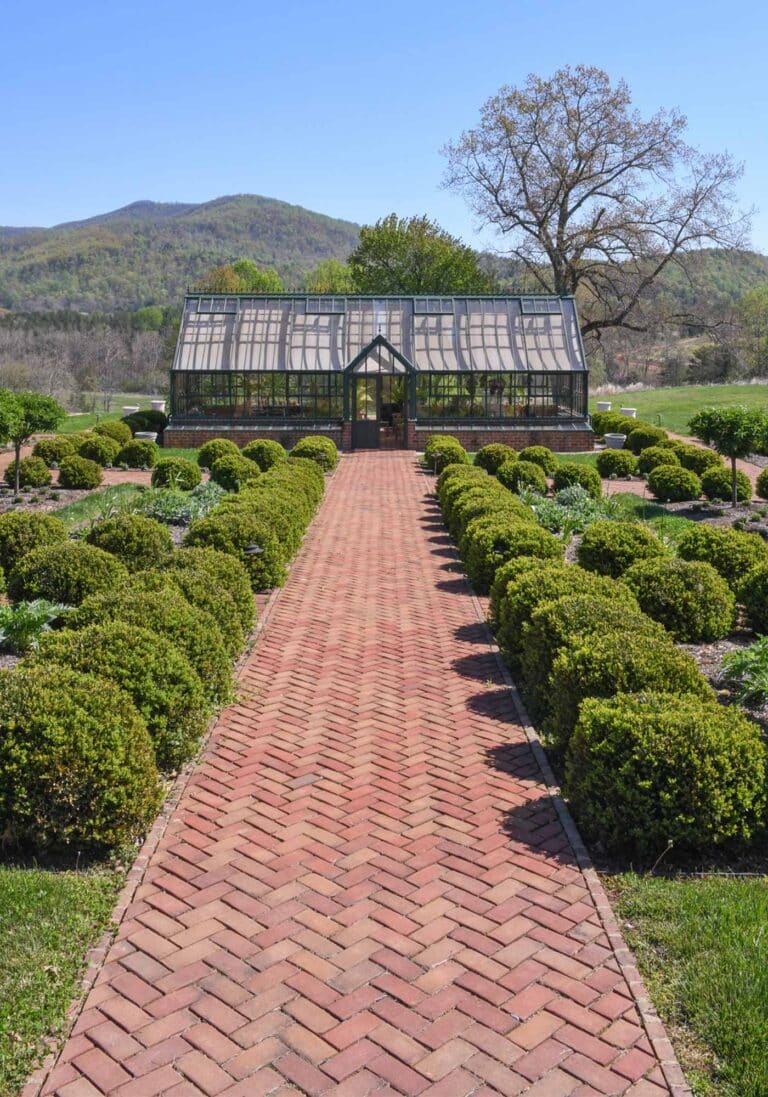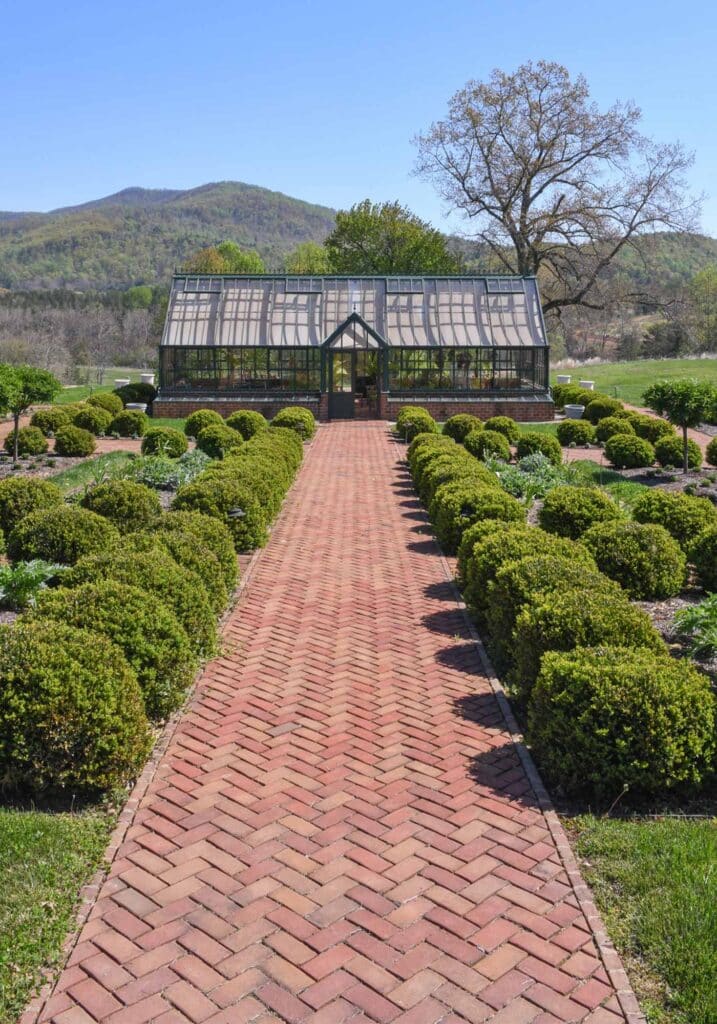 Sited in an open meadow next to the horse paddocks, the greenhouse gets more than ample sun. It is built on a foundation of old Virginia bricks that help to insulate. Shade cloth and self-opening skylights help to control the temperatures so that the greenhouse can be growing year-round.
Heat can be especially challenging with our hot Virginia summers. These adaptations make the greenhouse the ideal location for growing delicate citrus plants, orchids, ferns and other beauties for decorating their home, gardens and the Mount Fair Vineyard Tasting Room. Starting seedlings and hardening off plants in preparation each season for creating luxuriant planters, filling the flower beds, the large raised bed vegetable gardens and even experimenting a bit with growing grapevines under glass is easy with such a large protected greenhouse growing space for the work. There is even a charming seating area in the greenhouse perfect for enjoying a break from gardening with a glass of wine. Here are some expert tips on buying a greenhouse if you have ever dreamt of having one for your own garden.
Discovering the History of Mount Fair Farm
In 2017 efforts at Mount Fair revealed over 120 individual burials of enslaved African Americans. The current owners worked meticulously to restore the graveyard for the enslaved, once hidden in a thickly wooded forest. The pathway up to the restored cemetery for the enslaved individuals now contains beautifully stone clad pillars to mark the grounds with stunning views from the cemetery's hilltop and a bronze plaque to memorialize the role these enslaved individuals had in the development of both Mount Fair and of our nation. 
The plaque at the restored burial site offers visitors an opportunity for honoring and reflecting on the people who lived in slavery on the property. The plaque states:
"We know neither their names nor their circumstances but imagine they lived honorable lives during a period of our nation in which equal human rights were not extended to all people. Our hope is that this monument will serve as a reminder, to all who visit, that many suffered unfairly during the formative years of our nation and that we must forever strive to ensure that past mistakes are neither forgotten nor rationalized; furthermore, that we carry forth with an understanding that the pursuit of an equal and fair society requires constant evaluation and improvement."
Honoring the Past of a Historic Home
For the restoration project, the current owners worked with Dr. Lynn Rainville, a Virginia-based researcher and public historian devoted to recording African American cemeteries and reconnecting descendants with their lost ancestors. Once the team of historians, architect, and homeowners had delineated the historic site, Thomas Woltz and Evan Grimm, both of the Charlottesville-based firm Nelson Byrd Woltz, installed four stone pillars to demarcate the perimeter and designed a commemorative marker.
Mount Fair Farm is clearly in the hands of thoughtful conservators who are giving the property a new lease on life and a bright future that they are sharing with the greater community both through the Historic Garden Week tour and their new wine tasting experience.
2022 Historic Garden Week Details
Other Virginia Garden Tours & Details
After over 100 years of outstanding work, the Garden Club of Virginia continues to showcase beautiful homes, gardens and landscapes that are steeped in history. The GCV never fails to provide an opportunity to enjoy, learn and experience the natural wonders that Virginia has to offer.
For tickets and information regarding other tours currently offered, visit Virginia's Historic Garden Week Website.
To view more stunning properties in Virginia wine country like Mount Fair Farm, see our Equestrian Style page and our Home and Garden page where you will find decorating inspiration and garden trends. ~
ABBY MEREDITH ARMISTEAD is a Double Hoo who loves all things Charlottesville and equestrian. Abby grew up competing through the Arabian Horse Association, where she found success as a four-time Youth National Champion. During college, Abby made the switch to Hunter Jumpers and competed throughout Virginia. Abby worked as an attorney in Washington, D.C. and now is a freelance writer living in Charlottesville, where she spends her weekends hiking with her dog in the Blue Ridge Mountains, frequenting the farmers' market and reading any novel she can get her hands on.
ROBERT RADIFERA has been creatively photographing weddings, interiors and portraits for over two decades. His interior work has been published in Southern Living, Southern Home, The Cottage Journal, HGTV Magazine, Wine & Country Weddings and Home and Design, as well as many other local and national publications.
R. L. JOHNSON is our co-publisher and creative director, Robin Johnson Bethke, who began her career as a professional photographer in Los Angeles before moving into graphic design and art direction when she relocated to Charlottesville in 1994. As our company's co-founder and visionary, she enjoys all aspects of the publishing process from story conception to graphic design to photography. Her work is often seen in many of our publications.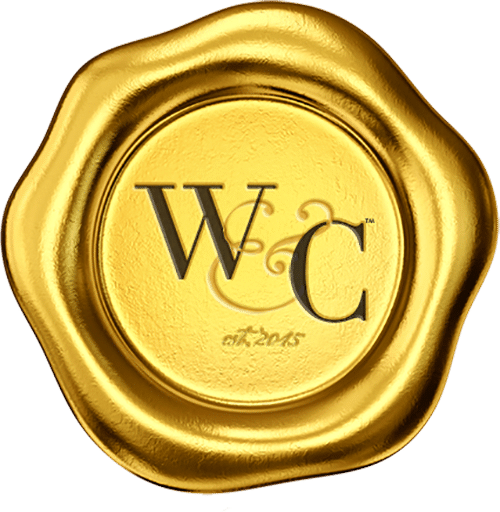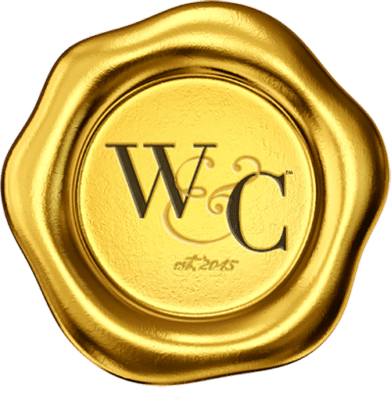 Virginia Wine & Country celebrates elevated living in Virginia Wine Country. Virginia Wine & Country Life is a semi-annual luxury print magazine with a full digital presence. The Virginia Wine & Country Gold Book is an annual guide to the top award-winning wines, wineries and experiences in Virginia Wine Country. The annual Virginia Wine & Country Wedding Planner is an art book of elegant Virginia weddings. The brand includes the Virginia Wine & Country Shop in Ivy, Va. It is a beautiful lifestyle boutique that brings the pages of the magazines to life. Virginia Wine & Country tells the stories of Virginia wineries, the farm-to-table movement, luxury travel, entertaining, art and the elegant country lifestyle. Ivy Life & Style Media also provides branding, web design and PR services for the wine industry.