If you live in Virginia hunt and equestrian country, you probably dream of having a horse barn. Building a custom barn that is as stunning as it is functional is quite the project, especially when having to account for all of the details, such as having a tack room next to the cross-ties, building nearby storage for equipment and food, ensuring you have plenty of ventilation, etc. Working with a builder who is experienced with equestrian facilities and who understands how to build a barn that is functional, safe and well-designed will ensure your satisfaction for years to come. From indoor equestrian facilities and multi-stall barns to timeless bank barns, B&D Builders' beautiful barn designs are created with you and your horse in mind. Based on our 20-plus years of expertise, here are some of the most important things to consider when building a horse barn.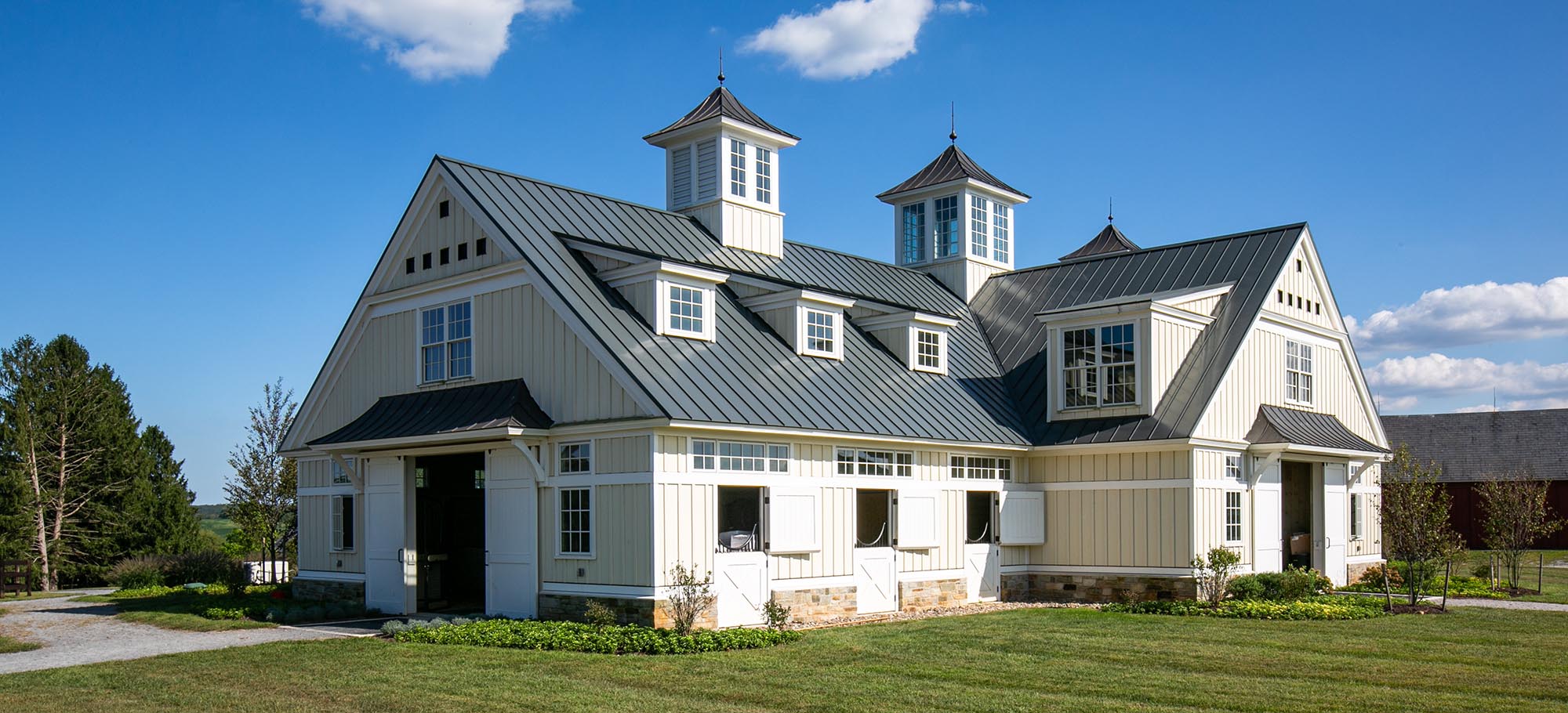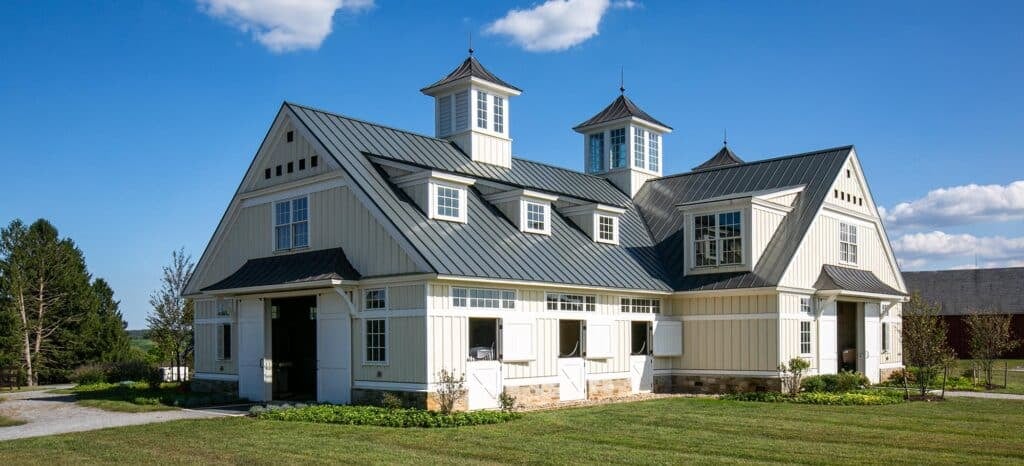 Doors. Your doors will add character and functionality to your barn, so be sure to consider everything from style and wood type to finish and hardware.

Windows. Your windows help make a great first impression, while providing the necessary airflow for your horses. Choose from Dutch Windows, Shuttered or Sliding.

Cupolas. From small and simple to large and ornate, a custom-built cupola adds functional elegance to your roofline.

Horse Stalls. Consider comfort, ventilation and style when designing the stalls. Ask how sliding doors provide easy access and movement of your horses.

Lighting. Good lighting is essential and creates an inviting environment for people and animals. By correctly positioning your barn and window placements, you can take advantage of natural daylight.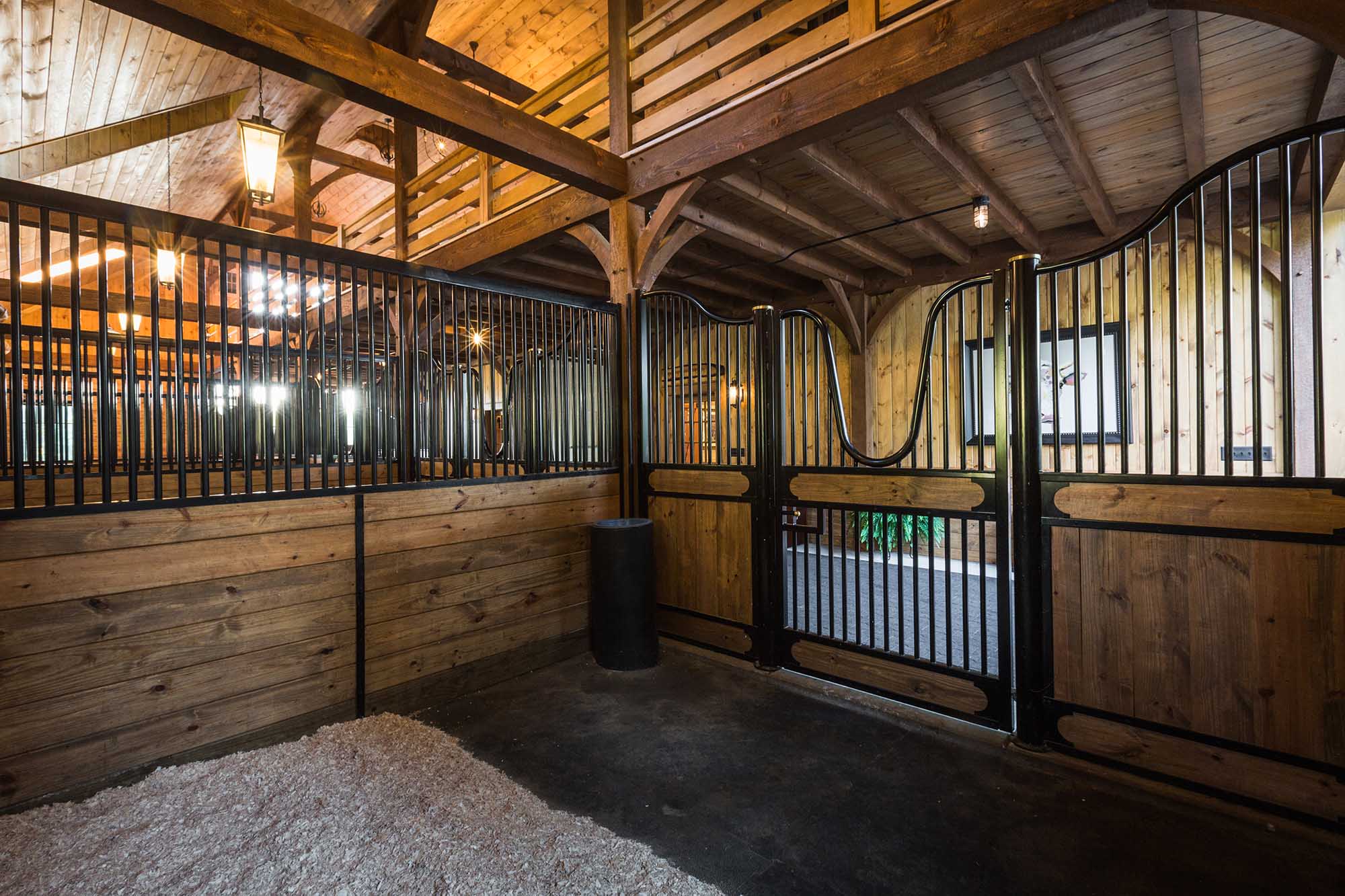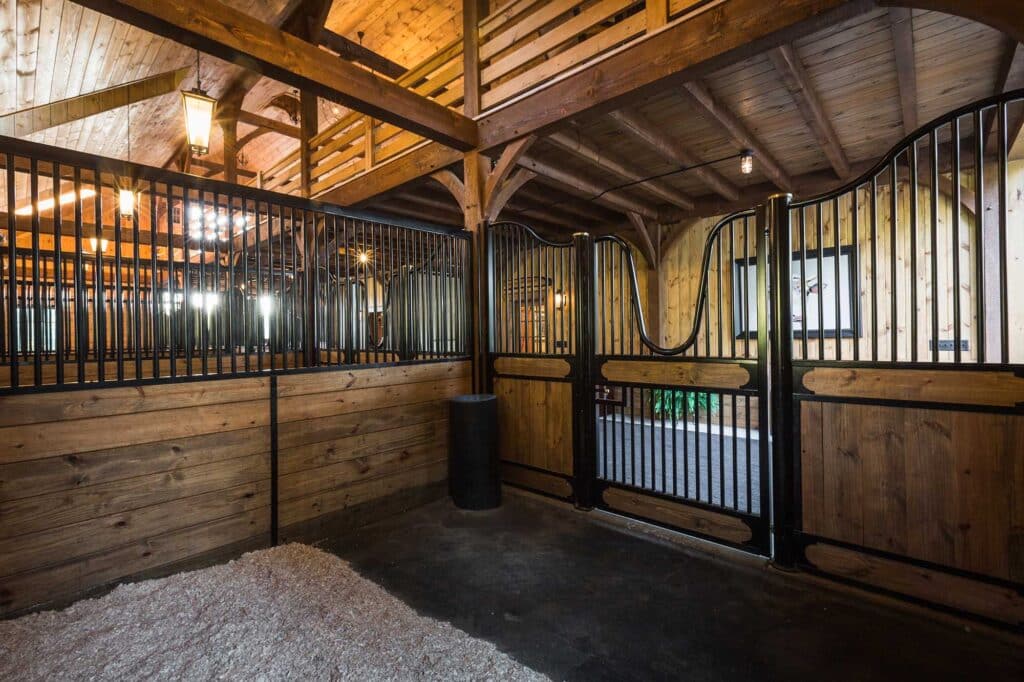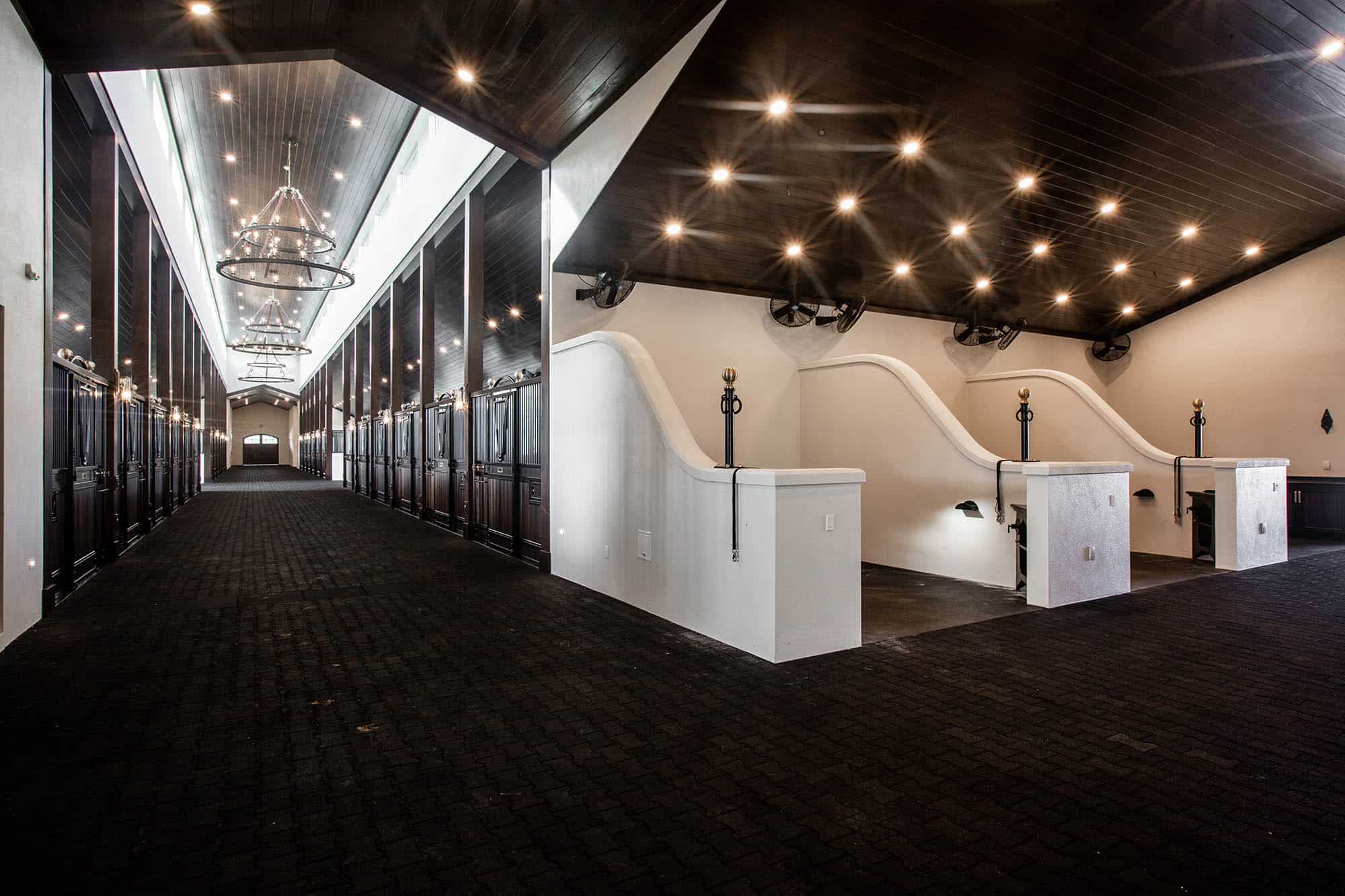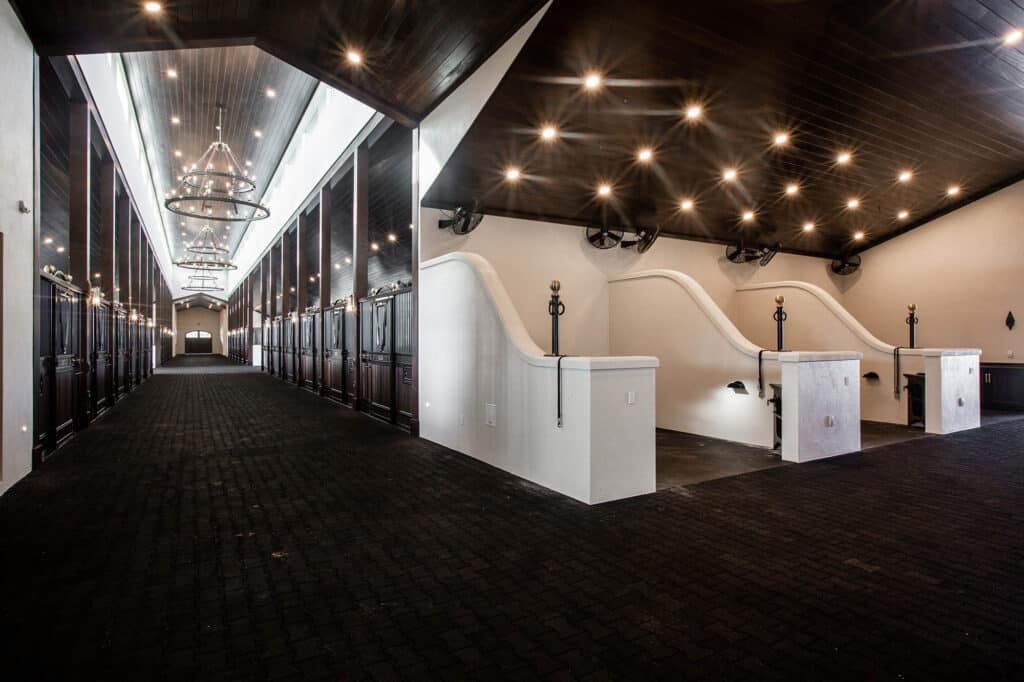 Choosing the Perfect Wood for Your Horse Barn
When building a barn, wood is an obvious material choice. While wood is a popular consideration for its classic characteristics, Hardie-Plank Barn Siding is emerging as a rising trend within the construction industry. It has a reputation as being a low-maintenance, long-lasting material that offers the beauty of natural wood. In fact, the look is so similar you may see the product on homes or barns and mistake the material for actual wood. B&D often uses Hardie-Plank Siding, as it offers the following benefits.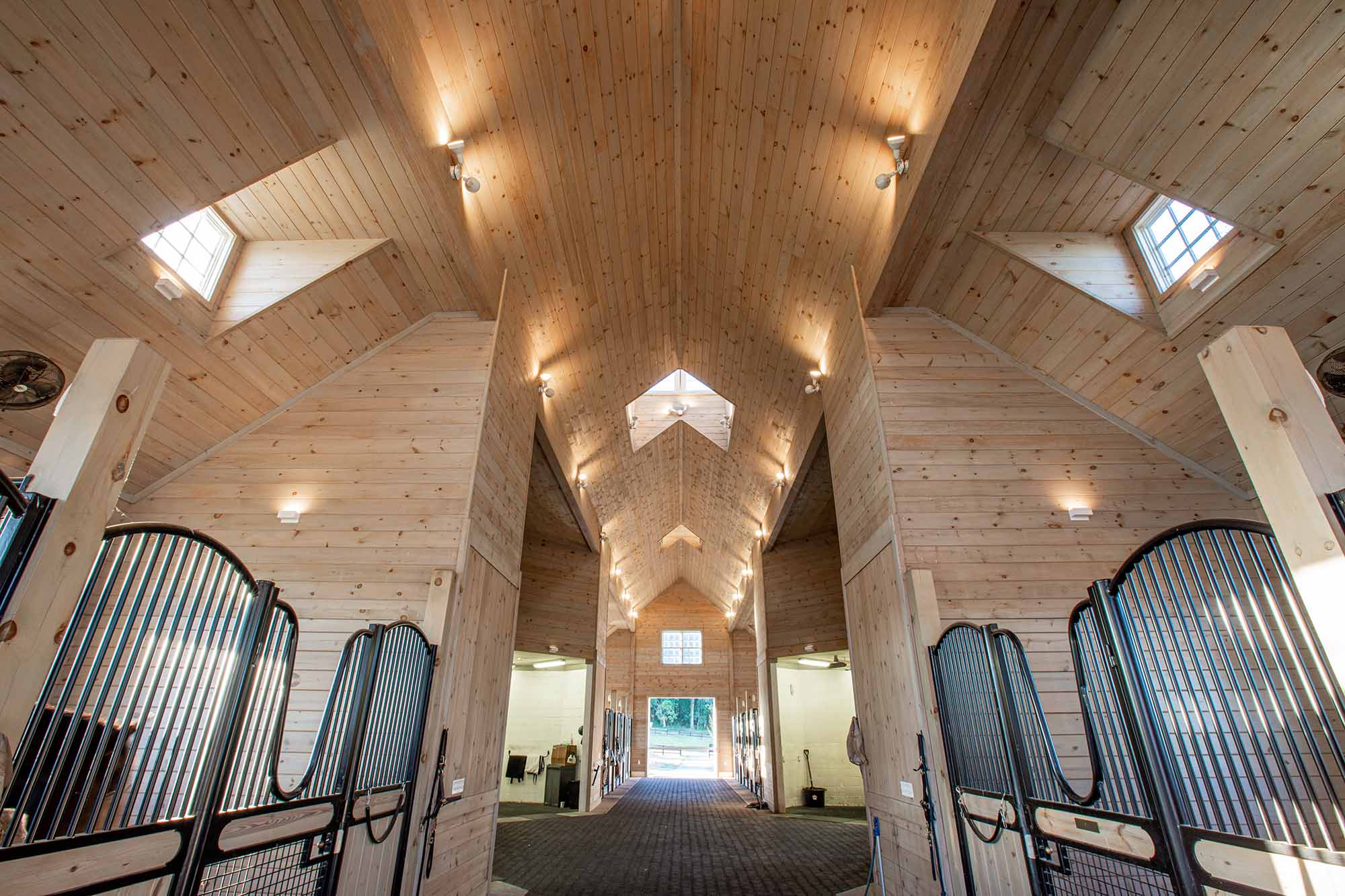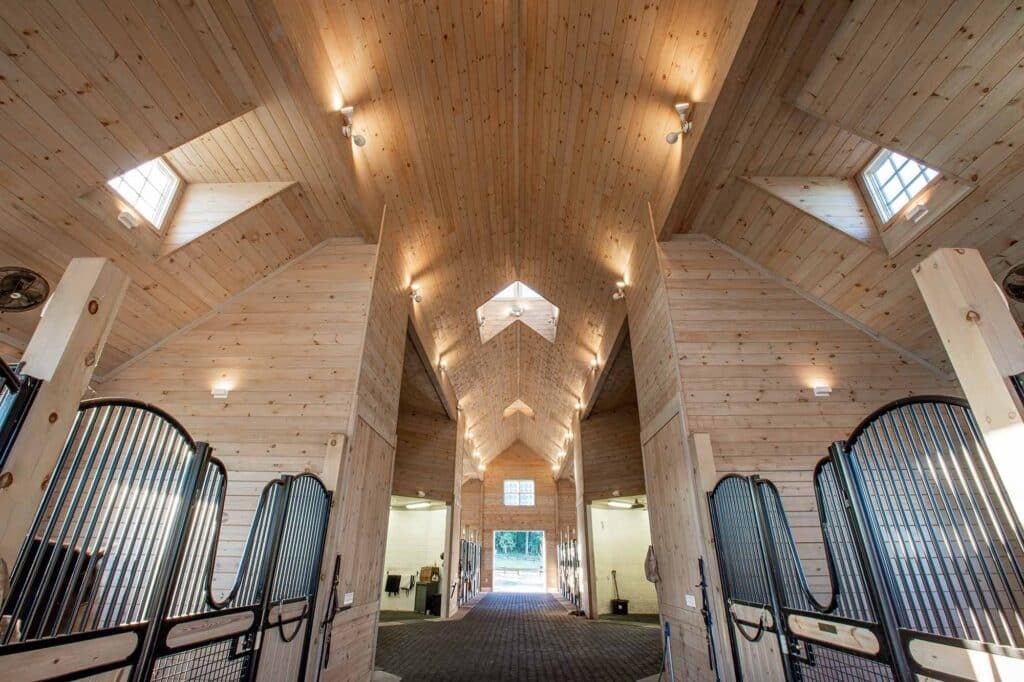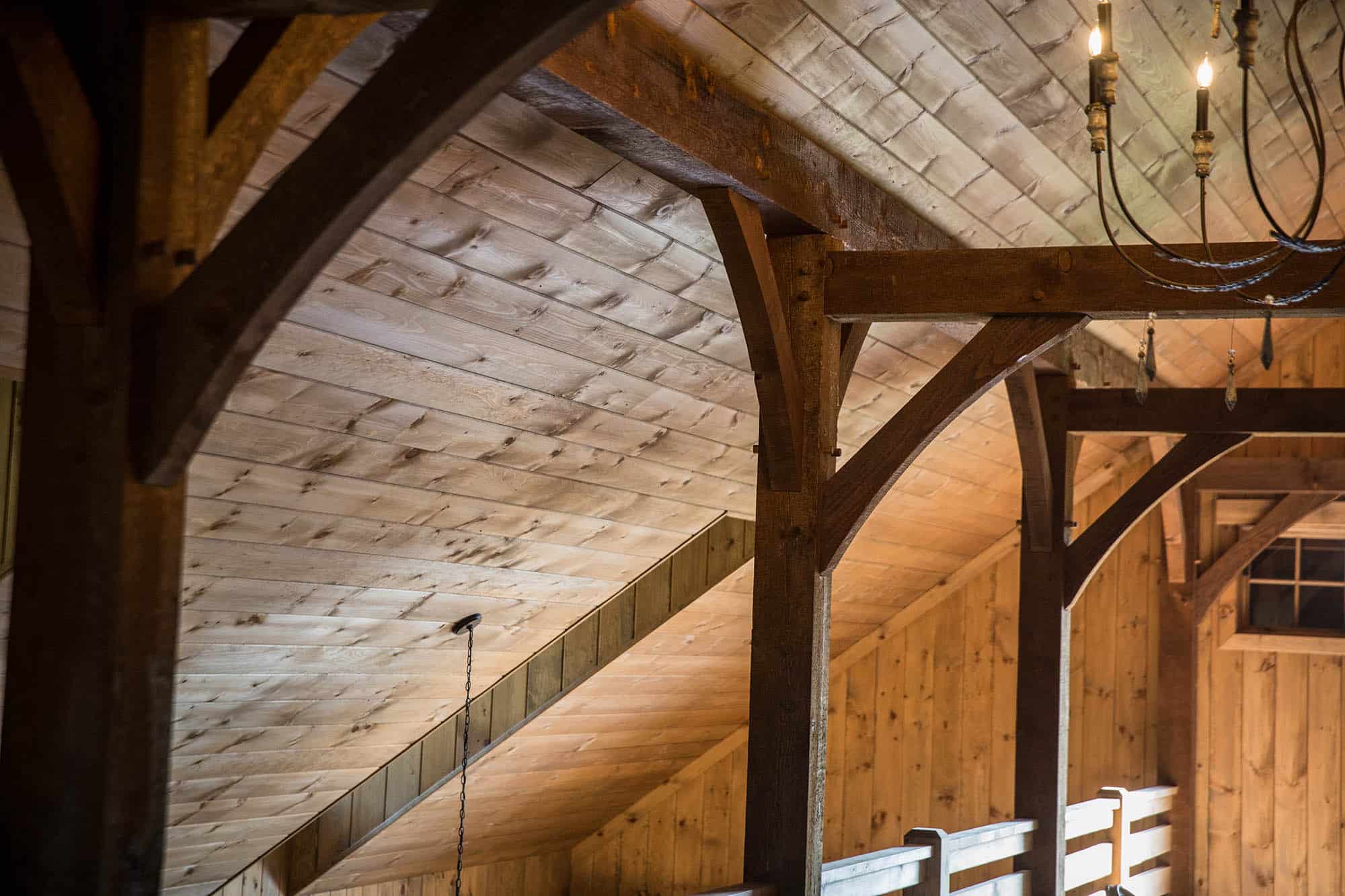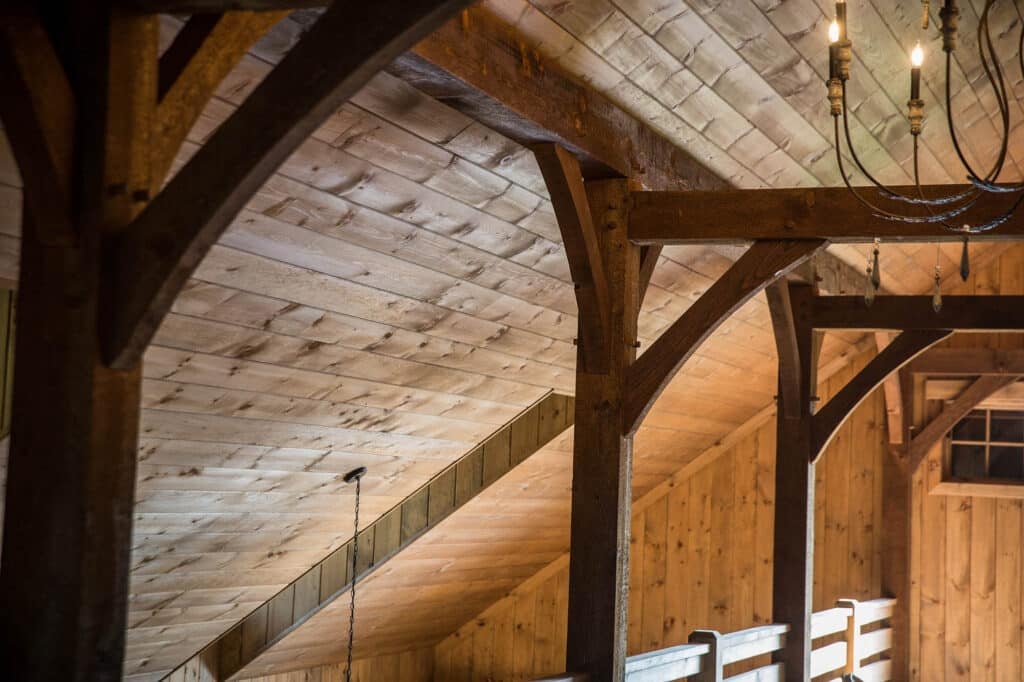 Low Maintenance. The material is impervious to natural elements and is not prone to peeling, chipping or cracking.
Appearance. Hardie-Plank is available in multiple colors and shades, and closely resembles the look, texture and grain of wood siding.
Material. Made from concrete fibers, Hardie-Plank is fire-resistant, which protects your barn and could lower your insurance rate.
Pest & Moisture Resistant. The siding does not retain moisture, so there's no threat of rotting or swelling, and it is an unappealing option for termites.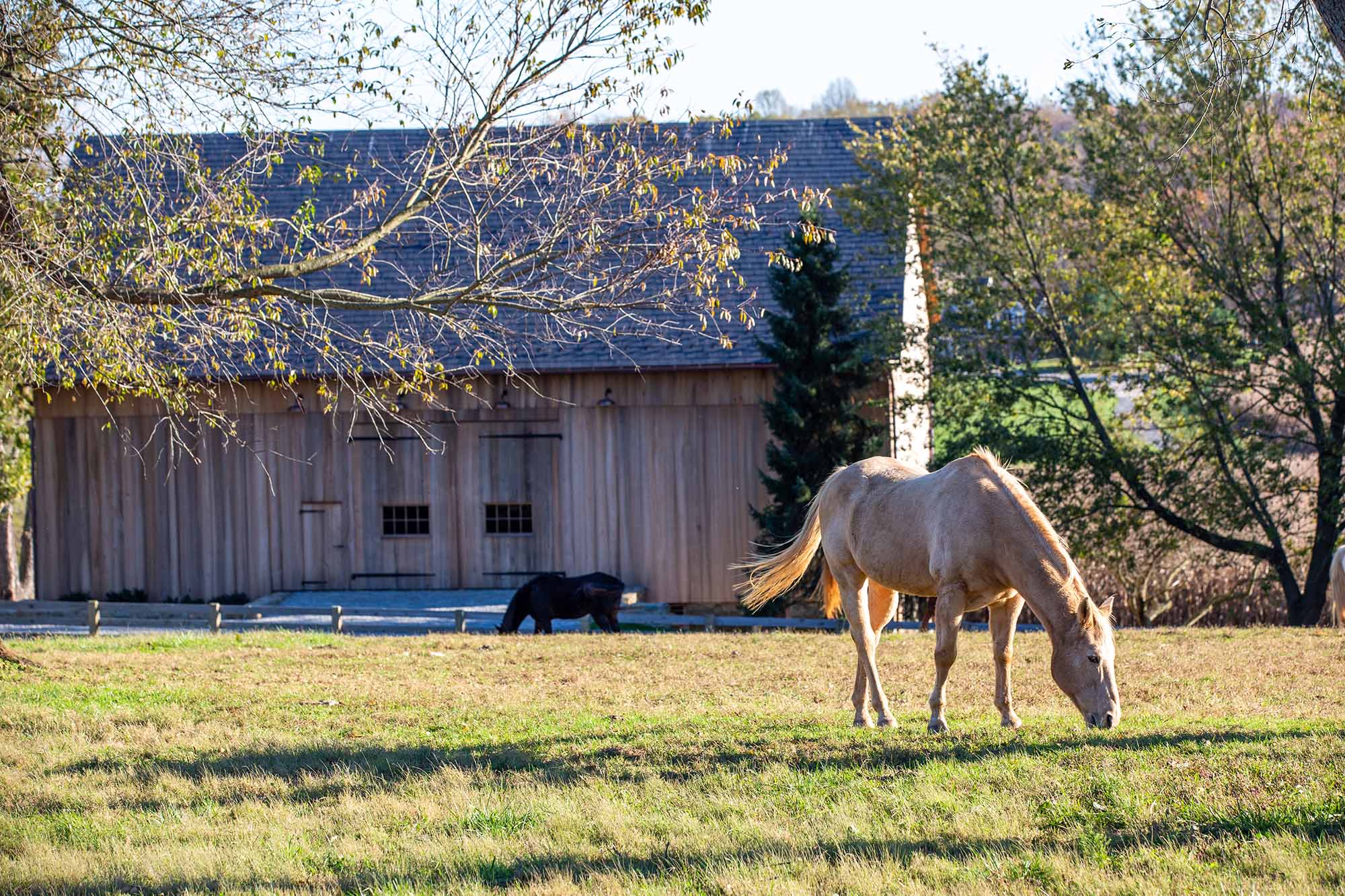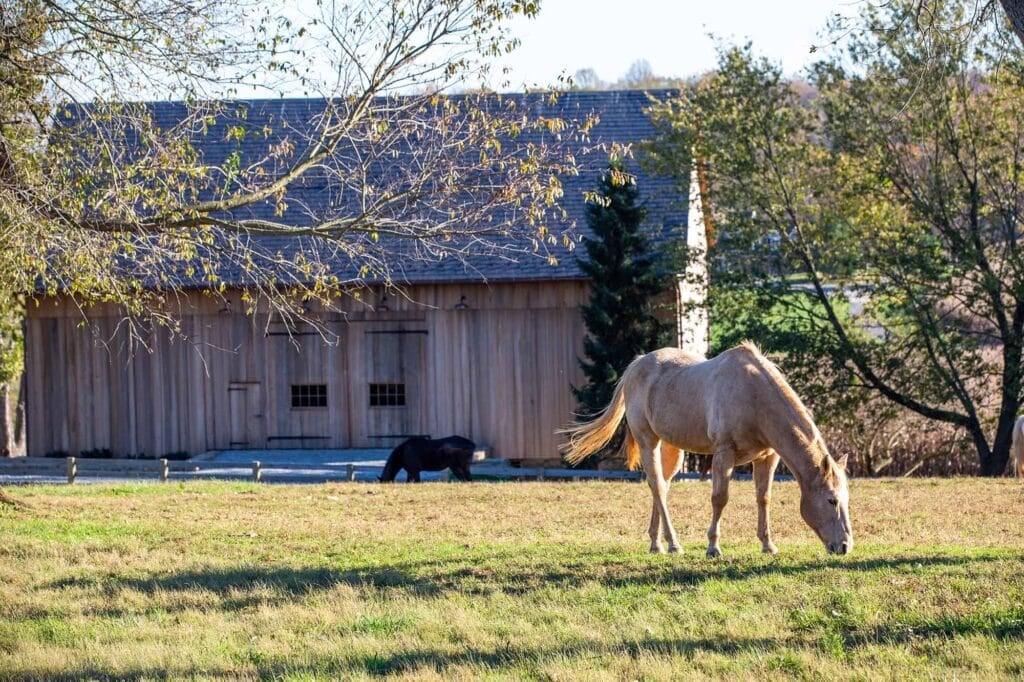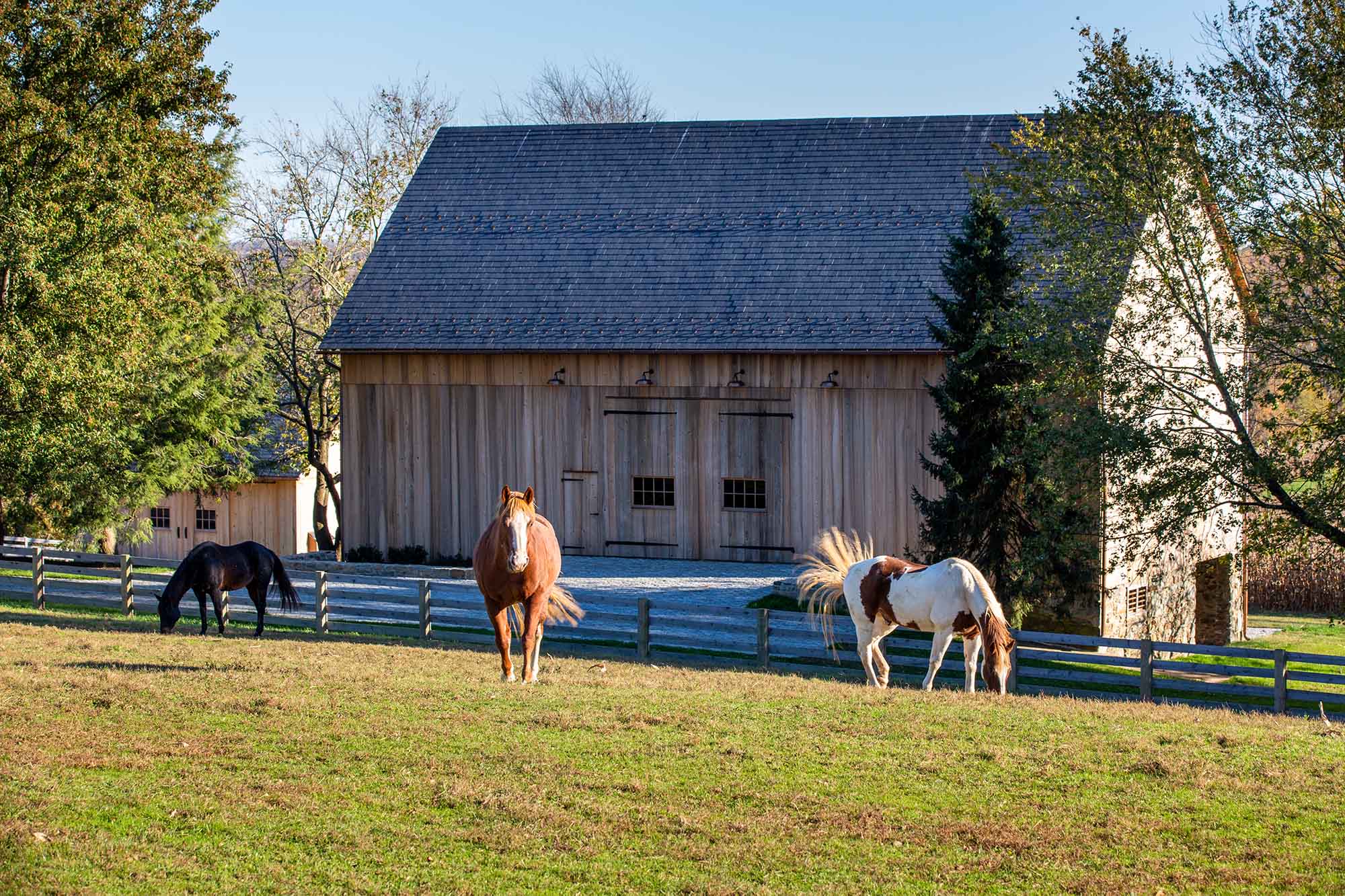 Autumn Upkeep Tips for Your Horse Barn
It's fall, and that means it's the perfect time to start planning barn maintenance for the colder, drafty days ahead. A simple inspection of your horse barn can help identify areas in need of maintenance to ensure your barn is in tip-top shape for the winter months. Use B&D Builders' Seasonal Inspection List for Barns to help prepare you for the transition.
A simple inspection of your horse barn can help identify areas in need of maintenance to ensure your barn is in tip-top shape for the winter months.
Check for Drafts. Good ventilation is essential for horse health, but large drafts can be dangerous. If your barn is older, check doors and windows, and cover any holes that let in too much air. Replace any broken windows or faulty door latches. Remember, some airflow is critical and can help reduce respiratory ailments among your horses.
Check Door Sizes. Quality barn doors make a big difference and are a worthwhile investment. Check to make sure your barn end doors fit properly and provide plenty of coverage from side-to-side and from top-to-bottom. If you see big gaps, you should consider replacing them. Replacing your door with a custom door will ensure the new one matches your current barn style and functions as expected.
Inspect Bulbs & Electrical Systems. It's always easier to change light bulbs when you can see. Replace any blown bulbs and check wires for fraying. Equip your barn with battery-powered flashlights to provide safe access to your barn in the event of a power outage. Having a back-up generator is another good investment for your horse barn.
Focus on Your Feed Room. Clean up your feed room to help reduce the risk of rodents and insects. Sweep up spills that will attract your unwanted guests and inspect your storage containers to make sure the lids seal tight. Use pallets for storing hay.
Prepare Water Supply. Keep a close eye on the water trough and take measures to prevent freezing. A heating device is a sound investment and can help ensure your horses are well hydrated. While the consumption of snow is ok for horses, it is not a good substitute for fresh water and will not prevent your horse from getting dehydrated over the winter.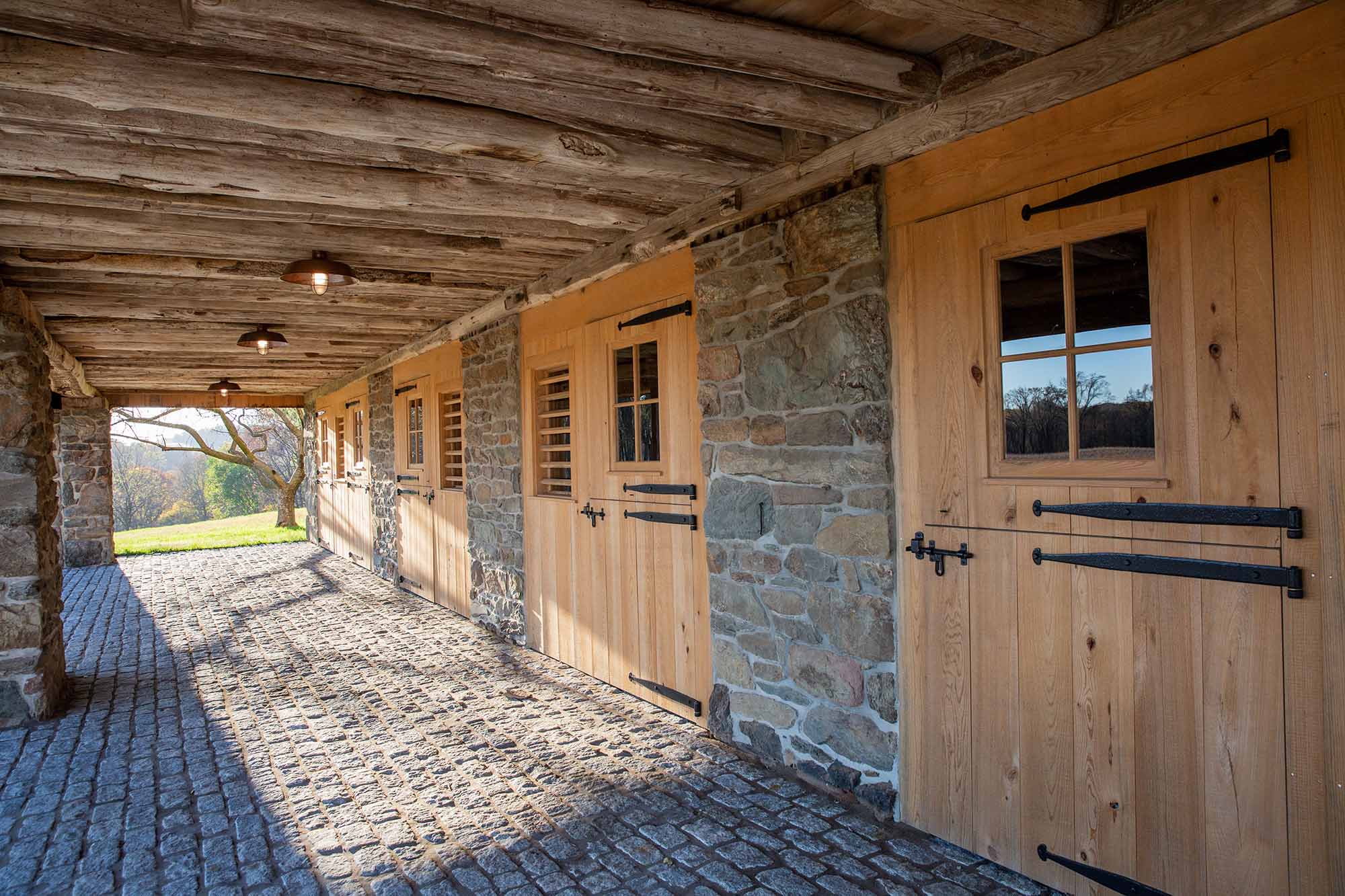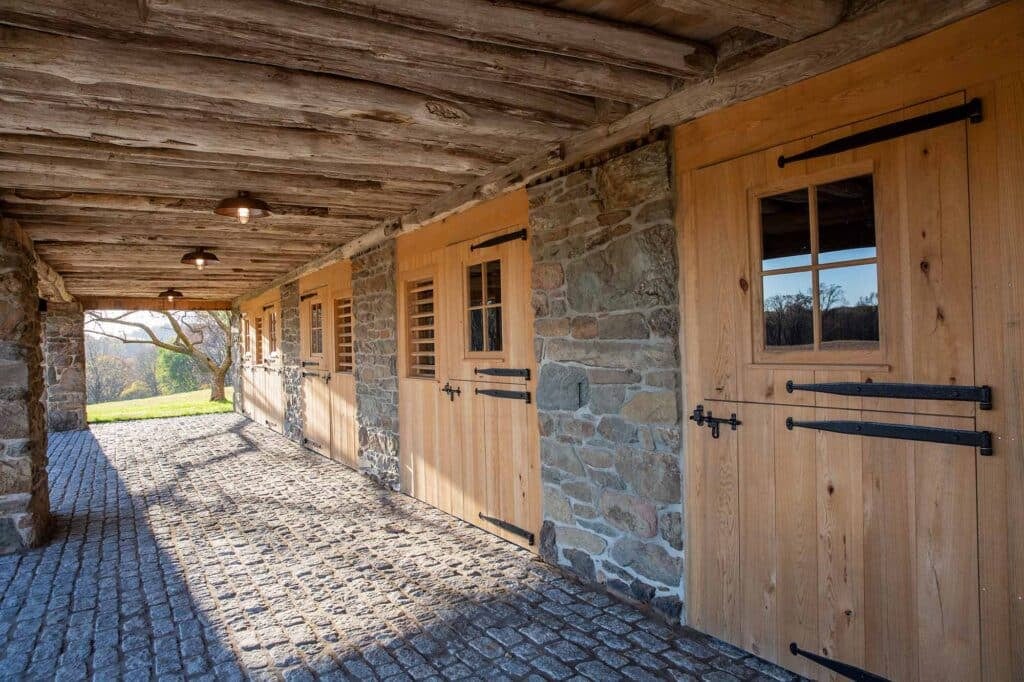 By observing and implementing these things to consider when building a horse barn, you're sure to keep your horses happy and healthy all year round! Need help or considering a new barn for next year? See some of B&D Builders' stunning barns and projects at www.banddbuilders.com. To find even more local home professionals and inspiration for your Virginia home and horse property, see our Home & Garden page. ~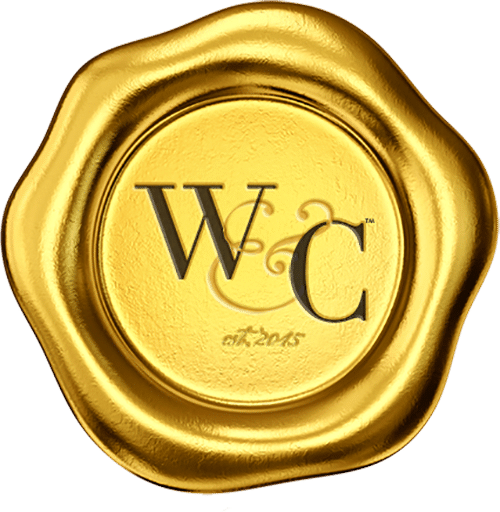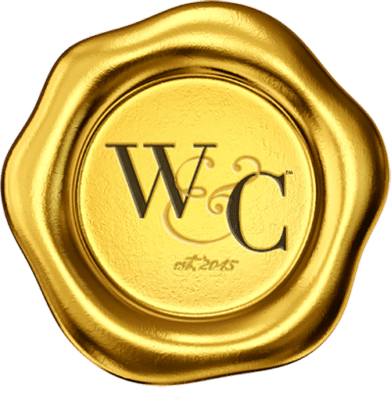 Virginia Wine & Country celebrates elevated living in Virginia Wine Country. Virginia Wine & Country Life is a semi-annual luxury print magazine with a full digital presence. The Virginia Wine & Country Gold Book is an annual guide to the top award-winning wines, wineries and experiences in Virginia Wine Country. The annual Virginia Wine & Country Wedding Planner is an art book of elegant Virginia weddings. The brand includes the Virginia Wine & Country Shop in Ivy, Va. It is a beautiful lifestyle boutique that brings the pages of the magazines to life. Virginia Wine & Country tells the stories of Virginia wineries, the farm-to-table movement, luxury travel, entertaining, art and the elegant country lifestyle. Ivy Life & Style Media also provides branding, web design and PR services for the wine industry.