As a student at the University of Virginia in the early 1990s, Ryan Hubbard often walked by the familiar façade of the Federal-style, red-brick townhouse on Main Street. He knew the same architect who helped erect the University of Virginia's iconic Rotunda and Thomas Jefferson's Monticello. But Hubbard, like many natives, hadn't been inside—until he bought it in 2003 and began to transition it into The Dinsmore Inn.
"I had a dream of it being a landmark and touchstone for this city," says Hubbard, who transformed the structure into the present-day boutique inn, adding the Farm Bell Kitchen restaurant in 2018. "I want it to be more than a place to just stay at overnight when visiting."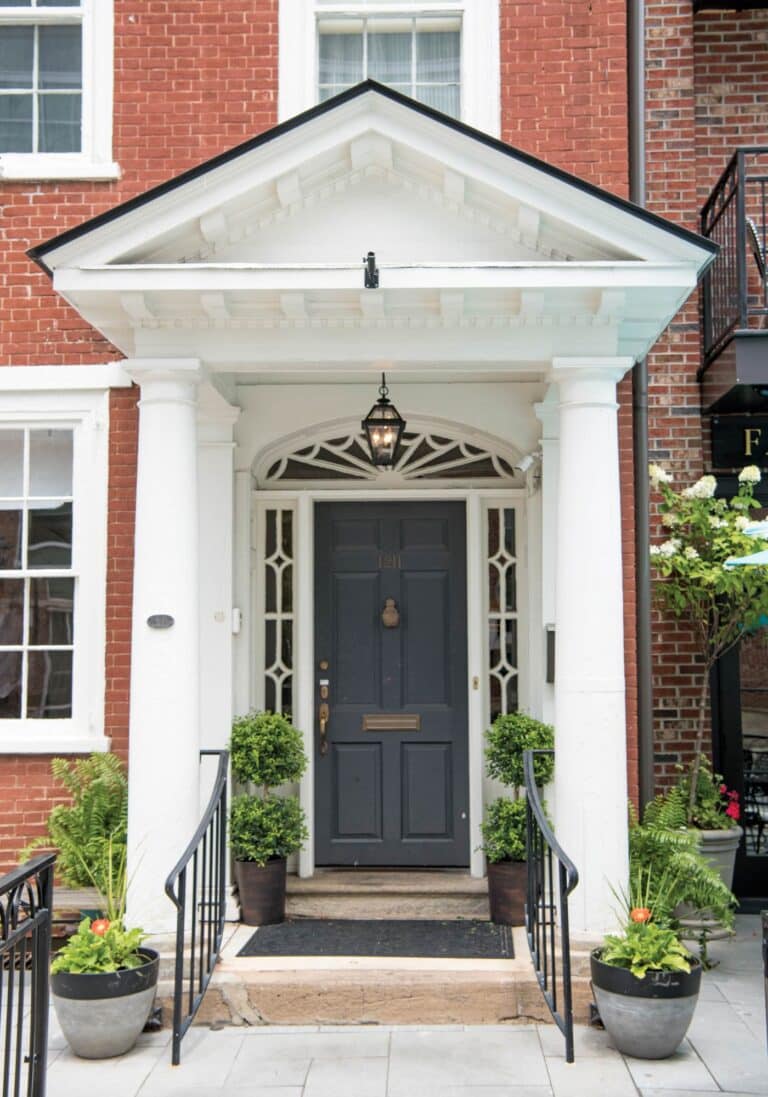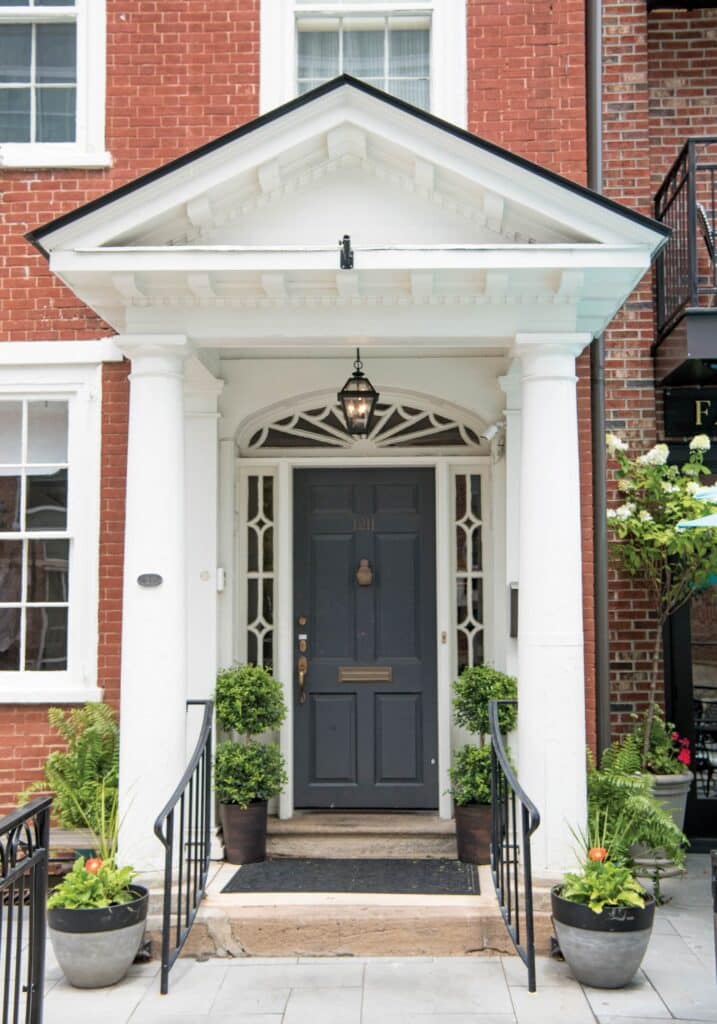 The Dinsmore Inn has been a labor of love for Hubbard, who runs the family business with his sister, Lisa Jones—the Inn's sales director and events coordinator. Hubbard's nieces also work in the restaurant, and he hopes his sons will one day join the team when they become old enough.
The Inn takes its name from architect and master carpenter James Dinsmore and is one of two remaining homes he built in the city. Over 200-years-old, the structure informs the hotel's design, with beautiful original woodworking winding up the side of the staircase and around historic coal-burning fireplace mantels.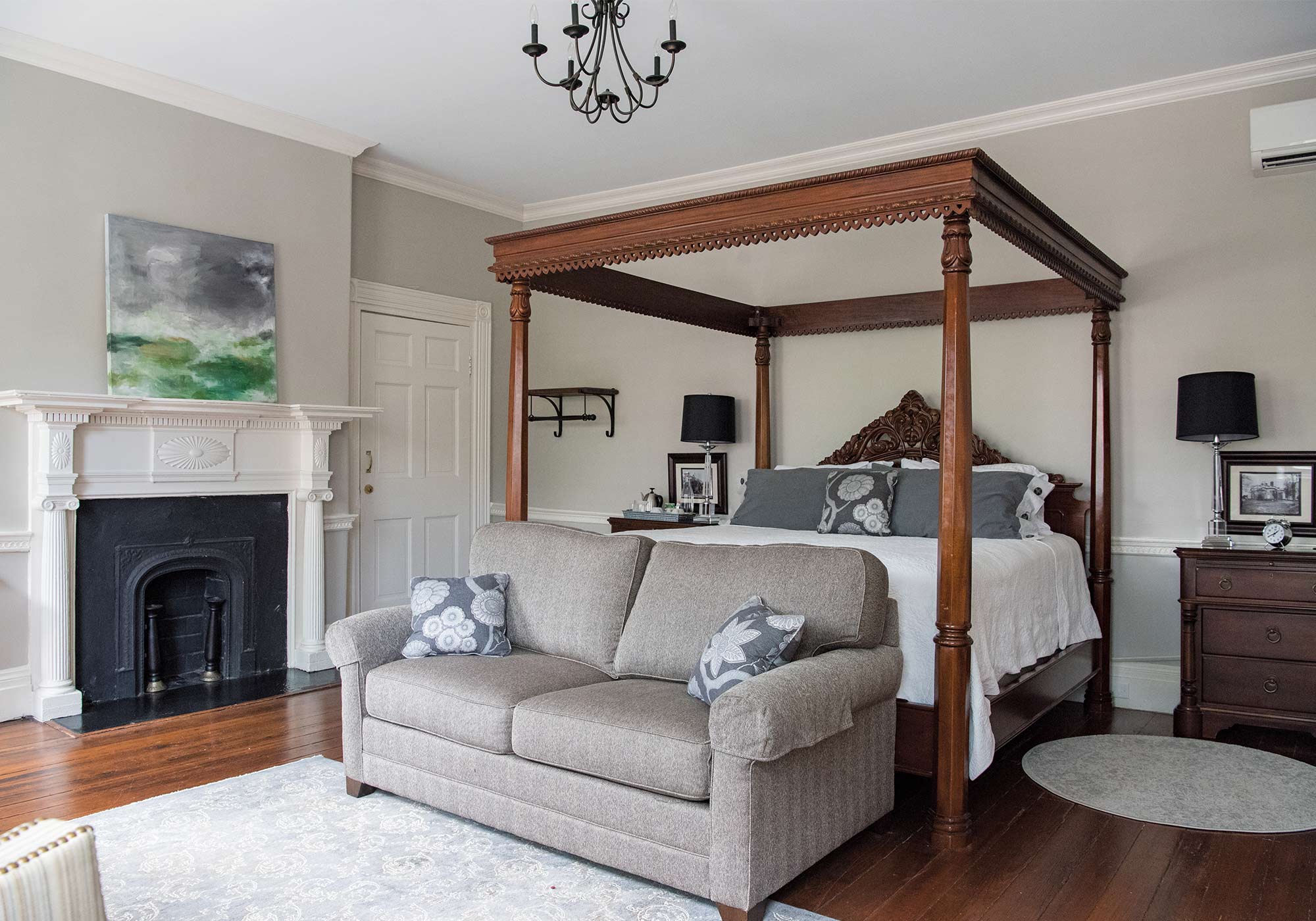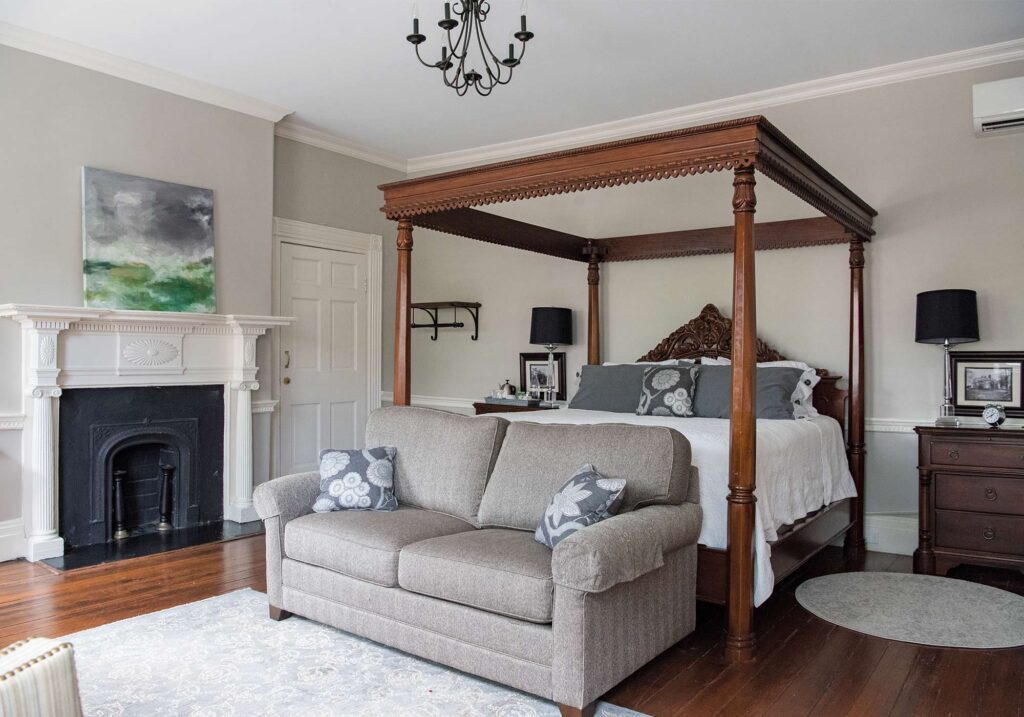 Renovating The Dinsmore Inn
In 2016, Hubbard closed the Inn for extensive renovations, trading "mom-and-pop, bed-and-breakfast" charm for modern comforts and elegant furnishings like marble countertops, contemporary art and an attached restaurant that offers gourmet farm-to-table meals. A suite in the attic features exposed brick walls and timeworn ceiling joists, while other guest rooms offer four-poster beds and updated en suite bathrooms.
Outside, granite sidewalks and thoughtful landscaping enhance the charming façade. Hubbard knew renovating would come with some unexpected hiccups, but he didn't anticipate the treasures.
Finding Historic Treasure
Digging in The Dinsmore's attic during construction, the team found a trove of antique items that are now displayed in shadow boxes in the front hall. Among the finds: a tiny tin toy horse, an 1835 check that was never cashed and a bottle of lady's ointment that says it treats "female weaknesses." More than memorabilia, the items are a reminder that the home, which was located at the edge of Charlottesville in those early days, predates the neighboring university that has brought it to the heart of a bustling Main Street corridor.
The team found a trove of antique items that are now displayed in shadow boxes in the Inn's front hall.
Welcoming travelers with Charlottesville's unique Southern hospitality was a highlight of running the Inn in its early years, but Hubbard always wanted locals to feel welcome, too.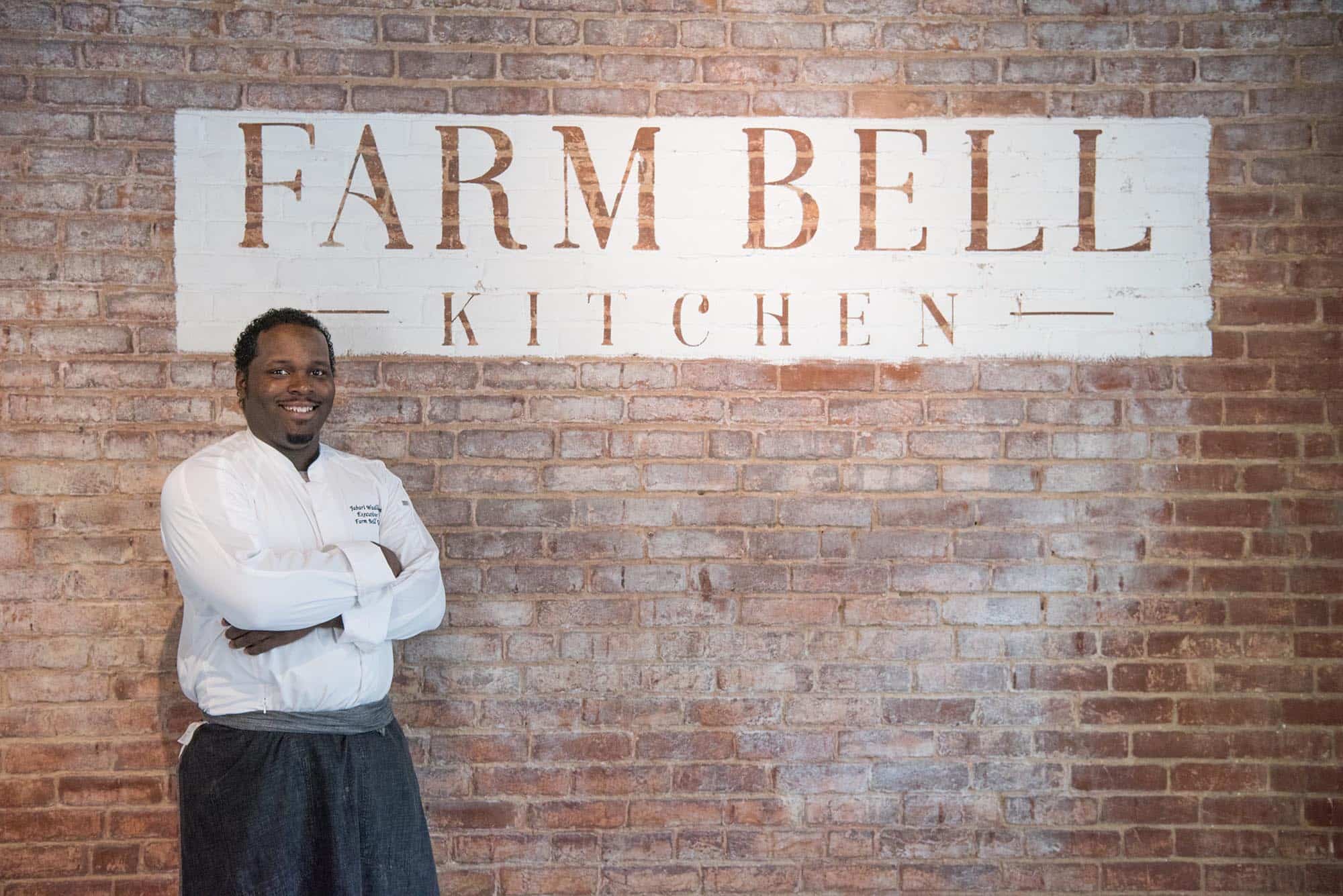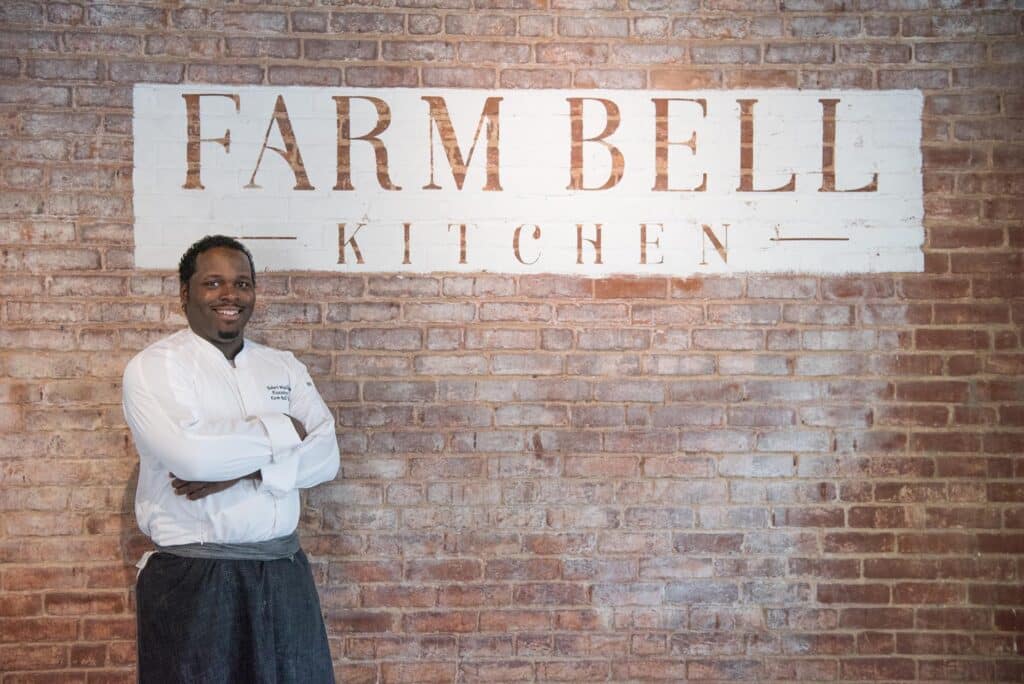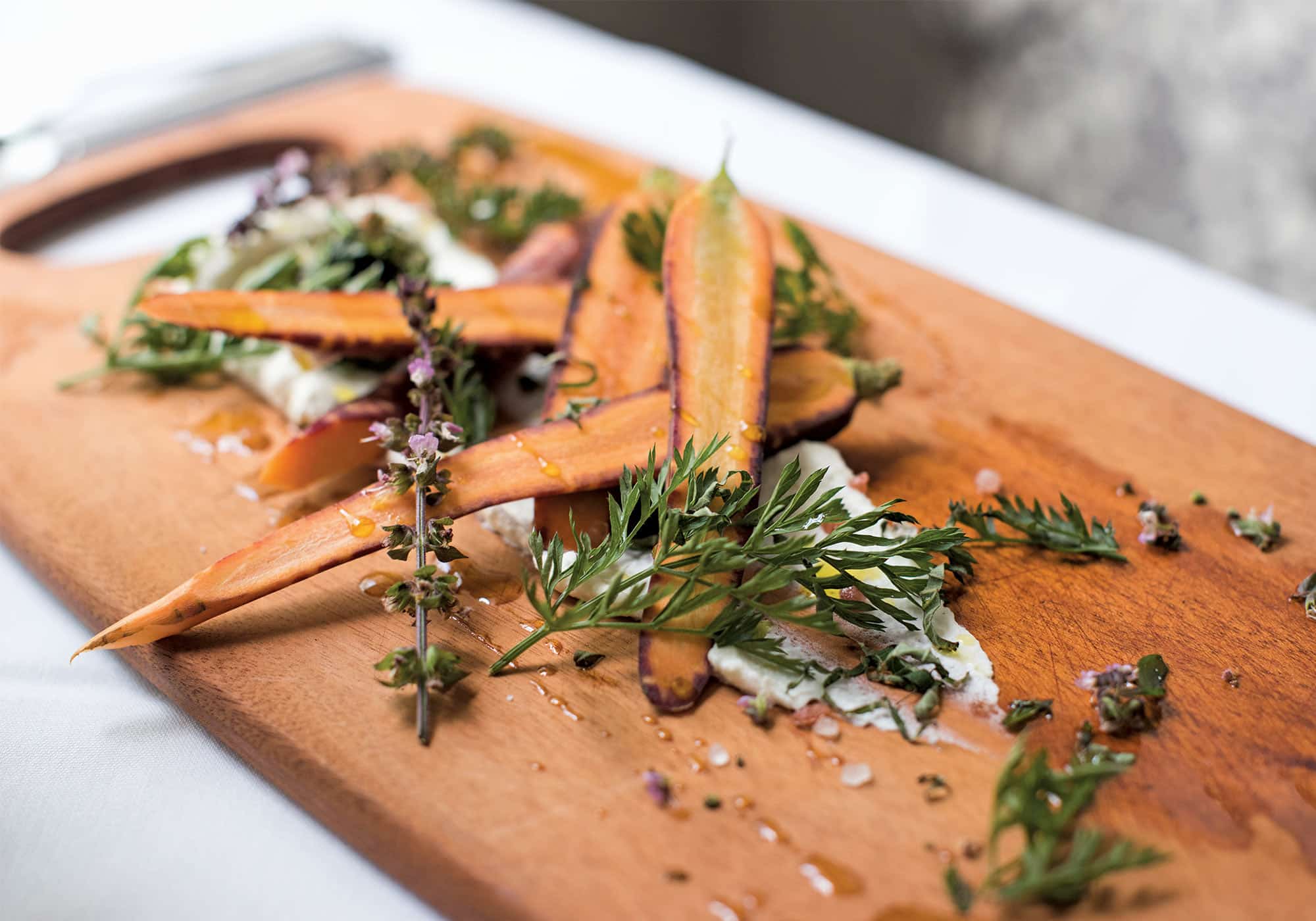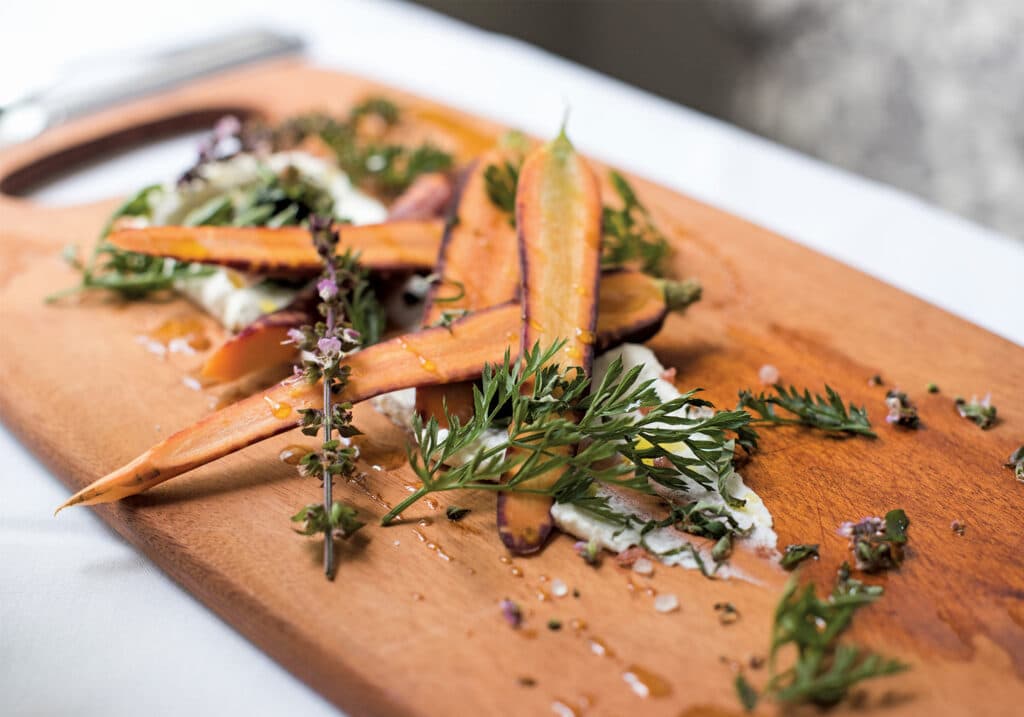 The Farm Bell Kitchen at The Dinsmore Inn
The Farm Bell Kitchen is a natural addition for Hubbard, who also owns the catering business Red Hub Food Co. He has an intimate knowledge of the rewards—and challenges—of sourcing primarily from local farms. Buying from local purveyors allows him to serve daily brunch seven days a week.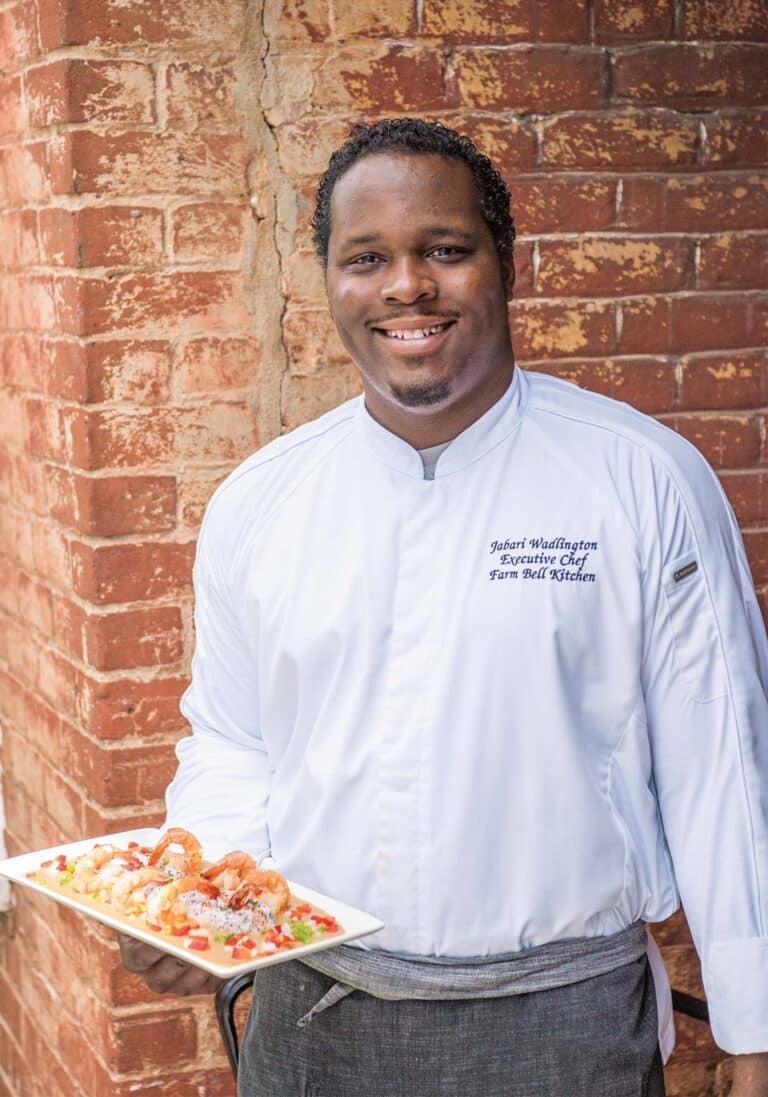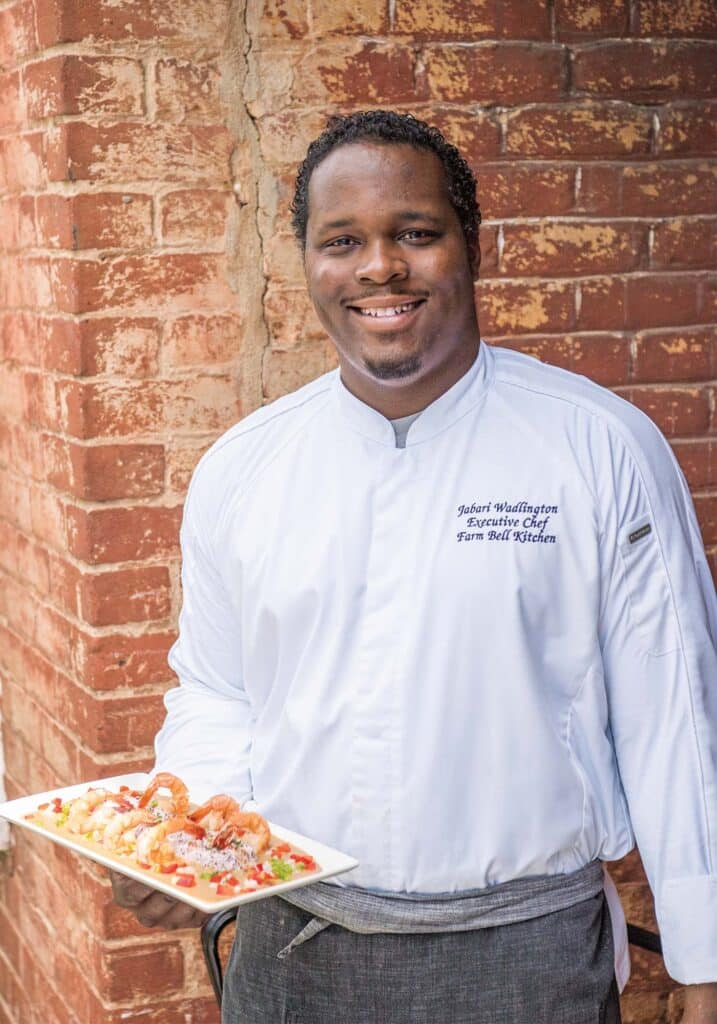 Hubbard thought the restaurant should skew "New Southern," inspired by his trips to Charleston's iconic eateries. But, after hiring Executive Chef Jabari Wadlington, who traces his culinary training to New Orleans, the menu became a fusion of Southern food with Cajun, French and African influences. On the menu, an island-style trout escaviche might appear beside a shrimp-and-okra gumbo with broth poured tableside.
Wadlington's chicken and waffles are among the most popular items on the menu, and an example of the kitchen's from-scratch propensities. The bird is cooked in-house and served with individual buttermilk fried pieces atop waffles and in-house syrups.
Wadlington's make-everything mentality in the kitchen has spread to the rest of the Inn. When he found out they were purchasing bath salts for the hotel's 19th-century clawfoot tubs, he started making infused bath salts instead. The same goes for the chamomile tea.
"We've developed this belief that the only way to control the product is to just make it," Hubbard says. He says that approach gets at the heart of what this team is trying to do out of an historic estate. ~
This article originally appeared in Book 7 of Wine & Country Life. Start your subscription here or give a gift subscription here. Discover even more places to stay in Virginia, as well as Virginia events and happenings to enjoy during your stay.
WHITNEY PIPKIN, a Northern Virginia-based journalist, writes for The Washington Post, NPR, National Geographic and regional publications such as Virginia Living and Northern Virginia Magazine. She's also a staff writer at the Chesapeake Bay Journal. View her work at whitneypipkin.com.
R. L. JOHNSON is our co-publisher and creative director, Robin Johnson Bethke, who began her career as a professional photographer in Los Angeles before moving into graphic design and art direction when she relocated to Charlottesville in 1994. As our company's co-founder and visionary, she enjoys all aspects of the publishing process from story conception to graphic design to photography. Her work is often seen in many of our publications.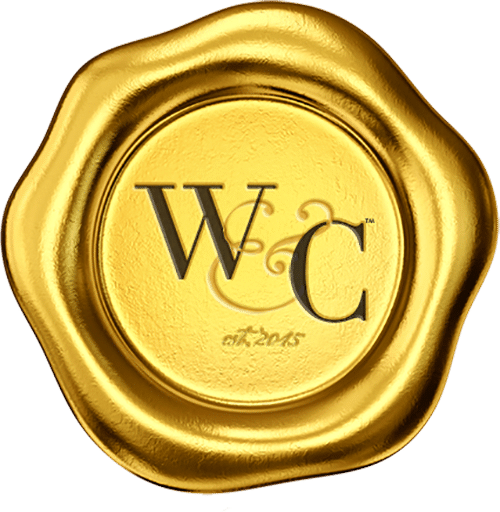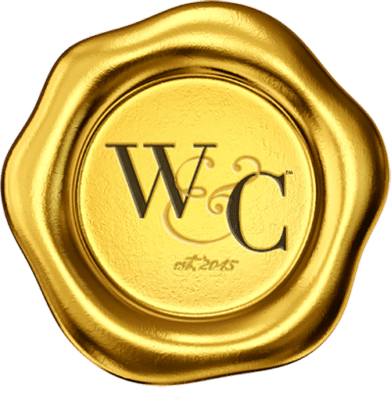 Virginia Wine & Country celebrates elevated living in Virginia Wine Country. Virginia Wine & Country Life is a semi-annual luxury print magazine with a full digital presence. The Virginia Wine & Country Gold Book is an annual guide to the top award-winning wines, wineries and experiences in Virginia Wine Country. The annual Virginia Wine & Country Wedding Planner is an art book of elegant Virginia weddings. The brand includes the Virginia Wine & Country Shop in Ivy, Va. It is a beautiful lifestyle boutique that brings the pages of the magazines to life. Virginia Wine & Country tells the stories of Virginia wineries, the farm-to-table movement, luxury travel, entertaining, art and the elegant country lifestyle. Ivy Life & Style Media also provides branding, web design and PR services for the wine industry.