Boasting dozens of vineyards, breweries, cideries and distilleries with beautiful views of the Blue Ridge Mountains, Virginia Wine Country around Charlottesville is the perfect destination for day trips and entertaining afternoons. But, why not make it a weekend getaway and find a place to stay at a vineyard? There are many vineyards with overnight lodging accommodations. Extend your excursion into an entire weekend of local food, drinks and exploring. Check out the award-winning Charlottesville-area vineyards on the Monticello Wine Trail that you can stay at overnight.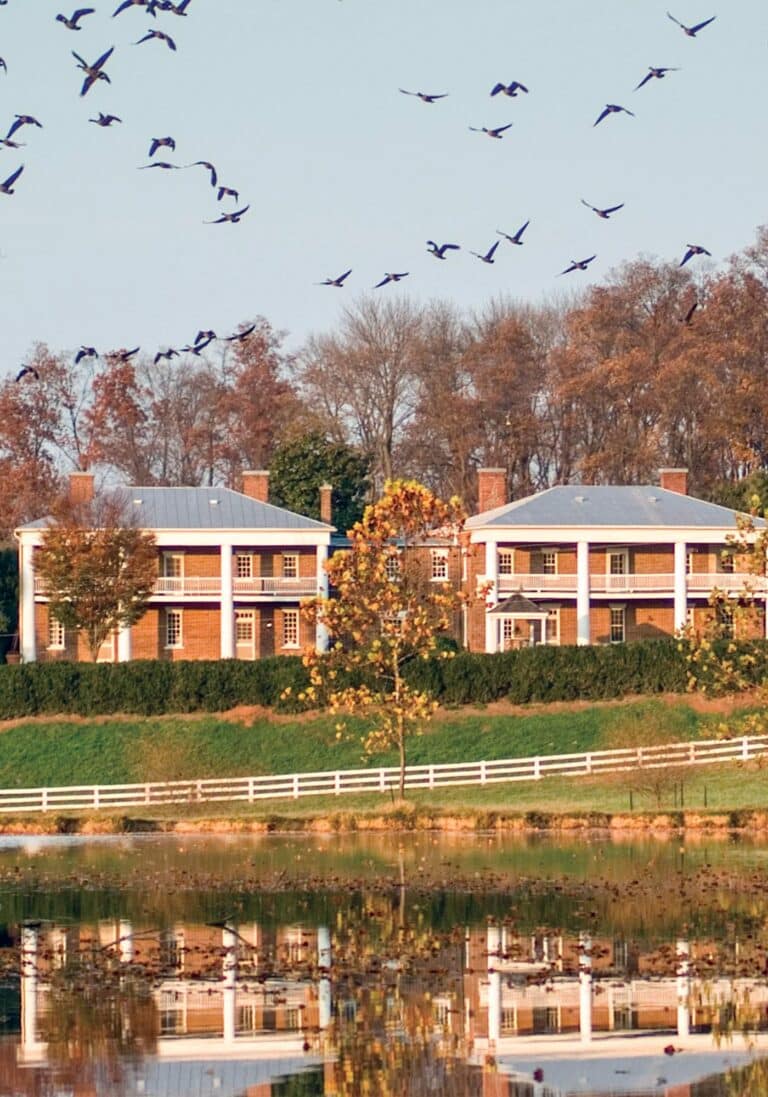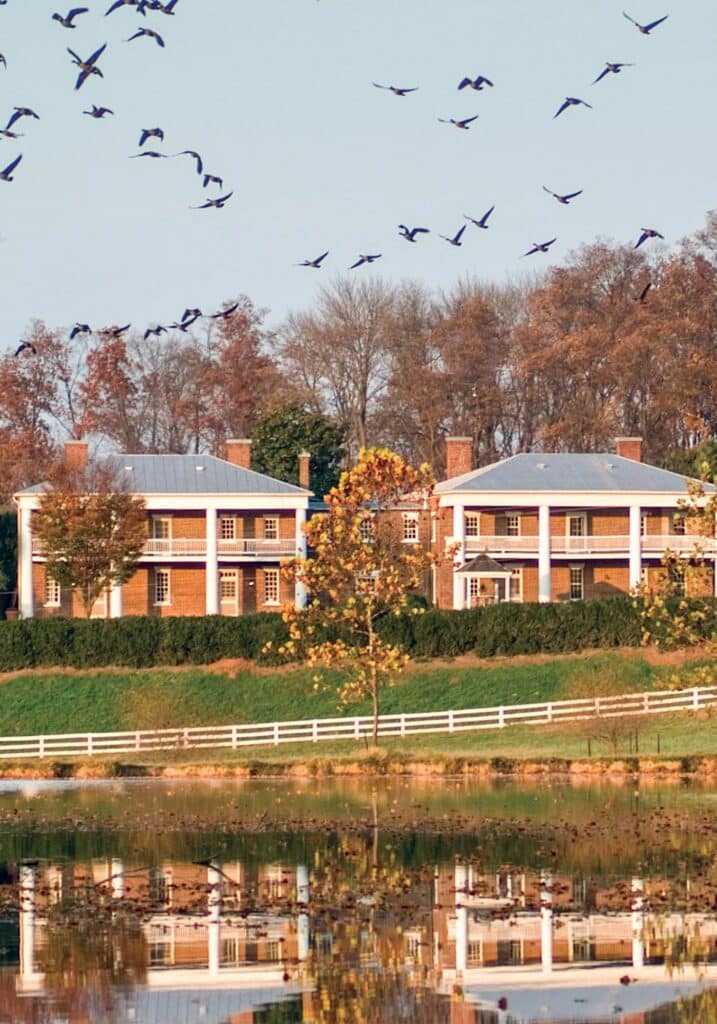 Barboursville Vineyards' 1804 Inn
Just a 30-minute drive from Charlottesville, Barboursville Vineyards offers a tasting room and a wine "library" with unique and vintage wines. They also have an upscale fine dining Italian restaurant called Palladio and an inn near the winery with both suites and cottages. There is no shortage of award-winning wine to taste here and visitors can even enjoy a guided tour of the winery on the weekends. So, make the most of your visit and spend the weekend for the ultimate wine country experience at Barboursville Vineyards on the Monticello Wine Trail.
Stay at Barboursville Vineyards
One of the most beautiful wineries with lodging is the 1804 Inn at Barboursville Vineyards. The 1804 Inn is a classic Georgian villa containing three expansive and luxurious suites steeped in tradition. Guests can elect to stay at the Octagon Suite, the Malvaxia Suite or the Philéo Suite.
The Octagon Suite embraces stately, serene design and classic colors in its stylization. Guests staying in the Octagon Suite receive a variety of amenities, including two private balconies and a secluded lawn and garden. The expansive master bedroom has spectacular views of the property and its historic ruins.
The Malvaxia Suite provides guests with rustic landscapes and aristocratic charms. The suite features a functional fireplace in the sitting room and indulgent bathing accessories. 400-thread-count Italian bedding is sure to provide guests with unparalleled comfort.
Finally, the Philéo Suite embodies warmth with its floors of kilned bricks and radiant natural light. The suite offers guests a covered brick southern terrace at garden level, a marvelous bedroom with windows facing the vineyard and luscious, antique oriental carpets across the floor.
Each of these three suites in the 1804 Inn offers a romantic, overnight getaway for visitors to Virginia Wine Country to enjoy at one of Virginia's most beautiful and historic properties. You can also rest and relax in another bed & breakfast accommodation option that the vineyard has to offer. The six Vineyard Cottages overlook some of the vineyard's 185 acres of vines. They come with a complimentary full breakfast, bottle of wine and tastings at the Tuscan Tasting Room. Each suite is named after one of the wines crafted here and decorated and designed to evoke the rich history of the area with all the comforts of the 21st century.
Fine Dining at Barboursville Vineyards
In the Tuscan Tasting Room, which is open every day, wine lovers can taste a broad selection of wines, including Octagon. This red blend has won a Gold Medal in every Virginia Governor's Cup competition in the past 10 years and a Double Gold Medal in the 2019 San Francisco International Wine Competition. Barboursville is the most-awarded winery on the East Coast. Their exclusive tasting room, Library 1821, also matches wines with culinary pairings. The Library was designed as a historic library that showcases documents like a letter by President John Quincy Adams.
Of course, the Palladio Restaurant is not to be missed, with exquisite Northern Italian-style meals. Executive Chef Michael Clough carefully crafts each seasonal menu around local flavor palates. Most of the fresh ingredients come from Barboursville's very own farm. The Italian fine dining destination has received national acclaim for its commitment to elevated cuisine. They continue to be known as one of the region's finest restaurants. Under the guidance of Sommelier Professionista Alessandro Medici, all dishes are meticulously paired with the beautiful wines of Barboursville Vineyards. The cuisine offered at Palladio perfectly marries the flavors of Virginia and Northern Italy in a harmonious fashion. Dishes are complex, memorable and bold in their essence of euphoria. The restaurant recommends reservations for both lunch and dinner services.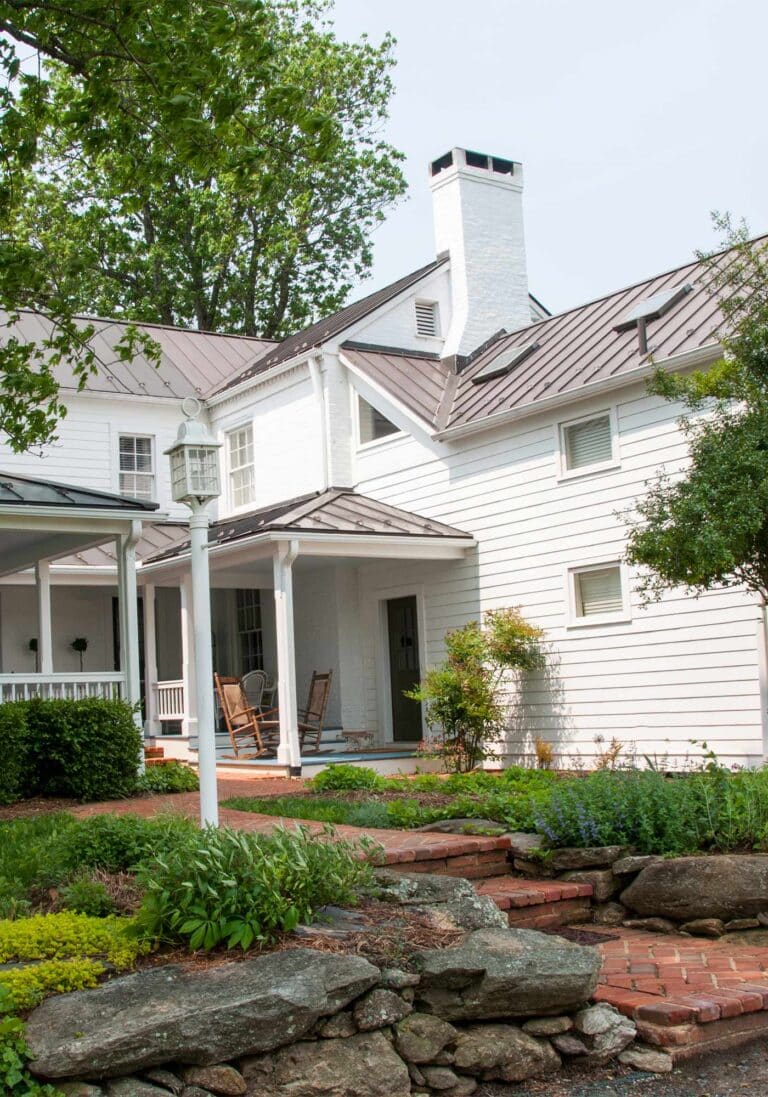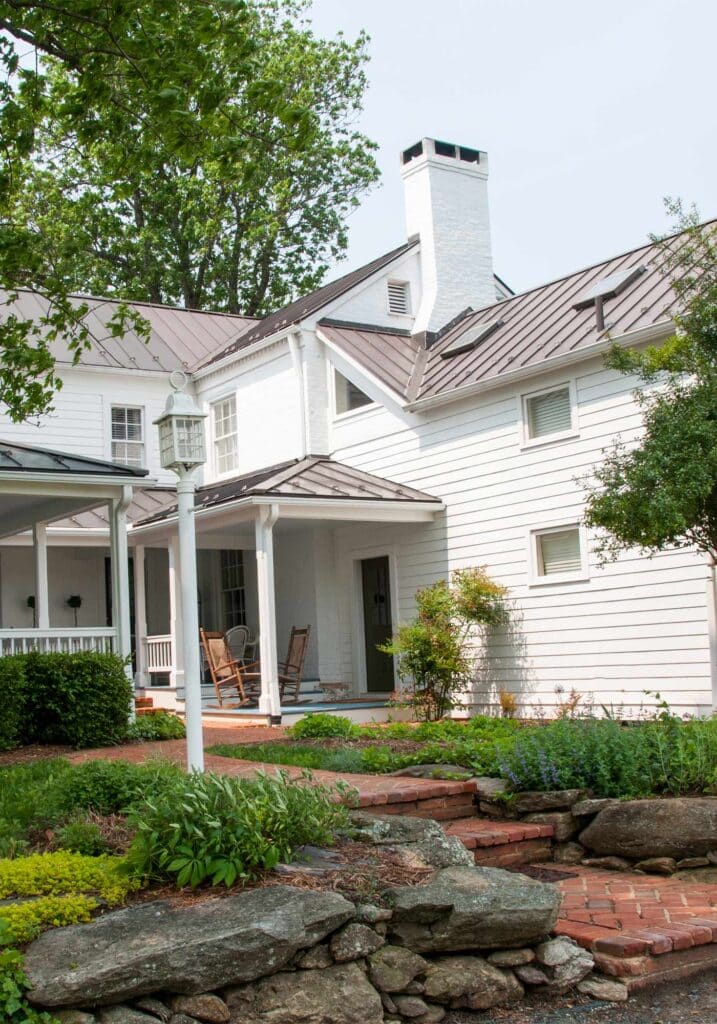 The Farmhouse at Veritas Vineyards
Only a little over 20 miles from Charlottesville, Veritas Vineyard & Winery in Afton has been growing grapes and crafting wines for over 20 years on 50 acres of land amongst the beautiful Blue Ridge Mountains. Come taste wines on the terrace and spend the night in their charming farmhouse with a four-course dinner paired with speciality wines.
Aside from the restaurant and tasting room, visitors, and their dogs on leashes, can enjoy a variety of wines on their terrace or in a special "pop-up" picnic area. Eight of Veritas's wines won silver awards in the Virginia Governor's Cup in 2020, and their Petit Verdot took home the Monticello Cup in 2018.
Stay at Veritas Vineyards near Charlottesville
For an overnight trip, Veritas Vineyard & Winery offers many wonderful accommodation options, including seven spacious rooms or a two-bedroom barn cottage. The rooms all offer king or queen beds and walk-in closets, flat screen televisions and wi-fi. The cottage is perfect for a small family wanting to get away, and it includes a kitchen, fireplace and complimentary wine hour and breakfast. All accommodations are decorated with a blend of traditional English and a modern American flair as the Hodson family hails from England originally. This is a wonderful choice for lodging at a vineyard in Virginia.
Fine Dining at Veritas Vineyards & Winery
For an elegant evening, guests can make a dinner reservation at the Farmhouse Restaurant, open Wednesdays through Sundays after 6:30 p.m. Executive Chef Daniel Zbeigen aims to create a simple, yet special, four-course menu with local, fresh ingredients that are each paired with one of their wines. The Farmhouse makes for a great date night with both cozy indoor and outdoor seating that overlooks the mountains.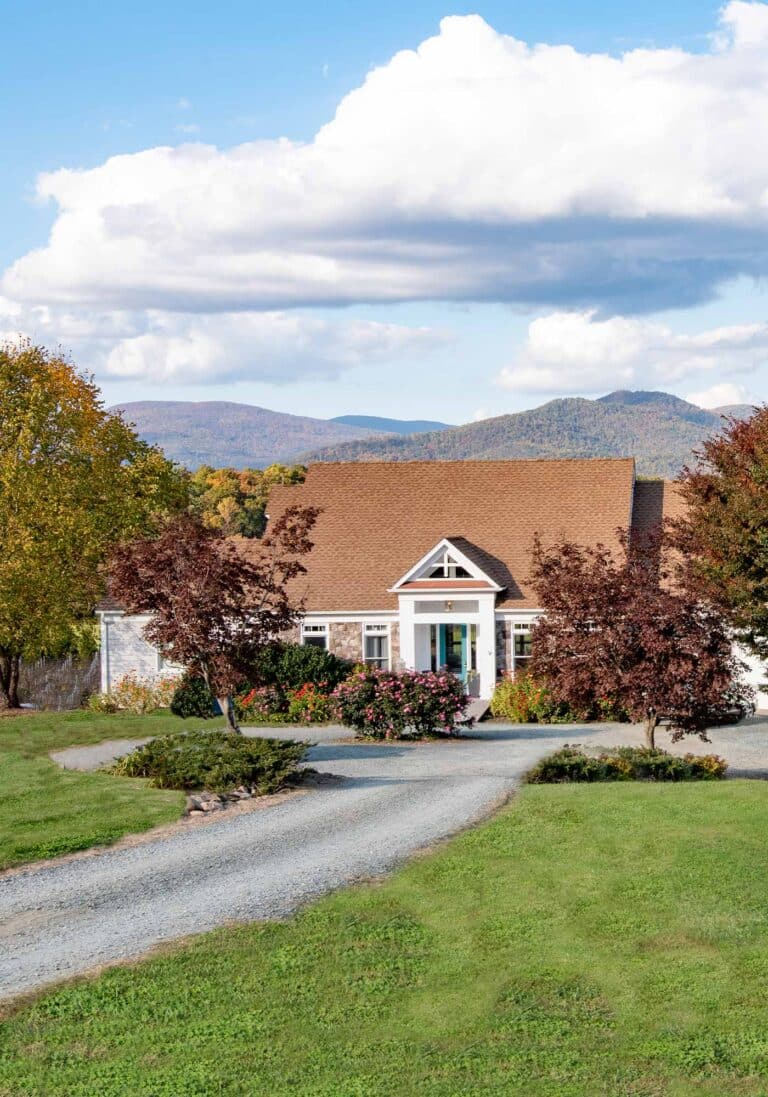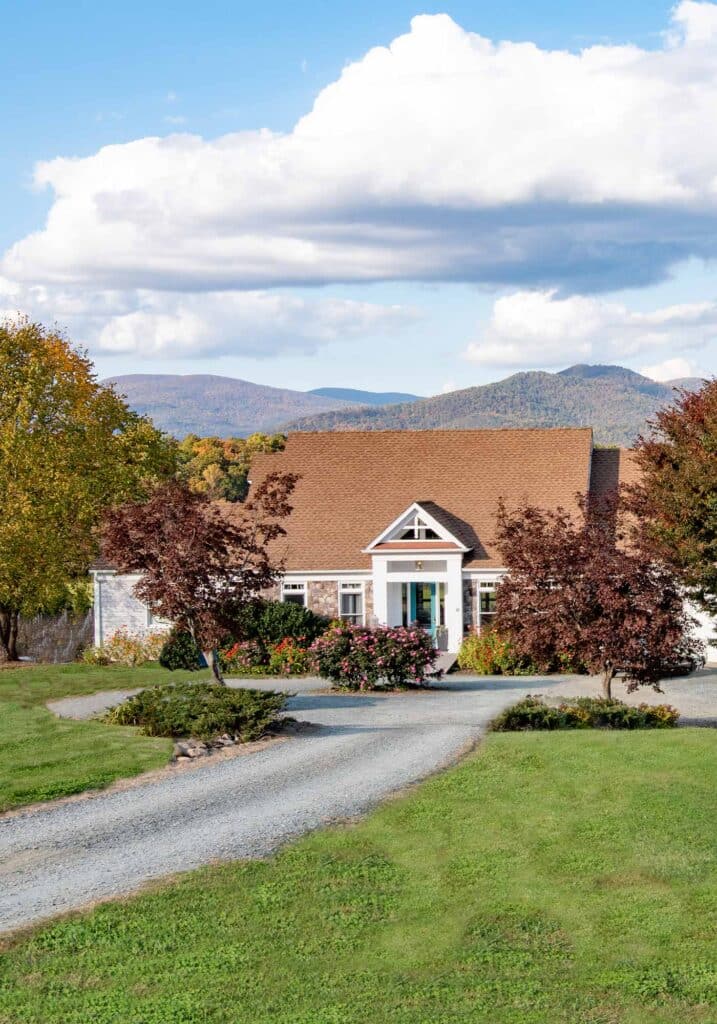 The Inn at Stinson Vineyards
Closest to Charlottesville is Stinson Vineyards, a small-batch winery with French influences. Stinson is home to seven acres of vines, a welcoming tasting room and a gorgeous inn where guests can enjoy a fresh, hot breakfast. The expansive 12-acre property that surrounds the Inn greets guests each morning with its quaint solitude and stunning panoramic views. On a warm day, overnight guests can also take a dip in the seasonal pool or sip a glass of wine on the wooden patio deck.
Although Stinson Vineyards does not have a full restaurant, those staying at the Inn can enjoy a freshly prepared breakfast after a good night's sleep in one of four beautiful rooms. The Inn at the vineyard offers three suites all designed for couples and one cottage-style room with an extra daybed. Each is updated with modern amenities and private baths. The Inn also offers mountain and vineyard views, as well as a common room with a large fireplace.
Stay at Stinson Vineyards near Charlottesville
The Inn at Stinson Vineyards is a beautiful winery with lodging. It features four distinct suites, each with its own unique charm and stylization. The Blush room offers a cozy couple experience. The Cottage room features is styled after a French countryside cottage. The Montview room embraces a more contemporary feel, while the Deluxe suite offers guests a luxurious experience with amenities such as an in-room fireplace, a private two-level deck and a king-sized bed. Guests also have the option to reserve the entire Inn for their stay and enjoy exclusive access to the property and its full kitchen, dining area, sitting rooms, pool and four individual rooms.
Fine Dining at Stinson Vineyards
Overnight guests at the vineyard are given the exclusive opportunity to dine at the Inn with either their formal Wine Cellar Dinner or their more casual Chef's Supper. The Wine Cellar Dinner offers overnight guests an intimate fine dining experience and features a seasonal four-course tasting menu accompanied by a carefully curated selection of Stinson Vineyard Wines. Alternatively, the Chef's Supper provides guests with a lighter dining experience that offers a variety of seasonal plates and Stinson Vineyards wine flights for guests to share.
In the tasting room, wine lovers can enjoy both bottle service and wine flights to taste many of the vineyard's European-style, subtle wines. The tasting room also doubles as a petit farm store, offering grass-fed beef, farm-raised pork and chicken, free-range organic eggs, local produce and garden fresh herbs. Stinson is also dog-friendly, so guests are welcome to bring their furry friends for the day.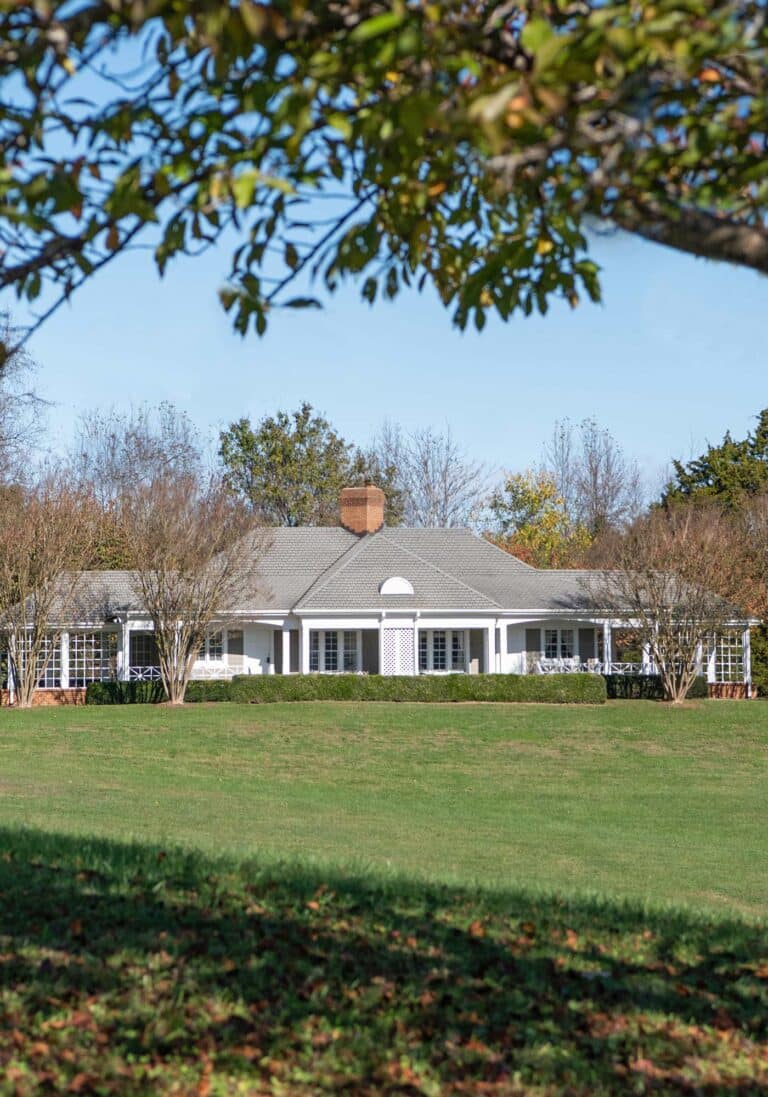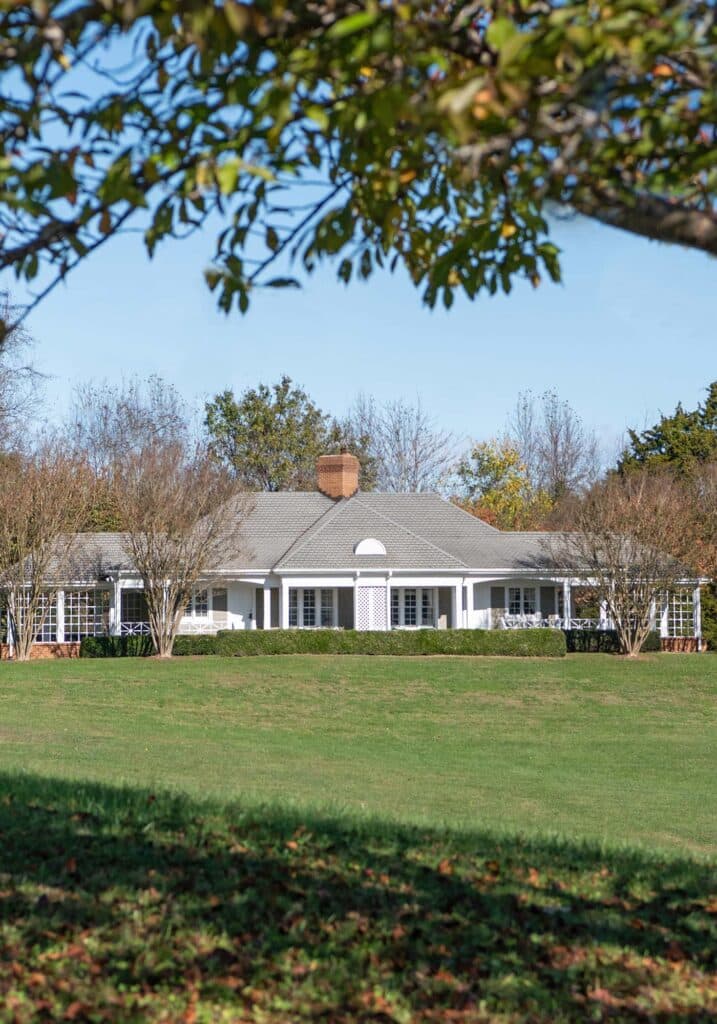 The Suites at Prince Michel Vineyard and Winery
Located in Leon, Virginia, Prince Michel sits in the heart of the Virginia Wine Country between the rolling foothills of the Blue Ridge Mountains. Home to both Prince Michel and Rapidan River Wines, Prince Michel offers guests a holistic experience with the opportunity to engage in wine tastings, private and self-guided tours, shopping, picnic patios and courtyards. The Vineyard is also home to the Tap 29 Brewery and Pub, which offers a selection of craft beers and a pub menu featuring classic pub foods.
Guests can choose to stay overnight at The Suites at Prince Michel, which are conveniently located on the main winery and vineyard property. The suites offer stunning views of the surrounding mountains and rolling hills. Four elegant one-bedroom suites at the winery are available for guests to rest and relax in.
Lodging at Prince Michel Vineyard & Winery
Each individual one-bedroom suite at this vineyard features a luxurious bath, romantic fireplace, galley kitchen and dazzling views from a private garden patio. The suites are uniquely styled and named to reflect different elements of the charming French countryside. Guests can elect to stay in either the blue and beige La Concorde, the green and gold Les Champs-Élysées, the tailored elegance of La Tour Eiffel or the rural charm of La Paris. Located just 200 yards from the vineyard's tasting room, The Suites at Prince Michel is one of the most comfortable places for people visiting Virginia vineyards to stay overnight.
Casual Dining at Prince Michel Vineyard & Winery
Besides offering a diversity of wines produced by both Prince Michel and Rapidan River, Prince Michel offers a limited menu of home-cooked food at the Tap 29 Brewery and Pub. The menu highlights pub classics, including soft pretzels, pizzas and a variety of sandwiches.
Inspired by the American spirit and the vast agricultural resources of the Piedmont region, Tap 29 emphasizes the use of unique, locally sourced ingredients. Local farmers provide Prince Michel with ingredients such as honey and barley. The Vineyard embraces the spirit of history and community in its techniques, providing guests with the finest local ingredients and resources.
More Central Virginia Wineries with Lodging
We hope you choose one of these vineyard places to stay for your next Virginia winery weekend getaway. We invite you to explore even more Virginia vineyards with lodging with this list below.
Afton Mountain Vineyards Cottages & Guest House (Afton)
Albemarle Estate at Trump Winery (Charlottesville)
Arcady Vineyard Bed and Breakfast (Charlottesville)
Burnley Vineyards (Barboursville)
Cardinal Point Winery (Afton)
Chisholm Vineyards at Adventure Farm (Earlysville)
Delfosse Vineyards & Winery (Faber)
Eastwood Farm and Winery (Charlottesville)
Glass House Winery Bed and Breakfast (Free Union)
Hardware Hills Vineyard (Scottsville)
Jefferson Vineyards (Charlottesville)
Meriwether Springs Vineyard & Brewery Bed and Breakfast (Charlottesville)
Mount Ida Farm & Vineyard (Charlottesville)
With so many wineries and vineyards in Virginia wine country, Charlottesville's surrounding areas are a must-visit for wine lovers and couples looking to get away and experience country living. We hope this list of Wineries with Lodging in Central Virginia inspires you. For even more vineyards to consider, see our Food & Drink page. And, for more Virginia travel ideas and inspiration, see our Experiences page. ~
JENNIFER BRYERTON is Co-Publisher and Editor-in-Chief of Wine & Country Life. She holds a masters degree, is a W-SET student and a member of Women of the Vine & Spirits. Bryerton is also an avid gardener, home cook and wine-taster. She enjoys learning about Virginia viticulture and sharing the stories of our local farm-to-table makers.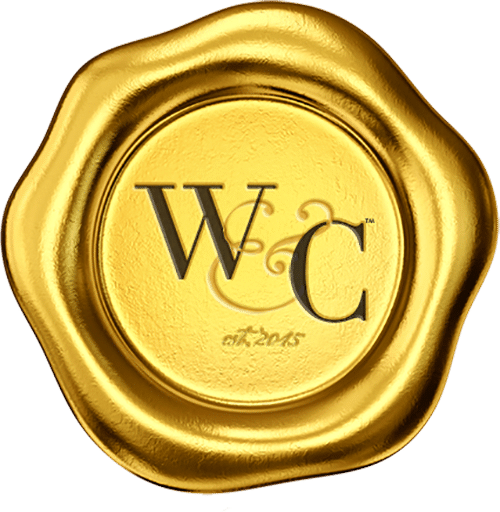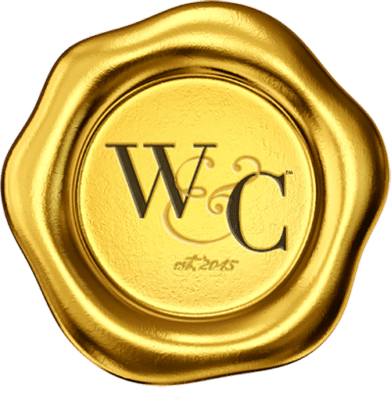 Virginia Wine & Country celebrates elevated living in Virginia Wine Country. Virginia Wine & Country Life is a semi-annual luxury print magazine with a full digital presence. The Virginia Wine & Country Gold Book is an annual guide to the top award-winning wines, wineries and experiences in Virginia Wine Country. The annual Virginia Wine & Country Wedding Planner is an art book of elegant Virginia weddings. The brand includes the Virginia Wine & Country Shop in Ivy, Va. It is a beautiful lifestyle boutique that brings the pages of the magazines to life. Virginia Wine & Country tells the stories of Virginia wineries, the farm-to-table movement, luxury travel, entertaining, art and the elegant country lifestyle. Ivy Life & Style Media also provides branding, web design and PR services for the wine industry.