In Virginia Wine Country, few places evoke more holiday charm than the historic town of Middleburg. Whether visiting for a day or a weekend, you are sure to get caught up in this quaint town steeped in history and centuries-old Virginia charm. Full of old stone buildings with red doors (like the historic Red Fox Inn & Tavern seen below, established in 1728), Middleburg is a fabulous place to do your holiday shopping. Its high-end restaurants, inns and boutiques all decked out in their holiday best make shopping a pleasure. This gem in the heart of Virginia hunt country makes the process of discovering that just-right gift for everyone on your list a joy and delight. You can also enjoy Christmas light displays, the annual parade, vineyards with cozy fireplaces and lots of small-town charm. To help you plan your visit, we've curated this guide to some of our favorite hot spots in Middleburg for the Holidays.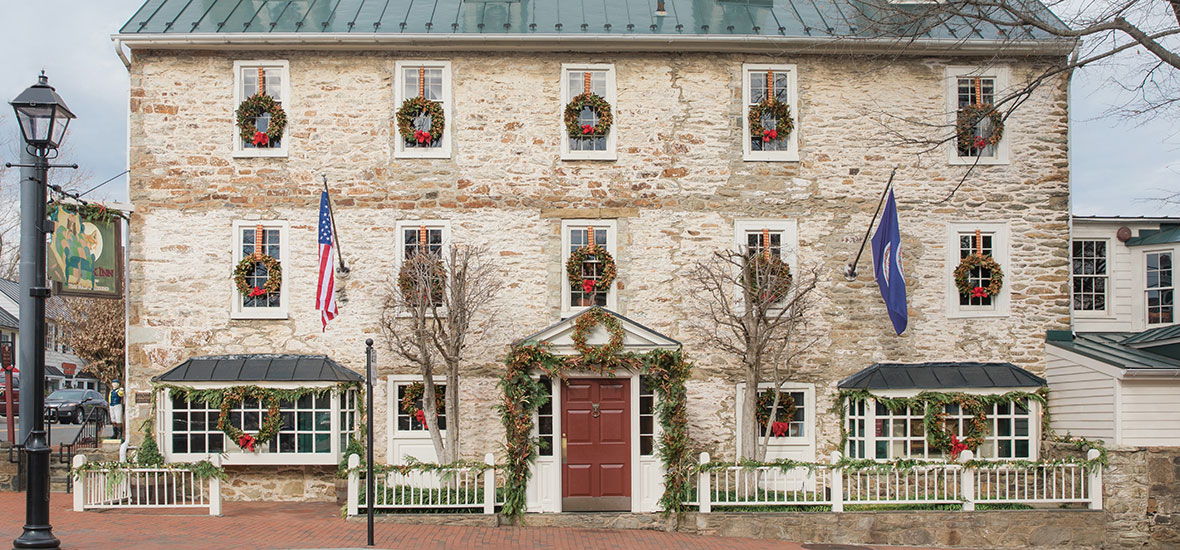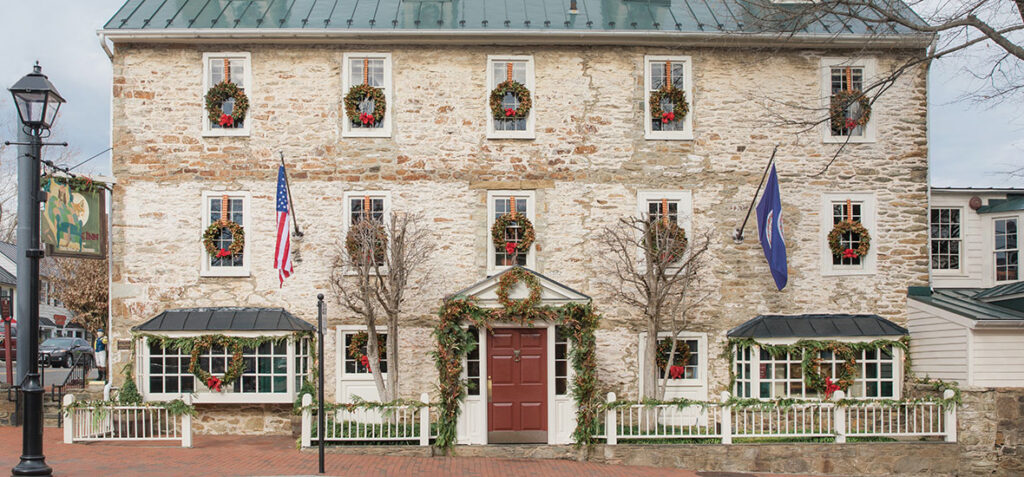 Where to Shop in Middleburg
Whether you come to shop for the day or come stay for weekend, the charm of Middleburg when shopping for the holidays is undeniable. You'll find something unique and fabulous for everyone on your list. Shops in Middleburg are filled with sophisticated collections from around the globe and offer everything from art, jewelry and apparel to home decor and more. There are a lot of fine antique shops here as well that make finding a one-of-a-kind gift a sure bet.
SHOPS NOT TO MISS NEAR MIDDLEBURG
We love the wonderfully curated collection at Baileywyck Antiques. This shop, housed in a converted firehouse, is nestled in the charming village of The Plains just a few minutes from Middleburg. Inside, you will find a highly-curated selection of gorgeous period furniture and home furnishings, including lighting, rugs, textiles, artifacts, accents, architectural pieces, tabletop items, distinctive gifts and an array of equestrian-themed art. The lovely shop is also next door to a few delightful local boutique restaurants.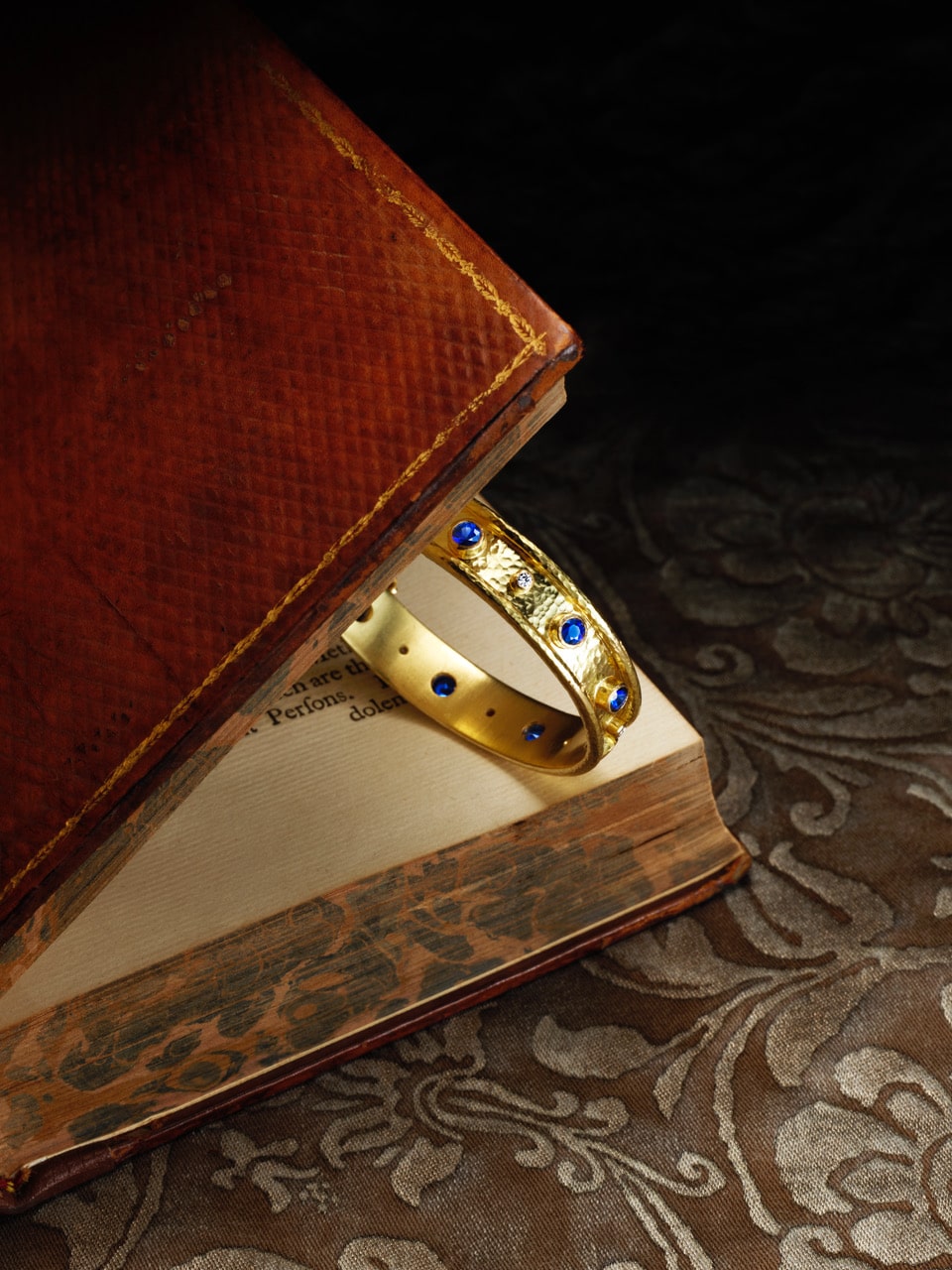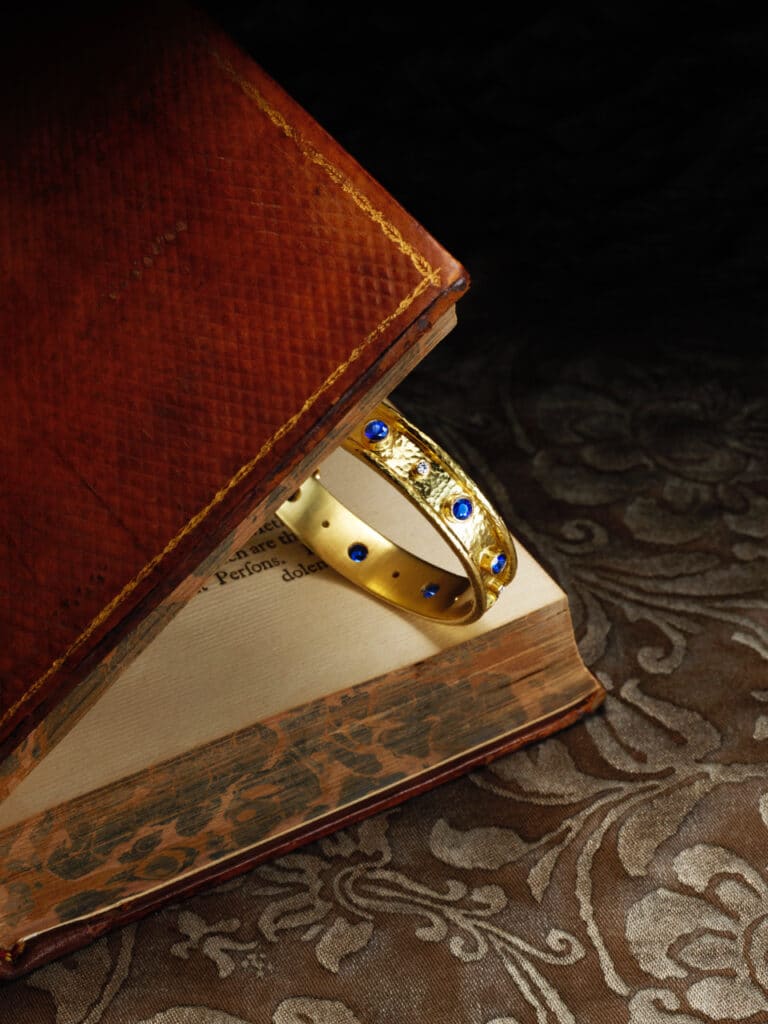 Located in nearby Boyce, The Other Elizabeth is the world headquarters of Elizabeth Locke Jewels. While her pieces are found in high end stores like Neiman Marcus and other fine shops, including her one on Madison Avenue in New York, this gorgeous boutique is housed in an historic 19th-century Virginia building which has been transformed into an Italian palazzo. The shop is the perfect place to showcase Locke's neoclassical jewels and is truly a treat to see. Open Saturdays and Sundays noon to 5, appointments are recommended.
If you want to spruce up your home décor or are looking for a statement piece of furniture for your home, look no further than The Paradise Antiques. This one-of-a-kind antique store mixes vintage collections sourced from all over the world with handcrafted upholstery and art for a truly inspired mix of old and new. Their elegant collection includes classic statuettes, a wide range of antique wall art, furniture, crystal chandeliers and much more. There is truly something unique for every taste at the Paradise.
Where to Dine in Middleburg
The Tavern at the Red Fox Inn offers a very cozy ambiance reminiscent of a Charles Dickens novel that makes it an ideal location to relax and enjoy a delicious meal after a day of holiday shopping either in the casual bar and cafe or the fine dining restaurant. Both Salamander Resort and Goodstone Inn also offer award-winning dining options nearby for a special holiday dinner.
In the center of town the King Street Oyster Bar is a favorite with Middleburg residents, with its dedication to offering 10+ varieties of the freshest U.S. oysters, which are served within 24 to 48 hours of being caught. They also serve the self-proclaimed best Sunday brunch in Middleburg, making them an ideal choice on your weekend trip.
For a quick pick-me-up while you're out shopping, Middleburg has some lovely cafes. A few local favorites are Middleburg Common Grounds, Market Salamander and Cuppa Giddy Up. Serving sandwiches, as well as a wide range of coffee drinks and select beer and wine, they will help keep you fueled and ready to keep taking in all the sites. In nearby Millwood, the Locke Store & Buttery offer a combination restaurant and charming country store with ready-made sandwiches, hot dishes and picnic accoutrements for the perfect meal on the go.
Holiday Events in Middleburg
One of the most popular events during the holidays is the beloved Middleburg Christmas Parade. This parade features horses, hounds, ponies, llamas and more and typically attracts thousands of visitors, so be sure to plan your visit accordingly and early if you'd like to attend.
Beyond the parade, there are still plenty of festive ways to celebrate the Spirit of Christmas in Middleburg throughout the holiday season. The annual tree lighting marks the beginning of a festive season that will include horse-drawn carriage rides, Santa experiences and wine-paired meals, as well as plays, concerts, gallery exhibits and more. Visitors can also join Middleburg for the ultimate Charles Dickens Christmas Experience with special Dickens-themed events such as the Dickens of a Dog Show, the Run Like the Dickens 5k two live outdoor performances of "A Christmas Carol," and much more.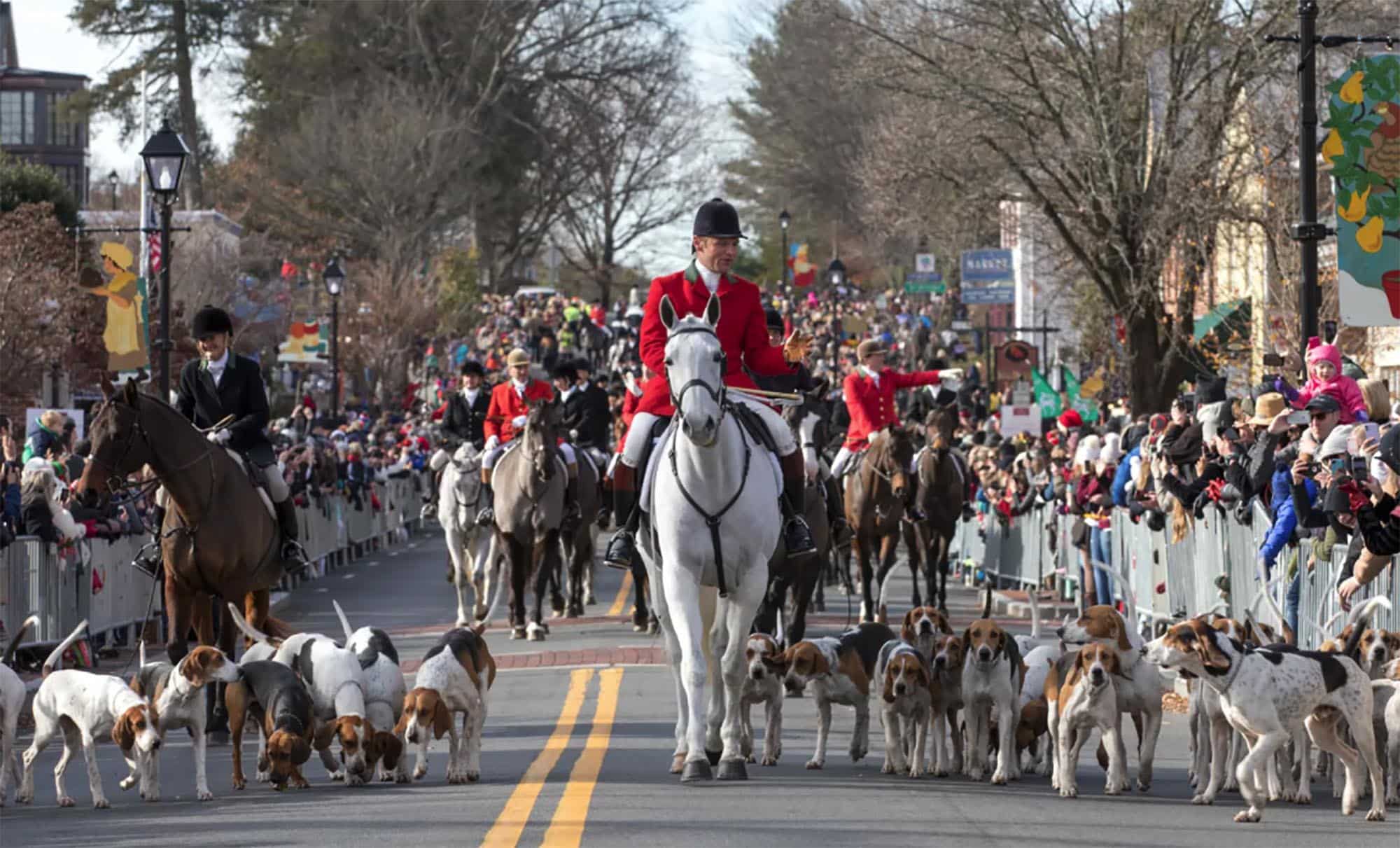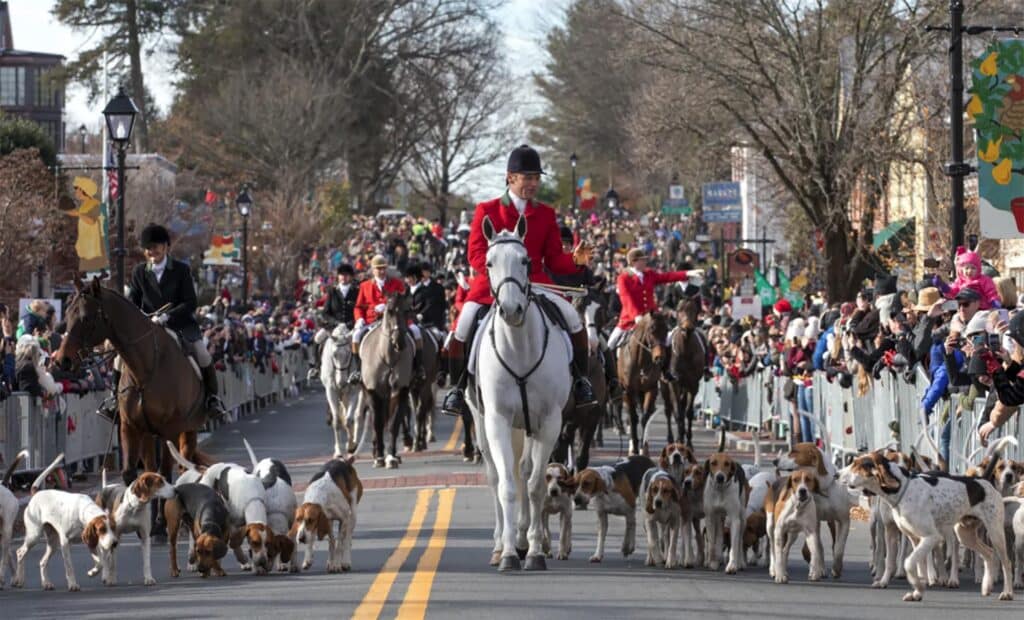 Holiday Lodging in Middleburg
When planning a weekend getaway to Middleburg, the first step is to reserve your hotel room. For a true step back into old world luxury, there is no better place than the historic and festive Red Fox Inn & Tavern. Located in the heart of the village, it is an ideal home base for your trip. Check their website to discover special holiday meals, events and packages.
Just a short drive away is the world-renowned Salamander Resort and Spa led by the incomparable entrepreneur Sheila Johnson. This 340-acre equestrian resort is the only five-star luxury resort in the Washington, D.C. area. Designed to provide its guests with an unparalleled Virginia holiday experience. Seasonal events include brunch with Santa, a festive game of elf on the shelf and a four-course Christmas feast featuring traditional holiday dishes.
A little further afield, the Goodstone Inn is a romantic boutique hotel offering a variety of private cottages and luxury accommodations for when you want to experience an idyllic getaway for the holidays. The Inn sits on 265 acres of private, peaceful land tucked away in Virginia wine country. Guests have the option of staying in one of 18 guest rooms spread across six historic cottages and houses. Each room features charming European décor, luxurious linens and king-sized beds. The hotel is built on the values of sustainability and farm-to-table living, featuring an animal farm, fresh gardens and an apiary on property. The Conservatory at Goodstone Inn offers fine dining for guests and visitors alike, with a special focus on seasonal ingredients sourced on-grounds.
Holidays in the Vineyards
Visiting vineyards in Virginia wine country over the holiday season is its own experience. Not only can you grab a bottle of your favorite wine to gift to someone special, you can enjoy special events and tastings and enjoy cozying up with a loved one near a festively-decorated fireplace. In and near to Middleburg you can enjoy tastings at Boxwood Estate Winery, Cana Vineyards, Chrysalis Vineyards or at the nearby RdV. A short drive away, Bluemont Vineyard is offering the chance to enjoy their magical hillside of vines decorated in twinkling lights, creating an ethereal experience. They also offer a wine and chocolate pairing event in January.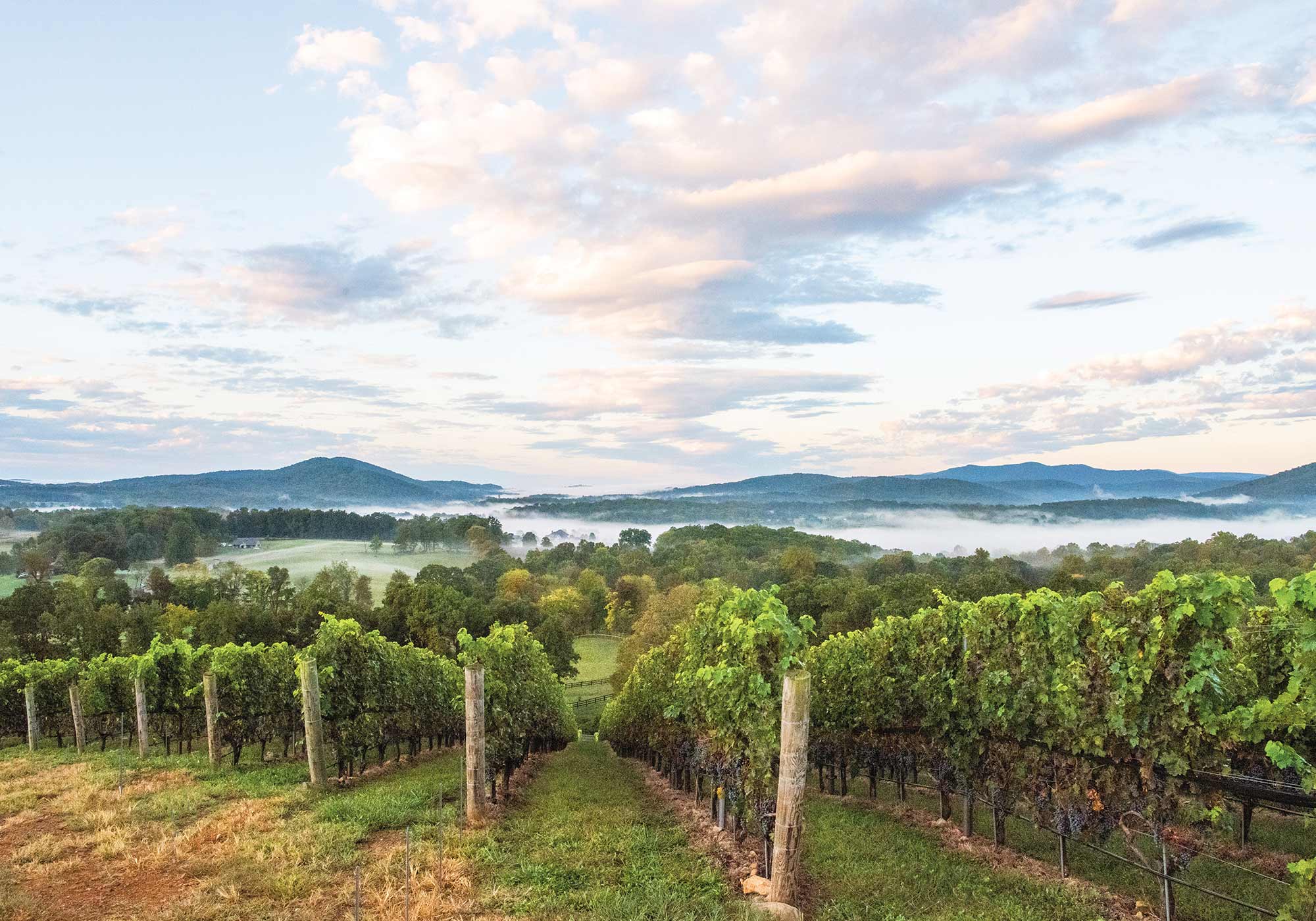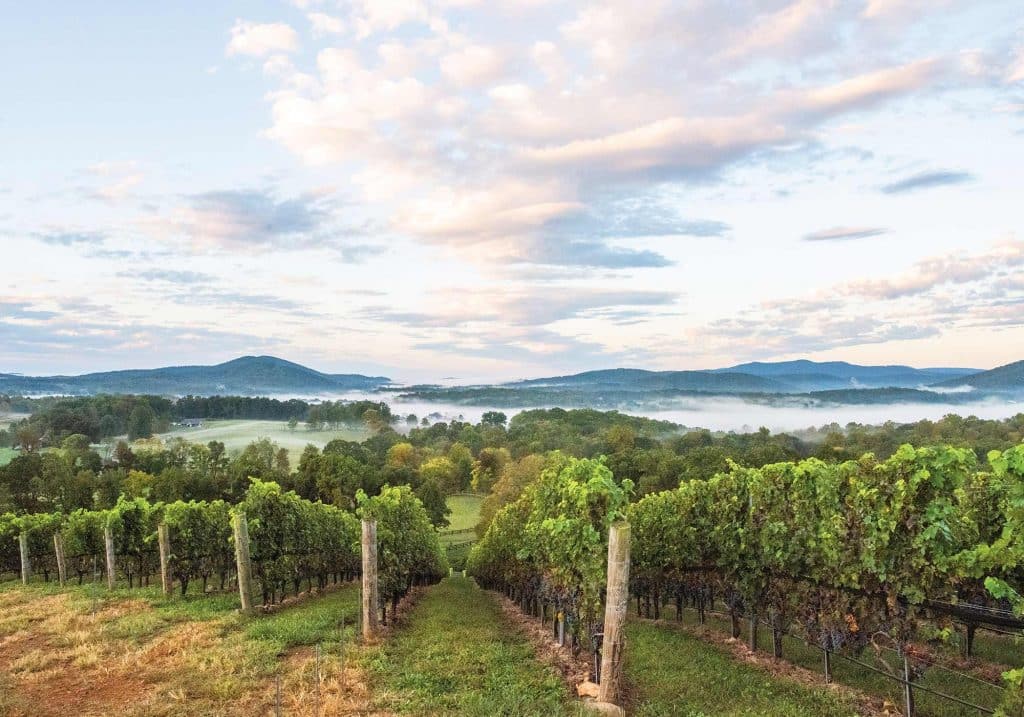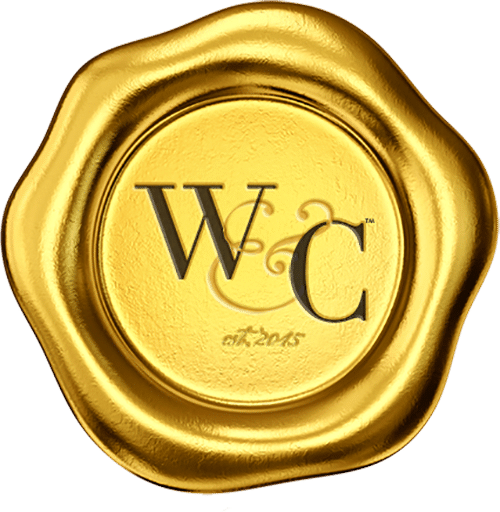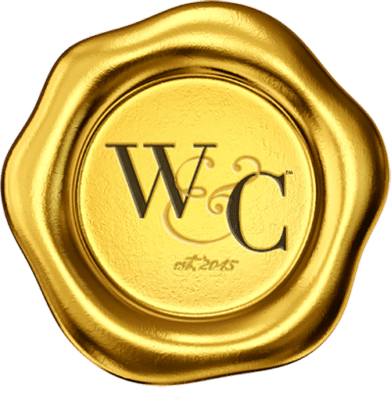 Virginia Wine & Country celebrates elevated living in Virginia Wine Country. Virginia Wine & Country Life is a semi-annual luxury print magazine with a full digital presence. The Virginia Wine & Country Gold Book is an annual guide to the top award-winning wines, wineries and experiences in Virginia Wine Country. The annual Virginia Wine & Country Wedding Planner is an art book of elegant Virginia weddings. The brand includes the Virginia Wine & Country Shop in Ivy, Va. It is a beautiful lifestyle boutique that brings the pages of the magazines to life. Virginia Wine & Country tells the stories of Virginia wineries, the farm-to-table movement, luxury travel, entertaining, art and the elegant country lifestyle. Ivy Life & Style Media also provides branding, web design and PR services for the wine industry.