In July of 2022, leading Shenandoah Valley wineries hosted a 24-hour tour for regional wine experts and industry leaders. The tour focused on Virginia travel and Shenandoah Valley vineyards. Wine bloggers, magazine editors, and writers from around the state and further afield participated.
Notable attendees included Drs. Paul and Joy Ting.
Dr. Joy Ting
is the Research Oenologist and Exchange Coordinator at the
Virginia Winemakers Research Exchange
. This is a groundbreaking research project of winemaking in Virginia. Her husband, anesthesiologist
Dr. Paul Ting
, is a noted wine connoisseur. He often joins her on judging panels for Virginia wine awards.
Joining them were
Paul Armstrong
and
Warren Richard
, creators of the popular
"
Virginia Wine Time
"
blog
.
Other notable wine participants included
Kathy Wiedemann
of
"
Vinous Musings
"
and acclaimed wine writer
Frank Morgan
of
"
Drink What You Like.
"
Eileen Mellon
, the food editor for
Richmond Magazine;
Kelly MacConomy
, the arts editor for Alexandria's
Zebra
newsletter;
Jennifer Stoltz
of
Wine & Country Life
; and
Constance Costas
, the editor-in-chief of
Virginia Living
also participated
.
Richard Leahy
, Virginia wine expert, and
Patrick Evans-Hylton
,
an award-winning food journalist, food educator and radio show host were also among the luminaries who enjoyed the tours of a Shenadoah winery
.
Touring Shenandoah Valley Wineries
These top industry professionals came together for a tour of three notable Shenandoah wineries
. Winemakers led panels about grape varietals and stylistic wines of the region.
Muse Vineyards
in Woodstock,
Brix & Columns Vineyards
and
Bluestone Vineyard
(both in Harrisonburg) hosted events for the two-day program
.
Vicki Ruckman
of
The Virginia Farmhouse
organized the press event. Harrisonburg's
Hotel Madison
provided accommodation.
Award-winning chef
Tassie Pippert
showcased her talent for
pairing local cuisine
with Shenandoah Valley terroir
. Other Shenandoah Valley Vineyard owners and winemakers attended to engage in panel discussions.
They also poured their wines and shared their expertise on what makes the Valley's growing conditions unique
.
Other Shenandoah Valley vineyard leaders include
Rockbridge Vineyard & Brewery
,
Barren Ridge Vineyards
,
Briedé Family Vineyards
,
Shenandoah Vineyards
and
The Winery at Kindred Pointe
.
Representatives of these vineyards joined the panels and tastings. They discussed the challenges and successes they face in their own winemaking processes.
Winemakers Robert Muse of Muse Vineyards, Mike Heny of Shenandoah Vineyards and Bruce Helsley of Winery at Kindred Pointe led a panel
.
They discussed the merits of Petit Verdot and Cabernet Franc over Cabernet Sauvignon as the future basis of reds in the Shenandoah American Viticultural Area
.
Barren Ridge Vineyards' winemaker Jessi Gatewood joined Lee Hartman of Bluestone Vineyard and owner Jane Rouse of Rockbridge Vineyard & Brewery for a panel discussion about local dessert wines
. All the Shenandoah Valley wineries poured award-winning vintages. The winemakers in the Shenandoah Valley are thoughtful in how they are adapting to changes in climate and the wine industry.
Shenandoah Valley Viticulture
The tranquil Shenandoah Valley has long been a favorite weekend getaway for Washingtonians. Located just 75 miles west of the nation's capital, the Shenandoah Valley stretches more than 200 miles from Winchester to Lexington. DC's Beltway insiders know that the fertile valley has its own tantalizing treasures. These include many excellent vineyards and local attractions well worth exploring.
The Valley is the oldest and largest American Viticultural Area in Virginia. Because of a shorter growing season and cold-hardiness, hybrid grapes are more common here than in other Virginia AVAs. Some wineries cultivate hybrids and vinifera (European) grapes; others only grow vinifera. The variety of types and wines is astounding.
Richard Leahy, a Virginia wine expert, is the author of the definitive book on Virginia wine, Beyond Jefferson's Vines: the Evolution of Quality Wine in Virginia. The book is now in its third edition on Amazon.
"Because the Valley is west of the Blue Ridge Mountains, it is both cooler and drier, allowing rot-sensitive grapes like Pinot Noir and Riesling to be grown successfully there," Leahy notes. "In general, the Valley has limestone soils or well-drained shale soils. These are good for water drainage, which grapevines require, but the soil also has a higher pH than the Piedmont's acidic clay soils. This increases the bioavailability of nutrients to the vine. Furthermore, the majority of France has limestone soils.
Popular Shenandoah Valley Varietals
The Valley's cooler temperatures produce wines with brighter freshness and lower alcohol levels than comparable wines from the same grapes east of the Blue Ridge. This gives Valley wines a refreshing character, whether red, white, vinifera, or hybrid."
"The Valley's cooler temperatures give Valley wines a refreshing character, whether red, white, vinifera, or hybrid."
Thirty years ago, the Valley's hybrid grapes were mostly whites, such as Vidal and Seyval. Now there are hybrids like Arandell (red), Traminette (white, originally developed at Cornell University in New York), and La Crescent (a white variety from the University of Minnesota).
Riesling, Chardonnay, Cabernet Franc, Pinot Noir and Blaufränkisch/ Lemberger are cool-climate vinifera classics. Briedé Vineyards makes Arandell (a new hybrid) and Tannat, which ripens in the cold Valley. Muse Vineyards only grows vinifera, but this does not limit their harvest. Their grapes range from Merlot, Cabernets, Petit Verdot, and Malbec to Rhone types Grenache, Mourvedre, Marsanne, Roussanne, and Nebbiolo. These grapes all perform well in the Shenandoah Valley and showcase the range of Shenandoah Valley terroir.
Rockbridge Vineyard & Winery, Bluestone, Cross Keys, and Barren Ridge have a long history of producing quality wines, according to Leahy. Newcomers to the category include Muse, Cave Ridge, and Michael Shaps' Shenandoah Vineyards.
Visiting Brix & Columns Vineyards, A Shenandoah Valley Winery
Brix & Columns Vineyards is located in Harrisonburg, just 15 minutes from the historic downtown and less than 10 minutes from Massanutten Village for visiting vacationers. For the Shenandoah Valley Media Tour, Brix & Columns Vineyards hosted a four-course dinner by chef Tassie Pippert, paired with wines from Barren Ridge Vineyards, Bluestone Vineyard, The Winery at Kindred Pointe and Brix & Columns Vineyards.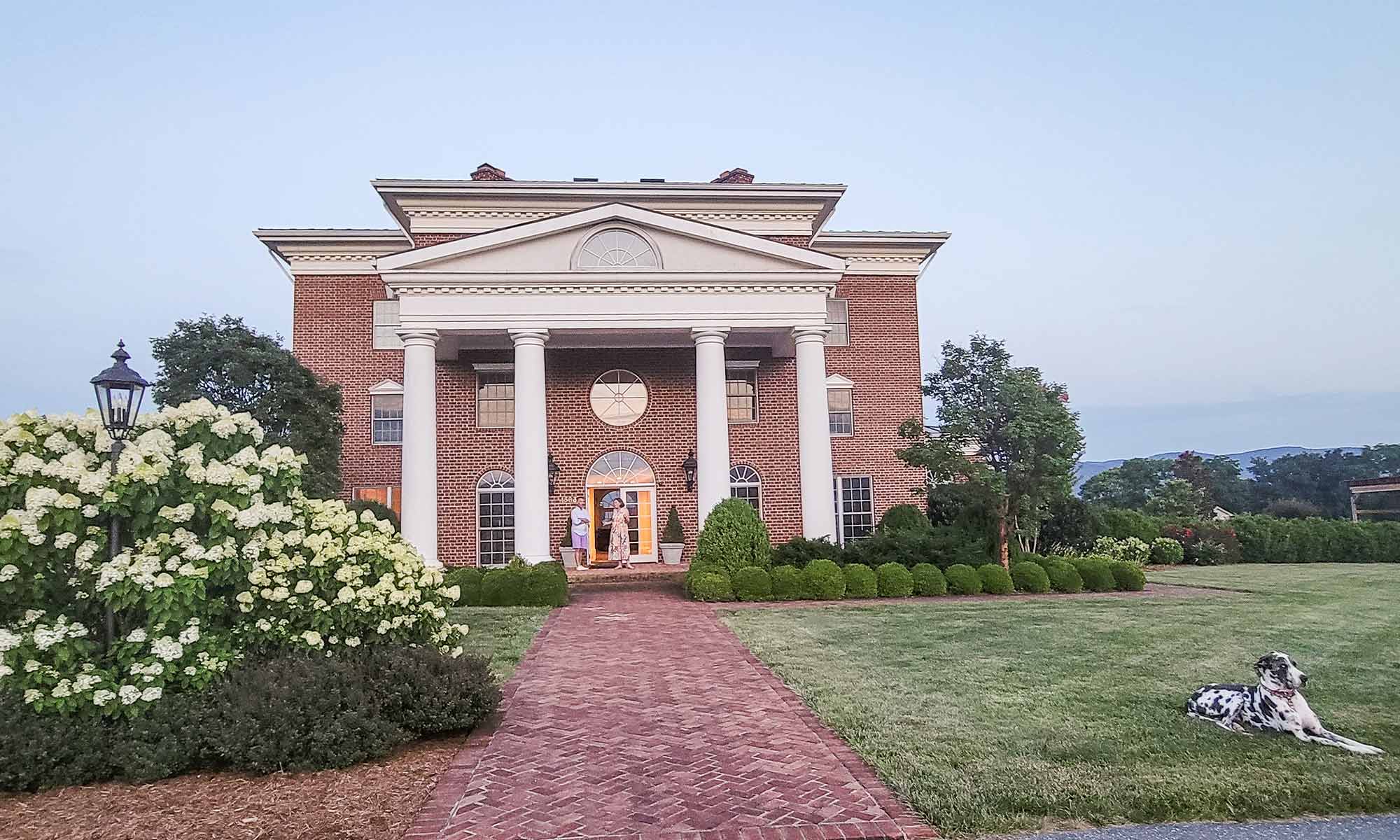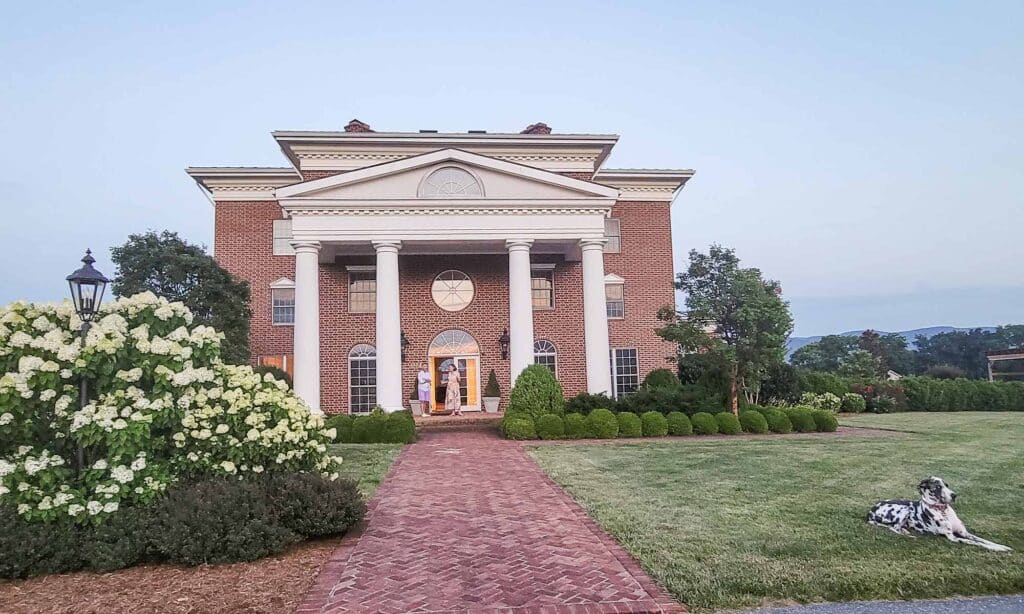 One of the Valley's newest wineries, Brix & Columns planted their first vines in 2016. They opened their beautiful tasting room in 2017. Michael Shaps of VA Wineworks is in charge of production, collaborating with owners Steve and Stephanie Pence. Besides their own grapes, they are currently growing seven varietals: Cabernet Franc, Chambourcin, Chardonnay, Petit Manseng, Petit Verdot, Vidal, and Viognier. Brix & Columns won a gold medal in the 2022 Virginia Governor's Cup competition for its 2020 White Brix. This is a blend made primarily of Vidal Blanc grapes. They also won 11 silver medals for both red and white wines, including vintage Cabernet Francs and Chardonnays from 2019 and 2020. These Shenandoah Valley wines are not to be missed.
The Owners of Brix & Columns Vineyards
Steve and Stephanie of Brix & Columns Vineyards grew up on farms. Steve helped his grandparents with the family farm and Stephanie raised and rode horses. The couple treasured their childhood memories and wanted to provide a similar foundation for their own children. They purchased the 160-acre farm with mountain views just miles from their childhood homes in 2003.
While living in Charlottesville, the Pences fell in love with Jeffersonian architecture. They designed their new home in a similar style, with grand columns reminiscent of Monticello. This look eventually inspired their winery's name. Stephanie brought her horses and began boarding some locals. Steve purchased a herd of Black Angus cattle and began growing alfalfa for baling. When a local vineyard approached them about leasing some of their land to grow grapes, the Pences decided to take viticulture classes.
During the cooler months, visitors can enjoy wine flights or wine by the glass or bottle. An outdoor fireplace as well as several fire pits provide warmth. The winery also frequently hosts live music and special events such as Yoga & Wine.
The History of Bluestone Vineyard
Bluestone Vineyard is named after the type of limestone that makes the terroir unique. Along with the climate, the stone allows great European wine grapes to grow among the rolling hills. Bluestone is in the center of the Shenandoah Valley, less than 10 miles from Harrisonburg. The family-owned and operated winery planted its first vines in 2008. They specialize in producing small-batch wines from estate-grown and locally sourced grapes. The media tour panels held at Bluestone Vineyard included a morning session about dessert-style wines, showcasing Barren Ridge Vineyards and Rockbridge Vineyard & Brewery alongside Bluestone. Rockbridge's owner Shepherd Rouse, the Virginia Vineyards Association's 2022 Grower of the Year, served on the panel. A second tasting in the afternoon focused on red wines and showcased Muse Vineyards, Shenandoah Vineyards and The Winery at Kindred Pointe. These Shenandoah Valley wines were much appreciated by guests.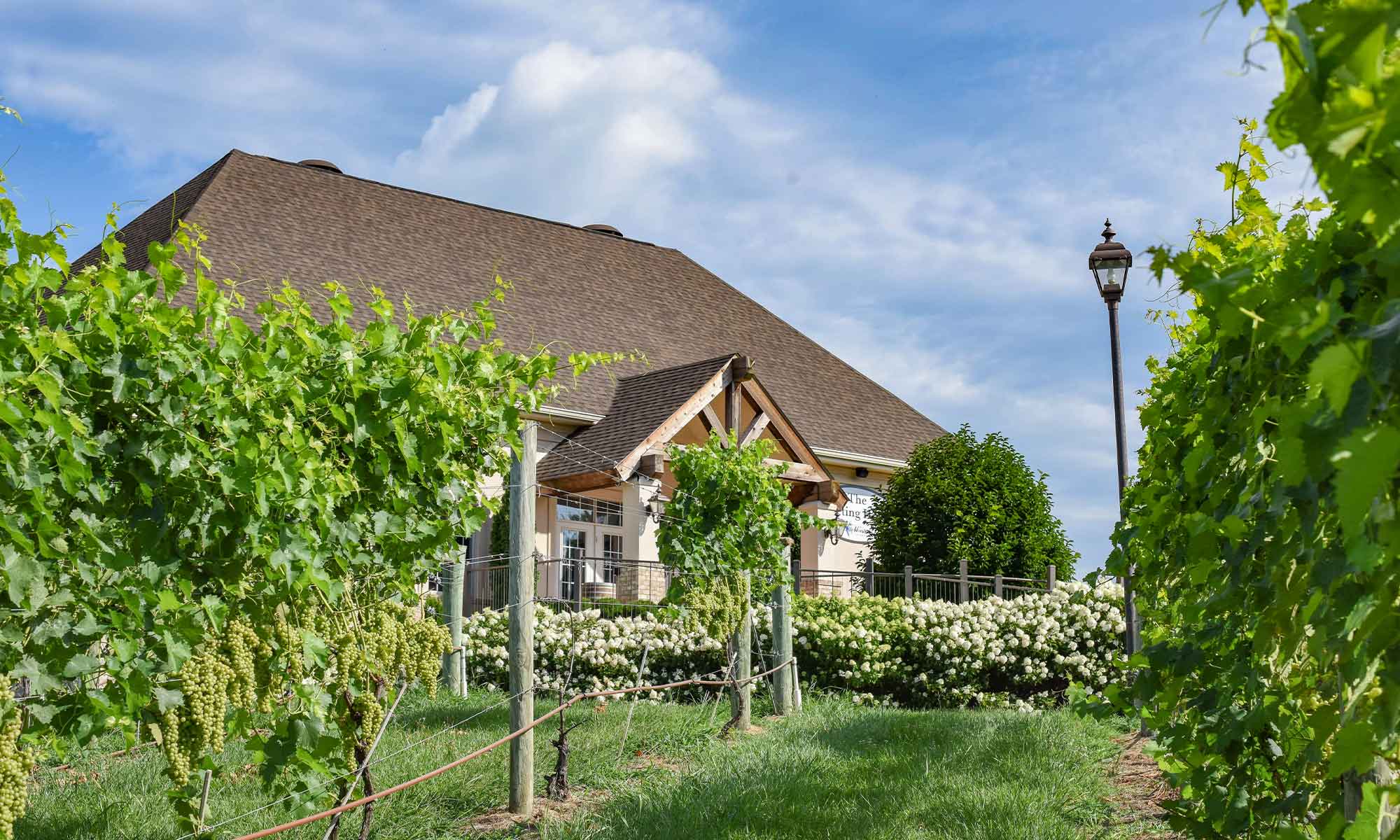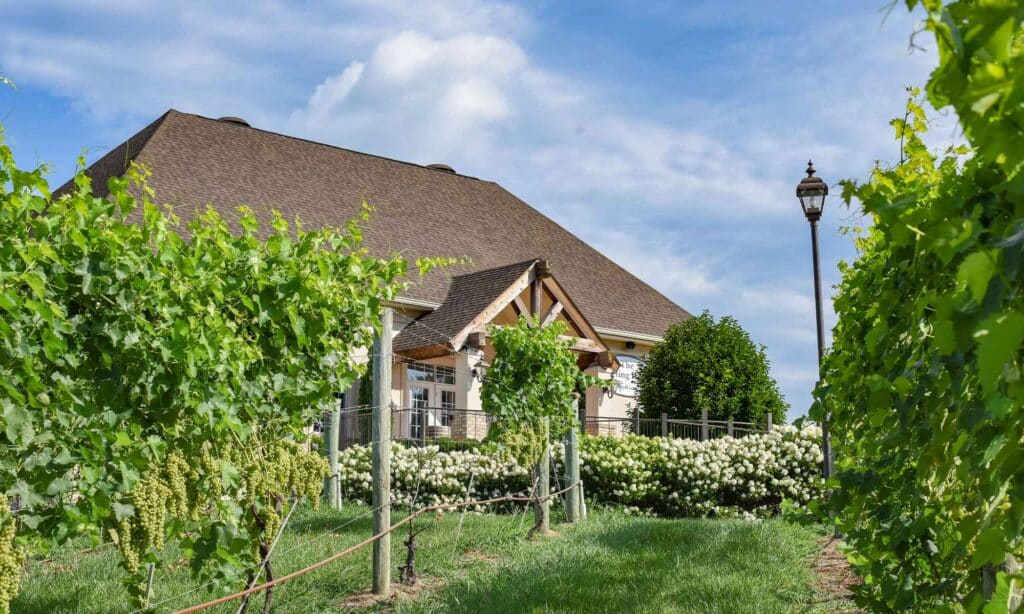 Curt and Jackie Hartman had no intention of starting a winery. They had lived on the hill above Jordan Stretch west of Bridgewater since 1995. In 2003, with the help of their friends, Phil and Lois Kreider of Misty Ray Winery, they planted some grapes on the hill to make wine for their own personal use. Four years later, they decided to turn their hobby into a business. They consulted with Virginia Tech researchers on how to lay out the vineyard and which grapes to plant.
Visiting Bluestone in the Shenandoah Valley
Curt and Jackie's son, Lee, and Ben Geiser planted 4,000 red grape vines on the south side of the hill in 2008. They put in another 4,000 white grape vines on the north and east sides of the hill in the winter of 2009. The winery was constructed in 2010, and the tasting room debuted in 2011. Lee Hartman's Blue Ice dessert wine made from frozen Traminette won a gold medal in the Governor's Cup in its first year. The following year, he won another gold medal with his 2010 Cabernet Sauvignon, which also debuted in the inaugural Governor's Case. The 2010 Cabernet Sauvignon was also named one of Saveur magazine's "37 Great American Wines."
Bluestone Vineyard Wines
Lee Hartman is now the General Manager and head winemaker at the estate. His specialty is producing award-winning Bordeaux-style wines. Bluestone won gold medals in the 2022 Virginia Governor's Cup for their 2017 Cabernet Franc, 2017 Valley Red, and 2017 Blue Ice.
RC, Curt and Jackie's other son, is the Operations Manager, IT expert and number cruncher. Curt is the President and is passionate about producing the best Cabernet Sauvignon possible. As Vice President, Jackie assists with everything from bottling wine and mowing the vineyard to ordering gifts for the tasting room.
The Tasting Room at Bluestone Vineyards is on the lower level of the Meeting House. It sits atop a hill overlooking the winery at its feet and the rolling Allegheny Mountains. For year-round enjoyment, the expansive patio area includes outdoor heaters, a fireplace and two firepits. They sell wine by the bottle or in flights of 50 ml bottles, with a few options by the glass and growlers for takeout purchases. After purchasing a growler, you only pay for a refill from the rotating wines on tap. Join the Press Club to get exclusive discounts, invitations to members-only tastings and parties, and free tickets to special events like Toast the Weekend.
Visitors can also enjoy the winery's events, such as the summer concert series Toast the Weekend and the monthly Wine Amongst Friends gathering hosted by special guest winemakers.
Visiting Muse Vineyards in the Shenandoah Valley
Robert Muse and Sally Cowal bought the property as a derelict vineyard in 2003 and dedicated themselves to restoring it. Their first expansion was to buy the 200-year-old adjoining Mennonite farm. Muse Vineyards acreage under vine is split into sections. During the tour of the property, Muse's tasting room hosted a panel on sparkling wines, serving one of their own Chardonnay vintages alongside a one by Bluestone Vineyard and a Cayuga by Briedé Family Vineyards.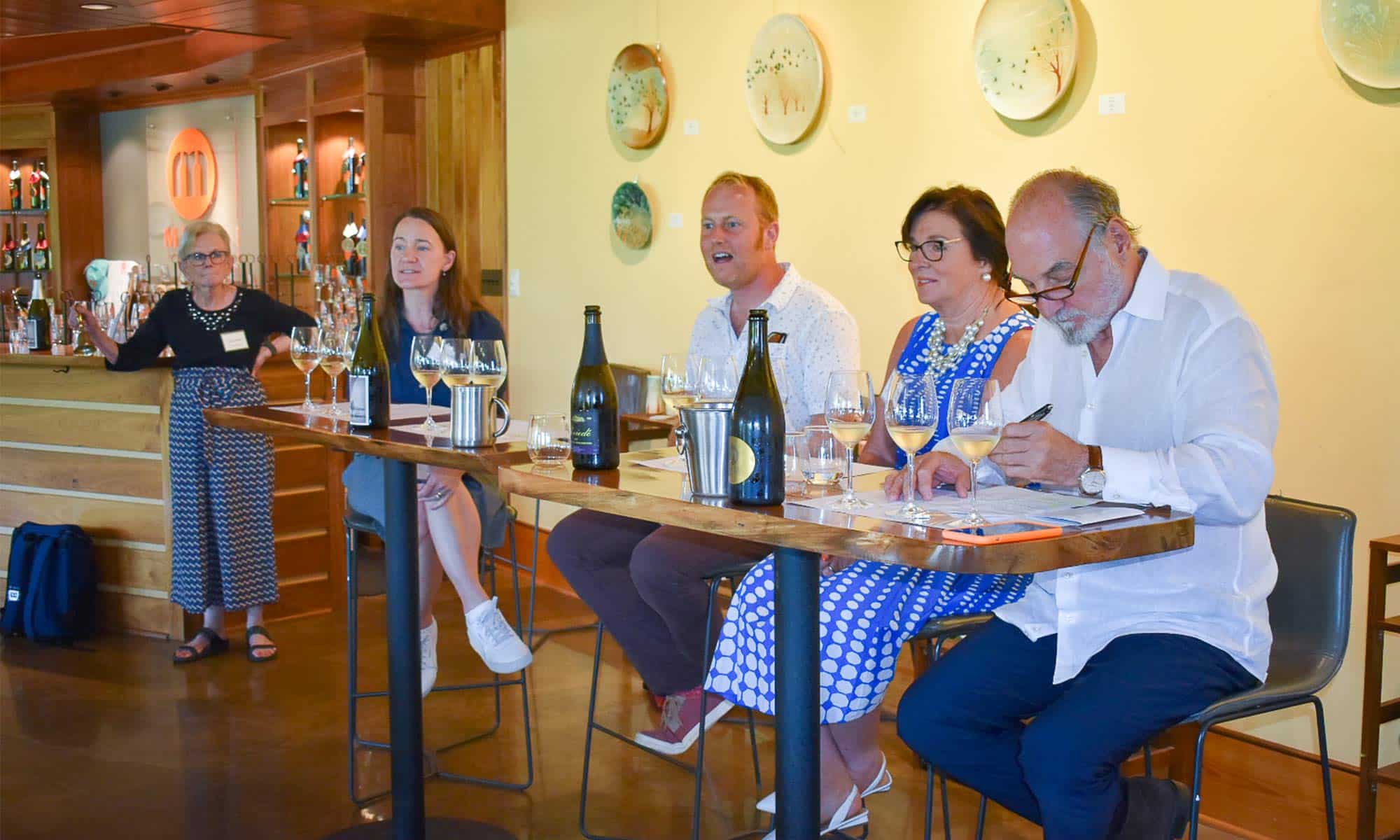 The top vineyard is located above the Shenandoah river, resting on a shelf cut into the earth by the river in a bygone era. The river itself currently flows a hundred feet below that terrace. Their lower vineyard is planted in the riverbank's sandstone and shale silt. The top vineyard sits in loose, crystalline loam and red clay, which allows for excellent drainage. Between, next to Muse's tasting room, they planted a third vineyard on a steep shale incline where several of their white grape varieties thrive. Muse has twenty different varietals of grapes planted throughout the property. This gives the vineyard an excellent sampler to choose from when blending their wines.
The Inspiration of Muse Vineyards
Muse trained as an international lawyer. Cowal, a former US Ambassador, is the Senior Vice President of Global Cancer Control at the American Cancer Society. The couple are as serious about their wine as they have been about their careers. They run their family vineyard in the style of artisan vineyards in Europe, focusing on European grapes and practicing what they call "minimalist viticulture." They keep their acres as sustainable as possible. They use minimal chemical pesticides and perform as many tasks as possible by hand as opposed to heavy machinery. Their approach to winemaking is equally clean. They eschew additives and adulterations in favor of allowing the grapes to showcase their individual flavor profiles.
Muse Vineyards won the Virginia Governor's Cup in 2015 with their 2009 Clio. This wine is a Bordeaux-style blend that maintains its excellence regardless of the vintage. The 2017 Clio also won a gold in the 2021 Governor's Cup, and the 2013 Clio took a double gold in the 2018 San Francisco International Wine Competition.
Shenandoah Valley: a Destination for Food Lovers
The Shenandoah Valley has a rich agricultural history and has long been a top producer of dairy, beef, apples, poultry, nursery plants and more. Being so connected to the land and farming it is little surprise it is easy to find local foods being served in restaurants from casual to formal and at wonderful country inns too. Culinary visitors to the Valley will enjoy the Cyrus McCormick Farm, which is home to the first mechanical reaper, as well as the goat dairy at Razzbourne Farms. Gardeners will enjoy the family-owned Milmont Greenhouse. The water-powered Wades Mill, which is on the National Register of Historic Places, has a unique gift shop. They sell stone-ground flours made on site and local crafts. 
The town of Harrisonburg sports two universities and a 10-block historic downtown filled with locally owned restaurants, shops, galleries and the Harrisonburg Farmer's Market. If you enjoy markets, the Dayton Farmer's Market is only two miles west. Dayton has a sizable Mennonite population, so expect to see horse-drawn buggies on the road. The market sells handmade crafts, homemade baked goods and unique kitchenware from butter churns to speckle ware. If you appreciate the diversity of dining in college towns, you might consider taking a day trip to Lexington, a popular destination in the Shenandoah Valley.
Award-winning Shenandoah Valley local Chef Tassie Pippert was an integral part of the media tour. She moderated the ice wine panel and served participants a four-course dinner at Brix & Columns vineyards, showcasing her talent for pairing local cuisine with Shenandoah Valley terroir. Chef Pippert, a qualified chef and instructor at James Madison University, hosts the Emmy-winning PBS show "Un-Wine'd" about Virginia wine.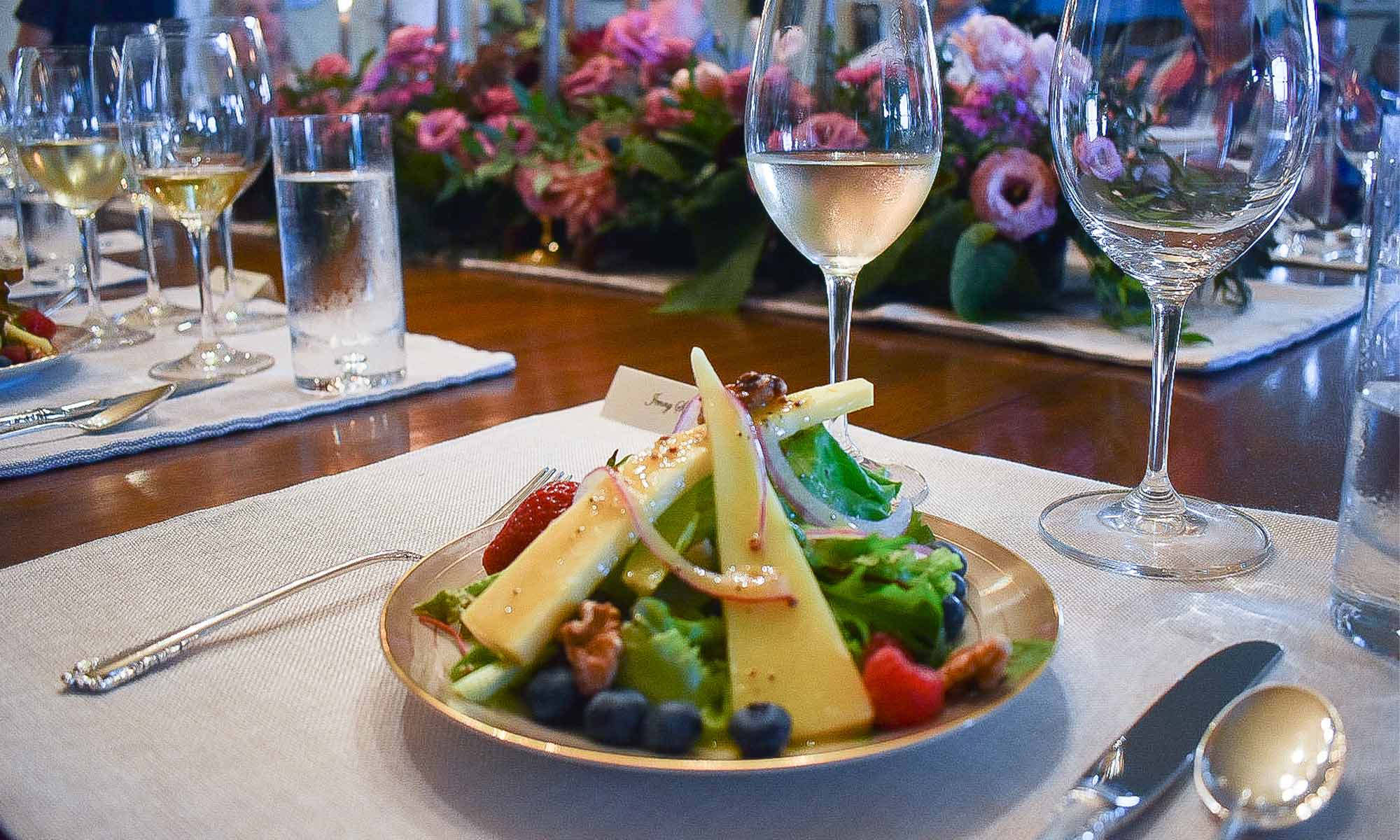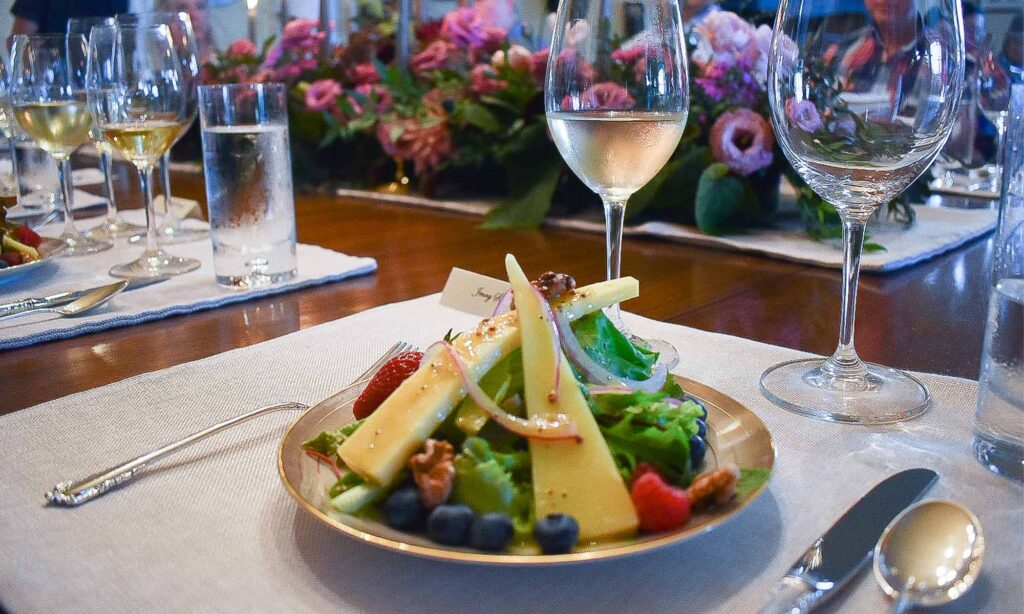 What to Do and Where to Stay in the Shenandoah Valley
Open seasonally, The Virginia Farmhouse in Woodstock is a family-owned and operated gourmet shop. They specialize in local artisan-grown and made products. Stop in for your favorite wines, cheeses and artisanal honey, and pick up handcrafted knife sets, wood trinkets and home decor as you shop.
If you need a hand designing your perfect Shenandoah Valley vacation, consider reaching out to Seven Bends Tours. They provided the transportation for all media representatives during the media tour. For lovers of craft beverages there is also the Shenandoah Blue Ridge Whiskey Loop and the Shenandoah Beerwerks Trail to explore. 
The Hotel Madison in Harrisonburg hosted the wine experts and industry leaders. They offer luxurious mountain views, a full conference center, updated amenities and a centralized location. Rooms in the Hotel Madison are comfortable and spacious. Guests can access an indoor saltwater pool and a roaring fireplace in the library. There are many other lovely places to stay including The Georges in Lexington with its luxuriously appointed rooms in the heart of their charming downtown area.
Shenandoah Valley Wineries to Visit
We've highlighted a few of the Shenandoah Valley's 35 wineries to demonstrate that the region is well worth a wine visit. The Shenandoah Valley Wine Trail makes an excellent guide. The Shenandoah Valley also has a plethora of historical sites, outdoor activities, and charming small towns that make it well worth a visit. Create your own wonderful Shenandoah Valley wine tour from our list here.
12 Ridges Vineyard – Vesuvius, VA

Above Ground Winery – Middlebrook, VA

Barren Ridge Vineyards – Fishersville, VA

Blue Ridge Vineyard – Eagle Rock, VA

Bluestone Vineyard 

–

Harrisonburg, VA

Briedé Family Vineyards – Winchester, VA

Brix & Columns Vineyards

–

Harrisonburg, VA

Cave Ridge Vineyard – Mt. Jackson, VA

Cedar Creek Winery – Star Tannery, VA

CrossKeys Vineyards – Mt. Crawford, VA
Ecco Adesso Vineyards – Fairfield, VA

Glen Manor Vineyards – Front Royal, VA

Great Valley Farm Winery – Natural Bridge, VA

James Charles Winery & Vineyard – Winchester, VA

Jump Mountain Vineyard – Rockbridge Baths, VA

Lexington Valley Vineyard – Rockbridge Baths, VA

Marceline Vineyards – Mt. Crawford, VA

Misty Mountain Meadworks – Winchester, VA

Muse Orchard – Edinburg, VA

Muse Vineyards – Woodstock, VA

North Mountain Vineyard & Winery – Maurertown, VA

Old Hill Cider – Timberville, VA

Ox Eye Vineyards – Staunton, VA

Saga Meadery & Winery – Front Royal, VA

Sage Bird Ciderworks – Harrisonburg, VA

Shenandoah Vineyards – Edinburg, VA

Star in the Valley Estate Winery – Strasburg, VA

Twin Oaks Tavern Winery – Bluemont, VA

Valerie Hill Vineyard & Winery – Stephens City, VA

Veramar Vineyard – Berryville, VA

Wolf Gap Vineyard & Winery – Edinburg, VA

Winchester Ciderworks – Winchester, VA

The Winery at Kindred Pointe – Mount Jackson, VA

Wisteria Farm & Vineyard – Stanley, VA
The Shenandoah Valley is a fantastic destination for oenophiles, who will also find a plethora of farmer's markets, farm-to-table dining, charming B&Bs, and quirky antique stores. Some of those shops once tempted former First Lady Jacqueline Kennedy who often stayed at the cottage Bunny Mellon designed for her at Oak Spring Farm. This media tour, which commanded national attention from the press illustrates what a serious contender Virginia wine and Shenadoah Valley Wineries have become in the national wine industry. The Shenandoah Valley is becoming a food and wine destination to watch. ~
JENNIFER BRYERTON is Co-Publisher and Editor-in-Chief of Wine & Country Life. She is an avid gardener, home cook and wine-taster. She enjoys learning about Virginia viticulture and sharing the story of our local farm-to-table makers.
RICHARD LEAHY Richard Leahy is an author and wine professional based in Charlottesville. His book "Beyond Jefferson's Vines", the definitive book on Virginia wine, is available on Amazon in a revised third edition (2020). He started Adventure Wine Tours in September 2022, offering custom, curated tours of Virginia wineries, at adventurewine.tours.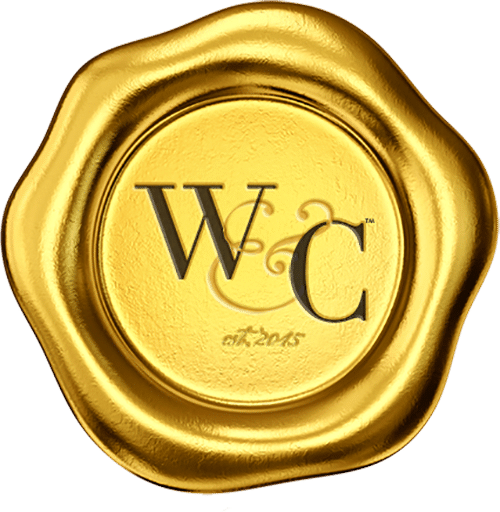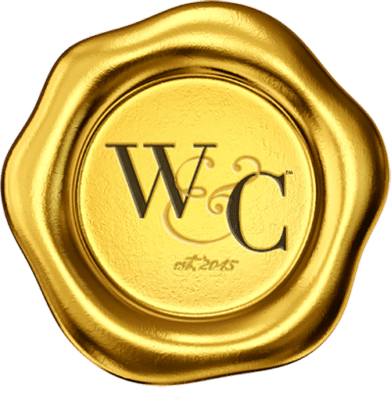 Virginia Wine & Country celebrates elevated living in Virginia Wine Country. Virginia Wine & Country Life is a semi-annual luxury print magazine with a full digital presence. The Virginia Wine & Country Gold Book is an annual guide to the top award-winning wines, wineries and experiences in Virginia Wine Country. The annual Virginia Wine & Country Wedding Planner is an art book of elegant Virginia weddings. The brand includes the Virginia Wine & Country Shop in Ivy, Va. It is a beautiful lifestyle boutique that brings the pages of the magazines to life. Virginia Wine & Country tells the stories of Virginia wineries, the farm-to-table movement, luxury travel, entertaining, art and the elegant country lifestyle. Ivy Life & Style Media also provides branding, web design and PR services for the wine industry.