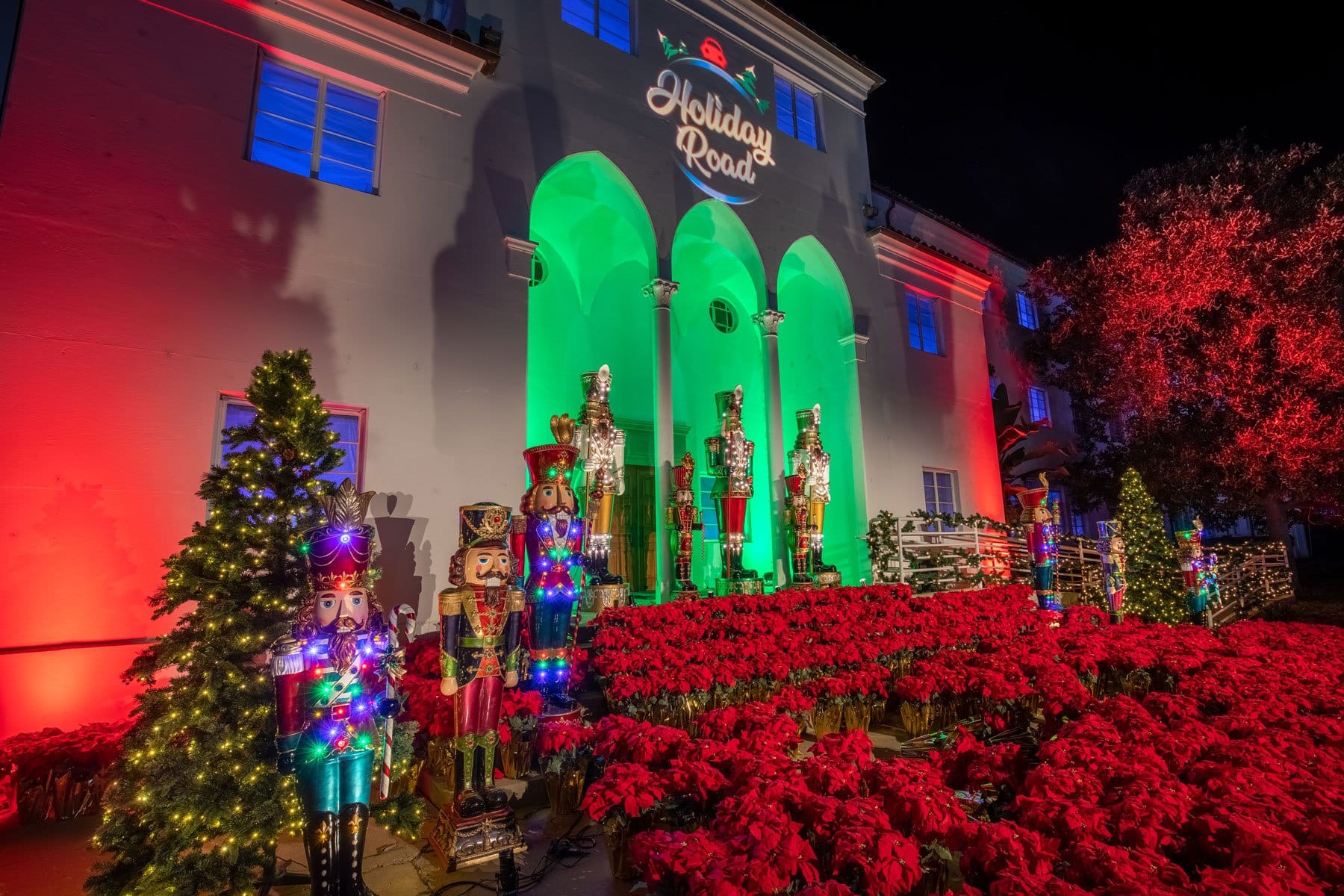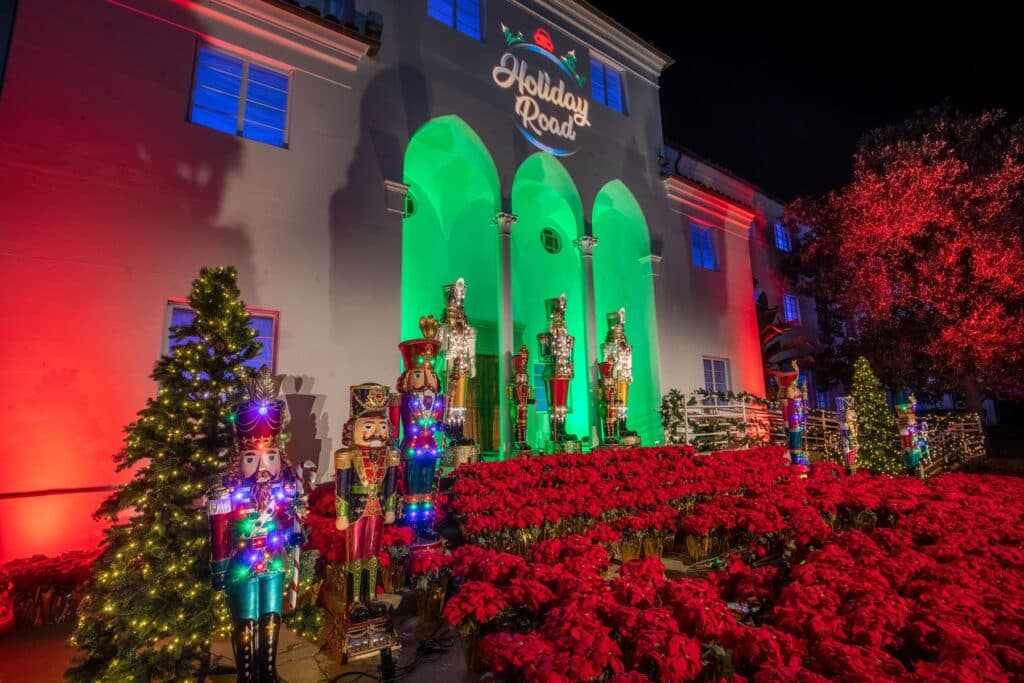 Above and Featured Photo: Holiday.Road/Visit Loudoun
You know the holidays have arrived in Loudoun County when wine country vines are covered in twinkling lights and historic towns are decked out like Dickens' "A Christmas Carol." Throw in spectacular themed illuminations and festive street parades and you have the perfect holiday destination.
Historic Towns to Visit at Christmas Near Middleburg
Throughout December, picturesque Middleburg celebrates "A Dickens of a Christmas," a Charles Dickens-inspired experience that transports you back to the Victorian era of "A Christmas Carol." Shops decorate their storefronts on Dickens themes; there's a dog show, a fun run, carol singing, theatrical performances of "A Christmas Carol" and vintage carriage rides through the streets.
Meanwhile, the first Saturday of the month sees the annual Christmas in Middleburg parade, where crowds line the street to see dozens of scarlet-jacketed riders and their foxhounds, vintage horse-drawn carriages, and a 1.5-mile-long procession of drummers, bagpipers, bikers and more. Celebrations actually start the night before with the "Oh Holy Night" tree-lighting ceremony and carol singing in town. Shop windows will be dressed to the nines as part of a holiday decorating contest and you can follow this link to find all our best tips for Visiting Middleburg During the Holidays.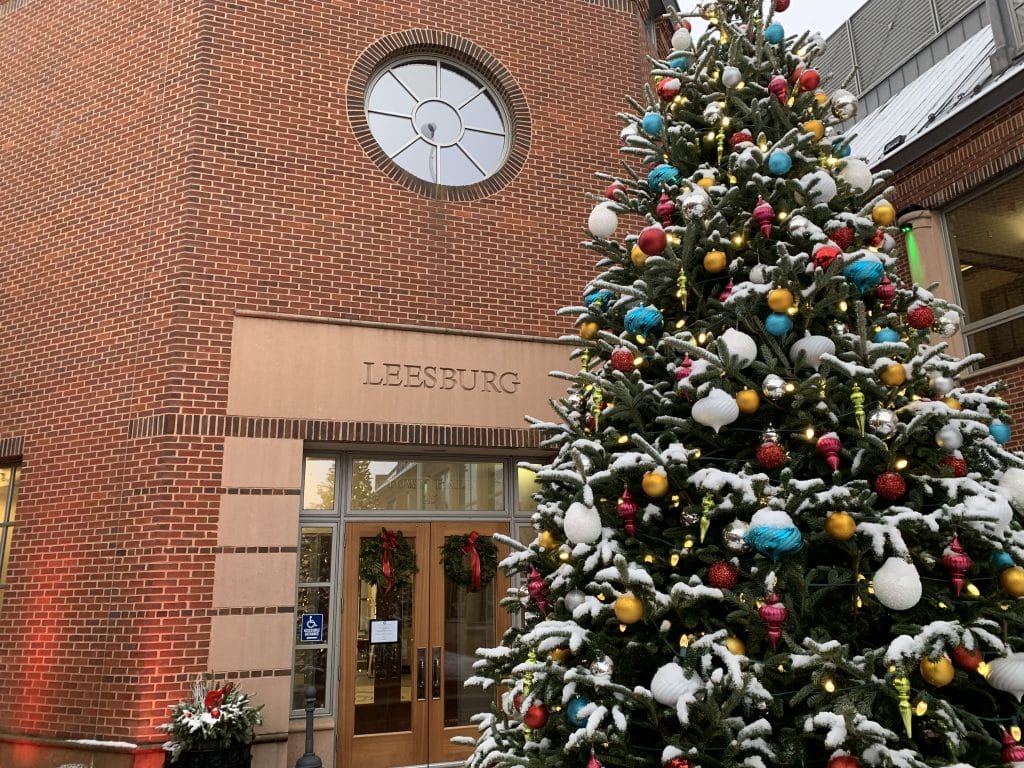 Historic downtown Leesburg is equally glittering. Take the kids to the tree lighting ceremony on the town square Friday, December 3, and to the annual "Leesburg Holiday Fine Arts & Crafts Show" at Ida lee Park on December 4 and 5, where you can buy works from more than 90 local artists, artisans and crafters. Saturday, December 11, is Leesburg's annual "Christmas and Holiday Parade" in which Santa and friends parade down King Street.
Over in Lucketts, the famous Old Lucketts Store is hosting its annual "Holiday Open House" on Thursdays through Sundays until December 11. Browse or purchase antiques, vintage clothing and accessories from the main store or purchase a ticket online to the nearby "Holiday Design House" on-site. The Design House is a festively decorated 19th-century farmhouse in which all the décor and items are for sale.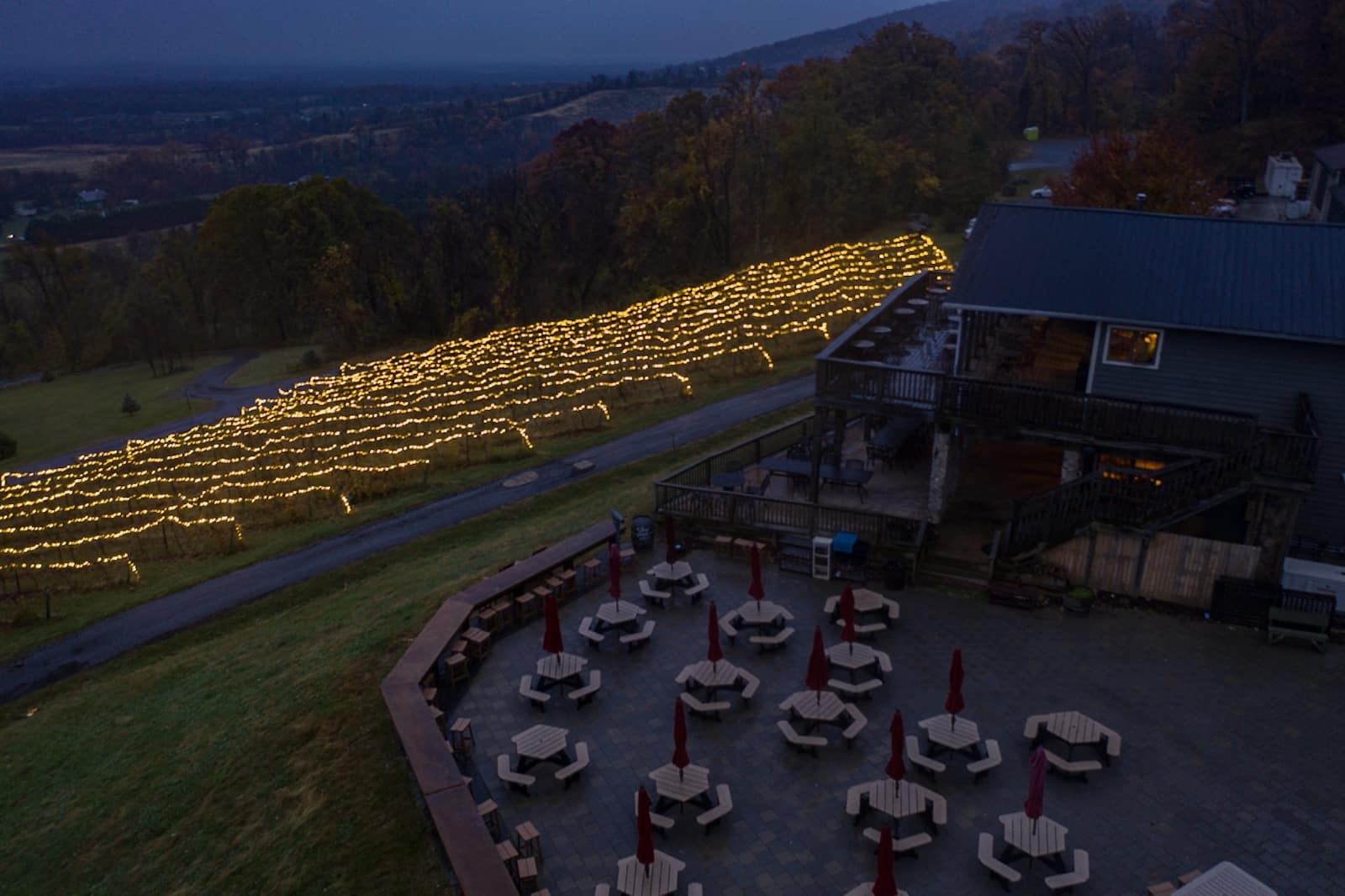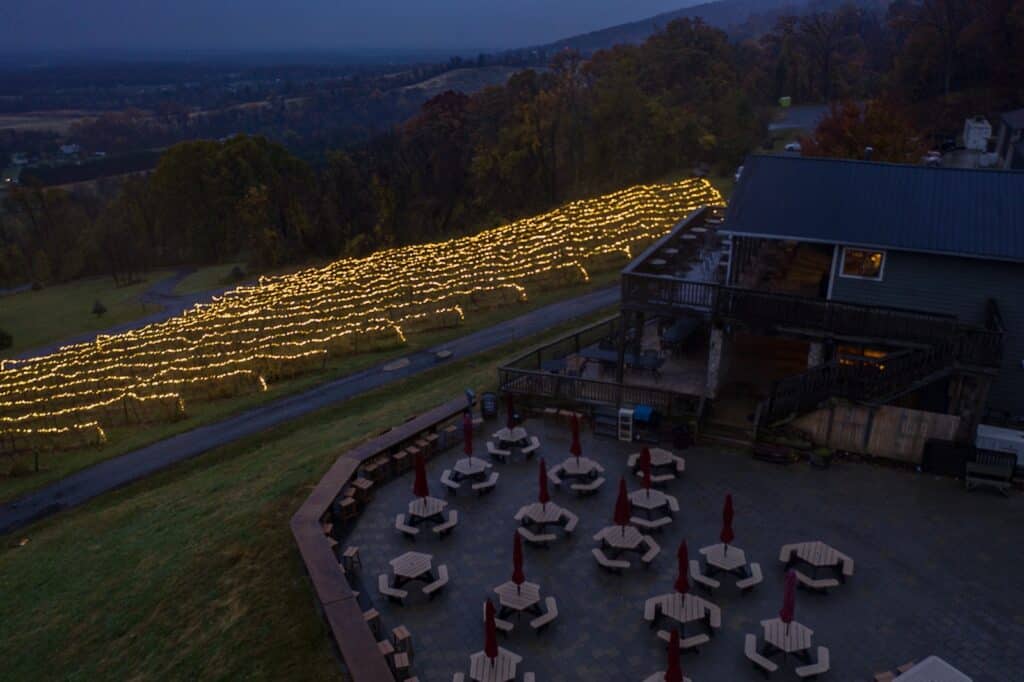 Countryside Holiday Happenings in Loudoun
Drive west on Route 7 toward Bluemont on any Thursday through Sunday evening throughout December and you'll see the slopes of the Blue Ridge to the left carpeted in a glorious golden glow. Welcome to "Lighting of the Vines," 15,000 holiday lights strung through 10,000 grape vines at Bluemont Vineyard. Launched on Friday, November 26, the vines are lit Thursday through Sunday at 5:30 p.m.; and while they can be seen from miles away, the best place to enjoy them is at the winery tasting room or the property's Harvest Room & Kitchen restaurant on the slopes of the hill.
Staying festive and rural, enjoy some beer with your holiday shopping. On December 11, Wheatland Spring Farm + Brewery hosts "The Lager Days of Christmas," a farmers market held in the 19th-century barn of the brewery outside Waterford. Enjoy a raft of Wheatland's own German-style "land beers," as well as beers from guest breweries from Atlanta, Maine and New Hampshire, while shopping for seasonal produce from a range of local vendors. There's a wood-burning stove in the barn, but dress warm because it's not a traditional indoor space.
Family Fun in Loudoun
Who doesn't love holiday lights? This year in Loudoun you're spoiled for choice. Starting November 26, historic Morven Park in Leesburg is hosting the Mid-Atlantic debut of Los Angeles, California's spectacular Holiday Road experience. It's an immersive walking trail of twinkling illuminations, giant-themed installations and iconic holiday scenes. Running until January 2, guests of all ages are transported to a snow-carpeted fantasy land replete with North Pole, Elf Village, Gingerbread Lane, light tunnels, Christmas tree forests and more.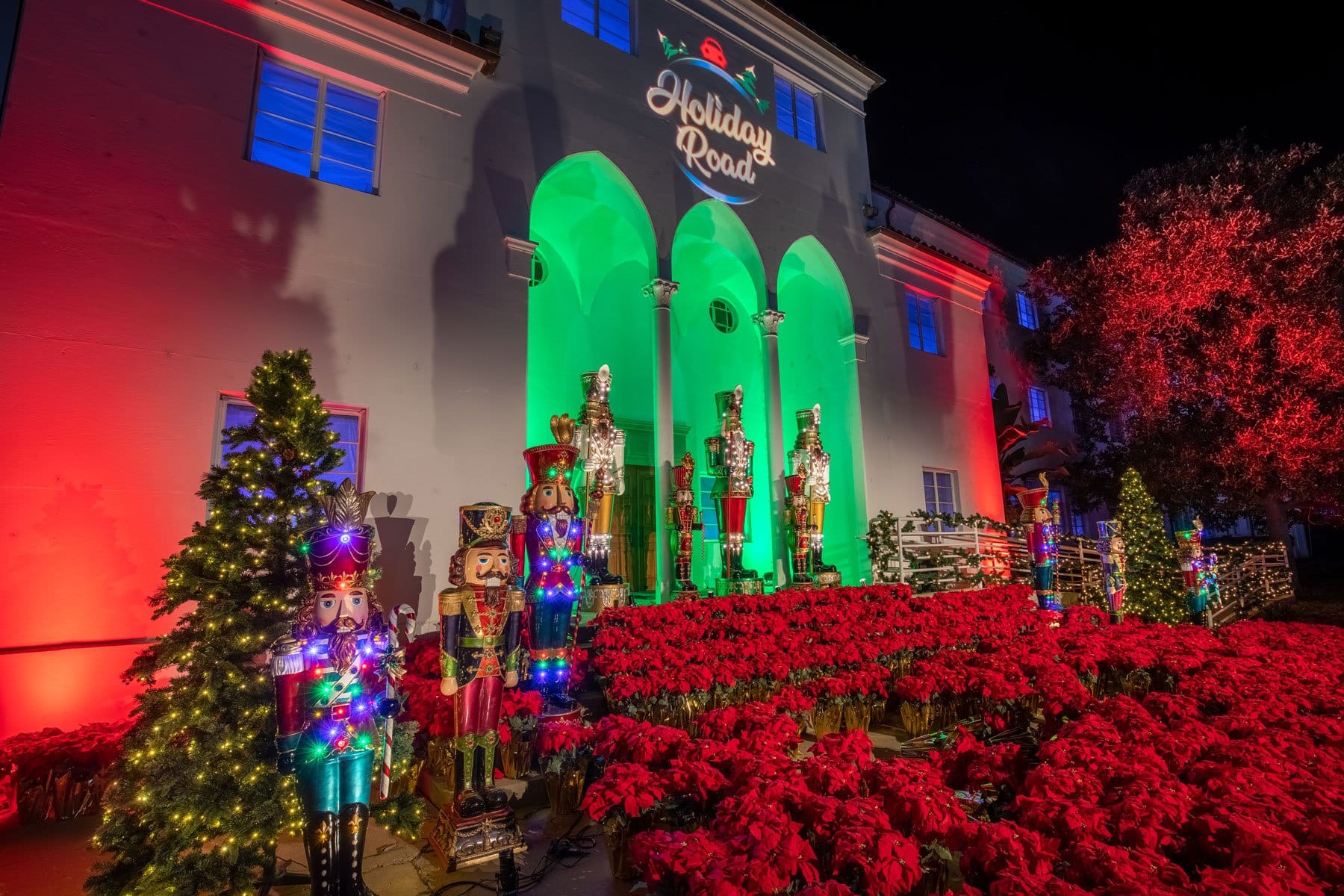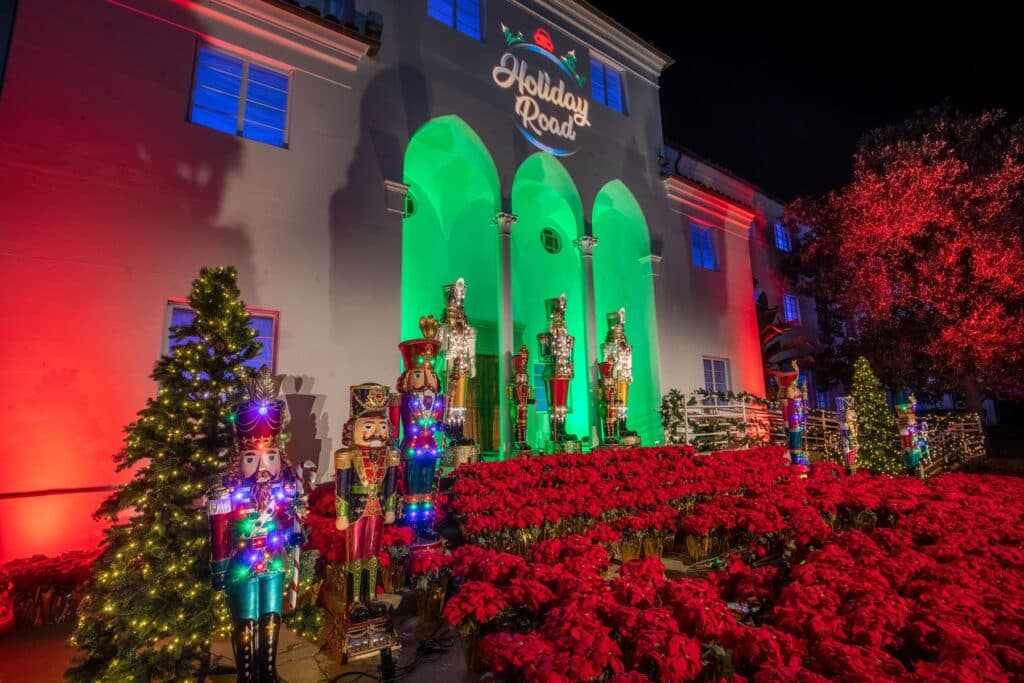 Photo: Holiday.Road/Visit Loudoun
Over in Sterling, the B.F. Saul Company Hospitality Group in partnership with the Washington Capitals is hosting Tinsel!—an open-air winter showcase featuring spectacular interactive light displays, themed light trails (Candy Lane, Stargazer Square, Snowflake Street) and a 120-foot tinsel tunnel decked out with twinkling lights and filled with holiday music. From November 19 to January 22, kids will find igloos for rent, craft demonstrations, scavenger hunts, food trucks, a giant 18-foot Christmas tree and selfie stations for pictures with Santa. Hockey fans can visit #Allcaps Corner for Caps-themed arts, crafts, photographs and swag.
Make your way to One Loudoun, Ashburn on December 4 at 5 p.m. for the ninth annual Holiday Tree Lighting, a modern twist on the traditional celebration. Santa is on-hand for photos under the tree; there are train rides, ice carving demonstrations and live music; and you're surrounded by the superb shops, restaurants, bars and ice cream parlors. Visit our Guide to Christmas Trees in Virginia for ideas on where to find the perfect tree for your home.
Back in western Loudoun, December 10 sees the start of Franklin Park Arts Center's second Winter Lights Walk: the illumination of an array of lighted sculptures on a walkway through the grounds of the park. Open through January 1, the experience features the work of local artists and is an extension of the park's indoor gallery exhibit, "Along for the Ride." Earlier in the month, on December 4 from 4 p.m.–5:30 p.m., the arts center hosts a carol singing "Holiday Extravaganza" from the Old Dominion Chorus.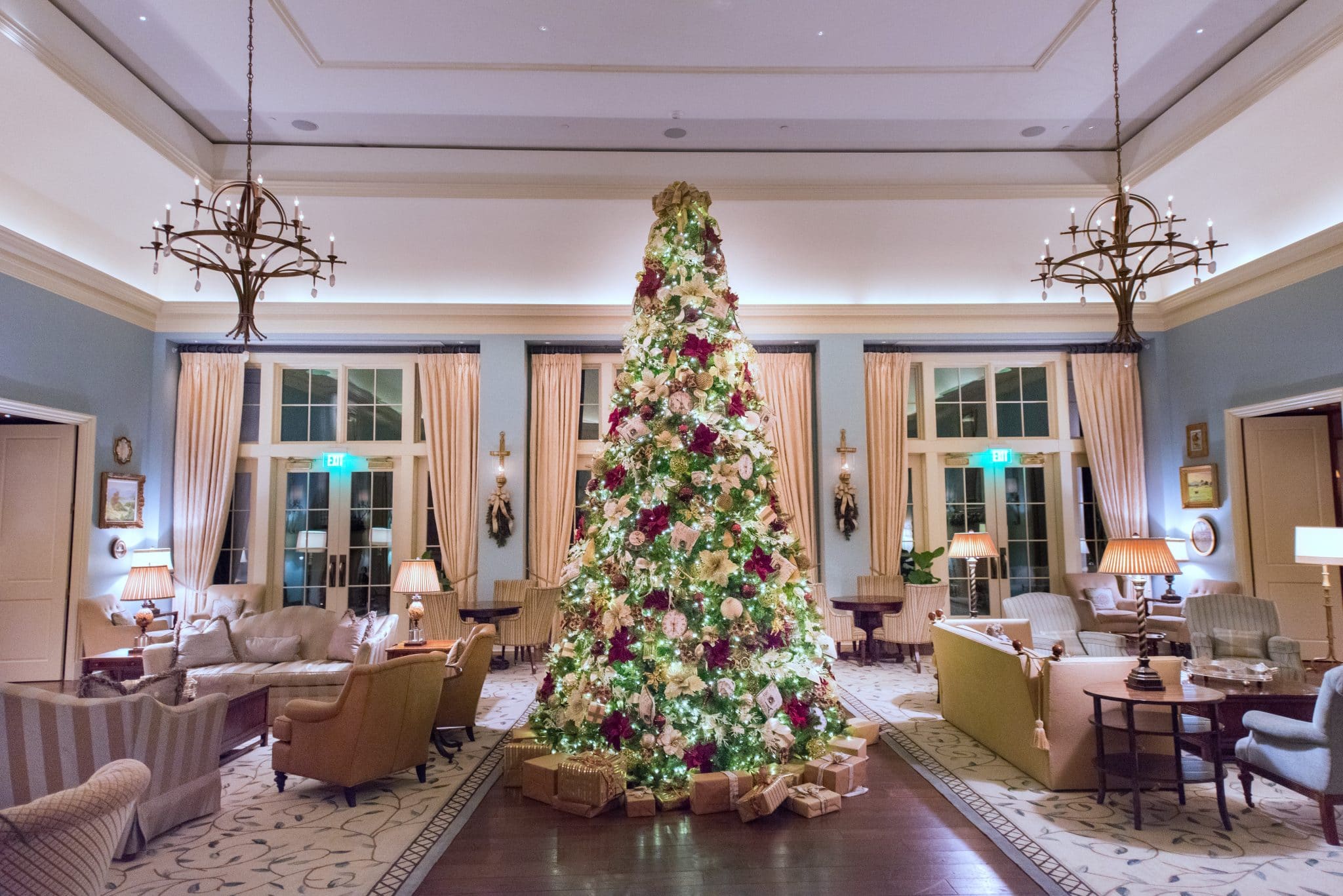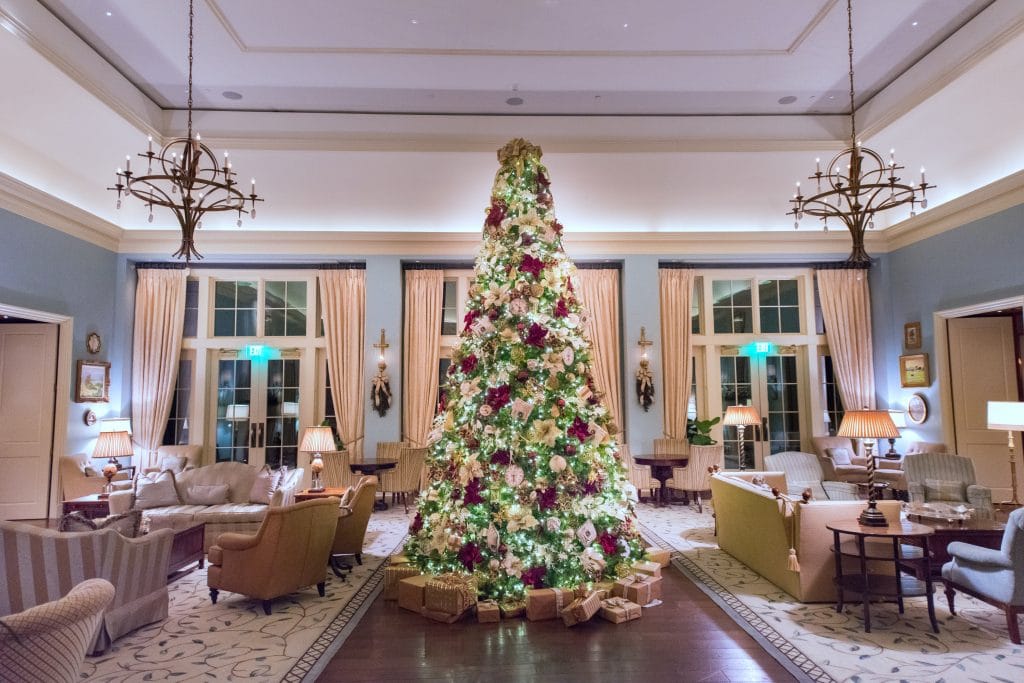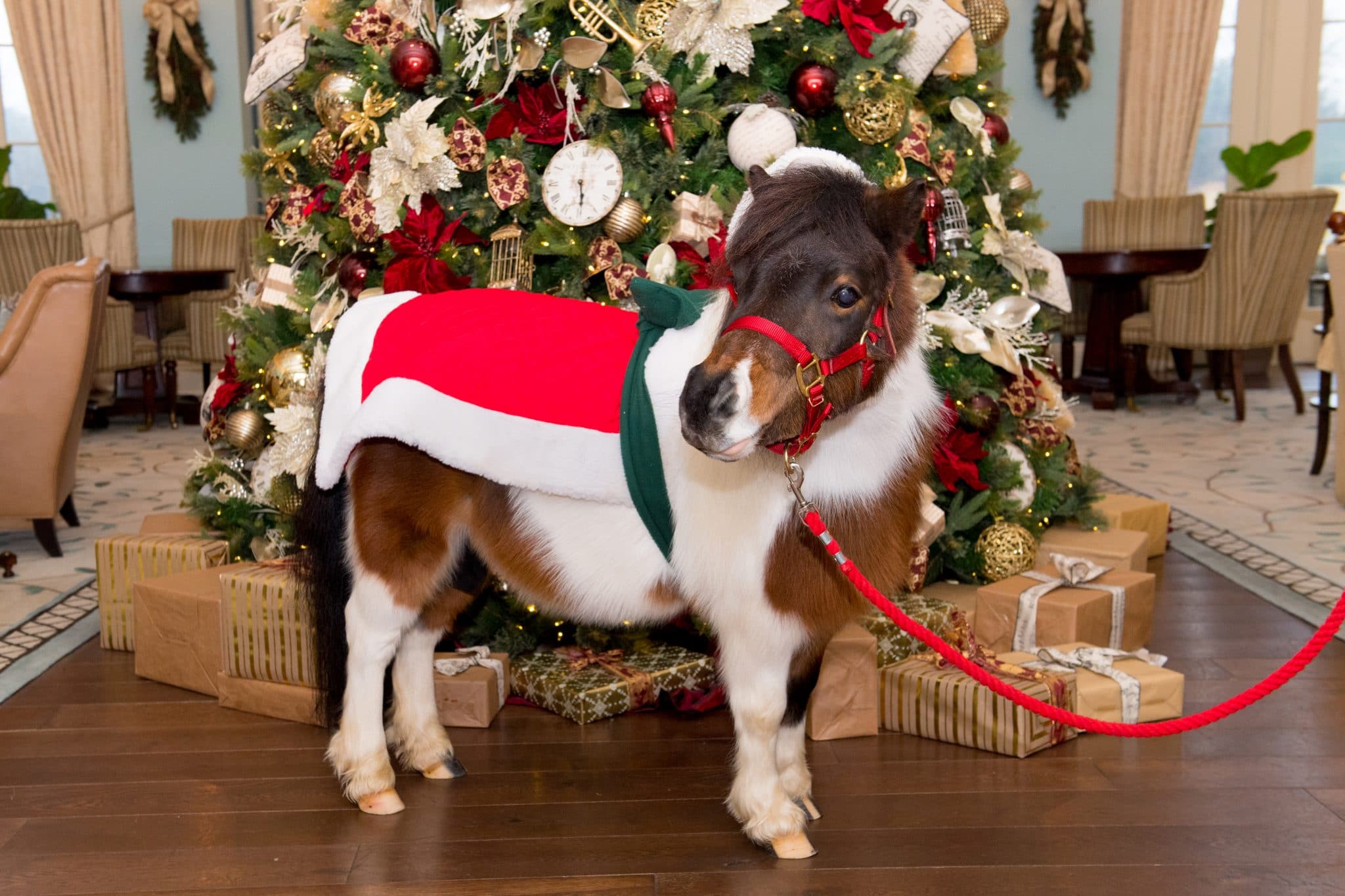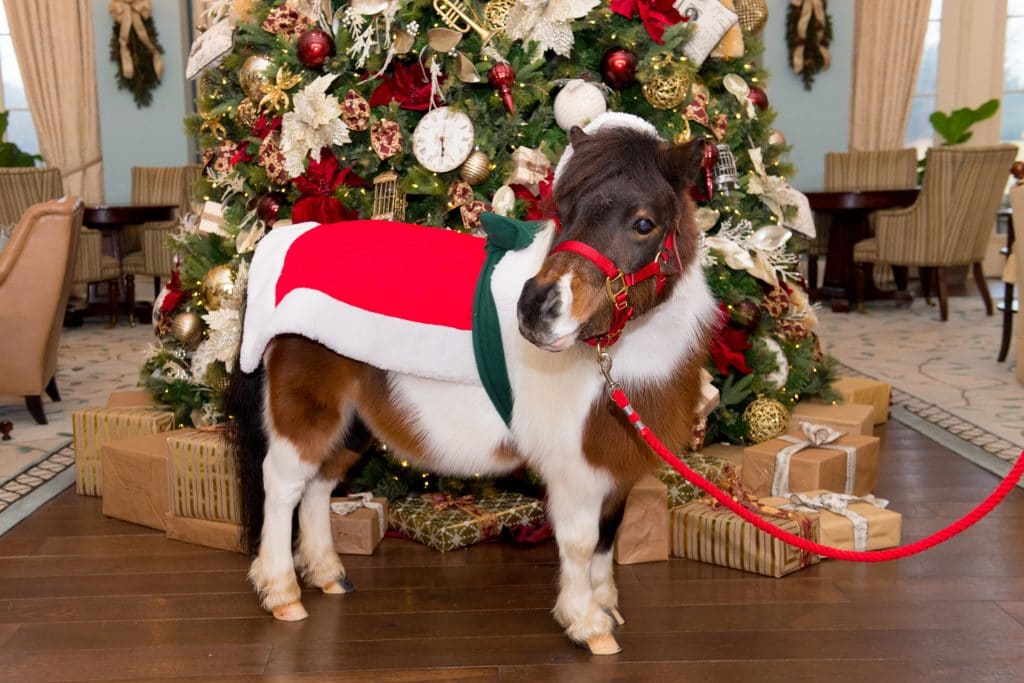 photos & lead photo: Courtesy of Salamander Resort & Spa
Holiday Fun at Loudoun's Resorts
Make a weekend of it and stay at one of Loudoun's two luxe resorts, each offering enchanting and memorable experiences. At Forbes five-star rated Salamander Resort & Spa in Middleburg, there are a series of weekly holiday-themed events through December including "Brunch with Santa" on Saturdays and the "Santa Experience" on Sundays in which kids board a wagon for a visit to Santa's workshop that's followed by s'mores, hot chocolate and a craft project with resident elves. Saturday and Sunday afternoons feature Cocktails with Cupcake in the cozy Gold Cup Bar, Cupcake being the resort's resident miniature horse.
At the newly revamped Lansdowne Resort & Spa, stay in luxury on the banks of the Potomac River and enjoy an intimate, seasonally crafted Christmas Eve Dinner with live piano music at the cozy Riverside Hearth restaurant.
For details on everything happening in Loudoun, visit www.visitloudoun.org. ~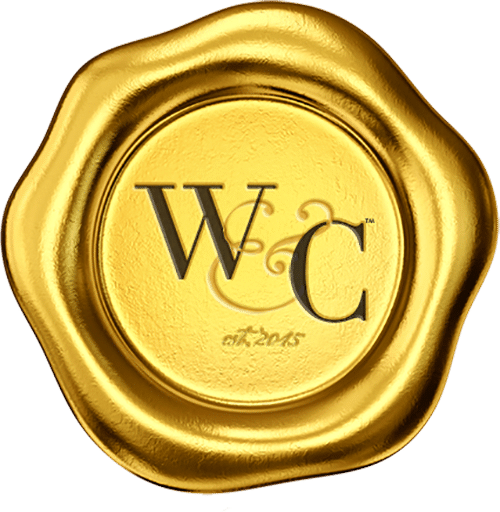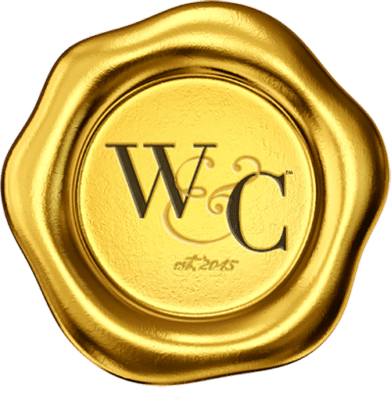 Wine & Country celebrates elevated living in Virginia Wine Country. Wine & Country Life is a semi-annual luxury print magazine with a full digital presence. The annual Wine & Country Wedding Planner is an art book of elegant Virginia weddings. The brand includes the Wine & Country Shop in Ivy, Va. It is a beautiful lifestyle boutique that brings the pages of the magazines to life. Wine & Country tells the stories of Virginia wineries, the farm-to-table movement, luxury travel, entertaining, art and the elegant country lifestyle. Ivy Life & Style Media also provides branding, web design and PR services for the wine industry.