Loudoun is an oenophile's dream, and no visit to D.C.'s Wine Country® is complete without a tour or tasting at one of the county's 40-plus wineries and tasting rooms. While you can visit Virginia wineries all year round, spring, summer and fall are really the best seasons to go.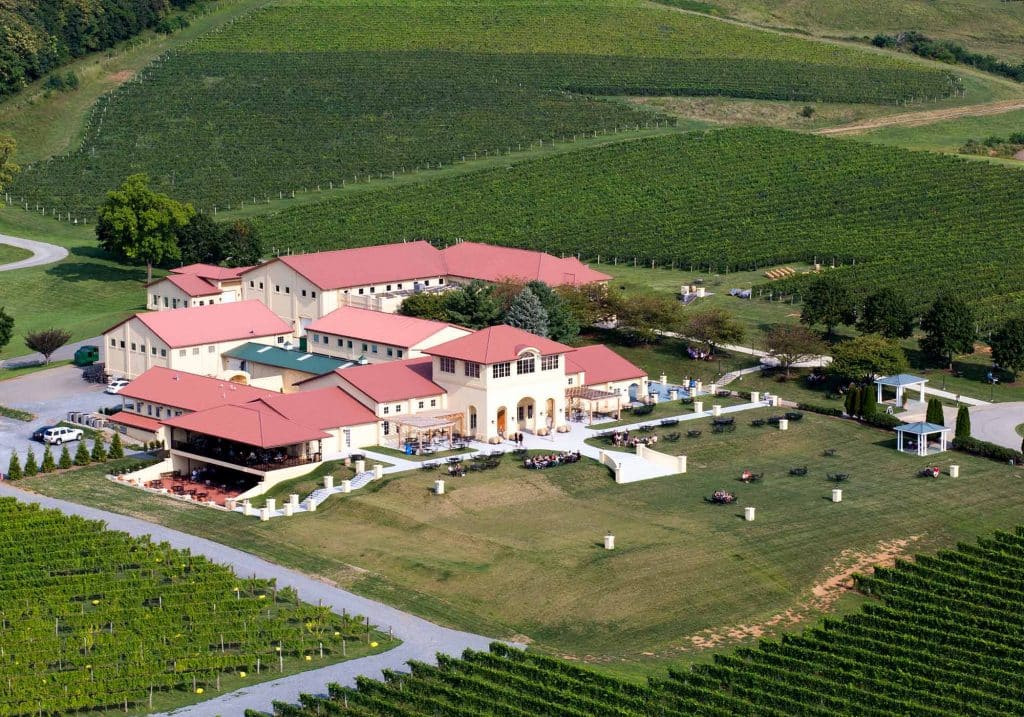 You'll be able to listen and dance to live music under the stars, partake in specialty tours, enjoy delicious farm-to-table, wine-paired dinners and even participate in a wine country half marathon. Here are a few ways to explore Loudoun's wine country.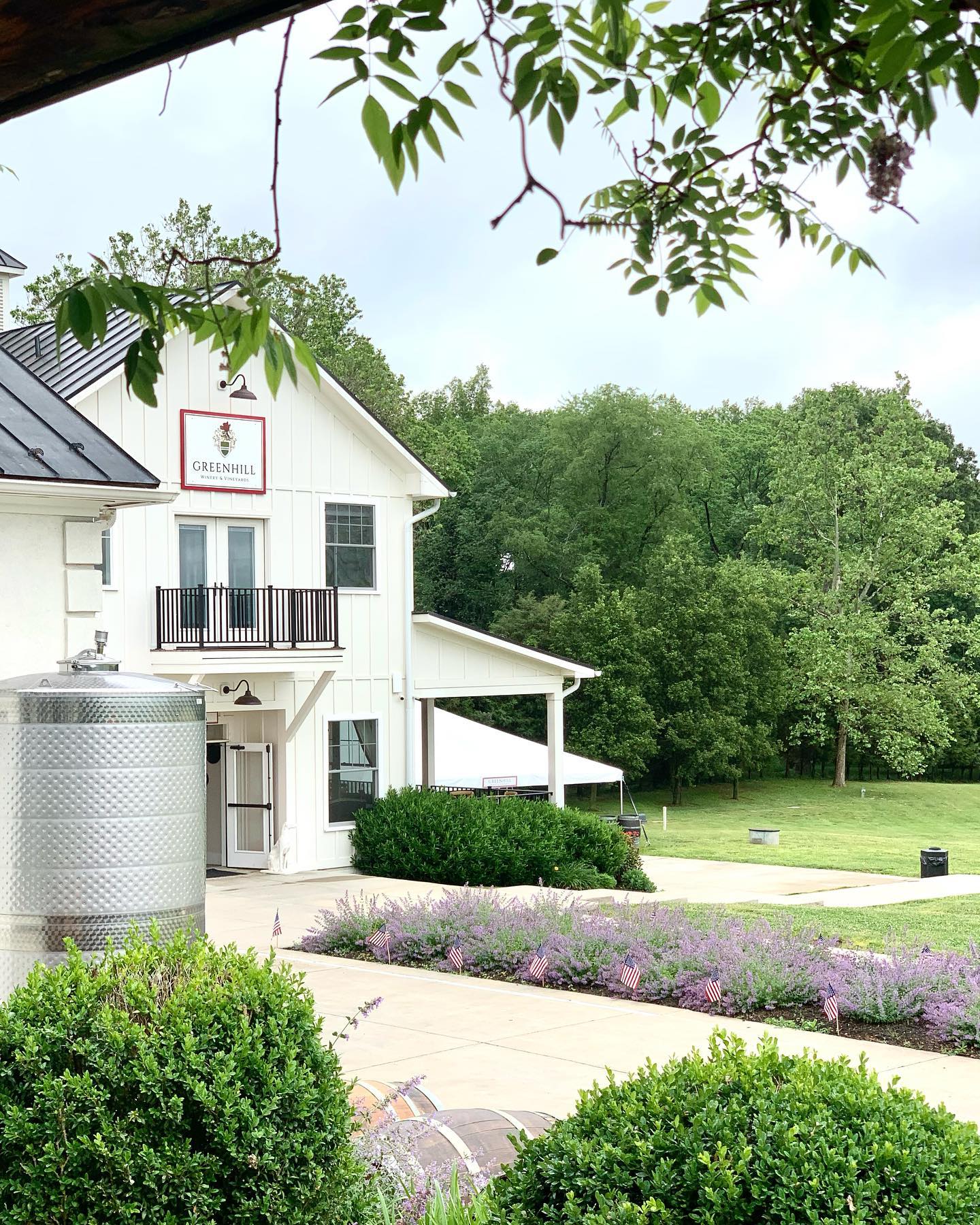 LOUDOUN WINERIES ON THE GOLD MEDAL WINE TRAIL
Wine lovers wanting to try this past year's best wines from across Virginia can now do so in a fun and adventurous way. The Virginia Governor's Cup Gold Medal Wine Trail is a mobile passport that maps out all the gold medal-winning wineries from the prestigious 2021 Virginia Governor's Cup Competition. Loudoun County has five gold winners from 2021 on the mobile trail: Greenhill Winery & Vineyards; Breaux Vineyards; Walsh Family Wine; October One Vineyard; and Carriage House Wineworks. Visiting these vineyards will take you to all four corners of the county, but if you have time, be sure to also stop at 868 Estate Vineyards and The Barns at Hamilton Station Vineyards—winners, respectively, of the 2020 and 2017 Governor's Cup!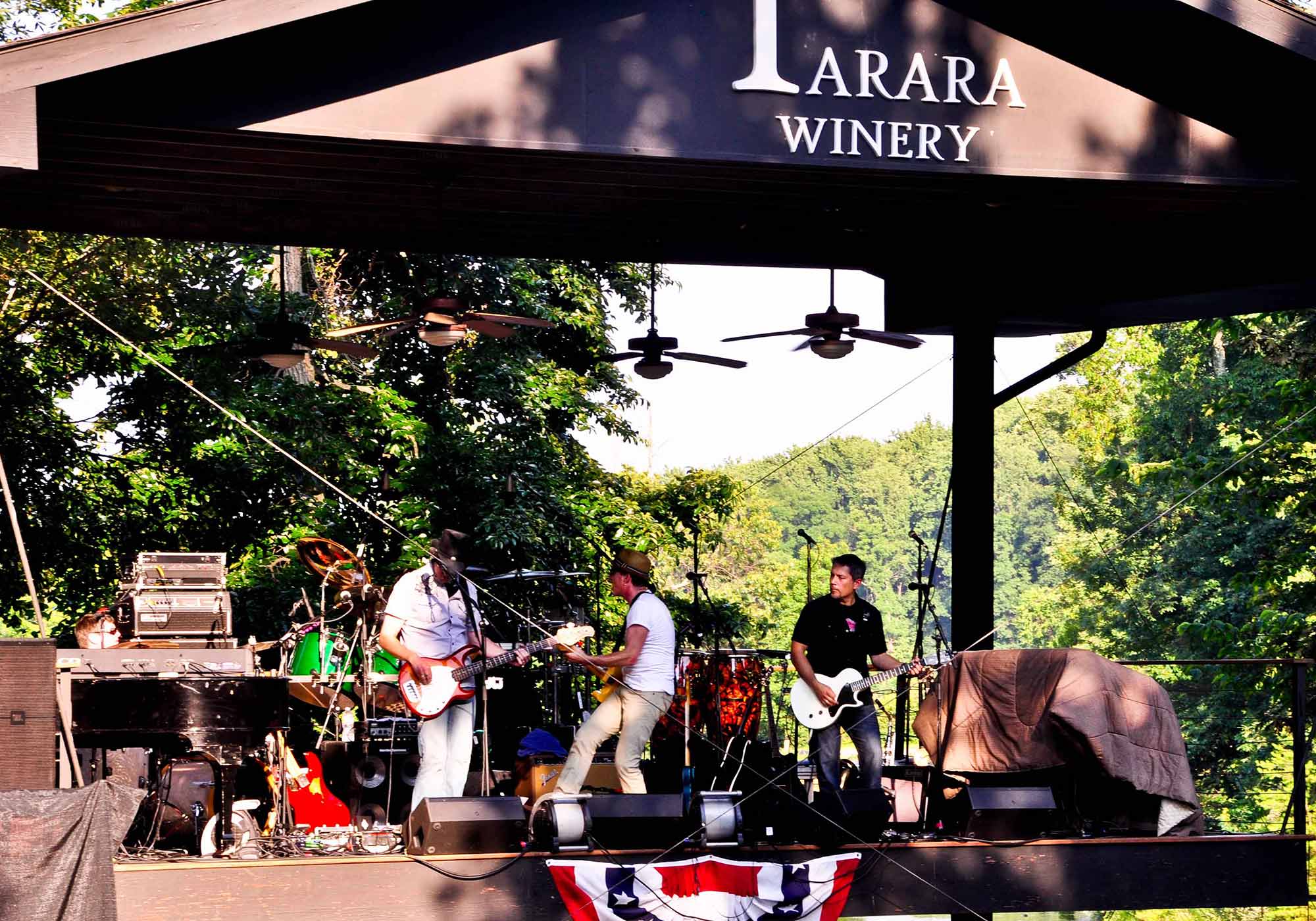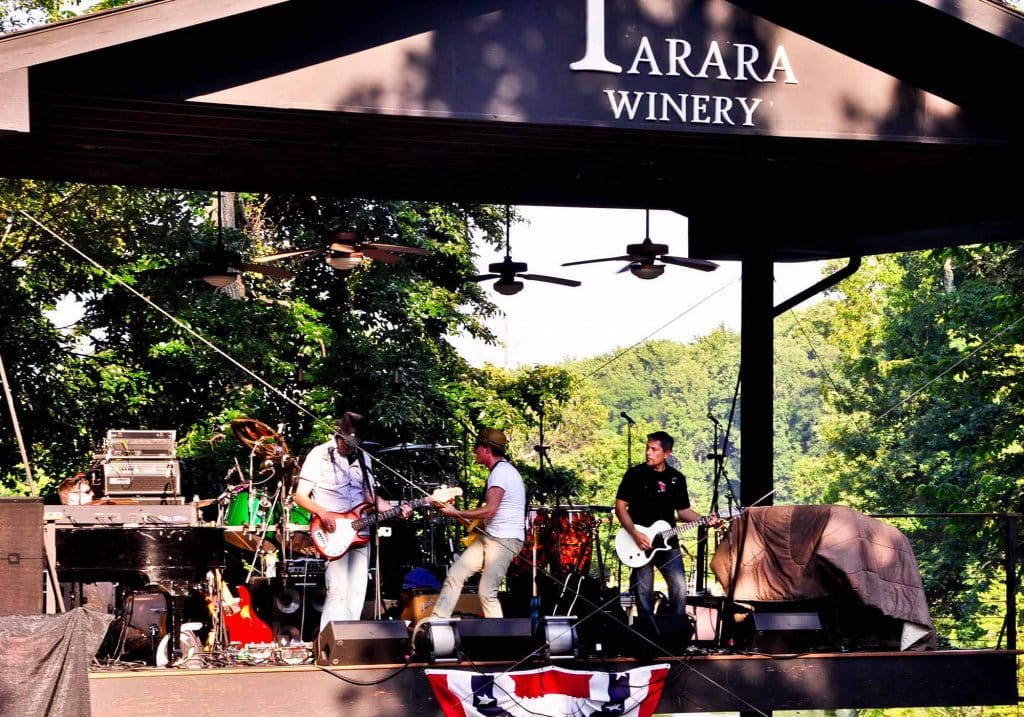 LIVE MUSIC AT LOUDOUN WINERIES
Love classic rock, summery jazz or country pop? June jumpstarts the first Concert in the Pines series at Walsh Family Wine, where wine lovers can enjoy intimate live music concerts in a pine grove on the property. Over at neighboring Bozzo Family Vineyards, you can listen to a rotation of local musicians on select Saturdays through September. July welcomes the start of the 21st Tarara Summer Concert Series at Tarara Winery, with some fans literally arriving by kayak. Held every Saturday evening, guests get to enjoy a variety of musical genres while sipping delicious Virginia wine. There are multiple types of tickets to order, but we suggest the VIP Bistro option, which gets you tableside food and drink service.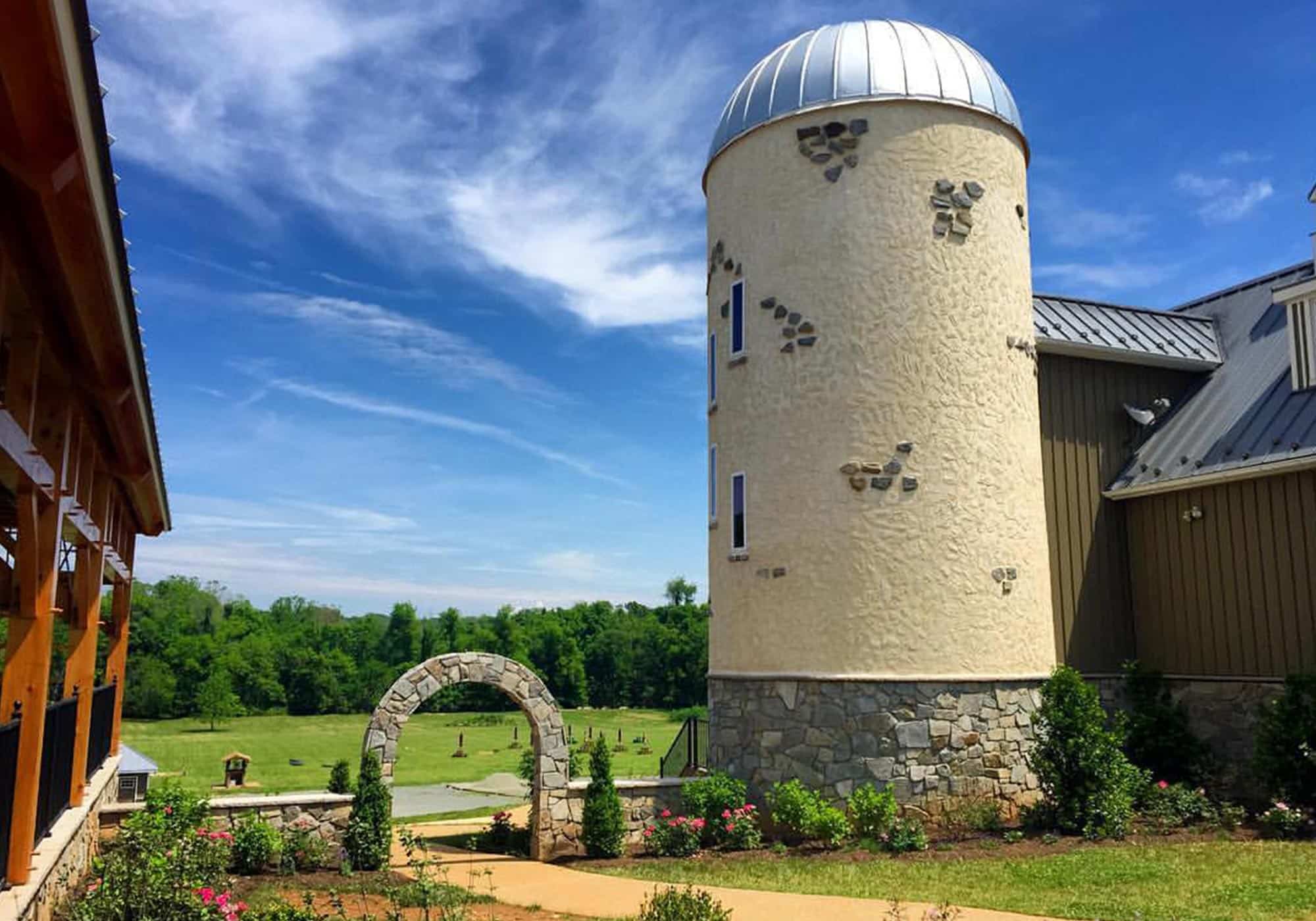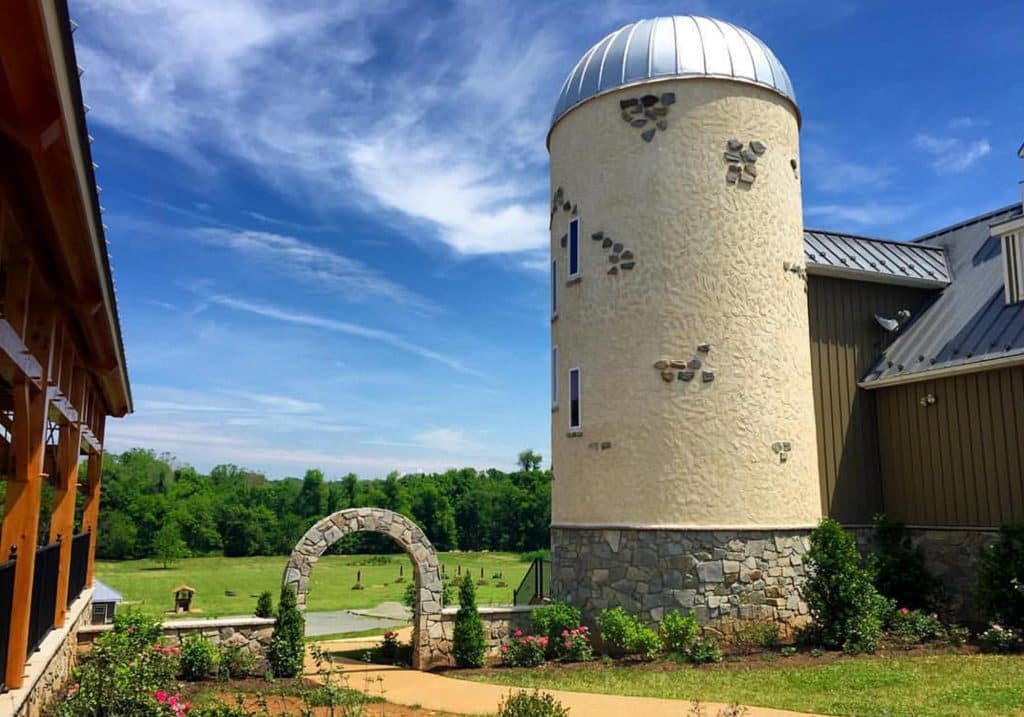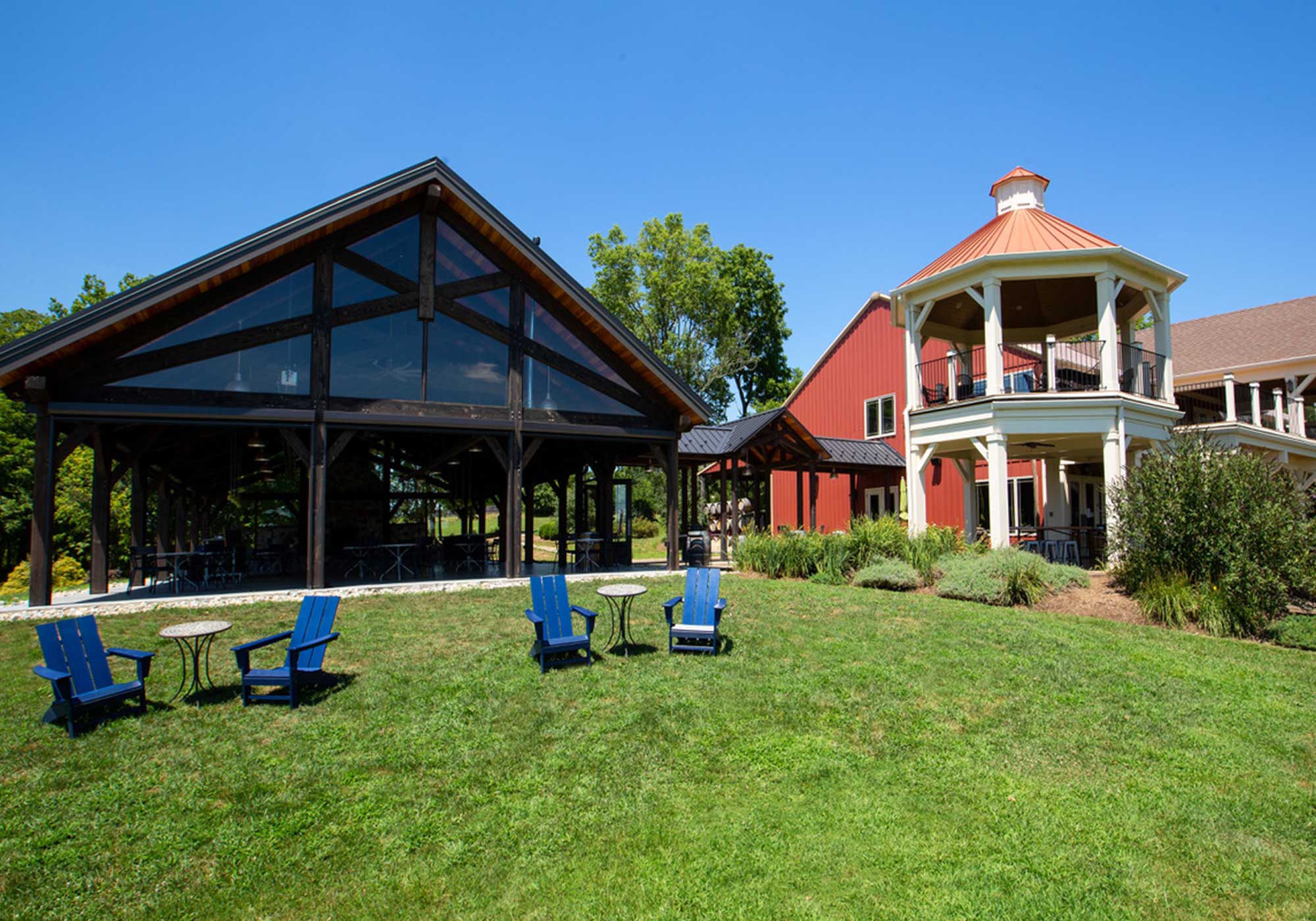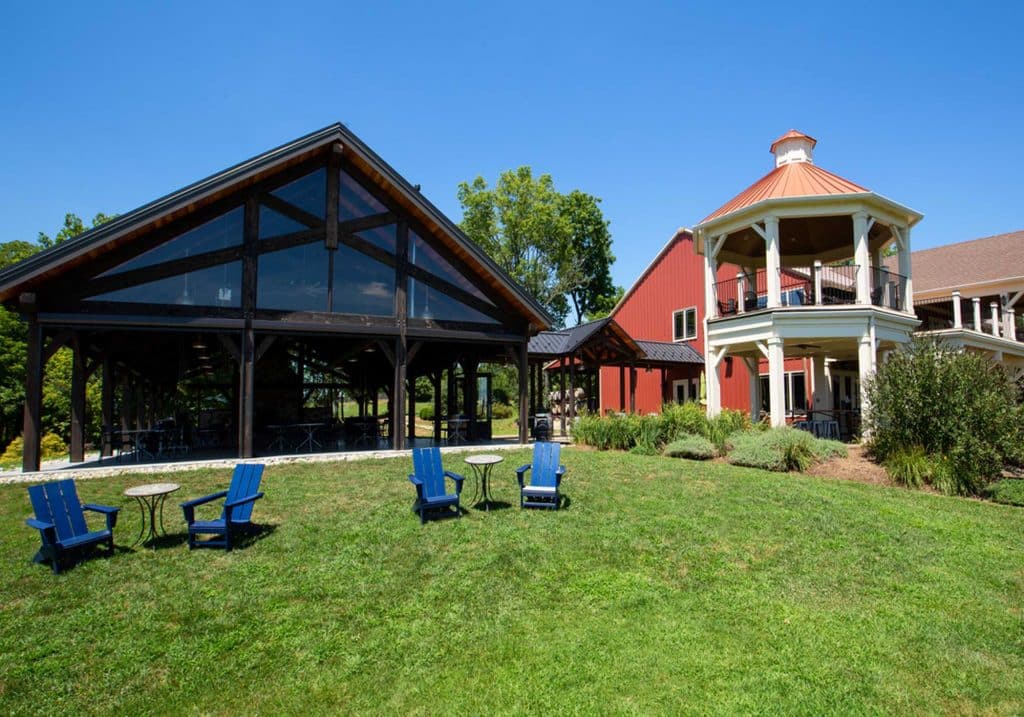 DRINK WINE WITH A VIEW AT WINERIES IN LOUDOUN COUNTY
It's not just fine vintages that draw wine lovers to Loudoun County, it's the spectacular views. At Hillsborough Winery, Brewery & Vineyard, you can sample a crisp glass of Serafina Rosé on the slate stone terrace and gaze out on landscaped gardens and distant crests of the Blue Ridge Mountains. At Creek's Edge Winery, tucked in a holler in historic Taylorstown, the view from the tasting room's upper deck is of lush lawns rolling to banks of the Catoctin Creek with sheer slopes of Furnace Mountain rising up behind it. From the second floor balcony of hilltop Cana Vineyards & Winery near Middleburg, you can sip a glass of their 2017 Unité Reserve red blend and gaze out over 43 acres of Blue Ridge foothills and vineyards sloping down to a dense woodland border. Located on Hogback Mountain Road near Leesburg and off Route 15 is Stone Tower Winery, a gorgeous 55-acre property with a Tower View Tasting Room that presents a bird's-eye view of vineyards and a surrounding forest canopy stretching to distant mountains. Washington, D.C. is less than 50 miles east, but you'll feels like a world away.
NEW WINERIES IN LOUDOUN COUNTY
With more than 40 tasting rooms, Loudoun County is already home to more wineries than any other county in Virginia, and the wine scene continues to grow as new operations come online. One to check out is Bleu Frog Vineyards just north of Leesburg, the brainchild of Jan and Joe Kernan. The bleu is Jan, a French-trained cordon bleu chef while the frog is her husband Joe, a veteran Navy Seal, or "frogman." Be sure to try their crisp and effervescent Bleu Blanc—a Vidal Blanc with notes of pear and honey. Tucked off a dirt road in rolling hills outside Waterford, Carriage House Wineworks is another new boutique winery operated by Bruce Beddow and Winemaker Mike Fritze. Try ordering the 2019 Petit Verdot, a Gold medal winner at the 2021 Virginia Governor's Cup.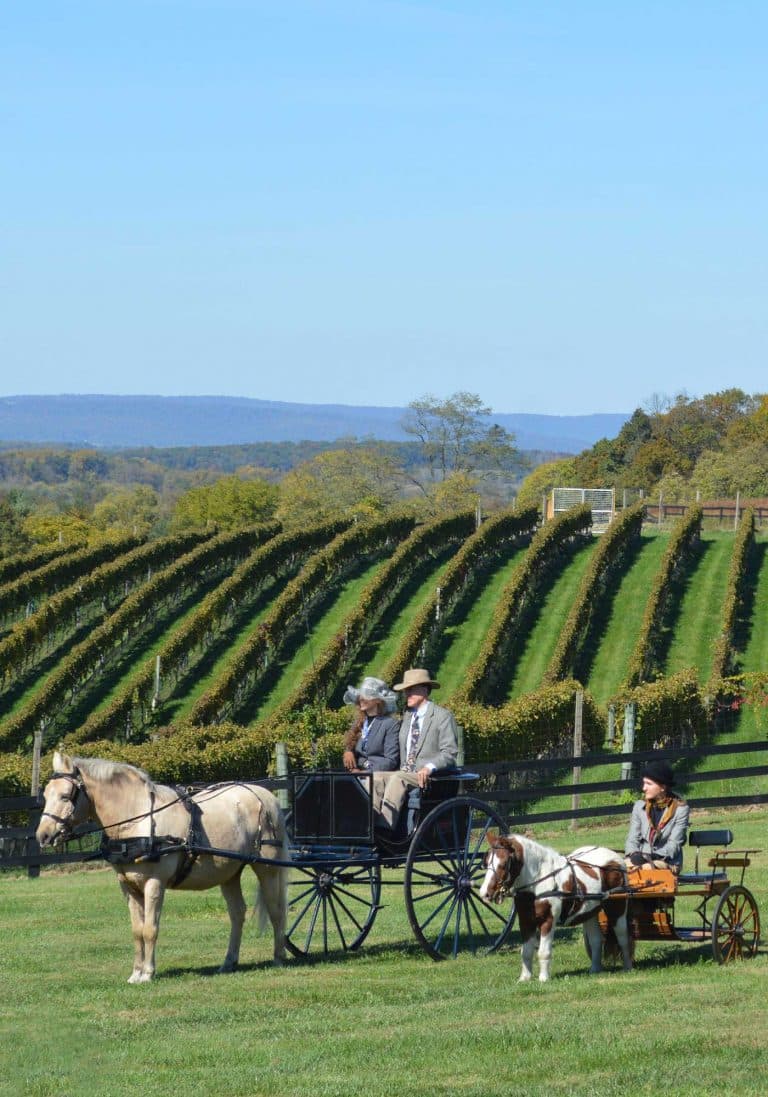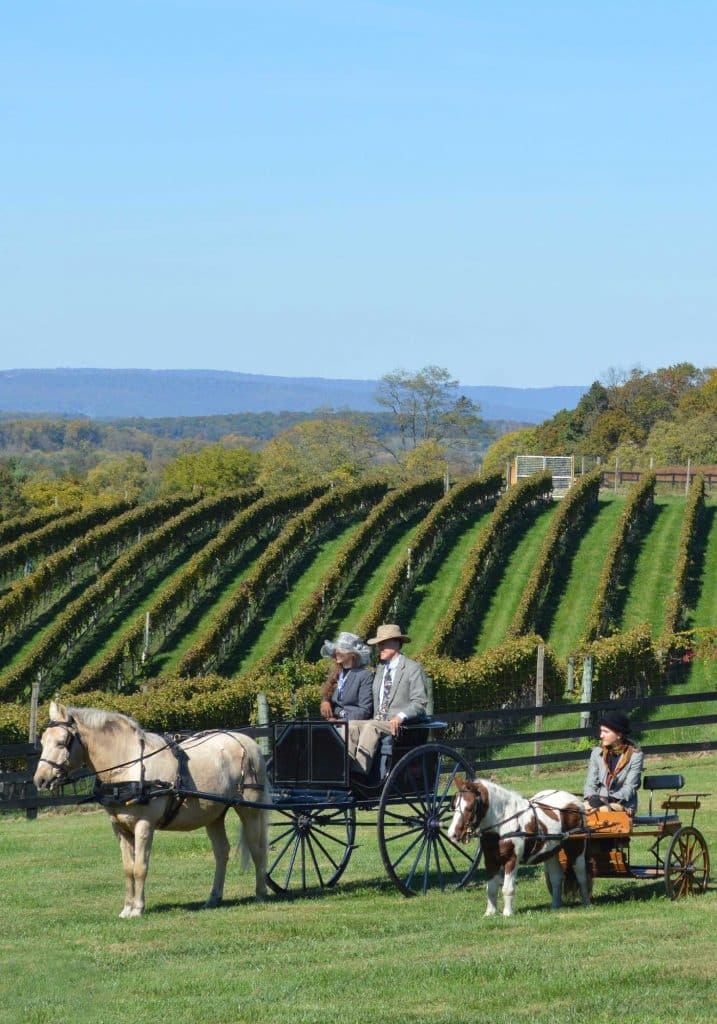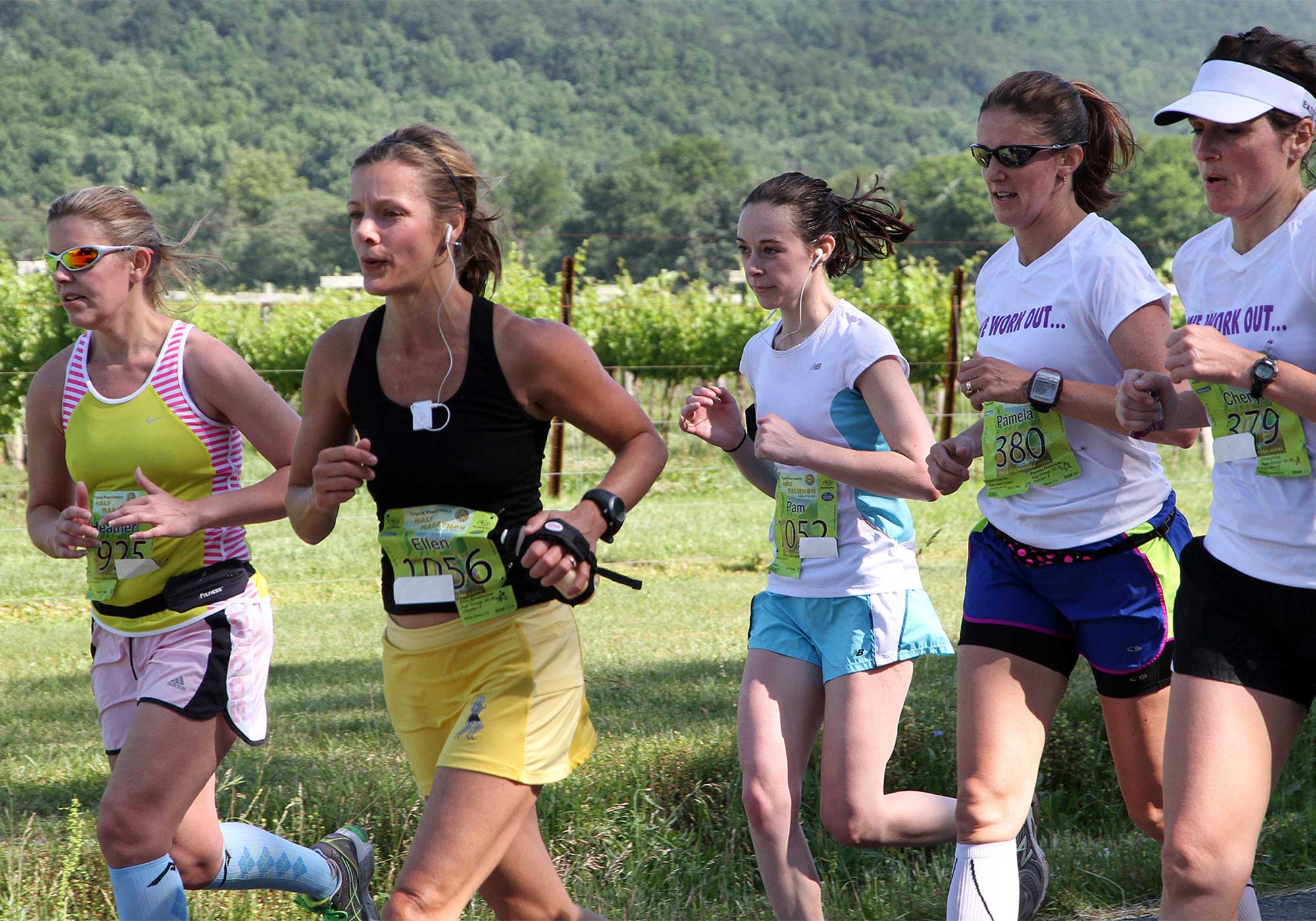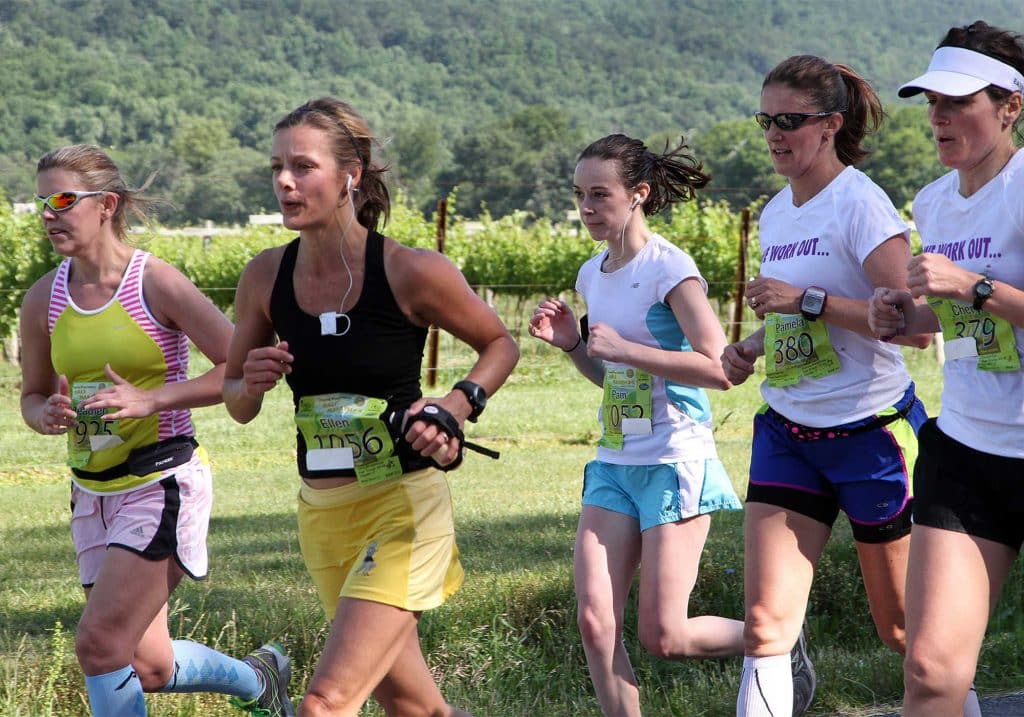 VIRGINIA WINE COUNTRY HALF MARATHON
Loudoun County hosts the Virginia Wine Country Half Marathon every year. Produced by Bad to the Bone Sports as part of their Destination Races series of events, the 2021 races (half-marathon, 10k and 5k) were only open to a limited number of participants and started and finished at Tarara Winery, following bucolic backcountry roads through farm fields and vineyards. Runners, friends and family then got to enjoy tastings from 15 Loudoun wineries, enjoy local food trucks and listen to live music at the post-race Wine & Music Festival. To keep an eye out for the next race, visit virginiawinecountryhalf.com.
No matter whether you are just looking to sample some locally made wine or embark on a wine-focused adventure, Virginia wine country is the perfect place for every oenophile. If you're ready to start planning a trip to Loudoun County, browse our Weekend Guide to Visiting Middleburg for a comprehensive list of locally recommended wineries, fine dining, boutiques and more. For even more wine country happenings, see our Events Calendar, and browse our Food & Drink Partners section for even more Virginia wineries to explore. ~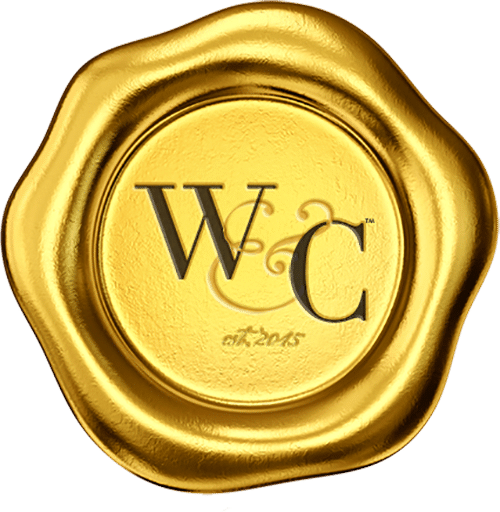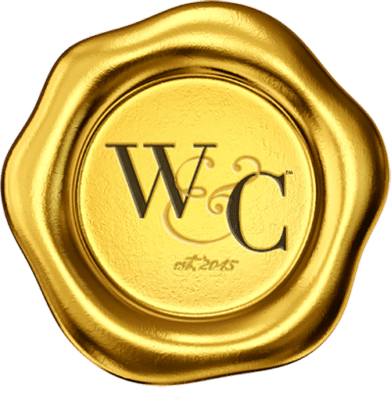 Virginia Wine & Country celebrates elevated living in Virginia Wine Country. Virginia Wine & Country Life is a semi-annual luxury print magazine with a full digital presence. The Virginia Wine & Country Gold Book is an annual guide to the top award-winning wines, wineries and experiences in Virginia Wine Country. The annual Virginia Wine & Country Wedding Planner is an art book of elegant Virginia weddings. The brand includes the Virginia Wine & Country Shop in Ivy, Va. It is a beautiful lifestyle boutique that brings the pages of the magazines to life. Virginia Wine & Country tells the stories of Virginia wineries, the farm-to-table movement, luxury travel, entertaining, art and the elegant country lifestyle. Ivy Life & Style Media also provides branding, web design and PR services for the wine industry.