Chef Victoria Cosner is the Executive Chef for Pippin Hill Farm & Vineyards in North Garden, Virginia. She shares her love of the region, her favorite ingredients and what she does when she has a little time off during a busy wedding season with this charred brussels sprouts recipe. She fell in love with Virginia at an early age and began her culinary career at the Charlottesville-Albemarle Technical Education Center. "I love driving through the countryside, finding little farmers markets, and watching everything growing on the side of a dusty dirt road. The produce that we grow locally and the fresh mountain air is what I call home," she says.
Cooking with Brussels Sprouts
Brussels sprouts are typically grown on the West Coast because of their inability to survive frost or cold weather under 40 degrees Fahrenheit. This popular vegetable is in season throughout the fall and winter. Although they're readily available almost year-round, the peak season is from September to mid-February.
When selecting fresh brussels sprouts, look for firm, compact, bright green heads. Stem ends should be white and clean. Avoid any sprouts that have yellowed or wilted leaves. One of the best things about brussels sprouts is that they can be prepared in so many ways: shredded, roasted, fried or even grilled. They're also high in potassium, Vitamin C, Vitamin A and low in sodium, making them the perfect, delicious addition to any diet. Before enjoying, make sure to thoroughly wash and soak the sprouts with fresh water to clean them.
Storing Brussels Sprouts
To keep prepared brussels sprouts tasting fresh, store them in a covered container or perforated plastic bag in the refrigerator for three to five days. Uncooked and unwashed sprouts can be refrigerated in a plastic bag for up to one week prior to cooking. That being said, their taste gets stronger and less sweet with time, so they're best enjoyed within three to four days of purchase. Brussels sprouts on the stalk will keep for even longer, about several weeks in the refrigerator if stuck in water or wrapped with a moist paper towel.
Cooking with Seasonal Ingredients
With the fall season and winter months approaching, it can be more difficult to rely on local, seasonal ingredients. Chef Victoria Cosner reccomends carrots and winter squash as her favorite seasonal vegetables to cook with during the colder months. "The reason food is so good at restaurants is because chefs purchase in season ingredients that look fresh and smell amazing," she says. Highlighting seasonal ingredients at your holiday or family gatherings this fall and winter is sure to produce tasty dishes that will impress any guest.
What to Pair with Charred Brussels Sprouts
When pairing a wine with this nutty and slightly bitter dish, the wine should have notes of sweetness, fruitiness and delicacy to help counteract the bitterness and earthiness of the sprouts. A lightly oaked Chardonnay would be the perfect pairing. Chardonnay features notes of apple, pear, lemon and oak-aged flavors of vanilla, baking spices or butter. Michael Shaps Wineworks' 2019 Chardonnay – a gold medal winner in the 2022 Virginia Governor's Cup – features notes of oak, butter and apple on the nose. Light fruitiness on the palate creates wonderful balance as it combines with the robust earthiness of the brussels sprouts.
For more delicious seasonal recipes, check out our Food & Drink section. ~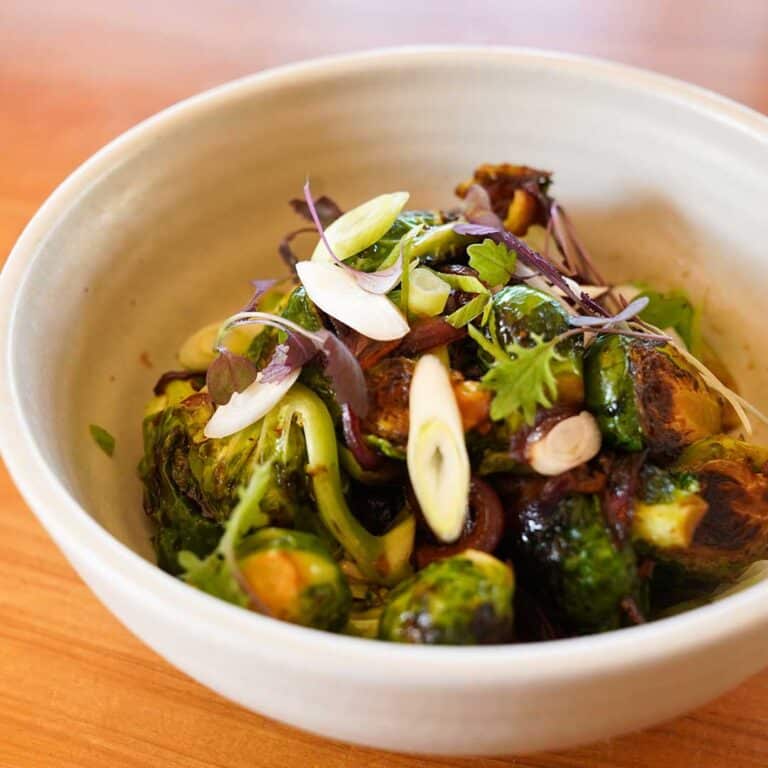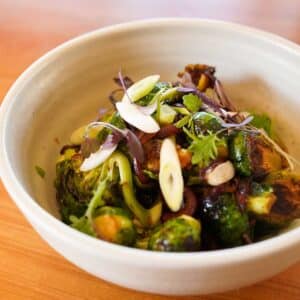 Charred Brussels Sprouts
Delicious charred brussel sprouts prefectly complement any meal.
Ingredients
Roasted Garlic
10

cloves

garlic

2

cups

canola oil
Brussels Sprouts
2

lb

brussels sprouts

1

large red onion

julienned

1

tsp

roasted garlic

3

scallions

1/4

cup

reduced sodium soy sauce

1/4

cup

balsamic vinegar

1

tsp

sesame oil

2

tsp

mirin

1/2

lime

juiced

1

tbsp

canola oil

1

tsp

maple syrup

1

tsp

salt

1/4

tsp

pepper
Instructions
Roasted Garlic
Place oil and garlic in a small saucepan over medium low heat

10 cloves garlic,

2 cups canola oil

Bring to a simmer and watch closely until it begins to turn a light golden brown

When it has reached golden brown color, take the pan off heat and cool down

Once cooled enough to handle, strain garlic cloves from oil

Keep oil and use it to make your favorite salad dressing or add it to a nice pasta dish

Place roasted garlic cloves on a cutting board, then take the back of your knife and smash until smooth
Brussels Sprouts
Cut the woody ends off the brussels sprouts and cut in half, removing any outer leaves that look yellow or wilted

In a small mixing bowl add all the liquid ingredients (roasted garlic, soy sauce, balsamic vinegar, sesame oil, mirin and maple syrup); mix until combined

1 tsp roasted garlic,

1/4 cup reduced sodium soy sauce,

1/4 cup balsamic vinegar,

1 tsp sesame oil,

2 tsp mirin,

1 tsp maple syrup

Heat a large saucepan over medium high heat. Once hot, add canola oil, then brussels sprouts and red onions. Sear for about 2 minutes until they are a deep brown color (almost charred but not quite)

1 tbsp canola oil,

1 large red onion

Then deglaze the pan with the liquid mixture; making sure to continually stir for about a minute or less. The maple syrup and soy sauce make the mixture prone to stick to the bottom of the pan, so be careful not to let it burn by continually stirring

Spread the cooked brussels sprouts on a sheet pan and begin to cool down in the refrigerator so they do not continue to cook and become mushy; you want them to still have a crisp bite to them

Take scallions, remove the white bulb and place the green part on the cutting board, begin to cut small circular coins

Place cooked brussel sprout mixture in a mixing bowl and toss with lime juice, scallions and salt/pepper

1/2 lime,

1 tsp salt,

1/4 tsp pepper
JENNIFER BRYERTON, our co-publisher, holds a masters degree in education and grew up in a family of farmers and storytellers. She enjoys visiting exquisite gardens and vineyards, cooking, travel and decor and time at home, where beehives and a chicken coop dot the lawn, and borders overflow with roses, peonies and lavender.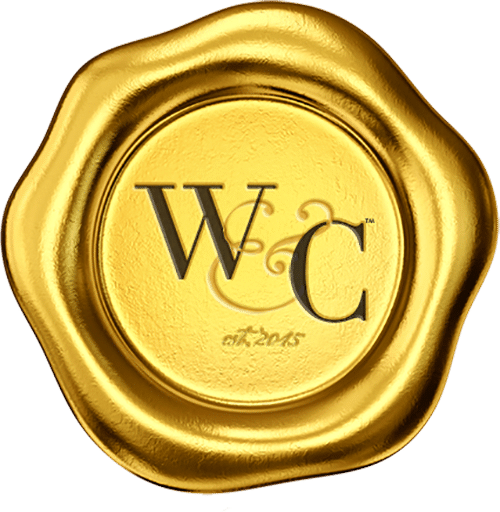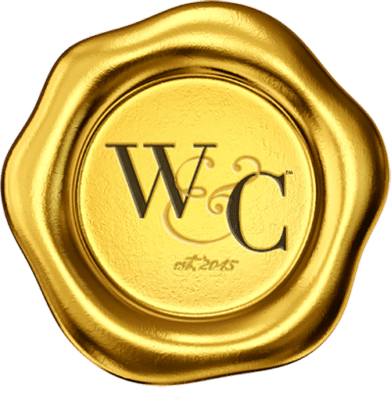 Virginia Wine & Country celebrates elevated living in Virginia Wine Country. Virginia Wine & Country Life is a semi-annual luxury print magazine with a full digital presence. The Virginia Wine & Country Gold Book is an annual guide to the top award-winning wines, wineries and experiences in Virginia Wine Country. The annual Virginia Wine & Country Wedding Planner is an art book of elegant Virginia weddings. The brand includes the Virginia Wine & Country Shop in Ivy, Va. It is a beautiful lifestyle boutique that brings the pages of the magazines to life. Virginia Wine & Country tells the stories of Virginia wineries, the farm-to-table movement, luxury travel, entertaining, art and the elegant country lifestyle. Ivy Life & Style Media also provides branding, web design and PR services for the wine industry.